Lukaku and Coleman doubts and no Williams to face Spurs

59 Comments [Jump to last]
11 August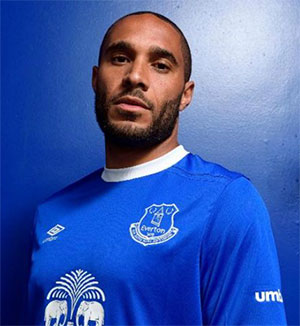 Ashley Williams is still in pre-season training following international duty with Wales at Euro2016 this summer
Ronald Koeman says that Everton will be "strong" on Saturday despite fitness concerns over two key players and the absence of Ashley Williams.
Speaking at his first pre-match press conference of the new campaign, the manager is confident of putting a strong side out to face Spurs, though, even if Romelu Lukaku and Seamus Coleman aren't certain of playing due to injuries picked up against Espanyol last weekend.
Additionally, new signing Williams will need 10 days of training to be fully fit following his involvement in the European Championships and the time he missed while his move to Goodison was being hammered out.
He indicated that, by his standards, the Everton squad was only 70% of the way to peak fitness, a nod no doubt to the work that was needed to ramp the players up from the levels they were at under his predecessor, Roberto Martinez.
"We are not at the level we need to be yet," Koeman said. "The players are maybe 70% ready. When I was at Southampton, the team was 100% ready.
"We are working hard and we will improve. But the team will be strong on Saturday.
"[Williams] will bring leadership and experience but he's not available for the weekend because he started late after the Euros.
"Lukaku is doubtful because of the cut from the Espanyol game. Coleman also has a problem as well."
There was bad news regarding Matthew Pennington, however, with the manager confirming that he will be out for "several months" with the hamstring injury he suffered in pre-season.
---
Reader Comments (59)
Note: the following content is not moderated or vetted by the site owners at the time of submission. Comments are the responsibility of the poster. Disclaimer
Brian Williams
1
Posted 11/08/2016 at 14:30:09
Ffs, not a great start!
Sam Hoare
2
Posted 11/08/2016 at 14:32:29
Kone up front? I fear an opening day tonking!
Peter Lee
3
Posted 11/08/2016 at 14:35:50
Different kind of nonsense here. He's had them for pre-season with the exception of the returning internationals so why aren't they 100%?
Incidentally, last season an under-cooked EFC murdered a 100% Southampton side down there early on.
Daniel Lawrence
4
Posted 11/08/2016 at 14:37:23
Thankfully we've recruited well and have got stacks of cover in those two positions oh, wait a minute
Kevin Rowlands
5
Posted 11/08/2016 at 14:37:59
Doesn't sound like we'll be 'strong' to me, I'm not looking forward to Saturday at the moment.
Michael Polley
6
Posted 11/08/2016 at 14:42:28
FFS !!! I only hope Spurs are just 60% fit
Ray Roche
7
Posted 11/08/2016 at 14:42:33
Peter, weren't Southampton short of first team defenders for that game? And it's well documented that Everton were woefully short of the required fitness levels last season.
Mark Tanton
8
Posted 11/08/2016 at 14:44:12
In recent years I have always felt Everton have willingly sacrificed August for late activity in the market. Hope those days are finished.
James Watts
9
Posted 11/08/2016 at 14:45:01
Well, well, well. I liked his presser BUT:
- We aren't ready? Huh? Why the hell not? 70%??! After 5 weeks of pre-season?! I guess Roberto really did screw us with fitness levels.
- 3 or 4 more signings? Kone, Bolaise plus (i guess) a midfielder and striker which means no other goalkeeper and still no cover at right back.
Ah well, looks like we'll be champions by only 5 points instead of 10.
Tommy Webber
11
Posted 11/08/2016 at 14:49:21
Deulofeu to the rescue, then!
Jay Harris
12
Posted 11/08/2016 at 14:49:49
I was feeling reasonably confident until I read this.
Coleman will be a massive loss if not fit but I feel up front he may just try the Mirallas - Deulofeu experiment.
Vishal Poorundersingh
13
Posted 11/08/2016 at 14:49:53
It is always like that. Everton pre-season starts in August... remember Moyes's days.
Kevin Day
14
Posted 11/08/2016 at 14:49:58
Smoke and mirrors from Koeman me thinks, early season mind games.
Michael Lynch
15
Posted 11/08/2016 at 14:50:35
He's only confirming what we all knew, surely? Under Martinez the squad was allowed to go to seed. The results speak for themselves, particularly the number of times we let slip leads in the last stages of a game. Martinez inherited a super-fit squad, one that was defensively solid and mentally strong, one that was well equipped to over-achieve season after season. We all saw it fall apart, particularly last season, because it lacked fitness, purpose and proper coaching.
The grinning idiot across the park was given the best part of a season to lick his lot into shape, at the end of which he has taken the squad apart and reshaped it with the kind of players he needs to play the kind of football he desires. Koeman needs the same time frame before we judge him.
Anton Holmes
16
Posted 11/08/2016 at 14:50:47
70% fit because of old brown shoes trying to rest Euro players. Williams (semi) and oh hello team mates, top goalscorer!! Cut ankle / or I'm sold?
It is a long way to go, glass full... at least too start...
James Marshall
17
Posted 11/08/2016 at 14:52:45
Never believe anything a good manager says in press conferences.
Dave Speed
18
Posted 11/08/2016 at 14:52:49
Rome wasn't built in day! Remember that RK took over Saints from Mauricio Pochettino who was poached by Spurs and would have left a decently conditioned squad behind. RK takes over an Everton team that were slow, sluggish and seemingly out of condition for an EPL team. The 3-0 win over Norwich showed this to a certain extent when only Coleman and McCarthy kept up with the youngsters' levels.
We may have to wait a while to see RK's team once he has made his signings, sorted out the fitness levels and got over his football ethos to the players. I am sure though that it will be sooner rather than later.
Terence Tyler
19
Posted 11/08/2016 at 14:55:43
Before all the conspiracy theorists get carried away, I was at the game on Saturday and blood could be seen on the back of Lukaku's sock when he left the field; apparently 3 stitches were required. I still think he will start at the weekend though.
A pity but understandable that Williams doesn't start. I've not read anywhere what the issue is with Coleman. Now that could be one for the conspiracy brigade. The "30% short on fitness" will be a carry over from the Martinez regime.
Sam Hoare
20
Posted 11/08/2016 at 14:57:48
Biggest loss may be if Williams he is not eligible/ready.
Spurs have looked sharp preseason and at this point I'd probably take a draw.
Kevin Tully
22
Posted 11/08/2016 at 15:08:02
Looks like our fantastic win percentage of 17% on opening day of Premier League games is set to continue on a downward trend!
Peter @ #3 gives me some hope though. Our wheezing and 'blowing out of their arses' mob tonked Southampton last season. You never know. Or maybe we are witnessing early season mind games from the Dutch maestro?
Drew Shortis
23
Posted 11/08/2016 at 15:10:28
Sounds like an honest appraisal but it could just be mind games to lull Spurs into a false sense of security. Surely if they were only 70% fit it wouldn't be too wise to tip off the opposition!?
Wouldn't be surprised if both Coleman and Lukaku are fit to play. Spurs defenders breathing a sigh of relief only to see Rom's name on the team sheet come Saturday. Not a lie, just a slight distortion of the reality.
Derek Turner
24
Posted 11/08/2016 at 15:11:53
Nervous. Let's hope the team have grown a pair each since May, even if they are not fit, and give Spurs a slapdown to take back home. I still haven't got over Watford last season.
Lewis Barclay
25
Posted 11/08/2016 at 15:20:52
Hold on a minute - you were all moaning about Bobby being completely unrealistic and over optimistic. Ronny comes in and tells it like it is and some people are moaning.
Surely this is a good honest assessment that says: "some people at the club need to pull their fingers out to get to a level I'm even comfortable starting at"?
About time someone took more aggressive approach! I want to hear more of this before we go out and beat teams 4-0. If we lose 4-0, Koeman can kick ass – including the chairman and major shareholder's representatives.

Fran Mitchell
26
Posted 11/08/2016 at 15:22:38
No manager ever says 'were 100% ready'. The fact is, it will always take 1-2 proper games to get to that level. Added to the fact the players have spent 2 years with a less than rigorous training regime, rustiness is expected.
Hopefully Lukaku is fit, Jagielka and Funes Mori at the back with Davies or Holgate filling in at the right back should be okay. If Lukaku isn't fit, it's a good opportunity for Deulofeu or Mirallas to stake their claim.
Spurs will be a tough game, but I am looking forward to it. A good result will give us a huge boost. Very interested to see the set up, especially in how the midfield will link with attack.
Steavey Buckley
27
Posted 11/08/2016 at 15:34:24
Barkley upfront. If Kone plays, waste of time turning up on Saturday. Not a bad idea anyway with a belter of hot weather on the way this weekend.
Terence Tyler
28
Posted 11/08/2016 at 15:45:49
Ron will set us up as he did against Man Utd in Rooney's testimonial: in defensive away team mode. Let's not forget, although they had the majority of possession that day, they only created a couple of half chances, whereas we had three clear-cut chances with only the goalkeeper to beat.
Not something Ron would normally do for a home match, but until he has had a bit more time to bring in a couple more players that he wants, I feel this the way it is going to be for this weekend's game.
Dave Pritchard
29
Posted 11/08/2016 at 16:03:02
Barkley upfront, Steavey? Interesting but I can't see it myself. If Rom doesn't make it, I could see us doing a Spain and playing without a recognised front man with Mirallas and Deulofeu getting forward when they can.
Difficult to see Kone starting as I don't think he's been involved much pre-season? Highlights how much we need forwards as, when is Rom out, we don't have many options.
Brian Porter
30
Posted 11/08/2016 at 16:04:38
Anyone but Kone up front, PLEASE!
Jack Convery
31
Posted 11/08/2016 at 16:11:56
I guess we'll play 3 - 5- 2
Skelatore in goal
If Coleman is out then Lennon will probably play as RWBack.
Jags, Mori and Holgate as CBacks. Baines LWBack
Barry, Gueye and Barkely
Deulafeou, Mirallas.
Paul Kossoff
32
Posted 11/08/2016 at 16:13:28
I said weeks ago that if Lukaku was sold or injured we would be up shit creek without a paddle, and the thought of Kone starting against Spurs was a nightmare, well looks like we need a paddle.
Even if Rom stays we still need a class striker to put pressure on him, Rom knows we need him and he can't be dropped. Koeman needs to bring in a striker and a centre mid, without them we are no better off than last season.
James Hughes
33
Posted 11/08/2016 at 16:17:38
Just please do not lose to Spuds.
Kevin Day
34
Posted 11/08/2016 at 16:19:36
Darryl Ritchie
35
Posted 11/08/2016 at 16:47:33
The 70% comment was intended for the players. Don't think that just because the season has begun, the full on fitness training is over.
We will not be dragging our asses around the pitch at 70 minutes with Koeman's in charge. We will lose a few, but lack of fitness will not be the reason.
Anthony Lewis
36
Posted 11/08/2016 at 16:58:44
He didn't look happy did he...?
Maybe it's dawning on him, how much of a job he has on his hands to get the team fit and up to speed.
The Niasse brush off did make me chuckle though. "he can make his transfer, he's not in my opinion the future of what we need in his position"
Matthew Williams
37
Posted 11/08/2016 at 17:07:57
All smoke and mirrors, folks. We'll be ready whoever starts, formation etc.
I believe that we'll be on 9 points at the end of August. Tough start verses Spurs, but the Blues to battle through... 2-1 winners!.
Steve Jones
38
Posted 11/08/2016 at 17:25:36
RK is far too much the pro to let on that we're at 70% if we actually were at 70%.
He's clearly not got all the elements in the squad he wants and he's said he's about 3 players adrift of where he wants to be.
Likely he's going to set up defensively against Spurs, like he did against Utd, and he's trying to get the message out that we're playing the safe game until we are at his idea of full steam...then we get the full experience.
Tony Draper
39
Posted 11/08/2016 at 17:26:42
Jack @31.
You beat me to it mate. That very much looks what I expect to start our season.
I'm also thinking that style of "attack" lends itself to moving the ball "less laboriously" and that surely must be a bonus?
Denis Richardson
40
Posted 11/08/2016 at 17:28:38
More concerned about Coleman than Lukaku. Mirallas was a striker before joining us and Deulofeu can play forward as well.
Who the hell will be play RB with no Coleman or Pennington? Lennon?
Mark Murphy
41
Posted 11/08/2016 at 17:53:29
I've not seen any indication that Koeman would start Kone up front!
But neither have I seen Kone in training. If he's finally fit and well prepared he may still have something to offer.
Spoken more in hope than expectation, natch

Mike Gwyer
42
Posted 11/08/2016 at 17:57:03
Koeman is going to give fuck all info away at his first pre match interview. He'll be happy for the Spuds to think whatever they want, but come 3pm on Saturday don't be surprised to see all 3 players on team sheet.
Damian Wilde
43
Posted 11/08/2016 at 18:06:10
Sam, you'd take a draw? I hate that attitude. It's about 'winning'.
Brendan Fox
45
Posted 11/08/2016 at 19:00:26
Could be mind games but may not be.
We'll all only truly know come 17:00 on Saturday if it's mind games or an open and honest assessment of the current state of the squad fitness and ability to play the game RK and his team want them to play.
Given RK's pressers and how he answered the questions posed I'll go with the latter that he's going to just say it as he sees it.
The patronising sound bites of Bobby Brown Shoes is long gone as demonstrated by Big Ron with his frank assessment of Niasse.
I hope this attitude and approach continues instead of blowing smoke up the players arses when they aren't fit to wear the shirt, no matter who they are. This is the first step to shaking off the nice friendly club tag bullshit that has stunk the gaff out for too long now.
My starting 11 for Saturday (if not fit) in a 4-4-1-1 or 3-4-1-2:
Stek
Coleman (Holgate)
Jags
Funes Mori
Baines
Lennon
Gueye
Barry
Barkley
Mirallas
Lukaku (Delofeu)
Eddie Dunn
46
Posted 11/08/2016 at 19:01:49
I expect that we will see Tom Davies at right back. Also think RK is playing the game with the comments on fitness and I also expect to see Rom up top. After the injury the boss said he thought a week would be enough for the cut to heal!
Les Martin
47
Posted 11/08/2016 at 19:41:48
How refreshing and no hiding from "this is how it is !", Ronald Koeman has my vote for being frank and honest.
We all knew that Martinez's teams were never fit or strong enough to compete, and this shows that the bad habits are not going to disappear over night.
Even ith 4/5 weeks preseason although some have not been back that long, he is telling us not to expect miracles.
I hope we all are going to show some patience even if we get stuffed at the weekend. Give him time to bring in the additional players, allow bedding in, then lets look at November as to what progress has been made since the start of the season.
Brendan Fox
48
Posted 11/08/2016 at 19:59:47
Les @ 54 with you on that sentiment. Rome wasn't built in a day and all that.
We need to give RK and his coaching team this season as a bedding in season to improve the fitness/conditioning and improve the game management of the squad as a whole. RK needs more time than 5 weeks at the helm to assess what he feels is needed in terms of playing staff with the next two transfer windows to get in who he feels is needed to push the team up the league and hopefully back into Europe.
Kase Chow
49
Posted 11/08/2016 at 20:04:33
Irritated that we haven't bought players sooner. Or that we have seemingly dragged our heels this week: if Bolasise is a target then get it done
Same with Kone
Of course we're not ready because we've let a bunch of players go, some of the remainders aren't good enough and we haven't got adequate reinforcements in!!!
The fact we'll be starting the season without a single decent striking option available is a joke. How has this happened? If we're in for Bony then get it done
Why is everything so complicated with Everton??
Gordon White
50
Posted 11/08/2016 at 20:05:37
Michael #15 and James #17. Here, here. Got it in a nutshell. Rome wasn't built in a day. Given the circumstances, which are unique, the constraints under which RK is operating, to say nothing of our expectations, I'm amazed he's managed to do what he has.

As far as Saturday goes, I'm hoping rather than expecting. COYB.
Colin Hughes
51
Posted 11/08/2016 at 20:15:54
Looks like we're starting with a defeat then, which is no surprise really given we haven't won on the opening Saturday since beating Wigan in 2007.
Would love to see Everton start a season in a blaze of glory for once or is it too much to expect?
James McPherson
52
Posted 11/08/2016 at 20:21:54
Colin 51 - It is too much to expect. The most disappointing aspect of this summer of woe is that the hand of Kenwright is still firmly on the tiller. For those of us querying why it was 49.9% - we have our answer. Shocking. I am embarrassed at my own gullability for falling for their shite again. We have meekly put up with it for all of his tenure so we deserve no sympathy.
Andy Walker
53
Posted 11/08/2016 at 20:33:51
James, it's already known that Moshiri is increasing his share holding. Even if he hadn't been he still owns much more equity than BK. Your post makes no sense to me, just looks like a bit of cheap BK bashing.
Edward Wallis
54
Posted 11/08/2016 at 20:42:59
I think RK conference was an honest assessment on where we are. He is the polar opposite to RM black and white in his answers.He has looked at the squad and given everybody a chance, the players cant ask for more than that. He is now taking action.
Feel sorry for Niasse, it was not his fault he is not good enough for efc but was impressed how RK answered question about him...I too wish him all the best as he seems a decent fella.
Interesting how he spoke about Jags on transfer situation as didn't say he was essential member of squad more of we haven't got numbers in CB at club...think he will be gone soon.
The game will be challenging on Saturday, I think we all know that but as he said if we see everybody give there best and fight for the cause..at this stage I will be happy with that as a minimum as haven't had that for last 2 year irrespective of the result. In longer term RK is definitely the right man for the job and he wants to give us the type of football, attitude and desire we all crave from our team. coyb's
Dave Ganley
55
Posted 11/08/2016 at 21:38:43
Edward completely agree with you. It's like a breath of fresh air having RK at the helm and not waiting for a manager who talks utter rubbish all of the time.
I am really looking forward to going to Goodison on Saturday and I haven't said that for a long time. I am not naive to think that all our ills will disappear, pre season has given us all a reality check in that respect. I do expect a season of progression though and fully expect us to be competitive this season, I can't see RK putting up with players coming off the pitch without breaking sweat like OFM did.
Onwards and upwards COYB
Kristian Boyce
56
Posted 11/08/2016 at 22:04:16
I hazard a guess that the 70% comment was aimed more at the players than for the media/fans. Many of the players are probably conditioned to think that they are match fit as they maybe are only pushing themselves to match the levels of the last 3 years. With the general lack of fitness through Martinez's regime, many of the players are in a state of shock of what is expected of them.
I image this pre seasaon has been a huge wake up call to both the players and Koeman. The players are probably will get with the program, and probably are about 2 weeks off from being where the manager wants them. For Koeman though, I bet he's sick of having to do the clean up of the mess Martinez has left him. When he went to Saints, whilst lacking in numbers he had players who were used to a disciplined system, the complete opposite of probably what he came to here.
Peter Cummings
57
Posted 11/08/2016 at 22:44:39
Brendan #48
I gave my own 'Frank Assessment' of Niasse on day one when I watched the video of his goals and posted the fact that all of them were down to crap defending and practically tap ins any school kid could have scored,
As for Saturday and Koemans remarks on fitness problems, like many, I am not feeling very confident that we can overcome a very skilful Spurs side especially if they carry on where they left off last season.
David Pearl
58
Posted 11/08/2016 at 23:34:04
Peter, That was a heavy loss to Newcastle. We have good players all over the pitch. Lukaku should hopefully play. It's about our shape, confidence and intensity.
I just wish we would of signed a top keeper already.
Anthony Dwyer
59
Posted 11/08/2016 at 23:46:06
This is a disaster, we seem to start every season without being ready in time.
It blows me away, the date is set for the first game, we have fitness coaches, first team managers etc and somehow were apparently at 70â"…!
We should have had signings in place, all bedded in and ready for action. But I can accept some of our more positive fans saying RK needed to assess the squad before making signings, but the minimum requirement is having our players fit.
Ive heard excuses made for RK, complaining that Martinez never had the team fit, but RK n co have been in long enough to have the lads in ship shape condition.
Ricky Hatton used to go from 18 stone fat man to 18 round abbed up killing machine within 6-8 weeks, our so called athletes should have been well and truly ready for action.
Its becoming a bit of a nightmare at the minute, Stecklenburg in goal, Kone up top, no recognised right back, and only half fit centre half's, not a good start.
Beating Spurs will be nothing short of a miracle.
Steve Jenkins
60
Posted 12/08/2016 at 05:18:43
If Colemans not fit then Holgate should get an opportunity at RB. He looks a class act to me & RB is one area I don't think we need to recruit as Holgate can cover there.
If Rom's not fit... We have little by the way of options, could be Del Boy upfront
William Cartwright
62
Posted 12/08/2016 at 17:24:13
Got a feeling that we may not see Rom again in the blue shirt . . . . . .
Thomas Surgenor
63
Posted 12/08/2016 at 17:37:03
Why not del upfront? Worked pre season - albeit against lower opposition.
Anything but Kone! Even bring hibbo back before starting Kone.
Add Your Comments
In order to post a comment, you need to be logged in as a registered user of the site.
Or Sign up as a ToffeeWeb Member — it's free, takes just a few minutes and will allow you to post your comments on articles and Talking Points submissions across the site.
© ToffeeWeb