Moshiri "anxious" to invest more in Everton squad

228 Comments [Jump to last]
15 August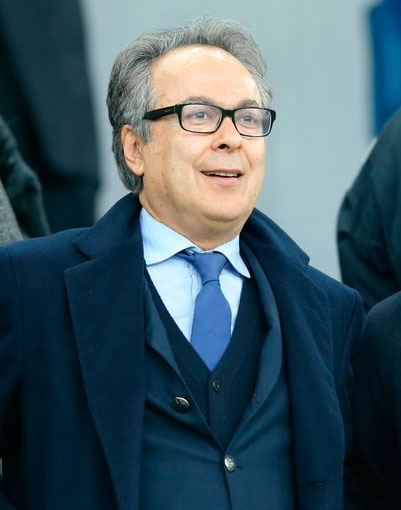 Everton's major shareholder, Farhad Moshiri, has indicated that further signings are planned to strengthen the team before the end of the transfer window.
The Blues' major shareholder said in a statement released to Sky Sports following today's acquisition of Yannick Bolasie that the club are keen to press forward and add new faces to a squad that has been bolstered by the addition of four players to date since new manager Ronald Koeman came on board.
"We are very pleased about today's signing," Moshiri said in the statement, "but remain anxious to further strengthen the squad.
"The Chairman Bill Kenwright is relentlessly pushing things forward with total support for him, for Steve Walsh and Ronald Koeman."
Moshiri purchased a 49.9% stake in Everton six months ago but his impact and decisiveness has already been felt at Goodison Park. Through his representative on the Board, Sasha Ryazantsev and the Chairman, the British-Iranian billionaire dismissed former boss Roberto Martinez in May and engineered the arrival of both Koeman from Southampton and Walsh from Leicester by negotiating compensation packages with both clubs.
Off the field, the Board are moving ahead under Moshiri's direction with plans for a new stadium, and an interim facelift for Goodison Park is also underway.
---
Reader Comments (228)
Note: the following content is not moderated or vetted by the site owners at the time of submission. Comments are the responsibility of the poster. Disclaimer
Paul Conway
1
Posted 15/08/2016 at 19:22:25
Almost total clear out on the way by the end of the season.
James Watts
2
Posted 15/08/2016 at 19:28:04
Music to our blue ears! Sooooo, Messi then? ;)
Steve Bingham
3
Posted 15/08/2016 at 19:29:09
Just the high standard of statement I would expect from Mr M. ... Clear , concise , confident and vey positive! No long gushings of rambling nonsense just simple and straightforward! Bring it on !
Joe Digney
4
Posted 15/08/2016 at 19:31:57
Exciting times for us blues!
Glad I'm gonna be back in Liverpool for some of this season. Can't wait to be apart of the goodison roar again!
Colin Glassar
5
Posted 15/08/2016 at 19:32:58
Ok, we've spent the Stones money now let's start spending the Sky/Moshiri money. We need 4 more players in my opinion. Go for it Farhad, don't let Bill get in your way.
Gerry Quinn
6
Posted 15/08/2016 at 19:34:08
I was going to say "phenomenal news", but common sense got the better of me!
Moshi - yo da man!
Brian Williams
8
Posted 15/08/2016 at 19:35:15
Think there'll be three at the most myself. Striker, playmaker, goalie. That's three "purchases." If we get any of the above positions on loan then could be up to five. Just my opinion like.
Mark Whyment
9
Posted 15/08/2016 at 19:36:36
Well said Mr M.
Go get 'em, Bill. Ignore the doubters who seem to forget the mire you pulled us out of and that you also brought in Mr M. COYB

Brian Williams
11
Posted 15/08/2016 at 19:39:46
Oh no, I smell a Bill for and against war in the wind.
Marlon Wilson
12
Posted 15/08/2016 at 19:39:58
I've never commented on ToffeeWeb before so this seemed like a good thread to start on... whilst i'm slightly perturbed at (pretty much with these supposed add ons) smashing our transfer record for YB after watching the game Saturday I fully trust in our managers vision for the team and if he believes in bolasie I will too until proven otherwise.

Personally I still believe we are at least another 4 short of what is needed to elevate us to top 6 contention namely a right back, a creative central midfielder, a goalkeeper (although after Saturday that needs feels a little less pressing) and another striker to push RL I think we're ok at centre back although I wouldn't say no to another dominant defender but please could we try signing some europeans as i'd rather not lose half our new signings to the ACON turn of the year... anyways what does a Southern softy from west London know.

Frank Crewe
13
Posted 15/08/2016 at 19:42:16
Well I'll drink to that. He's a man with a plan and he's in a hurry.
Les Martin
14
Posted 15/08/2016 at 19:44:27
Well we have a billionaire shareholder totally committed to Everton, promising investment both for the team and a new ground in the offering.

A new world class Manager in Ronald Koeman and one of the best talent scouts in the business in Steve Walsh.
New signing which have strengthened the defence and given us exciting striker options, with the promise of more to come.

Bill Kenwright was the catalyst for this by finding Mr Moshiri, yes it took a long time and he has made mistakes on the way, but surely he has instigated what will be a great legacy as things are turning out.

I don't mind saying well done Bill ! and thanks !
Paul Lye
15
Posted 15/08/2016 at 19:46:06
Onwards and upwards Blues
Oliver Molloy
16
Posted 15/08/2016 at 19:47:01
Colin,
He will be spending the profit from Lukaku before he dips into his own pocket I think.
Nothing in his statement to say he is staying ( yes I know there is nothing in there to say he is going - obviously ) , but I will be surprised if he is still with us come the end of the transfer window , hope I'm wrong.

Nick Page
17
Posted 15/08/2016 at 19:47:06
The man with the plan - Jimmy the Saint. Was in a hurry too. I'm loving Farhad's message - real intent here for the first 20 odd years. Up The Toffees
Roy Steel
18
Posted 15/08/2016 at 19:47:49
Mr Moshiri is obviously a man whose actions speak louder than words. The man now knows what it's like to be a blue. He's growing into it and deserves our trust .

I think he's just giving Bill a tiny bit of respect because he is chair and brought him to Everton. Long may it last. COYB
James Watts
20
Posted 15/08/2016 at 19:54:48
Oliver (16). I think he'll stay. My reasoning is simple, no one will pay the kind of money we want. And with Mosh behind us now, I really can't see him being sold for under what we believe he's worth. I also think if we have a great season, he'll score plenty of goals which means next year he will get his move, if he still wants it.
I wouldn't be surprised if he got a new contract and went next summer, a la Rat Face.
Terry Hughes
21
Posted 15/08/2016 at 19:55:56
If he delivers a new ground AND a top team then Mr Moshiri will receive 'God like' status amongst us Blues. Excellent statement from him.
Mark Morrissey
22
Posted 15/08/2016 at 19:59:50
I thought Bolasie's comment in interview was very interesting. He says he's come to play with people like Romelu ..and chuckled. Lukaku's going nowhere...and I for one will be pleased if that's the case.
Brian Harrison
23
Posted 15/08/2016 at 20:00:20
There is clear intent from Farhad that he has come here to invest and put Everton back competing with the best. Now it will take a little time as you can have all the money in the world, but attracting the very best players to a club that has finished in the bottom half of the league wont happen quickly.
But Farhad has employed a top class coach and a top class DOF in Walsh. Now he is prepared to back their judgement with the finances that will make the transition to a top club happen.
As well as adding to the playing staff I hear there are big changes planned for Finch Farm.
Joe Foster
24
Posted 15/08/2016 at 20:01:28
Exciting times for us.
Colin Glassar
25
Posted 15/08/2016 at 20:04:20
I don't think Lukaku will leave Oliver. We can't seem to be seen as a club willing to sell more than one of its top young talents a season. Rom will stay and flourish under this regime.
Danny Halsall
26
Posted 15/08/2016 at 20:07:09
I think the likely hood is we will get 3 more. Obviously Kone is our top defensive target and I think we will get him in the end. Another forward is needed to provide some competition for Lukaku. We also desperately need some cover at right back, especially as Coleman is out for a number of 'weeks'. If there are anymore then it could possibly be a goalie, but I can see Koeman going with Sketlenburg for this season.
Ken Buckley
27
Posted 15/08/2016 at 20:07:46
Welcome statement from our major shareholder. I believe it may be just the fillip to aid our ability to tempt an A list player or maybe two to recognise our clubs intent and take offers for their services seriously where in the past we didn't register on their radar. I hope so anyway.
Sam Hoare
28
Posted 15/08/2016 at 20:20:07
Sounds good to me Mr. Mosh!!
Already liking the feel of our squad but another striker seems key unless RK sees Bolasie or Deulofeu as long term options there. Kone certainly ain't.
A playmaker with vision and precision is needed. I also worry about CM and feel that Witsel was targeted for a reason, to replace the effective but ageing Barry.
Also possibly another CB (though I do like the look of Holgate) and GK depending on how much Stek can be relied on ( if he were always as good as he was on Saturday then I don't see how he could have been 2nd choice at Fulham!)
How bout:
Kone/Abdennour
Ziyech/Ghazzel
Slimani/Austin (on loan)
William Carvalho
Joe Hart (on loan)
Is that greedy?

Peter Laverty
29
Posted 15/08/2016 at 20:24:17
Current net spend of about £0.00.
Gareth Clark
30
Posted 15/08/2016 at 20:25:15
Absolutely love this guy!!!
4 more needed: GK, CB, CM (creative), ST.
Butland (Definitely first choice for me... Even though he's injured now - Steklenberg can fill in. With Hart/Ryan as other options that will still improve our side).
L Kone (don't want to settle for anyone else - except maybe Tah. He can also act as cover for Coleman, having played in France as a RB).
Ziyech (also don't really want anyone else - Mata is a big name, but I don't think he suits our new approach... Too small and too slow, very weak on the ball too).
Chicarito (I have been thinking a lot about this, I think Hernandez is exactly what we need! Team player, works hard, gets into good positions and is a lot different to Lukaku).
Keep Lukaku!!!
Sell A Kone, McGeady & Robles👌🏼 Loan out Galloway and maybe a few others. Keep Holgate in the first team set up for this season!
Trevor Lynes
31
Posted 15/08/2016 at 20:25:16
We really need another four players shortly and we must empty out the driftwood that has collected over the past few years.< I do not think we will get any money for most of the surplus players but it will get them off the payroll.
I am not at all satisfied with McGeady, Cleverley, Gibson, Kone and one or two others.None of the players mentioned would bring any sort of fee. They are not good enough to be in a squad that seriously hopes for a top six place and they could take up valuable bench room that could be utilized by decent youngsters with careers ahead. In the meantime they are costing salaries for doing very little.
Kase Chow
32
Posted 15/08/2016 at 20:28:32
Love this guy
He has the same ambition for Everton that we have!
Michael Polley
33
Posted 15/08/2016 at 20:34:58
Like his decisiveness. No flies around him
Kieran Kinsella
34
Posted 15/08/2016 at 20:38:17
Bill Kenwright is the issue. Koeman and Walsh set targets, Moshiri signs checks but BK is the bungling middleman.
Peter McHugh
35
Posted 15/08/2016 at 20:41:26
Amazing
Brent Stephens
36
Posted 15/08/2016 at 20:44:38
Kieran, what signing has bungling Bill botched this transfer window?
Clive Rogers
37
Posted 15/08/2016 at 20:44:49
Kenwright has become an embarrassment.
Stephen Brown
38
Posted 15/08/2016 at 20:45:32
The biggest reason(s)to be optimistic so far is -
Wants Koeman - gets Koeman
Wants Walsh - gets Walsh
Now transfer deals seem to be flowing and positive noises coming from council re stadium.
Am I brave enough to dream ??
Damian Wilde
39
Posted 15/08/2016 at 20:54:11
Go on Moshy, son! Fantastic. No go and sign two strikers!
Kieran Kinsella
40
Posted 15/08/2016 at 20:56:03
Brent,
Well given that RK was disappointed we didn't have new faces by Saturday I'd say he's bungled a lot. No striker, no number 10, no proper goalie. Williams took two weeks to sign for a marginal difference in the transfer fee. Bolasie didn't get over the line until today after it seemed all parties were set on the move last week.
Derek Williams
41
Posted 15/08/2016 at 20:58:34
Patience Kieran, patience. Rome not built in a day etc
Dan Davies
42
Posted 15/08/2016 at 21:01:33
Well I was pleasantly surprised tuning in to SSN to get an update on the Bolasie transfer and then to have a message from Farhad- liking his style!
I'm thinking he knows a few Evertonians are getting impatient with transfer business so this was his way to get across to the fans there's more to come.
It was funny watching the presenter almost creaming his pants because Sky had direct contact with the main man lol.
Onwards and upwards. COYBB.
Brent Stephens
43
Posted 15/08/2016 at 21:03:03
Kieran, that seems to assume we know what was going on behind the scenes. We got in the players we got in. I don't know if that is all win or all bungling or somewhere in between. I'm not privvy to what goes on behind the scenes.
Bob Hannigan
44
Posted 15/08/2016 at 21:03:53
Positive signs all around.
Now all we need is all 3 Pts from each and every fixture
James Morgan
45
Posted 15/08/2016 at 21:07:42
Come on now people, who's saying the "L" word?
We don't do loans now, we're Everton!
Liking what I hear from the chief, except the bit about Bill looking after things 😕
We all know where we need to strengthen, keeper, centre half, right back, playmaker and striker.
Five players to come in? I'm confident in the triumvirate of Moshiri, Walsh and Koeman we can get it done.
Of those for what my opinion is worth, Hart, Kone, Mata, Hernandez and maybe a unpolished diamond for right back competition. Leave that to Walsh to unearth.
Colin Glassar
46
Posted 15/08/2016 at 21:15:37
Has anyone actually heard Moshiri speak?
Paul Smith
47
Posted 15/08/2016 at 21:16:14
Loving this new Everton, even the player reveals have moved up a gear.
Is Mosh courting SKY by giving them info direct ? Wouldn't have expected him to speak with them at all, intesting though, get them on side and more 50/50 decisions might start going our way.
Mark Pierpoint
48
Posted 15/08/2016 at 21:18:44
I can't imagine Rom going now. My guess is that he will sign a new bumper deal on the understanding that next year, if he desires to leave, then there will be a set amount that will prise him away, a la Stones this year. I can't invisage Moshiri and Koeman signing off the selling of both of them, particularly this late in the window.
Overall it is clearly really positive. Warming to the idea of Bolasie in fairness. I think it is too much, but after years of scrimping and looking for bargains, I feel this approach with regards to Everton is ingrained in me and will take a bit to shift. Seen Bravo is set to join City according to some Spanish sources on Twitter. Think Joe Hart, regardless of him being a bit of an irritant, being a real statement of intent. Would love to see him on loan for twelve with view to permanent (just to see how he settles in and how much of his 'heart' would be in Everton at this stage in his career. Could be forgiven for thinking it is a step down after all).
Darryl Ritchie
49
Posted 15/08/2016 at 21:21:35
I believe that whats left of the window revolves around whether Lukaku stays or leaves. If he goes, we will need two more quality strikers, a creative mid, another CB and another right back. if he stays, we will need a reserve striker, a number 10, cover at right back and at least one more CB.
Heard rumors of a Lukaku contract extension for piles more money. Any truth in it?
Darren Hind
50
Posted 15/08/2016 at 21:36:59
"Anxious" enough to spend more than we bring in ?
I seem to be in a minority here, I'm not impressed at all.
Thus far we have bought a Besic clone, a vastly overrated winger who makes Kevin Mirallas look consistent, a bargain basement keeper and a guy who you'd be hard pressed to decide whether to hand the captains armband or a zimmer frame.
are we still not in the black in this transfer window ?
Patience ? where does one acquire that ?
James Watts
51
Posted 15/08/2016 at 21:46:24
Wowsers Darren (50), I thought I could be pessimistic but that's just idiotic with what you are saying.
- Gana showed more in the Spurs game than Besic has done in his career for us to date (as much as I love Besic).
- Bolaise, granted I'm not that keen on him but he does bring another dimension to our team and am trusting Ronnie to get the best out of him.
- Stelk already showed his worth with saving us a point with two world class saves. Not my choice for number 1 going forward but is good enough for now.
- Williams ... are you kidding?!?
Cheer up you grumpy bugger. This is only the beginning.
Matt Kennell
52
Posted 15/08/2016 at 21:49:23
Anyone bashing BK, I was once with you. He lacked immensely in ambition; however, he loved the club. I was once getting frustrated with his inability to let go of power over the club. However, his love for the club I believe has been proven.

He has found someone to sell the club to whom he believes has a similar passion for the club just with more ambition. If Moshy comes through and we become a top European club BK has to get some of the credit.
Darryl Ritchie
53
Posted 15/08/2016 at 21:50:10
Darren; We are NOT a destination club; not yet anyways. We may want certain top quality players, but if they don't want to come, we pretty much have to scramble for what we can get.
It's not a patience thing, it's a reality thing.
Patrick Carty
54
Posted 15/08/2016 at 21:52:53
Roll on west brom, I feel very optimistic for a change.
Tony Draper
55
Posted 15/08/2016 at 21:54:43
No Col @46.
Only seen him act.
VIC Reeves IMO.
With BK appearing on "Novelty Island" as "The Singing Mound".
(For the record my all time favorite was Lister's "Laughs with Lard", he had friends who were Doctors and Dentists).
David Barks
56
Posted 15/08/2016 at 21:55:28
Darryl,
Completely disagree. The way you can break that glass ceiling is how Chelsea and more recently City did. You have to be willing to spend big on some marquee players to set the tone that you fully intend to be a "destination club".
Right now we've sold one player and basically spent what we received, not much else. And so far we haven't shown that we intend to be one of those destination clubs that the top talent would consider. If you take what you can get, that's just another way of settling. And some of us are sick to death of settling at Everton.
I did expect actual investment at Everton this Summer, to spend big to bring in some top talent and marquee names. Not in the belief that we would win the league this season with those players. But with the mindset that we would have sent a signal to the footballing world that we are willing to spend what it takes to get top level talent.
Tony Draper
57
Posted 15/08/2016 at 22:01:50
"where does one acquire that ?"
WTF ?
Probably in the emporium next door to where you purchased your monocle, your straw boater and your extra large hamper of pomposity Ole bean !
Mark Murphy
58
Posted 15/08/2016 at 22:03:11
Darron
Seriously
What would make you happy?
Reasonably and achievable??
Darren Hind
59
Posted 15/08/2016 at 22:07:31
Idiotic James ?
I'll tell you what is idiotic. All this happy clapping about Moshiri being "anxious to buy" . . we are still in the black in case you didnt notice.
I'll tell you what else is "idiotic" You thinking Ganna showed more in the Spurs game than Besic has ever shown. Take it you didnt see the City game last season ? the reaction to Besic's performance was identical to the reaction to Ganna's on Saturday - even though it was better
As for Williams. Yes I'm deadly serious. those who think we wont see errors from this modern day Micky Lyons are in for a very rude awakening. Mark my words.
The biggest problem we have as a club is how easily pleased our fans are . .some of you start clapping before you are even happy
Danny Halsall
60
Posted 15/08/2016 at 22:07:33
On a little side note has anyone seen what Danny Gabbidon has been tweeting? Don't know if he is ITK at all but sounds very exciting and interesting, even if it does turn out to be BS!
Darryl Ritchie
61
Posted 15/08/2016 at 22:08:55
David;
If the top talent doesn't want come for the wages we can offer? What then?
Paul Hewitt
63
Posted 15/08/2016 at 22:17:51
I wouldn't give Lukaku a single penny more. Bit more effort this season, then maybe next season.
Chris Hooson
64
Posted 15/08/2016 at 22:23:07
Darren Hind, did you really use the phrase 'modern day Micky Lyons' as a put down of some sort? Fuck me. Those of us who grew up with that man are frankly aghast. Legend of a man, Mr Lyons. Shame on you.
Dan Davies
65
Posted 15/08/2016 at 22:26:03
Besic fully fit, on form, partnering Gana now that would be interesting.
Have to say though Darren, and I spelt your name correct btw, why are you so down on Williams?
David Barks
66
Posted 15/08/2016 at 22:27:52
Darryl,
The whole point is we need to change what we're willing to offer. That's how City got players like Robinho to sign on, same with Tevez and players like Toure. They also were willing to pay what it took to get players out of the Arsenal team and sign on with them. Signing those players sent the notice to all players that City is a destination they should consider, allowing them to attract better and better players, and now the man most recognize as the best manager.
Andy Meighan
67
Posted 15/08/2016 at 22:28:31
The only reason Lukaku will be staying is no one wants him. He thought there would be a bidding war for him. Wrong. Maybe Chelsea will come in for him but that'll be about it. But he wants the holy grail (Champs Lge). Well, sorry, but last time I looked Chelsea arent in it. Looks like we could be stuck with the overrated lump.
James Morgan
69
Posted 15/08/2016 at 22:33:30
Darren, what sort of level of player are you expecting we bring in? Considering they would want to come to us, are affordable and proven at the top level.
Williams has been lauded throughout the media and footballing public as a fine centre half who will instantly improve our defence. Stekelenburg is no doubt a back up keeper, a decent one in my opinion and I reckon we will spend to get a real number one. Gueye's stats leave him only second to the immense Kante in doing what Koeman wants him to do, disrupt oppositions play.
I understand the mixed opinion on Bolasie who can be sensational one week and ineffective the next, but wingers tend to be that way inclined. Not many tear it up week after week. What he will give us is the ability to get is out of trouble and shift the ball up the pitch in double quick time.
I'm happy with the purchases so far but will be even more so if we bring in another four players.
Howard, Hibbert, Osman and Pienaar for the four we've bought using the "potentially great" John Stones money, is good business in my eyes. I think your expectations for where we are as a club are a little too high at the moment, but I admire your ambition of where you want us to be. Patience, dude.
Eric Holland
70
Posted 15/08/2016 at 22:36:06
Well then we have until the end of this transfer window to see what Moshiri is made of.
I will reserve judgment until big Ben chimes over the man in the yellow
tie.
Darren Hind
71
Posted 15/08/2016 at 22:38:06
Not down on Williams Dan. I think he is a fantastic professional anybody who forces their way into the top flight as late as he did in his career has to have special qualities. . .I just think signing a 32 year old is a massive backward step.
I wanted a winner, we all did, but I want 25-26 year old winners, payers we can build a team around

John Malone
72
Posted 15/08/2016 at 22:50:28
Our next signing needs to be a proven quality marquee signing, we've signed the steady old pro at the back, we've signed the unpredictable tricky winger, we need to now buy that player who is out and out quality, someone who will make people sit up and take notice!
Joe O'Brien
73
Posted 15/08/2016 at 22:53:05
Danny (60) what's he been on about? Not on tweeter myself
Lyndon Lloyd
74
Posted 15/08/2016 at 22:55:17
Darren, I'm mystified by your stance on Gueye and Williams and also surprised you're not waiting for the end of the window before passing judgement on Moshiri.
That you've deduced that Gueye is a "Besic clone" from one game is massively premature. If we're forming opinions on players based on 90 minutes (more, I suppose, if you want to include the Espanyol friendly) then I would've guessed the majority of Blues would go the other way – towards hyperbolic admiration rather than writing him off.
As for Williams, with the likes of Holgate (raw) and Funes Mori (still adapting) in the squad you need a mix of experience in a team and if Koeman's primary goal is to shore up the defence, he is exactly the kind of player we need – a player in the unspectacular but defensively determined mould of a Jagielka who can't be relied upon to play 30-plus games.
Get a 32-year-old in to come in and do an outstanding job for 3 seasons and make us hard to beat, then add that top-class "25-26 year old winner" (Koulibaly?) when you've got a high enough profile to land them.
I have a feeling we'll look back in nine months' time and marvel at just how influential Gueye and Williams have been to our season.
Jose Walsh
75
Posted 15/08/2016 at 22:58:42
Gabbidon basically said we will all be pleasantly surprised who we are trying to sign and it is a striker - I'm putting two and two together and getting five thinking we need a statement signing if (inevitably) Lukaku looks like he is going and will sign Rooney because Bill loves a happy ending (not on the Thai tour of a few years ago but theatrically speaking).
Dan Davies
76
Posted 15/08/2016 at 23:00:08
If we get three Good yrs out of Williams, Darren, that's good business, then hopefully we will be in a position league wise, reputation wise, to sign the player your thinking of my friend.
Colin Glassar
77
Posted 15/08/2016 at 23:02:51
We've been linked with some top players eg Witsel, Koulibally, Carvalho etc...but they either don't want to come or their clubs want to rip us off.
Koeman has probably decided to be pragmatic and sign players who can get us back into Europe. If he can achieve that this season then I'm sure he'll be able to recruit a higher quality player next season.
Brent Stephens
78
Posted 15/08/2016 at 23:09:04
Dan, Colin. My thinking exactly. We probably aint seen as a big time club by those we'd all like to sign. We have to build that image over time.
Lyndon Lloyd
79
Posted 15/08/2016 at 23:18:15
Kieran (34) Kenwright has been criticised for many things but I don't think you could justifiably call him the "bungling middleman" when it comes to player transactions.
This so-called "best squad in a generation" was mostly signed by him, with the help of some skilful negotiations when it came to rinsing the most out of other clubs for players who often didn't go on to accomplish very much (Rodwell, Fellaini spring to mind).
Obviously, the big exception is the Niasse deal which was a massive aberration on Everton's dealings over the past decade, although it's not Bill's job to scout the players – he was surely guilty of putting too much faith in Martinez's judgement and those of his scouts.
James Watts
80
Posted 15/08/2016 at 23:21:32
Darren, you are very short sighted my friend.
I think your rant is totally misplaced. We simply are not going to sign massive names, we don't have the money. Despite the potential investment from the Mosh. We've seen how ridiculous the market is price wise. I may not agree with a signing or two either but we have to trust Ronnie on who he is bringing in.
What we are doing is building a team that can challenge. The guys who have been signed add more to our squad, give us options as well as improving our first 11.
It's been frustrating, yes, but this IS a new era but it isn't going to transform us over night. If we are still in this position next year then you will be totally vindicated, but right now, you really do look silly.
Eric Holland
81
Posted 15/08/2016 at 23:27:58
Have you seen the Keep Kone petition?
https://www.change.org/p/sunderland-afc-keep-lamine-kone-at-sunderland/c
The Mackams don't want to lose this one.
Some even saying how Sunderland are a much bigger club that Everton.

Dave Richman
82
Posted 15/08/2016 at 23:30:18
James Rodriguez .. Perhaps
Darren Hind
83
Posted 15/08/2016 at 23:40:15
Lyndon
I have seen Gueye before he came to this club. I'm not against his signing as such, but I think ( in Besic) we already have a very similar player,
I know we need winners, but we are crying out for somebody who can put his foot on the ball. Jagielka, Williams, Mori, Macca, Besic, Cleverly and now Gueye . . We are in danger of becoming a tackling machine. We are screaming out for a bit of guile, a bit of craft. That elusive number 10 seems further away than ever.
I have no doubt you are right, I too expect Williams and Gueye to have good seasons, but will they bring the success we crave ? I doubt it. Surely we would be better served looking longer term than Williams ? buying a 32 year old is a massive gamble, when they get injured they tend to stay injured.
I'm not yet passing judgement on Moshiri, as you quite rightly point out, the window is still wide open, but until we spend more than we have paid out, I cant bring myself to rejoice about promises of splashing the cash..
I am cynical, I am grumpy and I am impatient. I heard all of this optimism when Moyes was in charge, I despaired as people rejoiced over Martinez's empty promises. I've had a belly full of Kenwright telling me my ship is coming in.
Like everyone else on here I need to see our club successful again. I don't want any more promises.
To be honest Lyndon, I lost patience about fifteen years ago
Laurie Hartley
84
Posted 15/08/2016 at 23:44:55
You can't blame the Sunderland fans for being cheesed off about Kone - he has only been with them five minutes. I suspect they might be similarly disgruntled if we put a bid in for their youngster Duncan Watmore.
With all the talk of big money signings he most definitely is one for the future. I would love to see this kid in a blue shirt.
Darren Hind
85
Posted 15/08/2016 at 23:53:36
James
I am no stranger to "looking silly"
According to some on here, I looked very silly when I was telling them Martinez would never deliver on his promises.
Players like Negredo have been up for grabs and we are starting at home without a recognised striker. Proven winners could have been bought. All over Europe clubs are desperate to part with their prize assets in exchange for a slice of the EPL fortune.
We are still in the black and you are happily clapping . . and you think I look silly ?
Ray Robinson
86
Posted 15/08/2016 at 23:54:13
Surely anyone who thinks that the money we received for Stones has paid for Williams, Bolasie and Gueye is being over-simplistic? Yes, the transfers probably net out but there has been significant investment already surely on the basis that four additional, considerable salaries (including Stekelenberg's) are being funded?
Whether we are still seen as a selling club or one actually willing to invest will surely be determined by our willingness to accept or refuse the inevitable deadline day offer for Lukaku from Chelsea. I'm optimistic that at the end of the window, we will be seen as an investing club with overall expenditure considerably exceeding revenue from sales.
Keith Harrison
87
Posted 15/08/2016 at 00:09:37
Darren. High time you started drinking again mate.
I understand what you are trying to say, but we finished 13th the last two seasons. We need to build up slowly, adding better than we had each time until a marquee signing would be happy to join us.
Williams will bring us much needed steel to the back. Holgate will be better than Stones by the time Williams and Jags call it a day. It is frustrating being told - not by the club - we have a £100 million war-chest. Unfortunately every Prem club has - at least, so let the guys in charge re-build the team slowly but surely.
Besic was stunning against City mate, agreed, but he's another sick note like Gibson and Oviedo unfortunately.
Gana will do the biz, and RK will bring the best/beast out of Bolasie.
Keep the Faith Dazza, and hopefully see you soon.
David Barks
88
Posted 16/08/2016 at 00:16:35
Ray,
Please take into account the contracts of Hibbert, Pienaar and Osman and then think about how the calculation works regarding the sale of Stones covering the player additions to date.
Colin Glassar
89
Posted 16/08/2016 at 00:21:35
Darren, you've had your 15 minutes. Let's be a bit more optimistic and see how things pan out. Oh, and let's go for Solomon Rondon (WBA), top player in a crap team.
David Israel
90
Posted 16/08/2016 at 00:31:26
"The Chairman Bill Kenwright is relentlessly pushing things forward ..."
Oh, we've been used to that, Far, for close on twenty years - 24/7.
Seriously, though, it is indeed refreshing. Likewise, he is sparing of words, which means we all sit up and listen when he has something to say. And it's been worth it.
James Watts
91
Posted 16/08/2016 at 00:42:06
Darren (85). Right now, yes I do. Why? Ronnie has only been here 6/7 weeks. Walsh even less. They are putting the bricks in place for a hopefully better future. I understand the frustration of not buying 11 superstars on day 1 or even day 2 but things do seem to be improving. Well from the majorities point of view except yours.
We are all entitled to our opinion of course. Hell, when I first heard about Yannick I was mortified. But I can see the bigger picture of what is trying to be achieved.
I saw through Martinez early, like you, and wanted him gone half way through his second season but that didn't happen.
From what I am seeing, I'm far more optimistic than I ever was under Moyes or Martinez.
Hang in there. It's still early doors! It'll come good. But if it doesn't, I'll come drown my sorrows and curse Mosh, Ronnie et al with you. But for now just tweak the nose of Mr Optimistic and let things pan out for the next few months and see where we are. After all, what else can we do?
David Gallant
92
Posted 16/08/2016 at 00:44:46
I have a funny feeling that the player Gabbidon is on about is one Robert Lewandowski. You heard it here first folks!!! Now THAT would be one hell of a statement of intent!
Everton Wint
93
Posted 16/08/2016 at 00:44:49
I love Basic, but can he stay fit for five games in a row. Gana is here, maybe because Basic is very unlucky, injury prone or maybe his body just can't handle the premier league. COYB
David Israel
94
Posted 16/08/2016 at 00:45:29
Bob Hannigan #44, to say nothing of cup ties!
James Watts
95
Posted 16/08/2016 at 00:51:16
David (92). Any whispers on that one or just your gut feeling?
Dave Abrahams
96
Posted 16/08/2016 at 00:58:19
Ray (86) you have a point over the salaries of the incoming players, but as David Barks (88) says the salaries that Hibbert Pienaar Osman and Howard were receiving will take care of at least two of the incoming players, and if three more players come in at least three will go out, it's swings and roundabouts.
At the end of the transfer window I'll guarantee most Evertonians will be a lot happier than they were at the end of last season, I know I certainly will be.
David Gallant
97
Posted 16/08/2016 at 00:58:22
A combination of things James, but mostly a gut feeling. Gabbidon mentions its a BIG transfer, then he refers to it being someone with a BIG name (ie many letters). Of course this rules out Isco and could very well be Lacazette :) But there is talk that Lewandowski is unsettled and open to a move to the Prem in particular, and most of the Premier League big guns have settled strikers (Chelsea and maybe Arsenal apart). And Chelsea are after Rom, whereas Arsenal are after Lacazette.
All tenuous on the surface of things, but why not dream big? If (and its an admittedly HUGE if) we pull this one off, it would be the 'marquee' signing everyone has been clamoring for, and it could also be a case of 'taxi' for Romelu!
Lewandowski is a fantastic player and made for the Premier League in my opinion. Great touch, a physical specimen and scores all sorts of goals. I'd swap him for Rom in a heartbeat. I don't think Romelu fits Koeman's style to be honest - he doesn't work hard enough, simple as that.
Eugene Ruane
98
Posted 16/08/2016 at 01:03:48
Matt (52) -
'If Moshy comes through and we become a top European club BK has to get some of the credit.'
I can only think of one 'if' more ludicrous Link
Dave Abrahams
99
Posted 16/08/2016 at 01:05:02
David (97) I wouldn't even have the cheek to dream that one up, but I'd be delighted if you were correct.
James Watts
100
Posted 16/08/2016 at 01:05:35
Fingers crossed eh :)
Viv Sharma
101
Posted 16/08/2016 at 01:17:29
Darren (#87), an interesting perspective on building up to a marquee signing but does it not work both ways?
Would the upper tier of mid-priced players (Hart, Arnoutavic, Witsel i.e. not superstars but regular strong performers in their prime) not be more likely to join us if there was a big marquee signing on the books to prove our ambition and improve our image as a serious contender?
Would you sign for a club that brought on Kone in times of need if it were up to you... "Maybe for a 60%salary increase and a huge signing bonus."
What about a team with Draxler, Lewandowski and Lukaku tied down on a new 5 year contract?
"Forget the haggling over bonuses, where do I sign!?"
If we have the opportunity and resource we would benefit in so many ways from a big statement of intent like a huge name coming in.
David Barks
102
Posted 16/08/2016 at 01:18:07
If I had to get into the hopeful posts of who I'd love to sign, I'd go hard for James Rodriguez. He could be our Alexis Sanchez, a great player without any place in the 11 at Madrid. A player like that would make a big statement.
Andrew Keatley
103
Posted 16/08/2016 at 01:20:11
Not sure if any of this Gabbidon chat has any substance but someone who fits the description of bigger than Hart (in physical size and length of surname) and is an attacker; Mario Mandzukic.
The arrival of Higuain at Juve probably mean he's likely to want regular first-team football somewhere. He's not the quickest, good in the air, neat and tidy, probably a decent squad acquisition, but hardly first name on the team sheet. Struggling to see any way in which the Lewandowski/James Rodriguez hopes are possible.
Cannot believe I've joined in the guessing games...
David Gallant
104
Posted 16/08/2016 at 01:31:18
That's a good should Andrew Keatley. If Mandzukic came in though I think we'd keep Rom. Koeman likes a big man up front who can hold it up and play with his back to goal, but who also has a good touch. Guys like Pelle, Bony, etc. Players like this are rare - Mandzukic is another you could add to that list. And of course, my fantasy footballer and marquee signing extraordinaire, Bob Lewa :D
Mick Davies
106
Posted 15/08/2016 at 01:31:30
Darren @ 59, that is sacrilege; taking Mick Lyons' name in vain, as if he's been a bad player. He gave 100% in every game I went to, regardless of whether he was made to play in defence or attack, and anyone that put his head in front of Norman 'bites yer legs' Hunters boot to score for Everton will always be revered by this Evertonian.
And if you want to know what others think of Ash Williams, just look on twitter at the disgusted Arsenal fans, who thought Wenger should have gone for him. Please get some Prozac and stay calm until RK has his team up and running: it's hard to undo 3 years of stagnation in 3 weeks
Fran Mitchell
107
Posted 16/08/2016 at 01:53:54
Everton's chances of getting Lewandowski or Rodriquez are about as high as my chances of getting Tinder matches with the Female Brazilian Volleyball team.
Anyway, why does Danny Gabbidon have any inside info on the transfer dealings at Everton?
The only thing i'll say is that I expect 3/4 players to come in. As with all the players we have signed so far (and in previous seasons too), it is rare for us to be linked with a player that we sign. Usually it is only after the club makes a bid for a player that our interest becomes known.
So I won't make any predictions, other than we will sign someone who nobody on here will have mentioned.
Kieran Kinsella
108
Posted 16/08/2016 at 02:04:33
Gabidon may mean Charlie Austin if by "pleasantly surprised" he's setting the bar at someone better than Niasse.
Kieran Kinsella
109
Posted 16/08/2016 at 02:06:21
Pleasantly surprised is when your coworker buys you a coffe. Rodriguez would be more of a "holy cow".
David Barks
110
Posted 16/08/2016 at 02:20:51
Fran,
And what was City's chance of signing Robinho and Tevez? If we are supposed to have money, and supposed to be taking the next step, we shouldn't be dismissing that type of a signing but demanding it.
William Cartwright
111
Posted 16/08/2016 at 02:51:03
Mick Davies (106) response to impatient Darren is spot on. Also, if its not in your genes, 'patience' can be obtained via the University of Life. We all attend, but not everyone appreciates the virtue.
David Ellis
112
Posted 16/08/2016 at 02:58:30
David Barks - why do you keep comparing us to Man City - we don't have anything like the money they have?
We can't follow their path to success - if we tried it would be more like Leeds Utd. And the first "marquee" signing City made was a complete waste of money (by which I mean Robinho who just landed in the squad without any knowledge of Mark Hughes).
You are impressively delusional. We need to take solid steps forward not attempt giant leaps - we have the resources for the former (at last and thank God) but not the latter (alas...but there it is).
Jim Knightley
113
Posted 16/08/2016 at 03:06:06
Lewandowski?!! Have I logged into a joke thread tonight?
One of the best strikers in world football, playing for the best team in Germany, and probably the best team in the world, is going to swap that for a team that finished in the bottom half of the league last season?! And in the process, all the other top teams who need a striker are just going to sit back and watch?
There is absurd, and then there is the notion of Lewandowksi to Everton.
Our limits in this market are well represented by paying 22.5mil for Bolassie. We need to concentrate on getting in a back up right back, an attacking midfielder and a striker. It wont be easy, because teams will be increasingly reticent to sell now. We should look abroad, and we should not expect big names.
As for Negredo - talk about sensationalism. He scored one goal in an average performance, but what about the past 2 and a half years? He has dropped off massively and is turning 31 this week. We need to aim somewhere between a Lewandowski and Negredo! Bony would be my pick, if Lukaku is to leave.
Jim Knightley
114
Posted 16/08/2016 at 03:06:07
Lewandowski?!! Have I logged into a joke thread tonight?
One of the best strikers in world football, playing for the best team in Germany, and probably the best team in the world, is going to swap that for a team that finished in the bottom half of the league last season?! And in the process, all the other top teams who need a striker are just going to sit back and watch?
There is absurd, and then there is the notion of Lewandowksi to Everton.
Our limits in this market are well represented by paying 22.5mil for Bolassie. We need to concentrate on getting in a back up right back, an attacking midfielder and a striker. It wont be easy, because teams will be increasingly reticent to sell now. We should look abroad, and we should not expect big names.
As for Negredo - talk about sensationalism. He scored one goal in an average performance, but what about the past 2 and a half years? He has dropped off massively and is turning 31 this week. We need to aim somewhere between a Lewandowski and Negredo! Bony would be my pick, if Lukaku is to leave.
Barry Williams
115
Posted 16/08/2016 at 03:14:26
The links to when City came into money and the current Everton set up are largely inappropriate imo as the whole landscape has changed. I think things are being done correctly in that weaknesses are being addressed, no names bandied about and thus reduced speculation in the tabloids.
I may be in a minority here, but I don't want Everton to just go out and buy success. I would like them to develop the team, that way there would be more a sense of achievement. I for one would not want to go the way of City or Chelsea. However, I expect I am in the minority here.
Also, to call people happy clappers for supporting what has gone on at the moment is not only polarising, but damn right patronising!

David Barks
116
Posted 16/08/2016 at 03:20:36
David Ellis,
Not deluded, simply pointing to past examples. We have a billionaire owner and the national along with local press has repeatedly said he promised 100 million to spend. And now we've sold a player for nearly 50 million, so that's nearly 150 million in my eyes.
So we've spent the Stones money, now I want the marquee with the money Moshiri is saying he's looking forward to spending. What I want is marquee, to go big. It sets the tone, creates a brand, puts the footballing world on notice. Leeds was pre-Sky windfall, a different time. I'm not saying spend 100 million on one player. I am saying that we as a fan base should not be discouraging the club from spending top money for top players, if we want to finally move away from being viewed as plucky Everton fighting away in mid table mediocrity.
Michael Penley
117
Posted 16/08/2016 at 03:46:25
This "I want a marquee" attitude is bloody ridiculous. We signed a marquee for the sake of signing a marquee in Eto'o 2 years ago and look how well that turned out. Koeman's trying to build a functional team and all some people care about is how big of a name we are signing.
"It creates a brand" – it sure does, a brand of desperation, of putting appearance above function. Do you think Leicester fans cared about their brand, and how others view them when they were lifting the trophy with a grand total of zero marquee players?
Matt Traynor
118
Posted 16/08/2016 at 04:00:12
Matt #52 - and made pots of cash in doing so - don't forget that. I always said I wouldn't begrudge him a huge profit if he'd delivered KD - both he and Everton would be in different places if he had. But he didn't.
If we're realistic, I'm sure Moshiri's net worth is in the £1.2bn (can't recall where I saw that but I think it's ballpark). His liquidity is likely to be 20% of that, so he ain't going to be bankrolling us at all - especially if the reported figure was pre his investment in shares.
But if he's got the acumen and contacts to move us forward - particularly on the stadium front - then I will give him all the credit BK doesn't deserve.
David Barks
119
Posted 16/08/2016 at 04:33:10
Michael,
You're joking right? Eto'o a marquee? He was a cast off old player from Chelsea signed for nothing. And please God, enough of the Leicester crap. It was once in a lifetime, it's done. You don't build a strategy around a statistical outlier for God's sake.
There is no chance in hell Leicester even sniff qualifying for the champions league next year. They'll be lucky to be top 8. City, Chelsea, United, Spurs, Liverpool, Arsenal will all finish above them, as talent will once again win out like it does 4999 times out of 5000.
Mark Tanton
120
Posted 16/08/2016 at 05:54:11
Fellaini was a last minute marquee signing, and he never really justified his price. Lukaku was a marquee signing and it seems half the fan base would happily drive him to Chelsea.
It is nonsense, this talk of wanting a bit expensive signing. What we need are signings which improve the side. Gueye being a prime example of this surely.
Brent Stephens
121
Posted 16/08/2016 at 06:23:03
Barry #115 can't agree more.
James Wong
122
Posted 16/08/2016 at 07:20:31
Koeman, Walsh, Steklenburg, Williams, Bolasie, Gana.
They are pretty good gets. No crazy buys like Man U or other clubs with bottomless wallets.
Thumbs up from me for Mr Moshiri.
David Gallant
123
Posted 16/08/2016 at 07:31:43
Yes Jim Knightley, Lewandowski to Everton is absurd. But its nice to dream isn't it? Not plausible at all, but stranger things have happened (Robinho to City).
Having given this some more thought, I think Draxler may be a little more realistic (also very unlikely, but maybe a little more attainable). Everton have the money, and Moshiri wants to make 'a statement of intent.'
As for this whole 'marquee signing' issue, I was never a fan of signing a player ONLY based on name and status within the game. But there is a difference between that and signing a big name player who will fit into the dynamic of the team. If we were to sign Draxler, say, for 65m plus, he'd be a sort of 'marquee' signing, but at the same time would be the 'number 10' we've all been crying out for.
Who knows, maybe that's why Rom has changed his twitter handle to '9' from '10' :)
To add fuel to this 'fire', someone offered the name "Draxler" to Danny Gabbidon's tweet and he said 'hot' :) This of course assumes that Gabbidon has any inside info at all (this too is debatable). But its nice to speculate!
Geoff Evans
124
Posted 16/08/2016 at 07:37:34
All the right noises... hope they translate into actions. So far, promising.
Laurie Hartley
125
Posted 16/08/2016 at 07:54:14
Matt # 118 and David 119 - I had to jump here for different reasons but this is what I call class.
Link
He still had it at 33.
For whatever reason, the privilege of seeing him pull on an Everton shirt was short lived. I have never quite gotten over it. But I will savour the memory.
Andy Walker
126
Posted 16/08/2016 at 07:55:27
I think this idea of a marquee signing is more about the people calling for it than a smart plan for moving the club forward. Of course such a signing will get us loads of media coverage, which seems to be more important than the bigger picture for some, reference the frequent posts over the years continually complaining about bias media, and lack of coverage compared to other teams. I don't care about the media's view of us, their view is driven by a commercial need to maximise the number of newspapers they can sell, or viewing/listening numbers the can achieve.
A marquee signing may have a short term impact on our media profile and for some fans this may be very important, providing an opportunity for them to brag to other fans about it, as if the signing in itself is some kind of important achievement. What it won't do is help build the foundations for the long term development of our club, if anything it would destabilise such plans as we'd loose a significant amount of liquidity.
We need a long term plan to build our club: manager, director of football, new players yes - but clever recruitment rather than just throwing money at them, a new stadium, marketing, internal recruitment, further changes in the boardroom and equity holdings. We have started on the road. It's all going to come but it must take time, it would be reckless otherwise.
Turning our club into a long term, leading EPL club will take time and so it should otherwise it's just a big gamble.
Raymond Fox
127
Posted 16/08/2016 at 07:56:17
Push the boat out for a top class midfield playmaker and at least 1 striker again top class, 2 if Lukaku leaves.
I don't think we need another central defender, give the young players games if Williams, Mori or Jags are injured.
Another goalie would be nice as cover for Stek and Robles, are our young goalkeepers up to first team ability as I haven't a clue?
Kieran Fitzgerald
128
Posted 16/08/2016 at 08:38:09
Laurie @125, a former co-worker said to me around the time we signed Eto that the fella had a huge ego and had a habit of being difficult to deal with and work with. Maybe a case of right player wrong time. If even the Eto we signed was to come to the club now, with a different manager and better players around him, we may have gotten a lot more out of him.
Sam Hoare
129
Posted 16/08/2016 at 09:06:14
Gabbidon said a tweeter was hot when he suggested Isco, Rodriguez or Draxler.
Any of those would seem very unlikely but be very welcome.
Perhaps Real may have interest in loaning either Rodriguez or Isco for a high fee and to see if they play themselves back into form...can't imagine we would be the only club interested though.
Reckon this transfer window could yet see us all singing the blues. Imagine if we spent another £100m
Tony Abrahams
130
Posted 16/08/2016 at 09:12:12
David 97, surely a big name could only mean Islam Slimani?
Dave Abrahams
131
Posted 16/08/2016 at 09:13:30
I agree, we do not really need a marquee signing, it's a while ago, but one of the best signings Everton ever made cost nothing or next to nothing and he helped us to win the league that season: Paul Power, another signing like that would suit me fine.
James Hughes
133
Posted 16/08/2016 at 09:14:17
All this talk of big names with big egos leaves me cold. Look at YaYa he's gone from tantrums because he didn't have a cake on his birthday to being frozen out. One minutes he's leaving in a huff now he's virtually begging to stay, do we need that sort of circus at Everton?
Stan Schofield
134
Posted 16/08/2016 at 09:16:10
Andy @126: I agree totally. The media is too full of drivel to justify anyone being worried about any bias against Everton. Such bias is irritating at most, but we can't let a bit of irritation get in the way of a proper plan for getting us back to being a major force.
Signings must be targeted and effective ones, like Stekelenburg, Gana, Williams and Bolasie, not ones to aimed at spending dosh for the sake of it and bringing in 'big' names.
Joe Clitherow
137
Posted 16/08/2016 at 09:45:27
David Gallant
I think you win the prize for most off the wall conclusion based on the most flimsy and tenuous evidence ("then he refers to it being someone with a BIG name (ie many letters)" - seriously???)
You didn't used to write the clues for seminal 1970's game-show-cum-quiz 3-2-1, featuring Ted Rogers by any chance did you?
Drew Shortis
138
Posted 16/08/2016 at 09:45:40
I see we're now being linked with Hart, Sissoko, Austin & Benteke. All good players who have, for one reason or another, lost their way. All have question marks against them but all have plenty of premier league experience and if they could rediscover their form of previous campaigns we could massively boost the quality of our squad. Though Benteke has been slightly tainted by his association with Liverpool he is a beast of a striker and a perfect backup / alternative to Lukaku. I would love to have both of them at the club. The two could compliment each other's play and would be a massive headache for opposition defences.
I don't think its a bad policy to be bringing in proven players like Gana, Stek, Williams and Bolasie now to steady the ship. I'm sure in following windows Koeman & Walsh will bring in lesser known (& cheaper) prospects from the continent, but for now it seems like a solid plan to buy in experience. We already have plenty of potential with the likes of Deulofeu, Besic, Davies, Holgate, Dowell & Galloway who can fight for opportunities to impress this season.
David Ellis
139
Posted 16/08/2016 at 09:56:45
I would be disappointed if Benteke or Austin came in as a replacement for Rom. If Rom stays then maybe they could be back up...but honestly I am not a fan of either of them. Far too limited and in Benteke's case we just don't sign Reds (unless their name is Kevin Sheedy who was brilliant).
However I confess to irrational excitement at the moment
David Ellis
140
Posted 16/08/2016 at 10:00:11
Off topic but I see us lining up differently against WBA than against Spurs. I think we we will revert to a slightly more attacking 4-3-3 line up with
Stek
Right back (Holgate/McCarthy or Funes Mori)
Williams
Jags
Baines;
Gana, Barkley, Barry
Deulofeu, Lukaku, Bolasie
Tim Sharpe
141
Posted 16/08/2016 at 10:04:26
@David Ellis - Peter Beardsley did not bad for us as well. I'd include him, and Gary Ablett in acceptable reds.
I still think that the Moshiri Monster Machine has a big punch still winding up. Convinced there will be a record shattering transfer in the pipeline.
Great statement from him, decisive, direct but still with enough passion to let us know the Everton bug has bitten him.
Bill Kenwright was not the worst person to run Everton, but not the best either. He went with his heart, not his head far to often and he always had the blue tinted glasses. Lack of proper advisors maybe contributed to his bad luck and bad judgement
Mike Bird
142
Posted 16/08/2016 at 10:07:01
David Barks. I've read your posts on a few threads and believe you are on another planet. You seem deluded and simplistic.
Put yourself in the boots of your 'marquee' signing. Would you want Champions League football or the chance to play against Yeovil in the EFL? Things take time. Get real lad!
Terence Tyler
143
Posted 16/08/2016 at 10:14:49
Skybet this morning, have got us favourites to sign. Hart, Mata, Benteke, Sissoko, Bony, and Witsel.
Wayne Maher
144
Posted 16/08/2016 at 10:19:11
4-1-4-1

Drew Shortis
145
Posted 16/08/2016 at 10:52:18
I would like Benteke in addition to Lukaku, not as a replacement. Would act as cover, competition or as a partner if we opt for two up top. I really think these two big Belgians would terrify defences.
With regards to his time at Liverpool. I don't like the idea of taking hand me downs, but surely it would be sweet to take a 'failed' player off their hands at a knock down price and see them thrive in a blue shirt.
I'm not particularly fussed about Austin other than as backup for Lukaku. Bony would only be a backup option too. Benteke was a real force for Villa and I'm sure he could rediscover that kind of form.
Stan Schofield
146
Posted 16/08/2016 at 10:54:00
I like the way things have been going with transfers. We can forget all the media hype and drivel about who might be joining or leaving us, that's just for journalists who've got nothing better to do. Transfers to date have been targeted on what Koeman decides he needs, and look very sensible sums spent, rather than splashing money around scatter-gun style.
The latter approach, which always looks tacky and which the media love, is for the likes of Chelsea and Man City. Anyone can spend cash on 'big' names, but it takes expertise to identify real needs and recruit accordingly. Koeman & Walsh seem to be demonstrating that expertise.
Kim Vivian
147
Posted 16/08/2016 at 10:58:04
Yeah right. Favorites eh?I don't know why people bother reading all that shite.
Brent Stephens
148
Posted 16/08/2016 at 11:01:47
Terence #143 - get your bets on now then!
Brent Stephens
149
Posted 16/08/2016 at 11:04:55
Jan Venegoor of Hesselink - now there was a big name.
Bobby Thomas
150
Posted 16/08/2016 at 11:30:26
The way Koeman likes to set things up Benteke would be a good signing.
He was a ridiculous signing by Liverpool, another striker that was totally unsuited to the way Rogers liked to do things, and it was never going to work. I was made up when they blew £32 million on him, he was way overpriced and the wrong fit for the manager. Then Klopp came in and just didn't fancy him. That happens.
He has shown at Villa that if you play to his strengths he can be very, very effective. Width and crosses. Looking at the players we have we would be well placed to provide that service. He would be available at a somewhat sensible price this time as well.
Barry Sherlock
151
Posted 16/08/2016 at 11:50:24
Darren #85
You can't have it both ways; Ashley Williams is too old but we should be signed Negredo!!!
Negredo is 31 next week. And Ashley Williams is just turning 32. Centre Halves almost always have longer careers at the top as do Goalkeepers. Negredo didn't have a host of clubs after him and he went to Middlesbrough.
I understand you're impatient but I think we can see that & hear that we at least trying to bring in decent talent. We have been linked with a lot of top players.
Brian Williams
152
Posted 16/08/2016 at 11:56:09
Hart on loan with an option to buy, Sissoko from the Maggots, Slimani up front with Lulu (not the ageing Scottish wailer, the younger Belgian wailer) sorted!
Stewart Lowe
153
Posted 16/08/2016 at 12:09:53
Will someone please wake me from La La Land?
Moussa Sissoko?? Really??
Am I missing something here?
I was struggling to understand the Bolasie for £25m thing, but now all the media is pointing to Sissoko?
Bolasie with an awful goals / assists ratio and this is supposed to be a great addition?? I just don't get it?
It appears that, Idrissa Gana aside, as long as you are 16+ stone and over 6ft 2 you will be signed regardless of ability. Is Koeman constructing a Rugby squad here?
Never mind Sissoko sounding out Real Madrid as a preferred destination, this guy shouldn't be cutting it any higher than a Burnley or Watford. He has one good game against the French and suddenly he is worth £35m??? Mike Ashley will be rubbing his hands with glee at that price tag.
What a joke
Anthony Flack
154
Posted 16/08/2016 at 12:26:29
For me Sisoko is just another good player on his day. Seems to lack grit and consistency, perhaps even commitment as I do not recall him even breaking a sweat trying to keep the barcodes up.
David Gallant
155
Posted 16/08/2016 at 12:28:00
Joe Clitherow, yes indeed its great to speculate! As for big names, Alexandre Lacazette is pretty big :)
Stewart Lowe
156
Posted 16/08/2016 at 12:29:16
In addition to my last comment, Sissoko lacks pace and always looks heavy, if that's a fitness issue I do not know. I do know that there are so much better players out there that would be worth their £35m without question. If you are going to spend so much, there can be little or no doubt about ability, and with Sissoko there more wrong than right.
Steve Jones
157
Posted 16/08/2016 at 12:33:55
Stewart, #153
We have a problem moving the ball forwards quickly enough for the last few seasons. So the players we have that can exploit space wouldn't have any space left by the time it got upfield.
Bolasie will be one method to get the ball moving quicker. He'll also have the affect of drawing in opposing defenders and, hopefully, helping create space for the likes of Lukaku, Mirallas and Deulofeu to operate in. Its not subtle but on paper it looks like a solid plan at least!!!.
As for the fee everyones rich now. Jordan Ibe just sold for the same money we brought Fellaini in for!. Is Bolasie worth 2 Jordan Ibe's .yup no question of that!. No comparisons with other leagues or earlier seasons make any sense any more.
Guy Hastings
158
Posted 16/08/2016 at 12:39:43
Brent 149 - that's a long name. Frank Large, he was a big-name player.
Pete Edwards
159
Posted 16/08/2016 at 12:40:32
Darren, you complain about the signings we have made then basically ask why we weren't in for Negredo a player who did the total sum of jack shit in the Premier League last time! Yes he scored on Saturday but I'd be sure he wont get more than 10 goals for Boro this season.
We've signed in Williams a model pro who will absolutely strengthen the team and in Gueye a player with Premier League experience who will again strengthen the team if his stats are anything like what they were last season.
I don't know what some people are expecting... we finished 11th for the last 2 seasons, we need to build and get the players in to push us back in to the top 6 which is what it looks like we are doing!

Stewart Lowe
160
Posted 16/08/2016 at 12:47:07
Steve#157
I totally agree with you that as a result of the TV money everyone is rich now and just because the TV money doubled it doesn't make Sissoko twice the player he was last season.
Yet again I do agree that we need pace and power to get us up the pitch quick, but wouldn't the end product of that be snuffed out by the poor assist ratio of both Bolasie and Sissoko? Surely they have to play between the lines and provide the assists for the likes of Barkley and whoever will be our attackers this season? If they power with pace up the pitch and their passes are not good enough to find our attack, isn't that a flaw in why we want the pair of them in the first place?
For me and the prices being quoted, in order to do the above we have to forget about Sissoko and try to be adding players in the mould of Delli Alli, David Silva, Dimitri Payet, Aaron Ramsey, Bastian Shweinsteiger etc.
Eugene Ruane
161
Posted 16/08/2016 at 12:52:47
Tut! Puh!
(places hands on hips Rigsby-style while whistfully shaking head).
Am I going crazy!?
Is this actually happening!?
What next!?
Am I dreaming!?
For flip's sake, is this la-la land!?
I mean, come ON.
Hell-OH!!
Every name linked with Everton sets off loads of TWers who, though not involved in professional football or coaching or scouting (and who spend all their time in their bills, eating crisps and looking at two-bob rumours on news now) tell us not only who we should and shouldn't buy, but what the fee should be.
I mean...am I going insane?
Is this actually happ...
(etc blah)
Tony Twist
162
Posted 16/08/2016 at 12:54:46
Benteke! Jesus, no thanks. He's just another Lukaku. Might as well keep Lukaku. Suarez, he'll do! A genius of a player though unfortunately can't control himself sometimes.
Brendan Fox
163
Posted 16/08/2016 at 12:57:09
Not sure why some people are getting their knickers in a twist over their view that there is a requirement for the club to announce the acquisition of a marquee sign and the message of intent this purportedly sends out to the footballing world.
To me this is just a crazy view and would send out to all and sundry that the club have more money than sense, à la Man City or Chelsea.
Building a house without solid foundations is what this approach would amount to.
The club should be given the full support of all supporters during this transitional phase of new ownership and management team to get the foundations right for the here and now and the long term.
COYB the future looks blue!
Paul Hay
164
Posted 16/08/2016 at 13:05:56
Let's be positive guys. A new season with new people steering the ship. Convinced that Mr. Koeman is perfect for us. Encouraged by Saturday's performance - I think Kev M will thrive with this guy in charge.
Keep the faith.
Brent Stephens
165
Posted 16/08/2016 at 13:11:05
Guy, then there was Brian Little. And that other Liddle chappie.
Steve Jones
166
Posted 16/08/2016 at 13:16:18
Stewart 160
Sissoko is a non-starter for me, but, thats still a very fresh rumour so lets see if it sticks before we get too skittish?.
Bolasie is a different story of course. I guess if we expect him to tear up the pitch then drop a pin-point ball on Lukaku's head we might be disappointed but if he can get up the field and reliably complete a simple pass to Geri or Mirallas and let them do the rest maybe thats enough?.
When I've seen him, admittedly not to any huge depth of effort, I've seen him being extremely effective certainly to the point that he can pass a ball to a basic standard!.
Mark Daley
167
Posted 16/08/2016 at 13:26:53
My aunty was on the 21 bus this morning and overheard a bloke in front of her who had greyish hair and an Iranian accent saying into his phone: "OK, Lionel, I'll see you and Neymar at Finch Farm tomorrow at 10 am."
He got off at Eton Street and she could not hear the rest of the conversation.
She asked me if I had any idea what this meant.
Marc Sansum
168
Posted 16/08/2016 at 13:27:07
Anyone else get the feeling he's sorting the spine of the team with premier league ready players, and that we might dip into the foreign market soon after?
Mark Tanton
169
Posted 16/08/2016 at 13:31:15
He doesn't strike me as the bus getting type!
John Jones
170
Posted 16/08/2016 at 13:37:52
Mark #167. She has clearly miss heard that, obviosuly it was Lionel Blair who is one of Bills theatre mates and he was saying "an ya ma" not "Neymar".
Viv Sharma
171
Posted 16/08/2016 at 13:39:43
I think that means our majority shareholders broke!
Guy Hastings
172
Posted 16/08/2016 at 13:40:07
Brent - I saw the great Johnny Byrne alongside Frank Large turn out for Fulham at the end of the 67/68 season (I think) - it was like watching a pantomime elephant
David Israel
173
Posted 16/08/2016 at 13:49:22
David Gallant (123), would Draxler's two-syllable name qualify under the Gabbidon rules? ;-) If it did, so would Messi's similarly syllabled one! Now, that is dreaming! Cheers!
Mark Tanton
174
Posted 16/08/2016 at 13:53:31
Assonance - "gerrin the rhyme wrong".
Brent Stephens
175
Posted 16/08/2016 at 14:07:26
Guy, another pantomime elephant from that decade was Fred Pickering. But he scored at an impressive rate per game. Debates at that time like today's Lukaku debate - scores a lot but...
James Marshall
176
Posted 16/08/2016 at 14:10:34
So what if we sign a big name? Does that mean that other teams will instantly fear us, shit themselves and lose against us simply because we have someone with a fancy name on his shirt?
I don't understand the whole 'send out a message of intent' line. It's just a media phrase that fans have latched onto. It's meaningless.
Football is a game played by 11 blokes v 11 other blokes. What we need is good players that fit the system - unlike the last regime where we had some decent players and no system to speak of.
We could buy Messi tomorrow and still lose to West Brom at the weekend.
Joe Digney
177
Posted 16/08/2016 at 14:19:23
Anyone have any idea what the club are announcing tonight?
Tony Sullivan
178
Posted 16/08/2016 at 14:25:42
Eugene (161) Absolutely hilarious and spot on!
David Israel
179
Posted 16/08/2016 at 14:30:05
Guy Hastings (158), Frank Large! Now, that brings back memories! I seem to remember he played for some ten clubs, always on the move, a journeyman if ever there was one. I think he may also have played cricket in Ireland, after retiring.
Kevin Tully
180
Posted 16/08/2016 at 14:30:55
Let's be honest, we've had so little to be happy about over the past 20 years, talk of real money being invested into the playing squad and serious intentions to finally deliver the ground of our dreams has sent Evertonians into a bit of a frenzy!
I don't doubt for one minute we are better off than we have been for a generation, but even Bournemouth have spent 㿑m this summer. Bournemouth, FFS!
It did seem to many we were waiting until the Stones deal was done before we made any serious moves in the transfer market – but could this be down to Bill reverting back to his MO? The reason we always left our signings to the last minute is because the chairman likes to save wages during the close season. He's had to count the pennies for 16 years, so I imagine he's sharing with Moshiri his experience of making savings wherever possible.
I do have a little sympathy for Darren H; he's right in saying we are nowhere near the promised land – we've just got money available to sign some players. A luxury we have had to forego during the Kenwright years unless we made a big sale. Great chairman though! I read a fantastic line on here a few weeks ago: "Thanking Kenwright for bringing on board Moshiri is like thanking an arsonist for calling the fire brigade." Brilliant.
It all lined up perfectly for BK & Sir Greedy to finally agree to a sale. TV revenues went through the roof, Sir Greedy is cashing in all over the place, Bill finally became a very rich man, plus Earl & Woods were happy with the wedge they walked away with. I don't begrudge them all making a fortune out of EFC, but I certainly won't thank them, as some would like to on here.
I'll save my praise for Moshiri and his stewardship of the club, because I believe he will deliver a new ground and invest his own money beyond his purchase of shares. Hopefully, he won't bring anyone like Earl or Green near the place either.
Here's to good times and a bright blue future, but I'd like to forget about the past 20 years – nothing but heartache. (I can feel a song coming on...)
John Daley
181
Posted 16/08/2016 at 15:00:45
'Statements of intent' are the future of the sport and we shouldn't forget about sending them once the transfer window slams shut.
After we sign Marquee Mark, we should immediately move onto other means of letting teams know we mean business, because...y'know, otherwise, they might feel less awed and intimidated as the fear factor from the last message fades.
Maybe get our players to make their way out on to the pitch whilst munching down on a human heart, or have them break planks of wood in half with sychronised headbutts before pointing menacingly at the oppositions main man, gyrating their hips and growling "guess what your gran's been getting her gums around during the pre-match build up?" [The correct answer, of course, would be "...a fucking Everton mint"].
Or, maybe we could just start stringing a few wins together and let our football do the talking? I'm pretty sure people would get the message.
Neil Wood
182
Posted 16/08/2016 at 15:11:18
Joe @ 177. I'm thinking the same Will get excited for it to be a third kit or something!!! Or another paint job on the ground!
James Morgan
183
Posted 16/08/2016 at 15:12:18
Joe, not a clue but DJ Anton Powers (me neither) is providing the music.
Joe Digney
184
Posted 16/08/2016 at 15:13:47
Neil @ 182,
Yeh, I was dreaming of Rodriguez standing there with an Everton scarf!!!
But paint job seems for realistic.
Dan Davies
185
Posted 16/08/2016 at 15:18:05
Eugene@161, good post. 'Eating crisps' - classic.
Whoever we eventually buy let's have some confidence in the new set up please.
Neil Wood
186
Posted 16/08/2016 at 15:20:14
Ha More chance of signing James Bond than James Rodriguez!
But .. You never know😂
Joe Digney
187
Posted 16/08/2016 at 15:24:15
Fine, fine... Draxler will do I suppose.
Brian Harrison
188
Posted 16/08/2016 at 15:26:05
With some of the scepticism by some of the posters it reminds me of Something Alan Sugar said when chairman of Spurs. He had given the manager George Graham a healthy war chest to buy 3 players, then 3 weeks later Graham was in the press saying he probably needed another 2 players.
A few weeks later after giving Graham even more money, when Sugar took his seat in the stands a fan shouted at him "why don't you spend some money you tight Jewish bastard" his words not mine.
Which just shows nothing has changed as for investors pumping their money into clubs fans will always want more.
Thomas Surgenor
189
Posted 16/08/2016 at 15:35:18
The third kit should be announced tonight.
We're playing west brom away and at the minute we have a kit clash.
Patrick Murphy
190
Posted 16/08/2016 at 15:41:41
As long as the manager has a say in the potential signings and we have the money to purchase them, I couldn't care less about their stats, past failures or successes or what colour boots they wear, all I want is for the new or old player to perform to his best when picked to represent Everton. If all 11- 14 players do that every game I'll be reasonably happy and if they win regularly I will be extremely happy.
As for Mr Moshiri, imagine if he hadn't have come on board, would we think for one minute that the previous regime would be able to re-locate the club in a shiny new stadium? Would we all be moaning because we weren't seeing world stars in the Blue of Everton? Would season ticket sales be as high as they currently are? I'm pretty sure we'd mostly be in a state of deep depression.
Mind you, even having the new guy in charge doesn't seem to have altered the negative psychology that has built up over the last couple of decades.
If the people who own and run the club believe they are doing their best to improve Everton's fortunes both on and off the pitch and they are willing to do what they can to help, what more can we ask for?

Steve Jones
191
Posted 16/08/2016 at 15:46:49
John Daley #181
Did you not read the TW memo that if we are not flinging huge wads of cash out of the door then we aren't showing ambition?
Ambition is 'Statement of Intent' by another name. You do not display your ambition if you aren't signing players doesn't matter whether the manager wants them or not...
Ambition – that's all it takes...
Song in that somewhere.
Ray Robinson
192
Posted 16/08/2016 at 16:04:21
David #88 and Dave #94,
I didn't mention the savings on Hibbert, Osman and Pienaar's wages because they were likely to be on far less money than the incoming players. Bolasie has been signed for 5 years, presumably on megabucks wages. That's an additional commitment for 5 years on Bolasie alone.
Lukaku has reputedly been offered a massive increase in wages. I don't believe that the argument that sale of Stones has covered the costs of the incoming players even allowing for the release of the three players mentioned above and the fact that the actual transfers appear to net off. I'm sure the economics of signing players is far more complicated than just looking at the transfer fees.
Eugene Ruane
193
Posted 16/08/2016 at 16:23:37
COME ON KOEMAN YOU MINGEBAG, GET THE (football manager equivalent of) THE ALE IN!!
David Cromwell
194
Posted 16/08/2016 at 16:31:59
I'm with Darren Hind. Koeman is a mercenary – he won't be here in two years.
Swansea conceded three less goals than we did last year, and that was with our defense being keystone cops level incompetent. No wonder Swansea were content to let Williams go, especially for that wedge. Gueye looks okay, but to me seems in the Tom Cleverley mold... Premier League player but no star. We've still sold to buy regardless of the chairman's words.
Yes, I understand the whole "consolidation" "building from the base" "crawl before we walk, walk before we run" philosophy. But to my ears – and yours Darren? – that's basically a concession that this will be another lost year, another year to add to the now longest run without a trophy this club has had in it's history.
Like Darren, I'd had enough fifteen years ago and I'm very skeptical and cynical. The rivers of cash flowing into the league are what got Moshiri in; if he'd waited he wouldn't have deep enough pockets to get a seat in the game. I've had my pants pulled down that many times by Everton that I'm really loathe to let them do it again.
At least me and Darren are still here; still posting. The number of what were regular names on this site that have disappeared is a long one. A club of our size needs all it's support on board, pulling the same way. For Everton in many ways, it's make or break time.
Paul Tran
195
Posted 16/08/2016 at 16:46:43
So it's gotta be miserable or happy clapping? No other choice?
I'm not expecting marquee signings right now. I'm expecting a team that's fit and does the basics. I'm expecting the manager to sort out the spine of the team and then go for a No 10 type player. When we start doing that and look like we're going somewhere, the marquee signings might come.
The way I things things right now, we've brought in three players who will improve the team. Better keeper, strong centre back and the midfielder who does what people want Besic to do. He's the calculated nous to Besic's headless chicken.
Why the obsession with Koeman staying? Do managers stay for years these days? If he moves to a better club in 2 years it'll mean he's done a good job and another decent manager will want the job. That's what happens when you get talented people. If you improve they stay, if you don't they leave.
Ecstatic? No. Satisfied? Not yet.
Cautiously optimistic? Yes
Brent Stephens
196
Posted 16/08/2016 at 16:58:05
"Gueye looks okay, but to me seems in the Tom Cleverley mold... Premier League player but no star."
For me, Gueye on Saturday showed more promise than Cleverley has ever shown for us. Arguably man of the match on Saturday, which I can't remember Clevs ever being with us.
I'm not sure Clevs will be with us that much longer. Started on the bench on Saturday and that will be his starting position at best at the weekend.
Stan Schofield
197
Posted 16/08/2016 at 16:58:52
Paul @195: He might well be a mercenary, but perhaps that's what we need at the moment. A specialist paid handsomely to do a specific job, namely getting some significant improvement after the debacle of last season, that improvement being a basis for further improvement.
Whether he's here for two years or ten years, nobody knows, and maybe it doesn't matter at this stage. It's all a question of probabilities, and the chance of a staged improvement is higher than the chance of a step-wise large improvement. We can hope for the latter, but Koeman has to do more than hope, he has to manage and produce results fairly quickly. That's why he's being paid ٤M/year.
Ultimately, I expect Everton to win everything (having been raised on high expectations, from Alex Young, to Alan Ball, to Peter Reid et al), but I'm not going to have unrealistic expectations at this moment. Attention to detail is the key to expertise, and it looks to me like our new management is getting the detail right.
Stan Schofield
198
Posted 16/08/2016 at 17:03:15
Paul, sorry I meant David @194. My attention to detail wasn't very good there.
Steve Jones
199
Posted 16/08/2016 at 17:06:38
David #194
So you want success, right now, even though Koeman has had exactly 1 league match under his belt with a team that's not his and, last season, had an open conflict with their prior, failing, manager?.
Its rational to have an expectation of silverware this season is it?.
Jim Potter
200
Posted 16/08/2016 at 17:13:38
The gift of the Gabbidon ..... would be to keep it shut.
Darren Hind
206
Posted 16/08/2016 at 19:42:56
Some utter tosh being spouted here. I haven't once asked for a superstar, I'm not calling for Messi, or Ronaldo. I'm just refusing to whoop and clap at this desperately drab and uninspiring window like some on here.
Let me just remind the satisfied and the contented. We opened the season without a recognised striker. Did you get that? US! Everton, flush with a £100 million war chest. kicked off after a three-month layoff and we didn't have a striker! We didn't have a right back either, we played a defensive midfield player as a wing back. Happy and content??? Are you sure about that?
I have to chuckle at these experts who turn their noses up at the possibility of getting a 30-year-old Negredo in on loan... yet they are satisfied with the current situation of having Kone and Niasse as backup. Unless he has a leg amputated he will score more for a poor Boro side than these two put together next season. he will score more than Deulofeu and Mirallas too . .and when he isn't scoring he will be make fucking sure the defenders know they have been in a battle. He's a warrior.
Loans are short term solutions but if you are looking to buy time and bring in the right kind of player, they offer a perfect solution. A much better solution than paying £9m for a 32-year-old stop gap.
Nobody is expecting miracles (the claim of the happy clapper every time they notice some one who isn't clapping quite as happily as they are) but we are entitled to expect the bare minimum, Since when did expecting your team to be able to open the season with a serious goal threat constitute having unrealistic expectations?
Ground hog day. Evertonians are fawning all over new management before they have even chalked up a win.
How about we wait until we have an team capable of challenging for honours before we start handing out the bouquets?
David Barks
207
Posted 16/08/2016 at 19:50:02
Darren,
Apparently the likes of you and me should just sit back and be content year after year with so many sides moving past us, including our neighbors. I had to watch them go to Arsenal and go up 4-1, hanging on for an away win at the Emirates after their concentration dropped. Meanwhile on here you would have thought we just advanced to the knockout stages of the Champions League after holding off Spurs for a draw, in our home opener.
This window so far has been slow and uninspiring for Everton. Plenty of our competition got players in early. Yet we, as you stated, started our home opener without a striker and without a RB. But apparently we should just be cheering periodic soundbites about the money we might spend.
Paul Tran
208
Posted 16/08/2016 at 19:57:34
Fair point, Darren. I think the three signings have been good ones, but I'm also disappointed at the lack of strikers. Even if we keep Lukaku (and I hope we do) I'd like two more. A half-decent striker would have got us three points on Saturday. I wish I knew who we've tried for and how close we've got.
Can't understand neither 'happy clappy' nor 'miserable'. Get em fit, sort out the spine, make us hard to be is all good stuff. Good strikers are the difference between a well- organised eighth and pushing top four or higher.
Dan Davies
209
Posted 16/08/2016 at 20:21:06
Darren can't argue about the striker or right back situation to be fair. Personally I would like to see more decisiveness from Everton with regards to those positions asap.
Paul Dewhurst
210
Posted 16/08/2016 at 20:54:58
Personally I think a wank and a beer (in any order) would chill out a few highly strung Everton or diehard keyboard warriors out ...
But then I'm just another wanker like the rest of us, who profess to know what is best (without having any known skills or experience):
Manager
DoF
Another talent scout today
A solid but boring GK
A solid leading CB
A Solid CM
A Winger with pace to burn
And links to players who may not make us Champions but fit in with the new managers ideas and look to improve the squad is a a step in the right direction.
It would seem though that step might not be big enough, or media driven enough for some But surely it's an improvement on the last two years of shite weather we sign a Marquee or not?
Neil Sagar
211
Posted 16/08/2016 at 21:31:56
Koeman will improve on Martinez's league position without any signings, then add to this the new players so far and the ones to come in before the dead line and I have absolutely no doubt we will be a force.
John Daley
212
Posted 16/08/2016 at 21:53:59
"...on here you would have though we just advanced to the knockout stages of the Champions League after holding off Spurs for a draw"
Where was anyone celebrating a home draw with Spurs with such fervour? I've seen people say that they were satisfied with the result under the circumstances, that there were elements of the performance that offered signs of promise for the season ahead, that there was a greater work ethic and tempo on display, that the two new signings had decent debuts. Nothing much more than that.
Not feeling despondent because everything hasn't clicked into place by the time the final whistle blows in the opening fixture isn't the same as stripping down to the buff, bouncing down the street with your hamsters handbag and hairbrush hanging out (surely, you've got to have a Danny Devito sized dong if you don't demand a win against Spurs?) and high fiving random passers by in the street for having the rare good fortune to be at Goodison on such a remarkable and momentous day.
It's just recognising that a hard earned point in the very first game of a new season is just an acceptable fucking start not a foreboding portent of how things will invariably play out under a new regime.
Oliver Molloy
213
Posted 16/08/2016 at 22:10:49
It's going to take at least half the season in order for Koeman and co to get the team playing exactly like he wants.
I still believe Lukaku will be sold come the end of August. Providing we replace him with a 20-goal striker it won't be so bad, even better would be to keep him and get the above to partner him.
Jim Burns
214
Posted 16/08/2016 at 22:50:43
John @ 212 - priceless images and point well made.
Andy Walker
215
Posted 16/08/2016 at 22:53:22
John 212, I agree with you I can't see how anyone reading this thread would come to the judgement that the fans were anything other than balanced and realistic about the performance against Spurs. Some improvement, in terms of set up and effort relative to last season, but lots to improve on. I didn't read any OTT posts about how good we were.
Perhaps those who have come to this judgement could provide some actual evidence, otherwise it just looks like deliberately emotive rubbish to me.
Jim Burns
216
Posted 16/08/2016 at 23:24:42
One or two on here need to stay off the coffee. None of us are suggesting we 'sit back and be content year after year with so many sides moving past us, including our neighbours'.
What some of us have is a sense of realistic optimism – and why not?
As for being short of a decent additional striker etc... that's self evident, but down to the previous management's ineptitude.
I've said before – the current management set up has only been in place for a matter of weeks FSS – give the man a break another few weeks or months won't be the worst thing we've ever had to endure if RK and Co continue to build on these very early but quietly efficient steps.
Let's enjoy the hope for a change and be patient.
Garry Corgan
217
Posted 16/08/2016 at 23:35:38
Anxious to invest? Oh good, we could use some investment because so far we've only spent the Stones money (and that includes Koeman's fee!)
Eddie Dunn
218
Posted 16/08/2016 at 23:36:22
Rom has decided to stay and try his best to play his part in the new project. Expect a surprise in the next few days folks things are looking decidedly blue..my Japanese tie dye has revealed all.
David Cromwell
219
Posted 16/08/2016 at 00:30:21
Steve (#199) " Its rational to have an expectation of silverware this season is it?"
When did I say I expected success this season? What I didn't expect was to get from my teens to damn near my fucken forties without seeing this club win anything. After twenty years of fruitlessness – and as I said basically a concession that this year will be no different – the bank of excitement about Everton has zero funds.

We can't and won't compete financially with the big boys, so buying success is obviously out of the question. We tried the alternate route, the build from the base thing with Moyes and Martinez and that's crapped out too. Now our model seems to be Steve Walsh identifying unknown diamonds and then a competent manager working with what he's given.

Yeah it worked for Leicester – once, in a very strange year for the league – but you'd have to think the odds of lightning striking twice are pretty slim. The rest of the league saw what Leicester did last year as well, which is the problem with the "Moneyball" approach. Once the genie is out the lamp, there's no putting him back in there.

I'm suspicious of Moshiri also. For me, the best thing going for him is that he's not Bill Kenwright. But we have still sold to buy - and we didn't get enough for Stones in this market. And the silence and inaction as Martinez bottled the end of last season has my alarm bells ringing. It's over and done with now, but letting Martinez remain in charge for the semi final lost year cost us a cup final appearance. As dozens of TWebbers, past and present recognised at the time, leaving him in charge was folly. Like the semi final with the RS, that will hurt for a long time.
Moshiri is a brilliant businessman, but I suspect he only bought into us because the game has entered the hyper-inflation stage. The rivers – oceans really – of gold coming into the game have already had their affect on the market and on player wages. Moshiri knew and knows that a seat in this league is only becoming exponentially more valuable. That's where my suspicious nature kicks in... yeah he might have bought in now to avoid paying more later and it's always been his dream to own a football club. Or he might have recognised that the football bubble has just hit over drive, and if he puts some lipstick on our pig of a club, he'll be able to flip us for a massive profit. With the tv revenues growing so quickly, do you know how much a spot in this league will be worth in three or four years?
I'm with Darren Hind. A chairman who says nice things but we've still sold to buy. A DOF who – being realistic – may have already reached his apogee. A manager who'll be in China or Qatar for more wonga by the time the Tokyo Olympics roll around.

I've gone off on one there, a reflection of what Everton are doing to me these days. But Steve (#199), no, there is no rational reason to expect success this season. And I'm writing that in August. Jesus, how far we have fallen.
Matt Traynor
220
Posted 17/08/2016 at 03:57:03
David (#219), "No, there is no rational reason to expect success this season. And I'm writing that in August. Jesus, how far we have fallen."
Come on fella, at least we're no longer hoping to get to 40 points – publicly, under the dour one, and secretly, under the phenomenal one.
Barry Williams
221
Posted 17/08/2016 at 06:14:21
Just a few points, being a happy clapper apparently!
We started the Koeman reign with 5 strikers. Lukaku, Kone, Niasse, Rodriguez and Henan. It is not his fault that he rates only one of them. Again, it takes time to assess and rate them all. Lukaku got injured, therefore bad timing showed we need cover, but finding the right guys long or short term is obviously not easy because if they are any good clubs tend not to want to sell them, particularly strikers. Also, good strikers don't particularly want to be understudies I guess, with Lukaku there they would be!
Right back has been a problem area for a number of years from when we went from having 3rbs (Coleman, Neville, Hibbert) to 1 fit one. Again Coleman got injured and it highlighted this. Yes, we should have had cover, but as Liverpool have demonstrated (with a manager in place for a lot longer than ours) in their failed pursuit of a left back, good replacements just don't grow on trees, especially if they know they won't be considered first choice, which with Coleman in the squad, they won't! So we have to make do with Kenny (is he loaned out), McCarthy, Lennon or Holgate at the moment (depending on the system). Again, not ideal but manageable until the right player can be brought in!
Also, just a point to note, I have no idea how Moshiri will pan out, but he didn't just appear into the Premier League at Everton, he was at Arsenal for a long time , something that seems to have been forgotten by some posters. He is an established guy within the Premier League and we don't truly know his motivations, again we just have to see how it pans out over time (not one transfer window that is still open for another 2 weeks or so).
Tony Abrahams
222
Posted 17/08/2016 at 10:19:47
Trying like mad to get on to this Arsenal Blog but my iPad, is having none of it. Can anyone get this up for me because it's talking about Moshiri's mate coming to join him at Everton?
Steve Jones
223
Posted 17/08/2016 at 10:28:03
David #219
You seem to want the house without going through the design or build stages?.
I'm disappointed we haven't won the league every season since our mid-80's heyday. I'm disappointed we haven't lifted a trophy in two decades. That has absolutely zero bearing on what Koeman does with the team right now and going forward though.
You're right in that we haven't bought a striker yet and thats poor. Strikers, at the quality level we need, are a premium find though. Apart, perhaps, from Ayew I haven't seen one move club, this window, that we could get who would be a good fit. Who knows why we didn't try for Ayew maybe we did its at least as likely that the player wasn't interested in a move to Merseyside as any other reason.
A few good names are still linked the likes of Slimani .but these players will always have other offers and agents up for wringing every penny out of a deal. Until we get into the brinkmanship stage of things at the end of the window we aren't going to see what the buying strategy is.
Koeman and Walsh clearly have targets. Maybe we wouldn't have moved for Bolasie and Williams if it wasn't for the Stones money. So what looks like sell-to-buy is just really 'bonus buy' and the original targets, funded, are still there waiting to see what offer they get before deadline day.
At the moment we have seen 4 signings come in and they are all quality. We've done it on a zero net spend thanks to Stones' departure...which, if you have faith, means the original transfer kitty we started with is still there ready to be used. We have seen the witless, gutless, passionless dross played under Martinez replaced by effort, enthusiasm and application. There is reason to be confident that the club has changed trajectory and I, for one, am made up for that.
I have hope for this season where, under Martinez, I wouldn't have had any. That is 'hope' David it means something is possible. Its different from stamping your feet making demands that the unlikely will be delivered for you out of some sense of entitlement.
Nick Page
224
Posted 17/08/2016 at 10:33:08
Usmanov rumours are back!!
http://www.101greatgoals.com/news/rumour-arsenals-alisher-usmanov-may-sell-shareholding-invest-everton-instead/
Alec Smith
225
Posted 17/08/2016 at 10:35:22
Nick, you beat me to that link by seconds!
Brent Stephens
226
Posted 17/08/2016 at 10:40:20
"A DoF who – being realistic – may have already reached his apogee."
Pure guesswork. Just as plausible – "being realistic" – to say that so far the DoF may have only achieved a fraction of what he can achieve. Who fecking knows?!
Brian Swift
227
Posted 17/08/2016 at 11:06:25
Darren Hind, think I remember signing two old guy's once before, Peter Reid and Andy Grey, both only just passed a medical. Did quite well for Everton. Look on the bright side.Brian Swift.
Liam Heffernan
228
Posted 17/08/2016 at 11:28:44
There's a rumour going round Arsenal that Moshiri's business partnerand Arsenal shareholder Asmanov is about to sell his shares and invest in Everton.
Peter Laing
229
Posted 17/08/2016 at 11:34:00
Usmanov as we know has been frozen out of the boardroom at Arsenal. Given his friendship with Moshiri there is every belief that this rumour could become something more tangible. I have always perceived Everton to have a similar pedigree / standing in the game from a historical perspective.
Can we become the Arsenal of the North? Albeit the board will hopefully be more willing to provide the transfer funds that are currently on offer to Wenger!
Iain Latchford
230
Posted 17/08/2016 at 11:51:32
Peter, that's the whole point. Usmanov and Moshiri wanted to back Wenger with substantial funds to move Arsenal forward. However, Kroenke wouldn't let them. Moshiri then decided to move his money to Everton. Is Usmanov follows it's like us winning the lottery.
Brian Williams
231
Posted 17/08/2016 at 12:19:12
Steve Jones #223.
"Sense of entitlement."
That's just the phrase I've been looking for with regard to some of the doom mongers on here who behave as if we're the only club who hasn't won a trophy in 20 years or so. The one's who think we should be up there shoulder to shoulder with the likes of City.
Some people refuse to accept that times have changed and it's (ALL ABOUT THE MONEY), Leicester being the exception of course. We'd all love to return to the success of the mid 80's but it's an almost impossible task, not that we shouldn't still aspire to it (before I'm accused of accepting mid table mediocrity).
I wonder, if Usmanov came in and turned us into the next big thing, what the whingers would moan about?
They'd probably whinge about selling out and forgetting our roots.
Some people just want to have something to moan about.
David Cromwell
232
Posted 17/08/2016 at 13:16:49
I'm sorry lads, I'll not post again, as I've had my say. But I do take umbrage at some of the snidier comments. No trophy in over two decades and I have a sense of entitlement? I'm really disappointed with that.

But we are the most historically successful club to be on a 20-year potless run.
Jim Burns
234
Posted 17/08/2016 at 13:20:42
David at 219 – like you, it's been too long since many of us have experienced the joy of trophy success.
I do remember though, in August 1983, for most of us there was no rational reason to expect success v in fact I can remember a lot of blues not expecting Howard to see the season out.
The rest is history – and Jesus, how far did we rise?
Come on, man! Time to dust the dour dust from your stooped shoulders and believe again – after all, it's the belief that keeps us coming back isn't it?
If it wasn't, most clubs wouldn't have a support at all.
Ged Simpson
235
Posted 17/08/2016 at 13:25:57
God if that Areseblog is true (big if)!
http://news.arseblog.com/2016/08/alisher-usmanov-could-sell-arsenal-stake-to-take-over-at-everton/?utm_source=dlvr.it&utm_medium=facebook
That would change everything!!!
Jim Burns
236
Posted 17/08/2016 at 13:29:22
And there are a few clubs who have risen to the very heights of European pot success with the European Cup – something we never got near – who now languish in the lower divisions and face, to say the least, an uncertain future.
Recently potless but still at the top table; proud and always optimistic.
Richard Dodd
237
Posted 17/08/2016 at 13:34:17
In the sense that some journals have described Moshiri as Usmanov's 'emissary', then it might well be that things could develop in our favour.
Perhaps the senior man is waiting to see what Moshiri's minimal investment brings in the way of progress for Everton. But one thing is for certain: the Russian will never be underwriting investments just because a player is playing in his (Usmanov's) homeland!
Stan Schofield
238
Posted 17/08/2016 at 13:45:32
Jim@236: Yes, our idea of mediocrity is being mid-table-to-top-six with the occasional near-relegation brush. We've always (certainly in the last 60 years) been in the top flight. With 8 major trophies since I started going to the match in 1961.
The last two decades has been 'relative' mediocrity, the kind of mediocrity that many other sides would gladly accept. I believe we'll be back to winning ways very soon, perhaps even this season. We don't necessarily expect that, but we won't be surprised if it happens either.
Sean Connor
239
Posted 17/08/2016 at 14:18:04
The "Premiership" was our idea under Sir Philip Carter, as we were part of the so-called famous five. The, problem was we didn't prepare after Sir John Moores, and expected the rest of the family to continue the legacy.
We will reach the heights again, we always do. It will take time, and we have to more pre-empative in future, we are very similar to Arsenal in an historic sense. For Chelsea and Man City, they never had a history until they got bank-rolled by super rich chairmen.

Peter Laing
240
Posted 17/08/2016 at 15:00:44
The Echo is reporting that Peel Holdings would be prepared to sell the land at Clarence Dock to Everton for 㿀 million. If true, it's a no-brainer but probably won't attract the enabling cash from Liverpool City Council in terms of infrastructure etc that would be provided for Stonebridge Cross.
Pete Edwards
241
Posted 17/08/2016 at 15:30:28
David (#194), maybe some of the old names who have disappeared are due to negativity like in your post.
How you can say Gueye is a Cleverley clone is one of the most ridiculous comments I've seen on here ever.
Get a grip man, the cold hard facts are that we are having to rebuild from what Martinez did to the squad whether you or anyone else likes it or not. It's not an overnight fix as much as we would want it to be.
You want everyone pulling in the same direction well I hope to god there aren't too many pulling in yours with your outlook!
Darren Hind
243
Posted 17/08/2016 at 17:14:41
Brian Swift
Reid was about 26 when he joined us and Gray was 28. Gray was ushered out when he was two years younger than Williams is now. They cost a combined total of just over £300,000. So neither signing was a massive gamble.
You either pass a medical or you don't. They both passed.
Barry McNally
244
Posted 17/08/2016 at 21:54:27
Bring back Shane Duffy, three goals in his last two games - all at the wrong end!
Add Your Comments
In order to post a comment, you need to be logged in as a registered user of the site.
Or Sign up as a ToffeeWeb Member — it's free, takes just a few minutes and will allow you to post your comments on articles and Talking Points submissions across the site.
© ToffeeWeb