Williams ramping up his fitness with Blues debut in mind

40 Comments [Jump to last]
17 August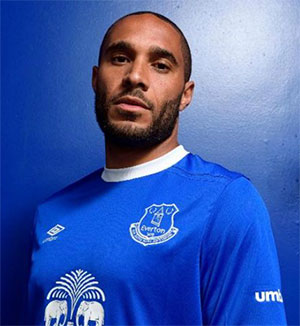 Jan Kruger/Getty Images
Everton's Assistant Manager, Erwin Koeman, says that new signing Ashley Williams has "needed training" after his delayed return to pre-season following Euro2016 but he is confident the defender will soon be ready for action.
Williams became Ronald Koeman's third signing since taking over the Goodison hotseat when he joined the Blues from Swansea City last week and his new boss estimated at the time that he would need the 10 days' training between then and the trip to West Bromwich Albion on Saturday in order to be fit enough to make his debut.
Erwin didn't confirm that the Welsh skipper would be ready for The Hawthorns this weekend but he says Williams is making good progress.
"We will have to see because he started training very late after the Euros," the elder Koeman brother told evertontv. "He also needs his rest but he is experienced and knows everything about the game in the Premier League and I'm very confident about that as well.
"So we will see what happens this weekend but you see a lot of players who played in the Euros didn't start in the first [Premier League] games. It's very tough for them.
"You can't put a player straight away in a game after his holidays because he will get injured for sure … so they need a little rest but with Ashley I'm confident."
Williams himself says that he is enjoying the new, tougher training regimen he is being introduced to at Finch Farm, one aimed at getting Everton's squad closer to the fitness levels demanded by the manager.
Ronald estimated that his squad was only 70% fit for the season opener against Tottenham last weekend and the Blues visibly tired after the hour mark in the 1-1 draw against Mauricio Pochettino's men.
"They are [having to cope with more gruelling training sessions]! I can confirm that," the 31-year-old told the Liverpool Echo. "They are a little bit different to what I'm used to. The boys are bang on it and everyone is trying to impress in training as they should be.
"It's good, I'm happy with the training sessions and hopefully they make me a better player. The sessions demand you to work hard.
"Especially for me because I've not done a full pre-season so I'm playing a little bit of catch-up. We're tired after the training sessions, definitely."
---
Reader Comments (40)
Note: the following content is not moderated or vetted by the site owners at the time of submission. Comments are the responsibility of the poster. Disclaimer
Mike Gaynes
1
Posted 18/08/2016 at 00:57:18
Glad to hear that a veteran like Williams is impressed with the RK fitness regimen.
I'm looking forward to seeing a few more Cahill-esque 88th-minute goals this season. Used to be our trademark.
John Pickles
2
Posted 18/08/2016 at 01:23:44
Let's hope he kicks off the new season better than one of our old defenders, Shane Duffy. 3 own goals and a red card in his last two matches. Ouch!
Craig Fletcher
4
Posted 18/08/2016 at 02:31:57
Three own goals in first two matches of the season John? Wow that must be some sort of record!
If memory serves, didn't Duffy also get sent off for Ireland in their last game at the Euros?
Darren Hind
5
Posted 18/08/2016 at 05:01:44
Indeed, Mike, I never quite got why Martinez overlooked the importance of the players' ability to last the full 90. Ossie and the boys may well have "enjoyed" training, but we lost so many games late on – Fail to prepare/ prepare to fail
Good to hear the guys are tired after training. The first step to curing the mental fragility that has dogged us for years, is to get the players to a level where they KNOW they will be physically strong to the end.
Bob Butchard
6
Posted 18/08/2016 at 05:25:36
The increase in fitness levels is the first step to competitiveness, this was glaringly obvious in the opening game last Saturday and predicted by the new manager. There was a spring in the step first half and that is what will be needed for 90 minutes if we are to avoid the history of draws and late losses that blighted us in the past two seasons.
The manager's aim is obviously super fitness aligned with a pressing game from the front and a much more physical presence in midfield and at the back. I'm trying to get my head around how Rom fits into these long term plans.
I'm thinking more mobile, sharp, good first touch strikers would suit the style better. I think the big fella could be found out in the system the new regime will be following.
Paul Setter
7
Posted 18/08/2016 at 06:43:25
Glad to hear it, the number of goals our team gifted from 90 mins onwards last season was criminal. Thankfully that's one issue that is being addressed.

Agree with #6 that lazy carthorse will get found out, I want him gone. Get 2 hardworking strikers that know the Premier League, will get 10 goals upwards each for less money in wages and fees and bingo you have replaced the statue.

Long, Remy and Austin all fall in that gap.
Alan Humphreys
8
Posted 18/08/2016 at 06:53:34
Whilst players will physically tire as the match progresses you would think replacements would boost the team - hell I remember the games when Vaughan and Anichebe would come on and chase everything that moved til the ref blew his whistle, psychologically and physically lifting the team.
Can't say the same for the likes of Kone.
Kieran Fitzgerald
9
Posted 18/08/2016 at 07:16:06
Alan, that you mention Anichebe, I see that he has been released by West Brom. Wonder whether he will get another club. Having to chase a contract might knock some of the attitude out of him.
Daniel Lawrence
10
Posted 18/08/2016 at 07:39:47
Come home, Victor. ;)
Darryl Ritchie
11
Posted 18/08/2016 at 07:43:53
I missed the first half of the Tottenham game, from what read, it was impressive. The part I got to watch was the same 'drag your ass around the pitch' stuff I had to suffer through most of last season.
It begins and ends with fitness. The game is 90+ minutes long. If the players can only run full speed for 60 minutes, we had better practice defending corners and set pieces, because we will see a lot of them.
Right now I can see the heart and desire, but the legs aren't there yet. Koeman will get it sorted, though.
Paul Kennedy
12
Posted 18/08/2016 at 08:07:43
Will he be made club captain?

Eric Holland
13
Posted 18/08/2016 at 08:08:18
Paul #7
Long, Remy and Austin.
You are joking aren't you?
Paul Setter
14
Posted 18/08/2016 at 08:17:09
Eric #13 no not at all, and 2 of them those were signed by our present manager as he likes their hard work along with their 10 goals a season. Saints finished above us last season with 2 of those strikers while we had that lump up top.

Anthony Dwyer
15
Posted 18/08/2016 at 08:22:57
Eric 13 ..
You beat me to it, the worst improvement to a side ever, Rom out Remi, Austin and Long in.
Paul Tran
16
Posted 18/08/2016 at 08:28:13
Rom fits into his plans because he scores goals in the Premier league. No guesswork required, he does it. I'd love to see Lukaku in an organised, well-drilled team that plays with pace. Hope it's Everton.
Peter Norris
17
Posted 18/08/2016 at 08:28:44
Darryl (#12),
The difference in the second half this game v last year was a better understanding of managing the game out despite losing territory to Spurs. The team faced a number of corners in the final third of the game and successfully sorted them without giving anything away.
As you say, Koeman will sort it but already you can see the discipline in "holding on" when required is so much better than last year.
Sean Kelly
18
Posted 18/08/2016 at 08:34:20
"On your lawnmower, Victor"
Iain Johnston
19
Posted 18/08/2016 at 08:53:15
Lukaku will get fit too, back to the marauding powerhouse he was in that first loan season and part of season 2. Maybe it was one of the reasons he was dissatisfied, who knows?
I would have loved to have seen Naismith work under these guys.
Kone, Jesus! Now there is a four letter word...
Tony Abrahams
20
Posted 18/08/2016 at 08:58:49
Darryl 11, it begins and ends with fitness. How true, and how good was it, listening to Koeman, going on about how important it is, if a player wants to really better himself?
Looking forward to seeing Williams, in a blue shirt, and I think you might be right Darren, because I would sooner lose Funes Mori, rather than Holgate, from the back three at the minute.

Dave Abrahams
21
Posted 18/08/2016 at 08:59:17
Whether Lukaku stays or moves, he is going to lose a lot of weight, Koeman will work the pounds off him and, if he goes to Chelsea, the Italian manager will work him harder. Both of these managers will not give him the easy ride he had under Martinez. Let's see if hard work makes him or breaks him.
Kieran Fitzgerald
22
Posted 18/08/2016 at 09:03:46
A huge part of any manager's job is psychology. Koeman has to sort out the whole squad and mentally pick them up off the floor. Lukaku will improve under Koeman in this regard.
All the whispers and paper gossip about Lukaku leaving have fallen away. It does look more and more likely that he is going to stay. The only club he has been linked with was Chelsea and they don't have what he wants this season, CL football.
Lukaku has time on his side age wise and given that he scored twenty something goals in a poorly performing side last season, his reputation is still okay. A season under a better manager playing in a better performing squad will not do his reputation any harm.
I do think we will get twenty goals plus again from Lukaku this season. Get a decent striker in to both support him and push him and we will do well.
Kieran Fitzgerald
23
Posted 18/08/2016 at 09:05:52
Iain @19, Naismith is a Koeman player alright. Same workrate and attitude as Shane Long and Long played very well under Koeman at Southhampton.
Eddie Dunn
24
Posted 18/08/2016 at 09:32:56
Like in boxing fitness is essential. If you are gassed– you are done for. It is prerequisite at any level of sport.
The Premier League is getting quicker and the players are getting bigger, faster and stronger. You can't get away with relying on just skill , you have to have fitness.
I think that if Lukaku stays, he should do well, with a better supply line , as apart from the Chelsea Cup game, he normally needs service. Most of his goals are in the 18-yard box, very few are from distance or at the end of a dribble.
Many of us commented last season on his sluggishness and let's hope that the new regime will improve his mobility by shedding a few pounds of that frame.
As Kieran, says, another striker to give him some real competition would keep him on his toes.
James Morgan
25
Posted 18/08/2016 at 09:46:46
Long, Remy and Austin? Without checking I reckon Lukaku has scored more than them put together. Ridiculous statement.
As for Williams, looking forward to seeing him in the side on Saturday, his leadership and presence could be crucial against Pulis'sside who will no doubt lump long balls in to the box.
Ray Robinson
26
Posted 18/08/2016 at 10:16:41
James, not suggesting for one minute that we try to sign Charlie Austin but I'm afraid he has outscored Lukaku big style – albeit mostly at lower level. He scored 18 goals in his one and only season with QPR (fourth top Premier League scorer).
Not sure Stoke play the long ball game any more and Pulis is no longer their manager!
Fran Mitchell
27
Posted 18/08/2016 at 10:18:24
Jesus Christ, Long, Austin and Remy to replace Rom?
The logic of '2 hard working strikers who score 10 each replacing 1 lazy striker who scores 20' is totally flawed.
Firstly, only one player can replace Rom, as he occupies just 1 position in the team. You can't replace him with two. The other striking positions are taken up by wingers/wide forwards – Bolasie, Deulofeu, Mirallas, Barkley.
Secondly, Rom can get fitter, faster and from what I saw on Saturday will thrive in this system.
Rom didn't run around like a headless chicken because that is how the team was set up - sit, pass, wait for space. The pressing game is totally different.
If he doesn't he adapt then we will ship him out, but let's see before replacing him with bog average, 1 good season in a 8-year career Premier League/championship level strikers. We've have enough of them over the years, we've had precious few actual goal scorers.
Stan Schofield
28
Posted 18/08/2016 at 10:21:43
There's a very high chance that Lukaku will fit well in Koeman's approach. Some of the comments I've seen on TW about supposed laziness and bad first touch are wildly exagerrated. He's a goal machine. In comparison, Lone, Remy and Austin are mediocre.
Good to hear Williams's comments about the rigorous training regime.
Phil Sammon
29
Posted 18/08/2016 at 10:25:39
Charlie Austin goals for the last 3 seasons: 20 18 10
Romelu Lukaku goals for the last 3 seasons: 16 20 25
Hmmm, Ray (26), back to school I think. Not to mention that Rom's goals were all scored in Premier League campaigns. Austin had 2 of those 3 seasons in Championship sides playing more games for promotion hunting sides.
John Malone
30
Posted 18/08/2016 at 10:41:14
If Coleman and Williams are match fit I fully expect them to come in for Holgate and Funes Mori.
Funes Mori's distribution and decision-making was poor against Tottenham and could've been costly on another day. Holgate done well considering it was his first game in Premier League against a good team but Coleman gives us a lot more going forward!
It's nice to look forward to the weekend again and hopefully get three points on the board!
Chris Gould
31
Posted 18/08/2016 at 10:41:42
Phil, Austin's 18 goals was in the premier league for QPR. Last season's 10 goals was in an injury ravaged season.
I think a fully fit Austin would hit 15-20 league goals and is obviously a player that Koeman feels can fit into his system. Hence why he bought him for Southampton.
I haven't seen any evidence that Lukaku can press from the front. He is not going to turn into a hard working striker overnight. However, I would like to see him stay and at least try. On his day, he's an absolute beast. Koeman will obviously be assessing him in training and has a couple more weeks before deciding whether or not to get rid.
James Morgan
32
Posted 18/08/2016 at 10:43:15
Ray, I never mentioned Stoke as we are playing WBA and Pulis is their manager!
Charlie Austin isn't fit to lace Lukaku's boots! Despite Roms failings, he scores goals! It's the most difficult trait in the game and players with his record don't come around often, he's ours, he's 23 and he's will likely improve under Koeman. A must keep.
David Ellis
33
Posted 18/08/2016 at 10:47:07
John (#30),
Coleman is out for at least 6 weeks I heard. I think for this game we might go 4 at the back and play a slightly more attacking 4-3-3 formation – especially as we don't have another right wing back to properly replace Coleman. Something like this:
Stekelenburg
McCarthy, Williams, Jagielka, Baines
Gana, Barry
Barkley
Deulofeu, Lukaku, Bolasie
If it's this formation (and assuming Williams is fit), it's between Holgate, McCarthy and Funes Mori for the right back berth.
Ray Robinson
34
Posted 18/08/2016 at 11:01:27
James #32, my apologies! I put two and two together and made three! I assumed that Williams would not play on Saturday as I thought he was targeting the Stoke game due to match fitness reasons.
Phil #29. I did in fact point out that most of Austin's goals were scored at lower level and never suggested that Lukaku should be replaced by Austin! My point was that I was challenging the statement: Lukaku has scored more than them put together (Long, Remy, Austin). He clearly hasn't and Austin's record of 18 goals in his only fit season in the PL (for a relegated side) is actually pretty impressive!
Brian Harrison
35
Posted 18/08/2016 at 11:10:31
I think that we should tell Chelsea it's not worth meeting the asking price for Lukaku as it's far to late to get a quality replacement. Plus we do need another striker. I was disappointed that RK didn't bring Mane with him he looks a very exciting player.
I could only see RK going for Austin as a back up at best, but would hope we would be looking at a better quality player than Austin to compete with Lukaku.
Steve Jenkins
36
Posted 18/08/2016 at 12:11:49
Shane Duffy is being strongly linked with Sunderland and has apparently either asked to leave or put in a transfer request.
I can see that happening next week and us then getting Kone.
Laura Round
37
Posted 18/08/2016 at 13:10:13
Interesting interview with Bolaise just on Facebook live press conference... Saying Rom had been on at him for ages to come to Everton..
Simon Bates
38
Posted 18/08/2016 at 13:57:24
Laura #37,
I've just watched it on you tube and like you say very interesting comment about Rom.
"Rom' been asking me to come for ages!!!
Might explain the price tag, maybe Rom has tried calling Moshiri's bluff and said, "Okay then, get the hardest defender I've played against, Williams and my supply line needs my mate Bolasie, and I'll sign my new contract; show me you want me and mean business..." and Moshiri's flexed his muscle?
Either way, he's going to look a bit of a twat to Bolasie if it's true and he now fucks off to Chelsea.
Les Martin
39
Posted 18/08/2016 at 14:09:40
The fans are going to love Ashley Williams, we all now know from watching the Euros what a great defender he is, if not before.
It appears we are getting a few "scrappers" in the team which is a good thing as I thought we were lightweight especially in defense.
Arsenal must be kicking themselves for not snapping him up.
Very impressed with all Ronald's purchases so far.
Jack Convery
40
Posted 18/08/2016 at 14:48:56
So Rom wanted Bolasie to come to EFC - lets hope its not a case of Joe Hart telling Stones to go to City ! We all know whats going to happen to HArt !
Brian Furey
42
Posted 18/08/2016 at 15:06:50
I would be so delighted if Rom stayed another season as he brings us goals, no matter how lazy and frustrating he can be. If there's one thing we should be grateful for is that Martinez and Bill took a chance and brought him in for big money. Look at how many other big clubs don't have a decent striker scoring more than 15 goals a season. Costa got 12 last year, Giroud 16, Martial 11, Firminho 10.
Teams with a lot more money than us all struggling for top class strikers so whilst many of us might not like his attitude, commitment and workrate I think RK will try his utmost to keep him, even if it means him not being happy at the start.

Add Your Comments
In order to post a comment, you need to be logged in as a registered user of the site.
Or Sign up as a ToffeeWeb Member — it's free, takes just a few minutes and will allow you to post your comments on articles and Talking Points submissions across the site.
© ToffeeWeb