Koeman: We will bring in what we need

108 Comments [Jump to last]
18 August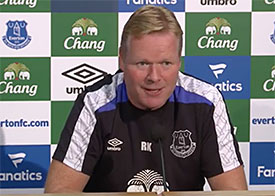 Ronald Koeman says that the job of adding to the current Everton squad is ongoing but he remained vague on specific targets amid speculation that the club are targeting Manchester City's Joe Hart.
The manager refused to be drawn on talk around names like Hart and defender Lamine Kone who continue to be mentioned in relation to the Toffees or to even confirm that he is on the lookout for another goalkeeper. He reiterated, however, that he and his team are focused on improving the squad before the end of the month while he left the door open for a couple of other potential departures this month in positions where there is a lot competition.
"It's not about numbers of new players, it's about what the team needs and in what kind of position," Koeman said, admitting also that in order to get a better squad then you have to spend money. "In my opinion, that's not stuff for the press or the media, we need to keep it inside [the club].
"I don't like to talk about rumours. [There have been] so many players linked to Everton. Today it's Joe Hart, tomorrow [it will be someone else] so I prefer not to talk about players who are still contracted to teams other than Everton.
"We're always looking at other players so we can have a stronger squad. I think that's one of our jobs to do — to improve the team. If you feel you don't have that kind of player in your squad, we will sign that player and maybe that's why we're starting our transfers a little bit late.
"I spoke to the club about taking the in the pre-season to really know what we need because we also have young players in the Academy and we don't want to stop the improvement of young players.
"We need three goalkeepers. We have Joel [Robles], we have Maarten [Stekelenburg], we have a young goalkeeper and it's all about the decision we need to make."
Two players who will be leaving Goodison as soon as they can secure transfers to other clubs are Oumar Niasse and Aiden McGeady, with Koeman not entertaining a change of heart on either player.
"We made a fast decision about Niasse and McGeady," the Dutchman explained, "and maybe for one, two or three more it might be difficult for them to get into the team but I will speak to each player [about that].
Asked if Niasse, who has been linked with Hull City this week, was looking for another club, Koeman said: "If he likes to play football then he needs to leave Everton."
While James McCarthy's position at the club has been the topic of discussion among supporters given the arrival of Idrissa Gueye, Koeman appeared to brush off suggestions he could be moved on before the transfer deadline.
"He started last week and that's no reason to have doubts about his future at Everton," the manager said.
---
Reader Comments (108)
Note: the following content is not moderated or vetted by the site owners at the time of submission. Comments are the responsibility of the poster. Disclaimer
Ian Burns
1
Posted 18/08/2016 at 16:39:12
So I guess Niasse won't be in the squad at the weekend!! Doesn't mince his words does RK!
Andy Meighan
2
Posted 18/08/2016 at 17:42:41
Ian, don't you reckon he rates Niasse then?
Colin Glassar
3
Posted 18/08/2016 at 18:13:18
So when are we getting rid of Niasse and McGeady then?
Mark Tanton
4
Posted 18/08/2016 at 18:20:03
There might be other players he wants to move on, then. Who do you think he's talking about? Gibson, Kone and Cleverley might struggle to get a look in at Koeman's Everton?
Ian Burns
5
Posted 18/08/2016 at 18:24:56
Andy - 2 - in a word "no" - the BBC website said "ouch" when RK made that comment!
Sam Hoare
6
Posted 18/08/2016 at 18:29:34
Strong rumours from reliable French journalist (if such a thing exists) that we have agreed a fee with Lyon for Ghezzal and are now discussing personal terms.
Another flair player in the mould of Mahrez could be a Walsh gem!
Colin Glassar
7
Posted 18/08/2016 at 18:32:15
Mark, I think Cleverley might survive this cull but he needs to get his act together soon. He shows signs of promise but then gets injured. McGeady, Niasse and Kone need to go ASAP.
Mark Tanton
8
Posted 18/08/2016 at 18:34:44
Personally I like Cleverley, he's near and tidying and does things well – he's probably behind Gana, McCarthy and Barry now though.
Jay Harris
9
Posted 18/08/2016 at 18:37:25
We need a goalscorer pronto so I hope Steve Walsh is concentrating his efforts in that direction. After seeing Stekelenburg against Spurs I am quite happy to live with him for now rather than add another ego to the dressing room.
Ian Bennett
10
Posted 18/08/2016 at 18:42:07
Big question marks over a lot of the squad in terms of age and quality.
Not going to last forever – Baines, Jagielka, Barry.
On the endangered list – Robles, Oviedo, Gibson, Niasse, McGeady, McCarthy, Besic, Kone, Garbutt.
Jon Withey
11
Posted 18/08/2016 at 18:44:10
'If he likes to play football'
Ouch.
Alan Humphreys
12
Posted 18/08/2016 at 18:50:23
Ian - Besic is going nowhere for a while.
Gibson and Kone will surely go, the latter maybe dependent on if another striker is added.
Expected another signing this week, so surprised only Bolasie has joined.
Peter Mills
13
Posted 18/08/2016 at 18:52:23
What a breath of fresh air.
Anto Byrne
14
Posted 18/08/2016 at 19:04:56
Absolutely incredible how brutal this man is. About time. Happy we missed out on the special one. We have our own very special one.
Eivind Nyhus
15
Posted 18/08/2016 at 19:11:06
There is no reason to sell Cleverley. Good squad player. Him being brought in by Martinez isn't a reason to dislike the guy.
Chris Gould
16
Posted 18/08/2016 at 19:14:35
Absolutely loving being an Everton fan right now!! I no longer feel guilty about brainwashing my children into supporting them. They have suffered, like all of us... but in the next few years, I have no doubt that we will all taste glory!
So much to be feeling positive about right now. I also believe that we will have a surprise signing that will have us all a little bit giddy before the window closes. Happy days!

James O'Connell
17
Posted 18/08/2016 at 19:15:34
Season to sort things then win it next year COYB
Mike Moore
18
Posted 18/08/2016 at 19:17:44
By the end of the January transfer window how many players bought by Martinez will still be at Everton? Koeman wants his own men, hes his own man and is weeding out the dead wood. Proper business.
Alan Bodell
19
Posted 18/08/2016 at 19:18:44
His arse on the line and he's not fucking around so at last we have a big hitter that calls a spade a spade ( hope that's too pc, these days).
Mick Davies
20
Posted 18/08/2016 at 19:19:59
The man is ruthless, just like Alex Ferguson. It's the no-nonsense mentality needed to win things, and I've not seen this at Goodison for a long time.
He's getting rid of the Martinez mistakes, and imposing his iron will into the club... it's getting interesting.

James Morgan
21
Posted 18/08/2016 at 19:22:35
Loving Ronald's honesty! So refreshing. Knows what he wants!
He's trimming the fat and moulding the team to his way.
Brian Harrison
22
Posted 18/08/2016 at 19:30:26
RK is a class act, at last a manger who doesn't talk in riddles and knows exactly who he wants. I like his honesty obviously he has already told Niasse and McGeady that they have no future at Everton. I wouldn't be surprised if 1 or 2 more don't get the harsh word when he gets his other transfer targets.
I just hope that if BK is organising the inward transfers that he gets the targets RK has identified. I don't think RK would take kindly if his targets are not landed.
Stephen Davies
23
Posted 18/08/2016 at 19:35:44
Absolutely. RK is a winner. This will be reflected in his squad.
It will take a little time for it all to come together but it's exciting times
Thomas Surgenor
24
Posted 18/08/2016 at 19:37:47
I'll hold my hand up and say that I wasn't keen on RK getting the job and had my hopes pinned on someone like Sampaoli. However, while it is still early days, I am loving his press conferences. So brutal and honest.
"We're not fit"
"If he likes to play football"
Long may it continue!
Hopefully the results will follow.
Tommy Webber
25
Posted 18/08/2016 at 19:42:31
Sam #6, it was reported he said he doesn't think Everton is the right move for him right now. Just as well he's a winger then
Ian Bennett
26
Posted 18/08/2016 at 19:45:46
Agreed Alan, but after that Gueye debut he has to be worried.
I missed Cleverly too. In fact I'd offer Moyes him and Gibson or McCarthy in a swap deal for Kone.
Phil Walling
28
Posted 18/08/2016 at 19:56:13
Although my forecast is for Everton to finish 8th or 9th, I couldn't resist placing a sly tenner on us winning the Prem given Leicester 'coming from nowhere' to destroy the field last season!
Mind you, 5000-1 was nowhere to be had and I finally settled on the 150-1 on offer at Ladbrokes. Most bookies make Everton ninth favourites for the title (near neighbours surprisingly fourth favs at 7s!)
For the record, the odds against the most favoured clubs winning the title are: Man City 2-1, Man Utd 3-1, Chelsea 5-1, Liverpool 7-1, Arsenal 9-1, Spurs 14-1, Leicester 66-1, West Ham 100-1, Everton 150-1, 200-1 Bar.
Place your bets!
Paul Conway
29
Posted 18/08/2016 at 19:57:41
He comes over as ruthless, but really he is he is just doing the job he was contracted to do. We have to accept that apart from deadwood and very average players, we have good players who are now aging: Jags, Baines, Barry. Take all these elements into account and we are talking about wholesale changes.

Koeman is not going to come out and say it direct, probably for fear of upsetting supporters who are loyal to some of the players in question. And that's very understandable. He has to be diplomatic, as it can be a very sensitive and delicate process.

But all in all, a new dawn means a new Everton and a new Everton means new players. COYB!!
Alan Humphreys
30
Posted 18/08/2016 at 19:59:09
Might not be a bad idea that Ian. Save the hard cash for a striker.
Still need a squad but hopefully his words give a hope to Unsworth's kids.
David Hallwood
31
Posted 18/08/2016 at 20:05:19
He's a mirror image of Booby-and I lurvve it!!
Colin Glassar
32
Posted 18/08/2016 at 20:05:20
The problem might be, when it comes to mcgeady and Niasse, wages. Do you think those two are going to get paid what we pay them somewhere else? They'll both do a Cudicini or Bogarde and rot in the reserves earning a ton of cash before they willingly move on.
Alasdair Mackay
33
Posted 18/08/2016 at 20:06:19
Ruthless is the word. All the players must be aware of the standards required.
Personally, I think Gibson might stay for a bit, at least. He still might be the best passer at the club! He's just got to get fit and stay fit before we bring someone in who can match his range or improve on it.
Barry Sherlock
34
Posted 18/08/2016 at 20:16:57
Colin, isn't it more likely that we move them on and end up paying some of their wages?
I hate that type of situation but it may be that is how it will be.
I love the way RK is so straight and doesn't fluff it up at all!!!!
Dave Abrahams
35
Posted 18/08/2016 at 20:21:47
I can never understand the stick Tom Cleverley gets on ToffeeWeb; glad to see he's got some support on this thread. He can do a good job in a couple of positions and he will be needed and used this season.
Mark Morrissey
36
Posted 18/08/2016 at 20:28:48
He talks the talk and it's a scary thought but if he also puts together a run of results every top club in Europe will start to covet him before he's even got his fecking foot in the door cos he sounds the business
Eugene Ruane
37
Posted 18/08/2016 at 20:30:59
TW - Aug 2016:
"Tells it like it is Ronnie, straight talker, no bullshit, none of that flannel, tellin' them they're all dead good like the other soft twat used to do. Lets them know where they stand. Told Niasse 'yer out lad' and the other feller too. I'm made up with him."
TW - Aug 2017: (if things don't go well) "Well they can't play can they, not when he's got them all shit scared. He doesn't know when to put an arm around them or give them encouragement. How can they express themselves when their bottle's going? I mean at least the other feller..."
Dave Abrahams
38
Posted 18/08/2016 at 20:44:01
Eugene (37) give us your gut feeling Eugene, which fella are going to like, Koeman or the other fella?.
Les Martin
39
Posted 18/08/2016 at 20:57:04
At last we have a top top manager who lets the players and fans know how he feels, no messing about our ambiguity here. Also it would be foolish to mention transfer targets as we don't want our plans revealed to competitors.
As for Ghezzal, it appears to be genuine that we have bid as their Chairman has said publicly that they have received a very attractive offer for the player, that if accepted will mean he will be coming. If Ronald wants a player of this type then its very likely he will will try very hard to get his man.
Eddie Dunn
40
Posted 18/08/2016 at 21:00:52
Dave 35, I totally agree – every time Tom gets a few games he starts to put in good passes, creating chances for others. He isn't blessed with great pace, but he is intelligent and reliable and in the right set-up could be an important cog in the Everton machine.
I love the no-nonsense interview...what an antidote to Bobby Bullshit. Niasse! Comedy Gold!
Bob Hannigan
41
Posted 18/08/2016 at 21:07:42
I like this guy, the new gaffer, no fuckin' around. Knows what he wants, has support of the owner and we will do well this season.
Kunal Desai
42
Posted 18/08/2016 at 21:12:18
No nonsense approach, this is what we've been lacking for quite sometime, it's either black or white and nothing fluffy or in between.
Eugene Ruane
43
Posted 18/08/2016 at 21:38:31
You know for the Dutch, the Koeman's are considered the life and soul of the party.
Might not look like it to us, but these pics of Ron and their kid and their 'oul feller, taken in Holland, show they love a good laugh.
Andrew James
45
Posted 18/08/2016 at 22:14:16
Eugene - I initially wondered why you were sending around a link about Italian sandwiches and then clicked...
The height of Euro fashion.
Anthony Jones
46
Posted 18/08/2016 at 22:38:20
Does constructive dismissal not apply to footballers?
Paul Smith
47
Posted 18/08/2016 at 22:39:20
His arl fella looks more like Martin Keown than Koeman. They mean business though, none of that hairy fairy bollox.
John Mckay
48
Posted 18/08/2016 at 23:00:56
What I liked about RK when he was at Southampton was his honesty, watched a few interviews including when we beat them last year and said it how it was then.
He is a born winner, not sure about his managerial career before Southampton, but what he done on the south coast was amazing. Losing his best players for mega money and still putting a team together which done so well in both seasons.
Just hope he can turn us around because the last 2 seasons have been painful.
First half of last season I thought we done quite well with scoring goals but we always knew Martinez would fuck are solid defence up eventually.
One of the only things I liked about David Moyes was the way we defended.
In Koeman We Trust.
Brendan Fox
49
Posted 18/08/2016 at 23:01:29
Refreshing change to hear RK not mincing his words regarding players he does not rate nor want in the squad. Niasse and McGeady may feel hard done by but at least they know where they stand.
By the sounds of it there's likely a couple of other players (Kone & Gibson) that will be surplus to requirements if replacements are brought in before the end of the window.
I noticed how RK was getting the hump with the same questions regarding rumoured targets, which is exactly how it should be.
Damian Wilde
50
Posted 18/08/2016 at 23:02:22
Three...Kone, Ovideo, and Cleverley?
I'll tell you what, we need a couple of strikers and fast. Where on earth are they??? Sort it Ron.
Douglas McClenaghan
51
Posted 18/08/2016 at 23:17:12
Koeman said: "If he likes to play football then he needs to leave Everton."
Fantastic!
Barry McNally
52
Posted 18/08/2016 at 23:18:16
Fabregas anyone?
Andy Meighan
53
Posted 18/08/2016 at 23:18:26
Eugene, superb that link. My god the auld fella has got some lugs on him hasn't he? As my own auld fella used to say, Give me the lugs and I'll work all night. No, I don't know what he meant either. Still don't.

Eugene where do you get those links from? Absolute classics.
Phil Sammon
54
Posted 18/08/2016 at 23:45:24
Not a chance unfortunately, Barry. I would bloody love him at Everton though.
Joe Digney
55
Posted 18/08/2016 at 23:46:28
Would take him tomorrow Barry @ 52. Would feed lukaku all day long
Peter Carpenter
56
Posted 18/08/2016 at 23:48:56
Wait a minute – read it another way, with the emphasis on the word 'football' rather than 'likes'. No football here!
Barry McNally
57
Posted 18/08/2016 at 23:50:34
He doesn't seem to be in Conte's plans so you'd never know.
Brian Wilkinson
58
Posted 19/08/2016 at 01:50:36
Off the subject a little but a good little tip, it's always hard to get a ticket if Everton get to a cup final.
Stick £5 each way on Everton to win either cup, if they get to a final you can then pay a bit over the odds from your winnings for a ticket and not feel hard done by, if they don't get there, no need to worry about a ticket.
Nigel Gregson
59
Posted 19/08/2016 at 02:49:29
Exactly Eugene. Funny because its so true.
Ryan Rosenberg
60
Posted 19/08/2016 at 03:35:56
Reckon McAleny is one who he's told to go...
David Ellis
61
Posted 19/08/2016 at 03:37:36
Didn't we all love Martinez when he came because we was the antidote to Moyes? Thank God for all the positivity and trying to win at Old Trafford rather than the "knife to a gunfight" mentality of dreary depressing Moyes!
Come on guys... we've seen it all before. Just because Koeman is the opposite to Martinez doesn't mean he's brilliant.
Having said that I am as excited as a kitten about the new season – mainly because of Moshiri. Things are different this time. He got Koeman in. He got Walsh in. If Koeman does not perform he will be out and another top manager will come in. Stadium no longer just a pipe dream. We are in a whole new world.

William Cartwright
62
Posted 19/08/2016 at 04:03:55
David, absolutely right. One of the reasons I switched (late) to the anti-Martinez bandwagon, was because it was so when he arrived. The Manure victory, over a shell-shocked Moyes, with Oviedo's goal and after match celebrations was such a good memory.
Ces't la vie!
Eugene Kearney
65
Posted 19/08/2016 at 06:14:24
We might even be on to James Rodriguez, apparently...
Might be. !!
Brian Porter
66
Posted 19/08/2016 at 06:34:10
I'm pleased enough with RK's start as our new manager. If he wants to REALLY convince me he's making a positive change to the dressing room however, I will reserve judgment until we are awarded a penalty and with no hesitation, Leighton Baines steps up to take it. Just watched Mark Noble of WHU bury his 14th in his last 15 in their Europa League game. The Hammers know he's a potent weapon from the spot and they utilise that ability without hesitation or anyone else even looking like taking the ball from him. That's the kind of positivity I want to see. Baines is a lethal weapon from the spot. Come on RK. Make it clear he's the main man on spot kicks then I'll be convinced you're sorting them out.
Peter McHugh
67
Posted 19/08/2016 at 07:26:34
David - what Moshiri wants he gets right? Like Koeman was his number 1 target.
Mmmmm seemed to take a long time to go after him don't you think. Did you consider perhaps they had someone else lined up a while ago, long before they sacked Martinez but couldnt get him or do you believe they only considered it at the Norwich game and then took an age to suddenly decide Koeman was number 1 and go after him? Like Monchi and we got Walsh.
Things are different. Moshiri gets the job done like signing only a reserve Fulham goalkeeper and defensive midfielder from a relegated side with less than a week to go to kick off. Do you think perhaps he expected more and sooner?
Do you think everybody wanted £50m (inc add ons) for Stones when Sterling went for £49m last season and we turned down £40m last season and premiership now awash with cash? Do you think they wanted him to even go?
I think like people getting carried away with Martinez's positivity as opposed to dour when he arrived, just look at things with Koeman and Moshiri objectively. Moshiri is not the Messiah unfortunately.
I'm very optimistic and really like Moshiri and Koeman. However, the competition is strong, lots of money also getting pissed up the wall everywhere (us Niasse), Moshiri is not stupid and will not have an open chequebook for us.
It's going to take years to rebuild the club.
Ciarán McGlone
68
Posted 19/08/2016 at 09:12:52
Koeman is treading the thin line with this Niasse issue... his approach lacks a degree of class.

No need.
Paul Tran
69
Posted 19/08/2016 at 09:28:33
The Dutch are generally like that, Ciaran, they're blunt. What Koeman said and how he said is pretty normal for a Dutchman.
Ray Roche
70
Posted 19/08/2016 at 09:43:12
Ciaràn, lack of class? Not sure about that, but straight talking is something that's been sadly lacking at Goodison for the last three years. I know on guy who'd still be telling us that Niasse is World Class, despite overwhelming evidence to the contrary.
Like others, I do feel a bit sorry for the guy, his dream move having turned sour, but I'm sure that £40k-£50k a week will help him sleep at night.
David Ellis
71
Posted 19/08/2016 at 10:13:57
Peter McHugh #67
I get your point but you are overstating your case. I don't know if Koeman was Moshiri's number one choice but I do believe that Koeman would not have moved from where he was to the old Everton (and frankly nor would I).
I don't see any problem with signing good players from relegated teams. I don't think we got ripped off with the Stones sale. The transfer window has been frustrating but we do appear solid in our intention to spend more than the Stones money (in fact we have) - I believe the delay is just because transfers nowadays just take time. Koeman has said that he wants another 'keeper.
Things are now different to the Kenwright era...but I agree we don't have the money of a Chelsea or a City, and in relative terms owners money now carries less weight because of all the TV money pouring in.
So we won't be competing for the league (at least not on an equal footing) with the top clubs. But we have moved a couple of steps up the ladder. That's enough excitement for now!
Drew Shortis
72
Posted 19/08/2016 at 10:15:12
Before the end of the window I'm certain we will have a new Goalkeeper, another Centre back and a Striker. The fourth position will hopefully be a creative midfielder of some description. My personal preference would be Hart (though I don't like his personality), Kone (aerial presence), Mata & either Benteke, Bony or Slimani with no sale of Lukaku. I do think we could do with backup for Coleman too but we have not been linked with any wing backs and we have several players who can cover that position.
Mark Pierpoint
73
Posted 19/08/2016 at 10:17:26
Sorry, don't get the lack of class thing. It was forthright, but not lacking class. This is top end sport, not a charity. As RK says, if he wants to play, it isn't going to be at Everton. In other interviews he has suggested that it is nothing personal, and he is a good bloke, but he simply isn't of the standard required.
I think it is a good job the RM has got an international job, because I would worry that the farce of the Boselli (7m record signing and was awful) transfer at Wigan and the Niasse one at Everton (not to mention the astronomical salary paid to McGeady) will follow him around for a long time.
Ciarán McGlone
74
Posted 19/08/2016 at 10:23:53
There's straight talking and then there's being ignorant.
He's already made the point previously. To repeatedly make it in a demeaning fashion is not necessary.
To generalise the Dutch as ignorant, is well ignorant.
Erik Dols
75
Posted 19/08/2016 at 10:28:16
Ciaran, Paul is spot on. Dutch are often considered rude and blunt in Great Britain when the Dutch themselves have no idea they are offending anyone. I did a post about the differences a few months back when we were about to sign either De Boer or Koeman (turned out to be the latter of course). I honestly don't think Koeman sees any harm in his comments, he's not trying to play hard ball for sure.
Obviously as Koeman is working in the UK it would be wise for him to tone it down a bit. But I've seen him do far worse in Dutch media. This is the toned down version of Koeman. He can really rip a player to pieces if he wants. Koeman doesn't feel this is a "demeaning fashion".
Just for fun, I'll post this again, differences between what an Englishman says and what a Dutchman hears:
https://hbr.org/resources/images/article_assets/2014/02/anglodutch_final.gif
Dan Hollingworth
76
Posted 19/08/2016 at 10:34:50
Straight talking. No beating around the bush. Saying it like it is. I really like his honest and straight to the point approach. You know where you stand with him and what he wants. He has come in, identified problem areas (players, fitness, the inability to defend) and has started to look to resolve them straight away.
That clown we had would have been saying Niasse and McGeady are still valuable players of this squad.

James Marshall
77
Posted 19/08/2016 at 10:39:56
Niasse is shit at football. Koeman inherited him so owes him nothing. We all slate Niasse for being shit. Niasse is shit.
I have no problem with the manager noticing or telling anyone, and don't feel sorry for Niasse at all. He's making a decent living out of being shit at football as far as I can tell.
Niasse is tall. Niasse is strong. Niasse is terrible at football.
James Hughes
78
Posted 19/08/2016 at 10:40:48
Ciaran- I must be missing something. Koeman was asked by journo if Niasse was looking for another club.
Koeman said: "If he likes to play football then he needs to leave Everton."
He didn't say- well he's got two left feet and couldn't score in a brothel or anything demeaning. You are being over-sensitive IMO
Brian Furey
79
Posted 19/08/2016 at 10:41:32
If you're the manager of a club, who is responsible for how we spend our money to get players in to work hard for the club and then you see someone like Niasse who cost so much and is receiving big wages but looks like he shouldn't even be playing at this level must be galling to watch. No doubt he's making excuses and maybe he has some other problems but it's Koeman's job to get rid of anyone not up to the job. I would say RK is angry that such a player could be brought in, in the first place and looking at A.Kone he knows he only has one good striker who might also be losing, so RK is probably frustrated. It's always harder to buy strikers and most of the good ones want to stay or move to the top 4 clubs.
On another note, I wonder does RK not rate Mori so highly or why is he so keen to take in another CH. Could it just be because we are lacking CHs that are good in the air and he sees that as why we conceded so many goals from set plays last year.
Ciarán McGlone
80
Posted 19/08/2016 at 10:52:25
I am simply straight talking. Calling it how I see it.
Carl Sanderson
81
Posted 19/08/2016 at 10:54:08
"Didn't we all love Martinez when he came because we was the antidote to Moyes ?"
No.
Eugene Ruane
82
Posted 19/08/2016 at 10:57:50
Right now, after the other feller, I am fine with 'big' Ron and if he brings us success, he can be as rude and classless as he wants.
I would add however (as a general point) that being 'honest' and 'telling it like it is' are (certainly in practice) often two very different things.
Farage and Trump are lauded by their idiot supporters for their ability to 'tell it like it is' and it is patently obvious that both are dishonest in the extreme and make up (dumb) shite every time they open their self-serving grids.
Their supporters would no doubt also describe both as 'straight talkers' and men who don't 'beat around the bush.'
Chris Gould
83
Posted 19/08/2016 at 11:02:23
Brian, if Koeman's going to play three at the back, then we need a 4th senior CB. Plus Funes Mori is our only left footed CB so I don't think his position is under threat (Kone is right footed). It definitely makes a difference to CB's to play on their stronger foot otherwise they tend to block or tackle with the wrong foot and that's when they get themselves in a muddle.
Derek Thomas
84
Posted 19/08/2016 at 11:03:48
'If he/they like to play football, then he/they need to leave Everton.'
One man's perceived 'lack of class' is my pragmatic, telling it like it is, It may be verging on not calling a spade a spade but a fuckin shovel.
Blowing smoke up collective arseholes for the last 3 seasons really worked didn't it?
So he hinted there are 2 maybe more on whom that cap fits like it was made to made to measure...big deal.
Koeman can upset all 'The Gold Bentley Precious Princesses' he likes.
Also all the Interweb milque-toasts; the collective media and Uncle Tom Cobbley and all. He can keep telling it like it is all the way to the CL final and beyond if that's what it takes.
Didn't hinder one B. Clough...not one bit.

Ernie Baywood
85
Posted 19/08/2016 at 11:25:26
Judging a man on the way that he talks is foolish.
Martinez, Moyes... their pressers only grated when they weren't moving us forward.
I honestly couldn't care less what Ron says.
Stewart Lowe
86
Posted 19/08/2016 at 11:41:43
I do believe we will get Joe Hart now as there seems no other viable options, but it does seem very strange we are expected to pay £30m+ for a player who is deemed not good enough to perform a certain role for Guardiola? Especially as Man City are set to buy Bravo from Barcelona for only £17m, and who according to Guardiola is good enough.
My bet is that with Hart on board and 2-4 more crucial signings we have a chance to get into Europe, and with this players such as Hart and Lukaku will want to stay.
Brian Harrison
87
Posted 19/08/2016 at 11:54:21
I cant believe some of our fans complaining about RK and his comments on Niasse. Even the joker who bought him soon realized he was useless and used every excuse as to why he wasnt playing.
Guardiola has told Hart there is no future here, he is paid to make those decisions. Klopp did the same with Benteke, thats what managers are paid to do. Not massage already over inflated egos but to make decisions that they believe will improve the club, only hindsight will tell if their decisions were right or wrong.
Barry Sherlock
88
Posted 19/08/2016 at 12:07:01
Eugene,
Rude? Maybe.
Classless? No. Not for me.
He is saying it how it is. In recent times it has been very difficult for clubs to move players on. Some players are too keen to hang around and get paid. RK is in a hurry to get "his" squad. RK is using the media to tell the world he doesn't want these players.
Move to another club, where you are wanted. Move on and further your career rather than stall your career here.
When a new manager comes in things change. Your point of view may be that the club have given "X" a contract and now they don't want to fulfil that contract. I see it that the player was given the contract on the basis that the previous manager awarded it. The new manager doesn't feel that the player fits into his set up. So it is better (for all parties) that the player moves on.
RK's comments could be seen as letting other club's know that these two players are available.
Tony Hill
89
Posted 19/08/2016 at 12:37:02
Ronald's frankness will be perceived as a refreshing change for so long as we are winning or, at least, not playing the Martinez way. If we don't win then he will be regarded as just a different type of gobshite.
'Twas ever thus.
Ernie Baywood
90
Posted 19/08/2016 at 12:40:56
Indeed, and let's not forget that his 'frankness' is of his choosing. Easy to be frank regarding Niasse, how does he feel about Lukaku?
Stephen Jones
91
Posted 19/08/2016 at 12:46:22
Erik (75) spot on mate, having worked in Belgium for a number of years and managing both Flemish & French speaking locals I noticed a distinct difference between the two.
The Flemish guys would not beat about the bush and would tell it like it was no messing around and the French guys would tell me what I wanted to hear if you know what I mean?
It took me quite a while to get used to such frankness and straight talking I can tell you but as in RK case in point give me his press conferences over Bobby's delusion any-day.
Enjoying this season so much after the last 18 months of crazy bobby.
NSNO

Kase Chow
92
Posted 19/08/2016 at 12:49:36
It's all well and good saying that we'll bring in what we need but after tomorrow over 5% of the season would have gone and we still only have 1 recognised striker (who may or may not be motivated to play for us)
To my mind every ambitious club needs 3-4 goal scoring strikers. We have 1
Even if we get the 2-3 strikers that we need, they will need time to bed in and adjust. Obviously making multi million £ purchases isn't straight forward and comes with challenges BUT we seem to be taking ages over an area of the pitch that OBVIOUSLY requires reinforcement
Paul Hay
93
Posted 19/08/2016 at 13:03:21
It's just so good to get some straight, honest talk. I was really pleased that we managed to lure Mr Koeman from Southampton - we have got someone who will not lower his standards or professional expectations. Great to read the surge of optimism on TW.
Keep the faith.
Dave Pritchard
94
Posted 19/08/2016 at 13:22:34
Honest straight talking I have no issue with but it is hardly the main requirement of a successful manager. I will judge Koeman on things like tactical awareness, man-management and most of all, results on the pitch.
Paul Tran
96
Posted 19/08/2016 at 13:48:57
Just to be clear Ciaran, I'm not accusing the Dutch of being ignorant. My wife is Dutch, lots of friends and family are Dutch. None of them ignorant, all of them more forthright than the average Brit.
Erik Dols' post and link is spot on.
Eugene Ruane
97
Posted 19/08/2016 at 13:50:34
Tony (89) -
'Ronald's frankness will be perceived as a refreshing change for so long as we are winning or, at least, not playing the Martinez way. If we don't win then he will be regarded as just a different type of gobshite.'
Absolutely.
Barry (88) - 'He is saying it how it is. In recent times it has been very difficult for clubs to move players on. Some players are too keen to hang around and get paid. RK is in a hurry to get "his" squad. RK is using the media to tell the world he doesn't want these players.'
As you like people who tell it 'how it is', presumably you won't have a problem if Niasse says (nb: this is a Winston Bogarde quote from 2004) 'This world is about money, so when you are offered those millions you take them. Few people will ever earn so many. I am one of the few fortunates who do. I may be one of the worst buys in the history of the Premiership but I don't care.'
Didn't think so.
Hopefully Niasse is moved on, but right now, he is entitled to think (as many would) 'I'm only moving for the same or more money...specially as that fat blonde Dutch grock has been giving it the big'un in the papers and making me look a twat."
Ray Robinson
98
Posted 19/08/2016 at 13:53:21
I have no problem with RK telling us things as they are - infinitely preferable to the bullshit that used to emanate from the lips of our former manager - however, sometimes a message has to be delivered a little bit more delicately for political reasons. Having implied openly and publically that Niasse is no where near good enough, RK has hardly talked up the prospect of receiving a decent transfer fee for the player, has he? Perhaps a slight own goal here, methinks? As Eugene stated, we really need to ship this guy out pronto as anyone taking him on loan is soon going to discover that the truth and ship him back to us at the earliest opportunity.
Ciarán McGlone
99
Posted 19/08/2016 at 14:22:27
Looking forward to this being my only 'whinge' of the season..
Martin Mason
100
Posted 19/08/2016 at 14:48:45
English clubs are being expected to pay double the price of other clubs for rank average players. I fully support the club's approach in having nothing to do with this nonsense and building on good value and our own youngsters. Leicester proved that it could be done.
Hugh Jenkins
101
Posted 19/08/2016 at 15:04:22
Despite all the supposed ITKs - out there - none of us truly knows what is happening with Niasse.
RK's remarks may bee seen to be blunt to the point of brutality, but, what truly is going on behind the scenes.
Just suppose we have arranged loan / transfer deals for Niasse who in turn has said, "I don't want to go anywhere and I am not leaving Everton before my contract expires, I am her to prove my worth".
RK has said, "You have no future at Everton, I don't want you and I won't play you."
Niasse has replied, "I am her to play football for Everton".
To underline the impasse, in his latest press conference RK has said "If he likes to play football, he needs to leave Everton". That is a pretty stark and blunt message to Niasse. There is no room for you here, you are not getting any game time here, at any level, so if you want, as you claim, to play football, take on one of the moves we have negotiated for you".
That having been said publicly, on Worldwide TV, Niasse, or his agents cannot now come back and say , "We were mislead", or, "Koeman promised us . and it never happened".
This statement scotches all those types of scenarios.
It clearly says, " He has no future, here, I don't want him here and I have told him so".
Harsh, brutal, but honest - at least the guy knows where he stands as far as Koeman and Everton are concerned.

Fran Mitchell
102
Posted 19/08/2016 at 15:13:33
Kone and Hart looking more and more likely.
Kone has rejected the contract, expect him to arrive in the coming days.
Guardiola has openly admitted Hart is available, that could take another 10 days to complete however imo.
Those 2 would mean our backline being seriously improved on last season.
A coleman back up is still a necessity I feel. Not so much in the 3-4-3 formation, but to have the flexibility to play 4 at the back when needed.
Another striker/forward and a creative midfielder too.
So 4 more.
Brian Harrison
103
Posted 19/08/2016 at 15:17:39
I see Kone has turned down an improved contract offer from Sunderland. When asked in his press interview about being able to keep Kone, Moyes said I hope so didnt sound that hopeful to me.
I did hear from a good source that he and his agent Willie McKay were down her the other week.
Fran Mitchell
104
Posted 19/08/2016 at 15:19:44
In terms of the Kone deal, wouldn't it be an idea to offer Sunderland Galloway, Holgate or someone on loan. That way they get a replacement, and our lads get more first team experience than they will here. And Moyes, like him or not, was always good at getting defenders to play well so he'd be a good mentor.
Brian Furey
105
Posted 19/08/2016 at 16:34:54
Excellent idea Fran. 2 birds with one stone or would that be Hart & Bony for Stone. Also good to keep Moyes sweet for future transfer deals.
When you look up Lamine Kone on Wiki, it sounds like he's had a complicated transfer before. When he moved from Lorient (France) to Sunderland this is what they said on wiki.
This followed a protracted transfer saga that had previously broken down twice and had seen Lorient threaten Sunderland with legal action for initially pulling out of a deal.
I hope he's worth all this trouble. haha
Jamie Crowley
106
Posted 19/08/2016 at 19:47:06
Regarding Hart - no thank you.
Way, way too much money for the quintessential overrated English player.
Don't believe the hype.
Jamie Crowley
107
Posted 19/08/2016 at 19:48:20
https://www.youtube.com/watch?v=9vQaVIoEjOM
Andy Crooks
108
Posted 19/08/2016 at 22:13:14
I totally agree, Cairan. The whole Niasse saga is strange but RK's plain speaking was tactless, unnecessary and, in my view, comes across as tough guy show boating.
I am, by the way, an expert in the nuances of such behaviour. My mother in law, mistakenly, believes that she is respected for her blunt, tell it as it is attitude. The reality is that she is an ignorant, rude sow.
Trevor Lynes
109
Posted 19/08/2016 at 22:16:08
Marcelo Brozovic the Croatian midfielder is well worth an interest as a playmaker for us.
I would love to see us sign one of the following to provide assists and entertain.
Ziyech, Adrien Silva or Marcelo Brozovic.
All of these three are specialist playmakers who can dribble and control the football! We have been starved for this sort of player for years!
Peter Carpenter
110
Posted 19/08/2016 at 23:23:43
Oooooooh, just loving the plain speaking - having orgasms over it - more please Ronnie.
Peter Carpenter
111
Posted 19/08/2016 at 23:25:49
Andy, if Koeman leaves get your mother-in-law to apply for the job, please.
Barry Sherlock
112
Posted 22/08/2016 at 13:57:21
Eugene #97
haha
I was actually thinking of Winston Bogarde when considering Niasses' situation.
Often when you consider the situation of a player you do tend to think "what would I do?". I'd like to think, given that I'd not have a mortgage or other financial issues I would move on. I'd probably go to Hull or wherever and think "I'll show that Dutch bastard". In Niasses' case; then score twice in 33 games but you know the thought was there .
For the record I don't necessarily like people who tell it how it is but I do feel that players, especially in the PL, have too much power and say. They are vastly overpaid. And part of that "inflated salary" is so that a club/manager can change their mind and put you them for transfer.
I don't wish him ill, in fact the opposite is true. I hope he goes back to Russia and scores 25 goals and we get a big transfer fee for him next summer!
Eugene Ruane
113
Posted 22/08/2016 at 14:45:10
Barry (112) -
'I don't wish him ill, in fact the opposite is true. I hope he goes back to Russia and scores 25 goals and we get a big transfer fee for him next summer!'
Agreed, that would be a result for everyone, but in the meantime, anything with even a hint of 'fuckin' do one lad' could end up biting us on the arse Bogarde-style.
Remember, Niasse didn't scout himself, Everton (reputedly) did. And he didn't buy himself, Everton did. And he didn't hand himself a daft contract, Everton did.
So if we want rid, I suggest a more subtle approach might work better than telling the world/press 'if he wants to play football, he should leave.'
By the way, I have no problem with anyone who tells it like it actually is, in fact i'm very much in favour of it.
My problem is when 'he tells it like it is' simply means 'he tells it like I think it is.'
Big fucking difference and recently, I'm hearing it a lot.
"I'm going to build a wall and the Mexicans will pay for it" is tiny handed slap-head Trump telling it 'like it is', this despite Former Mexican president Vincente Fox saying "I'm not going to pay for that fucking wall." (my kind of president Vinny)
And remember "350m a week going to Europe will go to the NHS" was lizard-face Nige telling it 'like it is' only for the morning after Brexit to be saying "ah..yes..now..no..that won't happen"
The main problem with many who 'tell it like it is', is that..well, remember Spencer Tracy calmly explaining things to Ernest Borgnine in the classic film Bad Day At Black Rock?
"You're not only wrong, you're wrong at the top of your voice."
---
Add Your Comments
In order to post a comment, you need to be logged in as a registered user of the site.
Or Sign up as a ToffeeWeb Member — it's free, takes just a few minutes and will allow you to post your comments on articles and Talking Points submissions across the site.
© ToffeeWeb