Barkley overlooked for Allardyce's first England squad

220 Comments [Jump to last]
28 August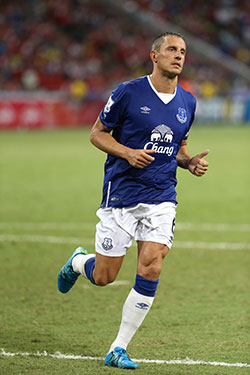 Phil Jagielka has been recalled to the England fold
Phil Jagielka is the only Everton player named in the first England squad under Sam Allardyce, with Ross Barkley not included.
Allardyce was in attendance at Goodison Park yesterday to run the rule over the English players on show for the Blues and Stoke City but Jagielka is the only one to have made the cut for the current international break.
For Jagielka, it's a recall to the international fold after Roy Hodgson dropped him earlier this year but Barkley, who publicly expressed his disappointment in the former England manager's snub of his talents at Euro2016, will have to play his way into Allardyce's thinking.
Leighton Baines, himself an England regular until last season, is also overlooked.
---
Reader Comments (220)
Note: the following content is not moderated or vetted by the site owners at the time of submission. Comments are the responsibility of the poster. Disclaimer
Ciarán McGlone
1
Posted 28/08/2016 at 19:42:32
So Alderdyce didn't think Ross was man of the match either.
James Stewart
2
Posted 28/08/2016 at 19:44:04
Dinosaur.
Colin Glassar
3
Posted 28/08/2016 at 19:47:08
Well fat Sam, you are now doomed to fail. Ross was the best player on the pitch yesterday you Brummie numpty!! All this shite about not letting the media pick his team - gobshite.
Oliver Molloy
4
Posted 28/08/2016 at 19:48:26
Good, a win-win situation for Evertonians.
Brent Stephens
5
Posted 28/08/2016 at 19:49:17
Use it as a motivator, Ross. Diamond geezer.
Joe Edwards
6
Posted 28/08/2016 at 19:49:27
There will be no place for any flair players under yard-dog Allardyce.
Ross, lad – you are best as far away as possible from the disaster that the bulldog jowelled battling toss-pot will produce.
Chris Gould
7
Posted 28/08/2016 at 19:51:48
Shit, I think that may knock his confidence. Ron and his team are going to have to work hard with him over the break.
John Critchley
8
Posted 28/08/2016 at 19:54:11
Good, glad that old relic won't get his hands on Ross.
Rob Halligan
9
Posted 28/08/2016 at 19:55:31
All the Spurs players who had an absolute nightmare at the Euros are in. And how on earth has Luke Shaw, who has been out injured for nearly a year, been included? And as for Jordan "hard man" Henderson... well we'll say no more about him, other than the fact that he is fucking shite!!
Bob Hannigan
10
Posted 28/08/2016 at 19:56:36
Maybe Big Sam didn't have a program and didn't realize Ross is now #8, no longer #20. lol!
Laura Round
11
Posted 28/08/2016 at 19:57:40
Colin he ain't brummie he's Black Country bab! Huge difference! Shame for Ross, Gotta knock his confidence but at least he can focus on his work here and he won't get any knocks.
Jay Harris
12
Posted 28/08/2016 at 19:57:43
Very surprised especially seeing as Delle Alli has been shite for the past 6 months.
Maybe all the "Sky" wining and dining does have its influence.
James Moraran
13
Posted 28/08/2016 at 20:02:49
Gotta be honest here, Barkley needs a big kick up the backside. Occasional glimpses of his undoubted talent are not enough. He needs to be far more aggressive and dominate games over 90 mins.

He constantly does what I call the Barkley shuffle, that semi-run with the intention of purposely not reaching the man with the ball. This means he can avoid making any tackles.

Whether it is a mental problem brought on by his previous injuries, he needs to get past it or he will never fulfil his potential.
Brian Williams
14
Posted 28/08/2016 at 20:03:07
Colin (#3). Did you go to the game yesterday?
I ask because Ross was far from the best player on the pitch. He did some good things, yes... but he also did some things which a player of his supposed stature shouldn't be doing.
Bobby Thomas
15
Posted 28/08/2016 at 20:03:54
Will do him good.
Not consistent enough for club as it stands and has work to do. International football will come if he settles down and progresses under a manager not filling his head with shit.
Jon Withey
16
Posted 28/08/2016 at 20:04:37
Shame he wants Jagielka to be honest – do we seriously want our players in that shambles?
So it will probably be the same lot that lost to Iceland?
Hopefully it helps Ross focus on Everton but I expect he will be disappointed.
Damian Wilde
18
Posted 28/08/2016 at 20:08:24
Ross was terrible yesterday. Gave the ball away so many times. England squad? Lucky to be in the Everton squad...
Kunal Desai
19
Posted 28/08/2016 at 20:08:55
Yet sicknotes Walcott and Sturridge are included! Dont worry Ross you probably ain't missing out on much. They will breeze the qualifiers and get knocked out in the last 16 or quarters of the tournament. Predictable and boring shite for decades.
A weekend that's wasted in not having another round of league fixtures
Kim Vivian
20
Posted 28/08/2016 at 20:10:51
Colin - I watched the whole game (streamed, not at Goodison) and the Ross Barkley I saw was far from MotM. He's certainly looking better but conceded quite a lot of possession as well as the good stuff he was doing. I was very surprised at the BBC verdict because so far as MotM went Gana, Jags, Holgate, Baines and Given were well in front of Ross.
Charles Barrow
21
Posted 28/08/2016 at 20:14:09
Quite ironic that Ross was selected for the Euros when he had a poor second half of the season, and he's not selected when he had started the new season quite well. I just hope it spurs him on for the rest of the season to show Alladyce what he's missing.
Martin Mason
22
Posted 28/08/2016 at 20:18:44
Brilliant for the club but I think we read too much into it, he's also trying new players out.
Paul Holmes
23
Posted 28/08/2016 at 20:19:07
Let's be honest, we all want Ross to do well because it helps Everton but he has not really progressed. Koeman has hinted he needs to step up this season, because reading between the lines of our manager and big Sam, he's still not at the level he should be.

I think we need to buy a playmaker to take his place when he's not in form; maybe that will drive him on to achieve better things. But either way, this is a BIG season for Ross Barkley and his future at Everton with Moshiri's millions.
Clive Lewis
24
Posted 28/08/2016 at 20:19:54
To be fair, in front of Allardyce yesterday, Ross gave the ball away consistently in the second half. However Henderson and Llallana are shockingly inconsistent so don't really understand the decision.
Gordon White
25
Posted 28/08/2016 at 20:20:10
I would like to think Sam knows Ross has plenty of potential, but is not ready yet. Probably doing him a favour. It's a big incentive for Ross to up his game at club level.
Gordon Crawford
26
Posted 28/08/2016 at 20:20:51
Gutted for the lad, he deserves better. This could wreck his confidence.
Kevin Rowlands
27
Posted 28/08/2016 at 20:29:26
Excellent news, for us, fuck England, hope Ross isn't to gutted, at least he'll be getting coached by a proper coach the next 12 days and not that fat fucking buffoon who's never won shite as a player or manager.
John Daily
28
Posted 28/08/2016 at 20:30:11
He was poor yesterday – lots of time on the ball, but did very little with it. Final pass is poor, in fact, his passing is poor as is his work rate and general decision making. His physicality is immense, but not enough on its own.
Not even close to the player either he, or others think he is. If he wasn't an Evertonian, the crowd wouldn't be anywhere near as supportive of him. Massive season ahead for him – very telling that no team came in for him this summer.
Graham Coldron
29
Posted 28/08/2016 at 20:30:34
No real surprise as Fat Sam has have never got over the 1977 League Cup semi-final when we beat Bawlton.
Typical media darling and Ross is better out of the whole England gig anyway.
Chris Gould
30
Posted 28/08/2016 at 20:30:42
I guess it depends how Sam handled it. I hope he had the good sense and class to give Ross a call and explain what he wants to see from him in order for him to get picked in the future.
The squad looks poor to me. Doesn't say much about you if you can't get in that squad.
Brent Stephens
31
Posted 28/08/2016 at 20:32:26
Goodison needs to put its arms around the lad and give him all the support possible. Sam might not want him but we need to show him we value him. I think his confidence can be brittle, as I think we've seen over the last season. Koeman made a great gesture to make him captain recently.
Mike Barrett
32
Posted 28/08/2016 at 20:32:58
Colin. Ross MotM? What game did you see?! Ridiculous, mate, sorry. You normally talk sense, too.
Martin Mason
33
Posted 28/08/2016 at 20:41:02
Ross had a great game yesterday, not for 90 minutes but he is incredibly constructive and in doing so he inevitably makes mistakes which coming from such a player are obvious. This is to say nothing of the Goodison boo boys that I'm sure want him to do badly.
The BBC and some papers had him as MotM yesterday so whatever judgement Sam based his selection on it wasn't on yesterday's game. It could have been the Euros and a dreadful season last year when we were managed by a clown. If so and he wants to see how others perform then fair enough.
Ross is a massively talented lad who has still to completely apply his massive talent into consistent benefit. It will come, believe me.

Steve Hogan
34
Posted 28/08/2016 at 20:41:28
Sam's opted for the creative genius that is Jordan Henderson over Ross Barkley.
Welcome to the brave new world of 'Engarrland' under Allardyce then... god forbid.
Matt Garen
35
Posted 28/08/2016 at 20:46:48
As Kevin #27 so eloquently out it, fuck England. There's 2 years until the next tournament where they can scrape through the group, be shite and knocked out in the last 16 to Poland or Ecuador.
Between then the qualifiers are just a waste of his time and knowing our luck he will get selected and get injured against Malta. He needs to get his head doen, learn from Koeman and kick on.
Keith Harrison
36
Posted 28/08/2016 at 20:46:52
It will maybe give Ross an incentive to try even harder. He has done no worse than some of the Spurs lads who always seem to get in, and don't get me started on yard-dog Henderson.
However, I didn't think Ross was near man of the match yesterday, and thought that both he and Bolasie balanced out any good things with poor ones. Mirallas was outstanding in my book.
Neil Wood
37
Posted 28/08/2016 at 20:51:24
I'm as patriotic as they come and always love to cheer England on but this seems to my like the biggest load of shite. Alli has done nothing for a long time how can you justify it. If I was Ross I would make a massive statement and retire from international football with immediate effect. Will only be two years and Sam will be gone.
Peter Carpenter
38
Posted 28/08/2016 at 20:53:20
First two actions of the new England manager – try to get John Terry back and drop Ross Barkley.
Big Fat Sam, you prick!
Ian Riley
39
Posted 28/08/2016 at 20:54:49
This is a blessing for Ross. It all happened to quickly for Ross. He's not the finished article but under Koeman he will develop. He needs to knuckle down and learn from the coaches at Everton. I think Martinez made us all think Ross was the finished product.
This will come as a shock to Ross but this will benefit him in the long term. Consistency is needed now and that will come. He's under enough pressure with Everton at the moment with a new manager to impress. Mark my words, England will come calling again.
Ian Burns
40
Posted 28/08/2016 at 20:59:52
Brent (#31), good post. I only looked at the squad to see if Jags and Bainesy had been picked, I was dumbfounded when I saw Ross had been left out.
All I can say is this Ross, when Allardyce played, the only skillful players he saw where those he had trodden underfoot and the rest he only recognised them from their arses, as they disappeared towards the goal he was defending.
That is why Henderson is in and you are not – there is no other logical explanation.
Matthew Williams
41
Posted 28/08/2016 at 21:06:10
Maybe because he just ain't good enough... it's only the England team any road!
Roll on 2 weeks time... the Mackems.
Daniel Lawrence
42
Posted 28/08/2016 at 21:13:59
And no doubt Stones will be an automatic pick now he's Sky 4, 5 or 6, whatever it is these days to shoehorn The Shite in.
Maybe he needs to perfect Henderson's prancing trot he does before every free kick or corner he shanks.
Colin Glassar
43
Posted 28/08/2016 at 21:14:41
Football is a game of opinions. I thought Ross was great yesterday and is getting better each game. In a way, I'm glad he's staying home as it will give the Koeman brothers time to work on his game and he'll also be around Finch Farm to welcome the new players in.
Mark Dunford
44
Posted 28/08/2016 at 21:15:06
He who laughs last, laughs longest. If the answer to a football question is with Sam Allardyce then the wrong question is being asked. Commiserations for Jags.
Peter Carpenter
45
Posted 28/08/2016 at 21:19:41
The Big Fat Lunatic is well and truly in charge of the asylum.
Stan Schofield
46
Posted 28/08/2016 at 21:21:51
Ross might be disappointed, but truthfully England are a waste of time, and it's good that he can concentrate on the developments under RK without interruption.
Liam Reilly
47
Posted 28/08/2016 at 21:22:47
One fuckwit after another as manager of England whom consistently pick the same players.
1 and 1 will always make 2; so when are these dinosaurs going to see that they need to change the players to change the result?
Wilshere inclusion is a joke, but the irony is, Wilshere or Sturridge will likely pull out anyway, elevating Ross.
Ed Fitzgerald
48
Posted 28/08/2016 at 21:23:24
It pisses me off the way Barkley gets hammered on here (TW) and at Goodison. He takes responsibility on the pitch, wants the ball and is our key creative player. Therefore by virtue he takes chances, and not everything he tries comes off. Perhaps people think a midfield composed of defensive midfielders is the answer, Ã  la Gareth Barry (and I'm not slagging Barry off btw).
Barkley is a cracking player, and he has proved capable of making and scoring some brilliant goals for us. It's a shame he doesn't get the support that other far less talented players do at Goodison. It seems some blues would just rather watch players flying into tackles for 90 minutes than appreciate genuine creativity.
Christ knows what some of you would have made of Sheedy, you would have probably ripped him to shreds well before he reached his peak at Everton. Allardyce, FFS... he would still pick Kevin Nolan if he could, his teams have always been shite to watch.
Eugene Ruane
49
Posted 28/08/2016 at 21:24:05
Great news — he can't get injured or tapped-up if fat-head doesn't pick him.
David Milner
50
Posted 28/08/2016 at 21:25:22
I feel for Ross as he was putting in the effort yesterday but a lot of what he tried did not come off. His day will come though but yesterday he was far from MotM.
Lets keep him injury free & for Everton only. How many players have we lost through injuries at International level.
Mason Holgate was MotM yesterday. Hard to think it is only his first season on regular selection.
Peter Carpenter
51
Posted 28/08/2016 at 21:28:18
Agree Brent (31). A few years ago, there was a table of pass completion in one of the papers. Jack Rodwell was in the top 3 or 4. I was surprised until I realised that taking the ball off a centre back, giving it to a full back, getting it back, giving it to the other full back, if done consistently, would probably result in a high pass completion rate.
Ross plays a high risk game, pushed forward into congested areas and trying things. Ask the opposition if they would prefer him to play further away from their goal. He played one pass in the second half yesterday, first time between the centre backs but too far in front of Kone, chance gone. The crowd groaned. In truth, a sharper, more aware forward than Kone would have been onto that pass.
Let's get behind him. He has faults but there aren't many like him in the Premier League. I'd rather watch him than any of those selected ahead of him for England.
Gavin McGarvey
52
Posted 28/08/2016 at 21:35:31
I've more or less had it with England. Obviously, the Iceland game was a bit of a low, but having watched them over the years a predictable one.
As for Sam being made England manager, well he is about their level. He should be able to put out a team of triers and get a little respect back. Good luck to him, but I can't muster much enthusiasm at chucking our players over to him to grind out results.
I think Ross is well out of England at the minute. They are a disaster. His treatment by England is, however, unusual. He is one of their few players with any talent, and when he was most needed they brought on another holding midfielder. I think he has the world at his feet if he can push on this season, and he needs to concentrate on his league game. I feel for Ross, but if he reaches anywhere near his potential, then there'll be no ignoring him by 2018.
Kevin Rowlands
53
Posted 28/08/2016 at 21:36:31
Seriously who do we want Ross training under the next 2 weeks, Koeman or the fat-headed "I've always kept teams from being relegated" twat? At least Jags is mature enough to ignore "C'mon join Shitty, we're great" twats like Joe Hart... oh, wait a minute.
I think in the long run this will be a good thing for Ross – it gives him so much more incentive to prove idiots like Allardyce wrong; it's a win win for us.
Stan Schofield
54
Posted 28/08/2016 at 21:36:36
In reality, although he might be disappointed, playing for England can knock your confidence anyway, because the set-up is workmanlike, tedious, and lacking in creativity. A creative talent like him would likely not fit in very well, especially with cart horses managing the team.
Will Everett
55
Posted 28/08/2016 at 21:37:00
So Sam is basically Hodgson, except dumber.
Liam Reilly
56
Posted 28/08/2016 at 21:37:55
Just seen the squad again and Wilshere is not in it; so I take it back.
Fat Sam is not a complete arse, just an arse.
Joseph Mullarkey
57
Posted 28/08/2016 at 21:47:37
Disappointed for Ross he is a far better option than Horrendouson.
When will an England manager have the balls to drop the RS media darling?
Let's have it straight: how many of the RS would make the national squad if they were still at Southampton or Sunderland?
The national embarrassment will only continue under Sam.
Mike Allison
58
Posted 28/08/2016 at 21:48:34
To be fair Liam (47), he's left Wilshere out. He's got to be the most overrated player I've ever seen.
Henrik Lyngsie
59
Posted 28/08/2016 at 21:50:52
Ed (#48). I actually don't think he takes responsibility on the pitch. He gives the ball away too easily far too often. He does not know when to apply his creativity and his decision making lets his talent down. He appears to play like a teenager still.
He has got so much talent and is so gifted but he needs a serious wake up call. This might be what he need. But I also think Koeman somehow will ensure that Ross one day will play like an experienced pro knowing when to play it safe and when to take chances. Without giving the ball away while not even trying to be creative. I really hope that Koeman will manage to develop Ross's game because the way he plays right now he does not deserve (or need) an England call up. And I would expect that Koeman would eventually replace him. But I am also sure that koeman is smart enough to work with Ross before making a big decision.
Martinez gave him freedom and he was a given starter. But he got so many bad habits being allowed not to defend and loose the ball easily. Let Koeman restart Ross and two years from now he might be real class. And probably as a central midfielder and not as the Number 10.
John Daley
60
Posted 28/08/2016 at 21:50:55
I don't think it will prove as big a dent to his confidence as some seem to think and extra time under the charge of Koeman whilst eluding the influence of fat Sam for a little longer isn't exactly a losing situation for Everton.
Deep down, I reckon Ross, like most scousers, probably loses about as much sleep worrying about the fortunes of the England national team as the makers of Qourn do fretting about their fishless fingers tasting like a filled and flushed femidom if you forget to close your eyes first and corrosote your mouth immediately after. Being the best player he possibly can, for Everton, is his primary concern, as Koeman made clear this week.
Mark Morrissey
62
Posted 28/08/2016 at 21:55:42
Ross is far better off being at Finch Farm than spending time with an overweight butcher's apprentice. England are shite and he's not missing out at all. Full of big-time Charlies like Joe Hart.
Did anyone else see him today sat on the bench and laughing when he saw that Cabballero was injured. I really hope he sees the footage of himself pissing himself laughing whilst his teammate lay injured. What a fucking melt he really is... and no I don't want him to sign for us
John Daley
63
Posted 28/08/2016 at 22:01:59
Henrik @59,
How does 'giving the ball away' count as a failure to take responsibility? The very act of getting on the ball, wanting it in the first place and the willingness to pick it up and start prompting, meets the requirement of taking responsibility on the pitch regardless of the ensuing results. A stray pass or stumbling whilst on the run shouldn't rank alongside someone shitting out, refusing to get involved or seeking to hide.
Colin Glassar
64
Posted 28/08/2016 at 22:09:33
Ed 48, great post.
Gordon Crawford
65
Posted 28/08/2016 at 22:15:56
Ross may not be the best player on the pitch at the minute, but he is the most gifted, my opinion of course. He always tries to make something happen and for me that's a great quality to have.
Yes, he can be lazy... and yes, he can frustrate, but when he is on his game, he is unplayable. Better than any other English midfielder.
I also agree that he needs not to be criticised, but to be loved. Let's get behind Ross and watch him grow into the midfielder we believe he can be. :)
Henrik Lyngsie
66
Posted 28/08/2016 at 22:18:38
Well John 63 - wanting the ball and the willingness to pick it up is what I would expect from a skillful central attacking midfielder.
Taking responsibility is to use the ball in the teams best interest. It is irresponsible to loose the ball being sloppy with a simple pass in your on half. To me, a responsible Number 10 would not only want the ball but also know when to play it safe and when to try the magic. This is decision making and that is what Ross needs to improve.
Matt Garen
67
Posted 28/08/2016 at 22:22:05
John (#60) — if ToffeeWeb did awards for post of the week, I think you'd be in with a shout!
Andy Meighan
68
Posted 28/08/2016 at 22:24:39
Can't see what the problem is in him being overlooked. He's been lucky to get the amount of game time under Martinez despite doing absolutely nothing for the best part of last season.

His decision-making is poor and he's lazy as well Allardyce is totally right to leave him out. And no matter how much Evertonians bemoan the fact he's been left out, the lad just isn't good enough for Everton never mind England.

And this is coming from one of his biggest allies in the past. Sorry, Ross. Hope you improve under Koeman but I just can't see it.
Andrew Ellams
69
Posted 28/08/2016 at 22:25:34
Ross is a real confidence player and I feel he suffers from a lack of belief in his own ability sometimes. He'll be back for England and will have a good season for Everton. It's all dependent on the new coaching team.
Brian Williams
70
Posted 28/08/2016 at 22:25:40
Ed (#48).
Don't know if he gets hammered or it's just a case of people not being blind to some of his mistakes, of which he makes a number.
Yes, he's a talented player and one who, when he plays instinctively, is almost unstoppable... but it's impossible to ignore that at times he makes schoolboy errors which sometimes put the team in danger.
There was a discussion some time ago involving one of his former coaches who mentioned about his footballing brain and the fact that the coach in question mentioned that it was in that area where Ross was lacking, and it was that which would prevent him being the player we'd all love him to be.
Personally I enjoy watching him and when he goes on one of those runs on goal where he doesn't stop to think and instinctively drives into the box he's a joy to watch. But it's there to see that there are times when he has the ball at his feet after a run and fails to see players in dangerous positions to give the ball to.
I'm not having a go at the lad, I love him, merely offering constructive criticism.

Peter Laing
71
Posted 28/08/2016 at 22:27:10
Glad he hasn't been selected, imagine having to be in the company of Sterling, Hart, Delle Alli et al comparing their bling diamond earrings and Jewel encrusted beats headphones. Better off away from that circus.
Anthony Jones
72
Posted 28/08/2016 at 22:29:43
Henderson and Rooney on current form? Being included in this squad still means sod all.
Brian Williams
73
Posted 28/08/2016 at 22:29:48
PS. Having said that he's miles better than most of the shite in that squad.
Andrew James
74
Posted 28/08/2016 at 22:29:51
Ross is our best player. His stats last season were decent despite the team being useless at times.
Allardyce should be ashamed of picking so many Spurs players who were awful in the Euros and haven't exactly been great this season.
Glad Jags got selected but him and Baines should have gone to France anyway. The only thing that made sense was the omission of that massively over-rated cigarette-smoking Wilshere.
Gordon Crawford
75
Posted 28/08/2016 at 22:33:10
You're right Henrik, Ross does need to improve on these things. But let's not focus on his few weaknesses, but rather on his many many strengths.
I for one will be getting behind him. Ross Barkley.
Shane Corcoran
76
Posted 28/08/2016 at 22:34:06
Yeah Peter, he can stay home and check out Kone's hair.
None of the Everton lads have these headphones then? What a great club?
And who's in the Sky 6 now lads. Are Leicester in it?
Andy Meighan
77
Posted 28/08/2016 at 22:40:25
Colin (3), what game were you watching yesterday ? No way Barkley was as good as Gueye, Barry, Holgate or Jagielka. The lad is multi-talented but has never utilised that talent and I'm not surprised he's out the squad.

The kid is never going to be the player the likes of you and many others make him out to be. I've defended him so many times game after game. Quite honestly, I can't any more because simply he's just not good enough.
Danny Halsall
78
Posted 28/08/2016 at 22:46:51
What gets me about the whole thing is that Allardyce has said that he has tried to pick the players in form so far this season. Ross has played 4 games scored 2 goals, assisted 1 and has looked very assured and confident. Then he picks players like Henderson, Walcott, Shaw etc.
I don't give a toss about the national team, but I really hope that this doesn't affect Barkley's confidence. He must be really disillusioned after this and the Euros.
Henrik Lyngsie
79
Posted 28/08/2016 at 22:47:09
You are right, Gordon. I do admire Ross many strengths. At the same time he is some times very frustrating to watch but still a clear favourite here.
The point I am trying to make is he needs a demanding manager. One who demands he maintain his creativity while at the same time he eliminates his sloppy passing and works much harder. Then he can become an England legend and the likes of Stirling and Delle Alli will admire him.
Tom Bowers
80
Posted 28/08/2016 at 22:49:30
Big Sam's choices are no different from the last guy and of course will have people disagreeing.
I saw Antonio today and he doesn't strike me as England material, appears a little slow but then he is a West Ham player. Maybe Mark Noble was more deserving of a call up?
I still cannot understand why that prick Henderson gets in ahead of Ross.
Malcolm Dixon
81
Posted 28/08/2016 at 22:51:27
To be honest, I've got very little interest in watching England play these days. Might only bother if Ross was in the team. Allardyce has just given me a pass on that, so now I'm totally free of them. Great! Ta, Sam!
Anton Walsh
82
Posted 28/08/2016 at 23:04:21
Barkley stunk the place out against Stoke. I've no grudge with Ross but he was lucky to get as long as he did. Nowhere near international quality but who is in the England team? Better away from it all.

I wish Jags would call it a day.

Stan Schofield
83
Posted 28/08/2016 at 23:05:40
I gave up on England donkey's years ago, when Howard Kendall couldn't get in the squad. They're pretty much a lost cause, as evidenced by the embarrassing Euro debacle. The England set-up seems to have given up the ghost if they're having the likes of Allardyce as manager.
Sean Randles
84
Posted 28/08/2016 at 23:12:23
Ross should be less worried about what Allardyce thinks and more worried about what Koeman thinks. He won't indulge Ross's mistakes like Martinez did.
â"– 10 is a critical position and unless you are consistently linking the play and creating chances for others and yourself, and scoring them, you aren't doing your job.
We are all rooting for him cos he's one of us, but unless he does it consistently he may find himself playing neither for England or Everton.
Clive Mitchell
85
Posted 28/08/2016 at 23:24:12
Ed 48, spot on. Ross is a diamond, a player who thrills, and for him not to be included in a squad that includes Jordan Henderson, Adam Lallana and that total fraud Theo Walcott tells you everything you need to know. Fortunately Koeman will handle this well.
Tony Hill
86
Posted 28/08/2016 at 23:25:04
To be omitted by Allardyce is a compliment. The man is an oaf. Let Barkley flourish under Koeman; it is imperative that we get behind him more than ever.
Ian Pilkington
87
Posted 28/08/2016 at 23:41:33
Ross is clearly benefiting from the influence of Ronald Koeman and his omission is completely inexplicable.
I don't subscribe to the idea that our players are better off not playing for England as the best should always aspire to play for their country.
I can't see Fat Sam being any improvement on his useless predecessor.

Stan Schofield
88
Posted 28/08/2016 at 23:55:28
I would support our players playing for England if the whole thing were taken more seriously, and we didn't have a whole string of jokers managing them in quick succession. We might as well have Al Murray's The Pub Landlord managing them, for all the footballing subtlety they've displayed over the last couple of decades. Apart from that, it's a great set-up.
Anthony Dwyer
89
Posted 28/08/2016 at 00:00:31
I hate to admit this, but the fact is any player looking to do well as an England international needs to move from Everton.
Baines would still be a England regular if he'd have moved to Man Utd, Stones will be first choice and so would Ross if he was at Spurs or the Red Shite.
Jags has been selected, but he will be the first one to be overlooked as soon as any game has any importance.
I agree with Ian Pilkington in that playing for your country is important to all concerned, even though I'd take Everton over England every single time.
Anthony Dwyer
90
Posted 29/08/2016 at 00:02:15
One side thought is maybe Sam felt it was best to leave Ross to his club for now to continue to gain form and confidence.
Steve Guy
94
Posted 29/08/2016 at 00:25:33
Allardyce is a complete Mike Bassett. Glad Ross won't get injured playing for this Jurrasic git. The worst managerial appointment EVER for England.
Mr Dwyer (89) What the fuck ??!!
Jack Convery
95
Posted 29/08/2016 at 00:27:49
Slovakia rubbing their hands already!!
Anthony Dwyer
96
Posted 29/08/2016 at 00:53:11
Steve Guy ?????? What do you mean ??????
I do not want our players to leave, but clearly if James Milner, and Jordan Henderson can get in the squad, but Ross Barkley can't then clearly something is wrong.
Also over Baines, the guy had been the best left back in the world a few seasons back, for around 5 years, yet at any chance England gave chances to any left back that came along, that never ever happened to Ashley Cole!
Imo for some reason the FA etc simply overlook us as a genuine force, and our players bear the brunt of it.
Lescott was the same, hardly played at international level at us, then the main man for a few seasons while at Man City.
Jags overlooked for the Euros, didn't feature at the World Cup.
How many examples do you need.
Again, I don't say this to suggest our players should leave, but come on, you must see the pattern.
Gordon Crawford
97
Posted 29/08/2016 at 01:17:08
82 Anton Walsh, that's the most ridiculous post I've read this day. Of course you're entitled to your opinion. But to say Ross stunk the place out, is in my opinion, bizarre. Granted he wasn't great. But he was good in spells.

Tony Byrne
98
Posted 29/08/2016 at 01:30:59
Southern bias media journos have had a massive influence on the England squad for years and recently it seems more about who you play for regardless of form. Henderson for instance, just about confirms how pathetic the whole selection process really is.
Ross played okay yesterday, especially the first half, gave away possession quite cheaply in the 2nd half in dangerous areas. For me, he still lacks the instinct as to when to release the ball. I can see a tackle coming in from my seat 70 yards away. It's that split second "give an go" that separates Ross from being a decent player into a great player?
Anyway he can only get better under the guidance of Koeman & Co. I couldn't give a toss about England, it's a southern bullshit thing for me.
Winston Williamson
99
Posted 29/08/2016 at 01:44:18
We despise most England managers due to them consistently over-looking our players and picking players from the supposed 'Sky 4-6', however, you can see the logic of the managers.
He wants players who have or are consistently playing at the highest level. That means regular European football.
There will always be a chance for some players not exposed to regular European football, but slim pickings.
That's the only other explanation for picking idiots like Henderson, other than a media-pressured-FA-influenced bias
Dick Fearon
101
Posted 29/08/2016 at 01:59:02
England managers seem to have a fixation on certain players who can do no wrong.
Year after year, decade upon decade, our so-called super stars have failed at international tournaments. Despite all the inevitable failures the same names were picked.
Terry, Ferdinand, Lampard, Gerrard, Beckham etc could not garner a single international medal. Year after sodden year those losers were permanent fixtures. Now we see a new bunch of over hyped under performing so called stars take their place.
Had they any dignity or pride those beaten by Iceland should have already offered their international resignation.
Sean McCarthy
102
Posted 29/08/2016 at 02:05:22
Gordon (#26) — why does he deserve better?? Irrespective of the likes of Henderson and Lallana being in the squad in front of him, take the blue-tinted glasses off for a few seconds.
Ross Barkley consistently gives the ball away, chooses the wrong option in attacking situations, NEVER tackles or even attempts to, goes missing far too easily and at 23 should be running games in the way (and I hate to say it!!) Steven Gerrard was doing at his age and not be being spoken about in terms of "potential".
I've stated this view on here before and I've still seen nothing that doesn't tell me that, within 3 years, he'll be at a WBA or Sunderland type club. If Everton want to move forward, they need a playmaker now and not someone "with potential".
Gary Carter
103
Posted 29/08/2016 at 02:13:51
Just look at the midfield, full of tacklers and pace merchants. What use is a skillful centre-mid like Barkley in a side that will hit the ball from defence straight to attack for either a big man to knock down or some talentless fast runner like Walcott to chase into a channel.
Joke of a squad by a joke of a manager. Barkley and Everton are best well away from that circus!!
Terence Leong
104
Posted 29/08/2016 at 02:49:26
My observations, as a non-English, and someone who grew up on English football (all partial to the English National team, until a few years ago):
There is somewhat a media bias against towards the London teams, and the so called "big teams".
The English national team has never been comfortable with the real flair players. It couldn't handle Hoddle, Barnes, McManaman and Scholes.
The mindset is a preference for the "Roy of the Rovers" type. Hence, Bryan Robson and Steven Gerard will always be preferred over the schemers.
Even the flair players that had successes at the national level, it is because they are those who are somewhat more direct, and with an "end product"
e.g. Waddle and Gazza. Both would dazzle the crowd, but were often more direct.
Gazza would often take on players, dribbling past players towards the goal. While Gazza was able to make the kind of defence splitting passes, he wasn't really doing as much of it, or at least that wasn't what he was picked for England for, in his early years.
Ross burst onto the 2013/14 team with a reputation for being direct, in a way similar to Gazza. It's only in the second and third season that he tried to take on the schemer-type roles, which ends up with him giving up a lot more balls.
Granted, it could be that he's never going to be at the same level, and I reckon many fans are happy that he does the Gerard type, go on lung bursting runs, and rifle shots from the distance.
Gerard was never able to do what Ross does in terms of trying to craft through balls. While Gerard was at 23 years old, already solidly established as the heartbeat of his team, it was at a less creative level, more of a "Roy of the Rovers" type.
As an outsider (albeit a fan for the past 30 odd years) looking in, give the local lad a break. Give him time to develop under the new manager, and I think we'll see a more complete player by the end of the season.
John Daley
105
Posted 29/08/2016 at 02:50:52
"
I've stated this view on here before and I've still seen nothing that doesn't tell me that within 3 yrs he'll be at a WBA or Sunderland type club."
Absolutely nothing at all that suggests he possesses something out of reach of your run of the mill relegation plodder? Nothing to suggest he is valued more highly by those in a position of power at Everton than he is by certain fans who carp on about him being 'shit'? Not one exhilarating turn and run? Not one fine strike? Not one perfectly weighted through ball? Not the captains armband he was entrusted with wearing less than a week ago?
Well, what about hearing or reading anything? Like the words of the one guy who is likely to be in charge throughout this three year spell that will seemingly sound the death knell for Barkley's Everton career?
"He is already, at his age, a key player for Everton, but he is still young. I am looking forward to working with him and making him a better player and that's really what we try to do."
"...he is a vital young player in the Everton team.."
"I like him as a player because he's good on the left and on the right and has a good view on the pitch"
"He is one of the key players, who is performing in an important position for the team, creating chances and scoring goals."
"The responsibility is his to take. He must put it on his shoulders because he is a very, very good player"
Doesn't sound like a player the manager foresees having a short future at the club unless he bucks his ideas up.
One more:
"I have talked to him and told him how I see Ross Barkley..."
Whilst not privy to that conversation, I'm pretty confident that, whatever Koeman said, the words "wearing a fucking West Brom shirt soon", probably didn't crop up.
William Cartwright
106
Posted 29/08/2016 at 03:00:45
Conspiracy theorists at work I see. Good. About bloody time. England's fixation with Liverpool players has been well documented for decades.
The sad truth is that playing for Everton DOES hold back your chances to progress in the England set up... Sam or no Sam.
Myself, I am disappointed because playing for your country should be a goal of every player. The fact that it has become a sideshow is sad. The upside is 2 weeks more of Koeman and Finch Farm will keep Ross on the upswing and the future is Blue.
Tony Draper
107
Posted 29/08/2016 at 03:04:41
Koeman made a generous but non-refundable investment in Ross Barkley's future.
Captains armband.
Use the investment wisely, or spunk it away.
Step up, or Jog on.
Up to Ross, tick tock.
David Price
108
Posted 29/08/2016 at 04:01:31
Ed (#48) and Terence (#104). Magnificent posts.
Barry Jones
109
Posted 29/08/2016 at 04:29:25
Ross was poor on Saturday and has been for a while. People saying he was great were watching a very different game from the one I saw.
I also disagree that Sam doesn't like flair players. He has included several in his squad, all of which are more capable and more consistent than Ross.
Sam is right. This is the England national team. Potential is not enough, you have to prove that you belong week in and week out. This is a wake up call for Ross. He is starting to believe the hype out there when he should be working harder to achieve the next level.
This is a make or break year in many ways. Koeman does not suffer fools. If Ross cannot cut the mustard I cannot see him playing regularly in the Everton team.
Bernard Yeo
110
Posted 29/08/2016 at 04:37:49
Whenever Barkley stops and shapes his position to pass the ball, he almost always slants his body to face the right-hand side. I find that very limiting and easy to defend against.
It's good to be away from the England setup currently, and just focus on getting it right with Everton.
Rick Tarleton
111
Posted 29/08/2016 at 04:55:48
Alli and Lallana are both in. Neither man makes any attempt to run a game. Alli does flashy moments and petulance; Lallana is a younger version of our own Leon Osman: nice feet, nice bloke, no brain. And the legend that once made Bolton into a team that could kick Arsenal and any other team that tried to play football off the pitch, prefers such players to Barkley.
The next World Cup is ours. Allardyce's tactical know-how and his ability to recognise that we need the class of Henderson to destroy the world's best defences. I wouldn't let this clown pick strawberries.

Alan J Thompson
112
Posted 29/08/2016 at 05:21:25
I know I can see Barkley's talents and I don't think I'm the only one and one day, as we all hope, it will all consistently come together and we will be speaking of him in tones usually reserved for revered South Americans and ex-Evertonians captaining England.
As I said on another piece; since Puskas Magyars of the '50s, England has been most consistent with the disparity of 1966. Ross not being selected by England's biggest kick-and-run manager, seemingly appointed only because he is English, doesn't overly disappoint me.
Laurie Hartley
113
Posted 29/08/2016 at 05:30:11
Going by what Ross said last week about not getting game time in the Euros, I think he will be completely gutted at being left out of the squad.
Hopefully, after getting over the initial disappointment, Ross will latch on to what Ronald Koeman has to teach him. (Good post, John D, #105)
If I could give Ross a spoonful of something to help him become the best English footballer of this era it would come in a bottle labeled "Aggression".
I watched the Spurs v RS game yesterday — to me, Ross is a miles better footballer than any midfielder in that game including Delle Alli — but Delle Alli would fight with anyone. That would appeal to Sam.
Ross has to find his inner mongrel. Come on, Ross!

David Price
114
Posted 29/08/2016 at 07:03:16
Ross wasn't the best player on the pitch on Saturday and I agree with the view that he needs to improve his overall distribution as he gave the ball away too many times for a Premier League player.

He needs to learn from Barry and learn to break up play more effectively and then on occasions play the easy ball and move rather than look for the killer pass. He has huge talent and I for one think Ronald will nurture him and improve him to become the player we hope he is.

On another point... Jordan Henderson!! Enough said.

Paul Hughes
115
Posted 29/08/2016 at 08:03:32
I agree with most of the views above. In front of the England manager on Saturday, Ross had a decent first half, and was pretty awful in the second, so didn't make an unarguable case for selection.
I also agree that the next week is much better spent in the company of Koeman than Allardyce. The other thing I've noticed is that, all of a sudden, Stones is now all the pundits first pick for centre-half. Strange that, isn't it?
Martin Nicholls
116
Posted 29/08/2016 at 08:07:25
I personally have no interest in England but I know that the players have. Spare a thought for Jags – consistently in squad, omitted for Euro finals, recalled immediately afterwards. And omission was not due to injury concerns as many others in a worse state of fitness (e.g. Wilshere, Sturridge) were picked. If I were Jags, it'd be "Thanks but no thanks".
Off topic, if Holgate was playing for Man Utd or one of the other Sky favourites, he'd have been in this squad – think Rashford etc! As for Ross, he's better off out of it.
David Ellis
117
Posted 29/08/2016 at 08:11:10
I had high hopes for Alladyce - I met him at a dinner a year ago (when he was unemployed). He's not the long ball merchant the press pidgeon hole him as. It's ironic to see so many posts bemoan the media's slight of Everton players and then yet repeat or accept the slight of a former manager of unfashionable clubs.
He's a decent manager and probably the best English manager around at the moment. This squad is a disappointment... but let's see how he puts together the team. I don't think he will put round square pegs in a round hole just to get celeb players on the pitch – that is the litmus test.
As for Barkley's omission, actually I think this Allardyce looking at round pegs for round holes. I think Barkley's a great talent, but is he better than Rooney or Alli in that Number 10 slot? ...not so sure. And I would only pick two of them for the squad. Turns out Barkley is currently the square peg for now. He needs to displace Alli or Rooney, or both. I hope he does.
Tony McNulty
118
Posted 29/08/2016 at 08:40:12
I am not a huge fan of Allardyce, a fish and chips type of strategist who himself is no stranger to a fish supper. England will win nothing under him and the team won't even flatter to deceive.
Nevertheless, since he has no intention of playing Ross in his team, it is far better that he leaves him at home, rather than wasting the lad's time on a tiring overseas trip, merely to be a frustrated arse on the bench for 90 minutes.
Paul Smith
119
Posted 29/08/2016 at 08:48:38
I think the world of Ross, hopefully now he can concentrate on ironing out the shortcomings in his game and not get sidetracked by England.
I think this decision by Allardyce to drop him will galvanise the home crowd to get behind him (Evertonians like to stick together); it could be the making of him.
Just out of interest, how come the caption at the top of this thread shows a picture of Leon Osman?
Amit Vithlani
120
Posted 29/08/2016 at 08:54:51
Well this could work wonders. Barkley gets a rest from the England Soap Opera and Koeman a chance to fine tune his tactics.

Kevin Moorcroft
121
Posted 29/08/2016 at 09:07:35
Must have been watching a different game! Never thought much of Sam anyway.

Let's look forward to the next three days. Hopefully we will have a few new faces.
Colin Glassar
122
Posted 29/08/2016 at 09:11:50
Terence, I'll go back a bit further. Tony Currie, Alan Hudson, Frank Worthington, Stan Bowles, Howard Kendal, Colin Harvey etc . Brilliantly talented players who were constantly left out of the England team and despised by a small group of "fans" (Evertonians included) who seeem to hate talented players.
There's something in the psyche of some supporters which makes them mistrust naturally talented players. The apparent lack of effort, the risk taking, the aloofness etc This seems to grind on the meat and potatoes crowd. They want to see blood, sweat and tears not a Cruyff, nutmeg or a clever flick. They don't pay good money to watch a defender bring the ball out and look for an on the deck pass, no, they want row z.
Is it any coincidence that our three (now two) most talented players are also the most criticised ones? Lukaku = Lazy, Barkley = Brainless, Stones = Overrated. It's a matter of taste I suppose but give me a moment of magic to remember rather than watching 11 honest pros slog it out for 90 minutes of instantly forgettable football.
Ross will be fine. He has a brilliant future ahead of him, despite the doubters, and he has a manager who will help his development. Ross was ignored by ginger and left to his own devices by Roberto. At the age of 23 this is when his career can really take off.
Robert Elliott
123
Posted 29/08/2016 at 09:13:38
Not sure Ross will fare any better under Big Sam than he did under Hodgson. Both are defensive minded coaches with a distrust of players who don't play the percentages.
There's a chance he might become this generations Le Tissier. From an Everton point of view that would suit me fine. Couldn't care less about England and if Ross does as much for us as Le Tiss did for Saints he'll be alright!
Colin Glassar
124
Posted 29/08/2016 at 09:17:36
I forgot to add Duncan Mckenzie, Martin Dobson (lazy, useless, full of himself etc...). Supremely talented players who were not considered good enough for Everton and England due to their "lack of effort".
Mark Murphy
125
Posted 29/08/2016 at 09:20:38
Not arsed about Ingerlund – never have been, and the fact that they are now managed by that fat-headed whinging irritant means that won't change anytime soon!

But I hope this galvanises our diamond Ross and that, when the fraud comes calling, Ross tells him to do one!

I'd love it if Jags announced his international retirement today! Fuck England – we're Everton!
Ed Fitzgerald
127
Posted 29/08/2016 at 09:24:53
Colin,
I agree with every word of that post above. Some so-called Evertonians would rather see Dogs of War than a truly gifted player. All teams need a balance that's fair enough and for every Ross Barkley you need a Gueye or Gareth Barry.
Barry Jones do you go the game? If so is 8 goals from the 36 games and a pass rate accuracy of 85 per cent not good enough for a offensive midfielder for you? They are Barkley's stats from last season.
Your comments about the England team are laughable (not that I give a shit about England) as Henry Winter just said Barkley's omission is ridiculous. Which central midfielder would you replace Barkley with and how much would they cost us, Barry?

Ray Roche
128
Posted 29/08/2016 at 09:28:23
Martin Nicholls #116

"If Holgate was playing for Man Utd or one of the other Sky favourites, he'd have been in this squad "
Martin, that's a good comment. I've had a moan about Alli getting in the England squad after 3 starts for Spurs and Rashford also in the squad immediately. If they played for WBA would they get a look in? Or Watford? No chance.
Look at how Stones is now a great prospect yet someone who was a mistake waiting to happen three weeks ago when he was still here. All the dickheads on MotD etc. are saying he should be in the team, not just the squad.
Yet another reason why I couldn't give a flying one about England... sorry... London FC.
Mike Allison
129
Posted 29/08/2016 at 09:33:15
I've always cared about England and been annoyed by English Blues who claimed not to.
I think I became one of them last night. I just can't support a team that has Henderson but not Barkley, I just can't do it.
Dave Abrahams
130
Posted 29/08/2016 at 09:39:41
Colin (#122), Howard Kendall and Colin Harvey both should have had dozens of caps between them but they were never despised by Evertonians, the others you mentioned in that group were brilliant players as you rightly stated but were Mavericks who wouldn't conform to the standards required, I would have picked them on form, but that's the way authority saw them. Dobson also should have had many more caps.
Len Skackleton perhaps the greatest Maverick to ever play for England only got a few caps for England, when a reporter asked one of the England selection committee why this was the case he replied "England play at Wembley not the fuckin' London Palladium".
In this case, Colin, IMO, Ross hasn't been picked because he is not playing well enough – even though there is an improvement in his game this season. By the way, Brian Labone was the first Everton player to be capped by England after the war, this was in 1962, I think.
Ed Fitzgerald
131
Posted 29/08/2016 at 09:40:01
Mike
You have no right to be annoyed by Evertonians who don't feel any affinity for England in a city with an ancestry that draws a significant proportion of its population from Ireland. We are all hardly likely to be flag waving royalists, are we?
Tony Dove
132
Posted 29/08/2016 at 09:40:17
Ed@127 100% right on all points.
Stan Schofield
133
Posted 29/08/2016 at 09:42:09
The England selection has generally struck me as odd. It's understandable if the best individuals aren't chosen provided the chosen players gel as an effective team (as in 1966), but it's not understandable if that isn't the case.
Since it's usually the case that the chosen players don't gel as a team, it's difficult to see why the best individuals aren't chosen. There's no apparent end to this, so in reality we're best out of it, the whole thing being wasteful and too risky in terms of injury.
Andrew Clare
134
Posted 29/08/2016 at 09:48:59
Colin,
You are right. England have always preferred the 'grafters' and that is why they have always been a dull team. Even the team that won the World Cup was full of workmanlike players excluding the great Ray Wilson and Alan Ball of course.
Gradually over the years the standard of English players has dropped and we are pretty much like the Scotland team who historically have had some wonderful players like the great Jim Baxter to name but one.
The really talented players have been overlooked and they are doing the same to Barkley. Having said that, this really is a big season for Ross. I just hope he isn't one of the long list of young players with great potential who just fades away.
Stan Schofield
135
Posted 29/08/2016 at 09:49:39
Dave @130: Spot on. Our midfield trio of Ball, Harvey and Kendall is a good case in point. Arguably the finest midfield in the world at the time, better than the great Brasil midfield of Gerson, Rivelino and Cloadoaldo.
I could never understand why they weren't the England midfield for Mexico 1970 (Ball being the only regular and our White Pele Harvey only getting the occasional game, and Kendall never chosen). Mind you, the heat and altitude seemed to knacker Ball, hence his loss of form on returning. Maybe it was a blessing in disguise for Harvey and Kendall.
Paul Black
136
Posted 29/08/2016 at 09:54:27
I don't understand all this nonsense about Barkley's inconsistency. He plays quite well once a month. Regularly. For 5 years now. Well done.
Michael Lynch
137
Posted 29/08/2016 at 09:55:59
Best thing that could have happened to him. If he doesn't take this as the opportunity to up his game and prove his worth, then he's simply not cut out to play football at the highest level.
Irrespective of the other shite that Sam has picked, it's hard to argue a case for Ross being international class with the way he's been playing over the past 12 months.
Ray Roche
138
Posted 29/08/2016 at 09:56:09
Stan, Harvey gained just one England cap, a disgrace in anybody's book, and why the trio never got to play together for England is a mystery.
Karl Meighan
139
Posted 29/08/2016 at 09:57:13
Ed, the goals stat is pretty good but them pass stats on any player are bollocks. I'm not arsed if he goes away with England or not and I rate Barkley up to a point as the lad definitely has talent, but the amount of time he delays a pass or takes to long to make his mind up annoys me and are not the things what great players do.
Hope I'm wrong and I'm sure we will from time to time see some great play from Barkley but I don't see it happening consistently enough. Barkley's awareness and reading of the game seem lacking; I'd much rather he released the ball quickly or let fly as there are not too many who can strike a ball off either foot as him, rather than dithering or trying too much, which happens far to often.
As for being left out by England and the likes of Wallcott picked, it does seem harsh... so let's just hope it doesn't knock his confidence and he puts together a great run of form that benefits us.

Geoff Williams
140
Posted 29/08/2016 at 09:58:21
Have always thought that Barkley's skills were better suited to international football rather than the hurly burly of the Premier League so I am surprised by his omission.
Brian Harrison
141
Posted 29/08/2016 at 10:12:33
I think the problem with Ross is he as yet has not fulfilled his potential. When you watch him at times you think this kids got everything yet I am struggling to remember to many games were he has been MotM.
I am afraid the under RM they were wasted years, even when he had poor games he was never taken out the team. I am sure after 12 months with Koeman he will either become the finished article we all believe he can be, or will be another promising youngster that never quite hit the heights. I really do hope its the former rather than the later.
I am sure Koeman will use this as motivation for Ross to improve and prove that he really is an England player. I remember only weeks into the job, Koeman said that Ross is no longer a kid, he is an England player and he needs to prove it every week.
Neil Sagar
142
Posted 29/08/2016 at 10:20:55
My opinion still hasn't changed, Barkley's Everton career to fade as RK buys better players. I hope I'm wrong but the evidence so far is tangible.

Lukaku on the other hand will go on to be a top striker and their career paths will go in opposite directions.
Derek Thomas
143
Posted 29/08/2016 at 10:26:45
At the moment he's doing OK and that's about it. If Koeman and the new staff have a plan to Improve him – great...If he can learn and improve – magic.
But to overcome any manager/media bias and get into the England team on a regular basis he'll have to play out of his skin... if he can.
He might be a late developer and with some added maturity, bloom in his late 20s I hope so. Or he might stay more or less where he is... OK.
Will Koeman be prepared to wait 5 years... will he even be here in 5 years? Who can tell.
Not much left on the 'Potential' side of the ledger...Over to you Ross.

Stan Schofield
144
Posted 29/08/2016 at 10:31:55
Quite honestly, I think that the cache of playing for your country is a thing of the past. International club football like the Champions League has most importance nowadays.
Hence, our improving under Koeman, to get into the Champions League sooner rather than later, will fit the talents of Ross (and others) better than any involvement with the mediocrity of the national set-up.
From this angle, Allardyce is doing Ross a favour. Ronald Koeman's management skills can no doubt handle any confidence issues that Ross may have.
Paul Black
145
Posted 29/08/2016 at 10:34:36
Brian, 141...it' not just about the last time he got Man of the Match. When was the last time anyone made an offer? Or even showed any real interest? How many more years are we going to be content discussing his so-called 'potential' just because he's home grown?

If Yannick (or any other new boy) was so inconsistent, how long would it be before patience ran out? I don't think it would be 5 years do you?
Colin Glassar
146
Posted 29/08/2016 at 10:39:59
Dave 130, of course Howard and Colin were not despised by (the vast majority of) Evertonians although there were always a few mindless morons who got on their backs if the ever, heavens forbid, made a mistake.
What I meant was that these types of players were looked down upon by a large group of fans because the were considered 'big time charlies' or fancy dans. A moment of brilliance was met by groans and a mistaken pass or failed nutmeg was greeted by cheers.
In my opinion, a lot of English people dislike the showman, the standout athlete, the maverick etc... Spirit and effort is applauded, genius is for foreigners and cranks. Ronaldo in England was a diving, cheating little shit, now in Madrid he's a genius who is sorely missed in the English game.
Dave Speed
148
Posted 29/08/2016 at 10:42:05
Ross Barkley is still an individually gifted player, potentially great, but to get in a Sam Allardyce team you have to be more of a team player. Pele was great at 17, Bobby Charlton at 18 and so on. Ross has 4 things to do in my view before he becomes great.
(1) Realise that the play moves faster when you pass the ball. You are not going to score a "Newcastle" goal every time you get the ball. He will often pass when he seems to feel that there is nothing left for him to do, as if passing is a last resort or a weakness.
(2) Similarly, when you are in or around the penalty area, realise when your best chance is gone or that it may not actually present itself in that moment, and play in a colleague in a better position.
(3) Practice passing – links to (1) and (2) above. He mentions doing double sessions but he is probably as fit as most. He should do more work on perfecting the direction and weight of his passes, as they too often go to the opposition or give a colleague too much to do.
(4) Keep it simple in our half or just past the half way line. Too many dribbles put us in trouble when he loses the ball.
We don't want to see him become a drone, but he is good enough to control games. My above advice is simple and wouldn't take much mental or physical energy. If we want a team built around Ross, and I for one want to see that, then Ross must show that he is in a team. A bonus would be that others might stop being so greedy, like Rom and Kone were against Stoke, and we would get more goal rewards for our good play so far, and Ross would be the first name on the list for any England manager.
Paul Johnson
149
Posted 29/08/2016 at 10:53:19
I can only assume that anybody saying Ross had a great game against Stoke didn't actually go to the game. He was awful, BBC had him MotM for some strange reason and I'm sure most are reading that and making assumptions.
His work rate is poor as is his decision-making and for me (I really hope I'm wrong) he will never be the player we all hoped he would become. He lacks aggression and I fear he will never have that in him.
Trevor Peers
150
Posted 29/08/2016 at 11:01:41
Thankfully we now have a manager who can either realise the potential Ross has and bring the best out of him or make the decision to replace if he's convinced he's not good enough for the job.
RK won't let the fans, the media or any body else sway his verdict, unlike his incompetent predecessor. We'll soon know if Ross is in his plans for the future, and that's the way it should be, let the manager decide.
Peter Morris
151
Posted 29/08/2016 at 11:02:19
I'm totally relaxed about our players being left out or not selected for England squads. Whenever they do get in, Sky and their mates in the printed media start their incessant campaigns to get our players to Man Utd, Man City or Chelsea mostly – John Stones being their latest 'scalp'. It unsettles the players and the club.
Fuck 'em.
ps: I agree with others here that Barkley had a typical 'Barkley game' on Saturday – one minute flashes of genius, the next surrendering the ball cheaply to the opposition. His work rate and effort have massively improved however, and for now, that's good enough for me. No more standing around in the centre circle watching the match-at least we paid for our seats! Koeman will knock the lazy distribution out of him I'm sure.
Mike Allen
152
Posted 29/08/2016 at 11:16:47
Come on, lads, Ross – along with others – should not have been picked in the first place. He was slagged off most of last season and in close season. Stick up for one of our own but a bit two-faced...
Ciarán McGlone
153
Posted 29/08/2016 at 11:17:25
The fact that this thread is so divided goes to prove that Ross is not the messiah.
The kid has great potential, and granted, he is putting more effort in... but effort won't make up for foresight, decision making and footballing intelligence.
He has a long way to go .. over to you Ross.
ps: the comment above about Gerard not being able to craft openings the way Ross can is one of the most ridiculous things I've ever read on here.
Damian Wilde
154
Posted 29/08/2016 at 11:18:42
Barry (109):
"Ross was poor on Saturday and has been for a while. People saying he was great were watching a very different game from the one I saw."
Completely agree. He is terrible. Gave the ball away so many times. Should he be on Everton's bench?
Colin Glassar
155
Posted 29/08/2016 at 11:19:06
Dave, good post. I'm a massive Barkley fan but I recognise his shortcomings and the areas he needs to improve on but, I believe there are mitigating circumstances regarding Ross.
1) He was touted from an early age as the next Rooney but then had a career threatening injury. Result = delay in his development.
2) Broke through under Moyes and then was promptly dropped and forgotten. Result - loss of confidence.
3) Had a cracking first (half at least) season under Martinez who then went into overdrive with his hyperbole and left the lad to his own devices. Ross didn't progress under Martinez, in fact he went backwards.
So, Ross isn't the finished product, far from it but under Koeman he has a chance to become the player some of us think he can be.
I forgot to mention the last two England managers. Roy publicly, and very vociferously, had a go at Ross on at least two occasions topping it off by not giving him even a minutes play at the euros. And now fat Sam has dropped him altogether. This is hardly going to help his confidence when he sees bang average players like Henderson get into the team. If I was Ross I'd tell Sam to do one and concentrate on Everton.
Steve Cotton
156
Posted 29/08/2016 at 11:24:59
If you want to know who the FA darlings are, then look how many times LFC have been the featured match compared to us. They would gladly show them as the live game every week if they could. This reflects how the top levels of management in the FA see things.

Mike Allen
157
Posted 29/08/2016 at 11:30:07
Having made my comments about Ross's none selection, it looks like he has been the only fall guy. While I don't think he is international class, I'm sure several others fall into that category and should have been binned, so perhaps he has been unlucky not have been selected.
Dave Speed
158
Posted 29/08/2016 at 11:38:48
Colin Glassar #155 - If I'm the Dave you refer to then thanks. I don't want to join any mutual admiration societies but you do make some good points about his arrested development with the injuries and his handling by the previous 2 incumbents.
I don't expect any players to read this forum as too much is critical without being helpful, but if anyone can see what Ross needs in a holistic way it will be RK and his staff. I believe we are seeing improvements already in Ross's play and this can only be down to the new regime. He will get better without a doubt and I for one will never write him off as a WBA player for the future, for example. Even if he never becomes the player he should become I would always have him in an Everton team.
To give may age away, I loved watching Duncan McKenzie. Some of his magical play was pure circus and contributed nothing to the game, but it was a delight to watch. Ross has had to get over bigger traumas than being left out of an England squad. It will just anger him and make him more determined.
Teddy Bertin
159
Posted 29/08/2016 at 11:39:26
Yeah good one Colin. Tell the England boss to "do one" and end his chances of playing for his country for the next few years.
Probably better to just get his head down and prove himself by having his best ever season for Everton I'd say.
James Byrne
160
Posted 29/08/2016 at 11:40:42
You couldn't make it up.
Regardless of Ross getting a look in how the fuck do Lallana and Henderson even get considered.
Ricardo Gimpardsle
161
Posted 29/08/2016 at 11:48:32
All Ross needs to do is listen to Koeman, keep his head straight and learn to be aware of who and what is going on around him. When passing to the right player at the right time becomes instinctive, he will be a regular in any team who can play him, so England will benefit, but not yet for a while.
Eddie Dunn
162
Posted 29/08/2016 at 11:49:09
Henderson is in the squad (rightly or wrongly) but he is surely not in at Barley's expense. Dele Alli and Rooney are the players preferred by Allardyce.
I can understand it if Ross is upset because Alli doesn't appear to be playing particularly well.
The centre half pairing will be interesting. Will fat Sam go for the Smalling/ Cahill combo that was so poor at the Euro's? Or will he put his trust in Stones/Jags?
If he goes for the latter, prepare for a media witch hunt of our old Jags if any mistakes are made. Stones will be absolved now he is playing for the media darlings of Man City.
Colin Glassar
163
Posted 29/08/2016 at 11:59:14
Teddy, he's hardly going to miss out on anything is he? I know the lad will be hugely disappointed and will want to get back in Sam's good books but personally I'd like him to concentrate on his Everton career and forget the media circus that is England.
Dave Speed, I agree that Ross finally has a manager who can properly develop and channel his talents.
Peter Howard
164
Posted 29/08/2016 at 11:59:34
Ciaran
I thought the Messiah divided opinion more than anyone in history.
Jon Withey
165
Posted 29/08/2016 at 12:02:31
Feel quite sorry for Ross this morning – media are using him as a stick to bash Allardyce already – and now he is bigger news being out than in!
Trust Koeman to keep his head in place though.
Baffled why headless-chicken Lallana is still being picked.
Dave Abrahams
166
Posted 29/08/2016 at 12:04:57
Colin (146 and 147) Colin I knew what you meant in (147).
Regarding (146), I think most fans appreciate Mavericks as long as there is an end product, showboating just for the sake of it, while good to watch, goes over most fans head.
You certainly have a point with Ronaldo, I watched him at Goodison for the Portugese U21s and I just loved the way he played, skillful and always attacking the goal, yet he was derided by the Merseyside fans for a great performance, he was an absolute brilliant player who got better and better and became one of the best players in the world, if not the best. The only thing he can be disliked for is being in love with himself, a bit sickening that.
Steven Jones
167
Posted 29/08/2016 at 12:10:49
I was sick on seeing hearing this news ...
Sick for England seeing Henderson et al;
Sick for Ross – as it has to knock confidence and as with the boo boys this can only knock the potential of a world class player developing at EFC.
There was a reason BBC made Ross MotM – shots, chances created and key passes.
There is no one of his age in the Premier League that is making as many chances, attracting the opposition defence and scoring as many goals as him ...
He is already not potential but delivering. With RK and Ross working hard on all parts of his game and fitness, we are going to see even more productivity out of him and eventually have a great player on our hands.
Get behind our boy!!!

Derek Thomas
168
Posted 29/08/2016 at 12:19:15
Terry #159; Too late, Big Sam's already done that on Ross's behalf...but I do agree with the sentiment, after all he has nothing to lose...and as of now, no choice in the matter.
His best course of action is to get his head down and do his job...better than he's ever done it before. Big Sam will, baring a miracle be gone in 2, maybe 4 yrs. Ross should be at his peak...maybe.
Eugene Ruane
169
Posted 29/08/2016 at 12:22:28
As watching England and Liverpool fail miserably provides me with big laughs, I consider Henderson selected to play for either, a 'fucking result'.
Because he's shite - a fist-punching bluffer and a huffer and puffer.
Kopite: "He'd run through a wall Hendo"
True, because he doesn't have the skill to chip a ball over it.
His middle name is 'flatters to deceive' (I know, an odd name yet somehow not as weird as 'Jordan')
He's basically a Stevie G tribute act.
"Yeah but he's strong like."
Pfft! So was Precious McKenzie but you wouldn't want him in your midfield.
So fuck 'big' Sam and England and Henderson and Stevie G and 'JT' and Terry Butcher* etc etc.
The idea that I'd ever root for these twats because I happen to have been born on the same Island is (for me) fucking nuts.
On the pitch, I wish them nothing but horrible luck.
* What have I got against Terry Butcher?
Watch this superb docco from last week (can't wait for part 2)
Ron Sear
170
Posted 29/08/2016 at 12:27:41
Difficult to know what Barkley will feel given the state of the England team, relief probably. Save your commiserations for our Belgian players – just imagine how they must feel.
Anto Byrne
171
Posted 29/08/2016 at 12:30:01
Big Sam wants typical English style football unfortunately their is no room for footballers in his squad. Bolton Sunderland and West Ham hardly turned the world on fire. HOOF, BIFF, BANG... oh dear.
Terry McLavey
172
Posted 29/08/2016 at 12:31:34
Good, I've been done with England ever since James Vaughan was crocked and was never the same player again.
I echo the same thoughts on this thread: he doesn't play, he can't get injured.
Frank Crewe
173
Posted 29/08/2016 at 12:40:25
Allardyce is the 16th manager England have had since Ramsey. Some of them lasted a match or two. Others a year or two. The one thing they all have in common is that none of them were successful in leading England to a trophy. I have no reason to suppose Allardyce's tenure will be any different
Allardyce has the same problem all England managers have. Overrated English players. If England were a PL side they would be mid table at best. I'm sure if Allardyce could he would sell half of them and buy better foreign players. But that's the downside of international football. You have the players you have. The failures of the past mixed with the young flavours of the month the media wants picked.
We are doing it now with Barkley. He's a decent enough player and he certainly has his moments but he's no world beater. He has a tendency to be indecisive and dwell on the ball. He loses it in crucial areas and puts the side under pressure. He slows down quick counter attacks because he can't make up his mind fast enough to pass the ball.
Look at some of the players we've had in the past. Kendall, Ball, Reid, Bracewell, Arteta, Cahill, etc. I'd swap him for any of them.
Maybe this will be a wake up call him. He has the talent but he seriously needs to up his game if he doesn't want to be left behind.
Andy Crooks
174
Posted 29/08/2016 at 12:53:20
Who remembers the chant Osgood for England being like a mantra ar Stamford bridge? From the days when supporters saw an England cap almost like a trophy. I last felt it with Bob Latchford. For a long time the core of the England squad has been a toxic clique.
Ross has got an England cap but there will.be no medals forthcoming there. He can live his dreams at Everton. Win medals, become a legend and get rich beyond his wildest dreams. England caps became a worthless currency many years ago.
Michael Lynch
175
Posted 29/08/2016 at 13:06:02
Andy @174 that is absolutely right - and it's a shame. Fact is, with a few exceptions, you can choose the club you play for, but you can't choose the country you represent, so the committment should be absolute if you get selected for England.
Unfortunately, one of the by-products of the Sky money is that young players seem to give significantly less fucks about playing for England than a generation ago. If anything, it just gives their agent the opportunity to leverage a pay rise from the club. And, maybe because of that, the fans give even less fucks than the players. In fact, we're delighted when they don't get a call-up because there's less chance of them getting injured or getting tapped up by a Citteh player.
James Hughes
176
Posted 29/08/2016 at 13:14:59
Andy I agree with the Latchford comment I could never understand how he failed to get in the England team. He got 1 cap and was never looked at again and bearing in mind his scoring record it was more political I think.
Malcolm McDonald has spoken of his shoddy treatment by Revie, Who told him that he was only in the squad because of pressure from the media. He speaks of how Alan Ball and others fed him the ball and he got 5 goals in a game but it wasn't enough to keep him in the squad.
Eugene Ruane
177
Posted 29/08/2016 at 13:20:53
Andy -
'I last felt it with Bob Latchford.'
Probably 1969 for me, I remember chanting along to 'Joe, Joe, Mexico!' chants at Goodison, hoping Joe Royle would get the nod over Jeff Astle from 'Elocution' Alf Ramsey for the world cup finals in 1970.
Joe didn't get the nod, so when Astle missed that sitter against Brazil, I was not miserable but felt happy.
Fuck the flag, I had discovered...schadenfreude
I couldn't tell anyone of course, but Jeff had fucked up the 68 cup final for me and kept Royle out of the world cup finals, so in my 11 year old mind it was 'fuck him, fuck them'.
Also in 1970, Gordon West taught me that blind patriotism wasn't the only option and that you could do what you wanted rather than what the herd expected.
Remember Gordon chose not to go to the finals simply saying '"I'd rather stay at home with the family"
Still makes sense to me.
Tim Wardrop
178
Posted 29/08/2016 at 13:30:56
Ed - 48 sums it up best
Keith Harrison
179
Posted 29/08/2016 at 13:36:16
James, our very own Dave Thomas was setting them up for Supermac in the second half. Fantastic cross from his first touch of the match for MM.
https://www.youtube.com/watch?v=8KOYSdtGYMQ
Same age as Eugene, but I admit I wanted us to win in Mexico - sure Keith Newton and labby? were there, although I too hated Astle for the Cup winner.
Mike Barrett
180
Posted 29/08/2016 at 13:37:13
James Hughes,
Bob Latchford played for England 12 times mate. Scoring 5 goals... just sayin', like.

Henrik Lyngsie
181
Posted 29/08/2016 at 13:41:20
James 176. Bob Latchford (my first Everton hero) did get more than one cap didn't he. I still remember him scoring for England using his hand in a match in Copenhagen. According to wiki he got 12 caps which still should have been much more.
Dale Rose
182
Posted 29/08/2016 at 13:46:14
England were shite in the Euros and I can't see Allardyce making much of a difference. Ross is a good lad and under this manager this season he will reach his full potential. For the time being he is best out of it.
Anton Holmes
183
Posted 29/08/2016 at 14:33:55
Great for us, I say!!! More time with classy Koeman to learn his trade, without England's consistent "issues" messing his head, and he stays fresh and injury free, going for that Europa spot !! And a cup (please). We need him to help us!!!
James Hughes
184
Posted 29/08/2016 at 14:44:50
Cheers, Mike and Henrik, I was being lazy and never checked but could have sworn it was just the 1 cap. Age and memory aren't always good together .
Andrew James
185
Posted 29/08/2016 at 14:47:45
I was quietly pleased that Barkley and Stones didn't play at all in the Euros and Jags and Baines were left at home. (All wrong decisions) But watching the media darlings completely cock it up vindicated my opinions that Barkley is superior to Wilshere and Lallana (one a completely unprofessional made of glass wide boy and the other called "the youth" even though he's in his late 20's and can't make it past the 70 minute mark).
Jagielka is better than Cahill and Smalling despite his age.
But England can carry on picking players lauded because of club and corporate bias. There seems to be some obligation to have Arsenal, United, RS and Spurs players in there however average they are.
Everton first.
Terry White
186
Posted 29/08/2016 at 14:59:05
Frank (#173) I agree with everything you say about Barkley in your 3rd paragraph. I would add that I think he has no peripheral vision so unless things happen in front of him it does not happen for him at all.
Of course he always wants to go it alone and the lack of quick decision making that you mention leads to hesitancy and him too often being crowded out or making the wrong pass at the wrong time. Naturally there are also times when he does very good things!
Mike Barrett
187
Posted 29/08/2016 at 15:10:22
No problem, James, we all do it, mate. Struggling with the old grey matter myself more often these days!
Latch should have got a lot more than 12 caps though!
Jamie Barlow
188
Posted 29/08/2016 at 15:36:57
Doesn't surprise me one bit. Barkley is most definitely not an Allardyce type player. He won't put up with Barkley's non defensive side of his game.
Stan Schofield
189
Posted 29/08/2016 at 15:52:23
So far as I can see Ross has ALL the attributes he needs, including a fine footballing brain, and peripheral vision, the works. They have been applied a little sporadically, and he needs to be more consistent.
This lack of consistency was not helped by the previous mismanagement, but now we can fully anticipate RK getting the full ability out of him. I would not want someone of Allardyce's mediocrity anywhere near him or indeed any other Everton player of talent.
Raymond Fox
191
Posted 29/08/2016 at 16:36:09
Could not care less about him not being selected for England, they have been crap for 50 years and that's no exaggeration. Ross might be talented but hes also very inconsistent, top players stand out in every game.
How many UK players are wanted or playing for top foreign clubs? Let's face it, they're just not very good, they prove it in every big tournament.
The media keep telling us how good player (a) is, or how brilliant player (b) is, but they would do, wouldn't they.
Anton Walsh
192
Posted 29/08/2016 at 17:15:13
Gordon (#97),
Ross should have been dragged off long before he was. He had some decent moments but so would most given the opportunity.
Paul Conway
193
Posted 29/08/2016 at 17:33:46
Frank Crewe (#173) — good assessment of the lad. There's definitely more than a hint of hesitancy and trepidation in his game.
We know he had an awful injury some time back and it probably still gives him nightmares, he is very lucky to be still playing. But, if he wants to stay at the top, he has to develop good habits.
This season could be the last chance saloon; if he doesn't up his game to a level of consistency that sees him as a first choice player on the team sheet (barring injuries), he could find himself having to tackle playing for Sunderland, etc for a far less reward — if Koeman is going to realise his ideal project!
Barry Jones
194
Posted 29/08/2016 at 17:37:30
Colin, you named a whole gamut of talented players that I have fond memories of, all different in many ways. Firstly, let me say that I adore flair and talent. It is largely why we all watch this game, to witness those magical moments.
Having said that, if we do not have some form of foundation based upon organisation, and in particular, keeping possession, we will not witness those moments (from our team anyway). I have watched Ball, Kendall and Harvey numerous times in the flesh in the past. Martin Dobson was also a hero of mine, very "Brooking" like in his game.
All of these players had something in common. They rarely gave the ball away needlessly or got caught in possession. Colin, it is not all about graft (but Ross could improve that anyway), it is about turning over possession. How many times do you see players like Xavi, Iniesta, Riquelme, Valderamma, give the ball away or get dispossessed?
Ross continues to make poor decisions when in possession, either getting caught on the ball or taking the wrong option. This is what he must improve. Coaches in the game today hate to turn over the ball cheaply. Players have to have a consistent end product, especially in the role of number 10. It is absolutely vital.
Chris Gould
195
Posted 29/08/2016 at 18:10:44
Barry, whenever I watch Ross making a trademark surge I look to see who is making an incisive run in front of him. Too often Rom and our supporting wingers don't make the right runs and don't manage to pull defenders away from him.
Ross ends up running into a cul-de-sac with the only option being to turn back. He loses it a lot, and yes sometimes he seems to be in 2 or 3 minds before handing over possession, but too often the options in front of him are poor.
Barry Jones
196
Posted 29/08/2016 at 18:15:12
Ed #127, I would agree that there is not a lot of choice out there at the moment for a number 10 that would bring value for money. My preference would be to iron out the kinks in Ross' game and I believe if anyone can do this it is Ronald Koeman.
No-one is denying that Ross is not a talent, but he still needs to up his game to be the player he can be. Arsene Wenger used to say that many midfield/attacking players in the league are similar in terms of technical ability, but the great players always do the right thing at the right time. This is what Ross needs to work on.
Terry White
197
Posted 29/08/2016 at 18:15:30
Well said, Barry (#194). My opinion, not a fact, is that Ross clearly has an issue in transferring what is going on between his ears to his feet. There are times when that link is there. Too often it is not. I do not think that link can be taught so we shall have to live with his frustrating inconsistency...or find a better player.
Barry Jones
198
Posted 29/08/2016 at 18:16:29
Chris, I agree that will make a player in possession look bad when the supporting options are weak.
Brent Stephens
199
Posted 29/08/2016 at 18:28:57
If Ross can see the pass, as suggested above, and given Bolasie's blistering pace, then we might start to see an understanding develop in which Ross releases passes behind the defence for Bolasie to burst onto?
Mark Burrage
200
Posted 29/08/2016 at 19:18:27
Okay, let's sit back and watch some local ale house football!!! Doesn't matter Ross isn't playing, the midfield will never see the ball!!
Christine Foster
201
Posted 29/08/2016 at 19:45:12
The run up to the Euros left Ross with little hope of playing even if he did make the squad, his confidence was and still is at a low ebb.
I was at Goodison for the first time in years and have to say that Ross just couldn't get it together. Dribbles and losing the ball, passes astray etc.. his confidence drained as the game went on, I thought RK might take him off at half time, when he was substituted he looked absolutely downhearted as he trudged off. He knew it was one of those days when he tried but never succeeded in front of the new England manager. I think he also knew he had not done enough to stake a claim to a place in the squad.
Now, I hope RK takes him aside and puts an arm around him and encourages him to play with confidence. It will make a better player of him. We all know what he can do, but at the moment he is struggling when things don't go right. Its ALL down to confidence and belief, thank goodness he has RK as manager.
Sean McCarthy
202
Posted 29/08/2016 at 19:50:40
John Daly, in your response to my earlier post, you could just as easily have been describing James McLean as Ross Barkley – a turn of pace, a run, a shot, a through pass now and again – and he's in a relegation dogfight every season!!!
It's all about opinions I guess and I really hope that I am proved well and truly wrong. Every club loves a local hero and I'd love it if Ross turned out to be ours.
The bottom line for me is that NOW it's time for him to deliver. And for all Koeman's generous words I don't for a minute think he will hesitate to replace him or anyone else who is under-performing.
Mike Allen
203
Posted 29/08/2016 at 19:57:50
Stan (#189),
All of last season and the start of this, Ross was not fit enough. As for a footballing brain... Ross is a dunce.
Gary Reeves
204
Posted 29/08/2016 at 20:08:36
Maybe Allardyce doesn't rate him... (just saying like)!
Neither do I.
Stan Schofield
205
Posted 29/08/2016 at 20:08:36
Christine @201: I agree, when confidence is low it's a terrible thing, some players don't want the ball for fear of making a mistake and getting barracked by the crowd. Seen it so many times, even our greats like Alan Ball and Howard Kendall. But when confidence does click, you see a wholly different player. Yes, I believe the confidence will come under RK's guidance.
Sean McCarthy
206
Posted 29/08/2016 at 20:09:05
James #176 Big Bob got about 12 full England caps and without checking the stats scored 5 or 6 goals. Nowhere near enough for the player St Kevin keegan claimed was his favourite England strike partner for his unselfishness. Maybe if he'd been more of a selfish twat like most of the others he'd have won more caps
Mark Murphy
207
Posted 29/08/2016 at 20:22:00
I only remember Big Bob playing one game for England (v Wales I think)
And I'm pretty sure he scored a hat-trick?

Brian Hill
208
Posted 29/08/2016 at 20:30:46
Eugene, superb reference to Precious McKenzie, Blue Peter badge for you.
Chris Allen
209
Posted 29/08/2016 at 20:41:50
Have I had too many beers or is the photo on this article of Osman?!?
Gary Reeves
210
Posted 29/08/2016 at 20:43:26
Mark Murphy (#207),
On a forum containing opinion, conjecture, speculation, memory and fact, I can say with absolute certainty that that post is 100% bollocks.
Colin Glassar
211
Posted 29/08/2016 at 20:47:36
Barry, I agree with Chris, Ross often makes the surging runs but his team mates too often stand around looking like traffic police. Saying that, Ross does have to improve (greatly) in a few areas.
Neil Pickering
212
Posted 29/08/2016 at 20:52:11
Ross hasnt been picked for England because he isn't good enough. It's as simple as that. His decision making is poor, as is his in-game intelligence. Defensively he is also poor as well. He's lazy at times and he just doesn't sense danger. He hasn't progressed as he should and I think Everton can do better never mind England.
Willy Russell
213
Posted 29/08/2016 at 21:28:18
Too many beers ;-) It's Jagielka our captain for the last 4 years (the clue's in the title/heading of the article)
John Daley
214
Posted 29/08/2016 at 21:37:25
Sean @202,
Strange. I don't recall describing a player. I thought I just asked you... as someone who stated they had not seen one thing in Barkley's career thus far to suggest Everton would not look to offload him within three years to 'the likes of West Brom'...to clarify that you hadn't clocked even a solitary moment of class, a sole game changing action, or come across a single soundbite emanating from the club that might point to them (being the only people whose opinion matters in this 'he'll be ejected from Everton before Beattie the hamster ends up in an empty Haribo bag and hurled in the bin' equation) actually holding the player in higher regard than you seem to. 
As an aside, I've got to say, one of my pet hates is someone going to great pains to unnecessarily pan a player and paint a piss poor picture of their future prospects, before following up with "I really hope that I'm proved wrong and he goes on to have great success". It's utterly pointless and rings resoundingly hollow.
It's like the crazed photographer in The Omen obsessively trying to convince Robert Thorn that his son is most certainly the anti-christ reborn, whose actions will defo lead to the total ruination of mankind and the entire earth being covered in flaming rivers of blood, unless he renders the little fucker dead by ramming seven mystical daggers in mapped out parts of his body, suddenly shouting after the boys dad as he departs to do the deed... "I'd be delighted if I've got my wires crossed like, and the extent of the little scamps evil amounts to nothing more than scrawling crude, blocky, cocks and ballsacks on his minty etch-a-sketch. Honestly, nothing would please me more mate. I'd be chuffed to bits. It's just that..err...i've kind of backed myself into a corner now and infanticide is probably the more palatable outcome at this point. Oh, I nearly forgot...make sure you bury those blades to the fucking hilt, by the way!"
Keith Harrison
215
Posted 29/08/2016 at 21:55:24
Funny as, JD. Class.
I was at the match on Saturday, and my impression was that Ross was trying very hard, did some very good things, and a few not so good.
Watching the recorded highlights again this morning, he made himself available all the time, even if some things did not come off. I believe this is where anyone who wasn't at the game, or only saw the stop start of a dodgy stream, or sanitized MOTD highlights may think he was head and shoulders MOM - as the BBC did.
For my money, he wasn't, he was good, but I would put him behind Holgate, Barry and Mirallas in the pecking order. Another 'colossus' according to the BBC was Williams, who was admirable in defence, but some passes were Funes Mori like in their distance from their target.
What does impress me is that Ross is looking to be involved all the time and do something, unlike the tippy tappy interchanges with McCarthy, or hiding, like he was last season.
Lets just thank our lucky stars that 'ol fat head has carried right on in the Woy mould, and have Ross chomping at the bit, to the benefit of Everton, and not our national disgrace.
Damian Wilde
216
Posted 29/08/2016 at 22:26:42
Neil (212) - absolutely spot on.
Ste Traverse
217
Posted 29/08/2016 at 22:44:30
I don't think Barkley is a Allardyce type player. He may struggle to get caps with him running the side.
As for Henderson, every red I know doesn't rate him and can't believe he's their captain.

I gave up being remotely arsed about England after Rooney had obviously been tapped during Euro 2004, and the fact we've lost other quality players over the years as soon as they become England regulars. When the national side loses it certainly doesn't hurt me.
Sean McCarthy
218
Posted 29/08/2016 at 23:43:10
Mark #207 Bob Latchford played 12 games and scored 5 times for England. No sign of a hat trick v Wales tho!!!
Brian Wilkinson
219
Posted 29/08/2016 at 23:52:07
Not right but I do not think Ross did himself any favours, slating Hodgson off for not playing in the Euros, seems Sam is showing who's boss.
Looks like it's another case of not how well you are playing, but which team you play for.
Now we know why Clough never got the England job.
Kristian Boyce
220
Posted 30/08/2016 at 02:31:44
I don't know if any other Stateside blues caught Stan Collymore on Sirius radio tonight (yes, Stan Collymore has a new US based call-in radio show on the US satellite radio football station)?
He was talking to Henry Winter about the Barkley snub, and Winter said that he spent the day with Ross on Friday for an interview. Supposedly he was fully expecting a call-up to the squad and Winter said he spoke to him after the announcement and he was absolutely devastated.
Peter Knight
221
Posted 30/08/2016 at 04:23:48
Ross Barkley last season for club and Country had 14 goals, 12 assists. This season 4 games, 2 goals, 1 assist. The Economist had Ross the best English midfielder at the Euros statistically and never got to play. Big Sam should be fired now.
Geoff Evans
222
Posted 30/08/2016 at 08:20:31
Since when has Allardyce's plans ever involved a midfield?
Barry Jones
223
Posted 30/08/2016 at 12:41:11
Keith #215, those are good observations. I do like the fact that Ross is showing more and wanting to be involved at all times. Given this fact, he will be prone to errors at times. I would like Koeman to persevere with him and turn him into what he could be, one of the finest in his position in the Premier League.
Christine, Stan, I also concur with your comments about confidence. That is why the faith of the coach is paramount. Ross needs to be hungry and involved all of the time and have the confidence to put the mistakes behind him and learn from them. I think that Koeman may be a major influence on Ross in this regard.
Stan Schofield
224
Posted 30/08/2016 at 13:02:39
Given the management problems of last season, Ross and the rest of the squad are doing remarkably well under Ronal Koeman. Things are improving noticeably, and chances are that this fact itself will resolve any confidence issues. In other words, things develop of their own momentum once you have good, firm, disciplined management of talented players.
Regarding mistakes, some mistakes that players make are just random errors, not something to learn from necessarily. All players make them, and in the long run they're not a big deal. I'm sure Koeman will instill this notion into the players, because it helps them play with more freedom (on top of the organisation and discipline), freedom from undue fear of trying things with flair. This is especially important for players like Ross with unusual ball skills.
Joseph Mullarkey
225
Posted 30/08/2016 at 14:44:58
Just heard that Bradley Walsh and the tit Paddy McGuinness have been drafted in to the background England staff. Proof if needed that everyone involved with England are a complete joke all riding the FA gravy train into the ground.
They don't represent my country and the players certainly don't represent the best we have to offer. Lallana, Henderson, Walcott, Sturridge and Sterling... I'm laughing already.

Frank Banterwaite
226
Posted 30/08/2016 at 14:58:43
Maybe Big Sam has been reading some TWers comments on Ross over the past few months – he was getting a lot of stick...
Kev Lowe
227
Posted 30/08/2016 at 20:21:52
Jags will have had a word with Ross and any good international manager would have also contacted Ross to let him know why. Allardyce is a Man Utd arse sucker and it was clear he would keep Rooney as captain. did he not watch the euros? Did he not see that it was our lacklustre attack that cost us, our lack of creativity. Sterling was beyond doubt the worse player in the competition but because hes playing for city hes in. As for Henderson and Lallana, what did they do?
Allardyce is clueless and his appointment shows the FA are gutless. they have so called appointed him to create fight in the team. personally I would have dropped the entire tean with the exception of rose.
How many arses on seats will Allardyce bring, I suggest none. Here's hoping we don't even qualify for the finals to spare us another summer of humiliation. I also suggest that Sllardyce has only picked jags from guilt.
Let's face it, Allardyce has been taking bribes since hes been into football and I'm sure lavish treatment from the other clubs will buy their players a place in his team. England are a joke and if all the Blues who usually go to their games boycott that shit. maybe the FA will realise that empty seats don't pay the bills. Bring back Graham Taylor.
Christine Foster
228
Posted 30/08/2016 at 21:25:51
Strangely enough, I think it was Big Sam's role of Rooney that probably did for Ross in his continued selection. Playing in the hole behind the strikers is where Rooney operates, similar to Ross. In addition he has selected Ali (God knows why) above him.
Continued selection of the Spurs failures is disappointing as on his day Ross can stand head and shoulders above him. But we haven't seen Ross on his day for half a season, from what I saw on Saturday at Goodison he just couldn't get it all together. Where does he need to concentrate a little more?
1. Workrate: He is a creative midfielder, but he has to work the middle more, back track and tackle. He doesn't look hungry or have fight. Is this attitude or coaching?
2. Spark and Command: He should be stepping out of his shell more, demanding and influencing more. Telling others what he wants from them.
3. Arrogance: Get his head up, get over mistakes and drive. His ability is brilliant, his confidence is low, self belief is paramount..
He just needs to say... "Fuck it.. I'll show fat Sam how good I can be"
as the Nike advert said..
"Just do it"
We know he can.
Barry Jones
229
Posted 31/08/2016 at 03:37:56
Good observations and suggestions Christine.
Add Your Comments
In order to post a comment, you need to be logged in as a registered user of the site.
Or Sign up as a ToffeeWeb Member — it's free, takes just a few minutes and will allow you to post your comments on articles and Talking Points submissions across the site.
© ToffeeWeb