Everton walk away from Gabbiadini deal

133 Comments [Jump to last]
31 August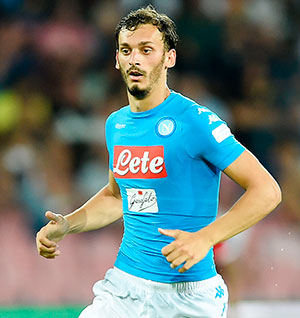 Francesco Pecoraro/Getty Images
Updated
Everton's quest to land Manolo Gabbiadini is over after negotiations collapsed with less that 48 hours of the transfer window to go.
Radio Kiss Kiss Napoli were reporting yesterday that a deal in principle had been agreed between the two clubs and that the 24-year-old himself was keen on making the move but the Serie A side refused to sanction the transfer until they had a replacement lined up.
The player's agent, Vincenzo Morabito, had told Radio Napoli today that, "the positon of Napoli at the moment is that Gabbiadini is unsellable. The market can change, though, and the door is always left open until the end of the summer transfer window.
"There are 48 hours. The clock is ticking. Napoli say he is not for sale but we'll wait until the end of the transfer market and see what happens."
Given the proximity of transfer deadline, Everton apparently elected not to wait and have informed Napoli that the deal was off and there are rumours that Gabbiadini could now sign a contract extension in Naples instead. Napoli are claiming for their part that they rejected the Blues' bid.
These latest suggestions echo reports late last night that the Blues' bid for Gabbiadini had collapsed, with Italia claiming it was due to Genoa refusing to sell Leonardo Pavelotti to their Italian rivals while The Express indicated that Napoli had rejected a €23m offer, preferring to hold out for €25m.
A tweet by Sky Italia's Fabrizio Romano (supported by this report on Gianluca diMarzio's website) suggested that the Blues may have ended their pursuit of the striker and could initiate talks with "a Premier League striker".
With few viable options available on the domestic market, that might meant a late move for Wilfried Bony but he has signed for Stoke on loan.
Meanwhile, the Express's story also suggested that Koeman was still interested in landing Lamine Kone from Sunderland before Wednesday's deadline but may have to pay up to £20m to get a deal done. Rumours that Bruno Martins Indi was in the country to discuss a move to either Everton or Liverpool appear to were wide of the mark as reports emerge he's joining Stoke on loan.
Koeman also continues to resist the sale of James McCarthy who is being linked with a clutch of clubs that includes Celtic, Newcastle, Leicester and Crystal Palace.
The chances of the Irishman moving on this week appeared to hinge on whether he would need surgery to correct a groin problem but the fact that he has joined up with the Republic of Ireland squad would seem to suggest that the scans he was set to undergo at Finch Farm did not reveal serious damage.
---
Reader Comments (133)
Note: the following content is not moderated or vetted by the site owners at the time of submission. Comments are the responsibility of the poster. Disclaimer
Paul Kernot
1
Posted 30/08/2016 at 03:32:50
This is a tough one. Not only do we have only 48 hrs left, now we need to hope they can get a replacement before we pay too much for him. AND, by plenty of accounts on here, if it's one or the other, we'd prefer Brahimi, although he's more of a winger than striker. Add to that that we may end up getting neither. Who'd be a manager?
Zahir Jaffer
2
Posted 30/08/2016 at 04:40:15
Only at Everton
Kevin Rowlands
3
Posted 30/08/2016 at 04:41:20
Wtf is any and every transfer with us 'complicated'? Roll on Weds 11pm, I can't take this anymore!
Ian McDowell
4
Posted 30/08/2016 at 08:00:20
I'm still hoping for 3 arrivals before Wednesday 11 pm. It's been a really positive start but we are still well short in certain areas.
Colin Glassar
5
Posted 30/08/2016 at 08:09:21
If, and it's a big if, the mythical £100m is to be invested in the new stadium, and not on players, then great. But tell us!!
Paul Lye
6
Posted 30/08/2016 at 08:11:09
Bony and Brahimi would do for me. I wasn't sold on the Italian at that price.
Daniel Lawrence
8
Posted 30/08/2016 at 08:18:41
Face it, we are just shite at transfers and we all know why.
Drew O'Neall
9
Posted 30/08/2016 at 08:24:16
Wasn't it Napoli who were after Funes Mori? I wonder if he might go the other way if we get Kone.
Colin Glassar
10
Posted 30/08/2016 at 08:30:07
Kone has gone back to Africa on holiday, Drew. That's looking unlikely to happen now.
Ernie Baywood
11
Posted 30/08/2016 at 08:33:12
Drew, no-one ever goes the other way. Happens once in every few hundred transfers yet appears in one in two transfer rumours.
James Morgan
12
Posted 30/08/2016 at 08:40:46
Colin, there's an interesting article knocking around about so called "transfer kitty's" and "war chests" saying they are non-existent.
I still think and hope we will have maybe three coming in. We need a keeper, right back and a striker at least. I don't think we are desperate for a centre half with the form of Holgate.
Liam Reilly
13
Posted 30/08/2016 at 08:51:20
"The mythical ™100M" never came from the club.
Koeman himself had said it will take two years to build the squad that he wants; which means no panic buys and no quick fixes, like aging stars.
Sounds like a good plan to me whilst the stadium bubbles over in the background.
Ernie Baywood
14
Posted 30/08/2016 at 09:07:37
Even if there is £100M... Why spend it? I would have thought you identify a need, a target and their perceived benefit before you start to think about whether the cost is justified. These are businesses – and no business decides to spend without a sound case.
And well done to those claiming we are crap at transfers and that this could only happen at Everton. It takes a special kind of person to believe that. Just watch on deadline day – that we won't be the only ones conducting business should give you a clue as to whether your point has any credibility.
Every club is in the same boat. You just don't care about the others.
Christy Ring
15
Posted 30/08/2016 at 09:23:08
We have to sign a striker before the deadline. We have no back-up for Lukaku. I'd take Bony at this stage.
Dave Williams
16
Posted 30/08/2016 at 09:33:50
Ernie # 14 - common sense prevails!
All clubs are linked with a multitude of players and business takes a long time as agents will look at a number of clubs to get the best deal and unless there is CL football on offer a player has to decide whether he fancies an English club outside of London in the middle of winter or does he hold out for a move to Spain, Italy etc, where does his wife want to live, where do they want to educate their kids – so many factors which we fans tend to overlook.
Oh, and as far as our past transfer business is concerned, Kenwright has a good reputation in football circles as a negotiator and has done some excellent deals for us in the past with some very skilfully constructed deals, so give the man a bit of credit.
Joe Clitherow
17
Posted 30/08/2016 at 09:37:18
"If, and it's a big if, the mythical 𧴜m is to be invested in the new stadium, and not on players, then great. But tell us!!"
Why?
Why should a company reveal their commercial arrangements and then potentially disadvantage themselves in dealings just because you want to know? I prefer that the club keep other clubs and scum of the earth agents in the dark as much as possible around extent of finances in order to get the best possible deal, even though I would like to know just as much as any fan.
Brian Keating
18
Posted 30/08/2016 at 09:50:49
I hate when people throw about this "only at Everton" and "we are shite at transfers and everyone knows why" nonsense.
We have successfully transferred players in already this summer, with minimal fuss. Some of the players we're linked with have never actually been on the cards for various reasons: player didn't want to move, club unwilling to sell etc..
Then there's the players we are linked with but Koeman & Walsh haven't actually the slightest interest in. It's all paper talk.
We are not shite at transfers. Every Club has their ups and downs. We are hypersensitive to the downs and some people never celebrate the ups.
Stan Schofield
19
Posted 30/08/2016 at 09:55:10
It never ceases to amaze me that, given the multitude of media reports that are clearly nonsense, folks still get wound up by media reports.
Keep calm and carry on, take all reports with a pinch of salt, and don't believe anything until Everton FC release official announcements. We've already made four good signings, and the future is bright.
Shane Corcoran
20
Posted 30/08/2016 at 10:09:19
Brian, #18 how long have you read ToffeeWeb posts?
Don't you know that we're incompetent, cursed, hated by Sky and the FA and desperately, desperately unlucky?
Joe Digney
21
Posted 30/08/2016 at 10:23:15
Maybe the Gabbiadini, Brahimi and Kone deals are all but done, but Sky have asked Everton to keep it all quiet to keep us guessing and anxious just so that Sky can announce the business late on deadline day just for more viewers of Sky's deadline day circus they take so much pride in, and the whole "Watch this space" video was just to ensure they keeps us pondering even more..
Barry Williams
22
Posted 30/08/2016 at 10:30:58
The Gossip columns and rumour mills are just that, gossip and rumours. They only work because people read them, comment on them and use them as a source to get either excited or disappointed. Very little has been said by Koeman or the owners and rightly so. So, easy solution, if you feel negative after reading them...... stop!
I for one think we have done decent business so far and already look an improved team after just 4 games. Yes, we need more signings... as do other clubs. I feel it is a myth that we do things differently from other clubs, a huge list of factors (already outlined by posters on here) have to be considered and most clubs do a lot of business on the last day of the transfer window! There is a reason/reasons for that! Whatever your opinion on Kenwright, he has done decent business in the past and many posters just use it as a stick to beat him with I feel.
As for the figure of £100 million, I would like to see an official source state this. It could be more or less, but why show your hand to all the competitors? Do we need to splash all of it in one go to satisfy the needs of fans on panic signings? Signings that would be turned on if they flop, à la Niasse!
A complete overhaul would result in a longer period of gelling for the players, so far the management team seem to be doing fine with this!
Peter Carpenter
23
Posted 30/08/2016 at 10:53:47
Shane (20), and all the referees are against us – all of them!
Peter Carpenter
24
Posted 30/08/2016 at 10:54:33
Son, anyone? Spurs don't seem to want him.
Peter Carpenter
25
Posted 30/08/2016 at 10:58:10
Berahino? (Puts on hard hat and takes cover under table awaiting volley of abuse...)
Don Alexander
26
Posted 30/08/2016 at 11:13:59
This season is completely different, and way better, than many many previous seasons at our club. What's not different is the circus of shite that is the "other" TW – the Transfer Window – that we all have to endure twice a year.
I don't see the need to spend for spend's sake and I have a lot of faith in Koeman and Walsh.
Ian Burns
27
Posted 30/08/2016 at 11:15:19
Dave - 16 - Brian - 18 - Stan - 19 and Barry 22 - all excellent posts which really sums up the real world.
Some on here still believe Desperate Dan really ate those cow pies!
Mark Fitzgerald
29
Posted 30/08/2016 at 11:28:27
I see that Leicester have had a bid for Slimani turned down. Might be an opportunity for us to gazump them with a better offer. Really rate this guy ...and Brahimi. Wishful thinking, eh?
Brian Furey
30
Posted 30/08/2016 at 11:30:13
A few posters getting annoyed that the 𧴜M Moshiri promised might not be for real yet they are also saying we paid too much for Bolasie. Of course other clubs are going to charge you a much higher price if they hear you saying you've got 𧴜M to spend.
I think it's been a good transfer window so far but I really hope they bring in some sort of striker otherwise goals could be a real problem this campaign should Rom get injured or not come back into form.
Dave Ganley
31
Posted 30/08/2016 at 12:00:16
Ian Burns – don't be ridiculous, of course Desperate Dan ate all the pies!
Next you'll be telling us Santa Claus doesn't exist... jeez!!
Ian Burns
33
Posted 30/08/2016 at 13:37:34
Dave (#31) – I am praying Santa Claus is now going by the name of Moshiri!
Jim Burns
34
Posted 30/08/2016 at 13:55:22
Daniel at 8 – do enlighten us? Why?
Dominic Tonge
35
Posted 30/08/2016 at 14:41:45
I'm just hoping it's a deadline day more akin to when we announced Lukaku, Gaz Baz and Geri than some others... We could end up with three or four cracking players or nothing. I am hoping it's the former.
I hate deadline day. It's the equivalent of sitting in your staff canteen for 59 minutes of your lunch hour, then as Brenda and Pauline start to close the kitchen down , making a mad dash for the counter screaming: "Waaaaaaiit, I will give you fifty three quid for that pot noodle!!!"
Steve Jones
36
Posted 30/08/2016 at 14:45:48
Joe (#17),
So much blatant common sense in one post. Quite made me forget which site I was on for a minute!
Daniel Lawrence
37
Posted 30/08/2016 at 14:52:20
Because that clown Kenwright is still involved.
I'm glad so many appear happy that we're going into a season without even a second choice striker – never mind 3rd or 4th – probably a first choice goalkeeper (yes Stek has started well, so let's see); the cover required at right back; and the fourth centre-back Koeman wants. Never mind the attacking midfielder we've needed since Kenwright sold Arteta.
Koeman isn't happy with it, but as long as you are, it's all good.
David Milner
38
Posted 30/08/2016 at 14:56:17
Mark @29
Brahimi, Slimani & Bruno Martins Indi. Right quality & right price.
Martins Indi is training on his own as he does not figure in his club's plans... Wonder why?
Stephen Ashton
40
Posted 30/08/2016 at 15:31:42
Peter (#24) – I think Son has gone to Wolfsburg.
Stephen Ashton
41
Posted 30/08/2016 at 15:36:53
Peter (#25),
No need to put a hard hat on for me – he could be the perfect foil for Lukaku. It would mean that Lukaku did not have to move at all – he could just stand on the edge of the D and rotate, pointing to where he feels Berahino should be!!!!
Seriously, it might work really well if the price is right.
Bill Gall
42
Posted 30/08/2016 at 15:40:01
At the end of last season, Everton were in turmoil, we had fired the manager and were not even in the top 10 in the Premier League. In the past couple of months, we have had a shift in power at the top with Mr Moshiri and brought in a promising new manager.
So in his early start in his new position the manager has brought in his own backroom staff,assessed the players he wants, sold a player who did not want to stay, and with the money has brought in 4 players who look as though they will be automatically first team players. He along with every other manager in the league wants to bring in a couple more players, and this starts the normal media frenzy where we are supposed to be signing at least another 12 players before the window shuts.
Even if we do not sign anyone else (and I think we may get one or two more), in just a couple of months we have gone from turmoil to financial stability, a realistic opportunity for a new ground, and a manager who has a plan that seems to be successful in modern football.
I think we should not forced into paying exorbitant fees for players at the end of transfer windows but see how we are in January's window to strengthen the team. We as supporters have our own views as where the team need strengthening, but I believe we have a manager who is better situated to make those decisions.
As his 4 previous signings have shown this manager has firmly shown the type of players he wants, and the only ones I get excited about, are the ones with an Everton shirt on in a official photo, and not one mentioned in a media frenzy.
Nick Page
43
Posted 30/08/2016 at 15:45:33
The deafening silence absolutely reeks of bungling Bill and his merry band of money grabbers. Remember it was this man that said, "Watch this space" a few years ago... and then nothing.
And now it seems we've pulled out of the Gabbiadini deal. Stinks to high heaven of him.
Ciarán McGlone
44
Posted 30/08/2016 at 15:47:21
We need a centre-half and a â"– 10. If we don't get them, it'll be a wasted opportunity to kick on this season.
Mark Tanton
45
Posted 30/08/2016 at 15:48:23
Where have you read that we've pulled out?
Secondly, surely Moshiri won't allow Bill to twat about in the manner he has in the past? The club seems to be heading in the right direction.
Mark Tanton
46
Posted 30/08/2016 at 15:50:29
Just read in the Echo we're cooling on Gabbiadini due to fears time is running out.
Who really knows what is going on? We're just not privy unfortunately.
James Morgan
47
Posted 30/08/2016 at 15:50:51
Apparently we've pulled out of this deal because we aren't confident a deal can be done in time. I wouldn't apportion too much blame to our side as Italian clubs, particularly Napoli, are notoriously hard to deal with.
We still need a striker though!
Nick Page
48
Posted 30/08/2016 at 15:52:05
Mark, apparently the club have sent an email to Napoli telling them no deal. It's from Sky Italia and a load of other news sites. See twitter.
Need GK, RB, CB and a striker MINIMUM. If we start to get some injuries, we are on our arse.
Brian Williams
49
Posted 30/08/2016 at 15:52:35
Nick. We may have pulled out of the Gabbiadini (if sources are correct) to very quickly look elsewhere. You can't blame BK if the club won't sell until they have a replacement and they're dicking about over getting one. Not everything is BK's fault.
Danny Halsall
50
Posted 30/08/2016 at 15:53:41
If it is true that we have pulled out, I think we are in for a disappointing end to the window. We have not left ourselves enough time to get a significant deal over the line.
In the end, I wouldn't be surprised if we actually bag a profit from the Stones deal. Extremely underwhelming after the promise of major investment.
Gordon Crawford
51
Posted 30/08/2016 at 15:55:35
Slightly concerned about our transfer situation at this moment in time. Time is ticking away and it ain't looking good. We need two strikers, a number 10 and maybe a another defender.
Patrick Murphy
52
Posted 30/08/2016 at 15:57:37
Mark (#45),
That's the problem though, it SEEMS to be heading in the right direction, yet we haven't got a shred of evidence to believe that anything has really changed at the club.
Once more, at an important time of the transfer window, we are all informed by a politicians' cryptic message that implies a possible new ground location – nothing tangible, nothing concrete and nothing from the club.
We are also told by Jim "I do Everton FC presentation nights, me" White that Mr Moshiri has sent him a text saying "Watch this space!"
There has been so much speculation in the press, and amongst the supporters, but so far we have only spent mostly what we have recouped and nothing about the ground move has been mooted by the club. Same old same old – or are we all being over sensitive and cynical after two decades of disappointment?
Brian Williams
53
Posted 30/08/2016 at 15:58:29
Bill Gall. Good post. Sensible, reasonable, true!

Eivind Nyhus
54
Posted 30/08/2016 at 15:59:11
Well said, Bill #42
Nick Page
55
Posted 30/08/2016 at 16:00:25
Brian, I blame that total buffoon Kenwright for absolutely everything wrong with EFC over the past 15+ years, now and until the self-appointed "world's greatest Evertonian" (scoff) is 100% divested from any responsibilities at Everton Football Club.
We have left a lot of business too late and we need back-up players in key positions. It just reeks of the sell-to-buy penny-pinching tight-arsed mentality of old.
Jay Harris
56
Posted 30/08/2016 at 16:14:27
I get the feeling we have changed course to Bony. Premier League experience, proven ability (no matter how good or bad we think that might be) and no difficult clubs or agents to deal with to get it over the line.
Nick Page
57
Posted 30/08/2016 at 16:24:16
Jay, the only thing that makes it "difficult" is the world's greatest Evertonian. Every transfer window is the same. Funny that...
Ian McDowell
58
Posted 30/08/2016 at 16:27:59
Still need a CB, another creative midfield player and a forward. I haven't been impressed with our ability to get transfers over the line so far and I'm not sure Koeman will be.
Daniel Lawrence
59
Posted 30/08/2016 at 16:36:48
Yes, we haven't had time to get it over the line, I mean, we've only had 4 months.
Robert Elliott
60
Posted 30/08/2016 at 16:44:55
I genuinely do think things are on the up at Everton since Moshiri came. Koeman and Walsh must know more about the plans and ambitions he has for the club than we do and if they've been convinced enough to leave stable Premier League clubs who, let's face it, had much better seasons than us last season, to join Everton, then I would think he must be the genuine article.
However ,clearly something needs to change in the way we do our transfer negotiations. Nearly every deal we get involved in becomes complicated. We can't even sign a third-choice full-back from Southampton without a week-long delay, for god's sake!
David Barks
61
Posted 30/08/2016 at 16:48:20
Still just about zero investment in the playing squad since the much praised new owner can aboard. No depth up front, none. One or two injuries and we're completely screwed.
Ray Roche
62
Posted 30/08/2016 at 16:56:50
I'm sure I heard last week on the radio (or TV) that Berahino had only scored twice in the last 24 games.
IF that's correct, he can't be regarded as the answer to our scoring requirements if Lukaku is unavailable. And he's not getting a start at WBA either. Seems like another Odemwingie to me, a disruptive influence in the dressing room.
Tony McNulty
63
Posted 30/08/2016 at 17:02:49
4th in the table; new ground mooted; a manager who seems to know what he's doing, and who appears to watch the same game as me; a DoF with a strong record; some interesting additions to the team already; a dispassionate clear-out of the players the boss doesn't rate.
It is all looking quite positive to me. And even though the fat lady is at this very moment clearing her tonsils, I think that something interesting will happen in the transfer market before the close.
Mark Morrissey
64
Posted 30/08/2016 at 17:05:06
We were never going to do any business until the Stones deal was sorted. We had to sell to buy.
Following that, we have been ducking and diving and looking for bargain deals. I am not surprised one bit and I do not think we will get anyone else in and I don't see anyone leaving.
January may be different but I do feel far happier with the new recruits, happy to have Walsh and Koeman at the helm and I am so happy that Martinez has gone.
The talk of a new stadium is far more important. Without that we will stagnate and so I'm not too concerned if nobody comes in.
I gave up on Kone as soon as Moyes arrrived at Sunderland, never wanted Hart and as for Gabberdene Mack and Witsel – they never seemed right to me. I think the squad is better than last season and the manager is pure class. Things are on the up!!!
Trevor Lynes
65
Posted 30/08/2016 at 17:05:51
Berahino is not the answer to what we need if we are to improve the team. He is in and out of a pretty poor WBA side.
We get what we deserve by hanging on until the end of the window. Some people never learn and our board are some people unfortunately. Slimani will be at Leicester and they already have two of the leagues best scoring forwards in Vardy and Mahrez. That is what really ambitious clubs do, they buy when they are already top. So far with under two days to go we have spent nowt!!
We missed out on three top play makers. Gabbiadini was our second or third choice striker. We have waited for Napoli to make Gabbiadini available for much too long.
This will end with yet another winter of discontent unless the cavalry arrive tomorrow and bring in three secret weapons that the media have missed! Shame about Brahimi he is a real crowd pleaser.
Steven Kendrew
66
Posted 30/08/2016 at 17:07:02
I see David Marshall may be heading to Hull City for $5m. Why the heck are we not buying him? He is a very good keeper and that price would be a steal. He is way better than Stekelenburg.
Richard Leeming-McHale
67
Posted 30/08/2016 at 17:17:13
I don't get the whole thing about 'only at Everton'!! Do you really think transfers at other clubs are more simple? Its' a complicated business everywhere – some come easy, but most don't – and that's the same for all clubs. Hope we do get it sorted though!
James Watts
68
Posted 30/08/2016 at 17:20:32
Not too fussed about this lad, but it will be absolutely diabolical if we don't get another striker in before tomorrow night. Can just see it now 'Lukaku injured on international duty and out until Christmas'. Sends me into a cold sweat knowing Kone could well be our only option. Surely we HAVE to get someone?!? SURELY?!?!
Gareth Clark
69
Posted 30/08/2016 at 17:20:56
No thanks Steven #66
If we are going to get a keeper, then it has to be someone like Butland.
Drew O'Neall
70
Posted 30/08/2016 at 17:24:03
Colin 10
I wouldn't have thought him going back to Africa on holiday would put a halt to proceedings given he's agreed personal terms and (I think) had a medical previously. If you said his agent was on holiday I would tend to agree.
Arguably, the fact (I'm relying on your network here.. know how some posters get about the 'facts') he has gone on holiday could allude to him being considered as good as gone by David Moyes.
..Ever the optimist.
Ernie 11
I didn't say it would be as part of the Gabbiadini deal but your point is well made.
Mark Pierpoint
71
Posted 30/08/2016 at 17:25:13
Bill (#42) has hit the nail on the head in that post. No more to be said really, don't panic.
Of course people have their own views as to where we are. For me, I think we need a striker. That is it. I don't think we can chance getting through to January without one. Tom what I know about the game, Bony seems a good fit. I ain't going to embarrass myself though by pretending I know better than Walsh and Koeman by listing a load of players.
I am not convinced we now need a right-back with the emergence of Holgate. I am not totally convinced we 'need' another centre back with three senior choices and Holgate either. Obviously if the right player is available, go for it.
Either way, let's get away from the slagging off of the board or the desire for instant gratification that is seemingly becoming the norm.
Brian Williams
72
Posted 30/08/2016 at 17:27:57
Way better than Stekelenburg? On what are you basing that Steven. Have you watched the first thee league games? I ask because Stek has probably earned us 4 of the 7 points we have in the bag.
To the people moaning about us always messing up transfers... Stekelenburg, Williams, Gueye, Bolasie ...there's four done and dusted with no real drama. If you don't get the player you want for whatever reason what manager in his right mind will spend loads on someone just to please the fans.
Let's see what happens!
Drew O'Neall
73
Posted 30/08/2016 at 17:27:57
Don't get too downhearted blues, as the Champions League clubs do their last minute business, their displaced players will become available and Moneybags Everton will be waiting in the wings to wade in.
(I never get sick of prefixing Everton with 'Moneybags'.. I cram it in there in even the most tenuous of circumstances – try it on.. Looking forward to referring to myself as a glory-hunting Evertonian within the decade.)
Ian McDowell
74
Posted 30/08/2016 at 17:28:09
The forward situation is the one that concerns me most. The ability to bring on another forward who can grab goal wins many Premier League games and would gain us many points. Sorry, but Kone has shown he just isn't up to standard if you want to finish top 10.
Last season our main struggles where at goalkeeper, that has been addressed. CB which has partially been improved but with questions over Jags fitness and Funes Mori being erratic we still need another CB. No one to replace Barkley and Lukaku when there form dropped off a cliff towards the end of last season.
Michael Kenrick
75
Posted 30/08/2016 at 17:28:35
I know we tend to be worry-warts but "
One or two injuries and we're completely screwed.
" – is that really true?
Currently, we have three injuries in our 25-man squad: Coleman, Besic and McCarthy – (five if you include Pennington and Connolly) yet we've started the season rather well and the new manger is so, so, so much better than the last fella at doing everything he should be doing to get the team playing well.
Injuries are part of the game; the squad is never without one or two injured players – the average is probably more like four or five. Coping with injuries is part of football.
Dave Pritchard
76
Posted 30/08/2016 at 17:30:16
Gabbiadini's recent record didn't look that impressive from what I had read (which could have been all rubbish I suppose) so not bothered if this one has gone the way of many other rumours. Striking options are going to be limited if we don't get someone decent though.
Frank Crewe
77
Posted 30/08/2016 at 17:30:26
Maybe it's just a perception but sometimes it seems we do get bogged down in long winded transfer sagas. Yarmolenko, Witsel, this guy.
We've been linked with so many players this summer it makes your head spin. But in actuality the ones we have bought have been straight forward English club to English club moves. No middlemen, obstinate owners, greedy agents
There's a lesson here. Until we have raised our profile in Europe considerably I don't see any point in chasing after players who are simply looking for pay rises at their current clubs or moves to CL clubs and stringing us along until they get them.
We need competition for Rom? Buy Bony and move on.
Ray Roche
78
Posted 30/08/2016 at 17:34:03
Agreed Michael, however, if the injuries are to a player who is the only realistic choice for a particular position then you DO have a problem. At the moment I think we could handle an injury to a defender (especially if Galloway hadn't gone) but would be royally shafted if Lukaku suffered an injury which would keep him sidelined for any real length of time. You can only cope with injuries if you have the required stand in.
Barry Jones
79
Posted 30/08/2016 at 17:34:53
Although it would be nice to add to the squad before the deadline I don't think that we should make any purchases in desperation. I hope that Walsh & Koeman would have properly reviewed all and any prospective purchases and agreed that they have the qualities we need before diving in. We don't want to be discussing another Niasse scenario anytime soon.
Anyway, its not all about blowing large amounts of cash to get value. Stekelenburg and Gueye have shown that. Stekelenburg was superb once more against Stoke and I am convinced more than ever that Hart would have only been an incremental improvement at best and maybe not even that. What a change to see our keeper winning (and catching) virtually every cross into the box.
Ian McDowell
80
Posted 30/08/2016 at 17:40:38
Premier League games now are so often decided from the bench. We don't need a huge squad but what we do require is the ability to change things from the bench.
James Watts
81
Posted 30/08/2016 at 17:41:03
Michael (75). I think it's more a case of being screwed if we get one or two injuries to areas we have no cover in (although admittedly the post didn't say that). The obvious ones to me are if Lukaku or Barkley get injured we have no one decent to come in. And of course we also have the potentially negative effect that if either player dips in form they will get picked anyway, for the same reason. I mean no matter how crap Lukaku is playing, would he ever get dropped for Kone?!? Doubtful in my mind, even with Ron in charge.
We have decent/good cover in GK (not ideal, but we know Robles will do a job), RB (now Holgate has come to the fore), LB, CB (Jags, Funes Mori, Williams plus Holgate is enough for me at this stage), Def Mid and the Wings, in my opinion.
It's also very frustrating that we have spent very little money to date out of our own pocket – we still appear to be in a sell to buy situation, if the Stones transfer is anything to go by.
I'm personally not confident right now because I have seen very little evidence we have money to spend, it's all been rumours and not much else.
But we'll see. Everything crossed, hope is just about still alive. Just.
Steven Kendrew
83
Posted 30/08/2016 at 17:47:33
Ok, Brian (72) maybe not way better than Stek, who has surpassed expectations to date, to be fair. Marshall was statistically an excellent performer when Cardiff were in the Prem.
Anyway, it's a moot point as Hull confirmed the signing today :-(
I would take Butland, yes. The Hart shenanigans is ridiculous. Way too expensive. £7m for a years loan indeed go do one.
Joe Clitherow
84
Posted 30/08/2016 at 17:51:04
Guys relax, we will definitely get another striker in before the Deadline.
Whether he is any good or not is a different manner
Chasing Italian clubs is another matter though, they are notoriously difficult to deal with. Koeman does seem to like his Italian strikers though.
Ciarán McGlone
85
Posted 30/08/2016 at 18:00:41
Didn't a Belgium club once refuse to do business with us because of the way we conducted our business?
Groundhog day this.
David Barks
86
Posted 30/08/2016 at 18:01:19
Michael,
I was speaking about the front line. Let's say Lukaku and Bolasie went down injured with hamstrings or ankle ligament damage. Where is the depth? We'd have Kone up top, Mirallas and Lennon and Barkley in the starting 11, then what? Who is coming off the bench, rotating in?
Mark Morrissey
87
Posted 30/08/2016 at 18:06:52
Dave Barks @ 86 .the answer to your question is, wait for it...... .Oumar Niasse. I've just wet myself !!.......you've got to laugh.....seriously though, what about Kevin Mirallas doing a job up front or GD. ??
Paul Conway
88
Posted 30/08/2016 at 18:17:53
Before tthe end of last season, £100 million seemed a lot. Now it seems £100m would only buy you three Sissokos. That to me would he a £100m gamble.
Seems like we will have to keep it for a rainy day
Mal Christopher
90
Posted 30/08/2016 at 18:20:27
Victor Anichebe is free?

John Austin
91
Posted 30/08/2016 at 18:21:25
Brian@72. Spot on. Stek has done brilliantly and unless his form takes a complete nosedive, I am happy with him as first choice. We do need another keeper though for strength in depth.
I also agree with your take on the transfers to date. We focus on our own transfer sagas and get frustrated because it is our club. It also happens elsewhere. Just because a player is linked to us by the press or agents, doesn't mean we are interested in them. Joe Hart is a perfect example. I have faith in Keoman and Walsh to do the business if at all possible. We do need additions incuding another striker. But if other clubs won't sell their players (Kone and Sunderland as an example) we shouldn't go throwing silly money at lesser alternatives just for the sake of it. Nor should we be held to ransom for players whose goal scoring records are frankly not that impressive.
Nick Page
92
Posted 30/08/2016 at 18:22:22
So Italian clubs are difficult to do business with? And so are Ukrainian clubs and Russians, and also the Turks. Plus the Belgians get a cob on, and the French can be a bit mardy too. Hmmmm, I smell Billy Bullshit.
Lets be honest, Everton are a pain to do business with because of that penny pinching old tart who's been running his own show the past 15+ years and even now INCREDIBLY EFC transfer dealings. How many times do we need to be lied to? DD approaches
Christopher Dover
93
Posted 30/08/2016 at 18:29:04
Solution. Buy Kone for £40 million Bony for £60 million they will move quick give us a defender and a forward and we will have spent the money simples every one ( nearly) happy :):):)
Zaid Omar
94
Posted 30/08/2016 at 18:29:32
Just watched a segment with Jim White on SSN previewing deadline day. Says he got a text from Farhad Moshiri saying 'watch this space' .. Expect something big tomorrow!!
Dave Williams
96
Posted 30/08/2016 at 18:43:48
Bill # 42 you usually talk a lot of sense and have done again here.
I have never heard of Gabbiadini though can recall Derby having one by the same name a couple of decades ago. I have not heard of a lot of the players we have been linked with and am happy for Ron and Steve to guide us as they are handsomely rewarded for doing so.
I don't want us to waste money on buying for the sake of it – eg, Niasse – and I don't buy into the "blame it all on Kenwright" approach either as this is complete crap. Due to my work I know something about how transfers work and there is such a complex web of stuff to sort that few are straightforward. With agents involved and a press desperate for transfer stories there is an absolute stack of stuff put out there to serve the needs of a player anxious to move or a club anxious to sell and the poor club which is put in the frame as a potential buyer has to take the flak from its fans for not moving the fictitious deal along.
The perfect example is Balotelli and the rumour which has persisted for weeks about him being of interest to us. This guy is surely the laziest, most work shy not to mention disruptive player ever to lace his boots in the Premier League and the press are trying to get us to believe that he is of interest to a manager who is already critical of his current squad for lack of fitness and lack of work rate. This has to be his agent banging the drum to find him a new club and even remind people that he still exists –an extreme example but it's what happens all the time as agents only have two windows a year to make their money so will do everything they can to generate interest.
Believe nothing until the club confirm it and don't be so desperate for a signing that we end up with another Niasse or McGeady. It will all come good but not in the first transfer window of Ron's reign.
Ian McDowell
97
Posted 30/08/2016 at 18:46:08
Apparently the deal for Kone could now depend on Moyes getting in another CB. Sakho from Liverpool thought to be the man.
Joe Clitherow
98
Posted 30/08/2016 at 18:48:58
"How much is this house on the market for?"
"£350,000."
"Will you take 349?"
"Yes"
Easy doing deals when you negotiate like Partridge.
Alternatively, "Whats his name and how much?"
"Oumar Niasse, £13.5M"
"Any good?"
"Think so, his agent says he's great"
"Go on then"
I really don't want to see the last scenario again or an Everton as "easy" to negotiate with but it's clear some on here would be delighted if that's how we did our business. Not your money to be responsible with, right? An extra £3M here, £5M there, well it's not even real, is it?
I'm waiting until 11:05 tomorrow night to see what the craic is cos lots happens late on and then I can pass judgement. If nothing happens I'll be at the front of the spleen-venters calling for heads.
Jim Hardin
99
Posted 30/08/2016 at 18:49:54
So Everton pull out and everyone goes crazy. I personally commend Moshiri and the club for practicing safe transfer dealing. The world already has too many rumored transfer deals as is.
Matthew Williams
100
Posted 30/08/2016 at 18:50:25
All efforts need to be put into signing a striker, if the window passes by and we haven't signed a quality striker I think it will be a disaster for our promising start.
We can't go through to next years transfer window with just Lukaku and Kone as our strikers.
Colin Glassar
101
Posted 30/08/2016 at 18:53:37
So is this on or off? 15 different sites with 15 different versions. Dealing with Italian clubs is supposed to be a nightmare so I'd walk away. We will have to play with what we have until next summer.
Chris Williams
102
Posted 30/08/2016 at 19:14:28
Watch this space Colin. Jim White says so.
No vested interest there is there. Trust him implicitly just like Bill.
Let life unfold because nobody Knows anything.
David Johnson
103
Posted 30/08/2016 at 19:22:16
I think people are concerned about Kenwright's continued involvement and rightly so. Me I'm waiting until tomorrow night when hopefully we'll find that Moshiri is for real. Never mind Moshiri's 𧴜 where's the TV money?
Paul Tran
104
Posted 30/08/2016 at 19:23:22
I've said for the last two weeks we'll be doing business late. We will not be first choice for the better players, it's a seller's market and some players will only be let go when there's replacements.
Ignore the bullshit websites and trust the management till they give reason not to.
Ian McDowell
105
Posted 30/08/2016 at 19:28:04
U23 winning 1-0 v Bolton. Thought there might have been a live forum especially with the deadline tmr.
Raymond Fox
106
Posted 30/08/2016 at 19:28:56
The only thing I know is 'I'm confused' my heads spinning!
Correction, add unless we land 2 or 3 players who are better than we have now, forget top 6.
Andrew Bradshaw
107
Posted 30/08/2016 at 19:31:45
I would suggest everyone calms down until 11 pm tomorrow. I reckon there will be a lot of moves for everyone tomorrow, this crap that we are shit at transfers is the same for all. Silva and Islami to Leicester for example – done deals and then no.
No player we have been linked with for ages ever materialises. Koeman & Walsh only speak when deal completed. Williams and Gueye talked about for 10 days tops and signed. I expect a couple of surprises tomorrow.

Dave Abrahams
108
Posted 30/08/2016 at 19:32:48
Ian. (105) thanks for the update, who scored? Can you keep the score coming in, thanks again.
Ian McDowell
109
Posted 30/08/2016 at 19:34:35
Yes Dave I'll try. C.Dyson got the goal, 22 mins. 30 gone so far. Thats all I can find on BBC sport.

Jay Harris
110
Posted 30/08/2016 at 19:40:03
I agree we definitely need another striker but I am ambivalent enough to see the improvements Koeman and co have already made which will improve our standing anyway.
With all the money floating around and players demanding CL, taxes paid etc etc it is extremely difficult to get the right players in not just in ability but also to keep the dressing room harmonious.
That is why I would take Bony, not quite the best but wont disrupt the status quo and will be dependable if selected.
Brian Williams
111
Posted 30/08/2016 at 19:40:27
Gabbiadini, Brahimi, Kone. ;-)
Nathan Cross
112
Posted 30/08/2016 at 19:41:02
This is a strange one – Radio Kiss Kiss Napoli is normally so reliable...
Ian Linn
113
Posted 30/08/2016 at 19:45:20
Just seen a couple of pics of Joe Hart after he's been loaned to one of the smaller Italian clubs.
He did not look happy
Joe McMahon
114
Posted 30/08/2016 at 19:49:55
Nick Page (92) - Bang on - 100% agree. Other clubs seem to purchase players, maybe - just maybe it's you know who thats the problem.
Christ when we didn't want them we seem to have no problem signing constant shite from Wigan, but that was the Kenwright/Whelan antiquated way, no doubt over a brandy discussing the grand old days of Tommy Steele and Dixie Dean.
Ian McDowell
115
Posted 30/08/2016 at 19:52:10
Ian @ 113 It goes to show how overrated England players are. Hart and Wilshire, two of our supposedly "best" players have been made available. Yet not one of the the top clubs in Europe are interested. Imagine if that was Spain, Germany, France or even Italy. There would be a queue of clubs looking to sign them.
John Otway
116
Posted 30/08/2016 at 19:52:56
Indeed Nathan, as is Radio Kiss Arse Kenwright so loved by some on here. Brian Gabbiadini ;-( hence the title of the piece.
Joe Digney
117
Posted 30/08/2016 at 19:56:35
Brahimi and Bony?
Anthony Jones
119
Posted 30/08/2016 at 20:03:28
Do we need a proper number 9 at all? I seem to remember the last World Cup being dominated by teams without out-and-out target men. Lukaku offers a way of getting goals but is it to the detriment of the team overall?
We almost qualified for the Champions League with Marcus Bent leading the line.
Brian Williams
120
Posted 30/08/2016 at 20:32:00
John 116.
Let's wait and see.
John Otway
121
Posted 30/08/2016 at 20:37:56
Brian 120. Hope you're right and if you are I will, most sincerely, apologise to you.

Tony Twist
122
Posted 30/08/2016 at 20:41:40
I was underwhelmed by him to be honest, though we desperately need a quality striker and central creative midfielder. Tick tock Everton!
Brian Williams
123
Posted 30/08/2016 at 21:08:50
Scrub Kone. Moyes is being a complete dick!
Pete Edwards
125
Posted 30/08/2016 at 21:28:53
Nick give it a bloody rest. You say you blame Kenwright for everything over the last 15 years, well let's see what Moshiri (you know, the guy Kenwright got to invest in the club) does over the next 2 years!

Kristian Boyce
126
Posted 30/08/2016 at 21:35:04
Ciaràn @ #85 It was Anderlecht with the David Henen deal. We ended up getting him to goto Olympiakos and we bought him from them. It was set up by his agent who was Mirallas's agent. I also think we had issue with Standard with the Felliani deal, with us demanding ridiculous payment plans.
Ciarán McGlone
127
Posted 30/08/2016 at 21:43:21
Ah, David Henen... Or David Menen as the commentator kept calling him in the Milk Cup Final.
Eric Holland
128
Posted 30/08/2016 at 21:53:15
Just heard a little whisper that we are expecting to be busy tomorrow.
Joe Digney
129
Posted 30/08/2016 at 21:57:01
Who's whisper was it, Eric?
Brent Stephens
130
Posted 30/08/2016 at 22:02:50
Eric, you tease! Give us a clue where you got this from. Just tell me – I won't spill to anybody else on TW!
Tom Bowers
131
Posted 30/08/2016 at 22:08:23
Let's face it most of the media talk is just invented trash and assumptions without real foundation. Anything to gain attention rather than do some real investigative work seems to be the order of the day in journalism especially with football at this vital time.
Whatever happens will happen so let's not get carried away with all these ''stories''.
Mike Allison
132
Posted 30/08/2016 at 22:12:06
Echo says Henen, Sambou, Foulds and especially Walsh were all good tonight against Bolton. Hard to find any coverage and the BBC website has ceased to acknowledge the competition's existence. We didn't play a particularly strong u-23 side and beat the leaders of League One 0-2.
Chris Williams
133
Posted 30/08/2016 at 22:14:08
I think Moyes is holding back Kone's career by not letting him come to Everton.
Ciarán McGlone
134
Posted 30/08/2016 at 22:14:38
I thought Henen looked very average in the Milk Cup.
Eric Holland
135
Posted 30/08/2016 at 22:25:34
I would love to, Brent.
But believe me, it's true!!!
Brent Stephens
136
Posted 30/08/2016 at 22:32:56
OK, Eric. I'll go with it. But coming to get you if it's pants! "Busy" doesn't mean maintaining lawnmowers, does it?
Brian Wilkinson
137
Posted 30/08/2016 at 23:06:06
Fair play to Everton for saying the deal's off, had enough pissing around with Witsel, better to look elsewhere now than wait for Napoli to sign a replacement that might not come.
Got a bit of a semi, with Everton's "Up yours" attitude, balls grown at last and no more hanging around for leftovers with a begging cap.
Everton are back.
Paul Hay
138
Posted 31/08/2016 at 08:20:04
Stan (#19),
Usual good sense.
Keep the faith.
Mark Whyment
139
Posted 31/08/2016 at 08:51:31
Well said Pete (#125) – I really don't get the Kenwright knockers. I think we owe him a lot as it goes including bringing in Moshiri – as he said he would.
Good points Brian (#137) agree totally. I'm impressed with our whole current management team and proud that we conduct ourselves the way we do .. Fills me with pride to be an Evertonian. Long may it continue.
I log onto TW to enjoy the company and thought of my fellow Evertonian said getting excited and anxious about some of the same things I do, there's so much whinging, negativity and unfounded critisicism of the club on here I am genuinely considering not using the site going forward. Maybe I prefer to live in my optimistic naive bubble - I'm not sure but I want to get. excited not depressed.
I doubt Bill Kenwright reads this stuff, and I hope for his sake with all the criticisms he doesn't. I don't think he's in the best of health at the moment and rather than wait til it's too late I'd like to put on record my thanks to him for all that he has done for us during his tenure and will continue to do for us moving forward.
He's run our club exceptionally well with limited resources. I'm much happier being an Evertonian than a magpies fan (for an example) as a result. Long may it continue ..
Martin Mason
140
Posted 31/08/2016 at 10:56:26
+1Mark, just ridiculous at times
Michael McCarthy
141
Posted 31/08/2016 at 11:20:05
Has Osman signed for anybody? Not suggesting we sign him.
Dave Speed
142
Posted 31/08/2016 at 12:28:50
Latest news - we're only interested in players whose names end in an "i". So no Bony, Wilshere or Sissoko. Could get Brahimi, Gabbadini, Ferrari or Maseratti. We already have Moshiri.
---
Add Your Comments
In order to post a comment, you need to be logged in as a registered user of the site.
Or Sign up as a ToffeeWeb Member — it's free, takes just a few minutes and will allow you to post your comments on articles and Talking Points submissions across the site.
© ToffeeWeb