Jagielka named in Southgate's first England squad

21 Comments [Jump to last]
Monday 3 October 2016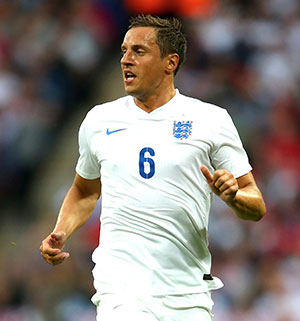 Phil Jagielka is the only Everton representative in the first England selected by Gareth Southgate for the upcoming internationals against Malta and Slovenia.
Ross Barkley, however, has again been overlooked, that despite an improved performance in front of the nation's temporary manager at Goodison Park on Friday night against Crystal Palace.
With respect to Barkley, Southgate followed in the footsteps of his predecessor Sam Allardyce who also failed to select him during the previous international break.
Jagielka, meanwhile, had lost his place under Roy Hodgson and was not picked for Euro2016 but was restored to the squad by Allardyce last month, prior to the former Sunderland manager's dismissal following the revelations of improper conduct made by The Telegraph newspaper.
Meanwhile, the Toffees are well represented at youth level with six players in all having been called up last week. Morgan Feeney has been selected for the U18s while Tom Davies has been called back up to the U19s.
At U20 level, Dominic Calvert-Lewin, Callum Connolly, Jonjoe Kenny and Kieran Dowell are in the England U20s squad for the games against Holland, Germany and the United States.
---
Reader Comments (21)
Note: the following content is not moderated or vetted by the site owners at the time of submission. Comments are the responsibility of the poster. Disclaimer
James Stewart
1
Posted 03/10/2016 at 07:19:18
Can't stand all these stupid international breaks, I don't know a single person who gives a damn about England anymore.
Victor Jones
2
Posted 03/10/2016 at 11:16:34
Good to see Jagielka back in the England fold. Any Everton player getting international recognition raises the profile of the club IMO. I don't particularly like these international breaks, but the games have to be played sometime. And right now it gives a shaky Everton time to regroup. (And yes...recent results have been shaky). Hopefully none of our internationals pick up any injuries.. And we also get Gibson back fighting fit, if only for one game (eyes raised to the heavens).
And no Barkley. The lad does not seem to be able to raise his game enough to get that England recall. He needs to be careful. IMO his Everton place could also be in trouble. Is he now contributing enough? Are there better options at the club? Will he ever fulfil his potential? Was he ever the player we all seem to think he is, or are we all just hoping that he can be that player that takes Everton to the next level? Are we all expecting too much from him? And he simply cannot deliver. Anyhow, good to see Jags get a recall. We now have one player in the squad. Did we not, only a few years back, have five players in an England squad?
Ian McDowell
3
Posted 03/10/2016 at 11:37:09
No interest in international football. The season has only been going 6 weeks and already we are into our second break. It's better for Ross and Everton for him to spend his time at Finch Farm rather than go away with the England squad where half the players don't get on with each other.
Bob Parrington
4
Posted 03/10/2016 at 11:42:20
James, I understand what you are saying but I think it is a case of having little or no respect for the organisation that is England Soccer (sorry, I call it soccer as I have lived in Australia for 30 years).
The major problem can't be the game itself as the EPL is a fantastic competition. In truth, it has to be the people at the top, similar to what used to be the case with the rugby union. The top brass (sorry, but no respect meant by the use of "top") is so totally old school full of dick brains that are up their own you-know-whats, that whoever is selected as manager has no chance to put the right squad of players together.
The major problem with this is that nobody has the balls to say, "Enough is enough", let's get rid of the dick brains at the top and appoint a manager who can put the right blend of players together to form a great national team – without interference from... the top, the press and whatever else. I might be Australian now but I was born in England and so I feel sorry for the crap that you guys have to put up with.
There. I got that off my chest! Good luck. England has the talent to do so much better!
Dave Abrahams
5
Posted 03/10/2016 at 12:12:07
Bob, you might find that a lot of the players are not interested in playing for England. Money is the main goal for lots of them, even though they are rich beyond their wildest dreams. Many are like big Sam.
Bob Parrington
6
Posted 03/10/2016 at 13:06:41
Dave, I can see where you're coming from on this. Pity that there is no longer any pride in fighting for the nation, if this is so. When I watch the Rugby Union side, I still see the passion in representing England.
Money! Nice to have enough, I suppose but... ???
Chris Gould
7
Posted 03/10/2016 at 13:08:52
International breaks ruin the weekends!! I absolutely hate them. I don't care about the England team or any other International team. Total nonsense.
I feel the complete opposite about rugby union. Bloody love the England internationals. Players playing with pride and passion.
Eddie Dunn
8
Posted 03/10/2016 at 14:11:57
Despite the fear of losing our players to injury, I do feel a sense of pride to see Everton players in their international colours. I am sure that many players are proud to wear the shirt and give 100% to the cause. At the very least, being an international raises the player's profile, possibly making them more attractive to top teams or sponsors.
The problem for the England managers has been keeping certain players and their clubs happy. It is no coincidence that as soon as Lindberg has a couple of games, he is straight into the squad. If you play for Watford or Leicester, you won't be looked at the same way as if you turned out for Liverpool or Man Utd.
It seems that our representatives for England seem to get more media stick than players from other sides. Baines, Jagielka, Stones and Barkley have all suffered. Players like our own James McCarthy is so keen to go on international duty that he goes when he hasn't fully healed from his injury. Rooney has always been keen to play for England. Gigs wasn't quite so keen to turn up for Wales (Old Whisky Nose might have had something to do with it). It isn't fair to generalise on these matters.
As for the rugby, they haven't all been ready to die for the cause – there have been many lazy performances from our less well-off egg-chasers too.
Mal Smith
9
Posted 03/10/2016 at 14:45:31
Yes, I agree that the international breaks are a nuisance but I still support my country, just as I support my club.
I do feel, however, there are too many international breaks and the qualifying against no-mark teams such as Malta is nonsense. They should have to pre-qualify to play the top international nations in maybe a one- or two-round knockout event, played the season of the finals.
That way, we would have less congestion and every other season we would have less breaks, maybe just a couple of friendlies... mainly pre season.

Kim Vivian
10
Posted 03/10/2016 at 14:50:53
Yawn...
Bring on Man City.
Mark Morrissey
11
Posted 03/10/2016 at 16:00:35
I have a sense of pride when I see an Everton player coming off the pitch sweating cobs after beating any team in the Premier League. I don't care to watch England play, it's always a disappointment and drab.
Kim Vivian
12
Posted 03/10/2016 at 16:49:47
Actually, I am genuinely made up for any of our boys called up at any level. So good on them. I'm sure it means a great deal to them and their own.
It's just the whole England thing is lacking any kudos these days imo. Where are the dynamic characters – the likes of Gazza, Beckham, Stuart Pearce, Butcher, etc etc? Players you would actually like to watch rather than the bore-fest we endure these days.
Denis Richardson
13
Posted 03/10/2016 at 19:10:09
A game vs Malta – I guess its another cap for those selected but, from a footballing perspective, it's an absolute waste of time. The game will be easier than club training sessions for the England players and anything less than a 3-0 or 4-0 win will be pounced upon by the press as failure.
Fifa/Uefa really should sort this out, it's not do inganyone any good (other than the FA selling tickets).
Brian Porter
14
Posted 03/10/2016 at 19:50:17
I used to care very much about the England team and felt a sense of pride when any Everton player was selected to represent their country. That was before the time when the team is virtually picked by the media, with the majority of the team coming from the same regular three or four clubs.
There's no point in international breaks, all they do is lay players open to injury and leave the fans cold as we wait for the next Premier League fixture to come around.
Paul Conway
15
Posted 03/10/2016 at 22:50:21
Another cold turkey weekend in store!
Eddie Dunn
16
Posted 04/10/2016 at 00:28:19
Ahh! Remember back in '86 and after captain Courageous and the Crab were out of the way, it was great to see Gary Stevens, Peter Reid, Trevor Steven and Gary Lineker turning out for England, along with Peter Beardsley, who would later join us, and become a favorite.
Robson was so blinkered. like the media to our wonderful players, it took injuries and suspension to get him to pick Reidy.
Sam Bull
17
Posted 04/10/2016 at 12:05:06
Yeah, thanks for reminding me, another boring weekend without EFC.
I haven't watched them for years... waste of time.
Jack Convery
18
Posted 04/10/2016 at 12:52:11
If Mason Holgate played for Man Utd, Man City, Spurs, Chelsea, or Arsenal, would he be in the squad?
Yes / No answers will suffice.
Rob Madigan
19
Posted 04/10/2016 at 14:40:35
Jags played in six games in the qualifiers for Eruo2016 scoring a goal. Then gets dropped for the finals in which no Everton player takes place. England bomb out of the tournament and, hey hoe, Jags is asked to come back again.
A great big two fingers would be my answer. Is he really going to get picked if we reach the World Cup Finals? I very much doubt it.
So what is the point? Just there to help them qualify then move aside for the Golden Boys from Manchester, Liverpool and Spurs.
Drew O'Neall
20
Posted 04/10/2016 at 18:05:51
Southgate knows a thing or two about centre-halves and it's good to see that Jagielka is recognised as a good one, despite last season, where he had little support or luck with injury.
Ian Bennett
21
Posted 04/10/2016 at 18:21:42
Should get Rio and Vidic to watch and learn.
Add Your Comments
In order to post a comment, you need to be logged in as a registered user of the site.
Or Sign up as a ToffeeWeb Member — it's free, takes just a few minutes and will allow you to post your comments on articles and Talking Points submissions across the site.