Alex the Great – a new film tribute from Dr France
Saturday 8 October 2016

9 Comments [Jump to last]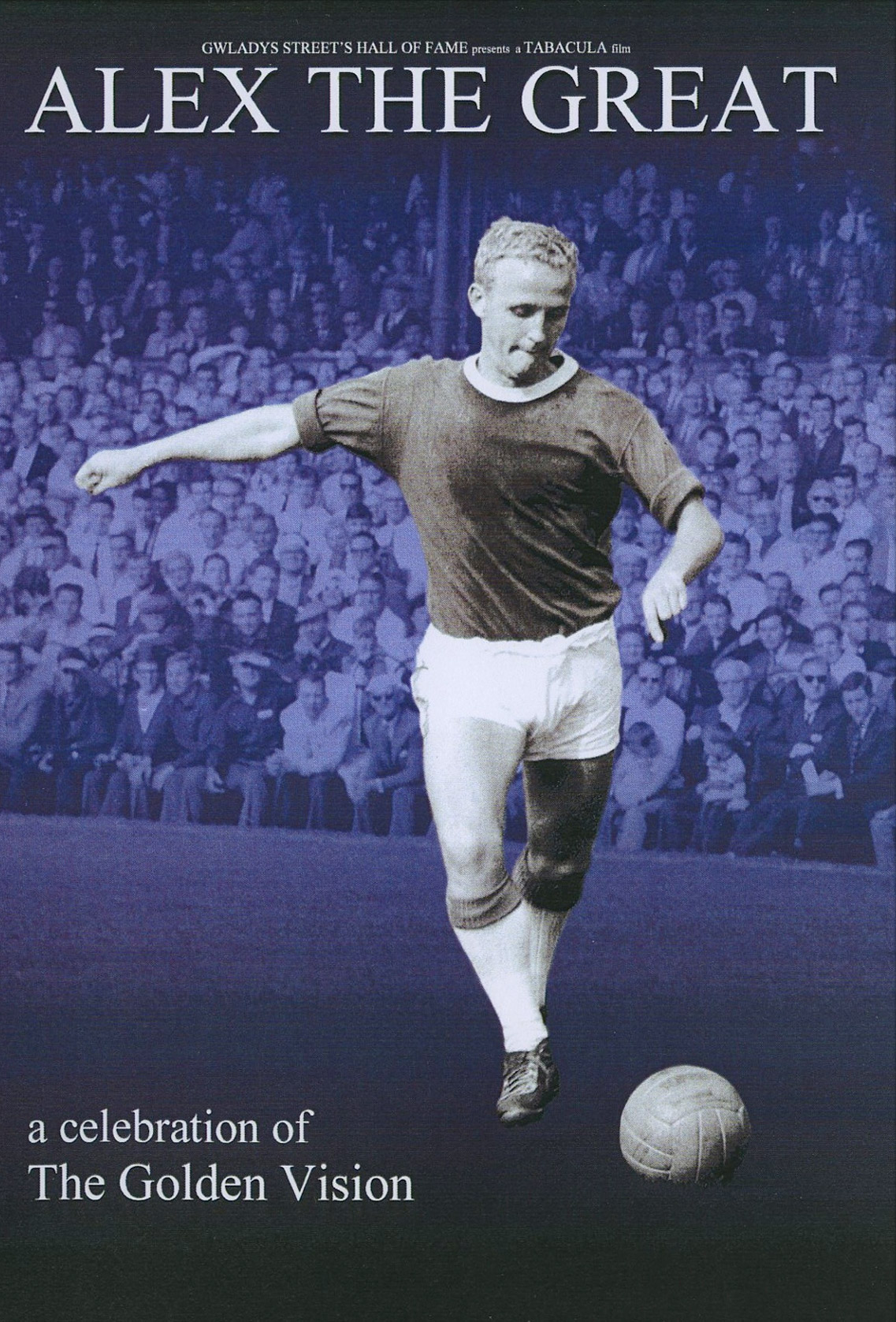 The cover of the new DVD that celebrates Alex Young
A long time in the making, Dr David France's film tribute to his sixties hero Alex Young is to get it's first showing next month — in the Alex Young Suite at Goodison Park, of course.
Echoing the iconic docu-drama The Golden Vision which appeared on BBC tv's Wednesday Play in 1968, the updated version was originally conceived as a Tabacula production some years ago that the meticulous Dr France decided was not cutting the mustard. He pulled the plug on that venture before it saw the light of day.
But making the updated version as a new film has proved no easier, with the scarcity of live footage exacerbated by manager Harry Catterick's famous aversion to having the television cameras anywhere near Goodison Park at that time.
The write-up linked here, by Alex Pattullo in The Scotsman, pays reverent homage to the true Everton legend, but sadly perpetuates the myth that manager Catterick was attacked by fans (eye witnesses have repeatedly posted on ToffeeWeb that he slipped or tripped on the curb obscured by the throng of Evertonians) who were indeed annoyed that 16-year-old Joe Royle had been given his debut, replacing their hero in what would be a 2-0 loss at Blackpool in January 1966.
Pattullo also makes it sound like Alan Ball replaced Alex Young at Everton; he did in time... but they in fact overlapped and played a lot of games together in that wonderful period for the club and the fans between 1966 and 1968.
None of these details should detract from what promises to be a very special occasion when this unique DVD entitled Alex The Great will be launched in the Alex Young Suite at Goodison Park next month – and it will feature interviews with the director and writer of the seminal 1968 play, Ken Loach and Neville Smith.
» Read the full article at The Scotsman
---
Reader Comments (9)
Note: the following content is not moderated or vetted by the site owners at the time of submission. Comments are the responsibility of the poster. Disclaimer
John Keating
1
Posted 11/10/2016 at 09:37:22
We talk about Everton Legends and latterly the names of Cahill and Ferguson have cropped up. Obviously when people talk about these things, it becomes generational.
For me and my generation, there are a few: Ball and Kendall spring to mind. However, before Ball and Kendall, to me there was only one Legend: Alex Young.
This was a guy who was a Legend, not after he finished playing or left the club, this guy was a Legend while he was here! A great and lucky thing is that we have honoured Alex whilst he is still alive and therefore he knows how revered and thought of he is by the Club and supporters. It was great to see him at our pre-season game at Tynecastle last season; I know he really appreciated the ovation he got from both sets of supporters.
I have seen many great players at Goodison playing both for us and against us but to me the only one is Alex Young. I wish our younger supporters could have seen him play. Had he been around now we would never have seen him grace Goodison as no way could we have afforded him. Now he really is a Legend!
Brian Harrison
2
Posted 11/10/2016 at 11:17:48
John,
I agree that legends are defined by different generations; my Dad used to say that Dean and Lawton were the best centre forwards Everton have ever had. He also said that Sagar was the best keeper.
For me, my first idol was Dave Hickson, then it was Alex Young. I then moved to Tony Kay, Brian Labone and Alan Ball. Then you get to an age were you just have favourite players and don't hero worship them like you did when you were younger.
Apart from Hickson, none of the others got close to legend status although we did have some decent players. The half backs as they were called then were Cyril Lello and Wally Fielding. I always remember being in my mates house and we were talking about half backs, and his mum asked: How long do they have to play half back before they are full backs?
I think my generation were lucky because we watched sides that regularly won trophies. I think the last great side was the '80s team consisting of Southall, Reid, Bracewell, Sharp and Gray.
Hopefully Ronald Koeman will help restore us back to those days, but he will need time and quite a lot of financial backing. Financial backing was something all the managers of all our great teams had; let's hope with Moshiri on board the present manager gets the financial backing he will need.
Tony Hill
3
Posted 11/10/2016 at 15:30:41
A wonderful sight was Alex Young, he floated about the pitch and had lovely timing when he rose to head the ball. There was something about his elegance that summed us up at that time and it was a successful period, as Brian says, that we would all love to see again for the club.
I have always thought – for those who didn't watch us in the '60s but who know our '80s team – that the Everton player who, at his best, resembled Young a bit was Trevor Steven.
John Keating
4
Posted 11/10/2016 at 16:05:26
Tony
you're right about Young's' timing.
He seemed to start his jump a split second early - seemed like even before the cross came in !
This caused the centre half to go up early and be back down while Alex was still up there picking his nose and waiting for the ball !
Him and Roy Vernon were incredible players
Andrew Clare
5
Posted 11/10/2016 at 16:09:45
When I was a boy Alex Young was the epitome of Everton. Class, pure class.A great team full of great players that played with style.
Chris Williams
7
Posted 11/10/2016 at 16:58:54
I'm looking forward to seeing this, especially the 'new' footage. Catterick must have been paranoid about people sussing his tactics but he's really buggered up the opportunity for us and younger generations to really see what the fuss was all about.
Hickson was my first hero, then Collins (and Parker, king of the slide tackle).
Then it was Vernon, Young, Harvey, Kay and Ball. I also loved Morrisey, but there were so many to choose from.
I grew out of heroes but loved Latchford Thomas McKenzie and Dobson (so cool and elegant he should have had more England caps).
My Dad was of the same view above about Sagar Dean and Lawton and he loved Mercer and Britton, but he always thought Vernon was the best of his type he'd seen since Alex James.
Really looking forward to this.
Mike Dolan
8
Posted 11/10/2016 at 17:42:15
He was such a great player on his day. He had absolutely majestic balance and ball control which seemed to mesmerize defenders. Mikel Arteta obviously a very different player when he was at his very best sometimes showed a little bit of Alex Young.
Alex was peerless in the air he seemed to float at times, or was that just my imagination, he also had an absolutely uncanny ability to drift into open spaces, he always seemed to have yards of space. He was one of those thoroughbreds that just seemed to glide effortlessly around.
A joy to watch in that era Young ,Vernon, Labone, Kaye (what a player he would have been), Wilson, Gabriel, Harvey, Kendall , Ball, Parker, Temple and on and on.
We're going back there guys I feel so optimistic about the future .
John Beyer
9
Posted 26/11/2016 at 22:23:43
I remember as a lad of 16, when Everton were known as The Millionaires Club, with John Moores's wealth as chairman bringing in top players to the club.
I worked on a milk round in the Magull area where a lot of players were given a new house as part of their contract. One Saturday, my milk float broke down in front of the house owned by the new Everton winger, Micky Lill.
As they had a game that afternoon, Lill, Vernon, and Gabriel gave me a hand to get the float out of the way of the drive. I was so excited, I forgot to ask for their autographs. Can you imagine that happening today?
That was the start of the great era, with Alex Young arriving. I am 73 now, living in South Wales, still following the Blues and hoping that new manager Koeman can bring back them great years.
Mike Kennedy
10
Posted 31/01/2017 at 12:59:47
Can anyone tell me where I can buy a copy of the DVD? I have asked at Everton shops and told they don't stock it and I emailed the club asking where I could purchase it and their reply did not point me in the right direction. They merely told me that they don't stock it! A very disappointing reply!
I couldn't even find it on eBay, which was where I bought The Golden Vision!
Add Your Comments
In order to post a comment, you need to be logged in as a registered user of the site.
Or Sign up as a ToffeeWeb Member — it's free, takes just a few minutes and will allow you to post your comments on articles and Talking Points submissions across the site.