Burnley defeat 'tough to take'

54 Comments [Jump to last]
Sunday 23 October 2016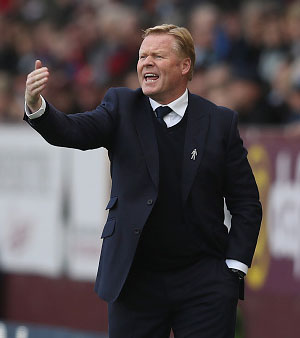 Chris Brunskill/Getty Images
Ronald Koeman was left ruing football's propensity to be cruel following yesterday's 2-1 defeat at Burnley.
Everton dominated the contest at Turf Moor but paid the price for a lack of penetration in the first half by going into the half-time break a goal down when Sam Vokes pounced on an error by Maarten Stekelenburg.
The Blues stepped up the pressure in the second half and levelled when Yannick Bolasie smashed home his first Everton goal in the 58th minute and they were heading towards what would have been an unsatisfactory but deserved point when Scott Arfield scored the winner in the final minute of the regulation 90 with what was Burnley's third shot on target all game.
"I'm very disappointed," Koeman said afterwards. "I think we deserved at least one point from today. We were by far the better team. 1-0 down, it's difficult against them [especially] at home... good defensive organisation, physically strong, good headers and centre backs.
"You need a lot quality and I think we [brought] that quality in the second half. We scored to make it 1-1 and then you expect to win the game. At least you expect not to lose.
"Sometimes football is very unfair. It's hard to take and a disappointment, of course."
"We started well and we had some good open shots in the box, also in the second half. There were a lot of defenders in the box trying to block the ball but I think we had enough chances, we had enough shots but only one goal and the productivity of Burnley is an example for everybody.
"That does not happen every weekend. We deserved much more than what we got today. We know we need to work hard to improve.
"Even at 1-0 down with 45 minutes to go, I think we had a good reaction in the second half. We played good football, we created and we scored a goal and even if we had one point we could be disappointed."
---
Reader Comments (54)
Note: the following content is not moderated or vetted by the site owners at the time of submission. Comments are the responsibility of the poster. Disclaimer
Ciarán McGlone
1
Posted 23/10/2016 at 12:16:39
We definitely had a lot of possession in the second half – I certainly can't agree that it was quality. Mostly sidewards and backwards.
Very few of our players were making or finding space. It was easy for them to defend against a team with little idea how to carve an opponent open.
Barry Pearce
2
Posted 23/10/2016 at 12:24:24
No excuses, we just weren't good enough to break them down. We have no game changers on the bench either. Barkley, Mirallas, and Deulofeu don't move the ball quick enough. They have been consistently average for a long time now.
Jack Convery
3
Posted 23/10/2016 at 12:33:32
We let ourselves down big-style yesterday but the ref did play a part in this result too. Arlfield should have been sent off before their first goal which he caused with his deflected shot. He then scores the winner!
I have to say I reckon the standard of refereeing this season has been in the main dreadful. Some of the decisions made have gone our way – the penalty vs Stoke for instance. But 11 v 10 is a totally different game, especially for over an hour.
This is not an excuse for yesterday; as I said on another thread, we are not good enough and we have too many players happy to pick up the dosh. I think some of them realise they are out come next summer and are going through the motions.
ps: I realise Coleman was lucky to stay on but the second offence doesn't happen if they are down to 10 men.
Paul Conway
4
Posted 23/10/2016 at 12:57:46
Jack Convery, (#3)
Don't say that to Koeman! He knows all about players who score the winner after they committed a foul which should have been a direct sending off.
Hoiland vs England, 1993 World Cup qualifier. Koeman scores a sublime free kick when he should have been in the bathtub, for a nasty foul. Result: England missed out on qualifying for the USA World Cup, 1994!
That said, what really infuriates me is when when hair-do Deulofeu gets the ball on the wing. He shows too much of the ball to the defender, in some cases slo- walking trying to make an eejit out of the defender... Result!... they regroup and man-mark and the only eejit left is the one with the silly hair-do!
Jim Hardin
5
Posted 23/10/2016 at 13:10:38
Barry,
Watched Mirallas in this game and others. When he gets the ball wide, he is looking for someone to pass to in the box, or to partner with for a combination pass. There is no-one in the box except for Lukaku, who is usually being doubled. Everyone else seems to be standing off with Mirallas or is even farther up field. The only time I see any options is when Kone plays like a second striker (not suggesting he start but he does give options when he is in).
You can see the frustration when Mirallas has to make a negative pass near the 18. He makes feints waiting for someone to run into the box, but then no-one does. I wait for him to attack in the box alone but it almost seems Koeman won't let him or the rest of the players (Rom excepted), since none of them seem to do it.
I am a huge Oviedo fan but his style of play is overlapping runs wide – not into the box. Only Baines seems to make the penetrating runs without the ball. In fact, Mirallas and Baines looked quite dangerous together earlier in the year on the left.
Are we starting to see the flaws in Koeman's managerial skills? Is he a decent defensive coach with less than a full clue on the offensive side perhaps?
Mark Morrissey
6
Posted 23/10/2016 at 13:39:36
There is not nothing wrong with Ronald Koeman. It's work in progress. It'll come good. Too much despondency all round. It's early days.
Colin Grierson
8
Posted 23/10/2016 at 14:04:54
I'm with Mark (#6) on this. It's way too early to start questioning Koeman's coaching ability. I suspect there are a fair few players who are playing for their future. We'll see who is up to the task.
I don't expect to see too much movement in January either. He said at the very beginning it will take 2 years until we see his team playing as he wants.
John Graham
9
Posted 23/10/2016 at 14:58:49
I think we are missing a bit of guile in the last third of the pitch. We need lots more from our attacking midfielders. It's not good them just putting in the effort, they need to be creating and taking chances so we don't have to keep relying on Lukaku. So Barkley, Deulofeu, Mirallas, Bolasie and whoever else need to get a few Man of the Match awards.
Ray Jacques
10
Posted 23/10/2016 at 15:21:04
Koeman should not be doubted, he needs a season to sort out the dross on the park. We all know who they are as we've suffered the spineless performances for the past two years.
Bill Gall
11
Posted 23/10/2016 at 15:36:16
We have been missing a player in midfield who has guile, experience, or vision or any other name you want to call a midfielder who can control and move the ball quickly to split a defense, for the last at least 5 years, but the problem is it seems it is only the supporters who see this deficiency in the team. Why can't the managers see this and do something about it?
Peter Fearon
12
Posted 23/10/2016 at 16:15:57
I cannot imagine what people would be writing on here if a Martinez side took two points from 15! I don't see a lot has changed. If anything we are worse.
Lukaku is still isolated. We are still putting in aimless crosses. We are still taking too much time to pass the ball. No guile. No creativity. Deulofeu is having all the ebullience coached out of him. Barkley always looks like he just lost a tenner and found 10p. None of them look like the result matters too much to any of them.
Koeman was watching a different match because he seems to think we deserved to win. To win, you have to have some penetration in front and we have none. A few more performances like that and we will be struggling to stay in mid-table. We need a strike partner for Lukaku in January.
Darren Hind
13
Posted 23/10/2016 at 16:22:52
Thought Oviedo made himself available on numerous occasions, but Mirallas seems to always dwell too long, either looking for the Hollywood ball, or wanting to take a man on, often checking back to do the latter.
Bolasie is even worse on the other side. I know it's clever to sometimes use other runners as a decoy, but Coleman will soon stop making those lung-busting runs to get around him if he doesn't start playing the obvious ball. On at least three occasions in the second half, Bolasie chose the wrong option and turned in-field when Seamus was free. Is it greed, or does he really not see him ? I had to take a close look at the end to make sure he wasn't wearing a patch over his right eye...
Only Baines and Barry actually play with intelligence. I know people are screaming out for leadership and steel, but right now I'd settle for just being better than stupid. Koeman must now realise he has inherited fifteen of the Premier League's thickest...
Brian Williams
14
Posted 23/10/2016 at 16:24:23
Peter. I don't know if it's a case of Koeman believing we deserved to win or the fact that he can't believe, like me, that we didn't. Burnley were poor, very poor, and we were lacklustre to say the least. With just a "little" more skill and guile, that would have been a stroll and that's what pissed me off the most.
If we come up against a really good side and get outplayed by better players, it's disappointing, but when we come up against a poor side and either can't work out how to beat them or can't be arsed, then that's what pisses supporters off.
It's not a case of giving Koeman time or waiting for another two transfer windows, yesterday was a case of not winning a very winnable football match. It was there simply for the taking and we COULDN'T do that and I find that hard to swallow.


Trevor Peers
15
Posted 23/10/2016 at 16:25:18
I'd sooner have Brenda than have Martinez back; whatever happens, that was a good sacking!
Koeman can't be judged yet, give him a year or two at least, after all the last calamity was given nearly three years.
Peter Fearon
16
Posted 23/10/2016 at 16:51:06
Paul Conway, The very last player who should be taking any stick for yesterday's humiliating result is Deulofeu.
When he does what you describe, he is either giving his own team mates time to get in the area or trying to force the defender to commit himself. That is his job and he is one of the few players we have who possess a high order of skill and talent. Bolasie, on the other hand, is all thunder and no rain.
Andrew Clare
17
Posted 23/10/2016 at 16:58:07
Once Koeman has weeded out the deadwood, which will take 2 or 3 transfer windows, we will be a totally different proposition. I'm sure he can see where the problems are and he will deal with them.
I'm afraid we still are about 5 or 6 players short of being a decent team. Unless of course these players suddenly click and make it work. It's happened before in 1984... and we know what occurred then.
Mark Melton
18
Posted 23/10/2016 at 17:50:59
Miraculously, it looks as if we are going to stay 6th. Other teams are slipping too, so all is not lost.
Jim Hardin
19
Posted 23/10/2016 at 17:58:16
Peter,
Just before the final whistle, the ball went to Deulofeu. He dithered a little and then did his usual run to the end line. I believe it was Coleman who made a cut to the inside and ran into the box calling for the pass from DelBoy. What did the Spanish ex-wunderkind do?
Yep, he ignored making the open pass and instead, did his usual run around the defender along the end line, finishing with a poor weak shot that dribbled into the side netting.
His Everton teammate was yelling at him and DelBoy did his usual "What me?" stare that he has, except when he is lambasting other players for what he perceives as their selfish or boneheaded mistakes. Sorry, he doesn't escape some criticism.
David Barks
20
Posted 23/10/2016 at 18:02:02
Jim,
And that is exactly the same thing happening when Bolasie has the ball and Mirallas has the ball. That overlapping run just doesn't get the rewarded pass. Instead, it is stupid stepover after stepover and 9 times out of 10, a defender wins the ball. Seems to be the game plan sadly.
Duncan McDine
21
Posted 23/10/2016 at 18:03:26
Hopefully this kind of "undeserved loss" doesn't become a habbit like it did for Roberto. When it starts to happen too often, then you can't bemoan your luck.
I'm happy to put this down as an unlikely smash-and-grab so long as we don't see a pattern emerge.
Mark Daley
22
Posted 23/10/2016 at 18:46:02
Lace Koeman's comments with a 'phenomenal' or two and they could have cone straight from our ex-manager!
But this is not work in progress. I don't see much work and I don't see any progress.
Meanwhile, the RS are top. The derby is going to be another spanking ceremony.
Mark Morrissey
23
Posted 23/10/2016 at 19:10:54
Yes we are wank and Koeman is on borrowed time BUT based on todays game where United were spanked by Chelski, Mourinho is shit, all the United are shite and Man City are shit because they were beaten by Southampton.
I cannot believe the level of despondency and disappointment. Many teams are going through transition and we are one of them. Pogba is playing shite every game, De Gea was rubbish today and I could continue but I won't.
Question is this: Would you take Pogba if offered? Would you take Mourinho as manager??? Would you want De Gea??? Come on, support Koeman, support the team. It will come good. It's just a matter of time.
A cheeky bid for Mata and Schneiderlin in January ???
Mark Morrissey
24
Posted 23/10/2016 at 19:29:11
I've told my daughter off. She told me Man City had lost... but apart from that, I still believe we will turn the corner. Keep the faith.
Patrick Murphy
25
Posted 23/10/2016 at 19:29:32
Have loads of posters on here taken out huge bets on Everton winning the league or have some at least put a heavy wager on finishing above the neighbours? If not, what is the reason for about 10 per cent of posts this season referring to how crap we are and how good are our neighbours???
If you are going to cite the neighbours, get your facts right – they aren't top, they are third in the table or to be generous share top spot with 2 other sides. I'll put my season ticket on eBay for the derby game seeing as it's a foregone conclusion, might as well get some money for it, it will help to fund Christmas... But hold on – football is a sport and not a science, anything might happen. Oh dear, now I'm conflicted, should I believe the doom mongers or stick by the team?
Everton's Points per game ratio in the last two full seasons was 1.24; at the moment the ppg is 1.67 – not a fantastic improvement but an improvement nonetheless. And if it stays at that level, the team that is crap and can't do anything right will get circa 64 points at the end of the season.
But of course, Koeman is another clown and his players are sub Premier League standard so I'd better prepare for a relegation battle whilst simultaneously gnashing my teeth about the affairs of the neighbours and their unstoppable march to honours. I have seen bad times at Goodison Park and have some terrible memories; this season so far isn't amongst them... but give it time, eh?

Phil Walling
26
Posted 23/10/2016 at 19:32:20
I don't think we are wank and that Koeman is on borrowed time but one thing is for certain, he ain't an inspirational figure like the Mad German over the road!
I see him as a cross between Moyes and Martinez. I'm just hoping it will be their good chromosomes that come to the top!
Darren Hind
27
Posted 23/10/2016 at 19:32:38
David Barks,
Exactly. What is it with the step-over and the drag-back? The check back to beat a man who was already beaten? Lukaku went straight for the jugular against Clichy and the result was devastating... but we learn nothing.
Barkley, Deulofeu, Mirallas, Bolasie and Lukaku himself were all back in 'fuck about' mode yesterday. They look like kids showing off in the school yard.
Drives me fucking nuts. Koeman needs to cut this out. Now.
Mike Allen
28
Posted 23/10/2016 at 19:55:27
One of those games when you just feel gutted but also very frustrated. Sideways and backwards because very little movement upfront; striker unwilling to challenge in the air or close down; full backs make good runs then stop pass back or sideways because they are so one-footed; same tried and trusted failures selected or brought on game after game. Some of the U23s should be getting more game time; the boss must have seen enough now to warrant some of them be given their chance.
The latest Niasse statement is degrading to all concerned if it's not football related and that bad that it has warranted unsavoury statements from the manager, why wasn't/hasn't the player been sacked? The situation has been handled very poorly.
Brent Stephens
29
Posted 23/10/2016 at 20:00:40
Jim #19 agree totally about Delboy. I also clocked the verbal lashing Coleman gave him for that "no excuse" failure to make the simple pass to Seamus, keeping the momentum going instead of seeing whether there's anything new at the end of that blind alley.
Jeff Armstrong
30
Posted 23/10/2016 at 21:24:08
You could see Barkley had been told to keep it simple, he took that instruction so literally that he kept doing that infuriating "wall" pass he does with whoever has knocked the ball to him.
There were a couple of occasions when a turn and quick pass forward would have been the much better option; instead he's playing with fear, fear of being dragged off, or dropped again.
He needs coaching into playing a more natural game, but without the hesitation and lack of quick thinking that has become his game lately.
Pete Edwards
31
Posted 23/10/2016 at 22:56:09
It's good old fashioned build from the back!
The defence is looking mean again in general, so I expect the 2nd half of the season (I hope anyway) that will continue but with a lot more threat up top.
Relax, people...Koeman will get us going again.
Dave Long
32
Posted 24/10/2016 at 00:31:29
Everybody's talking about the failure to give the overlapping runner the ball. I too saw numerous opportunities to lay off the ball near the box but Lukaku, Mirallas, Barkley or Bolasie would hang on to it too long.
There isn't a dynamism about our play; often it looks like a testimonial with a bunch of old guys showing off. Where's the quick one-twos, runs behind defenders, shooting accurately from outside the box?
Lukaku is isolated but doesn't work hard. No gambling a run at the near post, no pressing, but lots and lots of Magnus Pyke arms though.
Adam Rambow
33
Posted 24/10/2016 at 02:24:34
It was a winnable game, to be sure, and dropping points against the likes of Burnley will not help our chances for a top-6 finish. But this weekend I also saw Man City with their billion-dollar payroll drop 2 points at home to Soton, and old Jose and Zlatan get walloped by Chelsea. I am guessing their fans are not amused.
Don't get me wrong, I am not satisfied with Everton's performance yesterday. But when the bigger teams also drop points, it means we can stay in the race at least.
David Barks
34
Posted 24/10/2016 at 02:39:14
Micheal and Lyndon,
Why don't we try this at the start of the season. Create a poll or send an email to every registered user asking where they expect Everton to finish in the coming season. Use that to creat a consensus so we can "fairly" judge the team accordingly.
And we can do that right now to set the expectations for the rest of the season. If the consensus is 10th, then sadly that will show where the fan base is, at least on his site. If the expectations are 5th-6th, then we can judge accordingly. And that's where the user believes we should finish, what they expect as an Everton supporter.
John Daley
35
Posted 24/10/2016 at 03:00:21
"...asking where they expect Everton to
finish
in the coming season. Use that to creat a consensus so we can "fairly" judge the team accordingly."
What exactly would be the point and what purpose would it serve when people rush to make their 'fair' judgement 29 games prior to the team's finishing position actually being known?
David Barks
36
Posted 24/10/2016 at 03:17:01
Because John Daley, in response to the poor results over the past month, yesterday many people excused the loss saying Koeman needs 18 months to shape the team, and that 9th or 10th is a realistic target. I happen to find that completely unacceptable, but apparently a good number of Evertonians will be happy with 10th this season, just one place better than what got Martinez sacked.
John Daley
37
Posted 24/10/2016 at 03:51:33
Again, how can you judge a team against a predicted finishing position fucking months away from actually knowing what that finishing position is going to be? It's nonsensical.
You believe a manager, no matter the state of a club and it's playing staff when he takes over, should be able to magic up an instant turnaround and suffer no setbacks along the way? You must do? You've been whining on about everyone elses 'expectations' being lower than Bad Grandpa's ballsack and Koeman falling short ever since the full time whistle went on the first game of the season, when you claimed a point against Spurs was utter pish.
If you would like to start things off on the Evertonian Early Doors Expectometer, at the start of the season where did your 'ambitious' arse expect Everton to be after 9 games?
David Barks
38
Posted 24/10/2016 at 04:06:06
Okay, John Daley, how about being a quarter into the "fucking" season and being knocked out of the League Cup by a lower division side being unacceptable, considering this same "fucking" squad almost reached the FA Cup Final last season?
And we should be able to judge this team the same way Mourinho is being judged at Man Utd. Also, you and others keep getting stuck on this as a judgement on the manager, when I'm judging the entire club. This summer and the lack of substantive signings was in my humble opinion poor. Last week's Moyesesque parking of the bus and lucking into a point with the other side failing to convert not one but two penalties was not my idea of improvement from last season. And losing to Burnley, not winning for quite a while now, is not what I expect from this squad and this club.
Yes, a team can be judged along the way. Just as the manager has seen fit to judge Barkley negatively. Or is it also unfair there as well?
Where I expected Everton to be with a new owner and the promises of a new era was to be challenging at the top of the table, and to not accept losses to the likes of Burnley. We started off well, and then have had a major fall off, despite having a very easy start to the season. We have yet to play Chelsea, Man Utd, Arsenal, Liverpool, Leicester... We relied on a missed penalty turned own goal to beat Stoke, and beat a floundering Sunderland and promoted Boro, losing to Burnley and Bournemouth. We lost to Norwich in the EFL Cup.
So, are we meeting your expectations? Why don't we start there?

John Pierce
39
Posted 24/10/2016 at 04:51:12
Koeman cannot hide behind his results based on his own brand of honesty and earnest assessment of others. Expectations must be higher, 6th or above from myself and the strongest of cup runs.
We've spent two season knocking around the deadbeats, and many with their heads only just above water. If you want Everton to finish 10th then get BBS back.
By extension, bringing Koeman in and signing 4 first-team players tells me the board expect much more, not 2/3 windows to sort the deadwood, trim the fat crap sentiment
It's not unrealistic, or demanding to expect a club of our means and stature to finish that high. Whilst Evertonians are sadists, doom mongers and all that, it's almost self-sabotaging not to set a high bar for our club, hold it to account promptly and with rigour.
Take Lukaku: like him or lump him, the lad's goal record is amazing. If we don't hold the team to account, we lose him for sure next summer.
We stand no chance of buying someone with that record or players who would consider a move because of Lukaku's record.
If you want a mid-table, mildly exciting hobby to watch, then be my guest. I'm done with the patience, I expect more than 5 games without a win, losing to three family nicey nicey clubs along the way.
Expect more and make it known, results like Saturday are completely unacceptable.
David Barks
40
Posted 24/10/2016 at 04:59:32
John Pierce, well said.
John Daley
41
Posted 24/10/2016 at 04:59:33
"Where I expected Everton to be with a new owner and the promises of a new era was to be challenging at the top of the table"
So, because we had a new owner you suddenly expected Everton to be going all Brewsters Millions and blowing other teams out the water during the transfer window just gone? Why? Because the media made out the club had £100m they were absolutely desperate to throw at it?
Once the transfer business was out the way and knowing the sum total of the squad strengthening (which clearly you weren't satisfied with), you didn't adjust your 'expectations' accordingly? Like you would expect the same results/performances regardless of whether the squad was stuffed to the brim with new star signings or the same stale old shite? Standards that, lad.
After watching, in the main, the exact same players regularly fail to perform for the past two seasons, you still expected us to be challenging right at the top of the table? Instantly?
Not very realistic expectations all round then, were they?
"So, are we meeting your expectations? Why don't we start there?"
My expectation in the summer was that no manager, no matter who it was or where we found him, would be walking into Goodison waving a big magic wand, flicking fairy dust over dog shit and having us lap it up like it was a chocolate eclair. My expectation was that it couldn't possibly be an instant fix and there was bound to be disappointments along the way.
Honestly, I wouldn't even begin attempting to judge a manager less than ten games into his tenure. You may think 'time' is some luxury no new manager should be entitled to but it's an absolute necessity when you're trying to restore confidence, imbue some spine, improve fitness, and knock bad habits and deep rooted failings out of a squad of individuals who have consistently fallen short in the recent past.
Where we are after ten games gone isn't a sure fire portent of the entire season being gash from now on out, just as it wouldn't be a reliable indicator of an incredible season to remember if we were currently sitting top right now.
David Barks
42
Posted 24/10/2016 at 05:26:44
John Daley,
Did you miss or intentionally neglect where I said I'm not focusing on the manager, judging the manager, but am talking about Everton as a club? Just curious, "lad".
I'm not seeing that massive impact from the new manager or the new Board. Nowhere did I say the season is over. But what has been shown so far, not what I expected or what I believe to be acceptable. There has been a lot of talk about a defensive foundation, yet I see us giving up soft goals more as the season goes on, not getting better. We gave away two penalties last week, and two incredibly soft goals this week. By this point in the season, the manager has had plenty of time to shape this team.
I'm all for giving a manager time, but to meet what expectation? What is expected from the manager? He's paid a hell of a lot, and it apparently cost a hell of a lot to get rid of the last guy. So I would presume that the expectation would be that the results would be a hell of a lot better, no?
Moshiri took over the club last season, not in the summer. He's had a lot of time to assess, and apparently he judged the precious manager's 11th place as unacceptable and was willing to pay around £10 million to get rid. But what I haven't heard is what is expected. At Spurs a new manager doesn't mean judge after a couple of seasons. Nor does it at Liverpool, Chelsea, Man Utd, or Man City, (apparently Arsenal couldn't care less).
So what is this club's stated ambition, and what is the ambition of the supporters? I personally would expect us to be taking it to the likes of Spurs and Liverpool, considering that when Liverpool made their managerial change we were above them in the table, as I was reminded so often after the derby draw last season when I said it was a terrible result.
And Spurs? Moyes had us challenging with them every season, sometimes above them, sometimes just behind them. I'm actually longing for the Moyes era expectations at this point, to challenge for a top 4 place. And if a new manager requires time to adjust, then I would imagine we should expect to challenge Man Utd and Chelsea too, right? Since they have new managers and obviously will need time to grow into the position and shape their teams as well?
Richard Lyons
43
Posted 24/10/2016 at 07:24:41
At least 4 posters here have used the word "guile" – and they are, in my opinion, all correct: guile is, above all, what we are lacking.
I think Tim Cahill had guile, perhaps Arteta as well, but no-one in this current team has enough of it. It's what a player like Teddy Sheringham had in bucket loads (although I didn't really like him, but that was mainly because of who he played for...). It's guile that unlocks a defence.
Sadly I can't imagine who might be available in the transfer market to fill this void; are there any youngsters showing promise in this line? If so, they need to be in the first team/squad right now!
John Daley
44
Posted 24/10/2016 at 08:35:20
David @42,
I didn't ignore it, David. In the opening paragraph, I explicitly asked you why you expected "a new owner" buying into the club would result in us tearing up the opposition and instantly challenging at the top of the table, and why you would believe all the media guff about the board being ready to spunk a Godzuki-sized wedge in the transfer window. I even used a quote from your own post referring to  the 'new owner' and 'promises of a new era' to highlight precisely what I was addressing. 
In the end, though, it will always come back round to the manager because ultimately what you're expressing disappointment with (and aiming exasperation at other fans for failing to follow suit) are the results: "in response to the poor results over the past month", "how about being a quarter into the "fucking" season and being knocked out of the League Cup by a lower division side", "not accept losses to the likes of Burnley". 
Overall, there's little point to what you're saying as far as I can see, other than 'I want more. Right now. No matter whether it's reasonable or there's any grounds to actually expect it'.
'I was in a terrible temper when I left Turf Moor, but that easily pleased Evertonian, 'the amazingly ambivalent Spider-Man' couldn't give two shits':
In one breath, you say the manager has had long enough to mould the team exactly how he wants it – a mere 14 weeks after walking through the door – whilst in the next you're declaring "I'm all for giving managers time". Clearly, you're not. Or do you honestly see no contradiction there?
You point the finger at the manager again when you dismiss the claims that he may have improved the defence somewhat because we're now conceding too many 'soft goals'. Even though we've got the second best defensive record in the league so far.
As for the 'a Spurs manager isn't judged after a couple of seasons' stuff? What's that all about? They're not ultimately  judged after 9 games are they and, if they were to be, it wouldn't be seen as a sign of their supporters 'ambition' or superior expectations. It would (or at least should) be written off as the sort of knee-jerk, insta-gratification, social media driven gobshitery the game has become steadily infected with, by most football fans with a modicum of patience and their head screwed on.
The whole 'well, Moyes regularly held his own against Spurs' argument has little merit also. The Spurs team and manager of today are a vastly different proposition to those they had back then. So too were Everton under long serving manager Moyes, come to that. Spurs were a team lacking any long-term consistency, often in transition, swapping out managers and large numbers of their squad every couple of seasons, whereas Moyes had stability on his side, knew his squad back to front, and had plenty of that overrated "time in charge" shite safely stashed in his stay-creased action slacks.
If you wanted to make the claim that Everton, as a club, allowed Spurs to sneak up from behind, crawl all over them and leave them trailing in their wake with a gob full of tatty web dangling from their disappearing into the distance arse, perhaps by hiring Martinez and sticking with him until his reign descended into farce, or by failing to supply anywhere near the same amount of funds to the man in charge, then that's a different matter altogether.
You focused on Moyes and his time in charge. On the manager. Again. ("The first rule of The Football Club is: You do not talk about The Football Club. You talk almost exclusively about the manager .and then claim you're not talking about the manager, but the football club as a whole").
What else? Oh yeah. Liverpool being behind Everton at the time when Klopp took over and now look at them! Well, what about it? Surely, it would be more relevant in this instance to go back and see how he was cracking on after 9 games under his belt?
Then finally the claim that Everton should now be on an instant equal footing with Man Utd and Chelsea because they've got new managers too. Like the quality of the players already in those squads, sat waiting when their new managers walked through the door, along with the vast amounts those clubs have spent in previous years, prior to the last transfer window when Everton's "new era" began in earnest, shouldn't play any part at all in determining or explaining the possible differing expectations of those clubs? 
Ciarán McGlone
45
Posted 24/10/2016 at 09:20:00
There is merit to both sides of this skirmish.
While we undoubtedly need to give Koeman time, as fans we are entitled to critique the team and manager on a game-by-game basis.
Certain behaviours shouldn't take two years to correct – unless you are trying to teach a bunch of dimwits.
These are not crap players, and neither are they dimwits. They've shown in patches this season that they can take instructions and play decent football.
That instruction now appears to have been abrogated... And we are entitled to query that.
Andrew Lum
46
Posted 24/10/2016 at 10:23:36
I totally agree with Darren (#13). The poor decision-making and attempts at flashy football are extremely frustrating to watch.
Not sure why Koeman took off Gueye for Cleverley. We lost our shape and tempo immediately. Cleverley was like a headless chicken out there!
Koeman mentioned a lot about pressing, and I find it puzzling he overlooks Aaron Lennon who is all about energy and pace.
Stan Schofield
47
Posted 24/10/2016 at 11:18:00
Seems to me we're not alone in showing inconsistency and uneven progress at the moment. Witness Chelsea, Man Utd and even Man City.
Some posts on here refer to Liverpool doing fine. Yes, but when Klopp took over, he wasn't doing any better than Rodgers at first, and it's only now they're looking half-decent, but with remaining weaknesses in defence.
Surely nobody is really expecting massive improvement over last season? Improvement, progress, yes, but not massive improvement. I'll take massive improvement if it's there, but I'm setting my expectations more realistically.
We seem to still be lacking mentally, but it's not as bad as last season, so there's progress there. If this progress doesn't continue as the season progresses, then I'll be concerned, but not yet. I'm disappointed by recent results, but not concerned (not like I was last season).
Phil Walling
48
Posted 24/10/2016 at 11:33:03
Seems a very good season to get our act together. Sadly .
Everton Wint
50
Posted 24/10/2016 at 13:52:00
A bit of perspective, fellow Evertonians. We are 6th in the table. The so-called joint top Red Shite who are so brilliant going forward and scoring for fun, scored, sorry just remembered, oh they lost at Turf Moor and didn't score.
We're 5 points behind the leaders with 14 teams behind us. I'm disappointed but satisfied with our position after ¼ of season, but I want to see improvement and better performances all-round. Also, I believe Koeman will change our whole team eventually.
Calm down – we're doing okay... even though we are crap and always lose the games that put us right in the mix. COYBs.
Jim Burns
51
Posted 24/10/2016 at 14:43:28
Phil @26 – inspiration comes in many guises – and jumping up and down like a demented ferret with something jammed up its arse doesn't inspire everyone.
Jim Burns
52
Posted 24/10/2016 at 15:14:55
Saturday's defeat was of course frustrating – not least for those of us who had to endure our Lancashire distant cousins' mindless drooling from a few yards away. However, some of the complaining on here regarding Koeman borders on the ridiculous.
We are nine (9!) games into his tenure. We have conceded the joint fewest goals in the Premier League so far this season apart from Spurs, and we are only 4 points from a Champions League slot – with a net spend way below most of the teams above us.
Most observers last season were rightly critical of our defensive chaos – conceding an average of 1.4 goals per game (it actually felt worse than that). This season so far, we have conceded an average of just under 1 goal per game in the Premier League.
If we accept that Koeman's main priority was to steady the ship and stop it leaking, I'd say a 50% improvement in that area is already good, steady progress.
We all know we need more fluidity upfront and to score more goals, and many would agree more striking options is the next priority.
Like I said – nine games in, and for some the canal bank is already jammed with people ready to jump. FFS – it's a two-year project – get real.
Steve Brown
53
Posted 24/10/2016 at 15:48:15
I agree, we as Evertonians are entitled to criticise the team on a game-by-game basis, but to be passing any firm judgement on Koeman after 9 games is not sensible. And to claim as one or two did on Saturday that he should be binned and replaced by Eddie Howe or Unsy is borderline deranged.
No-one is saying give Koeman 2 years to produce a team, but equally perhaps longer than the 4 months and 10 days he has been in charge.
Franny Porter
54
Posted 24/10/2016 at 16:04:37
I feel for Ronald Koeman to a degree, he is on a hiding to nothing when he has to pick two of Mirallas, Barkley or Deulofeu. Not one of those three has played three good games on the trot since signing for us, never mind this season, but sadly his hands are tied. The replacements for those three are Cleverley, Lennon, Kone, and Valencia... doesn't exactly get the pulse racing, does it?
I would like to see Davies given a bit more game time but perhaps playing him alongside Barry and Gueye would make us even more defensive-minded when we don't have enough creativity as it is.
(As an aside, I don't know if anyone plays Football Manager but I started a new season as Everton yesterday on the latest version of the game and my head scout suggested that I signed "Free Agent Leon Osman" as the squad lacked creativity!)
Chris Williams
55
Posted 24/10/2016 at 18:47:49
David @57...
Do I detect irony?
Tony J Williams
56
Posted 25/10/2016 at 12:30:28
" It would (or at least should) be written off as the sort of knee-jerk, insta-gratification, social media driven gobshitery the game has become steadily infected with, by most football fans with a modicum of patience and their head screwed on"
Congratulations, you have won the internet today...
Gobshitery I will be unashamingly stealing this from now on.
Add Your Comments
In order to post a comment, you need to be logged in as a registered user of the site.
Or Sign up as a ToffeeWeb Member — it's free, takes just a few minutes and will allow you to post your comments on articles and Talking Points submissions across the site.