McCarthy suffers fresh injury with hamstring tear
Monday 24 October 2016

69 Comments [Jump to last]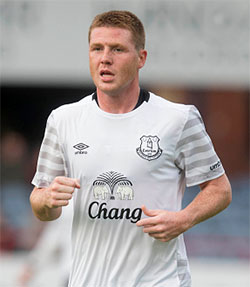 James McCarthy is facing more time on the treatment table after suffering a torn hamstring in training last week.
The Irishman has missed five weeks of the season already following a groin operation and while he returned to the side as a substitute against Manchester City the weekend before last, he was missing entirely from the squad that travelled to Burnley on Saturday.
That has raised the issue in Ronald Koeman's mind of McCarthy being rushed back into action by the Republic of Ireland after just three training sessions after his surgery.
Earlier this month, the Blues' manager said Martin O'Neill and the Irish international setup were in danger of "killing the player" by playing him in both World Cup qualifiers in the space of four days.
Koeman said the midfielder had been "massively overloaded" by Ireland when he returned to Finch Farm after the international break, with McCarthy's latest breakdown apparently bearing that assessment out.
---
Reader Comments (69)
Note: the following content is not moderated or vetted by the site owners at the time of submission. Comments are the responsibility of the poster. Disclaimer
Chris Williams
1
Posted 24/10/2016 at 16:34:49
So McCarthy has done his hamstring again. Out 3 weeks...
Shane Corcoran
2
Posted 24/10/2016 at 16:50:15
Hopefully he'll be back for the Austria game.
David Greenwood
3
Posted 24/10/2016 at 17:19:24
Shane, I'm pretty sure Martin O'Neill will be looking at some form of compensation from Everton for injuring his player on club duty...
Anthony Hughes
4
Posted 24/10/2016 at 17:44:26
I couldn't care less about him playing for Ireland, we need him back fit and available for us.

Jay Harris
5
Posted 24/10/2016 at 18:19:05
So McCarthy has torn a hamstring and will be out for at least a month.
If we don't give a top show against West Ham who are just returning to form the knives will be out and the players and manager will really start to feel the pressure.
Something seems not right after our flying start.
Geoff Evans
6
Posted 24/10/2016 at 18:23:05
Jay: Maybe it was the flying start that didn't seem right. Normal service know resumed.

Mick Davies
7
Posted 24/10/2016 at 19:15:57
Jay, thanks for that news on McCarthy, seen nothing elsewhere about his omission from the bench. Shame really as he's the only 'nasty' player we have that shows any aggression. I just wish our players weren't so nice. Jags should be a Kirby cleaner salesman and not captain of EFC.
Tony Hill
8
Posted 24/10/2016 at 19:46:17
Shame about McCarthy - I start to fear for his longer term career. Besic too, of course. The decline of one player and the general unavailability of the other, both due to injury, have been big blows to us. McCarthy in 13-14 was a major reason for our success.
Ian Bennett
9
Posted 24/10/2016 at 19:58:08
I can only assume McCarthy's injury came from being rushed through two Ireland games with zero fitness. If that is the case, himself and O'Neill need to answer some fairly big questions from Everton.
Oliver Molloy
10
Posted 24/10/2016 at 20:19:03
Mick,
On McCarthy you say:
"He's the only 'nasty' player we have that shows any aggression "
Barry, Besic, Williams, Funes Mori, even Coleman are fairly aggressive are they not, and Barry can be nasty if he needs to be.
Dave Pritchard
11
Posted 24/10/2016 at 20:26:04
Where's Gibbo these days? (Rhetorical question)
Geoff Evans
12
Posted 24/10/2016 at 20:43:56
Dave (#11): Who?

Frank Wade
13
Posted 24/10/2016 at 22:21:54
Oh dear, only three months and he's beginning to talk in riddles like the previous incumbent. McCarthy played a couple of games and played well within himself at that. He was fit to play, lacking match sharpness but playing in the World Cup for Ireland was important to him.
He came back, trained for 5/6 days, a short cameo against City, then at some stage over next week, pulls a hamstring in training. How can that be possibly be attributed to the Irish? He arrived fit, not match fit but left fit, further along in his recovery with match time under his belt. If he was struggling when he returned, he should have been managed properly with proper recovery. Do we have a Cryotheraphy chamber like Leicester?
Hamstring injury in training six days after playing against City with no reaction to his groin problem, sounds like overtraining to me. Hard sprinting with tired muscles causes thus type of injury. If he was 'killed' by the Irish, why oh why didn't Koeman go easy with him in training? We will need him fit when Idrissa goes to the AfCon in January.
Shane Corcoran
14
Posted 24/10/2016 at 22:24:19
Quite possibly O'Neill overplayed him but, at the same time, he returned to Everton fit and Koeman brought him on against Man City. It was a groin injury that he had and now it's his hamstring.
By the way, where's the quotes or links to this story?
I googled it and the "killing" thing seems to be from two weeks ago. Might we be jumping the gun here?
Shane Corcoran
15
Posted 24/10/2016 at 22:26:01
Or what Frank said.
Michael Kenrick
16
Posted 24/10/2016 at 22:30:35
I've added a link to The Guardian story, Shane. But you're right... they don't actually include any "killer" quotes.
Can you put up a link to the older story?

Patrick Murphy
17
Posted 24/10/2016 at 22:39:38
He [Koeman] added: "You hope something like this would be solved by the understanding of the doctor of the Ireland team or the manager of the Ireland team. They asked him if he was ready to play. It is very difficult for a player to say no because he is in Ireland. I like to have a lot of international players because it is a very good experience for every player. But sometimes, in several cases in fact, you like to have a little bit more understanding for a player who has been out injured for five to six weeks. Play him for 45 minutes, 60 minutes, but not 95 minutes after five to six weeks out, the second time 80 minutes! You are killing the player."
Oliver Molloy
18
Posted 24/10/2016 at 22:57:17
I saId at the time I agreed with Roy Keane when he said you listen to what the player is saying – I was wrong!
Koeman is saying that McCarthy probably felt under pressure to play.
I do think it was madness for O'Neill to play him for almost the entirety of the two games in the space of three days when he was just coming back. I agree with Koeman that O'Neill has shown a lack of respect to Everton.
Let's hope Everton have learned from this and next time we tell Ireland to feck off if any of our players are in doubt.
Mick Davies
19
Posted 24/10/2016 at 23:52:27
I got slated on here for suggesting he shouldn't be playing international games after just coming back from surgery.... looks like I was proven correct.
Eddie Dunn
20
Posted 25/10/2016 at 00:14:43
I also commented originally on his appearances for Ireland and Koeman's reaction at the time. Hopefully clear info will come out before we can slag off the ROI staff or our own medics. I did say at the time that I didn't think that leaving the "final decision up to the player" was a good idea.
I thought he had played his way into our starting line up at Turf Moor, and was perplexed as to his omission. Our loss.
Eugene Ruane
21
Posted 25/10/2016 at 00:19:42
Just saw Tarashaj's goal for Frankfurt in their away win against Hamburg (never miss Bundesliga highlights on ITV 4).
He was cool, assured, showed great technique and buried it giving the keeper no chance.
Thankfully, we've got loads of players like that so could afford to loan him out.
What?
Mick Davies
22
Posted 25/10/2016 at 00:26:07
Eugene @ 21, I think we've all seen how much better Rom plays alongside another striker, so sending this lad out and getting benchwarmer Valencia in is baffling.
Frank Wade
23
Posted 25/10/2016 at 01:03:26
My post in 13 above was based on the original post which quoted RK as saying the Irish had killed the player. If that was the previous comment, when the player was away with Ireland, that's fine. The original post has now been changed and there is no mention of Koeman blaming the Irish management on the 'new' hamstring injury.
Apologies for my 'semi' rant in 13 above. I was mislead. Hopefully this will allow Tom Davies get a bit more game time and be in a position to compete for Idrissa's position in January.
David Barks
24
Posted 25/10/2016 at 01:31:05
Wait just a minute. Did Koeman not bring McCarthy on in the 57th minute last weekend against Man City?
If he was bitching and moaning about him playing too much for Ireland, how was he able to play for us last weekend?
Darren Hind
25
Posted 25/10/2016 at 05:14:15
Mick Davies.
I too share your frustration at McCarthy playing for Ireland. Nothing against Ireland (I prefer them to England), I just feel we lose so many players to injuries they picked up, or have aggravated on international duty.
It seems to me, that more and more English people (particularly, in my experience, Scousers) have lost whatever love they may have felt for their own national team. Many of us never felt any to begin with. Fans and players of other nations seem to be passionately patriotic in comparison, I guess Macca falls into that category.
He wanted to play for his country. We don't have to like it, but we do have to accept and respect it.
Much as I enjoy seeing Irish/Welsh/Scottish passion, I've hated our players going out on international "duty" since 1986.
Big Nevs injury possibly... probably, cost us the double
Brian Wilkinson
26
Posted 25/10/2016 at 06:13:07
Darren@25, have to disagree with "probably cost us the double", change it to "definitely cost us the double" that season. Bloody Landsdown Road pothole blessed our spawny neighbours a reprieve and fair play, they took it with open arms.
Kunal Desai
27
Posted 25/10/2016 at 07:36:24
Oh well. Probably will return just in time for the opening of the January window and get himself another club. Just watch... there will be no hamstring tears then.
Easy for managers to use the 'injury' excuse when players are either out of favour or no longer want to play for a manager.

Paul Conway
28
Posted 25/10/2016 at 07:36:26
With all this talk of 'Le Ballon d'Or', I am wondering will I ever see the day (I am 60 now!), that one or two of our players will ever reach even the list of nominees...
Right now, after the West Ham game, I will be happy if any of them make Garth's 'Team of the Week'.
Tony Abrahams
29
Posted 25/10/2016 at 08:28:39
Good point that, David, until you realise that James McCarthy is, first and foremost, an Everton player?
Les Martin
30
Posted 25/10/2016 at 08:40:30
Ronald vindicated!
Shane Corcoran
31
Posted 25/10/2016 at 09:56:41
I suppose ultimately it's impossible to say whether the new injury has anything to do with him playing the amount of time he did for Ireland.
I do think, in may amateur opinion admittedly, that O'Neill should have protected him by leaving him out of the Moldova game but it seems odd that Koeman would have then risked him in the next game.
Liam Reilly
32
Posted 25/10/2016 at 10:00:22
Doesn't say whether its a Grade 1, 2 or 3 Hamstring injury, but the word '
torn
' as opposed to strain would suggest the latter.
If that's the case, then it could require surgery and rule him out for months; which won't leave much time to impress Koeman before the undoubted shake up in the summer.
Shame; I'm in the pro McCarthy camp and believe he can get back to the player he was during his first season at the club.
Ray Roche
33
Posted 25/10/2016 at 12:12:55
Brian Wilkinson (#26),
Brian, on the face of it we all agree:- Mimms cost us the double; however, Southall was injured with ten League games to go. Of those ten games, we won six, drew two and lost two. Mimms kept six clean sheets and the two draws were both 0-0. You could argue that if we'd scored more goals we'd have cruised the League, after all, we lost it by two points. Losing to Oxford... that was the real bummer, as well as losing at Luton.
So, it's a bit disingenuous to slag Mimms off as being the reason we didn't collect our third Championship in three years when a lack of goals against Nottm Forest, Man Utd, Luton and Oxford is the real reason.
Peter Roberts
34
Posted 25/10/2016 at 12:23:16
I can just imagine McCarthy telling MON and Keane "feeling a bit tired and sore - don't fancy playing tonight" .
cue Martin O'Neill slamming a water bottle down wearing his skin tight tracky bottoms and his adidas world cups (his reminder that he was a player once)... he would then look downwards angrily and talk about how he played 5 times in 3 days under Brian Clough on no more than a half time orange and deep-heat.
Roy Keane - will be staring through him like he is looking at something 5000 yards away lowering his voice menacingly "you are an example of what is wrong with football today James you need to ask yourself whether you want to be a footballer.. playing for the Republic of Ireland is an honour (forgetting that he walked out on them in Japan)"
So James played and is now injured smashing.
Brian Denton
35
Posted 25/10/2016 at 12:40:26
Ray (#33) I never thought Bobby Mimms cost us that Double. We were so obviously superior to every other team in 85/86 - we cost ourselves the Double, in a way that probably only Everton could (plus RS pact with Satan).
Paul Conway
36
Posted 25/10/2016 at 12:46:20
Peter Roberts (#34),
I don't know how the hell Roy Keane was allowed back into the Irish camp? He totally deserted them over the training ground being like a car park and it was too hard. There was problems with the kit arrival. What a load of bollocks, as if he never played on a hard street and in a bib!
He was walking on water for Man Utd at the time and was farting well higher than his arse. The sorry part is Ireland lost a one-goal lead against Spain in the quarter-finals, which they well might have preserved had Mr Hyde been on the park. They were beaten on pens.
That was the most wide open World Cup I have ever seen as the remaining teams were all playing shite. They will never have a better chance... Not in my lifetime!
Ray Roche
37
Posted 25/10/2016 at 12:47:47
Brian, it must count as one of the greatest disappointments for any Evertonian.
David Connor
38
Posted 25/10/2016 at 13:23:01
We need to get rid of these crocks that we are collecting at our club. Gibson, McCarthy, Kone, Besic and dare I say it even Baines is starting to come into the crock category. There can be no room for sentiment; if we want to built a competitive squad, you can't carry too many players that are hardly ever fit.
Draw a line under them, get them sold and move on. Any team can have these type of players, I know, but we seem to have too many of them. Simple as that.
Peter Roberts
39
Posted 25/10/2016 at 14:50:09
Paul Conway (#36)
The whole issue was Keane and his ego
He was being managed by SAF and who was Mick McCarthy to tell him what to do? He didn't like him and that was it.
As you pointed out, it wouldn't have been the first time he played on poor pitches but he was so used to flying first class with fellow world class players and now all of a sudden he didn't fancy tarnishing his "rep" playing with a load of hard working Joe Averages on the big stage.
He felt he was above the whole ROI set up. His phony tears when getting through against Italy didn't kid me – he doesn't love his country – he loves only himself.
Dave Abrahams
40
Posted 25/10/2016 at 14:53:37
I hope James gets over this injury and is soon playing again. I'd like McCarthy to stay at Everton but, if there is any truth in the story he wants to leave, I wouldn't mind a straight swap with someone like Mata of Man Utd who could be the playmaker we are crying out for.
Christy Ring
41
Posted 25/10/2016 at 15:33:01
Peter (#39). The country was divided over Keane & McCarthy in Saipan. Flying 16 hours in economy, and the FAI officials in first class, was an insult; that was one of many incidents.
I remember Raul clashed with Clemente, and he told the manager what he thought of him, and where to go, with plenty of expletives. Did Spain send their best player home?. NO. The FAI should never have let it get that far.
Shane Corcoran
42
Posted 25/10/2016 at 15:55:29
Nothing like going over Saipan again.
Paul (#36) and Peter (#39), Keane has his problems no doubt, but he sat down with McCarthy before the tournament in 2002 with a view to emphasising how well Ireland could do if they prepared properly.
They arrive in Saipan to prepare and it's a joke of a set-up. The gear hasn't arrived. This is what it was like playing for Ireland and it was the last straw for Keane. He didn't leave. He gave an interview from Saipan saying what happened and that that tournament would be his last. McCarthy hauled him into a team meeting and questioned him in front of the whole team, and suggested that he feigned injury in the playoff against Iran, despite an agreement that he would only play one leg.
Sure he could have put up with it and on and on we go. But he snapped and was happy the whole thing was done with for him.
Peter Roberts
43
Posted 25/10/2016 at 16:35:12
Two days before that squad meeting and the supposed 'faking injury' accusation Roy Keane had already decided to go home. He clearly outlined the reasons why he wanted to go in his autobiography.
Personally I'm not bothered – it says a lot when his fellow teammates like Holland and McAteer thought his complaints were very petty. Holland said Keane was moaning straight from the start of the trip.
Shane Corcoran
44
Posted 25/10/2016 at 16:57:10
Had he? I read it twice and don't recall that. He decided to go home and then gave an interview saying that it was his last tournament?
No, I don't think him moaning says a lot. It says that he's a moaner. Guilty as charged.
Mike Berry
45
Posted 25/10/2016 at 18:20:30
Presumably he will be deemed fit by Ireland. Do Everton get compensation for this?
Christy Ring
46
Posted 25/10/2016 at 18:52:43
Peter (#43),
Nowhere in his book did he say that. As for agreeing with the Muppet McAteer, enough said. The saddest part was Quinn, and Staunton, his fellow players sitting with McCarthy at the press conference.
Paul Conway
47
Posted 25/10/2016 at 19:38:56
Lad's, whatever the issue was, two wrongs don't make a right. He had gone through the whole qualifying campaign with the rest of the team. They reach their destination and everything is fucked up by a petulant frenzy. It could have been put on the back burner until after the World Cup.
he was representing his Country. I mean it wasn't like someone tried to chat up his Mrs... Or worse! Although the guy was a great player, he wasn't exactly an ambassador for Ireland like Brady! ... That Haaland grudge tackle after 4 years of simmering just shows what kind of a character he is.

Peter Roberts
48
Posted 25/10/2016 at 19:47:52
Keane apologised to McCarthy since... something he normally wouldn't do even if he was majorly wrong... like ending a player's career.
Personally I think ROI fans looked to agree with Keane because of his status as the only world class player they had.
Mick Davies
49
Posted 25/10/2016 at 19:52:42
Darren @ 25, I've got nothing against him playing for his country, but to just come back from surgery and play 90 mins then 81 mins in a few days is scandalous. His first games should have been gradual introductions: we all know he plays at maximum speed, so to put him in a situation like that for so long beggars belief.
Paul @ 28, Tim Cahill was nominated a few years ago.
And as for the Southall/Mimms argument, it did have an effect on our season, but so did Linekers missing boots

Darren Hind
50
Posted 25/10/2016 at 19:54:14
Not sure where anybody got the idea that Bobby Mimms is being "slagged off" ... Nobody comes remotely close to doing that.
Mimms was a fine understudy... but who amongst us thinks Rush would have scored that equalizing goal had Big Nev been in goal? When Rush got a toe to the ball, he was taking it past an good goalkeeper. He was not taking it around the finest one-on-one keeper ever.
Good goalkeepers come out and narrow the angle. but when Big Nev came out he would eclipse the goal. He would come out like a charging rhino perfect positioning, lightening speed, immense power.
No one blames Mimms... no crime in not being Neville Southall.
Paul Conway
51
Posted 25/10/2016 at 21:32:04
Maybe this comment is going to make me run for the hills... We have a player who was involved in a drink driving fiasco. Who seems to be prone to injury!
I am not saying that McCarthy drinks alcohol... but I am saying that any footballer who likes more than his fare share, can become very prone to injury, as alcohol does affect the joints and hinders the healing process of any muscle/joint/cartilage injury...
Next post from East Timur!!
Laura Round
52
Posted 25/10/2016 at 22:21:37
Slightly off topic.. Better be careful Sunday.. if either Barry or Gana get another, yellow they'll miss Chelsea away.
Tony Abrahams
53
Posted 25/10/2016 at 22:23:32
Lineker not packing his old boots cost us the league, and a combination of a poor Gary Stevens pass, and a rash substitution by Howard Kendall, cost us the cup final. Have to agree with Darren, and believe Southall, would have got to Rush, and stopped him nicking the ball around him, but who knows?
The worst ten days I have ever had watching the blues, and I will go to my grave, after at least a thousand arguements, believing we were the better team.
In some ways, Oxford, was worse than Wembley, where I don't think I've ever witnessed a more nervous crowd, and after enjoying the first half of the Cup Final, I began to get the horrors at half-time when thinking about how fucking lucky that those bastards actually are.
My biggest wish before I do go to that grave? We get to inflict a bit of pain ourselves, in a really big game, and see how bitter those phoney bastards really are when they don't get their own way against us!
Dave Abrahams
54
Posted 25/10/2016 at 22:34:10
Tony (53) "My biggest wish before I go to my grave."
Tony, don't go yet, we haven't got you insured!!!
Tony Abrahams
55
Posted 25/10/2016 at 22:44:16
Do you mean, Don't go yet, Dave? Don't worry about insurance either, just throw me in the water by Bradley-Moore Dock... Who knows, the noise of the crowd might just wake me up again?
John Daley
56
Posted 25/10/2016 at 22:45:10
"I am not saying that McCarthy drinks alcohol"
You're suggesting it though. The fact the suggestion was made in a sort of 'I put it to you...', Inspector Clouseau style of chucking a case together, doesn't change that.
"Gibson is injury prone and obviously likes a couple of scoops, as shown by him re-enacting Death Race 2000 down the 24hr. McCarthy has been injured a lot the last couple of years as well, hasn't he? Think about it. Eh? Eh? BING! There you go. Now you're catching on".
Fritzl fucking loved a Frappuccino. I was forced to drink one last week. Should I be waiting on tenterhooks for the police to start twatting my door down, demanding to take a tour of my basement?
Shane Corcoran
57
Posted 25/10/2016 at 22:54:17
Peter (#48), you're wrong with your comment on Irish fans agreeing with Keane.
Paul (#47), he had a short fuse, he'd had enough and didn't walk out. He decided to retire after the finals.
Ray Roche
59
Posted 25/10/2016 at 23:05:33
Darren Hind (#25),
Maybe "slagged off" was a lazy response, although "slagged off" is certainly an accurate description of the criticism levelled at Mimms on some threads in the past.
Like everyone who witnessed Nev in his pomp, I regard him as the finest keeper I've ever seen, and that includes Schmeichel. Although there will no doubt be far more footage of HIM than there ever was of Nev, he was, and remains peerless...
I just think that memories tend to gain a rosey tint over time. I mean, we conceded more goals in the last 10 games Nev played that season than we did in Mimms's 10-game stint. The difference is, as Tony (#55) and myself earlier point out, it was the forwards' lack of goals in the run-in that duly cost us the League and not "Big Nev's injury possibly... probably, cost us the double".
The FA Cup Final, well, give me Nev on a one-to-one any day. His presence in THAT game would have made all the difference.
Tom Bowers
60
Posted 25/10/2016 at 23:24:04
Macca is a strong player on his best form and Everton could have done with him being back right now. With the eternal sicknotes, Gibson and Besic, being unavailable, there has been no competitiveness for the defensive midfield roles.
Gana and Barry need resting now and again but, with Barkley showing indifferent form, I would have considered Tom Davies for a place or moving Seamus up, with Holgate coming in at right back.
With the lack of wins in recent weeks, every game is becoming a cup final and one hopes that Koeman gets it right for the next game against the Hammers.
Denis Richardson
61
Posted 25/10/2016 at 23:34:20
McCarthy, Besic, Gibson.
Three for the January sales...
Mick Davies
62
Posted 26/10/2016 at 01:07:25
Dennis @ 61, that's a good idea; leave us without any midfield backup for the 2nd half of the season...
January 'sales'? Who would buy Gibson with his injury record? We probably wouldn't get much for Besic either.
Eddie Dunn
63
Posted 26/10/2016 at 08:50:20
When Gibson comes back, he will be like a new signing.
Shane Corcoran
64
Posted 26/10/2016 at 10:03:25
Darron's birthday yesterday. 29. One for the future.
Rob Dolby
65
Posted 26/10/2016 at 11:05:37
McCarthy would be in my team all day. We need more energy and aggression in the midfield. Gana can't do it all on his own. We can only play one of either Barkley, Mirallas or Deulofeu as it puts too much pressure on the rest of the team as they can't be bothered to defend.
The problem is that we obviously wanted to get shut in order to get Sissoko in; otherwise, why would Moshiri come out with that drivel on TDD???
Playing two games for the ROI is his choice though it hasn't done him any favors with Koeman. Roll on January when the DoF can unearth more hidden gems like Bolasie.

George Cumiskey
66
Posted 26/10/2016 at 13:02:35
Why do people think we can get rid of the dross in the next window? If they have a long contract and on good money, why would they move on? I don't think it will be as easy as some people seem to think.
Brian Furey
67
Posted 26/10/2016 at 17:35:22
More importantly, George, who are we gonna get in to take their place?
We saw in the summer how hard it is to sign new players and come to a club like Everton who are not in Europe, haven't won a trophy for 21 years, and are miles away from London. It's so easy to say "get rid of so-and-so" but not so easy to replace them with better players. Look what we paid for Bolasie and what we were offering for Sissoko.
Jon Cox
68
Posted 26/10/2016 at 18:51:10
Sorry, Michael and Lyndon and EE, but just to say (off topic) I think the smart money is on a whole lotta guile heading home before too long.
You could call it the return of the Prodigal Son...
Ian Bennett
69
Posted 26/10/2016 at 19:14:02
Denis (#61) – it depends who he can get in. The summer proved that Football Manager style signings are easier said the done – so expect 1 or 2 signings at most.
Dan Egerton
70
Posted 27/10/2016 at 09:40:34
Finally someone to take the MOTM awards away from Gibbo in our treatment table XI.
---
Add Your Comments
In order to post a comment, you need to be logged in as a registered user of the site.
Or Sign up as a ToffeeWeb Member — it's free, takes just a few minutes and will allow you to post your comments on articles and Talking Points submissions across the site.