Lukaku praises pal Bolasie's "striker's instinct"

70 Comments [Jump to last]
Monday 31 October 2016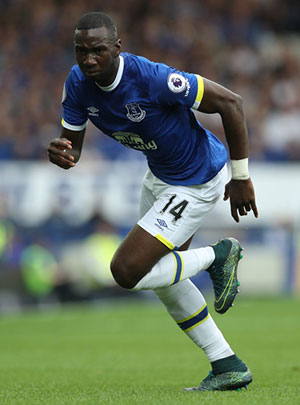 Romelu Lukaku pin-pointed Yannick Bolasie's improving instincts in the box for his now-customary goal against West Ham United yesterday as Everton got back to winning ways.
The Belgian was interviewed alongside the other goalscorer on the day, Ross Barkley, after the 2-0 victory at Goodison Park during which he notched his ninth goal in nine games against the Hammers and his 50th for the Blues in the Premier League.
Bolasie, the club's big summer signing from Crystal Palace, has laid on more goals for Lukaku than anyone else so far this season but his assist yesterday came not from the wing but quick reflexes after goalkeeper Adrian could only parry Seamus Coleman's low drive.
"It was a good move by the whole team," Lukaku told the cameras after the game about a player with whom he has become close friends given their shared Congolese roots and ability to communicate in Lingala. "Yannick is getting that striker's instinct so I'm very happy for him to get another assist. It's a good win for the team and now we have to keep going.
"Yannick has done well but, like the manager has said, we need to be more collective as a whole group. We have a lot of quality up front and especially in defence, and if we score more goals then we'll get more wins."
Lukaku has made an impressive habit of scoring in every game he played against West Ham since joining Everton on loan in 2013 and he was asked if he particularly enjoyed facing the Hammers.
"I just want to win," he said, suppressing a wry smile. "Today that was important and we did it. Now we have to continue and improve."
The win keeps the Blues in the top six with 10 games played and a difficult trip to Lukaku's old club Chelsea next up on the calendar this coming Saturday.
---
Reader Comments (70)
Note: the following content is not moderated or vetted by the site owners at the time of submission. Comments are the responsibility of the poster. Disclaimer
Geoff Evans
1
Posted 31/10/2016 at 13:41:09
Great to see that Lukaku and Bolasie seem to have struck up an understanding.
John Malone
2
Posted 31/10/2016 at 14:10:07
Get real!
It was the only thing Bolasie done all game and it was a fluke! That tackle come cross could have ended up anywhere!
Bolasie has lot to prove to live up to that price tag, but it is early days in a blue shirt so I will reserve judgment until the end of the year but up to now he has not overly impressed a bit McGeady-esque for me!
Jamie Barlow
3
Posted 31/10/2016 at 14:34:15
4 assists and 1 goal in 8 games isn't terrible. Definitely want him to score more though. Probably should have 2 but Rom robbed him of one. Maybe.
Regarding the "fluke" assist. He was sharp and when making the challenge, he definitely wanted the ball to go across goal so wasn't a fluke at all.
I like him so far.
Sam Hoare
4
Posted 31/10/2016 at 15:15:23
John @2. Definitely not a fluke. Working hard and being alert and sharp in the box pays dividends. Doesn't mean you'll score everytime but that doesn't make it a fluke when you do.
I'd give Bolasie a solid 7 our of 10 so far. Would possibly be more were it not for the inflated price tag which to be fair is not his fault at all. He works hard, beats his man regularly and gets a fair few balls into dangerous areas. Scoring or creating a goal every other game is a pretty good return so, if he keeps that up along with his work rate, then I think most people will be pretty chuffed.
Liam Reilly
5
Posted 31/10/2016 at 16:07:11
I thought he played well after the side got a foothold in the game and to suggest it was a fluke is utter nonsense.
Ajay Gopal
6
Posted 31/10/2016 at 16:21:59
Bolasie must make every defense in the League nervous when they come up against him. He and Lukaku and Barkley could potentially form a fearsome attack. If they were backed up a world-class playmaker – Mata, Hazard, Payet, Eriksen, Silva, Cazorla, Sigurdsson all come to mind – we would be ready to go head-to-head with the big boys.
Kevin Elliott
7
Posted 31/10/2016 at 16:28:09
Wouldn't be ToffeeWeb if someone didn't piss on the chips.
If he hadn't have got to it, we wouldn't have broken the deadlock.
I'll take the three points, fluke or not.
Chris Gould
8
Posted 31/10/2016 at 16:38:08
If he continues this form and assist rate, he'll finish up with about 16 league assists this season. That would be a fantastic return.
Stan Schofield
9
Posted 31/10/2016 at 16:47:42
Some keep going on about Bolasie's "inflated price tag". For me, I'm not at all interested in how much Everton paid for him, which is a business decision. I'm interested only in how he performs, and so far he's doing fine.
He certainly puts fear into defences, and can create havoc. Anyway, in my view, a price tag is inflated only if nobody is willing to pay it. But we did, so it's not.
Les Martin
10
Posted 31/10/2016 at 17:01:55
Bolasie can make things happen out of nothing, and that can turn stalemate into a goal. As you can read, Rom is pleased to have him and so should we. I think if Bolasie gets into a central role to shoot then he will score.
Being at Goodison Sunday, I was watching the pre-match shooting warm up and he hit the target with nearly every shot, far more than Rom.
Calm down and relax – he will be the business.
Phil Davies
11
Posted 31/10/2016 at 17:06:49
I find him to be the most frustrating player we have. He's got unbelievable ability but tries to be far too flashy, trying stupid flicks and knocking the ball out of play.
For large periods of the game yesterday, he didn't show up but he always seems to have at least one moment a game where he creates something big.
James Flynn
12
Posted 31/10/2016 at 17:22:27
Bolasie's a peculiar duck we'll have to get used to. Does great thing, followed by giving the ball away for no apparent good reason.
He's big, fast, skilled, strong as an ox, and takes defenders on. For sure, they (and their managers) fear him. Not exactly Delboy or Mirallas is he?
A good signing for me.
Have to add, hahahahaha in response to, "it was a fluke!". That rush for a loose ball and flick-on was exactly the thing Bolaise can and will do.
Tony Abrahams
13
Posted 31/10/2016 at 17:30:02
Phil (#11), I know what you mean, and sometimes feel as though Bolasie himself, doesn't know what he's going to do next. I thought he did brilliantly for the first goal yesterday though – sharp, brave and alert, and I'm pretty sure he knew what he was doing when he created it.
Lukaku is the player who frustrates me the most, quite simply because he doesn't always do enough to get the team playing off him. For the last half-an-hour yesterday, he was strong, made space for himself and his team-mates, and became a focal point for the team.
No co-incidence that Everton, looked a much better team going forward, when Romelu, decided to really play?
Laura Round
14
Posted 31/10/2016 at 18:16:04
Hopefully he can carry on helping Rom on Saturday. We all know Rom will turn up ready Saturday. He likes to show them what they're missing.
Mark Morrissey
15
Posted 31/10/2016 at 19:01:50
Nobody else in our team would have been able to get to that ball and then have the speed and skill to knock it across to Rom, nobody. Gerard Deulofeu and Super Kev may come near but that is what Bolasie gives you.
I don't care if he then fucks about for a bit. He loves playing and more importantly he loves playing with Rom. I'm made up we signed him.
Worried about our midfield for the Chelsea game with Gueye missing but it's not all doom and gloom and I'm hoping that Ross continues to build his confidence.
James Morgan
16
Posted 31/10/2016 at 19:29:18
His stats by the end of the season will no doubt better what he has done at Palace previously, not bad considering moving to a new city to play under a new manager at a new club.
It wasn't a fluke at all, he showed more hunger than anyone to get the loose ball and make sure his tackle-pass (I've just created a new word) got to Lukaku.
If he was to get nigh on ten assists plus six or seven goals by the end of the season, then I would consider that quite successful.
Paul Tran
17
Posted 31/10/2016 at 19:39:37
As I said when we signed him, he's big, strong, powerful with a bit of attitude. He'll improve playing for a better coach in a better team. He will frustrate at times but, for me, he's got more presence than Mirallas and Deulofeu put together.
Mike Green
18
Posted 31/10/2016 at 20:12:14
Yep, he's not perfect but I really like him. He was all over that move like beans on toast; had he not been – no goal. End of.
We need more players like Bolasie who can change games and make their own luck instead of wandering around navel-gazing like they're lost in the supermarket.
Joe O'Brien
19
Posted 31/10/2016 at 20:29:38
Not a chance was that a fluke, John @2. He was lightning quick to spot that ball and get it back to Rom. Never stopped working and great that he's got a good relationship and understanding with Rom already.
I like the way that Rom wants him to get into goal scoring positions. 1 goal 4 assists so far and you think he's McGeady-esque? It's time for you to get real, I think.
John Malone
20
Posted 31/10/2016 at 21:05:34
Take that one cross out of the game and what else did he do?
How many quality dangerous crosses did he throw into the mix?

How many shot's on target did he have?
How many nice through-balls did he play?
Look, I'm not writing this guy off by no means as he definitely has shown some qualities and, like I said, given a bit more time to settle in the squad, he could become a real asset.
My point is at the moment he is really hit or miss – just like McGeady was, one minute something quality; next, very unpredictable and poor!
I know the price tag is not his fault but, when you pay that kind of money for a signing, I expect quality and consistency and I have not yet seen a lot of that!
Colin Metcalfe
21
Posted 31/10/2016 at 21:17:12
Spot on, John, for £28M, I was expecting a lot more from this guy. Speaking to a mate of mine who follows Palace, he said he plays decent against the so-called lesser teams but struggles against the Sky Six. I guess the top teams have better quality full backs and can pretty much keep him quiet.
Roll on next Saturday to see what he can do against Chelsea .
Neil Sagar
22
Posted 31/10/2016 at 21:17:40
Where would we be in the Premier League without him??? We play more defensively under Koeman which means we need attackers who can score from play whilst being outnumbered. IMO, he's a quality addition who is a top-four type player and a regularly source of goals for Lukaku.
Brian Harrison
23
Posted 31/10/2016 at 21:41:36
At the moment, he will delight as well as frustrate, but he has pace and power and I am sure, the longer he spends with Koeman, his overall game will improve.
He will take time to settle into a new club playing with new players; as Koeman said when he signed him, he will have to improve his goals-per-game ratio.
Laurie Hartley
24
Posted 31/10/2016 at 22:06:03
Brian (#23) – "pace and power" indeed. He can also cross a ball from either wing and shoot.
He moves across the turf like a thoroughbred.
Watch the replay on the official site. Their two defenders hesitated for a split second and he was on to it like – Alan Whittle!
If you haven't already guessed, I really rate him.
Brent Stephens
25
Posted 31/10/2016 at 22:07:39
Whether or not Bolasie knew where that ball was going from his tackle, his sheer determination to get to that ball was immense.
Chris Hockenhull
26
Posted 31/10/2016 at 22:14:11
Love the Alan Whittle link, Laurie!
I know EXACTLY what you mean!!!
Brian Williams
27
Posted 31/10/2016 at 22:32:32
Comparing Bolasie to McGeady is ridiculous and a real insult to Bolasie.
Okay, he's not totally consistent but he's done more in 10 games than McGeady did in two or three seasons.

Peter Gorman
28
Posted 31/10/2016 at 22:34:13
Bloody hell John, cheer up. Worth the price tag or not, surely everybody at least finds him entertaining – you know, what we started watching football for in the first place.
James Flynn
29
Posted 31/10/2016 at 22:55:29
"A bit McGeady-esque for me!"
"He is really hit or miss – just like McGeady was, one minute something quality; next, very unpredictable and poor!"
Hahahahaha.
To start, you'd have to divide his accumulated minutes so far by 5 or 6 to begin a comparison with McGeady's time in the side. Then we'd have to serve him breakfast, lunch, and dinner at Burger King for a month before he can even LOOK like McGeady.
He hits, he misses, he keeps attacking. Defenders fear him and for good reason.
Comparing him to McGeady. You really are a funny guy.
Loko Sanchez
30
Posted 01/11/2016 at 01:01:06
He is miles better than McGeady, slightly more accomplished than Deulofeu boy and probably on par with Lennon. Not as good as Pienaar in his prime but good to have in the team.
Mick Davies
31
Posted 01/11/2016 at 02:42:02
"Then we'd have to serve him breakfast, lunch, and dinner at Burger King for a month before he can ever LOOK like McGeady."
Had to laugh at that, nice one; though I can see what John and others mean. McGeady hardly played but scored and got a few assists. He cost 7 times less than Bolasie but at times, it's hard to see a difference. Bolasie reminds me more of McFadden though: bags of ability, but looks as though he's forgotten how to use it sometimes.
When he has time to make decisions, he seems to dither and mess up, but when instinct kicks in – like the lightning attack on the parried shot on Sunday – he can create chances from nothing.
I'm hoping he improves as he settles in, but we have the right to expect more from our joint record signing in the coming months – or he may find himself at Preston!!!
Darren Hind
32
Posted 01/11/2016 at 04:21:18
Made a complete twat of himself on Sunday. That attempted "rabona" will see him ridiculed by those who love "Football's Funniest Moments" DVDs – forever. Why would you do such a daft-twat thing when you know the nation is watching?!?
Anyway, I have a foot in both camps here. The guy can be explosive and exciting. He does have my arse sliding involuntary towards the edge of my seat when he gets the ball... but he was right at the front of the queue when The Lord was handing out Dafttwatishness... He often plays like he's 12. The drag backs, the rolling the ball under his feet, the half-witted matador pose when he stops it in front of a defender... WTF is all that about ?
I'm my opinion this guy could be great, I mean proper "Great". He has the skills, the pace and the power...
If he's going to act like he's 12, make him stay behind after training every day and write "I must get my delivery in" 1,000 times.
Or, better still, make him watch a DVD of the season the Latch netted 30 league goals. Tell him to ignore Big Bob, force him to concentrate on the winger with his socks rolled down. Do this every day after training until the penny drops.
Lukaku thinks it's great playing with Bolasie? He would have thought it was Christmas every Saturday if he played with Dave Thomas...
Phil Sammon
33
Posted 01/11/2016 at 05:03:30
How blinkered and spiteful do you have to be to claim his assist was a 'fluke'?
He pounced on a loose ball that he had no right to get to and fired it straight across goal. I don't know how anyone can try and dismiss his efforts.
He does lose the ball sometimes when taking people on, I think you'll find that most wingers do. He has flair and eccentricity, things you need to have to beat defenders. If you don't want that then let's get Tom Cleverley on the right wing and pass from flank to flank without any penetration whatsoever.
If Bolasie was at the 'front of the queue when The Lord was handing out Dafttwatishness' then you must have had a good chance to chat to him while you waited in line, Darren.
He messed up a 'rabona' in the attacking third. Big bloody deal. As you say, 'he could be great... he has the skills'. You'd rather he kept them to himself and played in constant fear of looking daft?
Laurie Hartley
34
Posted 01/11/2016 at 05:58:34
Darren (#32) - great post BUT
"but he was right at the front of the queue when The Lord was handing out Dafttwatishness.."
That could be taken as a compliment but a big call either way – anyhow, I can't disagree with the rest of your post.
One thing's for sure – he isn't lacking in confidence.
Coincidentally, the first player I ever saw doing a rabona kick in an actual game was, believe it or not – Alan Ball.
Lewis Barclay
35
Posted 01/11/2016 at 06:32:49
Our team lacks creativity and Bolasie effectively made a goal from a dieing situation on Sunday. I'll take that for now, definitely. Let him keep trying all the other stuff that doesn't come off while he's making goals.
The Chelsea away game feels like it will be the first one to really measure where we are this season.
Ernie Baywood
36
Posted 01/11/2016 at 06:44:31
No doubt he's got ability, and does seem to come up with something decent every now and then in games. I've decided I'll just judge his success on his stats, which at the moment aren't too bad.
I don't think I'll ever warm to him though. Strikes me as someone who lacks all the qualities of a good clubman. That rabona attempt was disrespectful to just about anyone involved in the match. The sort of bloke I would have hated in my playing days.
My tip is that he'll come up just short of being good for us because he'll never care enough to give his very best and his character will fail him when it matters most.
Ian Jones
37
Posted 01/11/2016 at 07:03:22
Just one thing – I still don't believe assists are a great stat to measure a player by.
The pass before the assist, such as a defence-splitting pass to the one doing the assist, or the player taking two or 3 defenders away creating space for the assist and goal, is just as important.
Whether Bolasie meant to cross the ball in that manner or whether it was a fluke, who cares. He saw a loose ball, took a chance, and dealt with it the best he could. 1-0. Job done. The point is, he was there.
I guess if we had conceded a goal like that, we would have complained about our static defence. No-one marking the centre forward etc!
I guess West Ham were just caught out... shame! :)
Andy Meighan
38
Posted 01/11/2016 at 07:04:47
Can't see how anyone can say that was a fluke assist. I thought it was brilliant awareness myself because he had a few yards to make up.
Also, I haven't forgotten his part in Lukaku's goal against Man City – a brilliant flick that completely took the defender out.
As James (#11) said, he's frustrating but has got unbelievable ability. Still early days but so far you can't knock his assist rate.
Dave Abrahams
39
Posted 01/11/2016 at 09:11:29
I think Darren was half-right when talking about Bolasie's daftness:
He was in the queue when God was giving out heads, but he thought God said 'beds', so he said to God "Can I have a nice big soft one please".
Back to the argument: I think he will please us and frustrate us in equal measures – a bit like Peter Beagrie.
John Hughes
40
Posted 01/11/2016 at 09:29:06
No way was that pass a fluke. I was sat Row B Lower Gwladys Street – he went for the ball, not to tackle – it wasn't a fluke at all; it was a deliberate attempt to cross the ball, and he did! Lukaku obliging with the finishing touch!!!
Stan Schofield
41
Posted 01/11/2016 at 10:20:21
Darren @32: You ask why he would do 'such a daft thing' as a rabona when the nation is watching?
My answer is that, in everything, when you are very good at what you do, you can be comfortable with mistakes, because they are more than countered by the successes. If players and teams didn't try things that might not come off, football wouldn't (in my view) be worth watching.
I find such attempts a sign of confidence, like Barkley's Penanka against Newcastle last season. If they don't come off, it's disappointing (and it can look a bit daft), but if they do come off, it's great.
Ernie Baywood
42
Posted 01/11/2016 at 12:51:31
Not convinced, Stan. It wasn't an attempt to beat someone with skill. It wasn't Coleman against Cazorla. He was on his own with time and space doing something that made absolutely no sense. He changed a 99% chance of simply controlling the ball to a 90% chance of fucking up... on the basis of trying to look a bit flash.
I'll celebrate his goals and assists as much as the next blue, but he's a bit of a cock isn't he?
Tony J Williams
43
Posted 01/11/2016 at 12:57:56
"He was on his own with time and space doing something that made absolutely no sense."
Gonna have to agree with this. It wasn't as if he was using this to try and get past a man, he was unmarked and did end up looking like a bit of a twat.
Thomas Surgenor
44
Posted 01/11/2016 at 13:09:49
Fluke? There's a famous golfing quote: "the harder I work the luckier I get".
Stan Schofield
45
Posted 01/11/2016 at 14:13:46
Ernie and Tony, I don't think he's a cock or looks a bit of a twat. I remember Alan Ball doing some delightful but strictly unnecessary ball playing, and it was just a reflection of how good he was and how well he was playing. Similar with Alan Whittle when he scored loads of goals in the 1969-70 league title season.
I recall a dribbling run he made on the right wing, and he was juggling the ball as he ran. I don't think he needed to do it, strictly speaking, but it was fantastic and rammed home how superior we were in the ball.
John Daley
46
Posted 01/11/2016 at 14:42:43
At least when something doesn't come off for him, or goes tit's up, he doesn't seem to let it affect him in the slightest. Unlike some in this squad, he seems capable of just shrugging it off and is willing to go again immediately.
Tony J Williams
47
Posted 01/11/2016 at 15:12:39
Stan, I love a little bit of showboating.
Like Coleman a few seasons ago screaming down the wing playing keepy up.
However, something came of it and it looked good.
Bolasie, in that moment, looked a twat and his sheepish grin afterwards would seems to suggest he thought so too.
Good enough, he got on with it, but everything has its time and its place, there was absolutely no need for him to try that when and where he was. The potential for looking a twat increased exponentially
Lo and behold, he looked a twat afterwards
Brian Harrison
48
Posted 01/11/2016 at 15:53:56
Thomas (#44),
The golfer's name you were looking for was Gary Player. An American journalist said to Player after his round did he think he was a bit lucky with his score. To which Player replied "You could be right because, the more I practice, the luckier I get!"
Stan Schofield
49
Posted 01/11/2016 at 16:40:10
Tony, OK, I see what you're saying. Sometimes it doesn't work, and he can look a twat. But overall, I'm happy with that, because he's not afraid to look a twat, he's got the confidence to try unpredictable things, and I think that frightens defenders. I think the way he flicked the ball (from Gana) to Lukaku in the Man City game was great, he made Stones look a twat.
I always liked Duncan McKenzie, even though his messing about with the ball didn't always produce results. He frightened the opposition, and he could make them look stupid. Like he did with Tommy Smith in that semi-final against Liverpool (where we were robbed). The way he trapped the ball from a goal-kick, and flicked it over his head, turned, and left Smith for dead, wonderful.
I think Bolasie has similar attributes. In fact, we have a number of really good ball players, and if we gel as a team, that ball-playing could mean we not only win but do so with style. There are signs of that, sporadic at the moment.
Mick Davies
50
Posted 01/11/2016 at 18:16:03
Stan,
I find such attempts a sign of confidence.
What would have happened if the West Ham throw-in had led to a goal? It's not confidence at all, it's a sign of an individual trying to gain kudos at the expense of his team.
I hope Koeman has had a go at him for that, as he should have been trying to get the ball into the danger area. I've personally had enough of Mirallas and Deulofeu looking after themselves and not playing for Everton; I'd expect more than personal tricks from a record signing.
Peter Gorman
51
Posted 01/11/2016 at 18:18:38
Tony, yeah I find Bolasie's complete lack of precognition infuriating. If only he stuck to showboating (which apparently some footballs fans enjoy together with entertainment, both of which I have little time for, preferring as I do to just read the results off teletext) when it was absolutely guaranteed something would come of it.
In future I hope he never tries anything flash (i.e. twatty) ever again and just sticks to jogging around the pitch, avoiding the ball where possible.
Tony Abrahams
52
Posted 01/11/2016 at 18:20:02
Good point, Mick, because for the next 4 minutes, after Bolasie, messed up, West Ham, had the ball in our half.
Stan Schofield
53
Posted 01/11/2016 at 19:00:17
I'm not too fussed about whether the signing is record or not, that's for the businessmen. I'm only interested in the football.
And I quite like a bit of fucking around with the ball. Just the right amount, not too much, not too little, kinda goldilocks fucking about. The kind that entertains, which is what the whole fucking thing is supposed to be about.
Darren Hind
54
Posted 01/11/2016 at 19:19:09
Phil Sammon,
If being in the queue where they were handing dafttwatishness gave me the insight to know that, although Dave Thomas had about half the tricks Bolasie has, he was twice the player... I'm glad I was in it.
If being in the queue where they were handing out dafttwatishness, gave me the ability to distinguish the difference between genuine skill and a painfully embarrassing attempt to do what every schoolboy does when he fucks about with his mates... I'm glad I was in it.
If being in the queue where they handed out dafttwatishness made me realise that there is a very clear difference between a player confident enough to execute a genuine piece of skill for the good of the team and a silly selfish fucker trying to get on Soccer AM's showboating slot with no regard for the team whatsoever... Guess what? I'm glad I was in it.
I guess it could have been a whole lot worse. There but for the grace, I could have been in a different queue... The one which was populated by cheap point scorers who would argue against such logic... The one where they were handing out undiluted dumbfuckery.
Laura Round
55
Posted 01/11/2016 at 19:46:06
Report from Mail Online: ''Bolaise has provided four assists for his Everton team-mate so far this season, making the duo the most prolific partnership in the Premier League, with their contributions helping the Toffees into 6th place with 10 games played.''
I like him. Definitely think he will thrill and frustrate – as we were warned he would. Enjoying watching these two together.

Terence Beresford
56
Posted 01/11/2016 at 20:47:19
Laura. Spot on
Jimmy Sørheim
57
Posted 01/11/2016 at 23:18:20
I am very happy about Bolasie as I see him as a great replacement for Steven Pienaar who we desperately needed replaced.
Now I want us to get Yarmolenko and Strootman then we are ready to become a top 4 side!
Mick Davies
58
Posted 02/11/2016 at 00:39:28
Stan @ 53.
And I quite like a bit of fucking around with the ball
I suppose you were happy with Martinez then, and Stones pissing about in his area, Howard and Osman conspiring to give Sunderland an unexpected away win, Howard again almost getting Barry a leg break on his debut etc?
Successful sides play to win, not to show how clever the individuals are.
Ernie Baywood
60
Posted 02/11/2016 at 02:10:52
I think everyone likes to see a bit of skill, Stan. Were Seamus's keepy-ups necessary? No, but he was beating a player and demonstrating our dominance and confidence in that game.
I want to see players try to break games open, happy to see them try something outrageous when we're comfortably ahead.
Again, Bolasie's moment was none of the above. It was "look at me freestyle" stuff.
Strangely, that seems to have crept into the current generation at all levels. The trick has surpassed the performance. Youngsters are seemingly happy to lose looking good. I keep seeing it while coaching kids, and also when I end up playing against teams of lads in their early 20s. They watch those F2 Freestyler type shows (Google it) and think that's the aim.
In my day, we did that stuff in the parks, but not on the pitches.
Darren Hind
61
Posted 02/11/2016 at 05:38:32
Laura
You don't need The Guardian, you have proved you are a knowledgeable fan. Think about these "assists":
Two of them were tackles and one of them was actually Bolasie's goal. None of them came from a dragback, a rollover, or a daft schoolboy trick. In fact I'm really struggling to remember when Bolasie actually showed he had the skill to pull off these "gimmicks".
He is not Magic Duncan Mac, he doesn't have dazzling feet. He has pace, power and an ability to cross the ball. That's what I want to see. He can and should be top draw.
It's all very well people saying they want to see these tricks... but you need the players who have the ability to pull them off. Repeated failed attempts only frustrate fans and teammates in equal measure.
Bolasie may think he is magic Duncan but he isn't.
Laura Round
62
Posted 02/11/2016 at 08:25:18
Darren, it was the Mail... haha. I don't care about the tricks but I'll tolerate them. I like his pace, commitment and so far I'm happy with his work rate. And as much as Rom can frustrate me, we need him. They seem quite the partnership at the moment. Can't hurt. :)
Paul Tran
63
Posted 02/11/2016 at 08:33:22
Darren, it worked against West Bromwich, when he left Evans for dead from a standing start and against Sunderland for Lukaku's goal. It doesn't work enough and he'll never be a Duncan or Dave Thomas.
The tricks are useful against a packed defence, but not on the break, where I agree with you that he's more effective using his pace and smacking the ball into the box. Might be good if we got more people into the box for him to aim at.
Ernie Baywood
64
Posted 02/11/2016 at 08:55:51
Agree Paul. I figure that Seamus and Ross would be criticised for dithering if they looked up, saw Rom stood outside the box, and didn't cross it. In the meantime, I suspect that Bolasie that would happily cross it and admire his own delivery.
I would criticise Bolasie in that scenario, but then maybe Lukaku needs someone to say "I'm not even going to look, I just expect you to be there as you're our striker".
Dave Abrahams
65
Posted 02/11/2016 at 09:32:32
I don't think anyone should enjoy what Bolasie did on Sunday, even if the score is 4 or 5 nil, but especially when the game is still in the balance at 1-0 Save those tricks for friendly and benefit matches, he is playing for Everton not himself.
Stan Schofield
66
Posted 02/11/2016 at 10:09:53
Mick @58: My answer to your question is No. I'm not happy with that fucking about, because it's not of the goldilocks variety mentioned @53.
Stan Schofield
67
Posted 02/11/2016 at 10:27:04
Darren @61 & Laura @62: It's the Mail when the assists are from the right, and the Guardian when from the left, surely?
Tony J Williams
68
Posted 02/11/2016 at 12:40:23
Peter, you don't have to see into the future to realise that as an unmarked man with a ball coming to him he could:
a) control it and attack the danger area;
or
b) try a fuckwittish freestyle type show-off trick with a high risk of fucking up.
Now look into the future needed to see which one most fans would want to see.
Nothing would have come of it, as the trick wasn't used to beat a man, keep the ball in etc. He did it for purely selfish show-off reasons and duly looked a twat afterwards.
As I said, I don't mind showboating, but 1-0 up against a decent side and unmarked shouldn't be the time for it.
Laura Round
69
Posted 02/11/2016 at 13:26:37
Haha Stan :)
Brian Furey
70
Posted 02/11/2016 at 18:39:00
I haven't seen Bolasie live in the flesh but I do understand what some people are getting frustrated about. I've played with very skillful talented lads and often thought if I had their skill I would use it a lot more effectively.
He has got pace, strength and seems to work hard for the team and shows a lot more desire to win than Geri or Kev at the moment. I think the best thing he has, though, is his friendship with Rom as you can see both are really enjoying playing alongside each other and it will make it a little harder for Rom to leave at the end of the season.
I reckon Rom had been under pressure from his dad and also his agent to push hard for the big money transfer but he knows what he will be leaving behind and how he is a huge fish in a small pond with us.
Trevor Lynes
71
Posted 04/11/2016 at 13:18:23
Seems that some fans do not appreciate what I see as exciting in a player. I have not seen any of our present front men provide an assist like Bolasie's which showed strength and bravery.Similarly I have never seen any front man in an EFC shirt who has not frustrated me including all the so called Legends.Lukaku is still very young and his scoring rate is what is keeping us afloat as no one else is scoring enough.Saying that Bolasie cost a lot of money is rubbish when we received 㿛 million for a rookie centre back.
Add Your Comments
In order to post a comment, you need to be logged in as a registered user of the site.
Or Sign up as a ToffeeWeb Member — it's free, takes just a few minutes and will allow you to post your comments on articles and Talking Points submissions across the site.