O'Neill plans to include McCarthy in Ireland squad

53 Comments [Jump to last]
Wednesday 2 November 2016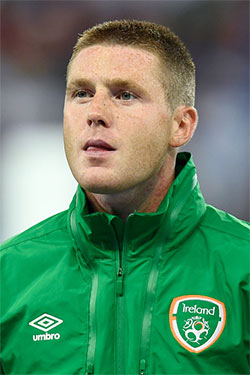 Despite the war of words that is developing over the midfielder's involvement over the last international break, James McCarthy is in the frame for the Ireland party this month.
Martin O'Neill has told the press that he has, "included James at this minute," and that, "speaking to him, James is improving day-by-day.
"If the game was this week he would be out. He is doubtful for the week after. He needs to get some proper training in.
"He has been doing a little bit, but it's one of those. I'll leave him in for the provisional squad and we'll see how things go. Obviously he wouldn't make it this week and he would need to something a little bit before that."
That is in spite of the fact that he is currently sidelined with a torn hamstring, an injury that Toffees boss Ronald Koeman blames on the player being rushed back into action by Ireland following a groin injury.
McCarthy underwent surgery on the problem in the first week of September and had only had three training sessions before playing in both of his country's World Cup qualifiers five weeks later.
He made one substitute's appearance for Everton at Manchester City on 15th October before suffering the fresh injury in training during the following week.
Everton don't expect McCarthy to be fit until after the upcoming international break but he is clearly in O'Neill's plans if he feels ready to play some part in Austria on 12th November.
"James had declared himself fit [to play against Georgia and Moldova last month]," O'Neill said today. "He didn't come off through injury [against Moldova], he came off through tiredness.
"Remarkably, he actually trained with Everton on the day his manager was bleating about it."
Asked why he thought Koeman has complained that McCarthy was overplayed, O'Neill said: "I've no idea, you'd have to ask him."
---
Reader Comments (53)
Note: the following content is not moderated or vetted by the site owners at the time of submission. Comments are the responsibility of the poster. Disclaimer
Steve Bingham
1
Posted 02/11/2016 at 13:50:10
Bugger off, O'Neill.
Gerard Carey
2
Posted 02/11/2016 at 13:55:35
Club should come first. If he was playing regularly for us, then let him play for Ireland. Last he needs now is two games in quick succession.
Frank Wade
3
Posted 02/11/2016 at 14:01:25
If he tore a hamstring the week after the Man City game, he has absolutely no chance if playing in 10 days time. End of story.
Jay Harris
4
Posted 02/11/2016 at 14:08:22
What a hypocrite.
When he was a club manager, he was the biggest whinger on the planet.
Guy Hastings
5
Posted 02/11/2016 at 14:13:50
And that's just one of the many reasons I've never wanted the self-aggrandising twat near our club as manager.
Frank Wade
6
Posted 02/11/2016 at 14:15:52
He still is, Jay. I have seen him turn nasty on the Irish TV interviewer, if he doesn't like a question. Very over-rated. Couldn't believe some were proposing him for the Everton job.
Shane Corcoran
7
Posted 02/11/2016 at 14:31:08
O'Neill is a serious grouch on RTE these days but spare us the hypocrite comments. Does anybody think Koeman, or any other manager would do anything different?
O'Neill has come out today and said that, if the game was this weekend, McCarthy wouldn't make it. The player is training so he can't be that far off being able to play in 10 days' time.
Steavey Buckley
8
Posted 02/11/2016 at 14:34:13
The decision to play for Ireland is down to James McCarthy, so he is the one who is letting Everton down by playing when not properly fit.
So while he is still under treatment at Finch Farm, Koeman should be having a word with McCarthy about his career at Everton, that has stalled due to injury problems. And in no uncertain terms, Koeman should tell McCarthy to say no, when asked to play for Ireland.
Brian Williams
9
Posted 02/11/2016 at 14:51:09
Am I wrong in thinking that the club, as his employer, can tell the national team that he's not fit and therefore unavailable?
Liam Reilly
10
Posted 02/11/2016 at 15:22:36
Nope, Brian – as I understand it, the FIFA rule is that the National team have the right to include the player and assess the injury themselves.
McCarthy has been perennially injured for the past year or so and I suspect, if he wants a future with Koeman, then he needs to sit this one out.
That said; this injury came more than 7 days after he was with Ireland and during training with Everton. If the coaching staff were worried about stretching him, then he should've been used sparingly in training.
Chris Gould
11
Posted 02/11/2016 at 16:14:23
Saying, 'he trained the day the manager was bleating on about', means bugger all. Koeman may have had him doing light drills and a bit of ball work. Maybe just a warm up and then physio. Certainly not two intense matches within a few days!
Peter Warren
13
Posted 02/11/2016 at 16:14:26
Each manager does his best for the team. I believe McCarthy would have been sold if we got Sissoko and I don't blame McCarthy for putting country before club.

Eddy Grundy
14
Posted 02/11/2016 at 16:49:54
Let's cut to the chase: offload him – a complete waste of wages... and if he left to play full time for Ireland (well he already does), his leaving could finance a decent player in the January Sales.
Shane Corcoran
15
Posted 02/11/2016 at 17:23:58
How does one play full time for your country?
Would it involve a tour of Ireland with a kick-around in every county?
Anthony Hughes
16
Posted 02/11/2016 at 17:47:25
Perhaps James could fit some games in for his club in between playing for Ireland?
Martin Nicholls
17
Posted 02/11/2016 at 18:51:20
Steavey (#8), absolutely spot on.
Les Martin
18
Posted 02/11/2016 at 19:08:32
O'Neill – always a good talker but vastly overrated manager who will not get the better of Ronald.
McCarthy will be going nowhere until the club says so, whether playing for his country or offloaded.
Eddie Dunn
19
Posted 02/11/2016 at 20:17:47
The ability of O'Neill is neither here nor there. This is a typical club vs country tug of war. It seems to me that James has decided that his country means most to him after the strange fiasco in the transfer window.
He knows that the club were willing to let him go and, regardless of who pay his wages, he will always be an Ireland player. He will not always be an Everton player.
If he hopes to make an impression on his new manager, then rushing back again from injury will do him no favours. Therefore, if he does, I suspect it will mean that he doesn't see himself here much longer.
Denis Richardson
20
Posted 02/11/2016 at 20:41:49
Sell in January. Never more than a glorified water-carrier.
Still cannot believe we paid £13M for him when we were skint.
Brian Williams
21
Posted 02/11/2016 at 20:50:00
Eddie (#19).
Yeh, that Moshiri message to that plank Jim White was a strange one which still hasn't been properly explained. Not that it would probably make much sense if it was. Strange stuff, that was!
Andrew Presly
22
Posted 02/11/2016 at 20:56:44
No major surprise with O'Neill being a twitchy, hyperactive tit as usual.
McCarthy's a solid pro and seems a nice lad but Gana is showing what's really needed in the role. Once he's back fit I wouldn't be sorry to see him moved on with well wishes and a good fee that we put towards a high class playmaker.
Christy Ring
23
Posted 02/11/2016 at 21:03:54
O'Neill definitely overplayed him, 170 mins in four days, having been out since August, was way too much.
He played the last half-hour against Man City, after playing for Ireland, so I don't think Koeman can blame O'Neill totally for the injury, but because it's his hamstring, there's no way he should have included him in his squad.
Ray Smith
24
Posted 02/11/2016 at 21:19:35
McCarthy will be gone in January.
If he is fit enough to play for his country, let someone else pay his wages and move him on.
He does not appear to have a future at Goodison, bye bye, cut and run, get what we can for him.
Mick Davies
25
Posted 02/11/2016 at 21:20:04
All those saying McCarthy should be offloaded, waste of 㾹m etc, should take a look at the 2013-14 season review; he was definitely the fulcrum of everything that was right – chasing and harrying, breaking up attacks, even creating chances and a couple of assists. If anything went wrong, it wasn't only him, it was the whole squad under Martinez.
But what happened in the Norwich game? He had his best match for about 18 months, and was applauded off the pitch. He was definitely part of Koeman's plans getting games until he was injured.
I don't like him playing so much for Ireland while injured and should put his employer's first, but as a player, he leaves everything on the pitch, and like Mr Muscle, he does all the jobs the others hate. I wouldn't want to lose him, just as he's approaching his peak in terms of age/experience.
Jay Harris
26
Posted 02/11/2016 at 21:26:51
Good point, Mick, but he has to decide where his loyalties lie.
He has picked up or worsened a number of injuries while playing for Ireland and that just isn't fair to the club that is paying his wages while he is unavailable.
Mick Davies
27
Posted 02/11/2016 at 21:37:11
Jay @ 26,
Yes, Jay, I actually remarked on that in my post: he really needs to put his club first, and make sure he's 100% fit before playing anywhere. His style of play makes him a cert for injuries, but to say he got crocked at Everton is just speculation: playing 2 almost full games for ROI in a few days, then coming back for training, allegedly fit but breaking down again, tells me that he was pushed too hard on international duty.
Two of the most despicable characters in football are bullying young men and holding clubs to ransom by playing the Nationalism card. What a hypocrite that bearded bully Keane is, after leaving his national teammates in the shit in Korea, he now tries to portray himself as an Irish hero – absolute scumbag. I wish McCarthy had chosen Scotland.
Brian Harrison
28
Posted 02/11/2016 at 21:49:44
I am sure Koeman won't be too pleased to hear that McCarthy has said he is fit to play for Ireland. But, to be honest, I don't rate McCarthy and, more to the point, I don't think Koeman does either.
Gueye can't play against Chelsea, but I don't think McCarthy is an option; more likely he will pick Cleverley. Sooner McCarthy finds another club, the better for all.
Jack Convery
29
Posted 02/11/2016 at 22:06:19
O'Neill is a Managerial Ego short of a real triumph in the game, unless you take into account his Celtic days, which I don't. McCarthy might be half-fit for a subs appearance at best. So why take him?
With regards to his near successor at Goodison – the 'I went to A Bigger Club' – Ha Ha – Sissoko.
All I can say is thank god we saved 㿊m, thanks to his bad manners in not accepting Koeman's calls to his mobile. Just watched him play for Spurs, if you can call passing to the opposition, crossing badly, and not covering his full-back 'playing'. He was that bad, he made Walker's night a nightmare – The Geordies were right about him.
Mick Davies
30
Posted 02/11/2016 at 22:17:21
Jack @ 29. Spurs fans are slaughtering him; I'd prefer a crocked Macca.
Jack Convery
31
Posted 02/11/2016 at 22:23:09
Mick (#30) – i would prefer Arter at Bournemouth.
Ray Roche
32
Posted 02/11/2016 at 22:24:30
But Jack (#29), it's worrying that we were prepared to pay 㿊m for him isn't it? I mean, if he'd have had better manners, Koeman may have talked him round...
Jack Convery
33
Posted 02/11/2016 at 22:28:35
Ray @ 32 – I prefer to think we bumped the price up and actually acted really cute for a change. if we were really prepared to pay 㿊m, then I can only think the guy who scouted Niasse was involved!
Mick Davies
34
Posted 02/11/2016 at 22:37:11
Jack @ 31, good shout. I like the guy, but – like the rest of our midfield players – he doesn't score enough goals.
Kunal Desai
35
Posted 02/11/2016 at 23:14:08
Posted on another thread a few weeks ago where Koeman suggested McCarthy was injured again.
I doubt he's injured. If a manager doesn't like or want a particular player, it's convenient to throw the injury excuse in.
McCarthy will be gone in January. I won't be surprised if he's not included in the squad for the next 8-9 weeks. Either we'll be told he's building his match fitness or has picked up another knock.
Christy Ring
36
Posted 02/11/2016 at 23:26:07
Mick (#25) – Great post, I totally agree. I believe all McCarthy needs is a chance to show Koeman the player we saw in the 2013-14 season.
The player who Martinez ran into the ground, wanting him to be a defensive midfielder one minute, and an attacking midfielder the next.
Mick Davies
37
Posted 02/11/2016 at 23:47:30
Kunal @ 35, could you please let us know the team v Chelsea? Oh and let us know if Ronnie Koeman was seriously interested in Sissoko, and any other information you have?
Oliver Molloy
38
Posted 02/11/2016 at 00:04:33
McCarthy is a Sideways Bob... always was and always will be – no matter who's coaching him.
That doesn't make me think he can't do a job but, like others on here, I believe he will be sold to the likes of Stoke, Sunderland, West Brom etc.
If Koeman has already made his mind up that he can't make McCarthy better, he will be on his way.
James Stewart
39
Posted 03/11/2016 at 01:19:25
Gana is literally twice the player McCarthy is so I don't see a way back in for him. A move would be in the best interests of club and player.
David Ellis
40
Posted 03/11/2016 at 02:49:26
James – (#39):
"literally twice the player" ... literally? Are you sure?? Has Gana put on a lot of weight recently???
Joey Brown
41
Posted 03/11/2016 at 03:41:16
Not sure I understand the McCarthy hate in the comments here. He's done pretty well for us. And comes in and does a job. Also a few seasons ago he was without a doubt our best player. Maybe lighten up?
Geoff Evans
42
Posted 03/11/2016 at 08:48:04
On yer bike O'Neill, Everton pay his wages... Ireland are a joke.

Shane Corcoran
43
Posted 03/11/2016 at 09:36:54
McCarthy is in the provisional squad. If there's the slightest chance he'll be fit to play in 10 days (which there is, as he's currently training) then why wouldn't he include him?
It seems fairly simple to me but instead we have a selection of gems:
Les Martin: "O'Neill – always a good talker but vastly overrated manager who will not get the better of Ronald". Are they in the same debating society?
Jay Harris: "He has picked up or worsened a number of injuries while playing for Ireland". Which injuries are you referring to? He may have been overplayed by O'Neill but he came back and played for Everton and then did his hamstring, a completely new injury.
Geoff Evans: "Ireland are a joke". It's the way you tell 'em, Geoff.
Liam Reilly
44
Posted 03/11/2016 at 10:06:33
You beat me to it, Shane – stupid comment!
By the way; for all those saying McCarty should be gone in January or the summer; Gana is not available for Saturday so expect to see and axis of Barry and Cleverley.
I've nothing against Cleverley myself but he'd not be near any other top 6 teams first team; a fit McCarthy, on the other hand, I would argue – would.
Christy Ring
45
Posted 03/11/2016 at 10:24:42
All the hateful comments about McCarthy have me baffled. He was superb in his first season for us, and the team went into freefalll under Martinez for the last two seasons. If James was the weakest link, the other 10 players must have put in some shift.

Peter Roberts
46
Posted 03/11/2016 at 10:45:04
Seriously, lads... I have a soft spot for ROI but MON is a joke.
"Remarkably, he actually trained with Everton on the day his manager was bleating about it."
"Trained" or went to Finch Farm and took part in some light training to temper the risk of his hammies/groin going? ...
MON is and always has been an arrogant, petulant and truculent egotist. A man who collected players like Panini stickers at Aston Villa despite just using a core of 13 players – creating a ridiculous disharmony and devaluation of Lerner's investment. A man who scarpered when the purse strings were finally pulled tight after being told to "sell the deadwood".
I'm made up his name is continually brought up when people bring up the demise of Aston Villa – the man was trusted with top 3 expenditure and gave them 6th place whilst saddling the club with players sat earning mega money, like Harewood, Shorey, Reo Coker, Heskey, Sidewell, Beye, Knight... they never quite recovered from that. He made Walter Smith look like a transfer magician.
Anyway, what does it matter – he got Ireland into the knock-outs at the Euros... he can do no wrong.

Guy Hastings
47
Posted 03/11/2016 at 11:04:39
Bang on, Peter, but the media regard him as Teflon, never question his track record – but that's what getting into the TV pundits' magic circle does for you.
Lee Preston
48
Posted 03/11/2016 at 11:13:11
Those saying McCarthy is gone in January, that Koeman doesn't rate him etc, whilst both maybe true, the fact of the matter is, he's played a part in every single game he's been fit and available.
Surely that means, for now at least, Koeman does rate him in some form, moreover, he is someone we will definitely need whilst Gana is away at the African Nations. (Unless a significant, but unlikely signing is made.)
Point being, I don't want him risked for Ireland, if it is at the detriment of Everton. Contrary to the opinion of some of the people on this forum, I would quite like to have James McCarthy as an option available to us.
Shane Corcoran
49
Posted 03/11/2016 at 11:18:21
Guy and Peter, O'Neill's strengths and weaknesses are well known by the fans of his current team, I can assure you.
Not that this has anything to do with McCarthy's inclusion in the squad.
Peter Roberts
50
Posted 03/11/2016 at 11:49:45
A little humility would go a long way in this situation... I await Koeman's response,
John Daley
51
Posted 03/11/2016 at 13:05:08
A little consideration, from both, for the player stuck in the middle might go a lot further.
Victor Jones
52
Posted 03/11/2016 at 13:54:31
McCarthy is an integral cog in the workings of the ROI team. They are not exactly blessed with midfielders with Premier League experience. So of course MON is going to fight to get him in the squad. Take a chance on his fitness. Get as much game time out of the player as possible. That's O'Neill's job.
I don't really like O'Neill. He would argue that a black bird was bloody white. (He and Shearer often seemed to be watching two different bloody football matches.) But he has to do what is best for his team. And Everton (if they see fit) need to challenge all that.
Now .regarding McCarthy having a good 2013-14. Thats debatable IMO. A number of players where playing well back then. Did McCarthy really make a difference. Or was the difference Lukaku. Was the difference Coleman and Baines . Was the difference Mirallas. Was the difference Barkley..Was the difference the Moyes drilled defence. How about Stones. How about Barry. Naismith was playing a bit part. Oviedo was playing well... But to read some comments where would we have been without McCarthy.
And as for our so called great season .we still won nothing. And we were thumped by Liverpool. And Arsenal. Also , when it mattered , beat by Palace Not blaming McCarthy. But he was part of the problem ( no creativity). Was he really an asset to Everton.
And he's been shite for the last two seasons. He drags out a decent performance now and again for the ROI. But I cannot remember the last time that he played a blinder for us...
And what if this was Coleman in this position? O'Neill would have by now been told to take a big long running fucking jump. I have no doubt.
Methinks that McCarthy is going to be moved on in January. Do we really need him? Does he add anything to our squad? Can we live without him?
Barry (at least one more season). Cleverley. Gueye. Gibson (maybe). Davies (will surely get a chance). Besic?? Where does McCarthy fit in? Sell him, and put that money towards the creative midfielder that we all crave.
As for the Chelsea game, let's not write off a Barry-Cleverley combination just yet. Barry the seasoned old head and Cleverley with something to prove. Writing them off before a ball is kicked in earnest. Let's wait and see...
I would go with a back three. With two wingbacks. And with Barkley playing in front of Barry and Cleverley. Boliasse and Lukaku up top. Mirallas is out.
Negative I hear you say. Well yes. Become hard to beat. Maybe nick a goal. Stop Chelsea playing. Would love for us to take all three points .but a point would be great ,come Saturday evening.
McCarthy and O'Neill and the ROI .who cares. I don't. COYBs.
PS O'Neill once withdrew Larsson from a Swedish squad then played him a few days later in a top of the table game. Check it out. It happened. But I suppose that all managers play that game.
Thomas Surgenor
53
Posted 03/11/2016 at 13:58:35
Give him a couple of mins against Chelsea, let him pick up his customary injury. Then sit back and laugh as O'Neill can't select him. I'd rather he got injured playing for us than Ireland.
Joking aside, James is an important player to us and I hope he gets over this injury nightmare. It might be prudent for him to drop out of the international scene for a month or two to help him get fully fit. I'm sure O'Neill would understand if he asked to be omitted this time round so that he was fully fit for the rest of their qualifying capaign.
Tony Abrahams
55
Posted 03/11/2016 at 14:54:23
Football, the game of opinions. Some people say McCarthy is shite, and should be sold in January... but, if this was the case, do you really think that O'Neill would go to war or play him in two very important matches, in such a short space of time, even though he had been injured and had done very little training for so long?
Same for Koeman. I know Everton pay his wages but, if he felt the player had just been so overworked, why would he play him on the Saturday?
I haven't offered any answers, except it proves to me that James McCarthy must be a valuable player for both club and country and, for the sake of the player, I hope this gets sorted out for the lad, before it gets totally out of hand, as John (#51), has just said.
Add Your Comments
In order to post a comment, you need to be logged in as a registered user of the site.
Or Sign up as a ToffeeWeb Member — it's free, takes just a few minutes and will allow you to post your comments on articles and Talking Points submissions across the site.