Koeman responds as O'Neill continues to deflect blame for McCarthy injury

25 Comments [Jump to last]
Thursday 3 November 2016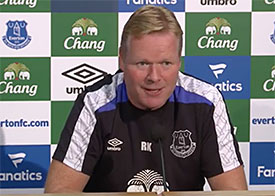 Martin O'Neill has doubled down with his comments about Ronald Koeman over the James McCarthy controversy, saying the Dutchman should be embarrassed for trying to pin the midfielder's injury on the Republic of Ireland.
Koeman, on the other hand, addressed the situation briefly at his press conference this afternoon but indicated his desire to move on.
In comments made earlier this week, O'Neill refused to take the blame for the fact that McCarthy suffered a hamstring injury soon after returning to Everton following last month's international break.
With his latest quotes, the Irish boss says that he listened to the player who insisted he was free of pain both when he arrived for international duty having recovered from surgery on his groin and when he left to return to Finch Farm.
Koeman's contention isn't so much do with McCarthy still feeling the effects of the operation as it is with the fact that the 26-year-old played in two World Cup qualifiers having had just three full training sessions and that he was "massively overloaded" by O'Neill and Ireland.
"He trained at Everton on the day that the manager was bleating about him," O'Neill said. "And he played on the Saturday. If I was a manager, I would be excruciatingly embarrassed by it, to turn around and blame somebody for playing him.
"James is in a difficult situation because Everton pay his wages, that's true. I understand that and he's first and foremost an Everton player but when he comes on international duty and if he's fit for selection then he's got a chance of playing.
"He left us pain-free. He's got a hamstring injury now. How can you come out and say the player is being killed and overloaded and then you play him on the Saturday, you put him on in the second half?
"It was nonsense, nonsense. I was surprised about it, this idea that we killed him. He did brilliantly to recover then. Lazarus. Amazing. His latest injury has got nothing to do with us.
"At the end of the day, James had not done a lot of work, that is true, but he trained and felt fine in the games and so we'll play him. If he'd been feeling the injury he wouldn't have played."
"The payer is not fit"
Koeman was asked about the situation at Finch Farm today and he was clear in his belief that Ireland shouldn't be considering McCarthy for the upcoming World Cup qualifier against Austria if he isn't even training yet.
"The payer is not fit," the Dutchman declared. "The player is not involved in team sessions. I think [in order] to be called up, he needs to be close to being fit, but it's a little bit of the same story.
"What happened last time... we spoke to James. My advice was to stay here and train to be fit as soon as possible but the final decision is by the player.
"It was not necessary to speak with Martin O'Neill-because we had contact between the medical staff and if the managers don't take the right decision, maybe they can take the advice of the medical staff.
When asked for his response to O'Neill's forthright comments in the Irish press this week, Koeman wanted to draw a line under the public war of words.
"I spoke about this. Let's stop the talk — I talk about him, he's talking about me. Let's stop, that's for the best."
---
Reader Comments (25)
Note: the following content is not moderated or vetted by the site owners at the time of submission. Comments are the responsibility of the poster. Disclaimer
Lee Preston
1
Posted 03/11/2016 at 13:52:48
This could get messy!! I can't wait for the Koeman's response!
Vince Furnier
2
Posted 03/11/2016 at 13:59:18
"Doubled down"? What kind of phrase is that and what does it mean?
Damian Wilde
3
Posted 03/11/2016 at 14:10:10
O'Neil has a mouth on him.
Liam Reilly
5
Posted 03/11/2016 at 14:51:13
Apparently Koeman has said that he has directed McCarthy to stay at Finch Farm to get fit and not to travel to the Irish squad.
The gauntlet has been thrown. If McCarthy goes and plays then I suspect Koeman won't take that favorably.
Chris Williams
6
Posted 03/11/2016 at 15:01:24
Liam, the article says 'advised' rather than directed. So it's up to James.
Time for him to make a choice?
Brian Williams
7
Posted 03/11/2016 at 15:13:52
Well, if it was me making the choice, and my manager had "advised" me, and that manager was the manager of the club that pays my exorbitant wages for playing a game, then I know what I'd be doing.
Taxi to Finch Farm, please!
Alan Humphreys
9
Posted 03/11/2016 at 16:33:03
Maybe McCarthy can get Ireland to pay his wages if they're his masters. Maybe O'Neill can for once have some class.
Brian Furey
10
Posted 03/11/2016 at 16:43:27
I think there is a lot of stuff bubbling under the surface with this one as I reckon McCarthy knows that Ron no longer sees him as first choice. James will not be happy to play from the bench or as cover for Barry, I would imagine, and so that's why I reckon he was happy to play both full games for the RoI last month.
It was a chance for him to get games that he thought he wouldn't get with his club and, bearing in mind RoI had lots of injuries in midfield, then O'Neill was always going to play him as much as the player looked able to play.
A lot of fans on here have been saying for some time that McCarthy is so negative with his passing and rarely scores, so I will be surprised if he gets that many games unless Barry is out injured or Gana is away at the AFCON.
It's a typical country v club manager argument where the player is much more important to his international manager than he is for his club manager.
Liam Reilly
12
Posted 03/11/2016 at 16:49:08
I didn't actually see the conference myself Chris #6 but the following quotes are attributed to Koeman:
"We spoke about what is best, what we want and I think finally by himself the player the same likes to play for Everton and to play well for Everton.

"I think the player himself learned from what happened last time and how he was overloaded and he got another injury. It's best for everyone for him first to be fit and training with his club. Then you're ready for the national team and not vice versa."
If these are accurate; then the message is clear whatever way you look at it.

James Hughes
13
Posted 03/11/2016 at 16:55:15
Liam,
Under the wonderful FIFA rules, if a player is selected in the national squad, the player has to report for duty. The national medical squad then send him home if unfit. It stopped clubs feigning injury and the player then playing the full game in the next few days.
Koeman does have several valid points but Manic Martin is choosing to ignore them.
Anthony Hughes
14
Posted 03/11/2016 at 17:25:25
O'Neill has got a bad mouth on him.
Call him out for a straightener, Ron.

Liam Reilly
15
Posted 03/11/2016 at 17:58:17
Correct James - but he doesn't have to play and I think that's what Koeman is alluding to.
If he plays at all; even if he doesn't come back injured, I suspect there's no way back.

Phil Sammon
16
Posted 03/11/2016 at 18:58:35
For once, O'Neill has a point. It was very odd for Koeman to blame Ireland for his injury when it was sustained after playing for Everton.
Keith Monaghan
17
Posted 03/11/2016 at 19:29:12
It was clearly crazy for McCarthy to be selected to play 170 mins in less than 4 days after so little training after 6 weeks out including surgery. He will only be a starter for us when our midfield is depleted by injuries, suspensions and the AFCON.
It's in his interest to make sure he's fit to grasp these opportunities; if he leaves EFC, it will be to a club with less prospects of achieving things.
He's at best a decent Championship player – I'd be amazed if we manage to recoup what we paid for him.
Tony Abrahams
18
Posted 03/11/2016 at 19:35:31
A decent Championship player at best? No wonder The EPL is the best league in the world then!
Les Martin
19
Posted 03/11/2016 at 19:43:24
Sometimes players do not do the sensible thing and feel they lose face if they back out.
Personally, I think he will be gone and possibly in January, as he is becoming a liability with injuries and not a first team pick or good enough. Even when he was fit in the Euros, he was poor, hence being substituted.
I wish him well but we need better players than him in the midfield if we are to make the progress everyone is hoping for.

Stan Schofield
20
Posted 03/11/2016 at 19:44:27
Appears to be a storm in a tea cup. Neither manager wants to back down. The person with most control of the situation was and still is the player.
Frank Wade
21
Posted 03/11/2016 at 20:25:31
Sky Sports News are doing their best to keep the fires burning on this issue. The banner at bottom of the screen just now, states "James McCarthy included in the Ireland squad despite missing the last 6 Everton games with a groin injury". Where are those US election debate Fact Police when we need them.
At least Koeman is now saying he doesn't want to comment anymore. O'Neill now has a fit and in-form Harry Arter to choose in midfield rather than a clearly not match-fit McCarthy. Easy choice that.
Steavey Buckley
22
Posted 03/11/2016 at 21:16:17
Martin O'Neill has previous with Darren Gibson 3 years ago, who just came back from another injury, and was not match fit.
Yet, instead of giving Gibson a couple of cameo appearances with the Republic in their two international matches to get him match fit, O'lNeill played him fully for 90 minutes in their first match against Germany and then played him again in their second match, when in the second half he ruptured his knee ligaments. Never the same player again.
O'Neill is doing the same to McCarthy, who was not match fit last time, and without any consideration to his playing career at Everton, he played him fully in 2 international matches. Even a Premier League manager would not have done that with a player who also just came back recently from a groin operation.
Kieran Kinsella
23
Posted 03/11/2016 at 22:39:38
O'Neill is an idiot. Any time Gibson hasn't been plastered (either meaning of the word) in the last 3 years, O'Neill has rushed him into the Ireland team only for him to get injured. He was fit in May and even featuring here and there for Everton yet O'Neill left him out of the Euro squad.
He also publicly put McGeady's problems on Everton by saying he should get out of the club. In contrast, Keane said McGeady should knuckle down and fight for a place at Everton. McGeady took O'Neill's advice and ended up in the Sheffield Wednesday Reserves.
Now we have McCarthy and again O'Neill bad mouthing Everton. I don't know what his problem is. Does he resent us 'cause – despite his mad spending at Villa – he could never finish above us? Is he upset that media links with us were brushed off when we got Martinez?
I don't know... I've always supported Eire for reasons of ancestry but that's no longer the case cause I'm frankly tired of this twit.
Phil Jeffries
24
Posted 03/11/2016 at 22:49:26
If McCarthy travels, he'd better have his bags packed in January.
Shane Corcoran
25
Posted 03/11/2016 at 23:00:10
Steavey, how would being fit/unfit determine whether your knee ligaments would tear or not?
Kieran, I'd have brought Gibson to France but he didn't deserve to go. He played that second last game down in Cork (?) and was shite. He hardly played all year. Not sure where you're going with the McGeady line - "Does he resent us 'cause – despite his mad spending at Villa – he could never finish above us?" Paranoia even beyond ToffeeWeb's standards.

Frank Wade
26
Posted 04/11/2016 at 01:02:57
Steavey 22. For what it's worth, Noel King was Interim Manager of Ireland for the games that Gibson played back in 2013 against Germany, which he completed okay and then Kazakhstan where he got injured, not O'Neill. Even if it was O'Neill, if Gibson played and finished the game v Germany, would the manager not be entitled to play him again in the next match 4 days later?
If we accept the principle that managers should not play a player when tired, not match-fit or injured... or 'killed', then why did Koeman play McCarthy against Man City?
He played him because he was over his groin injury. The fact that he then incurred a hamstring injury 5 or 6 days after the City game is just one of those unfortunate accidents that happen in football. Koeman should not have blamed O'Neill on that.
O'Neill should not be making his 'bleating' comments either. Neither comes out with any credit, but at least Koeman is not commenting further. It's all a bit childish.
Mick Davies
27
Posted 04/11/2016 at 02:00:57
I think McCarthy needs rest after what he's been through: another international match and he'd have played more times for Ireland this season than Everton – his employers.
Tony Draper
28
Posted 04/11/2016 at 06:46:53
McCarthy is running the risk of becoming "the servant of three masters, but the favoured of none".
O'Neill,
injury
and Ronnie K.
Listen to RK, James.
He has achieved and experienced far more at club, international and managerial level than the churlish pipsqueak O'Neill. He didn't do that by knackering his knees and groin in noble sacrifice.
If you can stroll into the RoI team when you're recovering from surgery, unfit and short of match practice just ask yourself "how bloody desperate are they" ?
Because your half cocked contribution will make an entire world of difference won't it ?
Is that a wise path to choose ?
In three/four/five years time when you're not getting a game anywhere and have more treatment hours than Darron Gibson, see how many calls/texts you get from ex-RoI manager Martin Unreal ?
---
Add Your Comments
In order to post a comment, you need to be logged in as a registered user of the site.
Or Sign up as a ToffeeWeb Member — it's free, takes just a few minutes and will allow you to post your comments on articles and Talking Points submissions across the site.