Moshiri reveals slow-burning love for Everton

15 Comments [Jump to last]
Monday 7 November 2016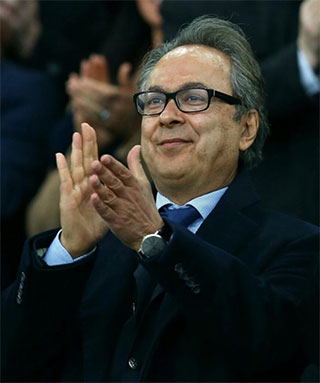 Farhad Moshiri says that he began to follow Everton's progress years ago while David Moyes was still in charge and was eventually sold on the Blues by Bill Kenwright and that Saturday's loss to Chelsea was "sheer pain".
The British-Iranian businessman became the club's major shareholder last February when he acquired a 49.9% stake, buying out former director Robert Earl and part of both Kenwright and Jon Woods's holdings.
Speaking with Jim White, who has been something of a surprise conduit for his messages to supporters over the past few months, Moshiri explained how he "fell in love" with Everton and then embarked on a year's preparation before spending £85m of his fortune on a stake in the club.
"[Everton] came onto my radar during Moyes' time," he explained. "The passion of the supporters, and the fearless play against very big teams. It was a joy to watch.
"I was following the club from a distance, and then I got to know Bill and [he] educated me on the history and what the club is all about. It is just unique.
"For me there was just one big club left in England to buy and that was Everton and I fell in love with it.
"I did a year's due diligence on the club while I was spending time with Bill and I realised that the club needed three things just before buying it. It was heavily indebted, it needed a big stadium [and] commercial income was extremely low.
[T]he pain was so much deeper than when Arsenal lost and, as a majority shareholder, you feel responsible. It was just unbearable
Farhad Moshiri on the 5-0 defeat to Chelsea
"And for our club to compete in the North West of England which is really the 'new Hollywood' of football with Guardiola, Mourinho and Klopp and we needed a star to stand on the touchline so we got [Ronald] Koeman.
"We needed to have a strong balance sheet so I've have paid the debts, so we have a very strong balance sheet, we're very flexible financially and we need a big stadium, there's no question about it. So, I think those are the three priorities that we have."
Moshiri underscored how much the club now means to him by revealing the agony of watching his new club suffer humiliation at Stamford Bridge on Saturday.
The billionaire was in attendance at the game with his long-time friend and business partner Alisher Usmanov with whom he held a 15% stake in Arsenal FC until he sold his shares to the Russian tycoon to buy into Everton.
"It was terrible," Moshiri admitted. "When [Arsenal] lost to Manchester United 8-2 I felt disappointed but, Jesus, the sheer pain of the loss at Chelsea on Saturday was immense. You just get numb.
"Saturday showed... the pain was so much deeper than when Arsenal lost and, as a majority shareholder you feel responsible. It was just unbearable and I've avoided the papers but I couldn't get it out of my mind.
"But we shouldn't forget that last year we were on a terrible run, we had the worst home record and the club is [now] going the right way.
"At the beginning of the season, our plan was to get into Europe and I think we're on target. The manager will strengthen the team in areas that's necessary so it's not all doom and gloom. It's a very unpredictable season."
---
Reader Comments (15)
Note: the following content is not moderated or vetted by the site owners at the time of submission. Comments are the responsibility of the poster. Disclaimer
John Raftery
1
Posted 07/11/2016 at 17:52:41
Paul (#2), Compared with Saturday's abject surrender, the performances under Moyes at the homes of the big four were fearless. We might not have won any but at least we made ourselves hard to beat.
For example, in the five seasons from 2006-07 to 2010-11 we were unbeaten at Stamford Bridge, drawing 1-1 on three visits, 0-0 and 3-3 on the other two. If we were offered that for our next five visits, I would take that now.
Tony Abrahams
2
Posted 07/11/2016 at 18:04:24
The total opposite of Mr Kenwright, who only ever speaks when everything is rosy in the garden.
Farhad, I hope your good friend who was present with you, also felt your pain and is now ready to come onboard?
They say things get worse before they get better, so let's hope Bonny Night put out a few fires in Koeman's head!
Julie Oliver
3
Posted 07/11/2016 at 18:19:53
He is getting the fundamental foundations in place for long term success hopefully.
As someone else said though, we have heard so much rubbish in the past, none of us will take anything for granted with regards to investment in players and, more importantly, the stadium until we see some physical evidence.
I trust Farhad to deliver; I hope it is not misplaced.
Thomas Surgenor
4
Posted 07/11/2016 at 19:29:55
Let's hope it wasn't an audition for Usmanov's investment.
Nigel Munford
5
Posted 07/11/2016 at 19:42:21
Thomas, why wouldn't we want Usmanov's investment?
Grant Rorrison
6
Posted 07/11/2016 at 20:00:09
I think he meant that he does want the investment – hence why he hopes THAT wasn't the audition, Nigel!
Andy Meighan
7
Posted 07/11/2016 at 21:32:46
Is anyone familiar with the phrase "Actions speak louder than words"? If there were trophies given out for talking and empty promises, we'd scoop the lot.
I'll believe this new ground on the docks or wherever when I'm actually sitting in it. That's if I'm actually living to see the thing. Because, after all, we seem to have been here before... And guess what – I'm still sitting in the same seat in the Top Balcony.
I can't believe nothing of what I hear coming out of that club now... years and years of being led up the garden path This fella might be the messiah. The likelihood is he won't. "Holywood of the North"? What the fuck is that all about???
Fuck the ground for the time being. Just give us a team that competes against the good sides and doesn't soil their trousers as soon as we lose the first goal. I wouldn't say that was too much too ask.
Peter Laing
8
Posted 07/11/2016 at 21:59:21
Listening to the interview, it would seem that Moshiri was accompanied by both Usmanov and Jim White on Saturday at Stamford Bridge. Will Usmanov also come on board at Everton?
Mike Green
9
Posted 07/11/2016 at 22:36:01
And Jim White?
Patrick Murphy
10
Posted 07/11/2016 at 22:41:20
Mosh asks Jim for a 'selfie' following the Brittle of Stamford Bridge
Mick Davies
11
Posted 08/11/2016 at 20:11:20
I've read so many stories about fans who began their Everton journey by watching us get tonked (Ed Stewpot was one), so I hope Usmanov got very angry with Abramovitch (Alisher is a Ukranian Muslim, Roman is a Russian Jew, so you can't get more rivalry than that), and felt so sorry for us that he's plotting revenge with the club of his best mate.
He'll never get control of Arsenal, as they don't allow that in their constitution, but we've been at the whim of one man for so long, who cares if the 50th richest man in the world wants to take over? The only thing standing in his way would be... yes, the man who's kept us in his empty pockets for the best part of 2 decades.
George Stuart
12
Posted 10/11/2016 at 07:53:42
Just to get things into perspective, we were shite, they were completely and utterly on the blob. No contest. Our worst player was the number 12, the manager. He can only learn from this.
As we celebrate the 30 years anniversary of Alex Ferguson at Man Utd, can I remind one and all of game in the 1980s when the genius of Old Trafford was handed his arse 5 - 0 in one of the most devastating exhibitions of football I have ever seen by those loveable Toffeemen.
Ognjen Mojovic
13
Posted 10/11/2016 at 10:41:14
If he really cleared the debt, will that be visible in the this year's accounts?
Martin Nicholls
14
Posted 10/11/2016 at 10:51:54
Ognjen (#13) – unlikely unless a footnote in post-balance sheet events. Information on the Companies House website suggests activity in relation to some debts was as recent as 5 October 2016.
Mike Galley
15
Posted 10/11/2016 at 11:23:17
George @12
Sorry for being a little nerdy but Big Ron was the manager of Manchester United when we beat them 5-0. Although, Ferguson did see us beat them 3-0 at Old Trafford once. I think it was around September 1992.
---
Add Your Comments
In order to post a comment, you need to be logged in as a registered user of the site.
Or Sign up as a ToffeeWeb Member — it's free, takes just a few minutes and will allow you to post your comments on articles and Talking Points submissions across the site.