Keane jumps into McCarthy controversy

103 Comments [Jump to last]
Tuesday 8 November 2016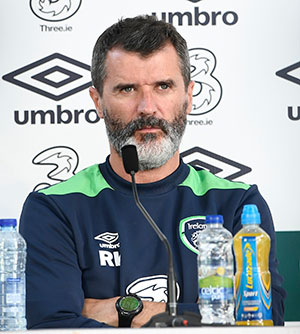 Ireland assistant boss Roy Keane has no sympathy for Ronald Koeman or Everton
Miguel Medina/AFP/Getty Images
Republic of Ireland assistant manager Roy Keane was in typically unrestrained mood today as he criticised Everton over the flap regarding James McCarthy's fitness.
The midfielder has been ruled out of action this international break because of a hamstring injury sustained in training last month which has become a bone of contention between the Irish camp and Ronald Koeman as tensions have escalated over the player's treatment.
Koeman was critical of Ireland manager Martin O'Neill's decision to play McCarthy in back-to-back World Cup qualifiers last month on limited training following a five-week absence recovering from groin surgery.
He blamed O'Neill for "overloading" McCarthy and suggested Ireland were in danger of "killing" him by over-working him so soon after his operation.
O'Neill says he deferred to McCarthy who said he felt ready and has turned the criticism back on Koeman for using the 26-year-old as a substitute against Manchester City on his return from the last international break.
Keane, who has never been shy with his opinion, took up the baton with his comments today, taking shots at the Everton manager, his predecessor and the club's medical staff. "Ronald Koeman's opinions? I don't care about Ronald Koeman," the former Manchester United "hard man" told the media.

"We're disappointed that James is not here, but we knew he was struggling. He missed the last few games for his club and missed some training so he wasn't fit to report.
"We've never taken any unnecessary risks with players. We know players are under pressure from clubs, they are looking after themselves.

"Clubs are going to be selfish. We had a problem with Martinez, he was over the top. I felt that every time Everton players turned up they were always carrying knocks, they were always on crutches or crawling in the door of the hotel."

"We'll have same problem with Koeman.

"Everton... it's a while since they've won a trophy but if you're overloading players that's a good thing. It means you're playing a lot of games and having success.
"They're out of the League Cup, I think they were knocked out by Norwich. Maybe they need to toughen up a little bit.
"Seamus Coleman, what a player he's been for Everton. Why would they begrudge these players to Ireland?
"Darren Gibson misses a lot of matches and he gets injured a lot at Everton so maybe they need to look at their own training schedule."
---
Reader Comments (103)
Note: the following content is not moderated or vetted by the site owners at the time of submission. Comments are the responsibility of the poster. Disclaimer
James Byrne
1
Posted 08/11/2016 at 15:10:11
Like or loath Roy Keane, he does come from a solid footballing heritage that is sadly dwindling out of the game in some respects.
In his day, he was nails... but he's in cuckoo land if he expects football clubs to allow the international arena to dictate when a player goes into a competitive match.
I've just watched Keane make another arse of himself on Sky; what part of "not fit" does he not understand. How does he expect a player who hasn't played for his own club to just rock up to an international game to be told to go home.
On a similar note, international football is like watching paint dry. It's shite and has very little following anymore.
Chris Gould
2
Posted 08/11/2016 at 15:10:32
What a complete helmet.
Des Farren
3
Posted 08/11/2016 at 15:16:11
Nothing to see here. The issue has been resolved, for now.
Joel Jones
4
Posted 08/11/2016 at 15:23:25
Am I in a minority here that thinks he's got a point?
It may piss some Evertonians off hearing his comments but maybe because it's bit too close to the truth for some to stomach?
There's a huge dose of realism needed at our club before we all start getting our hopes up; as much as I want to hate Roy Keane for the disrespectful digs, he's ultimately right!
Eric Paul
5
Posted 08/11/2016 at 15:38:49
Is this the same Roy Keane who walked out on his country during a World Cup when fully fit?
Liam Reilly
6
Posted 08/11/2016 at 15:41:00
Regardless of whether you like Keane or not, he was a winner as a player and was rarely injured other than when he did his cruciate.
He's right, Everton haven't won anything for decades and getting knocked out of the League Cup by Norwich was farcical if that is one of only 2 trophies that are realistic.
Also, playing lots of club games would mean we're doing something right.
Still, early days with Koeman.
James Byrne
7
Posted 08/11/2016 at 15:43:50
Joel (#4),
If McCarthy isn't medically fit to play for Everton, how can he pass a medical to play for his country?
I don't know if there is a different process to assess players medically but it can't be that different, dependent on the type of injury.
I don't have an issue with Keane or any other international manager but it's always this Republic of Ireland set up and him who has the problem.
Joe O'Brien
8
Posted 08/11/2016 at 15:48:31
I'm not sure he's right, Joel, and I'm Irish, even from Cork – same as Keane himself. McCarthy hadn't played in 5 or 6 weeks and had no training when he reported for international duty. He shouldn't have been left playing a full 90 mins then 80 mins three days later. Maybe 30 mins each match, no more.
He went on a rant about our lack of trophies, again nothing to do with him. Then went on about Gibson's fitness with us, he had a long list of injuries from before he joined us... in the same team as Keane played.
I'm a fan of Keane but today he really annoyed me and should really think about what he says before he speaks because he was wrong on just about everything he said today.
It's got all messy between club and country when it shouldn't have.
Lee Preston
9
Posted 08/11/2016 at 15:49:32
Some of what he says is true, but he hasn't exactly said it as constructive criticism, he's said it to wind up Koeman and Everton. Also, his record as a manager isn't exactly one that would inspire me to take on board his suggestions.
The mere mention of Darron Gibson in his injury argument completely voided it. Darron Gibson is a Grade A sick note and it wasn't just at Everton, it was whilst he was a team mate of Keane's at Man Utd.
Peter Roberts
10
Posted 08/11/2016 at 15:53:07
Ah . the romantic image of Roy Keane playing through the pain barrier of carrying a torn hamstring, ruptured Achilles whilst ripping up Patrick Viera and Petit...
Keane had 5 hamstring injuries in 18 months – sorry ROI guys. We know he's a talisman and all that, but don't confuse this "hardman" with being someone who played through pain – he clearly didn't.

Eddie Dunn
11
Posted 08/11/2016 at 15:55:48
Keane is never going to get a job in the Diplomatic Service. In his current role, he should consider the consequences of his remarks, because his tactless comments will only make club managers less happy to accommodate his needs.
Just because he has won things as a player does not excuse his lack of manners. As a manager, he won the Championship with Sunderland. He was also manager when Everton put seven past them, and said it was one of his lowest points in football.
He is disrespectful to our club so fuck him.
Shane Corcoran
12
Posted 08/11/2016 at 15:59:42
Peter, how would you know what he played through?
In 2001, prior to the two-legged World Cup play-off games against Iran, the second of which Keane missed and was accused of feigning injury for, this was in the Irish Independent:
Republic of Ireland manager Mick McCarthy has named his team for tomorrow's first leg of the World Cup 2002 play-off against Iran at Lansdowne Road and to the delight of the Irish supporters, Roy Keane will start. Although Keane has missed the last five games for his club Manchester United, the Irish captain was determined to regain fitness in time for the two vital play-off matches with Iran.

However, Keane did admit today that he is not completely happy with his damaged knee but that he has the blessing of United boss Alex Ferguson to play. "I'm more than willing to give it a go and see how it is. Mick wants me to play and Sir Alex Ferguson has been fine about it. I was trying to get fit for the Liverpool match but it just came a little bit too early for me and the medical people said the knee wasn't right. I wouldn't deliberately miss any United games because they are all important but the knee has improved this week," he insisted.

"Some days it is better than others and in the last week or so it has settled down a bit although I'm still not too happy with it. I don't want to go into details about what's wrong but I've been working in the gym and managed a couple of training sessions. Now I need a game or two to see how it goes. A couple of games won't make the injury any worse. If there is a reaction after Saturday then we'll have to see, maybe go back to the specialist and see where we go from there, but now I need to play and we all know how important this game is," added the Irish captain.
Is it possible to be romantic and accurate, I wonder?
Thomas Lennon
13
Posted 08/11/2016 at 16:00:01
Anyone got a list of the number of times an Everton player has been injured playing for Ireland? Don't they include Coleman, Gibson?
Nails?
"The hardest part of Roy's body is his tongue,'' A Ferguson
"I used to stay away from [Duncan Ferguson]". Keane had the reputation, the Everton striker was the real deal.
Have a word Dunc, if you can find him.
Lyndon Lloyd
14
Posted 08/11/2016 at 16:03:47
There's blame to go around on both sides where McCarthy is concerned. Martinez ignored medical advice and played him at Wolfsburg when he was carrying a hamstring injury and we all know how many soft tissue injuries our players were getting under his tenure.
Koeman's argument, meanwhile, is weakened by the fact that he played him at City, albeit only off the bench, which plays right into O'Neill's and Keane's hands.
But Keane is also being disingenuous here (as well as being a dick for the needless dig about our lack of recent success) conflating the fitness record of the past regime with this one and, where Gibson is concerned, he very conveniently forgets that the reason why he only cost Everton 𧺬k from his beloved United is because he couldn't stay fit at Old Trafford.
The simple fact is that Ireland's staff should have known McCarthy wasn't ready. He had just 3 training sessions (all of them at the Irish camp, it should be noted) following a 5-week layoff so there's no way he should have played two games in a week. I'm no physio but that just seems like common sense to me.
Peter Roberts
15
Posted 08/11/2016 at 16:18:08
Seriously – it's an absolute joke on here every time there is a club vs country row involving the ROI.
The misty eyed romanticism over Roy Hard Man Keane makes me laugh – he's an obnoxious hypocrite. Darron Gibson? He spent half his time at Man Utd on the physio's table – all of a sudden, it's an Everton issue?
Keane is trying to make out that McCarthy and Everton are soft? Maybe he needs to see that McCarthy has pretty much ended up destroyed because McCarthy played too soon after being injured.
Listen, ROI/Keane fans – I understand that its difficult to give up the notion that Roy Keane is the most honourable man to ever play the game... quite simply, he isn't.
He is self-serving and will happily run our players into the ground to get through the qualifiers; fair enough, Koeman would probably do the same. But stop trying to be something you ain't.
People confuse straight talking with arrogance.
Chris Gould
16
Posted 08/11/2016 at 16:20:01
But Lyndon, why shouldn't Koeman have played him off the bench? He wasn't injured at that point. Koeman felt his groin should have been given more time to recover and that Ireland pushed him too hard. It was reckless but fortunately didn't seem to have an obvious negative effect on the groin. Subsequently, Koeman brought him on as a sub and McCarthy did his hamstring.
Did Koeman actually blame ROI for the hamstring injury? Or were his comments about ''killing him" before that injury?
Either way, Keane has absolutely no need to stir it up and mock Everton's recent underachievement. He just comes across as a provocative twat.
Peter Roberts
17
Posted 08/11/2016 at 16:21:13
Shane – you pasted a Roy Keane interview where he tries to paint himself as perfect... when doesn't he do this?
Feel free to explain his continued issues with hamstring injuries? Surely he needed to man-up and play through them... 5 spells in 18 months.
Shane Corcoran
18
Posted 08/11/2016 at 16:32:26
Peter, the fact is that he missed five games in a row with Man Utd where he was captain and pivotal figure. He then played for Ireland.
I'm not defending what Keane said today; I've already said that it's bullshit, and not for the first time.
I can't explain his hamstring injuries as I know nothing of them. In fact I'd question your information.
What I said to you was: How would you know what pain he has or hasn't played through?
And with the romanticism stuff. Nobody else is doing it. Keane was what he was. If you remember him differently then fine. And there is zero evidence that McCarthy's hamstring is anything to do with playing for Ireland. I think everyone, other than you accepts that as he played for Everton prior to getting the injury.
Les Martin
19
Posted 08/11/2016 at 16:50:36
The man's a moron and a nasty past leg-breaker. To talk of him as someone you can respect as a player with his demeanour is ludicrous. Real men will be found at the cenotaph this weekend!
To talk about players being tough, yeh right – you walked out on your country over a bumpy training pitch.
Go back to your cabin where your attitude and beard belongs.
Steve Guy
20
Posted 08/11/2016 at 16:52:01
O'Neill and Keane, a poor man's Batman and Robin.
It's an honour to play for your country but it's the Club that pay the wages and pay the price when lads like MacCarthy come back knackered; whilst the like of Keane are back home putting their feet up or appearing on TV to earn a few quid and bore us rigid with their "insightful" BS.
Funny how we don't seem to have similar issues with other players away with other countries.
Mark Fitzgerald
21
Posted 08/11/2016 at 16:53:05
Wow, doesn't take much to stir up the pot here. Some disingenuous, albeit completely expected, comments from Roy suddenly turns into a disagreement between the 'Romantic' Irish and the 'Realistic' emmm, others.
Fact is, Lyndon summed it up by attributing blame to both sides. Ireland should have handled him better when he was coming back from from injury. Two full games was unfair on the player & the club. Two 45 mins appearances and the fuss would never have arisen.

I totally see the club's point of view as they are paying his salary. But clubs do need to release players for international duty, even if it doesn't suit their own preferences.
I feel sorry for the player, caught up between two sides neither of which he wants to let down. Is he injured or following the club's clear wishes? Dunno.
Joe @8 (a fellow Corkman) summed it up well. Both sides should be a bit more professional and sort it out without the media circus. Dowcha Boy!
Peter Roberts
22
Posted 08/11/2016 at 16:54:03
This is just from 2002 till he left united in 2005:
http://www.physioroom.com/news/english_premier_league/players/339/roy_keane_injury.html
Keane even admitted that he changed his game in order to avoid the frequent injuries he was suffering.
So – all this nonsense about players being soft etc – unless he was made of different stuff, then he can just shush. McCarthy is a tough lad and he's suffered as a result of manning up. Keane is just an idiot.
He was a good player – that's about it. As a man he's a prat.
Shane Corcoran
23
Posted 08/11/2016 at 16:54:49
Les, whose leg did he break?
Liam Reilly
24
Posted 08/11/2016 at 17:00:54
"Explain his continued issues with hamstring injuries"
This could be true Peter; to be honest I don't know. What I do know is that no-one – no matter how 'hard' – can play through a hamstring injury without a seriously dodgy injection.
And for the record; I'm Irish but Keane the man is no saint of mine. The footballer however; I do wish he played for Everton in his pomp.
Shane Corcoran
25
Posted 08/11/2016 at 17:04:48
I don't think anyone on the thread has agreed 100% with what Keane said, some have said it raises questions about Everton's players or that there's an element of truth in it.
The other side seem awfully annoyed though.
Ah well, international break is the best craic on ToffeeWeb. I somehow think Sky are behind it all.
Craig Walker
26
Posted 08/11/2016 at 17:04:55
Shane: Keane broke Alfe-Inge Haland's leg, ruining his career and then he boasted about it in his autobiography I think.
Funny he can't remember when we last won a trophy. He played against us in that cup final.
How can he berate players for withdrawing from an international squad when he famously walked out on his Irish team because of the facilities?
McGeady was awful for us. Coleman hasn't been a great Everton player for years, in truth. McCarthy was good in his first season but hasn't been since.
Lyndon Lloyd
27
Posted 08/11/2016 at 17:09:33
Chris (16): "
But Lyndon, why shouldn't Koeman have played him off the bench? He wasn't injured at that point. Koeman felt his groin should have been given more time to recover and that Ireland pushed him too hard.
"
Sorry, Chris, I should have been clearer. What I meant was that by Koeman playing him, Keane and O'Neill can point and say, "but you're over-working him, too!" So, in that sense, it plays into their hands.
I agree that there is a difference between deploying a player working his way back to fitness off the bench and throwing him into two starts in less than a week.
And ultimately, of course, Everton pay his wages – not Roy bloody Keane and Martin O'Neill – so, if there is a decision to be made, it should rest at Finch Farm.
Shane Corcoran
28
Posted 08/11/2016 at 17:14:54
Craig, Haaland didn't break his leg. He injured his knee forcing him to retire. The knee was on the opposite leg to the one that Keane hit.
He admitted in his book that he went out to get revenge and doesn't regret it one bit. I imagine it happens a lot. Difference is Keane admitted it and got charged by the FA. I doubt he wished his career be ended by it.
It's not funny that he can't remember, it's depressing. Why would he remember the '95 Cup Final defeat considering what he's won since? It's depressing that we all remember it so well.
I'd also have to disagree on your view on Coleman, not that it's important.
Nicholas Ryan
29
Posted 08/11/2016 at 17:19:03
Just had a quick look at McCarthy's Wikipedia entry. Interestingly, part of it says: He said he would have played for Scotland, if they had asked him first.
Anthony Hughes
30
Posted 08/11/2016 at 17:24:57
The tackle on Haaland wasn't the tackle of a "hard man". It was a shithouse's tackle.
James Stewart
31
Posted 08/11/2016 at 17:25:00
International football is dead. The sooner these pointless friendlies and endless qualifiers are knocked on the head, the better.
Jay Wood
32
Posted 08/11/2016 at 17:27:07
Bejezus! Has any of this tête-à -tête across the Irish Sea been necessary?
It's one of (football's) eternal conflicts: international call-ups of (alleged) injured players and club versus country.
Had Jimmy Mac been out injured for Everton a few weeks before the last international call up? Yes.
Was it best practice to then play him in close-on two full games in less than a week for Ireland? Probably not.
Did Koeman then select him for Everton on his return? Yes, as a 30-minute sub.
Did James then get injured whilst back at Everton, both training and playing? Yes.
Can it be categorically stated that his playing time with Ireland contributed to the new injury set back? Probably not, but most reasonable observers would not totally disregard it either.
Did Koeman make passing reference to James's workload with Ireland as a contributing factor to his latest injury? Yes.
Did Koeman go off on one? No.
Did both Martin O'Neill and now Roy Keane go off on one, against both Koeman and Everton, over the matter? Most definitely, yes.
Did Koeman escalate, or attempt to deflect and diffuse the situation when last asked in a press conference? Deflect and diffuse.
Given the most recent comments from all sides, who has been proven correct in his latest evaluation of James's fitness to go out on International duty, MoN or Koeman? Koeman.
Enough already!
As for the rest, who gives a flying tatty for what the ex-Sunderland manager (who quit following a 4-1 home defeat to Bolton, with the team in 18th place in the Premier League), ex-Ipswich manager (where he never challenged for promotion, but quit them shortly after leading them to 21st place in the Championship), ex-assistant manager to Paul Lambert at Villa, now token assistant manager to the RoI, spouts in a rambling stream of consciousness...?
Eddie Dunn
33
Posted 08/11/2016 at 17:27:10
Just watched a video of the original incident when Roy hurt his knee ligaments when trying to trip Inge Haaland... . Inge Harland goes over and shouts something at Keane. I don't know if he was questioning Keane's injury or expressing his view that Keane deserved to hurt himself as he was trying to trip him.

The video of Keane's infamous "horror tackle" is truly shocking. A case of premeditated GBH. The previous incident would never be justification for the disgraceful foul that he should be ashamed of.

For the record, I always liked watching him, and loved all of the argy-bargy with Viera and Co. I also have a good portion of Irish blood, so no axe to grind with the RoI, but Keane is a prat of the highest order.

However, Craig, I don't think he broke Haaland's leg, and apparently, it was the other knee that caused his retirement. This of course could have been due to the other knee having to compensate for the right one's weakness.

That fact remains that the RoI management were happy to "leave it up to the player" and we paid the price. Koeman may also be at fault putting him on at Man City, but it wasn't the groin that went, it was the hammy.
Mark Morrissey
34
Posted 08/11/2016 at 17:32:09
Sometimes you read a phrase or comment on TW and you start to chuckle. It's the wit of course. It's everywhere on TW and of course sometimes people rant on and on because it exorcises the ghost. It makes you feel better sometimes if you vent your spleen but, as I started to read this article, I went from being really angry to thinking maybe he has a point.

So whilst deciding whether it was actually worth me writing something or not, I decided to read everyone else's comments first and as I scrolled down, I read the first post from James and I thought "Yeah, I can see where James is coming from" and then I read Chris Gould's post @2 and spat my tea all over my fecking laptop.

Sometimes I'm thinking exactly what someone else has written and "helmet" sums up Keane. I'm still laughing. It's why I love TW. It never fails to interest. Nice one, Chris. I like what Eric Paul @ 5 has said, so I need say no more. I'll just keep reading... Where's that kitchen towel?
Paul Holmes
35
Posted 08/11/2016 at 17:49:28
The best answer Koeman can give to Roy Keane is to off-load these over-rated Irish players and get some decent players through the door. He is right about our form and results, so off-loading McCarthy, Gibson, McGeady and even Coleman can bring us in some revenue to move forward to be a top 6 team.
These players (maybe Coleman, but he's been rubbish lately) would not play for a top team. Let other teams deal with the chuckle brothers O'Neill and Keane.
Tony Kost
36
Posted 08/11/2016 at 17:52:28
The words 'Roy Keane' and 'hypocrite' must be next to each other in the dictionary. And on the other side is 'arsehole'.
Seamus shows great form for Ireland – more so than for EFC at the moment. What is Keane's problem? What a nut-job!
Ed Fitzgerald
37
Posted 08/11/2016 at 17:52:51
Who gives a shit about international football? It's tedious, boring and has had its day; a little like Roy Keane himself.
Steavey Buckley
38
Posted 08/11/2016 at 18:03:15
There is no way Koeman would have allowed McCarthy to play for Everton after just over-coming groin surgery, because he was short of fitness as well as being not match-fit. But O'Neil allowed McCarthy to play not just one full game, but two, which proves that O'Neill and Keane have no real regard for the playing career of James McCarthy.
Ciarán McGlone
39
Posted 08/11/2016 at 18:04:35
That's a bit rich coming from a man who got a Man Utd plane home from Saipan.
John Harris
40
Posted 08/11/2016 at 18:08:39
Chris Gould (16) is correct. Koeman´s "bleating" about McCarthy being "massively overloaded" and ROI "killing the player " were made before the City match.
From Reuters 14th October
"When James came back from Ireland the message from Everton's medical staff was that he was massively overloaded. I don't do this to my players at Everton because you get injuries again," Koeman told British media.

McCarthy was on the sidelines for five weeks with a groin injury but played in Ireland's matches against Georgia and Moldova earlier this month.

Koeman acknowledged McCarthy was put in a difficult position when asked to determine his own fitness for the international fixtures and also urged Ireland manager Martin O'Neill to handle his players more sensibly.

"If you leave it up to the player to decide then he is in a difficult situation... You hope something like this would be solved by the understanding of the doctor of the Ireland team or the manager of the Ireland team," the Dutchman added.

"I like to have a lot of international players because it is a very good experience for every player. But sometimes, in several cases in fact, you like to have a little bit more understanding for a player... You are killing the player."

Fifth-placed Everton travel to Premier League leaders Manchester City on Saturday.
Duncan McDine
41
Posted 08/11/2016 at 18:16:51
For an ex Man Utd captain that looks like a cross between Ian Huntley and Gerry Adams, is there any great surprise that he's a gobshite?
Hopefully by next summer, it'll only be Seamus that he'll have to worry about with regards to Everton.
Mike Manchester
42
Posted 08/11/2016 at 18:24:51
Cant remember when Everton last won a trophy?
https://s.yimg.com/bt/api/res/1.2/NjoioE.n8A_Ezpiarncf8g--/YXBwaWQ9eW5ld3NfbGVnbztxPTg1O3c9NjMw/http://media.zenfs.com/en-GB/blogs/rankings-uk/rideoutscores.jpg
Let me remind you... twat.
Ray Said
43
Posted 08/11/2016 at 18:30:17
Is that the Keane who pissed off during a World Cup and let his team mates down?
Shane Corcoran
44
Posted 08/11/2016 at 18:34:44
Imagine the laughter of Keane if he heard an Everton fan slagging him about the FA Cup Final of 1995.
For all those who say "who cares about International football?", it's fairly clear, they'll be at various stadiums next weekend. The fact that so many of you can't identify with England isn't really relevant.
Tony Kost, Roy Keane is two words.
Danny Broderick
45
Posted 08/11/2016 at 18:36:39
Keane wants to have a look in the mirror. First of all, he needs to sort that beard out. He looks like a tramp.
Des Farren
46
Posted 08/11/2016 at 19:05:35
Sad but predictable to see the way this thread has developed. It strikes me that some posters gets more engaged over perceived insults than anything else. Keane has no time for Everton's stance on the matter while we, who should adopt a similar attitude to him, produce a thread like this.
"No Irish should apply" is alive and well here – if not, thankfully in Goodison Park which I have been attending since 1960.
Shaun Taylor
47
Posted 08/11/2016 at 19:11:28
He's an absolute cock and a shite manager to boot. I guess that's why he's a Number 2 for Ireland.
Kunal Desai
48
Posted 08/11/2016 at 19:16:27
What has the lack of trophies got to do with Irish players being injured? Fucking massive bellend!
If we're going down that route, then you got battered 7-1 at Everton as Sunderland manager. Ya tit.
Christopher Wallace
49
Posted 08/11/2016 at 19:20:58
When was the last time the Republic of Ireland won a trophy?
2002 was undoubtedly their best chance to win a trophy. Decent team in a very open tournament.
What did Roy "The Patriot" Keane do again?
Fuckin' selfish, arrogant twat. Let's hear his apologists defend his actions...

Chris Leyland
50
Posted 08/11/2016 at 19:22:04
Roy Keane; A failure as an international footballer who let his country down on the biggest stage of all.
One of the shitest managers of recent times who was so far out of his depth on the touch line that it was embarrassing.
Even his punditry is on a par with Michael Owen's at times.
Just ignore the irrelevant has-been.
Brian Hennessy
51
Posted 08/11/2016 at 19:28:47
Keane is a muppet – always has been, always will be, a decent player all the same but a complete twat.
As an Irishman I can't wait to see the back of him in the Irish set-up. God knows he failed as a manager and along with O'Neill, is serving up some of the worst football I have seen in my life.
McCarthy is injured, for heavens sake, O'Neill and Keane, get over it and move on. You should be concentrating on the match against Austria not talking about players that are unavailable.
Shane Corcoran
52
Posted 08/11/2016 at 19:36:49
Keane said in one of his books that he grew up thinking that playing through pain was the way to go; don't show any weakness. However, he recalled an FA Cup semi-final where Van Nistlerooy told him his knee was a bit sore and that he wasn't going to play. Keane obviously asked him what he was on about. 'It's an FA Cup semi-final," he said, "you have to play."
After that though, he realised that RVN was right and he won't be the one hobbling around in old age.
Ya see, Roy's a walking contradiction. Loads of stuff to pull him up on rather thaN shite like his managerial career, Everton beating him in the Cup 20 years ago etc.
And, as for the Saipan brigade, it's been done to death, even on ToffeeWeb, and very recently. The facts seem an inconvenience.
Oliver Molloy
53
Posted 08/11/2016 at 19:42:03
Roy Keane likes the limelight.
Sometimes I find myself agreeing with his assessment and honesty regards the game and other times I think to myself that he does come out with some crap.
Today, Roy Keane clearly demonstrated why he has failed in his quest to be a football manager.
Total disrespect for Koeman (I couldn't care less about Koeman), I think he said, and Everton should be happy at players being overloaded is quite honestly pathetic.
Roy Keane and Martin O'Neill should both wise up.
Christopher Wallace
54
Posted 08/11/2016 at 19:49:03
Roy has never played for anyone other than himself – not for his club and not for his country.
This is fine, but he should stick to talking about himself and shut the fuck up about our club.
Maybe he should get a Twitter account so his fanboys can go lick his arse and lap up his hard-lad sound bites, while the rest of us can ignore the deluded fuckwit.
Mick Davies
55
Posted 08/11/2016 at 19:56:36
Steavey @ 38, good post. O'Neill and Ben Gunn couldn't give a toss about a players career, as long as they gain their much loved brownie points. Makes me laugh when I think of what Keane did to his international team mates in a World Cup.
The former Manchester United "hard man". That makes me laugh. He wouldn't go near Big Dunc, a man who didn't commit nasty fouls to deliberately hurt a fellow professional in a snidey way; he just belted them, which – although I'm not condoning violence – is more of a mans way than hiding behind sly fouls.
He held a grudge for a year (a whole year in fact that Keane was 'injured' and couldn't play for his country) then deliberately went out to destroy a player by slyly going for his knee: I'm sure a 'hard man' would have confronted him in the tunnel.
Total scumbag in my opinion, and he wouldn't have won anything if it wasn't for Giggs, Neville, Scholes, Sheringham, Pallister, McClair etc. He hasn't done very well as a manager the prick.
Brian Wilkinson
56
Posted 08/11/2016 at 20:01:01
Maybe Roy Keane should blast Alex Ferguson as well, how many times did Man Utd players come down with injuries. Everytime there was an international break, McCarthy is injured, which is more than can said about Ryan Giggs and Co.
Andrew Presly
57
Posted 08/11/2016 at 20:17:14
It's depressing to follow up a 5-0 loss with unavoidable rubbish like this, a squabble with humorous mentalist Keane, twitchy weirdo O'Neill & anyone else at that association who wants to weigh in over a bang average Scottish player who is playing for his future at Everton, or should be, after a great first season with us.
Do any good teams with aspirations to make an impact in Europe have Irish players? No.
First England vs Scotland game in a while coming up with no Everton players in the Scotland team. I saw that as a positive, we don't have any more McFaddens, but really we do, they just didn't want to play for Scotland. England are terrible too obviously and are at the same level or worse.
I've got heritage from all these countries but they're shit football nations now. We need winning footballers for Everton not UK mediocrities.
I'd trade all the insufficient local / UK / RoI players for an international bunch who won us something in a heartbeat. The key is getting the right mercenaries. That's football in 2016.
Nick Entwistle
58
Posted 08/11/2016 at 20:29:24
The Dutch have the biggest egos in international football. Good luck, Roy.
Tony Kost
59
Posted 08/11/2016 at 20:32:24
Shane Corcoran @44
You're correct: Saddam Hussein is two words.
John Graham
60
Posted 08/11/2016 at 20:37:03
I think if I was Koeman, I would make sure Coleman and McCarthy were injured every time there was a qualifying game for the Irish. Keane needs to learn a bit of respect for other people and other clubs.
We could just let Gibson go then see how many games he plays for them if he's always injured for us. He is just a gobshite.
Barry McNally
61
Posted 08/11/2016 at 20:39:37
Ireland are ranked 33rd in the world yet the assistant manager gets his own press conferences – when will the media tire of this deluded has-been.
Allan Board
62
Posted 08/11/2016 at 20:48:14
O'Neill and Keane remind me of Arkwright and Granville!!
Roy was a good player for his time, but sadly couldn't cut the mustard as a coach due to being selfish and lacking social skills.
Read Clough's book and O'Neill had an inflated ego in 1978 – nothings changed there then.
And international games are now pre-historic.
Sean Patton
63
Posted 08/11/2016 at 20:53:32
His opinion carries as much weight as Ian Holloway or other Championship-level managing failures.
He should do well to remember the so-called glory days of the Republic are long gone and date back longer than 1995.
Take a look at their latest squad and Everton is as good as they get.
Oliver Molloy
64
Posted 08/11/2016 at 20:57:34
And Keane questioning Everton may have to look at themselves regards why Gibson misses so many games is just fucking silly.
We didn't hear a word from Keane or O'Neill when Gibson was crashing cars into fucking petrol pumps pissed when he should have been trying to stick to the programme the club had given him to get himself fit, Roy!
Total hypocrite.
Anthony Hughes
65
Posted 08/11/2016 at 21:09:30
Couldn't give two tosses about Keane or Ireland.
Jay Griffiths
66
Posted 08/11/2016 at 21:26:43
Sky sports throw a verbal handgrenade into the room.
Roy with his high wire emotion and spontaneity responds as Sky expects.
The genesis of a story in an uneventful week ahead.
Roy, Ronald and ourselves construct arguments and counter arguments.
Sky's work is done.
David Edwards
67
Posted 08/11/2016 at 21:29:27
Sorry, folks, but seeing this story on the BBC Sports website – with its 21-year trophy drought by-line, means that whatever we think of him and his past, he has taken the route to humiliate us publicly for this selection issue.
I can criticise us for our prolonged lack of silverware because, like you fellow supporters, I run blue blood through me and have the scars to show. No non-Evertonian should be given any leeway when they effectively mock us.
Grow a pair, you apologists for Keane, and realise what a pathetic moron he is to get at us as a club, because the club have taken a decision (rightly or wrongly) against his beloved ROI (who he left the World Cup for once upon a time)!
Joe O'Brien
68
Posted 08/11/2016 at 22:04:48
No need to bring the RoI as a team into this. The argument is that they were wrong to play McCarthy for 90 mins and then 80 mins... and getting sly digs into it's over our lack of trophies and Gibson comments. No need for the Irish bashing in fairness lads.
Christy Ring
69
Posted 08/11/2016 at 22:16:41
Being an Irish man myself, a Keane fan, and a huge EFC fan, I have to say he's talking through his arse. No other club has bent over backwards more than us to facilitate ROI.
McCarthy and Coleman have played for RoI, even when they haven't played the previous Saturday for Everton.
As for his comments about Gibson and his injuries at club level, didn't he miss a full season, after doing his cruciate on international duty? Zip it, Roy.
Chris Williams
70
Posted 08/11/2016 at 22:45:15
Roy Keane,
First class footballer, third class human being.
Eugene Ruane's comment about him on the other McCarthy thread nails it perfectly. Check it out if you like.
Damian Wilde
71
Posted 08/11/2016 at 23:01:38
Kunal (48) 😅😅
Keane, what an absolute whopper. A first class shithouse. And a shit manager.
He looks like a vagrant. Fuck off and have a shave, you tramp.
Mick Davies
72
Posted 08/11/2016 at 23:09:18
Andrew @ 57, I suppose you support Trump and Farage then?
Ian Riley
73
Posted 08/11/2016 at 23:10:10
Who actually cares what Roy Keane says? Complete failure at club level as a manager. He has a pop at Everton because we have players who represent Ireland. Let's face it, Coleman, McCarthy, and Gibson can go in January.
Keane not happy that Koeman was right. The man sent home from a World Cup as a captain shows who he cares about and the country have him back as assistant manager.
The man humiliates Everton FC and some on here think he is spot on.
Tom Bowers
74
Posted 08/11/2016 at 23:16:13
Keane was a good player in a great side but was an asshole at times in the Joey Barton mould. It doesn't surprise me he can't hack it as a manager and makes the statements he does.
Everton pays McCarthy's wages and that's where his first loyalty has to be.

Mike Green
76
Posted 08/11/2016 at 23:21:09
Roy Keane. Professional dog walker.
Damian Wilde
77
Posted 08/11/2016 at 23:27:22
I hope Koeman buries him with his reply, a mention of his shit managerial record should do it.
Dave Lynch
78
Posted 08/11/2016 at 23:33:08
Keane – the self-styled "Hardman". My arse.
I was living in Nottingham when he was playing for them as a youngster and, believe me, he got more smacks and hidings in night clubs and pubs than most of us see in a lifetime. He thought he was Billy Big Balls then and nothing has changed.
That tackle on AIH was a cowards tackle, they always cut it off on the TV as he starts to walk away, but if you run it through past that, he actually spits on AIH.
He's a gobshite.
John Daley
79
Posted 08/11/2016 at 23:37:31
Whilst out walking his dog one day, old Mark Hamill happens across a magical Petty Coat that, once donned, transforms the mild mannered, 'kipping in a bike shed/carting his belongings about in a bundle like a bindlestiff/basically an arl fucking dosser better suited to wielding a 2 litre bottle of White Lightning [aka: a 'Life Saver'] than a wank laser sword [aka: a 'Wank Laser Sword']' looking, ex and future Luke Skywalker into a living, breathing, point scoring parody of beloved iRish ex iPlayer, current iTeam coach, Roy Maurice Keane.
Perfect for sending along to press conferences when you can't be arsed sending yourself. Up. Again.
The 'f'korrf' is strong with this one.

The story about Keane keeping hold of his 'company car' for as long as he possibly could after leaving Man Utd and then ragging the arse out of it for all it was worth, before returning it, as some sort of 'pay back' no one else gave a fuck about, pretty much sums him up. As do the words he ended his anecdote with: "Every little victory counts".
Course they do, Roy.
May as well have gone full on Partridge and wrapped it up with: "Needless to say, I had the last laugh".

Anthony Dwyer
80
Posted 09/11/2016 at 00:26:56
Keane is always the same, if he gets a chance to spout some shite he siezes his opportunity.
Sky Sports News lapped it up as per, and Roy the boy got his TV time.
Andrew Presly
81
Posted 09/11/2016 at 07:29:45
Mick (#57) – hard to detect nuance or sarcasm on here but no, the total opposite.
Craig Walker
82
Posted 09/11/2016 at 09:19:21
Shane: I stand corrected on the leg break. He went out to deliberately hurt a player though and for that I don't like him.
I've never liked Roy Keane though as a player, a manager or a pundit.
Shane Corcoran
83
Posted 09/11/2016 at 10:21:36
No worries Craig.
Just writing some wrongs of the panto villain. I must say I enjoyed the thread.
Just to point out that Keane said Everton is a great club yesterday.
Tony Abrahams
84
Posted 09/11/2016 at 10:35:49
Shane, it's all about opinions, but the only thing against Roy Keane is that it wasn't his piece to say, maybe?
I watched Everton on Saturday, and genuinely felt that 3 or 4, of the players couldn't wait to get off the pitch well before the game ended. I honestly hope Koeman, was saying the same things that Keane has said about our players because it's true, we are nowhere near fucking tough enough.
Mourinho is now questioning a couple of Man Utd players, for the same reason, because to be a winner, you have got to be mentally tough!
Peter Murray
85
Posted 09/11/2016 at 10:57:21
For someone who crapped on his teammates by walking out of the Irish team during international competition, he might just consider being a little bit more humble.
Peter Roberts
86
Posted 09/11/2016 at 12:28:40
Roy Keane loves the sound of his own trap – always has done. Some people love the sound of Keane opening his trap – confusing it with his "single minded desire and being a winner"... he plays to a certain crowd and they always lap it up.
The very fact that some fans excuse him for his Japanese World Cup fiasco is a joke. The man lacks emotional intelligence on the most basic of levels.

Max Murphy
88
Posted 09/11/2016 at 14:25:37
Our club needs a good kick up the arse. Any criticism is worth looking at.
Shane Corcoran
89
Posted 09/11/2016 at 15:08:00
Tony, I've already said that Keane was largely talking shite this time around. I'm surprised how many actually find something of worth in what he said.
I just find that these threads deteriorate into childish name-calling and the accuracy of Keane's past often gets lost.
If Southgate or any other international manager came out with a rant like Keane's it wouldn't bother me in the slightest. He's clearly trying to achieve something with his comments, not sure what though.
People get very wound up. I'd imagine Koeman has more sense.
David Peate
90
Posted 09/11/2016 at 15:08:51
Looking back to the TW poll of December 2005, I note that 2,843 contributors voted on the question, Would you welcome Roy Keane at Everton? The result was 70% 'YES' and 30% 'NO'. I wonder what the result would be if the poll were re-stated now.
Personally, I would always vote 'NO' no matter how good a player he had been. Hard and fair like Peter Reid, not hard and foul like Roy Keane.
Dave Abrahams
91
Posted 09/11/2016 at 15:15:53
I don't know about Keane as a manager or a coach but as a player he was one of the very best. He would most certainly liven this present Everton up and there would be a vast improvement in the results and performances if Keane was playing for Everton today.
He would roast the ears off a good few of these underperforming players. Some of them are just going through the motions, this is what Koeman is trying to change and he will. I said weeks ago, if they don't play as Koeman expects them to, he will move them on, if he can.
Tony Abrahams
92
Posted 09/11/2016 at 15:51:52
Keane was fucking brilliant, Dave. I remember the night Duncan scored the winner in the season we came 4th. I don't think Roy Keane kicked the ball more than 20 yards that night, and it was both an education and a pleasure to watch.
Life is full of contradictions because, although I'm not usually one for stats, I've just read one on the net which was quite staggering. I don't know if it was based on just EPL games but, if it was, then Liverpool as a team have collectively ran over 100 km, more than Everton after 10 league games.
Not only are we not tough enough, it seems like we are fucking lazy bastards too!
Brian Williams
93
Posted 09/11/2016 at 16:33:38
Great player in his time but a complete arsehole of a human. Anybody who sets out to really hurt someone, like he did with Haaland, and then later state that he didn't regret it, needs psychiatric help in my opinion.
With certain jobs comes responsibility and humility. Keane has neither and is a narcissist with sociopathic tendencies.

Mick Davies
94
Posted 09/11/2016 at 16:33:56
Andy @ 81, Satire mate. But I was just picturing the notice on your front door: "NO JOCKS, NO WELSH, NO IRISH"

Winston Williamson
95
Posted 09/11/2016 at 16:52:27
What a pointless argument: McCarthy is not good enough to be in the Everton team anyway. Sell him and the problem vanishes.
This can be said of pretty much most of the current team – and therein lies our problems.
Andrew Presly
96
Posted 09/11/2016 at 17:34:07
I hoped so, Mick! Cheers.
Peter Fearon
97
Posted 09/11/2016 at 19:48:59
I've always hated that piece of shit Keane. He should have been banned from the whole Ireland set-up for walking out on his team mates in a huff because he didn't like the training facilities for the Euros.

Aiden McGeady and James McCarthy both hate him too over his constant abuse and I am sure many other players have the same opinion of him. He is a sociopath.
Mick Davies
98
Posted 09/11/2016 at 22:40:13
Winston @ 95,
"What a pointless argument: McCarthy is not good enough to be in the Everton team anyway"
Are you for real, did you not see the game at Chelsea? I think some people really ought to think before making crass comments
Winston Williamson
99
Posted 10/11/2016 at 12:24:12
Mick Davies 98:
I'm certainly for real Mick, 5-0 drubbing or not.
However, I see how you have taken my comment – McCarthy is not good enough, but the rest are? Forgive me. I should have clarified
McCarthy is not good enough for EFC and neither are most of the current EFC players – Chelsea result, or no Chelsea result.
Drew O'Neall
100
Posted 10/11/2016 at 13:49:00
Gibbo was a picture of health at Man Utd, Roy.
Mick Davies
101
Posted 10/11/2016 at 21:33:27
Winston @99, McCarthy was one of the players of the season 13-14 but, like every other player, his standards dropped and injuries haven't helped.
But to say he's not good enough for a mid-table side, after his work in helping Wigan lift the FA Cup is ridiculous. How may of our current squad have won anything? Barry from the bench at Man City and that's about it.
Winston Williamson
102
Posted 11/11/2016 at 13:14:46
Mick (#101):
I'm not disputing his achievement with Wigan, nor am I comparing winners medals in the squad.
McCarthy is simply not good enough for Everton. That is my opinion stated. It is neither crass nor ridiculous, only opinion. Opinion backed-up by two years of rubbish performances and no medals (for EFC).
I'm not singling just McCarthy either – as my original post stated – it applies to the majority of the squad and THAT is why we are a mid-table team.
Barry McNally
103
Posted 12/11/2016 at 11:20:47
Jim Burns
104
Posted 12/11/2016 at 13:39:38
Richard @ 5 - Spot on.
What has Everton's trophy hall got to do with the McCarthy issue Keane? A lot to say and nothing to show as a manager. Bellend – move on folks.
Michael Kenrick
105
Posted 12/11/2016 at 19:06:50
Interesting snippet from that article, Barry (#103) that folks may not have seen if they didn't read it or Keane's book:
It might surprise people who have not read the book to hear that one of Keane's expressed regrets for how his playing career ended is that he did not finish up at Everton. Describing them as "a top club", they were one of four teams (Real Madrid, Celtic and Bolton the others) keen to recruit the Corkman after Alex Ferguson decided his time at Old Trafford was up.


"Why didn't I go to Everton?" he wonders. He "liked" David Moyes, their manager. Their chairman Bill Kenwright was "very good with Michael (Kennedy) in the negotiations". He "knew that there were good fitness people there." Everton were offering him more money than Celtic. Had he gone, he believes it's possible he could have played for "two or three years" longer.
Add Your Comments
In order to post a comment, you need to be logged in as a registered user of the site.
Or Sign up as a ToffeeWeb Member — it's free, takes just a few minutes and will allow you to post your comments on articles and Talking Points submissions across the site.