Merson: England are wasting Barkley's talent by ignoring him

41 Comments [Jump to last]
Saturday 12 November 2016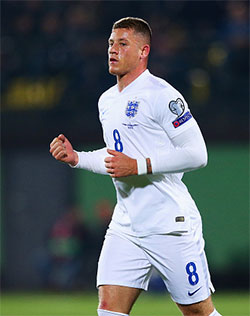 Paul Merson has joined the voices calling for Ross Barkley to be brought back into the England fold, saying that he is one of the most talented players in the country.
Barkley was overlooked again by England for the World Cup qualifier against Scotland last night, continuing a theme of distrust of his abilities that set in under Roy Hodgson.
The 22-year-old has had an uneven season so far for Everton but Merson says that it's a mistake not to build for the future by including players like him, particularly with the likes of Wayne Rooney still around to teach him.
Ahead of England's friendly against Spain on Tuesday, the former Arsenal striker turned pundit says that countries like that would seek to capitalise on such young talent.
"You've got to pick players like [Ross] for the future," Merson said. "He had a blinder against West Ham and surely he's going to be around for years to come.
"If he was Spanish you can guarantee he'd already be playing regularly for Spain. We're wasting his talent.
"Other countries must laugh at us when they see how we treat kids like Barkley. We complain about too many foreign players coming to play in the Premier League.
"But then we can't find room in the England squad for one of the most talented young players we've got.
"Being in the England squad would help him because he's got Wayne Rooney there to learn from.
"Sometimes Barkley is guilty of making bad decisions. But if Everton are patient with him and he gets a good run in the team it could start to work for him again.
"He has a good coach there now in Ronald Koeman who should be able to get the best out of him. But it's time he was back in the England squad."
Everton's only representative in the England squad, Phil Jagielka was an unused substitute in the 3-0 victory that keeps Gareth Southgate's team top of Group F.
---
Reader Comments (41)
Note: the following content is not moderated or vetted by the site owners at the time of submission. Comments are the responsibility of the poster. Disclaimer
Tony Smith
1
Posted 12/11/2016 at 15:46:05
I have always wanted Barkley to become an Everton great and England regular but, at the moment, he's not worth his Everton place – never mind England.
Alan Bodell
2
Posted 12/11/2016 at 16:11:42
Tony (#1), total agreement there and – apart from a few games in the last 2 seasons – he has not gone anywhere near where we all hoped but it is there in his locker and hopefully Koeman can drag it out.
Merson is way off here as he doesn't see Ross doing a Championship performance regularly like we do.
John McGimpsey
3
Posted 12/11/2016 at 16:20:23
He has been one of our better players the last four games yet everyone sucks the arse off Bolasie who, for me, is just another Peter Beagrie...
We let one talent slip through our fingers and look what he has won...
Come on, Ross, prove the doubters wrong.
Anthony Dwyer
4
Posted 12/11/2016 at 16:57:44
Ross isn't worth a start at Everton?
Who should replace him, lads ?
Kelvin Thomas
5
Posted 12/11/2016 at 17:43:26
Ross is in my Everton team all day long! My favourite player.
He is carrying the pressure of expectation. Terrific talent and one of our own! Be careful what you wish because a Ross Barkley fullfilling his potential at another club would be heartbreaking!
As for England, yes, he should be involved!
Andy Finigan
6
Posted 12/11/2016 at 18:05:47
Ross wasn't in the game against Chelsea but neither was the rest of the team. In the games he has played after he was dropped, he has worked his socks of at closing down and even putting in tackles. He looked fitter and, when he plays well, the team plays well.
I have little doubt he is going to get better and will be a regular when Wayne Rooney's finished with England.
Alan Bodell
7
Posted 12/11/2016 at 18:14:40
Kelvin, I love your loyalty but if you have really watched Ross for the last 2 seasons then giving him an England job would be ridiculous.
Unless, he performs as we all know he can, then – when the next transfer widow opens – he may well be on the bench or off so watch out for a sensible announcement from Koeman as he did with our Belgian lump, bigging him up for a move.
Mark Frere
8
Posted 12/11/2016 at 18:22:26
I think the decision to leave Ross out of the England squad is the correct one. It's down to Ross to become more consistent. More often than not, he disappoints with his inability to release the ball quick enough, his total lack of work rate and lacking that killer pass.
I actually think people would be a lot more tolerant towards his mistakes if he got a bit of fire in the belly and closed down the opposition and was more of a team player.
Andy Finigan
9
Posted 12/11/2016 at 18:27:50
Sorry, Allen, I don't agree. Up to the last third of last season, Ross did create many assists and scored some great goals. Under the leadership of our current manager, he is now tackling and working much harder for the team.
Eventually add this part of his game to his scoring and creating and you've got a perfect Premier League midfielder playing for Everton.
Kelvin Thomas
10
Posted 12/11/2016 at 18:31:18
Fire in the belly! Agree with you, Mark!
I'd love to see more of the Ross that threw Arteta to the ground!
Dave Abrahams
12
Posted 12/11/2016 at 18:39:21
Anthony (#4) if he plays like he did versus WHU and carries on improving, then all the adverse comments will stop. If he plays like he has for most of the last 18 months, then he hasn't much of a future at Everton. As a lot of fans keep saying, it is completely down to Ross.
David Pearl
13
Posted 12/11/2016 at 19:03:51
I'd like him to play deeper so he's more involved... that's if he can play a bit tougher, put some tackles in and stop giving the ball away. He needs to be in the England squad for the experience.
Oliver Molloy
14
Posted 12/11/2016 at 19:06:21
Mike Allen
15
Posted 12/11/2016 at 19:11:54
Shame the lad has gone backwards and should not be an automatic choice for Everton; however, given the state of the England team, he wouldn't be out of place. Three managers, same players, same dross... and on the evidence of his international career so far, what a blessing we got the money for Stones when we did.
Don Alexander
16
Posted 12/11/2016 at 19:49:43
Fuck me, after a mediocre 2016, the lad now has to come to terms with Merson being in his corner too!
Tim Locke
18
Posted 12/11/2016 at 20:07:26
Cesc Fabregas – I forgot we bought him.
Danny Broderick
19
Posted 12/11/2016 at 20:34:42
He played a blinder against West Ham, but then had a stinker (along with the rest of the team) at Chelsea. The green shoots disappeared.
Once he has nailed down a place in the Everton team, then he can think about nailing down a place in the England squad.
Merson and Co don't watch him every week...
Phil Sammon
20
Posted 12/11/2016 at 20:50:36
'If Everton are patient with him and he gets a good run in the team...'
Fucking hell. If we've done anything it's 'being pateint'.
I doubt Merson has watched more than one full 90 mins of EFC this season. You just couldn't spout that sort of shite if you'd watched the lad.
I'm a huge admirer of Barkley's talents... but he needs to do so much more than he currently does.
Mark Frere
21
Posted 12/11/2016 at 20:56:00
Danny, Merson doesn't have to watch Barkley every week to know he's not (yet) in the same class as David Silva, Koke, Iniesta, Nolito, Mata, Isco, Fabregas etc.
Merson talks absolute shite and is the worst pundit I have ever seen – a complete embarrassment!
"Playing regularly for Spain."
Absolute drivel!
Mick Davies
22
Posted 12/11/2016 at 21:22:49
Merson: "England are wasting Barkley's talent."
Wrong; the only blame for Ross Barkley wasting his talent is Ross Barkley
Martin Edwards
23
Posted 12/11/2016 at 22:00:03
Merson's not alone though – as a blue living in London, I was interested to read Harry Redknapp's take on the England squad ahead of yesterday's game against Scotland (search "Evening Standard Harry Redknapp" for the full piece):
England's problem is that we don't have many players capable of doing the kind of magic Gazza did that day. There are perhaps two who can among the current generation but neither is in the squad for different reasons.

One is Dele Alli, who has unfortunately suffered an injury. But I was really surprised and disappointed that Ross Barkley wasn't selected. People keep saying he's a bit off form but he's still a kid. He needs encouraging now because he is a great talent.

When Barkley is on his game, he is the closest thing we have to a player like Gazza. I would love to be managing him at this time. He's a boy who needs to be told that "You're different class, go and run the game, they won't get near you".Make him feel like a million dollars and he would go out and put in a performance.

He shouldn't be told "don't do this, don't do that — when we haven't got the ball get here, get there". Let him play and he can open up any defence.

He should be getting the same free role for England as Eden Hazard now has at Chelsea. Look at what's happened to Hazard's game now he's not having to worry about tracking back all of the time.

On the continent, they don't tie their star players down like we do. Lionel Messi isn't being asked to do lots of defending. He drifts where he wants.
Not sure I entirely agree but those of us who think Ross has something are not the only ones.

Steavey Buckley
24
Posted 12/11/2016 at 22:14:51
England are also wasting the talents of wingers Townsend and Walcott who sat on the substitutes bench last night, while Rooney took up attacking positions well away from the penalty area.
What is with the likes of Koeman, Southgate and Martinez who play width on one side and not on the other? Is it because they want to help the opposition by only really attacking one side of the pitch?
A team can sacrifice a striker by only having one instead of 2 without affecting the balance of the team. But a team can't sacrifice a winger, because there always has to be attacking balance, to provide striker chances from both sides of the pitch.
Raymond Fox
25
Posted 12/11/2016 at 22:16:55
Roberto tried polishing Barkley's confidence but that didn't work either.
He's got me beat, I've not a clue what to make of him, he has a very good game then goes missing for the next two or whatever!
I can only think he needs to be told in no uncertain terms that he's used his excuses up and will go to the highest bidder if he doesn't pull his finger out and quick.
Mick Davies
26
Posted 13/11/2016 at 00:08:26
Staying off the sauce and having a few early nights might help.
Ernie Baywood
28
Posted 13/11/2016 at 04:24:16
He'd be getting a place if he was at another club. I was a fan of Stones and wanted him to stay but what I saw and heard against Scotland surprised me.
In the first 15 minutes he was guilty of at least three terrible errors gifting Scotland possession. Then he did an unnecessary Cruyff turn and the commentator proclaimed "John Stones has really lifted his game under Guardiola"!!!
Barkley can still be an England player but he'll either need to play very well (he's not been bad so far) or move to another club.
Darren Hind
29
Posted 13/11/2016 at 07:35:30
I've never really rated Redknapp, Not since his performance as the lion in The Wizard of Oz anyway, but I agree with him here.
Let's face it, apart from a 16/1 chance of winning the FA Cup we are not going to be pulling up any trees this season.
Let him fly. Tell him he is not there to defend, that he has a free role. So what if the experiment fails? It would be worth sacrificing a couple of league places to find out if we genuinely do have a diamond.
I'd forget working on him defensively, he's crap at it. What he needs is somebody to teach him how to keep working and finding space when the attack breaks down, like Coutinho, Hazard. or Silva. If these players don't hurt you this time, they are ready to hurt you the next... all too often, young Ross simply trots back with a gormless look on his face.
I'd also INSIST that he goes for the jugular more often. He is often stricken by indecision, work on him getting his shot off rather than delaying.
Playing for Everton these day must feel like playing in Madame Tussauds. When we do get movement it's usually poor movement, a pass is often made more difficult than it needed to be. We are screaming out for a coach who understands and can communicate the art of good movement – the guy across the park proper gets it.
I'm feeling increasingly desperate about Barkley, I don't recall wanting a player to deliver as much as I want this kid to, the thought of finally finding a diamond and not knowing what to do with him really depresses me. I would hate him to go elsewhere and sparkle, but I fear this will happen.
The difference between Coutinho, Hazard, Silva and our boy, is that they all play their football, both internationally and at club level, in teams where movement is intelligent, fluent and constant.. Ross plays for Everton and England and has never known the luxury of having several avenues opening up for him.
Looking back to check for spelling errors (as if I'd spot them anyway) I realise my post looks like a long-winded excuse for somebody who simply hasn't done the business on a regular basis. Maybe it is, but it has GOT to be difficult for any "playmaker" who looks up to weigh up his options, sees one is offside, another is running away and the remaining eight are not in the least bit interested..
If we could get somebody to teach our players the art of good movement (and it CAN be taught), we may find Ross is not the only diamond we have in our ranks.

Jeff Armstrong
30
Posted 13/11/2016 at 08:54:06
Mick Davies (#26)
Are you spouting "rumours" or is it just your hunch that he's partying?
Dave Abrahams
31
Posted 13/11/2016 at 09:07:25
Darren (#29) it's not a long-winded excuse, it is just telling the truth.
I would add that Ross, after releasing the ball, goes and finds space himself and also when other players have the ball, instead of running towards them, which he does; again, go and make some space to receive the ball.
If he isn't already receiving this advice, he should be... and if he is, he isn't listening. He should be willing to listen to all constructive advice.
Mike Green
32
Posted 13/11/2016 at 09:09:33
Ross Barkley is 23 in a couple of weeks. If he really had the ability of someone like Gascoigne, he would have shown it regularly by now, as Rooney for instance did in spades before he was even 20.
He's a decent player who has effectively had 3 Everton managers and 2 England managers scratching their heads, not really knowing what to do with him because he doesn't deliver consistently to a top level in any of the positions he's played in. Truly class players like Gascoigne and Rooney could be put in three or four positions and deliver but Ross appears to struggle with one.
I would love him to become the talismanic figure people think he could be but I think it could be a pretty long wait. For me, all the expectation which is put on him has been counter-productive, similarly to the England team he can no longer get into.
Maybe if he'd been eased into first team football and international football a bit more carefully, he might have had a better chance of developing but the root of the problem is he doesn't seize any of the opportunities he's been given to really nail down any of the positions he's played in – most likely because he's not quite got what it takes to excel in any particular role.
It's as if a completely new position needs inventing for him. He seems to be a proverbial square peg in a round hole. Is that because, when it all comes out in the wash, he simply isn't quite good enough? I would love to be proved wrong but time is starting to tick by now and I'm still waiting to see what all the fuss is about, to be honest.
Peter Murray
33
Posted 13/11/2016 at 09:16:02
Merson talking sense for once.
Paul Conway
34
Posted 13/11/2016 at 09:18:12
John McGimpsy (#3) and Kevin Thomas (#5)
His last goal for us was his 2nd in 23 appearances, counting the very fortunate goal v Spurs. Insistence on keeping him in the starting 11 is stunting our and Koeman's progress.
When he goes on the transfer list, let's see how many teams in the top 6 come in for him. He is IMO a future Sunderland player, like Rodwell, Januzaj... pure shades.
You are showing the loyalty of a doting Mum, who goes to watch her soldier son on parade, and screams... Look!, everybody is out of step except my Ross!
Oliver Molloy
35
Posted 13/11/2016 at 09:44:30
Mick @ 26,
Is this a fact or a rumour, Mick?
Paul Tran
36
Posted 13/11/2016 at 10:01:43
Darren, you're spot on. Earlier this season, the movement improved and the options opened up. Now it's back to statues.
I think we should let Ross go for broke and see what happens. I have a suspicion that, like a lot of young English players, he isn't as good as we want him to be and he lacks a bit of nous and resilience. We need to know.
Ray Roche
37
Posted 13/11/2016 at 10:30:20
Dave (#31),
It's one of the oldest sayings in the football world, along with "Never pass across your own box"*, "Give it and go", something the RS have taken on board big time this season and something which we have yet to embrace.
How often do we see Ross or, indeed, anyone else, pass the ball and then stand still watching (lack of) developments? Zero movement. Koeman needs to sort it out – we can see it, so must he.
* Never pass across your own box... it's something you see all the time now we've all adopted the "play it out from the back" strategy. Didn't Stones look a knob on Friday night?
Ray Said
38
Posted 13/11/2016 at 11:11:34
In my opinion, part of the problem is that Ross should not be playing in midfield as he doesn't run enough, he doesn't tackle well, he does not track back well, and he gives the ball away more than he should. His strengths are he can dribble, he is strong and can bull past players, he can shoot very well and he can play nice passes into the box. Those are the attributes of a second striker.
I am sure he once said in an article that was his favoured position? Moving him forward would play to his strengths and minimise his weaknesses.
John McGimpsey
39
Posted 13/11/2016 at 13:30:21
When he's flogged by the snake in the front row and goes on to be the best, then all his critics will be gutted. If he had some bellends moving off the ball he would be fine. Instead of the shite we play sideways and back..
Mike Green
40
Posted 13/11/2016 at 13:59:04
Agreed Ray #34, and nothing would give him more confidence than goals.
James Byrne
41
Posted 13/11/2016 at 14:49:59
I couldn't give a toss about the England set up and who plays for them. I actually think the expectation of trying to get into the England squad is the reason why Ross has been poor. This issue has fucked his head up.
The only thing Ross can do is get his club game back on track and international selection will come automatically. Although I don't think it will happen soon.
Damian Wilde
42
Posted 13/11/2016 at 19:33:43
Merson is talking absolute nonsense. Ross should not be in the England side. He's been consistently poor for Everton.
Phil Walling
43
Posted 13/11/2016 at 20:10:38
Merson keeps saying Fellaini always played 'centre-forward for Everton' – whilst he always went up for corners and scored occasionally, I remember him best as a defensive midfielder.
Because of that inaccuracy, I give little credence to Merse's views on anything. Barkley is a regular 6/10 player for Everton but, whether he gets picked for England or not, I just wish WE had somebody better,
Damian Wilde
44
Posted 13/11/2016 at 21:38:10
He did play defensive midfielder, Phil and very well, but he often played behind the striker and occasionally as an out-and-out striker, so not too far off the mark.
Add Your Comments
In order to post a comment, you need to be logged in as a registered user of the site.
Or Sign up as a ToffeeWeb Member — it's free, takes just a few minutes and will allow you to post your comments on articles and Talking Points submissions across the site.