Koeman: We need time to effect big change

54 Comments [Jump to last]
Friday 25 November 2016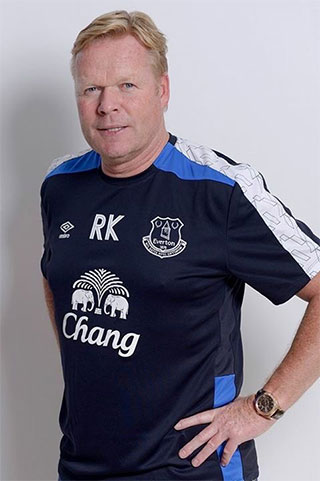 Ronald Koeman has reiterated that he will need time to develop the Everton "project" and to get the team playing the way he and his staff want them to.
The manager was asked during his pre-match press conference ahead of Sunday's trip to Southampton whether he was happy with the way things were progressing three months into his first season at Goodison Park. He admitted that there are things he still needed to adjust and work on but, for the most part, he is satisfied so far.
"Mostly, yes because things are always different [at a new club]. You have to come in and make conclusions but I'm really happy to have made the move to Everton," Koeman said after confirming that he has no new fitness concerns.
"We know it's a project. It's not an easy one but we're totally confident we can finally reach what we'd like to do with Everton."
Asked whether he felt he was having the intended impact, Koeman said:
"Of course, we start here and we had opinions on how we like to play. Not everything is OK, there are things we need to change. It's a project and, of course, we had to play a little bit different from the way Everton used to play over the last couple of years.
"One time it's going well and the next time it's not how I'd like to see the team but that's football. You can't change everything in two months, we need more time but that's difficult because you don't always get time in football.
"We're working on getting the best players in that we need. I think that's the most important thing. I think that's a situation maybe for January and then [eventually] next summer but now we are playing and my job is to get everybody prepared for the weekend.
"And finally, [I can] get the team that I like, where we can be the strongest team to achieve what we like to achieve.
"I don't ask for time because I know that's really difficult in football, even at big clubs where you're spending a lot of money and asking for more time. Of course, to do things differently needs time. It's not easy to change the system of play, to change players and to expect different things from players is [about] really working every day.
"One day it looks OK and it's what I want and then the first half against Swansea I was really disappointed, the second half not. We need to be regular [across] the whole game and we need to start much better than we have in most of the games."
Koeman returns to the St Mary's Stadium for the first time since his uncomfortable departure from Southampton in June with a year remaining on his contract.
There have been suggestions in the media on the south coast that the Dutchman is likely to face a fairly hostile reception but he is hopeful that the majority of Saints fans can appreciate what he achieved with the club in his two seasons there.
"I and the rest of the technical staff had a great time over there but I'm the Everton manager. We play away, a difficult game. They need the points, we need the points.
"But of course it's special because over the last two seasons I had a great time, the club was very successful and I was part of that and proud about my period at Southampton.
"I don't know [what kind of reception I will get]. I cannot change opinions and the feelings of the Southampton fans. I hope that they will respect me. After my career I will look back and I had a great time over there.
"But , of course, I understand different opinions and reactions and I'm not afraid of that.
"But OK, it's time to think about Everton. I made the choice to move and I'm really happy with what I'm doing at Everton. It's a big club, with big history. What happened in the past, is the past.
"I have good feelings about what happened the last two years at Southampton but they have a new manager. That's football, managers change, players change. Now looking forward is the best you can do."
---
Reader Comments (54)
Note: the following content is not moderated or vetted by the site owners at the time of submission. Comments are the responsibility of the poster. Disclaimer
Brian Furey
1
Posted 25/11/2016 at 16:12:43
He is still sounding very positive despite the poor performances of late. Lose this one and we could slip to 9th. A very winable game and you would hope they would show a bit more fight.
Liam Reilly
2
Posted 25/11/2016 at 16:40:47
Southampton are no mugs. I think this could be a draw and that's not a bad result down there.
Brian Harrison
3
Posted 25/11/2016 at 16:47:38
Well, I think we all knew that there are no quick fixes and he will need time to both change our style of play and to change the personnel, but we would all hope that by the end of the season we can see the changes having a positive effect. The way he has chopped and changed his front players apart from Lukaku says he is not happy with what they are giving him.
I think he will get a fairly hostile reception when he goes back to St Mary's on Sunday, and that will no doubt fire up the Southampton players. I would like to see us be a bit more proactive in getting more bodies into our opponents box, also we need to start this game quicker than we have started games of late.
Koeman has said in today's press conference that he has been disappointed with how we have started games of late. I know it will take time to change but surely getting players to start in a high tempo shouldn't be difficult.
So, if nothing else changes on Sunday, I would hope our tempo in the first half changes from what we have seen of late in the first half of games.
Kevin Rowlands
4
Posted 25/11/2016 at 16:47:39
Koeman likes his teams playing high press, this is why Lukaku, Mirallas and Deulofeu will not be at Everton next season as none of them do that... good riddance., imho.
This time next season, I believe we will be seeing a hugely different team than the one playing on Sunday, I still have confidence in Ronald Koeman, he's no mug.
Peter Gorman
5
Posted 25/11/2016 at 16:53:43
Enough rope has been given to most of our players and, by the looks of it, they've not only gleefully wrapped it tightly around their necks but taken a running jump off the scaffolding whilst they're at it.
Danny Broderick
6
Posted 25/11/2016 at 17:01:23
We need to get something out of this. They played on Thursday night, so hopefully Koeman will get his message across to press them and start quickly. I'm expecting at least a point on Sunday.
Geoff Evans
8
Posted 25/11/2016 at 17:04:41
I'll settle for 100% effort for 90 minutes to start with.

John Davies
9
Posted 25/11/2016 at 17:10:14
A difficult game tomorrow on Sunday. I would be happy with a point.

Lukaku needs to put himself about otherwise their centrehalves will bully him. Too many times we have seen the passive side to Rom's game; occasionally when he does use his strength he is unplayable.
Mark Daley
10
Posted 25/11/2016 at 17:40:21
When Donnelly docks...
Dick Fearon
11
Posted 25/11/2016 at 17:59:36
How difficult a task is it for a professional footballer to take a decent free-kick or corner?
While on that topic, why is it that a big bulky lad like Barkley is delegated with that job? His kicks are far from average and he at least could be a distraction to defenders on the receiving end. Those few things have been a long running puzzle to me.
Hey ho, Ronald, If you need someone to demonstrate the simplistic ease of kicking a dead ball, I could name quite a number of 11-year-olds that would put your 'experts' to shame.
Colin Glassar
12
Posted 25/11/2016 at 18:03:13
I can actually see us winning this one. The Southampton crowd will be roaring them forward and I can see us picking them off on the counter-attack like last season (or was it the season before?).
As for Ronald, I want to give him the benefit of the doubt so I will hold my fire for a few more weeks. I still think he will be radical in January and in the summer. We have some talented players but with a shitty attitude / mentality.
Tom Bowers
13
Posted 25/11/2016 at 18:13:57
Last season, the Blues won this one after a slowish start but Barkley was playing well and even Kone had a decent game.
Soton probably won't shut up shop like they did against ''breakaway'' Liverpool last week and may just be a little weary after their Thursday trip to Prague (we hope) and missing Tadic and possibly Fonte.
However, I am not hopeful about the outcome of any Everton games these days no matter what little advantage they may have. It all depends if they can show up from the kick-off and establish authority on the game – something we have seen all too little of this season.
Andy Meighan
15
Posted 25/11/2016 at 18:39:45
How is it our players start games so slowly? Surely anyone who's played the game at any level will tell you, you can't wait to get out there and put yourself about and get involved.
Not us; it looks like it takes our players 30 mins to get warmed up. I'd like to be a fly on the wall in our dressing room just before kick off
On another note re Koeman... I have heard he's looking to the loan market come January and I don't necessarily think that's a bad thing because I'd hate us to pay panic-induced inflated fees for a couple of mercenaries who are only here to boost their bank balances.
As for Sunday's game, I've got to agree with a few on here in saying it's a decent time to be playing Soton after their midweek exertions. Then again, this is Everton we are talking about. A 1-1 draw or a 2-1 defeat... I can't see us winning. I'd love it... but I can't see it.
Joe O'Brien
16
Posted 25/11/2016 at 18:55:02
I'm with you, Geoff @8... I just want us to start fast as if we're 1 down already, because that's the only time we seem to wake up. If we started and played for the full 90 mins the same way we play for of the 2nd halves we'd have a lot more points. It couldn't be a fitness issue. Just get out of the blocks fast.
It would be interesting to know how many points were gained in the 2nd half. I'm thinking it would be the majority of our current total.
Whatever about the team selection and system we're playing. That's a excuse of dropped points. Starting slow is so bloody annoying and no excuse whatsoever.
Jack Convery
17
Posted 25/11/2016 at 20:12:31
A draw for me unless the players who obviously don't buy into Koeman, down tools, as at Chelsea... we could have another TV horror show on our hands. I'm just waiting for an Everton players punch up on the pitch.
For all our sakes, I just hope they all pull together and get us a decent point. Once a slide down the table starts, it's really difficult to stop it. Sunday would be a good day to stop the rot.
Mike Berry
18
Posted 25/11/2016 at 20:14:05
Brian (#3), Exactly.
Also there are going to be a few casualties and a gradual clear-out, some of which may or may not surprise. He is shuffling his pack at present but not got a full house yet.
Let's see what January and the summer brings and for heaven's sake give the man time...
Mike Allen
19
Posted 25/11/2016 at 20:17:18
I think he's trying to play safe with his selections, gambling on the experienced players to pull him through the transitional period and it's not working.
It's a shame after so many lacklustre performances that he hasn't given a couple of the U23s a run. I just don't see any direction. Chopping and changing the same players who are clearly not good enough is not the answer.
Rick Tarleton
20
Posted 25/11/2016 at 20:43:32
It all depends on who he buys, if Bolasie is his idea of a £30 million player, I think there may be problems and Ashley Williams could have been a great buy in 2010, but in 2016, I've got my doubts.

Paul Kelly
21
Posted 25/11/2016 at 20:56:07
Mark @ 10, thought it was " when Dick docks"?
Paul Hewitt
23
Posted 25/11/2016 at 21:38:49
If Koeman is given time he will get this club winning again.
Andrew James
24
Posted 25/11/2016 at 23:43:15
He's broken our transfer record and has a set of players who finished 5th in 2014.
But let's not let the truth get in the way of the line of excuses he keeps making. I'm waiting for Tony Hibbert to be blamed for a defensive mistake. Or the legacy of Osman...
He didn't buy a proper keeper or a back up striker.
Tired of the excuses now. You can only blame Martinez for so long. We had or have decent players because they performed better than this under Moyes and under Martinez in his first season.

Eddie Dunn
25
Posted 25/11/2016 at 00:04:10
Andrew (#24). Come on, he has broken our transfer record because of the obscene amount of money inflating the prices of all and sundry. He has only been in the job 3 months so give him time to implement his ideas and get in his own picks.
Please don't compare what he has done so far with Roberto's first season, you should compare it to his last season, and I for one was sick to the back teeth of the spineless shite served up then, and the bullshit shovelled in our direction from our former manager.
David Pearl
26
Posted 26/11/2016 at 00:43:56
Being in a minority of one, I'd say Martinez would have us going better had he been able to bring in the same players simply because he had a plan.
I really have no idea what I'm watching at the moment. Maybe because of external bird trouble, I'm drained this season. A hangover from last year perhaps?
I can't see us winning Sunday. Moyes teams had the ability to react and bounce back. This squad and with this manager, I'm not sure of them. Added fact that certain players from 3 years ago just haven't progressed.
There should be a black Friday for buying players. One day a year. And selling to of course. COYB, surprise me!
Guido Blumberg
27
Posted 26/11/2016 at 00:48:18
Kevin Rowlands (#4),
In my opinion, Deulofeu can make a high pressure. Especially in the pre-season games, when he played as a striker, he generated a lot of danger as a result of the pressure. His problem is that with the ball at the feet does not end a goal opportunity well.
If it is by high pressure, I do not think Ronald Koeman throws Gerard Deulofeu out of the team. Maybe Koeman does it because of his poor performance.
David Booth
28
Posted 26/11/2016 at 01:00:37
Is this oft-mentioned
project
going to begin tomorrow, or is this just more meaningless PR in a season that is already in re-hab?
If ever there is a game where Koeman has a chance to show he is the man for the job, it's this one.
So far, the only difference I can discern between him and Martinez is that they speak different native languages – neither of which our players seem to comprehend...
James Watts
29
Posted 26/11/2016 at 01:32:14
David (26). Being in a minority of one, I'd say Martinez would have us going better had he been able to bring in the same players simply because he had a plan.
I'll have some of what you're drinking! Things aren't great right now but Martinez having a plan? Have you forgot how things fell apart?! Have you forgot how that plan of passing side to side to side to side fell apart?! Give me Koeman and no plan to Martinez and his plan any day of the week!
Like the majority of us, I've not been too impressed the last few weeks/months to say the least and I'm certainly doubting Koeman a bit right now but unfortunately we simply have to give Koeman time. And if things go pear-shaped we can all look forward to a new manager in the summer! Just as long as it isn't Martinez and his plan.
Peter Barry
30
Posted 26/11/2016 at 02:16:48
Southampton and their crowd will really be up for this one; if Everton don't match their work rate and commitment, we risk being swamped.
James Watts
31
Posted 26/11/2016 at 03:47:09
I think we'll get beat, and get beaten well. The reason? We have the work rate and commitment of an asthmatic sloth who has grown tired of his tree and wants to move.
I'm hanging out for January and some signings as what we have just isn't good enough. And fingers crossed the new signings actually give a stuff and want to play and not just sit on their huge wage packet week in week out.
Barry Williams
32
Posted 26/11/2016 at 05:11:49
I am quite surprised with how some are viewing our current manager and the previous 2 on here.
Martinez inherited a really good solid team with a tough mindset from David Moyes. After three seasons this had been reduced to a pedestrian weak-minded team, which Koeman has now inherited and some people are expecting him to have turned them into a bunch of competitive winners in just a few months.
He has had one transfer window, no full preseason and a number of injuries, plus regime change and structure change at the club. Despite us being dire recently we are still 7th, showing just how inconsistent most teams are too. I for one would like to see more youth and a change of system too, Valencia as a supporting striker for example.
However, after such a short time, no matter what happens against Southampton, it really still is very early days. How long did it take Kendall to sort out the team he inherited from Gordon Lee?
Kevin Rowlands
33
Posted 26/11/2016 at 07:16:57
Guido 27, seriously are you having a laugh mate, have you ever watched Geri try to make a tackle? Pathetic would be a compliment.
Emery had his number at Sevilla, I think his description was good going forward but terrible defensively and not a team player, that's bang on the money. Him and Mirallas will be gone soon, they don't/won't fit into Koeman's way of playing.
Michael Penley
34
Posted 26/11/2016 at 07:43:32
Barry (#32), spot on.
If we accept that Martinez first season success was due to inheriting a strong team and letting them off the leash that Moyes had them on, we have to accept that Koeman isn't going to be able to change a lot yet. Getting that defensive toughness, fitness level and team cohesiveness back is a hell of a lot more difficult than whatever tinkering Martinez did.
Mark Murphy
35
Posted 26/11/2016 at 08:07:56
The Spain Under-21 coach seems to know how to use Deulofeu. 16 goals in 32 appearances and current captain is not bad in a talented team.
He's a confidence player who is capable of turning a game on its head if given a chance and should be given an extended run in the team in my opinion.
Phil Walling
36
Posted 26/11/2016 at 08:56:48
Barry,
I hope you are right about Koeman but invoking the experience of Kendall decades ago has absolutely no relevance in the present situation.
I could just as easily argue it took Ranieri five minutes to turn little old Leicester into run-away Premier League Champions but what the hell would that have to do about it?

Tony Abrahams
37
Posted 26/11/2016 at 09:13:27
Kevin, although I agree with you, I think out of the 3 players you mention, Gerry is the one most capable of changing, but I think he's going to have to change his position if we are to ever find out.
I don't think Koeman, is utilising the players anywhere good enough, because although they are letting him down, I also think he's doing the same to some of them by playing in a way that I don't think they are capable of.
He praises Lukaku, but I don't think he will ever be able to play a pressing game, so this must already be leading to contradictions within the squad because the players must also feel the same way.
Against West Ham, every time we pressed them, they found little pockets of space, yet every time we let them have the ball and filed everyone back to the halfway line, they couldn't get through.
Until he's got the players he wants, then this has got to be a much better system, because it's so much easier for the players to understand, and with the pace of some of our players, then we will also hit a lot of teams on the counter attack. Let's face it, it's not like we get a lot of players in the opposing team's box very often anyway.
Paul Smith
38
Posted 26/11/2016 at 10:01:24
I've seen nothing to suggest that time will bring success under Koeman. We've played awful in the last 7 games, but we are where we are. As soon as there is an improvement, I will gladly eat humble pie, here's hoping.
Great atmosphere at St Mary's – always good banter between supporters, looking forward to it... Matters on the pitch? Not so much.
Steavey Buckley
39
Posted 26/11/2016 at 10:09:14
Koeman has said that he is satisfied the way things are going at Everton.
All I can say from what I have seen this season from watching Everton playing, he is easily pleased, because most Everton performances have been dire. That frankly gives no indication of better performances than last season.
Barry Williams
40
Posted 26/11/2016 at 10:31:10
Phil Walling (#36),
No need for the aggression just because you have a different point of view Phil.
We look for parallels and you could argue that they are or aren't relevant, but there is no 100% parallel to compare to, obviously.
Look at Man Utd, then. A very modern example of how hard it is to change things, for all the money they have had, top managers etc. they are still just above us and have massively underachieved. Leicester happened very quickly, but not overnight. Being a rather unknown quantity probably helped them a lot.
My point being that Koeman has inherited a team that was on a very steep downward spiral, he has steadied it and it will take time for him to get them playing as he wants them to. If we are still at this point in 2 or 3 transfer windows' time, we can truly assess Koeman as a failure!
Again, just my opinion, which can be agreed or disagreed with!
John Wilson
41
Posted 26/11/2016 at 12:07:55
What is annoying is that Everton only seem to put in a 'performance' (using the term loosely) where Koeman roars at them, or scolds them during half time for not playing good in the first half.
Why doesn't he put the fear of God into them just before the game starts, to fuel some passion from the beginning, is the question? What good is it playing in the 2nd half where the task is (obviously) ever so more burdensome?
Roger Helm
42
Posted 26/11/2016 at 14:15:36
John, the manager can only fire them up so much – once they cross the white line, they are on their own.
We have said for years that our team has no on-pitch leaders – no Reid, Keane, Gerrard, Terry etc with whom no player dares give less than 100 per cent. Hopefully this will be addressed in the next two or three windows.
Lev Vellene
43
Posted 26/11/2016 at 17:27:08
Usually, it's 'what we got' will do the trick! Eventually...
I don't doubt Mirallas's ability, nor Deulofeu's, nor... But if they can't come through NOW, why wait for when it won't matter anyway???
John Pierce
44
Posted 26/11/2016 at 18:11:26
Can people not see several playyers have downed tools on Koeman?
Mirallas, McCarthy, and Deulofeu all know they are on the way out. So why bother? The worrying bit is Koeman can't see it and play the younger players.
Despite him bigging up Rom, it's the biggest sign he wants rid. Rom simply doesn't have the skills to play in a 'Koeman' side. Short term, Rom might get the goals we need to reach the Europa League but it's a stretch.
It all adds up to Koeman, to date, beuing unable to get the best of what he has and becoming more interested in managing what he might get. That's a worry.
Ian Riley
45
Posted 26/11/2016 at 20:03:47
We have no bite in midfield or leadership to drive the team. This has been evident for the past three years. Koeman knows what he wants but we don't have it. It may get worse before it gets better. Let's wait and see.
Mark Andersson
46
Posted 27/11/2016 at 01:37:06
I agree with Phil Walling; however, Barry (#40) is right about Man Utd. There is no excuse for a player not giving 100%. Sadly though the game is rife with players with the wrong attitude.
The project Koman talks about is waffle so your average fan clings in hope that it will come good. Moshiri is the one who will be found out soon enough. Let's see who he gets in player-wise. The new stadium business will drag out and be used as a carrot to appease disgruntled fans.
The wave of pessimism is gathering momentum. King Billy has seen it all before and will be whispering to Moshiri to ride the storm, send his mate Jim White a text to hint something about the docks... get the picture?
Back to Sunday's game – a win is not likely, going on form. A good performance, no matter what the result is, may appease the growing anxiety. But, for me, nowt has changed – just more of the same.
Good luck to the amazing away fans.
Paul Kelly
47
Posted 27/11/2016 at 08:51:10
Mark @10 We were both right,
"The church is linked to the famous phrase, "I'll be waiting till Dick docks", meaning "I'll be waiting a long time". This refers to the ship the Richard Donnelly, which is said to have sunk in Liverpool Bay.
Another version of this phrase is used when an unlikely promise is made; "I'll repay that loan soon!" "Oh,yes – when Donnelly docks!" implying that the action is never going to happen.
A gilded copper weather vane in the form of the ship is on top of the tower of St Nicholas's. The weather vane measures 4 ft 4 (1.3m).", anyway back to football.
John Graham
48
Posted 27/11/2016 at 10:34:51
I think he would get rid of at least half of the team if he could. He is trying to blend them into a formation he prefers to play but they have shown they're just not up to it.
From his chopping and changing, I would say Mirallas, Deulofeu, Lennon, Cleverley, McCarthy, Kone, Oviedo, Gibson and Robles are definitely not his type of player. Barkley and Funes Mori are on the edge and Jagielka is starting to slow down a little too much.
From the U23 team that was put out through the week, I would hope he has saved one or two for the starting line-up in this game and he has finally decided to give them a run of games to see if they are up to it.
COYB
Eric Paul
49
Posted 27/11/2016 at 21:18:53
"Lukaku is too good for Everton" or words to that effect...
"The Red Shite can win the league" or words to that effect...
Now he's taking a guard of honour from the Southampton players at half-time, high-fiveing for fucks sake... Get rid now – he's clueless.
Armando Canaj
50
Posted 27/11/2016 at 21:32:11
Only 1 win in 8. Another poor performance today against Southampton, with a goal conceded in 44 seconds and 1st shot in target on 93rd minute.
I guess we're writing this season off as the overused football cliché 'In Transition'
Getting really sick and tired of this overhyped game.
Peter Roberts
51
Posted 28/11/2016 at 12:04:55
Koeman is being afforded an "excuse" that it takes time to reverse some sort of coaching by Martinez that has made international quality players resemble a group of 12-year-olds playing on the local park...
Let's take a look at other examples:
Joe Royle:- took over from Mike Walker and instilled a work ethic and energy that wasn't there. Dogs of war – whatever his impact changed the team immediately.
Dave Moyes:- Took over from Walter Smith and instantly injected some professional pride and organisation into a very poor side. Wasn't my cup of tea but he showed an ability to shake things up.
Martinez:- for all his failings – his initial impact was huge. He had us playing free flowing football and it was great till we got sussed out and he couldn't adapt.
Look at Benitez, Bruce – they have gone and immediately changed the way their teams play.
So why all of a sudden is Everton this slow turning ship? We have gifted footballers all over the place. Koeman said we were not fit enough and surely now we are, as he's had a good few months with them – so why are we lacking in workrate, tempo, aggression?
Personally, I find the man uninspiring, arrogant and smug – his interviews have been divisive and tactless. So what do the players think of him???
Okay, let's look at it another way. He's made Lukaku his golden boy - wrong choice straight away. A 6ft-4in supposed powerhouse who scores more goals than the previous budget level strikers we have signed over the past 30 years – why is he the subject of praise and "Barca" talk? The lad simply will not work for the team; he thinks the team needs to work for him – he makes that clear enough.
Imagine being Ross Barkley playing behind the laziest striker I've seen with the worst touch – yet he's the one getting all the slating?
For as many games as I care to remember, Lukaku gave the back 4 an easy afternoon. When they have the ball he makes a token gesture of running towards them – with all the urgency of a dog who is being called over to have his lead put back on to signal the end of its walk in the woods. Yet he has the majority of the fan base conned into thinking he is the answer to all our woes and that without him we would be relegated? – wrong.
Steven Naismith showed on numerous occasions that despite being the unfashionable choice up front could offer more of a nuisance factor to the opposition - he would force errors and balls put into the stands...
Oh yeah – he knew where the net was in big games too. Despite being 5ft 10 and a few stone lighter than Rom I never seen him bullied.
This isn't about Rom though – this is about the manager who actually praises the laziest player on the team whilst the supporting act get the muddy end of the stick.
Will a transfer window change things? well I hope his 㿊m bid for Sissoko doesn't represent his wisdom with money - flop of the season so far for spurs.
Either way – it's going to a monumental shift in how things are going for me to change my opinion of this manager. He totally misjudged the expectations of the fans and much of the damage is done – we have had an insight into an abrupt, nonchalant, overpaid manager who doesn't want to be here.
Paul Roberts
52
Posted 28/11/2016 at 12:47:52
Peter (#51)
Couldn't have put it better. I'd just like to add the clown was sick that we conceded in the first minute. Would he prefer to concede in the 90th? We had 90 mins to turn things around and yet all we could muster was one shot on target at the very end! Lest we forget, that stat was a big fat zero in the Chelsea debacle!
I'm a season ticket holder and could make a case we could have easily lost every home game. Looking at the table, I thank god we didn't.
Give Unsworth the job now!
Peter Roberts
53
Posted 28/11/2016 at 15:48:13
Paul (#52),
Giving Unsworth the job and getting rid of Big Ron will probably be like playing Steven Naismith ahead of Lukaku for many of our fans. Forget the fact that he may actually be the right choice for the "team" – too many fans have an inferiority complex and only a renown name will suffice.
Me personally – I say yeah give him a chance. He has been with the club since he was a kid, moved away and came back and seen us go through some massive transitions managerially. Will it make him the answer? maybe not but he will at least instil some of what "Everton" is all about to the press and the players. Above all else, he will integrate some of the young players that Koeman is ignoring despite the senior players not doing the business.
He can't do any worse than Koeman who has the aura of a bloke who has retired from his career and is stocking shelves at Asda to supplement his pension. What does he care if his 25 year old boss pulls him up about not doing a good job facing up the boxes of corn flakes - he's been there and done all that, gives a little chuckle and walks off whistling away.
Koeman can only dine out on his footballing career so long – once players lose respect then it doesn't come back. Something has happened amongst the team – no doubt we will find out soon enough.
Maybe he will turn it around... maybe the fear that his Barcelona credentials are getting hammered may actually make him take the job seriously. Either way, he isn't in it for the long haul, he's made that clear enough and for me that is what has created the disconnect.

Clive Rogers
54
Posted 28/11/2016 at 17:00:12
After watching yesterday, its obvious the the players are just not good enough.
Three of the back four are in their 30s and are showing their age. That includes Williams who is slow on the turn, keeps getting caught out of position and is not dominating in the air. We couldn't clear corners yesterday.
Barry also is fading fast. His passing game has deteriorated the last two games. Our wingers were awful, Bolasie losing the ball, running into blind alleys and no end product. Lennon was simply not trying, not interested.
Bob Parrington
55
Posted 29/11/2016 at 11:34:47
Personally, I agree with Koeman. Rome wasn't built in a day and all that aside. It's taken years to get to this shit position and we can't expect to be out of it overnight.
Patience, planning, and the right calm attitude will bring the results. I hate the current set of results, don't get me wrong. But, slowly but surely, put the right team (by this I mean directors, management, coaching and playing staff) and we will surface with a great result.
Onward and upward. COYB!
Paul Roberts
56
Posted 30/11/2016 at 10:28:10
Bob (#55)
Never mind "Rome wasn't built in a day" – how about "Nero fiddled while Rome burned"! We, the indulgent apathetic Goodison faithful, can play the part of Nero.
How long did it take Joe Royle to organise and inspire the rabble he inherited from Mike Walker? We should all know the answer to that because he didn't have long. Relegation beckoned and Joe got cracking!
This immodest buffoon just whines about transfer windows, lack of fitness, and previous managers....
Ron, being a Kon-man could play the fiddle. Cos let's be honest, he's conned us into believing he's the man to lead us out of the wilderness!
Peter Roberts
57
Posted 30/11/2016 at 16:20:43
I see we still have fans who are bought into the novelty of a new manager and allow him extensive time to really prove that he doesn't get Everton Football Club.
If every fan was to be truthful and say what their gut is telling them then they would say "he is not the right man for us"...
Something stunk straight away – his appointment was the strangest, drawn out announcement I have seen. None of the 'bleary eyed' newly appointed Joe Royle talking about his inability to sleep and how he accepted the job before even discussing money amid the backdrop of Goodison. We had to wait for this fella to finish his second holiday in as many weeks before having a photo taken in the sun with an Everton shirt... after signing a mega million pound deal of course. A bit like a modern day Ron Atkinson with about as much of the same level of tact.
Okay, get that out the way... he came in and said the squad were unfit etc – music to our ears as we thought it may indicate that his regime will be that of a "high energy", "up and at em" approach, once he had the players whipped into shape. We started pretty well, he showed some intent and an ability to change tactics etc. Then it all happened.
He decided to talk – too much at that. Our overweight, lazy goal machine was suddenly the best player at the club who would be a failure if he stayed here. Now just imagine the rest of the squad listening to that they have had to listen to the Belgian truffle pimp himself out every international break for the past 3 years and now the manager was doing that for him?
Not just that – he tells the press to stop asking questions about Ross Barkley and then proceeds to criticise the lad in following briefs – a player who has had the confidence shaken from him by nearly every manager he's played under bar Martinez.
It's not that I don't think he's has the ability to be a good manager or not – he just really isn't bothered... which invariably makes him a poor manager.
He has all the enthusiasm of a Brazilian international landing at Manchester airport in lashing down rain after agreeing to sign for United on a 5-year deal.

Add Your Comments
In order to post a comment, you need to be logged in as a registered user of the site.
Or Sign up as a ToffeeWeb Member — it's free, takes just a few minutes and will allow you to post your comments on articles and Talking Points submissions across the site.