Coleman: We have to perform for 90 minutes

83 Comments [Jump to last]
Thursday 1 December 2016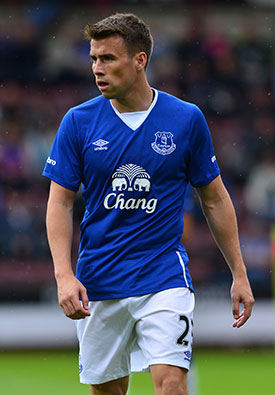 Having come in for so much criticism for their performances of late, Seamus Coleman says that Everton players have to put a full shift in when Manchster United come to town this weekend
Aware that talk is cheap and that fans are tiring of the players vowing to improve and then delivering sub-par displays, particularly in the first half of matches, the Irishman says it's time Ronald Koeman's men turn their words into action.
"The way things are going at the minute, we just want to get out there and put things right," Coleman told evertontv. "We have to do this kind of interview — it is protocol — but at the end of the day, you can say all of the right things but you have to go out and do it on the pitch.
"It is going to be a tough game against Manchester United, but we have to go out and perform and do so for 90 minutes — not for 45.
"We can take confidence from the home record. The home form has been good. If we beat United on Sunday, we go above them in the league.
"We have to look forward, do the right things and when we come off that pitch we have to be able to look in the mirror. There have been some games recently where we have been nowhere near good enough. We may have played well in spells but we need to do it over the 90 minutes."
"I just try to approach things the same way every day," he said from a personal perspective. "I try and do the right things. Some games, things don't go right for you but that's not an excuse for you to stop trying to do things correctly.
"You have to keep being professional, and if we can do that then hopefully our luck will turn."
---
Reader Comments (83)
Note: the following content is not moderated or vetted by the site owners at the time of submission. Comments are the responsibility of the poster. Disclaimer
Mike Gaynes
1
Posted 01/12/2016 at 15:21:13
He'll make a fine captain next season.
Brian Williams
2
Posted 01/12/2016 at 15:48:48
Seamus, me old mate, glad you referred to the home "record" and not the home "form" (which would be the norm) because although we may not have been beaten the way we've played has been utter shite.
I can't get my head round this myth that has very recently surfaced that we've been much better in the second half of games.
As I said on another thread, if there's less shite in your shite sandwich, than there was yesterday, you're still eating shite.
The only little tiny light in the dismal darkness that is Everton lately is that Rooney is suspended because, if he wasn't, after not scoring against West Ham, you can bet your life that he'd score the two he needs to break Bobby Charlton's record.
Did I mention we're shite at the moment?
Brian Furey
3
Posted 01/12/2016 at 15:54:14
Our midfield is very lacking in intensity and drive. With us playing two very defensive midfielders, it means we are very short of players who push forward and can score.
With that in mind I wonder would it be worth pushing Coleman to the right wing with maybe Holgate behind him. I'd also bring in Funes Mori who would be another scoring threat from set plays.
At least Coleman will get to the byline and get it some crosses or have a shot himself. Yes Funes Mori makes the odd mistake but at least he's young and faster to react that Jags.
I will be very disappointed (but not surprised) if we see Koeman send out the same team again and hope that we will put in a better performance.
Mark Andersson
4
Posted 01/12/2016 at 15:58:51
Oh dear... another sound bite. Predictions anyone??? Another long debate on what's wrong after this game, I suspect.
Well, ya never know... we might scrape a lucky win, but Everton with this shower putting in a full 90 minutes... hahahahahaha.
I look forward to reading the other post about this, but as always I skip anyone who writes their own team sheet as a post. Koeman know's the best team for the job, hahaha.
John Raftery
5
Posted 01/12/2016 at 16:01:45
We won't know if moving Coleman into right midfield will work unless we try it. He is one of the few who can be guaranteed to put a shift in, even when he is not in top form. Surely the time has come for Koeman to try something, or somebody, slightly different?
Craig Walker
6
Posted 01/12/2016 at 16:06:16
It's Coleman's turn to come out with the meaningless platitudes in light of another abject performance. My money was on it being Baines this week.
I'm getting fed up of Everton players stating the bleeding obvious to the press and then not turning up for the next game.
Peter Laing
7
Posted 01/12/2016 at 16:08:36
He should be Everton Captain – he's one of only a few Everton players that actually looks like he gives a shit.
Dermot Byrne
8
Posted 01/12/2016 at 16:17:05
Coleman joins queue of players stating the obvious! Caring helps.
Mike Berry
10
Posted 01/12/2016 at 16:18:50
Sunday is going to be very testing as we have been losing crosses for fun, and against Ibrahimovic, we could be in serious trouble.
I like to be optimistic but – with us offering nothing in defence and nothing in attack at present – we could get hammered.
Shane Corcoran
11
Posted 01/12/2016 at 16:30:12
Jaysus lads, surely his comments about having to go to the interview negated three or four of you from criticising him giving the interview.
He's said what we're thinking; basically that talk is cheap, that the players need to leave every ounce they have out on the pitch.
What's the problem? You won't see Seamus hiding or not trying.
Joe O'Brien
13
Posted 01/12/2016 at 16:44:19
Exactly Shane, I think they all know that we're getting tired of the talking. I think that's why he brought it up.
He would be a good captain for us. Doing a great job being captain of Ireland. It's sad to say but I can't see any other contenders. That sums up this current team really.
Michael Kenrick
14
Posted 01/12/2016 at 16:46:30
Pretty honest from Seamus.
Shows up the major contrast in philosophy, fan vs player. That is, "What's done is done; it's all about preparing for the next game" — while we fans tear at every aspect and nuance of the last performance, the last few games, the record so far this season, what happened last season, what happened the season before... what happened the last time we won the league, what happened when Catterick was in charge... etc etc etc.
Players, and I understand why, mainly have to look forward, and only reference the recent past in a positive sense if they can use it as a source of strength, viz "We can take confidence from the home record" — which is no great shakes.
So many recent posts on here have tried to play the past card as an inspiration or spur, carrot or stick for them to do better. I just get the sense that they don't think that way at all.

Gareth Clark
15
Posted 01/12/2016 at 16:50:59
I agree with Peter (#7),
There aren't many who are worthy of being captain at the moment. It's between Coleman & Williams, and I'd give it to Coleman at the moment, just because Williams hasn't been here for long.
We need a lot of change – but one thing I have realized is that Koeman's signings have definitely made a difference and an improvement. Idrissa, Bolasie & Williams are very solid, and even Stekelenburg is an improvement (although he has made a few mistakes, he has done a lot more good than bad).
We need to get in a few players in January, that's the first step – and whoever they are, I trust Koeman and Walsh will get the right players in. Next year, we will need a new keeper & further improvement in the squad.
A CB pairing of Van Dijk & L Kone over the foreseeable future, is one to hope for & be excited about if and when it happens.
I would like to see a squad something like this next year:
GK: *Butland / Stekelenburg / Robles
RB: Coleman / Holgate / Browning
RCB: Williams / L Kone / Jagielka
LCB: *Van Dijk / Funes Mori / Galloway
LB: Baines / *J Lukaku / Garbutt
CDM: Idrissa / Besic / McCarthy
CM: *Strootman / Barry / Cleverley
RW: *Cafu / Deulofeu / Lennon
CAM: Barkley / *Brahimi / Dowell
LW: Bolasie / *Depay / Mirallas
ST: Lukaku / *Gabbiadini / Calvert-Lewin
Although, I do think these might be moved on:
Mirallas
Lennon
Cleverley
McCarthy
Garbutt
Robles
Looking at it without them:
GK: *Butland / Stekelenburg / Hewelt
RB: Coleman / Holgate / Browning
RCB: Williams / *L Kone / Jagielka
LCB: *Van Dijk / Funes Mori / Galloway
LB: Baines / *J Lukaku / Oviedo
CDM: Idrissa / Besic / Walsh
CM: *Strootman / Barry / Davies
RW: *Cafu / Deulofeu / Tarashaj
CAM: Barkley / *Brahimi / Dowell
LW: Bolasie / *Depay / Henen
ST: Lukaku / Gabbiadini / Calvert-Lewin
Mark Morrissey
16
Posted 01/12/2016 at 16:55:18
Yawn, If we don't win, don't talk. If we win, close ranks and keep on trying to win. Stop talking, stop promising, stop apologising, stop talking, stop talking. Just win, I'm not asking too much.
Tom Bowers
17
Posted 01/12/2016 at 17:00:04
Seamus, how about performing for the first 15 minutes?
Seems like they are all in la la land at the start of games and showing no real intensity for taking the game by the scruff of the neck and showing the opposition who's boss.
Okay, it doesn't always work like that but surely against teams like Burnley, Swansea and Bournemouth they should be out to dictate the game by showing more commitment to offence instead of slowly passing the ball around in their own half far too much.
Perhaps this squad are not good enough to do much else which is a sad indictment of how far they have come under the last 3 managers.
Patrick Murphy
18
Posted 01/12/2016 at 17:00:36
Mark (#16),
Did you take the time to read any of the article before you jumped in to criticise Seamus?
In case you missed it:
"The way things are going at the minute, we just want to get out there and put things right" Coleman told Evertontv. "We have to do this kind of interview — it is protocol — but at the end of the day, you can say all of the right things but you have to go out and do it on the pitch."
Tony Hill
19
Posted 01/12/2016 at 17:03:59
He seems to me to be hinting that certain players can't look at themselves in the mirror and be satisfied and that certain of them are not putting in a shift. Well said.
I would unhesitatingly make him captain.
Shane Corcoran
20
Posted 01/12/2016 at 17:11:30
Patrick, I'd hit CTRL & C and get ready to use your post again as this thread progresses.
Geoff Evans
21
Posted 01/12/2016 at 17:12:25
Whose turn next week to state the fucking obvious.
James Stewart
22
Posted 01/12/2016 at 17:17:03
Not a captain in my opinion. He shouldn't even be in the team on current form. I thought he was woeful in the Southampton game. Williams is the only 'captain' we have.
Holgate deserves a go at right back and I'll be struggling to get behind Koeman if he continues to ignore youth.
Dave Lynch
23
Posted 01/12/2016 at 17:23:53
Perform for 90 minutes!!!
10 fucking minutes would be an improvement at the moment.
Ralph Basnett
24
Posted 01/12/2016 at 17:31:11
Lots of positivity towards Coleman here but I think he has been as shite as the rest with the exception of a late flukey header against Swansea!!!
Like the rest of the squad, they all need to take a hard look at themselves.
Eddie Dunn
25
Posted 01/12/2016 at 18:04:23
Seamus is a good lad and tries hard, but I would give the captaincy to Williams instead of him. The reason being because Williams hasn't been here as long (unlike Gareth Clark above).
These contractual interviews are winding us all up. They must think, "Hey who do the fans like enough to forgive the bad form?" Or "Who hasn't been absolutely gash recently?"
Then the poor fecker gets wheeled out to talk the talk.
We really do need to see one hell of an effort on Sunday. I can put up with a player who is average as long as he gives everything he has to the cause, but I am sick of seeing guys strolling around when the ship is sinking.
Geoff Williams
26
Posted 01/12/2016 at 18:27:26
Captain Ashley Williams?!?! Seriously.... his performances recently have been dire.
Peter Gorman
27
Posted 01/12/2016 at 19:06:26
Damn it! I had Cleverley in the soundbite apology sweepstakes.
Mark Burton
28
Posted 01/12/2016 at 19:08:10
Dave (#23).
Well said – we haven't performed at all. The first games of the season gave everyone false hope but it didn't take long to get back to the same old same old.
Jay Harris
29
Posted 01/12/2016 at 19:11:59
I think it will take a mammoth effort from the players, management and the fans if we are to get three points on Sunday.
The real problem at the moment is the team's performance as a team is not getting the fans behind them but against them – causing the downward spiral we saw last season.
I hope for all our sake's Sunday is the turning point.
Liam Reilly
31
Posted 01/12/2016 at 19:41:32
"We have to do this kind of interview — it is protocol"
He must read TW and know he's going to get dog's abuse for being the point person this week.
Fuck it, it's my birthday this weekend and, although I can't be at Goodison Park, I will be settling in for a classic on Sunday afternoon.
If you are reading this, Seamus, please don't fuck up my weekend!
Paul Conway
32
Posted 01/12/2016 at 19:47:24
We have had some large doses of patronising, sugar- coated shite heaped upon us after some dire dismal displays in the past. But, Coleman's comments are, IMO, the most truthful and crystal-clear, thus far.
It's not surprising that they have come from probably the most honest (performance-wise), player we have.
Also, he cost us buttons and he is probably finding it depressing that the dross on the same teamsheet is earning the same as or far more than him.

Anthony Hughes
33
Posted 01/12/2016 at 19:51:21
About as honest as he can be really without coming out and naming the players who just can't be arsed putting a shift in.
Laura Round
34
Posted 01/12/2016 at 19:55:59
It was my birthday Monday, Liam. I actually cried!
Phil Walling
35
Posted 01/12/2016 at 20:10:18
dup
Mike Berry
36
Posted 01/12/2016 at 20:12:28
They have not put a shift in for the whole match this season. Is it Koeman, his methods, or the players?
Nicholas Ryan
37
Posted 01/12/2016 at 20:14:18
[33] ... doesn't name the players who can't be arsed putting a shift in...'
Neither will I.
" Where's my cd-ROM, KEVIN? ... Don't know, I've hidden it CLEVERLEY ... It'll be in one of the JAGS we're using for our trip to VALENCIA ... we'll stop off for a Ben & GERRY's... while listening to LENNON & McCartney... "
...OK, I'm going!
Raymond Fox
38
Posted 01/12/2016 at 20:30:03
Does anyone think that no members of the squad, and for that matter the management have a peke at what is being said on fans' websites? Throw in members of the press for good measure, what better way is there to find out!
The players will know exactly what fans are saying. It will be a mistake to make Goodison too hostile to our own players and management, we don't want a situation where it's made even more difficult to recruit.
Peter Murray
39
Posted 01/12/2016 at 20:42:36
Is there a movement to have Coleman, the captain of Ireland, replace Jags as the captain of Everton?
If so, whatever the rights and wrongs of that situation, could everyone at the club, particularly the manager, please have the decency to come up front, please.

Peter Cummings
40
Posted 01/12/2016 at 20:44:13
This is the second time in a week that Coleman has acted as a 'spokesman' for the crap merchants posing as Everton players, repeating the same old same old, about 'doing better'. After seeing Man Utd do a demolition job on West Ham Utd last night, it's obvious a 100%-plus turnaround in form will be needed to even get a point on Sunday,
Last night here we watched our adopted team, Toronto FC, get to the Canadian version of their FA Cup final 7-5 on aggregate over Montreal. In the first leg, TFC came back from 3-0 down to 3-2, last night they had to come back three times in a raging sleet storm before scoring twice in extra time to go through.
If Everton had shown the same absolute determination, guts and desire, as demonstrated by both these teams in this competition, they would be running away with the EPL.
And don't tell us there's no comparison between the two leagues, Toronto would have taken ANY Premier League team apart with this display.
Jim Hardin
41
Posted 01/12/2016 at 20:51:32
Peter,
Maybe Coleman is being groomed to be the next Captain by Koeman. This would explain Jag's silence.
Not having a dog in the MLS fight with Columbus out, I have enjoyed the play-offs. I must say that I thoroughly enjoyed that game. It was end to end with physical play allowed (maybe too much) and neither team quitting.
Well done to Toronto; I'm looking forward to the final. Well done to the club and the excellent fans who didn't let cold rainy weather stop them from cheering on the squad.
Denis Richardson
43
Posted 01/12/2016 at 21:29:10
Can't really fault him given he has to give the interview. What else is he supposed to say?
Anyway, should bench Jagielka and make Coleman or Williams skipper imo.
Scott Hall
44
Posted 01/12/2016 at 22:05:51
Ah feck off with your weekly 'no shit' statements. Get your head down and fight.
Ian Riley
45
Posted 01/12/2016 at 22:06:35
The players are to blame for the lack of effort. The manager must be blamed for relying on players who lack desire or are completely out of form. Does the club back Koeman with funds to change the team? If the club does not back the manager with funds, let him go.
Go and get big Sam. I would rather have a manager who can motivate or tell the players home truths. Moyes has his critics but for motivating his players and effort he demanded 100%. Koeman needs to get angry with his players.
When a player comes out and talks about players playing for 90 minutes, this raises more questions over the management team and impact over the team.
Colin Glassar
46
Posted 01/12/2016 at 22:16:42
Jags shouldn't be captain. He was smiling in the tunnel again before the Southampton game. I want a mean looking psychopathic type like Keane or Psycho. Seamus can look mean when he wants to.
Mike T Jones
47
Posted 01/12/2016 at 22:17:58
Coleman is this week's midweek apologist then...
Tony Dove
48
Posted 01/12/2016 at 22:28:48
Koeman needs to do something different to change the mood. To win a game might help but if we can't manage that then here's a couple of ideas to tide us over until the January transfer window. (God help us if that turns out like the last one.)
Seamus as captain; Holgate for Jags, and Davies for anybody in midfield. Also, a ferret down Koeman's trousers when he is on the touchline.
Brian Williams
49
Posted 01/12/2016 at 22:30:47
How about he takes the squad out 10-pin bowling one evening as a bonding exercise. At least then they might fucking recognise each other on the pitch come match day.
Mike T Jones
50
Posted 01/12/2016 at 22:31:09
Patrick (#18).
I'd just say in the interview that we are shit and hope Koeman and Walsh have a January plan.
Mike T Jones
51
Posted 01/12/2016 at 22:35:03
Brian (#49).
Or a meal in Southport and invite Sheedy and Keown.
Peter Murray
52
Posted 01/12/2016 at 23:01:52
As an Everton supporter of over 50+ years, still fortunate to remember real club players, Bally, Labone, Radcliffe, Reid & so, so many others who played totally like their life depended on it. Nowadays games & players are totally different!!
All our so called players have great contracts, agents & monthly salaries, are going nowhere unless – for very similar money – it's called player power - regardless of any quality hyped up team manager.
It is longer a sport but a money "earning" exercise – you do not play for the club but the manager; if he does not rate you... tough, you're on your way – hence "performances" that to any real blue are basically pathetic, unreal, unable to accept & basically for all far too long, we just deserve much much better!!
In my humble opinion, any team can only play as well as you let it play; most, if not all our team seems to have forgotten this basic fact, or are not too bothered!!!!
COYB – for Christ's sake!
Andy Meighan
53
Posted 01/12/2016 at 23:16:38
"We may have played well in spells."
Er... when was that, Seamus, because I certainly can't remember. Sunderland... maybe in the 2nd half. That's about the last time I remember us playing well... or possibly Boro 1st half and that's debatable.
You and your mates owe us... Big time. Unfortunately, nothing will change come Sunday because it'll be more or less the same tired players playing the same tired miserable system.
And mark my word, one of your teammates will be wheeled out next week trotting out the same shite.
Mark Andersson
54
Posted 02/12/2016 at 00:45:09
The downward spiral, as someone said, is caused by the players on the pitch. The fans react and mirror what goes on.
Put the effort in, play for the shirt, and watch how the crowd changes. The fans will be up for it for the first 15 minutes, so come on, you Blues – it's up to you to react.
Paul Kossoff
55
Posted 02/12/2016 at 01:30:14
I was wondering who would be rolled up this week to explain why the pathetic none performance against Southampton. Who will they force to explain after Sunday when the inevitable happens and nothing has changed?
I would like to ask Mr Coleman why, in the last two seasons, this particular set of players have not deserved to not only get paid but have not been fit to wear the Everton shirt. Could you answer that, Mr Coleman?
Paul Kossoff
56
Posted 02/12/2016 at 01:38:40
Ian (#45), Big Sam!You are having a laugh there aren't you?
Just think – the Newcastle fans can piss themselves laughing at us as we pass them by on our way to the Championship!
Big Sam? My God... how the mighty have fallen.
Anthony Dwyer
57
Posted 02/12/2016 at 01:45:50
It's becoming increasingly difficult to accept the shite our players are spouting.
Before we learn to perform for 90 minutes, we need to learn to perform collectively as a team for even a 10-minute spell... we're fucking awful.
Peter Barry
58
Posted 02/12/2016 at 02:53:20
So Seamus drew the short straw and was trotted out to tell us all that they know they are crap but promises to do better next time.
This repetitive mea culpa bullshit is getting beyond boring, beyond insulting. So just give it up, guys, spare us the bullshit – do your talking on the pitch... and maybe, just maybe, we will forgive you.
Andy Bone
59
Posted 02/12/2016 at 06:22:22
Doing little things righ,t like driving into the space in midfield rather than passing sideways, or getting the ball forward quickly on the ground. Not smashing it up to Lukaku and Bolasie for 70 minutes when they haven't won a header (usefully) all game. All of these would help as well.

Dick Fearon
60
Posted 02/12/2016 at 06:41:43
At any team socialising name tags would be required.
Peter McHugh
61
Posted 02/12/2016 at 07:48:30
Sorry like Seamus but nothing to do with luck. If every player gives their all, then you will get luck.
Peter McHugh
62
Posted 02/12/2016 at 07:48:33
Sorry like Seamus but nothing to do with luck. If every player gives their all then you will get luck
Paul Conway
63
Posted 02/12/2016 at 08:32:27
Ian at (#45),
Big Sam!!! Wtf!
What kind of success has Big Sam had in football, apart from his head dominating a huge portion of my telly?
Between Big Sam, Super Kev. Dazzling Geri, Rampant Ross, honestly, sometimes supporting Everton is like living in the twilight zone!
David Pearl
64
Posted 02/12/2016 at 09:55:13
Regardless of the lack of shape, especially in attack, the defence sitting too deep and the players that can't keep the ball. I'm struggling to remember the last full 90 minutes they've put in. Last season sometime.
People naturally pick on Jags and Barry but the problem is elsewhere. Four new starting players apparently not enough??
Brian Williams
65
Posted 02/12/2016 at 10:31:19
Mike (#51).
If any of this shower took a swing at each other, they'd fucking miss!
Raymond Fox
66
Posted 02/12/2016 at 10:45:56
Following on from David's (#64) comments.
If we could sign a top creative midfielder, I am sure our performances would be transformed. How long have we been saying this, for over two years at least!
Surely its obvious to Koeman, maybe they can't get the better midfielders to come, who knows!
Midfield is the engine of a team, currently we have no engine to go anywhere.
Paul Conway
67
Posted 02/12/2016 at 10:57:37
Just reading the BBC football rolling news. Comments from Klopp, Pochettino, etc, and I am asking myself... "WTF are we going to talk about tomorrow?"
Shane Corcoran
68
Posted 02/12/2016 at 10:57:59
If there's one thing more predictable than a player coming out and telling us they're looking forward to put things right, it's the tired replies to these articles.
Someone has to speak to the media. This week it's Coleman. He's told us it's protocol and, as it would be detrimental to go through the team and say who's been playing shit, or to blame the manager, this is as good as it gets. What the fuck do you want him to say?
So we get about half of the posts telling us that "it's his turn to be wheeled out" or "shut up and win on Sunday".
FUCK ME.
Oscar Huglin
69
Posted 02/12/2016 at 11:21:14
Well said, Seamus.
Lee Preston
70
Posted 02/12/2016 at 11:33:02
I do wonder how many people actually read the article before berating it. Slag the team and players off all you want, but you can't slag a player off for speaking to the media, when he has basically said he doesn't want to, but they have to, as it is protocol. I'm fed up hearing the same old soundbites like everyone else, but what else is he meant to say? He's been honest, said they have to give the interviews, so what else is he meant to do?
As for the people saying Coleman should be captain, I'm not saying he isn't good captain material, but in my opinion, the best teams have about four or five captains (leaders) on the pitch anyway.
I think what people are confusing on here is the need for more leaders on the pitch and that isn't something that needs an armband passing round every week, they should exist already in different guises.
George Cumiskey
71
Posted 02/12/2016 at 12:48:12
To get a result against Man Utd, I would go with Southall, Wright, Labone, Radcliffe, Newton, Harvey, Ball, Kendall, Sharp, Gray and Sheedy.
If only we could, eh... I don't expect anything special from this shower!
David Pearl
72
Posted 02/12/2016 at 13:58:34
Ray, as you know, we've known about having to replace Pienaar for 5 years, never mind Arteta.
I think putting Barkley as Number 10 is giving him too much protection. Just like Man Utd putting Pogba further up to lessen his responsibilities we put Barkley up to hide the fact he doesn't want to tackle and control the game. And with that arse, he'd have some weight behind him. Barkley has to be put in the deep end and take control of matches instead of getting the ball and running blindly with it. He hasn't a clue what's around him. Mirallas and Deulofeu are also so disappointing.
That illusive creative midfielder. I'd take any of 5 Man Utd players that can't even get a game. We just don't have that many players that are actually comfortable with the ball. I liked seeing how pissed off Koeman was in the weekend, best interview he's done.
Clive Rogers
73
Posted 02/12/2016 at 14:21:46
The worst of them all is Lennon who has not even tried in the last two games. He's not bothered since he got his 3-year contract. He's a disgrace.
Don Alexander
74
Posted 02/12/2016 at 16:56:30
On this and other threads, there's been much criticism of Koeman. As it happens, I recall a pal of mine accidentally meeting David Moyes on a Preston golf course just after he joined us. My mate had no idea who he was and zero interest in football.
Anyway, they went round the course together and in doing so, my mate asked him what the big differences were between managing Preston North End and Everton.
Moyes had acquired a certain notoriety just before leaving Preston for having dragged his centr- forward John Macken (he went on to play for Man City) over a bar in a preseason "difference of opinion" on what constituted un/professional behaviour, cementing his hard man image.
Moyes apparently shrugged and said things were way different in the Premier League cos, if he even tried to bollock ANY Everton player, they just told him to phone their agent! That was at least 12 years ago and all I ever recall from Moyes's interviews was his constant bigging up of the team regardless of the result. It did, and does, my head in.
It seems to me that the crowd need to let the players know that they'll not have their crap attitude because, if that's all we're ever gonna get given, what's the point?
Frank Crewe
75
Posted 02/12/2016 at 18:08:09
"Perform for 90 minutes" – In the last game, they couldn't even perform for 90 seconds.
To paraphrase Elvis:
"A lot less conversation, a lot more action please,
All this aggravation ain't satisfactioning me,
A lot more bite and a lot less bark."
Mike Gaynes
76
Posted 02/12/2016 at 18:50:17
Peter Cummings (#40)...
"Toronto would have taken ANY Premier League team apart with this display."
I had no idea that Canada grows psychedelic mushrooms that potent. Dude, you are in orbit somewhere.
Best laugh of the day... and I needed one. Thanks.
Mike Gaynes
77
Posted 02/12/2016 at 19:10:29
Clive Rogers (#73), you are 100% off target. Nobody on this team works harder or covers more ground than Lennon. I saw a stat somewhere that said he had run more than anyone else on the ground Sunday before he came off.
Lee (#70), great comment about leadership, and that every good team needs multiple, vocal leaders. And we don't have them.
Paul Kossoff
78
Posted 02/12/2016 at 19:21:19
Gareth (#15), Williams for captain! On the basis of what exactly? Being a carthorse, being caught out of position constantly, not challenging for crosses, or maybe for forgetting that he's a centre-half. Being slow, for not improving this defence one bit? Which of those do you want to pick to make Williams the captain?
If Walsh was behind Williams's signing and that's the best he could come up with, then he's an idiot. Apart from maybe Coleman or Barry, we haven't one person in this squad who deserves the Captaincy.
David Booth
79
Posted 02/12/2016 at 20:04:30
Mike (#77), don't let statistics get in the way of reality: Lennon spends half his time walking aimlessly, jogging in the general direction of defenders instead of helping them, rarely making himself available for an out ball and – as he has done for years – lacking the confidence or ability to pose a threat as a winger.
The ultimate, secure three-year-deal, has-been. We should never have signed him in the first place. An ageing reject whose USP is ineffectiveness.
All this talk about him being a grafter and great at helping out in defence is pure fallacy. Don't believe the hype. Just watch him next time. He gives up past the halfway line when we are under pressure and is totally impotent going in the other direction.
He'd be out of his depth at Sunderland or Hull and players like him will never help us get back to where we belong. He's the epitome of our acceptance of mediocrity right now.
Mark Morrissey
80
Posted 02/12/2016 at 20:25:31
Patrick @ 18. No, I didn't read what he had to say because, if you had bothered to read my post, I'd already stated the bleedin' obvious. They don't have to talk shite.
What would happen if he refused? Get fined? God forbid, they might lose some money. I want the talkin' to stop. I want the players to stop talking. Do you get it? Stop talking. Get fined.
I don't care if he gets fined. Stop giving interviews. Refuse. "We don't want to give these interviews" says Seamus? Well, fucking stop then.
Tony McNulty
81
Posted 02/12/2016 at 20:29:01
Scott (#44), Anthony (#57), Frank (#75) and others.
These sorts of comments are irritating, I know. But I searched out a quotation from the autobiography of Aussie cricket captain, Ricky Ponting:
"I'm not sure outsiders appreciate how taxing it can be giving press interviews or talking at functions, especially when there is a controversy buzzing about, when you're required to say something interesting without giving anything away, where one innocent but poorly chosen phrase can suddenly become the lead sports story on the evening news."
The trouble is that the thirst for information (and we all have it) means that modern players and managers are constantly called upon to comment, when they have little constructive or interesting to say. As a result, much of what they spout ends up being vacuous, content-free and often annoying.
It is one reason I have started avoiding the post-match interviews. And in fairness to Seamus, on this occasion he actually gives us the heads-up before he starts his spiel.

Patrick Murphy
82
Posted 02/12/2016 at 20:41:52
Perhaps Everton FC should refuse all that lolly from Sky et al and then we wouldn't have to put up with players spouting what they and we all know is rubbish.
We can't have it both ways, can we? The club is trying to get a grip on the 21st Century, better late than never, I suppose, but some supporters would seem to be happier to travel back in time to the '50s, '60s, '70s or '80s dependent on age.
I love the history and the stories etc from the past but I don't want to be stuck there in 2016 — and I do want Everton FC to be a competitive club in this century — which unfortunately means we have to sacrifice some of the things we hold dear and, it could be argued, those are the very things that hold us back too.

Mike Gaynes
83
Posted 02/12/2016 at 22:10:31
David Booth (#79), what "hype"? Nobody hypes Lennon. He just goes out and does his job.
I believe my eyes when I see him pressure crosses better than anyone else at the club, track opposing wingers all the way back to the end line, and work relentlessly to close down.
I've never seen him "walking aimlessly." Hell, for a 7- or 8-game stretch early in 2016, he was our best player, no contest. Remember how many times Roberto pulled him off in the late minutes only to immediately surrender a goal right through his spot?
He also offers more in attack than you say. The finish against Spurs last March was perfect, pure top-corner class. The turn at the top of the arc against the Barcodes was a perfectly placed shot.
The goals against West Ham, Villa and I think Carlisle were all examples of making penetrating runs into the box and finishing chances – which we don't see from Mirallas or Deulofeu. He had exactly the same strike rate as the "attacking" Mirallas last season... 6 in 30.
And this was all just 8-10 months ago. I don't think he's turned into an "ageing reject" in that short time. He just hasn't played much since Bolasie arrived.
He may not be a star, but I think he has tremendous value off the bench and should stay in the squad.
Jon Cox
84
Posted 02/12/2016 at 22:30:01
As you all know, I'm not one for being radicolonical but, at this point, 11 out; 11 in.
As Ian Mac said in Sexy Beast
"Gentleman (the team)
"Your all cunts.
"They're taking the piss out of us and I'm fuckin' sick of the back teef of it!"
Mike Gaynes
85
Posted 02/12/2016 at 23:03:22
Jon, I had a radicolonical just last week. Not fun.
Tony Hill
86
Posted 02/12/2016 at 23:56:47
I want Coleman as captain now because he has a concentration of self which sets him apart even when, as others have noted, he is badly out of form – as he has been for about as long as we've been shit, ie, for 2½ years.
It may be that Seamus himself has been slacking or paralysed by events and bad coaching but he is a man on his own, a gathered person who has the capacity both to improve himself dramatically and, with that, to improve the team. Appointing him captain would trigger that, or may do, and given our dreadful becalming why should we not try?
Williams is another option; had he been appointed when he arrived, I would have been delighted... but he's not been great for a few games, not great at all, nor does he have Coleman's more established credentials at Everton. (If he were to be appointed, I would nonetheless be very pleased.)
Captaincy in football is not a triviality, it sets the tone and the tempo and the character of a side; we have Jagielka or Barry, a pair of ageing, erratically competent bores without a hint of leadership charisma. No shock, then, that we're uninspired.
When it comes to our leader on the field, it is time for some long overdue risk-taking. I would love that same approach to go right through our dim, sentimental, indolent club.
David Booth
87
Posted 03/12/2016 at 00:10:03
Mike, if he's so good, why is he not a first-team regular that we all love to see on the teamsheet?
Er... because he's not. Which is why so many people want to see the back of him and there's groans every time he makes the first 11.
Just another useless, non-contributor who helps make us one of the softest, least threatening teams in the league right now.

---
Add Your Comments
In order to post a comment, you need to be logged in as a registered user of the site.
Or Sign up as a ToffeeWeb Member — it's free, takes just a few minutes and will allow you to post your comments on articles and Talking Points submissions across the site.