Barkley contract talks planned for later this season

100 Comments [Jump to last]
Friday 16 December 2016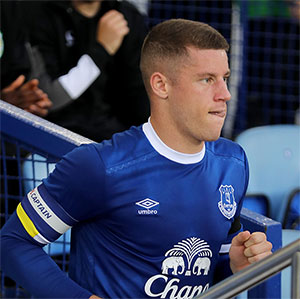 Everton will sit down with Ross Barkly next year to discuss extending his current deal with the club, Ronald Koeman says.
The manager faced inevitable questions over the 23-year-old's future at his pre-match press conference today following talk in the media of possible interest in his services from Tottenham Hotspur.
Koeman dismissed the speculation, indicating that the issue of Barkley's contract, which currently has another year and a half to run, would be dealt with in due course.
"We know he has about 18 months left," Koeman said. "That's not the priority now. In the new year we will have talks about his situation and his future but the priority now is playing and winning and see what happens in January.
"I'm not interested in what is said about the future of players. There is no one knocking on the door now about players from Everton."
---
Reader Comments (100)
Note: the following content is not moderated or vetted by the site owners at the time of submission. Comments are the responsibility of the poster. Disclaimer
Steve Ferns
1
Posted 16/12/2016 at 16:29:06
That's not the diplomatic answer, Ronald. And it doesn't make the player feel wanted.
Steve Bingham
2
Posted 16/12/2016 at 16:42:51
Sorry but it's actually irrelevant whether the player feels wanted or not. He has to realise that far higher and consistent performances on the park are needed and quick if he wants to regain his place in the England squad.

I agree with everything Koeman has said about him so far ... he isn't a junior player anymore and has to accept his increased responsibility that his first team experience now demands. It is also no longer imperative whether he stays or goes (I would love him to stay though) because fortunately now we can hopefully entice a higher quality player on good wages to consider coming to the best club in the land.

I am hoping for a really interesting January transfer window this time with a couple of decent players coming in and improving the quality of the squad.
Alan Bodell
3
Posted 16/12/2016 at 16:56:33
I pretty much agree with Steve #2, just think he is too humble on the pitch. I'd love to see more aggression and there's no doubt about the ability but, when he has time to think, it seems to go astray. Hopefully this season can see him really blossom but he's not a young kid any more.
John G Davies
4
Posted 16/12/2016 at 17:12:14
Exactly the right statement.
"The ball is in your court, Ross. Let's see how you perform over the next couple of months."
Mark Andersson
5
Posted 16/12/2016 at 17:17:16
Ross has a young boy's mentality. When he grows up to be the man internally that his body has been for some time, only then will see if he is the player some think he can or CANNOT BE.

So let us just back the boy until he matures into the man as long as he wears the blue shirt of Everton FC.
Geoff Williams
6
Posted 16/12/2016 at 17:22:02
The more I hear Koeman speak, the less impressed with him I become.
Mark Morrissey
7
Posted 16/12/2016 at 17:22:59
He needs a bit of Rooney in him. Sounds wrong but hopefully you'll know where I am coming from.
Nigel Munford
8
Posted 16/12/2016 at 17:29:07
I can't see anything wrong with what Koeman said, he was asked a question and answered it. There's to many sensitive souls on here.
18 months left on his contract, what's the rush to tie him down given his current form, and who said we don't want him, I can't see Koeman saying he doesn't want him, Koeman just said there's higher priorities right now, and next year is only a few weeks away. Chill.
Kieran Kinsella
9
Posted 16/12/2016 at 17:31:06
It's a bit different from Kenwright gushing over players including Ross. But the reality is that Koeman has a job to do. His job is to win things. He's not here to run a finishing school to raise community morale.
For three years Ross has been billed as Gazza mark II. He hasn't delivered. Koeman could care less about youth development or blue blood. The guy performs or he doesn't.
James Byrne
10
Posted 16/12/2016 at 17:34:11
Geoff #6 ...
I don't understand your comment; it appears Koeman might just talk some sense and tell it the way it is. It looks like he's been totally upfront also with the players over the past few weeks too.
The previous manager spoke the biggest pile of tosh imaginable and left these players totally shot of any confidence. I know who I prefer out of the two.
Bobby Mallon
11
Posted 16/12/2016 at 17:37:40
I think Ross looked thinner against Arsenal. Hopefully more mobile going forward. On the contract front, wait till end of season.
Paul Tran
12
Posted 16/12/2016 at 17:48:07
I'm presuming the quotes are accurate as ever, so I can't see the problem with Koeman's factual comments.
What the heck is he supposed to say?
Don Alexander
13
Posted 16/12/2016 at 18:04:08
The way Ross has played for a good while now means he's an adequate member of our squad; good for some games but probably not the big ones.
The absence of any defensive aptitude in him (and others, which exposes him all the more) or even appetite makes that the case, and offensively he seems generally devoid of aggression too, but against the lesser lights he can look impressive.
I hope he signs but to me he's way past the "potential" stage of his career. I just hope he can develop into a player as consistently effective as Ossie used to be at his peak. Sadly I doubt he'll ever interest a top six club.
Minik Hansen
14
Posted 16/12/2016 at 18:05:10
New players in January, new energy to the team including Barkley. A good run will make Barkley mature.
Stan Schofield
15
Posted 16/12/2016 at 18:14:20
Regardless of the manager's chitchat to the media, let's hope Ross does sign a new contract. He's a cracking player, who's had a prolonged spell of form which by his standards is bad form, but from which he'll return to the good form we've seen before.
Steve Hogan
16
Posted 16/12/2016 at 18:33:11
Don Alexander (13) 'I'll doubt he'll interest a top six club'...watch then, and see how many clubs do come in for him should we decide to let him go.
He's not had a good season by his own standards, but he's highly rated elsewhere that's for sure.
Ian Riley
17
Posted 16/12/2016 at 18:33:35
Koeman is the manager not the owner. Leave contracts for someone else. A manager with honesty, refreshing.
Barkley signs or goes. Time will tell.

Joe O'Brien
18
Posted 16/12/2016 at 18:51:20
I think it's clear that Koeman rates Ross the way he treats him.
He had a bad game, not getting on the ball and working hard enough... drop him. Tell him he needs to work harder. Puts him back in and it works. He's trying to mature Ross, make him the player that he can be.
He'll be offered a new contract and he'll sign. Get lost, Spurs. He's going nowhere.
Peter Roberts
19
Posted 16/12/2016 at 19:18:32
So he gives contracts to players who are on their last legs but is going to allow Barkley to get to 12 months off a free transfer?
If I was the lad I would be half tempted to say "Thanks but no thanks; I'm off on a free."
Then watch him go to a club where strikers move in front of him and give him the options and diversions he needs to show his full flair. He may get less crap off the fans too.
Keith Monaghan
20
Posted 16/12/2016 at 19:26:22
Refreshing to see a lot of common sense views on here instead of sentimental & emotional drivel. Ross has been involved in our Premier League squad for 5 years+ and still not good enough to become a regular pick in our starting 11.
After the first ½-hour he had his best game in ages on Tuesday, but that level needs to be maintained for 90+ mins regularly. His downfall is that he's been consistently poor for many months.
Koeman talks more sense than we've heard from our manager for a long time – he's trying to get a long overdue tougher & winning mentality into our squad, and deserves our support.
One swallow doesn't make a summer – most of us know there's still a big job to do and plenty of deadwood to be offloaded (although finding takers for the likes of Gibson, Kone, Deulofeu etc won't be easy).
Steve Hogan
21
Posted 16/12/2016 at 19:29:31
Anyway, I thought I'd bring the festive mood along a little early by informing everyone that Roberto Martinez is on BBC 5 live just after 8pm tonight giving his first interview since being sacked by Everton.
Apparently he's going to tell us 'where it all went wrong' – stop tittering at the back.
Joe O'Brien
22
Posted 16/12/2016 at 19:36:44
People seem to forget that he's only 22... played for the last 2 years under that muppet Martinez – that takes him back to his teens.
Would it be that hard to give him a bit of time under a new manager with the incoming better players playing around him?
Nothing sentimental with me for sure. If it doesn't work out, sell him in 2 years... when he's still on only 25.
Frank Crewe
23
Posted 16/12/2016 at 19:41:28
I'm still trying to work out what Roberto Martinez is doing on Master Chef.
As for Barkley. I don't know. He's like Marmite really. There doesn't appear to be any middle ground with him. He reminds me of Tony Grant or John Ebbrell. He has his moments but he's just not consistent and he's certainly not hitting the heights his early potential suggested he would.
Adam Luszniak
24
Posted 16/12/2016 at 20:02:05
Ross is 23, made his first team debut in 2011. I think Koeman's attitude is correct. It's time for Ross to show he's worth a new contract.
Martinez telling him he's phenomenally phenomenal didn't help his performances; maybe some of Koeman's tough love will.
James Stewart
25
Posted 16/12/2016 at 20:06:08
Why has one of our biggest assets been allowed to run his contract down to 18 months? Piss Poo, on a purely business level this is unacceptable.
Darren Hind
26
Posted 16/12/2016 at 20:39:24
What an ignorant response. He could have easily dismissed speculation by declaring his player is going nowhere.
Terry Underwood
27
Posted 16/12/2016 at 20:45:45
I wouldn't break the bank for what has, sadly, turned out to be a very average player... Come on Ross, prove me wrong.
Kieran Kinsella
28
Posted 16/12/2016 at 20:49:09
Peter,
He didn't say he wouldn't give Ross a contract. The "last legs" deals actually make sense. Barry is a regular starter, fit for his age so he stays 18 more months. Ditto, Baines who's younger so two years seems reasonable. Much better than the five-year deals we did for Howard and Cahill when they really were in their last legs.
As for Ross, I imagine his agents are pushing for a big deal based on his "potential." The club probably want a lesser deal based on his actual form. I imagine the Spurs rumor is Ross's agent trying to put pressure on Everton.
Colin Glassar
29
Posted 16/12/2016 at 20:50:14
Personally, I think Koeman needs English lessons. Even reading transcripts of his interviews I find them a bit confusing. Ross isn't the sharpest tool in the box so maybe after the gobbledygook of Martinez the Dutchlish, spoken by Koeman, is making him even more confused.
John McGimpsey
30
Posted 16/12/2016 at 20:50:20
What the fuck do some of you want out of the kid? He has no movement around him most games. Now the waste of space is injured and the balance will return, watch him go. Against Arsenal, he was superb and will continue like that.
The only problem is the melt-faced asset-stripper in the front row of the Director's Box who will be waiting for some bells on here telling Ross to fuck off and then the "He wanted to go" shite will spill from the conman's mouth and, oops, we sell-to-buy again...
If he is sold then I'm finished with this club after 54 years of going home and away. Come on, Moshiri, you're awful quiet... have you not got a scripted interview for Mr White ready and rehearsed???
Paul Tran
31
Posted 16/12/2016 at 20:57:31
Nothing ignorant about it. The onus is on the sporadically-performing player to earn a contract.
I keep hoping for Ross to prove me wrong and I've not got beyond hope... yet. He didn't respond to Martinez's fawning, hopefully he'll respond to Koeman's tougher love.
Koeman's right. Play well, win, earn contract.
Andy Meighan
32
Posted 16/12/2016 at 21:08:35
"There's no-one knocking on the door about players from Everton."
Is that right, Ron? Wonder why...
Don Alexander
33
Posted 16/12/2016 at 21:08:51
Frank (#23) if that had been Martinez on Masterchef he'd have been booted off for being unable to make toast. Nice to see his lookalike isn't as devoid of talent though!
Paul Tran
34
Posted 16/12/2016 at 21:11:31
Colin, Koeman isn't the most articulate in Dutch, so he isn't going to change in another language.
There's nothing complex about this. Ross is a talented player who doesn't produce consistently. It was Moyes's fault, then Martinez 'ruined' him, now Koeman 'can't find the key to him'.
If Ross is good enough, he'll find his own key and impose himself on the game.
Don Alexander
35
Posted 16/12/2016 at 21:16:26
You would have thought that the penny might have dropped with Ross or his agent that, even this season where Besic and Gibson have been crocked, and we're light in numbers even if we include them in midfield, he can't win a consistent place.
In fact, he's only been able to do that with Martinez. No other manager has consistently picked him. What's he waiting for, because if it's for a plethora of other more talented offensive players to cover for him during the 88 minutes a game where he doesn't have possession of the ball he (and us) is in dream world.
Brent Stephens
36
Posted 16/12/2016 at 21:18:12
I see His Masters Voice is on this thread with the needle stuck as ever on his favourite hate-player rather than talk about Ross which is what this thread is about. Never misses an opportunity.
Agree with Bobby, Ross does look slimmer. And showing some lovely touches.
David Greenwood
37
Posted 16/12/2016 at 21:19:43
Paul and Kieran have nailed this thread. Spot on.
John Daley
38
Posted 16/12/2016 at 21:25:19
"I'm not interested about what is said about the future of players"
Who was it speculating on a possible future where Lukaku could be leading the line for Barcelona rather than looking back on his career with regret if still rooted at Everton?
Joe O'Brien
39
Posted 16/12/2016 at 21:28:43
Agreed, Paul and Keiran have nailed it.
Thomas James
41
Posted 16/12/2016 at 21:58:34
I don't get Koeman: "not a priority" to sign Barkley on a long ... The same day we extend Barry, Baines and Holgate.
Run a mile, Ross, before this knobhead has you in the U23s like Niasse.
Thomas James
42
Posted 16/12/2016 at 22:03:37
I'm calling it now, we'll sign his replacement in January and Barkley will move to Sunderland on loan.
Darren Hind
43
Posted 16/12/2016 at 22:21:14
Of course it's ignorant... it's ignorant on several levels.
Leave a contract that has 18 months on it and before you know it, it's a year. When it gets to a year, the agent will smell a fortune. Contract runs down, agent gets a fortune, EFC kiss goodbye to £40m.
Want a player to underperform? Make it clear he "isn't a priority"!!!
The best way to get a player to "earn" a contract (laughing at the concept, especially when you consider that it's so much more lucrative for him not to bother) is to start showing him you are worthy of your own.
We do have some proper mugs on board. It's not six months ago when Koeman himself was in a similar situation... Honest Ronnie screamed the house down and jumped ship.
Not the same thing? Oh yes it is!!!

Jim Bailey
44
Posted 16/12/2016 at 22:29:03
Barkley isn't consistent enough to be a regular in the first team. Yes, he has the odd decent game; yes, he scores now and then, but if Everton are to become what I want them to become (winners), then they need to get shut.

I'm fed up of hearing that Ross is one of our own, true blue ,etc etc. He might be, but then so am I, doesn't make me a great player.

If our club is ever going to move forwards, then, in my opinion, for what it's worth, we cannot "carry" the likes of Ross anymore. He should be on the "get rid of" list along with (and again only my opinion) McGeady, Cleverley, Gibson, Kone, Mirallas, Deulofeu, and Lukaku.
Joe O'Brien
45
Posted 16/12/2016 at 23:10:36
Ross is not going to do a 'Gosling' on us...
Peter Roberts
46
Posted 17/12/2016 at 00:27:39
I personally wouldn't blame the lad if he did do a Gosling on us.
The lad deserves a medal for all the shite he's tolerated off fans whilst trying to master the hardest role in a side. He clearly loves us and still we are making him jump through hoops when we just know Man City would happily say "Run your contract down and we will pay you 𧶀k a week."
Anyone think that wouldn't happen? Of course it would. Because despite all criticisms people know how good this lad often is and potentially really can be.
If we put a 㿏m tag on him in January, he would he gone in a few days... yet we are toying with him? Daft.
Don Alexander
47
Posted 17/12/2016 at 01:10:21
Peter, I often agree with you and I will do again when you compare Ross to Danny G. The fact is though that Ross has occasionally shown gifts far beyond Gosling, but Gosling shows some consistent aptitude without the ball. The further fact is that neither of them has ever been trusted to be ever-present by any manager they've ever had, the hopeless Martinez aside re Ross.
We need better than that to make any progress towards regular European football and he's now 23, 5 years already into his career, way over a 120 club matches, 22 caps (!) but mostly as a sub, and now discarded.
It's up to him, no-one else, but does he have the footballer nouse to see this and do something to improve? Sadly, I now doubt it. I wish it wasn't so.
Anthony Dwyer
48
Posted 17/12/2016 at 02:03:11
Fuck me, any comparison between Dan Gosling and Barkley is madness.
We need to get Ross tied down asap and get off his case, he's quality and he's blue.
Clive Mitchell
49
Posted 17/12/2016 at 02:13:50
This site is priceless. We have two, and only two, top class players: both are young; one of them can't wait to get away and yet some people actually think we 'carry' the other one who happens, quite apart from being magnificent and the most talented player at the club by a country mile, to be born to play for us.
He's described on here as 'very average', 'adequate', like John Ebbrell, 'still not good enough to be a regular pick in the 11', 'not consistent enough to be a regular in the first team'.
Really? Really?? See the opposition when Ross is on the ball. None of them think that stuff.
As for Koeman, what Geoff (6) and others said. He does the full range from mystifying, clueless and risible, to plain unimpressive.
Thomas James
50
Posted 17/12/2016 at 07:22:02
@ Jim Bailey, I'd add Oviedo, Robles and Valencia to that list.
John G Davies
51
Posted 17/12/2016 at 08:00:16
It amuses me some of the opinions on Ross and his contract issues. I am a big fan of his – although definitely not in the No 10 role.I think Koeman is playing this perfectly.
As for those who opine Ross will run his contract down and we will lose £ (insert your own figure). You don't get to be a billionaire by making mistakes like that. I completely trust Koeman and Moshiri to get it right.
Dave Abrahams
52
Posted 17/12/2016 at 09:23:31
Koeman said the club will sit down and talk to Barkley about a new contract next year, which is in fourteen days away.
Something will be sorted out very soon; he will sign a new contract or he will be sold.
Geoff Williams
53
Posted 17/12/2016 at 09:54:59
It would be interesting to know which of the contributors on this site go to matches, watch football on Sky or BT, watch Match of the Day or simply read the comments on this site. Some of the opinions are based on first hand knowledge whereas others are simply repeating misguided and inaccurate comments of others.
Adam Luszniak
54
Posted 17/12/2016 at 10:07:04
Geoff, it's kind of you to condescend anyone who watches the team on the television. Of course the opinion of someone who watches the game in the flesh can't be wrong or biased.
I supposed when you posted above "The more I hear Koeman speak, the less impressed with him I become." you were referencing the direct conversations you have with him at the game, not second hand info through the news media which the rest of us plebs have to make do with?
Jim Whiffen
55
Posted 17/12/2016 at 10:09:31
Geoff (#53); nail on head. I go to EVERY game, I read some of the comments and opinions on here and genuinely wonder if they actually watch the same thing I do?
Colin Glassar
56
Posted 17/12/2016 at 10:16:37
Ross won't leave us while his mum is still his agent.
Steve Ferns
57
Posted 17/12/2016 at 10:52:59
If Barkley tries to make 10 chances and fucks up 8 of them and makes 2, then he's doing his job. He's not going to make everything work all the time.
Last season, his form went off a cliff, with the rest of the side, in the second half of the season, and yet, only Dele Alli created more chances, assisted more goals OR scored more goals than Barkley, amongst all the (English) players in the Premier League.
So what more do you want from the lad? He has a shit season and he's still the second best creative English player. He's still young, very young, for his position.
I'd love to see what some of you people would have written about a 25-year-old Zidane. You'd have all been crying out for him to be binned off for being too inconsistent.
These players need to learn the mental part of the game, to make good decisions more consistently. They hit their peak in their late 20s.
Barkley is still on course and still developing as he should. Be patient. He will be the guy we all pray he will be.
Peter Roberts
58
Posted 17/12/2016 at 11:25:37
Anyone noticed that he plays very well in a deeper position? He just isn't trusted. This is the one player we will regret losing if we do.
Patrick Murphy
59
Posted 17/12/2016 at 11:33:40
I agree, Peter, the club has stuck by him so far, and it would be foolish to let him join a rival club where he might re-discover his form and become the player that many think he can be. Obviously if he or his agent are valuing his services at a level greater than the club deem justifiable then he will leave Everton, but we shouldn't be celebrating if that happens.
The loss of John Stones might seem a great deal at this moment in time but in two or three years that deal may be looked upon as foolish, but Stones wasn't one of our own and seeing Barkley tearing it up in somebody else's colours will grate with most Evertonians.
Ray Roche
60
Posted 17/12/2016 at 11:39:32
Excuse me a moment, I'm just bending down to pick up my cock. See, I've laughed it off at some of the comments on here comparing Ross with Ebrell, Grant and Gosling. I don't recall all the world and his dog queuing up to lavish the same amount of praise on those journeymen as have been lauding Ross to the skies.
And that's part of the problem. The press and Everton fans have raised the bar in terms of expectations. Barkley is now expected to be Rivelino, Pele and Gascoigne rolled into one and the fact that he isn't is used as a stick to beat him with.
Barkley was 23 last week. The last two years of his career has seen him stall in terms of development, due largely to Martinez and his management, just as the rest of the team have regressed.
Consider also that Barkley's career was stalled for 18 months or so due to the leg break that threatened his career and it's little wonder that, in real terms, he is more like a twenty year old.
Get off his back. Some of you would fuck up if you had people screaming in your ear as you try to do your job, flipping burgers or brushing up. (That doesn't include all the top class coaches that inhabit this site!)
Andrew Clare
61
Posted 17/12/2016 at 11:57:06
Well said, Ray.
Barkley is an incredibly talented footballer. Once Koeman gets the team playing to a higher standard, Ross will come into his own. He has just spent the last two years playing in a really mediocre side.
Peter Roberts
62
Posted 17/12/2016 at 13:24:52
A friend of mine, who is a huge Leeds fan, said Barkley struggled when on loan at Leeds because the movement in front of him was shocking. He was on a different wavelength.
Let's be honest with our lone striker set up – what's changed?
He needs activity happening, not a player pointing at a patch of grass 20 yards ahead of him. I've watched him for England and when he has runners moving into channels he looks a different animal.
Plainly said... in my experience as an amateur footballer and a fan, this lad is potentially the single most destructive player of an opposition that I've seen in an Everton shirt next to Kanchelskis or Rooney.
The fact that he gets so much stick makes me so angry. Not once has he stated desires other than to play for Everton... fans need to remember that. So does the fat-headed Dutch melt in charge.
Colin Hughes
63
Posted 17/12/2016 at 13:31:31
We need to forget about dishing out contracts just now and concentrate on beating the Red Shite for once. Since we last won a derby in 2010, every other side in the Premier League have beaten them at least once, even Burnley, Bournemouth and Hull have taken 3 points off them despite hardly meeting them.
Our recent record against them is shameful and there is no excuse when we play them twice a season and throw in a cup semi-final in 2012 as well without a victory. I wouldn't be rewarding any of these players with new deals until they reward the fans first.
Paul Smith
64
Posted 17/12/2016 at 13:38:16
I have only read comments 60 and 61 and so glad that's all I have read as writing this. Your absolute right Ray.
I am so sick to the stomach of the critics Barkley has had. In all this time of bad reviews, Gareth Barry has been the man getting the most praise. Doesn't that explain something? A player who is 35/36 that Man City didn't want 4 years ago is our best man to some fans. Doesn't that show the standard we have been?
It's dreadful support to a young talent they haven't even considered has been playing out of position and in a team with no winning form whatsoever. I have nothing against Barry hes a great pro but his time is behind him, the ball goes past him he's out the game and he gets caught out a lot, some he gets away with some he doesn't but Barkley gets away with nothing.
Some say he'll never be Gerrard. Hes got more goals and assists than Gerrard and Lampard at his age and the game has far improved since they were 22. But forget that, did Gerrard make no mistakes? Back passes to the best players in the world the press let him get away with? Henry, Zidane, Ba haha he played in on goal but oh he scored a beauty or 2 in big games so he's god.
Let's start putting Barkleys career in perspective because its about time. Hes been at a club on the slide mostly, played as support to Lukaku which is just dreadful. How can a player who loves running the pitch do make any good runs with 30 yards in front of him an no movement?
Two reds told me yesterday he'd be their best midfielder if he played as a midfielder in a 3 man midfield. That's when I thought enough is enough here, our own fans need to be saying this before he ends up elsewhere. Man Utd fans tell me he's our best midfielder and you can argue they don't see him as much as us but it still means they see him as much as they see Barry etc and still rate him as our best midfielder.
Get on his side, Blues, and back the lad as a driving midfielder because that's what we have clearly missed for decades.
Paul Smith
65
Posted 17/12/2016 at 13:41:29
Sorry if my long post sounded arrogant and I'll be soppy and honest – I love fellow blues and have no interest in intentional fall outs. I just want to see a lad with grace on the ball given the support and role he needs to be the best he can be. Seems any little mistake is highlighted before anything good he does.
Geoff Evans
66
Posted 17/12/2016 at 13:51:38
The more I hear Koeman talk, the more I like what I hear.

Graham Mockford
67
Posted 17/12/2016 at 13:52:27
Peter's World:
Barkley in contract extension talks thread
"The fact he gets so much stick makes me so angry"
It's all Lukaku's fault.
And in other news, the CIA are investigating potential Belgian links to the Podesta email hack.
Geoff Evans
68
Posted 17/12/2016 at 14:02:00
Adam (#54): Nice one.

Don Alexander
69
Posted 17/12/2016 at 14:28:13
I don't know if anyone at all is comparing Ross to Gosling, Osman or Ebbrell in terms of skill. I'm not, but the fact is that at 23 he's unable to win a place in our not very good team, numerically depleted as it is regarding midfielders. That's a worry for every last one of us who want him to become what we've only very occasionally seen – a world-beater.
Okay, he may flower with better players around and in front of him but how long can he and us wait for that to happen?
It saddens me that he may not ever develop in that way though. By that same age, Lampard had been signed for megabucks by Chelsea, Gerrard was made club captain after his first three years as a regular first teamer, and Zidane was signed on by Juventus for European glory. I hope the lad finds enough at least to be a regular for us though, and quickly, but comparisons with any of those three are way off the mark unfortunately.
Prove me wrong, Ross, please, and – in the interests of your new contract – start by ripping our neighbours a new one on Monday!
Ray Roche
70
Posted 17/12/2016 at 14:32:16
Don, just a thought to ponder on:
If Gerrard, Lampard and Zidane had suffered a triple leg-break when they were 17 or 18, do you still think that they would have been at that stage in their careers at just 23?
I don't.
Don Alexander
71
Posted 17/12/2016 at 14:53:22
Ray, who knows? That was one horrible injury for sure but in the harsh world of professional football that's Ross's problem. We all know it's a results business and sentiment has next to no place in the scheme of things.
Successful clubs don't carry passengers and Ross, for years now, has been just that without the ball and this season not a whole lot better with it, and I take zero pleasure in saying so.
Ricardo Gimpardsle
72
Posted 17/12/2016 at 14:54:43
Kieran Kinsella (#28),
"Much better than the 5-year deals we did for Howard and Cahill when they really were in their last legs."
I cannot agree that Cahill was finished or on his last legs after we gave him a 5-year contract. The lad has played over 100 club matches since he left us 4½ years ago and scored over 30 goals and has been amazing for his country.
Ross needs to prove himself and Koeman seems to be playing the game correctly. Why would Ross, who has stated his love of the club, leave because his contract talks were stalled? If he proves himself over the next 3 to 4 months he will get better terms, if not then he may be forced to leave.
Seems like good management to me.

Peter Roberts
74
Posted 18/12/2016 at 13:19:44
The world of Graham Mockford... Lukaku scores more goals than any of the budget-level strikers we've had in the past 20 years, thereby invalidating any criticism that may come his way – justifiably or not.
The world of Peter Roberts... football is a team game reliant on all components having a similar work ethic aligned with a technical competence enabling the players to receive and pass the ball efficiently. Ability to move intelligently off the ball helps the team immeasurably.
Colin Glassar
75
Posted 18/12/2016 at 13:31:17
Don't get me wrong – I love Ross and Rom and want both of them to stay – but, if they do leave, I will understand it and wish them all the best (like I did with Stonesy).
Tom Davies seems to be the next local great hope. I just hope he has thick skin because once the inevitable mistakes and loss of form happen, he will get the same stick Ross is getting now.
Graham Mockford
76
Posted 18/12/2016 at 13:45:42
Peter,
The point was that you manage to turn a thread about Barkley into another of your Lukaku pieces.
You're obsessed, man.
Jay Wood
77
Posted 18/12/2016 at 15:06:44
Peter @ 74.
You are clearly ignoring the heavy irony Graham applies in flagging up your comment on Ross that "The fact he gets so much stick makes me so angry."
Like it or not, you are associated with being apoplectic on all things Romelu Lukaku. As has been pointed out to you by many a poster, yours is not a balanced view.
Let's take the stirring mid-week win over the Arse. There were no fewer than FIVE threads related to the match. MK's live match thread (187 posts), LL's match report (35 posts), Paul Traill's match report (22 comments) and 2 different threads on Koeman's after-match comments (60 and 15 posts).
You contributed just 1 post across all 5 threads, commenting on LL's report in a succinct 33 words that Valencia set the tone up front and must start against Liverpool.
By contrast, on the most recent Lukaku thread in which you were the main (hyper-critical) contributor (16 posts), you posted 4 posts AFTER the victory over the Arse, once again in total condemnation of Lukaku. Those 4 posts extended to 818 words, in contrast to your single 33-word post in praise of Valencia in the 5 post-match threads.
In one of those 4 posts in the Lukaku thread, whilst you made your habitual condemnation of all things Romelu, you wrote:
"What last night showed was that little Enner Valencia – the much criticised, not so glamourous, less prolific goalscorer could offer more bite, presence, link up play and footballing quality than we have seen from the big lad. The fact that the team overall were far more lively helped but the contrast was significant between the two players."
This cozily ignores – as well as he played against the Arse – that Valencia has yet to score for us, by your own admission was 'shattered' after 60 minutes and had to be subbed, and was seriously culpable in the farce of their goal.
Now after the Watford game – remember? The game in which RL scored twice? – you gave us your usual forensic critical report on Lukaku's performance and how their first goal was directly attributable to him coughing up possession in their half, again, cozily ignoring 2-3 other players' failings in conceding that goal.
This is why you have so little credibility with many on TW due to your very singular campaign against Lukaku. I put this to you: if you were truly balanced, you would have praised Valencia for his contribution to the team on Tuesday against the Arse, but acknowledged he was wreckless to try to dribble out of the penalty area as he did before 'coughing up the ball' which directly led to the resulting havoc and the Arse's goal.
But no. You don't reference it at all which, given the blame you attached to Lukaku for Watford's 1st goal, is evidence of inconsistency and hypocrisy in any opinion you attempt to present.
Let me finally put another question to you. If on Tuesday that had been Lukaku attempting to bring the ball out as Valencia did, would you have commented on it?
I think anybody and everybody who knows your posting history on TW also knows the answer to that one, Peter...
Paul Smith
78
Posted 18/12/2016 at 16:30:50
Jay Wood, fantastic homework mate. Great to see a fellow blue back an opinion with actual points constructively and not be abusive.
Too many fall out because they are scared to lose face on social media or in public. Debate isn't about winning for me; it doesn't bother me losing a debate if it's for the good of Everton.
Players like Lukaku and Barkley are very much the good of Everton for me and I will defend both if there is a good case and I don't mind a good case for criticism.
To summarise the last 3 years they are no more to blame than anyone else. In fact they should be receiving least blame especially Lukaku who – without his goals – we could be playing in the Championship.
Peter Roberts
80
Posted 18/12/2016 at 21:19:55
No, let's get it right: my obsession is the antidote to the ridiculous OTT fawning of a player who does not give a stuff about the club, who is nothing more than a finisher, who isn't very good at football, and is lazy to boot.
My "campaign" is nothing other than to address this ridiculous praise and "can do no wrong" mentality which surrounds this overrated player.
99% of my posts could be about him – so what? It's half the topics on here due to his inability to shut his gob.
Stop over indulging the lad and I'll stop over-slating the lad.
But back to Barkley... yeah stick willing intelligent runners in front of him and watch him prosper.
Dave Abrahams
81
Posted 18/12/2016 at 21:38:03
Jay (#77) just one question:
Did you think Lukaku had a good game versus Arsenal?
I know, because you live abroad, you can only watch our club on TV, so this stops you watching the whole field of play, so maybe that makes it a bit harder to fully assess any player's contribution to the game.
You obviously fully understand the game, because your posts make sense; just to make it clear, I understand what you are talking about, but watching TV is a handicap to watching it live.
Peter Roberts
82
Posted 18/12/2016 at 22:02:12
Jay... aside from the fact that half of your post was about me and my posting tendencies- guilty as charged! I don't like the lad... I've already said this and yeah I will nail him for things that apologists like you will try and let him off for. So whilst I may say well done on your post stalking... I would have freely admitted that.
I will also say that he is an impressive athlete and a good finisher.
But my case about valencia is that without him being a player who I think we should buy or who I particularly rate... he's showed up lukaku for being the lazy diva that he is. Then again players like Naismith and kone had already do everything that.
Ah but they don't score goals as much as Rom yadda yadda probably not. But they give the team a far more solid shape, intensity and ability to keep the ball in the final third that the big galoot. That quality brings the best out of players like barkley, Gerry, baines etc.
Simply put, Lukaku isn't worth the baggage and inconsistency to the team dynamic. I'm certainly sick of him making some fellow fans sound like love sick teenagers cos he scores 14 prem goals on average per season.
Jay Wood
83
Posted 18/12/2016 at 23:34:15
Dave @ 81.
I can't say if RL had a good game or not against the Arse because - sod's law! - having planned my whole day around freeing myself up to watch the game, 5 minutes before KO a tropical storm took out the power!
Double sod's law, the power only returned 5 minutes after the game finished! The joys of living in the tropics...
For this reason, I haven't made any observations on the game or individual players performances on the 5 post-match threads I reference above, other than to express relief and state that neither the players nor the manager are as 'crap' as many an antsy poster has claimed in this recent poor run.
All I have seen is the 20 minute highlights on the official site.
And on the issue of viewing a game live at the match vs. watching on TV or a dodgy internet stream, I agree with you 100% - the perspective of the latter is determined by the match day TV producer and a viewer sat on their sofa at home can never see the wider periphery someone sat in the stadium can of what happens off the ball.
I recall debating the same in a thread some months ago when Martin Mason (wrongly, IMO) claimed his view of the game sat on home in front of the telly gave him a vastly superior perspective of the game than a spectator live at the game.
That said Dave, that doesn't necessarily mean the opinion and judgement of a live match attendee is vastly superior every time over that of someone who can only view the game via TV or the net. There is plenty of evidence (even within this thread!) that match goers can be poor readers of a game and talk total bollocks with the best of them!
Jay Wood
84
Posted 18/12/2016 at 00:10:47
Peter @ 80 & 82.
So now you are casting yourself in the light of a 'Crusader', calling your obsession and campaign (your words) as "the antidote to the ridiculous OTT fawning of [Lukaku] ... to address this ridiculous praise and 'can do no wrong' mentality which surrounds this overrated player."
In trying to position yourself as you do in your last 2 posts, you try to present yourself as more virtuous and somehow superior to other posters on your favourite subject.
Well ... sorry old son, but you flatter yourself. You don't need any 'fawning', 'over-indulgence' of the lad from other fans who sound like 'love sick teenagers' to trigger your 'over-slating' of Romelu Lukaku (again, your words).
You initiate many of your vitriolic posts across many threads without any such 'provocation' from 'the apologists' as you claim. This thread (about Ross Barkley's contract) is evidence of that, how you contrived to work Lukaku into it.
Indeed, if you had but noticed, I think many posters just give you a swerve these days out of sheer fatigue from the tedious, predictable nature of your posts.
Just now and again, fellow posters challenge your very evident prejudiced view of the player and expose the fallacies, hypocrisy and contradictions of some of what you write. You consistently display an incapacity to counter or reasonably engage in such challenges, casting yourself as a victim being 'shouted down' or now as a 'Crusader' on a mission of truth.
The bottom line is, as you wrote, you don't like the lad. And that colours everything you post on Romelu Lukaku, to the virtual exclusion of all else related to Everton FC.
Pretty sad, really.
Peter Roberts
85
Posted 19/12/2016 at 01:04:40
You do like the sound of your own voice, don't you, Jay?
I'll keep it brief; no need for all that nonsense you go in to.
The lad is bone idle – fact. No outfield player ran less on average last season. Only two more have ran less this season despite the fact he's been asked to press. Yet this lad keeps talking about playing elsewhere so he can meet his ambitions?
Apologies for my dislike of him... but I'm certainly not alone. No matter how many words you throw at me to make this look like it's personal will change the fact that the player and his traits have created this.
You can do as much stalking, post counting or whatever as you like... I'll stick to discussing the player.
Till the day he decides to truly show that he wants to do well for Everton FC and not himself then my opinion of him will not differ. Alas, that will never happen.
Barkley on the other hand... yeah the kid loves Everton. No player gets so much undeserved crap as him inside Goodison (may not pick this up on TV) and he is the one genuine talent we have in our side... yet we have handed out contracts to players who are under no risk of leaving?
Graham Mockford
86
Posted 19/12/2016 at 01:13:08
Peter
I think we have worked out you don't like Rom, I think the point is you are becoming a bit fucking obsessed.
Anyway if you let me have your address in the spirit of Christmas I have a gift for you...
Jay Wood
87
Posted 19/12/2016 at 02:10:12
Peter @ 85
"You do like the sound of your own voice don't you Jay?"
Oh, the irony...
As for the rest of the post, so much obfuscation, so much deflection.
But let me enter into the spirit of Christmas as offered by Graham.
"Hello ... Is that you Peter..?"
Merry Crimbo! Ho! Ho! Ho!
Don Alexander
88
Posted 19/12/2016 at 02:34:42
To me, Peter Roberts has a perfectly valid point of view regarding Lukaku. My basis for saying so is that any player having been assessed as being worthy of a professional's contract MUST have displayed an aptitude to control the vast majority of balls played into him. Even I, as a moderately talented schoolboy, realised that in this skill practice makes perfect-ish.
Lukaku fails to do so however, with relentless consistently conceding possession to the opponent. This is really bad news for the team he's part of because in possession they can score against you/us. To anyone still awake, this is why Lukaku is such a disappointment; he's a lazy egotist with zero perception of the greater good.
Peter Roberts's opinion of Ross is something I regretfully don't share however. The lad, and sadly "lad" is the word, is so far away from what anyone should expect from a 23-year-old professional with well over 100 games behind him, it'd be laughable if it wasn't so sad. Whatever exists between his ears might be a psychologist's biggest challenge. Football coaches have failed, visibly.
Brent Stephens
89
Posted 19/12/2016 at 07:00:10
Jay, have you tried this site, which keeps an archive of all EPL games, for viewing?
http://www.fullmatchesandshows.com/
Peter Roberts
90
Posted 19/12/2016 at 08:07:39
Don – wait there a second. Don't accept my criticism of Lukaku – he's our best goalscorer since Lineker and any criticism of him is disrespectful.
My dislike of him must come from somewhere else... after all, it's an obsession. Well, actually, no; Everton is an obsession. Players who disrespect the club annoy me, players who don't work for the team annoy me, players who want to be elsewhere whilst on a contract annoy me, players who think they are too good for our club annoy me. He ticks all those annoying boxes.
Footballers like Lukaku are financially secure after one contract. He was likely set up for life when he signed for Chelsea – let alone when he signed on the dotted line for a 㿷k a week and likely ٢m+ signing on fee... they live on a different planet. Clearly this lad does...
Weeks away from the end of the season he spent on loan, when we were fighting for a top 4 spot, he started making his noises. "I need to play in Champions League, so Everton need top 4 if I'm going for to sign." Well, we had some key games against Southampton and Crystal Palace which could pretty much cement top 4 – the lad went missing, played shocking. We missed top 4 and he went to the World Cup making big noises about who he wants to sign for – we weren't mentioned.
At the World Cup, he stunk the place out. A 19-year-old looked the better Belgian and all we heard from big gob was that he wanted Fellaini up front to do his donkey work – not "I must do better"; he indicated his lack of desire to put in the work as a lone striker. Only when getting dropped for Origi did he actually show some easy desire against a knackered USA in extra time with his fresh legs.
No-one came in for him. Chelsea wanted shut – Mourinho had enough of his love of talking and lack of working. We coughed up 㿈m – more money than we had spent on our previous 4 record signing strikers combined. A huge gamble and outlay.
Since signing that contract, all we have seen is smattering of goal-scoring form, games when he can be bothered and many when he can't. Plenty of interviews every season where he wants away whilst showing a touch, work rate and passing ability that screams "League 1"... Ah but he scores a few more goals than the dross we have bought over the previous 20 years so it's okay... no, it isn't actually.
I've never known a player so indulged. He knows all our eggs are in the Rom basket... we spent that much money on him that we couldn't sign a second option to put pressure on him and I think he likes that. His biggest rival is the media when they get onto his laziness and horrifically patchy form – which he can't get dropped for.
What other club would tolerate his incredible 13-game goalless stretch where he stunk the gaff out game after game? I can tolerate goalless patches but aligned with zero effort, awful link-up play and an overall body language which says "can't be arsed", then yeah, I get annoyed.
The lad never kidded me with his goals; he has revealed too much about himself and his ethic for me to fall for the euphoria of his goals. I'd love to like him but he's made that impossible.
I'm not the only fan. He splits the fanbase like no player I've ever known. So there we have it. I have my reasons, they aren't made up reasons, I'm not alone – so Jay and Graham, don't get upset that I don't like him... it's quite easy to dislike a player who doesn't see our club as something more than a stepping stone to greater things, kinda like he's doing us a favour for 㿷k a week whilst not really trying. Yeah, it does my head in.
Brent Stephens
91
Posted 19/12/2016 at 08:23:25
Peter (#90)
"Don – wait there a second. Don't accept my criticism of Lukaku, he's our best goalscorer since Lineker".
I don't follow that? I see that it's irony. But it seems like you're having a pop at Don about his views on Rom. I thought Don was agreeing with you about Rom?
So we get another diatribe of 10 paragraphs. Peter, I think we all know your views by now.
Jay Wood
92
Posted 19/12/2016 at 12:58:25
Brent @ 89.
WOW! Pure Gold! First time I've come across the site.
Bookmarked to my favourites already.
Cheers!
Peter Roberts
93
Posted 19/12/2016 at 13:36:52
Brent, I was being sarcastic. I was completely agreeing with Don.
Brent Stephens
94
Posted 19/12/2016 at 16:07:21
Peter, yes I saw the sarcasm. My point was that, given that Don had agreed with you, why on earth another diatribe of 10 paragraphs addressed to Don. That's what I don't get!
Brent Stephens
95
Posted 19/12/2016 at 16:09:11
Yes, it's a great source, Jay. Enjoy! I think they clear out all the games at the end of the season.
Peter Roberts
96
Posted 19/12/2016 at 16:27:33
Maybe you can ask Jay the same thing except swap 10 paragraphs to 13? Nope? maybe it's because you agree with him that you won't.
Funny isn't it, people who differ in opinion get some form of drugstore psychology from people with such a high opinion of their own ability to judge other posters based on what they think about one player.
Based on some of the opinions put down about players on here, I've often felt the need to scream "You haven't got a clue what you are talking about" but that would be as irritating as the grating psycho babble I see on here.
I hope the lad scores enough goals to sink the reds tonight. Will it change my opinion of him? Maybe a bit... but I will always know that he has the stroll of a game in him in the next one... it's what he does.
Brent Stephens
97
Posted 19/12/2016 at 17:24:23
And more paras on Rom!
Oh, and Jay, too many paras, mate! Don't encourage him!
James Hughes
98
Posted 19/12/2016 at 17:36:56
Peter I have never been to a drugstore, mate. I've been clubbin' a few times to the early hours... is that the same thing? :0
Peter Roberts
99
Posted 19/12/2016 at 18:34:40
Just got a bit sick in my mouth there Brent 'mate'... can I be your friend pleeeasse? Or is it an exclusive club for Romelu FC supporters?
Raymond Fox
100
Posted 19/12/2016 at 18:44:50
I thought this thread was about Barkley!
He had a much improved match for the last 70 minutes against Arsenal, that is in the attacking sense which is by far the strongest part of his game. In defence he is a virtual passenger which for a midfield player is a serious failing.
How much time does he need to address his deficiencies, he's surely been told many times to get his finger out and at least hassle the opposition. I don't think he's our answer to our lack of creativity from the midfield, he's too inconsistent at this time.
It's been in all the media that the club are looking to sell him for in the region of 㿊m,; would I sell him for that amount, no! I'd give him the rest of the season to prove he can do better; if not, then I think he should be sold.
Peter Roberts
101
Posted 19/12/2016 at 18:53:26
James Hughes,
Something our Brad Bobley friends from over the pond understand – the old drugstore aka chemist to us.
At the moment I'm trying to explain the 'deee-fence' from the big guy in the 'O-fence'... I was actually thinking of explaining the role as being similar to the tightend in NFL. Lukaku could be a Rob Gronkowski, awesome in defence and attack instead he is more of a whining egotistical Desean Jackson who cares only about him and him alone.
Peter Roberts
102
Posted 19/12/2016 at 18:54:48
Ray... I've said my bit re Rom.
I predict a big game from Ross and Rom tonight. We need it... 3-2 to us... Lukaku 2 Barkley 1.
Raymond Fox
103
Posted 19/12/2016 at 18:59:16
I hope you're right, Peter, now that would make for a Merry Christmas.
---
Add Your Comments
In order to post a comment, you need to be logged in as a registered user of the site.
Or Sign up as a ToffeeWeb Member — it's free, takes just a few minutes and will allow you to post your comments on articles and Talking Points submissions across the site.