Bolasie will require two operations

31 Comments [Jump to last]
Friday 16 December 2016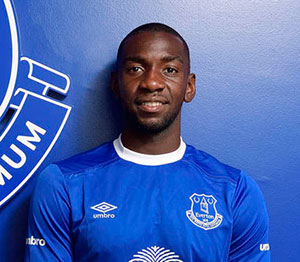 Fears that Yannick Bolasie could be out for a full year have likely been realised with the news that the winger suffered complicated damage to his knee this month.
The Congolese international had to come off in the home game with Manchester United on 4th December with what appeared to be a serious knee injury, one that it has now been confirmed will require two separate surgeries.
Bolasie, a £25m capture from Crystal Palace over the summer, underwent an operation to repair the meniscus in his knee on Thursday and will then have his anterior cruciate ligament seen to in the New Year.
Manager Ronald Koeman indicated that, "he has to wait for nine to 10 weeks before surgery on his anterior cruciate ligament," which would put his next surgery around February or March.
---
Reader Comments (31)
Note: the following content is not moderated or vetted by the site owners at the time of submission. Comments are the responsibility of the poster. Disclaimer
Colin Glassar
3
Posted 16/12/2016 at 21:33:10
I remember the days when any type of ligament damage could be a career-ender... not anymore.
I always remember a Manchester City player, Doyle I think his name was, in the early 70s staying down after a vicious tackle and my dad saying "That's him finished" and it was. He never played again.
Everton should send him over to Germany to see that miracle quack.
Ognjen Mojovic
6
Posted 16/12/2016 at 21:44:22
Time to recall McGeady!
Brent Stephens
8
Posted 16/12/2016 at 21:46:28
I venture that most blues feel for Bolasie, whether or not they rate him. Cos most are a decent lot.
Gordon Crawford
9
Posted 16/12/2016 at 21:53:47
Awful news to hear. Hope he makes a full recovery.
Eugene Ruane
17
Posted 16/12/2016 at 22:40:32
Mark Riding # 1 - From a psychoanalytical perspective, do you have any idea (fucking none obviously) how revealing your
'I'm telling you'
is?
Imo, this reveals you to be the epitome of a certain type of (modern?) football 'supporter.'
No insight, no facts, ill-informed, incapable of dealing rationally with disappointment.
Always the same predicable response to the world not turning the way you want it to Link
(I'd say grow up but we both know that's never going to happen).
By the way, here's what has happened.
'We' bought a player who was very unlucky and got injured after playing a quarter(ish) of a season for us.
This is bad news for us and very bad news for the lad himself who has a very tough year ahead.
And...that's it.
The spin you've given that is (patently) just lunatic venting shite.
I for one AM 'arsed', wish him all the best and hope for a speedy recovery.
Mike Gaynes
18
Posted 16/12/2016 at 22:43:28
Well said, Eugene.
Brent Stephens
19
Posted 16/12/2016 at 22:44:10
Seems so far, Mark (even though your post has disappeared) that most Evertonians on this site disagree with you. I hope my post doesn't get pulled because there's nothing at all offensive in it. But we'll see.
Peter Laing
20
Posted 16/12/2016 at 22:47:51
Best wishes to Yannick, keep smiling and here's hoping for a speedy recovery. The haters just go on hating.
Raymond Fox
21
Posted 16/12/2016 at 22:54:32
Bad news all round, for the club and the player.
Intrigued to know what Mark said now, but by the comments of those in reply to him, I fancy I would be disagreeing with him.
Brent Stephens
22
Posted 16/12/2016 at 22:59:24
Raymond, a view was expressed that he's shite and most blues would not be arsed by his injury.
Mike Gaynes
23
Posted 16/12/2016 at 23:01:28
Slightly off-topic, any opinions on the rumours flying around that Walsh has settled on Charlton's Ademola Lookman as Bolasie's replacement? The reports say we're offering £8 million upfront with £3m later. Only 19 but supposed to be talented as hell. Anybody seen him play?
Michael O'Brien
24
Posted 16/12/2016 at 23:09:31
Anybody that thinks Bolasie is shite needs to have a word with themselves. It's something like 8 goals were made because of him... Who else is going to get that many assists?
He's the only player that actually looks to have a go at the opposition. He is a big miss for us.
Good look on recovery, Yannick – hopefully there's no complications and you come back the player we know you can be.
Raymond Fox
25
Posted 16/12/2016 at 23:14:04
Nice!
Frank Wade
26
Posted 16/12/2016 at 23:25:40
So sorry to hear this news of one of our players. In addition to his assists this year, he also had at least one other teed up for Lukaku, in the West Brom game I think, that was missed. Hope he can make a full recovery but when we think of the knee troubles of Kone and Saha, it may take a long time.
I am coming to this thread after post #1 was deleted. Probably just as well after reading Eugene's brilliant riposte. We may have a shortage of patience on ToffeeWeb, but with wordsmiths like Eugene and John Daley, it can be very entertaining. Hope it's as entertaining on Monday night as it was last Tuesday.
Darren Hind
27
Posted 16/12/2016 at 23:31:32
Speaking purely from a playing point of view, I happen to think the team will get better results without Bolasie – in fact I would put money on it. I didn't see Marks post but I have seen a lot of other stuff from him. He is a funny guy who likes his humour barbed, perhaps he didn't get this one across the way he intended.
Sometimes emotions run high, we all feel for a kid who is living our dream one minute, then crashing back down to earth the next. It's tragic for him personally and you would have to be made of rare stuff not to feel for him.
We also have to face reality, Bolasie will be around 30 by the time he makes a full recovery, chances are he will have lost half of yard. It's a bad time for the guy to get a very bad injury.
Mike's posts is interesting; from a practical point of view, we do need to start looking at a replacement.

John Daley
28
Posted 16/12/2016 at 23:49:09
This thread has changed a bit since I last looked in on it.
"Raymond, a view was expressed that he's shite and most blues would not be arsed by his injury."
Not exactly true, Brent. Mark said most blues wouldn't be arsed by Bolasie being missing from the starting line up, not about him suffering a serious injury.
It was clearly a wee bit of a wind-up but I'm surprised at some of the responses.
I found Mark's attempt at being a WUM a bit half-hearted to be honest. 
What with him watering it down by acknowledging most blues feel sorry about Bolasie being badly injured. Someone more set on shit-stirring would have just have steamed right in there saying he feels no sympathy whatsoever, just to get maximum rise out of people.
If you really want to try and stir things up for shits and giggles then you need to go all in on the bollocks you spout, not dilute it with large dollopings of the truth (otherwise you're no more a master of the art than this guy:
Clearly never had more than a couple of quid clanging in his arse pocket at any one time, but the reflex positioning of his thumb tells you he's had real and plentiful practice at plucking prawn cocktail flavoured crisp crumbs from his cum-matted muzzy. Failed WUM wanker).
Thing is though, whatever the intent, Mark wasn't exactly wrong about us paying wildly over the odds for a player who has been decidedly hit and miss up to this point. Nor was he barking up the wrong tree about it hardly being a loss that will have a catastrophic effect on results or performances, in my opinion.
Just because a player has had the misfortune to be badly injured doesn't mean criticism of his ability or performances, prior to said injury, should be completely out of bounds. I don't recall many posts slating Gibson, Kone or Besic being pulled on that basis, or for simply calling them sick note wasters only worthy of the scrap heap purely for the crime of getting crocked once more. 
I was sorry to see Bolasie going off injured and gutted (for the guy himself) to hear he faces such a long spell on the sidelines, but I certainly wasn't cursing the footballing gods for giving Everton another undeserved boot in the gonads likely to result in the side shooting blanks for a good long while, because the players contribution simply hasn't been that significant thus far. 
Brent Stephens
29
Posted 16/12/2016 at 23:56:23
John (and Mark) if I misunderstood what Mark said, my sincere apologies to both.
Don Alexander
30
Posted 17/12/2016 at 00:21:05
Well said, Eugene.
Anthony Dwyer
31
Posted 17/12/2016 at 01:59:11
Lucky us, eh.
Anto Byrne
32
Posted 17/12/2016 at 04:09:14
18 MONTHS OUT – so it will be like a new signing. I like the look of Enner Valencia though so maybe there is a silver lining to this injury.
Oh anyone thinking we should sell Ross Barkley needs their head treating he has had 5-6 man of the match displays so far this season and against Arsenal was brilliant. Let him develop for another season under Ronald Koeman.
Next, the Red Shite and we need to tear one off them this time around.
Mark Dunford
33
Posted 17/12/2016 at 09:59:34
Terrible news. Impossible not to feel for Bolasie; footballers have such short careers and – even if he recovers as well as we hope – a year is long time out.
He was clearly settling in at Everton and had proved himself to be one of the most effective and consistent contributors in an erratic team (which is why he was an ever present). He is a big loss to the team.
Steve Ferns
34
Posted 17/12/2016 at 10:31:02
Erratic player in the extreme. But there's no doubt he had a good set of skills, including great crossing ability. He was also a very explosive player with a lot of acceleration.
I use the past tense because, whilst I'm optimistic that he will recover, he will not recover the explosiveness he previously had. He will never be as fast. He is unlikely to be able to do the same tricks as his range and speed of joint movement will be effected.
Just look at Arteta. He was never fast, but he had explosive power over a few yards. He had a bag of tricks. After he shattered his knee against Newcastle,and the tricks were gone. Arsenal never saw the real Arteta. Bolasie is 27. He'll be 29 or so when he recovers. He'll have missed a lot of football and have not much left to offer. So it looks as good as him done for me.
Bolasie comes across as a really nice guy. Big happy smile on his face. He was absolutely made up to sign for us. He genuinely wanted to be a legend for us. And I will always back anyone like that.
So I am gutted for the guy, and for us, and I'm praying that he comes back as good as he was.
Victor Jones
35
Posted 17/12/2016 at 13:07:08
Sorry about any Everton player getting injured. So here's hoping that Boliasse comes back stronger. Its not important now, about how he was playing before his injury. It is important that he comes back from this.
Everton football club has always had injuries and we have always survived. Sometimes stronger .maybe by accident. But occasionally we have come out of a bad injury with a better team – i.e. when Howard was injured. Robles did very well.. And have we really missed Jags... Baines and Mirallas in recent years?
Off topic, but I remember when Alan Ball left us. (And yes...I know that is not the same as a bad injury). But the young me though that Everton were finished. Guess what We survived. So I guess that we can survive without Boliasse for a few seasons. That's what this club does Survive.
Clive Rogers
36
Posted 17/12/2016 at 13:11:09
Best wishes to him, but I fear he may not come back from such a bad injury at his age.
Craig McFarlane
37
Posted 17/12/2016 at 20:46:51
Mike @23 – Charlton are my local team since moving to the big smoke several years ago and since they often do tickets on the door for a fiver and the ground is 10 minutes walk, I go to quite a few games.
On Lookman, he looks good in an awful side, playing in a bang average league. He has lots of pace and can twist and turn well to fool defenders. He likes to be on the front foot and can spot passes fairly well and does have a trick or 2 in his locker. Another plus point is that, throughout the second half of last season when Charlton were stinking the Valley out, his head never dropped once and he kept playing even if the rest had long given up.
The downsides are that he seems to be a very instinctive player. If he has too much time, often he chooses the wrong option and he also sometimes looks like even he doesn't know what he will do next when running with the ball. (Is that a downside? I guess it means the defender finds it harder to read, but so do his teammates.) He is pretty small both in height and in stature, so does not win many headers and can be knocked off the ball. His crossing could also do with a bit of work. You are as likely to get one onto a strikers head as you are for it to find Row Z.
I'm not sure he's ready for the Premier League physically just yet and reckon any deal to us would result in a loan to a middling Championship side for half a season or so, but I could quite happily be proven wrong on that.
I do, ultimately, think that he is likely to make it to the top league at some point and would represent a good piece of business for the future.
Gavin McGarvey
38
Posted 17/12/2016 at 21:35:51
Terrible news in my opinion. Maybe he wasn't the new messiah, but he looked a decent prospect. On a personal level, I feel sorry for him, but football is a cruel game, and he still has time to get through it. Bad for us, but worse for him.
As for the money spent, well, every transfer is a punt. Obviously it was too much money, but it always is. One million was crazy in 1980. It still is now. Nothing to do with the lad, he always gave his best from what I saw. If I was looking for a fault, he was a bit of an entertainer, and entertaining is something far too few of our players ever do.
Tom Bowers
39
Posted 17/12/2016 at 21:56:33
Just typical of the bad news that has haunted Everton for a long time. Players like Deulofeu, Barklaey and now Bolasie – all possible contenders for a potent offence – have all suffered big setbacks.
I remember how some injuries can basically end careers such as the likes of Jimmy Husband and hope Bolasie will bounce back when all is right.
Brian Williams
40
Posted 17/12/2016 at 22:27:49
Ross Barkley.
Rob Halligan
41
Posted 17/12/2016 at 22:29:14
Hope the lad can make a full and speedy recovery ASAP.
In the event (God forbid), his career ends with this injury, doesn't the club have some sort of insurance policy whereby they can recoup some of the money paid out for his transfer?
I'm sure I heard, albeit a few years ago now, that all clubs had some kind of insurance policy to cover such eventualities?
Paul Hewitt
42
Posted 17/12/2016 at 23:00:17
The lad will never be the same again. He will surely lose a bit of pace.
Joe Green
43
Posted 18/12/2016 at 09:33:27
Very bad news for him and a loss to the team.
The editors have my support for removing post #1. However it was meant, it came over as spiteful.
---
Add Your Comments
In order to post a comment, you need to be logged in as a registered user of the site.
Or Sign up as a ToffeeWeb Member — it's free, takes just a few minutes and will allow you to post your comments on articles and Talking Points submissions across the site.