Koeman: 'We did not deserve to lose'
Monday 19 December 2016

151 Comments [Jump to last]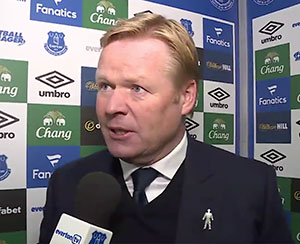 Ronald Koeman praised his players for an "outstanding" display and bemoaned Everton's luck against Liverpool in this evening's Merseyside derby.
Sadio Mané reacted quickest in the box in the fourth minute of time added on when Daniel Sturridge's shot came back off the post and he slotted into the empty net to hand the Reds' victory and end Everton's un unbeaten home record in the Premier League this season.
Koeman admitted that an extra eight minutes' play for stoppages was just too long for his team to hold out for a draw.
He also cited the loss of James McCarthy to injury at half time as being a big factor in why his team found it more difficult going in the second half.
The Irish international had to be replaced by Gareth Barry and the veteran was unable to match McCarthy's energy in the middle of the park alongside Idrissa Gueye.
"I'm really disappointed because we conceded a goal after eight minutes of stoppage time," Koeman said in the tunnel after the game. "It was already difficult to keep one point until 90-95 minutes and the eight minutes was killing for us.
"We couldn't take a risk [with James McCarthy's hamstring] because we know the story in the past and that was really a pity because he played well; the team was playing well in the first 45 minutes.
"In the second half we had more problems to stop Liverpool and even they did not create big chances but it was more difficult.
"Maybe we needed a little bit of luck [in the first half] to score some chances or even the corner kick, the free header for Funes was a big chance but, OK, we were not so lucky to get that goal and maybe to get a little more of a comfortable situation.
"We did not deserve that goal [by Mané] because I thought the performance was outstanding."
---
Reader Comments (151)
Note: the following content is not moderated or vetted by the site owners at the time of submission. Comments are the responsibility of the poster. Disclaimer
Sean McCarthy
1
Posted 20/12/2016 at 01:56:01
To be fair we conceded in the 94th minute not the 98th. The delays due to Steklenberg's injury and Henderson' assault by Barkley more than justified the extra 8 mins.

It didn't matter how much added time was played as we didn't look like scoring if we carried on playing til Christmas Day!!!

As for them scoring it seemed like only a matter of time and was coming throughout the 2nd half.

We offered nothing going forward and had one effort on target all game and that was a weak as piss header!!
Paul Kelly
2
Posted 20/12/2016 at 02:10:35
"We did not deserve that goal [by Mané] because I thought the performance was outstanding."
He's got to be kidding hasn't he? Sounds as deluded as the last fool.

Phil Davies
3
Posted 20/12/2016 at 02:10:45
Let's be honest here, we deserved to lose, only one team came out for that second half. Within the first 10 minutes of the second half, you could see we would lose it eventually.
There's a mentality within the squad right now that's been there since January. Some players were clearly looking to leave in the summer and performances showed that, Lukaku had one good game in 5 months and I think that was to show Chelsea what they were missing.
Start of the season everything was settled, a bad run of games and the mentality has gone again. Blaming Koeman isn't the solution, this clearly isn't his team/squad yet – he needed to see what worked and what didn't. Hopefully after this shocking run of games, he knows what needs to be changed.
In my head, I only have 9 first team players good enough to stay at Everton, that's roughly half the first-team squad and shows how far off where we want to be we really are.
John Pierce
4
Posted 20/12/2016 at 03:22:14
#3
It isn't Koeman's team or squad? The fella has transferred 4 first team regulars into the club. So let's be trite about it: 36% to be precise. A fair chunk no?
Let's look at it another way. Their are perhaps a couple of players who are worth persevering with Coleman, Baines let's be generous Lukaku. Seen any improvement in their game? No.
Then there is Koeman's influence. Surely in 6 months you'd expect his ideas, identity to be evident even on a poor playing staff? Not a jot.
He picks the side, his team, he's accountable. His record is awful, his style of play is both limited and pre historic.
Bad fit, a mistake. Time Moshiri put his ambitions to the fore and accepted his error and moves on.
Dano Holcomb
5
Posted 20/12/2016 at 03:48:53
I saw it coming since the start of the second half. What really kills us is our lack of creativity in midfield.
Huff & puff only gets you so far – and you'll need a bit of cleverness to balance out predictability. Passes went to no-one. Clearances (plenty of em) went to them. It looked as if we were playing with 10 with no target.
For too often (when) we finally do get a good result, we cannot back it up with another good result.
Patrick Murphy
6
Posted 20/12/2016 at 04:03:52
If Koeman doesn't show some progress with the team in the next few months, then Moshiri's statement "He's Koeman, he does what he wants" will match his Chairman's view of Roberto, "What a manager".
If Roberto had have been retained and had spent the John Stones money and his team then produced one decent performance in 17 league games, whilst gaining the same number of points from those games, how many people would be hoping that Roberto could make everything better by adding to the squad in the next window? Not many, I would wager.
Koeman has to do a lot more to impress me and a few other supporters, but first of all he has to somehow find a team that can perform for a full 90 minutes from the squad of players that he has at his disposal. If he honestly thought that his team were outstanding last night, he has a completely different concept of football than I do.
A Dutch Moyes isn't what many Evertonians were expecting or were so excited about just six short months ago. Pragmatism is fine on occasions if you're down to ten men or things are going against you or you have a lead to protect, but abject surrender to your neighbours on your own patch is not pragmatic, it's sad and lacks courage.
Who's to say that if the other lot had have scored in the opening five minutes of the second-half rather than the last, that a defeat of a greater magnitude wouldn't have been recorded?
1.35 points per game isn't very good and isn't acceptable no matter how long the manager has been in his job. Save for his team winning the FA Cup, I don't expect there will be a rush to renew season tickets for 2017-18.
Peter Gorman
7
Posted 20/12/2016 at 04:25:15
Outstanding? No. Hard to swallow a hard luck story of "already difficult to keep one point until 90-95 minutes" regardless of the unfortunate injuries to Stekelenburg and McCarthy.
At home to your biggest rivals – playing and praying for a draw is frankly pathetic.
Anthony Flack
8
Posted 20/12/2016 at 04:34:56
Deluded Dutchman – he must have been watching a different game to the one I was at. Second half we were hammered, first half reasonably okay.
Bringing Barry on, leaving Valencia out on a limb out of position and then bringing Calvert-Lewin on wide right were all big mistakes. All day long, it needed someone like Holgate on to shore up the right side – and he can play.
Barkley was terrible, and to date I have not jumped on the bash Barkley bandwagon, but he was absolutely toss.
Very worrying if he thought we were outstanding ..
Mike Gaynes
9
Posted 20/12/2016 at 05:13:24
Anthony (#8), not sure what game YOU were at, but bringing Barry on was not optional (and please don't tell me you'd have preferred Cleverley). Valencia was not out of position.
And bringing Holgate on "to shore up the right side"... where, RB? In place of Coleman, who was brilliant all day, and instead of an attacker?
Stepped on the ball there, mate.
Eric Myles
10
Posted 20/12/2016 at 05:15:40
The playing time is 90 minutes isn't it?? And if there's any stoppages in play for injury, the missed playing time is added on at the end so there's only 90 minutes total playing time. So there's no point bemoaning a 94-minute goal as being beyond the normal time, – it's effectively only the 86th minute.
David Barks
11
Posted 20/12/2016 at 05:29:27
Mike,
Sorry mate, but there is no rule in football stating that Everton must play with at least two defensive midfielders at all times. When McCarthy went off, he could have easily chosen to go with an attacking option to try to win the game, put them on the back foot.
David Pearl
12
Posted 20/12/2016 at 05:51:43
I think he means we didn't deserve to lose because of the effort we put in. No denying they all put a shift in.
I think the first half killed us physically. Jimmy Mac played the best I've seen him the last 2 games for a long time but having just got back to full fitness maybe it was asking too much for him to play back-to-back.
Ross was unlucky but when he needs that little quality it deserts him. Lennon and Valencia put a shift in but lack quality. that's where we lost it, their forwards are better than ours.
Final sub should of been Deulofeu as he at least is capable of that bit of magic needed to swing a game.
No support for Lukaku. None. Fresh legs needed next week. Let's get them in early... Like we usually do!
Alex Bennett
13
Posted 20/12/2016 at 06:23:59
I don't think Deulofeu was on the bench to even bring on.
In reality, Koeman only had one sub to make that he wasn't forced into and it was a strange one. I'm all for bringing the youngsters through but the Calvert-Lewin sub was not the right time for the player. I think Koeman realised he had nothing on the bench that would be able to win the game and tried a sub that would make him look good.
He was trying to show us that he wasn't against using the kids and also I think he thought "If this lad scores the winner, I'll look like a great manager." The trouble is though, we are playing the worst football I've seen for some time.
David Barks
14
Posted 20/12/2016 at 06:33:18
For fuck's sake, Lennon and Valencia wouldn't even see the light of day in Liverpool's reserves yet we send them out at home in the derby. Not a goal in either of them, nor any delivery into the box or creative play.
Liverpool players are brought into a culture where winning is expected. It is demanded from the supporters and the manager, and the manager is expected to win or else.
But here at Everton, who cares about winning. Some grand process of a few top 10 finishes and 3-4 transfer windows will have us finally be allowed as supporters to expect to win decent amount of games.
Not the league of course, that would be crazy. How dare we. But we'll enjoy the hopes of a top 7 finish in our shiny new stadium. Oh what a club we have. It's like supporting Netscape instead of Google, because of the history, don't ya know.
Paul English
15
Posted 20/12/2016 at 06:36:06
I've been sitting up all night, because my heads been pounding, over that pathetic remark, Mr Koeman. I'd have slept like a log if we put in a outstanding performance ...!!!!
Peter Barry
16
Posted 20/12/2016 at 06:42:57
Let's be big boys shall we and try to face reality – our team is not good enough and our Manager is not good enough either and our Chairman is a joke.
Chad Schofield
17
Posted 20/12/2016 at 06:47:29
A strong first 30-35 minutes is far from "outstanding".
As others wrote, the two forced substitutions were hard on us, but that third sub was bizarre given how the game was poised. Koeman was presumably pissed off at Valencia giving away the ball in the way he did minutes before, but Mirallas or Deulofeu surely have to come on there... And positionally either could have swapped with Bartley (who was poor).
It's a long way off good enough at the moment.
To balance it you could say that he thought given a young player a chance to play without fear could swing the game and that he's learning that "telling it like it is" and berating the team doesn't always galvanise them.
I do have serious doubts though and being of the brink of splashing some cash, Ronald's looking much less like a champion and more like a clown.
Mike Gaynes
18
Posted 20/12/2016 at 06:48:23
David (#11), so you'd have put maybe Mirallas on for Macca instead of Barry at the start of the second half? And you'd have changed an alignment that up to that moment was working superbly, that already HAD them on the back foot, in order to bring on an attacker who has done absolutely diddly-squat the entire season?
And in #14 you decry playing Valencia and Lennon because they don't have a goal in them. Who would you have started instead that DOES have a goal in them? (And please don't bring up Mr "One Pathetic Goal" Mirallas again.) Who was on the bench or hiding in the U23s that was going to change the game with some electric pace or creativity? Nobody, man. Nobody at all. We don't have any.
Koeman WAS trying to win the game. With what he has available.

Nigel Munford
19
Posted 20/12/2016 at 07:13:13
Mike, some sense and perspective at last, I read 17 pretty negative posts and nearly gave up looking for a positive one.
Koeman uses the tools he has, and we know they aren't sharp enough (yet). This is a rebuild – not instant success, but there are genuine signs of far better effort all round the team.
Lenny Kingman
20
Posted 20/12/2016 at 07:21:47
Barkley at his gormless best and powder puff Lukantdo. The goalie could have done better for their scruffy winner. Imagine big Nev surrendering to that mishit from Sturridge. Steklenburg went down in stages and the defence lumbering and dozy on the follow up.
The blues were exposed, as usual, by an ordinary performance from the red vermin. When will their inferiority complex be cured.
Back to the drawing board. Now let's see... new stadium, new players, clear out of the useless and disinterested, new director of football, new manager. It will all be talked about on here today.
Danny O'Neill
21
Posted 20/12/2016 at 07:46:11
Didn't do enough to win but harsh to lose in the late manner we did as, by-and-large, effort was there and we did lose a keeper and McCarthy who was looking up for it.
Looking through the disappointment and easy to come by anger, in a kind of ironic way, we are where Liverpool were in Klopp's first period; players not conditioned – or the manager doesn't have the players he wants – to play the high tempo pressing style he wants. It's why we faded after 30 minutes.
Work in progress, as always happens when a new manager takes over. My take – I get we all view it differently.
Colin Glassar
22
Posted 20/12/2016 at 07:56:29
We are poor in every department. Average goalies, crap central defenders (some of you wanted Row Z hoofers, well now you've got them), a non-creative midfield, and a now non-existent attack.
As far as I'm concerned, our central spine is awful. The below average goalies we have make the two piss poor centre backs even poorer and our midfield players, who are useless on the ball, are pulled all over the place leaving our two front men completely isolated.
Moshiri needs to break the bank bringing in players like Forster or Schmeichel, Van Dijk, Strootman, Schneiderlin and Wilson. The midfield in particular needs someone who can keep the ball without panicking.
Allan Barratt
23
Posted 20/12/2016 at 07:56:45
Lenny (#20), did you actually watch the game??
Dave Pritchard
24
Posted 20/12/2016 at 08:01:07
Disagree with Koeman. We were good with high intensity for 25 minutes without creating a chance. Second half was just poor and we were beaten by a side that did not play anywhere near their best. One attempt on target and one corner tells a sorry tale.
Paul Smith
25
Posted 20/12/2016 at 08:04:48
The headline itself looks a harsh story but I thought we played like a Championship side that could only win by putting fear in the opposition. Liverpool didn't even try to win and still come away with 3 points. Our formation was awful in the last third. (How many times did Lovren just stroll with the ball?)
Valencia gets a standing ovation and fair enough, he put the effort in, but he was terrible on the ball. Some thought we played well but we didn't have a shot worth talking about all game.
Barry is finished for me and has been a while. He still looks okay on the ball but he's lost with the speed of the midfielders we come up against. Losing McCarthy, who seems to be the only player capable of pressing high from the centre, was a big loss but he ran himself ragged and may have faded late on anyway.
All-in-all, I didn't think they deserved to win but it didn't surprise me either. We were far too busy with the macho stuff to keep the pace up.
Ian Jones
26
Posted 20/12/2016 at 08:04:53
Lenny. That's harsh on Stekelenburg if you are blaming him for the goal! Whoever the goalie was, a well timed shot would probably have been saved.
The first 30 mins were ok. Not sure if McCarthy was injured around then. Liverpool may have changed the way they were playing but as seems to be the way in these games. I am always wary of Liverpool and their knack of late or injury time goals.
As for Calvert-Lewin coming on. Not too displeased with that sub. Koeman may have thought he would get more defensively from him than perhaps a Mirallas. However, would going for a win and perhaps losing be more pacifying than going defensive and losing.

Danny O'Neill
27
Posted 20/12/2016 at 08:11:03
Can't disagree Colin. Despite what I thought of this crop only 12 months ago, they just don't have the desire collectively to match the talent. It's like the mate we all know who could do 97 keepy-ups and wow with his skills in the pub car park but could never do it on a Saturday 11-a-side!!
Major overhaul needed to get players who can combine tenacity, desire and ability. Over the past two tenures we've had too much focus on one or the other.
John Graham
28
Posted 20/12/2016 at 08:12:44
Sean (#1) take that red hat off. We deserved to win as much as they did. And as a Blue, I would sooner talk us up as talk us down.

Ed Fitzgerald
29
Posted 20/12/2016 at 08:16:24
We did deserve to lose and the reason is that we were set up by our much lauded manager to be negative yet again! I think we have the same number of points as this time last year – the only difference being we were still in the League Cup.
If I was Moshiri I would be very careful before handing Koeman a big transfer budget.
Liam Reilly
30
Posted 20/12/2016 at 08:17:10
It was a piss poor second half but to say that's 30%+ of Koemans team is a bit harsh. He brought in what was available quickly.
To sack him without giving him a January and a Summer window would gain nothing.
There's no pace in the side; other than Coleman and Lennon (who tries hard but isn't that good) and there's few comfortable on the ball: Gana, Barry and Barkley (who I would like to see in a team with pace).
Lenny Kingman
31
Posted 20/12/2016 at 08:17:14
Ha ha, yeah, a late night and not a particularly enjoyable one.
Apologies to correspondents and the giant Dutchman, for now, and transfer the criticism onto that clown Robles!
With 'transfer' being the operative term this morning for plenty of present, but not future, blues.
Terry McLavey
32
Posted 20/12/2016 at 08:19:16
I started supporting Everton when I was taken to Goodison at the age of 7, I'm 65 now. Ironically, my first match was against Liverpool in the Floodlight Cup! Bobby Collins was playing!
I have always considered us to be a team alongside Man Utd, Arsenal, Spurs but I think it's about time I woke up and smelt the coffee! We are really a Coventry, Ipswich, Villa... it seems someone has put a spell on this fixture for us never to win it again?
I really had hope in the first half as we seemed to continue in the same vein as the Arsenal match but the second half was a revelation; I thought half times were a break to analyse what needed improving and put into place ideas and to press on? It seems we only DO one half; yesterday it was the first half for a change.
Lower my expectations, it seems what is needed and stop deluding myself; this from a fan who has never accepted Wayne's departure and still considers him to be on a very long loan deal! Although no doubt we'll get him back when he's a husk?
Mark Boulle
33
Posted 20/12/2016 at 08:26:22
No point criticising Koeman in my opinion. What can he do when two of his attacking three, in Lukaku and Barkley, simply cannot hold the ball up, find a pass or press the opposition effectively?! It drives me mad to see the two of them walking around as opposition defenders and midfielders pass the ball oh so easily around them.
I gave up on Ross Barkley's Everton career last night. Sorry, but he's just not and never will be good enough. Lukaku might be salvageable, but only if he plays with a partner or at least better support from midfield.
Anthony Hughes
34
Posted 20/12/2016 at 08:32:05
If Koeman perceives that to be an outstanding performance, then I think our manager has got some serious issues.
Brian Williams
35
Posted 20/12/2016 at 08:40:33
We managed to knock them out of their stride for the first half hour, without actually being much of a goal threat. Had we been able to keep that up, and not lose McCarthy, things may have been different. Big ask though even with no injuries although they should all be fit enough to work like that for 90-odd minutes.
After that there was really only going to be one winner as they were the better team for the rest of the game. Have to say, though, they were not MUCH better and had we had more about us we could have won it as well.
Unfortunately for the enigma that is Ross Barkley he had a bit of a stinker, and looked to me to be suffering from "nervous legs" due probably to the fact that the derby means more to him than most in the team. He gave the ball away too much, even early on in the game.
Lukaku was out on his own mostly and was usually guarded by two, and sometimes three, defenders though I still for the life of me can't understand how he's not making those defenders bounce off him with his size, strength, and speed. Overall he wasn't very effective.
It's obvious we need a completely new midfield (as far as attacking is concerned) to be honest, with strength, pace, and creativity, and Lukaku is never going to be the answer as a lone, isolated striker.
Trying to make the best out of an all too familiar feeling following a derby I'd have to say: Before the Arsenal and RS games I, and the vast majority on here, expected us to get absolutely battered in both games and get no points out of the six on offer.
So, and it's ONLY to try'n make myself feel a bit better, we're three points better off than the majority of us thought we'd be after the two games.
ps: With regards to Koeman's comments, for once I think he's actually tried to not further demoralize his players and maybe even take into consideration the fans.
John Graham
36
Posted 20/12/2016 at 08:41:25
Not many happy pills going round here by the look of it. Best keep all sharp objects locked away.
Myself I think we bossed most of the first half and seemed to lose some energy when McCarthy started to feel his calf going. Second half we gave too much territory away at the beginning and that was our downfall.
Still some way to go by the look of it but got to stay positive. If he gets a couple of his players in during the transfer window, we might see more of an attacking edge to our game.
Now, we just have to stay positive for Christmas – eat drink and be merry.
All together now... Keep Positive for Christmas!
Ian Jones
37
Posted 20/12/2016 at 08:42:38
Lenny. Still a bit harsh on Robles. :) The only other thing he had to do of note was his save from Firmino but, in the spirit of Panto, the phrase
'It's behind you' sums up most of Everton's play these days from the defence looking to find the ball as it rebounds off the post to Barkley's well-thought out but typically poorly executed late free-kick to Coleman. As for Barkley's follow up!
I was looking forward to the game. Even more so when noticed Barry was on the bench. Thought our midfield play would be quicker. He's a strange one.
When he didn't play a few games earlier in the season, it looked like we were missing him. Still a quality player. Is his influence dwindling as he gets older or is it still the lack of movement from the team as a whole that makes him appear slower in thought?
I am still with Team Gibson. Putting all his injuries aside, he seems to be one of few who can pick a pass. Perhaps quicker than Barry. However, if there is no movement, I guess he would struggle. The one thing you get from Liverpool and many teams is nimble forwards/attacking mids.
Conclusion: beat Liverpool on their patch next time... that will be outstanding...
John Malone
38
Posted 20/12/2016 at 08:45:12
The definition of lunacy is doing the same thing over and over and expecting a different outcome!
This stuff we are playing is worse than under Martinez, I don't know who has said what to Koeman but this long-ball dross is definitely not what we want to watch and is definitely not getting us result's!!
The most worrying comment is "We were outstanding!" Is this guy serious???
Mike Allen
39
Posted 20/12/2016 at 08:45:36
The players don't pick themselves but what you expect is that, when selected, you give 100% for the whole 90 minutes. We expect the manager to do the best with what he has available; we are not getting either.
We competed for half-an-hour in the match – the rest was same old. We were going backwards before the injuries, we had already shot our bolt. In the end, it could've been 3 or 4. We got what we deserved.

Denis Richardson
40
Posted 20/12/2016 at 08:56:59
Lot of negatives on the site, as can be expected after the loss, but I guess there's not too much that could have been done.
We started with the team that beat Arsenal, minus Jagielka, and they put a shift in first half. Most people, including me, didn't want Barry on the pitch cos he wouldn't have the legs against Liverpool and the injury to McCarthy brought that home to roost.
First half was fine, second not so but it only highlights the fact that our squad is very weak. We seem to only either have attacking midfielders or defensive midfielders but no-one who is simply a normal centre-mid. Someone who can dictate and play box to box.
The Arsenal game showed what we can do. However, with McCarthy out that presumably means Barry back and no pace in midfield again with Gana having to cover. Cleverley isn't the answer either.
A week ago, I was expecting one point from the Ars and RS games so I'm happy with 3. Results done, move onto the next game.
Really hope we can bring in a couple of new faces at the beginning of January.
Paul Conway
41
Posted 20/12/2016 at 08:57:38
I am still out on Lukaku, as he is too often isolated. His first touch is shite, but, I am convinced he can be very productive, if he has an effective partner. So, that leaves me with 2 very worthwhile players to keep Coleman and Gana, The rest can take a hike.
The worrying thing is, in order to buy the amount of players we need, we will have to offload a truck full of shite. The problem is Who is going to buy them?
Most of them are on Premier League wages for Championship quality (no disrespect to the Championship!).
Most of this dross would not get into a Championship mid-table Aston Villa side, of whom we are rumoured to be taking another player from!
The most embarrassing aspects of this fixture was first, the defeat, then the utter shite performance... and throw in the fact that the world was watching this game
Jason Thomas
42
Posted 20/12/2016 at 09:01:03
Our best player in the last two games has been James McCarthy. He's lead by example and shown the way. It was no coincidence that, when he went off, we reverted back to ball watching.
Valencia was played wide out of is preferred position. If he plays, then get him supporting Lukaku. Otherwise play Deulofeu or Mirallas.
Koeman needs to be given the chance with money and another full season before we all pre-judge. Otherwise, we will keep having to start again and again.
Let's hope for some big spending on key players in the January sales!
Gary Ashworth
43
Posted 20/12/2016 at 09:06:30
Koeman is right, we didn't deserve to lose; a hard fought draw would have been a fair result... but am I surprised we lost – no.
I've said this before, a lot has changed this season (new owner, new manager, new coaching staff and we added a director of football), but the constant is the majority of the squad. I think the time has come for Koeman to make some difficult decisions.
When I look at the squad now, I find myself asking questions and wonder what happened?
Baines – there was a time when Baines was first choice spot kick specialist, taking free kicks, penalties, corners. When he took a free kick within distance, he would have a crack at goal. Not anymore, now Barkley takes corners and free kicks and Baines has to fight with Lukaku for penalties. Yet Baines was quite successful at spot kicks, so why is he not taking them anymore?
Why do Coleman and Baines have to take all throw ins? The ball goes out of play and you'll see Coleman run half the length of the pitch to throw the ball back in?? Why?
Why is it no one seems to have noticed that Lukaku's first touch is terrible. Pretty much every supporter has made this observation over the past 2-3 seasons, yet his first touch is still as bad now as it was when he signed for the club. Has anyone within the coaching staff noticed this and worked with him to improve it? We lose possession so many times because of his inability to keep the ball.
Gibson... the club decided to extend his contract in the summer and he doesn't even make the bench. Yet we are struggling with attack and we let Osman and Pienaar leave? I'm not saying we should have kept Osman or Pienaar, but I'm wondering what was the rationale behind keeping Gibson?
Koeman had an uphill struggle in the summer and that was attracting quality players to the club. We have the ability to pay higher salaries than in previous years, but rumoured targets didn't come. Hart wasn't interested; Nani, Wijnaldum and Sissoko went elsewhere (although I'm glad we didn't sign Sissoko). Janssen, Pelle, Lucas Perez and Slimani weren't interested. Yarmolenko has been rumoured for a while now, but seems to have no interest in signing for EFC. Now we are 9th and Koeman will have the same uphill struggle in January.
Koeman himself is, according to the press, using EFC as a stepping stone to a 'bigger' club such as Barcelona. But surely his reputation will only go so far. He needs to transform Everton into a team that can win silverware before a club like Barcelona starts to show serious interest?
I just feel frustrated. On paper we have a great squad, but in reality we are poor and play terrible football. Funes Mori looked like a perfect replacement for Stones last season, he was athletic and scored a hatful of goals from corners – not so much this season. Williams was a rock at Swansea and was on fire for Wales in the summer – he seems a bit clumsy this season. Deulofeu was part of the reason Lukaku scored so many goals last year, not the case this year.
Lukaku is a decent striker, but he is not world class. Too many aspects of his game are poor, basic aspects like ball control.
Barkley has been a 'great potential' for years now and I feel he thinks too much. He seems to have a long term negative reaction to the crowd when they aren't cheering him. He seems to want Koeman to give him a hug and say everything will be alright. He needs to stop thinking and just enjoy his football, he has the ability, but time is running out. We can't keep waiting season on season and hope he finds his inner Lampard.
Tough decisions are needed and this current squad needs to evolve. If it means we lose players like Barkley or Lukaku, then so be it. If it means we lose longstanding players like Jagielka or Baines, then so be it. I don't have the answers, but the fact is this current squad are unable to perform at the level they should be performing.
Yes, we deserved a draw against Liverpool, but we had the momentum in the first half to get a goal or two and take three points... but we didn't. We were taught a valuable lesson by Chelsea and that game will stay in my mind for many years to come. Our performance against Watford was abysmal. If it wasn't for Fellaini's tackle on Gueye, we would have lost to Man Utd. A decent win against Arsenal was surprising, but it does not hide the deficiencies within the squad.
Brent Stephens
44
Posted 20/12/2016 at 09:06:57
Brian (#35) has a fair point. Koeman knows we played very well against Arsenal in that last hour and last night showed passion in the first half. He'll surely want to build on that rather than demoralise the team.
He probably doesn't think it was an outstanding performance. So he's bigging them up maybe.
Alex Bennett
45
Posted 20/12/2016 at 09:07:02
On a side note, will Gana be out for most of January at the African Cup of Nations?
Dave Pritchard
47
Posted 20/12/2016 at 09:36:22
Gueye was great again last night. Anybody know whether there is a release clause in his contract and if so what is the fee that releases him? I'm asking because I am worried that at the end of the season there will be clubs interested in him.
Sam Hoare
48
Posted 20/12/2016 at 09:38:07
Too many players just not playing at their full potential or anywhere near it right now.
Barkley and Lukaku in particular will determine our attacking potency and sadly they just don't do enough on a regular basis. They are not much helped by Valencia and Lennon who are limited triers and Deulofeu and Mirallas who are underperforming badly this season.
Liverpool had Firmino and Mane who put in just as much if not more effort but also have a touch more class and composure. Even Origi (who I think is limited) looks to be playing near the top of his potential at the moment.
We have looked a bit better defensively in the last two games against very talented attacks but going forward we just look short of creativity and decent execution. The amount of poor passes and first touches in that second half was astounding. Lack of confidence?
Liam Reilly
49
Posted 20/12/2016 at 09:42:54
If we lose Gana and McCarthy through injury for a sustained period then Koeman will be forced to reconsider 2 defensive midfielders in every game.
I'd like to see Barkley placed in there beside Barry and hopefully a 'Schneiderlin' type to see what he can do from deep.
We desperately need a creative force in the roaming 10 position behind a front two; so a compact 4-3-1-2 with the ball and 4-5-1 without it.
Mike Keating
50
Posted 20/12/2016 at 09:45:30
Thanks, Alex, that's really cheered me up!
Craig Walker
51
Posted 20/12/2016 at 09:48:51
It's not so much that we've been beaten again by them that I find humiliating – I'm almost used to that now – it's the fact that the horrendous challenges are now committed by our players in derbies. We can't even whinge about the likes of Kuyt's or Gerrard's challenges anymore.
I listed players who aren't good enough for us last week and was told "to get real. That's half our squad". Still think the likes of Lennon, McCarthy, Funes Mori and even Barkley are good enough?
No wonder we're a small minded club when we're over the moon because we came from behind to beat Arsenal once. Depressing.
Paul Chaloner
52
Posted 20/12/2016 at 09:52:03
I won't add much as I am as massively disappointed (although not surprised) as the rest of us. I will just add that in April the team/squad was in need of urgent rebuilding following two years of decline. I'm not sure it can be done in 6 months given we were so bad. Maybe I'm clutching at straws though.
Gordon Crawford
53
Posted 20/12/2016 at 09:57:48
For me this sums it up:
Liverpool manager Jurgen Klopp told BBC Sport: "I don't agree it was a poor first half. Maybe not the best football – you have to adapt to Everton's wild game. A game like this you have to interrupt their rhythm with passing."
Sadly he is right in what he is saying. We are the laughing stock of Merseyside. How I wish we could have got Emery or Conte.
Iain Johnston
54
Posted 20/12/2016 at 10:00:12
For me, the change came when the RS pushed both Milner & Clyne on using that Symbian knuckle-dragger Henderson to drop back forming a back 3. Valencia & Lennon had to withdraw to cover.
Add to that the loss of 50% of our midfield mobility and we were never going to match them or, as we've seen a lot this season, a good deal of the other teams in the centre.
Barkley has to go, he's just another Ince, Gayle or Zaha. I also think it's time for both Davies & Walsh to replace Cleverley & Barry in the squad full time.
As for Koeman, with this squad you could cut & paste any manager's name and it would be the same. The last bloke was more concerned about passing & possession and spent 6 windows building a squad to do that. The game has moved on, it's all about contending for the 2nd & 3rd ball now.
Chris Leyland
55
Posted 20/12/2016 at 10:11:37
Let's get it straight, we did deserve to lose. We had 30-odd percent possession and one shot on target in the game. We were the home team and that is just plain unacceptable.
How come Burnley and Bournemouth can have a go at their grounds against the shite and take the game to them but we can't? Why is it acceptable for us to think "We were dead unlucky there as we almost managed to hold out for the full game against Liverpool?" It isn't and shouldn't ever be acceptable to just hold out.
That small-time inferiority complex is why we will continue to never beat them. How about actually having a go at them for once and taking the game to them properly?
Andrew Clare
56
Posted 20/12/2016 at 10:13:32
Very disappointed but not surprised. They are high flying with an excellent manager who now has had time to 'bed in'.
We have come off the back of two very mediocre seasons with a new manager who hasn't had time to make an impression. Couple that with the massive spending of Liverpool over many years to our shoe string budget and it's no surprise that we fail to beat them. Our record in recent years is terrible against them as it is against Arsenal, Man Utd and Chelsea but then if you look at the majority of the teams in the EPL they will all have terrible records against those aforementioned clubs. Since the onset of the EPL they have been the top teams and we have been among the also-rans.
It's up to Moshiri & Koeman to break the mould and it's going to take time.
I'm expecting a big clear-out in the summer and the signing of several new players in the next two windows along with the announcement of a new stadium. Then we can judge whether Koeman is the right man; at the moment it's not possible because most of the team were signed by previous managers.
Chris Leyland
57
Posted 20/12/2016 at 10:21:19
I have reflected on this "it is the squad and any manager would be the same argument" and I can't fully agree.
Yes, the squad is not capable of challenging at the very top but we have lost away to Watford, Burnley and Bournemouth already this season, as well as drawing at home to Swansea and Palace.
Those are games where we could reasonably expect to have got 12 to 13 points but instead we got 2. That is in large part down to the players AND the manager who to me doesn't look like he is bothered at times and is just going through the motions.
His preparation and his in-game management have been found wanting in a number of the games listed. I am not advocating getting rid of him but he does need to up his game significantly .
Gary Reeves
58
Posted 20/12/2016 at 10:24:52
Still people on here who think the answer to the "Barkley Problem" is to play him as an out-and-out midfield player!! Unbelievable!!!
The kid can't tackle and has zero defensive abilities – how the fuck can he play in midfield?
No, the answer to the "Barkley Problem" is to get rid – enough's enough.
Mark Pierpoint
59
Posted 20/12/2016 at 10:27:38
I thought this was a real low. Not to the extent of last season at Anfield, of course, but not too far removed from it. A number of points come out of the game for me:
1) I can live with getting beaten by a better team. See the Chelsea game. They were outstanding. This Liverpool team though were fairly ordinary – both in terms of their personnel and performance. Truth is, though, they never had to get out of second gear.
2) For Martinez's faults, at least you could see what he was trying to do, even if it was fatally flawed. I am not a knee-jerker and I am by no means sounding the death knell on Koeman. I do question what exactly the plan was here though. Other than to bypass the midfield with long balls, I saw no clear game plan. That, for a team who fancy themselves as top 8, and playing at home, is criminal.
3) Don't mean to get on Koeman's back, but what exactly has he been doing all week? That wasn't a performance with any tactical nous whatsoever. People get on players' backs for earning too much to young; I see no difference with Koeman. Where is the incentive for pushing himself if he is earning ٤m a year anyway? I really question what his motive, apart from financial, actually is for being here.
4) Barkley. I think a decision has to be taken at the end of this Christmas period as to his future. It seems like it isn't going to work here. He is miles away from controlling a game, never mind a series of them. If we could get 㿊m for him, would anyone be against it? The decision has to be taken now as he only has 18 months on his deal. Him and Lukaku are bone idle. I can live with it from Rom as his goals are vital; maybe you can accept carrying one player like him. Not your two attacking forces though.
5) What exactly was the plan when bringing on a 19-year-old striker to play right midfield? In fairness to the lad the occasion was too big for him atm.

Stan Schofield
60
Posted 20/12/2016 at 10:35:21
We have the players to compete. There's little difference in quality of player between us and Liverpool, and in fact we have the edge in player talent.
What we lack is effective organisation and tactics. We look too disorganised for too much of the time. Use of players does not take best advantage of their attributes. More pressing is fine, but that has its limits, and it's only a necessary condition for success, not being sufficient on its own, although Koeman keeps harping on about it.
He needs to change his tactics and organisation, his system, to be more adaptable. He looks too rigid. And he needs to do this now, before any mythical new signings in future transfer windows.
Maybe he should get a few pointers from suggestions on TW as to more effective team selections and set-up. That surely could not be worse than what we see at present. I get the impression of a lot of smoke and mirrors when it comes to managers being paid millions of £ per year. In any industry, football included.
Craig Walker
61
Posted 20/12/2016 at 10:36:38
Mark @ 59
1) Absolutely spot on. They used to have the likes of Igor Biscan and we had Rooney and we still looked and played like rabbits-in-headlights. Bournemouth and Burnley didn't fear them. Why do we?
2) Agreed.
3) We now seem content to try and fight to get the ball back and use up a lot of energy doing so, only to go and give it away or hoof it up to a pudding of a striker who couldn't trap a mattress but thinks he's good enough for Barcelona.
4) I would snatch their hands off. No brain and never will have. We hoped he would be the next Rooney. He's barely the next Tony Grant. He'll have one good game in ten. Gerard was running derbies at his age.
5) I don't mind Koeman giving youth a chance.
Craig Walker
62
Posted 20/12/2016 at 10:39:58
Stan. "We have the edge in player quality?" No we don't!
I work with a RS fan who hates Sturridge and says he's not good enough. I wish we had him. I'd have him over Lukaku.
Would Cleverley, Lennon, Kone, Gibson, Mirallas, Deulofeu, Funes Mori, Jagielka, Barkley, Valencia, McCarthy, Besic etc get into their squad? No.
Gueye would... and maybe Coleman. That's it though.
Alex Bennett
63
Posted 20/12/2016 at 10:43:45
To answer my own question, it does look like Gana will be off to Africa in January. Sorry Mike (#50) – sometimes it only ever feels like an eternal downpour at Everton.
Christy Ring
64
Posted 20/12/2016 at 10:47:10
Barry has been a great servant for us, but last night showed, when he replaced McCarthy (who had a superb 45 mins), his pace and energy are no more. I cannot understand how we extended his contract. Tom Davies has to be given a chance.
Dermot Byrne
65
Posted 20/12/2016 at 10:50:00
The scoreline reflects where both teams are in stages of development. The positive I get from this and Arsenal game is passion returning. The negatives, two over hyped players Barkley and Lukaku.
Barkley is just unable to think quickly with his final pass and generally does not have the psychological make up of a top player.
Lukaku – 95% of his game is bloody awful. No control. Lazy still. Moans at team mates.
Sell them both.
Alex Doyle
66
Posted 20/12/2016 at 10:52:44
All excellent points @ Mark 59.
I see no semblance of a tactical plan that the players should be buying into. A manager getting £6 million a year should be able to do better with this squad. Koeman seems to have written off half the squad and has left himself with few options.
I would like to see us keep Barkley, but he is not developing as he should. We need to buy a seasoned top level no 10 to make this system work. Leave him as an understudy.
Koeman does need time, but I am not confident that he has the tactical nous to take us in the right direction.
Mark Pierpoint
67
Posted 20/12/2016 at 10:54:48
I admit that Lukaku has his faults. At the moment, he isn't going to the very top of football. How we replace his goals though when he does leave is anyone's guess.
We have a midfield who struggle to get into double figures between them in any season. If Lukaku goes, I see no obvious replacement to come in. Look at teams like West Ham. At the bottom end of the league for want of a decent frontman. Who would we get? A Gabbiadini? Zaza? Scary.
Paul Chaloner
68
Posted 20/12/2016 at 10:55:56
Craig @ 62. Couldn't agree more.
Today is in some ways more painful than April as we knew Martinez was on his last legs. I need hope at the moment. We can't dine out on the odd decent (that's all it was) display against Arsenal.
I can't see hope as the last thing I hear is that we need to sell before we can buy. January windows are notoriously slow. We've pretty much got this lot until the summer.
Paul Tran
69
Posted 20/12/2016 at 11:05:09
We know there are few goals in our forward players. We know there's a lack of physicality in the team. We know we're seriously lacking in creativity.
So all that's left is to get in the other teams faces, press in disciplined lines and hope to get something from it, as we did against Arsenal.
We did it well in the first half; I thought it was irritating to see Lukaku win plenty in the air and have no-one close enough to make anything of it.
It was a shame to lose McCarthy, who looked invigorated, and in his absence we dropped back, the gap between midfield and attack became too large, not helped by Lukaku's appalling control and passing. I don't think Koeman went one up front in the second half, I think dropping back isolated the attack as Valencia went looking for the ball. 10 men back for corners didn't help either.
Robles should have done better with the goal. His reaction told me plenty, backed up by Neville's perceptive punditry.
I can see what Koeman is trying to do. Press the ball in disciplined lines, create space for attackers to exploit. Check out Cruyff's autobiography for the detail. Right now, our players aren't fit enough or disciplined enough to do this. Klopp has shown that in 12 months, he could drill it into his players and they look better as a result.
The question is, can Koeman do this with these players? Or more importantly, can his team bring in the right players who can get us up to speed quicker? His disadvantage is that he inherited a weak team lacking fitness and genuine threat. His advantage is he knows he'll be backed financially in January and summer.
Right now we're between a rock and a hard place. I'm going to grit my teeth and be patient for a year. If we're still playing aimless rubbish, I'll join the mob calling for his head.
Whoever is in that seat has a rebuilding job that takes time and a thick skin. Part of me is already thinking that Koeman may end up doing some donkey work that the next manager will benefit from.
Peter Roberts
70
Posted 20/12/2016 at 11:12:27
We did deserve to lose. We were abysmal in the second half.
If we can sell Barkley and Lukaku for 䀆m, then let's buy a mobile footballing front line. I'd like to keep Barkley and watch him with a striker who moves and looks after the ball better but I think he needs a fresh start.
Any hard work by the defence and midfield was undone by the ball continually being given away up top. So stressful to watch.
Andrew Clare
71
Posted 20/12/2016 at 11:19:34
Mark @ 67,
That is scary. Gabbiadini is hopeless yet we keep being linked with him. I hope it's just paper talk.
The reason for the lack of goals from midfield is the way the team is set up and the lack of creativity in the side. We really need a couple of creative, driving, energy-packed midfielders to get the team playing. Especially now as Gueye will be missing in January.
Obviously we have got to give Koeman time but his signings do worry me apart from Gueye. Hopefully we will bring in some quality in January. This season is all about getting it right so that next season we are the finished article and able to compete. It's bound to be a bumpy road.
Brian Harrison
72
Posted 20/12/2016 at 11:22:08
Yet another home defeat in a derby game, I dread going to these games as they either win or draw. They have more derby wins at Goodison than we have and the gap is getting wider with every season. Cant fault the effort of our players, but you need more than huff and puff to win games.
I said some weeks back that I feared what would happen if Lukaku hit a barren spell; well, it's happening and we are struggling. Seems our whole game plan seems to try and get Lukaku into a scoring position.
Although we probably had the best of the first half we created very little, and when McCarthy went off before the start of the second half it was virtually attack against defence. We kept dropping further and further back inviting them to attack us. And as always, they found a winner late on.
I know Koeman has come under criticism for his lack of playing youngsters, and maybe that's why he brought on young Calvert-Lewin, but he needed experience, not a rookie. Still no sign of Davies in the squad. I would imagine Mirallas must have seen this as his exit, and if Deulofeu wasn't injured then he too must think his future is elsewhere.
Another very average performance from Ross and his response to the crowd's criticism for not challenging for a 50-50 ball with Klavan was to make a coward's tackle on Henderson. How he stayed on is unbelievable. Everton would be mad to turn down 㿏 million from Spurs for him. All I hear is the lad has fantastic potential... well, for me, he has had long enough take the money and cut our losses.
Although I wanted Koeman so far I have been disappointed, I thought by now we would start to see the type of game he wants to play emerging, but so far I don't see it. But he must be allowed time if we become a club who sack managers after a couple of seasons then we will only make matters worse.
I thought the bookies may have got the odds wrong for this game with us being 3-1 and them being 5-6 and a draw evens, but I should have known better having at one time owned a horse myself. Bookies don't make many mistakes. I don't believe we will be dragged into a relegation battle but 7-12th looks a possible finishing spot.
Jason Bowen
73
Posted 20/12/2016 at 11:25:08
Oh, piss off, Koeman, we were shite, end of. The bit of pressure we applied in the first half doesn't make it a good performance – we bottled it yet again.
I can't speak for everyone but I'm thoroughly pissed off at the years and years and years of absolute garbage we have had to put up with, and the years and years and years of sniggering from that shower of shite across the park.
Absolute fucking joke we are.
Mike Allen
74
Posted 20/12/2016 at 11:32:38
"Didn't deserve to lose" my arse.
Show for half-an-hour or so then gone, same thing all season. Fucking about wide right or wide left rotating same over and over. Coleman has been our best player going forward – play him in front of Holgate. Do the same with Baines – play him in front of Galloway... if nothing else, at least some energy on the flanks.
If Lukaku is not scoring; he does not contribute to the team, can't keep picking him or leaving him on the pitch in the hope that he might score, the amount of times it breaks down with this lad is just not good enough.
All kinds of names will be banded about for the January sales but if we are going for the Depays of this world we will be in a worse mess than we already are.

Steavey Buckley
75
Posted 20/12/2016 at 12:02:07
'We did not deserve to lose' That statement could have been applied to Everton's first half display when McCarthy was on the pitch, but when one of Koeman's best mates, Barry, appeared in the second half, it was down hill all the way. Then it was a question of not Liverpool scoring, but when.
I just don't get it when managers insist on having their adopted best mates on the pitch, that eventually led to Martinez losing his job, by wanting to play Kone, Howard and Osman nearly every week, when clearly they were well passed their best to the detriment to the rest of the team.
When Martinez and now Koeman took over, I expected a change of personnel by snapping up less expensive players from their portifolio of good players available. But not so, they went for expensive flops such as Bolasie and Niasse respectively.
Now Everton face a daunting rest of season with so many players not just good enough. Not good enough to play for Everton but any premier league team. To make matters worse, McCarthy is injured and Gana will be away for quite a few weeks in the African Nations Cup.
How Koeman a very experienced player and manager could allow himself to be in this position is a mystery, because he assembled a good set of players in his first season at Southampton even when forced to sell many of his good players during his 2 seasons as manager there. Yet, was able to replace them. Koeman was never forced to sell any of Everton's better players but didn't bring in any either except for Gana.
Sean Patton
76
Posted 20/12/2016 at 12:41:08
A Dutch David Moyes?
More like a Dutch Tony Pulis and the real Pulis is above us in the league and gets nowhere near ٤ million year.
Tom Cuffe
77
Posted 20/12/2016 at 12:48:27
The way Barkley is going, we would be lucky to get 㾻 million for him, as for Rom maybe 㿅 million at a push, but really what team better than us would want them, it's time for a massive clear out, what we have won't even get us a top 10 finish this season.
As for Koeman, we have gone for a manager on the side who looked lost, to a manager who looks on in bewilderment; I can't see things getting any better. We've gone from sideways football to hoofball. It might suit if Duncan was still playing – at least he could lay it off to another player.
Hopefully we get it a raft of new players in January, I wish!!!
Minik Hansen
78
Posted 20/12/2016 at 12:53:27
I kept my belief in the blues to win this game and still believe in them, that's the most important thing for me. Onwards and upwards, COYB NSNO.
Neil Pickering
79
Posted 20/12/2016 at 12:57:50
Fact is, we ran out of steam. We shot our bolt after the effort put in 1st half. . If we had of scored in that time then it may have been different.
The facts are Liverpool are a miles better side than us. Koeman tried press them and hurry them up but he just doesn't have the players to sustain it. Losing McCarthy was a massive blow as Barry doesn't have the legs to press.
We have to give Koeman another two windows to get his players in. I think there are a lot of players he doesn't rate at the club atm but he's just playing nice rather than causing ructions. He can only piss with the dick he has, so I am definitely deferring judgement till at least this time next year on whether he is the answer or not.
Mike Doyle
80
Posted 20/12/2016 at 12:58:42
In recent weeks many posters have (rightly) criticised the apparent lack of effort, stating (rightly) that the minimum we expect is 100% from all in a blue shirt. For 70 mins vs Arsenal and all of last night I'd say the players gave it 100% and make no criticism of that aspect. However what last night showed (again) is that we are a mid-table squad.
Liverpool are a decent side but were without their main creative player, the guy I'm told is their main defender, and fielded the lesser evil of their 2 sub-standard keepers. This was not the Liverpool of the Rush, Dalglish, Souness generation ... or the Owen, Fowler generation ... or the Gerrard, Carragher generation ... they are competent but not outstanding outfit. But from the start of the second half – as we dropped deeper and deeper – there was only one likely winner.
With not a single worthwhile effort on goal, we can have little complaint.
Stan Schofield
81
Posted 20/12/2016 at 13:05:37
Craig @62: I believe we do have the edge in talent. Last year, Firmino and Coutinho were shite whilst Barkley was playing well.
At the moment, it's the other way round (albeit the injury to Coutinho). Liverpool have improved their organisation, through Klopp, with mainly the same players. We need to do the same. Koeman needs to, and should be able to, make effective use of the talent at his disposal. That's why he gets paid so much.
As for Sturridge, I've got several Liverpool mates, none of whom rate Sturridge. Neither do I, he's too injury prone, has some neat footwork, but little football brain.
If he wasn't a sick note he could be a useful foil for Lukaku, but that's about it. He's not in the same class as Lukaku as a striker. He's an England regular, which to me just reflects his mediocrity, England being a mediocre bag of shite for the last 50 years and all that.
As I say, Koeman needs to get his act together sooner rather than later, with or without new transfers.
Mat Smith
82
Posted 20/12/2016 at 13:08:56
Funny how the majority of people were saying before the game that he had to stick with the same line-up that beat Arsenal with swapping Jags out as the only change… Now people are slating Koeman for the line-up and saying it was negative.
I still have faith in Koeman and think if he is given time he will turn things around – we are in a transition stage at the moment. I think the difference for him at Southampton was that he was forced to bring in new players after the board sold their best ones and he managed to get players in that suited his style, whereas at Everton he kept hold of the so-called "best" players.
Like any management role, you need to assess what you have before making any massive changes unless your hand is forced –maybe things would be different if the board made him sell Lukaku, Barkley, Coleman, Mirallas etc… but then the board would be criticised for that.

Scott Hall
83
Posted 20/12/2016 at 13:18:11
I personally cannot complain. All I wanted was passion and effort and I think we got that. We simply don't have the attacking quality to turn that passion into goals.
I wanted Koeman to stick with the same (winning) team and he did. And I still feel that was the right thing to do. The turning point was losing McCarthy and replacing him with Barry. From that point on we had six players camped around our own box which invited Liverpool onto us. Had he replaced McCarthy with Mirallas, Deulofeu or Davies, then I think we would have had more attacking intent in the second half. As it was, Liverpool had no worries defensively and could afford to plough forward. Their job was simply to break through the wall that we set up.
Barkley should have been sent off so we can't blame the ref on that one. And for me, last night be proved that he simply can't cut it as our No 10. We need a calmer and more creative head in that role urgently.
Severely disappointing to lose. But even more disappointing that, rather than trying to win it, we were holding onto a draw for dear life. We just didn't have the attacking quality to try and win the game.
Stan Schofield
84
Posted 20/12/2016 at 13:23:47
Mat, and other people were saying after the Arsenal game that Koeman needs to sort out his organisation and tactics, to add to the commitment from the players shown in the last 70 minutes of that game. '
More pressing' that Koeman has been repeatedly mentioning, is only a necessary condition for success. By itself it is not sufficient, and it needs to be complemented by better organisation, tactics, and deployment of players, the very same points to be made after last night's game.
Otherwise, I'm at a loss to see how ٤M/year is justified.
Tony Hill
85
Posted 20/12/2016 at 13:46:18
With the exception of the Man City game (and our record at Goodison against them isn't bad), our fixtures to the end of February give us a real chance. Of course, we have to perform but let's not lose heart because of last night. December was always our worst month of this season and if we beat Leicester and Hull then we've not done too badly.
The key thing is that the team and management are plainly trying their best. I was ready to get rid of Koeman because I thought he'd lost the players, but he hasn't. Let's see how it looks in 3 months or so.
Geoff Evans
86
Posted 20/12/2016 at 13:51:42
Dear Six-million-pound-a-year man.
Not bothered why you think we didn't deserve to lose. Tell me, why we never for one moment, remotely looked like we could win?
Holding on for a draw, at home against an average team that conceded four goals against Bournemouth.
Makes you real hopeful and proud.
David Booth
87
Posted 20/12/2016 at 13:52:54
Now we play well for the FIRST 20 minutes, but are shit for the other 70...
What the fuck was Calvert-Lewin brought on for, to be deployed as a deep-lying right winger/midfielder?
Why did we not change our plan for the whole 45 minutes-plus we spent on the back foot in the second half?
Why is Lukaku played on his own, up front, game after game after game?
Why do we insist in playing two defensive midfielders – or even three – in every game, even at home?
Why is this Dutch dunce in charge of our club?
Paul Tran
88
Posted 20/12/2016 at 13:54:12
Stan, out of interest, what were your red mates saying about Klopp a year ago, when they were pretty ordinary and he kept talking about fitness, pressing and patience?
Terry Underwood
89
Posted 20/12/2016 at 13:57:21
Sadly, the Red Shite looked the only team likely to score. We offered very little going forward, although we fought in midfield. In truth, if it had not been for a couple of good saves and a goal line clearance, it could have been another 4-0.
Still, spilt milk and all that, no use dwelling on it. Move on. COYB; keep the faith.
Winston Williamson
91
Posted 20/12/2016 at 14:01:01
Well, what can you say. Another defeat to Liverpool notched up.
It was cruel, but probably justified. I was watching the game with a (Red) cousin I've not spoken to in a while. We talked through most of the game as it wasn't a very good game by either team.
Neither team showed any real quality. Even their goal was rubbish However which way you dissect this performance – the same old problems reared their head.
1. Lukaku is not a lone-striker.
2. Barkley is not improving and is not and never will be our saviour.
3. We lack quality squad depth.
4. We lack goals from midfield.
5. We have a massive inferiority complex
There's probably more.
What we know for sure is we need new players, with a new mentality.
What we don't know for sure is whether we need a new manager – time will tell...
Geoff Evans
92
Posted 20/12/2016 at 14:10:26
Dave: If you add those 20 minutes to the 70 against Arsenal you get 90.
Now if we can account for any injury time played we're getting a full half a game of effort from them every week.
See, it's not all bad is it?

Tom Bowers
93
Posted 20/12/2016 at 14:17:12
Everton deserved to lose because they were second-best. You cannot hope to win when your players are crap and the manager has no system that would scare a team of grandmothers.
Let's get over it and look forward to Koeman planning the next win, whenever that may be.
I wonder what Barkley really meant to say to scumbag Henderson?
Peter Cummings
94
Posted 20/12/2016 at 14:25:20
Five minutes into the second half, it became obvious that we had run out of steam and we were just keeping Liverpool at bay. They were allowed to play their passing and possession game as we fell back and let them, with the almost inevitable result, although had the defence reacted as the ball came off the post we might have salvaged a point, in the end it could have been three as Baines cleared a sitter and Robles did the same.
Make no mistake, we were completely outplayed in that second half so the end result was deserved as painful it is to admit. Now it's back to square one and face the fact that it could take several more seasons for Everton Football Club to compete for the top honours in football, if we ever do.
Stan Schofield
95
Posted 20/12/2016 at 14:28:23
Paul @88: They were patient with him, especially given his record at Dortmund. Similarly, I think we should be patient with Koeman, because it will no doubt take time to get the pressing better, plus better organisation.
However, I can't stop getting the impression that Koeman is a bit too rigid, unwilling to adapt tactics. Klopp chopped and changed a fair bit. I'm not saying Koeman should do that, just that I'm surprised he's not more flexible. Being inflexible, as we saw with the last guy, can cost you your job!
Anthony Flack
96
Posted 20/12/2016 at 14:31:35
Mike (#9) – sorry for delay in responding I was asleep!
Funny how different people see things in such opposing ways – I was at the game, in the Upper Bullens, just behind the cameras
I would certainly have brought Cleverley on instead of Barry. I like Barry, but the game was too fast for him and he struggled
Valencia looked like a lost child – he is a centre forward, not a wide right midfield, several times right under my nose you could see him suddenly realise he should have been somewhere else and as a result was constantly out of position, whtehr he was supposed to be on the wing or up front.
As for Holgate I would have put him on in front of Coleman, not instead of him – that would be stupid !
I thought we were poor in the second half, although a couple of my family who watched on TV were surprised I thought so!
I agree with your later comment, that Koeman was trying to win the game with the limited resources available
Don Alexander
97
Posted 20/12/2016 at 14:49:02
Koeman hopefully said what he said in the hope that there's another chairman somewhere as deluded as Blue Bill, willing to buy our finest come January. Here's hoping anyway.
January can't come fast enough but I have worries. First, please don't let Kenwright or Elstone have any involvement at all. Second, and worryingly, rumours emerged soon after we signed him that Steve Walsh might not have been the actual chap who unearthed the likes of Mahrez and Kante for Leicester last season, just that he was in charge of whoever did scout them. Hmmmm. Then there's apparently a question about who did what at Southampton in terms of their transfer activities whilst Koeman was there. Hmmmm!
Hope Mr Moshiri is prepared to spend, but spend well.
Adam Luszniak
98
Posted 20/12/2016 at 15:09:01
Geoff Evans the 'average' team that struggled to beat us last night is second in the League. It's Everton, not Liverpool who are average, like it or not.
David Booth
99
Posted 20/12/2016 at 15:09:42
Don, and anyone else who believes that January offers us some sort of salvation – your hopes are going to be dashed.
As was the case in Summer with John Stones, the only way we will have anything meaningful to spend is if we sell one of our better players to provide the funds. That means Lukaku, or Barkley, or both. And that means one massive step back before we even think about a debatable step forward.
Also, if anyone thinks there will be a much-vaunted clear out at the same time, they are equally as misguided.
We could only shift McGeady on loan (again), before the start of the season and couldn't even do that with Niasse. So the likes of Cleverley, McCarthy, Lennon, Kone and that useless waster, Gibson, will all still be drawing a salary until the end of the season and probably beyond.
God knows who we will bring in. But be warned against raising your expectations. This is Everton, remember. We've had quarter of a century of these feverishly over-hyped false dawns. They are the most shallow, repetitive piece of PR bullshit in the so-called Premier League.
We shall also have to entrust anything we spend to our dickhead of a Dutch manager, who apart from Gueye (who worryingly arrived before he was employed), has so far acquired us a dodgy keeper who he dropped at his previous club, an ageing defender to play alongside our other ageing defenders, an over-priced runner who's now out for the season and a loanee forward who has only just got off the bench with half the season almost gone.
And to cap it all, Koeman will probably tell anyone worth his salt that he could do better elsewhere anyway...
John Raftery
100
Posted 20/12/2016 at 15:30:41
A manager's No 1 job is to get the best out of the players he has. Until the last two matches, Koeman has singularly failed to do that; hence the failure to win points against the teams near the bottom of the league.
I thought the players gave the best they have got against both Arsenal and Liverpool. A similar level of effort against the likes of Watford, Palace and Swansea would taken us to an unlikely 6th in the league. Last night we ran out of gas against a team which started slowly but gradually took control from front to back. We can criticise the players for dropping too deep but given our lack of pace and quality we did not really have much alternative.
The test now for Koeman and the team is to maintain the same level of effort against the middle-of-the-table teams and relegation strugglers. At the same time he needs to bring in better quality players but as we all know January rarely sees clubs selling their best players.
I fear we will only bring in players lacking match fitness, for example, Schneiderlin and Depay, who will probably take several weeks to get up to speed. That makes it imperative that Koeman knuckles down to his No 1 job. Frankly, the sooner we get to 40 points the sooner we will all be able to breathe more easily.
Mike Berry
101
Posted 20/12/2016 at 15:40:19
The game turned on the injury to McCarthy. Without him, the pressing in midfield in the second half went. I know he isn't exactly a fans fav. But last night he was leading
Paul Conway
104
Posted 20/12/2016 at 16:08:40
Does anyone have that familiar Xmas feeling, that only an Everton supporter can get?
When I look at the Premier League table, all I can say is 'Bah humbug!'
Paul Tran
105
Posted 20/12/2016 at 16:17:05
Agreed, Stan. I get the impression he just doesn't fancy any of our attacking players, except Lukaku.
In the long term, I agree with him. In the short term, it concerns me, because he won't replace them all in January and he needs to find a way to get the best out of them.
And that's where your thoughts on his rigidity make sense. Mind you, all our forward players are either not good enough or inconsistent, regardless of who is managing them!
Paul Conway
106
Posted 20/12/2016 at 16:23:38
Between the calamities last week against Arsenal, where our players clobbered each other and Williams's deviation that led to their goal from their free kick, and last night's burlesque performance by Barkley and their pinball type goal, how long do we have to wait before they scrap the Z-Cars tune and replace it with Laurel and Hardy's cuckoo theme?
Mike Gaynes
107
Posted 20/12/2016 at 16:39:59
Stan (#60 and #81), certainly Koeman has some issues to sort out... but if you really, truly believe that "we have the edge in player talent" over Liverpool, all I can say is that it must be a very sunny day on your planet, and the mushroom crop must be bountiful.
Kenny Smith
108
Posted 20/12/2016 at 16:41:04
We deserved what we got despite what the manager says. The gap between our front players and theirs was frightening. Saying that, I don't think this group of players are good enough to compete with most sides in this division over 90 minutes.

As for Ross Barkley, I'll lump him in with Branch, Kenny, Rodwell, Cadamarteri and Vaughan. He was last yesterday and should be ashamed of his contribution! I think he's run his race with us...
Bruce Moxham
109
Posted 20/12/2016 at 16:42:24
I feel very deflated after last night because they were in a different league to us.
More than a few times this season, I've been feeling angry at the lack of effort but with a couple of exceptions I thought the team gave everything. Had we held on, a point from a match where we were completely outplayed at home would have felt like a defeat anyway.
Koeman picked a team to stand up and fight for the last 2 games and they did but that was all we had last night. Quite where we go from here I don't know.
With Barkley off form, there is no creativity in midfield. Maybe Davies could provide that spark but it would be a tall order in a team so short on confidence.
I also cant see what Valencia offers that Niasse or one or two others don't. Yesterday he showed a lack of effort in tracking back when they attacked in the 2nd half and was rightly hooked.
Mark Pierpoint
110
Posted 20/12/2016 at 16:49:34
Tom (#77)
I get some of the issues with Rom, but Benteke went for £30m. That is the going rate. Regardless what his detractors think, his goal record is very good; especially when viewed in the light of playing in an average-decent team.
We could easily expect £50m for him. Even with Barkley out of form, the lad scored 12 goals was it last year?
I am not sold on Barkley as one of the eleven admittedly. I do question those who come up with Lukaku being utterly dispensable though. Especially given the fact that our midfielders goal contribution is abysmal.
Be careful what you wish for.
Paul Hughes
111
Posted 20/12/2016 at 16:51:55
The only unlucky element was losing two players to forced substitutions, but you've got to deal with that. The one tactical sub was flawed and Koeman must take the blame for that.
The only progress we made all game was down the right with Colman and Valencia. Changing that was daft.
As for Barkley, I've had it with him. He was dreadful from start to finish and (having seen the replay) lucky to stay on the pitch. I'm afraid he's never going to fulfill his potential.

Gavin Fennessy
112
Posted 20/12/2016 at 16:52:23
Well, it is more or less agreed that in order to compete with the Top 6 we need a minimum of 3 first team starters of significantly greater quality than we have at present. Can this be delivered in January? Regardless of difficulty, I think we need to see serious intent in this transfer window.
The problems are throughout the squad and the 3-5 players we need to bring in will not in themselves be enough to radically alter the overall quality. It is a short-term response to the observation that there are several current first team players that are incapable of performing at a level we'd need to push towards a European place. If this is also the understanding of the Board you would expect that as a minimum we would see a clear effort to recruit:
1) A new goalie that can consistently perform at this level;
2) A commanding centre-half. Ashley Williams does not look good enough at this level to be the leader of the defence. His distribution and positioning has been poor. Jags is a liability and has never convinced me as Captain. Funes Mori may improve but he is no better than adequate cover. In short to medium term Holgate may claim the spot alongside a genuine quality centre half.
3) A genuine number 10. This will probably be the hardest place to fill as we are going to unearth a hidden gem or someone from an unfashionable league if we are going to afford and convince someone of suitable calibre to come in January.
4) To that we may well add a few loans – certainly of the names mentioned Schneiderlin would be most welcome. Not sure Depay would be a good fit, but as a loan signing he could provide some pace.

If we end up with a few loans (alone) and don't sort out the defensive frailties I can see the rest of the season being a real struggle. I realise that we will probably need to get some of the deadweight off the wage bill and that this may complicate what will be a challenging task this window.

Come the end of the window the objective has to be that objectively we have a leaner, hungrier squad. I look forward to seeing a bench that could be expected to have an influence when called upon. Davies needs to get his chance and I'd like to see a few others gradually introduced – when appropriate. Davies on the bench last night would have been an option ahead of Cleverley surely?

If not already made abundantly clear to certain players, they need to perform to have any future at the club. Barkley, Mirallas, and Deulofeu need to show major improvement or be moved onwards.


Mike Gaynes
113
Posted 20/12/2016 at 16:54:44
Anthony (#96), you're fortunate to be able to sleep after that game. I'm guessing a lot of Blues were tossing and turning all night.
Cleverley would have been a totally defensive sub for Macca... Barry can pick passes Cleverley can't dream of, and I saw Koeman trying to win the game, not preserve the draw.
Not sure why you'd have put Holgate on the right wing ahead of Coleman, in a position he'd never played before, and expected him to be better going forward than Valencia.
I think you and your family are both right... our second half was poor in terms of execution, but the effort and commitment never slackened.
Don Alexander
115
Posted 20/12/2016 at 16:56:49
I'm starting to feel a bit sorry for Moshiri because I doubt he received an objective rundown off Kenwright on what he was buying into.
Granting Koeman a three-year deal to get us into Europe tells me he expected visible improvement from the get go but the shambles of last season, encapsulated at Anfield, and the efforts of those responsible for signings in the summer must have dismayed him, not to mention the mad prices now necessary to buy even average players.
His business plan depends on squad improvement though, immediately if he hopes to be attractive in the summer but who in their right minds would want to join our offensive midfield or attack given the visible limitations of those already here?
Quality players expect themselves and team-mates to be able to control, retain and pass a ball, consistently run like fuck to receive it, and work like fuck to get it back on those rare occasions when they, the talented footballers, lose possession.
In short, if we just sign a couple in January, I think it'll set Moshiri's ambitions back far longer than he'll tolerate.
Rick Tarleton
116
Posted 20/12/2016 at 16:58:07
Dano Holcomb sums it up when he says "Huff and puff will only get you so far". This manager has spent the last two weeks proclaiming that effort will bring you all things. It won't.
Arsenal of the top six teams and perhaps Man Utd on a bad day, may be susceptible to lots of effort and hard chasing, the others just wait , play it tight and wait for the rush to slow down. Then you need craft, skill and vision. Qualities that were sorely lacking last night.
Of the Everton team only Coleman would command a regular place in the Liverpool team, thank goodness Coutinho wasn't available.
We have not got the players for the game Koeman professes he wants us to play. Barkley, if he's running round, as he was last night, at 90 miles per hour, has not the composure to be creative. McCarthy's our best player in these circumstances, because it's a gameplan that suits him and Gueye. I keep saying this, Koeman has to get the best out of his squad by p
laying to and with their strengths, not by insisting on us playing in a way that is alien to so many of his team. That is not managing your resources, it's wasting them.
I've been watching Everton since they got promoted from the old second division, this isn't the worst Everton side I've ever seen, I remember the ageing team that struggled in the fifties, till Bobby Collins came and began the renaissance; the awful teams of Walter Smith's and Mike Walker's farcical periods. However, it is a team that looks bemused and lost at the game plan that it is expected to adhere to.
Koeman, may be great if he can sign six players of the type he wants in January, but that won't happen, good players are rarely available in January and if they are, is Goodison a destination high on their wish list?
I can't see Koeman changing his style and I can't see this squad being able to transform themselves into a team of young cross-country runners like he had at Southampton, and like in essence, Liverpool have. It could be a long, hard second half of the season.
I bought my tickets for the cup tie this morning and will introduce a second grandson to Goodison Park and Everton, but I honestly think the last 10 years have been the definition of insanity, in that we keep repeating the same mistakes and patterns and hoping that this time, they'll work.
Mike Gaynes
117
Posted 20/12/2016 at 16:59:02
Gavin (#112), good list. The #10 would be far and away my top priority... and as you say the toughest to fulfill.
Re Davies, I thought Koeman had a lot of courage to go with three rookies on his bench for a derby. Four would have been a bit over the top.
Stan Schofield
118
Posted 20/12/2016 at 17:14:53
Mike @107:
Aside from the magic mushrooms being plentiful and tasty, recall that a year ago Liverpool were shite, some of their performances so bad that Klopp was doing his nut, saying that his players would eventually get used to his pressing style because "they are young professional footballers".
We were above them in the league, our football was better, and as far as I was concerned we were more talented player for player. Well, talent doesn't change, whereas form does, and even accounting for signings since last year I suspect logic rather than hallucinogens are dictating my argument.
Mark Morrissey
120
Posted 20/12/2016 at 17:43:25
I hope we beat Leicester in the FA Cup and then draw Klopp's lot away in the next round and soundly beat them. Only then can I start to recover from recent games against them.
Last season was appalling but last night was kind of worse. No improvement from us, bereft of ideas, crap game, they were shite but actually just bided their time and took their chance.
Get a fucking goalie in who knows how to keep goal. I know I keep going on about it but FFS!!!
Danny O'Neill
121
Posted 20/12/2016 at 17:47:52
I agree, Stan, and said similar earlier in this thread. We're sort of similar to where they were when Klopp arrived.
We don't yet have the players or have conditioned these player to play the pressing game for 90 minutes. That translates to why we either start rubbish then wake up (conserving energy) or do what we did last night and fade.
Repeating myself again and in agreement with others, this alone doesn't win, you have to show quality on the ball when you win possession. That's what the good teams do.
That in itself can be down to fitness levels (poor fitness causing poor decision making due to fatigue). Just how unfit did this lot become under the last manager?
Jay Harris
122
Posted 20/12/2016 at 17:49:40
Thought the two Irish lads showed us what's up with the side. They played with more passion than most of the others (excepting Baines and Gueye) put together. Once McCarthy went off, Barry's age showed up badly and we started to lose the midfield battle.
Lukaku was his usual pontificating self and standing around for most of the game winning very few of the balls that came his way. Although I am a big fan of Ross I would say him and Lukaku are luxury players that will not fit in with where we need to go.
Those that are even comparing Koeman to Martinez need their head examined. Koeman is just about making inroads into the disgraceful fitness, age and lack of determination and organisation in the Martinez squad that he inherited.
It took Klippetty 12 months and he inherited a £300m squad.
Paul Tran
123
Posted 20/12/2016 at 17:56:10
Interesting, that argument, Stan. A year ago we'd just come out of a period where we played some cracking football without winning games and into a period where both results and performances were rubbish.
I was chatting to a red mate of mine about this. I remember saying that from their team I'd take Coutinho, Milner, Lallana and Sturridge. Since then, Klopp's got them fitter, had a full preseason and added Mane and Wijnaldum.
Right now I'd still prefer either of our keepers and our back four. When it comes to creative players, they're well ahead of us. You'd certainly find out how good Lukaku is if you surrounded him with the likes of Coutinho, Firmino and Mane.
I'm not sure our attacking players would get on their bench, that's the big difference. They look good on a good day, but those days are becoming rare. I'm not convinced that's down to Martinez and Koeman. It's because they're not good enough. It's because we've bought relatively small, weak players that get brushed off the ball too easily.
Koeman will get them fitter. He's got to buy the creativity, that's where he'll succeed or fail in his time with us.
Jay Harris
124
Posted 20/12/2016 at 18:00:06
Paul, I agree with your comparison.
I was only saying to myself during the game while Lee Dixon proclaimed that few if any Everton players would get in the Liverpool side, that I would prefer our back 4 all day long.
IMO, our big problem is midfield, where we struggle to impose ourselves and there is no cohesion or creativity.
Paul Smith
125
Posted 20/12/2016 at 18:09:48
I can't believe the shouts for Mirallas & Deulofeu. WTF have they done all season?
The gulf in quality was blatant, explicit and downright heartbreaking. We are miles behind the fuckers, never have I seen such a one sided 2nd half of a derby at Goodison, we were fuckin shot to bits by 30 minutes.
Suddenly, Barry looks like ancient just after penning a new 2-year contract – Everton that.... Arghhh!!!!!!
Stan Schofield
126
Posted 20/12/2016 at 18:16:07
Paul, I would disagree to some extent, in that Barkley on his form of about a year ago would be preferable to Coutinho or Firmino of that time, so really the difference here is down to form. Similarly, if Mirallas and Deulofeu are on form they're cracking.
Okay, the form is shit at present, but surely the job of the manager is to help change that. That's what Klopp did, and that's what we want Koeman to do.
Because Liverpool's form is relatively good at the moment, I think it's easy to forget just how shite it was only fairly recently. The very background to Rodgers being sacked.
So I remain hopeful with the current squad, and I believe realistically so.
Stan Schofield
128
Posted 20/12/2016 at 18:37:06
This is my reply to Paul Smith:
Yes, there is a difference in quality, but I believe it's down to two things; (1) fitness, and (2) organisation/tactics.
On (1), Koeman is working to improve that, to get a better pressing game, and we seem to be getting there, slowly.
On (2), I'm not so sure that Koeman is progressing us, and he seems inflexible.
The situation with Klopp a year ago was similar, although he appeared more flexible, more willing to ring the changes to get the best options depending on the opposition. This is the concern for me, and I am not concerned about the inherent ability of our players, as I say I believe them sufficiently talented, indeed more so than Liverpool's, based on my seeing those players perform well in the past.
Colin Glassar
129
Posted 20/12/2016 at 18:37:33
We lost because we were/are a poor team with a poor mentality and poor players.
Our problems begin at the back. Average goalkeepers and very average centre-backs who can't head the ball, can't defend and can't pass the ball to save their lives. They have zero composure on the ball, piss-poor decision-making so the midfield players have to stay deep because they can't trust them.
I'd rather see Holgate and Galloway get a chance than any of these three (Williams, Jagielka and Funes Mori) cavemen who are an embarrassment to watch. Ale house players at best. Well, Jags isn't that bad tbh but he's lost his legs.
Paul Tran
130
Posted 20/12/2016 at 18:53:13
Stan, point taken re Barkley. We'll agree to disagree re Mirallas and Deufelou.
I hope you're right and I hope we have a good transfer window or two.
Geoff Evans
131
Posted 20/12/2016 at 19:03:12
Adam 98: The team that beat us last night are average, we're shite. Have you not worked that out yet!

Chris Williams
132
Posted 20/12/2016 at 19:13:07
Colin
There were a pair of legs wandering down City Road by the old Coliseum picture house. Were they Jags' legs do you think?
They looked lost.
Peter Morris
133
Posted 20/12/2016 at 19:49:28
Sorry Ron, we were at different games. I was quite encouraged at half time. Without being at all dangerous, we pressed hard and were clearly the better side.
It looks like losing McCarthy was significant at the break. Barry just couldn't get up to speed, and we couldn't keep the ball any more. we reverted to hoofing the ball again, giving the ball away,and Liverpool gained in confidence.
I know it is gutting to lose a goal in such fashion, but the outcome was largely our own making. As fucking usual. One 'shot' on target, basically a defender's header says it all to me.
Craig Walker
134
Posted 20/12/2016 at 19:50:24
Stan. I like your blue-tinted specs. The RS were shite last season but always above us. They're so shite that my 6-year-old lad has never seen us beat them. Sturridge is shite but always scores or creates against us. You're right though, he missed a penalty against us to make it 5 didn't he?
I'd take him over Rom because he has pace and quick feet. He's injured less than Besic and Gibson. Barkley was playing well and had the edge you say? What 2 game period are you referring to? Barkley is not good enough and less sentimental clubs would realise this and progress.
Phil Walling
135
Posted 20/12/2016 at 19:57:02
Colin at 129; it's not long ago that you and I used to have some right up and downers about the merits (or otherwise!) of Roberto Martinez.
With this bloke in charge, I can't be bothered to compose an argument against him. I just know he's not right for us!
Having my wife's family all Pie Eaters, I was well briefed about the Catalan but with Koeman I had only his publicity blurb to go on. And I so hoped that Moshiri had got it right. Truth is, it looks like Mr 49.9% is more wrong about this clown than ever Kenwright was about his love child!
I guess all both of us can do now is to accept the board, team, club, fanbase are in deep shit and accept things for what they are. Crap. At least we no longer invest in Season Tickets so our wallets remain intact!
Mark Morrissey
136
Posted 20/12/2016 at 19:57:10
A great idea to blood Calvert-Lewin at a time when the team are playing awful. Of all the times to do it?
Joe Hart in January please but preferable to that would be a cheeky bid for Pickford. It just might be the right time with Sunderland so low in the table if we offered good money. Hart would jump at the chance and oh fuck – do we need someone!
Stan Schofield
137
Posted 20/12/2016 at 20:00:31
Craig, last season they sacked their manager. We were above them when Klopp took over. They started improving under Klopp, whilst we collapsed under Martinez.
When Klopp took over at least one commentator warned him how difficult the Premier League could be compared with the Budeslieg, and that Everton were at the time performing better than Liverpool.
So last season the RS were shite, and then started improving. We're currently shite, and would like to improve under Koeman analogously to the RS improving under Klopp.
No blue-tinted specs, just facts allied with some hopes for the future based in those facts.
Darren Hind
138
Posted 20/12/2016 at 20:05:39
We did not deserve to Lose but YOU did.
Sickening the way surrendered the initiative when he abandoned the two up top to go all Davey Moyes on us.
Frankie Koeman
Ciarán McGlone
139
Posted 20/12/2016 at 20:06:52
Outstanding?
Dutch honesty appears to have morphed into comedic irony.
Yer aul arse.
In the first half we ran like demented morons.. created nothing and ended up with 40% possession for the half.
In the second half we were utter shite. Couldn't string a pass.
Out-fucking-standing
Dennis Heaton
140
Posted 20/12/2016 at 20:08:11
Let's face it, last week we expected to be wacked by Arsenal and Liverpool. Wel,l we had a good game against Arsenal and got 3 pts... and an okay game against Liverpool. We ended with 3 more points than we expected and, in a way, two better performances than we thought...
Hull next... maybe 3 points if we turn up!
John Daley
141
Posted 20/12/2016 at 20:16:53
"A great idea to blood Calvert-Lewin at a time when the team are playing awful."
I've got no problem with Koeman chucking Calvert-Lewin on in a derby when we were under the cosh, but consigning him to the wing to act as cover for Coleman was like popping the cork on the champagne, offering a toast to the lad, letting him lick his lips and them telling him "by the way, that's piss I've just poured in your cup, kid".
Ciarán McGlone
142
Posted 20/12/2016 at 20:27:58
At least he got the Robles substition right..
Sean Roberts
143
Posted 20/12/2016 at 21:32:09
To be fair, the first 35 minutes we were by far the better team and I believe had we scored one then we would have gone on to score a couple in that first half. The Liverpool team didn't look like they fancied the job against us or the crowd who were fantastic in those minutes.
The trouble was though for all our possession and greater hunger to win the ball we actually didn't create a decent chance to threaten their goal. This for me is the problem as I believe the Liverpool players began to realise we were no threat to them and so in turn settled down to finish the first half by far the stronger and the team who looked like they were going to take the game by the scruff of the neck.
So half-time comes; what is said by the managers we will never know but Liverpool came out with a game plan to isolate our single striker and keep us pressed back in our own half. We came out minus McCarthy and it told. We had lost all our pressing drive and with Lukaku isolated we had no out ball to relieve pressure and the ball just kept coming back.
To our credit we lasted till the 94th minute but, from where I was watching, the goal was always coming and we were never going to get back into the game. So where do we go now... Who knows? And to be honest I can feel myself starting to question why I should even care!!! Oh to be a Blue!!!
Colin Glassar
144
Posted 20/12/2016 at 21:50:07
Phil, I honestly don't know what to make of this fella. This certainly isn't the way he was taught to play football in Holland and Spain. And this certainly isn't the football his Ajax and Southampton teams played.
I've said it before and I'll say it again, Koeman isn't going to give up his huuuuge salary so easy. I have to convince myself that he's working on some sort of plan to change this turgid shit he's serving up most games.
I need to believe it's the players who are failing him and not the other way around, because if he's a can't be bothered, golf playing, hands off coach then we are in trouble.
I'm keen to see who he will bring in this window and during the summer as this will give us some indication about where he plans to take us. Now, if he recalls McGeady we are well and truly fucked.
Bobby Thomas
145
Posted 20/12/2016 at 22:30:01
Colin
I think the reason for the tactics is the midfield, which is unbalanced, has virtually no options or flexibility, and the options that we do have he doesn't fancy that much.
We were kind of doing a 4-2-3-1 thing, which with the players we have makes sense really. But the main problem with that system is you need a really top class player in the No 10 role to provide the link between the mid and Lukaku and we have Ross Barkley, who, imo, just doesn't produce and away from home is a liability. Koeman caught onto him pretty quick.
So we've tried most formations really. We tried a 4-3-3, for which we don't really have the players, specifically the midfield 3, and then we had a go at 3-5-2 and got battered.
I the tactics are due to the lack of options in mid and the absence of anyone who can get on it, create, and control the tempo. Plus he has lost Bolasie, and Mirallas and Deulofeu haven't been doing it.
I think he's decided to go basic, compact, stay tight, go direct and hit Rom and play from there. There's one problem: Lukaku is mainly shit at it.
Colin Glassar
146
Posted 20/12/2016 at 22:58:55
I agree Bobby. Losing out on Witsel was a blow to Ronald's plans IMO. Witsel is that dynamic, box-to-box player who can change the tempo of games and is creative.
My understanding is that Koeman now sees Schneiderlin as an ideal replacement ie a midfield general allowing Ross to concentrate on his attacking duties. With a decent winger (Depay?) to offer real width and crossing ability we might find some of that much needed balance.
Terry Underwood
147
Posted 21/12/2016 at 00:58:48
Don't forget, the RS are second in the Premier League table. If Man City were second and beat us, there would not be so much doom and gloom.
Okay, we were crap and got what we deserved. We DO have some decent players and we do have some deadwood, but there is no need to panic; we are on a bad run, but still ninth. I hope and pray for a good cup run and an upturn in league form.
Craig Walker
148
Posted 21/12/2016 at 10:33:27
Stan. The RS are always shite in our eyes though. When we met them in the semi-final, we had Jelavic who was popping them in for fun and every commentator said that we had the better players. Result, we lost. Martinez probably came close to beating them in the first Goodison derby but even then, the Welsh Xavi missed a sitter which my 78-year-old mum would have scored and we threw away a lead by giving away a silly foul. It's the same old story, I'm afraid. My dad used to say "the thing about Everton is that they'll always let you down". Even the glorious 80s had us losing 3 cup finals to them and gifting them the title by losing to Oxford Utd.
Anyway, I've calmed down a bit now and I wasn't having a go at you Stan. Sorry if it came across as though I was. Like all of us, I'm just desperate for us to be a team we can be proud of again. I'm still fairly optimistic if we can get a new stadium announced soon and Koeman can be backed in the transfer market. I still maintain that we have to be more ruthless though. Slightly underwhelmed by offering new contracts to our older players. Would Spurs or the RS renew Barry's contract? I doubt it.
Guido Blumberg
149
Posted 21/12/2016 at 13:35:28
Was it a Martinez-era or Koeman-era match? Because I do not see the difference.
If there is something that bothers me, it's the nonsense that this guy says at the end of each game. I am ashamed of the manager we have.
Stan Schofield
150
Posted 21/12/2016 at 14:52:48
Craig, I understand. It's very frustrating, we seem to be the 'nearly' team time and time again. Even last season I thought we were unlucky for the first 2/3, because of the number of times we hit the woodwork after really good attacking football.
If we renew contracts for older players, it strikes me that Koeman needs a better system that depends less on pressing and more on brain power. But that won't happen.
Regarding your dad's comment, yes, we are built up then let down. Should be hardened to it by now.
Regarding the RS, attention was focused on Barkley's tackle on Henderson (a clear sending-off offence in my eyes), which was stupid and unskilled. But we know that tackling isn't his main skill. There was no focus on the constant in-your-face behaviour of their players, and manager, towards officials, which is a big systemic problem. I also think we need to be harder, but not like them, it takes the pleasure away from the game, this win-at-all-costs attitude.
Roy Steel
151
Posted 21/12/2016 at 16:27:58
Totally pissed off and sickened again... where did we go in the second half?
We lose McCarthy and it's the end of the world! Apart from the Arsenal game, he's been as shite as the rest of them.He's been with us now for over 3 years and you can count the really good performances on one hand, so he's not our great saviour all of a sudden.
I don't even want to talk about Barkley, it's like waiting for the Second Coming! If we can get decent money for him, get rid, because it's not going to happen now.
The manager's subs are a bit worrying: why bring the lad on and stick him out on the wing? It was crying out for Mirallas.
As for Deulofeu, see Barkley; we have not got a football brain in our team apart from the ageing Barry.
Sorry, guys.... that's how I feel; so sad. NSNO
Pat Kennedy
152
Posted 21/12/2016 at 18:09:31
Stan (#150),
We are way too soft and in modern day football - nice guys finish last.
Look at our last 2 'successful' teams - Joe's dogs of war 1995 and the title winning teams of 1985 & 1987. Nobody bullied them either physically or verbally. Pat Ven Den Hauwe, Peter Reid and Andy Gray didn't take any crap and neither did the likes of Joe Parkinson and Dave Watson.
As for Lovren giving Barkley grief after he scythed down Henderson – it's what I want to see our boys doing in a similar position. You stand up for your team mates and show you care. It's a Derby game and you look after your own.
Klopp has turned a bunch of underperformers into a pretty good team by the power of his personality and his clear style of play in just over 12 months. I can only pray that we progress at a similar rate and that our manager shows the same energy and passion.
There are far too many on here who are obsessed with hating Liverpool and what they do. They are way ahead of us just now and we just have to accept the reality of it.
I've been lucky enough to see the great Everton teams and, for the sake of my son and grandson, want to see us go toe to toe with the top teams (not just our neighbours) and restore some pride in who we are.
If we have to be a bit spiteful and nasty – bring it on. I've never seen a top team who weren't afraid to mix it when needed. But do it within a clear plan & direction.
This is going to be very hard for all of us and patience is not a virtue to enjoy. Can Koeman be the man? I'm not convinced right now.

Stan Schofield
153
Posted 21/12/2016 at 18:21:56
Pat, point taken, but there's a difference between getting stuck in, not being bullied, and standing up for your team mates, on the one hand, and downright unprofessionalism getting in the faces of officials, Maureen style, on the other. I agree we need to get tougher, and Koeman himself has said so.
I was just discussing all this with an old mate, a red. He doesn't think they're much better than us, and thinks Klopp's still got work to do. He remembers vividly the early part of last season, and said he had doubts about the likes of Firmino and Coutinho. Sounds familiar.
Pat Kennedy
154
Posted 21/12/2016 at 18:45:56
Stan,
I have two brothers, both reds (good lads who know their football) – my mother (much missed) used to pray for a draw in every Derby match!
We all had a drink after the game on Monday night and put the football world to rights. They were please to win but offered some quite revealing insight into how they have 'progressed' in the last year.
Their take on Klopp is that, whilst he is very personable and media friendly, he is a tough bastard who takes no shit off anybody – look at the ruthless way he has dealt with Sakho – who theirfans adored.
I asked them what they think we have to do: their answer – ruthlessly weed out the dead wood – just like he has done across the park and play on the front foot. I want to see our boys play with their balls and their brains.
Our manager was a great player, there's was by his own admission a journeyman defender. I think as much as it hurts to say it, ours could learn a lot from him right now.
As I said earlier we are too nice and I want to see a subtle mixture of style and where needed the dark arts.
For those of old enough (like me) to remember the likes of Jimmy Gabriel, Brian Harris and Brian Labone, they were real pros – hard ruthless bastards who led and inspired. They also managed referees and intimidated opponents as well – something we don't do... and then wonder why 50/50s don't go our way ..
Mike Berry
155
Posted 21/12/2016 at 19:26:21
Yes, we did deserve to lose because we were poor and clueless in the second half, and failed to score in the first when well on top. We sadly needed someone to hold the ball and link up rather than giving it away aimlessly.
I fear for Barkley after messing up that late free kick, Koeman was absolutely livid. A massive shake-up is coming via the next two transfer windows I think.
Stan Schofield
156
Posted 21/12/2016 at 19:50:30
Pat, I don't disagree mate. Labone for me is the epitome of hard professionalism, which is what we need. I started going to the match in 1961 when I was 7, and I know what you're saying.
Tony Hill
157
Posted 21/12/2016 at 20:09:47
Yes indeed, Pat Kennedy, that is what we are missing above all (well, we also lack creativity, of course). You set out what has been undermining the club and the team for a long time: a lack of hard-edged intelligence.
We have no-one on the pitch to set and maintain/switch tempo or, crucially, to steel our nerves when we are under pressure. I hope Walsh has found someone to fit that bill.
Anthony Dwyer
158
Posted 22/12/2016 at 23:45:44
Maybe Ronny is right and we didn't deserve to lose, but we also did fuck all to win at home – simply not good enough.
---
Add Your Comments
In order to post a comment, you need to be logged in as a registered user of the site.
Or Sign up as a ToffeeWeb Member — it's free, takes just a few minutes and will allow you to post your comments on articles and Talking Points submissions across the site.