Management team better equipped to tackle January window

60 Comments [Jump to last]
Monday 26 December 2016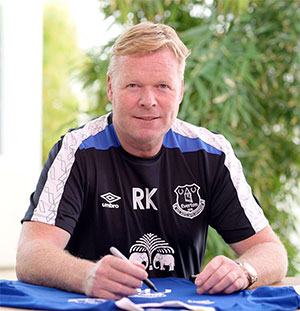 Ronald Koeman says that Everton are better able to bring in the transfer targets the team needs now that he and Steve Walsh have been in place for a while and have properly assessed the current squad.
The Blues had a mixed summer window with Koeman arriving in mid-June and Walsh not coming on board until six weeks before the transfer deadline. It meant that the club were only able to address certain deficiencies in the squad, while some late scrambles for the likes of Yacine Brahimi and Moussa Sissoko were unsuccessful.
The manager says that Everton are in a much better position now vis-a-vis transfers with the winter window just days away.
"You need always time to see the qualities in the squad," Koeman said in The Guardian. "You need to learn about the characters in the team.
"You need to see the balance in the team and of course my opinion about the team is a little bit different than it was after watching clips of Everton from last season because I have had time to work with the individual players.
"It's all about characters, strengths, weaknesses, what the team needs, more personalities, more key players. And finally you make your mind up. Of course we had more time now for January than we had in the summer.
"Steve is in for a few months, new people in, new scouting. We are better prepared now than it was in the summer."
Koeman has refused to be drawn on discussing specific players but speculation is rife that Everton are targeting Morgan Schneiderlin and Memphis Depay at Manchester United while another bid for Napoli's Manolo Gabbiadini is close to success this time according to Sky Italia's Tancredi Palmeri.
The Blues failed to land Gabbiadini in the summer despite lodging a €23m fee with the Serie A side but the striker has apparently been told he can leave Napoli given that he doesn't fit the system being employed there.
January can be a tricky market for buying clubs but Koeman suggests that he hopes to be busy next month.
"If I compare to Southampton, I like to do more business now in January than we did in Southampton," he explained. "But that's all about what we need. We will lose Gueye to the Africa Cup of Nations. We have a long term injury in Bolasie. We have the physical problems with injuries of James McCarthy and we know Gareth Barry cannot play games every two or three days.
"We have Phil Jagielka in a tough period. We have a lot to think about what's the best 11 and what's the most fresh 11 players."
---
Reader Comments (60)
Note: the following content is not moderated or vetted by the site owners at the time of submission. Comments are the responsibility of the poster. Disclaimer
Matt Traynor
1
Posted 26/12/2016 at 07:48:08
Talk about setting yourself up for a fall... it's not so easy buying (or selling) anymore. Aside from the inflated fees, players via their agents will be touted around to try to get the best wage and cut for the agent.
And the rumoured £50m "war chest" will not get very much at all unless there is significant outgoings (and aside from Lukaku and maybe Barkley, who would generate a large fee?)
Colin Glassar
2
Posted 26/12/2016 at 07:55:31
I hope the buys this window are an improvement on the likes of Williams, Stek and Bolasie all of who, IMO, have been very underwhelming.
Paul Tran
3
Posted 26/12/2016 at 07:59:28
Agreed, Matt. I've been saying for a while he clearly doesn't rate the squad and is holding out for January. If he gets the players, great. If he doesn't, he's going to have manage those who know he wanted to replace them, like Martinez did three years ago.
An interesting few weeks ahead ..
Paul Tran
5
Posted 26/12/2016 at 08:01:28
Agreed, Matt. I've been saying for a while he clearly doesn't rate the squad and is holding out for January. If he gets the players, great. If he doesn't, he's going to have manage those who know he wanted to replace them, like Martinez did three years ago.
An interesting few weeks ahead ..
Steve Bingham
6
Posted 26/12/2016 at 08:07:43
Encouraging words but has to be backed up with positive actions.I think it's imperative that we see a couple of quality players arrive to help restore the faith and calm down the doubters that have been increasingly prevalent here on T.W. The two lads from United would be a good start for me but I really want us to get the business done early in January and avoid this deadline day pantomime nonesense that we have endured far too often in recent years. A couple of the dead wood players gotten rid off would also add to any statement of intent but that might not be easy to achieve. Hope everyone had a good Christmas.
Mike Berry
7
Posted 26/12/2016 at 08:29:25
Ronalds comments make perfect sense and are accurate with regards to Evertons backroom situation with regards to transfers during the summer.
Give them a chance and see what happens during January, hopefully to pacify and put a smile on the face some of the dobters and moaners.
Chris Williams
9
Posted 26/12/2016 at 08:35:45
Time will tell.
We will see very quickly now.
I hope Kenwright keeps his fingers out of it though.
Darryl Ritchie
12
Posted 26/12/2016 at 08:50:11
Koeman talks about the need to bring players in. There's a lot of truth in what he says. The squad is too small and getting older by the minute. I strongly doubt we will land a galactico, but 3 or 4 players of quality, that can play at the Premier League level, will be helpful. There are a lot of holes to fill, in virtually every position.
He talks of players in; any word on players out?
Dermot Byrne
13
Posted 26/12/2016 at 08:59:10
Seems to make sense. We may get real additions that will make us much better. Hope some of us don't follow habit following his interviews and slam the boss for errors he hasn't made yet in Jan. We are still in December. We have all of 2017 to craft evidence based reasons he and every other club employee should be sacked !
Alan McGuffog
14
Posted 26/12/2016 at 09:10:21
BBC Gossip has him saying he wants five new faces but accepts that if other clubs want his targets it will be difficult. Just fills you with confidence don't it !
Paul Ellam
15
Posted 26/12/2016 at 09:22:54
Agree with Matt - how many times does this club and it's staff tell us what they are going to do, and then fail to deliver!?
Less talk, more action I say.
Just get the players we need, ship out those we don't and then we can talk afterwards about the reasons and prices etc.
Same goes on the pitch, don't keep telling us how you will improve or address problems - just do it!
I am hopeful that quite a few players will be brought in (and some moved on) however, because it has got to the stage now where it is essential, especially if we as a club want to achieve high places and challenge for trophies.
Winston Williamson
16
Posted 26/12/2016 at 09:55:44
There's been a change in the general mood amongst fans on here. A shift from blaming the team to the manager.
However, for me, I've given the players a lot longer to prove themselves worthy than the current manager. Frankly, the current players never fail to let you down. Time for a new spine to this team...
Whether it'll happen in January is another question altogether
Andrew Ellams
17
Posted 26/12/2016 at 09:58:48
Gabbiadni, Depay, Schneiderlin plus 2 with £50m. Good luck with that
Paul Baxter
18
Posted 26/12/2016 at 10:09:18
Where has this mythical figure of 㿞m come from? Is this the same as the 𧴜m in the summer made up by the media?
Not a single official word has come from the club regarding what will be spent; until it is, it's all just speculation.
Martin Nicholls
19
Posted 26/12/2016 at 10:42:01
Gabbiadini, Schneiderlin and Depay? The first is a long term (ie last summer) target and you would hardly need an inspired recruitment team to recognise the other two as decent players. I just hope Walsh and his team will prove their worth by identifying a few quality players who have gone unnoticed by others.
Brian Williams
20
Posted 26/12/2016 at 10:54:25
There seems to be a huge increase in the naivety of our supporters this season.
Whether it's down to the appointment of what the general football public believe is a top class manager, or the fact that we had such a good start, or the fact that supporters were waiting for the fabled £100m so called war chest to materialize.
But there definitely seems to be a feeling that within a matter of a few months we should be challenging the top four.
Don't get me wrong, some of our play this season has been dire and disappointing in the extreme and had we played like we obviously CAN play on some occasions (Arsenal is the obvious one to pick) we would, without a doubt, be three or four places higher in the league.
But that's like saying "Ooh if such and such a team hadn't equalized against us in the 95th minute that would have been three points instead of of one.
You know the sort of thing I mean.
I just feel that with the majority of a team that finished eleventh last season then progress was always going to be slow and steady rather than meteoric.
If Koeman managed to improve our league position by two places each season, for the three seasons of his contract, would people see that as a success?
That would see us at fifth in the Premier league after three seasons.
Do people realistically expect (not hope) better than that?
Interested to know what people actually "expect."
Seamus McCrudden
21
Posted 26/12/2016 at 11:04:28
I expect 100% effort and commitment for 90 minutes. I think that's a good starting point?
Tony Hill
22
Posted 26/12/2016 at 11:04:32
What I expect, Brian, is a team which always tries, which seeks to show some flair and which makes going to the match an exciting experience. I ask no more, though some trophies along the way would be very nice.
It's the excitement thing that matters most, I think.
Dermot Byrne
23
Posted 26/12/2016 at 11:06:45
I probably expect round about that rate of progress Brian. Maybe a bit better. I think it also depends how club moves re ground. That inspires and possibly attracts players. But we are not in a bubble. Other clubs have loads of cash too and their own plans. They too see a golden era for their clubs on the horizon. How bloody inconsiderate !
Dermot Byrne
24
Posted 26/12/2016 at 11:08:03
My biggest dream is to see us win everything effortlessly !
Brian Furey
25
Posted 26/12/2016 at 11:10:13
This season I would be hoping we finish around 7th behind Spurs and Man U.
Money wise, manager wise, potential wise I'd say we are ranked 7th and should be leading that chasing pack.
How well we buy will determine whether we can challenge higher or fall lower.
Where are people getting this 50m spending amount from?
Aidy Dews
26
Posted 26/12/2016 at 11:11:08
Not being funny but anyone who thinks we've been restricted to only £50m to spend next month are gullible. Did none of you listen to Moshiri's interview with Jim White months ago? Apart from what we spent in the summer we bid £60m alone for Koulibaly! £17m+ for Lucas Perez, around £20m for Gabbiadini when we missed out on Perez and £30m for Sissoko. There's a lot of money there so I can't see how Moshiri as all of a sudden said 'here, you've got £50m to play with next month Ron...'!
I'd imagine he's been told the money is there within reason to go and get what he feels he needs. If he only had £50m to spend I highly doubt he'd go and blow as good as the lot of it on both Schneiderlin & Depay would he when he needs to add more than 2 players next month.
I personally don't think we'll look at signing a GK next month unless a GK we really want looks to be going elsewhere and we get involved. I think we'll wait till the summer on that one.
We definitely need a CB and reading Koeman's piece elswhere you can tell he wants van Dijk but can we afford him, can we persuade him to join? I'm not sure?!...
Maybe we should look at Kone again. Some don't rate him but he's turned his season around since missing out on his move to us and he fits Koeman's criteria of being big, powerful and athletic and he would add some presence to the backline.
Obviously Both Schneiderlin & Depay look like goers and imo will add something to the team but we could do with a creative player in midfield who can add goals aswell. Maybe that's why Koeman is looking at Dzagoev?
And Gabbiadini looks like a deal we could make happen. Koeman is keen and he's now available after Napoli agreed a deal for Genoa's Pavoletti and he would add a bit to the front line with his versitality.
If we get around 5 players in next month then fair play but I'd be surprised tbh. Usually the summer is the best time to do deals and get better players as clubs aren't as hesitant to let players go has they are mid season.
Trevor Powell
28
Posted 26/12/2016 at 11:20:14
Riquelme and Francis Jeffers might still be available?
Tony Abrahams
29
Posted 26/12/2016 at 11:23:51
It's Everton, Aidy, and it's also pure speculation, but it might explain why Koeman, has no problem with being so frank, even if it seems frankly stupid in my opinion!
Matt Traynor
30
Posted 26/12/2016 at 12:06:47
Trevor #28, stop trying to pull a fast one. Jeffers is still at the club isn't he, working with the youngsters?
(Hopefully advising them to always have sufficient change to pay Hackney drivers for a short trip)
Fran Mitchell
31
Posted 26/12/2016 at 12:08:53
From his words, A defender, a winger, 1 or maybe 2 centre mids are targeted.
I expect also a striker, but expect him to persevere with Stek in goal.
Just hope Gabiadinni isn't one of them. And Hope Davies, Dowell, Kenny, and Walsh are given a chance.
Grant Rorrison
32
Posted 26/12/2016 at 12:25:35
Aidy 26. How much did we end up actually spending minus the Stones money?
Eugene Ruane
34
Posted 26/12/2016 at 12:45:59
'Koeman said.."
Ray Smith
35
Posted 26/12/2016 at 13:23:54
Aidy 26
Agree with most of what you say.
However, I can't see Moyes letting anyone leave, especially Kone, unless he is made to sell, with no budget for transfers. If he did sell what would happen to the money? Reinvestment unlikely. He's been sold a pup.
I would prefer us to keep our powder dry on targets. Once Walsh shows an interest, the price goes up, and other scouts tag on. Harry Rednapp was a master at that, regularly coming in late and signing players we believed we had in the bag!
Brian Williams
36
Posted 26/12/2016 at 13:57:46
Links not working Eugene.
Alan J Thompson
37
Posted 26/12/2016 at 14:04:20
I'd love to know how he assessed Tarashaj and Galloway and will everything suddenly fall into place with five new faces? Also looks like Browning, Holgate , Davies et al have more than a few years in the U-23s Then if it doesn't work there's always the transfer window at the end of the season and then the one after .and so it goes on. Easy this coaching lark, eh.
John Keating
38
Posted 26/12/2016 at 14:11:11
Goalie and striker. Anything else is a bonus
Terence Tyler
39
Posted 26/12/2016 at 14:22:15
No Schneiderlin, Depay, or Rooney in United squad today.
Brian Williams
40
Posted 26/12/2016 at 14:27:18
Rooney's injured. Please let there be no "Rooney to us" conspiracy theory threads...
Bill Gall
41
Posted 26/12/2016 at 17:06:10
As talk is cheap actions speak louder than words.
Denis Richardson
42
Posted 26/12/2016 at 18:17:33
Well timed comment Colin (2), believe Williams was MoTM today
Stek cost us buttons, 25% of what Martinez paid for Robles. He's obviously a stop gap given we only had one keeper when Koeman came. Not exactly bad for ٟm. Dutch keeper with 50+ caps. You also fail to mention Gana, who's arguably been the buy of the whole league so far this season. Cost half of what MartInez paid for McCarthy and is about 5 times the player.
None of Koeman's 4 transfers are anywhere near the Niasse, McGeady, Cleverley, Besic, Kone, Alcaraz level. All four have improved the first team compared to what we had before.
Very harsh and incorrect views on Koeman's transfers to date.
Mike Mulhall
43
Posted 26/12/2016 at 18:24:23
I think we need to change our mentality as fans. Yeah its been crap for numerous years and yeah we are always falling short or being disappointed. But we wouldn't've spent stupid money getting Koeman, getting Walsh in etc if we were not gooig to back it up with transfer activity.
January will be positive, Koeman needs to be backed and we need to believe above all else.
Colin Glassar
44
Posted 26/12/2016 at 18:28:24
Denis, I'm glad Williams seems to have had a good game today as he's been all over the place recently. He's not my cup of tea but he's always been a solid player.
As for Gana, well of course I didn't mention him as I think he's been one of the buys of the season - so far. I just wish he'd practice his shooting skills a bit more.
The 'Martinez players' you mentioned have all been awful (Besic I will reserve my judgement on) but the 'Koeman signings, apart from Gana, haven't exactly got me off my seat either. Only time will tell..
Tony Hill
47
Posted 26/12/2016 at 20:09:09
We must trust the scouts, I suppose. I see we're linked with Berahino too.
Shane Corcoran
53
Posted 26/12/2016 at 23:50:02
Walsh and Koeman would have been doing well to scout Depay and Schneiderlin over the last few months.
Jagielka is having a tough period? It'll pass, until next month.
Anthony Dwyer
54
Posted 27/12/2016 at 01:56:33
Big big window... huge!
Ronny and Steve have to get this right, I have no idea what we have to spend, I'm blown away by certain comments, Andi @26 claiming people are gullible to think Ronny will 'only' have 㿞m, surprises me most of all; I don't know what Everton he's been experiencing!
I know Moshiri has claimed were getting backed, but as of yet I've not seen it, and I'm one of those people who believe what I see more than what I hear said.
We finished the last window with a profit, even after Ronny's brother tweeting about us being ready to have a huge week (the week we signed a ٥m midfielder from Villa).
Anyways, a great win today, we need the same Friday evening v Hull, then manage to do Southampton at home, resulting in a excellent Christmas. If we can manage that, then add some quality, then the season may not be the complete write-off I feared.
Peter Roberts
55
Posted 27/12/2016 at 13:11:08
January can't come quick enough.
We need a forward who can move intelligently, hold up the ball, press and pass.
Only then will we see our midfield improve their efficiency. It's a case of who do we drop if we play 2 strikers. It may be a case of a striker coming in and scaring lukaku into life or working with him to nullify his deficiencies.
We need another centre half. A goalkeeper. Left sided winger.
Tom Davies needs to play more too.
Steavey Buckley
56
Posted 27/12/2016 at 18:55:34
Everton are still willing to pay over the odds for average players. The recruitment should be judged on earthing gems who don't cost as much. Such as Gueye.
Tony Twist
57
Posted 27/12/2016 at 19:10:10
No thanks with regards Depay. If we are risking getting someone with question marks over their attitude then Berahino of West Brom might be a better option. A proper striker is a must, as is at least one forward-passing central midfielder.
Schneiderlin would be okay plus Delaney. Davies taking over from Gana whilst he s away. I think we are okay for central defenders for now with Galloway returning.
Phil Walling
58
Posted 27/12/2016 at 19:14:25
It must take a genius to unearth Berahino. He's been whinging for a move almost since he first got into WBA's team three years ago!
I thought the purpose of the much vaunted Walsh appointment was to unearth gems rather than other clubs' wasters. The nearest he came to being a striker is when he threatened Pulis he would withdraw his labour!
Dan Davies
59
Posted 27/12/2016 at 21:29:17
Might make sense to sign more established Premier League players at first, Phil, to up the overall quality of the squad before unearthing the unknown gems?
David Barks
60
Posted 27/12/2016 at 21:47:19
We need to finally tap into the South and Central American markets. I'm actually a big fan of Funes Mori because he knows what it means to play to winning expectations.
I don't understand why we haven't gone after more players from Argentina, Brazil, Chile, Uruguay, Paraguay. There is so much talent in that region that goes to Germany, Holland, Italy and Spain. Spain I can understand given the language similarities but I feel we could be much more active there.
Paul Tran
61
Posted 27/12/2016 at 22:15:12
Think about it, Phil. How will the press know about any 'uncovered gems'? They're too busy linking us with anyone disaffected. The uncovered will emerge like Gana, no doubt with derision for being 'unknown'!
John Otway
62
Posted 27/12/2016 at 00:00:22
Thank you, Paul Tran. I am sick of Phil Walling's constant whinging. It's like the Chinese water torture.
Mike Dolan
63
Posted 28/12/2016 at 05:38:39
I'd be very happy to get Schneiderlin and Berahino. I'd be ecstatic to get Will Hughes from Derby.
It's probably just as important to ship out all of the crocks that never are going to get a game. Kone, Gibson, Mcready, Niasse I almost hate to say it but Deulofeu also.
Let's get some of the young players on the bench. I think Basic might yet prove to be a valuable player if we can get him back fit, he's certainly a Koeman type of guy.
I think last summer's signings have actually saved us this season.
Stekelenburg is a massive improvement on Howard,
Williams is so bad he's played almost every game ,maybe a bit expensive and short term but he was needed now.
Gana is a total gem and maybe the best signing of the entire window

Bolasie was over priced a little but a very exciting player who will benefit from an improved midfield.
Colin Glassar
64
Posted 28/12/2016 at 08:26:07
David Barks, I've been saying the same things for years now. South America is a gold mine of football talent but most Premier League clubs seem to allow the Spanish and Portuguese teams buy and develop these players and then try and buy them for a fortune. It's pure laziness IMO.
John Otway, just ignore Phil. He's not happy if he's not moaning about something. He doesn't mean any harm.
Daniel Lawrence
66
Posted 28/12/2016 at 15:49:23
Colin, they go to Portugal and Spain as they don't need visas.
Jay Wood
67
Posted 28/12/2016 at 16:02:59
David @ 60 and Colin @ 54, re: scouting and recruiting from Central and South America.
Thar's gold in them thar hills!
Without a doubt, one of the very best – if not the best – exploiters of that rich mother lode is FC Porto under the stewardship of the very hard-nosed president Jorge Costa.
In recent years, their policy helped cement them as Portugal's premier club, both domestically and on the European stage, as they bought low and sold high, with Costa insisting on high buy-out clauses. It helped pay for the rebuild of their stadium and also to continue funding their transfer policy.
This article gives you an idea of how successful they've been – €600 million plus profit since 2004, whilst still winning domestic and European trophies.
Some examples showing player, original nationality (some Brazilians became adopted Portuguese), price Porto bought them for, price they sold the player for. Prices are in sterling, not euros:
* Deco (Brazil) 𧴜,000, sold to Barca for 㾸.5 million PLUS Queresma (valued at ٣m).
* Anderson (Brazil) ٣.5m, sold to Man Utd 㿃.5m.
* Pepe (Brazil) 𧾦,000, sold to Real 㿅m.
* Lucho Gonzales (Arg. - one time Moyes target) ٣m, sold to Marseille 㾻m (3 years later he returned to Porto on a free, they got 2-3 more years out of him, then sold him to a Saudi team for another ١m).
* Lisandro Lopez (Arg.) ٠m, sold to Lyon 㿀m.
* Falcao (Columbia) ١m, sold to Ath. Madrid 㿍m.
* Hulk (Brazil) - bought for big money for Porto, 㾻m. But then sold him to Zenit for 㿔m.
* Nicolas Otamendi (Arg.) ١m, sold to Man City 㿈.5m.
* James Rodriguez (Columbia) ٢m, sold to Monaco 㿒.5m (then to RM for 㿫m).
And that's without mentioning the eye-watering profit they made on many Portuguese players.
Some BIGGGGG names in there, who helped the club win trophies whilst establishing their reputations in Europe before being sold for equally BIGGGGG money.
Any fan would (or should...) be happy with such a successful scouting, recruiting and transfer policy.
Patrick Murphy
68
Posted 28/12/2016 at 16:10:18
Jay #67
Mr Walsh will have his work cut out trying to match that impressive array of talent at Goodison as will Mr Koeman in matching Porto's honours list.
Ian McDowell
69
Posted 28/12/2016 at 20:48:10
I was reading about Sunderland needing to sell to buy in January. I wonder if we may go back in for Kone?
Colin Glassar
70
Posted 28/12/2016 at 20:52:16
Hope not Ian, he's pretty useless from what I've seen. Also watching Spurs just now and that Sissoko is worse than crap. I hope we avoid him like the plague.
Brian Williams
71
Posted 28/12/2016 at 21:04:12
Jay Wood. That list of players and the profits made on the sale/of them is/are amazing!

Tony Twist
72
Posted 28/12/2016 at 22:50:42
Let's hope they unearth some gems that go straight into the first team and not at the expense of our up-and-coming youngsters also.
Why did Berahino attempt to strike? He looks like the closest thing to a young Defoe. Sign him up.
Dan Egerton
73
Posted 29/12/2016 at 09:26:21
Joe Hart plz. Liverpool want him, steal em under their red noses.
Eddie Dunn
74
Posted 29/12/2016 at 12:05:06
Colin (#44). I too was glad to see Williams have a better game. I live near Swansea and my Jack army mates always rated the guy very highly.
My feeling is that he is very much like Jagielka, not the tallest, but reads the game well and gets in important challenges at the right time. I think he was a replacement for Jags, and now we will start to see the best of him. He is very vocal on the pitch, and we may see more of this now he has settled-in.
I like Funes Mori, but was alarmed at many of his passes/clearances at Leicester. He seemed to heap more pressure on us with his wayward distribution.
I like the look of Holgate, but see him as more of a full back until he beefs-up. I would like us to get Van Dijk or Prodl (from Watford) who may be more affordable, in the next window.
---
Add Your Comments
In order to post a comment, you need to be logged in as a registered user of the site.
Or Sign up as a ToffeeWeb Member — it's free, takes just a few minutes and will allow you to post your comments on articles and Talking Points submissions across the site.