Koeman takes heart from Blues' reaction

138 Comments [Jump to last]
Friday 30 December 2016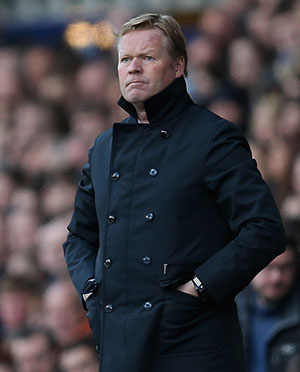 Ronald Koeman was taking the positives from tonight's 2-2 draw at Hull in his post-match assessment even if he had to be critical of another poor start from his team.
Everton conceded the first goal yet again as Michael Dawson took advantage of slack marking to fire the Tigers into the lead after just six minutes but they were level going into the break following David Marshall's own goal.
Robert Snodgrass whipped a free kick past Joel Robles to restore Hull's lead after Marshall had partially redeemed himself by touching Romelu Lukaku's shot onto the crossbar but Ross Barkley earned the Blues a point with a late header.
Koeman seemed pleased with his team's response and the signs that they have been showing in recent games that they can be a better outfit in the second half of the season than they have been since September.
"I think the crowd loved this game because it was a really open game with a lot chances, the better chances for us [after] a difficult start to the game," the Dutchman said after the game.
"I think twice we showed great character in the team and a great reaction and, in my opinion, maybe football-wise this was one of the better games we have played.
"Of course, you can't stop crosses or set-plays sometimes, one of the strengths of Hull, and, of course, you can't stop a free-kick specialist like Snodgrass. He was unlucky with one and the second he scored.
"But OK, well done, but we showed good character in the team, we fought for everything, we had the better chances but finally it's one point."
Asked if he felt his team started too slowly again and whether he is looking to the transfer market for reinforcements, Koeman said:
"We lost the first two or three tackles in the midfield and out of that came the first corner where Barry was not following his man at the back post.
"Of course, the start was, again, not good and they were more aggressive so it's always difficult but you need to fight back in the game. But we did, that's positive but, OK, it was not a good start.
"We know what we want [in the market] and where we need to improve but I'm really happy with the mentality of the team and what we showed against Arsenal after a real disappointment at Watford away.
"Against Arsenal, Liverpool Leicester and today, I think we are seeing a different team that is difficult to beat and also today we created a lot chances."
---
Reader Comments (138)
Note: the following content is not moderated or vetted by the site owners at the time of submission. Comments are the responsibility of the poster. Disclaimer
Brian Williams
1
Posted 30/12/2016 at 23:17:18
Fuck me – he's been haunted by the ghost of Christmas past, aka Roberto!
Well we DID slag his previous honesty!
Charles Brewer
2
Posted 30/12/2016 at 23:20:42
"We did really well to score one goal against the bottom team in the Premier League; fortunately they scored three, including a really unnecessary own goal, and we were thus able to scrape a draw."
Tony Twist
3
Posted 30/12/2016 at 23:25:18
Manager's fault. Inability to ready the players before kick-offs and playing OAP footballers who can't keep up. We are a reactive team – nothing is planned... again, the manager's fault.
John Keating
4
Posted 30/12/2016 at 23:30:39
Well, football is all about opinions and in my opinion Koeman is as delusional as Martinez. I cannot believe that he is seeing improvements in the last few weeks.
Jags and Williams as a pair is disastrous. Barry can't play a full 90. That team cannot play the pressing game.
Sorry, Ronald, you have to stop going over to Amsterdam to stock up on whatever you're smoking!
Anthony Dwyer
5
Posted 30/12/2016 at 23:33:20
Why did he change a winning team?
Holgate has started 5 games for us and never lost, he was part of a 3 man defence that beat the Champions 0-2 at there own gaff, as was Mori, and Ronny decided to change it.
Crazy.
Ronny is supposed to be a fan of rotating his squad, but I'm more a fan of winning first and foremost, then players need rotating when they've actually done something.
Anthony Dwyer
6
Posted 30/12/2016 at 23:37:40
Agreed John, Barry, Williams and Jags all need moving out of our starting 11, we should try to move Williams on, recoup some money and spend it on someone else or play Holgate and Funes Mori.
Colin Glassar
7
Posted 30/12/2016 at 23:42:37
At least he didn't say it was a phenomenal draw and a great learning experience for our younger players like Barry and capt Phil.
I often wonder if our lot get a massage or a sauna before a game because they come out like they've got lead weights in their boots. Jesus Christ, I think Stephen Hawking could run faster than some of them.
Mick Davies
8
Posted 30/12/2016 at 23:51:37
This is getting very scary... he's beginning to sound uncannily like his predecessor: full of bull.
John Pierce
9
Posted 30/12/2016 at 23:51:50
I'm almost at the stage with Ronnie that his post-match shtick will simply be ignored in the same way that I could not stomach Martinez and his after-match fairy tales.
It's not that he doesn't see the same things we see, it's the fact he has made several errors of selection and tactics this season well after he has had time to evaluate the squad.
His treatment of younger players is criminal. Both Davies and Holgate are good enough. Play them and get some miles on their clocks, no worse than seasoned pros at Everton who are stale and over the hill.
So what if they don't work out? Move them on too, at least fans cannot level that at you. This is made all the more galling as you keep throwing the word 'project' at us.
When you act all detached and Dutch, call out players in the press etc, that's okay. However you'd better be winning games, Ron lad, because otherwise, the knives will be out.
Jay Harris
10
Posted 30/12/2016 at 23:51:55
I've pleaded for patience with Koeman but this team selection was very poor IMO.
2 points lost due to the manager,
Chris Williams
11
Posted 30/12/2016 at 23:54:23
Do you know something folks. Football is NOT ABOUT OPINIONS. Nothing is about opinions. Lazy cliche bullshit.
Football is about performing and winning and fighting and running and skill and heart and aggression and effort and ability and heart and intelligence and skill and planning and imposing yourselves and learning from mistakes and being able to pass and move and use space. And balls.
It is largely about good footballers playing in a good formation and style.
It would look like we lack some basics but we're not short of opinions.
Tony Hill
12
Posted 30/12/2016 at 00:08:06
Exactly, Chris. I am tired of the patronising pap we are fed when we go to Goodison, the drip-fed message that we may be shite but at least our heart's in the right place. That's Kenwright's Everton and I want it to end.
I go to the game to see us win as a football team, I don't go for a version of Sport Relief. Fuck off, Kenwright; fuck off, Elstone; your soap opera script for our club is an embarrassment and is, in and of itself, fundamentally damaging.
Eddie Dunn
13
Posted 30/12/2016 at 00:12:30
I have backed Koeman so far, but his selection was foolish. Many of us said before a ball was kicked, that the heart of the defence would be too slow. In fact they targeted the Baines - Williams side and caused us lots of problems.
Once again our defence failed to push up to close the gap to our attack. I'm afraid that Idrissa Gueye had his mind on the AFCON tournament, as he ran around like a headless chicken, giving the ball away, and his distribution was shocking. This midfield needs a complete overhaul. Barry is costing us – he is just too slow. Boy do we need Schneiderlin.
Lukaku had a few patches where he was looking to lay it off well, but just disappeared for most of the game. For God's sake, he was up against a couple of big chumps and should have taken them to the cleaners.
We were so poor at the back, that I was shitting myself every time Hull got into our half. I was pig sick of Martinez playing square pegs in round holes, and now Koeman thinks Valencia is a winger! The lad tried his best but he should have been closer to Rom.
I could go on and on... at least we are showing some fight, and arguably should have won the game, but... this is the bottom team in our league.
Bobby Mallon
15
Posted 31/12/2016 at 00:26:15
The team look clueless.
Tony Hill
16
Posted 31/12/2016 at 00:30:44
A bit like Stephen Hawking. Though he isn't. Whereas we are.
David Morgan
17
Posted 31/12/2016 at 00:31:05
I think this is harsh on Koeman, the players are the ones that need changing.
Okay, that's a poor performance but no different from what we have already seen. Let him get his own players in and give him some time. I don't think anyone could get this group of players top 4 or better. That team needs 5 or 6 first team players adding to it. Bring on January.
Paul Smith
18
Posted 31/12/2016 at 00:35:58
Wow! People really are pissed with Koeman, aren't they? Can't see the problem myself – we're two unbeaten... progress.
John Pierce
19
Posted 31/12/2016 at 00:44:48
Eddie, can't quite bring yourself to damn the man eh?
Deep down your inner Eddie is saying, sack him.
The first part of any problem is to admit it! Koeman is just a bad fit for me, let's realize the mistakes, and move on.
Go on Eddie say sack him!

Mike Green
20
Posted 31/12/2016 at 00:44:55
One issue we have is we are now seen as a soft touch in the first 15 minutes so teams are drilled to have a real go at us from the off and it's still working. It needs a lot of work to change that reputation now.
For large parts of that game though we never looked like losing with 10 minutes to go I put a tenner on us to draw at 8/1 and 㿔 on us to win at 28/1 so that complete sitter of Calvert-Lewins cost me a bomb and the team, and Koeman 3 points. No problem but don't ask for youth to be played and not accept the cost that can come with that.
As one of Rom's bigger critics I thought he did well tonight but ran out of steam, Hull defended really well; had they not, he would've had his name on the scoresheet.
Hull are fighting for their lives and deserve some respect, we clearly still have major problems but got a point away from home, should've had three and I'm pretty sure we'll see fresh blood come in in January that can make a difference and start turning those situations around basically by scoring goals.
Charlie Lloyd
21
Posted 31/12/2016 at 00:50:51
Anthony @ 5 and 6,
We can hardly claim that it was much beating the Champions at their place. This is Leicester we're talking about. Extremely lucky Champs who were missing 2 of their first choice defence on the day.
You then reckon that Holgate - Funes Mori is the way forward. I agree that Jags and Williams have hardly been watertight but it's a lot to expect of Holgate and Funes Mori isn't exactly Mr Dependable.
There is so much negative knee jerk reaction comment on TW at the moment. I want success like all of us but know that it'll take time with patience and transition to get there. Plus some decent January signings.

John Pierce
22
Posted 31/12/2016 at 00:58:42
Mike,
So Koeman has admitted there's an issue several times with starting games. My urging would be why hasn't he addressed it? This doesn't take several transfer windows or a messiah like player to change it. Quick tempo, short sharp passes energy driven movements.
Could it be our managers desire to 'go long' cedes possession quickly and gives the opposing sides the ball in better areas without having to do the work themselves? Fundamentally that's why Koeman is a bitter pill to swallow. If he cannot get us going from minute one, what is the point in having to fight back when the pressure is off?
Too conservative, lacks courage in his selections and tactics, and his team is an exact reflection of him on the field. Poor in possession and gutless in attack.
Raymond Fox
23
Posted 31/12/2016 at 01:13:26
We are still 7th chaps, and will be after tomorrow's games at least.
The squad have not been good enough for a couple of seasons due to some players being past their bests and apart from 3 or 4 players trying to assemble a team on the cheap!
But, let's face it – this is Everton, do you expect anything else? It's our MO.
Michael O'Brien
24
Posted 31/12/2016 at 01:44:23
I've noticed that, whenwe have the ball and start to press, no one makes Runs, no one moves, they all stand still and expect to just be given the ball?
I dunno, very easy to mark going forward we are. Make some overlapping or darts into some channels, confuse the other a team a bit.. Don't just stand there expecting the ball to come to your feet.
Just seems like No one's arsed to attack. Young Davies did it a couple of times which was refreshing to see, he lost the ball, but he showed some intensity at least.
Squad needs changing: too old... too slow... not good enough.
Victor Jones
25
Posted 31/12/2016 at 02:31:59
Not many positives to be taken from a draw against the bottom team. Watch how other teams will dismantle that outfit. But not Everton .
We huff and puff against this sort of team. And still Koeman reverts back to these players.
Last match of 2016 for Everton, and still Koeman doesn't seem to know his best starting eleven. Because it sure wasn't that bunch that started tonight. We will win nothing with them..
Martinez couldn't get a tune out of them. And Koemnan is stubbornly going down the same path.
How thran can you be. Changing a winning team. And for what?
I suppose now the team will be changed yet again for the Southampton match. Cleverley must be due a run out...
I suppose the only good thing tonight is that we now have 27 pts. Just another 13 and we should be safe.
We badly need the next few transfer windows.
But is Koeman the man to spend wisely. Or will he have his new players warm the bench ...whilst he keeps acting a smart ass .and keeps playing Jagielka Barry .Barkley .
I sometimes wish that I could give this Everton team up. But I can't . They are a fucking curse .
Gordon Crawford
26
Posted 31/12/2016 at 02:43:34
Why did he change a winning team? That's a no no in any sport.
Anthony Dwyer
27
Posted 31/12/2016 at 02:53:23
Charlie Lloyd @21.
I'm not saying Funes Mori and Holgate are the answer for the remained of the season, but they should have at least been given a chance after the recent form of both Williams and Jags.
Funes Mori isn't Mr Reliable by any means, but he's a typical modern day defender, most of the decent ones tend to have a mistake in there make up.
Look at Stones (㿛½m), makes many mistakes yet Mourinho wanted him, then Pep bought him. Otimendi who is Funes Mori's international team mate, he's also got a mistake or two I him and he cost 㿊m. David Luis valued between 㿊-50m another one who takes chances but another one at a top team.
Holgate looks composed, Funes Mori looks like our best defender, especially in the air, plus he has a goal threat in him. Funes Mori and Holgate both have pace, something which is needed if both Baines and Coleman push on.
Again I'm not claiming that these two would be first choice at Bayern Munich, but IMO they can't look any worse than Jags and Williams as a pairing of late.
Holgate is a natural right-sided, right-footed centre-half, Funes Mori is a natural left-footed, left-sided centre-half; would it kill us to try them as a pairing?
Mike Corcoran
28
Posted 31/12/2016 at 03:00:05
Poor movement in attack, Rom doesn't seem to make the runs to enable him to get the type of through-balls that suit him. The ball always goes back from the centre-midfielders as no one is in space for them. I thought Davies at least tried to open it up.
David Barks
29
Posted 31/12/2016 at 03:17:00
Mike,
That's simply not true. Rom was making those runs and had his man pinned so many times against Hull, but the ball was always delayed. It was absolutely pathetic how many times he had position, just needed the ball played, but it never came.
If he just takes off then he's offsides. Mirallas was getting just as frustrated with his runs and positioning being wasted by either a lack of a pass or a poor pass played behind him.
He's pinning his man, has him beat, just needs someone to be looking up and ready to make the pass. But far too often it was at the foot of Gana, who with all due respect for his tackling and defensive play, has shown to be a very poor passer.
The problem was not the failure to make runs, it's the failure of midfield players able and willing to make the passes that the likes of Mata, Fabregas, Ozil and practically the entire Liverpool team make on a regular basis.
Brian Porter
30
Posted 31/12/2016 at 06:25:19
Why, oh why did Koeman change a winning team? The lads who started against Leicester would have been brim full of confidence and well up for this one.
I groaned when I saw the starting eleven. Jag's just doesn't have the pace any more for the premier league. Funes Mori must wonder what he has to do to get an extended run. It's significant he's been part of the team for our last two clean sheets, West Ham and Leicester.
Holgate also has shown he has pace and composure and deserves a run. As long as Koeman keeps sending out aging and slow central defenders we are going to pay the price.
Awful team selection and we were lucky to scrape a draw against an abysmal team, sitting at the bottom of the league. I don't think Koeman is the man for us and would be quite happy to see him go, already.
Andy Codling
31
Posted 31/12/2016 at 06:59:19
"I think the crowd loved this game because it was a really open game with a lot chances, the better chances for us [after] a difficult start to the game" the Dutchman said after the game.
Errrr No, I got to bed at 5 am in Thailand after somehow managing to stay awake from watching this shite, why I expect any different from week to week is beyond me!
Nigel Munford
33
Posted 31/12/2016 at 07:52:07
Team's in transition, we're 7th, and will be going into 2017 with 6 points out of last season's top two. I'd have been very happy with that position at the start of the season given the last two we've had to endure.
We haven't the players to be Barcelona, which a lot on here think we should be. Koeman's doing okay with the players he has, silk purse, sow's ear and all that, so let's be patient and judge him on a team he has assembled, not the mishmash we have now. Happy New Year, TWers.
Geoff Evans
34
Posted 31/12/2016 at 08:02:37
All we need is Barkley to come out wearing a scarf and we'd have our own version of Dad's Army. Laughable.
Happy New Year to you and your families.

Paul Tran
35
Posted 31/12/2016 at 08:47:04
I agree with pretty much everything he said. It's what he didn't say that concerns me.
This has to be the last time Jags and Williams play together. If he's going to rotate, keep at least Holgate in there. I'd have kept the same three in central defence.
The passing was awful. We did not keep the ball at all. When we have the ball, our movement is dreadful. Most of our passing is slow and onerous, often with ball going behind the man. Lukaku made some great runs in the first half and got one good pass from Baines.
Once again, the answer came in the shape of Davies, who does this weird thing called running at players from midfield which creates space for everyone else. He's got a fabulous attitude, the senior players haven't taught him to be scared yet and he even took a yellow for the team. Barkley looked and played like a free man with him. Davies must start on Monday.
Watching our slow start got me thinking of something Martinez used to say, about starting games gently and feeling your way into the game. Seems so ingrained that Koeman hasn't got it out of them yet.
This is a frustrating work in progress. It's not an 'excuse factory' to say the team lacks goals. That will only change with fresh talent. What is in Koeman's control is playing a back 3/5 that utilises our current defenders and playing Davies, who plays in the other teams half and goes forward (doesn't that help with pressing?).
We still need more quality attacking players, but I think those two obvious things would have us beating most teams.
Happy New Year to all Blues everywhere.
Mike Green
36
Posted 31/12/2016 at 08:47:31
LOL Geoff (#34) – very good :D
Nigel (#33) – good post. I'm feeling optimistic and hope the January transfer window and improvement in the second half of the season bears that out.
Happy New Year to you both and everyone else.
COYB.
Mike Green
37
Posted 31/12/2016 at 08:49:34
Well said, Paul Tran.
Gary Russell
38
Posted 31/12/2016 at 08:51:10
I don't believe Koeman seriously believes what he said post Hull match. The admission in a recent interview about being too honest when Barkley was mentioned, makes me think he is just spinning it, and not being critical of his charges.
He must be happy that the next few weeks gives him a chance to rip the team apart and mold a team more to his liking. It's not guaranteed by any means, being a winter window. I say this because for someone who is as honest and direct, and not prone to bullshit like he is... how can we take his 'positives' serious? I mean, seriously?
[Note to self about New Year Resolution... seriously got to stop using a certain word.]
Mike McLoughlin
39
Posted 31/12/2016 at 08:59:23
Like others on here, I am confused why you should change a team around that both won and kept a clean sheet. This must have been an attempt on squad rotation. But wouldn't you build up a confidence for winning in your team before you did that?
I am not really convinced by Koeman and while we lie 7th in the table and have more points than this time last season he doesn't fill me with much confidence. I don't feel he has the confidence of the players and as I can see by the above posts, he hasn't got the confidence of the fans.

I look at the indifference he shows whilst on the sidelines and compare that the the top two club managers in the Premier League. They are at one with their team and fans. They show a passion that befits a winning side. They show the team and the fans along with the wider public the they have total admiration for a team they have built.

I don't particularly care that he is Dutch and he has the Everton 'Project' to address. I want to see him earning his £6 million by screaming instructions and encouragement at the team throughout the game. I can only hope when he has built his own team then he will show some passion. So bring on Southampton and COYB
Charlie Lloyd
40
Posted 31/12/2016 at 09:06:05
Anthony @ 27,
On reflection, I partially agree. A CB pairing of Jagielka and Williams is not right. Holgate should be playing more and Funes Mori would be my backup. So it's Holgate and Williams as the first names on the team sheet then. If it's a back 3 preferred then Funes Mori gets the spot.
Where does it leave the club captain? Moyes may want him in January. I may appear unsentimental but his time is up as a starter at Everton. Although I don't want a swap involving that carthorse Lamina Kone. There are much better around.
Joe Edwards
41
Posted 31/12/2016 at 09:21:20
I think it is clear for all to see that Barry and Jagielka are now well past their sell-by dates. The difference Davies made when he came on surely sends a clear message to Koeman that both Davies and Holgate have the energy, drive, aggression and passion needed.
Koeman's constant tinkering is annoying and hasn't allowed the team to build any momentum, it's all very well rotating players but we haven't got the quality in the squad to make it effective.
I am also worried that Koeman will pay more big money for fringe players from other teams (Depay, Young etc) and leave us both unimproved and skint. I will repeat my opinion: Koeman will not bring success to Everton.
Dermot Byrne
42
Posted 31/12/2016 at 09:28:16
Mike Green (#36). Now look here – you can forget that optimism. New players will never improve things because some very angry people here have passed judgment on Koeman's ability to manage a gang of old crocks and players taught to be idle over 3 years. And, to have that view could be seen as an 'opinion' which Chris (#11) has now banned.
And don't be wishing a Happy New Year to everyone. 'Everyone' could include Martinez and Koeman and that could be interpreted as you being a Red who has sneaked into TW !
So to avoid being similarly labelled, Happy New Year to you and stay optimistic. It helps my mental health!

Colin Glassar
43
Posted 31/12/2016 at 09:33:24
Paul Tran, spot on. Once young Davies came on, Ross moved to the right side and he was free to to his stuff. Having two young players in midfield, who are confident on the ball, was almost a game changer as before that our midfield was static and panic stricken.
Koeman has to find that balance between youth and experience. I don't mind Jags or Williams starting (not together) as long as they have younger, quicker players next to them.
Same goes for Barry. If Koeman needs to play him play him deep behind Gana, Hughes and/or Davies. Young Turks who can cover ground and help him out if needed.
Dave Abrahams
44
Posted 31/12/2016 at 09:34:28
Mike McLoughlin (#39) has it right with pointing out Koeman picked this team with an eye on Monday's game. Why he made so many changes and put players out that don't match, Jagielka and Williams, is another thing.
Koeman is hard to understand but I will go with him and see what transpires in the January window. It isn't hard to understand the frustrations of the fans, my own included. All season I have pointed out the lack of energy, movement, the continual very poor passing. None of this has improved.
The lack of confidence, which I thought was coming back after the Arsenal game, hasn't come back; until that stays, we will continue to play like we are, a point which means a win was more vital last night than making too many changes with an eye on future games.
Eddie Dunn
45
Posted 31/12/2016 at 09:38:19
The cameras were on Ron's face during the game, and the commentator mentioned that he looked like a man who was watching a team, but not his team. He has his hands tied at the moment. He has to try to keep most of the team happy, make sure he doesn't "lose" the dressing room, and find a way to win games.
He has to offload Jagielka, his club skipper. Jags deserves respect for his marvellous service, but surely Williams is his replacement, and surely the two of them just can't play together, as neither of them is big enough to take most of the headers.
The midfield is the biggest headache, and it is now clear that Barry (despite his obvious ability to see a pass and read the game) is just too slow, and holds the rest of the midfield back. There is too big a gap between attack and defence, and so we revert to hoofing it long, which usually means coughing-up possession.
The window can't come soon enough for me, but John Pierce, no I won't say "Sack him"! – Very funny though!
Ian Riley
46
Posted 31/12/2016 at 09:46:38
Let's hope for better in 2017. Last night was our year in a nutshell.
Happy and healthy new year to all Everton supporter's.
Mike Green
48
Posted 31/12/2016 at 10:09:55
Point taken, Dermot,. (I'd even included Chairman Bill too which, on taking your advice, seems extremely reckless...... )
Have a great New Year. :)
Steve Guy
49
Posted 31/12/2016 at 10:10:26
As soon as I saw Barry and Jags on the team sheet, I said to my son, we would struggle and be playing the game in our own half. Love Jags but Williams and the former are too similar in style plus Jags is a busted flush imo.
Barry should come on when we are winning games to help see them out. He wasn't helped by Gana having one of his poorer games last night, but there's no energy in Barry's play. Not his fault he is 35/36.
Unsurprisingly the introduction of Tom Davies lifted the whole tempo, suddenly we are playing football in their half. Lukaku started getting on the ball and imo we could have won it had Calvert shown more composure.
I think Barkley is starting to get what Koeman wants from him and had one of his best games under Koeman last night.
My criticism is Koeman persisting in trying to get this group to play 4-3-3 when they clearly can't. They look much more comfortable with 4-4-2. Also not sure what he thought he was doing bringing on Funes Mori and taking off Mirallas (MotM last night, imo). Hull were on the back foot by then and it stalled our momentum.
Finally, that referee is a classic shithouse. Snodgrass scored a great goal but it was never a free kick. His general decision making was inconsistent and piss poor.
Mike Allen
50
Posted 31/12/2016 at 10:21:08
There is absolutely no progress being made. 10, 15, 20 minutes in any game is all we get. Last-minute point savers just paper over the cracks.
How the bloody hell do we get consistent in this daft rotation system? Never mind saving players for Monday's game. Why change a winning side? The players must have taken some confidence from beating Leicester after some bad results. Not only change the players but change the system. He's not learned anything from the Norwich debacle.
We don't have a game changer in squad therefore selection or subs is just the same – most of the players are not good enough anyway so why chop and change the system? I don't want to slag individuals but some just lack the basics to be selected.
Stephen Harris
53
Posted 31/12/2016 at 10:37:33
Give him time, we do need fresh legs at the back but hey, we are not Man City or Chelsea. Get Rom to work on his link-up play with Ross, the man who can't tackle back or press in the right way.. Fuck the the Roberto way – on waywards and upwards.
ps: Get Davies on from the start.

Adam Luszniak
54
Posted 31/12/2016 at 10:54:01
Koeman needs to learn fast that Davies is better than Barry, and Holgate is better than Jags. I'm up for giving him time and money In the transfer window but he can make those changes now and should. Both Davies and Holgate are ready to be starting games.
Sam Hoare
55
Posted 31/12/2016 at 10:54:03
Small margins. Dominic Calvert-Lewin would probably score that last chance 9 times out of ten in an U23 game.
I will let Koeman off this time with the unneeded team tampering given that we have two games in quick succession. But he really needs to work out his best team and system quickly and I suspect (hope) that it revolves more around energy and dynamism than experience and nous.
We've been very mediocre and yet sit in 7th which is a decent sign I suppose but equally if we don't improve we could quickly slide towards midtable obscurity or worse.
The good news is Moshiri. I really believe there are funds to spend and Koeman and Walsh have had a good look and what they have and what they need. It won't all be fixed in January but if we bring in two or three good players with some more to come in the Summer and finish the season in 6th, 7th or 8th, then I will be content if not pleased with that as a transitional season.
Ian McDowell
56
Posted 31/12/2016 at 10:58:24
We did well to battle back after going behind twice. We need to find a way to start the game with a faster tempo. We pretty much gave Hull a goal start.
Also, we need to find a better shape to the team. All to often, we had no cover in front of the full backs and the midfield are spread all over the pitch. This, combined with our defensive line being far to deep, means that the opposition are constantly running at our centre-backs and we give so many fouls away around our box.
Phil Walling
57
Posted 31/12/2016 at 10:58:42
In a Premier League season where the Big Six are lapping the rest, being 'best of the rest' at the half-way mark is a decent position to be in. That's if you are Everton.
Trouble is, the manager is a throwback to the days of Walter Smith and the quality and style of the football he dishes up reflects that. If you remember (having spent nearly 20 years trying to forget!), Walter loved the 'old 'uns', constantly pratted around with the team selection, and never hit upon a clear or constant style or tactical plan.
'Seventhish' has always been a safe haven from which managers can claim they just missed out on Europe and 'given money for signings' next season will see the breakthrough. Many on here will buy into it but, I suspect, a lot of others will know it's as good as we are ever going to get!
Chris Gould
58
Posted 31/12/2016 at 11:21:06
Phil, you and 'others' have absolutely no idea what the future holds. Be as cynical as you like, but 7th-ish is most certainly not part of Moshiri's long-term plan. So why don't you give him a little longer to put things right before trying to destroy any optimism that some of us may have.
Spurs were where we are a short while ago. I suspect we'll be at a similar level to them in a season or so.
Denis Richardson
59
Posted 31/12/2016 at 11:26:21
A few dummies being thrown out of prams I see. Good old fashioned over reaction from the TW regulars.
We have 3 games in 7 days so a couple of changes were needed. I was admittedly surprised Jagielka, Williams and Barry all started and think that was a mistake but I'm not sure if Davies is ready to start yet either. People calling for Williams to be sold already?? He was MotM against Leicester ffs!
We had enough chances to win the game, got a draw, life goes on. At least we didn't lose. Onto the next game and hopefully some new faces in Jan.
We are 7th – not 17th!
Brian Williams
60
Posted 31/12/2016 at 11:30:01
With all the talk of formations, who can play with who, best positions etc etc the fact still remains the 7th best team in the Premier League went behind twice to the worst team in the premiership, a team who couldn't buy a goal or a win. That, in my book, is not good enough and just shouldn't happen.
We should be beating the likes of Hull by two, maybe three, goals without a doubt. Still thoroughly pissed off.

Colin Glassar
61
Posted 31/12/2016 at 11:31:39
Phil, I understand your cynicism and sceptism but I'm prepared to give Moshiri and Koeman another 13 months. That'll cover three transfer windows so in February 2018 we will know if this is a New Golden Age or just another false dawn.
Three windows is enough for him to reshape this team. If we are still shite in 2018 then I will eat my hat (I don't have one but I will buy one if necessary).
Brian Harrison
62
Posted 31/12/2016 at 11:38:49
Wel,l yet another very average performance and whether its to appease the fans or his bosses, Koeman says he takes heart from our performance. Really you actually think things are getting better, because despite me wanting Koeman as manager I see very little if any improvement on the charlatans teams.
I accept that he has had only a short time at the club, and it will take time for him to put his stamp on the club. But I had hoped that I would see a settled formation at least, it didn't take Conte long to change Chelsea's formation and make it work. Yes he has far better players than Koeman has at Everton. But Koeman has played 3 or 4 at the back in consecutive games so no wonder the players are confused.
His success in the transfer market so far doesn't overly excite me either is Williams any better than Jags or Funes Mori. Bolasie has a poor goal record and that hasn't improved since coming here despite Koeman highlighting the fact when he signed Bolasie that 9 goals in 3 seasons would have to improve. He signed Stekelenburg who is probably a very slight step up on Robles, but shouldnt he be targetting Hart in the January window a far better keeper than either that are on our books.
I can't understand why he didn't bring Van Dijk and Mane with him – young quick players.
So, for me, the jury is very much out on Koeman and we will have to give him 2 more seasons to see if he can produce the team that we all want. But Moshiri, despite being a wealthy man, only has a finite money he is willing to spend, so I hope Koeman spends it wisely otherwise we might end up like Sunderland – a nice new ground but no money to buy players.
Phil Walling
63
Posted 31/12/2016 at 11:42:08
Colin, you were saying the same about Martinez not too long ago – and then look what happened. Being cynical about the future is the only positive one can get out of supporting Everton!
Jeff Armstrong
64
Posted 31/12/2016 at 11:45:30
Brian, Van Dijk was already at Celtic when Koeman joined us and Mane already at the RS. He would have struggled to bring them with him.
Jeff Armstrong
65
Posted 31/12/2016 at 11:48:25
My mistake re last comment, Van Dijk was of course at Soton when Koeman left, not Celtic.
Ben Dyke
66
Posted 31/12/2016 at 12:00:21
Trying to put a positive spin on things, is it not fair to say that this league this year is full of surprises. Hull were bottom but I saw them play brilliantly on the opening day and they played great against city the other day.
I think we all have a mentality that we should trouble teams purely because they are below us in the table and it's unrealistic. Every team in the premier league gets about £100m a season at the moment just for being there and there are terrible teams, just some struggling for confidence, like we are.
Tony Hill
67
Posted 31/12/2016 at 12:02:17
Without leaders in the team and a basic change of attitude, we will go nowhere very far. We lack bravery and strength of character throughout.
Colin Glassar
68
Posted 31/12/2016 at 12:05:40
True, Phil, but Martinez did say he wanted/needed 6-7 new players after season 1 and he got, I think, 2 (plus the return of some loanees).
That's why I'm hoping Moshiri is more willing to support this manager in the transfer market. If he doesn't, then bottom half is our destiny for years to come.

Paul Smith
69
Posted 31/12/2016 at 12:09:24
Koemans idea to change a winning team didn't pay off and he was too stubborn to make the changes needed to get to the next gear when the game was 1-1. He wants to criticise himself for a change especially knowing he is the highest paid and should be getting more out of himself.
I notice the usual crowd cant wait to blame Barkley for some parts of this ordinary display. Never an excuse for Ross is there? Like the obvious one – he'never played as just a midfielder (the only time he has with Besic he ran the game an scored a whopper, but oh the excuse, it was only QPR) . Every player in the midfield gets some sort of reprieve for a bad performance but not Ross.
Across the park they have a player become England captain through pure support an they know hes grim. They back him though. They even back Barkley but for some reason he's got fans here that cannot wait to highlight any tiny error.
Even Gary Neville stuck with the narrative last night when he pointed out Barkley not running to the back post as a mistake. That's absolutely laughable. I was glad when he rescued a point an screwed the sky sports script of how to strip down a lads game. We haven't even had the best of Lukaku due to form and Barry who is the slowest player in the league became our top player.
Doesn't that address the teams level and form? How is Barkley going to excel in that? But do the genius experts give him this like they would with Dele Alli or Kane when he was awful for weeks? Give the lad a midfield role – he can't be worse than Barry. Then judge the lad in his best position.
Patrick Murphy
70
Posted 31/12/2016 at 12:10:48
David Moyes a few years ago said that his Everton team could manage themselves but today it looks as if Everton are unmanageable. Too many old heads set in their ways, too many players unable to perform the basic tasks such as passing and tackling, there are no partnerships at all in the team and it looks from the outside as if every player is playing for themselves as an individual.
Tim Howard speaking to the Echo in November 2012 said: "From the day I walked in here, and I have been here seven years now, this is an easy place to come to work" he says. "For a new guy coming in from a foreign country, it's an easy place to come and adapt.
"Everyone gets along, and the egos are very few and far between, which is different to most clubs. In fact our biggest players have the smallest egos and that's hard to come by.
"The manager's recruitment is the biggest part of that. He does the medicals, watching them in terms of talent and quality, but he also thinks the character is very important.
"The one thing he's going to be able to do is even if he brings in a guy who maybe does have a suspect character, he believes in his own ability to get him to conform to our ways.

"Of course you're not always going to get it right. You've got a bunch of athletes with a lot of ego and pride, which we're trying to gel together and have that mesh. But the manager's done a great job in terms of not being scared to say 'you're not a good fit here, get going.' That shows a real strength of character."
Could a current Everton player say similar about the present set-up? I suspect not – and that could be the underlying issue with this Everton 'team'.

Paul Swan
71
Posted 31/12/2016 at 12:25:15
With a change in manager, it is normal to see some sort of bounce due to a change in style, which brings (at least in the short term) renewed optimism that good times are ahead. Unfortunately, if you asked the majority of supporters "What system or philosophy does this guy have?" They would be completely at a loss. It is just like watching Martinez's teams most of the time. The football is utter dross, the lack of passion is astounding and the piss-poor team management and decision making is criminal.
On a separate issue did anyone listen to the live commentary on Radio Merseyside for last night's game? We scored twice and the commentator was so low key I actually thought both goals had been disallowed. Contrast this to their coverage of any of the Shite's games when a goal goes in – people around the commentator must be searching for a defibrillator as they get so excited.
Kevin Tully
72
Posted 31/12/2016 at 12:26:21
Whilst it's correct to look at the manager and his tactics etc... not everything that happens on the pitch is his doing! Another thread that basically blames the manager for everything from a misplaced pass to the shitty ref.
Barry is past it, the options are extremely limited. The young striker everyone has been screaming out for missed a golden opportunity to win the game. Davies is getting as many minutes as his talent dictates. He is not the next Rooney.
I think 90% of Blues realise we are going through a transitional period where older, one-trick players such as Jagielka, Baines, Mirallas et al will have to be replaced. They will not take us any higher than mid-table. (Yes, that wonderful Moyes average of 7th spot is mid-table.)
Accept the truth about this squad, who have been good servants, but they are limited players. After the next two windows, we will see what Koeman is made of; then we can pick apart how his farts smell.
Mark Andrews
73
Posted 31/12/2016 at 12:39:00
Meet the new boss, same as the old boss.
Stan Schofield
74
Posted 31/12/2016 at 12:41:18
I've supported Koeman's appointment from the outset, but half-way through the season I have diminished confidence in his management. Yes, he needs time to get us to a consistent top-6 European qualifying position, but realistically I would expect some evidence of some improvement sooner rather than later, reasonably NOW.
Player for player, we are clearly better than the likes of Hull, but there seems to be a problem of organisation, system, tactics, use of a players. These problems need sorting out before performances of individual players are focused on too sharply. Koeman has the highest responsibility here, higher than that of individual players, and his job is to get improved results with the resources at his disposal. His tactics seem unclear at best.
Mike Oates
75
Posted 31/12/2016 at 12:43:53
Last night's performance is a definite improvement than what we witnessed prior to Arsenal, but Koeman has a dilemma which the current squad can't solve. To get the best out of Lukaku, you need quick ball up to him, in the channels or easy to feet. The earlier the ball, the better chance he has of creating a chance.
Last night we had so much more of the ball than we had at Leicester but we used it poorly. Our midfield we're too slow getting it forward or gave it any cheaply. Gueye, for all his defensive, energy qualities puts players into trouble with his slack passing. Their second goal was down to his poor pass to Mirallas.
Both Gueye and Barry started poorly with lost tackles, poor passes and the tone was set for the first fifteen minutes. If we try to go through midfield with the current set up we will starve Lukaku and also put stress on our slow defence when we give the ball away in dangerous places.
Coleman seriously needs to deliver better balls into the middle. He gets himself open so many times but his final pass is often dreadful. Baines gets forwards far less now days but his final ball is often terrific.
I thought Barkley was good last night, kept it simple when it needed it and also linked well up front, and of course scored a good goal.
The problems are glaring and need and wil be sorted by Koeman, we are short in central midfield, at centre half, at left back due to age issues, and we clearly need another 10-goal-a-season forward and a new goalie. It won't happen overnight and we as fans need to understand that.
Derek Thomas
76
Posted 31/12/2016 at 12:51:14
When you're selling sausage, you don't sell the sausage, you sell the (idea of) the sizzle.
Moshiri bought the Koeman sausage (pity he isn't German for obvious joke potential reasons) on the strength of the Barca/Cruyff/ Holland/total football/etc sizzle.
I don't think he's the right man or the job... yeah I know people will quote the Kendall 'struggles' pre glory. I feel He'll walk/ leave due to mutual agreement/etc.. Oh, they might jazz it up with some excuse or other. But at the moment he's just throwing money at it.
For a £6M P.A. Coach we should be seeing some improvement, nothing has changed since Martinez left... and more worryingly, we're still giving sick-notes and pensioners contracts.
The name on the front of the tent has, in theory, changed, but just who is in charge of the train set? – the same old fat controllers?

Tony Abrahams
77
Posted 31/12/2016 at 12:57:32
Kevin Tully, fuckin hel,l mate? Davies is not the next Rooney, who only happens to be England's record goal scorer!
I'm prepared to give Koeman a bit of time because he did take over a very weak minded, fragile squad, but it's not very pretty at the minute and also utterly boring watching him constantly pick teams and choose tactics that our players are not very comfortable with.
You say Barry is past it, but the manager has few options at the minute. Do you think Everton would have gotten back into the game last night without the introduction of the kid whose talent is getting as many minutes as it deserves?
Mike Dolan
78
Posted 31/12/2016 at 13:12:31
On the bright side, as we reach the turn of the year we are are actually have the more points accumulated in than the last three years. It's no great secret that the Everton defense is both old and slow. We have more players over 30 than the six teams above us combined. This is not going to change this season no matter how great a transfer window we have or whoever the manager is.
Koeman has been able to patch things up with temporary fixes like Stekelenburg and Williams and that has us turning the corner a little . It is just not realistic to shorten the already tiny squad by not selecting Jags, Baines, Barry, Skek, and thereby relegating them to the same status as Kone, Gibson, Niasse. Like any other team we need to rotate our players but just now we have a very short hand.
We are playing better now. Barkley, who was given way to much responsibility to soon, looks like the midfielder we have been praying for. Davies is going to be a player. Holgate is total class. Calvert-Lewin looks to be class player too.
This team is a million miles from being good but we are going in the right direction. We are climbing out of the toilet so it might be a while before we start smelling good.
Happy New Year Evertonians . Keep the Faith.
Kevin Tully
79
Posted 31/12/2016 at 13:17:29
The lad looks a decent player, Tony. That's all I see though mate, not a world class midfielder, which is what we require to take us to the next level and unlock Lukaku's potential.
He could quite easily play the next 10 games and stink the place out, which would ruin the lad. Bringing him on for the odd half an hour is handling him in the right way. It already looks like you and a few others have decided he's the answer to all our current problems. I don't see it myself.
Phil Roberts
80
Posted 31/12/2016 at 13:19:02
Phil Walling (#57)
2nd Youngest team sent out by an Everton manager in since the premier league started? Boro at home 17 February 99 - aged 23 yrs 1 mnth 24 days. Manager = Walter Smith.
Not the youngest because Kendall Mk III against Bolton 28 December 97 (Ferguson hat-trick) put out one a month younger.
We have only put out a team with an average age of under 25 in 11 games since the Premier League started. 9 were by Walter.
That was the season where 29-year-old Super Kevin Campbell kept us in the division. Maybe that is why he changed his mind. The kids were not up to the job.
Interesting – but I suspect these facts (crikey, I sound like Rafa Beneathus) will be a surprise to most.
John G Davies
81
Posted 31/12/2016 at 13:23:57
Kevin,
Not at all the answer to our problems. He is after all a teenager.
At the moment, he is a better option than a couple of our current starting eleven. If we sign Schneiderlin, Tom probably won't start unless it's during the Afcon
Ian McDowell
82
Posted 31/12/2016 at 13:32:22
We are 7th with a squad that we all agree requires major surgery. So far so good for the season with the exception of the League Cup.
Dean Adams
83
Posted 31/12/2016 at 13:37:42
Just a few short weeks ago there were plenty on these pages saying we were in a relegation fight and Koeman was clueless because "they" could see the bigger picture.
Well, we are currently 7th and all I see is a manager who has been open with the fans, this squad, who possibly were at one time the best we have had in the premier league era, are simply not good enough. We all thought that BBS was bad at the end, although some of us were against him from day one and it is proving that he did more damage than we imagined. After this window we may just see some green shoots of growth.
Oh and Mr Tully, once again I find myself agreeing with you, see you Monday!!
James Hughes
84
Posted 31/12/2016 at 13:55:25
Whilst still not presently convinced about Koeman, he is still an upgrade on Martinez and his non existent coaching methods.
Any fan who expected an instant transformation was deluding themselves and only need to look at the Sky favourites and the time it took to win the league to understand that. They have had billions pumped into them and the the wonderful EFC quite simply is still waiting for the same 'promised' war-chest to appear.
Whining like a spoilt brat and slagging off all and sundry is not the way forward and is not going to win us anything
I particularly loved the Live Forum last night and the intelligentsia who post as fast as their sparse brain cells would allow them. My own favourite was the call for us to be relegated so a revolution could take place. It now seems to be a place where 'fans' vie with each other over who can belittle the team & manager first and longest.
Great to be a BLUE
Roman Sidey
85
Posted 31/12/2016 at 13:57:54
I have rarely seen so many talking points after a 2-2 draw. But here is my two cents, keeping in mind I was off my head watching last night's "performance":
Lukaku – The biggest problem he has is his first touch. Improve that and he will score 50% more goals, minimum. It is the team's approach to him that needs to change. You don't spend £28m on a striker and make him change his style of play.
Barkley – had a pretty decent game, but his decision making could have been a bit better. Either needs to sit deeper, or go higher, not both.
Barry – Not a great game by the old fella but not the worst on the field. His best games obviously coincide with Gana doing what he does best, which was not last night.
Baines – I said on last night's thread that he is finished as a footballer. I would tweak that and say he is finished as a defender, but could do a job up the left wing still. Teams are just having too much fun down our left lately.
Jagielka – Finished. Get rid. If he starts another match for Everton sans injury/suspension to two of Williams, Mori and Holgate, then I just can't see us winning. He is the epitome of Moyes's anti-football and now can't even mark a player. Never been a captain's arsehole either. This bloke would honestly be the worst passer in my 7-aside coed team. Maybe he'd do a job in goal when Robles inevitably falls out of favour again.
Davies – A talent, sure, but of the three youngsters currently getting time (Holgate and Calvert-Lewin the others) he is the one I'm third most excited about. He definitely sparked a bit of life into the side last night, but needs to know his pace as he backed himself a few times and is as slow as most of our players.
Koeman – I'm neither here nor there on the manager yet. What I do know is that, had we kept the same team on the pitch as the Leicester game and lost, people on here would be crying out for rotation. Don't deny it. I honestly think the manager saw three matches in quick succession, with the middle of the three appearing the "easiest" and selected his side accordingly.
All in all, this January is massive for the club, and I would happily have Schneiderlin added to the midfield and another centre-half who can actually pass a ball more than 12 feet without looking like a complete clown.
Steavey Buckley
86
Posted 31/12/2016 at 14:05:00
Koeman made the mistake of changing a winning formula and team. Peter Reid of the great Everton Howard Kendall team said that there is nothing like winning, no matter how many games are played. Tell that to Koeman.
The back 3 of 4 last night looks decidedly ancient with Jagielka, Williams and Baines, and with Barry in midfield, makes the total of 4 from the past. Holgate and Funes Mori are the future unless Koeman wants to get rid.
Ray Roche
87
Posted 31/12/2016 at 14:18:39
Kevin Tulley,
Davies is a young man of huge potential, but no one is saying he's the next Rooney, you know, England's top scorer as Tony A points out. I don't see any real evidence of Tony "and a few others have decided he's the answer to all our current problems." Like me, they're watching an emerging talent who, if handled correctly, could POSSIBLY become a mainstay in Everton's team in the future.
As for Schneiderlin, he's played 11 minutes of football this season. Even if he signs, he'll not be match fit so he's not going to set our world on fire just yet, is he?

Roman (#85).
Roman, your assessment of Jagielka may have a kernel of truth but it's said in such a disrespectful way that I think you might still be pissed. And there is nothing in Calvert-Lewin that suggest he'll outshine Davies in my (sober ;-0) book.
Trevor Peers
88
Posted 31/12/2016 at 14:18:45
The Live Forum is a place to vent your spleen, nothing wrong with that, most of the comments are made during the heat of the battle and can be taken with a pinch of salt.
The real debate is found here, and I think most of us were frustrated and saddened that Koeman changed a winning team. The result was so predictable and it was only when he made changes, did we look like winning the game, which we should of won easily.
Koeman invited the criticism; it was deserved and self inflicted, and the only hope is that he learns quickly, or we'll be faced with a season of boring mediocrity, no matter what position we end up in in the table.
Rob Halligan
89
Posted 31/12/2016 at 14:31:20
If, as expected, Barry cannot play two games in such a short period, then Tom Davies should start on Monday, alongside Gueye. Revert back to the defence against Leicester as well
Robles. Coleman, Holgate, Williams, Funes Mori, Baines. Davies, Gueye, Barkley, Mirallas. Lukaku.
Kevin Tully
90
Posted 31/12/2016 at 14:31:47
Ray – on nearly every thread I've read, there has been a lot of posters calling for Davies to be included from the start. I'd like to know why? He looks a decent player, but from the little I've seen of the boy, he looks a yard short of pace to me.
I don't see the "huge potential" as you do, and a few others. Probably another journeyman player in the mould of Rodwell if I'm honest.
Like most Blues, we are desperate to see our own do well, but it doesn't half cloud our judgement.
Tony Abrahams
91
Posted 31/12/2016 at 14:35:48
Kev 79, that last sentence is nearly as bad as the Rooney shout before mate.
Ray Roche
92
Posted 31/12/2016 at 14:41:37
Kevin, I don't think anythings clouding my judgement, something might be by twelve o'clock tonight, though
I think that, for an 18-year-old he shows commendable strength, vision and technical ability. He isn't afraid to speak out to senior players... As for the shortage of pace, is he slower than Barry? Or Gibson, who would no doubt be on the bench if fit?
And yes, I'd have offered him a start last night against the bottom placed club, away from the physical gaze (and voice) of a Goodison with it's groans and moans at every mistake. Our game, and Barkley's, went up a notch when he brought his endeavour and ability to the game.
Roman Sidey
93
Posted 31/12/2016 at 14:46:21
Ray, when I said I was off my head, I didn't mean pissed. I meant I was raging at how frustrating it is to watch Everton at the moment.
I don't know if Calvert-Lewin will be better than Davies or vice-versa. I said I was more excited about CL than Davies. That is more down to position than anything. CM is a much harder position for a youngster to pin down early than up front.
John G Davies
94
Posted 31/12/2016 at 14:49:47
Kevin,
It's all opinions,mate; we as fans see different things. Out of interest what would be your selection in midfield v Southampton?
Paul Tran
95
Posted 31/12/2016 at 14:50:12
Kevin, people on here have had a dig at me for ranting against the sentimental 'one of us' nonsense.
I think Davies is worth a shot as he shows an interest in winning the ball, when he gets it he runs and/or passes forwards and he's happy to take a defender on. And he's got a bit of devil about him. Until we buy some superstars in the next few weeks, who else is doing that?
Tony Abrahams
96
Posted 31/12/2016 at 14:58:33
Kev, Rodwell was a very good footballer, but his mould was of one with very little heart, we all remember the phrase. If he would have had a bit of what Tom Davies showed last night, I'm sure he would have had a very good career.
So if he's to become another journeyman, it definitely won't be in the Rodwell mould, surely?
Jay Wood
97
Posted 31/12/2016 at 14:59:40
In the game I watched last night, the problem was not with playing Jags and Williams together. And yet various posters claim they were a liability, conceding free kicks and possession, easily beaten in the air, missing tackles, showed poor positional play and were run ragged due to their slow speed and stamina, responsible for any number of howlers and gaffes.
The miniscule detailed Stats Zone data (and my own eyes) suggests otherwise. Williams had the 2nd highest completed passing percentage of the team on the night – 91% (Mirallas was best with 94%) – with 49 of his 53 passes finding a blue shirt. He won 100% of his tackles – 3 out of 3 – and 50% of his heading duels – 4 out of 8. He made 9 successful clearances with his head, a further 11 with his feet and recovered the ball for his team 6 times after others had lost possession. He made 1 interception and 1 block. He made ZERO errors that either led to a goal, or as much as a shot. He committed a single foul all game, and that was in Hull's penalty area from a corner.
By contrast, Jags completed 81% of his passes – 34 out of 42. He won 2 of 3 tackles, made 1 interception and 1 block, won 6 out of 11 aerial duels, made 6 headed clearances and 10 clearances with his feet. He committed ONE SINGLE FOUL all night – the one he got booked for when the Hull player ran in from his blind side as Jags focussed on clearing out the ball. It happens. It was not a result of him being skinned or being in some way ponderous. Like Williams, he made ZERO errors that led to a goal or even a shot.
I also recall how (at least twice) one or t'other stepped up to catch Hull players offside.
Now Barry and Gueye together in midfield is another story. Barry had the worst pass completion rate on the night – 71%.
I'm sure I wasn't alone in the opening spell of the game during which Hull inevitably scored, such was the pressure on on goal, that I was screaming for Everton to wake up and get their 'king heads out of their arses. Barry and Gueye were offering no protection in the centre of the park and we were extremely porous. Both were guilty of some truly woeful passing – directly into touch, even – which often stopped a promising counter attack before it had chance to develop.
Now early season Barry and Gueye looked the real deal together, but there was always the nagging doubt in my head could the ageing Barry, in particular, be expected to play every game and to that level? In recent weeks, we have seen those early season levels fall away. As has been the case in previous seasons, not just this, the frequency in which he gets his pocket pinched from behind because he is slow to move the ball on, is on the increase.
The same could be said of the Jagielka - Williams partnership which gelled well at the start of the season. But then, as I've mentioned on these pages previously, Jagielka's form fell off a cliff and it was merciful to remove him from the front line.
That is not the same (as Roman Sidey wishes to claim) that Jags is 'finished' as a footballer. I don't agree. A nailed on regular starter? No. But someone who If he starts another match for Everton then we won't win? Hyperbolic bollox. Jags can still do a job.
Am I giving my full endorsement to Jags and our other over-30s? No. Indeed, on the recent thread announcing the contract extensions for Baines and Barry, mine was a minority voice questioning the efficacy of such a move, advocating a less benevolent policy akin to Arsenal's who only offer 1 year extensions for players over 30.
Are Jags and Barry the future? Are Stekelenburg, Williams and Baines the future? No, but they are part of our present. They are not the under-30s in their prime that played for Moyes or even Martinez.This is the hand Koeman has been dealt. It is one of many issues he has to resolve.
Am I entertained or enthralled by the football Everton currently play? Most certainly not and it says a lot about the quality of the PL that as poor as it is, we are still comfortably 7th.
The January window will tell us much. About Moshiri's financial commitent, about Walsh's scouting nous, about the player profile and style Koeman wants to impose on the club. Claims that by the New Year we will be in a relegation struggle and calls for Koeman's dismissal are, for this poster at least, hysterical over-reaction.
Ray Roche
98
Posted 31/12/2016 at 15:05:20
Jay#97.
Excellent post.

Roman, OK, you weren't pissed .just pissed off. Like many of us.
Kevin Tully
99
Posted 31/12/2016 at 15:11:10
John (#94) – Seeing as we currently only seem to set up one way, with two holding midfielders, Barkley (too far behind) Lukaku and two wide men, then our options are extremely limited.
Has Gueye now left for the AFCON tournament? Is McCarthy still injured? If so, there is probably no other option but to put Davies in alongside Barry and Mirallas one side, Valencia / Deulofeu the other.
We are extremely short on numbers at present, so I imagine we will see just how good the lad is, I sincerely hope he does make the step up. Ridiculous we don't have another striker to play alongside Lukaku. Talk about being predictable.
Happy New Year anyway lads. Let's hope we see a few decent signings come in.
Roman Sidey
100
Posted 31/12/2016 at 15:17:50
Quote those stats all you like, Jay. What I have witnessed over the last few seasons in Jags is a very limited footballer getting worse at his job.
What are the stats on positional mistakes? He may have completed that many passes, but most of them were across the back and added nothing to overall movement of the team. Is he the only weak link in the team? No, but I do think we are a better team when he is not playing.
I do agree that a relegation struggle is complete overreaction and that 7th in this league with this lot of players is probably a true indicator of where we're at.
Jim Jennings
101
Posted 31/12/2016 at 15:30:03
Jay (#97),
The mountain of stats you post only tells half the story. Your assertion that "both Williams & Jags "made ZERO errors that either led to a goal, or as much as a shot" is fundamentally flawed by watching the first 10 minutes of the game, as ToffeeWeb's very own Reverend Ian Paisley (Ciaran McGlone) tried to point out to you on another thread.
Watch the build up to the first goal. Williams fails to react to danger on our left side, passes off a runner to Mirallas and Watford win a corner. As Carragher pointed out on Sky after the game, Mirallas was dead right to call Williams out on this.
From the resulting corner, Jagielka fails to track his man, who flicks it on to Dawson who buries it. Goal as a result of errors / poor play from both our centre halves.
What the stats don't also tell you, but watching the game does, is that when Jags & Williams play, their natural inclination at this stage of their career is to sit deep. This means the space between defence and Lukaku is much bigger. Barry and Gana are therefore being asked to cover more ground. Barry simply doesn't have the legs to do this. I suspect this is why he was withdrawn. I also suspect that recognition of this is why Funes Mori was primed to come on until Snodgrass buried his free kick, ie, revert to a back three / five to cover for this deficiency.
Completing > 90% of passes square to another defender inside our own half or only conceding one foul doesn't mask this.
Koeman has a real job on his hands in phasing out some of the older heads, adding some more energy, leadership and a winning mentality, while not upsetting the harmony within the squad (assuming there is some).
Jay Wood
102
Posted 31/12/2016 at 15:42:57
Roman @100.
There is obviously a distinction between empirical evidence (that is, what we can determine by observation) and statistical evidence. Neither should be considered in isolation from the other and even taken together, especially on something as subjective as an individual player's or the collective team performance, conclusions can be varied determined by something as simple as an observer's own preconceived ideas.
You, clearly, do not rate Jags. Indeed, you go as far (on the match day thread) to state: "Anyone who thinks he isn't a poor footballer is sentimental to a fault."
Judging by your comments you can offer us lots of empirical evidence based on your own observations, not just from this season but over several seasons, to support your claim of Jagielka's "many positional mistakes" and evidence that he is "a very limited footballer getting worse at his job."
I'll make it easy for you. Offer examples from just last night's game that he (and Williams, as a pair) made "many positional mistakes". Because without such empirical evidence, your statement is a limp one with nothing to validate it.
That his consistency and standards are in decline, I won't dispute. I do, however, dispute your (and others...) claims about his performance last night. Jags and Williams both did their jobs effectively last night. Any problems we faced resulted from failings by other players, in other areas of the pitch.
Mark Morrissey
103
Posted 31/12/2016 at 16:04:26
Jay Wood, stats can be misleading. Jags and Williams were poor. Seems your opinion is different and not only different but wrong. They were awful just like the rest of the team. Your posts are as long and as boring as the game was.
Phil Sammon
104
Posted 31/12/2016 at 16:14:26
How were they awful, Mark? I'd love to see these stats that prove Jay wrong.
He's been below par this season and, personally, I'd drop him. But he didn't do a whole lot wrong last night.
Jay Wood
105
Posted 31/12/2016 at 16:23:16
Jim @ 101.
Read my post to Roman @ 102 in which I acknowledge the difference between empirical (observed) evidence and statistical evidence.
Thank you for being THE FIRST to actually offer an example of empirical evidence, rather than simply negatively labelling Jags and Williams as many have.
To analyse your own analysis. The back four was under continued intense pressure at the start of the game because Hull were pouring through an absent midfield which weren't even close to getting tackles in, or cutting out the flow of passes that were coming through the middle and down our flanks, resulting in numerous crosses into our penalty area.
For some reason, in the build up to the first goal, Baines is simply absent from the space you would expect him to occupy. A ball is played over the top into that space, which their speedy overlapping wing back runs on to, already well beyond Mirallas. There is also a LOT of ground for Williams to cover to close off the Hull player, who definitely has the run on all.
Williams, with a central attacker on his shoulder, has to make a decision in that split second: attempt to catch and close the raiding wing back, or hold his central position and stick with the player closest to him. Who can say how the first scenario would have played out if he had opted for that? Would that have left the central attacker Williams stuck with space and time to score, if the wing back had cut the ball back to him with Williams now absent?
As it was, was Williams's choice a bad one? The speedy Mirallas got a sliding block on the cross from the wing back. Jags, facing his own goal in the 6-yard box, made a good clearance from a tricky deflected cross that drew praise from the commentator.
From the resulting corner, you say Jags lost his man. He didn't. He and Gueye both jump together to defend the ball. Sometimes you have to give praise and acknowledge the opposition player did well and Curtis did do well in that play to get across both of them.
The player most culpable (IMO) was clearly Barry as mentioned by Koeman in his post-match comments who dreamily lets in Dawson to shoot and score.
As regards to the tendency of both to sit too deep, there is some merit in that criticism, but not wholly true. Early season our defensive lines – both the defence and midfield – when out of possession were much more compact. We lost that, although it was in evidence again (eventually) against Arsenal. Once again last night, out of necessity at first because our midfield went AWOL, the defence were pinned back in and around our own penalty area. As we eventually got to grips with the game, that defensive back line advanced more, but the off-colour midfield was not effectively compact enough all game.
So no Jim. I don't rely only on stats and data. I am also a keen observer of the game. And I stand by my defence of Jags and Williams against the (unjust, IMO) criticism levelled at them.
Perhaps other posters' definition of what constitutes 'howlers' and 'gaffes' is different from mine. And that is more to do with semantics than empirical and statistical evidence.
Jay Wood
106
Posted 31/12/2016 at 16:25:42
Mark @ 103.
Whereas your posts are ...?
Tony Abrahams
107
Posted 31/12/2016 at 16:28:30
It's a team game, and although Carragher pointed out the defensive flaws of our centre--back pairing last night, I would have loved to be in the studio, to ask him if he would have been so quick to push up, if his midfield and forwards put so little effort into trying to close the ball/play down from the front?
Mike Allen
108
Posted 31/12/2016 at 16:51:15
Knee-jerk reaction bollocks and it has been all season living in a dream world if you think January sales will make a difference. We ALREADY have players in the squad that could make a difference if only given a chance.

I would rather see the squad reduced by getting rid of a few. A settled side and formation is what's needed more than anything else – not bringing in more of what we already have.

Phil Walling
109
Posted 31/12/2016 at 16:54:08
With today's results, we are down to eighth,. But I suppose that's still 'seventhISH'!
Rob Halligan
110
Posted 31/12/2016 at 17:06:25
Phil, how are we down to eighth?
Jim Jennings
111
Posted 31/12/2016 at 17:08:42
Jay (#105),
Thanks once again for explaining what empirical evidence is. Honestly pal, I'd never have known.
I'd urge you to watch a replay of the first Hull goal. There's a great angle from behind the goal which shows Jags "marking" Davies. Gana is stood covering the area near-post on the edge of the six yard box. Jags loses his man. Not Gana. The fact that Gana tries to cut out the cross doesn't negate Jags losing his man, who flicks it on for Dawson to score.
As for the move leading to the corner, yes centre-halves have to make decisions. The point is that Williams didn't react to the danger either quick enough or adequately by squeezing the space between LB and LCB, instead making a poor decision to stay where he was and passing off Elmohamady (I think) to Mirallas. As Carragher alluded to in the studio, that is precisely the area Williams should have been covering. Which is what Mirallas was pointing out to him after the confession of the corner.
All I will say is I am glad you're not our defensive coach if you believe those two played no part in that goal. But then you wouldn't be absolving them merely to avoid acknowledging the flaw in your earlier claims that neither of them contributed to a shot on target or a goal.
Jim Jennings
112
Posted 31/12/2016 at 17:09:23
Phil Walling,
We are still seventh. And you're still a prize bore.
Mark Morrissey
113
Posted 31/12/2016 at 17:22:05
Phil, Hull are bottom and garbage. We struggled to draw with them. We were awful, all over the park. From front to back and side to side. Nervous, no guile.
Ross was stuttering with no invention, Lukaku left stranded as usual. Valencia running around on is own, Jags desperate in his effort to keep up. Williams arguing with Mirallas and Barry. Barry himself looking like he is stood in concrete.
Tom Davies tried, to be fair to the lad, but we were dire and Jags needs replacing along with Barry. They are getting cards between themselves because they are getting clumsy in their twilight. Teams that argue on the pitch and don't pull together don't win football matches.
This window is key. Sell Jags and Barry to Moyes, he'll bite our hand off. He needs numbers. We no longer need players of this age. Great servants but time to go.
Kim Vivian
114
Posted 31/12/2016 at 17:25:01
We are indeed still 7th – but now 9 points adrift of the pack with the whole league below seemingly 'concertinaing' towards us. The way we drop points, no upward trajectory seems likely for at least the rest of this season so we have to concentrate on what we have and try to keep at the front of the chasers.
Worryingly, I am struggling to see it just now and hope and pray for a return to our early season form.
This league table really is starting to sum up the state of football these days.
George Cumiskey
115
Posted 31/12/2016 at 17:32:01
I can't believe people are talking up Barkley's performance! Besides the goal, he was poor.
And to say the team are playing better is crazy; are we so low we are grabbing at straws? My god, what games have you been watching?
John Charles
116
Posted 31/12/2016 at 17:46:06
The problem with the Jags - Williams partnership is not necessarily their individual poor performances – though from my seat last night they did look poor. Rather that because they know they are so slow they play 10 yards further back than they should.
This not only pulls Baines and Coleman back, who are now having to engage forwards who are in crossing positions rather than near the half way line. It also drags the mid field back and Barry in particular does not have the legs to get up and down and is thus slow to both.
Finally, whilst they might make most of their passes, they more often than not go nowhere with them, and almost never step into mid field with the ball.
Phil Walling
117
Posted 31/12/2016 at 18:22:42
Sorry folks. Didn't realise BBC site had included WBA's result in table they published at 4:45!
We are still in 7th spot. Drinks all round!
Jay Wood
118
Posted 31/12/2016 at 18:25:01
Jim @ 111.
First up, dunno why you come on with the sarcasm when 1) I don't explain (again!) in my post to you what empirical evidence is; because 2) I thought we were having a civil exchange of differing opinions and interpretations of the game. My bad, I guess ...
And – no! – I'm not trying to absolve our centre backs from blame as you wish to attribute to them just to maintain my position. I've offered you a very plausible counter to your own reading. Or are you claiming you are definitively right and that your assessment is the only acceptable one?
Whether you (or I...) are right or wrong, from the 300-odd posts across various threads on last night's match, your single example of what you consider the culpability of our centre backs remains the only concrete offering I've seen as 'evidence' of the 'many' howlers and gaffes several posters attribute to them. And it is one that can be challenged, as I have done.
Care to put up more examples for consideration, Jim? After all, there are so 'many' to choose from.
Oh! And let me throw in another observation counter to a populist one. Namely, that the Funes Mori substitution for Mirallas was a negative one. This is my take on it.
The Tom Davies substitution for Barry gave us more energy and drive from midfield. Calvert-Lewin for Valencia gave us a more potent double threat up front as he played more alongside Lukaku rather than out on the flank as Valencia largely did.
We were clearly the team in the ascendancy in the last 10-15 minutes of the game. Davies and Gueye anchored the midfield. Barkley was picking up the ball and causing doubt and confusion in their ranks with his powerful forward runs. Baines (his cross setting up the equaliser for Barkley) and Coleman (his cross set up what should have been the winner for Calvert-Lewin) were consistently at their most advanced and threatening than at any other stage of the game.
To ensure that high press from our midfield and attack was maintained as we went in search of the winner, Koeman withdrew one of his (spent) attackers without sacrificing the transformed attacking threat we carried (as mentioned), but as a wee bit of insurance went 3 at the back, thus absolving Baines and Coleman from defensive duties and releasing them to support the attack.
And if Calvert-Lewin had put away his gilt-edged chance, it would have been a winning strategy.
Finally, as I don't have the dubious benefit of Jamie Carragher's after-match analysis, I have to do my own. It's good to exercise the ole grey matter, rather than simply echo the opinion of the 'sages' or TW populist-sentiment-of-the-day.
Happy New Year, 'n all that.
Jim Jennings
119
Posted 31/12/2016 at 18:59:42
Jay,
Apologies for the offence caused by my sarcasm at your references to empirical evidence, along with the (observed) explanation.
I'm not sure why you are challenging me to give examples of "many howlers" since I never claimed there were many.
I merely countered your assertion that: "Like Williams, he (Jagielka) made ZERO errors that led to a goal or even a shot" by referring you to the first goal and the move that led to the corner from which it came. Which by the way I backed up with observations and a reference to the replay of the goal which if you watch it, is undeniable that Jags was marking and lost Davies for the goal.
Now you, Opta or whatever you were referencing may not deem these as "errors". Failing to track your man at a corner and not covering your full back to me are piss poor defending. Both of which led to the goal.
My observation is that when Jags & Williams play in a back four, our midfield are asked to cover too much space due to the tendency of the two lads to sit deep. This is not helped by Lukaku who doesn't seem to be charged with or have the willingness to press high up the pitch. The result is an imbalance.
That's just my take on why Funes Mori was readied to come on, ie, go three at the back, let Baines & Coleman push up and squeeze the space in midfield. So it's not as straightforward as "attacker off, defender on = settling for a draw". Not when it means pushing your full backs higher, going two up top and playing Barkley in behind them. Perhaps not a populist observation but there you go.
Far from echoing Carragher's analysis (which I believe he was correct on), I'm putting forward my own. Individually solid they both may be, my observation is that playing both in a back four with Barry in midfield is not sustainable with the high intensity of Premier League football.
Dean Adams
120
Posted 31/12/2016 at 19:17:18
As fascinating as Carragher might sound in his analysis, he is a prize prick. A point that he deliberately ignored was that this season Williams has played all over the back three, never having the consistency that staying in one position brings. The last three games have seen him play right side, centre of three, and latterly left of the central-defender pairing. If you seriously think that it is easy to constantly change those positions, then I would suggest you have never played there.
Carragher and that drip Redknap are both ex-RedShites, with an agenda and most of what they say in one breath is the exact opposite of what they will say in the next. Williams was a solid player for Swansea, who having lost his services are struggling near the bottom of the table. That is no coincidence and he has also been solid for Wales when called upon, by being played in one position, so as to maximize his ability. He never was quick, that is not his game, but if you watch him you will see that he still has much to offer.
David Barks
121
Posted 31/12/2016 at 19:33:15
Sorry Dean, stop being paranoid about analysts having agendas. Our centre-backs are far too slow and lose out in far too many aerial battles. They are constantly out of position and then scramble, leaving massive holes in defense. Carragher doesn't have an agenda, he's doing his job.
Roman Sidey
122
Posted 31/12/2016 at 19:44:12
Yeah Jay, you are obviously made up on the Jagielka topic. I am not saying you are wrong, I just don't rate the guy at all, and rarely see him do anything that justifies a) his high wages, b) his captaincy of the club, and c) the benching of Funes Mori.
I had the benefit of listening to Carragher after the match. RedShite he may be, but he makes a hell of a lot more sense than you do when criticising the movement of our centre-halves.
If you watch Koeman on the sideline at certain times, he is seen to tell the team to be more compact, which is exactly what Carra and Henry were saying in studio. I have a cynical view of most of our squad that lends to me thinking they either don't listen to instruction well enough, or don't have the ability to follow said instructions.
Like has been said on a few other responses, if you watched Jagielka last night and were happy with his performance, your standards are very low.
Jim Bennings
123
Posted 31/12/2016 at 19:45:11
It's so frustrating and at times just plain depressing supporting a team that never appears to be going anywhere and never appears to progress above mediocrity.
It's made even worse when your city rivals are challenging for all the major honours and despite them having their own woes over the last few years with dodgy managerial appointments they have now hit the jackpot with a manager that has totally changed the psyche and dynamic of the football club.
What we see at Everton, year-in year-out, is the same predictable mediocre results and give or take the odd season, the same mediocre league position. Even when we have a good 5th place finish we are back to mediocrity the following season constantly told that we are a work in progress and we will take time to develop but that's all it ever is, we never see any end result do we?
We went backwards in Martinez's last two years, never quite achieved anything in 11 years under Moyes and so far the Koeman era has not produced anything different, a team that can only play at snail pace and looks so lethargic it's like watching chess matches.
I don't expect Everton to have 10 years in the Champions League winning endless silverware but just once I'd like to see Everton Football Club do something that shocks me, have a season where we score goals for fun (when was the last time we had a entertaining big win by scoring four in a game?)... win a Merseyside derby, win a domestic Cup, anything just something that doesn't always end with the usual predictable hard luck story that has dogged us for years.
We just want to see something different, is that really asking too much?
Dean Adams
124
Posted 31/12/2016 at 19:49:58
David Barks, it is clear you have very little idea of how life works, good luck. You will clearly need it. You are of course, just like everyone, entitled to your opinion. I haven't criticised yours, so I expect the same respect in return. Just in your case it seems, I will always be disappointed.
Tony Hill
125
Posted 31/12/2016 at 19:59:53
Yes, Jim (#123), it's not about tactics, substitutions and so on; they are all capable of different interpretation and debate and that's as it should be. What we need to change is an entire culture at Everton and that needs someone of exceptional force of character. At the moment, I don't see a candidate.
I accept the argument that money is dominant but, as Jim says, I want our club and team to offer, at least, excitement. Above all, I want us to be unafraid.
It's been a long time.
Chris Williams
126
Posted 31/12/2016 at 20:38:54
I just want to see some progress, some improvement, some green shoots.
Some fucking hope really.
Happy New Year, all!
John G Davies
127
Posted 31/12/2016 at 20:42:43
Jim 123.
It is, mate. But we are in it until the end. Never give up.
As for that "massive club" as the media likes to call them, they have never won the league they play in.
27 years without a league title. So, to use a popular phrase... FUCK THEM!!!!
Brian Williams
128
Posted 31/12/2016 at 20:50:57
There seems to be an element of "I'll show you how clever I am" and "I know better than you" creeping in on here lately. I guess it's a symptom of frustration and general unhappiness.
We should all try to remember why we're here though. Just try to look on the bright side, this time tomorrow we'll have five new signings...! Now where did I put those tablets?
Dave Abrahams
129
Posted 31/12/2016 at 21:06:12
Jim Bennings, Tony Hill, Chris Williams, John G Davies and Brian Williams add me to the list, we don't ask for much, just a good football team that plays without fear and does their level best every game.
We've been waiting a long time for a team that goes out and does this without letting you down so many times a season, it does frustrate and depress you but maybe somewhere over the rainbow our day will come, make it soon.
In the meantime, Happy New Year to all Evertonians.
David Greenwood
130
Posted 31/12/2016 at 21:08:57
Tony @125 and the likes of Kevin Tully in his posts are absolutely bang on. What's needed more than anything is a culture change, on and off the park.
I think we are at the very early stages of Koeman and Moshiri addressing this. It's not going to be easy, and they won't get it right all the time, but I'm convinced we'll get there.
Jay Wood
131
Posted 31/12/2016 at 21:15:27
Jim @ 119 – apologies accepted.
As for the points in your last post, at no stage I have said you were the author of the "many howlers" some attributed to Jags. On the contrary, I complimented you on being the first (and still, ONLY) poster to offer a concrete example of an alleged 'howler.' As the only poster to do so, I asked for further examples merely because we were exchanging views, talking directly to each other. Nothing sinister in it at all.
And in the same way you "merely countered" my assertion, I "merely countered" your assertion in reference to the first goal.
I don't claim I hold the definitive opinion on our centre backs' performance. Each viewpoint is equally legitimate, as far as I'm concerned. But I will counter and challenge opinions I disagree with, offering supporting evidence. You are convinced by your opinion. I, naturally, favour my own.
You claim that when Jags and Williams play in a back four, our midfield are asked to cover too much space due to the centre-backs' tendency to sit deep.
Now as I already said, I don't have the 'pleasure' of listening to Carragher's post-match analysis, but reading between the lines I am guessing his comments parallel your own stated opinion.
I have to say, until last night's match, I genuinely have no recall on TW of anyone making such an observation about Jags and Williams when playing together. Ergo, it leads me to conclude that many a poster stating the same today (as if it were their own opinion) are simply echoing Carragher's words.
Because that is not what I saw last night and again, the data and stats back me up. As I've referenced before, there is an EXCELLENT app I like to consult after games – Stats Zone – full of great data, including a GPS tracking system which maps every players movement on the pitch.
As such, it reveals a players' 'default' position that he most commonly occupies over the course of the game. Fpr Williams and Jagielka, given the Carragher-like accusation levelled at them by many a poster, you would expect their default position to be on the edge of our penalty area. It wasn't. It was close to the centre circle in our half. This is confirmed by the 'default' position for the Hull attackers who occupied the same space as Jags and Williams.
Gueye and Barry by default occupied the centre circle. There was not acres of space between them and our centre-backs. That is not to say that either Barry or Gueye were doing an effective job in front of our defence. For many passages in the game, they were not getting tackles in and were allowing Hull a free run on our goal.
By contrast, the Hull defenders default position was much deeper and our attack pushed much further upfield than their Hull counterpart.
This rather re-affirms my own observations, that for the most part after the early goal, Hull sat deep as we pushed up on them but struggled to break the banked lines of their compact midfield and defence.
Now of course, in-game plays calls for adjustment to 'default' positions as teams and players react to the opposition. It strikes me that, in his analysis, Carragher possibly focused on the few moments Everton were on the defensive, because for me, most of the game was played in Hull's half.
What's your own recall Jim? Other than the shambolic opening 10 minutes, were we pushed back, playing from deep, or more on the offensive?
We seemingly agree on the Funes Mori - Mirallas switch.
If you can, I strongly recommend you get the Stats Zone app.
Jay Wood
133
Posted 31/12/2016 at 21:23:21
Roman @ 122
"If you watched Jagielka last night and were happy with his performance, your standards are very low."
to add to:
"Anyone who thinks he isn't a poor footballer is sentimental to a fault."
Very grown up, Roman ...
Still waiting for a single example from you of his many howlers, or poor positioning.
Or are you unable to form your own opinion, able as you are to only parrot Carragher...?
Dean Adams
134
Posted 31/12/2016 at 21:31:26
Jay 133
I used to really rate Jags, but we can all see he has lost half a yard of pace, no need for Stat Zone to see it. It was for him his best attribute and unfortunately is costing us points this season. He never used to get yellow cards because he was so effective in making up the distance when making covering tackles. This season he is racking up both yellow cards and mistakes, several penalties spring to mind.
Williams on the other hand has never relied on pace, more about position with him, but being constantly moved around that back line has been causing him a few problems. When played as the central of three or the right of two he has looked far more assured especially when flanked by Holgate and Funes Mori who have enough pace.
Just observations based on our whole game performances, rather than picking isolated instances like Carra does.
Roman Sidey
135
Posted 31/12/2016 at 21:31:58
If you want me to scour the internet for video footage of dozens of instances of his poor footballing examples, you're not going to get it. I know what I've seen and the fact that you are asking me to come up with examples tells me that you think he has had a flawless career.
Accusing me of immaturity and then demanding proof of something so vast is the very meaning of ironic. So much talk of opinion on here, and my opinion is that he is a poor footballer and I don't understand how anyone else can see otherwise.
He WAS a very good centre-half until his knee injury in 2009. Unlike other people, I am not challenging you to prove to me that he is an effective centre-half (conceding two goals in a game says a lot to me), so I don't understand your obsession with me proving to you why I think he is a poor footballer.
What I really don't understand is so many Everton supporters that won't hear a bad word about certain players (Jagielka, Hibbert, Baines, Osman, etc) yet do nothing but criticise the talented footballers the club does have.
Ciarán McGlone
136
Posted 31/12/2016 at 21:36:10
Jay,
Point of order.. I offered you an example of a Jags howler early in the discussion last night. You ignored it.
That led me to conclude there was little point continuing with the debate. I was right.
George Cumiskey
137
Posted 31/12/2016 at 21:38:50
My god, everyone – don't look at the stats, just believe what you see with your own eyes! This is football, not moneyball!
Roman Sidey
138
Posted 31/12/2016 at 21:57:51
Spot on, George. Stats tell you part of a story, but they also don't tell you nearly the whole story. Without spraying too much cliche, the only stat that really matters from last night is Hull scored two and so did we.
Regardless of Jags having higher passing % stats than Barry, I know from watching the two of them that Barry is the better passer of the ball.
John Pierce
139
Posted 31/12/2016 at 22:04:48
The sherry is flowing and fuelling the cannibalisatic tendencies of the toffee webbers. May it continue; I myself learn much more through, debate, roughhousing and the plain crazies on this site, me included!
What I take from the game and the full-blooded debate since is we are a desperate fanbase, dying to see something to give us credence to the hope, and that's all it is at the moment, we are on the up.
A year ago we had a similar points tally, so little to say we've improved there. The way we've got those points has been in flashes and moments in games. We have been difficult to watch, is as positive as I can be with that statement.
A feted and publicly sought manager has added little to the mix, giving the impression it has to get worse for it to get better. The haranguing and public vivisection of players is a symptom of a club in distress. Sure they solider some of the blame but we have decent players who are capable of more than we see, especially against a side like Hull and others this season we have failed to beat.
I want just a small inkling we have turned a corner, and can realistically challenge for a Europa league spot. I think the malaise rests with the manager, patience is thin after many were wrapped up with BBS only for it to end in acrimony. So this time around a tighter rein is a reasonable approach for many.
The crux is Koeman has yet to get a little bit more out of the existing squad, mad considering how much he was wooed by Moshiri. >The mood is black, if we get bundled out of the FA Cup next Saturday, what price Eddie Dunn inner self rising to the top and asking for the Koeman's head on a spike!
Go on Eddie!
All the best!

Paul Hewitt
140
Posted 31/12/2016 at 22:07:20
Koeman was NEVER going to turn this round in one season. Let's give him time and we will see that he WAS the right appointment.
Jim Jennings
141
Posted 31/12/2016 at 23:40:59
Jay,
I can't say I am familiar with the app but will check it out. It strikes me that the heat map is based on average position over the game, will not tell a full picture on when we don't have the ball which is when I feel we struggle due to them dropping deep. So it's not surprising that in a game where we had the lion's share of possession (per my memory and I don't have the stats) their average position would be higher.
I'm with you on the so called howlers. As someone said above, I rate or at least rated Jags over the years but time catches up very quickly and the Premier League is a very unforgiving place. I don't think we can afford to play the two together if Koeman's preferred style of play is a high octane, pressing one.
Carragher's point was a wider one about us needing more "energy" through the middle. I don't post here often (very rarely on post match threads as sense often goes out the window, replaced by venting) so his view and mine having some parallels is largely coincidental with respect to the two centre halves. Make what you will of that.
Here's to a Happy 2017 starting with us finding a young Cannavaro to phase out our two dinosaur centre halves!
Anthony Burke
142
Posted 01/01/2017 at 00:11:47
Happy New Year, guys, and a positive New Year too, please. Wishful thinking tho...
Jay Wood
143
Posted 01/01/2017 at 14:31:17
Ciaran @ 136,
Thanks for making me chuckle in your self-promoting post that attempts to make you appear somehow 'virtuous'.
As a 'point of order', the chronology of our posts on the live match thread was the following:
A mere 10 minutes into the game, you posted: "Absolutely predictable. Jagielka making howlers and Barry waddling about the pitch. We talk about Barkley's brain... I think we need to discuss Koeman's brain."
It is your customary MO on matchday. Offering superficial, provocative and critical one-liners. I honestly don't recall you ever offering a deeper analysis than this, in-game, pre- or post-match.
Only at half-time did I comment. Why? Because that's when I read the thread. Unlike many, I prefer to fully focus on the images of the game, rather than divide my time following MK's in-match commentary or the reactionary venting of the manic live forum. I defy anyone to claim they can fully concentrate on the game whilst also reading and responding to comments, be it in MK's commentary or the helter-skelter of the LF. Each to their own.
In that post, I referenced your use of 'howlers' and another poster's description of Jags as a 'donkey' without naming either of you. I defended both Jags and Williams saying they were both solid with no gaffes.
Mid-way through the 2nd half, you addressed me directly, saying Jags' first fluff had to be cleared up by Williams, without clarifying what it was. (Note how many 'howlers' had now become a single 'fluff'.)
Again, only after the final whistle did I read the thread and saw your post addressed to me. I replied to you: "So you can recall one 'fluff' by Jags, rather than the plural howlers you charged him with after but 10 minutes of the game...? Okley-dokley. I repeat. Jags and Williams had solid games."
The rest of my post was not even addressed to you, but assessed a wide range of issues.
You addressed me again, repeating that Jags made several blunders throughout the match without naming then. I challenged you to list some of them, not across the whole match, but merely from the opening 10 minutes as per your original post calling out Jags and his many howlers just 10 minutes into the game.
You jumped out of the tackle, refusing to list them , accusing me of 'ignoring them.' I responded that was your right not to list them, but that it didn't help you validate your opinion, which was also your right. I reasonably asked how can I 'ignore' the 'howlers' you attribute to Jags (that I personally did not see in his performance) if you choose not to put up examples of the same for debate?
You seemingly missed a wide open goal also. Because amusingly, keen observer of Jags' many howlers as you are, you only referenced a 'fluff' in the opening 2 minutes, rather than the 'piss poor defending' as attributed to Jags by Jim Jennings on their 1st goal. As that example was more critical to the scoreline than any anonymous 'fluff', I can only conclude you failed to see that – otherwise you would surely have mentioned it as a primary example in support of your claims.
In our exchanges, you described (as you saw it) Jagielka's errors as 'howlers', 'fluffs' and 'blunders'. I think it is reasonable to say that every player during the game makes a fluff or blunder. A misplaced pass, a wayward cross, whatever.
On the night, I saw one out-and-out howler. That was their keeper Marshall punching the ball into his own net for our first equaliser. Calvert-Lewin's missed header IMO was not a 'howler', but it was a serious fluff. Similarly, I saw Barry and Gueye fluff any number of passes.
I did not see either Jags or Williams make any critical howlers, fluffs or blunders.
In conclusion, I will also add your typical MO I referenced continued well beyond the final whistle, describing Koeman as you did as both 'cowardly' and 'a bit thick.' The implication is that you consider your own intelligence and tactical nous (even your personal 'courage') as some how 'superior' to Koeman's.
Hmmm... I'll leave that hanging there, just adding that anyone who calls a manager 'cowardly' for merely substituting a player possibly, just possibly, lacks a sense of proportion.
Jay Wood
144
Posted 01/01/2017 at 15:51:47
As for you Roman @ 135, where to begin...?
Did you miss where I posted about Jags:
* his form fell off a cliff this season and he was mercifully dropped?
* he can no longer be considered a nailed on regular starter?
* how he and others of our over-30s do not represent the future of Everton, but like it or not are still part of our present?
* that rather than give extended contracts to our over-30s I advocate a less benevolent policy akin to Arsenal who only offer 1 year extensions for players over 30? (a minority view on the thread announcing Baines' and Barry's recent contract extensions).
* that our over-30s are not the under-30s in their prime that played for Moyes or even Martinez?
For you to now state that I consider Jags has had a "flawless career" is a leap into the absurd.
To further claim I have asked you "to scour the internet for video footage of dozens of instances of his poor footballing skills" is yet more hyperbolic bollox on your part.
I merely asked you for examples of what you saw as his errors and poor positional play from ONLY the Hull game. To date, you have failed to do so.
In your scatter gun approach to uphold your opinion, you make another leap into the absurd, somehow linking the debate on Jags' performance against Hull into an all-embracing condemnation of ... who and what, even why, exactly, I'm frankly not sure, by stating:
"What I really don't understand is so many Everton supporters that won't hear a bad word about certain players (Jagielka, Hibbert, Baines, Osman, etc) yet do nothing but criticise the talented footballers the club does have."
Do-what...???!!!
To add to your previous hyperbole - that Jags is finished as a footballer, that he is a poor footballer (and anyone who thinks otherwise is sentimental to a fault), that if he continues to be seleted Everton will not win a match EVER AGAIN - you now state "He WAS a very good centre-half until his knee injury in 2009."
Do-what again???!!! Are you trying to suggest that just 2 years into his Everton career and since half way through his entire career as a professional footballer, he has been "a poor footballer?"
Sorry Roman. But in a succession of posts you have failed to offer a cogent, coherent opinion on Jags beyond establishing you personally don't rate him. Fair enough. Best leave it there ole son, because clearly there is no genuine debate with you on the subject.
---
Add Your Comments
In order to post a comment, you need to be logged in as a registered user of the site.
Or Sign up as a ToffeeWeb Member — it's free, takes just a few minutes and will allow you to post your comments on articles and Talking Points submissions across the site.