Koeman hoping Lookman won't be the last new signing

44 Comments [Jump to last]
Thursday 5 January 2017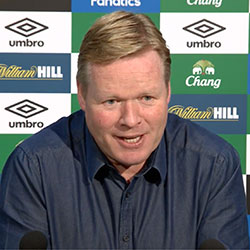 Ronald Koeman says that he and his team know who they want in terms of new players this window and it's up to Board to see if they can get the deals across the line.
Everton landed what is hoped will be the first of a few acquisitions this month when Ademola Lookman completed his transfer from Charlton Athletic but Koeman admitted that it will take time for the 19-year-old to adapt to his new surroundings and top-flight football.
"The boy played at Charlton and it's a different level compared to the Premier League," the manager explained. "I think the boy needs time to adapt to how we train, to how we play and finally we choose always the best 11 and the best seven on the bench.
"It's not about age — it could be 18, it could 15, it could be 34 — that's the competition but normally he's a player for the future.
Asked if how many players he expects to bring in this month and whether the club was close to landing further signings, Koeman didn't give a definitive answer.
"Some more," he said. "It could be one, it could be two but that is what we try to bring in.
"I don't know [how close we are to other acquisitions]. I am focused on what happens this Saturday. That's really my job and we have other people in the club working to bring good players in because we want to improve.
"We know what we want, we know the players we want and it's up to the Board to make the deal. If we don't get that positive goal from the Board then we focus on what my job is which is to prepare the team for the next game.
"We will see if finally we get those players in because that's really important for the team. If not, we won't sign other players because that is not what I want."
---
Reader Comments (44)
Note: the following content is not moderated or vetted by the site owners at the time of submission. Comments are the responsibility of the poster. Disclaimer
Brian Williams
1
Posted 05/01/2017 at 19:46:15
Could be one? My heart sunk when I read that.
Colin Glassar
2
Posted 05/01/2017 at 19:48:14
Five, I want five.
James Morgan
3
Posted 05/01/2017 at 19:48:34
I think he's acting coy, Brian. We should see at least two more come in.
Paul Tran
4
Posted 05/01/2017 at 19:54:26
Remember, he's not that articulate in his language, so he won't be Shakespeare in ours. I take his comments with a pinch of salt. It's all about what he and the rest of the management do in the next few weeks.
Peter Laing
5
Posted 05/01/2017 at 19:55:12
Five, Colin? Very ambitious and the squad definitely needs strengthening but can we get the quality needed in this transfer window?
Fonte has put in a transfer request but at 33 he wouldn't bring the average age of the squad down. I would love to keep it to 2-3 but ensure quality, eg, Sigurdsson.
Neil Wood
6
Posted 05/01/2017 at 20:03:21
Smalling (٦ million)
Depay (㾾 million)
Shneiderlin (㿀 million)
Yarmolenko (㿂 million)
Payet (㿊 million)
Berahinho (㾻million)
𧴩 million. Done
Dermot Byrne
7
Posted 05/01/2017 at 20:13:21
I reckon he is articulate in his own language.

Gavin Johnson
8
Posted 05/01/2017 at 20:14:50
Sigurdsson was meant to be a target we bid for in the summer. I wonder if Swansea will be more receptive to cashing in for a rebuild now they look set for the drop.
Hope we don't go in for Fonte. As a stand-alone player he could be a decent signing, but not when we've already got Williams, Jags and Baines in their 30s. We definitely need a younger player to play alongside Williams as our 1st choice pairing.
I'd like us to sign Schneiderlin, Depay and a new centre-back as a minimum requirement and then buy a new goalkeeper like Joe Hart and striker in the summer.
Colin Glassar
9
Posted 05/01/2017 at 20:16:21
Yarma-bloody-lenko, Neil? Bloody Payet? Who next, sodding Moutinho?
㿨m for the other lads I could accept but not those two.
Conor Skelly
10
Posted 05/01/2017 at 20:16:22
I'd like to see us bid for Vardy. Fonte's too old at this stage but I'd be more than happy with Smalling.
People need to be more realistic regarding transfer prospects. Calls for Payet, for example are miles wide of the mark. We're not the new Man City.
The build will be relatively modest and we are still going to need to over-achieve with whatever players we do get over the next few years to break into the top four.
Chris Gould
11
Posted 05/01/2017 at 20:20:54
Neil, Payet for £30 million?!
No chance.
Paul Ellam
12
Posted 05/01/2017 at 20:26:58
I would like to see us go for Fonte, Schneiderlin, Sigurdsson, Depay and Dembele (Celtic) with maybe a bid for Pickford in the summer.
How realistic that is, I'm not so sure... but that is what I would like to see!
Danny Broderick
13
Posted 05/01/2017 at 20:30:09
How about we unearth a few more gems, instead of buying Premier League players? Isn't that why we brought in Steve Walsh?
Brian Williams
14
Posted 05/01/2017 at 20:31:08
Lads, I don't think Neil was being completely serious about Payet, or Yarmolenko...
Chill! :-)
Brian Williams
15
Posted 05/01/2017 at 20:33:43
Seems Ron has made his mind up on exactly who he wants and it's a case of "them" or nobody.
Brave stance which I hope it doesn't bite us in the arse, by not having alternatives I mean.

Colin Glassar
16
Posted 05/01/2017 at 20:37:57
I like the way Koeman put the ball firmly in the hands of the board to get his targets. If I was him, I'd give Bill and Bob a free holiday in the Bahamas until the window is closed. Let the professionals be in charge for once.
Denis Richardson
17
Posted 05/01/2017 at 20:50:00
Schneiderlin, Smalling and Depay would be great. Relieve Man Utd of three players they don't want.
We really need to also get a striker in. That was needed before but even more so now DCL is out for a couple of months.
Kelvin Thomas
18
Posted 05/01/2017 at 20:50:02
Lookman in, Schneiderlin close and Depay realistic. Thats £40m+ already.
I wouldn't expect many more!
Liam Reilly
19
Posted 05/01/2017 at 20:52:34
Go for Pickford; cause Davey won't stand in the way of a player's career; isn't that what he said?
Patrick Murphy
20
Posted 05/01/2017 at 20:53:14
Brian (#15),
I know what you mean; however, if you give Bill and Bob any room at all we could end up with another bunch of McGeady's. The manager's choices will be fine by me, and about time we had a manager who would rather do without than bring in make-do-and-mend players for the sake of it.
Of course, what any of them say in public could be very far from the truth in reality.
Peter Laing
21
Posted 05/01/2017 at 21:08:42
Wouldn't touch Depay – he seems like a tool. I fear that he could be another VDM or Drenthe. Koeman went on record when at Southampton that he rated his attitude as sub zero out of a mark of 10.
Given Steve Walsh's comments last night regarding a player's character, I would hope we swerve this massive whopper.
Don Alexander
22
Posted 05/01/2017 at 21:14:25
Koeman has just stated the importance this season of the FA Cup. Frankly the board, if they truly want European football, will have to provide several new additions this month. The chances of winning it with the present squad are on the thin side of slim, let's face it.
Winning it puts us into the dreaded Europa League, as does coming 7th this year in all likelihood. Whilst I have no time for it as a competition because of the damage it did to us when we were in it, for negligible income if our accounts are to be believed (stop laughing at the back!), we allegedly need to qualify this season so that we can attract good players who seek more than millionaire status every season, so that within the three years of Koeman's contract, we can mount a proper challenge for a Champions League place, where the real money is.
So Mr Moshiri, do your fine words translate as I hope they do?
Peter McHugh
23
Posted 05/01/2017 at 21:15:16
Man Utd rejects – I don't care. Spend 𧵎m - 𧶀m on Rashford, Martial, Smalling, Depay, Rooney and Schneiderlin.
If you need to cover some costs, Get rid of Lukaku to Chelsea for 㿼m. They only have Costa and need a back-up striker.
I would actually try and sign Mata too but don't think we'd have a chance of signing him.

Bob Parrington
24
Posted 05/01/2017 at 21:22:56
Peter (#21).
I couldn't agree more. If we do buy him and he works out to be good for us, I will have a lot of humble pie to eat because I have been saying for the last few months just what you have written.
Please, Ron & the board – don't risk the dosh on Depay.
Tony Abrahams
25
Posted 05/01/2017 at 21:41:31
Maybe Fonte in, and Jagielka out. Straight swap financially, if Moyes, still wants to do business?
Damian Wilde
26
Posted 05/01/2017 at 21:42:14
Don, can you afford to be
snobby
about the Europa League, we're hardly in the Champions League every year, are we? Jeez.
Also, it didn't ruin us... that was Martinez.
Raymond Fox
27
Posted 05/01/2017 at 21:59:36
Peter 23, I hope your joking, I've more chance of becoming the next astronaut than your hopes happening, for many reasons.
Aidy Dews
28
Posted 05/01/2017 at 22:01:06
I keep seeing Evertonians saying 'we don't want Man Utd rejects...' etc, etc... but I remember Koeman signing Alderweireld for Southampton on loan from Atletico Madrid a few seasons ago and he was brilliant, earned himself a move to Spurs the following season, and is rated one of the best centre-backs in our league. Funnily enough, he was a Atletico Madrid reject!
He barely got started in Spain and a lot of the time played right back as well, yet Koeman signed him and he was brilliant for Southampton; he has gone to Spurs and is doing even better, so it just shows you that players who aren't flavour of the month at their current clubs can go away and find their form and turn out to be really good players!
We all saw what a good player Schneiderlin was at Southampton, under Koeman, and I'm sure in time he would be a great signing for us as Koeman knows how he ticks and will get the best out of him. Depay is another that is a talent but lost his way at Man Utd. He's failed to live up to expectations and struggled with the pressures but a fresh start with us could just be the trick?!
And as for Smalling, I actually think he's a decent centre-back and underrated; if Koeman did want him, I wouldn't mind that signing at all cos, at the end of the day, all 3 are good players and would improve our first team!
Peter McHugh
29
Posted 05/01/2017 at 22:15:42
Raymond – I have no expectations but do hope we sign some players. I actually like it when we sign unknowns, eg, Lookman.
Then again, I liked it when we signed that South American striker! Hope is a good thing.
Steve Cotton
30
Posted 05/01/2017 at 23:08:41
Nothing wrong with Snodgrass either. On a free at the end of the season – and he's a better free-kick taker than anyone we have.
Mike Berry
31
Posted 05/01/2017 at 23:27:31
Two players, Schneiderlin and Van Dijk!
Anthony Dwyer
32
Posted 05/01/2017 at 23:51:21
It's about quality not quantity for me, we need specialist players for positions we are short in.
I'd like a 22- to 27-year-old centre half, so most definitely not Jose Fonte. I must admit though, I'm a fan of Funes Mori, and I believe he deserves his chance, Holgate and Browning also deserve chances while Galloway says his preferred position is centre-half. Jags is out of form, not dead, so he is able to play at stages too, he's not completely done unless we choose to move him on.
My opinion is we really badly need a left-sided midfielder. I'm not touting any names for this position as I've not had my head turned by anyone in particular, so step up Steve Walsh and do your thing.
I'd like to see a striker brought in, not sure who, but a genuine goal threat, preferably one with a bright future who can learn with or from Rom and develop a partnership.
Centre-mid is another one that's making the headlines with us, we could always do with more quality through the centre, but imo McCarthy needs game time as he has ability so we need much better than him if were to splash big money on someone for that position.
I'd be equally as happy to see players leave as to see players come. For too long players have had free money off our club and if like it to come to an end.
McGeady, Gibson, Oviedo, Kone, and Niasse could and should all go, no-one apart from the person who pays the wages and the physio would even notice them missing.
Lennon, Cleverley and either one of Mirallas or Deulofeu could also be moved on to make way for Depay as it seems Ronny likes him.
That's 8 players moved on, freeing up money for free transfers next season or loans this window, also its bench spots freed up for promising young blues who genuinely want to make something of themselves at the club instead of money-grabbing clowns like Gibson.
The club needs a big shake up, Championship Manager style, it seems long winded but if you look across the park you will notice them fuckers have managed yo do it and have really kicked in as a result.
Don Alexander
33
Posted 06/01/2017 at 00:59:06
Damian (#26) it's not snobbishness and I realise it will almost certainly need us to qualify for the Europa League before we ever get to Champions League contenders.
The fact is though that the Europa League since it started has bollocksed the league season for more or less every English club in it.
Add that to the accounts for the year we competed under Moyes, when we went a reasonable distance but received the grand sum of 𧹈k in terms of total extra income and that's where I'm coming from. That Europa League "adventure" fucked up the league season for us too. The league table doesn't lie and surely our accounts don't either (!).
Success in the Europa League, after qualifying of course... and we're not good at that, demands a much bigger squad than we've ever had under Kenwright. That's why I'd like Moshiri to be rid of Kenwright and Elstone. They're second-rate nonentities in terms of winning know-how.
Mark Andersson
34
Posted 06/01/2017 at 01:46:13
More straight talk from Koeman. He has laid the gauntlet down to the board.
He has no intention of working with new versions of McGeady or Niasse. He knows what he has and knows what he wants.
More drama to come... how exciting!
Tommy Davis
35
Posted 06/01/2017 at 02:07:06
Koeman is doing the right thing & saying very little about transfers, which may be a good thing in the long run, time will tell!
I have to agree with Steve Cotton (#30) re: Snodgrass, he's probably way down the list for most people, but we are still extremely poor at dead-ball situations (except maybe penaltiess, now that Bainsey is taking them again), but most corners & free kicks usually result in nothing! Snodgrass would be a great asset for set pieces alone, but he also crosses a mean ball too, one drawback however, could be his age, at 29?!?
However, I have just noticed that West Ham are favourites at 8/11 to sign him & Hull have supposedly activated a clause in his contract, by extending his stay by a further year (Essexlive.news) ...oh well, onto our next possible transfers then!
Nitesh Kanchan
37
Posted 06/01/2017 at 06:25:08
Aidy Dews (#28).
Alderweireld wasn't an Atletico reject. Being an Atletico fan, I know that well. He just didn't get much opportunity as Simeone didn't want to change its already watertight defence. It was mutual decision to let him go as he wanted regular football.
Brian Keating
38
Posted 06/01/2017 at 09:07:28
Snodgrass? Jesus wept, some people would be happy with signing anyone once money was spent. I'd be disgusted if we signed Snodgrass. This isn't 2004 and we're not skint anymore.
I notice nearly every player on people's wish list around here plays in England. If they were the real targets I'd seriously question why we need Walsh.
We need a striker first and foremost.
Ian Jones
39
Posted 06/01/2017 at 09:30:30
Posted on another thread about Jay Rodriguez from Southampton.
Looked useful until his injury. Coming back to fitness.
Thoughts?
Anthony Dwyer
40
Posted 06/01/2017 at 09:55:01
Ian Jones,
I like Jay Rodriguez myself, looked very useful up to his unfortunate injury. If he's a cheap and viable option then I'd happily take him if Niasse and Kone were moved on.
I'm not saying he's the answer to all our problems but, with the right guidance, he could be very useful next season.
Snodgrass is a bad shout, he's a typical Charlie Adam story, average at best with a good set piece playing with shite players in turn making him look good. Definitely no.
Eddie Dunn
41
Posted 06/01/2017 at 09:57:21
Ian, I thought Rodriguez looked a clever player with good skill. He muffed his chip near the end of the game but at least he was trying it.
He had just got into the England set-up when he had his ACL injury. I don't know if he was particularly quick before, but he looked okay.
On the other possible transfers, Smalling is okay but hardly mind-blowing, I would love Van Dijk but he may be waiting for Man City, and he is probably too costly now. I would hold off on the centre back, and play Funes Mori or Holgate till the summer.
I would be happy if we landed Schneiderlin and perhaps Brady. I am not keen on Depay.
Ray Roche
42
Posted 06/01/2017 at 10:09:10
Ian, Anthony, Eddie,
Regarding Jay Rodriguez, until his injury the lad looked the real deal, but he's not the same player since he came back, according to Saints fan sites. In fact, many are calling for him to be sent on loan to see if he CAN come back to his former self.
Surprisingly, a considerable number also give Forster the sort of stick some on here reserved for Howard: useless, playing for a move, overrated etc... so maybe he's not the answer to our keeper slot either.
Eddie Dunn
43
Posted 06/01/2017 at 12:38:46
Ray,
I've always been a fan of Fraser Forster, but no goalie is perfect, and the big guys like him and Courtois are sometimes a bit slow to get down, and get up again. The two best keepers in the land are De Gea and Loris – not too heavy, and very athletic.
Of our boys, I prefer Robles, as he comes for crosses, and his reflexes seem a bit sharper than Stekelenburg, who seems too error prone. However, I would be happy with Forster or Foster.
Andrew Ellams
44
Posted 06/01/2017 at 14:45:56
I'd like to see a cheeky bid for Martial over Depay.
Ray Roche
45
Posted 06/01/2017 at 15:19:48
Eddie, Yes, De Gea or Loris by a mile. Likewise I also prefer Robles and, as he's still relatively young for a keeper, worth keeping should we get a new keeper in the summer. I must admit, I was a bit surprised at many of the Saints fans low opinion of Forster, though.
---
Add Your Comments
In order to post a comment, you need to be logged in as a registered user of the site.
Or Sign up as a ToffeeWeb Member — it's free, takes just a few minutes and will allow you to post your comments on articles and Talking Points submissions across the site.