Reports: Everton wrap up Niasse loan deal with Hull

163 Comments [Jump to last]
Tuesday 10 January 2017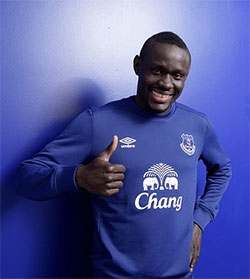 Oumar Niasse is set to move to the KCOM Stadium after Everton concluded an agreement with Hull City with an option to buy.
According to the Liverpool Echo and The Guardian, the Tigers will take Niasse for the remainder of the season while covering his £55,000-a-week salary and will have an option to buy him for £10m in the summer.
The Senegalese striker, a £13.5m signing from Lokomotiv Moscow almost a year ago, has been exiled in Everton's Under-23s since Ronald Koeman took over from Roberto Martinez.
He has played less than three hours of football for the Blues's first team and has yet to score a goal for the senior side but hit a purple patch for the second string earlier this season.
Niasse was heavily linked with a move to Turkey last summer and speculation that he could yet move to that country has resurfaced in the run-up to the current transfer window but it now looks as though he has been picked up by Hull until the end of the season under their new boss, Marco Silva.
The Tigers are bottom of the table, three points from safety, and are bidding to mount an escape act from relegation trouble having just sacked Mike Phelan as manager.
Update 12 Jan Niasse is reported to have travelled to Hull to undergo a medical, with confirmation of any deal expected to come on Friday
---
Reader Comments (163)
Note: the following content is not moderated or vetted by the site owners at the time of submission. Comments are the responsibility of the poster. Disclaimer
Phil Sammon
1
Posted 09/01/2017 at 07:19:11
Good luck to him. No point him wasting away with us.
Chris Williams
2
Posted 09/01/2017 at 07:22:48
I hope this happens for the sake of all the parties. We will now see what he is or isn't capable of.
Mike Green
3
Posted 09/01/2017 at 07:25:46
Good news all round, good luck to him.
Will Mabon
4
Posted 09/01/2017 at 08:12:53
For God's sake, include a "Not to play against Everton" clause.
Anthony Dwyer
5
Posted 09/01/2017 at 08:26:02
Let's see what Niasse can do at this level.
John Mckay
6
Posted 09/01/2017 at 08:27:54
They should have stipulated that he HAS to play against us if he's that shit, be like playing against 10-man Hull from the off!
Maybe we played them twice already and we won't be meeting them in any cup matches this season. :-/
Good luck to the lad I was excited what he could do, think he has been unfairly treated but the club must have seen something in training to suggest he isn't good enough? Who knows!
Watch him bang in a hat-trick on his debut!
James Morgan
7
Posted 09/01/2017 at 08:32:30
I can't believe we are letting him go, he has proved himself with the Under-23s and could've been the saviour to our season. 😬
Good luck to the lad.
Colin Glassar
8
Posted 09/01/2017 at 08:38:31
I suppose if we get rid of 2-3 more players we might be able to buy someone, eventually.
Kevin Tully
9
Posted 09/01/2017 at 08:51:37
Cue a tap-in and shouts to bring him back... he was a bargain.
Bobby Blaize
10
Posted 09/01/2017 at 08:59:54
I really wish him the best of luck and I hope he proves the doubters wrong... it would I'm sure be a fairy tale for him.
Good luck, Niasse.
Richard Reeves
11
Posted 09/01/2017 at 09:00:57
Koeman's gotta have some balls to loan him to another Premier League team after what he's said about him. If he starts banging them in, it could pile a lot more criticism and pressure on him.
Eugene Ruane
12
Posted 09/01/2017 at 09:02:01
Kevin, that's a dead cert.
Simon Jones
13
Posted 09/01/2017 at 09:10:42
I wish I knew what happened with this lad. Can't help feeling he needs an opportunity to show what he can do. I wouldn't be surprised if we are still paying some of wages when he moves though.
Andrew Ellams
14
Posted 09/01/2017 at 09:13:39
Good luck to him, there is something about this whole saga that makes me think that it's about more than just his ability on the pitch.
Mark Andersson
15
Posted 09/01/2017 at 09:28:01
Good luck to him. One day we might find what the real story of this guy was. Only at EFC, eh?
Dave Abrahams
16
Posted 09/01/2017 at 09:30:48
Good luck to the lad, he wasn't worth the fee we paid but isn't as bad as been suggested. If he goes and scores six or seven goals, which he is capable of, he could help to keep Hull up, and maybe get some of the money back which we paid for him on a permanent deal.
Everton have nothing to lose with this proposed deal.
Andy Codling
17
Posted 09/01/2017 at 09:33:39
I hope this happens just so I can take a look at him
Jonathan Tasker
18
Posted 09/01/2017 at 09:40:39
It will be hilarious if he starts rattling in the goals.
It will make Koeman look very silly.
Win-win .
Sam Hoare
19
Posted 09/01/2017 at 09:53:22
Strange that he was given so little opportunity at a time when only Kone offered an alternative to Lukaku.
Sounds like his attitude with the U23s has been commendable and I hope for that reason (and so we get some meagre return on our investment) that he does well.
Laurie Hartley
20
Posted 09/01/2017 at 10:15:25
I hope it happens and I hope he does really well.
Joe Ainsworth
21
Posted 09/01/2017 at 10:25:59
Jonathan 18, Niasse has looked nothing short of abysmal on the very few occasions he got near the first XI. Having taken six months to shake off a mystery wrist injury (the mind boggles) he looked like a paraplegic Bambi on ice every time he failed to grace the hallowed Goodison turf.
A ludicrously overpriced signing made by our former, demented egomaniacal boss, why on earth would you find it hilarious if he now made Koeman, who has only had a few months working with an unholy mess of a squad, look stupid?
Anything that undermines the new manager at this early stage can only be bad for Everton, unless you think we should adopt the recruitment policy of Niasse's new side Hull, and turn ourselves into a trigger-happy, hire 'em and fire 'em, three managers a season joke of a club...
Raymond Fox
22
Posted 09/01/2017 at 10:29:38
The more I see of Koeman, the less regard I have of him.
He has handled 'the Niasse situation' very badly. If he does not rate Niasse, he didn't need to tell the world, did he?
Good luck to the lad.
Neil Wood
23
Posted 09/01/2017 at 10:43:04
I do wonder if the Russian connections with this deal have more to them than we will ever know about Especially with Usmanov now "investing" in Finch farm.
Who knows what the future may hold... 💰💰💰
Steve Ferns
24
Posted 09/01/2017 at 10:44:46
The Premier League prevent all Loanees from playing against their parent club, as it is a potential conflict of interest. Therefore, there is no need for such a clause.
Martin Nicholls
25
Posted 09/01/2017 at 10:53:25
Steve (#24) – you're absolutely right about Premier League rules about a potential conflict of interest.
My understanding is that their rules contrast with those of Uefa which by contrast does allow a loanee to play against his parent club in European competition, an example being Patrick Roberts who recently played for Celtic in Champions League against his parent club, Abu Dhabi City!
God alone knows why such polar opposite rules apply but no doubt it is to appease the rich clubs in some way.
Liam Reilly
26
Posted 09/01/2017 at 11:08:58
Could be Hull's Kevin Campbell.
Good luck to the lad.

Geoff Evans
27
Posted 09/01/2017 at 11:13:17
All the very best to the lad, treated abysmally here but handling himself with commendable dignity.
The only player who has tried to play a good game rather than talk one. Never been given a chance unlike most who have had too many.
Good luck, go prove people wrong.
Dan Egerton
28
Posted 09/01/2017 at 11:15:24
Did you know that both Mike Phelan and Dave Whelan broke their leg once?
Eddie Dunn
29
Posted 09/01/2017 at 11:16:08
A strange case, the detail of which would be interesting to know. Surely someone on Merseyside has had the inside info on this matter?
Paul O'Neill
30
Posted 09/01/2017 at 11:22:45
Good luck to him. Hope the Tigers stay up and the club had treated one of its employees uncharacteristically poorly. Given he was humiliated really his attitude has been top drawer playing with the Under-23s. Once a Blue, etc!
Terry Underwood
31
Posted 09/01/2017 at 11:27:21
Good move for all concerned, if the guy knocks in a dozen goals, we need to ask serious questions of Koeman as to why he has not given him a proper chance. If he scores sod all, no harm done.
Geoff Williams
32
Posted 09/01/2017 at 11:31:21
I will be very surprised if he makes anything of this loan spell. He is a very limited footballer.
Adam McCulloch
33
Posted 09/01/2017 at 11:56:01
One possible reason why Niasse has been so brutally frozen out could be a transfer clause, eg, pay Lokomotiv another ٟmillion after 10 appearances.
I remember Rangers leaving Michael Ball out of their team for ages just to avoid such a payment, before we eventually settled things with them.
Koeman probably took one look at him, said "Nah, not worth the gamble," hence his appearances for the U-23s. Best of luck to the lad but it was clearly a strange piece of business all round.
Paul Tran
34
Posted 09/01/2017 at 12:01:24
When Martinez was here, everyone said Niasse was rubbish and used him as a stick to beat Martinez with. Now he's gone, Niasse has been transformed into a poor little cherub under Big Bad Ron.
The man who bought him wouldn't play him. The man who inherited him has repeated what everyone else has said. And comes out the bad guy. Funny...
Trevor Peers
35
Posted 09/01/2017 at 12:10:36
Why feel sorry for him? Even Roberto wouldn't play him after lashing out millions. We're too soft-hearted, no wonder we never win sod all.
James Watts
36
Posted 09/01/2017 at 12:21:09
Hopefully Cleverley next. Then Kone. Then... We'll most of the squad and I wouldn't give a stuff.
But there is a bright side. If we don't sign anyone else, Koeman may walk and that will save on the compo.
Hang on, think I've just stumbled onto their plan...
Nicholas Ryan
37
Posted 09/01/2017 at 12:30:44
'Follow the Jelavic Road...' as the song used to say!
I don't think Niasse is nearly as mysterious as Jelavic. Niasse is just a very ordinary player, who had a 3-month 'purple patch' in Russia, and someone took a punt on the basis of it. He was never good enough for the Premier League.
Jelavic, however, undoubtedly was. When he first arrived, he couldn't stop scoring (largely with 1st touches, Rom please note!) A few months later, and he stunk the place out; and he never recovered that original form, either with us, or anywhere else.
Currently in the Chinese 2nd Division... and surprisingly, still only 31.
Dave Bowen
38
Posted 09/01/2017 at 12:38:48
Can't we send them Koeman & keep Niasse?
James Marshall
39
Posted 09/01/2017 at 12:44:40
He won't start rattling in the goals – he'll just be their new Jelavic.
A waste of money by Martinez. Koeman is still making his mark, people need to get off his back and start supporting the changes at Everton.
Transition takes time, and there will be problems along the way.
Alan J Thompson
40
Posted 09/01/2017 at 14:05:49
I hope he embarrasses a few people who've had too much to say too publicly.
Gary Russell
41
Posted 09/01/2017 at 14:11:56
@Neil 23. I had the same thought with Traore loan, too. Fishy shenanigans
Anto Byrne
42
Posted 09/01/2017 at 14:24:51
Koeman is not that charismatic and oh how we want our own Corporal Klopp. So the shite don't mess around they got rid of Woy Boy in rapid time. Now look at them flying high. They demand success, no wonder we hardly ever beat them. Maybe once every 10 years if we are lucky.
How is it we keep players beyond their useful life. Barry couldn't hold down a place at Man City yet is a starter at 36 for Everton. We saw how poor Neville was at a similar age. Both Moyes and Koeman just don't trust young players.
My man was Pellegrini, just saying like.

Raymond Fox
43
Posted 09/01/2017 at 16:05:55
I think Dave (#38) has the right idea!
Tony Draper
45
Posted 09/01/2017 at 16:17:15
For his (and Everton's) sake I hope he does well. Because if he stinks the place out at Hull, then we have an unsaleable asset.
I just can't agree with the dreadful treatment meted out to him by the club. No squad number, no locker? That's bloody infantile and worse.
Jeff Armstrong
46
Posted 09/01/2017 at 16:46:04
Can we do a straight swap for Snodgrass?
David Booth
47
Posted 09/01/2017 at 16:53:43
Loans, loans and more loans: why can't we ever sell these spongers?
We must be paying the likes of Cleverley, Gibson, Niasse, McGeady and Kone far too much money if they're happy to see out their contract with us, instead of making a break.
Another key area where we need to be ruthless, if ever we are going to progress from a bunch of 'happy family' underachievers.
I don't think Niasse was a Martinez signing at all by the way. He never proclaimed his acquisition and clearly had no intention of playing him (wrist injury, my arse...).
A most dodgy deal all round and the Russian connection cannot be ignored. He clearly did not come here for football reasons.
Brian Williams
48
Posted 09/01/2017 at 16:58:11
Because somebody has to want to buy them!
David Booth
49
Posted 09/01/2017 at 16:58:50
There must be someone Brian. Surely?
We did!
Eddie Dunn
50
Posted 09/01/2017 at 17:22:12
David, if so then I would like to know who sanctioned the signing?
For all of the optimism generated by Kenwright's latest musical at the Phil', no-one has told us why we bought this lad. I hope he does well at Hull, and saves their bacon, then perhaps Bill would like the rights to "Niasse-the musical".
Benny Snow
51
Posted 09/01/2017 at 17:26:59
I would be surprised if he plays for Hull after they see him in training. Sorry, but this lad will never make it in this league.
I'm surprised we would loan him to another Premier League team as, once everyone sees how shite he is, no-one will want him again.
Paul Kossoff
52
Posted 09/01/2017 at 17:29:19
Tony 45, Dreadful treatment? He's on £60,000 a week isn't he?
Tom Bowers
53
Posted 09/01/2017 at 17:33:52
Is this man really that bad? If so, what a shambolic signing.
Reminds me of Traore, oh, hold on didn't he score one goal in one game and get injured then it was out the door?
Everton must be the worst club at signing useless articles.
Steavey Buckley
54
Posted 09/01/2017 at 17:36:50
Niasse should have been on the bench on Saturday. Certainly would have been more preferable to Kone who was about as useful as a traffic cone when he came on.
Mark Boulle
55
Posted 09/01/2017 at 17:52:21
Meanwhile, another day passes with not so much as a whisper of further incoming transfer activity...!!!!
Jonathan Miller
56
Posted 09/01/2017 at 17:57:29
I hope Niasse goes there and fills his boots; if not, no-one's going to touch him with a barge pole and we would have lost even more on his value!
Tony Twist
57
Posted 09/01/2017 at 18:43:14
Good luck to him. Hope he proves the doubters wrong. His treatment here was very unprofessional by the manager. Unsworth showed Koeman up by treated him with respect.
Ian Brandes
58
Posted 09/01/2017 at 19:02:06
Liked his attitude and goals playing for Unsie.
Hope he does well, but doesn't return to torment us.
Koeman comes out of this saga with little credit, despite the strange Martinez signing.
Jeff Armstrong
59
Posted 09/01/2017 at 19:02:07
As someone said on another thread, Koeman is paid £6 million a year to COACH players, he wrote Niasse off after 45 minutes of action, shouldn't he have at least tried to justify his job description, and try to COACH the player!
Mark Rankin
60
Posted 09/01/2017 at 19:04:12
I think most of the other big clubs have had a Niasse or worse.
I think Evertonians had become accustomed to the club being more careful than most with players being a source of resale income. As such we're shocked at spunking that much money up the wall.
However, I imagine Niasse will be overshadowed in the not too distant future by the likes of Bolasie and others but the big clubs with money don't care too much as long as the ones that go pear-shaped are balanced by the Idrissa Gueye's etc. and the first team/squad gets better.
Chris Leyland
61
Posted 09/01/2017 at 19:32:25
I love all the 'experts' on here talking about Niasse being hard done by by Koeman who treated him with a lack of respect apparently.
This is a professional footballer on in excess of 㿨,000 per week who looked like a headless chicken on the rare occasion he actually played for us and and is basically shite.
Also, do people honestly think that Koeman based his decision on '45 minutes of football'? How about day in and day out in training and pre-season and the reports from the coaching staff and fitness staff and sports scientists etc etc? Even the charlatan who signed him last season wouldn't actually play him.
Let's face it, if he actually any good both managers would have played him wouldn't they? To pick Kone ahead of him tells you all you need to know.
Paul Tran
62
Posted 09/01/2017 at 19:41:01
Like I said earlier, Chris, stick to beat Martinez with, now stick to beat Koeman with.
Dale Rose
63
Posted 09/01/2017 at 20:07:52
Interesting one this. Good luck to him and Hull. I note its a loan which given the circumstances isn't surprising, however it sounds like someone is covering their back, I bet he gets a bucket full of goals for them. Where's that Paddy Power app .
James Flynn
64
Posted 09/01/2017 at 20:22:45
Two managers, with distinctly different views on how the game should be played, looked at him and didn't play him.
He himself said he had a chance to leave but chose not to. How exactly is he being harshly or unfairly treated? He tripped and fell ass-backwards into a terrific contract; with four years still left on it.
Only thing he needs to do regarding his treatment is to open and close his prayers thanking God for Everton.
Jay Harris
65
Posted 09/01/2017 at 21:02:01
I am ashamed to call some posters fellow Evertonians.
This lad was obviously a joke buy by Martinez and the scout who recommended him and every professional at the club knows the lad cannot play at this level.
For some posters to try to beat Ron up with a big stick over this is nothing short of disgraceful.
John Pickles
66
Posted 09/01/2017 at 22:42:00
This must be like how Citeh fans felt when they loaned Jo to us.
Stan Schofield
67
Posted 09/01/2017 at 22:59:46
Knowing Everton, if this goes ahead, the next time we are playing Hull, Niasse will score a brace against us.
Steavey Buckley
68
Posted 09/01/2017 at 23:17:31
Niasse has shown great dignity while with Everton in difficult times for him, yet, was able to score 7 goals with the Under-23s. So I wish him well with his new club.
Trevor Powell
69
Posted 09/01/2017 at 23:31:59
Before laying into Koeman, we need to remember that Martinez bought him and then ignored him when we needed another forward player! Something was not right here and Martinez must shoulder the bulk of the blame. Is he worth the effort when at 26 his scoring record with the U23s has hardly been convincing!
I hope he does well at Hull as they really need a lift right now as their situation is intolerable for any manager at the moment!
Andy Crooks
70
Posted 09/01/2017 at 23:36:52
Steavey, I too, wish Niasse well. However I reckon on his wages I would be, well, dignified.
Ant Sorvoja
71
Posted 09/01/2017 at 23:37:37
Jay, while I fully agree that Martinez and previous scouts were at fault for bringing in Niasse there was no need for Koeman to ostracise him so publicly. It devalued any potential transfer fee and it brought some embarrassment to both club and Niasse.
Oliver Molloy
72
Posted 09/01/2017 at 23:44:24
"If he likes to play football he needs to find another club"
Koeman was setting the bar in his assessment of Niasse in pre-season. Basically he was saying to the board whoever bought this guy needs their heads examined and also served a warning to the rest of the squad.
Some may disagree with the way Koeman goes about stuff, but in this case I believe he was correct .
Steavey Buckley
73
Posted 09/01/2017 at 23:50:30
Oliver (#72), Yet Koeman will still pick Kone. Yet, I would have preferred Niasse as sub against Leicester. At least he was fit and scoring goals for the Under-23s.
Oliver Molloy
74
Posted 09/01/2017 at 23:54:13
Steavey,
And that tells you everything!
Brian Wilkinson
75
Posted 09/01/2017 at 23:59:50
So refreshing seeing so many Evertonians wishing him well, regardless of what has gone on, Unsworth praised the fellow and yes it was only the U23, but if ever a guy deserved a chance to prove himself I am with the majority wishing Niasse all the best.

Mick Davies
76
Posted 10/01/2017 at 01:57:31
James @ 39, Koeman is still making his mark, people need to get off his back and start supporting the changes at Everton.
Erm.... what changes? Meet the new boss, same old toss...
Teddy Bertin
77
Posted 10/01/2017 at 02:22:57
I'm pleased for the lad because coming to the UK was obviously a dream move for him with the EPL and his girlfriend being here but the whole thing has been a total embarrassment.
He's under contract and wants to stay in the UK, so I'm delighted someone else over here will take him off our hands. Hopefully they'll take most of the wages too.
I hope he proves everyone wrong and smashes it at Hull but from what I've seen of him I can't see that happening.
He was highly rated in a league that, while being vastly inferior to the Premier League, has got some decent players. You would expect the best players from their league to at least be good squad players over here but we've seen it a few times now that it just doesn't work like that.
Good luck, Oumar, you seem like a nice fella and when you find the right level I'm sure the goals will fly in for you.
John Daley
78
Posted 10/01/2017 at 03:12:33
"I am ashamed to call some posters fellow Evertonians."
I tell you what is shameful Jay, a supporter of any club thinking it's acceptable for any employee, regardless of their ability or role, to have their professional worth publicly written off by their manager and for them to then be ostracised to such an extent that they're left skulking about like the littlest hobo with their belongings in a satchel and a sign slung around their neck with the words "Worthless Shite" scrawled across it for the whole world to see.
It's not 'ruthlessness' and 'straight talking'. It's treating somebody, a member of your staff (whether you like that fact or not is irrelevant when it comes to how employees should be treated in the work place once they're actually there and armed with a contract)  like shite on the bottom of your shoe, taking petty pot shots ("Whoah, hold on Niasse, son.  Who said you could eat your lunch in the canteen? This is a place for proper Everton players to polish off their scran. Ron's put a bowl out for you by the dog kennels") and making them persona non grata around the place. 

That's more shameful to me than a supporter pointing out that Koeman  has handled a situation (which was admittedly not of his making) in a manner more befitting a school bully than a leader of men or a figure head of Everton Football Club.
"I don't have a locker. All the other players have where they put their stuff but I don't. I come with my bag and I just have a place I know. I put my bag down, I train and after, I put everything in my car and go home".
You deserve it, lad. For making us buy you, moving to another country and then refusing to fuck off when we turn around five minutes later and say "Soz mate, we've messed up. Sling your hook".
David Pearl
79
Posted 10/01/2017 at 03:39:41
Well for the most part I am pleased, having just seen this news, that everyone is wishing him well. He truly can't be the player we've seen devoid of all ability. He just couldn't be that bad. To run towards the ball so it went over his head so he wouldn't have to head it. His confidence was zero.
Koeman tried to make his mind up quickly and move on. I think Niasse did deserve a bit more respect. I hope he proves to himself he can play in this league. Beaming smile when he first arrived.
Alan J Thompson
80
Posted 10/01/2017 at 03:45:00
A lot of you say that he had the chance to go on loan but declined the offer. If I was offered a job in Turkey I doubt very much that I would take it. May as well ask him if he fancies Syria.
Laurie Hartley
81
Posted 10/01/2017 at 05:16:38
John Daley # 78. Probably your best post ever on ToffeeWeb.
I couldn't help comparing how David Unsworth has spoken publicly about the lad compared with how Ronald Koeman has.
Given the choice I know who I would follow out of the two.
Darren Hind
82
Posted 10/01/2017 at 05:49:26
Is right John Daley
The treatment of this man (regardless of his ability) has been criminal. £60k a week doesn't alter that one little bit.
He is (imo) entitled to wave his pay slip at Koeman at the end of every month
Jay Wood
84
Posted 10/01/2017 at 10:56:32
Jay @ 65
To open with "I am ashamed to call some posters fellow Evertonians" and closing with "For some posters to try to beat Ron up with a big stick over this is nothing short of disgraceful" suggests to me it is possibly you that don't get Evertonians.
Heavens knows we see daily on TW 'Scouse Wedding' fallouts, but, by-and-large, Blues know the difference between right and wrong, fair and ugly. I am pleased so many in this thread wish the lad well. That's very much what I would expect from the Blue Family.
It was Everton who recruited Niasse. It was Everton that set his salary. It was the manager who bought him and the manager who inherited him who chose not to play him.
The first manager kept telling us he will be fit and ready in 'x' weeks and months. The second manager's first public major decision was to declare if Niasse wants to play football, he needs to leave Everton.
There is no need to repeat again ad nauseum how ostracised – almost criminalised – Niasse has been under Koeman.
Not once has there been as much as a whisper of complaint from the player (yeah-yeah ... softened by picking up 㿨k a week). He has done what has been asked of him, playing with the U-23s, receiving glowing praise from Unsworth for his application and attitude.
Koeman's words and actions flagged up to the football word Everton has a crap player they want off their books. By doing so Koeman placed the club in a very weak negotiating position for would-be suitors of the player, who on the back of such a damning public assessment by the club's manager ensures we won't recuperate anywhere near what we shelled out for him.
I am not anti-Koeman. I don't want him dismissed. I think he merits more time than some on here are prepared to give him.
But on this issue he has played it very badly. Indeed, his treatment of Niasse could be in breach of employment laws and constitute a form of 'constructive dismissal' for the way the player has quite clearly endured any number of humiliating comments and sanctions against him.
"Ashamed to call some posters fellow Evertonians" Jay?
Care to share with us lesser Blues how you would label Koeman on this one issue..?
Ciarán McGlone
85
Posted 10/01/2017 at 11:11:02
Hear, hear, Mr Wood.
Pretty shabby treatment by Koeman. Whether Niasse earns £60k a week is irrelevant. Koeman essentially made a club asset worthless and made himself look like a right ballbag.
Denis Richardson
86
Posted 10/01/2017 at 12:02:33
Good news all round. We're going to have to take a bath on the transfer fee. It if someone else pays his wages that frees up a space in our squad.
Jay Harris
87
Posted 10/01/2017 at 16:45:37
None of you appreciate the context that Koeman said that. Everton had lined transfers up for him and his girlfriend who lived in Manchester told him he was going nowhere. That's why Koeman said if he wants to play football he needs to go.
I trust Koeman to know if a player will make it in the Premier League or not. I do actually feel for the lad but none of this was of Koeman's making and Koeman was just being brutally hones which by the way Jay Wood is a scouse way and having followed Everton home and away since 1960 would challenge anyone who says I don't get Evertonians.
Yes, Niasse got dragged from Russia but has been picking up a fat pay check and get to stay with his girlfriend in Manchester while constantly refusing to accept a transfer.
Rob Dolby
88
Posted 10/01/2017 at 16:56:08
Regardless of how well he does or doesn't do at Hull, he has pride of place next to Brett Angell in my all-time worst 11.
John G Davies
89
Posted 10/01/2017 at 17:03:31
Never a good shout when someone gives it the "I am a better Blue" Jay.
But in saying that, I don't have a problem with Koeman telling him that he would need to find another club if he wanted to play football. Same as I don't have a problem with Niasse saying "You give me the contract and I am staying where I am until I get a deal that suits me."
I wish the lad all the best. I hope he goes on to have a decent career.
Mark Morrissey
90
Posted 10/01/2017 at 17:11:21
Good luck to the lad. Whilst I suspect he'll prove to be fairly ordinary, I actually hope he scores a worldy but not against us.
Ian Hollingworth
91
Posted 10/01/2017 at 17:16:43
Rob (at #88), that Traore fella Bobby Brown shoes had on loan would get in above Angell for me.
Paul Birmingham
94
Posted 10/01/2017 at 17:47:05
Whether we will ever know who, how and why Bobby Martinez's scouts went for him we will likely never know' I recall he had a wrist injury when he came and was clearly no where near match fitness. Based on his brief cameos, I reckon, they bought him on video evidence only.
The West Ham reverse last season, at home, when we blew it with 13 mins left from 2-0 up and Lukaku missing a penalty for good measure, in my view added more anguish and contempt on the lad. With a gung-ho Catalan manager over-hyping every player at the club and a poor show preseason, it seems his fate was sealed.
Clearly Unsworth has recognised he has some ability , in fairness, unless he's match fit and on a good run in the 1st team, we now will most likely never know. If he sticks a couple up the RS , happy days.
It kind of sums up the club under Bobby Martinez. Koeman on a mission, at the moment and almost 2 weeks in the transfer window and the Acclaimed Midas wheeler dealer of Steve Walsh, we still seem as far away from sealing a deal, as me winning the lotto.

Patrick Murphy
95
Posted 10/01/2017 at 17:59:24
According to the Guardian, Hull City have agreed a loan with Everton for Oumar Niasse until the end of the season, when they will have the option to make the deal permanent for a fee of 㾶m.
The clubs were finalising the terms with Niasse on Tuesday afternoon and the striker is set to become the first signing of the new manager Marco Silva's tenure. It has been agreed that Hull will pay all of Niasse's 㿣,000 weekly wage – with no contributions from Everton. His contract at the Merseyside club runs until 2020.
John Daley
96
Posted 10/01/2017 at 18:03:50
Jay @87, 
It doesn't take Kryptonian levels of 'context appreciation' ( Link ) to understand Koeman probably said what he did in an attempt to coerce Niasse into catching the first bus to 'fucking anywhere', or that the club may have been working feverishly behind the scenes to find someone willing to take him off their hands ("stand by for Operation Goodison Face Saving Exercise").
Doesn't change a thing. Nor does it merit a myopic refusal to recognise that an employee is perfectly within their rights not to be pressurised or intimidated into playing ball (no pun intended).
For the sake of fairness though, let's add a little more 'context' from the 'clinging on like a limpet' lads point of view:
-----------
Niasse played in the second half of Koeman's first game in charge – the 1-0 friendly win over Jablonec on 16 July – and he thought it did not go too badly. 

Forty-eight hours later, he was called into the manager's office.

"Koeman said: 'You have to leave,'" Niasse says. "I couldn't understand how that decision could have been made after 45 minutes but I just said: 'OK, thank you.' It's his decision. He's the manager. What can I do? I called my agent and he said he would look into the opportunities for me. To be honest, I didn't ask Koeman to explain his reasons. I just thought, even if I asked why, I would never understand. After just 45 minutes, you cannot say to me: 'You are no good.'"

Niasse has since had one further conversation with Koeman, which was when he learned of his demotion to the under-23s. "He changed everything" Niasse says. "He took my shirt number and he told me I wasn't allowed to be in the dressing room for the first team; that I wasn't going to train with them. I had to go with the second team.

" I said: 'OK, no problem.' When you say you don't need a player, you don't have to see him. I've just kept working in training. Even if I'm training with the under-23s, I give them the respect."

Everton had scouted Niasse at Lokomotiv; they watched him many times and he was not an impulse buy. Other leading clubs in England and mainland Europe wanted him too but, after Everton had paid the money, they came to feel he was not for them. Moreover, through the words and deeds of Martínez and Koeman, they have made it plain to Niasse's potential suitors they see little value in him. How is that £13.5m asset looking now?

The saga says much about the Premier League, with its power plays and financial imperatives, and it reinforces the image of England's top division as the place to be; a ticket to be seized and not relinquished. Niasse believes he has been harshly treated but he has a good contract until 2020 and he is not blind to the bigger picture. A football career must be plotted with the utmost care.

It is also interesting to consider Koeman's position. He has made a judgment call, in good faith, on Niasse and it is one that, at the very least, represents a serious setback to the player's career. He has backed him into a corner and yet the manager has been unable to make him blink.

"It is all up to the player whether he doesn't leave, I can't understand it but that is normal" Koeman said on 22 September. "Football players like to play football, that's how I see it, and I explained to Niasse why he was not in my plans for the season." Koeman is not in the best position to get too huffy about the situation.

Niasse wants to play but not just anywhere. He wants it to be at a club of his choice and he wants it to be in the Premier League. He had offers over the summer from Germany, Spain, Portugal and Turkey but there was never a decision for him to make over a Premier League move, despite interest from Crystal Palace, West Bromwich Albion and Hull City.

"It's not only about having opportunities and then, you're going to leave" Niasse says. "I always think about my career – to make good choices. Yes, I had opportunities but I wanted to play in the Premier League and it's because I know I can do a lot of things in the Premier League. That's why I am keeping my head, even if it's hard now.

Niasse had it tougher, much tougher, at Lokomotiv, after his €6m transfer from the Turkish club Akhisar Belediyespor for whom he scored 15 goals and had seven assists in 2013-14. Niasse knew no one in Moscow, he could not speak Russian and the temperatures of -15C were brutal. There were also the depressing brushes with racism.

Niasse struggled desperately during his first season at Lokomotiv. The club had Roman Pavlyuchenko and Dame N'Doye up front and, after the latter moved to Hull in February 2015, they signed the Serb Petar Skuletic to replace him. Niasse kicked his heels. Between 24 November 2014 and 18 April 2015, he did not appear for a single minute.

He was given a chance towards the end of the season and he responded by scoring the equaliser in the Russian Cup final against Kuban Krasnodar. Lokomotiv would win 3-1 after extra time. When the following season kicked off, Niasse caught fire. He scored 13 times and made 10 assists, before the Russian League broke for the winter.

"People say Russia is not a strong league but you go to Moscow, with the weather, with the way they play, with everything, and you'll see that to play there is much more complicated.

"If I did it in Russia, why can't I do it in England? What happened in Moscow makes me know I can turn it around here."

Niasse starred in Lokomotiv's Europa League matches last season and it really is bizarre he has gone from that kind of form to the predicament of having to pick up the pieces with Everton Under-23s. Since 19 September, he has played four times for David Unsworth's team, scoring against Arsenal and Manchester United.

"I'm just thinking about what I have to do" Niasse says. "If, at any time, Everton need me – for the 23s or the first team – I will be there, because I work for Everton. They paid a lot of money for me and that's why I feel I have to show something. People say what they think but they don't know me in England. They have never seen me fit and playing.

"I want to show myself in the Premier League and I hope it can be at Everton, because it's the team that I'm feeling. Every weekend, I'm watching the games, I'm supporting the team, I'm behind them. I'm a Blue. But, if I get the opportunity to show what I can do at another Premier League team, I will go and I will do it. You never know what can happen. This is football."
https://www.theguardian.com/football/2016/oct/11/Everton-oumar-niasse-ronald-koeman-Roberto-Martinez
Ricardo Gimpardsle
97
Posted 10/01/2017 at 18:09:36
John Daley wrote
"...like shite on the bottom of your shoe, taking petty pot shots ("whoah, hold on Niasse, son. Who said you could eat your lunch in the canteen? This is a place for proper Everton players to polish off their scran. Ron's put a bowl out for you by the dog kennels") and making them persona non grata around the place.
Well I really think Koeman was over the top with his decision; however I cannot ever remember reading or hearing those words from him. Please do show me where and when. It seems that some feel the desperate need to vilify and exaggerate to make a point.
John G Davies
98
Posted 10/01/2017 at 18:14:22
Ricardo – Poetic license?
Charlie Lloyd
99
Posted 10/01/2017 at 18:17:05
£55,000 per week wages saved. That's around £1m till the season end.
Maybe a million more to offer for Schneiderlin!
Terry Underwood
100
Posted 10/01/2017 at 18:21:19
How anybody can judge this guy on the small amount of game time he has had is beyond me, I just hope this doesn't come back and bite us in the arse
Paul Thompson
102
Posted 10/01/2017 at 18:36:37
Perversely, we've got to hope he does well and proves everyone wrong as £10m was about 10 times more than I thought we'd get for him.
Eddie Dunn
103
Posted 10/01/2017 at 18:48:53
I would like to know which EFC staff, picked out Niasse, watched him and who is responsible? Koeman was obviously incredulous on watching him.
Incidentally, the whole locker thing seems awful. Is there a shortage of lockers; do the Under-23s have any?
If we can bugger about over a few mill on the Schneiderlin deal, then why were we so keen to shell-out all that dosh on Oumar?
Jay Harris
104
Posted 10/01/2017 at 18:50:14
John G
I never claimed to be a better Blue than anyone.
I was responding to Jay Woods post "That I don't get Evertonians".
I just think some people on here are trying to find anything to criticise Koeman for.
He wasnt my first choice but he certainly has the pedigree to take us back to the top and I cant understand why people want to hound him out after 6 months.
Brian Williams
105
Posted 10/01/2017 at 18:51:21
Has anybody seen his goals for the U23's? Or just any of his games for them?
It really IS a mystery that our third most expensive signing (I think) can be so bad, if he is that bad.
If he is, whoever recommended him, scouted him, has questions to answer!
Bill Gall
106
Posted 10/01/2017 at 19:08:08
I prefer to read of players coming in, not leaving. Some one connected to the club must have recommended him, for us to have spent this fee for him.
Hopefully there is a clause that he does not play against us this season, as it seems players who have not scored for their clubs or are struggling to score, usually score against Everton.
John G Davies
107
Posted 10/01/2017 at 19:08:43
Jay.
Fair enough mate.
Possibly wrong phrase from me.
I am with you in backing off Koeman.
Bill Gienapp
108
Posted 10/01/2017 at 19:17:58
Koeman was just being brutally honest, no bullshit. Isn't that what people wanted, after enduring Martinez's cockeyed optimism?
The issue a lot of folks seem to have was when Koeman doubled down on his comments. But again, Niasse had bagged a few goals for the U23 side, the media broached the subject and Koeman gave an honest answer ("Nothing's changed").
People saying he was publicly degrading the value of a club asset may have a point, but I think the word on Niasse was out long before Koeman set foot through the door.
Anyway, like most others, I wish him well and am genuinely curious to see how he fares at Hull.
Colin Glassar
110
Posted 10/01/2017 at 19:42:05
Charlie Lloyd, a million quid saved? We might be able to afford a decent league 2 player with that.
Brian Williams
111
Posted 10/01/2017 at 20:03:10
I wonder what odds you'd get for Man Utd to beat Hull 2-0 tonight and for Niasse to score a hat-trick in two weeks time in the second leg and get Hull to Wembley?
Steve Bingham
112
Posted 10/01/2017 at 20:43:50
Can we not throw Kone in for free???
Mike Gaynes
113
Posted 10/01/2017 at 20:51:34
Terry (#100), no worries. It's a loan, not a sale, therefore a no-lose proposition.
If it turns out he's quality and Koeman was wrong, we can either bring him back or sell him on for better money than we expected.
See McGeady, who was equally worthless to us but has enhanced his transfer value with his performances at Preston.
Kenny Smith
114
Posted 10/01/2017 at 20:53:30
Who's gonna drive the bus for U23s now?
John Keating
115
Posted 10/01/2017 at 20:57:00
I must admit I thought Everton were shite in the transfer market but obviously in Hull we have a serious rival. If it's true and they are paying his wages and could possibly give us 㾶 million at the end of the season, then, in my opinion, we have scored big time.
Okay, we will have lost out on ١ million plus his wages to date, but these days, don't you think it's been worth it for the laugh???
Andy Crooks
116
Posted 10/01/2017 at 20:58:24
John Daley, your stuff is usually top notch but congratulations on your posts on this thread, really fine work.
Bob Parrington
117
Posted 10/01/2017 at 21:03:47
£55k per week for what?
The bleeding world's gone crazy!
Still, good luck to the guy.
Jay Wood
118
Posted 10/01/2017 at 21:50:12
Jay Harris.
Not questioning your worth as an Evertonian. You post some good stuff on here.
But your original post @ 65 was a poor one. Indeed, given the quality of your contribution on these pages I would suggest it was as poor a post as I've read by you.
It clearly offers a very harsh, judgemental and blanket condemnation of fellow Blues who you view as using the Niasse situation as a means to beat Koeman with. I honestly do not see that tendency in this thread. Rather, I see a lot of sympathy being expressed for the player and a raised eyebrow at Koeman's handling of the situation.
You chose to use very emotive language to condemn the 'disgraceful' conduct (as you see it...) of fellow blues who left you 'ashamed' of them. Like it or not, it implies you view yourself as somehow superior in some way to lesser Blues.
That you did so prompted me to write as I did that the content of your single post @ 65 "suggests to me it is possibly you that don't get Evertonians".
It's an observation I am happy to stand by, weighing the tone and content of the majority of posts in this thread against your own offering at post 65.
Jim Hardin
119
Posted 10/01/2017 at 22:20:26
I wish this player well for the simple reasons that he has shown class, grace, humility, and respect for the club and himself. Good luck Niasse.
Ricardo Gimpardsle
120
Posted 10/01/2017 at 22:39:07
I would be delighted for Oumar to score plenty for his new club, so he can get some form of satisfaction and show everyone what he believes. If he does, then Koeman may choke on his rather large slice of humble pie.
Alas I fear this may not happen, but I wish you all the best young man. You deserve a break for your excellent attitude that you have shown in the face of adversity.
Jay Harris
121
Posted 10/01/2017 at 22:47:17
Jay, I am very frustrated that some people seem intent on hounding Koeman out and are finding any stick to beat him with.
I am of the view that we have always backed our managers until the situation became untenable although I think Martinez was given far too much latitude; however, it seems some are intent on picking fault with everything Koeman does and reveling in the criticism of him.
Maybe my post was poor but like everyone else on here it is only an opinion.
Koeman was being honest with the lad and while that treatment may seem harsh, it was following Niasse's refusal to go elsewhere when the club had negotiated a deal that the lad had initially agreed to but was told by his girlfriend just stay there and draw your wages.
In my opinion, Koeman has been told (maybe due to FFP) that players will have to go to facilitate incoming transfers and was trying to let the lad know he had no chance of playing if he stayed. I personally welcome his honesty after 3 years of utter bullshit.
Eddie Dunn
122
Posted 11/01/2017 at 00:23:40
Brian Williams – I have only seen the goals on the OS clips. Mostly tap-ins. Very hard to know what to make of him, with the standard etc.
If he had been put in our side for 20 games, it is possible that could have showed that he has some defects, but has a knack of being in the right place at the right time. Like Naismith.
I really hope he gets a proper chance at Hull. The way he has been treated, I thought he must have made a pass at Ronny's missus.
Ricardo Gimpardsle
123
Posted 11/01/2017 at 00:28:49
Was Ronny's missus at training when he made the pass, or was it a long ball?
Daniel Lim
125
Posted 11/01/2017 at 05:11:00
I hope he scores 5 goals in a battle against a relegation favourite in April and another 3 against one already relegated in May. Then Hull pay us £10m after securing safety. It's win-win-win then.
ps: I didn't check out their match schedule to see if they are playing any of the relegation favourite in May though.
Tony Draper
126
Posted 11/01/2017 at 05:24:55
Paul @52.
Yes, maybe he is on 㿨k/week. But he is not a burglar, is he? Our club sought him out, agreed terms and paid for his contract (both exit and entry).
His weekly pay has less than the square root of minus fuck-all to do with the petty, shitless and pathetic way that our glorious club decided to punish this man because he turned out (possibly) to be less than they originally believed.
We sought him out. Our fault, not his. For all of us, there is a job/position beyond our abilities. If we do this self-employed, then we alone bear the costs. If we accept a job offered, then the employer bears the responsibilities.
Oumar Niasse was treated in a manner ill-befitting Everton Football Club Company Limited in the 21st century. Had the other lot done this to one of theirs, we all would have been appalled. Righteously so.
Shame is ours, best of luck Oumar.
Chris Leyland
127
Posted 11/01/2017 at 07:53:32
Some of the posts on here about how 'disgracefully' he has been treated by Koeman are OTT.
He was told that he had no future at Everton. It happens at lots of clubs – see Klopp and Sakho, see Mourinho and Schweinsteiger.
He claims that he had no locker whilst training with the Under-23s and some of you choose to take this as an indisputable fact simply on the basis that he said it. How do you know it is true?
If it is true, why didn't Unsworth, who posters are saying treated him so well compared to Koeman, simply sort it out for him?
None of us know what else has been going on behind the scenes and why this lad was not given a sniff by two successive managers do we?
Finally, why didn't Niasse just resign and claim constructive dismissal for his 'abysmal' treatment if it was so bad as he would definitely have won his case wouldn't he? After all, he could have called a few of the 'experts' on here as witnesses.
'Yes, your honour, I heard he had no locker.'
'I have it in good authority that he wasn't allowed bog roll when he had a shit at Finch Farm.'
'Apparently, he wasn't allowed pudding at lunch time on Koeman's express orders.'
'Someone told me that he was forced to train and play for the reserves and was only given 㿨,000 a week for this. It is akin to forced labour.'
Jon Withey
128
Posted 11/01/2017 at 08:45:04
The whole thing was very fishy.
Dave Ganley
129
Posted 11/01/2017 at 10:40:48
Some shocking fans on here. We all knew Niasse was awful, we all shouted about it last season. Koeman was asked the question about it pre-season and he was honest and said he will not feature for us so he should look for another club. What's wrong with that?
Now because he's scored a few goals at Under-23s people want him to succeed at Hull just to demonise Koeman. Call yourselves Evertonians? Should be ashamed of yourselves.
We should all want what's best for us, not just trying to score petty points because you don't like Koeman. Ffs no wonder the fat Spanish waiter called us a small club with stupid comments like this from our own fans.
Stan Schofield
130
Posted 11/01/2017 at 10:49:37
Regarding Koeman's view about Niasse not having a future at Everton, there's obviously no problem about expressing such a view in-house, but I was a bit surprised that it was aired so publicly. Regardless of salary, if I were an employee not impressing my employer or manager, I would regard it as inappropriate for them to say publicly that I had no future with them. Privately, OK, publicly, no. It's not what I would consider professional behaviour.
He's made other utterances, publicly, about individual players that I also regard as unprofessional, and I would hope and expect a change in behaviour in this respect. This has nothing to do with beating Koeman with a stick, or feeling sorry for Niasse (I don't, I don't know the guy), it's purely a matter of professionalism.
Shane Corcoran
131
Posted 11/01/2017 at 11:38:35
I wish him well but I think he'll manage to get over his short Everton career.
Peter Norris
132
Posted 11/01/2017 at 11:51:12
Agree Stan #130. Public praise private criticism. Professionals act as they must not as they feel. He needs to improve on this. Happy for him to have a collective moan but individuals need to be addressed individually.
John G Davies
133
Posted 11/01/2017 at 12:31:12
Chris (#127).
Could not agree more. He's a grown man for fucked sake. If a player's delicate sensitivities were hurt by a manager telling him the truth he should not be playing pro football.
No locker my plums. Where did he leave his clothes? On the floor? Not having that one I'm afraid.
BREAKING NEWS.
JOB AVAILABLE.WORKING TWO HOURS A DAY.
㿨,000 PER WEEK SALARY
ONLY NEGATIVE IS THE BOSS TELLS YOU AS IT IS.
FORM AN ORDERLY QUEUE PLEASE
Trevor Peers
134
Posted 11/01/2017 at 12:37:23
Speaks volumes about Roberto's legacy, especially when it came to picking forwards. Niasse and Kone two of kind, and both given long contracts, amounting to many millions of pounds of wasted money. And not a goal threat between the two of them. The list doesn't end there, many Martinez signings are so bad they never get to play a game.
And yet we're meant to feel sorry for some of them. Sentimentality is not just a trait of our chairman then, but some of our fans as well. We need to get real and be ruthless, both club and fans, to stand any chance of success.

David Midgley
135
Posted 11/01/2017 at 12:49:37
When the manager speaks he is the voice of Everton FC. What he says is the way Everton are perceived. Nil Satis...
In the course of a lifetime's work I worked with a few who weren't possibly up to the job. Sometimes myself. Maybe the type of work or the place itself. We've all experienced it.
I never once heard any of the management publicly and openly denigrate anyone I worked with.
Nobody knows what Oumar's partner said to him .Why would he make up a story about a locker?

Captain Queeg, Ice Cream?If the locker thing is correct would Unsy go against the club manager and provide him with a locker?
The affair is coming to a close but it leaves a sour taste. Koeman is the club manager. A diplomat he isn't.

Nicholas Ryan
136
Posted 11/01/2017 at 12:50:39
I think the truth of this is quite simple. Niasse is a very good man, but a rather average footballer. He is flourishing in the Under-23s because he is comfortable at that level, and can shine. That does not mean that he is capable of the 'step-up' to first team.
Koeman was one of the great defenders of all time; he would have played against the world's best strikers. He IS capable of deciding in 45 mins. that someone 'just hasn't got it'.
Niasse was married before he came to EFC. While he was in Russia, his wife was in Manchester. Having finally been able to live together, one can see why he might be reluctant to leave England quickly.
He said (in effect) I'm confident a Premier League club will sign me; well he was right, because they just HAVE!
No-one emerges well from this. Martinez signed someone who just wasn't good enough. Koeman was over-abrasive in communicating his decision, and Niasse was happy to tell his tale of woe to the Guardian (see #96 above).
It is to the player's credit, that he has worked hard with the youngsters, and had some success with them; he seems popular with the squad. But, success at that level, does not mean success in the first team.
Two (very) different managers have now come to the view, that he simply isn't good enough for a first-team spot. We have to accept that judgement, and wish him well in his new venture.
Rob Halligan
137
Posted 11/01/2017 at 12:51:25
John Davies, beat me to it mate. I suppose Niasse done what a lot of lads do on a Sunday morning put his clothes into his bag and left it on the touchline while he trained. Not forgetting to put his car keys in his sock then into his trainees!
No locker my arse!
Denis Richardson
138
Posted 11/01/2017 at 15:25:20
Wow – we actually found a dumber fool... covering all his wages and an option to buy for 㾶m!
Kudos to whichever Everton negotiator sitting across the table managed to keep a straight face when Hull agreed to that! I guess from Hull's perspective, they are well and truly desperate. Shame they're not buying now.
Hopefully he scores a few jammy goals so they trigger his 㾶m option. If we manage to get anything back for him it will be a total bonus.
Should have given Martinez Niasse as his compensation payment!
Gary Radley
139
Posted 11/01/2017 at 15:30:58
I can't see what the big deal is myself. Niasse is just not good enough. Koeman in my eyes has said what he's said cos he could see Niasse was happy just to pick his wages up whilst not playing first team football.
So obviously he has said a few things to encourage him to pack his bags and save the club paying his wages. Nothing wrong with that.
Paul Ferry
140
Posted 11/01/2017 at 18:43:30
Jonathan Tasker (#18)
'It will be hilarious if he starts rattling in the goals. It will make Koeman look very silly.
Win-win'.
Really? You think it is a 'win' to 'make Koeman look very silly?
Can you guess who actually looks 'very silly' here?
Phil Hoyle
141
Posted 12/01/2017 at 00:35:43
I logged in initially to have a rant at this thread until I read Nicholas Ryan #136.
A really good balanced, non-judgemental view. Enjoy reading ToffeeWeb contributors with their heads screwed on bringing a reasoned view.
None of us have really seen him play so we cannot really comment. We need to trust someone that has played at the HIGHEST level to judge a player.
A little fed up with the negativity posts here that have gone on for years from Moyes to Martinez to Koeman. No one is above criticism but it happens so so quickly!!!
Great post, Nicholas!
Phil Martin
142
Posted 12/01/2017 at 02:59:41
Selling Niasse will be like a new signing.
Kristian Boyce
143
Posted 12/01/2017 at 04:05:58
Nicholas (#136), as Phil said, great comment. Was Koeman's comments a little abrasive about Niasse, maybe, but isn't that a trait of the Dutch? Hasn't it been mentioned by a number of the Dutch posters on here in the past that forthright and brutally honest comments are a part of their culture?
I'm surprised people are criticizing the manager and the club's stance on the player over the last few months. It was clearly obvious when he got here he wasn't good enough for us. Even Martinez who bought him didn't play him.
The club tried to get rid this summer and by all accounts the player stood his ground and turned down the supposed loans that were arranged for him. Probably none were of interest to him and he was probably very happy finally spending time with his family, whilst earning an absolute fortune for doing nought.
The relegation to the U23s was honestly a great move by the club as in fact it kept some of his value. We've seen him turn out for the first team last season, and those 7 fleeting appearances were mostly diabolical. If he was still part of the first team picture, getting a couple of mins here and there (a la Kone), the rest of the world would see how poor he really was.
But, playing with the U23s with the kids and playing against kids, he's been banging them in against a lower standard. This has made him look good and probably why Hull are going to take a punt on him. The mess that club is in and the lack of decent players available to them, he's basically putting himself in the shop window for when they get relegated.
Darren Hind
144
Posted 12/01/2017 at 06:36:29
Only Koeman didn't "tell him as it is" did he ? He never fucking does.
What Koeman did was to tell the world how he see's it. The easiest thing in the world would have been for Koeman to sit him down and say "Look lad, your not ever going to figure while I'm in charge." Job done.
The ostracism and public humiliation has been deeply unpleasant. they have not been the actions of a decent honest man; it's been unnecessarily nasty and does not reflect well on our club.
Let's just remember; this is the Koeman who told the world (again not the players) that none of the youngsters were ready – only to do a complete U-Turn having to select three of them within a fortnight.
The fact that they acquitted themselves wasn't what made him look a complete plonker, he'd done that himself with his idiotic statement. The guy can't see past the end of the day... He was always going to need them.
Ideally, Niasse would be going with our best wishes. most of us would have taken a mild satisfaction to read he had netted for his new club (like we do wen Big Vic scores). But now, half of us are desperate for him to fall flat on his face so Koeman will appear vindicated and the other half will be willing him to expose the Dutchman's crass buffoonery.
It shouldn't fucking matter to us, but mark my words, this divide will run until the end of the season. Every miss greeted with howls of derision and every goal seen as irrefutable proof of Koeman's incompetence.
As far as I'm concerned, he has only ever told us as he see's it. The longer he keeps getting it wrong whilst exonerating himself, The more hollow the claim "He tells it like it is" becomes.
I've said before. This is beginning to look a lot like the last regime. I still remember the joy with which Martinez's blue sky interviews were greeted. I wonder how long it will be for people to realise the difference between "Telling it as it is" and talking like Tony Soprano.
Mark Murphy
145
Posted 12/01/2017 at 07:01:42
Or more likely, Darren, Koeman DID sit Niasse down and tell him but it just wasn't reported that way in the press?
And maybe, just maybe, Koeman is doing exactly what a good manager should do with the kids, keeping their feet on the ground and introducing them gradually?
I too feel sorry for Niasse but I don't believe more than half of what our sensationalist press report anymore.
John G Davies
146
Posted 12/01/2017 at 07:11:32
"Half of us are desperate for him to fall flat on his face so Koeman will appear vindicated and the other half will be willing him to expose the Dutchman's crass buffoonery."
Which half are you in?
"Mark my words this divide will run to the end if the season"
What a divide that will run to the end of the season about a player who made five starts for Everton?
Slight exaggeration there.
As Tony Soprano would say.
"Forgeddaboutit"

Alex Parr
147
Posted 12/01/2017 at 08:53:24
Good riddance.
The whole deal bringing him in last January absolutely reeks. He is not fit to play for us; yes, he (and likely all of us) would've snapped the hands off the absolute clown that offered 㿨k a week. But if I was offered 㿨k a week to do fuck-all other than train and take a bit of public slagging, I would happily do it. All those complaining about the way he has been publicly told to go and find somewhere else if they are interested in playing football, I cannot understand.
I was told years ago that I'm not good enough to play football professionally. I dusted myself down, found a career where I am under a lot more scrutiny and take a lot more shit off people – the public, the media, the two-faced snakes in government – and for about 0.012% annually of what our Oumar gets for being told a few home truths in public. So what?
People need to get a grip and he needs to get out of our football club. Like Koeman says (and I'm no Koeman fan, by the way), if he cares about playing football he would move on. Seems Niasse cares far more about cold hard cash. He represents everything that is wrong with the last managerial appointment and the loser mentality that should've left with it. Go elsewhere Niasse, find your level and with it you will find a locker and some fans that want you.
I don't care about him scoring goals elsewhere for him, or some misguided sense of retribution, or becoming a prodigal son. Anything that might help minimise the already-significant loss the club has incurred, is all I care about when it comes to The Curious Case of Oumar Niasse.
Oh, and whilst people carry on harping on about how St Oumar has handled himself so professionally, and with such dignity, during his spell at mean old Everton, let's not forget this... Everton FC striker Oumar Niasse in assault arrest.
Tony Draper
148
Posted 12/01/2017 at 12:12:36
John @133.
59 (just). Slightly slower than Gareth, but not actually as slow as Ross doing his version of Peter Kay "Dad chasing the stolen Sierra routine".
Better in the air than Brett Angell (who had no wings, but I can borrow me mates daughters set, we had to walk around ASDA the week before crimbo and I ended up wearing them Sadly she didn't relinquish the halo, so I looked like a "whalehunter").
Great delivery from set pieces. (Honest). (OK, left side. Or very close to RHS touchline). Never missed a pen. Never got scared by the Icelandic "Hoo!" Was one of only three at Elland Road barking our troops on after their heartbreaker... And I can forever remeber the other two faces!
My own locker? No worries. Shirt number? 1878 Please... Sixty grand ? Bit steep TBH. Reckon that I could stump up a few quid tho.
And with my arse, I'll warm much more bench than most if these lazy bastards. (Gratuitous mention for "Byrnes Chippy" 4th generation Purebloods. Evertonian chippy since EFC became EFC!).
Brent Stephens
149
Posted 12/01/2017 at 12:20:28
Alex (#147) – and the outcome of that alleged assault? I've googled and can find nothing other than "...arrest on suspicion of...". In your own words, "let's not forget this", eh.
Good luck to Niasse. I'm not aware he's shat on us in any way; it's Everton that messed this one up.
Brian Furey
150
Posted 12/01/2017 at 12:22:44
I'm shocked Hull are happy to take him until the summer and I'll be totally shocked if we get £10M for the lad at any stage.
I wonder how much Hull watched him before they made their approach or did he approach them and say he wants to remain living in Manchester area and that he'll play for them for reduced wages.
From some of the U23 reports I read he might have scored a few goals but he wasn't outstanding by any means.
Eddie Dunn
151
Posted 12/01/2017 at 13:57:11
Darren, Koeman did take him aside and tell him to his face. Niasse has said so.
Len Hawkins
152
Posted 12/01/2017 at 14:20:00
Liam #26 More like Donald Campbell he'll sink without trace. Whoever sanctioned signing him should get down on his knees and thank the person who conned Hull into actually taking him on. Hope the receipt says "sold as seen".
Darren Hind
153
Posted 12/01/2017 at 19:07:58
"What a divide that will run to the end of the season about a player who has made five starts for Everton."
"Slight exaggeration there"
I guess it depends on whether you actually understand what the thread is about or not. If you think it's about the player, then most of the posts have gone clean over your head.
The divide is not about the player; the divide is about the treatment of the player. Some think it's acceptable; some don't.
If Niasse isn't chosen, people will point it out and claim it is vindication of Koeman's actions
If Niasse plays and doesn't score, it will be pointed out on these pages and used as vindication of Koeman's actions.
If Niasse plays and scores a few, it will be mentioned on these pages and Koeman will be criticised; people will claim he got it wrong.
If Niasse scores a bagful, this place and every other place where Evertonians congregate will go into meltdown and Koeman will be absolutely slaughtered.
"Exaggeration"? We'll see about that...
Eddie. I'm not sure Koeman did speak to Niasse without an audience... but I know for a fact he belittled him to the press.
Paul Tran
154
Posted 12/01/2017 at 19:18:09
Stick to beat Martinez becomes stick to beat Koeman. Good luck to him.
Andy Walker
156
Posted 12/01/2017 at 21:53:32
Not sure what your point is, Darren. Do you think we should keep Niasse? If so I think you are in a minority of one.
If you think he should be let go then you are of the same view as the fans as well as Koeman.
Whether Niasse ends up scoring loads of goals for Hull can't be known, so you can only make a decision based on reality (obviously). Sounds like you want to see what happens and then take a view of whether he should be sold.
Ray Smith
157
Posted 12/01/2017 at 21:57:37
John (#146),
Before I read your post, I thought to myself that we had been had over by Hull. Why would Hull pay 㾶m for a player that didn't produce?
However, looking at it from a reverse angle, if he does do the business, is there a place for him, if not sell him on?
It's not his fault that Martinez brought him in. We won't get 㾶m for him, so get what we can?
Paul Tran
158
Posted 12/01/2017 at 22:02:06
What a strange one this is. Relatively unknown, signs for 㾹.5m. He says he's raring to go. Martinez says he's not quite ready. Then he has an operation. Then he actually plays and looks terrible. Then allegedly, an Everton legend says he's shite. Then the manager who bought him doesn't play him. New manager comes in, watches him, says he won't get a game and banishes him to the Under-23s.
Now I'm not going to pretend that I know what's gone on behind the scenes and I'd love to know what happened before and during the decision to sign him in the first place. Has there ever been a stranger signing than this one?
I hope he does well at Hull. If people want to play confirmation bias with his success/failure, that's their choice.
Darren Hind
159
Posted 13/01/2017 at 05:16:23
Paul T
You are usually more astute than that.
Martinez was derided for paying way too much for a player who many said wasn't good enough to begin with – I said it myself after seeing him just twice.
Koeman is being derided for needlessly trying to very publicly humiliate the same player – players have been moved on since time began without their managers acting the gobshite. The exceptions are seldom forgotten.
Of course you are right about both managers are taking stick about the same player Pau.l.. but they are being beaten with two very different sticks.
John G Davies
160
Posted 13/01/2017 at 06:59:50
Darren.
My post was a little attempt at lightening the mood.No offence intended. I didn't realise you can ask the editors to remove a post.
Again, no offence just a bit of banter.
Tony Draper
161
Posted 13/01/2017 at 09:16:17
Alex @147. Very interesting link.
Having since searched a little further, there possibly seems to be an unspoken chapter to this story.
As many here have said, "something fishy", perhaps the fishiness was less in the sourcing of the individual and more in the behaviour, if the investigation were to be substantiated (which appears not to be the case so far).
"Pokie John" (Niasse's wife) appears to have question marks over her legality in the UK. This whole issue (14/15 May 2016) predates Koeman's arrival Perhaps, it may explain the ostracising of Niasse. It doesn't explain his lack of ability.
Very odd indeed. Possibly a far bigger, darker story behind this. One which the club has chosen to close doors upon and walk away.
Chris Williams
162
Posted 13/01/2017 at 09:39:06
I don't know about him sinking without trace, but he certain surfaced without trace...
Tony J Williams
163
Posted 13/01/2017 at 13:12:50
If we manage to get 㾶M for him, that will be up there with the Great Train Robbery or Birmingham paying ٤M for McFadden.
Chris Williams
164
Posted 13/01/2017 at 13:27:21
Or Fulham paying £11m for Radzinski. Or was it AJ?
Paul Tran
165
Posted 13/01/2017 at 14:15:49
Darren, thanks for the backhanded compliment!
I think there are people who are genuinely upset at the way they feel Niasse has been treated. There are also people who are using this to add to their shopping list of reasons to disapprove of Koeman.
There's an awful lot about this whole issue that I'm sure we don't and possibly will never know. I wouldn't advise any manager to deal with it the way Koeman did, but I'd like to know the full picture before passing judgement. I can't help thinking there's a reason behind it.
Kevin Rowlands
166
Posted 13/01/2017 at 14:30:13
Very unfair that Koeman is being criticized by some on here, he never had anything to do with his signing. He hasn't played him because he's not good enough.
Don't forget, after he was signed, Martinez hardly gave him a game... why? Because him and the staff decided he wasn't good enough. I'd also assume that, when Koeman arrived, he was given advice by Unsworth, Ferguson, Sheedy and Royle on the players at the club and was told Niasse wasn't first-team material,
Koeman is not to blame for this failure.
John G Davies
167
Posted 13/01/2017 at 14:57:45
Well spotted, Paul.
True; very true.
Darren Hind
168
Posted 13/01/2017 at 16:56:15
Paul,
There is a divide, but it's not between the people who are criticising Koeman here.
167 posts and I don't see many people criticising Koeman for getting rid of the player. I don't see many that says Niasse is good enough for Everton.
I do however see an awful lot criticising the way Koeman acted towards another human being. It's a completely different stick to the one people beat Martinez with.
Put another way: If Koeman hadn't acted so crassly, there would not have been a stick with which to beat him.
"I didn't know you could ask the editors to remove a post "
Neither did I. The guys who run this site have been doing it for years, They do a fantastic job of keeping the standard where it is. That opinion does not change – even when they remove a post of mine.
John G Davies
169
Posted 13/01/2017 at 17:10:49
Oh I see.
As the post was a humorous one directed at yourself in an attempt to lighten the seriousness of posts, I thought it may have been you that complained. As I said earlier it was just friendly banter no offence intended.
You mentioned Tony Soprano I posted to fergeddaboutit re Niasse as a joke. When you didn't enter the jocularity I posted. "Oh Marone"
I can't see why the eds would remove that tbh.
A gentle harmless joke Darren no offence intended. It doesn't have to be serious all the time. Does it?
Brian Harrison
170
Posted 13/01/2017 at 17:19:53
Well getting him off the wage bill till the end of the season is a plus seeing the manager has said he has no future here. But its very likely that Hull will go down and when that happens clubs look to offload their high earners or players not on long contracts. So unless he has a very good few months with Hull, then chances are he will be returned at the end of the season.
Same with Cleverley, he too may return at the end of the season, again unless he has a good spell between now and the end of the season. Maybe we might have a better chance of Cleverley being signed as I don't think Watford will get relegated.
John Wilson
171
Posted 22/01/2017 at 19:57:55
I just watched Hull v Chelsea for the purpose of watching Niasse. He came on the in second half around the 56th minute owing to two players' injuries. He was rarely a part of the game except to be fair, but even when losing 2-0, Niasse hit an amazing shot in the 89th minute, albeit the Chelsea goalie saved it. When he was on the ball, he wasn't a disaster at all.

Concerning Niasse's excellent attempted goal, he was walking backwards watching the ball as it come towards him, the ball bounced once before it got to him, somehow he turned around hit it on the volley, a powerful shot. Even the commentator tv said, 'very good.' 'Very good indeed.' This shows just how amazing Niasse's technical ability is as a striker.

Take into consideration the pressure that has been on Niasse, the way Koeman, and Everton have treated him, the fact Hull's new coach put him on pretty much only through an emergency, and he nearly lands an impressive goal, from behind him on the volley, shows character. It shows he has impeccable timing to do that. You'd think this was Chelsea's Diego Costa, instead it was Niasse, an otherwise premier league reject.
---
Add Your Comments
In order to post a comment, you need to be logged in as a registered user of the site.
Or Sign up as a ToffeeWeb Member — it's free, takes just a few minutes and will allow you to post your comments on articles and Talking Points submissions across the site.