Cleverley joins Watford on loan

77 Comments [Jump to last]
Thursday 12 January 2017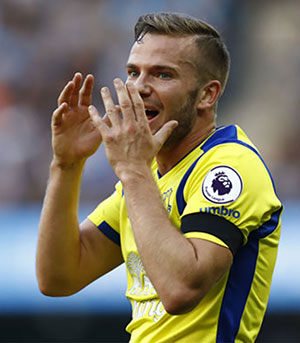 Updated
Tom Cleverley has returned to Watford, signing for the Hornets on loan with an option to make the move permanent in the summer.
The Hornets have concluded a deal for the 27-year-old that includes an option to sign him for a reported £8m in the summer after he travelled south today and underwent a successful medical.
It represents a return to Watford for the former England international who spent a season on loan there from Manchester United in 2009-10, at the end of which he was named player of the season.
Newcastle had been linked with both Cleverley and James McCarthy this window but while there was speculation that Ronald Koeman would only release either or both on permanent deals, the arrival of Morgan Schneiderlin at Goodison Park has opened up a fresh start for Cleverley at Vicarage Road.
---
Reader Comments (77)
Note: the following content is not moderated or vetted by the site owners at the time of submission. Comments are the responsibility of the poster. Disclaimer
Mark Morrissey
1
Posted 11/01/2017 at 18:09:52
I hope it gets confirmed. What more can one say other than let's hope it's true. No offence. Nice bloke – wrong sport.
Seamus McCrudden
2
Posted 11/01/2017 at 18:14:38
Another £50k a week off the wage bill hopefully.
Alasdair Mackay
3
Posted 11/01/2017 at 18:21:16
Great pro and his versatility made him a useful signing.
He scored an important winner at Newcastle last season, so that alone probably paid his wages in the TV money for finishing 2 places higher and we paid nothing for him, so if we get £8m+ for him it represents great business.
Mark Morrissey
4
Posted 11/01/2017 at 18:24:39
It says 'loan', Alasdair? We wouldn't get 8 bob for him – never mind ٦ mil. If he leaves our club, it will be on a free surely. He's garbage.
Alasdair Mackay
5
Posted 11/01/2017 at 18:31:07
Mark – He's 18 months into a 5 year contract. He was one of Villa's best players 2 seasons ago and an unproven winger from Charlton just joined us for 㾷m.
If we get less than ٦m we would be throwing money away.
Alasdair Mackay
6
Posted 11/01/2017 at 18:32:43
I would imagine there will be an option to buy tied in. He is certainly not in our long term plans.
Des Farren
8
Posted 11/01/2017 at 18:54:25
"No offense, nice bloke, wrong sport, he's garbage."
If that is not offensive, I don't know what is... but I suppose use of the term allows anything that follows.
Charlie Lloyd
9
Posted 11/01/2017 at 19:09:04
Alasdair it's about buying potential as well.
Nothing against Cleverley but he has no more potential left. What you see is what you get. Hard to believe he managed 13 England caps. He's an average player who will be lucky to command a place on the bench soon. Davies is above him in the pecking order now. So his times done really.
I reckon we'd be lucky to get £5m though. Whatever the fee save a good amount in wages.
Mark Morrissey
10
Posted 11/01/2017 at 20:08:28
Alasdair, if we sell him, I'll send you 㿀.
If he goes on a free, you send me a ٟ.
Matthew Clarke
11
Posted 11/01/2017 at 20:13:00
I'll go and start the car
David Pearl
12
Posted 11/01/2017 at 20:22:19
Mark, yes, he looks more like a snooker player.
Andy Meighan
13
Posted 11/01/2017 at 20:38:07
Delighted. One of the most average players I've ever seen in a blue shirt. Another one Martinez raved about No wonder we've got some shite at this club. Hopefully that's him Niasse and possibly a few more off the gravy train before the window slams shut.
Dave Abrahams
14
Posted 11/01/2017 at 20:38:16
Koeman has said he will not him or McCarthy go on loan in this window but will listen to bids if any club want to sign them, he also said they will have to be big bids in McCarthy's case.
Mark, I'd save my money if I was you; you don't rate him, fair enough, but when Cleverley is transferred, he'll go for a lot more than you think, a whole lot more.
Trevor Lynes
15
Posted 11/01/2017 at 20:48:46
Cleverley will fetch around 㾶 million at this stage of his career plus we may get our money back for McCarthy .It would of course save lots of money off the wage bill and help to pay the wages of any newcomers.Schneiderlin will eventually replace Barry but don't forget we have a big hole left by the absence of Gueye.I would love to get Depay to play in front of Baines and Schneiderlin. Bolasie is a big miss and none of our other wide players are filling that slot adequately.
John Maxwell
16
Posted 11/01/2017 at 21:20:19
Will miss his wife when he goes.
Mike Gaynes
17
Posted 11/01/2017 at 21:24:52
John (#14), in your dreams. Literally.
Charlie Lloyd
18
Posted 11/01/2017 at 21:25:18
Trevor, I have no idea who would fork out 㾶m on Cleverley. The really wanted players get their value then those others usually go cheaper because a club reduces the fee to shift him on and another club is then prepared to take a punt on him.
That's the reality of the market. Unless you have a club in mind. The thread mentions Watford. They'll not go that high.
Matt Muzi
19
Posted 11/01/2017 at 21:30:51
Adieu Tom, thanks for the memories!
Liam Reilly
20
Posted 11/01/2017 at 21:30:53
Good business, nice bloke but won't make the squad once it gets bigger.
On another note, anyone else watching the devils spawn somehow getting away only 1-nil down against Southampton? No doubt they'll turn that around in the 2nd leg.
Brian Williams
21
Posted 11/01/2017 at 22:11:06
I reckon Cleverley will go for between ٥m and 㾶m. He's 27, has 13 caps for England.
Those facts alone mean that ٥m would be a minimum IMHO. Prices are ridiculous at the moment so Watford would consider Cleverley at ٥m an absolute bargain.
Hey, Hull are borrowing Niasse, ffs.

Anthony Dwyer
22
Posted 12/01/2017 at 00:21:46
Cleverley is a good professional, just hasn't got enough to be a part of an 11 who want to push on.
Also what's with all this loan shit? He's a 27-year-old England international who has been in England his whole career, and isn't injury prone... What more do teams need to see?
Cash deal please.
Kristian Boyce
23
Posted 12/01/2017 at 00:50:55
It's interesting that a number of the clubs cited with an interest in him are ones that he has played for on loan (Watford & Villa). I think the time he had at those clubs as well as Wigan, he was their best player in those seasons.
The time he's had with us he has basically been played out of position due to being unable to budge the midfield partnership of Barry/McCarthy and Barry/Gueye. Sticking him out on the left wing or in a predominantly defensive midfield role is not what he is.
£7-8M is a good deal for whoever buys him, seeing we just bought a 19-year-old League One player with less than 50 appearances for £11M.
Don Alexander
24
Posted 12/01/2017 at 01:04:36
Tonight's "news" in the red-tops is that Moyes wants him. Like others on this thread, I just don't think he has the energy necessary for Premier League football, but with a Missus like his why am I not surprised?!
Kieran Kinsella
25
Posted 12/01/2017 at 03:02:11
Bit of an enigma. I think he's over trained. You see it with kids in the USA. They drill them to be well rounded but they end up as jack of all trades, master of none. A good athlete but lacking quality in any specific role.
Richard Lyons
26
Posted 12/01/2017 at 06:27:21
In fairness I think he is somewhat unfairly demonised on TW. In the FA Cup semi-final last year, he was the only Everton player who looked like he was up for it, and nearly turned the game back in our favour single-handedly.
OK, that's the only time I've seen him do that, and anyway, I think we should be doing better than TOWIE wives.
Kieran Fitzgerald
27
Posted 12/01/2017 at 06:37:47
I would hold out for a permanent deal. The likes of Sunderland, Villa, Newcastle and Watford may only have a small transfer budget for varying reasons, but they still have money to spend.
I think Everton and Koeman will be keen to move some players on. The manager to move on players he doesn't see as having a future and the club to recoup some of what it has spent, as well as reducing the wage bill.
I would take £7M for him if it meant we moved him on with some cash for us. Given the clubs that are interested I wouldn't be expecting much more by way of offers.
Chris Williams
28
Posted 12/01/2017 at 08:10:47
Announced on Sky he's having a medical at Watford today.
Together with Niasse, that will be 𧴜k off the weekly wage bill.
James Morgan
29
Posted 12/01/2017 at 08:35:01
Good luck to the lad, seems a decent guy but not the quality we want or need.
If it's permanent in the summer as Niasse could be, we could get around 㿀m in our coffers for players of no use to us. Would kind of make up for the wasted money on old Oumar seeing how we got Cleverley for free.
Just get shut of Gibson, Lennon and Kone and the fat will have been trimmed nicely.
Colin Glassar
30
Posted 12/01/2017 at 09:11:55
Good luck to him but why are we loaning out players who obviously have no future at the club? If they aren't in the manager's plans just sell 'em.
Teddy Bertin
31
Posted 12/01/2017 at 11:04:08
Colin, I'm sure Koeman would sell half the team if the offers came in but who would want to spend millions on Cleverley, McGeady, Gibson, Niasse etc etc who have just not delivered for us, despite their potential.
Best he can hope is that someone will take them on loan and with a bit of luck they'll do really well and we'll get some money back on them.
Cleverley has been a massive disappointment. Never found a position that he could be consistently effective in and produced so little for us. Best free transfer.
One of the most sensational free transfers in Premier League history eh? Jeez!
Phil Roberts
32
Posted 12/01/2017 at 11:05:44
I think he is a brilliant player and will be gutted when he leaves.
He makes the team tick, brilliant on the ball, can pick a pass and got a great shot on him. Reads the game well and ferocious in the tackle.
Can't believe why Koeman is not playing him more often and he will absolutely thrive at another club.
Can some of you please re-post this on Watford, Newcastle, Villa fan forums and also forward to chairman of respective clubs. When you are selling, you big up your product, it is when you are buying you play down the value.
Dave Abrahams
33
Posted 12/01/2017 at 11:20:13
Well that's around ٠M saved on wages, a loan fee in the bank, plus a transfer fee when he is sold permanently in the future.
For Cleverley, it might mean he gets played in his proper position where he might prove his true value.
Sam Hoare
34
Posted 12/01/2017 at 11:21:11
Phil, I reckon he will thrive at another club and we haven't seen the best of him here as he's had no continuity. Perhaps a statto will correct me but i'd be surprisesed if he's ever started more than 4 or 5 games in a row. Few players will show their best without a run.
Best of luck to him.
Keith Monaghan
35
Posted 12/01/2017 at 11:23:39
Teddy, I agree with much of what you said, but not that he's been a disappointment. I think he's that type of all-round player who puts a shift in but is not particularly good at anything – so he plays different positions and never nails one down. Good luck to him, he may lack ability but he's always given his best.
Getting decent money for deadwood is never easy – as you say, someone has to want them, and all of them aren't good enough to be regular starters in the Premier League.
I hope we can get decent money for McCarthy, but think we'll struggle to get our 㾹M back – what's happened to potential 㿀+ M buyers of 2 years ago? I think they've lost interest 'cos he's no longer up to it, fitness being an obvious issue.
Andrew Ellams
36
Posted 12/01/2017 at 11:57:57
He actually performed quite well last season when Martinez played him in front of Baines. But if we want to progress we need better players than him.
Ray Jacques
38
Posted 12/01/2017 at 12:38:25
He hasn't been demonised on ToffeeWeb. It's simply that he is useless.
Removing players of his 'standard' is a step forward.
Tom Bowers
39
Posted 12/01/2017 at 12:50:30
Many midfield players work hard but that alone is not good enough. You have to have impact and to have that you need some flair. Cleverley fits that bill.
Les Green
40
Posted 12/01/2017 at 12:51:27
Sunderland are reportedly interested in Cleverley too so it might be worth a cheeky swap offer for Van Aanholt. I'm sure Moyes wouldn't stand in the way of a player wanting to improve himself...
Gary Edwards
41
Posted 12/01/2017 at 13:42:28
Phil (#31)... good idea but I'm afraid any attempt to hoodwink another club would be fruitless, he's been around long enough to be known.
What is Cleverley's best position? At Wigan I recall he played well on the left wing, at Villa I believe he centre midfield... I thought he acquitted himself reasonably well when playing right-back for us.
Regardless of getting a decent run in the 1st team I don't think he ever showed enough to convince Martinez or Koeman that he was better than the options in the various positions he 'covers'.
All the best in your future, Tom.
Keith Monaghan
42
Posted 12/01/2017 at 13:42:45
Seems is though he's almost gone now, but only a loan – hope he does well enough for it to become permanent.
Tom @37 – your description fits McCarthy perfectly i.e. no flair (& he nearly always passes sideways or backwards).
David Pearl
43
Posted 12/01/2017 at 14:38:47
Keith we will easily get back the 㾹m we got McCarthy for. There are more than one club interesting. Not sure he is even for sale. Especially now Cleverley is going.
Drew O'Neall
44
Posted 12/01/2017 at 15:13:45
Might not be the best player in the squad but I feel like he always gives everything when he gets the chance to play. That used to mean something to Evertonians.
Jim Bennings
45
Posted 12/01/2017 at 15:29:06
Whilst true he's not good enough I'd have had the likes of Kone and Gibson out the door first..
Patrick Murphy
46
Posted 12/01/2017 at 15:47:51
Jim (#45),
The problem being nobody wants those two or so it would seem. Tom just didn't do it for Everton, he wasn't the first and won't be the last, but at least he tried his best, for most of the time. Good luck to him at Watford, if that's where he ends up.

David Booth
47
Posted 12/01/2017 at 15:53:50
Couldn't hold a candle to the likes of Richardson or Harper, who were invaluable back-up players in a successful Everton side.
Cleverley has done nothing at all since he arrived here to suggest he could even be a mere component in our current bunch of misfiring misfits.
Getting rid of players like him – who will never help us win anything – is a positive step forward.
His level is significantly below even where we are right now and he belongs somewhere such as Newcastle and Watford, both of whom he is currently being linked with.
He's just Osman-lite and a waste of a first team place when picked.
Sam Morrison
48
Posted 12/01/2017 at 16:37:54
Good luck to him. He never got a chance to play his best position which is central midfield – where he played well for Villa – and I hope he does well for them. Not the best when he did play, but never shirked either.
John Pierce
49
Posted 12/01/2017 at 16:51:54
Jack of all trades, mastered none. A continuity player. Filled in holes but never had enough effect on a game to warrant a 1st place.
Energy, decent pro, never heard a peep out of him. Sadly we won't notice he's gone.
Denis Richardson
50
Posted 12/01/2017 at 16:56:40
Early spring clean going well. Niasse and Cleverley out, both loans but hopefully at least one will be bought in the summer.
Kone's contract expires in the summer, as does Jagielka's.
Slowly shifting the deadwood. Gibson and Besic probably in the summer too.
Brian Hennessy
51
Posted 12/01/2017 at 17:05:19
I wish him all the best at Watford.
Gibson, Kone, Niasse and Cleverley off the books would be a good outgoing January window for us.
If Schneiderlin and Belfodil are confirmed to add to Lookman, I would still like us to add a couple more by the end of the window
Eddie Dunn
52
Posted 12/01/2017 at 17:13:05
When at Man Utd, with good players all around him, he looked brilliant. At Everton, played out of position most of the time, he has been patchy.
His main problem is that everyone is getting bigger, and the likes of Cleverley, and Osman bet pushed out of the way.
Koeman is getting in some more muscle. It's a brutal League, and you need to be strong.
James Flynn
53
Posted 12/01/2017 at 17:21:30
Brian (#51) – Some rumours around of Leeds interest in Darron.
Mark Morrissey
54
Posted 12/01/2017 at 17:25:16
Good luck; please do well and prove me wrong.
Frank Sheppard
55
Posted 12/01/2017 at 17:27:38
I was underwhelmed when we signed him, and he didn't do much to change that.
Brian Hennessy
56
Posted 12/01/2017 at 17:28:06
James (#53), that would be good.
The most frustrating thing about Gibson is that when fit, he has been very good for us, much better than Cleverley, McCarthy or Besic in my opinion. Unfortunately though, I along with almost all Evertonians know, keeping him fit is an impossible task.
Matt Traynor
57
Posted 12/01/2017 at 17:37:07
Deal confirmed with option to buy.
Robin Cannon
58
Posted 12/01/2017 at 17:59:33
Good move for all concerned, I think.
He'll do decent by Watford. Likely get some more regular playing time, and in his preferred central role. He doesn't have that opportunity for us.
Mike Gaynes
59
Posted 12/01/2017 at 18:04:49
Well said, Robin.
Wishing him all the best. He deserves it.
Dave Bowen
60
Posted 12/01/2017 at 18:08:47
In fairness to Cleverley, he was just starting to find some form last season when Eric Dier put him out for 3 months with a shocker of a tackle. Never really got back to that level after that. A loan is probably best for all concerned.
Alasdair Mackay
61
Posted 12/01/2017 at 18:29:27
Mark Morrisey
Do I get a bonus for getting the figure right as well?
Steavey Buckley
62
Posted 12/01/2017 at 19:22:43
With an option to buy, why aren't Watford doing the deal now to buy Cleverley? If they refuse to buy him at the end of the loaning, Everton will have another player back to contend with. The same goes for Niasse.
Shane Corcoran
63
Posted 12/01/2017 at 19:34:14
I rushed on here to say that I heard any deal in the summer would be for around ٦m but you all already know.
It makes Schneiderlin's fee sound a hell of a lot better if someone is prepared to pay that for Cleverley.
All the best all the same.
Ian Jones
64
Posted 12/01/2017 at 20:09:09
I got as far as post 23 before Kristian quite rightly indicated that he was played out of position most of the time whilst at Everton. Haven't read anymore posts.
I guess it will be interesting to see where he plays at Watford but, if played in a more central role, will do a decent job.

Christy Ring
65
Posted 12/01/2017 at 20:37:44
Cleverley had to go, but I don't understand all the comments that McCarthy has to be next. He's a defensive midfielder, and Gueye is gone for about 6 weeks. Play Schneiderlin and Macca, and let Barry out to pasture.

Gordon Roberts
66
Posted 12/01/2017 at 20:54:10
Christy Ring (#65). I agree about McCarthy, he should stay: Schneiderlin, Gana, McCarthy and Davies – perm any 2 from 4.
Tony Draper
67
Posted 12/01/2017 at 21:15:18
Thank heavens. Polystyrene gone.
Bloody hell. If we have a shirt for him then we really are devoid of ambition.
The most boring player in the history of football.
Anthony Dwyer
68
Posted 12/01/2017 at 21:46:04
Charlie Lloyd .
You asked if it was the Chinese in for Cleverley when I mentioned a fee of around ٥m.
Just saying mate !
Ian Hollingworth
69
Posted 12/01/2017 at 22:40:00
It's for the best as he simply is not good enough.
More in and more out please as the revolution begins.
Sean Patton
70
Posted 12/01/2017 at 23:56:08
Sam,
According to the incomparable EvertonResults.com Cleverley started 6 games in a row on 3 separate occasions and made 25 starts last season, so I think he had his chances but was nothing more than average.
He cost nothing and will bring in a decent fee so I don't understand the vitriol towards him and, with him gone, that frees up a place for Davies, so it's all good.
Dan Egerton
71
Posted 13/01/2017 at 01:05:42
"So, if we get ٦m+ for him, it represents great business."
Minus the wages we paid him.
Brent Stephens
72
Posted 13/01/2017 at 01:11:50
Dan,
I think the point is that what we've already paid in fees and wages equals sunk costs, water under the bridge; the question is how much we can now get for him, and ٦m seems about all we can hope for.
Darren Hind
73
Posted 13/01/2017 at 05:24:30
He had some decent games, not many granted, but I always felt he gave it his best. Can't ask for more than that.
For some reason he has managed to become one of the most unpopular nice guys ever to play the game. That petition really did shock me
Not being good enough never used to be classed as a crime, but players get paid so much these days...
Kevin Elliott
74
Posted 13/01/2017 at 08:23:25
Good luck, Tom, and thanks for your efforts.
Alasdair Mackay
75
Posted 13/01/2017 at 08:23:42
Dan Egerton – his winning goal at Newcastle in the 90th minute meant we finished 2 places higher.
With then TV money – that's probably most of the ١.75m we have paid him in wages.
Denis Richardson
76
Posted 13/01/2017 at 08:42:26
11 people in a team Alasdair.
Had he picked up the ball in our area and dribbled past the oppo and banged it in, then I'd agree with your statement.
Tony Draper
77
Posted 13/01/2017 at 08:58:30
Delighted that Tom has gone.
The most bland wearer of "The Royal Blue Jersey", since Geoff Nulty. Speaks volumes when a player so moribund can get into our first eleven.
Paul Tran
78
Posted 13/01/2017 at 09:05:43
He's a good solid hard-working professional. And a fairly ordinary player. People always expect more of ex-Man Utd players, particularly when Martinez over-hyped him.
Good luck, Tom, wish all our squad tried as hard as you did.
Tom Magill
79
Posted 13/01/2017 at 09:47:53
All the best for the future, Tom, and thanks for your 100% effort every time you played for us.I wish the rest of our players gave the same effort.
---
Add Your Comments
In order to post a comment, you need to be logged in as a registered user of the site.
Or Sign up as a ToffeeWeb Member — it's free, takes just a few minutes and will allow you to post your comments on articles and Talking Points submissions across the site.