Niasse completes loan move to Hull City

67 Comments [Jump to last]
Friday 13 January 2017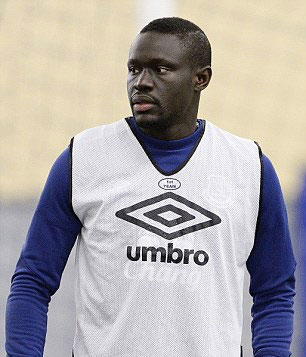 Oumar Niasse has joined Hull City on loan until the end the season after completing a medical.
The Tigers will cover his salary for the remainder of the campaign and reportedly have an option to make the move permanent in the summer for £10m if the transfer works out, although this has not been confirmed
The Senegalese striker becomes the second player out the door at Everton this week following Tom Cleverley's move to Watford under similar terms. Like the English midfielder, Niasse's loan switch offers the chance at a fresh start and a chance to kickstart a stalling career.
Niasse was signed for £13.5m from Lokomotiv Moscow last year in what has become an infamous transfer deal by former Everton manager Roberto Martinez.
He has made just a handful of appearances since making that big-money move from the Russian league and was quickly relegated to the Under-23s by Ronald Koeman in anticipation of him finding a new club in short order.
A rumoured move to Turkey failed to transpire last summer and he had been linked with clubs in that country this month before Hull stepped in to seal a move that they hope will add firepower to their bid to avoid relegation this season.
---
Reader Comments (67)
Note: the following content is not moderated or vetted by the site owners at the time of submission. Comments are the responsibility of the poster. Disclaimer
Minik Hansen
1
Posted 13/01/2017 at 14:40:40
Good luck with him, I hope he gets lots of playing time there. If he turned out good and he managed to have a great little run given a chance at Hull, would you want him back?
Ian Guignet
2
Posted 13/01/2017 at 14:56:12
Watch him score a bag full now.
Ian Hollingworth
3
Posted 13/01/2017 at 14:57:16
Good riddance, move out the dross and start bringing in quality.

Brian Furey
4
Posted 13/01/2017 at 14:57:38
I'm expecting him to show loads of enthusiasm and pace but to really frustrate the Hull fans as he'll create chances but not have the finished product. Who knows though, maybe if he gets off to a good start his confidence might flourish.

For Everton's sake I'd like to see him do well so we can get back 㾶M but I can't see it. At least he's back in the window for people to see him.
Mike Gaynes
5
Posted 13/01/2017 at 15:19:34
Minik (#1), we never got to see him play. 152 minutes total in his entire Everton career. That's ٟmillion every 11 minutes. But whether we'd have him back is irrelevant. Koeman won't. End of.
I'll be watching some Hull games just to check the guy out... and see what it was that appalled Koeman so much that he literally kicked him to the curb.
Barb Ellis
6
Posted 13/01/2017 at 15:19:36
I wish him all the best. At least he'll have a locker.
Jack Plant
7
Posted 13/01/2017 at 15:23:30
I can only really see them wanting to sign him if they stay up... and if he scores enough goals for them to do it, we should probably take him back.
Brian Williams
8
Posted 13/01/2017 at 15:32:47
He won't be the last away if honest Ron's latest words are anything to go by.
"The squad know that some of them have no future at Everton."
That might not be word for word but it's damn near close. Hope we get enough players in during the window so that the players that comment was aimed at don't have to be relied on too much.
Kevin Tully
9
Posted 13/01/2017 at 15:58:19
Brian – Yes, just read that comment from Koeman. I've got to be honest, it was music to my ears! A manager has come in to the club, told the board to get their arse into gear, and made it clear to any underperformers in the squad they will shipped out. They can't complain, every player has been given a fair crack to show what they can do.
It's been 30 years since we showed clear ambition like this, and even if you don't like Koeman, or his methods, he will shake this club up from top to bottom – something many managers would find all too difficult to put into practice.
This is precisely the reason we need a character such as Koeman at the helm during the transition from grateful mediocrity, to a fallen giant getting back on its knees.
Chris Williams
10
Posted 13/01/2017 at 16:00:25
Kenwright and Elstone too hopefully.
Paul Smith
11
Posted 13/01/2017 at 16:02:24
Brings tears to my eyes that, Kevin Tully.
Brian Williams
12
Posted 13/01/2017 at 16:10:10
Kevin (#9).
I fully agree, mate.
I have to laugh because I can imagine the powers that be telling Honest Ron that they want him to do whatever it takes to get us back up there, not for one minute thinking that the Dutch penchant for taking things totally literally, and not giving a fuck who they upset, would mean that he goes and meets the players, shakes their hands, and as he's doing so says:
"Hello Oumar, nice to meet you, you won't be here long."
"Hello Tom, nice to meet you I wish you well in your next club."
Imagine the players in line waiting to meet him, shitting themselves!!
Shane Corcoran
13
Posted 13/01/2017 at 16:19:39
Mike (#5), I know Koeman's coming across as a tough guy, but if he literally kicked Niasse to the curb (?) then the others better watch out.
Kevin Rowlands
14
Posted 13/01/2017 at 16:23:07
Mike (#5), it wasn't just Koeman that kicked him to the curb, any criticism of Koeman is unfair in this situation. Martinez signed him in January and rarely played him the rest of the season so it's plainly obvious that the previous coaching team didn't rate him.
I'd be very surprised if Ferguson, Unsworth and Royle didn't give Koeman the heads-up that the lad was not up to it; I'm sure Koeman then witnessed this for himself in training.
He was honest with Niasse and told him he needed to move on if he wanted to play; nothing wrong with that whatsoever.
Brian Williams
15
Posted 13/01/2017 at 16:24:36
Kevin (#14) ... apart from saying it in public.
Dean Adams
16
Posted 13/01/2017 at 16:26:03
Kev. Very sensible stuff. You are right with Koeman but some don't like his style. Me, I love it. Looking great for the future. Let's hope it all pans out!!
Brian Furey
17
Posted 13/01/2017 at 16:34:15
A bit off topic but I thought I'd compare our status this season after 20 Premier League games to last year. After 20 games last season Lukaku had scored 15 goals, with Barkley on 6 and Kone third on 5. Naismith has 3 from his hat-trick v Chelsea with Deulofeu having scored 2. Mirallas only had 1.
This season, Rom has got 11, Barkley and Coleman on 3 with Mirallas, Barry and Baines all on 2.
We were in 11th place last year after 20 games and this year we're in 7th. In 2015, we were in 13th place with only 21 points after 20 games.
So, whilst Koeman seems to have us with more points on the table and conceding less goals, we are really lacking in goals scored with Mirallas, Deulofeu, Kone and Barkley all down from previous seasons.
So whilst we probably do need a new goalkeeper, centre-half, and left-back, I'd rather focus on getting a few more goalscoring attack-minded players to help Ross.

Mike Gaynes
18
Posted 13/01/2017 at 16:55:44
Kevin (#14), yep, that makes sense too... except for Rhino, who has given Niasse lots of run time with the reserves and therefore obviously rates him somewhat. And I wasn't criticizing Koeman. I like his decisiveness. I was just pointing out that none of us saw enough of Niasse to judge for ourselves.
Shane (#13), you got that right. Koeman could kick a ball hard enough to make it cry. Even 25 years on he probably still has plenty of juice.
John G Davies
19
Posted 13/01/2017 at 17:17:44
Kevin (#9),
"Music to my ears"
It like Sinatra being backed by a symphony orchestra mate. With Aretha Franklin singing backing vocals.
Kevin Rowlands
20
Posted 13/01/2017 at 17:30:48
Mike, their paying him £55k a week, I wouldn't be surprised if Unsworth was told he had to play him as he wasn't going to get anywhere near the 1st team.
And what's wrong with Koeman going public? Player's and agents do it all the time.
Denis Richardson
21
Posted 13/01/2017 at 17:38:35
Mike (#18), Koeman certainly saw enough of Niasse to decide he wasn't up to it – that's what matters. Also the manager who signed Niasse didn't even fancy him!
I really hope he jams a few goals in for Hull so they buy him in the summer. Alas I can already see him quietly being sent back to L4 after a short stay...
At least we save £1 million in wages over the next 5 months.
Anthony Dwyer
22
Posted 13/01/2017 at 17:53:09
Let's wait and see what Oumar can really do, if he plays for Hull we can judge him fairly, if he can't break into their team then...
Mike Gaynes
23
Posted 13/01/2017 at 18:10:36
Kevin (#20), sorry, you lose me there. No way Unsworth would have been "ordered" to play Niasse ahead of exciting young prospects like Henen, Dyson and/or Calvert-Lewin when he didn't have a future with the club and they did. Just because of his paycheck? Makes no sense.
I'd say Rhino played Niasse ahead of them because he earned the minutes by banging in bunches of goals.
I just hope that Niasse, like Cleverley and McGeady, plays well enough to enhance his transfer fee.
Phil Walling
24
Posted 13/01/2017 at 18:26:05
All these Koeman admirers will be be queuing up to laud their hero if he clings on to 'seventh' – even if we finish 20 points behind Spurs in sixth.
How our standards have dropped!
Me? I'm going to leave you to it!
John G Davies
25
Posted 13/01/2017 at 18:33:58
Phil #24
Some fans worshipped the ground Moyes walked on for achieving 7th.
Mike Gaynes
26
Posted 13/01/2017 at 18:35:42
Oh, please, Phil... believing he should be given more time than half a season doesn't make Koeman anybody's "hero"...
People just disagree on whether the team's problems lie more with the players or the manager. Leave it at that.
Kevin Rowlands
27
Posted 13/01/2017 at 18:44:57
Wrong Mike, practically every time a first team player comes back from injury, they play in the U23s. That's not Unsworth's call – he's told to do it.
Think about it, Koeman tells Unsworth he wants a first-teamer to get some game time for match fitness; Unsworth's going to say no? I don't think so.
Also, Unsworth has been very vocal about Davies, Calvert-Lewin and Holgate, how he rates them very highly and how they are ready for the first team squad, has he ever said that about Niasse? Not that I've seen.
Benny Snow
28
Posted 13/01/2017 at 18:57:33
He'll be back at the end of the season. Wait until you see him on MotD falling over like Bambi on Ice, letting the ball roll under his feet and into touch, no control with a wild 6-foot first touch.
I'd be surprised if he makes the first team after they see him in training. Then he will be back at Everton with his kit bag in the hall way. We should have sent him overseas to a club with minimal TV coverage
Phil Walling
29
Posted 13/01/2017 at 19:41:17
Yes, John and Mike, I said on his appointment that Koeman would do well to re-instate us in Moyes territory. And with Moshiri's cheque-book he should manage that with ease – so plaudits all round.
After all, seventh is now confirmed as 'Best of the Rest' or , in other words Champions of Premier League Division Two. Even if we are ~20 points behind the worst of the 'big boys'!
As I said, how our standards have fallen.
Gavin Johnson
30
Posted 13/01/2017 at 19:59:13
I hope the Hull loan works out, for him, and for us.
If he doesn't make it at Hull. It makes you wonder if we'll get any money back on him if we have to put him back in the shop window this summer.
I can't knock Niasse's attitude. How he's got his head down and cracked on in the U23s is commendable after being rejected publically by Koeman.
Does anyone know what happened with that domestic assault charge? Shouldn't imagine that business did him any favours either.
Patrick Murphy
31
Posted 13/01/2017 at 19:59:58
Phil (#29),
As fans we hope to finish as Champions every season, but that is and has been unrealistic and therefore our ambitions have to be tailored to the circumstances surrounding the club and its rivals.
In August 1987, we had every right to expect a team that would challenge for the top places in the league but within seven years we were fighting the drop. "Never again" we were told and lo and behold just four years later we were at it again – avoiding relegation.
By the time Moyes joined the club any fan expecting Everton to be among the elite would have been fitted out with a new jacket and gained permanent residence in a nice safe room.
The reason that many Evertonions have been relatively happy with "seventh" is because there has been no sustained investment in the squad for most of the last couple of decades.
At the moment we are spending money but that will be tempered when we see who departs in the next six months – personally, I'm expecting the club to cash in on Barkley and / or Lukaku by the start of next season.
If both remain at Goodison after September 1st, the fans and more importantly the owners will demand a return on that investment and Koeman and the players will have to produce far more than the Everton managers and team have done in the recent past. Isn't that what we all wanted?

Raymond Fox
32
Posted 13/01/2017 at 20:03:54
Phil, that's unfortunately the reality of 'the money bags league'.
Kevin, David's hardly going to be singing Niasse's praises if Koeman says stupidly that he's no chance of getting first team football.
Kevin Rowlands
33
Posted 13/01/2017 at 20:06:23
Phil, how standards have fallen?? We haven't won a trophy in 20 fucking years! I think you're fishing here.
Kevin Rowlands
34
Posted 13/01/2017 at 20:37:52
C'mon Ray, you honestly believe that Unsworth hasn't discussed Niasse with Koeman?
That's a reach. If Unsworth thought so highly of him, he wouldn't be at Hull now.
Phil Hoyle
35
Posted 13/01/2017 at 20:48:10
Patrick (#37) – great post. Can't agree with you more.

Mike Gaynes
36
Posted 13/01/2017 at 22:18:50
Kevin, you're seriously contradicting yourself here.
"Koeman tells Unsworth he wants a 1st teamer to get some game time for match fitness, Unsworth's going to say no?"
Koeman very loudly and publicly declared Niasse WASN'T a 1st teamer, in fact had no future with the club. So why does he need him to get match fitness? Why in the world would he order Rhino to use him?
Answer: He wouldn't. He didn't. It was Unsworth's call because Niasse was scoring in buckets. All managers want to win games, and Niasse was winning them.
Of course Rhino and Koeman talked about the player, but I assume that if Koeman has enough respect for Rhino to make the U23s is responsibility, he has enough respect for him to let him use whoever he sees fit. Obviously a first-teamer needing conditioning will be in the lineup, but, just as obviously, Niasse doesn't fit that description.
However, as Raymond says, naturally Rhino's not going to publicly dispute Koeman's assessment. The boss is the boss, and the player's final fate is his decision.
Good luck at Hull, Oumar.
Phil Hoyle
37
Posted 13/01/2017 at 22:21:52
Echo MIke's #36 sentiments about hoping he does well. It is not his fault he got bought and put in the situation he is in.
Hoping he starts scoring for fun!!!
John Campbell
38
Posted 13/01/2017 at 23:01:41
The clearout has started. About bloody time! 6 or 7 to go and we are pretty much there.
Kevin Rowlands
39
Posted 13/01/2017 at 23:10:22
Niasse scored in buckets???? I believe he scored 3/4 goals for them against kids but now he's ready for prime time?
I refuse to get into some sort of childish debate with you over Omar Niasse, a man who won the lottery when he was foolishly signed. The last coaching staff and the present, both of whom included Unsworth and Ferguson deemed, he wasn't and isn't good enough, end of story.
Anthony Dwyer
40
Posted 13/01/2017 at 23:54:57
Arguments and discussions can all be settled by watching Match of the Day over the next few months.
Niasse at Hull in the Premier League is brilliant for us as Evertonians, we get to see the lad for what he really is.
Kevin Rowlands
41
Posted 14/01/2017 at 00:17:14
Agree Anthony, although I'd wager a big wedge he's back at Goodison after the season, 100% guaranteed if they're relegated no matter how he performs.
Mark Andersson
42
Posted 14/01/2017 at 05:32:19
Phil Walling, read Kevin Tully's post. I believe Koeman publicly stated his dissatisfaction of the player Naissie to show the board and the world he meant business.
Good on him – the man is a winner and he came here thinking he had been sold on a new project. This window proved me wrong and I'm happy to eat humble pie.
Phil, climbing back to the top is everyone's dream. I don't think any Everton fan settles for 7th place but realistically that's about where we are going to be until the board back the manager.
Kenwright needs to be shipped out the club needs to have a winning mentality from top to bottom – Koeman is a good start.
Mike Gaynes
43
Posted 14/01/2017 at 06:04:54
Aw, come on Kevin, for shit's sake you know exactly what I was talking about. The one being childish here ain't me.
According to the club website, Niasse scored 13 goals. YES, for the reserves, of course!
And I never said a word about him being ready for prime time. Nobody said that. Why are you making stuff up?
Have a cookie and chill out. We've got a game to get ready for.
Kevin Rowlands
44
Posted 14/01/2017 at 06:41:01
Thank you, Mike, your last post just made my point.
Mike Mulhall
45
Posted 14/01/2017 at 07:42:15
I can see him getting his first goal for the club on 4th February vs the RedShite. Stuff like that generally happens, or does it only really happen against us?
Charlie Lloyd
46
Posted 14/01/2017 at 08:04:55
I really doubt that Hull will beat the drop. It would be interesting if they go down and Niasse pops in a few and looks ok but they don't want to invest the 㾶m. Would Koeman accept him back in before another club were offered the chance to purchase.
As for Phils point @24. I'm a partial Koeman admirer cos he's straight talking and I reckon he wants to win things or at least get to the Champions League. The first 6 months have been a bit up and down but we have been mostly solid and I reckon 7th at the moment is okay.
I'm not rejoicing and don't want us to finish there but it'll take time for methods to work, players to come, system that works and players to gel. There has to be patience shown to give Koeman a chance to achieve this. We can't expect it all straight away. We are making tentative steps in the right direction.
For me, judgement times will begin around 18 months into Koeman's tenure. That'll be Dec 17, I'm not saying we sack him then if we're not 1st but I expect a firm idea of where we are heading then.
Mike Allen
47
Posted 14/01/2017 at 13:44:23
There must be something other than football reasons for Niasse treatment. Lame excuses right from the off for not playing him that dragged on under Roberto...
Ron comes in, no excuses... just "If he wants to play he has to move" doesn't sit right with me. Why single him out when we have a shedload of not-good-enough's that shouldn't have a locker?
Geoff Trenner
48
Posted 14/01/2017 at 15:30:34
On the bench for Hull today
Geoff Trenner
49
Posted 14/01/2017 at 15:33:17
Another of our ex-strikers, James Vaughan, got 4 in 30 minutes for Bury.
Alan Bodell
50
Posted 14/01/2017 at 15:34:58
I hope he does well for them, it wasn't his fault we blew big money on him and maybe we can see exactly why we did and if he does well then we can at least get back some of the outlay.
Nicholas Ryan
51
Posted 14/01/2017 at 15:49:35
Duncan Ferguson presumably knows a decent striker when he sees one. Also, I think he would be pretty vocal, if he thought there was an undiscovered gem, lurking amongst the youngsters. Therefore, here is a list of the positive pronouncements Ferguson has made, about Oumar Niasse:
John Wilson
52
Posted 14/01/2017 at 16:40:35
1) Oumar Niasse and Everton have a contract for duration 4.5 years: to June 2020: http://www.evertonfc.com/news/2016/02/01/niasse-completes-13-5-move
2) The terms of the contract were flexible as Everton hired his services to Hull, meaning at the end of the season unless Hull City purchase Niasse that he will automatically return to Everton until his contract expires (to see out his contract for around 4 years).
In the interim, Hull have only removed the burden of Everton paying Niasse weekly pay as Hull have this transferred burden. Everton need a purchaser otherwise.
Alan Bodell
53
Posted 14/01/2017 at 16:51:41
Nicholas (#51), so because Ferguson doesn't publicly endorse the lad then he's shite eh?
I've never heard the big man make comments about anyone he's coaching but I for one would like this quite unassuming guy who has never mouthed off and rocked our boat to do well and prosper somewhere else, if not for us.
Frank Wade
54
Posted 14/01/2017 at 16:57:23
Niasse got on for 8 mins as a late sub for Hull today. Good luck to him.
John Wilson
55
Posted 14/01/2017 at 16:58:00
I think Koeman / Everton were hoping that Niasse knew/ knows nothing about contract law, so that he would voluntarily leave his contract.
The way Everton / Koeman have treated Niasse he could well have sued Everton for defamation of his corporate name/ brand. The gentleman barely says a word. Anyone else would have likely attempted to sude Everton for damages.

James Morgan
56
Posted 14/01/2017 at 17:00:02
Saw his cameo, showed his pace and nearly had an assist had the other lad not strayed offside.
I can't believe we've loaned him out, fuck of Everton and Koeman – you're all shite!!! 😉
Mike Gaynes
57
Posted 14/01/2017 at 17:03:38
He looked decent today for Hull; couple of nice runs with the ball, caught offside once himself, certainly didn't look out of place.
John G Davies
58
Posted 14/01/2017 at 17:04:44
Whoever let James Vaughn go needs fucking. He scored 4 today.
I knew it would come back to bite us on the arse.
Tom Bowers
59
Posted 14/01/2017 at 17:06:13
Seven minutes of playing time and not a goal. Told you he was rubbish...
Seriously, though, I cannot understand why he couldn't get any look-in at Goodison. He must have done something to really upset someone.
Dermot Byrne
60
Posted 14/01/2017 at 17:16:47
John G...He to me could have been the most exciting ever. Sad re injuries. Age now?
John Wilson
61
Posted 14/01/2017 at 17:17:48
Does anyone have a link to Niasse's cameo for Hull's 3-1 win against Bournemouth today?
John G Davies
62
Posted 14/01/2017 at 17:32:08
Dermot, I was bring sarcastic unfortunately given the shouts on here about Niasse.
I loved Vaughan as a player, heart of a lion and no little skill. His injuries were caused by his refusal to come out of a tackle.

Ajay Gopal
63
Posted 14/01/2017 at 19:00:40
Ahh... James Vaughan. I so wanted him to succeed and he did well initially. Then the horrible injuries did him in.
Out of Vaughan and Anichebe – the 2 strikers who broke out at almost the same time, Vaughan was everyone's favourite and the more obviously talented, but guess who is till playing in the Premier League, and who is in League 2?
Dermot Byrne
64
Posted 14/01/2017 at 19:08:43
Cruel eh, Ajay.
Me? I could have been a champion.... Now playing the fool!
Charlie Lloyd
65
Posted 15/01/2017 at 00:47:26
James @ 56
One small cameo and you offer that response.
Great a grip of yourself.
There's too much of this acerbic opinion on the site. Yes it's a place to offer opinion but it disappoints me how much anti EFC comments are spouted without reasoning.
Anthony Dwyer
66
Posted 16/01/2017 at 01:32:05
Charlie;
I think the smiley winking face is to show that Charlie is having a bit of a laugh!
Dan Egerton
67
Posted 17/01/2017 at 09:25:27
I think he's a good player, just not match-fit when he came. The comments about him were the same as what Naismith got when he first arrived. It's a pity we didn't get to see him in our team.
---
Add Your Comments
In order to post a comment, you need to be logged in as a registered user of the site.
Or Sign up as a ToffeeWeb Member — it's free, takes just a few minutes and will allow you to post your comments on articles and Talking Points submissions across the site.