Oviedo disappointed by understudy role

45 Comments [Jump to last]
Friday 13 January 2017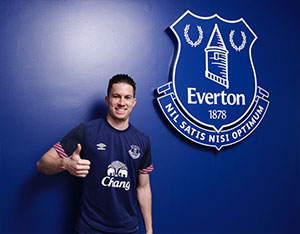 Bryan Oviedo has revealed his frustration at his lack of game time playing second fiddle to Leighton Baines.
The Costa Rican admits that he is going through the toughest spell of his Everton career outside of his battles with injury but is unlikely to be allowed to find a new club until the summer.
Signed by David Moyes for £1.2m in 2012, Oviedo has become accustomed to playing the back-up role to Baines who, when fit, has been the Blues' first-choice left-back, a situation that continues under Ronald Koeman.
He has made seven starts in all competitions this season as Baines's deputy but has not figured since October and has lost his regular berth on the substitutes' bench.
Oviedo has settled well at Goodison Park since his move from FC Copenhagen but he concedes that he may have to move away if his situation doesn't change and he wants to play regular first-team football.
"This is the most difficult time I have had at Everton when I have not been injured," Oviedo told Nacion. "I've not even been on the bench for the past two months.
"The manager has told me it is a tricky situation, but said he needs attacking players — so I just have to wait. It is hard for me, as you never prepare yourself NOT to play. You want to be involved and taken into account.
"Koeman calms me down a bit by telling me it is not my fault I am not playing. I ask the good Lord to give me patience, so I do not give up hope.
"I think about the option of joining another club, where I could play more regularly. The problem with Everton is that I'm not playing matches.
"It will be very difficult for me to leave in January, as the manager has told me he needs me until June as a second option if Leighton Baines does not play.
"I will wait until May to see if I am getting more of a chance."
---
Reader Comments (45)
Note: the following content is not moderated or vetted by the site owners at the time of submission. Comments are the responsibility of the poster. Disclaimer
Anthony Dwyer
1
Posted 13/01/2017 at 17:46:53
Oviedo needs moving on then! He's simply not good enough, he won't oust Baines, if he waits until May, it will be the same situation.
Let him move on, get ١m on him and be happy with the profit.
Bring Brendan Galloway back as Baines's back up, or give Garbutt a last chance.
Anthony Hughes
2
Posted 13/01/2017 at 17:49:11
That's the end of him then.
David Chait
3
Posted 13/01/2017 at 17:51:35
He was brilliant before his injury... to the extent I wanted to cash in on Baines while he still had value – true story.
Not at the same level he was, or close to it. Seems he understands his predicament. I hope it works out.
Either way we will need Baines's replacement ready very soon.
Paul Smith
4
Posted 13/01/2017 at 17:51:55
Not so fast; before his horrific injury, he was class.
Worth another shot before moving on.
Eddie Dunn
5
Posted 13/01/2017 at 18:14:42
After that injury, it is amazing that he is as mobile as he is, but it must always be in the back of his mind.
John Keating
6
Posted 13/01/2017 at 18:24:52
I'm disappointed I never won the Euromillions to set me up for life.
You are set up for life playing footy. Bye, Bryan you are a nice guy but obviously too good for our Club. Take Gibson, Elstone et al with you in the taxi.
Anthony Dwyer
7
Posted 13/01/2017 at 18:29:29
Surely to God Oviedo can't have joined us for ٟ.2m as a left back and honestly expected to be first choice. In 2012, when Oviedo joined us, Baines was one of Europe's finest left backs, plus he was never injured.
Over the 3 seasons before Oviedo joined us, Baines has played over 40 games per season. I like Oviedo, plus his wife is stunning, but after his injury I just don't think he can cut it in our league, plus if you look at his playing record he's only ever once played over 20 games in a season.
In the Premier League you simply have to have more than that.
Mike Gaynes
8
Posted 13/01/2017 at 18:47:36
Excellent player, one of my all-time favorites, but when both are healthy, Baines is better.
Anthony #7, Coleman joined us for 㿨,000 and no doubt "honestly expected to be first choice"... but he was luckier than Oviedo in that major injury issues with the players ahead of him (Hibbo/Nev) gave him a chance.
Like Bryan, when he got the chance he grew into the position, but unlike Bryan, he stayed healthy. Had Oviedo not broken that leg...
Gavin Johnson
9
Posted 13/01/2017 at 18:47:36
He must be one of the squad members who Koeman was referring to, who are aware they have no future at the club. Don't understand why we don't offload him now and bring back Galloway as Baines's understudy.
I like Oviedo, but he's not the same player who scored the winner at Old Trafford. Thanks for the memory.
Liam Reilly
10
Posted 13/01/2017 at 18:53:50
The benchmark with all players in the squad now needs to be that much higher, as in would they get into the squads of the top 6 that were supposed to be challenging?
I don't think Oviedo would, but wish him well.
Mike Gaynes
11
Posted 13/01/2017 at 18:53:51
Gavin (#9), strongly disagree. Galloway has barely seen the field in over a year. He needs to play, not sit behind Baines.
I say give him half a season in front of that Pride Park crowd to get his fitness and confidence back, and then let Oviedo go in the summer. No reason to rush it.
Colin Glassar
12
Posted 13/01/2017 at 18:56:31
I like Bryan but he is, and always be, backup to Bainsey. If he moves on then good luck to him, he seems to be a really nice fella.
Peter Roberts
13
Posted 13/01/2017 at 19:14:52
Disagree with most. Feel a bit sorry for Oviedo who has been unlucky with injury (broken leg the year Costa Rica got to the WCQF) and has some quality unlike Niasse but Baines's consistency for the most part has left him on the bench.
At least he's frustrated. Shows he wants to play and earn his place.
Bobby Thomas
14
Posted 13/01/2017 at 19:20:49
When he signed I think he was nowhere to be seen for a good while. Then after he settled in and gradually got more game time he was looking like a serious player and an absolutely tremendous signing, for buttons. Would have been a typical Moyes signing. Would love to know who scouted him.
Before the injury he was very quick and very sharp. Could play mid as well. I remember him playing right mid at West Brom, I think, think he scored as well. He was looking so good that we had to find a way to get him in the side and was a possible fix for the problematic right mid berth.
If he'd not been so unfortunate as to get that terrible injury, I would happily have taken the 㾾 million for Baines. We'd had the best of him at 29.
But, the fact is that since the big injury, with a few other injuries on top of it, he is nowhere near what he was. He's lost at least 2 yards and isn't up to standard. He must know himself and sense he's gone from being so quick & sharp to having no zip. It's a shame, he was a very, very good player. I imagine he will be dealt out at the end of the season.
Bobby Mallon
15
Posted 13/01/2017 at 19:30:40
Once again a proper pro getting shit on here for saying he would rather play all the time than sit on the bench (he has even lost that slot). He is a good player who is better than Galloway who cant even get in West Brom's team.
He needs lots of games and is Baines really been playing that well and Garbutt was fucking left on the Fulham bench and if he was that good would be in the team.
Gavin Johnson
17
Posted 13/01/2017 at 19:34:20
Mike (#11)
I see your point. But I am biased because I really rate Galloway. I think Baines's injury record means that it's likely he'd get some game time before the seasons end. He could also slot in as a left sided centre-back.
IMO Oviedo is a player we need to offload asap, along with Gibson and Kone, especially if he wants to move.
That said, in the long term I think you could be right, that's is if Galloway plays week-in, week-out until May. I had high hopes for Garbutt until he was loaned to a Championship club and couldn't get a regular starting place.
Peter Laing
18
Posted 13/01/2017 at 19:42:12
Lovely guy, the pinnacle of his and Roberto's Everton career was the goal at Man Utd. Suffered a dreadful injury and a couple of relapses during rehabilitation. Unfortunately now surplus to requirements – good luck Oviedo baby.
Andy Mckeown
20
Posted 13/01/2017 at 20:24:54
What did he expect? Baines was widely regarded as the best left back in Europe when Oviedo came here. Surely the fact he can't get a game doesn't come as much of a surprise to him.
We seem to have a whole host of left backs anyway with Garbutt and Galloway on loan (Galloway probably gonna be a centre-half in future though). Sorry, Bryan, but you knew you had a task on your hands when you got here.
Ian Bennett
21
Posted 13/01/2017 at 21:30:42
It will be really interesting to see the clear out. Got to be someone interested, but I can see the following going by the start of next season.
Robles , Oviedo, Garbutt, Jags, Mori, McCarthy, McGeady, Lennon, Cleverley, Gibson, Kone, Niasse.
Lev Vellene
22
Posted 13/01/2017 at 21:40:09
Bobby (#14),
I agree wholeheartedly with your post. Oviedo had just started to shine before his injury, and I thought he was developing into what we needed. Like most EFC fans I so much wanted him to get back on track after his injury!
But by 2017 he is not what we need, so I hope he can find a new employer who will let him play regularly! He may need to lower his pre-injury expectations, though...
Richard Reeves
23
Posted 13/01/2017 at 21:42:00
I would rather Galloway as second choice or have a look at some of the other youth players because he's not good enough anymore. It's a shame because, before the injury, there was a time when I thought he was a better choice than Baines.
Anthony Dwyer
24
Posted 13/01/2017 at 23:07:50
Mike Gaynes @8.
You seem to either miss my point, or IMO explain yours really badly. You compare the Coleman deal with Oviedo's deal, to me there miles apart. Coleman joined us at the age of 21 from Ireland, he knew he had to bide his time, but he went down a division and got promoted.
Although the loan deal is a bit neither here nor there, the fact is he was looking to oust Tony Hibbert who was always at best an average premier league player. That's no offence to Hibbert as I loved him, he had a fantastic attitude, but the fact remains he was bang average.
Baines is a total different kettle of fish, he was widely regarded as one of Europe's finest full backs, with assists coming out of his ears.
Maybe I shouldn't have mentioned the fee, but imo Baines is as close to being a world class footballer that Everton have seen in a decade, surely Bryan didn't expect to be anything other than his understudy.
Also if we're honest, Oviedo hasn't really ever done anything other than have a run of half decent games for us near on 4 years ago, yet for some reason you seem to think that he deserves comparing to Seamus Coleman who has since proven to be one of the Premier League's best right backs.
I don't think we will agree on this anyways Mike, and I admire your support of Oviedo, but imo he's never going to take us to the next level, and he doesn't want to be an understudy. I respect him for wanting to play, but his future lies elsewhere imo.
Anthony Dwyer
25
Posted 13/01/2017 at 23:13:43
Mike Gaynes @11 .
I agree with this point while heartedly.
Andy Crooks
26
Posted 13/01/2017 at 23:25:19
Anthony (#7),
"I like Oviedo, plus his wife is stunning."
Yep, we here on ToffeeWeb know what we require in a left back.
Don Alexander
27
Posted 14/01/2017 at 01:53:40
This lad's attitude before and since his appalling injury has been magnificent.
Every time I've seen him play he's left zero on the pitch and I applaud that.
Whatever his innate qualities as a footballer I will always hold him in respect as a man. Others in the dressing room are way deficient on that score.
Roman Sidey
28
Posted 14/01/2017 at 02:17:46
Baines has slowed up tremendously this season, so whomever is going to be the next left-back needs to be here soon.
Gutted for Oviedo as, agreeing with Bobby, he was killing it before his leg break (doubly gutted he missed Costa Rica's dream run 6 months later in Brazil).
The Galloway chat confuses me. Why do people think he is the next senior left back at the club? Usually when clubs are interested in hanging onto a player and developing them, they loan them to lower-league clubs, not clubs in the same league.
I may be proved wrong in the future, but I can't think of many intra-league loans in recent years when the player has returned to his parent club and excelled.

Mike Gaynes
29
Posted 14/01/2017 at 06:37:02
Anthony (#24), my point was only had the "breaks" (pun intended) gone differently, Oviedo might have achieved the same level as Coleman. That run of games he had (three years ago, not four) was way, way more than "half decent"... it was outstanding, and at the time I thought his potential was actually better than Coleman's.
And you forget how badly Baines struggled for the rest of that season coming back from his own injury issues. He hasn't been world class since, thanks largely to more injuries. He certainly isn't now.
Had Oviedo not made that fateful tackle, history might have been very different.
William Cartwright
30
Posted 14/01/2017 at 06:45:40
Collective thoughts are he's a great guy with a career going backwards by the horrific injury. Shit happens.
At the time, he was establishing himself as a manager's dream. A great personality and attitude, great all round skill and obviously well respected and liked by his team mates. Best of luck, Bryan, and I hope you have a continuing career in footy as you deserve it.
His situation highlights the problems associated with squad rotation and keeping everyone content. Thanks to Roberto, the balance of the squad has become distorted. It should consist of the first 11 plus a couple of high quality utility layers (the unsung heroes), and a group of youngsters on the cusp.
Everyone knows the situation and maintaining big squads with multiple stand-in layers doesn't seem right to me.
Anthony Dwyer
31
Posted 14/01/2017 at 08:55:29
Fair play, Mike.
Joel Jones
32
Posted 14/01/2017 at 09:31:08
Still believe our next left back is out on loan at Wigan. I know he's struggled to get game time at various mid-level Championship clubs but let's use context here...
Garbutt was literally banging on the door & took his chance two years ago when Oviedo & Baines were both out. In that European campaign, he was up there with our more established players & didn't look out of place in Premier League fixtures until Baines inexplicably walked back into the side.
Now we're right to be cautious and ask why isn't he getting games at these clubs but I have heard rumours surrounding his attitude over the the last two years? However, this lad two years ago was for me on par with the second coming that is Luke Shaw.
If we're looking away from the club for our next left back, then I'd look at Shaw himself who's out of favour or the lad Robertson at Hull.
Phil Sammon
33
Posted 14/01/2017 at 10:11:19
Oviedo was the one player I argued about with Harold Matthews. Harold always referred to him as a wonderfully two-footed player. I thought the exact opposite. He's so left footed he has no option but to try beat a player and get to the byline. Unfortunately he's brushed off the ball way too easily.
Strange how two clearly genius minds can disagree like that. All the best up there Harold.
Dave Ganley
34
Posted 14/01/2017 at 10:53:48
Yeah, he has been very unlucky with injuries but, as others say, just not the same player anymore. Baines is playing well again so he has no chance of having a run apart from injury to Baines.
Anthony Dwyer
35
Posted 14/01/2017 at 11:50:15
Haha, I like it, Phil 👌.
Joel Jones (#32):
I really hope you're right, although I'm not sure Ronny rates him, as he didn't give him a squad number.
I think Garbutt is talented and has a left foot like a wand; I really hope he comes through at the Blues.
Paul Smith
36
Posted 14/01/2017 at 12:10:02
Could never see the hype around Garbutt; could take a corner mind.
Feel sorry for Bryan, looks like he wants to leave.
John G Davies
37
Posted 14/01/2017 at 12:28:12
Garbutt in two sentences:
Sweet left foot.
Can't defend.
Kevin Dyer
39
Posted 14/01/2017 at 15:54:34
Joel (#32) – no chance.
Garbutt was touted and did well in his few appearances but is further away from the first team than ever. Not sure whether he peaked early or is lacking in determination or some other quality, but for the second season he's failed to establish himself at a Championship club. Iirc he's now 23 and still getting farmed out on loan.
Mike Gaynes
40
Posted 14/01/2017 at 16:19:00
John G #37, bang on.
Garbutt failed at Fulham and is doing the same now at Wigan simply because he's not a very good player.
Dave Abrahams
41
Posted 14/01/2017 at 16:19:27
Connolly has gone on loan to Wigan and scored Wigan's goal on his first appearance for them. He is a left back from Everton as well.
Minik Hansen
43
Posted 14/01/2017 at 21:30:57
Baines is just getting back to his best and doesn't tend to get injured, so he will be our left-back for the rest of the season, with no cup games left, unless there is an odd Tuesday or Wednesday game along the way.
Kristian Boyce
44
Posted 14/01/2017 at 21:55:08
I like Oviedo, but he typifies the Moyes era. Good hardworking pro, who is popular with players and fans, and can play in a number of positions.
But that is his one downfall, being a utility player. He's good at a number of positions but not outstanding at one. He was up against one of the best left-backs in Europe for most of his career and just didn't have the attacking skills to play effectively on the wing. He is an effective backup player but after the injury he's not the player he was and isn't a long term replacement for Baines.
I wouldn't be surprised if we see a few more articles like this over the next couple of weeks from players who have been told their time is up as well.
Charlie Lloyd
45
Posted 15/01/2017 at 00:09:48
Not just based on today's performance but surely Callum Connolly should be understudy to Baines. I'll always respect Oviedo for his Man Utd goal and general attitude, but it's time we looked beyond this.
David Ellis
46
Posted 16/01/2017 at 04:56:52
Galloway isn't a left-back – he's a centre-back.
In any event, if we continue with 3 at the back, we will need 3 centre-backs so I see Galloway more as cover for Funes Mori than Baines.
With 3 at the back and two wing-backs, we need a more attacking type player than Oviedo or Galloway to cover for Leighton. I think Connolly played at right back against Norwich at the end of last season and did really well... but is he talented enough to be wing-back?
Jim Bennings
48
Posted 16/01/2017 at 15:48:52
Always be fondly remembered for the goal that finally broke our Old Trafford hoodoo and ended a horrific run without a win away to one of those so-called top four.
Sadly he was signed as a squad player and, whilst he was a very able competent performer prior to injury he has only ever remained a stop-gap squad player.
I think we have to now class Oviedo in the same bracket as the likes of Gibson, Kone, Jagielka etc in terms of those who we need to shift in summer.
Roger Helm
49
Posted 17/01/2017 at 10:22:52
When I think of Oviedo, I always remember that goal and smile at the comment it provoked about Moyesie trying for 11 years to get Everton above Man Utd and finally succeeding.
Terry Underwood
50
Posted 17/01/2017 at 11:26:46
Brilliant attitude. No player should be satisfied playing second fiddle. Just up to him how hard he is willing to work so he is ready to take his chance when it comes.
---
Add Your Comments
In order to post a comment, you need to be logged in as a registered user of the site.
Or Sign up as a ToffeeWeb Member — it's free, takes just a few minutes and will allow you to post your comments on articles and Talking Points submissions across the site.