Milan reportedly dealt Deulofeu blow
Tuesday 17 January 2017

75 Comments [Jump to last]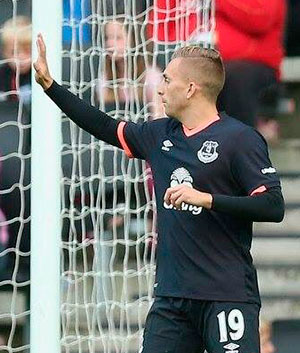 Updated
Everton are said to have turned down an approach by AC Milan to sign Gerard Deulofeu on loan.
The Serie A club have been linked with the Spaniard for the past couple of weeks, particularly by sources in Italy, and comments by their CEO Adriano Galliani yesterday were the first official indication that there is any truth in the speculation.
Galliani told Mediaset Premium that he will try to find a resolution to apparent impasse with Everton over acquiring Deulofeu in further discussions today but according to The Guardian's Andy Hunter, Everton have dug their heels in on wanting a permanent deal over a loan until the end of the season.
"We are talking for Deulofeu, but there is no agreement yet," Galliani told had said. "Everton know full well we can only do loans or with option to buy. Plus there are these pro-Barcelona clauses.
"Tomorrow (Tuesday) we will discuss it and try to find a solution, otherwise we'll remain with the squad as we are."
Rumour has it that the 22-year-old wants out of Goodison Park to secure regular first-team football and media talk in England in recent days had it that Middlesbrough are interested in signing Deulofeu.
They are reportedly willing to pay £12m for him to sign him on a full transfer in the current window and Ajax are now also being mooted as suitors.
---
Reader Comments (75)
Note: the following content is not moderated or vetted by the site owners at the time of submission. Comments are the responsibility of the poster. Disclaimer
Alasdair Mackay
1
Posted 17/01/2017 at 08:19:08
I know he hasn't been great this season and Koeman doesn't seem to rate him generally, but I will be a bit gutted when he goes.
Will Mabon
2
Posted 17/01/2017 at 08:30:18
Deulofeu is obviously not firing on all cylinders but I can't help thinking selling him is a mistake. Capable of so much, we've seen it... where's it gone, and why? Can Koeman and the staff really not sort him out?
In all the discussion we've had about transfers in and out, it's barely been mentioned that we have a small squad of top players. To move forward, we need enough quality players in reserve, not just in the team... and not all players of the same type.
We don't know the player's own views re playing enough etc – but even speculative talk of a fee like £12 million in the same sentence as Deulofeu seems nuts. Do we really need the money, or do we really need him out?
John Barnes
3
Posted 17/01/2017 at 08:38:45
I'd rather we sold Lennon.
Dave Abrahams
4
Posted 17/01/2017 at 08:48:03
I think any transfer of Deleufeu is ruled by what Barcelona do, surely they have first option on the lad, going by the deal they did with Everton when we signed him.
Chris Williams
5
Posted 17/01/2017 at 08:54:42
Milan only want a loan deal with no guarantee to purchase.
They obviously hold all the aces then!
It will happen if Everton want it to, but maybe not without a replacement, given we've already lost Bolasie.
I read somewhere that Barcelona would get a payment if he was sold; not sure what happens if he's loaned out.
Will Mabon
6
Posted 17/01/2017 at 09:06:22
Not sure of the details and conditions with Barcelona, Dave, but either way, it's jumping the gun to sell him yet, I feel. Naturally skillful attacking players, along with good strikers, are the rarest and hardest to find.
Yesterday showed that all those players pre-existing Koeman's joining, are not (as many have said on here) past it, finished and so on. The right management brings out the best in players.
I still hope Deulofeu gets his chance to play a part in the improving Everton.
Peter Laing
7
Posted 17/01/2017 at 09:14:00
Geri is not even making the bench at the moment so you would have to speculate that he is no longer in Koeman's plans. He has undoubted talent but you would have to class him in the mercurial bracket, occasional flashes of brilliance but largely overshadowed by inconsistency.
Personally, I find that Geri cannot cope with being played out wide as it is far too physical given the tenacity of fullbacks in the Premier League. Bojan is also struggling at Stoke City and has a similar pedigree and has been educated in the Barcelona way.
Will Mabon
8
Posted 17/01/2017 at 09:31:15
Hear you, Peter... and Koeman is reputedly focused on the physical. Yet we just bought a young forward the size of a fairground prize teddy bear, and he scored Sunday.
I agree that Koeman seems unimpressed, but I'm not sure it's the right decision. Gibson stays, Deulofeu goes?
Anthony Dwyer
9
Posted 17/01/2017 at 09:32:20
Like most of the above, I'd much rather we sold others before Geri, he's very talented and will probably come back to bite us a bit like Mustafi.
To allow Geri to go while McGeady, Gibson, Lennon, Kone etc still collect a wage is criminal imo.
22-year-old wide men with the pace and skills of Geri's ilk aren't easy to find, I'd much rather we loaned him out without an option to buy; there will always be a buyer for Geri – especially during the next few years.
Winston Williamson
10
Posted 17/01/2017 at 09:41:02
Could he not play in the position Mirallas played on Sunday? Rotating Mirallas and Deulofeu, with Lookman in there too?
Tony Waring
11
Posted 17/01/2017 at 09:48:28
It's a bit hasty to get shut of Geri. You never know what injuries might occur in the next few weeks. He might also be better played as a second striker alongside Rom given his record for the Spanish Under-21s.
Offloading Gibson et al is easy to say but you can only sell players if an other team wants them!
Shane Corcoran
12
Posted 17/01/2017 at 10:00:02
Will, I'd say if someone offered a packet of crisps for Gibson then he'd be sold.
Geri doesn't have the aggression that Koeman wants, I believe. His mentality it still very questionable.
Keith Monaghan
13
Posted 17/01/2017 at 10:05:10
Firstly, Deulofeu has been a flop – he's very lazy and rarely delivers from good opportunities; he gives no help to the defence; his contribution in the cup game vs Leicester City was so typical of him – one good moment and lads of rubbish.
Barcelona don't sell good players – if he was as good as some on here think, he'd still be at the Nou Camp.
Gibson, Kone, McGeady and Lennon are still on the payroll because no other club wants to buy them.
To equate Mirallas with Deulofeu is ridiculous. Apart from Rom, Kev is the player most likely to score for us – but for his atrocious treatment by Roberto last season, he would be well established in our team.
Trust Koeman – he knows what's required at the top level and that Deulofeu cannot deliver it.
Will Mabon
14
Posted 17/01/2017 at 10:15:33
"Well, I'd say if someone offered a packet of crisps for Gibson then he'd be sold.''
You'd think so – yet, contract extended...
Anthony Dwyer
15
Posted 17/01/2017 at 10:23:47
It's not rocket science – what would need doing to get shut of Gibson and McGeady. We would have to give them a free transfer and pay them a portion of there contract to make up for what there likely to lose out on with a move.
McGeady is a Championship player, or Scottish Premier League, he's going to be lucky to get more than 㿀,000 a week. He may have a current transfer fee of a mil or two... give him the free; his new club can pay him a lump fee, and we can make up the difference.
Gibson would probably have to have all his contract paying up as no other club are stupid enough to pay him to be the physio's mate.
Anthony Dwyer
16
Posted 17/01/2017 at 10:25:29
I honestly think both Lennon and Kone will easily get deals elsewhere.
Tony Abrahams
17
Posted 17/01/2017 at 10:26:28
I'd go along with Winston @10, But I remember when Koeman came to Everton and I was reading something about him looking forward to working with Geri, so I can only assume that Shane has called this one right?
Chris Williams
18
Posted 17/01/2017 at 10:27:49
After the start he made, where there was a real buzz whenever he was on the ball, he has been a huge disappointment. I honestly thought he was going to be a real world beater.
He failed when loaned out in Spain; Barcelona hedged their bets when he was sold to us, but you have to say he has only delivered fitfully and his stamina to last longer than 60 minutes is questionable.
He seems to have all the skills and a lot of talent but his inability to actually show them consistently maybe shows some problems in his attitude or character, or maybe application and determination .
He has probably been told he was a genius since the age of 12, and that is not always the best for the development of young players.
That said, I would love to see it all click for him, preferably with Everton, but it seems to be him driving this transfer.
Brian Furey
19
Posted 17/01/2017 at 10:29:22
Keith,
I agree with most of what you say and even before we signed Geri permanently I thought he wasn't gonna make it.
He always reminds me of the young kid that plays 5 aside with you in that he's got so much more pace and skill than everyone else yet he can't apply it properly. He's struggled at every club he's gone to and only seems to do well at the U21 level.
Whilst Mirallas is a lot better he has also tended to go missing a lot in games and rarely can play at a certain level for two matches in a row. I thought he looked sharp on Sunday but he doesn't always try that hard or produce the goods. He scored 11 goals in 2014-15 but only managed 6 last season and has 3 so far this season. We need him and Barkley to be at least scoring 10+ if we have any ambitions of the top 6.
Re keeping Geri: Yes, I'd be in no hurry to sell him just yet as we're short enough on attacking players with Lennon poor and Bolasie out long-term.
Neil Wood
20
Posted 17/01/2017 at 10:33:00
Selling Deulofeu is nothing short of criminal. He has the ability to turn a game on its head and scare defenders to death.
Realistically I appreciate he's not been at his best but he's a confidence player and needs a run of games. He should just be given a free role to do what he wants and forget defending cos he's shit at it. We have some of the best defensive midfielders in the premiership with Gueye, Schneiderlin, Davies so just let him play.
Watch his games in the Spanish U21. Watch what he does, where he plays, how he creates, links, runs at people and most importantly scores.
How many times on these forums have we all been crying out for a "Mata" ... A "Coutinho"... We have one right here and he's not being used!!!!!
Don't judge him on how he is being misused at present.
Sell him and it WILL come back to haunt us – I am confident of that.
Keith Monaghan
21
Posted 17/01/2017 at 10:54:55
Brian – I accept & agree with a lot of what you say re Kev, but who (apart from Rom) has had 20 shots on target never mind scored 20 in the periods you quote?
I agree re Ross, but his shooting is generally snatched & poor – he scored several early last season, but they included some lucky deflections. I've always wanted him to succeed, but after 5+ years in the Premier League, the evidence suggests he'll never hit double-figures regularly.
Dick Fearon
22
Posted 17/01/2017 at 11:44:23
Deulofeu is good with the ball at his feet but his end product rarely finds a team mate.
Gordon Crawford
23
Posted 17/01/2017 at 11:46:42
Huge huge huge mistake if he goes. He has the ability to be a nightmare for defenders. But when he is played out wide I think he loses something. He is a much better player played off the striker or when given a free role.
Lose him at our peril.
Jon Withey
24
Posted 17/01/2017 at 12:17:06
I'm sure Deulofeu could do well in a given team and formation but it doesn't look like it is this one and that is the problem.
James Flynn
25
Posted 17/01/2017 at 12:17:30
Koeman has said he doesn't want to let him go this window, although that was before Schneiderlin came in.
Three seasons... three different managers have wound up benching him – including the guy who brought him in twice.
It's the player.
Brian Williams
26
Posted 17/01/2017 at 12:28:13
Lots of people saying "we can't let him go", "criminal to let him go", "he has the ability to change a game", etc etc etc.
Be honest. How often has he SHOWN that ability. The fact that it's so RARE is the factor in people remembering the times he's actually done it.
There has to come a time when you decide whether to wait and wait to see if he can manage it on a regular basis or cut your losses and let him go.
The thing is if he plays often without producing it's stopping someone else who can and does produce regularly. Maybe that player doesn't do what Deulofeu does the ODD time but basically adds more to the team by playing at a consistent level week-in & week-out. Del's a bit of a luxury we can't really afford, and it hurts me to say that.
I got a call three days ago from someone in Middlesbrough who was told that a 㾸M offer has actually been accepted by the club but it's down to Del if he wants to go.
Time will tell.

Nick Wall
27
Posted 17/01/2017 at 12:52:18
I'll be amazed if Koeman lets him go without signing a winger, especially after the Bolasie injury.
But, much as I love watching the lad play, I think the time may be right for him to leave. He needs more game time to advance his career, and I can't see that happening at Everton right now.
To put it harshly: why should we give regular starts to a player who scored no goals and barely any assists in 2016; who at times seems too lightweight for the physical character of Premier League games; and who seems to struggle to keep going for 90 minutes?
Sure, Deulofeu still has potential but, if we want to establish ourselves as a top 4 / top 6 club, I think we need to be looking elsewhere.
Alan Humphreys
28
Posted 17/01/2017 at 12:58:16
"Everton know full well we can only do loans or with option to buy. Plus there are these pro-Barcelona clauses".
How the once mighty have fallen.
If I remember right the clause they speak about was the option for Barca to purchase him back so my understanding is that if they decline the option he can be sold. I'm sure they'll have hoped he would do well and have decent sell-on percentage too.
Gordon Roberts
29
Posted 17/01/2017 at 13:22:29
A potentially good player who hasn't delivered. The Barca coach slated him for not having the maturity to develop. Let's cut our losses and move on.
Brian Williams
30
Posted 17/01/2017 at 13:27:33
The Barca buy-back option has lapsed. It doesn't exist anymore.
Craig Walker
31
Posted 17/01/2017 at 13:34:23
He has ability but no brain and no composure. If he puts that one-on-one away in the semi-final against Man City, we go to Wembley. He missed a similar situation in his first derby game at Goodison.
I lost patience with him after the constant theatrics of him losing the ball then throwing his arms up appealing to the ref: run back and make an attempt to get the ball back.
The League Cup game at Swansea in his first season summed Deulofeu up for me. Scintillating in the first half. After half-time, he couldn't make 3 yard passes. He was like a different player. We lost the game and exited the competition.
It's a shame because the goal he got at the Emirates was one of my happiest Everton memories of recent times. On the back of winning at Old Trafford, I genuinely thought that Martinez had the answers and we were on our way back to the big time.
Andrew Ellams
32
Posted 17/01/2017 at 13:51:18
If he leaves, once we all have the benefit of hindsight, he won't actually be missed too much.
Rob Dolby
33
Posted 17/01/2017 at 14:01:51
He just hasn't got the stamina or work rate to play in the Premier League consistently. If he was the Number 10, we could probably get away with it, but Koeman obviously fancies Ross ahead of him.
I will miss his 28 step-overs and smashing the ball across the 6-yard box for nobody to be there. Whilst everyone berates Lukaku for being lazy.
Steavey Buckley
34
Posted 17/01/2017 at 14:18:04
A loan deal will not suit Everton, unless Manchester United agree to loan out Depay. Otherwise, Everton will be short up front without any ready-made replacement.
Jay Wood
35
Posted 17/01/2017 at 14:53:48
I'll put my hand up and state I for one will be sad to see Gerard leave.
Once again, in a thread about Deulofeu, some folk are demonstrating really poor recall of his time with us and his performances.
Slowly introduced in Martinez's first season when signed on loan, by season's end he was a crowd favourite. It didn't always work for him, but things happened when he was on the pitch.
The following season he wasn't even with us. When Roberto landed him last season, for the price he did, there were a few dropped jaws and mostly celebration that we had signed him as our own player, even with the Barca buy-back clauses.
Such was his form just 12 short months ago in the first half of last season, even in an under-performing side, there was concern that Barca – who reportedly regularly sent scouts over to check him out – would trigger one of the buy-back clauses.
He was scintillating. Playing killer balls into Lukaku, either from deep, or having skinned an entire defence, pulling the ball back from the byline. He was way ahead of any one else in assists. He would draw 2, 3, 4 players to him and still skin the lot of 'em.
And then, after the 3-3 draw at Chelsea, RM barely picked him again. Under a new manager this season, it's the same story. Koeman evidently doesn't fancy him. I can understand why, given Koeman's stated intentions that he wants fit, high energy players, capable of pressing all over the park for 90 minutes. It nevertheless still saddens me that that apparently means there is no place in the starting XI for a player with the ability and gifts that Deulofeu offers.
There must be something in the transfer rumours when the raw rookie Lookman gets a place on the bench in front of Geri as he did on Sunday.
Maybe it's just hard-nosed bean-counting that has calculated, with the monies generated by his sale and the savings on his wages, the club could get a player more suited to the profile Koeman seeks.
Me? He is a genuinely talented maverick capable of doing things no one else at the club can come close to replicating. I'll be gutted if and when he leaves.
Peter Laing
36
Posted 17/01/2017 at 15:14:15
Vin O'Connor reporting on Sky Sports that Everton are interested in taking Depay on loan, should that transfer be negotiated that will evidently allow Deulofeu to join Milan on loan.
Question (albeit hypothetical) – would you swap Depay for Geri? Personally, I would – although his attitude is questionable.
Alan J Thompson
37
Posted 17/01/2017 at 15:29:00
Brian (#30), Barca option elapsed? It would appear that Milan don't think so.
Andy Meighan
38
Posted 17/01/2017 at 15:47:25
Neil (#20) he's got the ability to turn a game on its head and scare defenders to death, so how come he hasn't often shown it then?
As Keith said, he's lazy. And I'd go as far to say he's never looked fully fit in the two spells he's had with us. He's blowing for tugs after 30 minutes whenever he's started. So that alone should tell you what you need to know about the lad.
Stan Schofield
39
Posted 17/01/2017 at 15:49:04
Jay@35: Couldn't agree more. As you say, we know what he can do, he's a cracking player, really adds something special when he's on song. Assuming we continue with the recent improvement, and gel consistently as a team, we can only anticipate him offering even more. Just like Mirallas and Barkley.
Iain Thomson
40
Posted 17/01/2017 at 15:57:03
I would be sad to see him go. When you look at the formation the other day with a player behind Lukaku it is surely a position that suits Deulofeu.
Jay Wood
41
Posted 17/01/2017 at 16:01:17
The Barca clauses have NOT fully elapsed yet.
Barca had an option to buy him back in the summer (2016) for €9m but then could not sell him for a full season (this season). Even if that had happened, Everton had first option to buy again should Barca have put him up for sale.
They STILL have the option to buy him this summer (2017) for €12m. No mention of what cut of a sale Barca could claim if 1) they don't take up the option before that clauses expires, 2) Everton sells to another club before this clause expires.
The article appeared in November 2015 because – as I mentioned previously – Geri's fine form on his return gave rise to concerns that Barca would trigger the buy-back clause.
Bill Brown
42
Posted 17/01/2017 at 16:12:53
We have to keep him for one more year, even though he is a bit under-cooked in maturity. I think about if we had kept Mustafi and Dier for another year, we could have had two first-team regulars.
I don't like the guy much – he is one of the only pros who berates team mates when he gets a mis-placed pass, these days a clap is in order for the intention if not the application.., plus that diving – Jesus, that's frustrating.
Also the complex contact terms. Am I right in saying Barca can buy him back within two years for ٦ million? How could you sell him for 㾸 million if he could go back to Barca for ٦ million? Surely that clause finishes in the summer. Anyone know if that's correct?
Anyway the kid will be successful one day but maybe not in England.
Chris Williams
43
Posted 17/01/2017 at 16:16:04
Jay
I think I read it was 20%. I doubt they want to buy him back.
Peter McHugh
44
Posted 17/01/2017 at 17:08:00
I would like to see him stay but if he's not fancied by Koeman then no point sticking around.
I think you over egg how good he was Jay in first half of last season, he had a few good games but was far from scintillating. That said, I would have personally liked to have seen how he performed in Barkley's role.
Graham Mockford
45
Posted 17/01/2017 at 17:15:33
5 goals and 14 assists in 62 games.
So the stats ain't great. He can be eye catching but he frequently doesn't impose himself on a game.
If we are serious about breaking into the top 6 we need better. Based on recent team selection I think Koeman is of a similair mind.
Craig Walker
46
Posted 17/01/2017 at 17:26:02
Peter @42. I agree.
He has talent and had good moments but he's reminiscent of somebody like James McFadden in my eyes. Some good moments in a blue shirt but ultimately, not good enough for Everton. For every game where he produced there's one or two games where he was a liability.
Steavey Buckley
47
Posted 17/01/2017 at 17:39:31
The best manager to come into the Premier League this season has to be Conte, who speaks little English. The former Italian national manager, has been a revelation getting the best out of Chelsea players from basically the same squad of players that Mourinho had, before he was sacked during the 2015-16 season.
His secret: Conte allows players such as Hazard and Pedro to express themselves up front without any particular forward position and without been tied to defensive duties. That has been taken care of by Chelsea playing 3-6-1 with 2 defensive holding midfield players. In that situation, Gerard would be a far better player.
Brian Williams
48
Posted 17/01/2017 at 17:52:33
Jay. I believe the €9m was for summer 2015, €12m for summer 2016. I think so anyway. But if the club are considering selling him (and I believe they are), they must have sorted it with Barca.
Mark Morrissey
49
Posted 17/01/2017 at 18:03:13
He would get nowt for Lennon and nowt for Gibson. I suspect that we need to sell to buy once again and Geri should command a decent fee. I hope his replacement proves to be a good buy because I rate Geri and won't be pleased to see him go.
Jay Wood
50
Posted 17/01/2017 at 18:12:58
Ehrm Brian @ 46... you're wrong.
Deulofeu signed for us permanently on 1 July 2015 for ٢.2 million. You're values and years therefore make no sense.
This is possible evidence of the time warp and memory lapse people apply in their recall of Deulofeu's time (and performances) with us.
Donald Neville
51
Posted 17/01/2017 at 18:13:14
I have to agree. Selling Kone, McGeady & Lennon should come first.
Brian Williams
52
Posted 17/01/2017 at 18:20:46
Ok Jay, I'm wrong. People make mistakes. No need to be an arse about it.
What that has to do with people's opinion of his performances though, I don't know.

Charlie Lloyd
53
Posted 17/01/2017 at 18:50:16
The last management indulged Barkley and let him off defensive duties and it did the lad no good. He just cruised through games and didn't seem to get the tempo. Plus the team suffered having a passenger.
Now people want Geri to be given the same free role. Also, parallels with Chelsea are mentioned. Let's face reality here – we aren't Chelsea and can't carry any player at present. We need 11 hungry players who'll scrap and produce some skill when it matters.
I've not seen Geri do this enough. Maybe Koeman is of a similar thought and he's prepared to sacrifice him for the greater good of the team.
I'll draw a parallel: West Ham and Payet. He's a great player but not pulling his weight and look at where West Ham are.
To reach the top 6, we will need every player to put a shift in... constantly
Jay Wood
54
Posted 17/01/2017 at 18:59:00
Blimey, Brian... sensitive soul!
Wasn't being arsey at all. Just pointing out your (very obvious) mistake, added to your categorical statement earlier in the thread that the Barca clauses have now lapsed when clearly they haven't.
And the link to people's recall of his time and performances with us..? Because on this and other threads people consistently mistake the years he actually has spent with us and when those performances occurred.
Carry on...
Bill Gienapp
55
Posted 17/01/2017 at 23:23:34
I'm a big Deulofeu fan (wear a Barkley jersey for home matches and a Geri one for road fixtures), but the writing seems to be on the wall here. I just don't think he's a Koeman-type player.
Koeman seems to favor physical, aggressive guys who can press, whereas Deulofeu's game is all fussy flair and finesse. Which probably wouldn't be an issue if he'd come out firing this season, but he really hasn't made the most of his opportunities.
It's disappointing he isn't even making the bench, as he still offers a lot more as an impact sub than Lennon, but it is what it is.
Palmer Marinelli
56
Posted 17/01/2017 at 23:29:03
Everyone here agrees that Geri is immensely talented. We've seen him for years excel at the U21 level, and captain one of the top 3 youth setups. Yet at Everton, we say he isn't a leader, he doesn't have the legs, he doesn't do enough of the final ball.
Last season, Bolasie at 26 had 5 goals and 3 assists in 2100 minutes, Geri was 21 and had 2 goals and 8 assists, and lost the ball with half the frequency. We say that Geri can never be that player, but Yannick was worth £30m?
We know he can produce, we know he works hard, the question has to be, why isn't he doing the right things for this team, and why can't Koeman coach him and get it right. To sell him, even for £12m is a loss, when according to the Bolasie figure, Geri with be worth £50m in three years.
Players like this, who genuinely want to be at the club, don't grow on trees.
Colin Glassar
57
Posted 17/01/2017 at 23:38:34
I'll be gutted to see this lad go but, like Bill (#55) says, he's not a Koeman-type player. A loan deal to Middlesbrough would be perfect but Ronald wants the money to buy Depay by the sound of it.
Stephen Scofield
58
Posted 17/01/2017 at 23:38:58
Deulofeu is one of my favourite players. But he's no good pressing. And it's a shame that is what he's judged on. Couldn't there be room with him being a luxury roaming player?
Alexander Murphy
59
Posted 17/01/2017 at 00:03:13
I don't want Geri to go. Okay, so he overdoes step-overs, doesn't he. But he really can make a difference.
With some input, this kid could be startling. Modern day Tricky Trev, Dave Thomas. But better still our Geri Deulofeu. That would be boss. He really is a game changer, isn't he?
Come on, Ron and Erwin, Everton luvs a bit of a showoff. Fine tune him – don't lose him. Please.
Jim Bennings
60
Posted 18/01/2017 at 00:28:59
Got the same lightening pace and quick feet that Cristiano Ronaldo had at that age but sadly unlike the Portuguese superstar there's very little end product with Geri, his shooting is very weak and he's not really got a goalscoring instinct.
That said, I'd be annoyed to see him out the door on loan; I would have liked to see him stick around one more year to see if there was any further progress.
John Mckay
61
Posted 18/01/2017 at 00:40:58
Looks like he isn't going anyway now. I like him and think he'll come good, he needs to play the game a bit more simple and stop being so lazy tracking back.
Some of them assists for Lukaku a couple of years ago where immense though – he could whip that ball in like Beckham at times.
We defo don't need to sell him, maybe a loan move even for 2months might do him good, like a Watford or hull loan, or send him to OFFM Moyes to play there for a bit.
I'm sure if Everton wanted to they could sell Kone, Lennon, Gibson and even McGeady. Someone will panick and buy these players.
Shame about Kone... really bad injuries. He played some decent football last season even playing on the right side.
Del should stay though – that's my opinion.
David Ellis
62
Posted 18/01/2017 at 00:51:23
I think our squad is unwieldy. If we want to leave space for the kids to develop, we need to let some of the seniors who have not performed move on.
Geri does not deliver enough and like others I don't think he's got the appetite for English Football. He's not anything like as effective as Bolasie.
If we are going to give someone a free role behind Lukaku we have Mirallas, Barkley and now Lookman. I think that is plenty (plus Calvert-Lewin).
Derek Thomas
63
Posted 18/01/2017 at 01:13:48
Speedy, tricky wingers are good – if they deliver... regularly. Until they lose a yard with age... they start slowing down at 26. If, by then they haven't started to bring other skills to the party, like work rate, tracking back, pressing, they either fade down the leagues or in some cases mature into midfielders... and if you're really lucky, into decent No 10s.
That's a lot of 'Ifs' to line up in a row and 4 or 5 years to wait if they do. This day and age, Clubs aren't going to wait... paying a small fortune for the privilege while they do.
Time to go then. No doubt he'll bounce about the Euro scene, getting a (very) decent living out of it. 6 years or so down the track some lucky club will 'may' hit the jackpot and find a Real Player on their hands... but it won't be us.
Marc Carpenter
64
Posted 18/01/2017 at 10:18:14
Every member of Koeman's team will put in a shift, which will include pressing from the front. This is something Geri has had problems doing since Day One, add to that his pathetic tantrums on the touchline if he has to move for a pass.
The fact remains, having the skills and touches is the start; having the heart, effort and passion to push yourself is the difference between good and great.
If someone wants him, pay up cash money – he's yours... if you don't find someone else.
Will Mabon
65
Posted 18/01/2017 at 10:19:50
Deulofeu is lost – lost and confused. Suddenly, everyone around him is behaving like it's 2014-15. Feeling isolated and peripheral, he wanders alone, hunched forlorn 'til he reaches the boundary, sinking only lower as he looks east and sees the edge of Widnes.
Then it happens – he reaches down, down deep into himself... deep... deeper... even deeper. Finally, he lands upon it – his football soul. He fights, he grapples.. and at last has it in his grasp. He tears it out, and holds it up to the sunlight – the globe of his every football gift, but now, twinkling and glistening through with embedded golden threads of professionalism and commitment. It's happened.
Koeman watches from across Finch Farm, relieved that the proper players, toiling at their pressing drills, have not noticed. He briefly manages to look even more miserable but his face soon relaxes. Deulofeu's actions confirm his decision. This eccentric show pony is to be gone. He returns to stand with Erwin to continue grunting.
Later though, it can't be denied. Everybody sees it, but no-one will say it – something has happened to Gerard. He joins pressing drill six and kills it. Last man standing. Davies, left panting, has pulled his socks up. McCarthy has pulled the other hamstring. Lukaku ran for almost half of the drill and Schneiderlin has vomited.
In the wind-down match at day's end, Deulofeu moves so fast, nobody can focus on him. He's everything he ever was and more... no sweating, hair perfect.
Koeman, now too angry to even tolerate Erwin, has gone to his office, alone. This is trouble; big trouble. His stock has risen slightly of late. The fake-smile classes have gone well and he hasn't talked any real shite in public for a couple of weeks. This posing Spanish twat could knock down his house of cards. So what to do?
He just barely watches through the window as the players head in to the dressing room, Deulofeu carried aloft. It hits him. There's a way out! He bitterly tore Barkley to shreds in public. Incredibly, many Everton fans backed his actions. Somehow, the kid began to rediscover his form. People then regarded the attack as a hugely insightful man-management technique.
The method of over-egging Lukaku's ability and seeming to suggest his departure, was even more esoteric, but Koeman cleverly left just enough scope for interpretation. Hence, lesser mortals could later use the easier tool of hindsight to realize that, here again, was the work of a genius, now easily visible as Lukaku began to run some on the pitch, and keep his arms down by his sides.
That PR magic has come up trumps again, he'll allow inferred. European football genius modestly couched as Dutch straight talking, has delivered once more.
So now we, or should I say, Everton, is complete. The last Donkey of the Dark days has come home... and The King sits easily on his throne. We can now steam on, fire upward, to the fringes of near-qualification to the Europa League. Bring it on, Palace. Bogey team? Is there even such a word as bogey?
Or maybe Deulofeu will just be sold in the summer instead.
Brent Stephens
66
Posted 18/01/2017 at 11:39:46
Will (#65) – well crafted except maybe "Palace. Bogey team? Is there even such a word as bogey?" – I wouldn't have picked 'Bogey'.
"Or maybe Deulofeu will just be sold in the summer instead". My guess is that's the real story. The lad can only blame himself.
Paul Birmingham
67
Posted 18/01/2017 at 13:41:42
Deulofeu is the enigma; the 3-3 draw with RS flashes back and what could have been that day 4 years ago this autumn. Has he learned and improved but his decision-making is questionable; he has loads of skill but is inconsistent.
I'd rather stick with him and get him coached than take flashman Depay... keep what we know rather than chance what we could get. All said and done, if Geri leaves for whatever reason good luck to him.
I can't help but think the deluded BBS treatment took a lot out of his confidence. Question is: Will we acquire any more players this window?
Mat Smith
68
Posted 18/01/2017 at 14:19:33
Rumours I heard are that Koeman doesn't like his attitude and he goes around thinking he's a big man around campus, doesn't do what he's told/asked and is always showing off – so Koeman has said he wants rid.
Not sure how true this is but kind of makes sense, suddenly he's gone from 1st team/coming on from the bench to nowhere to be seen, and he was also dropped by Emery at Seville after 10 or so games, apparently due to attitude problems and not doing what was asked.
I will be gutted to see him go as he's one of my fave players, and is one of those that can make a bit of magic happen from nothing but, if he does have attitude problems and doesn't listen, you can see why Koeman wants rid.

Paul Holmes
69
Posted 18/01/2017 at 16:38:28
Deulofeu is just a sub, he is not a starter. He can change a game coming off the bench, but he wants to play so he will be a disruptive influence in the squad.
He went on loan to Seville and struggled to make their bench and the manager at the time said the same as Matt Smith (#68) reported in his post.
It's a team game, everybody has to press and have energy. Deulofeu can't do this so get as much money for him as possible and buy more team players that make us stronger.
Peter Fearon
70
Posted 18/01/2017 at 17:18:30
You can't blame Deulofeu for wanting to go. He wants to play regularly to keep his place at international level.
He was never going to be the kind of player who tracks back in defence. Why should he? With his pace he should be the clearance target.
Koeman has not really given him a run in the side. Deulofeu would have been disappointed to see the back of Martinez and he may have communicated some of that dissent to Koeman one way or another.
I would be sad to see him go. He is the squad's most talented ball-carrying player without any question. I could see him teaming up with Tom Davies to create the most serious threat from midfield for a very long time.
Mike Berry
71
Posted 18/01/2017 at 17:40:05
I think Deulofeu is seen as a passenger by Ronald, a player who cant do 90 minutes, and play the game that he demands.
If you remember, there were similar problems when he was on loan when in Spain prior to him signing for us. I think this was again down to attitude and work ethic.
Undoubtedly talented, but likely to only do in flashes or in a league that is less physically demanding. Whether Ronald could yet find a place for him is perplexing.
Brian Furey
72
Posted 18/01/2017 at 17:44:36
I think a lot of fans loved Geri as he was one of those types of players to excite you and get you off your seat. He had the pace and skill to beat a man and it was all looking great when he was often setting up Lukaku for goals.
Sadly, however, he has shown us why he has failed at every club he's been at so far. He's like a spoiled kid who wants the glory and acclaim but without the hard work to get it. I'd worry Depay could be the exact same. Turn it on the odd time but not really up for the hard work and rough and tumble if a defender gets in his face. Can you imagine Coleman marking him in training.
I reckon he'll do well at his next club for a month or so and then go back into his shell. I'd have loved him to do well for us but how often have we seen wingers do well and then fade away?
Jim Potter
73
Posted 18/01/2017 at 18:00:47
I would be amazed if Memphis would prove to be a consistently top performer. I reckon he'd just be another on / off player like Geri, Mirallas, Lennon, et al. He and his agent are looking for another de pay day.
If the Algerian guy falls through I hope we have a good option as a striking target. If Rom gets screwed, then so do we.
It looks like we will wait until the summer to get a keeper, but it would be beneficial if we got a class centre back in this window. For me, Funes Mori is an accident waiting to happen – whether it be his defending or his distribution. How he is an Argentinian starter is beyond me.
Dan Davies
74
Posted 18/01/2017 at 18:01:07
If he is replaced by a better quality player, I've no problem with Geri leaving at all. Nothing against the boy. That's football.
Denis Richardson
75
Posted 18/01/2017 at 18:17:25
Makes no sense for us to send him on loan. The guy's already been at 3 clubs and we know what he can and can't do.
I think if we got a decent transfer offer he'd be let go, until then he's not a bad impact player off the bench.
For some reason, it's not quite worked out consistently for Geri, personally I think it's a mental thing as he seems to have bags of skill, although rarely manages to last 90 mins.
As mentioned a couple of times above, I'd prefer us to offload Lennon. A completely average player who's best years are long gone. Put in the hard yards when he was on loan and is now content to sit on his contract.
---
Add Your Comments
In order to post a comment, you need to be logged in as a registered user of the site.
Or Sign up as a ToffeeWeb Member — it's free, takes just a few minutes and will allow you to post your comments on articles and Talking Points submissions across the site.