Baines: Davies is Everton

100 Comments [Jump to last]
Tuesday 17 January 2017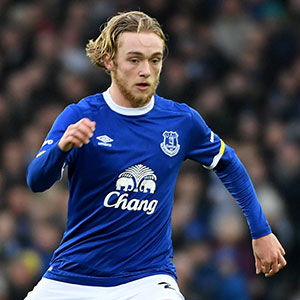 Ross Kinnaird/Getty Images
Leighton Baines is predicting even greater things for Everton's latest Academy graduate, saying that Tom Davies has the right mentality to succeed and become a favourite at Goodison Park.
The veteran fullback has been something of a mentor to the Blues' starlet in recent years and he describes him as "a proper player" whose Liverpool roots and on-field swagger mean the fans are sure to take him to their hearts... if they haven't already after his man-of-the-match performance against Manchester City on Sunday.
The 18-year-old, who joined the Blues from Tranmere Rovers' youth setup as an 11-year-old, lit up Everton's 4-0 victory over Pep Guardiola's much-vaunted team with his first goal for the club on only his second Premier League start, one which began with a marauding run from deep inside his own half, included a superb piece of skill to evade the attentions of two opposition players and then a confident chipped finish over goalkeeper Claudio Bravo.
He also played a vital role in the opening goal, intercepting Gael Clichy's attempted pass and threading the ball through to Kevin Mirallas who set up Romelu Lukaku to side-foot home and set the Toffees on their way to a stunning victory.
"You get some players who train well but flatter to deceive in a game because it can be a bit overwhelming and daunting as a young lad," Baines said of Davies.
"But Tom is the opposite. He trains well but he finds another level when he gets out on the pitch and that is always the sign of a proper player.
He's a lovely kid, a great player and he's Everton — he's one of the ones we'll all get behind."
Davies himself said he relished the opportunity to pit himself against world-class players like Yaya Touré and prove to himself that he could measure up against the best in the Premier League.
Together with Gareth Barry and then substitute James McCarthy, the teenager stifled the Ivorian midfielder throughout the match
"Going into the game it was a test for me to see where I was as a player, coming up against him (Touré). What it has shown me is that if I keep working hard I can reach the level they are at. To beat Manchester City 4-0 is unbelievable, really. I would never have dreamed I would be in a game or in a team where Manchester City have been beaten 4-0.
"It was a great boost to start. Then you see the substitutes getting ready to come on and you think it could be you but the manager left me on and I am thankful for that.
It's good to have the new players in and the lads back around because it is great competition for the squad and that is what you need. Hopefully I can keep performing as I have done and keep my place."
Quotes sourced from The Guardian
---
Reader Comments (100)
Note: the following content is not moderated or vetted by the site owners at the time of submission. Comments are the responsibility of the poster. Disclaimer
Ian Guignet
2
Posted 17/01/2017 at 08:10:04
Brilliant young talent with a good head on his shoulders. Makes you proud to be blue.
James Morgan
3
Posted 17/01/2017 at 08:12:59
If he keeps his head down and carries on working hard we will have some player on our hands. I love the nasty streak he has... we've been needing that since Tommy Gravesen!
Tony Abrahams
4
Posted 17/01/2017 at 08:23:48
Very early days, but what is there not to like about this young lad? On the thread after Sunday's match, Jason Brooke said that Davies reminded him of our midfielders of the eighties, something which I thought was a very good point.
I remember speaking to Tom, before he had played a first team game, and the thing that struck me most about him was how much he seemed to listen.
He seems like a very bright kid, with the world at his feet right now, and also has in abundance the thing that makes a good player, so much better. Davies possesses so much drive, and once he goes on the pitch, he looks like he doesn't give a fuck for anyone.
Dave Richman
5
Posted 17/01/2017 at 08:31:52
Meanwhile, over in kopiteland, Michael Owen states that he's been following Tom Davies progress for a number of years and thinks that he is a "good player", doesn't think he's destined for the top, and thinks that he will probably have a good career but isn't sure if it will be in the Premier League
Dave Abrahams
7
Posted 17/01/2017 at 08:44:25
Dave (#5 & #6), listening to Owen on BT, I don't think he has any control of his mouth, just talks and talks for talking's sake, and like the other joint holder of the most boring man in football, Alan Shearer, most of it isn't worth listening to.
Charlie Lloyd
8
Posted 17/01/2017 at 08:46:54
Perfect example to all young players.
If you're given a chance, then take it.
He has epitomised this.
Mike Mulhall
9
Posted 17/01/2017 at 08:52:49
Well, if Michael Owen said so, it must be true.
Tony Bourbon
10
Posted 17/01/2017 at 08:53:49
Tom Davies also has great footballing instincts – the crucial interceptions, knowing when to take or make a foul, the eye to make defense-splitting passes, the choice to coolly chip the ball over Bravo.
A sublime, exciting young player.
Peter Laing
11
Posted 17/01/2017 at 09:00:06
As yet I haven't seen an image in print but recall seeing Baines, Barkley and Davies celebrating as a triumvirate following the goal scored by Mirallas. A joy to behold and a sign of the scouse beating heart of the side.
Anthony Flack
12
Posted 17/01/2017 at 09:01:43
1980s I am thinking Bracewell with pace ..
Michael Owen is as thick as two short planks (apologies for offending planks).
Did anyone hear the 5 minute RS propaganda on Radio 4 this morning, I had to stop my car to compose myself.
Laurie Hartley
13
Posted 17/01/2017 at 09:04:15
Tony (#4) – love the sting in the tail of your post.
Some advice to Tom from an old Evertonian:
Don't pull your socks up; Don't get a hair cut.
Ken Buckley
14
Posted 17/01/2017 at 09:05:53
He's one of our own.
He's one of our own
He's Tom Davies
He's one of our own.
Laurie Hartley
15
Posted 17/01/2017 at 09:13:17
Yes, Ken, 😀 Oh the joy! I can hear it bubbling over in you.
Brian Hennessy
16
Posted 17/01/2017 at 09:14:49
The press over here in Ireland are raving about Davies after the weekend and they are loving the socks-rolled-down, long-hair look.
Bob McEvoy
18
Posted 17/01/2017 at 09:21:20
In the winter of 1961, I was a 2nd year pupil at Sefton Park Jnr School for boys. I was selected as 12th man for the 4th year team that would eventually do a league and cup double.
Arriving at the bus stop on Smithdown Road, Wavertree, the starman hadn't shown.Ordinarily it would have been 'Right Bobby lad, you're playing' but as it was the starman 2 kids were despatched to get him out of bed.
15 minutes later, a very sheepish Alan Whittle rolled up and I never got to play. Hopefully young Tom has just given this story another 20 years worth of legs... if I last that long.
Winston Williamson
19
Posted 17/01/2017 at 09:28:22
Michael Owen was a one-trick pony... without his pace he was a League Two standard striker.
As a pundit he's a bellend, along with most other kopite pundits! He should be restricted to talking about Liverpool, so proper fans have no reason to listen to him.
I'll put more weight behind my wife's opinion and she knows fuck all about football!
A redshite cousin called me after the game on Sunday. Said Davies looks like the new Gerrard. I said no! Davies has more class!
Mike Allen
20
Posted 17/01/2017 at 09:40:45
Tom has not let us down nor have any of the Academy players when they have come into the side, it's absolutely brilliant to see local lads doing well but don't start comparing him to other players. Tom is Tom Davies – don't get carried away with praising the lad, just enjoy watching a good footballer.
Michael Owen and Co! If you listen and take on board what these has-beens have to say you are as daft as they are. I've said this many a time: they are either tried and tested abject failures or never had the guts to take on a manager's or coaching roll. The media is saturated with these guys. Very very few are worth listening to.
Thomas Lennon
21
Posted 17/01/2017 at 09:41:48
If there is a talent we haven't seen much of this season – or last – it is the ability to receive the ball out of defence, turn and deliver a killer forward pass to an attacker taking out layers of the opponents' defence. The second goal on Sunday showed we have a young man who can now do that and it was breathtaking.
Tony Waring
22
Posted 17/01/2017 at 09:41:53
He's the next Colin Harvey, methinks!
Len Hawkins
23
Posted 17/01/2017 at 09:43:42
Just can't wait for the game when Davies gets the ball outside his own box goes sprinting upfield... stops and sits on the ball. His Uncle Al must have told him he can be whatever he wants to be.
Anthony Dwyer
24
Posted 17/01/2017 at 09:49:28
Davies has been a breath of fresh air in the Everton side, this weeks wonder goal is the icing on the cake. We have to be patient with Tom though, expectations can run wild at us, you only have to look at the burden Ross carries.
Let Tom do his thing, accept that he will play poorly at times, accept some poor decision-making, and please let's not find a world class player to compare him too and judge him on that player.
To back up my point I'd like to point out Ross had 2 great assists the other day, plus put the same run in as Tom for his goal (just without the ball), ensuring Tom was backed up to score the goal. He also played a great pass for Rom who missed a little chip, plus put Mirallas in for another good chance.
That's at least 4 one on one chances Ross created v City without any real recognition.
I agree that the day belongs to Tom, but please remember Ross is a young man himself and let's not apply too much pressure to our little gems as all the big clubs are hovering just waiting to take them.
Gary Creaney
25
Posted 17/01/2017 at 09:57:24
The first and only time I saw Davies playing before he was introduced to first-team football was in a Sky-televised mini derby. We were 2-0 down at half time and drew 2-2 in the end. I believe it was Davies who scored the equaliser. Holgate made his debut that night after just signing a few days prior and gave away a penalty for the opening goal.
Davies did not stand out by any means in footballing terms though he was easily remembered due to his image. Holgate didn't stand out either. If these are the type of games that Michael Owen is basing his opinion on, then he doesn't have a leg to stand on.
Some lads are exceptional at underage and never make it, some lads progress slowly and become stars later. There is no rhyme or reason to it and if Michael Owen believes he can map out a young players career based on his underage performances then he's even more of a tube than I thought (apologies to all tubes).

Anthony Dwyer
26
Posted 17/01/2017 at 10:00:33
I watched that game myself, Gary. Like you say, Tom didn't stand out, and Mason looked a fair bit off being anywhere near Premier League ready.
Goes to show that some people can accept the challenge; some can't.
Lastly, Michael Owen is a tool – not worth listening to anything he's got to say.
Stan Schofield
27
Posted 17/01/2017 at 10:12:02
Davies is a very good player: good ball control, balance, awareness, fight, and can obviously sniff where the net is. He seems very comfortable in the first team.
I don't want to overstate things, but, like Gana, he's got fire in his belly, and reminds me of Alan Ball and Peter Reid.
Who's really bothered what Owen says? He got famous for his skills with a football, not for his analytical and forecasting abilities.
John Davies
28
Posted 17/01/2017 at 10:24:54
Michael Owen? Really? See you next Tuesday, Michael.
Rob Dolby
29
Posted 17/01/2017 at 10:51:59
Michael Owen spouts utter rubbish.
Every successful team needs players who do the hard work for the superstars. Davies has the potential to be our Busquets or Makelele.
The lad deserves a good run in the team ahead of the more senior players.
James Morgan
30
Posted 17/01/2017 at 10:55:29
The same Michael Owen that said:
Wenger will be quite happy that Arsenal haven't conceded.
He looks like a footballer.
It's a good run, but it's a poor run if you know what I mean?
Footballers these days often have to use their feet.
They're outswarming them.
Alderweireld played really well for Tottenham last year, let's hope he can transfer that form to Spurs this season.
That would've been a goal had it been inside the post.
You have to believe your own eyes, don't you?
It's hit the facial part of his head there.
To score a goal, for me, you need two headers.
That's a fantastic penalty, but he'll be gutted it went wide.
If there's a bit of rain about, it makes the surface wet.
There's many more but I will leave it at that for now!

Stan Schofield
31
Posted 17/01/2017 at 11:04:40
James, with pithy, rapier-like pronouncements like that, Michael Owen is clearly an avid student of Oscar Wilde.
Terry Underwood
32
Posted 17/01/2017 at 11:23:29
Stan (31) more like Oscar Grouch...
And as for the Kopite who compared Davies to Steeeeevie G... Bollocks – he didn't dive once.
Brian Harrison
33
Posted 17/01/2017 at 11:26:38
Tom is very young and playing in the hardest position on a football field – centre midfield. He looks like a really talented player as does Holgate, and it's always good to see youngsters coming through.
But I would caution against playing him to often, yes its tempting to say play him every game but that's a lot to ask of an 18 year old playing in the position he does. I have seen so many young players come through at Everton and many started like they would be the real deal but sadly very few materialised into top players. I don't include Rooney in that group. Again it's much easier to start up front as a young player.
These lads are players we will be able to enjoy for many many seasons to come just lets make sure that they are not overly used so young. Also, the expectations on Tom from some supporters will expect that type of performance every week. This won't happen yet and I would think it unfair to put him under that kind of pressure too early.

Bill Griffiths
34
Posted 17/01/2017 at 11:28:27
Gary & Anthony,
Prior to 2015-16 season I went to watch an Everton X1 (U18s/U21s) play Wrexham. That day for me 3 players stood out from the rest, 2 being Antonee Robinson & Liam Walsh. Both looked really good players with plenty of football ability.
The other player who stood out for me was Tom Davies. He didn't look to have anywhere near the ability or skill levels of the other two but you couldn't help notice him as he stood out with his mop of blonde hair but his fitness level and enthusiasm was terrific. I didn't know what position he was playing but he was everywhere on the pitch.
Obviously he has improved and developed his skill and ability levels since then and I truly hope he continues to do so and plays for us for many seasons.
Neil Pickering
35
Posted 17/01/2017 at 11:31:38
I was going to say Owen should know better but actually he shouldn't; hands down the worst pundit in this country and and I don't think anyone really takes him seriously.
Sometimes in any chosen walk of life people just step up to meet and then excel above the level required of them, so I would attach no significance to Davies and Holgate not excelling in the mini derby. Both have clearly shown they are Premier League quality.
I know someone who is an MK Dons supporter and he told me Dele Alli wasn't particularly outstanding in League 1, then he stepped up, and the rest is history.
Gerry Quinn
36
Posted 17/01/2017 at 11:38:24
Len (#23)
Just can't wait for the game when Davies gets the ball outside his own box goes sprinting upfield stops and sits on the ball...
Here we go – let's test my memory as I can actually remember Bally doing the "sit on the ball" against West Brom - we were 4-1 up at half time, Albion got it back to 4-4 but we managed a winner – TFFT!
Is my memory still "behaving" for you fellow old bastards out there?
Gerry Quinn
37
Posted 17/01/2017 at 11:42:06
Game was... September 1966 – I was 15!
Nathan Rooney
38
Posted 17/01/2017 at 11:46:13
Chant for this lad:
"Tom Davies, Superstar!
looks like Jesus,
hes better than Neymar!"
I'll get me cloak!
Seriously, considering who he was up against in the middle of the park on Sunday, it was an immense, imperious display, and he didn't look out of place. Keep it up, Son!
I am sure he will have good and bad days going forward, and as fans we need to get behind him and the rest of the lads, instead of getting on players backs as soon as a single pass goes astray.

Chris Williams
39
Posted 17/01/2017 at 11:59:14
Gerry
Yes, I remember that. We always seemed to have plenty of goals against WBA.
Until the '68 FA Cup Final when they kicked us all over Wembley
James Lauwervine
40
Posted 17/01/2017 at 12:17:33
He's brave too, sticking his head in for that challenge that should have been a high-foot foul before that little knobend Sterling fucked his chance up at the other end and then whinged for a pen.
It's one excellent performance and I agree with those that say we shouldn't pile the pressure on, but the signs are definitely there of a gem with this lad.
James Morgan
41
Posted 17/01/2017 at 12:20:26
Stan, it's great to see he got his job based on his pure football knowledge and keen observation skills rather than because he used to play for the red shite.
Geoff Evans
42
Posted 17/01/2017 at 12:39:11
The way he shared his goal with the Gladwys Street end was the highlight for me. No mercenary, True Blue passion.

Teddy Bertin
43
Posted 17/01/2017 at 12:43:34
Michael Owen? What, the man who has openly said that after watching only 8 films that he doesn't like or understand the concept of films.
The man who has made the same claim about music? That he doesn't 'get' music.
Those statements alone prove that he's completely disconnected from the rest of the human race, so I certainly won't be listening to his opinions on our boy Davies.
Peter Gorman
44
Posted 17/01/2017 at 12:52:40
Gary, Anthony; that mini-derby was also my first glance at Tom Davies and, despite his goal, he looked keen but clumsy.
The midfield that day was run by Joe Williams and Liam Walsh. Conor Grant was very disappointing being older than those.
Then the news came that he had been chosen by Dewsnip to train with England seniors one day, I thought it a bit much. About a year later, playing for the reserves, the kid was unrecognisable. Brilliant and indeed popping up all over the pitch due to freakish fitness.
Put it this way, Davies leapt over Grant, Williams and Ledson in the pecking order, and those are some talented kids.
I am going to call it early and say, injuries aside, Davies will be a great player for us. Already picking up a few MotMs at 18, his desire is there for all to see and now we know he has talent (the 'Davies chop') and fearlessness.
On a side note; the introduction of Davies should be a game changer for Ross too. I love Barkley as he is capable of things most players can't imagine but I long ago accepted he lacks the mental fortitude (unlike Tom) to be truly 'great'. He seems lacking natural confidence (which is ridiculous considering his talent) and obviously feels the expectations of the crowd too much. Not any more. Now we have a new hero to fawn over, Ross can shed the burden of expectation and quietly go about being brilliant.
His two cute passes on Sunday. His pirouette pass in the box to set up Lukaku for a potential 4th – this is Ross at his best. The more unencumbered he is with Tom drawing the plaudits the better he will play.
But back to Davies – best of luck to the lad, he is a pure joy to watch and that goal is keeping me smiling for days now.
Tony Hill
45
Posted 17/01/2017 at 13:25:07
Very true, Peter Gorman, the more Tom Davies thrives the better Ross Barkley will be; he's been weighed down as our totem for a couple of years, I have no doubt, and for a player of instinct that has been especially damaging.
Let's hope all the youngsters can ease the pressure on each other.
Stan Schofield
46
Posted 17/01/2017 at 13:49:55
Peter, spot on. This could be a great weight off the shoulders of Barkley (sorting his head out, so to speak), cutting him slack to both enjoy his game and be the player we know he can be.
Peter Morris
48
Posted 17/01/2017 at 14:05:44
I've often thought about the dilemma facing our boy Ross, and I think Tom's position offers some interesting contrasts. I love the both of them. True Blues to the core, who only ever wanted to play for Everton.
Tom strikes me as an old fashioned, energetic, never-say-die midfielder. Attributes our pedestrian team badly craves. Boundless energy, and enthusiasm, with lots of ability, tigerish competitiveness,and the wits and wherewithal to use his talents to the full potential he has been blessed with. It's clear to me that he is as bright as a button – you don't need GCSE's to be that. You can see it in his eyes.
Ross has the talent to be a genius. When playing at his intuitive best, he can see a pass that few others anticipate or could even contemplate. His reverse pass to put Rom in near the end on Sunday made the hairs on my neck stand up. But, I think he struggles when he has to think about his game.
He also fails to use his considerable size to any real advantage. He should strike the fear of God into opponents, but doesn't. Frankly, I don't think he is that bright, but what a talent!
It will take very careful and sensitive leadership, from management and captaincy, to bring out the best in Ross, because alone I doubt he is up to it. He needs that help. I don't think, on the other hand, we can have any worries about young Tom Davies fulfilling his considerable potential.
Victor Jones
49
Posted 17/01/2017 at 15:12:58
Of course comparisons are going to be made. That's inevitable. We all know that Tom Davies is Tom Davies. But an opinion is just that.. an opinion.
And football is full of opinions. FFS, Stones was going to be the next Bobby Moore.
Anyhow, good luck and good health to young Davies. Let's hope that the jokers above us in the league don't attempt to turn his head. I somehow don't think that they will.
And let's hope that this kid along with others can kick this Everton team on to silverware ...and about time to.
Early days. But this lad could just be an Everton captain in the making. Come On You Blues the kids have shown the way ..NSNO.
Jon Bentley
50
Posted 17/01/2017 at 15:19:50
Brian (33) – I couldn't agree more.
I'm as keen as anyone for him to fulfil what he might be able to become.
BUT, I hope he's not burdened with being the next messiah, and that we expect genius, week-in & week-out. Let him learn, make mistakes, occasionally being crap, dropped etc without the usual Bluenose witch hunt. (Ebbrell, Hibbo, Osman, Ross – recent TWers saying we should flog him – as being some examples)
It's good being a Blue this week, but next week might be different if fat Sam suddenly gets a reaction from Palace, so we need to be balanced either winning or losing.
Mike Allen
51
Posted 17/01/2017 at 15:46:54
Gerry Quinn, I remember Alan Ball sitting on the ball by corner flag (Gwladys Street & Bullens Road) while being marked by Bobby Moore, he got booed by the crowd for it out of respect for Moore.
Dennis Heaton
52
Posted 17/01/2017 at 15:48:09
Tony (#22), you must be around my age and I loved watching Colin Harvey play but Davies looks more like an Alan Ball to me.
Peter Mills
53
Posted 17/01/2017 at 15:50:54
Gerry (#36), this is going to sound a bit Michael Owenish, but John Osborne always seemed to have a great game in goal for West Brom against us, but conceded plenty!
Dominic Tonge
54
Posted 17/01/2017 at 16:03:46
I think it's fair to say we can safely ignore the football genius that is Michael Owen. Let's be honest – if that melt had any idea of how to recognise talent and/or back a winner, he wouldn't have ended up owing his bookie the neck end of a million quid at one point.
Tony Byrne
55
Posted 17/01/2017 at 16:18:53
Michael Owen is a complete twat.
Chris Williams
56
Posted 17/01/2017 at 16:19:14
Peter,
He'd look back in anger!
Peter Gorman
57
Posted 17/01/2017 at 16:19:42
Jon, anyone attempting a witch hunt on Tom Davies will probably end up burnt at the stake themselves.
It is almost inevitable that he will have bad days (and God forbid injuries) but as he is only 18, as far as I'm concerned, he has a free pass for a couple of years not least because we've already seen the level he is capable of performing to.
Since the tail end of last season, a few of us have been clamoring for his inclusion on the basis that he wouldn't look out of place in the first team. We couldn't have been more wrong – frankly the kid is standing out!
I personally think you're right to worry about us expecting weekly genius but wrong to worry that he will be burdened by it. The boy's self-belief is rock solid and his work-ethic exceptional.
There are no guarantees in this game but what blows my mind is knowing that there are at least two other players with the same temperament behind him: Kenny and Walsh (Kenny in particular could play for us today with the same level of fearlessness and pride, Walsh – we'll see how he gets on back from injury).
Then there are the quieter ones who are playing to an exceptional level of consistency for the U23s like Charsley who deserves a run-out at some point. Dowell is re-finding his consistency and Connolly will show his worth at Wigan.
It would be slightly mad to pitch them in together but I'd love them to get the chance to showcase their talents over the remainder of the season.

Joe O'Brien
58
Posted 17/01/2017 at 16:35:25
Ran the show on Sunday. The camaraderie was great to see with all the goals celebrations... it was missing there for a good bit.
On another thread, it was mentioned that it maybe was a result of the young lads and I wouldn't disagree. Tom was a worthy MotM and Ross not far behind.
Anyone see what Rodney Marsh was saying a few weeks ago? ... that he doesn't think Davies will be up to much and likened him to Jack Grealish! He also never shuts up about Ross needing to move to Spurs or another 'bigger team' as he puts it... what a tool.
Dave Abrahams
59
Posted 17/01/2017 at 16:37:05
Peter (#44), not taking anything away from Tom Davies and the way he has progressed, but one of the reasons he has gone ahead of Joe Williams is because Joe suffered a very bad injury and hasn't played for a long time.
Not having a go, Peter, just putting the record straight, and hopefully Joe can get back into his form when he comes back.
Matthew Williams
60
Posted 17/01/2017 at 16:50:47
Just having Davies on the pitch seems to make young Ross better somehow.
Said it before, use our young talent before blowing loads of dosh on over-rated show ponies dreaming of a move to China.
Let's do Palace, eh, lads... then we can really push on.

John G Davies
63
Posted 17/01/2017 at 17:20:48
Dave,
We have got some great kids coming through in the 18-19 age group. Have you seen or heard of any in the 16-17 age group?
Dave Abrahams
64
Posted 17/01/2017 at 17:39:23
John G Davies (#63), I've not had a chance to see them yet, I hope they win at Preston NE tomorrow night in the FA Youth cup and get a home draw in the next round.
Unfortunately I didn't go to Goodison last night for the U23's game versus Reading as I go out on a Monday night with my gang. We are all in out late seventies, so I hope the youth games are not on a Monday night.
If they are on a different night to a Monday, I will go and have a good look at them.
Brent Stephens
65
Posted 17/01/2017 at 17:40:58
I went to the Villa game, in the Villa area as I couldn't get an away ticket. The lads were on the pitch warming up.
Tom was standing by the dugout before the game, not being in the starting line-up or even on the bench. I walked down to the wall, and gestured in his direction for a signature (he must have thought I was calling for the bill for a moment).
He came over and sod's law my pen went on strike. At that moment, the team were walking off to get ready for the kick-off but Tom persevered with the pen and eventually got it going. He could quite as easily just have given up and walked away. Good man.
John G Davies
66
Posted 17/01/2017 at 17:42:10
Mad Mondays, Dave.
Used to love them on a walk around town.
Can't do the hangovers anymore mate.
Alexander Murphy
67
Posted 17/01/2017 at 17:44:18
Tony (#55), flawless comment. Succinct and entirely correct. His dreary contributions to BTSports suck all of the life out of any game he is involved with.
Mark Morrissey
68
Posted 17/01/2017 at 17:58:06
I'd like to know if Alan Whittle was in the ground on Sunday to see the game and to witness his nephews wonderful performance. Anyone see him or know the answer? He must be really chuffed.
Peter Gorman
69
Posted 17/01/2017 at 18:07:20
Dave, no worries on that front whatsoever, I know you're finger is closer to the ressies' pulse than mine and I enjoy your first-hand accounts.
Injuries can be so wretched for the youngsters as you never know when opportunity will knock. It is probably the rapid progress of Davies and Williams that meant Ledson was allowed to leave, something I never guessed was coming. Thankfully Walsh is back playing, any news on Williams?
Brian Denton
70
Posted 17/01/2017 at 18:08:50
Gerry Quinn, I can also remember a game in 1967 (can't remember team - might have been Coventry) when Bally ran down the wing, then bent down to pretend to tie up his laces. As the full-back lumbered in, he was up and off.
Doubt if you could do that today because of the pace of the game, but it certainly impressed me at the time!
Dave Abrahams
71
Posted 17/01/2017 at 18:12:03
John G Davies (@66), yes, Mad Mondays John, had plenty of them in the past. Much more sedate these days, but it still gets lively when the ale takes over and the wit is out – especially over football. Two of us are Blues and two Red and the last one is a Red but more interested in amateur football, he is 81 and the sensible one of the gang.
John G Davies
72
Posted 17/01/2017 at 18:25:10
Good on you, Dave.
Long may they continue.
Terry White
73
Posted 17/01/2017 at 18:31:06
Peter (#53), quite true but as mentioned previously, NOT in the '68 final. We probably would not have put one past him if we had played all night.
Dave Williams
74
Posted 17/01/2017 at 18:58:47
Mark (#68) – I don't know but I often see him in the directors lounge. The blond hair has gone but he looks sprightly enough! Was one of my favourite players and I was gutted when we sold him to Palace. He had everything apart from consistency.

Tony Abrahams
75
Posted 17/01/2017 at 19:07:13
Dave,
Michael Fuckin Owen would seem sensible if he drank with you lot!
Colin Glassar
76
Posted 17/01/2017 at 19:18:26
I just hope everyone gives this lad time to develop. He will make mistakes, have a drop in form, pick up injuries etc.
John Hughes
78
Posted 17/01/2017 at 19:28:11
I get the feeling that Tom has the same sort of steely mentality that the likes of Rooney has – call him a "street footballer" for the want of a more creative expression.
I was reminded of the Cup semi last season when Ross was shown coming off the field and being comforted by Jags, who was reassuring him that the crowd was showing their discontent generally and not just at him. Somehow I don't see young Tom giving two shiny shites.
I hope this is the case because I think you need that mindset at this level. As others have alluded to, he reminded me very much of a young Alan Ball on Saturday, with his Uncle's hair on!
Eugene Ruane
81
Posted 17/01/2017 at 19:33:33
I've really enjoyed what I've seen of Davies so far, though I've no idea how the next few years will work out for him (and us)
Predictions at this stage are obviously pure guesswork (so daft) but I hope he becomes the type of player we all dream about seeing – in my case, that player would be an Alan Ball or a Peter Reid.
That's of course a lot to ask, but I remember in one of those pre-season games (MK Dons?) when there was a lot of casual ambling around from most of our players ("I'm not gettin' injured against these") but not him.
In fact on a couple of occasions, his tackles made me think "Oooh you nasty little get."
That isn't an insult by the way, in fact quite the reverse.
I love a player who truly detests losing and would run through his own nan to get to a ball and the early signs are Tom Davies might be one of these.
It's certainly the type of player/s we've been missing for a long time.
Anyway, I can dream.
Eugene Ruane
82
Posted 17/01/2017 at 19:41:18
I just read this, hopefully it's a case of 'takes one to know one' -
Link
Jason Broome
83
Posted 17/01/2017 at 19:46:31
We have been waiting for a Peter Reid, Lee Carsley engine room type player for a long time. Players like these are rare in the modern game.
He is a high energy ball winner who is confident anywhere on the pitch and who fights for every inch of it.
Given time, patience, a humble attitude and training he might be better than the aforementioned.

Peter Gorman
84
Posted 17/01/2017 at 19:47:52
Eugene, I'll be daft enough to make a prediction: barring him picking up a career-changing injury, signing on with Paul Stretford, or becoming embroiled with a betting syndicate, Tom Davies will be great for us.
Tony Hill
85
Posted 17/01/2017 at 20:06:14
Brent (#65), details like that matter a lot. Very promising.
Tony Hill
86
Posted 17/01/2017 at 20:24:50
What's so refreshing, as Thomas (#21) remarks, is that we have a midfielder for the first time since the Ross Barkley of 3 years ago whose first instinct is to move the side forward incisively, either through strong running or passing to take out defenders/defensive midfielders. It's a shock to see it.
Looks like we might finally be getting out of second gear.
Jamie Sweet
87
Posted 17/01/2017 at 20:39:03
Tom is clearly a fine exponent of the slide-rule pass, and who doesn't love a good slide-rule pass?!
His ball into space for Mirallas to set up the opener was, for me, as joyful to watch as his goal.
Clive Mitchell
88
Posted 17/01/2017 at 20:40:26
Many of you will have read 'The Football Ramble', thoughts on how tough being a co-commentator is.
"If you get it wrong, you look like you're stating the obvious, or just filling the silence, and if you get it really wrong, you sound like you're not even watching the same game as the viewing public. If you get it really, really wrong, you're probably Michael Owen."
Even so, Owen's never going to win a 'stupidest man in Britain' award while Rodney Marsh is around.
Jay Wood
89
Posted 17/01/2017 at 21:17:06
I'm with Eugene on his desire to see a couple of nasty narks in our side, something that has been sadly lacking for a number of years.
In their few appearances so far for the 1st team, both Holgate and Davies showed glimpses they may just be of the mentality Eugene references, players who hate losing and would go through their own nan to get the ball.
On Sunday, between the 3rd and 4th goals, who like me enjoyed it when Sterling slyly left one on Davies, how both Tom and Holgate confronted him? Even though, for Holgate, he was already on a yellow card.
More of that please boys. Show the opposition we are not going to meekly roll over and have our bellies tickled and that – as in the all-conquering side of the 80s – we have 'avengers' and 'enforcers' who will look after their mates in the team.
Peter Mills
90
Posted 17/01/2017 at 21:22:11
Terry (#73), I think we would have failed to score in the '68 FA Cup Final even if West Brom played without a goalie.
I still blame those brand new Puma boots they all wore.
Mick Davies
91
Posted 17/01/2017 at 21:32:53
Peter @ 84, or getting involved with young girls . . .
Dave Abrahams
92
Posted 17/01/2017 at 21:46:21
Tony (#75) Michael Owen would seem like fuckin' Einstein if he was in your company when you've had a few.
Brent Stephens
93
Posted 17/01/2017 at 21:59:32
I love the Abrahams brothers banter. The Statler and Waldorf of ToffeeWeb.
Brent Stephens
94
Posted 17/01/2017 at 22:02:05
Link
Just as I imagine you both.
Alexander Murphy
95
Posted 17/01/2017 at 23:16:52
Eugene Ruane, your post (#81) is a proper belter. I read and read again then I read again.
Let's not drown the lad with the burden of expectation. That is what your saying. But bloody hell... let's enjoy the moments.
Alexander Murphy
96
Posted 17/01/2017 at 23:22:52
Just a side observation about Barkley: when he plays at higher pace, he's a right handful, isn't he? It wasn't until Sunday that I realised.
Probably his superb ball skills frighten the opposition at speed but when he goes slow then they get time to adjust.
Run at them, Ross.
Jamie Sweet
97
Posted 17/01/2017 at 00:04:47
Just watched the highlights again (for the 100th time).
Young Tom's face as he's walking off the pitch at the end with Baines. Pure joy, grinning like the proverbial Cheshire Cat, looking like I imagine I would look if I'd scored in a 4-0 demolition job on Man City at Goodison Park (just with more hair).
He's one of us!
Tony Abrahams
98
Posted 18/01/2017 at 08:22:40
You're half way there, Brent!
I could just Imagine Michael Owen in my company after he's been with the pensioners Dave – even his head would be fuckin spinnin!
Dave Abrahams
99
Posted 18/01/2017 at 10:42:54
Tony (98), Brent is not half way there, he is all the way there, they both look like you.
My head is spinning when I'm with you, and that's when you're sober.
Simon Jones
100
Posted 18/01/2017 at 14:21:22
For a footbal pundit, Owen knows a lot about race horses.
Eugene Ruane
101
Posted 18/01/2017 at 15:25:51
Talking of combativeness and 'attitude' I'd have to agree with the ref in this instance – this is
definitely
a booking:
Link
Shane Corcoran
102
Posted 18/01/2017 at 15:30:44
Eugene, reminds of this
Link
. Different sport, but also resulted in a booking and a handshake.
Eugene Ruane
103
Posted 18/01/2017 at 16:12:07
Shane – the ref running in to save the day then slipping on his hole, superb.
That punch by the way seems to take a second to register.
It's like he thinks about it first (then goes down like Gillian Taylforth)
John Jennings
104
Posted 18/01/2017 at 18:04:22
Gerry (36 & 37) That was my first Everton game at Goodison Park! Alan Ball scored a penalty (or two)? And my Uncle Ronnie lifted me up so I could see them (I was 6). Missed all the other goals as everyone else stood up.
The best bit about young Mr Davies goal against Moneybags City? When he threw himself into the Gwladys Street. Loved it.
More promotions from the youth setup and less £££££ foreign mercenaries please Everton.
Mick Davies
105
Posted 18/01/2017 at 22:18:18
Anyone else seen the pic doing the rounds (think it's on twitter) of Tom in a Liverpool shirt? The alleged story behind it seems dodgy.
Graham Mockford
106
Posted 18/01/2017 at 22:35:16
Mick
It's a spoof.
As Abraham Lincoln said, "Don't believe everything on the internet."
Brent Stephens
107
Posted 18/01/2017 at 22:54:29
Graham, and as Jeremy Paxman asked his wife "Other than that, how was the play, Mrs Lincoln?"

Anton Walsh
108
Posted 18/01/2017 at 23:41:25
If he wants to learn about being around a while ask Gareth Barry. No one more professional to learn from.
Brendan Fox
109
Posted 19/01/2017 at 00:05:11
I hope Tom is given time and patience to develop the undoubted potential he has. I would also like to see a few more of the promising players from the U23s given game time to bring the youthful exuberance the team has been crying out for.
No point spunking money on untried and untested players from foreign climbs when we're sitting on a pool of talent who know what Everton's about and what Evertonians want to see.
---
Add Your Comments
In order to post a comment, you need to be logged in as a registered user of the site.
Or Sign up as a ToffeeWeb Member — it's free, takes just a few minutes and will allow you to post your comments on articles and Talking Points submissions across the site.