Lukaku eyes top six but knows there is work to be done

63 Comments [Jump to last]
Tuesday 17 January 2017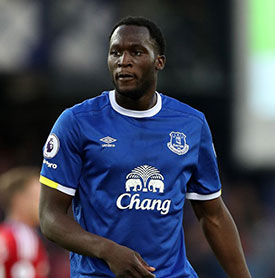 Romelu Lukaku says he was pleased with his goal and Everton's excellent win against Manchester City on Sunday but he says the Blues can't get carried away by one result.
The Belgian scored his 13th goal of the season in all competitions when he struck the opener in the 4-0 victory as Ronald Koeman's men inflicted on Pep Guardiola the biggest defeat of his managerial career.
It was the first time that Everton had recorded back-to-back wins in the Premier League since September, however, and Lukaku says that the players need to continue working hard if they are to bridge what is now a seven-point gap between themselves and the top six.
"We knew we had to be clinical and that was what we were," Lukaku said on evertonfc.com about Sunday's big win. "You know against a team like Manchester City, a top side with a great manager and players, that you have to take your chances. We played well and we were happy with the work we put in. 
"It was nice to score. I am a striker and I need to score goals. I am happy with the win but there is a game against Crystal Palace coming up on Saturday and we will look forward to that now.
"We are going in the right direction but we have to keep working hard. We know the gap is there but we have to keep going now to try to get results game by game. 
"We have to try to aim for the top six and rise to the challenge. In football you never know what can happen. I have seen a lot of stuff in this league during my time here so we'll see! 
"City was a good win for us, four goals and a clean sheet, but there is work still to be done. We have to keep our feet on the ground and keep on working hard. 
"We want to catch [the teams above us] but we know it will be difficult so we are staying calm. We don't need to get too carried away by this result because it is a big challenge to catch up with the teams in the top six. But it is one we will relish."
---
Reader Comments (63)
Note: the following content is not moderated or vetted by the site owners at the time of submission. Comments are the responsibility of the poster. Disclaimer
David Barks
2
Posted 17/01/2017 at 21:09:22
I just wonder, who are the clubs above us that are going to fade a bit as the Season goes on? United sitting in sixth with 40 points, that would have sixth in the table finishing with around 72 points at the end of the season. That seems a bit high.
Last season 4th finished with 66 points and 6th with 63 points. The year before that it was 70 points for 4th and 62 points for 6th. But then again the year before that had Spurs finish in 6th with 69 points.
So who knows, maybe they will all keep up that pace. A run of wins for a change could make things interesting.
Paul Hewitt
3
Posted 17/01/2017 at 21:18:33
Let's just keep winning, lads, and see where that takes us.
James Flynn
4
Posted 17/01/2017 at 21:21:32
17 games to go and 9 points off 5th place.
Why not?
Tony Abrahams
5
Posted 17/01/2017 at 21:23:49
I think 3 of the next 4 games are away from home, so we won't have long to wait and see if we can improve?
Ben Hayes
6
Posted 17/01/2017 at 21:39:56
James Flynn 4, only 12 points off second... not saying we will but let's aim high and see where we can go.
If we win 4 out of our next 5 (not impossible) I think the gap will close a lot. We could do with a few draws ie Tottenham vs Man City unless we think we can't catch Tottenham, then we need them to win but, if we concentrate on our games one at a time, we can close this gap.
Paul Smith
8
Posted 17/01/2017 at 21:44:02
We need to just be positive in all games from now till the end of the season. If we have any ambition to get higher in the league, draws are really no use to us – it's win or bust from here.
I still think we need another forward player in the transfer window and wouldn't say no to a centre back as well. I would love Sigurdson and Lamine Kone (can't see us getting Virgil van Dijk).
When Gueye gets back, our midfield looks strong so let's start on the front foot every game.
Lyndon Lloyd
9
Posted 17/01/2017 at 21:49:35
Yes, Tony. It's vital that we put together a run now and turn the last two league results into momentum. The number of points we've dropped against poor teams or lower-placed sides we should have beaten has been criminal this season and is the principal reason why we're adrift of the top six.
Hell, had we managed to just get draws at Bournemouth, Burnley and Watford and beaten Swansea at home we'd be a point off sixth. All "ifs" and "buts", of course, but those are the small margins at times.
I've said it a few times on the site recently – any team that can string together a run of wins can make up ground in the Premier League. There are 51 points left to play for still.
Dave Abrahams
10
Posted 17/01/2017 at 21:51:47
Rom lad, keep playing like you did on Sunday and there would be hardly any fans on your case. Can you work like that every match, it's not asking for much.
Brian Williams
11
Posted 17/01/2017 at 22:06:27
We'll stand an even better chance if we can strengthen further in this window. We've got two weeks left and could easily get another two in during that time.
Raises the questions. Do we have the will to get more in and do we have the money?
Stan Schofield
12
Posted 17/01/2017 at 22:15:24
Brian, yes, the chances will increase. But we've got a good chance anyway, even without strengthening further, if only we keep playing with that spirit and system.
I know it's only words, but Rom's final statement on the challenge of getting in top-6, "But it is one we will relish", is perhaps telling. We've got some momentum now, there seems to be real camaraderie judging by Sunday, and we can take a few teams apart.
Gordon Roberts
13
Posted 17/01/2017 at 22:17:17
Brian Williams (#11). Good question re the money, lots of activity on Twitter re bids for Depay and Van Dijk, which indicates a willingness to make progress. Time will tell, it's an important window for Moshri's credibility.
Lev Vellene
14
Posted 17/01/2017 at 22:29:42
We are where we are, but the second half of the season has but started, so the six above us have yet to play each other (mostly?), and we have to play them. I choose not to let mere numbers in a table stop my dreaming! As Big Rom said (sort of), one game at a time!
Like others have said, we can only hope that Koeman has now seen that a full team of aged experience will never consistently out-do a team with a few hungry youngsters still having dreams!
Trevor Lynes
15
Posted 17/01/2017 at 22:29:52
We need to keep crosses down to a minimum if Benteke plays. Our centre backs are not tall enough to cope with him if he gets decent crosses.
City suits our game as they never resort to direct attacks with high crosses. The sides we struggle against are the one's with big strikers who are good in the air. We fare better against sides like City and Arsenal as neither are physical in their approach. Once we can start beating this sort of opposition, I think we can progress.
In all honesty I am not really worried when we play Arsenal or Man City because I know that if they beat us it will be by top class football and we can normally blunt that type of attack by playing counter-attacking football. Our fans would not tolerate us playing at home against supposedly inferior sides using similar tactics.
Our promising kids will have their baptism of fire when they are playing against physical sides with power in the air. If Holgate and Davies can cope with that sort of game then I will begin to believe.
Koeman said that we were too weak in some instances and needed to face up to win the first-half battles. It is no coincidence that we have had too many poor starts both home and away. Perhaps Schneiderlin can put a bit of steel into the midfield (I hope).
John Malone
16
Posted 17/01/2017 at 22:55:10
It amazes me how one great win can have peoples mind's running wild!!
I'll start getting excited when we win at least five games on the bounce and show we can turn up and all different types of teams are comfortable and can create chances in possession and not only on the counter attack!
Palace are a different animal to City and our direct style will be food and drink to Dann and Co. Let's see what Koeman and this squad are made of!
Brian Williams
17
Posted 17/01/2017 at 22:55:34
I hope you're right, Stan. I'd love to see us build on Sunday's result and start destroying other teams – starting with Palace.
Alan Humphreys
19
Posted 17/01/2017 at 23:00:11
No mention of going for a toe poke of Davies's superb goal then?
"I am a striker and I need to score goals".
You are a forward and you need to work your arse off, link with the midfield and then score goals... and not try and nick a goalbound effort from a team-mate.
If he keeps scoring and working hard, he should hit 20.

Brent Stephens
20
Posted 17/01/2017 at 23:01:43
John (#16) you're right on one level, a rational level. But the response to the City result is on an emotional level – and quite rightly. We can enjoy, I hope, our emotional reaction for a few more days, and then get down to the hard analytics about future games.
Alexander Murphy
21
Posted 17/01/2017 at 23:05:28
Rom, Ross, Tom, Mason and Joel to play like that every week and times could become very good. I would love to think that Geri could man up and be inspired as well.

But it's only one game. A belter though.
Stan Schofield
22
Posted 17/01/2017 at 23:05:32
John, I've been an Evertonian too long to be running wild with excitement. I'm too used to too many "we've turned the corner" episodes that turn out to be false. Ever since 1970-71 onwards, barring the 80s. Nobody is saying we'll win the league (even though it's possible, however improbable), just that we could readily achieve the much-vaunted top-6, provided we maintain some momentum.

We have, after all, got 13 points from the last 6 PL games, most of which our play has been pretty scrappy. But it wasn't scrappy on Sunday, and it just makes a nice change to recognise a bit of system, some great individual performances, and to anticipate a bit more.
Patrick Murphy
23
Posted 17/01/2017 at 23:17:25
If the team fully commits to each and every fixture the way they did on Sunday, why shouldn't they win a few games in the next couple of months? And even if they don't, at least it wouldn't be for the want of trying.
Honestly, I'm amazed how many seem to think that Sunday is some sort of one-off and can't be repeated against less talented opponents. I'm not for one minute saying they are wrong as recent history does point to that sort of baffling inconsistency, but if our aim is to rattle the top six, at some point, we'll have to perform to Sunday's level more often. If we do, we'll earn more points, it is that simple.
There is no rational reason to believe that the players will travel to Palace and elsewhere and repeat the insipid performances we witnessed leading up to Christmas. We may not reach the heights of Sunday but surely what we witnessed against Man City is a benchmark that the players and manager should use to motivate themselves; else the City match is just another "punching above our weight" type of result and we can return to ploughing the same fruitless furrow that many of us are pretty tired of seeing.
Colin Glassar
24
Posted 17/01/2017 at 23:31:16
Win three more on the trot and I might start to get excited.
Tony Hill
25
Posted 17/01/2017 at 23:41:16
Yes, it's the major obstacle Koeman has to overcome: our failure to develop winning runs. We did it once under Martinez and nearly got top 4. It can be done but the team must believe it can be done, and they must be prepared to sweat blood to do it.
Stan Schofield
27
Posted 17/01/2017 at 23:42:26
Brent, the response to the City result is also, in some respects, rational, in that it's based on evidence, if what we see before our eyes.
Prior to Sunday, and despite 10 points from a possible 15, we were erratic and scrappy, with little to no discernible system, and therefore no substantial evidence to be very positive for forthcoming fuxtures.
In contrast, after Sunday, we have specific evidence of a system, fairly solid in defence, fluid in midfield, and clinical in finishing, plus team spirit. Could be a one-off, but might not be, precisely because we have a good squad and we're strengthening it. So, fairly rational to be a little more optimistic for the next few games.
Craig Fletcher
28
Posted 17/01/2017 at 23:47:35
17 games to go, if we average two points a game we'll end up on 67 points. As David said at the start of the thread, occasionally 67 points has been good enough for 4th in the Premier League. It's a stretch target, certainly, but who knows?
By my reckoning if we win 10 games between now and the end of the season, and if the likes of Sunderland, Swansea, Hull etc. do their part and take points off the top six, the dream is still on. COYB!
Anthony Dwyer
29
Posted 17/01/2017 at 23:58:04
I honestly can't see us finishing above 7th, but it's nice to dream.
We have to be realistic, we've won a game last week in brilliant fashion, but we lost the week before in awful fashion.
We seem to win won, lose one, we've now won 9 league games, lost 6 plus 2 cup games, we're about as inconsistent as a team can be.
Let's hope the inconsistency stops and we start putting runs together, because if you look at the teams above us they're all capable of 5-8 game winning runs, and if we're honest, we're not.
Ian Brandes
30
Posted 18/01/2017 at 00:12:17
We do have a history of doing well in the 2nd half of season, though not for the last two seasons.
But that was then, and this is now.
COYB!
Stan Schofield
31
Posted 18/01/2017 at 00:17:06
Anthony, you've got a point, but maybe teams start winning consistently when they start believing they can. A winning mentality.
Two ingredients needed: ability, plus a winning mentality. We have the former, but have lacked the latter, but no reason why that can't change, and one game is enough to induce that change. The Man City game.
One game at a time, the objective being to win. Never to draw, regardless of the opposition, always to win. The devil is in the detail, and a belief that we can win is a essential detail.
Anthony Dwyer
32
Posted 18/01/2017 at 00:34:12
Maybe you're right, Stan, hopefully that is what Ron is installing with his strange techniques in management.
Sometimes I feel like Ron is clueless, proper running his mouth in the press, making our better players look like fools.
Sometimes I see things that makes me think Ron is trying to turn a team full of talented fannies into professional men.
I've come to the conclusion that time will tell and we just have to hope Farhad and Bill have got this one right.
Colin Glassar
33
Posted 18/01/2017 at 00:37:54
I honestly believe this will be Rom's last season with us so I hope he can fire us into 6th place this season. Difficult but not impossible.
John Pierce
34
Posted 18/01/2017 at 00:50:09
So the thread has turned to my current thoughts: Is this Koeman progressing or has it been forced upon him?
Certainly to my mind the formation is one that works, I've posted my support several times.
I do believe he has stumbled into it. A touch harsh maybe but credit does go to him for the improvements since the Watford game.
Now will he stick with it or rip it apart? I hope with the gaps in our schedule and time between games, improved performances and results will now come against sides like Palace, Boro etc.
We had four different scorers on Sunday, coincidence or opposition or tactics? I think we played a side who wanted to attack us, instantly suiting our 'style.
Will he keep Mirallas as Rom's partner, widely seen as stale and rightly so, was he finally played in his best position?
He ultimately is a striker, not a winger. He loves to run from in to out, took a while for him to figure it out.
Lots to ponder, back five? Yes totally. Higher up the field? Yes. If he changes this it might suggest he has stumbled into it?
Let's see if we can repeat the does Saturday. You'd think away from home Barry gets sacrificed for Morgan. Otherwise no changes.
Over to you, Ron lad.
Anthony Dwyer
35
Posted 18/01/2017 at 01:25:22
Plenty to ponder indeed, John, and I agree with lots that you put out there.
The 5 at the back maybe more a forced issue than purpose built, but same could be said about Chelsea, it's still put them top of the pile though.
Also 5 at the back v Palace, or any team that isn't out to pass us off the park, may leave us starved of chances, that's were I feel we have to stick with Mirallas up top with Rom, as well as Ross in behind, but also the likes of Davies, Schneiderlin and Barry or McCarthy have to offer themselves as attacking options during tight games.
If not we'd have to sacrifice Barry for someone who can pop up in attacking rolls, such as Deulofeu, Lookman or Lennon.
Another way to look at things is that there's very little between Everton and teams as far down as maybe 14th if were honest, but we have Rom, he's a huge difference in terms of quality from any one below us (apart from Defoe maybe as he's equally as lethal).
Interesting times ahead, fixtures look kind to us too, plus no cup fixtures so no real need to chop and change an awful lot.
Palace left this month, followed in February by Stoke, Bournemouth, Boro, and Sunderland could set us up nicely for a trip to Spurs feeling very upbeat, that's if we can keep up last Sunday's level.
Roman Sidey
36
Posted 18/01/2017 at 03:14:49
No cups left; only league matches to think about. Go for broke and try to win every match – that has always been my approach anyway.
David Ellis
37
Posted 18/01/2017 at 04:35:37
It will be very hard to finish top 6 this season and the points total required is likely to be more than usual as all the "Big 7" (apart from us) have been playing to form and getting results, unlike last season when Man Utd and, in particular, Chelsea were well off the pace.
Just saw an article about West Ham's issues with strikers – apparently they purchased/loaned over 32 in the last 7 years and only two of them have ever scored 10 in a season (once each). Valencia is not one of them – and they bought him for over £12m in 2014 – a big-money signing that did not solve their problem.
We should enjoy Lukaku's goals whilst we have him.
David Hayes
38
Posted 18/01/2017 at 05:33:44
Trevor (#15),
Well put, spot on, but real quality moments usually break through these Clod-Hopper teams, and then they collapse.
Kieran Fitzgerald
39
Posted 18/01/2017 at 06:48:16
Man Utd, who are the closest to us, albeit nine points ahead, are very much like us. They are reliant on one striker, Zlatan, to score their goals.
All it may take for us to get into the top six is for him to miss a few games. Man Utd are not the finished article and other things against them may go in our favour.
Kieran Fitzgerald
40
Posted 18/01/2017 at 06:50:48
Apologies, it's a seven point gap to Man Utd, not nine. Makes it a little more interesting.
John G Davies
41
Posted 18/01/2017 at 07:45:09
Kieran (#39).
Agree 100%. Let's aim for 6th, stay positive, not give up on the season.
One or two who are giving up on the season but they seem to wallow in negativity. Must be a bundle of fun to have a Don Revie with.
Will Mabon
42
Posted 18/01/2017 at 07:50:32
Promising about Sunday was, we saw style but not just
a style
. The lower possession certainly worked for us (still don't believe the published figure though) but as has been said, we can't play that way against all/many teams.
The good news is we saw a mix in there. From Mirallas's disallowed goal to the last by Lookman, there were probably 10 fast, incisive and accurate moves, mostly on the floor. Great shot accuracy.
We built some moves more steadily through midfield and then sped up play. Despite the stated possession imbalance, we didn't ditch it too cheaply, too often.
There was also the old favourite AirBall, though some of it accurate enough to be contested and won, as well as some aimless hoof practice from keeper and defenders.
There was good defending – we actually varied the line and depth a little at the back too, through the game. Tackling and aggression aplenty.
The most important thing of all on show – the team spirit, the endeavour, the belief, the enjoyment. If that can be maintained, there's plenty to work with, plenty of scope for flexibility of play. All this from a team of mostly pre-Koeman, past-it, lazy, useless donkeys. Funny that.
Provided everyone knows what they're doing and are not too rigidly instructed individually, there's a chance we just might find a bit of consistency... I say cautiously.
I'm guessing, but looking at the play and at Koeman himself, I get the feeling he might just have cheered the hell up – slightly. Not getting ahead of myself but feeling better about things. Palace will be important.
Will Mabon
43
Posted 18/01/2017 at 08:01:05
Also; it's reported that Conte desires Alvaro as a replacement for Costa if necessary. Wouldn't it be nice to think Lukaku might
not
be a given to leave for Chelsea.
To listen to some of the stuff on the radio: the automatic assumption, the divine right attributed to the usual "big" clubs, to just take any player they wish – sickening.
It would be encouraging to think we aim to be big enough in our own way, to resist.
Liam Reilly
44
Posted 18/01/2017 at 08:01:34
The sides above also have domestic and European cup games to contend with, so there's a small chance.
Personally I'd rather try to maintain 7th and blood some more of the youngsters to see if they are capable; Walsh, Dowell, Browning etc.
Then give Koeman the summer to wheel and deal and put together a squad to challenge the top 4.
Will Mabon
45
Posted 18/01/2017 at 08:13:46
Liam – Yep. By a less-than-ideal season so far, we now find ourselves with an opportunity to test and develop.
Ben Mackenzie
46
Posted 18/01/2017 at 08:48:08
http://www.socceronsunday.com/article/guardiola-resigns-as-manager-of-manchester-city/
Brent Stephens
47
Posted 18/01/2017 at 08:49:23
Stan (#27), yes, I agree. I think we've got the best of both worlds – an emotional day at the weekend and also, as you say, some rational belief for optimism. The season isn't over and starts here??
Stan Schofield
48
Posted 18/01/2017 at 09:41:19
Brent, definitely! Getting to top-6 isn't in itself a great ambition compared to wanting big trophies and being a consistent top team. But it's a target (if you like, a kind of preliminary trophy) to have. It's ambition, just ambition for the present within our bigger scale of ambition.
Every game needs to be treated like a cup tie, and if it is then I believe the team will be more effective and the players, and us, will enjoy it more. The opposite, of thinking the season is over, would achieve nothing, and would not be effective preparation for next season.
To me, this is not 'positive thinking' in the fashionable way of talking about positive thinking, it's not unrealistic dreaming in the fashionable sense of the 'you can achieve anything you want' bullshit. It's just common sense.
To achieve anything difficult, you need two things: ability and belief. Each on its own isn't enough. We have the former, we just need to maintain the latter, which hopefully the Man City game has given us.
Eivind Nyhus
49
Posted 18/01/2017 at 10:18:36
The amount of people thinking Koeman lucked himself into the team getting results is insanity. The guy was one of his times best footballers, and did great work at Southampton. Of course he knows a thing or two about tactics in football. The ingrained negativity here is baffling.
David Graves
50
Posted 18/01/2017 at 11:25:21
But Eivind, in two of the biggest games this season, he failed to demonstrate an unquestionable knowledge of tactics – hence our season effectively being over in January.
Whilst there may be cause for optimism, let's see where we are after the next 6 (easily winnable) fixtures before we start talking about new hope and optimism!
James Macdonald
51
Posted 18/01/2017 at 12:28:02
We need to look at the long game and we now have an ideal opportunity to do as we won't finish 6th and won't go down. We should sign Berahinho this window and possibly a centre back but otherwise concentrate on blooding and developing the youngsters.
Ultimately even with the Moshiri cash we won't be in the same league financially as the majority (if not all) of the the present top 6. If we can find 4 or 5 from within that are capable of playing at the top level (and I suspect we already have two in Barkley and Davies) then we can compete.
I also think returning to Man Utd for Luke Shaw in the summer would make sense.
Shane Corcoran
52
Posted 18/01/2017 at 13:40:38
Lyndon, you say that we dropped points against teams we should be beating. On what basis should we be beating them?
Perhaps you could argue that, pound for pound, our players are better than the likes of Bournemouth but that counts for very little.
In my opinion, and I've said this all season, we are very lucky to be where we are. We've won points we didn't deserve to.
I think 7th is the best we can hope for unless Man City continue to implode. I don't think the other five will.
Peter Murray
53
Posted 18/01/2017 at 14:00:11
Just some sort of official joke – we've beaten a gang of no-marks who just let you play (if we're interested!!). What about the other useless opponents like Liverpool, Bournemouth, Southampton, Swansea etc – all the others... we didn't bother giving them a game – we're just not in the real world.
A thousand miles away from competing with anybody of usage; also-rans for seasons... miles away from Chelsea, Arsenal & most of Europe, that Ronalloudmouth considers worthy of his mountainous (unproven as yet) ability!!!
Wishful thinking from our lazy, piss-poor control, goalscorer – as all of the clubs also realise – but he's got nothing else!!!
Tom Bowers
54
Posted 18/01/2017 at 14:03:32
The win against Man City was mind-blowing but let's not get carried away. Consistency is the key and Everton have shown they can be frustrating with continuous let downs after a good result.
Some of Everton's wins before Christmas were fortuitous and performance quite shabby. Looking to the top six is okay but they will need to show the same attacking prowess of the City game on a consistent level.
With 3 against Southampton as well we can probably be more optimistic about upcoming games but let's not look past the banana skin at Crystal Palace who are in a desperate situation.
Dave Ganley
55
Posted 18/01/2017 at 14:09:42
Shane, it depends on what your ambition is. Do we, as a Club think we should finish the league higher than Bournemouth, Watford, Burnley etc? Personally I would say yes so therefore we have dropped points against teams we should be beating.
Granted it doesn't always work like that, look at us against Man City at the weekend, they would probably be saying the same about us. But you have to have ambition and beating those clubs should be the aim at the very least for a club like ours.
Man Utd are very catchable. When we played them here before Xmas, I wasn't that impressed with them especially given the money they have spent. As others have said, we should be aiming to win every game and see where we are after that. It's unrealistic but that should be the aim.
From the home games remaining, only Chelsea of the top 6 are yet to come here so we should be looking to win all our home games; the team owe the fans after the shambles at Stamford Bridge so we should go for a win there too.
Saturday is so important. So often we have followed a good win with a lacklustre performance. Hopefully the team are evolving and the younger players are providing some necessary exuberance to the older ones.
I don't see 5 at the back as negative, with Coleman and Baines bombing forward it gives us an extra dimension. We should be going to Palace with one thought only – victory. If we can get on a run, the who knows where we can end up.
Dan Egerton
56
Posted 18/01/2017 at 15:14:12
We are no longer in for Depay.
Shane Corcoran
57
Posted 18/01/2017 at 15:24:12
Dave, that was the question I asked.
At the start of the season, before any of us had any form to go on, I'd have said that Everton should be finishing seventh, but no higher.
As the season has progressed, I'm of the opinion that, based on performances that we're lucky to be 7th and that if we were currently twelfth I would say that that was a decent reflection of how we've played.
Now I'm all on for being optimistic and of course with a win at Palace a bit of momentum could be gained, but I don't think for a second we will catch any of the top 6, bar maybe Man City.
Man Utd, for a period in the autumn were the exact opposite of Everton; not winning games they were utterly dominating. Now they've had some luck of late with refereeing decisions but the fact is that they're on a great run of form and are worthy of their league position.
There's plenty to play for in theory and I hope I'm wrong, but I think sixth position, from our current position, is unlikely.
Dave Ganley
58
Posted 18/01/2017 at 15:55:46
Realistically, Shane, you're probably right. The top 6 really should be out of sight given the resources they have. To be 7th only 7 points behind 6th place given how awful some of the football has been says as much about them as it does about us. Some of the top 6 have been underachieving as much as we have.
If, and I know it's a big 'if', we can find any kind of consistency and go on a run then they are catchable. I would be more than happy with 5th or 6th this season given our performances and league position over the last couple of years. All teams have a blip at some point in the season, we have had a large one so hopefully we can come out of the other side in decent shape.
We really do need another couple of signings this window to make a difference but you never know. That's the beauty of football, you just never know. One good result and performance can change everything whereas one awful one can do the opposite. Just got to hope that last Saturday was some kind of turning point for us.
Brian Furey
59
Posted 18/01/2017 at 16:02:31
Interesting thread with some very good balanced points made and not the usual overreaction either way.
For me, I have been shocked at how well we've done against the top 6 at home (except for the RS result) and I think it shows that the team are more than capable of competing with the big boys when they work hard and put their mind to it.
However, I do think we are a club in transition with a lot of players on the slide which has already saw our midfield and centre halves more or less being replaced. I believe the top 6 have ALL got their act in gear this season with even Spurs and Man Utd catching up with the rest after a slow start.
Leicester was the team to benefit last year with a few of the big guns slipping up and we finished above Spurs & Man Utd in 2014 but in reality all those teams above us probably have more money than us, currently have a better squad than us, possibly have a better manager than us and we are just beginning to turn the corner and begin our new 'project'.
In a way being out of both cups might give Koeman and the team some breathing space to build a new team and way of playing without too much pressure.
6th has to be the short term goal and thus a way into Europe which will attract more players but I'd not be too disappointed with 7th and hope teams in the top 6 win the 2 cups so we still qualify for Europa like West Ham did last year.
Steavey Buckley
60
Posted 18/01/2017 at 16:25:41
Dave,
"The top 6 really should be out of sight given the resources they have."
Everton also gave them a lot of help by hardly winning any games from the end of September until going on a winning streak after beating Arsenal 2-1 at home on 14 December – only defeat in the Premier League since then was by Liverpool.
Dave Ganley
61
Posted 18/01/2017 at 17:01:44
True enough Steavey so now we have run into a bit of form then they are catchable given 6th is only 7 points ahead.
As I've said though, we need to find some consistency in our performances; if we can do that, then who knows???
John Wells
62
Posted 18/01/2017 at 22:22:37
Lukaku to Chelsea rumour starting to rear its ugly head again.
John Pierce
63
Posted 18/01/2017 at 22:42:39
I'd hope people, despite our Jekyll and Hyde likeness this season, we should aim a touch higher than 6th. I say that, if we are to catch Man Utd, then the next couple of teams are only a further win or two beyond. From that point, 4th is as near as damn it as 6th is to catch.
Posters who suggest that 2 further signings might get us there I think could be correct. A striker and a centre-half are the requirements I think. A goalkeeper can wait. Any upgrade would be marginal, so moot in my eyes.
All said and done, we have the familiar Evertonian conundrum of breaking down lower placed sides. This comes down to whether Koeman can get the level of performance out of the side. If and if the team can play higher up the pitch I believe with the personnel we have it's possible.
But I expect Everton to fall back, not acceptable in my view as we cannot fall any further behind the 6 teams above us.
Laynald Hansen
64
Posted 19/01/2017 at 16:02:36
I predict we will end up in 5th or 6th.
To me, the excitement is over already because we are out of the FA Cup.
Will Mabon
65
Posted 19/01/2017 at 17:04:43
"I predict we will end up in 5th or 6th."
Bold!
Colin Glassar
66
Posted 20/01/2017 at 12:44:19
There's an excellent interview on the OS with Lookman. Check it out. He's been adopted by Rom and Bolasie by the sound of it. He comes across as a very nice and humble kid.
Brian Furey
67
Posted 20/01/2017 at 14:34:14
Nice to see the two lads are looking after Lookman. Even though he's 19, you get the feeling he's much younger as he looks young and all this talk of his GCSEs etc. I'd say it's a big move for him though out of family home in London.
I see Nigeria are already asking him to change allegiance to them. It's been a hell of a few weeks for the young man. I was delighted to see Koeman put him straight into the match squad as I'd say if it was Moyes he's be protected a bit more.
I've a good feeling about this lad and think he will score goals from midfield a lot more than Bolasie and Mirallas.
---
Add Your Comments
In order to post a comment, you need to be logged in as a registered user of the site.
Or Sign up as a ToffeeWeb Member — it's free, takes just a few minutes and will allow you to post your comments on articles and Talking Points submissions across the site.