Robles determined to fight for 'No 1' spot

49 Comments [Jump to last]
Thursday 19 January 2017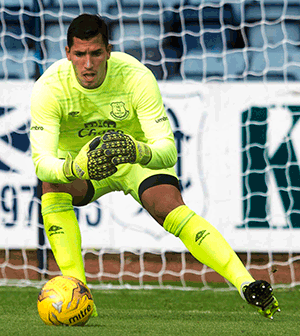 Joel Robles has revealed his anger at being told by Ronald Koeman that incoming goalkeeper Maarten Stekelenburg would be first-choice between the posts this season but says he elected to stay and battle for his place.
After a difficult spell at Fulham and a season on loan under Koeman at Southampton in 2015-16, Stekelenburg was drafted in by his compatriot last summer in what many assumed would be a back-up role either to Robles or a new acquisition before the August transfer deadline.
Instead, the Spaniard says that Koeman informed him that Stekelenburg would be the new No 1 and that he would be second choice.
It came as a blow to Robles who had spent a long spell on the sidelines awaiting his chance to supplant Tim Howard as the Blues' first-choice 'keeper and he finally succeeded in the last few months of Roberto Martinez's tenure.
The American's declining form, coupled with his eventual move to Colorado Rapids, appeared to have opened the door for Robles to make the role his own but he remained as the understudy until Stekelenburg suffered a leg injury in last month's Merseyside derby.
Just as he did at times when Howard was out injured, the former Atletico Madrid man has taken his opportunity to shine with a string of good performances that has included three clean sheets in the last five games. With Stekelenburg fully fit again to start, however, Robles will have to see what decision Koeman makes for this weekend's trip to Crystal Palace.
"He told me that I was the No 2 and that Maarten was going to be No 1," Robles said in the Liverpool Echo when asked what the manager had said to him when he succeeded Martinez at Goodison last summer.
"Obviously, I am angry in this moment with him but this is football, I respect the situation and that I needed to change my mind and work hard.
"In one moment, I did think about leaving because I like to play but when you go home you need to think about everything and I want to play for Everton for many years.
"I had reason to leave the club but I said no because I want to play for Everton for many years."
---
Reader Comments (49)
Note: the following content is not moderated or vetted by the site owners at the time of submission. Comments are the responsibility of the poster. Disclaimer
Mick Griffiths
1
Posted 19/01/2017 at 19:38:19
I hope Koeman keeps Robles in goal. He totally deserves it. The one part that I've been disappointed with him, is his distribution. Although I thought it was greatly improved during the Man City game.
Bill Gienapp
2
Posted 19/01/2017 at 19:41:58
I'll be honest, I've never particularly rated Robles, but the results this season speak for themselves – four clean sheets in five starts. Koeman would be foolish to make a change this weekend.
I also like his attitude. Guys like McCarthy, Deulofeu, Funes Mori, etc... get dropped from the starting XI and their immediate reaction is "Get me out of here." But Robles seems to have genuine affection for the club and appears willing to fight for his spot. You have to respect that.
Michael Neely
3
Posted 19/01/2017 at 19:56:02
I don't think Robles should be fighting for a place on Saturday after his displays over the last couple of weeks. His command of his area has improved no end and he seems to read the game better.
Maybe that's because there's a new coach who he responds to; whatever the reason Robles has improved and as far as I'm concerned is better than Stekelenburg. He was outstanding against Man City with his kicking being especially effective and his handling top class.
to drop him would be harsh on Robles part and foolish on Koeman's.

Gordon Roberts
4
Posted 19/01/2017 at 19:58:01
Hope Koeman retains Robles for the next match; based on the clean sheets, he deserves his place.
Phil Sammon
5
Posted 19/01/2017 at 20:00:19
I'm sure his distribution was one of his better qualities when he first came. Maybe that was just when compared to Tim 'Orbit' Howard. He's a decent keeper these days but his kicking leaves a lot to be desired.
Mike Gaynes
6
Posted 19/01/2017 at 20:06:47
I like the reaction – "anger" is sometimes a very, very good motivator.
And for the first time since he joined the club, I think he should be our #1 keeper right now. He didn't let his last-minute derby error get him down, and he's more aggressive right now than I've ever seen him. His improvement is palpable and deserves reward.
Mark Morrissey
7
Posted 19/01/2017 at 20:11:03
It was great watching him run the full length of the pitch when Tom Davies was celebrating in front of the Gwladys Street and piling on. Enough to make you realise where this lad's heart lies. He is better than Stekelenburg and deserves to be our current Number 1.
Joe O'Brien
8
Posted 19/01/2017 at 20:11:56
He's definitely our best No 1... he was well solid last Sunday, as well as our back 3/5. We should play the same team against Crystal Palace.
Oscar Huglin
9
Posted 19/01/2017 at 20:16:05
Not sure what I want to happen here. Robles deserves to keep his place, but I feel like we need a better number one in the long term.
Clive Mitchell
10
Posted 19/01/2017 at 20:22:11
Not fussed as long as it's not Stekelenberg in goal: Robles Number 1, Jags Number 2 will do for now.
Charlie Lloyd
11
Posted 19/01/2017 at 20:23:48
I must commend Robles with his desire to stay and try and force his way to the No 1 slot. I reckon he's doing pretty well. The odd lack of judgement and slow distribution but on the whole I'm impressed.
I don't know if he is the long term solution but he probably needs a decent run of games to try and cement his claims. There may be a decent keeper in him given the chance.
If there is it could save us about 㿀m and I may end up saying "thanks Roberto". However I'll reserve my judgement a little longer.
Colin Glassar
12
Posted 19/01/2017 at 20:23:56
It would be a travesty if he was dropped after a good run in the team. Ronald, don't make the same mistake as Roberto did.
Liam Reilly
13
Posted 19/01/2017 at 20:33:38
Bill (#2),
"like McCarthy, Deulofeu, Funes Mori, etc... get dropped from the starting XI and their immediate reaction is "get me out of here."
I don't recall McCarthy saying anything of the sort. The speculation has been in the press. Same for Deuofeu; Koeman has told him, if he wants to play he has to leave.
For what it's worth, Robles has played his way into the #1 position and deserves to keep his place.
Mick Griffiths
14
Posted 19/01/2017 at 20:36:00
Colin Glassar, totally agree. I was so cheesed off when Martinez brought Howard back in from his injury, despite Robles starting to show what he could do.
It must be athe hardest life in football being a keeper when the manager's got a favourite, even when your better.
Matthew Clarke
15
Posted 19/01/2017 at 20:51:04
Interesting to be reading of late how people are now rating Robles over Stekelenburg, beginning of the season it was the other way around. It was Stekelenburg's catching, positioning, shot stopping, and commanding of the area people were raving about.
I think Robles attitude and reaction to being dropped is spot on: get angry, get motivated, get back in the team. Koeman preaches mental toughness then this is the reaction as a manager he surely must be looking for.
Robles has come on in leaps and bounds, he's always been a good shot stopper, one-on-ones, as well as, being reasonable with the ball at his feet when played back to him.
His handling has come on, catches far more than he punches now, it was always punching the ball away when he first came, kicking, positioning, reading of the game have all improved, but does he have the ability to maintain his concentration levels.
Thi is vital for a keeper which leads to consistency and cuts out the errors which Robles has been prone to, that's the big question mark over him as far as I'm concerned, I hope so and I hope Koeman gives him a fair crack of the whip as he's earned it.

Paul Mackie
16
Posted 19/01/2017 at 21:03:49
The stats don't lie. Stekelenburg's save/shot rate is really, really bad. Almost as bad as Bravo for City!
Robles isn't the world's best keeper, but he's certainly the best keeper on our books.
Tony Abrahams
17
Posted 19/01/2017 at 21:05:33
If he's given a run until the end of the season, then I'm sure it will be enough to tell us if he's good enough to be Everton's long-term keeper?
Makes me laugh, he worries me sometimes, and often makes me think of that saying about having to be mad to play in goal but he's obviously not mad because he went home and he thought about it!
I loved that, Joel, because it shows you have got an appreciation of where you are, and an even bigger appreciation of what you want to achieve and who you want to achieve it with. For that alone, I hope you are good enough to keep your place, and help take us where we all want to go. Good luck, Amigo!
Bill Watson
18
Posted 19/01/2017 at 21:13:58
I like his attitude and think he deserves a run of games to show what he can, or can't, do.
Sam Hoare
19
Posted 19/01/2017 at 22:21:40
Pretty sure I read that his save stats are second only to De Gea this season.
He's certainly the best keeper we have and deserves a good run to see if he can be our No 1 for the next few years.
Liam Reilly
20
Posted 19/01/2017 at 22:24:37
That's interesting; where did you read that Sam?
Anthony Dwyer
21
Posted 19/01/2017 at 22:36:36
I'm not currently a fan of either of our keepers, I've felt we needed better, Robles is slowly changing my opinion, he has to be given an extended run to see what he's capable of.
Anthony Dwyer
22
Posted 19/01/2017 at 22:37:45
ps: I read that same stat as Sam, he's played a lot less minutes though; percentage wise he's up there though.
Liam Reilly
23
Posted 19/01/2017 at 22:46:51
Found this:
http://www.transfermarkt.com/premier-league/weisseweste/wettbewerb/GB1
Robles is top of the charts but has played far fewer games. That said, 4 out of 6 is pretty solid and if he maintains anything like that consistency, he'd certainly be a top performer in the league.
Christy Ring
24
Posted 19/01/2017 at 22:54:25
I like his attitude, he's improving, and did well against Man City, so he should keep his place. But I'd offer 㾸m for Hart now.
Darryl Ritchie
25
Posted 19/01/2017 at 23:13:51
Neither keeper is perfect, but Robles is young, and as Christy says, can improve.
Stekelenburg isn't young. We are probably his last kick at the can. Any mistakes are ingrained. There's no chance of improvement with him.
Stay with Robles.
James Watts
27
Posted 19/01/2017 at 23:43:03
If Koeman swaps out Robles for Stekelenburg this weekend I would despair!
Joel deserves a prolonged run in my eyes. Stekelenburg, although has the odd amazing game, has made too many mistakes and let in too many soft goals. And if Joel impresses, like he has done for the last few games, he could be a good long term option for us.
Do the right think Koeman – don't play favourites.
Chris Watts
29
Posted 20/01/2017 at 01:12:58
I wasn't impressed with Stekelenburg. As others have said his shot stopping was really poor.
In fact against Chelsea he should have saved both the first 2 goals. As we saw with Manchester City on the weekend this seems to erode confidence in the whole team and let to a proper thrashing.
Robles is the best we have now and deserves the remainder of the season to prove we don't need a new keeper next season
Steve Bingham
30
Posted 20/01/2017 at 01:26:01
If the rumours about Begovic being available for 㾸 mill, then we should try and get him in.
Gary Russell
31
Posted 20/01/2017 at 01:53:26
He has never had a run in the side. Writing him off seems very premature to me. He is a baby, in keeper terms at 26. If he doesn't start against Palace it will be an outrage.
Keep players in the team who are on form. His isn't bad at all this season, in what is the most thankless of positions. Give the lad a chance, he deserves it, big time.
Good luck, Joel
Mick Davies
32
Posted 20/01/2017 at 01:58:59
Goalkeepers make mistakes, but so do all footballers; it's just that goalies are the last hope and it sticks in the mind of fans, more than a midfielder or defender.
I honestly thought Robles was looking like a top keeper when Howard was injured, and the run of games did him good. What a sickener it must have been when he got dropped after all those clean sheets.
I say he needs more game time to build up his confidence again, and to show the management that they don't need to rush out and risk big money buying a replacement.
Also, I agree with Liam, that McCarthy hasn't sulked about being on the bench and asking for a move – think Bill's thinking of Mirallas. Macca has done his best every time he's played, and it's actually injuries that have lost him his place.
At the moment, we must have the best midfield squad in the Premier League: Gana, Schneiderlin, Barry, Davies, Barkley and McCarthy. To win trophies, you need a big squad and if Ronnie K can keep them all happy, the engine room next season won't need any strengthening for an assault on the top places
Gordon Roberts
33
Posted 20/01/2017 at 03:00:36
Has Joel lost weight? He certainly appeared leaner on Sunday when he ran the length of the pitch to celebrate with the rest of the team. The new fitness and conditioning programme under Koeman's leadership may be starting to reap rewards...
Jim Harrison
34
Posted 20/01/2017 at 05:37:44
He's playing much better. Deserves his chance for now, but not convinced overall.
I don't think Bergovic is much of an improvement though. Hart would be. If you look at his stats over the past few seasons, he is up there with the best, and Man City haven't always had the best of defenders in front of him since Kompany faded
Dan Egerton
35
Posted 20/01/2017 at 06:49:30
He's an excellent keeper. People bag him but, when he gets a run of games, he's excellent. He's given us 4 clean sheets in a row.
Players need to be picked on form. Keep him as Number 1. He has deserved it. Once again.... 4 clean sheets in a row!!!
If Koeman drops him, he's no better than Martinez who dropped Robles in favor of an ailing Howard after he did 5 clean sheets in a row.
Robles has been remarkably loyal and patient. Keep him as No 1. I still remember his brilliant performance against Man City and the games leading up to Wigan winning the FA Cup. He deserves to be No 1. Especially after the Dutch lad has made mistakes.

Brian Porter
36
Posted 20/01/2017 at 06:54:55
Robles has definitely earned the right to the #1 jersey at this time. I saw the same stat as Sam. He needs a good run of games to prove his worth as a potential first choice.
His command of his area is far better than Stekelenburg's and as others have said, the way he bombed up the pitch to join in the goal celebration really showed where his heart lies. He's far more vocal in defence than Stekelenburg, and as it was when Howard was in decline you can't help feeling that the outfield players seem to feel more confident with Joel between the sticks.
As someone else has already stated, I hope Koeman doesn't do a Martinez this weekend by dropping him when he's the man in form. If he does, not only could it rebound badly on us against something of a bogey team force us, but Koeman, who has just begun to win some of his doubters over, me included, will go down In a lot of people's opinion.
Dan Egerton
37
Posted 20/01/2017 at 06:59:13
Exactly right, Brian Porter.
Stuart Gray
38
Posted 20/01/2017 at 07:09:34
Stats were on Sky Sports:
http://www.skysports.com/football/news/11096/10731973/chelsea-tottenham-liverpool-man-city-man-utd-arsenal-keepers-ranked
Mike Gaynes
39
Posted 20/01/2017 at 08:07:36
Steve #30, surely that's a typo. The appropriate price for Bungles Begovic, the Human Howler Machine, is £1.2 million, not £12 million.
In other words... NOOOOOO!!!!!!
Alan J Thompson
40
Posted 20/01/2017 at 09:51:31
If a player gets the opportunity and plays well and/or in a goalkeepers situation keeps a clean sheet then he should keep his place in the team. It's called competition, everyone needs to raise their standards, nobody's position is guaranteed.
If Davies maintains the form he showed against City should he be dropped when Gana returns?
Colin Glassar
41
Posted 20/01/2017 at 10:05:17
Let's get Hart before he moves to Mordor.
Richard Reeves
42
Posted 20/01/2017 at 10:30:38
It would be a waste of money going for Hart when we've got just as good a goalkeeper in Robles. The FA Cup game at Upton Park showed what potential he has.
Although he has still had his moments since then, he has developed into a good keeper. I also think he's going to get better, so we should stick with him.
Tony J Williams
43
Posted 20/01/2017 at 12:50:31
As Dan 35 mentions, it seems that every time he has come in he ends up getting a run of clean sheets and then dropped like a stone for the "No 1" keeper
I'm not a big fan but you can't argue with his stats when he has been dumped into the team when the first keeper is injured.
Thought he had an excellent game on Sunday, particularly when he was out like a shot to close down Silva. Saved a certain goal.
John Graham
44
Posted 20/01/2017 at 14:43:46
As with many of the posts before, I never rated him but think he has done very well of late and deserves a chance. We still should be on the lookout for a top goalie though as the more competition there is for places, the better.
David Price
45
Posted 20/01/2017 at 15:28:14
Yes, Joel has 80% save rate since December. Right up there and does look extra confident. Worth his place and good on him for taking his chance.
A pressure position when you're not the manager's first choice could've rattled him but he's done great and the defence look comfortable with him too.
Alexander Murphy
46
Posted 20/01/2017 at 17:16:43
Some great points throughout the article and in the comments.
Just by way of lateral thinking. If Lukaku had been injured and Valencia had scored in four consecutive matches. Valencia would not get dropped just cos Lukaku was fit again, surely?
Joel really looks far better now that when he first arrived. Looks far better than at the end of last season, truth be told. His reaction to Koeman's information says loads about his character too. That is exactly the reaction that Koeman must have wanted.
As has been said 26 is still apprentice for a keeper. I recall an ex-binman who turned out very nicely, but he had a few dodgy performances in the beginning, as Jim Arnold's understudy. Jim Arnold.
We can but hope that Joel has found his way. That really would be terrific.
Lev Vellene
47
Posted 20/01/2017 at 17:50:43
Joel had much of the same weaknesses as Howard did earlier; any cross into the box I'd be close to having a heart attack! But for whatever reason, for most of the games he's been playing since Howard left, he's been so much better when coming off his line, especially this season!
I'd really love for Koeman to keep Stekelenburg as a backup keeper for now, let's see what Joel can do!
Any 'keeper will have the occasional howler, let's just give Joel the opportunity to show us we've actually been nurturing a pearl when we hid him away... ;P
Many have been wanting Joe Hart in as a main goalkeeper, but unlike him, Joel hasn't really shown a consistent 'blind' area (down to his left...) to exploit for the opposition!
Jay Wood
48
Posted 20/01/2017 at 18:42:46
Like many, I thought he had a very solid game against City.
For the first time since he joined the club I thought he could be our 1st choice keeper, even though I'd prefer a better quality and more proven goal-stopper.
And ... help me out here people. On this video on the official site, young Sunderland fan Bradley's Day At Goodison... right at the start of the video are 3 Everton players with the middle one holding Bradley in his arms.
Tell me, the one holding Bradley ... isn't that Robles ... wearing ... GLASSES???!!!
Eek!
Dennis Heaton
49
Posted 20/01/2017 at 19:09:42
Joel's warm-up routine before the match is brilliant! I can only do that once per week now with my back...
Tony Draper
50
Posted 21/01/2017 at 19:47:53
Joel earned us two points today with THAT save.
Another clean sheet for him.
Paul Smith
51
Posted 21/01/2017 at 00:00:12
I don't know why I feel like this about Robles, it's like I don't rate him but he's good. His clean sheet ratio must be right up there with the top keepers now surely?
He never concedes many and he seems to have come on a great deal as a keeper. He fully deserves the Number 1 shirt out of both keepers, in my opinion.
---
Add Your Comments
In order to post a comment, you need to be logged in as a registered user of the site.
Or Sign up as a ToffeeWeb Member — it's free, takes just a few minutes and will allow you to post your comments on articles and Talking Points submissions across the site.