Deulofeu completes loan move to AC Milan

126 Comments [Jump to last]
Monday 23 January 2017
Updated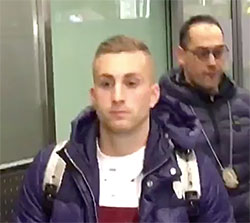 Deulofeu arriving at Malpensa Airport last evening
Gerard Deulofeu has sealed a temporary switch to Serie A until the end of the season after undergoing a medical today.
The Spaniard was pictured arriving at Malpensa Airport to be greeted by the AC Milan's sporting director, Rocco Maiorino yesterday, two days after the Italian club were forced to delete a tweet claiming a loan deal for him was complete.
Negotiations with Everton were still underway at that point but Deulofeu's arrival in Italy suggested that confirmation of his move from Goodison until the end of the season was imminent and the move was confirmed this afternoon.
The Toffees will reportedly receive £430,000 to cover the period until the end of the season and there is no option or obligation on Milan's part to make the move permanent.
"Milan are the most glorious Italian club," Deulofeu told the press during his unveiling. "I'm very happy, I've wanted to come here to Milan for a long time.
"It's a great club, I hope I can play against Juventus on Wednesday and I'm very happy to be training with my new teammates.
"I've seen a few Milan games because I knew I might be coming here.
"Vincenzo Montella? I know his past as a player, that he's a Coach who likes to play good football and that he's at ease with young players.
"I've come to Milan because I think I can play, otherwise I wouldn't have come here. I'm pleased they were interested in me.
"I hope I can take advantage of this great opportunity. You have to believe in your dreams every day, work hard in training and - above all - listen to the advice of the Coach and your parents."
---
Reader Comments (126)
Note: the following content is not moderated or vetted by the site owners at the time of submission. Comments are the responsibility of the poster. Disclaimer
Sean Dullard
1
Posted 22/01/2017 at 19:46:03
Ok, it seems a good move from both sides. Shame it has not worked this season. A very wise move by Everton to not have the option to make it permanent; it makes me think he can still have a future if he performs more to his potential.

On another note, it seems there is more press on departures rather than arrivals, I hope we can get Ghezzal or a sneaky move for Yarmelenko as well as the Burnley defender Keane would be best due to cost.

Would love Van Dijk but don't see this happening though. However, in Koeman we trust!
Pete Edwards
2
Posted 22/01/2017 at 19:55:39
Hope they get him fit!!
Dean Adams
3
Posted 22/01/2017 at 19:56:24
First of a busy week or so until our next game!!
Colin Glassar
4
Posted 22/01/2017 at 20:00:07
And return him a better player Pete.
Pete Edwards
5
Posted 22/01/2017 at 20:03:14
Absolutely Colin he can be a dangerous asset at times, I know from myself that when I was training hard getting and staying fit the better and more consistent I played.
Now I am only talking from a local level here but I would imagine its pretty much the same with fitness for the pro's too
Jerome Shields
6
Posted 22/01/2017 at 20:11:32
Good luck
David Pearl
7
Posted 22/01/2017 at 20:12:56
I'd prefer Koeman to give the same treatment to Deulofeu as he did to Ross. Perhaps though the demands made of him proved he wasn't up for a fight for his place. He's that bit of magic we should be looking to bring in, not get rid of. Not holding my breath but hoping he grows up on the pitch and comes back a player.
Mark Morrissey
8
Posted 22/01/2017 at 20:13:30
That's the last we'll see of Geri. Pity, good lad. Hope he does well for them
Kevin Day
9
Posted 22/01/2017 at 20:28:29
I change of scenery may do him the world of good, wish him well there, but really hopes he gets some playing time and consistency, he may also add a bit to his defensive game in Italy, which is something he lacks and probably why not in Koemans immediate plans.
Brian Williams
10
Posted 22/01/2017 at 20:31:15
Geri's played no part whatsoever in our recent "revival" and nobody can say he's been missed.
Koeman was right when he said "Club first... then the player."
Brent Stephens
11
Posted 22/01/2017 at 20:34:46
"The Toffees will reportedly receive £430,000 to cover the period until the end of the season".
So AC Milan pay his wages and pay us £430,000 for half a season. Did we strike a decent deal there?!
Gerard Carey
12
Posted 22/01/2017 at 20:48:06
Have a feeling he won't be back. He didn't fit into Koeman's plans and not his type of player.
Brian Williams
13
Posted 22/01/2017 at 20:54:40
Brent. Not sure they'll be paying his wages. Been trying to find out if that is the case but been unable to!
I hope they are like!
Kevin Day
14
Posted 22/01/2017 at 20:56:44
No more "Mr nice guy" maybe Brent on Everton's part.
If this was 12 months ago it would of probably cost the club to loan him out.
Things have surely changed.
Stephen Scofield
15
Posted 22/01/2017 at 21:31:33
Glad it's only a loan. Hope we get him back for next year. I hope weights are his primary training.
Mike Gaynes
16
Posted 22/01/2017 at 21:41:22
Needs to lift a few mental weights too, Stephen. Maybe his last chance to make something of his career.
John Malone
17
Posted 22/01/2017 at 21:44:04
Couldn't help but think when it was nil nil late in the game against Palace on Saturday that Geri would've been perfect to come on and create the winner!!
Obviously he is not fit enough or physically strong enough to hold down a starting place in our team at the minute but he would make a great impact sub!
I for as much as he is frustrating am sad to see him leave and suspect he will do well in Italy and it will be the last we will see of him.
Roger Helm
18
Posted 22/01/2017 at 21:44:29
We already know he's technically good enough – his problem is adjusting to the speed and physicality of English football. Is Milan the best place for him rather than a Championship club?
James Stewart
19
Posted 22/01/2017 at 21:59:18
Simply not a Koeman player. His fitness and work rate are an embarrassment considering he is a highly paid professional athlete. One good game in ten and his decision making is considerably worse than Barkley's who takes way more flak by the way. No great loss.
Mike Berry
20
Posted 22/01/2017 at 22:18:48
I don't know why anyone assumes he will be coming back? why on earth would that be an option, otherwise Ronald would not have let him go.
Game time has nothing to do with it, he is not a 90-minute man, Ronald wants him out, will bring in his player and we move on!
Alan Bodell
21
Posted 22/01/2017 at 22:40:54
Some foreign lads just don't do it here but do well in Italy , i'm sure we all remember Per Kroldrup and when he couldn't get up to speed here he went to Fiorentina and shone almost every game (it was on tv. or stream but I saw him bossing games) and I still think Deulofeu will shine wherever he goes with...ahem... a fair amount of movement and anticipation for him to aim at which he never really had here.
Jon Withey
22
Posted 22/01/2017 at 22:41:27
Not a Premier League player but I hope he does well in Italy,
Don Alexander
24
Posted 23/01/2017 at 01:24:35
This lad has failed at Barca, us, Seville and us again. He's 23. If he now unveils hidden talent and fitness good for him, maybe, but he'll only have demonstrated that so far he's squandered years of his professional life. Do me a favour, we're well rid.
Jim Hardin
26
Posted 23/01/2017 at 02:54:52
Not a player I would put on my squad. However, good luck to him during the loan and I hope he earns a place with some team somewhere where he can excel. It cannot be easy bouncing around but Victor Moses did it and maybe DelBoy can do it too.
Darryl Ritchie
27
Posted 23/01/2017 at 06:08:09
Good, sometimes excellent, offensively until he runs out of gas at the sixty minute mark. Terrible defensively, for the entire ninety.
If he could get his fitness sorted out and learn to work as hard when they have the ball, as he does when we have it, I'd have him back in a heartbeat.
There's no place for him, as is, in Koeman's Everton.

Sam Hoare
28
Posted 23/01/2017 at 07:38:37
Tend to agree with James@19. Hope he steps up a level but not convinced he's suited to Koeman or even the EPL. Shame as he has some real assets and started the season well, whether it is fitness, work rate or mental aptitude it does seem there's something missing in his game.
Eddie Dunn
29
Posted 23/01/2017 at 08:46:14
I know he has lots of skill but that has to be added to fitness and determination to excel in the PL . He has had his chances and seemed to link up well with Lukaku for a period.
He may have had to play out of position at times, but so have lots of the other players. Essentially he is too weak and I won't miss his pathetic diving and squealing.
Hopefully he will find Italy a suitable environment. The game is generally slower and the weather more like Spain. The chips are down for him because if he fails in Milan he may end up at Rayo Vallecano .
Dave Roberts
31
Posted 23/01/2017 at 09:49:02
I remember a game during his first spell with us when, after a run down the wing and sending over a cross, he was bent over, hands on knees gasping for breath. Maybe he is one of those few whose physical make-up will not allow him to reach the high level of fitness required, especially in the EPL and with a playing regime requiring constant pressing of opponents.
Laynald Hansen
32
Posted 23/01/2017 at 11:00:57
My oh my you are all missing the reality of this. Koeman chose to keep Gibson and Lennon instead, and they have shown zero, to minus zero, so where is his replacement???
Out with this and that, but we are left with a weaker squad than we started January with.
Hmm, is that playing high stakes or has he written this season off already because he has been promised a 2-year plan at least.
The lack of incoming players is my major worry here... frankly I am not impressed with Schneiderlin, he too is out of fitness.
We have no replacement for Deulofeu, no replacement for Niasse, Kone is also on his way out, but who is coming in to fill this squad of even more holes???
Thomas Surgenor
33
Posted 23/01/2017 at 11:07:50
Give him a run of 10 straight games and I whole heartedly believe that manys opinion of him will change.
The 10 games will add to his fitness and relax him a little. Sometimes I feel that he is trying too hard to wow us to maintain a spot (much like Mirallas last season when he got 5 mins here or there which accumulated in him diving in all over the show).
Players like this are better when relaxed, happy and performing on instinct.
However, I have never been convinced by his shooting. Seems very powderpuff.

Gordon Roberts
34
Posted 23/01/2017 at 11:16:26
We are assuming that this issue is purely based on the fact he is not in Koemans plans for the future ( which is probably correct) However, given Colemans reflections on "...training being intense and if your not at it, your out of the team...", it may well be that Geri doesn't want to work and train in that environment and has decided to jump ship and explore his options.
Brian Furey
35
Posted 23/01/2017 at 11:27:51
After the first 10 posts or so I thought here we go again, more people who think Niasse deserved more of a chance too but thankfully as I read on people sum up the young lad well.
As I've said lots before, Geri has so much skill and pace, two qualities that should have him as one of the best players in the league. He should be up there with Hazard but the difference is application of those skills.
Whilst the rest of the squad looked to have worked hard and changed their attitude and how they play and work for each other, Geri looks like he's been left behind and as Gordon (#34) said he probably doesn't want to work and train in that environment as he sees himself as a Ginola type player who lets his skill do the running.
He's struggled every club he's went to and he's had chances of a good run in the team but he never took it. People slate Lukaku for being lazy but at least he gets you the goals. There is no end product with Geri but I'll be happy if he does well there and we do sell him or give him one more chance.
Tony Waring
36
Posted 23/01/2017 at 12:22:50
I really hope he does well,in Italy. People forget that he scores for fun with the Spanish under 23s, so presumably Everton play a totally different game to them ! Is the PL too physical ...not just for Geri ? I still think he would do well alongside Lukaku and if he provides/scores 2 goals in 40 or so minutes let's have him in our side.
Gordon Roberts
37
Posted 23/01/2017 at 12:59:56
Like many posts above, I really hope Geri manages to turn his career round, history is littered with skilful players who failed to align hard work alongside their undoubted ability.
There was an interesting article that appeared in 2014 titled, " Sevilla refuse to play Spanish starlet (Delofeue) until he changes his attitude" and a quote from their manager Unai Emery which said "...we want him to improve his overall game, his team play and defensive actions". Ring any bells??
Russell Smith
38
Posted 23/01/2017 at 13:09:40
The way the team is currently developing I would be surprised if Deulofeu comes back. As someone posted above he has failed to impress at 3 clubs, all who had, or in our case now have, managers who like their forwards to press the opposition and seek the ball when we are not in possession. Despite his obvious talent he will just not cut it in the Premier League.
I notice that other TW threads still include "wish lists" of who we might still buy in the current window but do we really want to buy a "star" player at a mega fee, who will disrupt what appears to be a growing team spirit, and will possibly replace Davies, Holgate or limit Lookman's chances? Having 20 players who think they all should be playing can on paper look brilliant, but in terms of team spirit can have the opposite effect.
Our latest acquisition, Schneiderlin, currently cannot get in the team, and when he does it will probably be to replace Barry. So where is Gana going to fit in when he returns from the ACON? Besic is nearing full fitness and McCarthy is still available at this moment in time. All three of these players can perform how Koeman requires, and with the team currently growing in confidence they should be able to fit in if injuries occur. So why do we need another midfield player?
Barkley is now playing like we all hoped, possibly because Davies has taken some of the expectation off him, and possibly because he has seen how relaxed Davies is in his role. Barkley can still be the No 10 many see that we need.
Robles is now getting a run in the team, and just like last season when he gets a run he keeps a lot of clean sheets. He will still make mistakes, but so do Hart, Butland, Foster et al.
I think we will slowly see Mirallas phased out by Lookman, with Mirallas becoming just a substitute or injury cover. Then we have Calvert-Lewin to come back from injury.
So who do we really need in this window? A back-up forward who is happy to be a squad member, and a back-up central defender who again is happy to be a squad member?
Keeping everyone happy, and keeping the tight team spirit that is currently emerging will be just as challenging to Walsh and Koeman as finding these additional players.

David Ellis
39
Posted 23/01/2017 at 13:40:34
Russell you make some very good points. You are right that adding too many players, particularly those that really expect to be first choice but aren't, can be very damaging.
On the basis of Saturday's performance I would be happy with Robles in goal - lets see how it goes for the rest of the season and we can decide then.
I don't think we need another central midfielder and we could let one of McCarthy or Basic depart if they wished.
I think we need a better wing back option than Baines - he's still a good player but I think we need more down the left hand side in an attacking sense.
We need a replacement for Jags if we are to play 3 at the back. We also need a proper centre forward as cover Lukaku - however good they turn out to be (which remains to be seen) I don't think Lookman or Calvert Lewis (or Mirallas for that matter) will be an effective replacement for Rom. We don't need an exact like for like... but we do need someone who can hold the line.
Dave Abrahams
40
Posted 23/01/2017 at 13:53:30
David. (39) how about Rob Brady to play down the left hand side with Baines, I'd have him and sell Mirallis, Brady is very consistent, always plays well, wouldn't say brilliant but would definitely would bring balance to the left hand side of the team.
John Keating
41
Posted 23/01/2017 at 14:26:01
Forget Geri. Now Rooney has the Utd record lets get him back !
Stan Schofield
42
Posted 23/01/2017 at 14:28:07
Russell@38: Good points. In my opinion, there has been too much emphasis, on TW, on transfer windows, shipping players out, and getting my players in. The last two (very good) performances were by a team with only one Koeman signing, underlining the ability we have in the squad.
I'd be happy to stick with the current squad for the moment. And the youngsters have to be given consistent opportunities to shine.
David Price
43
Posted 23/01/2017 at 14:58:32
Laynald (#32), as the missus says, to put fresh water in the flower vase, you have to empty the old stuff first.
Eugene Ruane
44
Posted 23/01/2017 at 15:08:38
John 41-
"Forget Geri. Now Rooney has the Utd record lets get him back !"
Ffs, that's all we need, 278 posts spluttering...
"No fuckin' way!!!! He kissed his fucking..er.. granny's badge or something!!!.. in front of innocent kiddies..probably!!!! He should be shot in the face with treble-hooks that have been dipped in that poison you get from them frogs like!!!!!" (etc etc).
Dave Richman
45
Posted 23/01/2017 at 15:30:03
Laynald (#32) . "We have no replacement for Deulofeu, no replacement for Niasse "
No replacement for Niasse? Good one well it made me laugh anyway.
Dave Richman
46
Posted 23/01/2017 at 15:30:03
Laynald (#32) . "We have no replacement for Deulofeu, no replacement for Niasse "
No replacement for Niasse? Good one well it made me laugh anyway.
Stan Schofield
47
Posted 23/01/2017 at 15:43:39
Dave, it surely is true that we have no replacement (in the sense of nobody comparable to replace him) for Niasse.
Jay Wood
48
Posted 23/01/2017 at 15:57:10
I remain firmly in the camp that would like to retain Gerard, although - as previously acknowledged - it is looking unlikely as he doesn't conform to what Koeman is looking for.
His fitness and endurance levels could be better, but I don't agree with the claims levelled at him that he is a '1 good game in 10' player, that he is not suited to the PL, that he totally neglects his defensive duties. As to speculation as to how he performs in training, that's all it is: speculation.
Other than a 2nd half appearance against Leicester in the cup, his last run out in the league was away to Watford when he played well. And that includes his defensive duties.
On one occasion he was the very last line of defence, fighting for and winning the ball, right on our own goal line in the penalty area. That is not pure invention on my part. That happened.
Am I saying he is 'nails' and can be always relied on to do that? Not at all. But it is exaggeration to say he contributes nothing defensively. I've seen him track back and help out in defence in other games.
Similarly, in the same game at Watford, I recall he was again 'helping out' in defence, with less happy results. He tried running and dribbling with the ball from his own penalty area and across the pitch, but lost the ball thus putting the defence under pressure.
Being the player he is, that is his natural instinct. And I argue that it is those better instincts and qualities that he can still offer Everton should be maximized further up the pitch, where he can do most damage.
I 'get' the demands that all XI players selected have to contribute in all areas of the field and the game plan.
That said, to only field a team of work mules will only get you so far. You need players of Deulofeu's ability to unlock defences, create chances and score goals.
Football is not only about perspiration. You need inspiration as well, and Gerard offers that.
Take a look at the league table and the goals 'for' and 'against' column. Defensively, even with shipping 5 goals at Chelski, we are up there with the (second) best with only Chelski and Spuds out on their own with the meanest defences.
The goals 'for' column is a different matter. We are a minimum of 10 goals down on the top 5 clubs on goals scored, as much as 17 goals behind the leading goal scorers.
This is the area that most needs addressing: getting more goals as a team and getting more goals from different players. Harnessed to the tighter defence we are showing again, more goals will lead to more victories and an ever-improving goal difference.
Gerard is one such player who can contribute positively in this area. And even if he is shipped out, the need remains to have a player of a similar ilk in the team.
My hope may be a forlorn one, but I sincerely hope Del Boy still has a career and contribution to make to the Everton cause, because players of his ability are not commonly or easily found.
Stan Schofield
49
Posted 23/01/2017 at 16:35:56
Jay, absolutely spot on, say's it all imo. There's been a tendency for some to say get rid of Barkley, Mirallas and Delboy. Apparently, Barkley was never going to realise his potential, and would end up in the Championship. And recently some would prefer Coutinho to him, apparently. Mirallas was finished, time to ship him out.
Well, look what happens when there's apparently decent management of such players: they perform, even if eventually. Now it's Delboy, with predictions he'll not make it in the PL.
So, I'd rather see perseverance of decent management of these players, rather than shipping out. That's the job of a manager, especially a highly paid elite one.
Instead, I see a lot of folks acting like Nostrodamus, very keen to predict the future. Folks, predicting how a player will turn out is like saying what the weather will be like this time next year: bullshit.
Brian Williams
50
Posted 23/01/2017 at 16:44:15
No replacement for Niasse? I beg to differ and know for a fact there was an under the radar purchase early this week.
The new kettle is now in use at USM Finch Farm and has settled in nicely.
Roger Helm
51
Posted 23/01/2017 at 17:06:55
Niasse is irreplaceable, surely. We'll never see his like again...
Russell Smith
52
Posted 23/01/2017 at 17:12:31
The point I was making above is that we appear to be slowly but surely getting rid of the deadwood, and those who are now past their best, and replacing it with a combination of solid premiership class players and exciting younger players . the traditional way in which Everton have built their most successful teams. We now have a manager who puts the team first and the individual players, irrespective of reputation, second. A little like Catterick and Kendall Mk1.
After this transfer window closes we could have a squad that reads:
Goalkeepers – Robles. Who must be allowed to play out the remainder of the season, after which a much more objective assessment on his abilities can be made. Personally I think he can become a better goalkeeper than many who are constantly linked with us.
Steklenburg. Good back-up which is what he was originally bought in for.
Full Backs – Coleman, Baines, Galloway, Oviedo and Holgate (if required)
Centre-Halves – Williams, Fumes Mori, Holgate and a Jagielka replacement as I think he will move on before the window closes.
Midfielders – Barry, Davies, Gana, Schneiderlin, Besic, McCarthy, Barkley
Forwards – Lukaku, Mirallas, Lookman, Valencia, Calvert-Lewin
Add to these Lennon, Dowell, Pennington and Browning and the squad looks pretty solid.
So that's no McGready, Kone, Niasse, Cleverley, and Gibson (is he still alive?), probably halving the age of the squad, and with sufficient quality to see us through to the summer at which time we can re-assess and strengthen where necessary.
I like Koeman's "quality not quantity" quote. We need to be scouting for a forward to replace Lukaku as he may well be off in the summer but to bring in one now may not be necessary. We have 18 games left this season the above squad should see us successfully through those games.
Peter Morris
53
Posted 23/01/2017 at 17:17:01
he just may go to Milan and get his mojo back, and who knows, when he returns it might feels like a new signing.
Good luck anyway Geri.
Liam Reilly
54
Posted 23/01/2017 at 17:22:27
Speaking of Niasse; anyone see him seemingly duck out of Cahill's way when he headed in Chelsea's second on Sunday? Dear oh dear.
Can't see Deulofeu coming back or even wanting to. I'm sure if he's a success, he'll want to stay with Milan.

Anthony Dwyer
55
Posted 23/01/2017 at 17:24:57
With this loan deal I see only an Everton win.
Firstly, we haven't set a fee, therefore if we do sell we can see how he does before starting an auction for one of Spain's young upcoming talents.
Second, we are out of both cups so he's not going to get much football with us so playing for AC Milan isn't too shabby.
If he spends the next five months getting his fitness up, tear arsing past old Italian stallions then we may see Gerri regain his mojo.
There's only Barca who have any sway here, I'm sure AC Milan will have Geri acting up if they want the deal to go through, but we hold all the power.
Its basically free money too as we have to pay Geri weather he plays or not so happy days.
Keith Monaghan
56
Posted 23/01/2017 at 17:42:10
A good deal for us; hope he does well enough for them to want to sign him. I can't see that happening though, without a massive change in his attitude and application.
How anyone can suggest/believe our squad is weaker than at the start of Jan amazes me. Getting Niasse & GD out of the way for a few months makes the squad stronger in itself – they were utter embarrassments and bad for morale.
Roberto made some 2 very good signings (Barry & Lukaku) but many (i.e. Alcaraz, McGeady, Lennon & Deulofeu) have been dreadful – McCarthy & Cleverley were very average, & maybe he was unlucky with Kone's injury.
Since Ronald Koeman came in, the signings have been much better – only Bolasie has disappointed. I'm happy to trust his judgement far more than any previous manager since Kendall, Mk I.

Brian Furey
57
Posted 23/01/2017 at 17:46:49
Some good posts on here today, especially like the ones from Russell and good summary of the squad. However, sometimes we have to think big and not be so concerned about how happy individual players are.
For example, being Irish I like McCarthy to do well but if I'm being honest the lad never seems to reach his potential. Yes he's a tough tackling midfielder but a bit like Gana he's not gonna do much with the ball going forward, unlike Davies as we've saw recently.
Our team is very reliant of Lukaku and Barkley for goals with Coleman being our joint 2nd top scorer. Therefore we need midfielders who can at least shoot and score the odd goal. Most of those teams in the top 6 all have goals spread around the team.
Geri, Lennon, Bolasie and even Mirallas have had poor goal returns in recent seasons. Lookman and Davies might turn that around though so I'd be happy if we got a right sided scoring midfielder or at least someone to replace Geri but with a bit more workhorse ability. I'm relieved we didn't chase Depay though.
I've a feeling we'll see 1 or 2 more on TDD as a lot of players and agents wait til the last minute before they move
David Israel
58
Posted 23/01/2017 at 17:56:53
Deulofeu is the sort of player I would always have been surprised to see having an impact in English football. Too weak physically and low work-rate. Besides, some people in Spain say he doesn't much care for what people try to teach him. Still, it's always a pity to see someone of his skill not making it. I doubt if he'll ever be back.
Keith Monaghan
59
Posted 23/01/2017 at 17:57:20
Agree with most of what you say, Brian F, but think you're harsh on Mirallas, who was messed about terribly by RM last season.
We definitely need more goals from midfield/forward players other than Rom – how many Premier League goals has Ross scored this season? How many times has he even shot on target? Hope he changes, but too many of his shots are snatched or dragged wide.
Kristian Boyce
60
Posted 23/01/2017 at 18:17:46
With Koeman allowing Geri to leave, I'm thinking he's planning on sticking with the 3 at the back formation. With this formation, it doesn't call for the 3 attacking players, just the 2. Lukaku is a definite starter up top, and Mirallas has been playing well in that roaming role behind him. Lookman has done very well coming on in that support role also. Ironically, playing off the main striker is where Geri plays for the Spanish U21's, and does pretty well.
Ray Said
61
Posted 23/01/2017 at 18:29:13
i think Italian football will suit him, especially if Milan play him as a number ten. He may come back much improved and more tactically aware if he gets a good run in their team.
James Morgan
62
Posted 23/01/2017 at 18:31:53
Brian #57, I think you're being a bit disingenuous towards Gana saying he doesn't offer much going forward. I've seen him do some great forward passes and work around the box, though he could do with adding goals to his game.
As for Deulofeu, good luck to the lad, I've always though he's got bags of talent but I guess he doesn't fit the Koeman mould.
Paul Hughes
63
Posted 23/01/2017 at 19:11:34
I'm going on a lads' trip to Milan in early May, to see the Duomo, La Scala and 'The Last Supper' of course .and, errr, Milan v Roma at the San Siro. I'll be sure to post a report on Geri's progress.
Sean Dullard
64
Posted 23/01/2017 at 19:19:55
Any ins? More outs, it seems.
Steve Ferns
65
Posted 23/01/2017 at 19:30:10
Very sad to see him go, he's the kind of infuriating winger that I love, and if I was managing the side, he'd either start or come off the bench in every game. But Koeman wants to play a particular way, and thankfully it looks like it's working, and for all I like about Deulofeu, I just cannot see how he fits in such a side, except for as a plan B off the bench.
All the best Geri, hopefully you do well and Milan give us a good wedge for you in the summer.
Pete Edwards
66
Posted 23/01/2017 at 19:33:16
Laynald you do realise Gibson was given a contract extension before Koeman took over and Schneiderlin hasn't played all season what do you expect his fitness to be like? Strange post!
Mike Dixon
67
Posted 23/01/2017 at 19:43:04
Not losing any sleep. Have OPTA registered a tackle to him in his time at Goodison?
Don Alexander
68
Posted 23/01/2017 at 20:07:50
He's scored 5 the goals for us in over 60 games played. He is not a prolific assister either. Far from it in fact. He reminds me a bit of Jimmy McFadden, very occasionally capable of brilliance but will never be part of a squad that wins trophies, a least not in England.
I want offensive players that opponents have to make plans to contain. I mean plans beyond "Clatter him early doors, he's a wimp, and he'll just fade after that".
From what we've seen of GD, and one or two others it saddens me to say, that tactic more or less sorts him out to the opposition's satisfaction, and we don't need that.
Kristian Boyce
69
Posted 23/01/2017 at 20:15:01
I wouldn't be surprised if Koeman is keeping with Lennon as he could be a decent backup for Coleman at right wing back. Out of all the wingers we have, he is the most defensively minded. Look at Valencia at Man U, he's been converted to a more defensive role and has been great this season.
Joe O'Brien
70
Posted 23/01/2017 at 20:35:30
Clearly a talent but not a team player. There must have been something else wrong behind the scenes. Attitude wasn't right maybe. I don't think we'll be keeping Lennon, Kristian, he didn't make the squad last weekend and doesn't do enough for the team Imo. Getting Ghezzal would be a class signing, and a definite improvement.
Good luck Geri, shame it didn't work out with us.
James Flynn
71
Posted 23/01/2017 at 20:45:09
Well, speaking of comings and goings, Dortmund have extended Pulisic's contract to 2020. Positioning themselves for the best deal, given the interest in him.
Not likely, but would love Everton continuing its "American" involvement by taking a run at the kid. He's for real a talent.
Denis Richardson
74
Posted 23/01/2017 at 22:37:46
Wish him well, not sure why it hasn't worked out at GP.
Free weekend means RK and staff can focus 100% on getting more faces in - hopefully.
I'd like another CB, AM and Striker (being greedy?).
Kevin Rowlands
75
Posted 23/01/2017 at 23:07:59
Not one single mention in any post on this thread about the fact that we HAVE already replaced him, we just forked out £11 million on Ademola Lookman, I think this lad is going to make us all forget Geri very quickly, looks the real deal to me.
Mike Moore
76
Posted 23/01/2017 at 23:29:58
Bottom line, mercurial, but no stamina. He will never fulfill his undoubted talents until he gets that sorted, unfortunately it will never be in a blue shirt under Koeman.
Oliver Molloy
77
Posted 23/01/2017 at 00:09:03
I've been told that Deulofeu was always moaning in training and the rest of the squad knew how to wind him up and would do so - a little tug here and there and he would be waving his arms all over the place like we have all witnessed many a time in games.
Koeman or any manager (that demand a certain effort or standard ) would perhaps see Deulofeu's antics as a unwelcome distraction and possible bad influence in the harmony of the squad.
Being successful is about building a squad, having good and very good players that are also up for the fight, mentally tough and with a real will to win.
It is so clear what Koeman is striving to do at Everton. After a period of games he has sussed who he wants to keep for now and who he is prepared to let go and this guy doesn't do sentiment, ruthless and the best managers are all the same.
As someone else said (I think it was Christine), he has three years to prove himself and he's not going to mess about.
Deulofeu just doesn't seem to be that type of player and Koeman has once again laid down a marker in my opinion – if players don't perform they will find themselves down the pecking order very quickly.
I hope we sign a striker .
Alan J Thompson
78
Posted 24/01/2017 at 02:40:20
What makes some think that he is coming back? The only thing that will be affected by his performance with Milan will be the fee. With more reactive strikers he'll show his worth and promise and in all probability, Everton's loss.
Mick Davies
79
Posted 24/01/2017 at 03:03:21
Lukaku tweeted about missing his assists and wished 'bruv' best of luck. Coupled with his lack of (usual) bursts of ecstasy at scoring lately, I think all is not well in the Rom world. I just hope he doesn't start all that 'daddy says' shit again now we have no cups to go for, and an almost impossible chance of a Champions Leaague place
Mike Moore
80
Posted 24/01/2017 at 07:46:04
Alan (#78), its about consistency he's never on the pitch long enough as he's not fit! He's well down the pecking order and won't wear the Everton shirt again. Everton's gain!
Ian Jones
82
Posted 24/01/2017 at 08:03:42
Hi Mick @ 79. I think Rom was being honest about missing his assists. He did miss quite a few (potential) assists :)
Good luck to him. Decent player. Maybe it's a case of right place, wrong time wirh us. He may need to be in a more attacking style of team where the defensive side of the game doesn't matter so much...Keegan's Newcastle team or Martinez's first year!
Perhaps Geri will figure it out in Italy.
Dan Egerton
83
Posted 24/01/2017 at 08:12:49
I don't understand the "get him fit for us" calls. Okay if he plays regular football and plays well for Milan, we get him back at the end of the season just in time for his summer vacation where he gets fat and lazy again ...
Martin Nicholls
84
Posted 24/01/2017 at 08:17:19
Paul Hughes (#63) – me and the lads do these sort of trips (most recently Real, Bayern and Barca) and were discussing Milan as a possibility before the Palace game on Saturday. Would be very interested to hear how your trip goes.
Gordon Roberts
85
Posted 24/01/2017 at 08:33:23
Kevin Rowlands (#75)
Very good observation. And Koeman's comments about Lookman's attitude, his desire to train hard and learn, are the qualities that are not associated with Del. Good luck to both Geri and Ademola in their new ventures.
Sam Hoare
86
Posted 24/01/2017 at 10:45:51
Lookman has looked very encouraging but I don't think we can expect too much too soon. Its a big step up for a very young lad.
Because of that I reckon we need another winger/striker type to play the role that Mirallas has been doing well in for the last few weeks. Bolasie would be perfect but will be out for another 6 months at least. Ideally someone rapid who works hard and can score a few goals.
Leon Bailey may be worth a look at. Always been a fan of Perisic too. Perhaps Koeman see Calvert-Lewin as another genuine option in that role as well.
Brian Furey
87
Posted 24/01/2017 at 10:54:37
Lettuce face it lads, if Geri does well over there he will want to stay or at least move to Italy or back to Spain. His style of football is not suited here and he is too easily put off his game.
It's a big step up from playing with U21s to playing with much more physical adult players and Geri has showed he can't hack it at every club he's been to. I'll be happy if he does well there and we get some money for him but if I'm honest I reckon he'll start well and then fade away and he'll be back with us next summer being very unhappy again about his career.
I was at a Sevilla v Barca match a few years ago and he wasn't even on the bench and I'm due to go to the Juventus v Milan match in March so I wonder will I get to see him then. I hope so although looking at the Milan other forward players he has his work cut out.
James Flynn
88
Posted 24/01/2017 at 11:04:41
According to Delboy, his fitness is not a problem. He said this just last month:
"What happens when the manager takes you off after 60 minutes, the people think 'ah this player is unfit' but it is not this. If you see my training I am running and I have good statistics so this is not a problem."
So maybe it's something else.
Dave Pritchard
89
Posted 24/01/2017 at 11:12:13
James, anybody who has seen Geri play for us can see that he is not able to last a full 90 minutes.
Chris Gould
90
Posted 24/01/2017 at 11:41:07
Sam, agreed that it's a big step up for Lookman, but the same can be said for Davies. Lookman has been playing regularly in a very physical league. I think he's been bought to play now, which is why we refused to loan him back to Charlton. I'm looking forward to seeing what he can do as he seems to play without fear.
Andrew Ellams
91
Posted 24/01/2017 at 11:59:24
The difference between Lookman and Davies is that Lookman was playing Sunday League until he was 17, Davies has been groomed for this since he was 11, by Everton and England. He was called up to train with the England squad when he was 16. So whilst Lookman may have had more experience physically Davies is perhaps better prepared mentally.
Anyway, here's to both of them leading us to years of glory.
James Marshall
92
Posted 24/01/2017 at 13:02:50
I don't think we'll miss Deulofeu – a lot of us appear to have somewhat distorted view of a player that almost always flattered to deceive.
He rarely did anything noteworthy, rarely had much impact on games, showed flashes of brilliance, flung his arms about a lot, and had interesting haircuts.
He seems like a decent kid, and I have nothing against him, I just don't see that we'll miss him particularly. He flitted in & out of games, and rarely started so therefore I don't see how we can miss a player we didn't already miss when he wasn't playing
As for a replacement – Lookman has already been signed.
Karl Meighan
93
Posted 24/01/2017 at 13:06:31
Stan @42 – what it underlines is how inconsistent we are. If there are players available who will improve the team and squad get them in, standstill you finish 7th or top 10.
In my eyes, that's not good enough and, judging from Koeman's words, he thinks along those lines; still deadwood to be moved on yet. Let it continue as long as better replacements are found.
James Byrne
94
Posted 24/01/2017 at 13:59:40
I obviously wish Geri all the best at AC Milan, but after watching and studying Serie A in detail this season I reckon the lad is in for a big shock.
For the first time in years Serie A has catapulted in both quality and goals with non stop intense football. The Italian league is not for the faint hearted and huge expectation will be on the lad, coming from the Premier League.
If he doesn't recognize early on that his fitness is priority he'll spend most of his loan period on the bench!
Jay Wood
95
Posted 24/01/2017 at 14:02:44
A couple of videos to remind us how Gerard only 'flattered' and 'deceived' us all in the couple of seasons he was with us:
Link
(mostly from last season before Martinez mysteriously broke up the extremely fruitful Lukaku-Deulofeu axis which was providing us with the majority of our goals in a poor season).
Link
(highlights from this season alone from pre-season friendlies - not been given much of an airing by Koeman otherwise - when he was asked to play the lone striker role in the absence of any alternatives: 5 games, 3 goals, 1assist).
Nothing very 'noteworthy' or 'having much impact on the game' there, then.
Other than the vision and quickness of thought and technical ability to deliver incisive goal scoring chances through the heart of a defence; killer balls curled in behind a defence from the flanks; running at pace, beating players for fun and maintaining full control of the ball whilst doing so. Oh! And deadly accuracy from dead ball situations.
I mean, our squad is overflowing with players of his ability. So 'nothing to see here ... nothing to be missed at all,' is there..?
Brian Williams
96
Posted 24/01/2017 at 14:33:19
If you look at recent results Jay, no there isn't.
James Marshall
97
Posted 24/01/2017 at 14:33:47
Jay - he barely played under Koeman - hence we won't miss him. You can pick posts on here apart to suit your agenda all you like, but the above remains true.
Happy Tuesday :-)
James Flynn
98
Posted 24/01/2017 at 15:17:58
Dave (89) - No argument from me. Just posted what the kid said about fitness not being a problem for him. That was just before X-mas. Plus, he a genuine talent. THAT no one disputes.
You see him all the time in photos at EITC events or having some laughs with his teammates. Looking in from the outside, he seems a good egg all-round.
So what is it caused him dropped to minimal/no time on the pitch by his last 3 managers, now 3 seasons running? That's what I wonder. There HAS to be some reason.
Steve Durham
99
Posted 24/01/2017 at 15:32:21
I wish him all the best – I hope he comes back better than before and becomes part of the first team squad. I rate him very highly – he reminds me of Anders Limpar.
Dave Pritchard
100
Posted 24/01/2017 at 15:39:01
Yes James, at least three managers don't seem to want him so it seems to be something within the player himself. Maybe he doesn't look after himself off the pitch, maybe there is a medical issue, although you would think that would have been identified by now.
He is just so frustrating. When he came on against Leicester in the Cup he did brilliantly to set up our goal. After that he pulled out of tackles on several occasions and made many wrong decisions.
I can understand the calls to keep such a flair player and it will be very interesting to see if he has an impact in Milan.
Jay Wood
101
Posted 24/01/2017 at 15:41:11
Brian @ 96 and James @ 97.
The opening paragraph of my post @ 48 in this thread reads:
"I remain firmly in the camp that would like to retain Gerard, although - as previously acknowledged - it is looking unlikely as he doesn't conform to what Koeman is looking for."
Ergo, I understand the possible reasons he is not being selected by Koeman.
I also said: "I 'get' the demands that all XI players selected have to contribute in all areas of the field and the game plan.
"That said, to only field a team of work mules will only get you so far. You need players of Deulofeu's ability to unlock defences, create chances and score goals.
"Football is not only about perspiration. You need inspiration as well, and Gerard offers that."
Now I am delighted at our recent form, as brief as it has been. Because for 3 months with just 1 win in 10 league games, with early cup exists either side of that period, our form and performances were dire in the extreme.
In that run, Koeman preferred Bolasie, Mirallas and Lennon to start over Gerard, who only got 15-20 minutes as a sub, IF he got on at all.
Either of you care to recall the form and contribution of the 3 players preferred to Deulofeu in that poor run?
Possibly, just possibly, Gerard may have been the player to ignite the team to play better football and get better results. But Koeman preferred the 'pragmatic toil' solution over guile and skill. Klopp summed it up very well after the derby defeat, describing Everton's football as 'wild.'
Thankfully, the ship now seems to be steadying. Injury to Bolasie, the absence of Gueye and Jags' form falling off a cliff has forced the manager's hand as much as anything else, to select players who have helped turned our results around in the last 5 games.
But as I also point out @ post 48, whilst the defensive side has improved, the offensive side still needs to contribute more, with more goals from different players.
Gerard Deulofeu is such a player who can contribute to that aspect of the game. Because, as I closed my post @48 "players of his ability are not commonly or easily found."
Least of all, I could add, for the knock-down price we bought him for.
So you stick with your ... 'agendas', James (whatever the fuck they refer to...).
I'll stick with being more thoughtful than the glib dismissal and trite portrayal of a player that you chose to offer.
Dan Egerton
102
Posted 24/01/2017 at 16:24:56
"I really hope he does well,in Italy. People forget that he scores for fun with the Spanish Under-21s, so presumably Everton play a totally different game to them ! Is the PL too physical ...not just for Geri ?" – Tony Waring 36.
We play him on the wing. Spain U21 plays him in the hole behind the striker. I'd thought by now we'd try him there since it works out so well with Spain but what do I know.

Brian Williams
103
Posted 24/01/2017 at 16:26:55
Well my understanding is that Geri's loan is one without the option to buy so let's see if he rips it up in Italy, then comes back and does the business for us!
Karl Meighan
104
Posted 24/01/2017 at 18:09:58
Jay,
Geri might look good on YouTube videos, but he simply hasn't done enough to earn a place in the team.
As for Koeman, my understanding is that he wants quality footballers who can improve us. Geri doesn't do that in a inconsistent average team so I just don't see how he could improve a Everton team moving forward, regardless of the type of football or formation we play.
It's a big difference playing against shite defenders for Barcelona's stiffs than the well organised defences and systems in the Premier League.
Dave Older
105
Posted 24/01/2017 at 21:03:32
Good luck Gerard, hope it works out for you. You have the ability, you just need to sort out your work rate. The slower pace in Italy may suit you.
Jay Wood
106
Posted 24/01/2017 at 21:26:04
Karl... you can make anyone and everyone look good on a 'best of' compilation on YouTube.
You cannot make anyone and everyone capable of the passing, pace and technique that Deulofeu evidently possesses. Not in flashes, but consistently, during a game and over a stretch of games when given the chance, though many are attempting to deny this.
It is now a moot point as Gerard is no longer available as an option, either to be selected or from the bench. But to suggest, as some are trying to do, that he has 'already been replaced' by Lookman is premature in the extreme.
The kid from Charlton looks to have something about him, I don't deny. But he has played less than 30 minutes of Premier League football. He has had less than 2 seasons in lower league professional football, barely much more as a 'proper' professional footballer, rather than as a Sunday park player that he was until just 3 seasons ago.
Looking at the squad as a whole and team performances over the course of the season to date – not just this recent upturn in fortunes over the last 5 games – the squad is greatly diminished in the primary position that Gerard has played in his time at the club. Bolasie will not kick a football again for another year, be it cautiously or in anger. Gerard has now gone. So there are many other players I personally would 'miss less' from the squad than Deulofeu.
And if you had but noticed, Geri has done it against "well organised defences and systems in the Premier League" and done it very well.
Brian Williams
108
Posted 24/01/2017 at 22:58:07
"Not in flashes, but consistently, during a game and over a stretch of games when given the chance, though many are attempting to deny this."
Mainly coz it aint true!
Karl Meighan
109
Posted 25/01/2017 at 00:30:17
Sorry Jay if that was true why has he never been a permanent fixture in the first team? To my knowledge he hasnt always been injured just not good enough.
Jay Wood
110
Posted 25/01/2017 at 01:11:15
Brian @ 108. Not true, eh..?
My memory extends beyond the last 5 games. It extends beyond this season.
Well into the start of 2016 - just 12 short months ago – he was a regular pick in Roberto's team. He was terrorising defences to the extent teams were double marking him ... and still he took them to the cleaners. He was leading the assist stats and he and Romelu looked deadly together.
And then... after the 3-3 draw at Chelsea, Martinez barely picked him again and the already poor results suffered even more.
His form up until that point fully merited his selection. There was no bust up. No questioning of his fitness or application in training. Nothing. Roberto, in his wisdom, simply stopped selecting the player who – up to that point last season – had been his best goal provider.
Distorted memory on my part? Not at all. As mentioned on previous Deulofeu threads in the past week, there was genuine concern expressed on these very pages that so striking was his form last season that many feared Barcelona would trigger one of the recall clauses.
He cannot be judged on this season and this season alone because Koeman hasn't selected him. It happens in football. A new manager makes decisions on his inherited squad. Koeman clearly doesn't fancy Del Boy, which disappoints me. There is, or certainly should be, a place in a side of Everton's 'new age' ambitions for a player like Gerard.
Because I'm not telling porkies. I not being a revisionist. All of the above I've described happened.
There is no one currently in the squad who comes close to replacing what Gerard offers. And as players of his ability are not commonly or easily found – least of all for the price we paid for him – it will take a very hefty coin to recruit someone of his equal from outside the club.
Karl Meighan
111
Posted 25/01/2017 at 02:16:15
What does he offer Jay? I'd be amazed if he ever played more than 15 games on the bounce, the odd flash here and there a la Bilyaletdinov is just not good enough for any Club with ambition. A whole host of Premier League managers, not just Koeman, just don't see it as its unlikely and unreported of any other Premier League Club wanting to loan or by him.
To my memory most of his best moments came either from the bench or League Cup games never consistently in a run of Premier League games.
Alan J Thompson
112
Posted 25/01/2017 at 02:36:32
Karl (#111); AC Milan, a club without ambition?
Karl Meighan
113
Posted 25/01/2017 at 03:49:46
Milan are currently going threw a takeover and skint, Milan are at the moment miles away from there glory years and are they allowed to buy at the minute. The lad cannot get in a Everton team with average widemen.
It's about opinions, football, and in mine he is not good enough. 15 stepovers and pace don't make you a top player.
et's see how many games he plays in Milan. He might set the world on fire like he did in his home League at Sevilla, eh??
Karl Meighan
114
Posted 25/01/2017 at 03:52:19
Were did I say Milan had no ambition, by the way?
Alan J Thompson
115
Posted 25/01/2017 at 04:14:20
In #111, Karl. The sentence starts with "I'd be amazed..." and finishes "not good enough for any club with ambition".
I'm not sure they are skint or if there is a problem with authorizing capital expenditure during a take over which is the impression given by Milan's spokesman in the original piece when he also referred to the Barcelona clauses.
Next you'll be saying Middlesboro' aren't in the Premier League.
Karl Meighan
116
Posted 25/01/2017 at 04:57:01
No, I don't think so about Boro, it's half four Alan starts with and finishes with don't bother me "Where do I say Milan have no ambition?"
What I will say is he hasn't been able to get a shirt in average Everton teams in two spells at the Club. Sevilla again – not good enough to get a shirt... bit of a theme. Various Managers coaches, who I imagine are paid big sums of money to get these things right, all seem to be wrong.
All that without a big word in sight; I might not be as smart as you but I'd like to think I know a top footballer when I see one and based on his career to date he ain't one of them.
Dan Egerton
117
Posted 25/01/2017 at 06:37:41
"James, anybody who has seen Geri play for us can see that he is not able to last a full 90 minutes."
True. He's never fit enough and before he runs out of gas, he pulls the breaks himself and complains to refs every three seconds like a whiny kid. This is a sign of a someone who knows they're not good enough to compete. No one questions his skills, but he is very one note.
One big flaw in his game is that he literally waits for someone to get in front of him because his instinct is to take players on one on one and beat them. When the way is open, he stops and waits for defences to catch up to him. This is a huge problem for a position that is expect to provide assists and run through holes or pass the ball into them.
Brian Furey
118
Posted 25/01/2017 at 10:15:38
Jay, are you not surprised that other premiership clubs were trying to sign Geri? Could it be because the clubs in England have got to see him more regularly and realise he's a total luxury player who yes can come on and change a game but that's all he is. The type of player than if a team is sitting back and parking the bus he might come on as a sub and weave a bit of magic and create a chance.
I think Koeman was happy to use him like that but knows you can't play him every week for most of a match is he loses the ball too much and doesn't work hard enough for the team. He gives the opposition a licence to attack down the left side and they know he will not be there to support your full back.
Fair enough some might argue you can carry a Ginola type player if he is scoring you loads of goals as well as providing loads but he no longer even does that.
Yes as supporters we love to have a player who has skill and pace and gets our hearts fluttering when he takes a man on and creates things but you can't be blinded by that if he then just turns off for most of the match and doesn't even try.
Do you think he will play regularly for Milan? I would imagine he'll be used sparingly in the last 30 mins of games and their manager will become frustrated with him and they will be relieved they didn't have to sign him permanently. For Milan he's low risk as he can come for a relatively low fee, maybe create a few goals and then release him again.
Brian Williams
119
Posted 25/01/2017 at 10:48:46
Jay, he's gone mate.
Let it go, you'll feel better for it.
He may be back, who knows.
Jay Wood
120
Posted 25/01/2017 at 14:14:57
Karl, in one post you ask what does Gerard offer. In another post, you claim you know a top footballer when you see one.
I don't see anyone claiming Deulofeu is a 'top' footballer (presuming by that you mean that handful of world class players that anyone with a passing interest in football could identify), but he is a very good one, based on his ability and performances IN an Everton shirt, which you deny.
If you cannot see what he offers, then possibly your judgement and ability to assess a player is not as astute as you wish to claim.
Think a tad. In this window, we have seen Niasse move to Hull, Cleverley to Watford and Deulofeu to ... AC Milan. Let me repeat that: AC Milan. Even though trophyless in recent years, they can correctly be regarded as one of the European giants.
On our books we still have the likes of Gibson and Kone. Should we be so fortunate as to shift them on as well in this window, do you think they are likely to attract interest from the likes of AC Milan ... or Hull and Watford?
Think also of the reduced options we now have in attacking positions. Lukaku or Valencia as lead striker, possibly the currently injured Calvert-Lewin at a push (really, what is the point of including Kone here?); possibly Mirallas or the rooky Lookman as 2nd striker or wide men; Lennon as a hard working wing man with the occasional ability to put a decent ball into the box and pop up with an odd goal or two.
That's it. Bolasie is out for a year. Gerard has gone to Milan.
As previously mentioned, the attack is what next needs sharpening most in the current Everton team. We have just let go a player who can create chances, is excellent on the ball and from dead ball situations and who contributes with goals himself.
Compared to what remains in the squad, do you consider Gerard to be an asset or a liability...?
And Brian Williams @ 119.
My happiness and well-being is not determined by if Gerard Deulofeu is an Everton player or not, but thanks for your concern.
Alan J Thompson
121
Posted 25/01/2017 at 15:30:55
Karl (#116);
You state in your post #111 that what Deulofeu has shown is just not good enough for any club with ambition. As AC Milan have just signed him, albeit on loan, it must follow that you consider AC Milan is a club without ambition.
You also say that it is "unreported" that any other Premier League club want to loan or sign him. I would refer you to the article "Giants battle for Deulofeu" dated 17/1 (probably archived by now) which states that the following clubs are interested:
Barcelona who still hold an option for first refusal if Everton consider selling;
AC Milan who are taking him on loan,
Celta Vigo have requested a loan with an agreed fee of €12M
for a full transfer subject to satisfactory performance on loan ;and
Middlesboro' who have made a cash offer to sign the player now.
I can't vouch for the veracity of these reports but they have been reported.
Brian Williams
122
Posted 25/01/2017 at 17:41:04
Doesn't really matter what anyone thinks now does it?
He's gone, for a while at least.
Brian Furey
123
Posted 25/01/2017 at 18:58:30
Fair play Jay you are arguing your points well, I'll give you that.
However I'm not too sure if I agree with....
We have just let go a player who can create chances, is excellent on the ball and from dead ball situations and who contributes with goals himself.
Yes he's better than Kone, Niasse, McGeady (though maybe he worked harder defensively) but I think the number of chances he created was a lot less than his first season here where he was new to defenders but once they got to see his strengths and weaknesses I think he soon found it hard to get the better of many.
How often have we saw him get brushed off the ball or try to take too much out of the ball and lose it. Martinez who was the one who rated him and give him his chance despite what several Barcelona managers thought and also Sevilla manager. Even he lost his trust in him and only played him sparingly.
Yes, I think he would be a good sub to bring on, especially as we don't have too many to pick from with his range of skills and pace but the lad didn't want to be a bit part player and he wanted to move away to try to get more game time and get his confidence back.
Maybe that will happen as a new challenge sometimes helps but I would suspect the Italians defend better than in the British game and that he will find it tough going there as well.
Mike Moore
124
Posted 25/01/2017 at 20:31:13
He is on the bench tonight v Juventus.
Jay Wood
125
Posted 25/01/2017 at 20:54:34
Brian @ 123
"...I think the number of chances he created [I presume you mean last season 2015-16] was a lot less than his first season .."
You're wrong, matey, as this link shows.
As a 19-year-old (worth remembering that – the same age as Lookman), in his 1st season with us (2013-14) he had 9 starts, 16 sub appearances and scored 3 goals and had 3 assists.
On his return for the 2015-16 – and what a coup it was overwhelmingly considered to pick up such a talented 21-year-old for under ٣ million – he was a delight to watch.
His stats were 16 starts, 10 as sub, 2 goals, 8 assists. These are Premier League tallies only. If you recall, he also scored and created goals in cup games. But anyway, in the Premier League alone, nearly 3 times as many assists in his 2nd season with us compared to his 1st season rather blows your earlier quoted claim out of the water.
It is also necessary to point out that the vast number of those starts and assists came in the opening half of the season. Because bizarrely Martinez barely used Gerard again after February last year, having been until that point the team's most prolific creator of goals and many chances. (He only played 2 games from March onwards).
In addition, how many times last season were there collective groans as yet another Deulofeu cross whizzed across the six yard box with no one anticipating it?
As this report from the Echo (23 March 2016) recalls: "Earlier in the campaign, you couldn't have imagined Deulofeu being out of our starting line-up for as long as he has been. [My emphasis]. His link-up play with Ross Barkley and Romelu Lukaku was sublime to watch at times."
Why it's time for Everton's Gerard Deulofeu to weave his unpredictable magic again
In the same report it mentions: "On Saturday [the 1-2 defeat at home to Arsenal], supporters from the Gwladys Street could be heard chanting Deulofeu's name even before he came off the bench, fans want to see him on the pitch."
He was also injured towards the end of the season and was unavailable for selection for the final 3 league games.
He is still a couple of months shy of his 23rd birthday. Other players of a similar, even older age and greater experience, have been (quite rightly, IMO) nurtured and nudged into better form, better consistency.
It is my belief Gerard merits the same patience from the coaching staff. His precocious, mercurial talents should not be something so readily dismissed and disposed of. My great hope is that Koeman is using this loan move as a means of motivating Deulofeu into blossoming into the great talent he could be.
And to end on a general note, not a personal one directed at you Brian, I am increasingly coming to the conclusion that many supporters apply a 'goldfish mentality' to their recall. That is, their memory does not extend much beyond the immediacy of most recent events and games.
I believe such is the case in the discussion on the merits or otherwise of Deulofeu. Because he has barely featured for Koeman (4 starts, 7 as sub, total playing time of just 458 minutes) he has all manner of labels thrown at him, many purely speculative.
That Koeman doesn't fancy him cannot be doubted, or he would have featured more. However, it is a non-sequitur to conclude from that that he is a poor player, with poor attitude or poor application.
He is not any of those things.
I hope he tears it up over in Italy. Because either way, he will return to Everton as a better asset. Be it as a player who can be trusted in the first XI, or as a marketable asset we can profit on from the paltry sum we paid for him.
Karl Meighan
126
Posted 25/01/2017 at 21:17:27
Just have to bow to your knowledge here, Alan, but I will stick with my opinion which also seems to be that of Koeman and Emery who I would guess know a bit more about Geri than me or you – which is, he hasn't been good enough or he would not be loaned out.
If he has been very good or is very good, why is he not producing the goods for us? And if it was an injury that stopped him, surely you bring your best players back as soon as they are fit enough.
I don't remember him being very good, being honest – just producing never enough to be a first choice.
Andy Crooks
130
Posted 25/01/2017 at 22:52:49
Oliver, # 77, told by whom?
Mike T Jones
131
Posted 25/01/2017 at 23:08:46
I've said before on here and got shouted down. Koeman is the best manager we will ever have. A winner with no Everton history to weigh him down.
Oliver Molloy
132
Posted 25/01/2017 at 23:51:51
Andy,
By someone who is related to a player
Karl Meighan
133
Posted 26/01/2017 at 03:12:14
Jay,
I've read many Echo reports and lots of them I have wondered if they were at the same game. Your little snippets and statistics mean little, Martinez bizarrely left him out... bizarre to you.
Also Everton did okay in Martinez's first season; after that, we were at best average, at worst shite, imo – not the sublime play that you seem to remember. Maybe your memory is better than mine as I can't remember being turned over 2-1 by the Gooners in Gerrard's time at Goodison.
As for Koeman not fancying him, my guess is he just hasn't done enough in training or in the games he has played and has been given the same treatment as all the playing staff.
Tommy Davis
134
Posted 26/01/2017 at 03:24:34
I read this on the BBC match report of Juve vs Milan:
On-loan Everton forward Gerard Deulofeu came on to make his debut for the visitors and could have forced extra time, but his effort from close range was kept out by Juventus goalkeeper Neto.
That's all I could find, so far!
Oliver Molloy
137
Posted 26/01/2017 at 14:57:42
Tommy, I was watching the game.
He also (in the 2nd minute of three extra) tried to go round a defender close to the penalty box – the defender took the ball off him and Deulofeu stood and watched while the guy who nicked the ball off him strode out from the back – yep we have all witnessed that before and for me that is why Koeman let him go.
Tommy Davis
139
Posted 26/01/2017 at 19:58:39
Oliver (#137),
Thanks for that mate, unfortunately that sounds just like Deulofeu – one moment brilliant, the next exasperating!! Such is the enigma, that is Gerard Deulofeu,; highly unlikely he'll change into the player we all crave for... imagine if he did, no doubt he'd be a legend, with all his goals, assists & wizardry!
Just like on TW, Geri will cause many debates & discussions for sure! Good luck to you Geri, wherever you may roam!
---
Add Your Comments
In order to post a comment, you need to be logged in as a registered user of the site.
Or Sign up as a ToffeeWeb Member — it's free, takes just a few minutes and will allow you to post your comments on articles and Talking Points submissions across the site.