Gueye heading home after Senegal exit

42 Comments [Jump to last]
Saturday 28 January 2017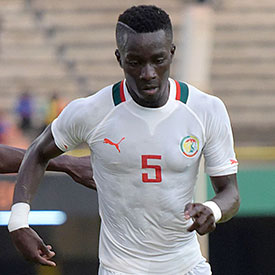 With his Africa Cup of Nations adventure ended at the quarter-final stage, Idrissa Gueye will shortly return to Everton, most likely in time to be in contention for Wednesday's trip to Stoke.
The Blues' midfielder played in today's last four matchup against Cameroon that went to penalties where the Indomitable Lions proved to be just that, prevailing in the shootout.
Gueye, who has missed Everton's last three games in all competitions, was again named in Senegal's starting XI but saw his country eliminated when his friend and rival from Liverpool FC, Sadio Mané, missed the crucial penalty at 4-4.
---
Reader Comments (42)
Note: the following content is not moderated or vetted by the site owners at the time of submission. Comments are the responsibility of the poster. Disclaimer
Jeff Armstrong
1
Posted 28/01/2017 at 22:37:40
Him and Davies should be first choice CM pairing, with Barry in reserve, McCarthy looking like the player we had in his first season, Besic on his way back, can't help feeling the Schneiderlin money might have been better spent on Dohlberg for Ajax, a position we actually NEED to strengthen.
Dave Older
2
Posted 28/01/2017 at 22:39:57
Senegal's loss is our huge gain. Who will be in the midfield at Stoke I wonder??? Hhhmmmm...
Doug Harris
3
Posted 28/01/2017 at 22:49:11
Surely we stick with the same starting 11 as last couple of games.
Gana needs a rest for at least half a game.
David Hallwood
4
Posted 28/01/2017 at 22:57:33
Weirdly enough, he could disrupt what is looking like a nicely balance midfield three.
Tony Farrell
5
Posted 28/01/2017 at 23:06:44
He's probably pissed off by going out on penalties, but it's great to have him back.
I hope Ron doesn't start pissing about with the team, the balance is right at the moment. Gueye's a great player but I hope he doesn't go straight back in the starting line-up. After his disappointment and long trip back, I think a position on the bench is the right move.
Amazing what a few weeks can make... Gueye was an automatic choice in our midfield (and still is, in my opinion) but now we have alternatives. I want to see him in our side the way were playing at the moment, he can make us better.
Another addition before the window closes and the rest of the season could become very interesting...
Brian Williams
6
Posted 28/01/2017 at 23:09:53
Welcome back Gana, be good to see you again!
Jack Okell
7
Posted 28/01/2017 at 23:14:37
I think we'll see Schneiderlin get his first start at Stoke on Wednesday but Gueye will be rested. The Bournemouth game is anyone's guess.
This is exactly the kind of 'problem' we've wanted for years.
Chris Gould
8
Posted 28/01/2017 at 23:16:14
Great news. Should probably be given a few days rest. No need to rush him back for the Stoke game. We play Bournemouth just 3 days later, so get him ready for that.
I think he improves the team, but not sure who I would play him with. I guess Koeman will have to try a few combinations. I think we'll see Schneiderlin and Gueye together before too long.
Stan Schofield
9
Posted 28/01/2017 at 23:22:41
Choosing a midfield from Schneiderlin, Barry, Gana, Davies and Barkley is a nice problem to have.
Phil Jeffries
10
Posted 28/01/2017 at 23:59:51
Gana will be rested at Stoke. Davies may even be pushed further up the pitch when Gana comes back in, which of course he will at some stage. Nice to have ths type of selection headache. Our bench is getting stronger and if we add a few quality faces in the summer and keep hold of Lukaku, things look pretty good for next season.
Keith Monaghan
12
Posted 29/01/2017 at 00:49:49
It'll be good to have him back; think he'll be on the bench v. Stoke to make sure he's fully recovered for next week-end.
John Mckay
13
Posted 29/01/2017 at 01:00:13
Good selection headache for the manager to have, wonder if McCarthy will go now then? Don't need 5CDM and Besic on his way back.
Anthony Dwyer
14
Posted 29/01/2017 at 01:00:41
Watched Gary Neville talking a month or so ago about the lads returning from African nations duty and he made a few good points.
The main one he made that struck home with me was that the international teams don't train as hard as the prem sides. He said this was the case with the teams at the Euro championships too BTW, but the African nations tournament is in the middle of the prem season.
As a result he said that players come back at a lesser level of fitness than they actually went with, especially as they often train/play in searing conditions, so it may actually take Gana a few weeks to get up to the level Davies and possibly Schneiderlin are already at.
Never the less its fantastic to get Gana back as he's been a stand out performer throughout this campaign already, but even though I'm a huge fan of his, I wouldn't be changing the team up to much just yet as were on a bit of a roll.
I'd suspect Schneiderlin isn't far off a starting roll, Barry looks to me like he could/should be the one to miss out as Davies and Barkley have both been in stunning form.
If Gana and Barry do both start on the bench v stoke I'd guess it would be pointless having McCarthy on it too so he may find himself the odd one out and sneek out of the door before the deadline.
I've seen something on Jim White claiming its going to be a hectic transfer deadline day for us too, but he said that on the last one and we only ended up with Valencia.
Anto Byrne
15
Posted 29/01/2017 at 01:42:21
Gana has to improve in the final third of the pitch with shots on goal and final pass. Defensively he does a good job winning the ball but he also needs to be able to drive forward. Just an observation though.
Phil Sammon
16
Posted 29/01/2017 at 01:59:57
I think Schneiderlin still looks a little off the pace. I don't think he's ready to be starting games. That said, two games in three days will probably require some rotation.
It's interesting actually. I've always looked at the likes of Spurs with a somewhat envious eye. For the past few years they've always had an absolute glut of central midfielders. I've also been mystified as to how they've kept them all happy. Now we face a similar scenario at Everton.
My other concern is that, apart from Barkley, we don't really have anyone experienced in that more advanced, creative role. Davies, I think, most people assume could come in and do a job. But it would be a big weight on a young man's shoulders if Barkley were to be out for an extended period. Did Schneiderlin ever play there for Saints? He's a good passer but from what I know he always sits deep.
Anthony Dwyer
17
Posted 29/01/2017 at 02:27:38
Phil after watching Chelsea a loan deal for Loftus Cheek may be a decent option.
James Stewart
18
Posted 29/01/2017 at 02:38:21
Great news! Good job, Mane. Barry drops to the bench and Gana comes instant improvement.
James Watts
19
Posted 29/01/2017 at 04:33:52
Really can't see him starting on Wednesday. Things have improved dramatically since he's been away, with our current midfield starters doing a great job. Morgan just about ready and could see him replacing Barry, but that would be it for me.
And throw in having just played 120 mins and then getting a flight back from Africa, I think the best he'll get is the bench.
Game after Stoke will be interesting though to see who Koeman goes with. Will be a nice headache to have.
Gareth Clark
20
Posted 29/01/2017 at 07:26:33
As much as I'd like him back - I do wish he had gone on to win AFCON. Would have given him a lot of confidence & made him an even better player.
I'd keep the same team against Stoke - give Idrissa a little rest.
But after that - I'd drop Mirallas.
My team going forward would be:
Robles
Holgate Williams Mori
Coleman Idrissa Shneiderlin Baines (c)
Davies Barkley
Lukaku
Stek, Jags, Barry, McCarthy, Lennon, Mirallas, Valencia

Let Davies & Barkley roam - Playing in the same role as Alli & Eriksen of Spurs.
Also allowing us to change it up easily & put on game changers, like Mirallas & Valencia.
Furthermore - we can put on experience (Jags, Barry) to close out games.
Along with a lot of energy on the bench - with McCarthy & Lennon, who can come on and work hard & finish off games.

David Ellis
21
Posted 29/01/2017 at 08:16:40
Gareth @22 I don't think you can expect Davies to provide the goal threat we need in that position just behind the striker ( what used to be called an inside forward). Mirallas and Lookman are better suited to that role.
I can't help feeling you are trying to cram the players you like into the first xi.
Paul Conway
22
Posted 29/01/2017 at 10:00:00
Jeff Armstrong @ 1
Your saying what a lot of us are thinking re your comment on Schneirderlin. But that is hindsight, 20/20 vision and all that.
Before we brought him in, with the absence of Gana, we looked panicky. I can't help thinking that Davis was the catalyst in creating this lovely predicament.
Maybe Koeman has seen something in training from Lookman and a couple of youngsters, to prevent him from a mad rush and possibly a mad squander on an attacker.
Whatever, it creates a lot of nice intrigue.
Oliver Molloy
23
Posted 29/01/2017 at 10:06:57
Gueye will not start against Stoke and it would be a surprise if he was on the bench.
When you get your chance with Koeman and do well for him he's a faintly loyal guy from what I've read. I think it's reasonable to assume he will at some stage pull young Davies out of the team simply to protect him long term.
Gareth Clark
24
Posted 29/01/2017 at 10:12:20
David #23
You're wrong, mate.
I think Davies can do a great job going forward - and is definitely better working back than Mirallas (which Koeman wants from players playing in that position).
Maybe a slightly more safe, or defensive option that we could use against certain teams.
I don't really rate Mirallas - not big, strong or aggressive enough to be a Koeman player. Even Lookman looks more aggressive than him, with his little frame.
Keith Monaghan
25
Posted 29/01/2017 at 10:45:11
Gareth @ 23:-
How is Barkley going to score when most of his shots this season have been dragged wide or blazed over?
Davies is already a better player than Ross but doesn't look like a frequent scorer in spite of that magical effort vs Citeh.
With our current squad, dropping Mirallas would be crazy – after Rom he's easily our most likely goalscorer.
On a separate point, running stats alone prove little; just as significant are how quickly and where the running is done.
Gareth Clark
26
Posted 29/01/2017 at 10:55:29
Keith #34
Mirallas: 3 goals, 2 assists
Barkley: 3 goals, 5 assists
Barkley might miss a few shots more shots than Mirallas, but at least he is in the position to have a shot.
The more shots, the more likely you're going to score.
Mark Morrissey
27
Posted 29/01/2017 at 12:05:21
Of course he'll start against Stoke, he's a machine and Koeman will want him to start IMO
Colin Glassar
28
Posted 29/01/2017 at 13:44:22
Chill Sam, Kenwright has hired a Sopwith Camel from Emu Airlines to fly Gana back. He should make it to John Lennon Airport by next week.
Nick Armitage
29
Posted 29/01/2017 at 15:46:03
Sadly he'll be on the same plan home as Mane, and Liverpool have been terrible without him.
Clive Mitchell
30
Posted 29/01/2017 at 17:16:19
On the bench lad.
George Cumiskey
31
Posted 29/01/2017 at 18:10:38
Like I said on another thread we still need a crafty number ten and Bojan might have been worth a punt. He's just gone on loan to Mainz.
Alexander Murphy
32
Posted 29/01/2017 at 18:20:18
The return of Gana provides Koeman with exactly the kind of dilemma that he wants, not a dilemma in his mind but in the minds of the players.
Puts the onus on them to push harder for selection rather than for Koeman to persuade himself that someone might be good enough.
Tom Davies has done just that by seizing opportunity by the scruff of the neck. Koeman & Koeman must be delighted at giving him his chance and he's stepped up. Gana did exactly the same from the moment he made his debut. Barkley appears to have acted upon Koeman's instructions. Mirallas has applied himself more, still room for improvement though. Perhaps there is a quiet revolution underway, hope so.
Kevin Jones
33
Posted 29/01/2017 at 19:19:11
Can't see him being involved at all myself. He'll have a few days rest and be in next Saturday. Morgan to get a start on Wednesday with Gareth Barry on the bench.
Andy Meighan
34
Posted 29/01/2017 at 20:58:20
It's a strange game... Idrisssa has been our Player of the Season so far. Yet since he's been away we've played our best football and got our best results. So how does that work???
Koeman has got a conundrum now: I doubt he'll play him at Stoke but, come the Bournemouth game (barring injuries), will he play him?
Personally, I'd bench him and I never thought in December I'd hear myself saying that. But welcome back, mate.
Dave Williams
35
Posted 29/01/2017 at 21:09:53
George,
Stoke apparently wouldn't allow him to move to another English club.
Peter Morris
36
Posted 29/01/2017 at 21:53:30
Stoke deployed that beanpole Crouch for the home game earlier in the season, to exploit our lack of height at centre back (I think Jags and Williams was the pairing that day), and Mark Hughes has started to look more and more like Pulis every day. Stoke have some really tall and strapping midfield players to call on.
Maybe this a game to give Schneiderlin a start and drop down Gareth Barry? I think the ball will spend a lot of time in the air, not one of Barry's strengths, and Schneiderlin is tall and quite useful in the air.
Steavey Buckley
37
Posted 29/01/2017 at 22:57:37
According to the Liverpool Echo, Liverpool FC have provided a private plane for Mane to be flown back from Africa in time for Liverpool's match on Tuesday against Chelsea, I wonder if Mane offered his friend, Gueye a lift?
Anthony Dwyer
38
Posted 30/01/2017 at 00:41:50
Keith Monaghan @ 25.
I can't believe you are a genuine ToffeeWeber, I genuinely can't believe your a blue who is speaking honestly.
How can you say Tom Davies is better than Ross Barkley?
What planet are you from?
Tom is a great prospect, but he's about 10 games into his career, Ross has surpassed 100 with a similar goal and assist record than Gerrard, Lampard and Scholes, and you are daft enough to put a novice like Tom above him.
Not only is it unfair to Ross, but it's also equally unfair to Tom as he's already going to have huge expectations on his head without people like you making that type of statement.
I like to think that everyone is entitled to their own opinion, but if that's genuinely your honest opinion, you need help.
Sorry.
Alan J Thompson
39
Posted 30/01/2017 at 06:19:57
As good as he has been I think it would be a mistake to put Gana straight back into the side. The traveling aside, as I said on another thread about goalkeepers, it's about competition. If you get the chance and take it, you keep your position, nobody is guaranteed a place, performance counts.
It may also depend on whether Koeman wants to play 3-5-2 or 4-4-2 in this game. Has anyone noticed if he changes if the opposition has a particularly good winger?
Will Mabon
40
Posted 30/01/2017 at 07:42:47
"I don't really rate Mirallas – not big, strong or aggressive enough to be a Koeman player."
I guess Koeman wouldn't rate Messi then.
We don't need a whole team of 6'-2" stormtroopers. We're here to play football.
Gareth Clark
41
Posted 30/01/2017 at 08:05:50
Will #40
Williams
Schneiderlin
Gueye
Bolasie
Lookman
Valencia
By strong, I don't mean brute size mate.
It's about the attitude & aggression. Putting your body on the line & giving it everything.
A characteristic that is EVERY one of Koeman's signings possess.
If you need the rest of my comment – "Even Lookman looks more aggressive than him, with his little frame."
And to be honest, I don't think Messi is a Koeman type player – doesn't mean he doesn't think he's amazing. It's just the way Koeman sets up his team – especially in a very physical English Premier League...
Stan Schofield
42
Posted 30/01/2017 at 11:22:13
Gareth, I'm not sure what a 'Koeman type' player is. Yes, as you say, the ones he's signed all get stuck in, but that's surely what we needed, and Koeman had said at the start that we were too nice. But it doesn't mean every player needs to be like that to be acceptable to Koeman.
You're right in that Mirallas isn't as aggressive as some, but he might be considered by Koeman as aggressive enough, because that's not the main part of his game. He's an unusually skilled ball player, and he's influenced games using those skills, without doing much cross-country running or slide tackles.
Barry Jones
43
Posted 30/01/2017 at 15:03:03
We all know that Ross has weaknesses, but he is fundamentally a very talented player. He lost precious time under the previous coach, who had no defined methodology. Koeman is a much more focussed person and he is doing a very good job of helping Ross to rectify these issues. Ross is trying hard and I wish him well.
Davies may be a prospect playing further forward at some point and I definitely see glimpses of that. He needs more time though to grow in stature and impose himself in games.

As for the defensive midfielders in general, we have robust options now, and this is an important area of the field to control (just ask Leicester). It also depends on what formation we play now, as Koeman has gone for three central defenders lately, and two holding midfielders may be a bit redundant in that lineup.
Whatever he chooses, the acquisition of Gana and Schneiderlin, the emergence of Davies and the return to fitness of Besic and McCarthy provides us with an abundance of very strong options.
---
Add Your Comments
In order to post a comment, you need to be logged in as a registered user of the site.
Or Sign up as a ToffeeWeb Member — it's free, takes just a few minutes and will allow you to post your comments on articles and Talking Points submissions across the site.