Donkor helps U23s to victory over Man United
Monday 30 January 2017

52 Comments [Jump to last]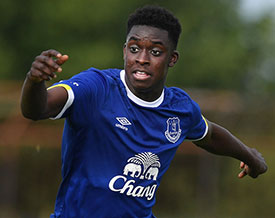 Bassala Sambou came off the bench to score twice and secure another fine win for the U23s
New signing Anton Donkor had a lively debut as Everton Under-23s beat the Red Devils 3-1 at Leigh Sports Ground this evening.
The Blues' new loan signing from Wolfsburg was given his first run-out in Premier League 2 and claimed an assist for the second goal as Courtney Duffus and Bassala Sambou both found the net to put David Unsworth's team six points clear at the top of the table.
Donkor was into the action quickly, winning a first-half penalty for Liam Walsh to despatch but the midfielder's spot-kick was saved. Donkor then missed a great chance at the back post and the Blues hit the woodwork as they continued to boss the game.
Walsh went close later in the half with an effort that was cleared off the line by United but Everton's pressure told when Courtney Duffus finished off a lovely move to put them ahead. Kieran Dowell found Walsh whose first-time knock was curled into the corner by Duffus as Everton took a 1-0 lead into the break.
United had the chance to level the game almost immediately after half-time, however, when they were awarded a penalty for a foul by Matthew Pennington. But they spurned the chance when Harrop blasted over from 12 yards.
However, when the hosts were given another penalty a few minutes later, Mitchell stepped up and converted to level the match at 1-1, a reflection of the fact that they had taken control of the contest.
Everton hit back though and restored their lead with a terrific finish by substitute Bassala Sambou from Donkor's pass and the striker doubled the advantage soon afterwards when the visitors were awarded the fourth penalty of the night from another Donkor through-ball.
Sambou, one of two changes made by John Ebbrell — Unsworth was not in attendance, sparking speculation he was off concluding another transfer deal — after United's goal, stutter-stepped to send the 'keeper the wrong way and tucked the ball into the opposite corner to make it 3-1.
Harrop cracked a dipping shot off the bar as the home side tried to find a way back into the game in the closing stages but the Blues held on to another fine result.
Everton U23s: Hewelt, Kenny, Foulds, Walsh (67', Kiersey), Feeney, Pennington, Dowell, Charsley, C Duffus (62' Sambou), Dyson (62' Broadhead), Donkor.
Subs not Used: Hunt, Yates.
---
Reader Comments (52)
Note: the following content is not moderated or vetted by the site owners at the time of submission. Comments are the responsibility of the poster. Disclaimer
Terry Davies
1
Posted 30/01/2017 at 18:19:37
How can I find out team news?
Geoff Trenner
2
Posted 30/01/2017 at 18:27:34
Evertonfc.com live blog probably best, Terry. It looks like young Mr Donkor might be involved based on comments from Rhino.
Terry Davies
3
Posted 30/01/2017 at 18:31:00
Thanks Geoff, will go there now. Looking forward to this!
Paul Thompson
4
Posted 30/01/2017 at 19:39:15
Decent live link here
http://www.vipleague.is/football/314682/1/mutv-%7C-manchester-united-tv-live-stream-online.html
Ben Hayes
5
Posted 30/01/2017 at 19:44:44
Just gone 1-0 up just before half time... not sure on the scorer yet though.
Brian Garside
6
Posted 30/01/2017 at 19:45:55
http://cricfree.sc/watch/live/manchester-united-u23-vs-Everton-u23-live-streaming
Ben Hayes
7
Posted 30/01/2017 at 19:49:29
Live league with tonight's results – we are one up at Man Utd... scored the most and conceded the least – things are looking good:
1. Everton U23 1-0 15 11 2 2 33:10 35

2. Manchester City U23 2:0 15 9 4 2 29:17 31

3. Liverpool U23 14 7 3 4 26:16 24

4. Chelsea U23 14 5 7 2 28:18 22

5. Arsenal U23 14 7 1 6 22:19 22

6. Sunderland U23 15 5 6 4 19:20 21

7. Manchester United U23 0:1 15 4 5 6 14:21 17

8. Reading U23â–² 1:0 15 5 2 8 24:33 17

9. Tottenham U23â–² 3:0 15 4 4 7 22:27 16

10. Southampton U23â–¼ 0:3 15 4 3 8 18:28 15

11. Leicester U23 0:2 14 3 3 8 17:30 12

12. Derby U23 0:1 15 2 4 9 15:28 10

Ciarán McGlone
8
Posted 30/01/2017 at 19:53:42
Courtney Duffus got it.
Ben Hayes
9
Posted 30/01/2017 at 19:55:16
Thanks Ciaran :-)

Eugene Ruane
10
Posted 30/01/2017 at 20:05:56
Just noticed Koeman is there.
Eugene Ruane
11
Posted 30/01/2017 at 20:08:40
They just ballooned a pen over, still 1-0.
Ciarán McGlone
12
Posted 30/01/2017 at 20:18:23
Another penalty... United on terms.
We're barely getting a touch.
Eugene Ruane
13
Posted 30/01/2017 at 20:18:39
1-1 (another pen). They've really come at us 2nd half.
Paul Thompson
14
Posted 30/01/2017 at 20:20:20
Two very poor tackles giving those pens away. Really on the back foot now.
Paul Thompson
15
Posted 30/01/2017 at 20:30:57
Anichibe-like goal from sub Sambou - 2-1 to the blues.
Eugene Ruane
16
Posted 30/01/2017 at 20:31:13
2-1 us!
John Ronnie
17
Posted 30/01/2017 at 20:31:25
2-1 now Sambou
Ciarán McGlone
18
Posted 30/01/2017 at 20:32:05
Jack Kiersey looks about 9 years old...
Brent Stephens
19
Posted 30/01/2017 at 20:37:38
Another pen to us
John Ronnie
20
Posted 30/01/2017 at 20:38:21
Penalty to us
Brent Stephens
21
Posted 30/01/2017 at 20:38:34
Converted
Eugene Ruane
22
Posted 30/01/2017 at 20:38:40
Get in!
Everton Wint
23
Posted 30/01/2017 at 20:39:17
Penalty to us.... COYBs
Sambou is hot: 1-3
Gareth Clark
24
Posted 30/01/2017 at 20:40:15
Donkor sounds like he's a very good addition!
Everton Wint
25
Posted 30/01/2017 at 20:42:33
I think our U23s are the reason Koeman doesn't need cover up front.
Michael Kenrick
26
Posted 30/01/2017 at 20:44:16
Nice that MUFCTV are using the old Fat Lady Beehive Everton Logo... how long as that been a goner???
Brian Wilkinson
27
Posted 30/01/2017 at 20:44:55
Nearest rivals Man City drawing 3 all at Leicester.
Ciarán McGlone
28
Posted 30/01/2017 at 20:56:47
Donkor looks interesting.
Gareth Clark
29
Posted 30/01/2017 at 20:57:23
Just started watching the stream for the last 15 minutes...
Missed most of the good stuff – but the likes of Sambou & Donkor are already physically quite big & capable!
Eugene Ruane
30
Posted 30/01/2017 at 20:59:38
Enjoyed that and great to see Joe Royle at the end with a big soppy grin on him (and a big soppy hat).
Michael # 26, that did have me muttering like Mutley - "Fuggingfisherfuckingpriceunitednobheads"
Paul Thompson
31
Posted 30/01/2017 at 21:04:31
Didn't see some of the first half, but on balance a deserved win.
Donkor really impressed me. Intelligent player with a real physical presence who played a number of excellent through balls.
Sambou was a handful when he came on.
Walsh was good in the first half, but faded and was then injured.
Wasn't impressed by Dowell I'm afraid – largely anonymous in the stuff I saw at least.
And Kenny wasn't as good as I remembered.
Ray Robinson
32
Posted 30/01/2017 at 21:30:57
Just back from the match. For the first time in ages I have seen a young Everton team blessed with pace. Anton Donkor looks a very powerful pacey player and I was impressed too with Courtney Duffus. Bassala Sambou looked a terrific prospect when he came on and scored a great goal, holding off two defenders before poking past the keeper. Pennington looks like a natural leader and was solid throughout. Nobody had a bad game.
We looked compact in defence and very disciplined with two banks of four, snuffing out United apart from a twenty minute spell immediately after half time. Energy levels and ball retention were good and interceptions plentiful.
Team:
1. Mateusz Hewelt
2. Jonjoe Kenny
3. Matthew Foulds
4. Liam Walsh
5. Morgan Feeney
6. Matthew Pennington
7. Kieran Dowell
8. Harry Charsley
9. Courtney Duffus
10. Callum Dyson
11. Anton Donkor
subs:
12. Nathan Broadhead
14. Bassala Sambou
15. Jack Kiersey
Patrick Murphy
33
Posted 30/01/2017 at 21:39:09
Looks like Sambou has a bit of an attitude too – judging by his penalty – not a bad thing for a forward player to have.
Ray Robinson
34
Posted 30/01/2017 at 21:45:31
Yes, Patrick I noticed that too. There were a few verbals between him and the goalie before the penalty, which resulted in the United keeper getting booked. However, I have to say that I don't like the Lukaku type penalty technique.
Lev Vellene
35
Posted 30/01/2017 at 21:47:46
Ray #31, thank you for that report! I watched the game online and I can't really add too much to your report.
It was only a Premier League 2 game, but the seeming coherence of our players working together, left me wanting more for our main team!
Paul Birmingham
36
Posted 30/01/2017 at 21:59:15
Back from the game and a well earned hard fought victory. Well organised and should have gone in at HT at least 2-1, up. Second half and a few changes they canned us for about 15 mins and some resolute defending and we picked them off. Happy days and let's hope for more good results for us this week.

NB Donkor looks very sharp and Foulds and Pennington looked solid. Let's hope that this team can manage out the last 6 games and win the league. Not getting too carried away but genuine optimism is springing up for the future of our club.
Paul Conway
37
Posted 30/01/2017 at 22:07:54
This outfit could have gone far in the FA Cup had we decided to field them instead of the seniors ... A current trend at the minute.

Donkor looks like he shovel some PL defenders already these are mouthwatering times indeed. COYB!
Lee Whitehead
38
Posted 30/01/2017 at 22:09:18
Paul No.36
You're dead right, buddy - Donkor and Sambou look quality!
Maybe we don't to spend millions on a new striker after all.
"The future is bright the future is Blue"
Liam Reilly
39
Posted 30/01/2017 at 22:21:04
Was watching the text updates on the OS; why did Walsh come off, injury or precautionary?
Mike McLoughlin
40
Posted 30/01/2017 at 22:51:16
Went to the match tonight and was very impressed with a very well organised Everton under 23 side. They absolutely controlled the first half where Man Utd were reduced to one scrambled attack on Goal.

Where the blues had several chances and with a little more composure we would have gone in at half time more than the one ahead. I was particularly impressed with Pennington alongside Feeney, a good partnership. Charsley had a great first half in the middle, along with Walsh. Dowell showed some great touches on Everton's right and Donkor impressed on the right, looking strong, pacey and skilfull. Duffus scored a good goal with a great build up.

To be fair all of the youngsters impressed and must mention both full backs Foulds and Kenny controlled the Utd attacks very well and Dyson was busy up front. The second half began and for the first 20 minutes Utd were in the ascendancy and the blues couldn't get hold of the ball and Utd were awarded a dubious penalty which was blasted over the top of Hewletts crossbar.

Not long after that Mitchell tapped the Ball past Feeney only to grab Feeney's arm then tumble over, penalty which was dispatched well to Hewlett's right. 1-1.

Ebbrell made a double change bringing on Broadhead and Sambou. This immediately turned the game back in Everton's direction and it wasn't long before Sambou showed great strength and skill to put the blues up 2-1.

A well won penalty very well despatched by Sambou concluded a very impressive night for the Blues.

Ronald Koeman was in attendance and would have been impressed with Pennington who organised the back 4 very well and was on the end of most crosses put into the box. The future looks bright, the future is Blue.
Barry Pearce
41
Posted 30/01/2017 at 22:59:26
Great result.
Hope Walsh is not injured again.
Ste Lewis
42
Posted 30/01/2017 at 23:21:17
Donkor a big unit, fast, aggressive and direct... but yes this is how we like our wingers. ;-)
Liked the look of Sambou too when he came on – style and swagger reminded me of RS Sturridge (before he was shit) much more lively than than Dyson and Duffus.
Anthony Dwyer
43
Posted 30/01/2017 at 23:40:01
Reports sound promising, players sound promising too, 3-1 win even with Holgate, Browning, Calvin-Lewin and Davies unavailable.
I'm made up Ronny was in attendance to see the lads first hand, and great to hear Donkor and Sambou were impressive.
Shane Corcoran
44
Posted 31/01/2017 at 09:15:34
I thought Pennington was injured or on loan or something.
Dave Abrahams
45
Posted 31/01/2017 at 09:35:25
Thanks for all the reports on the game, it looks like the more these players play together the more they improve with David Unsworth doing well in this department.
Sam Hoare
46
Posted 31/01/2017 at 09:38:24
Expect to see a few more of these lads going out on loan. Unsworth says he was keen to win this match and then maybe give a few more of them opportunities...
John G Davies
47
Posted 31/01/2017 at 10:05:17
Exciting times for us Blues. Unsie with Koeman's guidance and scouting system unearthing these young players bodes well for the future.
Koeman and Moshiri after assessing the situation are laying the foundations to a successful future.

Gary Edwards
48
Posted 31/01/2017 at 12:10:31
Another great result for the ressies.
For the guys who were at the match, what formation did we play? Any names in the Man Utd team?
James Morgan
49
Posted 31/01/2017 at 12:24:22
This match was only round the bloody corner from me, only realised when it was halfway through otherwise I would've gladly had a gander at what our kids were like and reported back to TW with a review of some sort. D'oh!
Sounds like we played well anyway, the lad Donkor seems like a decent prospect too.
Ray Robinson
50
Posted 31/01/2017 at 13:06:51
Gary, we seemed to alternate between 4-4-2 and 4-5-1 but we got forward quickly when we broke. The United team included Eric Bailly but apart from the goalie who made a 10 minute cameo against Wigan in the FA Cup, I didn't recognise anyone. The no 3, Mitchell, looked good.
1. Joel Pereira
2. Matthew Olosunde
3. Demetri Mitchell
4. Axel Tuanzebe
5. Eric Bailly
6. Charlie Scott
7. Joshua Harrop
8. Tosin Kehinde
9. Devonte Redmond
10. Scott McTominay
11. Callum Gribbin
Subs:
Darren McIntosh-Buffonge
Kieran O'Hara Gk
Sadiq el Fitouri
Tyrell Warren
Ethan Hamilton
Michael Kenrick
51
Posted 31/01/2017 at 14:19:37
Shane (#44),
Pennington was out injured for quite a while and has missed most of the season so far. The young centre half tore his hamstring during pre-season and has been on a long path of recovery, returning to the Under-23s side earlier this month as they beat Sunderland.
Shane Corcoran
52
Posted 31/01/2017 at 14:20:33
Thanks Michael. I think I thought he went out on loan following his recovery. Obviously not.
---
Add Your Comments
In order to post a comment, you need to be logged in as a registered user of the site.
Or Sign up as a ToffeeWeb Member — it's free, takes just a few minutes and will allow you to post your comments on articles and Talking Points submissions across the site.