Palace fail to get deal done for Kone

84 Comments [Jump to last]
Tuesday 31 January 2017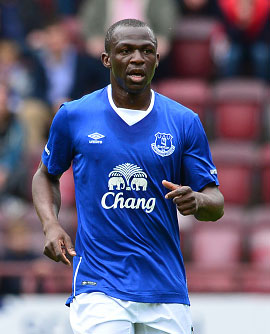 Updated
Crystal Palace saw a late bid to take Arouna Kone until the end of the season fall through late tonight.
Everton had fielded offers for the Ivorian from elsewhere prior to deadline day according to Ronald Koeman but he had expressed his desire to stay in the Premier League.
The Dutchman, who saw Darron Gibson and Bryan Oviedo complete transfers away from Goodison yesterday, confirmed that there has been interest in Kone who has fallen out of favour this season and it seemed as though QPR or Sunderland were his most likely options.
"It is possible he will leave," Koeman is quoted as saying by the Echo.
"I don't know (if it will be before the window), he is training and doing well but he likes to play...we have used other player than Arouna.
"I have had some offers for him."
Kone's contract expires this summer and it seemed as though Palace would simply pick up the remainder of his contract but the transfer wasn't able to be completed.
---
Reader Comments (84)
Note: the following content is not moderated or vetted by the site owners at the time of submission. Comments are the responsibility of the poster. Disclaimer
Mark Morrissey
1
Posted 30/01/2017 at 17:32:44
Move him on to Sunderland please. Good lad but not good enough for Everton. Thanks for your effort. Bye
Mike Berry
2
Posted 30/01/2017 at 17:41:54
I have been very impressed how the backroom business has worked to move players on, get them a playing career and get the surplus off the books.
It's not always easy shipping players out.
Colin Glassar
3
Posted 30/01/2017 at 17:46:18
Out with the old, in with the new. I like this policy.
Paul Baker
4
Posted 30/01/2017 at 17:51:16
Nice to see someone 'take care of' deadwood finally, but we do need cover in striking department, as there's Lukaku and then ________________.
Jon Withey
5
Posted 30/01/2017 at 17:54:43
It's not like Kone is ever used, so might as well sell him.
That said, we really need a striker.
Appreciate we don't have a whole lot to play for, but we need more than Valencia and Mirallas as backup.
John Pierce
6
Posted 30/01/2017 at 17:55:31
Ding ding! Next!
This is exciting me more than any incoming players, could be 6/7 if Jags goes in the window.
Smacks of a good summer shopping plan with wages off the books for FFP.
McGeady clinging on like a Barnacle!
John Mckay
7
Posted 30/01/2017 at 17:56:28
Like a fire sale down at goodison park. Out with the old in with the new, get rid of Kone too and that would be amazing, mcgeady already gone to PNE on loan, so maybe can get them to keep him, we'll send a delivery truck up there to move the rest of his gear!
Jags is another one who is probably surplus to requirements but pointless shipping him out might as well keep hold of him even if he not getting any game time, been a great servant to the club.
Denis Richardson
8
Posted 30/01/2017 at 17:57:33
Just gets better and better... can we sell Lennon too?
Anthony Dwyer
9
Posted 30/01/2017 at 18:09:26
Fantastic news, all these players who Ron doesn't want are bleeding the club, moving them on puts us in good shape.
Andrew Presly
10
Posted 30/01/2017 at 18:10:11
Please accept whatever offer has been received.
Good luck Arouna. Ciao.
Nigel Munford
11
Posted 30/01/2017 at 18:12:42
Denis why would you sell Lennon?
Alan McMillan
12
Posted 30/01/2017 at 18:13:41
Best of luck to all of the Everton rejects at Sunderland.
David Booth
13
Posted 30/01/2017 at 18:17:48
Nigel (11): because, like all the deadwood Koeman is shipping out, he's clearly not good enough, past his best and offers no immediate or longer-term value?
Time we stopped filling our squad with such ordinary players and started recruiting single-minded winners.
Brian Williams
14
Posted 30/01/2017 at 18:17:52
There'll be no striker in this window. Ron's already said so today. Said we have Valencia and that's enough.
Obviously waiting til summer to get the quality we need.
Colin Glassar
15
Posted 30/01/2017 at 18:19:17
I hope you're not suggesting we throw Kone on the bommie, John. I know he's not very good but that's going a bit far.
Eddie Dunn
16
Posted 30/01/2017 at 18:30:26
No dithering from our manager, he is taking action, which is good to see. I wish all of our lads all the best for the future and hope that none of them comes to Goodison next season to score the obligatory goal against us.
Anthony Dwyer
17
Posted 30/01/2017 at 18:40:32
They'll struggle to do that, Eddie, they will be Championship fodder.
🙈 Sorry.
Charlie Burnett
18
Posted 30/01/2017 at 18:43:49
Getting the wage bill lowered for these super big players.
Lev Vellene
19
Posted 30/01/2017 at 18:44:17
So, Valencia is now our backup to Lukaku, is what Koeman said. Apart from Calvert-Lewin, whenever he gets back from injury, do we have any other forward prospects in our U23 squad?
Is McAleny or Duffus anywhere near shouldering responsibility if unthinkable injuries should occur after the January deadline? Anyone I've missed?
Eddie Dunn
20
Posted 30/01/2017 at 18:45:37
Anthony – there are the Cups!

Lev Vellene
21
Posted 30/01/2017 at 18:46:44
Eddie, you're evil! Knock on wood!
Eric Paul
22
Posted 30/01/2017 at 18:58:18
It's about time we had a Number 9 fit to wear the shirt.
Joe O'Brien
23
Posted 30/01/2017 at 19:02:28
McGeady next please. Nice if the players sold will be missed. I think there'll be a couple brought in to replace them, but if not, promote a few of he U23s.
Mark Morrissey
24
Posted 30/01/2017 at 19:11:02
I hadn't even realised that McGeady had been moved on
Chris Williams
25
Posted 30/01/2017 at 19:11:05
McGeady will probably stay at Preston. They love him there and he's played well for them.
Shane Corcoran
26
Posted 30/01/2017 at 19:34:20
McGeady playing really well at Preston for anyone that isn't on here to sling mud at departing players.
Get rid of Jags and Lennon eh?
Such short memories.
Christopher Timmins
27
Posted 30/01/2017 at 19:41:56
Not a Moyes signing so can't see him ending up in the North East.
John Wilson
28
Posted 30/01/2017 at 19:42:17
No striker equals less chance of a goal except all the responsibility falling on Lukaku's shoulders. It's like an analogy of slave performance, 'perform for me'... but what if I am sick... 'perform for me' and don't ask questions.
A plethora of midfielders and defenders with only 1 striker proves Everton will have another difficult season, what's left of it anyway. I think Koeman has a rather generous view of Everton if he thinks he can get to and stay in the top 6 without back-up strikers. He thinks so much of Valencia that he was transacted on loan and as for his game-time, probably 180 minutes at the most through the entire duration he's been here.
Perhaps it comes down to commercial intent, ie, ship off a load of expensive players off the books and play nice bonuses for the commercial shareholders. 'Jobs for the boys'. Business as usual boys, with the illusion that there's been a good transfer window.
Trevor Lynes
30
Posted 30/01/2017 at 20:01:29
Tend to agree with John. The only player who cannot be rested is Lukaku! No cover at all and do not mention Valencia as he is just here for the season and not in Lukaku's class unfortunately.
Fans on here are saying out with the old, but where is the new? This boardroom is rapidly recouping the money spent on Schneiderlin and Lookman.We have got quite a lot off the payroll and sold Oviedo and Gibson for ٥ million. Kone will bring in some more plus his wages will be ended. We are already loaning out the kids and Kenwright was seen outside The Grapes with a ukulele :)
Colin Glassar
31
Posted 30/01/2017 at 20:10:36
Anyone worked out how much we've made on these sales/loans in terms of wages? I reckon we're saving about £200.000 p/w (minimum) and we've made £7.5m at least or is it more?
Brian Williams
32
Posted 30/01/2017 at 20:19:53
John. Look out behind you!
Damian Wilde
34
Posted 30/01/2017 at 21:08:52
He is way below the required standard, sell him at any price, take a quid!
Sad to see Oviedo go, nice fella who gave his all.
Lev Vellene
36
Posted 30/01/2017 at 21:23:36
I was never convinced, but initially he made me re-think that! Too bad his injury ruined his speed, so now I'll wish him all the best elsewhere! And I won't think negatively of him as a former EFC player, he never deliberately let us down!
Soren Moyer
37
Posted 30/01/2017 at 21:39:06
Spring clean!
Ernie Baywood
38
Posted 30/01/2017 at 22:39:10
I can't say that sales of players get me too excited but this feels like a clearout... and you only have a clearout when you're making space to bring more in.
Can we really expect a couple of big signings? It feels like we're being prepped for it.
Tom Bowers
39
Posted 30/01/2017 at 23:03:38
The ''clearout'' was on the cards. They do have surplus to requirements after the newcomers arrived and the advancement of the youngsters they already had.

I am surprised that big Moyes fave Leon Osman wasn't coaxed to go to the stadium of light for at least one more season. Maybe he was and turned it down.

Sad to see Oviedo go as he would have been a good utility player down the left side and quite honestly Baines is not the player he was but I guess Oviedo wanted to play now.
Denis Richardson
40
Posted 30/01/2017 at 23:04:14
Shane 26 - no short memories mate.
Lennon has been shite since he got a perm contract. Put the effort in when on loan then got his pension top up. Never rated him and doubt he'll survive the Koeman axe this summer.
Jags has been a great servant but is now 4th choice if we're being honest. It'll be better for him to move onto somewhere he gets regular games. Must be galling for him to have gone from captain and regular starter to struggling to make the bench. Mind we need a replacement CB if he goes, if Koeman wants to carry on playing 3 CBs.
Mike Gaynes
41
Posted 30/01/2017 at 23:36:15
Denis #40, that's pure bollocks. Lennon was absolutely brilliant just one year ago, our best player in January and February 2016. Four goals in five and a couple of assists, if I recall correctly.
And that was AFTER he signed his contract... which was in September 2015.
You're the one with the short memory, mate.
David Israel
42
Posted 30/01/2017 at 23:39:26
I'll always remember Oviedo for that goal at Old Trafford, three seasons back. Until he broke his leg, he seemed quite a good player, but he has disappointed since then. I wish him all the luck in the world.
As for Kone, well, if there are offers for him, just sell him, although I appreciate he's nearing the end of his contract and isn't worth much.
James Byrne
43
Posted 30/01/2017 at 23:47:23
Apart from Oviedo for obvious reasons, I'm actually more excited about players we are getting rid of during this window than players we might be bringing in.
Let's face it we need a clear out of all the driftwood; similar to Donald Trump, big Ron laid out his plans and he's keeping to his word. Things are happening, although like in the States, there's always a minority who are never happy.
Anthony Dwyer
44
Posted 30/01/2017 at 23:51:21
Mike I'm with Dennis on the Lennon situation, I'm not saying he was shit at any stage, and I'm not saying he has to go in this window, but looking at Lennon's career as a whole he simply isn't good enough to get us were we want to go.
Ask yourself if we moved him on what team would buy him, my guess would be that no club in the top 8 would go near him, not even as a squad player.
Lennon is quick and does work extremely hard when he's on the pitch, but I believe he's not at the level is like us to expect from Everton players going forward.
Gary Russell
45
Posted 30/01/2017 at 23:56:54
Totally agree with you James. Nearly all gone, except Jags and Kone. Let's hope the loans to Hull and Watford do the biz and earn new clubs. I have a feeling we might get another player in by tomorrow. I am not arsed though as it gives the upcoming lads a chance to shine if and Koeman must have faith in them. All very promising. A very good window in my opinion. No room for sentiment.
I like Koeman's words when talking about the goalkeeper situation: "It's difficult and hard to take for Maarten but that's football, that's business, and sometimes you need to wait for your opportunity to come back." But that means that Joel is starting on Wednesday.
Gary Russell
46
Posted 30/01/2017 at 00:01:03
I also think the centre forward spot is not as bad as it might be. Why not give Ross a go, if need be, Mirallas played there whern he scored all those goals in Greece, Calvin Lewin should be fit and then there are Unsie's youngsters.
I forgot about Lennon, only a matter of time.
Kristian Boyce
47
Posted 30/01/2017 at 00:01:07
Concerning Lennon, the 3-5-2 formation we are playing doesn't have the need for wingers, but I think he is being kept for backup for Coleman. He has a defensive streak about him and we don't really have anyone in the squad who could do the job at the moment.
Clive Mitchell
48
Posted 31/01/2017 at 00:32:33
Lennon should not feature in any matchday squad after this season, and I'm confident he won't. (He's contracted until the end of next season, so we might have to pay him but we should never play him.)
Mick Davies
49
Posted 31/01/2017 at 00:38:38
Eleven out, and three in; What's happened to this big squad? Kone is the best replacement we have for Rom; it's difficult enough to score in the Premier League but to get a hat-trick, especially when you hardly get a game is impressive.
He's always tried hard when he's in the side, and that long term injury seems to be well behind him, so I wouldn't be happy to lose him right now, unless another striker was brought as replacement... Valencia doesn't seem to be up to the task.
David Ellis
50
Posted 31/01/2017 at 01:02:59
John Wilson @28 That's a very pessimistic view. I can't see how you think bringing in Lookman and Schneiderlin on 㿊m++ and selling Oviedo and Gibson for ٥.5m would somehow create cash or jobs for the boys.
Anyway what would you do? Hang on to all these fringe players when we have potentially better youngsters coming through from our best in a generation crop of kids? No this is all good.
I agree we need cover for Lukaku, but Koeman obviously thinks Valencia is a better short term bet than Kone. But he's only short term. Even after Valencia came on and changed the game recently Koeman still said it didn't mean he'd be permanent. It will have to wait until the summer.
Dan Egerton
51
Posted 31/01/2017 at 04:58:45
There's Lukaku and then ________________ Mirallas, (Deulofeu while on loan has played there), Valencia, Lookman, Donkor. Even Barkley could do a job there. I'm more worried about a lack of cover at LB.
Dan Egerton
52
Posted 31/01/2017 at 05:02:33
"Valencia doesn't seem to be up to the task"
I'd take Lukaku off and leave Valencia on for his superior pressing game up front.
Perfect example was the derby day against the shite where we lost Macca and then Valencia came off. We then had no industry in our pressing game and we lost. If we had of taken off Lukaku instead, I think we would have at least gotten a draw.
You guys forget Valencia's work rate is phenomenal, while not much of a goal threat, his defense and support play is remarkable.
Mike Gaynes
53
Posted 31/01/2017 at 06:00:53
Anthony (#44), I don't necessarily disagree that Lennon's usefulness as a gameday player will end after this season, although I do believe he'd be worth keeping on as a squad player for the Cups next year, especially since he's already under contract.
However, it thoroughly pisses me off when some of our more fact-challenged members here – and Denis (#40) is by no means the only one – smear a relentlessly hardworking and frequently effective player with this odious shite about getting lazy once he got his contract.
It's a damnable and obvious lie, and a man who has honored his Everton shirt every minute he's worn it deserves better.
John Daley
54
Posted 31/01/2017 at 07:36:58
"No striker equals less chance of a goal except all the responsibility falling on Lukaku's shoulders. It's like an analogy of slave performance, 'perform for me'... but what if I am sick... 'perform for me' and don't ask questions."

Sure it is. That's
exactly
what it's like.
£80,000 a week and a guaranteed game every week (irrespective of form) = "Slave performance".
So moved was I by Romelu's plight, I asked him his preferred path toward becoming a 'freedman'.
Trouble is, in Lukaku's mind, 'manumission' meant Mourinho must have had second thoughts about him and has now decided he's the perfect guy to spearhead his attack, whilst 'emancipation' meant City are definitely interested but are probably just biding their time.
Anyway, after ripping both my arms off, he's currently pegging it across a cotton field with a pack of blood thirsty hounds hot on his heels and an angry mob bemoaning the fact the "lazy bastard" doesn't bomb about like that more often.

Timothy Blanshard
55
Posted 31/01/2017 at 10:43:04
It will be nice to see the number nine shirt freed up for a player to make it famous again.
Loko Sanchez
56
Posted 31/01/2017 at 14:16:07
Hate it when fans call the players 'deadwood' or 'Everton Rejects'. They played their part for the club, scored goals and never once slagged off the Blues. They deserve some respect.
Barry Jones
57
Posted 31/01/2017 at 16:26:03
I have a feeling that Kone will consider sitting on his Everton contract as his best option. His future salary options (amount and length) look bleak and staying put is more lucrative.
Brendan Fox
58
Posted 31/01/2017 at 20:06:34
I think the club should tell Palace to get stuffed cheeky bastards! Loan to the end of the season when he becomes a free agent is taking the piss.
Kase Chow
59
Posted 31/01/2017 at 20:13:08
Brendan (#58),
Gets the wages off. Probably 㿞k a week so not insubstantial.
Craig Fletcher
60
Posted 31/01/2017 at 20:17:26
Palace in for Kone is an odd one. Doubt he'd get much, if any, game time there with Benteke and Remy ahead of him?
Brendan Fox
61
Posted 31/01/2017 at 20:22:00
Kase @ 59 I understand the savings that could be made in wages but it's the principle of what Palace are reportedly asking for which is effectively releasing him from his contract 6 months early for no fee.
That is insulting and Palace should be told to offer a nominal fee of say ٟ-2m and Kone can go with the club's blessing.
It's important the club lets the players in the squad know there'll be no deals done whilst players are in contract which don't suit the club first and rolling over and letting Palace tickle our belly is hardly the way to go about this.

Andy Crooks
62
Posted 31/01/2017 at 20:32:24
Loko, #56, good post. We know little about these players. Their injuries, anxieties, problems. They earn big money but that, in my view, does not make them somehow beyond being treated decently.
What Everton player has ever thought, "Fuck it, I'm injured, dead fucking wood, that'll wind them up on ToffeeWeb"?
Nicholas Ryan
63
Posted 31/01/2017 at 20:50:52
Where IS Luke Garbutt ?!
Liam Reilly
64
Posted 31/01/2017 at 20:56:21
They've got the Bolaise money; they should spend some of that.
Patrick Murphy
65
Posted 31/01/2017 at 22:10:33
According to the Croydon Advertiser "Crystal Palace have secured the services of striker Arouna Kone from Everton. The Ivorian has signed a short-term contract with Palace after the two clubs came to an agreement, with the frontman's Everton deal due to expire at the end of the season.
Read more at http://www.croydonadvertiser.co.uk/Everton-striker-joins-crystal-palace-on-short-term-contract/story-30101447-detail/story.html#L1PkLvL7cCRWdM7e.99
Colin Glassar
66
Posted 31/01/2017 at 22:13:01
Freebie Patrick?
Paul Conway
67
Posted 31/01/2017 at 22:28:30
Loko @ 56
That is a very interesting comment. And, after all its EFC who pursued the player in question. I am pretty sure a player doesn't lose form (become deadwood) by his own volition.
Nothing would please me better than to see Niasse continue at Hull with a hat-trick plus against Man Utd and continue to be prolific throughout the rest of the season.
I like that we can all welcome him back with a big family hug, from a big family club. I for sure would be more than willing to forgive and forget, after all. His past misgivings at Everton does not mean he is a bad person, or any other former Everton player, who tried and failed for that matter.

Brendan Fox
68
Posted 31/01/2017 at 23:59:28
No traffic in South London...
Patrick Murphy
69
Posted 01/02/2017 at 00:10:03
The same paper are now saying 23:45 No deal!
We understand a move for Everton striker Arouna Kone is OFF!
Gordon Crawford
70
Posted 01/02/2017 at 00:11:30
I just posted this twice already lol. Did he stay or did he go?
David Israel
71
Posted 01/02/2017 at 00:37:16
It definitely seems not to have gone through, Gordon. But the rumour was in more than one outlet, and pretty late into the evening, so it must have been a close thing...
Paul Kossoff
72
Posted 01/02/2017 at 00:51:18
Kone had expressed his desire to stay in the Premier League?
More like his desire to stay at daft Ollie's Everton on 㿨,000 a week until his contracts up, then fuck off for nowt, the greedy twat!
Come on, who's the first lemon to wish him good luck?
Patrick Murphy
73
Posted 01/02/2017 at 00:54:31
Paul (#72),
Seeing as the club didn't bring in an experienced forward, I'm glad that Kone remains with the club until the end of the season; we may need him.
Kone is the only recognised backup for Lukaku and, whilst he remains an Everton player, I will gladly be the first 'lemon' to wish him good luck.

James Flynn
74
Posted 01/02/2017 at 01:36:13
It's £40k a week, not £60k. He was always going to get a nice wedge with OFM touting him. He's gone the end of the season.
A skilled player whose knee blew up, so did us little good. To me, the only thing "dodgy" about him is that he was in and out right from Day 1 his first pre-season. Remember the "It's because of Ramadan" excuse? I always wondered how bad that knee was when Martinez brought him along.
Mark Wynne
75
Posted 01/02/2017 at 03:38:27
Even on 㿔k a week, that's still a million quid between now and when his contract expires. So you have to ask what was the sticking point in the move when Everton were literally giving him away?
The answer has to be money, even if he was only offered a short term deal to prove himself. Why go to Palace on a much reduced wage, when Everton are paying for your new indoor pool and rear extension?
Of course I empathise with the lad with his injuries, but he has made himself a multi-millionaire on the back of it and I have little sympathy for someone who has made that choice. I'd wager he won't even feature on the bench, particularly now we are relatively safe and have no cup distractions.
That would still be the case if Lukaku was out injured until the end of the season, Lookman, Mirallas, Calvert-Lewin or one of the other kids would be chosen ahead of him.
Remember, he chose that over potentially getting regular football in the smoke. I really can't wait the slam the door behind him come July.
Dave Williams
76
Posted 01/02/2017 at 07:47:33
My employer asks me to sign a contract paying me 㿞k per week and it has 5 months to go. Do I leave to work and live near Croydon for a relegation threatened team or stay where I am?
Of course he is entitled to stay – not his fault his knee went and when he plays he tries and does sometimes score. He looked decent at Wigan but injury has taken a lot out of him.
Jim Bennings
77
Posted 01/02/2017 at 08:33:51
Can't really understand the animosity towards Aaron Lennon.
He has always proved a very useful player when he's been on the pitch for us and particularly last season he offered quite a goal threat to go with the exceptional work-rate.
As for getting this supposed top quality "backup" striker?
I think we all need to realise that the only way a top class striker is coming to Everton is to actually replace Lukaku NOT to play second fiddle as backup to him.
The best bet for a useful backup striker, someone to do the dirty work for Rom would be a guy like Shane Long or Charlie Austin, affordable and Koeman knows them already from Southampton.

Ray Robinson
78
Posted 01/02/2017 at 08:38:19
While I was disappointed that he didn't go, thereby saving us even more money towards a decent replacement, I can hardly blame the guy for sitting out his contract. From his point of view, what value the freedom to leave in Summer and
choose
where to play?
As for turning down regular football, who says that he would have ousted Benteke or Remy who are already there?
I don't rate him, but I can see his point of view.
Jim Bennings
79
Posted 01/02/2017 at 08:49:05
Not massively bothered by Kone staying on until the end of the season none more than I would have been if he'd left.
He could fill a place on the bench if Lookman or Valencia aren't there or God forbid Lukaku gets injured (nightmare scenario).
To be fair again to Kone, he's never been good enough and he's past what he had now at 33 but at times last season particularly early on he did look half decent.
Raymond Fox
80
Posted 01/02/2017 at 13:54:27
He did not let anyone down when he was picked for the first team, in fact he looked well worth his place in a few games.
The bad injury and father time limited his opportunities, but he has had Lukaku to displace since Lukaku was signed which was never going to happen.
Peter Fearon
81
Posted 01/02/2017 at 14:33:53
It made me laugh to read that he wanted to "stay in the Premier League". Arouna, you are not playing in the Premier League! We should have given Palace half his wages to move him on.
He is taking up valuable car parking space at Finch Farm. Time to put him and a couple of others on the Deadwood stage and make room for some new dead wood.
Tom Bowers
82
Posted 01/02/2017 at 14:52:47
Not to worry. He will be lucky to see a few minutes in any of the remaining games. Oh. Romelu, please don't get injured.
Peter Murray
83
Posted 01/02/2017 at 15:36:43
Just wondering on involvement of our number 1 Negotiator, Billyboy – is this just another of his "pearls of wisdom" or where agents responsible, re. another transfer deadline hour (farce) from our club???
I hope the summer brings an increase in transfer market – but please without any involvement at all from the master chairman; surely Walsh can do better, regardless of parties involved!!
Drew O'Neall
84
Posted 01/02/2017 at 16:29:11
I think it's simply the case that Palace brought in Sakho instead.
Kone is a very intelligent centre-forward in terms of his hold up play and movement and at the time we signed him would have been a marked improvement on what we had (nothing).
If he had avoided the injury he would have been a good example to Lukaku who despite getting on the end of plenty, still doesn't have the wherewithal to play as a lone target man.
James Hughes
85
Posted 01/02/2017 at 16:45:49
Dave (#76) – to live in Croydon would be worth more than 㿞k per week, mate.
Peter Gorman
86
Posted 01/02/2017 at 16:57:13
Croydon, Croydon; so good they named it twice
Colin Glassar
87
Posted 01/02/2017 at 18:16:07
Croydon is a bit of a dump, innit?
---
Add Your Comments
In order to post a comment, you need to be logged in as a registered user of the site.
Or Sign up as a ToffeeWeb Member — it's free, takes just a few minutes and will allow you to post your comments on articles and Talking Points submissions across the site.