Coleman: Taking criticism is part of the deal

22 Comments [Jump to last]
Friday 3 February 2017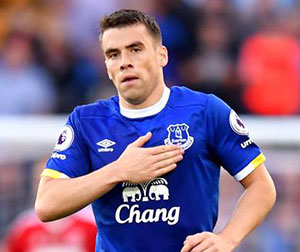 Seamus Coleman says that players need to accept that criticism comes with the territory of being a professional footballer and learn to take it as easily as they do praise.
The Everton fullback was speaking to former Blue Kevin Kilbane for an interview with Football Focus that will air in full on the BBC tomorrow afternoon and he displayed a pleasing maturity about the trade-offs that modern players make for the big salaries they earn.
"I think nowadays players are nearly too precious," he argued when asked how he has been affected by Ronald Koeman's lack of reticence to publicly call out individual players if they haven't performed well.
"If you have a bad game and someone highlights on the TV or in the papers then so be it because that's the job we're in.
"We get paid a lot of money to do what we do and if we can't take criticism then there's something wrong and it shows a weakness in a player.
"If I don't play well, first and foremost, I know it myself and if the manager highlights that I haven't played well then that's just the way it is and I've been through that.
"I know that every player is different and I can only speak for myself. I always feel like I have to impress people and try and prove people wrong maybe. That might be because I've had to do it the hard way.
"But it's the game we're in. We're going to get criticised just like we're going to get praised when we're doing well. You can't just take all the good and not take any of the bad.
"So you've just got to get the balance right and not be a baby about it, really."
---
Reader Comments (22)
Note: the following content is not moderated or vetted by the site owners at the time of submission. Comments are the responsibility of the poster. Disclaimer
Paul Kelly
1
Posted 03/02/2017 at 17:44:05
Effing right Seamus, captain material he is!
Take the criticism and push on, that's the way, well said lad!
Mike Gaynes
2
Posted 03/02/2017 at 17:58:36
Agreed, great perspective, and clearly destined to wear the armband. I only hope it's for us.
Need to set up a few machine gun nests around Goodison for Mou's next approach to him. Shoot on sight, boys.
Colin Glassar
3
Posted 03/02/2017 at 18:00:22
Good lad, Seamus.
Jay Harris
4
Posted 03/02/2017 at 18:14:54
Refreshing attitude amongst a litany of Prima Donna overpaid and overhyped sportsmen.
Get the armband ready Seamus or Bainesy.
Liam Reilly
5
Posted 03/02/2017 at 18:24:40
It may need the armband to keep him away from Man Utd on the summer.
John G Davies
6
Posted 03/02/2017 at 18:56:24
No, it's not, Seamus The manager is out of order if he tells a player he is not up to the standards he looks for in a player.
They're yoooman beeeens, y'know!
Tony Heron
7
Posted 03/02/2017 at 18:59:27
What a refreshing attitude from a very grounded young man. What a difference to all the prima donnas who think the world revolves around them just because they have been blessed with the good fortune to be good at footie. No "where's my birthday cake?" from Seamus. Good lad.
Lev Vellene
8
Posted 03/02/2017 at 19:59:44
So good to hear, and I hope the young players take that to heart!
Martinez only had one part right: Praise is good to build spirit and self-belief!
But he refused to see that undeserved praise could instead ruin a player who actually needed constructive criticism (or just a good yelling-at!) to himself see the adjustments he needed to make to become an even better player.
Eugene Kearney
9
Posted 03/02/2017 at 20:37:38
Well said, Seamus. We need more footballers with your type of attitude.
Captain.
Will Mabon
10
Posted 03/02/2017 at 20:50:11
I agree, constructive criticism is vital. Just not all over the media, eh?
Lev Vellene
11
Posted 03/02/2017 at 21:00:25
Well, Koeman indicated he'd got the point that he shouldn't be too public about everything after his comments about Barkley got blown up by the media. So maybe you can teach an old dog new tricks, after all? :)
Mick Davies
12
Posted 03/02/2017 at 22:12:35
John G Davies @ 6, we are all human beings, but if we are crap at our low paid jobs, we get the sack.
No agents, no expensive lawyers, no sitting down and refusing to 'work' because we want to go somewhere else; we also have to put up with harsh and sometimes dangerous working conditions, and put in 8 hours a day for a wage, not an annual lottery win – I'd take anything my boss could dish out for a 5th of what they earn.
Trevor Lynes
13
Posted 03/02/2017 at 23:08:04
Players are people and they react differently.Some need an arm around them and some need a kick up the backside.Constructive comments are the best tactic but managers have feelings too and they react differently too.Martinez was quite probably too soft IMO and hated telling a player off.Koeman is a totally different type of person and I see him as quite strict compared to Martinez.Man management is a skill and the best managers usually have it.
Frank Wade
14
Posted 03/02/2017 at 00:05:09
Fair play Seamus. Top Player. Top man. Always gives his best and talks sense.
I don't think he would have much time for the likes of 'The Egotistical One' Mourinho, who is a long way short in the human qualities that our Seamus has in abundance.
Hope he takes the armband next season. He has done well as captain of the Irish national team.
Clive Mitchell
15
Posted 04/02/2017 at 01:10:23
Seamus Coleman – what an outstanding human being.
Only seven hours before we set off for Goodison. COYB!
Mark Andersson
16
Posted 04/02/2017 at 02:25:29
No surprise to read Seamus comments. He deserves to be in a top team like Man Utd – just ask David Moyes. But he is loyal he will only leave Everton if the board want to sell him.
Get a goal against Bournemouth, lad, so we can sing your name.
Rob Dolby
17
Posted 04/02/2017 at 09:26:18
No matter who gets the arm-band, this lad is the leader on the field. Love his attitude.
I was at his debut for the reserves at Widnes; although he didn't stand out, he was the most vocal on the park, barking orders and bollocking players.
We need more players with his attitude, the Premier League is full of players more interested in hair cuts and tattoos than winning matches.
Len Hawkins
18
Posted 04/02/2017 at 09:43:16
I'm fed up with the complete and utter bullshit players come out with about not being "loved" or not shown enough "respect". I'd be off like a shot if my boss said he loved me (especially some of the ugly fookers I have worked for lol).
Seamus is talking the sense other players should be talking. And as far as being picked out for criticism if it is TRUE and you can't handle it and say "right I'll show you" then you are in the wrong job. Well done, Seamus – long may you reign hopefully as Skipper.
Dave Abrahams
19
Posted 04/02/2017 at 10:12:31
"If I don't play well, well first and foremost I know it myself."
Well said, Seamus. I think most players, if they are honest, know the truth of how they have played and can accept it and try to improve their game.
There are some players who take all the glory when they have played well, but sulk and moan when they are told how poor they have been.
The same players do little, if anything, to go out and prove their critics wrong, but just carry on as before; we have got one or two like that at Everton.
Seamus is not one of them, he is a down to earth lad who knows and appreciates how lucky he is to be a professional footballer; long may he continue to ply his trade at Everton.
James Flynn
21
Posted 04/02/2017 at 12:34:52
"When asked how he has been affected by Ronald Koeman's lack of reticence..."
Wonder if Seamus's response was aimed at a teammate or three.
John Wilson
22
Posted 04/02/2017 at 14:41:21
Ok, is it fair criticism if Koeman's wife said through the media that he's crap in bed and needs to improve otherwise he'll lose his place or position in bed?
Okay joking apart, what good does it do embarrassing players through the media, shouldn't this be done in private? Koeman criticises players and where they still don't perform, he ships them out or puts them on the bench. Isn't this enough?
Anthony Dwyer
23
Posted 05/02/2017 at 00:15:04
Welcome to Ronald's Everton, where men act like men.
---
Add Your Comments
In order to post a comment, you need to be logged in as a registered user of the site.
Or Sign up as a ToffeeWeb Member — it's free, takes just a few minutes and will allow you to post your comments on articles and Talking Points submissions across the site.