Koeman happy as Everton retain momentum with win over Cherries

41 Comments [Jump to last]
Saturday 4 February 2017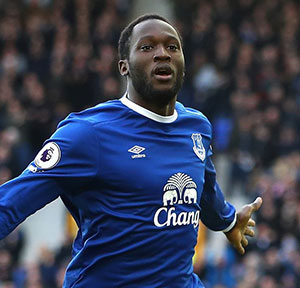 Romelu Lukaku grabbed his second hat-trick of the season and added one more amid a deluge of goals at Goodison
Ronald Koeman was all smiles at the final whistle of today's entertaining 6-3 win over Bournemouth, a contest he described as "crazy" after Everton eventually powered their way back past the spirited Cherries.
Romelu Lukaku scored four goals to vault himself to the top of the Premier League's goalscorers table and James McCarthy and Ross Barkley grabbed the other two in a contest that underlined both the Blues' attacking prowess and their occasional defensive fragility.
"That's not a normal result… a crazy game of football," the Blues boss said in the tunnel at Goodison Park.
"During the game, different systems for both teams… change system, change system and it was really a tactical battle.
"They came back into the game with really good football and they made it really difficult. I think we dropped a little bit of intensity after half time at 3-0 up.
"But the reaction after 3-2 was good. Back to the 5 defenders that brought us back to dominating in the game.
"And we scored great goals today. Romelu's showed again today that he is maybe one of the best finishers in football because what he showed was really outstanding.
"One of his big qualities is scoring goals and we need to support him. We need to create and we have players around him to create that space and [provide] those final balls.
"Still we can improve but he showed today his best quality. One chance is a goal. I'm not surprised because I see that often on the training pitch and I'm impressed with his finishing.
Koeman was asked if he felt his side has the potential to close the gap on the top six and perhaps mount a late challenge for a Champions League place. The Dutchman won't be getting ahead of himself despite a seven-match unbeaten run in the Premier League but stressed that anything could happen if his Everton side keep winning.
"If we keep the momentum and the spirit, the team is really comfortable," he continued, "maybe a little too comfortable after half time but I like that confidence in yourself.
"It's a long way until the end of the season and every [team] has their own difficulties in winning games and if we keep our momentum then everything is possible."
---
Reader Comments (41)
Note: the following content is not moderated or vetted by the site owners at the time of submission. Comments are the responsibility of the poster. Disclaimer
Kim Vivian
1
Posted 04/02/2017 at 19:33:16
I just love the "everything is possible".
Not "anything" – "everything"...
Kevin McCartney
2
Posted 04/02/2017 at 19:56:43
6 points and 10 goals, with 14 more games to play, you're damn right, 'everything is possible' well mathematically possible. So yeah he's right in saying if we keep winning and those above us keep dropping points. Then yes perhaps a top 4 could be on the cards towards the end of April/May.
Main thing is to keep their feet on the ground, don't get their hopes up, keep the positive 'winning' feeling going, and just focus on the next game at hand and perform when it matter most, on the pitch!
COYB!
Steve Bingham
3
Posted 04/02/2017 at 20:19:19
We still had a major defensive wobble and if it wasn't for a high class save from Joel it could have been a catastrophe. Having said that though going forward at times we look like a team coming into real form at the business end of the season.
Christian Hoff
4
Posted 04/02/2017 at 20:32:41
Well done, Everton! And how to keep our great striker, Lukaku? Maybe buy his brother from Lazio... and we could need that cover in the left-back position too!
My wish for this spring... Good news for a new stadium at the docks and a good fight for top six. COYB!

Bill Gienapp
5
Posted 04/02/2017 at 21:04:53
It's easy to say now, now that the win has been safely clinched, but I actually think that near-disaster might have been a good thing – these are the moments that shape a team's character and fortitude, if able to see them through.
Last year, the Bournemouth draw effectively derailed our season. This result may just spur us on to greater heights.
Derek Thomas
6
Posted 04/02/2017 at 21:17:30
Bill @5; 3-0 then 3-3 is a bit of a mini disaster... well last season it would've been a proper disaster. The fact we upped it to score 3 more is a good sign.
Steve Ferns
8
Posted 04/02/2017 at 21:22:41
I wasn't impressed with Koeman earlier in the season, when the wheels looked like they'd come off, but credit where credits due. Maybe we'd have still won if he hadn't changed systems, but here he was evidently affecting the game from the sideline instead of watching, motionless leaning against the post.
For me, this was the best we've seen from Ron, during a match. I'm starting to believe Koeman might just be worth that salary.
Kieran Kinsella
10
Posted 04/02/2017 at 22:19:53
Not trying to say some on here are contrary . but I remember when we lost 6-3 to Chelsea. Surprisingly, apart from Besic bashing, most on here were saying "Great game, great goals from us, better team won." But people were grasping for positives.
Today, we won 6-3 and people are saying we were lucky, defense is crap etc. Granted, the defending was poor. However, if a game is very open cause your opponent is weak, that tends to happen cause you flood forward hoping to get more goals. You get complacent and hey presto it's 6-3.
Against Stoke City and Man City, our defense was very resilient. It can improve no doubt but I don't see it as a major issue.
John Mckay
11
Posted 05/02/2017 at 00:09:57
Great game... crazy at times, but what a joy to watch. Bournemouth are not a bad attacking side they've proved this season that they can give anyone a game. When the game is so open there is going to be goals both ends. Their 3rd goal should not have counted and a bit of luck just like our second with the pin balling in the box.
You could say a better team would have punished us today for that kind of defending but the fact it was Bournemouth and such an open game meant we weren't and if it had've been a better team, it wouldn't have been such an open game.
Going 3-0 into half-time, Bournemouth didn't have anything to lose second half and went for it and it cost them another 3 goals!
Great game, some great performances Lukaku and Barkley looked class together today.
Can we dream of a top 4 finish? Maybe a long shot but not impossible. We've given ourselves a chance at least...
Peter Howard
15
Posted 05/02/2017 at 02:28:36
Steve (3),
I know what you're saying but, in the '80s, big Nev was often Man of the Match.
James Watts
16
Posted 05/02/2017 at 06:16:06
Around 2 months ago, I was calling for Koeman to leave. Well, baying for him to leave if I'm honest. I really wasn't impressed I'm anyway shape or form. Since then I have completely and utterly been made to look a fool and have been proved wrong in every way about him.
Seeing the progress being made, the kids that are being given a chance and new signings integrating, I'm so happy right now. There is still work to be done, and a lot of it but I can now see the evidence of what is changing.
Thank you, Ron, for giving us hope and the ability to dream again. Long may it continue.
Gordon Roberts
17
Posted 05/02/2017 at 06:47:02
Let's not forget the squad is in transition and the playing style is evolving. There will be further periods of uncertainty ahead for sure, the team will have another bad patch at some point. When it happens, we must remain positive and resist calls to get rid of the manager.
Following the next transfer window, we will see some solid defensive reinforcements and I'm sure the spine of the team (with the exception of Rom and Ross hopefully!) will have been totally transformed from the one Koeman inherited. Keep the faith, TW!
Kenny Smith
18
Posted 05/02/2017 at 07:57:21
Martinez is on goals on Sunday on Sky, just in case anyone wants to listen to a deluded tool banging on about how he was the right man for Everton and we pulled the trigger too early...
John G Davies
19
Posted 05/02/2017 at 09:12:27
James (#16).
You were not on your own with the baying mate. Big of you to post your change of heart. The rest of the bayers will follow your example.
Tony Hill
20
Posted 05/02/2017 at 09:30:20
As another who wanted him gone – because I thought he'd lost the dressing room – I'm also delighted to acknowledge my change of mind. But I suspect that the most important change of heart and mind has indeed been in the dressing room.
The side which has played with desire and commitment (with hiccups along the way) since the Arsenal game, bears no relation to the shambles at Watford and for a couple of months preceding that, when both the manager and the players looked hardly interested.
The dynamic between team and manager got fixed. That's wonderful.
Tom Magill
21
Posted 05/02/2017 at 10:14:31
There's definitely been a vast improvement in the team from Arsenal onwards and it's brilliant to see. We need to fully get behind the team and manager to help push us forward. I'm sure there will be more tough days ahead but this team is gelling now and it's exciting times for us. We just need a bit of patience.
COYB
Colin Glassar
22
Posted 05/02/2017 at 12:15:29
Great day out in Liverpool yesterday, topped by a great win. Nothing really to add to what's already been said except to say I thought the ref was really poor.
I was also having serious doubts (never called for him to be sacked though) about Koeman re his tactics, team selections, style of play etc... but I knew he's a cold, ruthless manager and wouldn't let that form continue and he would eventually turn things around.
I'd just like to chip in with my usual anti-media rant. The coverage in the press is pathetic as all the attention has been on their beloved Klopp and how the players are letting him down. When will they get it in their thick heads that the RS are no longer a force in football and haven't been for a long time?
As for Sunday Supplement, well for the second week in a row (first Jason Burt and now Matt Dickinson today) when asked about Everton both journos appeared to be caught totally flat-footed and mumbled and stumbled as though they were thinking "Who"? "Why is he asking me about them?" "Isn't this show supposed to be about our top 6?" The other journos don't even bother to opine as though it's not worth the effort.
Well good for them. Let them keep on beefing up the perennial also-rans ie Arsenal and the RS while we keep on slowly building and improving. They are a great advertisement for their "profession".
Kunal Desai
23
Posted 05/02/2017 at 12:25:47
Strange afternoon yesterday. We haven't conceded more than one in a game at Goodison all season. There third goal should not have stood.
Mike Jones was abysmal. Couldn't wait to book both Schneiderlin and Davies. Absolute garabge of referee.
A huge roar went up with about 5 mins remaining around the ground which seemed odd, I couldn't see the giant screen from where I was sat. Then someone a few seats down said Niasse had scored.
Funes Mori and Mirallas need to be replaced in the summer with another top striker alongside Rom and a young CB alongside Williams and Holgate.

Xavier Spencer
24
Posted 05/02/2017 at 12:31:46
Tony @20 and James@16 – fucking hell, he's been here five minutes. I mean really, come on, who in their right mind would want to sack someone who has had half a season and inherited an ageing and mostly average bunch of players? What exactly was it you were expecting? The mind boggles.
Colin Glassar
25
Posted 05/02/2017 at 12:37:29
Kunai, I thought their first goal was superb and unstoppable (I wouldn't mind getting Jack the lad in the summer) a very well taken goal. Seamus should've done better for the 2nd but he wasn't strong, or quick, enough. The 3rd should've been ruled out.
I thought Funes Mori had a good game. Imo, Williams is the "weak link" in the defence. He's too slow and his distribution is awful.
Tom Bowers
26
Posted 05/02/2017 at 12:51:40
Your so right about Mike Jones. Yet another weak referee. About time the league weedled these bums out.
He let several poor early challenges on Lookman go and even helped set up a good chance for Bournemouth to equalize by ignoring an obvious foul.
Brian Williams
27
Posted 05/02/2017 at 13:05:22
Honest Ron was certainly a happy man for the interview BUT I bet he ripped into 'em, or will do when they're next in for training because he will NOT have liked the Bournemouth comeback which was due in the main to our coming out for the second half and playing in second gear.
I'm one of those who believe when you're three-nil up at half-time, you come out for the second half with the intent to destroy the opposition and the intensity to do just that. Score another two and then play exhibition football. Our players should do their best to get used to, and enjoy the feeling that comes with absolutely demoralizing teams. They should be hungry to feel how they must have felt after the Man City game, and to a certain extent after yesterday's game.
To make it to the very top, we have to be ruthless and merciless, which is exactly how Ronald Koeman is. His "calling out" of players and public criticism (whether it was right or wrong) was a sign of someone who will not accept mediocrity, someone who demands winners and a winning mentality, someone who not all supporters will love, but someone of whose ilk this club has needed for a long time.
Paul Smith
29
Posted 05/02/2017 at 13:17:12
How much is Lukaku worth? If we sell him for anything less than Pogba, it would be a travesty. I hope we never sell him. When did Everton last have a prolific goalscorer at such a young age?
His record is frightening and it may sound crazy but hes our best striker since Dixie Dean. Lineker's one season was superb but Lukaku has given us 4 seasons of vital goals now and the beauty of it all is he isn't the finished article yet. He can still do more to score more.
Lukaku has been a beast for us 95% of the time. I cant say much negative about the lad and his price tag should pay for one side of a new stadium – he's that prolific.
Mike Green
30
Posted 05/02/2017 at 13:35:33
Paul – on yesterday's performance he's worth twice as much as Stones. It's all about consistency now, turn in a performance like that regularly and he'll be off.
Steve Ferns
31
Posted 05/02/2017 at 13:42:22
Xavier, as I stated at the height of the criticism, he did not inherit an aging side. Koeman has made this side older by signing 4 players all aged 27 or more in the summer. He even added another in January. Martinez left a mixed side age-wise. His signings were mainly young players, and the aging ones were Moyes's players.
Were we were criticising Koeman was for how things were going. You will remember him leaning against a post in the dugout against Watford, whilst Mazzarri was going ballistic on the sideline. It seemed like one cared and the other didn't. that one was in control of his side and the other wasn't.
Also, Koeman said the team was 70% fit, at the start of the season, then after what we thought was enough time to get them fit, they seemed less and less fit. His obsession with pressing seemed more like a return to hoofball.
He was also dismissive of the kids. The U23s were top of the league and he said they weren't ready. Loads of us had seen Tom Davies in the U23s and in his cameos, and Mason Holgate in his cameos at the start of the season, and we thought they could do no worse than what was playing. Lo and behold, they come into the side and things were transformed.
As I said above, Koeman is now in control of the team and making tactical changes from the sidelines. Perhaps, the early part of the season was about letting the old players play their way and failing before changing things more and throwing in the kids to really stamp his authority on the team.
Koeman really seems to be earning his money now. I hope this continues as Koeman does have a reputation of being a streaky manager, so let's hope there's not another prolonged down turn coming up. I hope the momentum continues, we have fewer games left than those above us, and the opportunity to really maintain fitness levels and close the gap as everyone flags with the cups and European games taking their toll.
Colin Glassar
32
Posted 05/02/2017 at 13:58:55
I agree, Brian, I'm all for a good old battering of the opposition. I think that's why I enjoyed Rom's last goal and Ross's. They were scored by two players who were enjoying their football and it showed.
Chris Williams
33
Posted 05/02/2017 at 14:39:27
Sky and the red-top gobshites can do one. I'm looking forward to the day when we are regularly up there replacing the likes of Arsenal and the Red Shite, and turning over the lot of them at Goodison Park.
They will hate it and we should revel in it like spectres at the feast. Anti-establishment interlopers undermining the so-called elites with their host of tourist supporters and their smug sense of entitlement.
In keeping with the zeitgeist.
Paul Smith
34
Posted 05/02/2017 at 15:42:49
Steve (#31),
I like your comment, mate; you back it up well and make a valid statement. I too believe Koeman has had to up his game and I am starting to see the reasons I was excited about the new regime. Onwards and upwards for me.
It's going to be very interesting to see if we show some huge ambition by keeping hold of Lukaku and continuing to build a better starting 11. We're not that far off and it looks like Koeman is trying to find a balance in the last 3rd to kill teams off.
John Pierce
35
Posted 05/02/2017 at 15:50:59
In many ways just an incredulous afternoon, so many moving parts and some strange sights.
Rom genuinely celebrating a goal rather than giving everyone the stink eye, he even did an interview and he smiled! Go on, big lad!
Ross was very good yesterday, the weird image of him slide tackling, rarer than hens teeth, reminded me of Paul Scholes, in that it was calamitous, it was worth a mirthy chuckle. But did you here the roar afterwards? He was jet powered after that!
Did you see Mirallas do a Rambona? Too funny!!
Joel was solid, one dropped cross aside, and that's the thing isn't it? It inspires a confidence that you don't worry about the lad. For now, he gets the gig and revaluation to be made at season's end.
Our main issue is still the defense: it can't be ignored as our recent upturn has definitely corresponded with a back 5. The players in it aren't anywhere near good enough but the sum of its parts brings us a more solid base and balance. It also gives us width, which yesterday was lacking.
I guess goal 4 was the only one which came from outside the width of the penalty box. Against better sides, we won't be allowed down the middle.
Sadly in a 4 both center-halves and tragically, Leighton too, look exposed. Coleman did get up and down a little bit.
I hope he returns to a back 5, but I think he went with a 4 simply because he now has so many options in midfield. I hope he doesn't try and shoe horn everyone in somehow.
I guess for me it would be Gana, Morgan and Davies, with Ross behind Rom.
The image of the back heel through ball from Ross is burnt into my brain.
Will Mabon
36
Posted 05/02/2017 at 16:24:27
Steve, post 31:
That was about as perfect a summary of Koeman's earlier tenure as could be. Whilst I never quite got to the stage of wanting him gone, I thought it might be coming, and probably wouldn't have disagreed.
We never get to really know the inside track, being "outsiders" to the inner workings of the team itself, meaning we are often guessing. Who knows what really kick-started that performance against Arsenal... players, manager, combination, clear-the-air talks?
Whatever it was, it was certainly manifest that match. Koeman's job is to steer, maintain and improve this now – for we know for certain that the current players are well capable.
The other levels of the club now need to do their jobs; Priority One is nailing down Barkley, and yes, Lukaku, before even thinking about any more players. Let's see if we're "Big" enough up top to do that.
Mark Morrissey
37
Posted 05/02/2017 at 16:34:33
So many high points but Funes Mori putting Ross away at the end with a slide rule pass, was fantastic. Seeing Ross celebrating before placing it into the net had me laughing all night and today seeing it back on TV was even better. Ian Wright said he was jealous for not even thinking of doing that during his prolific career, praise indeed.
Best moment was Lookman's drag back and having the nerve to even try it. You expect great things from Rom but that piece of skill spoke volumes for the lad and it's hopefully a sign of greater things to come.
Best laugh was opening the morning paper today to see a picture of Klippety with the headline 2-0, Clueless... ha ha, happy days. Make hay while the sun shines, boys!
Colin Glassar
38
Posted 05/02/2017 at 16:37:42
Apparently, Ronald isn't very popular with some of our board members for not being a yes man and being quite demanding.
David Chait
39
Posted 05/02/2017 at 16:44:13
I see he used the word "impressed"... based on his comments on Donkor, this means he doesn't expect that level of finishing from Lukaku... just an observation.
Will Mabon
40
Posted 05/02/2017 at 16:50:10
Colin, that element of Koeman I
don't
mind.
David – I guess he forgets what he says quicker than you do!
Paul Smith
41
Posted 05/02/2017 at 16:52:54
Mike (#30), had me laughing sort of reluctantly with the finish in your comment. Typical Everton, isn't it, mate – our season is over on paper and Lukaku becomes leading scorer in the Premier League. Sod's Law, mate... but let's show some veins and demand we keep him.
Jon Cox
42
Posted 05/02/2017 at 17:08:18
The form table,

Last 6 matches (total)
GP W D L GF GA GD Pts 2.5+
1 Everton 6 4 2 0 17 6 +11 14 67%
2 Tottenham 6 4 2 0 13 3 +10 14 50%
3 Chelsea 6 4 1 1 13 6 +7 13 50%
4 West Brom 6 4 1 1 9 7 +2 13 50%
5 Man Utd 6 3 3 0 9 4 +5 12 33%
6 Arsenal 6 3 1 2 13 9 +4 10 83%
7 Man City 6 3 1 2 10 9 +1 10 83%
8 Burnley 6 3 0 3 9 7 +2 9 67%
9 W. Ham Utd 6 3 0 3 9 9 0 9 67%
10 Swansea 6 3 0 3 8 13 -5 9 100%
11 Stoke City 6 2 2 2 9 8 +1 8 33%
12 Hull City 6 2 2 2 8 8 0 8 50%
13 Watford 6 2 2 2 7 10 -3 8 67%
14 Liverpool 6 1 3 2 7 9 -2 6 33%
15 Sunderland 6 1 2 3 8 11 -3 5 67%
16 Bournemth 6 1 2 3 12 16 -4 5 83%
17 Leicester 6 1 1 4 1 9 -8 4 33%
18 Mid'brough 6 0 3 3 3 7 -4 3 33%
19 Southampton 6 1 0 5 6 11 -5 3 83%
20 Cry Palace 6 1 0 5 3 12 -9 3 50%

Happiness is a shape made out of Blue...
Tony Roberts
43
Posted 05/02/2017 at 22:26:28
Was it just me or did anyone else notice how hard we were pinging our passes yesterday? It seemed we were moving the ball a lot quicker with some of the passes nearly being over hit.
I'm not just saying this but I never really had any doubts about Koeman; he was who I always wanted once Martinez left and I did believe he would come good (though I was a bit worried when it seemed we couldn't play a full 90 minutes to save our lives).
It seems now he's getting his ideas across and he's actually got a Plan B in games when things go against us. I think we're in good hands and if we don't quite do it this season (please do!), I think the top four dream has got a bit more realistic with Ronnie in charge, whether Rom stays or not.
James Watts
44
Posted 06/02/2017 at 04:13:32
Xavier #24. Steve #31 has said it perfectly for me as well.
Koeman deserved the criticism in my eyes. Thoroughly deserved it. He now deserves the praise. Now we can see the improvements and what he is doing will also give him more slack from me.
Mark Melton
45
Posted 06/02/2017 at 13:31:27
Bobby Brown Shoes is kidding himself again. He's says our defence is as bad as under him. Well, no it isn't actually.
It's the fourth best in the Premier League and in 2017 we have conceded four and scored fifteen in the league. Yes, I know there is room for improvement, but get your facts right, Bobby.
Tony McNulty
46
Posted 06/02/2017 at 13:39:00
Delighted to learn of Bobby's new-found acute powers of perception about defences and defending. In a few months, he might be telling people that teams should practise set pieces.
It's all just about 18 months too late for him. Although if he had been reading TW he might have learned a little sooner.
Perhaps a daily dose of TW should be mandatory for all EFC's managers.
Colin Glassar
47
Posted 06/02/2017 at 13:49:59
That's a good point, Tony. I think Boys Pen Billy and the manager should come on here once a month to answer live questions. The live forum would go into meltdown.
Add Your Comments
In order to post a comment, you need to be logged in as a registered user of the site.
Or Sign up as a ToffeeWeb Member — it's free, takes just a few minutes and will allow you to post your comments on articles and Talking Points submissions across the site.