Davies prepared to fight for his place

17 Comments [Jump to last]
Wednesday 8 February 2017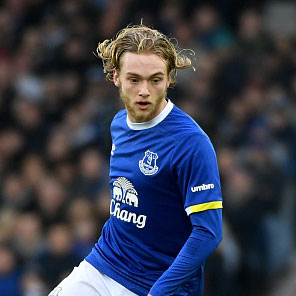 Tom Davies says that while he didn't feel completely first-team ready just a couple of months ago, he is now determined to battle the competition for a starting role in Everton's midfield.
The teenager has enjoyed a dizzyingly fast rise to prominence at Goodison Park just weeks after making his first appearance for the Blues under Ronald Koeman and was just named the PFA Fans' Player of the Month for January.
He scored his first goal in the 4-0 demolition of Manchester City and has also weighed in with two assists, underscoring his readiness for the senior side just weeks after Koeman had insisted he still had a way to go.
Despite being just 18, Davies had emerged as the standout member of David Unsworth's Under-23s over the first half of this season, raising the clamour from observers of the development squad that he could make a real difference at first-team level.
Koeman was initially resistant but with each substitute appearance over the festive period, it became clear that despite being only 18, Davies was good enough and strong enough to handle Europe's most demanding league.
"I wasn't ready [at the time]," Davies told Dominic King in an interview for MailOnline. "I was playing for the Under 23s. I heard what people were saying but I could see, even in training, how much I needed to improve.
"[The manager] took the time to leave me out and let me develop and that has given me confidence and experience.
"For him to be coaching me — and his brother (Erwin) as well — they are really helpful and I'm just trying to take everything on board.
"I feel like I have fitted in well since he gave me a chance. I feel like I am part of it. The time being out of the team was worth the wait. I feel ready now."
Despite being so impressive during his starting roles last month, Davies's place in the side isn't guaranteed such is the competition for places in a midfield stocked with capable players.
He started the game against Bournemouth on the bench but was introduced as a second-half substitute as Koeman successfully re-established the Blues' superiority in a mad-cap contest that yielded nine goals.
"You see it in training with people stepping it up every day, wanting a shirt," Davies explained. "When you get that, the team is only going to go on to better things.
"I know I'm going to have to work harder than I have ever done. I will do that."
---
Reader Comments (17)
Note: the following content is not moderated or vetted by the site owners at the time of submission. Comments are the responsibility of the poster. Disclaimer
Sam Hoare
1
Posted 09/02/2017 at 00:14:20
Good lad. We've gone from being weak in the middle to being overstocked.
I think a fit Davies, Gueye and Schneiderlin together could be quite something.
Paul Birmingham
2
Posted 09/02/2017 at 00:33:39
Instinct says he's the part, and based on his progress and his maturity and composure plus the skill, the potential to be close to Bally and The Holy Trinity.
I expect Tom to clip close and if he does, then it will be a good day for home grown talent and EFC. If he maintains his focus and desire to learn, Tom Davies will be our future Captain?
Frank Wade
3
Posted 09/02/2017 at 00:38:54
Tom's emergence as a first teamer so quickly has surpassed expectations. It feels to me as if we have bought two £20 million players in the January window, with young Ademola not far behind.
I wonder did Steve Walsh have any input in his elevation, along the lines, "well the best young prospect I see is under our noses". It's a fantastic boost to see him play so well and talk so well and appreciatively of the coaching staff.
David Ellis
5
Posted 09/02/2017 at 01:57:15
And hopefully other U23s will make a similar step up...
John Pierce
6
Posted 09/02/2017 at 03:17:52
No doubt about his ability, likely to be in and out, up and down when it comes to form and learning against better sides.
The bigger issue is at the moment that stems from Davies inclusion in the side is Everton have played their best, at 3-5-2. It has balance and all players in their preferred role.
Personally it's Morgan, Gana and Davies for me. That leaves it a straight fight between Ross, Lookman & Mirallas for playing with Rom.
I hope he doesn't go 4-3-2-1, we had a gutful of it under Martinez and if you look beyond the boat load of gifted goals last Saturday, then, it was abandoned and didn't work either.
Som think a 4-3-3 works but, we just sag back all the time to 4-5-1. Isolating Rom.
John G Davies
7
Posted 09/02/2017 at 07:01:10
Koeman took a lot if stick for not playing Tom earlier in the season. Now we have Tom himself saying he wasn't ready. Another one straight from the horses mouth.
Lovely to hear Tom so appreciative of the coaching he is getting from Koeman. A level-headed young man who is on the way to being a top class player.
Alexander Murphy
8
Posted 09/02/2017 at 08:07:22
The determination in his words, alongside the respect for the coaching makes for a very promising combination in such a young player.
If it takes Tom another two years to establish himself as a solid regular name in the first team then that would still be very early in his career. Something tells me that it will not take Tom another two years.
Tom Davies chosen, not manufactured.
Phil Sammon
9
Posted 09/02/2017 at 08:07:30
John 7
Even if he thought it, do you reckon Davies would come out and say:
"I knew I was ready to help the 1st team and it was foolish of Koeman to leave it this long"?
Of course not. He's a respectful young man. I think you'll have to look elsewhere to satisfy your point-scoring, John.
Jon Bentley
10
Posted 09/02/2017 at 08:10:16
The way they're playing, or have played recently, a midfield of Morgan, Gana & Tom really does look the business. A nice mix of bite and skill. I just hope the blend works as nice as it sounds. Maybe this weekend, Ron might decide to have a look at them on the pitch at the same time?
Have Macca and Barry to rotate (Besic too) as required seems to give strength in depth.
A fit and confident Ross or Ademola up with Rom feels good.
Just need to get a quality beast to sit in the back 3!!
Minik Hansen
13
Posted 09/02/2017 at 13:59:28
Dele Alli emerged and has been in the regular starting line-up for Tottenham. We've got Davies and hopefully Lookman. It's all bright now.
Tony Waring
14
Posted 09/02/2017 at 15:07:17
There's a great article in the Daily Mail today devoted exclusively to this young lad. Well worth a read.
Mike Allen
15
Posted 09/02/2017 at 15:07:47
Davies and Holgate for that matter should be first select for rest of the season. This is not sentiment for academy lads, they deserve their place in the side on merit.
You can chop and change the wide men and the No 10 but these are good player in key positions. Where and how much would you need to pay for anything as good as these players? That's if you could find them.
Darren Hind
17
Posted 09/02/2017 at 19:09:33
Rhino did a superb job of polishing this diamond and his bullish insistence that the kid was good enough to play has proven spot on.
The only thing better than having a scouser in the ranks is having several.
Next!
James Flynn
18
Posted 09/02/2017 at 21:18:48
If he says he wasn't ready, he wasn't.
After all, Rom's in his 5th season, 4 as a regular, and just now is looking the complete player. Ross the same. An obvious talent, Deulofeu, is trying to establish himself again; at his FOURTH club. Hell, McCarthy's in his 8th season and Koeman is looking for him to improve his attacking game.
Davies is coming from a league where most won't make it to the top. To play as he has against the big boys, he's progressing fast; looking every bit the real deal.
Phil Lewis
19
Posted 10/02/2017 at 01:50:46
I cannot speak highly enough about Tom Davies. From his debut coming on as substitute last term to his established recent performances, he has consistently continued to impress me. Having watched Everton since the title winning team of 1963, my personal hero in blue was always the truly great Alan Ball.
I have waited in vain for years hoping someone, someday, might fill his white boots until now. I firmly believe Davies can develop into the player Ball was for us. I couldn't pay him a higher compliment.
Mr Perpetual Motion, was the description often given to Ball. However, his game was so much more than that. His vision, lightening reflexes, speed of thought, ball winning attributes, aggression, flair and a terrific goal scoring return for a midfielder was second to none. He broke the British transfer record of his day when signing for Everton and I have no doubt that he would do exactly the same today, in this inflated market place of imposters.
He wasn't much older than Davies when he helped England to World Cup victory and continued to play continually at the highest level for many years to the same quality of performance. With this in mind, I hope Mr Koeman continues to make Davies an ever present.
I would like to see Tom Davies ultimately deployed as an attacking midfielder and be given the freedom to link play. His creative talents will be wasted if he is restricted to more defensive duties. From what we have witnessed so far, I have seen enough to believe he can become the midfield general that we have been so desperately missing for so long.
There is no end to what this boy can achieve, given the opportunity to shine. His confidence is a breath of fresh air and I'm quite sure that even given his tender years, just like the wonderful Alan Ball before him, he will thrive on the pressure of playing at the highest level.
Ian Clarke
20
Posted 10/02/2017 at 09:03:51
Oh ahh Phil!, not much to live up to there. We don't want to saddle him with too much expectation... it has taken 3 seasons for Barkley to look like it at last perhaps because of younger emerging talents like Tom and Mason that he is now ready to fulfil his promise.
Let's leave him to do exactly what he is doing very well without comparing him to a World Cup winner, record transfer breaker, and best post-war player Everton have ever had in his first break-through season.
Aidy Dews
21
Posted 11/02/2017 at 13:29:04
Young Davies looks a great talent and has done well when called upon but with the options we currently have available in Central midfield we can handle him properly from here on in and I'm sure Koeman will.
He'll pick and choose when to use him now and not over expose him and bring him along nicely. And with the quality we have in there, he will learn a great deal every day in training and hopefully turn out to be a cracking player!
---
Add Your Comments
In order to post a comment, you need to be logged in as a registered user of the site.
Or Sign up as a ToffeeWeb Member — it's free, takes just a few minutes and will allow you to post your comments on articles and Talking Points submissions across the site.