Raiola still confident Lukaku will agree new Everton terms

52 Comments [Jump to last]
Thursday 9 February 2017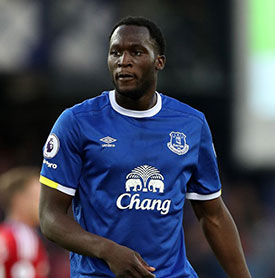 Romelu Lukaku's agent has restated his belief that his client will sign a new contract at Everton, saying that talks are ongoing.
Despite erroneous suggestions made in The Express this week that Lukaku had already signed a new £100,000-a-week deal with the Toffees in December the striker has yet to come to a final agreement that would likely make him the highest-paid player in the club's history.
Raiola remains confident, however, that his client will agree new terms, although he didn't put a timescale on it. The Belgian had been expected to put pen to paper in January.
"There are no problems right now between the player and the club, Raiola told talkSPORT this morning. "Talks are ongoing. He will sign."
The issue has become more pertinent to Everton supporters given the fresh media speculation of Lukaku being targeted by other clubs following his head-turning four-goal haul against Bournemouth last Saturday.
The 23-year-old is now the Premier League's leading goalscorer and that has led to inevitable talk of him leaving on a big-money deal this summer, with his old team Chelsea the obvious link.
Ronald Koeman was asked about Lukaku's future at his pre-match press conference ahead of the weekend's trip to Middlesbrough and he said that while he does not know much about the striker's contract negotiations, he is confident that Everton are now putting in place the factors that would persuade a player with his ambitions to stay.
"I don't know. I didn't speak to the Board about Romelu," Koeman said after dismissing speculation about his own future following fresh reports of interest in his services from his former club, Barcelona. "If his agent mentions that he is close to signing a new deal, that's perfect for Everton.
"Normally, if players see a future at the club and the team is improving, the team is getting stronger every day, that's always a plus for player to stay
"We know that everybody has their own ambition. I think that's normal for a human being, and we like to keep the good players. He's one of those.
"He's the top scorer in the league and he's really playing at a high level. He's so clinical. It would be difficult to find a replacement for him. For that reason, I hope he will stay."
Asked by Sky's Vinny O'Connor what Lukaku could achieve at Everton, the manager said that a lot of it will be down to the player himself but he explained that first outlining his vision and that of the club and then demonstrating that it's possible are also key factors.
"First of all, it starts with yourself. To improve, he is really a world-class finisher but in other details and qualities he can and must improve. He knows that.
"That's the most important. If the club is improving and showing ambition, it's always a goods way for players to stay and that's what we need to show him and he is convinced that his short-term future is at Everton.
"I've had two conversations with him about [his future]. The most important was at the beginning of the season when he came back from the Euros and then, okay, first of all you need to explain [your vision] to the players and then they need to see it.
"I think that is really good at the moment and that gives players a lot of confidence to stay."
---
Reader Comments (52)
Note: the following content is not moderated or vetted by the site owners at the time of submission. Comments are the responsibility of the poster. Disclaimer
Colin Glassar
1
Posted 09/02/2017 at 15:52:06
Thankfully, Rom speaks fluent Dutch.
Paul Conway
2
Posted 09/02/2017 at 16:21:17
If Rom does sign, this will be a huge statement of intent for our Club. Now the media twats can start hawking some other club's players... Coutinho, Firmino...
Tony McNulty
4
Posted 09/02/2017 at 16:42:28
Now his agent has said this, we can all relax, happy in the knowledge that it will come to pass.
As the man said just before the 1929 Great Crash, "If this fills you with confidence, then I have some real estate in Florida I can let you have for an excellent price."
Jay Harris
5
Posted 09/02/2017 at 16:52:14
I am quite happy in the knowledge that Koeman is quickly building the club back up after the disastrous Martinez experiment.
Whilst I acknowledge Rom's goal contribution, I am ambivalent whether he stays.
Brian Furey
6
Posted 09/02/2017 at 17:02:07
I think Rom must be reasonably happy at Everton, otherwise he would have left before now. Sadly we have seen from other players that when a player decides he doesn't want to play for you any more then more often that not he will force a transfer.
Look at Payet recently and Bilic said no way would he sell him and he'll let him drop to the reserves but he soon changed his mind as he realised he is better to cash in on a player. Compare that to how West Brom dealt with Berahino.

Stones had made his mind up he wanted to leave, no matter what Koeman said to him but Rom was prepared to listen to the new boss first and by the looks of things Koeman made him the main man and said he would build his team around him.

We here Rom's dad and agent often talking about big moves to other clubs but how often have we heard Rom himself talk like this.

Rom knows himself there are lots of things he can improve on and he knows if he stays with Everton he will get time and the opportunity to work on his game. If he was to move to a big Champions League club, they will not be so patient with him and I think that he's happy to bide his time with us until he's maybe 25 or 26 and then make his big move.
He knows it's not all about big money, winning trophies and the glory but he also needs to feel happy and wanted. Strikers especially depend a lot on their confidence and the team playing to their strengths and he knows he might lose all that when he leaves.
Marcus Leigh
7
Posted 09/02/2017 at 17:34:49
I'd rather he was the Premier League leading goal scorer wearing an Everton shirt than any other, so no ambivalence here – I'll be over the moon if he stays. And if Koeman thinks he can make him and even more effective striker, bring it on!
Jason Broome
8
Posted 09/02/2017 at 17:47:59
Best striker in the league. Tie him down and let's buy big in the summer. Happy days I hope are returning.
Peter Anthony
9
Posted 09/02/2017 at 18:09:07
Reasons to stay:
1) He is a success at Everton.
2) He seems an intelligent fellow, so surely he can see he is now at the spearhead of Everton's re-emergence as a genuine force in English football.
3) The Premier League being so competitive is good for his game and chances of selection for Belgium national team.
4) His game is suited to the quality, pace and physicality of he Premier League.
5) The extra glory of being a key part of Everton getting back to winning things, rather than just another striker to slot into the recent trophy glut for a team like Chelsea or Man Utd. He can become a real legend with us.
6) Everton now have the financial clout to meet the market-driven demands of him and his agent in today's mega money game.
7) He has a good relationship with the manager and is improving under Koeman.
8) He is getting better where he is and is still young.
Possible Reasons to go:
1) Possibly more money elsewhere (particularly China, but he does not seem to be only about money and the poorer standard of the league there should rule that out for a young ambitious player).
2) Warmer climate in continental Europe.
3) Potentially easier to win trophies in a team already used to winning. (But Koeman is a winner and Moshiri wants success and is able to provide the resources previously lacking).
No brainer to stay because we are on an upward trajectory, surely?

Colin Glassar
10
Posted 09/02/2017 at 18:12:39
If Rom stays, it will only be because he believes in the "project". It won't be for trophies won with Everton and it certainly won't be for money.
Dan Egerton
11
Posted 09/02/2017 at 18:29:19
The Champions League argument doesn't fly. He's been here four years and our lack of Champions League football hasn't made him jump ship. And his four goals in the last game doesn't exactly scream "My head's been turned"!
Christopher Nicholls
12
Posted 09/02/2017 at 18:49:32
This young man is one of the best finishers in the world and could be the best center forward out there by the next world cup. Absolutely made up to see him happy at EFC. Koeman was one of the worlds best players and can help him continue to develop. I've a sneaking suspicion that Dunc is making a contribution here, too. Hope he stays for a long time.
Hard to say it's a coincidence that Rom and Barkley are starting to shine after some straight talking and hard work from the coach. Both seem leaner, meaner and more focused on adding additional aggression/decisiveness to their game.
Mr Kone, please give the No 9 shirt to Rom on the way out. It's been too long since we had a proper one!
Dennis Heaton
13
Posted 09/02/2017 at 18:50:11
Rom must stay. If we qualify for Europe, the management must send out a big message early in the summer and make big signings, so letting the quality players we now have know that they mean business at the highest level.
Dermot Byrne
14
Posted 09/02/2017 at 18:53:22
He is a bright lad who may be able to make his own decisions unlike many who are not always the smartest. But what that will be, who knows.
Alan McGuffog
15
Posted 09/02/2017 at 18:57:05
Crock of shit. So he signs a contract – all it is is an insurance policy that the club takes out to ensure the best possible transfer fee when the inevitable happens.
The RS have done the same thing with Coutinho – get him signed up for as many years as possible and the predatory clubs will have to dig deep. Remember Suarez?
Used to be that a verbal contract was not worth the paper it was written on. Nowadays, a written contract isn't neither.
Darren Hind
16
Posted 09/02/2017 at 18:59:56
This place would be a lot quieter if he did go. There's more arguments about him than any other player.
I was one of those who would get really disappointed and frustrated by his flaws.
I would watch people like Suarez play up front and he never seemed to worry about his first touch when it was knocked up to him. His self belief and assured touch afforded him the luxury of thinking about what he was going to do WHEN he had taken the ball under his spell.
Lukaku would fail to control it most of the time."He's no Luis Suarez" I would think... and he isn't.
I cant stop thinking about that fifth goal on Saturday, possibly because I was more or less in line with Lukaku when the ball was played to him. Would Suarez have had the pace and the power to destroy those two Bournemouth center backs? No fucking chance, neither would Messi, Aguero, or Costa, or Ronaldo. It was spine tingling to watch him give them a yard start and power through the middle of them.
I hate stats. They will never convince me that Lukaku doesn't stay in bed some games, nor that he has an assured first touch, but if I'm right in thinking he is probably the only player on the planet who would have scored that goal, then we must have a unique talent.
It probably time to stop arguing if he has a good first touch, or if he works hard enough. or if the stats prove he brushes his teeth more than any other player. We know what he can't do, It's time we all recognised what he CAN do.
Never thought I would say this, but I want him to stay. Defenders everywhere would have watched last Saturday and they'll be shitting bricks.
Peter Morris
17
Posted 09/02/2017 at 19:11:36
Everton will have greater control of its own destiny, and that includes recruiting and retaining better players, if we as a club can demonstrate we are making tangible progress off and on the pitch: new stadium, and a better competitive horizon versus the 'moneyed' clubs.
Lukaku can basically earn what he wants, either with us or elsewhere. What will ultimately drive his ambition is the prospect of regularly competing for trophies. If he believes he can do that with Everton, I believe he will sign up. If he doesn't, he'll be off.
Stan Schofield
18
Posted 09/02/2017 at 19:25:28
Alan @15: Seriously? Football is an industry where a contract absolutely means a lot for both parties. Not many industries where a contract can tie an employer down to paying you, in exchange for you being constrained as to where and when you can end the relationship.
Paul Mackie
19
Posted 09/02/2017 at 19:30:26
Bloody hell, Alan (15), did someone piss on your cornflakes this morning or something??
I've said loads of times that I really hope he signs, but I think a bigger thing to take from this story is how much clout Koeman has with the players. A lot of the squad are showing a marked improvement since his arrival, and not just back to pre-Martinez levels, actual improvements!
I wasn't sold on us signing him as manager at first (I think 'Moyes 2.0' was my view at the time...), but I'm starting to believe in 'the project' and those in charge of it!
Lewis Barclay
20
Posted 09/02/2017 at 19:50:00
Other than Rooney I can't think of a single player to leave Everton in the last ten years that has gone on to better things. Including Fellani and Stones (so far).
The club has to demonstrate that we're serious about winning the Premier League and getting into the Champions League, without actually doing it, to keep or purchase the players that will make it happen.
I think Barkley and Lukaku make an excellent partnership (of sorts) when they're at their best and surrounding them with good players could just win us a few trophies.
Now; Kenwright, Walsh, Koeman, Elstone and Moshiri.... it's up to you!
Alan McGuffog
21
Posted 09/02/2017 at 19:52:00
Chaps, don't get me wrong. I'd love the fella to stay for years to come for me our best striker since the great years of the '80s. I love the fact that his all round game is improving all the time. However history dictates that contracts are routinely signed and routinely torn up .provided all parties are in accord that is.
The club is doing exactly the right thing and I applaud them for it. He either stays and becomes a player we can build a successful side around OR we place ourselves in a position were we can get top dollar for him.
My vitamin enriched breakfast flakes remain urine-free, I promise
Brent Stephens
22
Posted 09/02/2017 at 19:59:18
Alan "contracts are routinely signed and routinely torn up provided all parties are in accord that is". So contracts are worth the paper they're written on?
Stan Schofield
23
Posted 09/02/2017 at 20:02:38
Alan, yes, that's exactly the point, a contract is ended if and only if BOTH parties agree to that. In this case, a contract would be worded to be in the 'optimum' interests of both Everton and Lukaku. If they fell out with each other, they might end the relationship. But that doesn't look on the cards. All parties gain.
Alan McGuffog
24
Posted 09/02/2017 at 20:08:23
Mm.... excellent point, Brent. I doff my 1985 Everton / Celtic bobble to your logic.
I accept that I am in the minority here. So, he signs a contract for say three years and sees that through to it's conclusion. I'm well happy with that.
David Chait
25
Posted 09/02/2017 at 20:15:37
Lewis (#20)... I would argue both Lescott and Arteta went on to better things purely by picking up a medal and increasing wages. Neither of them moved as youngsters.
Sure they weren't stars like they were at Everton but that is owing to having a star in every position virtually.
Brent Stephens
26
Posted 09/02/2017 at 20:17:36
Alan, treat yourself to a new bobble, mate!
Colin Gee
27
Posted 09/02/2017 at 20:17:59
Alan, part of me agrees with you, all a new contract means these days is a pay rise for the player and that the club can sell them for a few quid more if they decide they want to leave.
Another part of me thinks that Rom wants to stay and see what he can achieve at Everton over the next four or five years.
Personally I hope it's the second one.
John Daley
28
Posted 09/02/2017 at 20:19:30
"If Rom stays, it will only be because he believes in the "project". It won't be for trophies won with Everton and it certainly won't be for money."
What evidence is there to suggest money won't play a major part in any decision reached? If Everton were to offer Lukaku a brand new contract without the obligatory pay rise... say a further four years on the exact same terms as his current deal... do you really think Moshiri would be left facing the problem of whether to stitch his original limb back on or lob it in a wheelie bin and splash out for a bionic Winter Soldier number instead?
Is Rom's agent going to be on the phone giving it his best Jerry Muguire: "Forget money. I spit on money. Ptttt. Ptt. Pttt. Spurs offered to double his wages but I say to them I say 'you disgust me and your project, it is shit'. Pay him in candy tabs and Pop Tarts for all we care. It's the project that counts. SELL ME THE PROJECT!"?
Nah, far more likely that, when discussions about a new deal for his client crank back up again, he'll be baring his teeth, licking his lips and saying something along the lines of:
Gaute Lie
29
Posted 09/02/2017 at 20:36:17
How much does he earn now?
Anyway, give him what he deserves. Which is a LOT. Or make sure he's given extra for x goals, like a bonus system.
Hope he wont ever leave us. But if he would his value should be £80 mill, or even more. Enough to pay him a ridiculous high salary 'til then.
Given his age and scoring merits I don't see anyone in the Premier League worth more than Lukaku.
Frank Crewe
30
Posted 09/02/2017 at 20:40:51
Maybe the money in football has made us all a bit cynical. We appear to think any player will leave if a big enough cheque is waved under our and their noses.
It is not unknown for exceptional players to stay at one club for all their careers that were never going to be amongst the elite. Steve Bull at Wolves and Matt Le Tissier at Southampton spring to mind. But sometimes staying at a club is about the more intangible reasons than just money and medals. Maybe just sometimes a player is just happy at the club they are playing for.
I'm sure Rom has friends here and has well settled in. Everton are by any measure plainly on the up. We have a top manager. Better players are being brought in and a new ground is in the offing. The new contract will leave him the best paid player at the club and at well over 𧴜,000 a week it is hardly to be sniffed at. On top of this he has hit his best form and is scoring for fun. A squad is being built around him and the manager thinks he's the bee's knees and frequently says so.
He's almost at the stage of an Everton icon. A talismanic player. If he carries on as he is one day he will be up there with Dean, Young, Kendall, Ball, and the other greats who are now immortal. For as long as there is an Everton those players never die. They live on in our collective memories.
That's what it's really all about. Lukaku and also I think Koeman are being handed a once in a lifetime opportunity to put Everton back amongst the elite clubs of English and world football. If they are successful in this endeavour then maybe one day there will be a statue of Rom outside our magnificent riverside stadium and our descendants will be sitting in the Ronald Koeman stand cheering on new heroes.
Isn't that an opportunity worth staying for? Man I wish it was me.
Paul Baxter
31
Posted 09/02/2017 at 20:48:17
Alan@15 is 100% right about contracts. If he signed a new contract tomorrow and then in December decided he no longer wanted to play for us, what are we going to do? Let him rot in the reserves for the following four years or sell him for 㿞m plus?
Payet signed a five year contract last year, WHU said they would never sell but we all knew they would for the right price.
Stan Schofield
32
Posted 09/02/2017 at 21:08:28
Frank, well said. I recall what Alex Young and Alan Ball said about playing for Everton, especially at Goodison. We're a very special club, and it's a great time for us, and perhaps (and hopefully) Lukaku feels that.
Phil Martin
33
Posted 09/02/2017 at 21:12:38
Remember when Rooney (5 years ago) was tapped up by City and he suddenly became unsettled at Man United's own "ambition"? A few days later his concerns were allayed by the production of a new contract worth 𧶀k a week. Funny that, ambition, money, in football – they are the same thing these days.
Back to the subject of Rom – if he signed a 4 year deal on 𧵎k a week with a 䀁M release clause, then we cannot lose. He is a tremendous goal scorer – but he'll never be as technically gifted as Messi, Ronaldo, Suarez, et al. That said keeping him around will send a signal that Everton are not rolling over for the Sky 4 vultures. Plus he'll likely bang a load in too.
Lewis Barclay
34
Posted 09/02/2017 at 23:15:04
Dave (#25) – fair argument. They both got Champion's League and won trophies.
All right, but apart from the sanitation, the medicine, education, wine, public order, irrigation, roads, a fresh water system, and public health, what have the Romans ever done for us?
Ian Riley
35
Posted 09/02/2017 at 23:32:42
𧴜k a week is not a great deal really. He must be getting a good signing-on bonus.
If 㿷 million plus comes in, he goes, new contract or not. Every player has a price.
If he stays for another two years, I will be happy. Let's enjoy having him here!
Stan Schofield
36
Posted 09/02/2017 at 23:37:46
Phil@33: That's quite an assertion, that ambition and money in football are the same thing these days. It's unlikely to be universally true, humans being humans and all that. We don't know where Lukaku's motivations lie, because we don't know the man.
It's possible he's a cold cynic interested only in cash. But it's also possible he's motivated by the kind of ideals intimated at by Frank (#30). Or some combination of both that only Lukaku knows. Or something different altogether. Who knows?
Albert Perkins
37
Posted 09/02/2017 at 23:55:30
I thought Rom's play at the weekend was great because he didn't need much of a first touch. He had close support and played one-twos. This is the way to use him, but we need to push up and have a strong midfield to hold off the breakaways.
Mark Andersson
38
Posted 09/02/2017 at 23:59:49
Rom, another Iconic blue... like Alan Ball? Hahaha! Rom plays for himself when he is in the mood. Ball & Young where team players and loved being at Everton.
Great if he stays, scores goals and helps Everton win some shiny stuff. Maybe his agent's phone never rang from one of the BIG clubs so he needs to make a few quid by getting his client a new and better deal with the Blues.
Rom's all-round game, as stated by Koeman, needs to improve. He needs to play well in every game whether he scores or not.
If Rom ever comes to love Everton like Ball & Young, only then will I celebrate any goals he scores.
James Flynn
39
Posted 09/02/2017 at 00:19:41
Fits right in with the fact that Lukaku has never asked to leave. Naturally, he gets a whopping pay rise. Leave out Messi and Ronaldo, then name 5 goal scorers like him in Europe.
Better yet, five 23-year old goal scorers like him?
We have the best there is and his agent Mr. "Everyone Look At ME!") states Rom is staying? The best statement of intent from Mr. Moshiri.
We need some defensive improvements. If we get them in? 2 years, tops 3, we challenge for the League.
James Flynn
40
Posted 09/02/2017 at 00:19:41
Fits right in with the fact that Lukaku has never asked to leave. Naturally, he gets a whopping pay rise. Leave out Messi and Ronaldo, then name 5 goal scorers like him in Europe.
Better yet, five 23-year-old goal scorers like him?
We have the best there is and his agent Mr "Everyone Look At ME!" – states Rom is staying? The best statement of intent from Mr Moshiri.
We need some defensive improvements. If we get them in? 2 years, tops 3, we challenge for the Premier League.
James Flynn
44
Posted 10/02/2017 at 02:33:03
Jim (42)
Oops.
No harm. I stand by all three. The kid has NEVER said he wants to leave.
Ian Randles
45
Posted 10/02/2017 at 07:06:11
Unfortunately for me there has been to much talk in the past from Lukaku and his agent/father to see any real future for him at our club. If he signs a new contract and stays for another 2 seasons scoring 20+ goals in each then great. There is no doubt he will leave for mega bucks in a couple of years.
In the meantime, I for one will enjoy his goals and hopefully he will help us to top four and we can push on beyond his time at the club.
At the moment, it's an exciting time for us and we have some quality young players coming through, we can show the rest of the Premier League that spending huge sums of money isn't necessarily the answer to success.
The next generation of Everton legends will be made of players who truly love the club and know what it means to us fans, Tom Davies will hopefully be the start of that.
I can see Moshiri's millions being spent on keeping hold of the future talent of Everton and not being splashed out on mega money signings that would abandon ship when the next big team comes knocking.
Dan Egerton
46
Posted 10/02/2017 at 07:15:13
And in two years Lookman (signed to us until 2021) will be 21 and probably play up front.
Paul Johnson
47
Posted 10/02/2017 at 08:42:52
Ian (#45), I beg to differ, Ross Barkley is the start.
Dan Egerton
48
Posted 10/02/2017 at 10:31:24
"Yes, but who is playing like a top four team? The top four? I don't think so.
"It's not like the first, second, third and fourth are playing like top teams.
"All of them, except Chelsea and Tottenham, have difficult times and it is not that the first four teams are all playing the best football at the moment. No.
"I have that feeling (we can shake them up) but it is always more difficult to show it than to talk about it."
Ronald Koeman. Looks like he agrees with Stan and I.
Phil Martin
49
Posted 10/02/2017 at 11:07:28
@Stan 33 – my point was/is that "ambition" is all too easily demonstrated by the waving of a cheque.
As for Lukaku, I'm sure he does want to be a great player. Though Raiola did say after Lukaku signed up to his agent services, "Had he been Lukaku's agent earlier - he would never have signed for a club like Everton."
No trophies have been won since – yet we now believe Lukaku will sign a deal in the summer. The difference between Everton then and now? Money.
Martin Nicholls
50
Posted 10/02/2017 at 11:45:36
I think that maybe we should take Raiola's comments with a pinch of salt. He may of course be being entirely truthful but would any of us on here attribute that quality to any football agent?
Raiola could equally be sending out a coded message to the vultures along the lines of "If you don't move for him now, my client will be signing a new contract with the kind of release clause that would make him very much more expensive to you in the future".
That however is the cynic in me – I desperately hope that Rom will commit his future to our Club as players of his quality are essential if we are to regain our place at the summit of the game.
Stan Schofield
51
Posted 10/02/2017 at 13:42:16
Phil @49: Yes, ambition is for many people all too easily demonstrated through the waving of a cheque, but it's all dependent on the individual. If money were the only factor for footballers, I'm sure a lot more might be off to China.
For all footballers, like most people, money is obviously important, but so are other factors, and the relative importance varies with the individual. We secured the services of Alex Young and Alan Ball through money (perhaps together with other things like our status then). Unlike me, they didn't dream of playing for Everton when they were kids. They loved playing for Everton, and that was a factor during their time here, in addition to the money.
I cannot see that Lukaku is any different in principle, and the various factors involved would have relative priorities according to his make-up as an individual. None of us know what those priorities are, although many folks are clearly prepared to presume.
The simple fact is, he does a job for us in return for agreed remuneration. In my opinion, he does a very good job, but the remuneration is of little or no interest to me, provided he helps us (and the longer the better) to achieve progress.
Rob Hooton
52
Posted 10/02/2017 at 13:56:37
Perhaps Sacha has 'had a word' with Raiola hence the dramatic turnaround in his utterings?
Or maybe even Rom! That would be a nice thought
Brian Williams
53
Posted 10/02/2017 at 14:13:31
Lukaku wants to play in the Champions League and win trophies. That's not a presumption that's what he's already said.
He may well really enjoy playing for Everton but from everything he's said it points towards the fact that he looks upon the club as his employer purely and simply.
We can't really expect any more, he's not from the area and has no historic link to the club, though we can hope he's in love with Everton. (Doubtful IMHO.)
What the club has to do to keep him is quite simple. Qualify for the Champions League and win trophies. If we don't do that in the near future, I think it's quite obvious that he could be offered 𧶀k a week and still want to leave.

Mark Rankin
54
Posted 10/02/2017 at 16:45:00
His middle name is Menamana apparently, reminded me of the muppet song.
Colin Glassar
55
Posted 11/02/2017 at 10:56:25
I hope BPB doesn't get bored with these negotiations.
Gordon Crawford
56
Posted 11/02/2017 at 11:42:02
In an interview, Rom says he will see what happens during the summer in regards to whether he stays or not. I still think he'll be gone.
Add Your Comments
In order to post a comment, you need to be logged in as a registered user of the site.
Or Sign up as a ToffeeWeb Member — it's free, takes just a few minutes and will allow you to post your comments on articles and Talking Points submissions across the site.