McGeady open to staying with Preston

49 Comments [Jump to last]
Monday 13 February 2017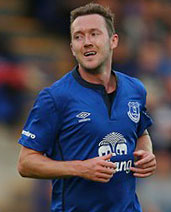 Aiden McGeady has admitted that he has no future at Everton despite having more than a year left on his contract.
The Ireland international is on loan at Preston North End for the season after Ronald Koeman informed him last summer that he wouldn't be part of his first-team picture and he has bagged three goals in 19 games for the Lancashire side.
That follows a less successful spell with Sheffield Wednesday last season in which he made 13 appearances prior to going to France with Ireland for Euro 2016.
Now 30, McGeady will return to the Toffees in May when his loan at Deepdale comes to an end but he knows he will need to find a new club for next season unless the Lilywhites make him an offer to continue on with them.
"I've still got another year at Everton but I think it is quite clear that I'm not part of the manager's plans there," McGeady told the Lancashire Evening Telegraph.
"I will see how it goes until the end of the season and see what happens in the summer. If it comes to it and Preston want to offer me something, I like it here."
McGeady hasn't featured at first-team level for Everton since the beginning of the 2015-16 season after falling down the midfield pecking order under ex-Blues boss Roberto Martinez.
In all he has 23 starts as an Everton player since joining from Spartak Moscow three years ago and made a further 20 appearances off the bench, his strike at Leicester on the opening day of the 2014-15 campaign being his only goal.
---
Reader Comments (49)
Note: the following content is not moderated or vetted by the site owners at the time of submission. Comments are the responsibility of the poster. Disclaimer
Roger Helm
1
Posted 13/02/2017 at 17:29:06
The Preston fans love him and want him to stay. They think he's one of the best players in the league. It seems he has found his level so let's hope the move can be made permanent as it would seem to suit everyone.
Brian Williams
2
Posted 13/02/2017 at 17:34:28
I would very much like to support Aiden in his desire to stay at Preston, very much, very very much!
Peter Laing
3
Posted 13/02/2017 at 17:37:56
Never any question about his ability and evidently a very technical and skillful player. However, seriously lacking in pace, guile and stamina with injury and fitness issues. Definitely found his level in the Championship as he did in the sub-par Scottish Premier league.
Rob Dolby
4
Posted 13/02/2017 at 17:53:05
I had high hopes for this lad. Two-footed, skillful, tricky winger. His lack of quality and low workrate let him down even Roberto dropped him as he wasn't in a phenomenal moment. Getting him off the wage bill is probably the best we can hope for.
Liam Reilly
5
Posted 13/02/2017 at 18:11:24
A true enigma is McGeady. I remember Messi praising him as gifted with a natural talent that would make him a success any where in Europe.
Any where but the Premier League apparently.
Len Hawkins
6
Posted 13/02/2017 at 18:28:48
Talking about Irish wingers that bird, at the RS has made a difference, what's her name Sadie O'Mane. I'll get my coat.
Phil Walling
7
Posted 13/02/2017 at 18:29:03
Soft lad signed some right duffers, didn't he?
Bill Gienapp
8
Posted 13/02/2017 at 18:48:16
Had his moments in an Everton shirt, but people rightfully got fed up with his inconsistency (and somewhat dubious work ethic). If he's happy at Preston and the club wants him back, sounds like a pretty good deal for everyone.
Paul Birmingham
9
Posted 13/02/2017 at 18:54:12
Based on the view of some Celtic lads I know and what he's done for us, it confirms he should never of been brought by Martinez.
Like Niasse, I think Martinez was watching some duff DVDs else his scouts were that bladdered, they went the wrong game and watched someone else... Or did they even go to Russia to watch him?
He was deluded as EFC boss and Aiden was a footballer with potential and he never worked hard enough to realise.
He may have now found his level but I still think PNE will be lucky to get more than two seasons out of him. Good luck to him in his journey, but he's off-ski in the summer.

Nathan Ford
10
Posted 13/02/2017 at 18:54:42
http://www.pne-online.net/forum/showthread.php?102067-Aiden-McGeady
Read some of the Preston fans take on Aiden – they love him!
Des Farren
11
Posted 13/02/2017 at 18:55:05
Love the magnanimity afforded by ToffeeWeb contributors to former managers/players of Everton FC. An example surely to all football people.
Mick Davies
12
Posted 13/02/2017 at 19:13:03
We've moved on too far for an inconsistent 30-year-old to be part of the first team squad. I wish him all the best, and moments like that precision pass to Kev at Fulham, the match winning last minute cross (v Cardiff?) and a few other few and far between moments won't be enough for him to be remembered too fondly by Evertonians.
And there is only one person to blame : Aiden himself – skilful and able to achieve bouts of brilliance, he let himself down with his lazy attitude and neglecting one major component of a successful footballer, ie, fitness. He does look to have lost a few pounds and is contributing to Preston's cause, but it's definitely too little too late, and it sounds like he knows it.
Jeff Armstrong
13
Posted 13/02/2017 at 19:32:35
Might even get a million or two off Preston if he continues to impress.
Len (#6), no mate... I'll get MY coat.
Kenny Smith
14
Posted 13/02/2017 at 19:35:56
I know he was a free transfer but we got ripped off!!
I can't think of anything constructive to say about his time with our great club. No effort, no quality and no chance of even turning out as an over age player for the U23s.
Release him!
Colin Glassar
15
Posted 13/02/2017 at 20:45:14
Aiden, I will supply you with a lifetimes worth of pies (of your choice) if you stay in sunny Preston and stay well away from Everton. Ta!
John Ronnie
16
Posted 13/02/2017 at 20:53:24
He's simply not good enough.
Douglas McClenaghan
17
Posted 13/02/2017 at 21:12:57
He's done the right thing by himself and the club so good on him.
Gordon Roberts
18
Posted 13/02/2017 at 21:17:02
Lazy. Petulant. Self centred. Good riddance, he most definitely isn't a Koeman type player. Bye bye Aiden
Jack Convery
19
Posted 13/02/2017 at 21:21:13
His EFC career is over - you don't say. Next thing we'll be getting told is N Korea are a dangerous state.
Thomas James
20
Posted 13/02/2017 at 22:24:57
For the life of me I cannot work out why Valeri Karpin (his manager at Spartak) disciplined him for not following team tactics. Lazy arse.
Loved his goal against Leicester, otherwise instantly forgettable. Best thing he did for us was make Lennon look like a workhorse!
Jack Farrell
21
Posted 13/02/2017 at 22:43:32
It's probably his level in fairness, that or the Scottish premier.
Tom Bowers
22
Posted 13/02/2017 at 23:05:08
The lad has talent but agree he is not consistent enough for Premier League action. No future at Everton for sure but will do a good job in the lower leagues and at his age will be better off as less will be expected of him.
These days, wide players have to show the ability to display some defensive prowess and he, much like Deulofeu didn't show much in that department to make up for the inconsistency on offence.
I hear the Yak is back and with Coventry. How old is he now... 45, 50?
Tony Ateman
23
Posted 13/02/2017 at 23:32:30
At the moment Everton are subsidising his wages. I think his contract has another year to run after this season ends. PNE can't afford his wages so we may have to take repsonsibility for him for a further season.

Drew O'Neall
24
Posted 13/02/2017 at 23:38:45
Could he be used as a makeweight for Dembele with Celtic?
Mick Davies
25
Posted 13/02/2017 at 00:01:29
Tom @ 22, surprisingly he's only 34, and another surprise is, he hasn't reached 100 Premier League goals!!!
Julian Wait
26
Posted 14/02/2017 at 00:04:58
It's hard to believe he still has another year on his contract. I can't believe we gave him a 4½-year contract.
Karl Masters
27
Posted 14/02/2017 at 06:33:17
I wonder how much we have paid him in wages, bearing in mind we will have probably been paying some of them even when he's been on loan?
Let's take a fairly conservative 㿔k a week as an average, over 4½ years – that's about ٧m and all we got was one goal and that stupid sending off at West Ham in the Cup when we lost on penalties.
Bad business! Very bad business.
Tony Draper
28
Posted 14/02/2017 at 08:01:10
Aiden, go and be happy, make your fans and manager happy.
Life is a one-way journey. You have far more football talent than I ever had. I played 5/6/7 aside into my mid-40s and still regret stopping. I'm 59 and desperately miss my weekly matches.
Go and enjoy your talent lad. If that means dropping down a division then just get on with it. Your wife and kids and the dogs will still love you. Proud Preston is a magnificent club with an imperious history.
Go Aiden. Go and be happy. Make Preston Proud. Best wishes.
Ernie Baywood
29
Posted 14/02/2017 at 09:06:46
Kenny (#14), I thought we threw a couple of million at his Russian team so that we could get him early. Then watched in awe as he was presented at half time. Light coloured kecks aren't flattering if you're carrying a bit of extra timber.
I still think there's a player in there. Sometimes you can pretty safely say a player couldn't play at this level, but I think Aiden could have done in a system that suited him.
Anyway, best all round that he moves on. No hard feelings. Just didn't work out whatsoever... we've certainly signed worse.
Geoff Lambert
30
Posted 14/02/2017 at 10:20:24
Nathan 10 I think they like him:
"Best player I have ever seen at NE" – Wow!
Terry Underwood
31
Posted 14/02/2017 at 10:21:12
He does seem to be doing OK at Preston, scoring he odd goal here and there. If that's where his future lies, I wish him well.
Dermot Byrne
32
Posted 14/02/2017 at 10:53:35
"...A true enigma is McGeady. I remember Messi praising him as gifted with a natural talent that would make him a success any where in Europe "
That was written by Messi the same day as his tax return!
Brian Furey
33
Posted 14/02/2017 at 12:13:07
I see Deulofeu played the full 90 mins again last night in their 1-1 draw away to Lazio. It doesn't sound he did as well as in his previous games with him only getting 2.5 stars out of 5 in their rating.
According to some of their fan forums they seem to like him and want to sign him with their new mega rich Chinese owners take over in the summer. They also have Lukaku as their main target. AC Milan Forum
I also read something that Barca are watching the situation carefully and might try to sign Geri back as they still have first refusal but they can't sell him on then for a year.
Alan J Thompson
34
Posted 14/02/2017 at 12:30:32
So long as they don't want Browning thrown in as well.
Raymond Fox
35
Posted 14/02/2017 at 13:01:08
Plenty can't wait to slag managers and players off at every opportunity.
Make you feel better does it?
Peter Cummings
36
Posted 14/02/2017 at 14:14:46
Paul (#9),
I agree that McGeady won't be missed but, having watched Niasse a couple of times since his move, I feel he could be an asset to us given time to adjust to the Premier League.
His work rate is excellent and he can, unlike Lukaku, head and trap the ball under pressure and can cause real problems for hard case defenders with his strength and running... just saying.
Gareth Clark
37
Posted 14/02/2017 at 14:56:40
Peter #36
I agree about Niasse!
I think he is a lot better than what we have, plus he offers something different.
I don't know if Koeman will have him back though...
Personally I'd love to get Perez from Arsenal, as it looks like he's not been given a chance...
If we can't get Perez, I think Iheanacho would be a perfect option to challenge Lukaku. He isn't even making City's bench anymore, worth a cheeky bid?
In the summer window:
Schmeichel/Pickford
Keane
Bertrand
Sigurdsson
Perez/Iheanacho
Mike Berry
38
Posted 14/02/2017 at 15:00:07
Good luck in his future career, hopefully we can get some type of fee for him. We and him move on.
Shane Corcoran
39
Posted 14/02/2017 at 15:48:16
He scored two beauties on Saturday and set up another. He also played well against Arsenal in the Cup.
I'm glad he's doing well with the internationals coming up He's not consistently good enough for the top half of the Premier League which is fair enough.
I never got the dislike of him, but there you go.
David Hallwood
40
Posted 14/02/2017 at 15:59:54
I remember the first time is saw McGeady in a blue shirt. We were playing Norwich just after Christmas. I was sitting in the main stand but it was obvious he was horribly overweight, it looked like he'd had a good Christmas because his torso was squeezed into the shirt.
Even accounting for the fact that he'd been effectively sacked from the first team the fact he hadn't kept himself in shape alarmed me and we commented that it would all end up in tears.
You can have all the skill in the world but if it isn't aligned to commitment and dedication and desire, you'll only be, in Gordon Lee's immortal phrase 'a tanner ball player'. And sadly that's what McGeady is.
That being said, I wish him all the luck in the world now he's finally found his level.
Jim Burns
41
Posted 14/02/2017 at 16:12:45
Tony @ 28 – well said, lad. A genuine footballer's perspective.
Michael Kenrick
42
Posted 14/02/2017 at 16:33:24
David, "a tanner ball player"? – I had to look that one up.
Lots of skill and ability, but not much else. Seems the perfect description of him. I was never impressed, and recall wondering why we had bought him.
The term may be Scottish in origin? Which is appropriate in this case. Also diminutive? Perhaps that part is not required...
You had me thinking Lee had Scotts blood there for a moment.
Soren Moyer
43
Posted 14/02/2017 at 18:22:49
"McGeady open to staying with Preston."
So are we!
Mike Green
44
Posted 14/02/2017 at 18:24:36
Is that Preston out of "The Ordinary Boys" Soren?
Soren Moyer
45
Posted 14/02/2017 at 18:57:13
He he, you can bet your house on it!
Joe O'Brien
46
Posted 14/02/2017 at 00:09:10
He's found his level for sure as others have stated, but Christ, the slating he's getting. It's not his fault that he wasn't up to playing at this level.
We bought him, he didn't force us to buy him and he didn't force us to give him a 4½-year contract. Best wishes in your future career, Aiden, it didn't work out – Everton thought and you thought it would, but it didn't.
Peter Morris
47
Posted 15/02/2017 at 17:22:51
He's going to make sure he draws the rest of his contractual wages from us, i.e for another 12 months, then he'll find a new club. I don't necessarily blame him for that, but I think we should try to cut a deal with him to settle now, for 6 months pay + a bit maybe, so that he can negotiate a new contract with Preston or whoever now whilst his stock is high at the level he's at. There's no fee in it, so a clean break is better for all parties.
Kevin Dyer
48
Posted 16/02/2017 at 11:08:30
Never played successfully in a top league. He was probably worth a punt at the time we got him but not on the wages we offered, as failure makes it difficult (impossible, actually) to move him out. Decent pace and skills which make him an asset at a lower playing level but poor decision making and positional sense which was badly exposed when he stepped up and not something that was going to improve at his age.
No way we'll sell him. The clubs (like Preston) who want him can't come close to offering his existing salary (rumoured to be in the region of £50k pw), only possibility is the player accepting less with the carrot of a longer contract, as he is now 30. Can't see it though. I think he'll see out his current deal on loan next season and take his chances as a free agent.
It's frustrating but not the player's fault. We were daft enough to pay big wages to a fella that was always an outside shot at making it in the EPL, likely due to Martinez having a liking for the player.
Keith Crawford
49
Posted 16/02/2017 at 21:14:56
Good to see McGeady doing so well at PNE, I wish him all the best for the three other games this season that he's going to be any good in. Oh and I'm glad his dogs love him. (No I've not been in the Weatherspoon's breakfast club.)
Add Your Comments
In order to post a comment, you need to be logged in as a registered user of the site.
Or Sign up as a ToffeeWeb Member — it's free, takes just a few minutes and will allow you to post your comments on articles and Talking Points submissions across the site.