Everton U23s 2 - 0 Southampton U23s
Monday 20 February 2017

65 Comments [Jump to last]
Young Blues 6 points clear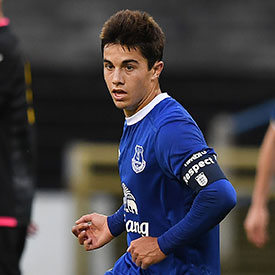 Liam Walsh opened the scoring after just three minutes
Goals from Liam Walsh and a cracker from Kieran Dowell handed the U23s a 2-0 win that restores their six-point lead at the top of Premier League 2.
The Blues' second string were riding high at the top of the table coming into the game after great victories over Manchester United and Arsenal in the last two league games.
David Unsworth's men got off to a great start when Liam Walsh slotted home on a neatly worked move with Kieran Dowell playing him in and the young midfielder making no mistake after just three minutes.
Everton continued to play some very attractive football and created a number of chances but the second goal just would not come.
Half-time: 1 - 0
Substitutions on the hour mark included Bassala Sambou for Courtney Duffus, with David Henen replacing Joe Williams. Everton continued to dominate proceedings, playing a really attractive passing game and putting together some great moves into The Saints area but were still unable to add to the scoreline.
Kieran Dowell finally secured the win inside the last 10 minutes with a lovely strike that puts Everton U23s 6 points clear at the top of Premier League 2.
The match at Goodison Park was watched by a bumper crowd of 5,500 fans, including first-team manager Ronald Koeman and his assistant Erwin, and was notable also for the return to action of Williams after a four-month injury lay-off.
Everton U23s: Hewelt, Kenny (c), Robinson, Feeney, Pennington, Baningime, Walsh, Dowell, Williams (61' Henen), Charsley. C Duffus (61' Sambou).
Subs: Hunt, Foulds, Broadhead.
---
Reader Comments (65)
Note: the following content is not moderated or vetted by the site owners at the time of submission. Comments are the responsibility of the poster. Disclaimer
Frank Wade
1
Posted 20/02/2017 at 19:07:46
Stream working fine for me. Liam Walsh scored on 3 mins while I was on my way to PC with my cuppa. The £3.99 doesn't include replays unfortunately. Glad it goes to a good cause.
Steve Woods
2
Posted 20/02/2017 at 19:10:08
Thanks for letting me know, Frank, no idea why my 'club' stream isn't...
Frank Wade
3
Posted 20/02/2017 at 19:16:36
Our lads are playing great stuff. Early goal by Liam Walsh. Could have had a few since as well. Game started at 7.
Frank Wade
4
Posted 20/02/2017 at 19:24:15
Steve, I was presented with a screen with a big arrow on it after payment was cleared. Just clicked on that and away it went. I am afraid to move from this link now. Have you logged into Evertontv?
Steve Woods
5
Posted 20/02/2017 at 19:34:33
Hi Frank,
Yes, done all that and just get the 'waiting wheel'... Rather pissed off to be honest. I was really looking forward to the game.

Jon Withey
6
Posted 20/02/2017 at 19:39:03
Managed to get through, missed the first half, oops.
Jon Withey
7
Posted 20/02/2017 at 19:42:44
We look much the better side.
Dick Fearon
8
Posted 20/02/2017 at 19:45:01
After several much earlier failed attempts at registering with EFCTV my latest entry also failed.
Why do I get instant free access to MUFCTV, LFCTV and CFCTV but not ours?
Dick Fearon
9
Posted 20/02/2017 at 19:49:19
I do not begrudge payment – it's just not encouraging to do so when the service is and has been very poor.
Jon Withey
10
Posted 20/02/2017 at 19:49:36
Shame the tech is letting it down, good idea to raise money this way.
Michael Kenrick
11
Posted 20/02/2017 at 20:04:57
Service has been excellent for me. Paid my £3.99, straight to the match page, video live, excellent quality. Well done, Everton!
Jon Withey
12
Posted 20/02/2017 at 20:08:32
Working okay for me.
Frank Wade
13
Posted 20/02/2017 at 20:09:53
Same for me, Michael. I used to have problems using Firefox with the pre-season streams, would only work on Internet Explorer.
Working okay on Firefox tonight, but maybe not on other browsers. I also have the Adobe Flash Player installed, maybe that's needed as well.
Jon Withey
14
Posted 20/02/2017 at 20:25:18
Was working okay on Chrome but spinning now.
Steve Woods
15
Posted 20/02/2017 at 20:26:57
I've given up on trying to get it, maybe being a MAC and Safari user was the problem.
Jon Withey
16
Posted 20/02/2017 at 20:30:09
Now working on Firefox..
Michael Kenrick
17
Posted 20/02/2017 at 20:30:32
If it does lock up and start spinning, close the window and reload the page.
Jon Withey
18
Posted 20/02/2017 at 20:38:47
Great goal from Dowell, cross from Henen.
Frank Wade
19
Posted 20/02/2017 at 20:39:39
Cracking strike by Kieran Dowell from edge of the box, preceded by a brilliant dummy by Liam Walsh. These lads can certainly play.
Karl Jones
20
Posted 20/02/2017 at 20:40:50
At this level, what a player Kieran Dowell is. Reminds me of Kevin Sheedy.
Jon Withey
21
Posted 20/02/2017 at 20:47:09
Liam Walsh was MotM – to be fair, Dowell has been good.
Frank Wade
22
Posted 20/02/2017 at 20:48:32
Snods gives Liam Walsh the MotM. I have been very impressed by Beni Baningime in midfield winning and keeping the ball moving. Brilliant stuff by Dowell and Kenny down the right nearly creates a third.
Frank Wade
23
Posted 20/02/2017 at 20:53:50
Great display. I'd willingly pay to watch these lads play every game. Very enjoyable. I hope there will be more opportunities like this organised by EitC.
Jon Withey
24
Posted 20/02/2017 at 20:53:59
Look good the U23s, very encouraging.
Tony Hill
25
Posted 20/02/2017 at 20:56:16
I'd love to see Dowell make it in the first team. He must keep his confidence and harden his game.
Paul Thompson
26
Posted 20/02/2017 at 20:57:57
Some very good football played there. Plenty of movement and quick passing. Only let down some poor crossing from the flanks. Have to agree with Walsh as MotM – such a clever player.
So, mind you is Dowell, but he does drift in and out of the game a little. Baningime played the Gueye role to perfection. Centre backs very solid, though Saints didn't offer much going forward.
Peter Laing
27
Posted 20/02/2017 at 20:58:42
Didn't catch the game but Unsworth continues to prove his worth and deliver. The watching on Koeman and his staff will have certainly been given food for thought on a couple more prospects potentially making the step up to the 1st team squad.
David Chait
28
Posted 20/02/2017 at 21:03:16
Awesome result! Got to be honest and say I'm far more intrigued by the U23s results than the first team... got something to play for!
Mike Oates
29
Posted 20/02/2017 at 21:08:32
Great performance, ones to watch in future, particularly under Koeman's time will be, Baningime (an Idrissa in the making), Feeney, maybe Robinson and Williams, all tough, competitive and full of energy.
Just got sneaky feeling that Walsh is just too small, and Dowell lightweight and just doesn't do enough to get the ball back, even though both are really skillful players, and Dowell's left peg is Sheedy standard.
Andy Meighan
30
Posted 20/02/2017 at 21:35:38
Mike (#29). No-one's got a left peg like Sheeds, believe me.
Steavey Buckley
31
Posted 20/02/2017 at 21:56:17
Bobby Collins was small, but what a player, who helped drag Leeds out of the old Division 2 (now the Championship) in the mid-1960s and established Leeds as a formidable team in the old 1st Division (now Premier League).
Phill Thompson
32
Posted 20/02/2017 at 21:56:49
Great result tonight, good all round team performance with few weaknesses. I think Unsy will look to purchase a young No 9 in the summer for next season.
Despite what the two commentators kept saying our lead is now back to 6 points, 5 games to go; Man City won on Saturday.
Mike Powell
33
Posted 20/02/2017 at 21:58:00
I went the game; even though we won, none of them players are good enough for the first team.

Only one player stood out, that was Baningime, the rest are all average.
Paul Birmingham
34
Posted 20/02/2017 at 22:01:38
These lads have heart and spirit, and there's a few who can and will do the job, whether for EFC or elsewhere but the tempo and Elan, is a great boost for the future of EFC.
All shapes and sizes and some really good potential. KD, I think it's stick or twist now, and he must strike for what's best for him and Walsh, Baningime, Pennington, will get a club. I hope it's here, as they work their socks off.
My view only, but this brings a good boost and spring in the scale of life, this is Everton, and a massive boost, and I hope these are the genuine green shoots for our club, on the up.
Man City next, and wouldn't it be nice to beat them away? Now for Sunderland!
Charlie Lloyd
35
Posted 20/02/2017 at 22:17:56
According to the official Premier League site, we are only 6 points clear. It has updated since the result tonight but Man City won their latest match so the gap is still the same.
That's not to detract from another great performance and a step closer to hopefully winning the league. Just keeping us all informed.
Excellent work from Unsworth and all the coaches within the academy.
Terry Farrell
36
Posted 20/02/2017 at 22:20:49
Walsh may be small but he is aggressive and has guile. Maybe going a bit OTT but he reminds me of Arteta when he used to play centre midfield.

I was impressed with all of the team and Robinson and Kenny are both useful fullbacks with good engines. Dowell was good but lethargic at times.

Feeney and Pennington are tough lads and we played some lovely stuff.
Martin Nicholls
37
Posted 20/02/2017 at 22:26:06
Just back from game – big well done to our Club for what they did tonight. Would love to see them stage more U23 games at Goodison Park as playing in front of decent crowds can only help these lads – this was first time I've seen them and would definitely go again. No moaning from crowd was so refreshing.
Agree most of Michael's report and the related comments -– from my perspective, I thought Robinson did particularly well. Baningime gave the ball away a bit early on but like others, grew into the game. When Henen came on, he took a little while to adjust but when he did, he looked very strong running with the ball at his feet. Well done EFC, well done EFC U23s!
Mike McLoughlin
38
Posted 20/02/2017 at 23:10:57
Went to the game tonight and was greeted with a performance of Barca / Real-esque. Some really smooth and quick passing was a real treat to watch. Liam Walsh find shed of one of these moves with a very good goal putting the blues ahead 1-0. Following the goal, the blues sat back a little although some quick moves saw Charsley slice an excellent chance. TBH, the best way I can report on the game is to give you my assessment of the our potential first teamers:
Mateusz Hewlett (GK) – what can I say? He distributed the ball well but was never tested at all.
Jonjoe Kenny (RB) – what a fabulous prospect. His lad is so assured both in defence and attack. I would say a natural successor to Seamus; I think he will be a class act. My mate Slogger said he's the guy.
Antonee Robinson (LB) – very impressed with this lad tonight. Involved in a lot of play down the left. Linked up well with the midfield and a very assured performance. He was one of the contenders for the MotM
Matthew Pennington (CB) – I know there is a massive gulf between the first team and the Under-23 team... but I tell you this: this lad never put a foot wrong. He would be in the first team for me.
Morgan Feeney (CB) – again, like I said, I don't say I'm an expert assessor or that I know anything about what it takes to be a Premier League CB, but this lad is very confident, skillful, reads a game very well and has pace. Only a young kid but one for the future.
Beni Baningime (No 4) – very impressive, very skillful, and that old word again, assured. He was fabulous tonight, at the centre of everything. It will be interesting to see how he develops and another contender for my MotM.
Liam Walsh (MF) – I can see how everyone is saying he is the guy in the Under-23 team. Always on the ball. Some great passing and the center of many of the moves in the first half. But seemed a little too confident and lost a lot of important balls.
Joe Williams (No 10) – I like this boy, very busy and like all the others, very skillful and assured. But he has something in his attitude which I like. Another I would like to see more of.
Kieran Dowell (F) – no need to introduce him, because he has been on the stage at Goodison and definitely has such skill it blows your mind. If this boy had the heart of Williams, world beater would be the only name I could call him. But unfortunately he hasn't. He had a good game but so many times in the game just stopped running and wasn't where he should have been. I do hope someone works with him because he has oodles to offer.
Harry Charsley (No 11) – I like this boy, saw him the other week against Man Utd and he shone, and he did the same tonight. I would love to see where he ends up playing. He had a great game despite slicing a golden opportunity; another to watch.
Mike McLoughlin
39
Posted 20/02/2017 at 23:19:14
Courtney Duffus (No 9) – This lad has strength, pace, tenacity and an eye for goal. But I can't help to think there is something missing. I hope I'm wrong because he has loads of heart and I would like to see more of him.
David Helen – made a difference when he came on. Livened up the game and was involved in a lot of good play. Has something, but not sure what.
Bassala Sambou – very busy but gave loads of ball away, needs to calm down to let his skill shine through.
Dave Abrahams
40
Posted 21/02/2017 at 00:24:09
Thanks for all the reports, I usually go to these games but not on a Monday, that's my drinking night.
Made up with the relatively big crowd, it will help the players to play with some atmosphere coming from the stands.
An important win which hopefully will help to get them to winning their league. Hope to get to see them again before the end of the season.
Peter Gorman
41
Posted 21/02/2017 at 01:43:47
Shame on you, Dave, nothing to stop you drinking at the match. Just remember your Footy Echo.
Mark Andersson
42
Posted 21/02/2017 at 02:02:12
Thanks for all the great reports. I watched Unsy and Snods on Everton TV; the future looks bright if even only a handful of these kids make it into the first team squad.
Any one know how much money was raised?
Michael Kenrick
43
Posted 21/02/2017 at 05:25:17
I am shocked, Dave, that you spurned a great opportunity to support these youngsters (and their admirable charity drive) in order to knock back a few. I thought you were a passionate and devoted follower of our younger talent!
But seriously, I do have some names for you that you might be able to shed some light on:
Sam Byrne – returned from a long, long layoff a couple of weeks ago... hopefully no reaction?
Jamie Yates – Returned from loan at Crewe and was listed as a sub for one U23 game vs Man Utd... is he still around?
Michael Donohue – On the bench just a couple of times but no appearances.
Jack Bainbridge – Played in a few cup games but not a single PL2 game this season... Odd.
Josef Yarney – Same as Bainbridge... but he was also an unused sub for a string of PL2 games.
Tyronne Duffus – Still on our books, apparently, but not a single appearance this season while his brother is getting plenty of games?
Last night was such a success (you apart, Dave!) – let's start a campaign to have the last Premier League 2 game of the season played at Goodison Park. Monday 8th May. I know... you'll be drinking, but it could be quite the occasion for these lads. And they're only playing that lot from across the park.
.
Liam Reilly
44
Posted 21/02/2017 at 08:15:28
If it works once it'll work again.
Last game should be at Goodison, going for a trophy against them lot and streamed live could make a few quid for charity too.
Dave Abrahams
45
Posted 21/02/2017 at 09:04:19
Michael (43) yes I really am sorry to miss these games as I always look forward to them, but as an old codger it's important to keep the gang together and four of us went to the same school more than sixty five years ago, The Friary.
Anyway back to your question, it looks like most, if not all of these lads have not made the improvement necessary to keep them at Goodison. Sam Byrne has had a long time injury and he has only just come back, Michael Donohue looked very, very good – dangerous, fast with a few goals and assists in his game, so it is disappointing if he hasn't progressed.
It is a cut-throat game getting on in football and skill on its own is never enough, you have to work hard every day of your football life to get on.
That is why us fans should appreciate how tough it is and give the youngsters every encouragement to urge them on, although I believe constructive criticism doesn't do them any harm.
I'm sure that most of the fans who went last night would have enjoyed the game and will want to go again, I would be one of the first there: but not on a Monday night.
Phill Thompson
46
Posted 21/02/2017 at 10:31:53
Michael, I'd have to agree with Dave's assessment, few of these will be with us next season. The reality is that the likes of Yates and Donohue have only shown promise at u18 level, the competition for the U23s had been fierce this season.
Donohue looked at times last season to be a better player than Holland for the U18s, which is ironic as Holland is now making a name for himself for WHU U23s. But when you think that two of the stars of last season's U18, Holland and Delial Brewster, haven't featured, and Nathan Broadhead only occasionally, it shows how tough it is.
Yates has slipped a lot since he played for England U17s alongside Davies and Holland, and the fact that Charsley was played at right back for that Cup match against Norwich says it all.
Paul Thompson
47
Posted 21/02/2017 at 10:36:31
Mike Powell (#33) – 'none of them players are good enough for the first team'. Very negative compared to most who saw the game (including me).
I wouldn't go as far as the optimism of some posters, but I would say this – experience at Everton and other clubs indicates that you can't always tell whether a lad can make the step up. Players that don't always look the best at junior level can flourish at senior.
The coaches aren't daft – they see the lads and an interesting sign is who they have training with the first team (includes Pennington, Kenny and Donkor). But to show what you can do, you ultimately have to get a game and that's really tough these days.
Did anyone really think that Davies would be that good, that quick? I'd like to see Walsh, Pennington and maybe the full backs Kenny and Robinson get a few games (or at least come on) before the season ends.
Peter Gorman
48
Posted 21/02/2017 at 12:09:30
To answer your question, Paul, nobody thought Davies would be that good that quick. A few of us thought he would be worth blooding sooner than later in order for him to realise his potential but I'm pretty sure nobody foresaw him playing Yaya Toure off the park.
As for the names Michael mentions, my understanding is that they are all players 18 or 19 years of age so they should be featuring more for the U18s given that we have a few older lads pushing for the first team ahead of them.
There are exceptions like Beni Baningime (if he is anything like Gana Gueye, he should be cracking) but most of those kids are vying for the same spot as the likes of Kenny, Dowell and Charlsey. Sam Byrne is the exception, he is older and no longer looking like a prospect for the first team.
Gary Russell
49
Posted 21/02/2017 at 12:48:01
@ 46 Sensible words, Paul. I always half-scowl when people talk of Dier and Mustafi, plus the others that 'slipped' out of our hands. If only everything was black and white.
Like anything in life, circumstance, age, dynamics and right/wrong place at the wrong/right time, it's kind of a lottery. In the modern, cutthroat world of big business that is football, it is many shades of grey.
Clive Rogers
50
Posted 21/02/2017 at 12:57:02
Went to the game last night, my first look at U23's. My impression was that there is a massive gulf to the Premier League.
Our back four and midfield were vastly superior to Saints. So much so that it was difficult to assess our two centre-backs as they were under no real pressure, but looked very confident, pacy and good with the ball. Both fullbacks overlapped well.
Walsh, Dowell and Baningime dominated midfield with Dowell standing out creatively. He seemed the outstanding prospect. Up front, we were fairly weak, hence the threat and goals coming from midfield. Dowell was moved forward mid second half and got a superb goal. He is the one to watch, but is a laid-back luxury style of player.
Jay Wood
51
Posted 21/02/2017 at 13:35:53
Seeing the result and reading this thread it would appear that Koeman in his time as manager at Southampton had good reason to be critical of the Saints most recent batch of youngsters.
Once again in attendance at the match, it sounds as if a few of our lads could have caught his eye and given him further food for thought, both on transfer targets and 1st team (squad) selection.
Did Koeman not recently say he wanted to bring in quality, rather than just quantity which was unnecessary as there were youngsters already at the club with the potential to make the 1st team squad?
Steavey Buckley
52
Posted 21/02/2017 at 14:02:47
There are many reports about the Everton Under-23s last night. Some say there are a few who will make the first team such as Pennington, Kenny and Walsh; while others have pointed out that the Under-23s are not good enough. But what really counts, do the players who played last night have that winning attitude and mentality, because that's what really counts. That's why Tom Davies is in the first team, because he has 'bags' of it.
Clive Rogers
53
Posted 21/02/2017 at 14:04:16
Mike (#33),
Don't forget that Pennington has already played for the first team and played well. He may well have played this season if not for injury. Also I think he could cover for Baines at left back.
Mike McLoughlin
54
Posted 21/02/2017 at 14:49:54
Clive, you may well be right, but I wonder what he has to do to get another go. The lad is a good un and could provide competition on the other centre-back.
Michael Kenrick
Editorial Team
55
Posted 21/02/2017 at 17:11:47
Aye, Dave, the path to fame and fortune for these lads is indeed a tough one. I've talked before about my attempts to track the basic playing stats for the Academy players as they work their way through – it's been a lot easier this season and I have full and current records up for both the
Under-23s
and the
Under-23s
. But that tells you only a small part of what you need to know about their real progress. So perspectives like yours are invaluable.
Some previous seasons have been difficult from his aspect, and I have line-ups missing from a number of games. I no longer get the matchday programme and wondered if they still include the academy appearance stats near the beginning of the new season? Anyone recall seeing that over the last six or seven seasons? Youthawk are a great resource but they have only been going for a two or three seasons.
The other thing I wonder about is the official teamsheet, which sometimes gets snapped on Twitter – does anyone know if these are submitted to the FA or Premier League, as some official record of the game? Are they archived?
Mike Powell
56
Posted 21/02/2017 at 19:41:10
I am sorry if I don't agree with most but what I witnessed last night was we where much better than Southampton, but none of them will make it in our first team.
One or two might get a bit of game time, but I think most will end up at a Championship team. If we want to be challenging for trophies, we need better class players than what was on show last night.
Charlie Lloyd
57
Posted 22/02/2017 at 00:54:55
Michael,
Maintaining true records of the U23s and U18s is a tough job and I commend you for doing it. I lost a bit of interest in this over the last couple of seasons but I've just accessed your links and the info contained is excellent.
I had a bash at tracking all the players who came through the academy for a while. I reckon doing a family tree back to Saxon ages would have been easier.
Charlie Lloyd
58
Posted 22/02/2017 at 00:59:05
I've visited the soccerway website and there are some, albeit not sure how true, stats on there.
They cover the U23s and U18s.
Maybe worth checking out.
Michael Kenrick
59
Posted 22/02/2017 at 04:41:22
I hate to sanction such a ball-breaker of a post but sadly the stats are on the side of your miserable assessment, Mike Powell (#56).
Worse, it busts the balls of every other Evertonian who relished the sight of Blue shirts, Nos 1 to 11, passing the ball forward with speed, skill and some fine accuracy at times – not coming off all the time, but these players did look really good.
For you, an amateur at best, to consign them out of hand to the scrapheap with your blanket rejection is a worthless jibe. Thankfully no-one, least of all you, can predict the future. Shall I think of your post when the first of them steps up to play in the Everton first team? I doubt it.
David Barks
60
Posted 22/02/2017 at 05:35:44
Michael,
Who exactly that posts on this site is not "an amateur at best"? He simply said he didn't see anyone that would make it long term, which statistically is a sound bet.
Dermot Byrne
61
Posted 22/02/2017 at 07:41:19
Did you know Duncan McKenzie was 87% less effective in his defensive duties than.... Yawn!
One player makes it and statistics are utterly meaningless – thank God!
Peter Gorman
62
Posted 22/02/2017 at 12:22:04
As bleak as Mike's post was, it is one I'd think he is entitled to make.
To me it just seems he is missing the obvious, you don't go to U23 games expecting to see the finished article. Everybody starts somewhere. It is about evaluating the progress and judging the potential and personally I see spades of both.
Martin Nicholls
63
Posted 22/02/2017 at 13:20:13
Re Mike Powell's post, I too was at the game which I really enjoyed. We clearly have some outstanding prospects but I am the first to admit that I have no idea which if any of them will make it to top level. As has been pointed out, we are all "rank amateurs" and I have no reason to believe that anyone (including Mike) can predict the future for any of these lads an more accurately than I can.
I do wonder how the Manc supporters watching their "class of 92" in their formative years foresaw the future for all or any of them – no doubt there were some who, like Mike has done, completely wrote all of them off! The simple fact is that while we can all have and express an opinion, none of us know.
Barry Pearce
64
Posted 22/02/2017 at 14:22:14
Pete (#62), Spot on mate.
Terry Farrell
66
Posted 22/02/2017 at 21:17:40
Peter 62 agree. Given that we are top of the league ahead of Man City, Chelsea and Man Utd, who spend big at that level, then it is no mean feat.

There are more than a few in that side who will be solid pros at a decent level and a couple who could play at the top, in my humble opinion.
---
Add Your Comments
In order to post a comment, you need to be logged in as a registered user of the site.
Or Sign up as a ToffeeWeb Member — it's free, takes just a few minutes and will allow you to post your comments on articles and Talking Points submissions across the site.