Barkley revelling in free role

43 Comments [Jump to last]
Tuesday 21 February 2017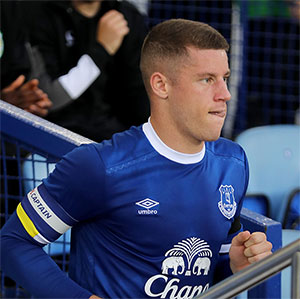 Ross Barkley has been speaking about how much he is enjoying his football at the moment in what he feels is the best Everton midfield he's played in.
The 23-year-old has come through a rocky period earlier in the season when his chequered form mirrored that of the team but as the Blues' fortunes have improved, so have Barkley's.
He scored his fourth Premier League goal of the season in the 6-3 win over Bournemouth earlier this month, making headlines for celebrating scoring the sixth goal before he had slotted it into the empty net, and he is once again a regular starter in Ronald Koeman's side.
"That [celebration] just showed how much I'm enjoying it at the minute, and that's the same with all of the lads as well," Barkley said earlier this week.
"The goal was in the last minute and it's something you do as a kid. I was through and knew I wasn't missing, so I celebrated before I scored. It was just on the spur of the moment, I thought about doing it straight away."
Often deployed as a left-sided attacking midfielder or restricted to a central role behind Romelu Lukaku by Roberto Martinez, Barkley has been given an increasingly free role by Koeman and he is revelling in greater license to express himself.
"I'm playing either inside left or inside right off the striker, helping out the midfield and getting back to dig in," he continued. "It gives me licence to roam around the pitch and try to create chances.
"I'm hoping to play anywhere on the pitch but I'm enjoying where I am at the minute. I like playing all over midfield so wherever I am you see different things from different sides of the pitch. I'm happy wherever I play."
Barkley's ability to enjoy playing has been enhanced by the exciting options in midfield that are now at Koeman's disposal following the acquisitions of Idrissa Gueye and Morgan Schneiderlin and the emergence of Tom Davies.
Their impact, combined with Muhamed Besic's imminent return from long-term injury, has introduced plenty of options in the middle of the park.
"Our midfield options are probably the best since I've been at the club," Barkley explained. "Everyone is an international player.
"Morgan's settled in really well and seems as though he's been here for a long time with the way he gets on with all the lads. You can see in training that he's helped us kick on a bit with his extra bit of quality.
"It's class that Mo (Besic) is coming back now, too. All the lads were all talking about it early on (in the Dubai training camp). He's put in all the hard work over the season and that's all paying off for him now."
---
Reader Comments (43)
Note: the following content is not moderated or vetted by the site owners at the time of submission. Comments are the responsibility of the poster. Disclaimer
Dermot Byrne
1
Posted 21/02/2017 at 07:41:57
Must admit to writing him off not so long ago. Credit to him and Koeman.
Adam Luszniak
2
Posted 21/02/2017 at 08:57:20
Ross does seem to be improving under Koeman. He's even putting in the odd tackle now which he never used to do.
Derek Thomas
3
Posted 21/02/2017 at 09:01:25
Me too, Dermott, I hope he keeps it up as a minimum and, as he gains more enlightenment, kicks on to an even higher level.
Tony Hill
4
Posted 21/02/2017 at 09:04:14
A wonderful talent with fragile confidence, despite his famous goal celebration. Let us hope he flourishes now. Good comments too about Schneiderlin and Besic.
Dennis Stevens
5
Posted 21/02/2017 at 09:43:47
Aye, he needs to build his self-belief into a touch of arrogance, then he'll start to boss games.
Trevor Lynes
6
Posted 21/02/2017 at 11:16:54
Fragile in confidence is so true.He has the ability to take the midfield by the scruff of the neck but he tends to seek sideways and backwards options as they are easier and they retain possession.He is definitely showing much more confidence and if he can add some real guile to his game he could be our schemer.
If Koeman can add that ingredient to his game then his lack of goals would not be a detriment so much.However, my idea of an all around attacking midfielder includes a dozen goals a season.Players like Gerrard, Lampard and other fine English midfielders could both create and score.He is being over shadowed by Delli Ali because this lad scores goals.Lukaku needs support from somewhere !
John G Davies
7
Posted 21/02/2017 at 11:31:08
Starting to look like the player we all hoped he would be.
Koeman has pressed the right buttons for Ross to kick on.
Koeman has handled the situation perfectly.

Stan Schofield
9
Posted 21/02/2017 at 14:58:02
Ross just hit a spell of relatively poor form, not helped by what happened last season. It was always likely he'd come back to form, no doubt helped by team changes, including Davies becoming a 1st team regular. Ross is a cracking player, and I hope he always wears an Everton shirt.
Alexander Murphy
10
Posted 21/02/2017 at 15:43:34
Ross's dip in self belief began when Hodgson tore a strip off him away with England, it's taken since then to restore him. And yes, like many, I'd begun to think he was busted unrepairable. Proving me wrong Ross, I'll scoff down my humble pie gladly.
Koeman has been both strict and encouraging and Barkley looks all the better for it. Ross hardly had to tell us that he's enjoying himself, it's writ large upon his face every matchday now.
Just run at 'em at pace Ross, they crumble when you do lad.
Paul Conway
11
Posted 21/02/2017 at 17:54:17
Alexander @10
Myself also had him down for the exit door. But there's nothing like being proved wrong when the reward is a pie (ask Sutton's goalie!).
Erm, Alexander, can you please pass me the mustard?
Clive Mitchell
12
Posted 21/02/2017 at 18:09:06
He's worth the price of a season ticket on his own: the lad's touch and vision are sublime and he's a proper Evertonian.
Will Mabon
13
Posted 21/02/2017 at 19:42:33
Temporary loss of form is all that's been the problem – perhaps not surprising when the whole team had suffered a protracted decline. This and perhaps being a little baffled at what was expected in this season's earlier "Tactics".
Luckily, as far as we know, not everyone in power at the club took the same knee-jerk viewpoints as "Get him out, he's finished, will never be..., etc.", as some.
The guy is a class act of huge natural ability and yes, even at 23, of enormous potential to develop still further. Every big club in this country and further afield are fully aware.
It's to be hoped that the treatment he's received from various angles has not damaged his true blue core, and that recent media speculation of contract delays are not a result of him starting to wonder about football life elsewhere.
Colin Metcalfe
14
Posted 21/02/2017 at 20:06:40
I think it's quite sad that Barkley gets so much stick on this site. He is one of our own and basically is living the dream and playing for his boyhood club.
I do feel though when he is instructed to play a certain role or for example when under Martinez to keep possession at all costs he carries the role out to the letter but this has an overall effect on his play, he so much more of a player when he has that free role.
Barkley has the ability to become one of premier league's best midfielders but lack of belief has held him back and no doubt Koeman has given him a kick up the backside and got him to do the dirty work which means he is more involved throughout a game instead of going missing for long periods.
I for one love watching Ross play, still young and with the right approach and coaching perhaps we will yet see him start to take games by the scruff of the neck, dictate and have a real influence over the whole team as Gerrard did for those across the park!
Colin Glassar
15
Posted 21/02/2017 at 20:46:54
I never gave up on Ross as I knew his problems were in his head, not his feet. Roberto and Roy both had a huge part to play in his loss of form/confidence. One by overhyping him, the other by having a go at him at every opportunity.
Hopefully Ronald is sorting out his confidence issues and we will see the Ross we (some of us at least) knew was hiding somewhere.
Paul Birmingham
16
Posted 21/02/2017 at 22:19:22
Good to see Ross expressing himself in a natural style and manner, which is good coaching by Koeman and his team and hard work and effort by the lad himself.
Hopefully now he's been cleansed of the last boss's delusions of grandeur, and he can kick on and step up and improve further. Let's start with a good win v Sunderland and a Ross Barkley MotM performance.
Paul Holmes
17
Posted 21/02/2017 at 23:06:31
First to admit I was wrong when I posted we should sell, but he has made me eat my words in the last couple of games. When Ross plays well ,he will always rightly gets the approval of the fans.
But if he goes back to playing below how he played last season, then we will be on his back again because he has proved he has got what it takes to be a top player, so no more excuses to fail with his current level.
James Stewart
18
Posted 22/02/2017 at 00:37:26
Please that he is enjoying his football again. That said, he should be hitting double figures by the end of the season to justify playing in that position; he has the ability to.
Don Alexander
19
Posted 22/02/2017 at 02:06:38
I know he's a nice lad, one of our own, etc etc, but the fact is he's been miles off the pace mentally for years in terms of the demands required of a professional footballer.
Every great, decent or bog-standard professional footballer has had to have a knowledge of the art/devilry/know-how of "the bastard" in every opponent. Every footballer ever regarded as "a great" has had "bastard" in spades. They had to have it and display it to enable them to display their gifts.
Due respect, he had a horrible injury as a teenager but in the real world that was then, and this has been "now" for five years since.
Life ain't a dress rehearsal, Ross. Seize the day, at last!
Drew O'Neall
20
Posted 22/02/2017 at 07:35:31
There is no substitute for hard work, Ross. If you give 100% and that means every ounce of sweat left on the pitch after every game in a blue shirt, then you'll never have to worry about playing well again.
Jamie Sweet
21
Posted 22/02/2017 at 08:20:29
There are very few more naturally gifted players. He's got a bullet of a shot in both feet but is perhaps guilty of trying to hit it too hard at times at the cost of precision.
His decision making has been rightly called into question, but more recently he has had some truely majestic moments which have created chances.
That celebration showed his confidence is high, his mojo is back, and this can only be a great thing for us.
A true Blue, and still, I believe, a potential world beater.
Len Hawkins
22
Posted 22/02/2017 at 09:02:56
The reserve Goalie sacked by Sutton has asked for a job at Finch Farm when he read about "free rolls".
Clive Mitchell
23
Posted 22/02/2017 at 10:52:44
Paul, 17 - that'll help a lot.
Ray Robinson
24
Posted 22/02/2017 at 11:11:33
Don't see what the fuss is about with the Sutton goalie. After all, spread betting has been around for years.
Quickly back onto Barkley, I agree with Paul. He has raised his game recently and his current form is the yardstick by which he will be measured. Few excuses left now.
Stan Schofield
25
Posted 22/02/2017 at 13:46:03
No, I can't see what all the fuss is about with that goalie munching his pastie. But I can see Sutton Utd changing their sponsor to Greggs.
Tony Marsh
26
Posted 22/02/2017 at 13:56:48
Barkley is 23/24 years old now – at this age, Gerrard was running the show. Ross does not appear to be progressing as such ,just improving on being really poor recently.
Ross still does not know when to release the ball or take the simple option at times. Still over running with the ball into blind alleys and losing possession with bad passing. No doubt the lad has skills but does he possess a football brain?
Mike Gaynes
27
Posted 22/02/2017 at 16:03:27
Don #19:
"Every footballer ever regarded as "a great" has had "bastard" in spades."
Messi, the best player in the world, is a pure gentleman on the pitch. He's been sent off only once in his entire 500-appearance career, and it was the result of some really bad Hungarian acting that the referee bought.
Zanetti was another in that category.
Tony McNulty
28
Posted 22/02/2017 at 16:04:43
Our crowd has its own methods of stopping potential pastie-eating contests.
I recall the story in Rooney's early days when the ball ran out of play near the corner flag at Goodison. As Wayne headed towards the crowd to collect the ball someone shouted out:
"Here comes Rooney. Quick lads. Cover your pies."

Ray Roche
29
Posted 22/02/2017 at 16:21:24
Tony Marsh (#26)
Barkley is 23 and two months; deduct the 18 months when his career stalled due to injury and his "real" football age is more like 21.
Why compare Barkley to the "stand out" midfielder of his generation? Barkley, played in his best position and with mobile, energetic players to play with, is an excellent player and, used correctly, will be a player around who we should be building our team.
He needs to be able to play instinctively and can only do that with players who can and will run into space to allow him to use his vision. The short ball slipped through to Lookman last week was an example of his vision and ability.
Trevor Lynes
30
Posted 22/02/2017 at 16:26:22
Just look at the proper greats ; Pele, Garincha, Messi, Eusebio, Di Stefano, Bobby Charlton, Young, Rush, Mathews, Finney etc etc etc.None of these players were called ugly names.
Best and Gazza ruined their careers through booze and probably drugs.
Maradona was a bad example to young players but not by his football ability.
The real thugs of the game were never real greats. They spoiled games by fouling the true greats.
Top players who were nasty included Roy Keane, Souness, Viera and Duncan Ferguson. All these players had nasty streaks along with their ability. Most nasty players never reached anywhere near greatness.
Stan Schofield
31
Posted 22/02/2017 at 16:27:10
Tony @26: You ask if Ross has a football brain. The answer is Yes.
It's a football brain that is at its best when Ross is playing instinctively. He can be way ahead of others who don't play with such instinct.
Geoff Williams
32
Posted 22/02/2017 at 16:49:50
Barkley is a unique talent and Everton are lucky to have him. The way he has been criticised and lambasted by some on this site is criminal. Dele Alli is adored by Spurs supporters and is forgiven his poor games but Ross gets abuse from some elements of the Everton crowd even after a good game.
Tony Rio
33
Posted 22/02/2017 at 16:59:42
We can speculate on Ross's temperament and how he responds to praise/criticism etc but the truth is Koeman needs to be trusted fir now on how he handles the player's personalities.
Kendall never praised big Nev and would lick him up on the slightest error. Nev is the first to say now he got it spot on. Whether it be handling Ross's personality, changing system, bringing Davies in, publicly bringing him down a peg or two (maybe Ross needed it?) It's working.
But at the end if the day 90% of the credit needs to go to Ross himself for either listening, getting a grip of himself, maturing, working harder or whatever . after all, "you can lead a horse to water". The lad is a true blue and our diamond.
By the way, years ago after Ross was coming back after breaking his leg in 2 places, I used to see him by mine in Wavertree sprinting up and down mill Lane hill endlessley every night...
Tony Marsh
34
Posted 22/02/2017 at 17:14:27
Stan, Ray, we all know locked away inside Ross there is a decent player somewhere but is there enough there on evidence to build a team around for the next few years? If progress is what we are seeing now, is Barkley any better than the player who scored the wonder goal at Newcastle a few seasons back? Has Ross Barkley evolved or stood still?
My point about Gerrard was he appeared to get better year after year even when faced with playing with poor players around him. Gerrard carried the Liverpool side for season after season. Can Barkley do the same thing for us?... The jury is still out with me.
Darren Hind
35
Posted 22/02/2017 at 20:14:23
Unfortunately for Ross, his last manager couldn't get past his possession obsession and his current manager will trade flair for toil and graft all day long.
Ross isn't the complete package. He needs a guy who can work on and hone the skills he has, not someone who wants to try to turn him into something he isn't.
On his day he is a lovely easy-on-the-eye player, a match winner, but I fear he will continue to have as many poor games as good games under the current manager.
Don Alexander
36
Posted 22/02/2017 at 20:21:23
When I say all great players need to have know-how re "bastard" I didn't mean they personally had to behave that way. What I meant to say is that they need to be able to handle it, and look like they're hard enough to respond as and when the opponent tries to intimidate. There's plenty of video evidence of Messi more than once going nut-to-nut with some of the bastards who've hacked him down. I believe it thereby lessens the number of fouls he has to suffer. It's therefore win-win, but in my opinion Ross is perceived to be soft.
Numerous comments recognising his crunching tackles against Bournemouth show that he may be turning a corner. I really hope so because if he is to flourish as most us would like you can bet your bollocks the opposition will leave no stone unturned to get at him in any way they can. They're already at it after all.
Steve Ferns
37
Posted 22/02/2017 at 21:30:28
For me, and I've said it before, Ross has too many voices in his head.
First of all there is the voice of his youth coaches. They allowed him to get the ball and to run at the defence, to shoot from anywhere, and encouraged him to express his natural talent.
Then there is the voice of his first manager, Davey Moyes. Moyes played him on the wing, Moyes criticised him openly for losing the ball, and felt the 18 year old Barkley had to be played wide, out of the way of doing damage.
Then came Roberto, he told him to stop running and to pass it. To stop shooting and to pass it.
Now he has Ronald in his ear. He's telling him something else.
With all due respect to Ross, he's not the sharpest tool in the shed. He lacks the academic ability of Tom Davies or Matthew Pennington. So, is it not possible that the poor lad was confused. He gets the ball and his natural instinct is to go for goal. That's all he ever did in youth levels and on breaking through, before Moyes and Martinez really got hold of him. This was coached out of him. You could see when he got the ball he was thinking too often. He dithered and so appeared to make bad decisions.
Think about every time Ross does something well. It's usually because he has no time to think, the voices in his head of Moyes and Martinez, don't have time to say anything, he turns and shoots, or he glides past the defender and opens up the pitch to put someone through.
Also there is the crowd. Ross seems more effected by the crowd than any player in blue I've ever seen. Maybe again it's the contradictory voice of the fans urging him to do the opposite of what his then manager (Martinez) was telling him.
I don't pretend to be privy to what the coaches are saying to him, but it's bloody obvious that Moyes' Barkley, Martinez' Barkley, and Koeman's Barkley looks to do very different things. And Koeman's Barkley seems to be a lot more like the natural Barkley, and for me that's why he's playing better. He's not thinking, he's just doing.
Watch the Dubai training videos and you'll see how great Barkley is, how much every kick of a ball means to him, he just loves football, and he's clearly loving playing right now.
Stan Schofield
38
Posted 22/02/2017 at 21:51:06
Steve, good way of looking at it. Perhaps Koeman has sussed out that Ross plays instinctively, and perhaps this is because Koeman was a top player himself, and understands the conflicting messages you can get from different coaches.
If anyone understands this, Koeman must, with his Dutch total football and Barca background. If this is what's happening behind the scenes, then it's going to be mighty interesting to see Ross's progression.
Colin Malone
40
Posted 24/02/2017 at 11:43:16
Ross was not fit under Martinez, he would go on a run then he would be blowing for tugs. We can all see, Ross has shed some weight and is much fitter. Ross is CLASS. As I have said, it's all down to Ronald Koeman, and Ross would agree.
Tim Wardrop
41
Posted 24/02/2017 at 14:17:30
As with the Rooney article, I don't understand the obsession with Ross's age. He's played 150+ games as a professional. This is enough for him to be called a senior player. I'm glad that he's playing like one – I'm a massive fan and always will be.
Joe O'Brien
42
Posted 25/02/2017 at 01:20:48
Totally agree, Tim... the amount of people wanted him sold for as little as £15m because he was going through a rough period... what a load of shit.
Ross is class, he's got more skill than Alli..and now he's starting to show it.
Mike Berry
43
Posted 28/02/2017 at 11:55:03
The conundrum has always been what is Ross's best position, how do we utilize his great talent to the best of its ability for the team?
Maybe Ronald has found it and playing it close to his chest, as I can't see Ross having too much of a free role as Ronald likes a disciplined set up.
I think Ross is lucky to find a great mentor now who will put him straight albeit with tough love and structure for progression when needed, rather than the "so be it" attitude of Martinez.
Andrew Ellams
44
Posted 28/02/2017 at 12:16:00
Ross suits this 4-3-3 formation when he has plenty of room to move about in between the centre 3 and the front 2. It means sacrificing some of the midfield width but the attacking performance vs Bournemouth and the superb display by the centre 3 vs Sunderland shows it all coming together.
All Ronald needs to decide is who is the best man to support Lukaku in front of Ross.
Paul Baker
45
Posted 28/02/2017 at 13:37:49
Adam Luszniak (#2),
That's not true at all. He averages 1.1 tackles every 90 minutes this term, while it was 1.3 during the 2013-14 season and 1.5 the season after.
Add Your Comments
In order to post a comment, you need to be logged in as a registered user of the site.
Or Sign up as a ToffeeWeb Member — it's free, takes just a few minutes and will allow you to post your comments on articles and Talking Points submissions across the site.