Confirmation of Lukaku deal expected this week

106 Comments [Jump to last]
Tuesday 7 March 2017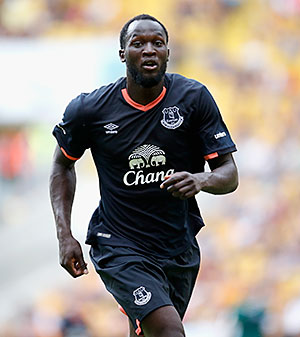 Everton are set to confirm that Romelu Lukaku has signed a new contract with the club, reportedly worth between £100,000 and £140,000 a week to the Belgian striker.
The revelation was made initially by Jim White on his talkSPORT show who said that all terms have been agreed on the new deal and that it will be announced as complete before the next home game against West Bromwich Albion on Saturday.
Lukaku's agent, Mino Raiola, has maintained in recent weeks that he was 99% confident his client would extend his contract with the Blues. The 23-year-old would have two years remaining on his existing terms at the of the season but Everton are seeking to lock him into a new five-year arrangement that will either keep him at Goodison Park long term or maximise his transfer value.
Lukaku, who became the club's record goalscorer in the Premier League era when he notched his 61st against Tottenham on Sunday, has made no secret of his desire to play Champions League football but he has been encouraged by the progress made this season under new manager Ronald Koeman.
"The news this morning coming out of Everton and my understanding is that all terms have been legally agreed between Romelu Lukaku, Mino Raiola and Everton Football Club", White said, which will see Lukaku put pen to paper on a five-year deal.
"It will be finally signed off this week."
The Liverpool Echo ave mentioned a figure of around £100,000 a week for Lukaku while Paul Joyce writes in The Times that the striker is being handed £140,000 a week which would shatter the Blues' wage ceiling which has been rigid for many years.
White, who has struck up an accord with Everton's major shareholder, Farhad Moshiri, also says that the club is looking to make four "top" signings this summer as the rebuilding work under Koeman and director of football Steve Walsh continues.
---
Reader Comments (106)
Note: the following content is not moderated or vetted by the site owners at the time of submission. Comments are the responsibility of the poster. Disclaimer
Stan Schofield
1
Posted 07/03/2017 at 16:29:11
If this is confirmed and contracts signed, I'll have much increased confidence that we're going places with Koeman and Moshiri.
Oliver Molloy
2
Posted 07/03/2017 at 16:33:23
It is the club protecting the asset?And if true, I'm very surprised it's only £100k per week, to be honest.
Oscar Huglin
3
Posted 07/03/2017 at 16:38:54
Fantastic news. At the very least guarantees a stupid fee this summer.
Dermot Byrne
4
Posted 07/03/2017 at 16:39:38
Whether he stays or not, better management by club. Depends a bit what release clause says too, I guess.
Dermot Byrne
5
Posted 07/03/2017 at 16:40:56
Problem is a stupid fee to replace him!
Geoff Williams
6
Posted 07/03/2017 at 16:42:59
He has to be made an offer he can't refuse.
Jay Harris
7
Posted 07/03/2017 at 17:31:33
I just hope there is not a get-out clause based on Raiola's inference that contracts don't matter anyway if a player wants to go.
Paul Mackie
8
Posted 07/03/2017 at 17:51:03
Excellent news if true. Even if he goes in the Summer (which personally I think is very unlikely), we'll get a massive fee for him now.
Lev Vellene
9
Posted 07/03/2017 at 18:02:05
Yeah, right! It will happen! As promised 100% by anyone who's not Lukaku or his agent...
Well, it might be good news before our next match!
Peter Morris
10
Posted 07/03/2017 at 18:23:27
I suppose it's fair enough that a lot of the chit chat implies that this is all about a bigger fee in the summer, and that Rom will go anyway. I'm not in that camp.
I don't think even the modern day mercenary footballer deliberately signs a new contract , planning to buggar off within 6 months. I think that the arrival of Moshiri and Koeman has genuinely captured his imagination.
If he sees the new stadium announced in the next month or so, and a big transfer fund confirmed for the next window, I for one think that that will be enough for him to discourage the inevitable suitors who will 'tap him up' this summer and he will knuckle down to the 'project'. I hope so anyway.
Robert Leigh
11
Posted 07/03/2017 at 18:27:59
There will be a buy-out clause if we don't qualify for Europe.
I said it in January and I'll say it now: I want to keep him but, if and when he goes, I would take either Batsuyani (Chelsea) or Sturridge, ideally both. Bats is similar to Lukaku 2/3 years ago, talented but worth a punt at £20/25 mill.
Simon Bradley
12
Posted 07/03/2017 at 18:28:51
Brilliant news. He is a superb talent. Can be lazy - we have all seen that. But where would we be without his goals? Also, there is no way he would sign if he did not 99.99999% believe that he has a chance to crack the top 4 with Everton, and play Champions League football.
So many things go on behind the scenes that we do not know about. New stadiums, top-tier signings in the summer (playmakers that can provide him goals on a consistent basis for example) – all part of the grand plan.
Exciting times ahead. I'm excited and optimistic anyhow.
Ed Fitzgerald
13
Posted 07/03/2017 at 18:31:45
It's vital we keep him at least for another season.
Liam Reilly
14
Posted 07/03/2017 at 18:37:41
Sounds like an agreement to stay one more season.
However, if we should fail to qualify for Europe, I reckon he'll be off anyway and it would be difficult to argue with that.
Will Mabon
15
Posted 07/03/2017 at 19:01:28
Let's hope this has the effect the club wants,
needs
(when it's confirmed, that is).
Sad indictment of the times that we wonder whether it could amount to no more than a guarantee of a higher fee in a matter of a few months. Crazy.
John Wells
16
Posted 07/03/2017 at 19:05:35
Robert (#11),
I was just thinking at work this afternoon that Sturridge would be great for us to get, even for just the derby matches!! He would love nothing more than putting one over on them, not happy there and could add even more bite!! Class player on his day.
Spurs were the better team the other day and fair play to them, great manager and I'd love us to follow their direction. Make home a place where all teams hate coming and really don't like the thoughts of welcoming us at theirs either! We need Lukaku for this but we really need to sort out our centre-backs.
Will Mabon
17
Posted 07/03/2017 at 19:11:01
Whilst wincing at the thought of the "Accord" between White and Moshiri, I didn't initially absorb that last paragraph: Four "Top" signings. It will be interesting to see what that means...
Mike Green
18
Posted 07/03/2017 at 19:17:33
Great news if it happens and the deal's structured properly.
It won't be easy keeping hold of him but it'll be far harder finding someone to fill what are becoming prolific boots. Having been one of his doubters, I've now come to the conclusion the longer he stays, the better, he could be something really special with the right players around him.
Get it done, Rom.
Ian Jones
19
Posted 07/03/2017 at 19:18:28
I can see the plan for a new stadium being of interest to players thinking of coming to Everton. Shows the ambition of the club.
However, that is at least 2-3 years away and it would be difficult to see Rom staying that long... although if we can climb the next stage soon and get into the Champions League then who knows...
Roger Helm
20
Posted 07/03/2017 at 19:29:02
Let's keep our fingers crossed. It makes sense for Rom to stay another season. He is the main man here, the team will be strengthened around him this summer, and of course he gets a lot more dosh.
Presumably it will be in the ballpark of Harry Kane's wage, I think 𧵄,000. If he goes to a bigger club he would be under a lot more pressure and how often do we see strikers doing well at one club fail to take their form with them when they move.
"Four top signings" hopefully will be a goalie, a centre-back, a left back and a striker. Next job is to get Ross tied down with an improved new contract. Perhaps next season we will get a bit closer to the top table.
John Malone
21
Posted 07/03/2017 at 19:44:21
Near enough everytime we have been beaten this season, since Moshiri has got a hold of Jim White, there has been a positive spin been released through talksport the following week!!
I got onto it months ago this Moshiri guy is clever in that he's trying to build the positivity and the brand of the club whenever anything negative happens boom! a positive press release about the new ground or Lukaku's nearly signed or Rooney's going to return!
He first did it and made a hash of it after we tried to sign Sissoko and nearly sold McCarthy; he tried to spin it with some bullshit about not wanting McCarthy to leave as he bought into a family!
But since making a fool of himself he's got better at it!
I've never heard us getting spoke about so much on TalkSport and in such a positive way since Moshiri arrived and I'm not having that it is all a genuine!
I'm surprised no-one else has noticed this and I'm not complaining if it benefit's the club and moves us forward into the new era of modern football then so be it, but it is funny to watch how the media in this country is used to manipulate are thoughts and opinions on certain topics!!
I think if you listen to talksport on a daily basis you will have noticed what I'm saying!
Great news if Rom has signed and is staying for at least a couple more years; enough time for us to assemble a decent team and see where it takes us!! Onwards and upwards!!
James Hughes
22
Posted 07/03/2017 at 19:46:03
If we have Lukaku at 𧴜k per week we have got him for a very good price. He has been a great player for us and especially this season.
I have not always been an a supporter of him. There are times when I have thrown my arms up in despair at his game. Then again, I know nothing.
James Morgan
23
Posted 07/03/2017 at 19:50:25
Great news this. I think he will stay next season to see if we crack top four or not. I agree with other posters about coverage on talkSPORT etc. The Drive Time Show was bigging us up for our ambition and direction we are going. All good things going on!
Brian Harrison
24
Posted 07/03/2017 at 19:52:39
Great news, just wonder if Riola has got Everton to agree that a certain price can see him leave or, if a Champions League club come in, he can leave.
But that's part and part of football hopefully he will be here for at least another season; let's hope we can fulfill his and more importantly the fans' hope of Champions League football.
Yes, I know... but we can hope.
Joe O'Brien
25
Posted 07/03/2017 at 20:11:43
Great news... another shot in the arm for the club. Get the stadium announcement before the end of the month and a lot of teams will know we're moving places.
Robert @11 and John @16... I wouldn't touch Sturridge. We've just got Gibson off our books and you would take another sicknote? I couldn't handle that stupid celebration of his either, not that we'd see it much because his scoring record is brutal over the last 2 seasons.
Ian Randles
26
Posted 07/03/2017 at 20:21:58
I have heard (not a reliable source) that the contract is 𧴰,000 a week and there is a buy out clause of 㿨 million but will only kick in when his current contract is due to end, and only a Champions League club can trigger it, this would be in 2 years time leaving 3 years left to run.
Who knows though what the actual terms are going to be, but whatever they are it is good for us and shows what our top players can see something happening with our great club.
Brian Williams
27
Posted 07/03/2017 at 20:30:55
Ian (#26).
With all due respect, if it's not a reliable source, it's just somebody guessing, and any one of us could do that.
Ian Bennett
28
Posted 07/03/2017 at 20:55:42
Off-the-field progress! Four quality signings, it really is heartening after 25 years of going backwards.
John Malone
29
Posted 07/03/2017 at 21:00:52
They said we were getting 'four' top players all this last summer and we got Stekelenberg, Gueye, Williams and bid for Sissoko!!!
Let's just make sure they are actually top players and they bring what we need to the team and are going to take us up a level!
We need goals from midfield; the lad from Anderlecht, Tielemans looks special; his strikes from midfield are top draw!!
Patrick Murphy
30
Posted 07/03/2017 at 21:13:24
I think Jim's Scottish accent may have allowed people to get the wrong idea... Kenwright told him we've already had the Drifters and in the summer we're getting the Four Tops to play at Goodison.
Charlie Lloyd
31
Posted 07/03/2017 at 21:40:57
Fair deal.
It's about securing an asset for the club. Adding 3 years and possibly setting a clause with a fee that triggers. This will mean he doesn't depreciate in value due to the short length of contract already in place. The extra weekly wage will be outstripped by the retention of value in a transfer fee.
However, I'm not suggesting for a minute that securing this deal will mean Lukaku lines up for us next season.
Ian Randles
32
Posted 07/03/2017 at 21:55:22
Brian (#27),
I agree 100% and we all know we will never find out the true details of the contract.
I was given this information from someone that I deal with on a daily basis through my work, and they have worked with the kenwright family for many years. However, it is all more than likely Chinese wispers.
Ian Riley
33
Posted 07/03/2017 at 22:00:45
Fantastic news!!!! Only 23 years old and will only get better. I actually think he is happy at Everton. Cost 㿲 million to replace. Actually a big statement from the club.
The salary tells us we are prepared to bring top players to the club. Yes, contracts are meaningless but every player has a price. If he leaves for a top European club winning trophies regularly then it will be that, and not money, that he goes for. I will respect that and good luck to him.
Well done, Everton FC!!
Daniel Lawrence
34
Posted 07/03/2017 at 22:59:12
£140k per week according to tomorrow's Times... that is some statement from us.
Dan Parker
35
Posted 07/03/2017 at 23:08:00
Lukaku and Rooney/Lookman up front with Barkley, Gana, Morgan, Davies, COYB!
James Marshall
36
Posted 08/03/2017 at 00:54:04
Best striker we've had since Graeme Sharp – why anyone would want anything other than him to stay is beyond me.
He isn't lazy anymore – his game has come on a lot this season and he's improved both his work-rate and first touch.
The kid can finish, and that's all that really matters. You give him the service, build the team around him and he'll score goals. Proven season after season in the Premier League – he's like gold dust.
Colin Glassar
37
Posted 08/03/2017 at 00:56:10
Chavs and Mancs moaning about his lack of ambition by staying at a "little club". The days of us being a soft touch would appear to be over.
Rob Tedford
38
Posted 08/03/2017 at 01:06:35
This is great news and even if it does have a release clause in, I'd imagine it will only be the top teams that could afford to meet it, Hopefully, we get a few more years of his goals
Now get Barkley's contract sorted out!
The four big signing comment is interesting – I'd love two of them to be Van Dijk and Sigurðsson, the other two who knows, as Lukaku's agent is one of the top agents in the world with some of the best players on his books maybe a deal to bring in two of his other clients could be on the cards. (I know I'm stretching but it wouldn't be the first time a deal like this has been struck.)
The hope and excitement is getting stronger.
John Mckay
39
Posted 08/03/2017 at 01:13:53
He is irreplaceable to us; if we lost him would take 10+ years to replace him in my opinion.
Not very often a player like Lukaku comes along, the thing I like about him the most is he always wants to improve. He is going to be some player by the time he is 28 and in his prime. We forget this guy is only 23 years old and his strike rate is sublime.
I know sometimes he can get isolated and sometimes not be in matches when we are getting over run in midfield, like Spurs at the weekend, but his desire to score goals is freakish.
I love him, always get the feeling his exit is only around the corner and I don't think him signing a new contract will make me think otherwise. If I was Everton, offer him the world: 𧶀k a week and a big signing-on bonus to have the contract without clauses. We could spend over 𧴜m on strikers and maybe still not get 1 as good as him.
Time to throw the cash about and get a few world class players to compliment him. All he wants to do is score goals and be the best goal scorer, if we can get someone in who feeds him constantly he won't want to move to another club.
We should always set up our team to supply him with chances, if he gets 6 chances a game he is going to bag at least 3 goals without doubt.
Mark Andersson
40
Posted 08/03/2017 at 01:51:13
Reality check... £100 plus grand for a 23-year-old footballer The world is mad.
You're all mad for thinking this is good news, while your average supporter struggles to earn a living.
Okay, I concede it's brilliant news, we're going to be top 4 next season, but as our Mr Resident Grump, Phil Whaling, said, it's always "next season".
John Pierce
41
Posted 08/03/2017 at 04:19:02
A bit of a relief we have effectively ensured our most prized asset; both club and player look in accord.
The player will go should a genuine powerhouse come a calling and we get a fee which builds one stand of the new ground.
I think based on our league position, Rom knows we are more likely than not to be playing in Europe next season; as a calculated gamble, staying is worth it to him.
I think the improved salary didn't hurt, and the turnover of the playing squad is a good as any indicator of our stated direction.
Handled well by the club, that's the most telling part.
Jonathan Tasker
42
Posted 08/03/2017 at 06:38:42
Daily Mirror... Lukaku... Kenwright... Jim White... Raiola. What a joke.
I'll probably be the only person on here that actually couldn't care less what Lukaku does. We saw again on Sunday that he's not actually that good anyway. Vertonghen immediately bullied him out of the game.
One thing is for sure, whatever happens, it will be to make certain people richer, as opposed to it being to the benefit of Everton Football Club.
Whilst this farce carries on, has anyone noticed that we still haven't got a proper goalkeeper? We should have signed Pickford a long time ago.
Gordon Crawford
43
Posted 08/03/2017 at 07:29:43
Interesting line in The Mirror:
Deal worth around 𧴦,000 a week, set to be confirmed this week; contains an exit clause if an elite club comes in for him.
It then goes on to mention Real and Barcelona as Elite Clubs. I wonder are Man City, Arsenal, Spurs, The Shower and Chelsea all in this group?
It then mentions that his agent will still be looking for a potential move this summer. Don't you just love agents in football?
I suppose it's good for the club that he signs. But all the extra crap doesn't have to leave a bitter taste.
We need to get Ross signed up, though. His signing for me is way more important than Lukaku's. I would hate the thought of losing a proper Bluenose to some other "elite club".
Ray Robinson
44
Posted 08/03/2017 at 08:02:06
If this happens, the club are to be congratulated. I don't doubt however that his agent will still agitate for a top European club to meet the release clause but, at least, it guarantees we will get top dollar for our main asset.
Therein is the problem for the agent. For all the fact that Lukaku is prolific, and certainly a player I'm glad is playing for Everton, I'm not sure that there are that many teams out there whose style he would suit. The really top teams are based on fast, fluid, mobile, possession-retaining styles which I'm not sure is Lukaku's game.
Players such as Llorente, Bony, Carroll, Benteke, Giroud, Morata – all very decent players – don't always prosper at the very highest level. Or, when they do, they struggle to play regularly.
It will be interesting to see who would come in for Lukaku if the release clause is set very high and / or whether Lukaku would be prepared to move to a club where he isn't guaranteed a starting place.
Dermot Byrne
46
Posted 08/03/2017 at 08:22:47
Ray (#44): fully agree. I think he is good here in Pl but whether he could fit into a Spanish style? Or a PSG or Bayern Munich? Those key skills of close control are not his. So maybe Chelsea or Man City. Chelsea may not need him now for such a big sum and Man City I find hard to predict.
I would expect the release clause to be big and it may just be too big. Perhaps our views of him is just a bit too subjective.
Craig Fletcher
47
Posted 08/03/2017 at 08:25:01
I wasn't Martinez's biggest fan in his last season here, but give the guy some credit. Whatever sweet mutterings he used to bring him here on loan in season 2013-14, he ended up gifting us arguably our strongest financial/footballing asset in the Premier League era. (I say 'arguably' because of Rooney, but that's a debate for another time...)
Stan Schofield
48
Posted 08/03/2017 at 09:22:57
Surprising the deal is reported in the press as £110k/week. Would have thought more like £200k/week would be needed to secure his services, given the salaries of far lesser players at other clubs.
Peter Anthony
49
Posted 08/03/2017 at 09:40:26
I don't like things leaking out before being signed and sealed. Typical Everton for high hopes to be dashed. However, if the club deliberately fed the info to the press (Jim White/TalkSport), then it would be a massive own goal if the deal does not get signed this week.
Enough of a media frenzy of Lukaku leaving forecasts to put instability in our overall upward momentum and unsettle the team. Sign ASAP please Rom!
With Rom and Ross only getting better and the team being further improved organically by Koeman Bros Inc. and via investment from Mr Moshiri, we really should be back in the mix at the very top sooner than later. COYB.
Stan Schofield
50
Posted 08/03/2017 at 10:17:24
Peter, my thoughts as well, although maybe with Moshiri there's always a bit of manipulation to keep 'things Everton' constantly simmering in the media, as part of the increasing profile of the Club. Or maybe I'm reading too much into it?
Matt Williams
51
Posted 08/03/2017 at 10:30:11
If he signs, that kopite shitbag Redknap will go into meltdown. Every time he's on Sky, he bangs on about Lukaku and Barkley leaving. He was at it again on Sunday and said he was confident Lukaku would leave in the summer and Barkley would move on as well.
He really has got a problem with Everton. Even my Mrs, who has no interest in football, has noticed. On Sunday she even remarked that: "I don't like him. He never has anything positive to say about Everton." Things must be bad if my misses has commented on it.
Brian Furey
52
Posted 08/03/2017 at 10:35:49
Good to see so many positive reactions to this new contract and also most of us are sensible enough to know that he will eventually move at some stage. I think most of us would be happier if he moved outside England and is would be hard to watch him score loads of goals for any of our top 6 rivals.
Craig (#47) mentioned Martinez and his role in bringing him to the club which I agree that his sweet talking to both Rom and to Bill managed to persuade a world class top striker to sign for us was a major coup. Lots of us slate Kenwright but to come up with the 㿈M to sign Rom cannot be dismissed lightly. I'd say Moyes was shocked with that news and he thought he had a good relationship with Bill.
With the wheels coming off the Arsenal bus now I wonder would a cheeky bid for Giroud be worth a gamble.

Tony Abrahams
53
Posted 08/03/2017 at 10:44:06
He hasn't even signed his new contract yet and the press are already talking about him leaving? I can understand Moshiri wanting to increase our profile but The Premier League is pure pantomime and a bit sickening the way the press carry on at times.
Paul Conway
56
Posted 08/03/2017 at 11:07:42
The new contract suits both parties.
As for the fans, no guarantee he will stay. The buy-out clause stipulates the fee a club will have to pay to release him, should he wish to join them.
All-in-all, it's another way of avoiding haggling!
Stan Schofield
59
Posted 08/03/2017 at 13:12:22
Tony@53: Agree totally. Most news media just pump out drivel, and most 'stories' are soap opera. I suppose a side effect of becoming a 'bigger club' is that we'll be increasingly part of this soap opera. Goes with the territory of an increased profile. At least we don't have a manager who's a cringe-worthy showman, like our friends across the park.
Jim Wilson
62
Posted 08/03/2017 at 14:51:16
Pay increase for him until he leaves!
Linda Morrison
63
Posted 08/03/2017 at 17:03:16
According to the Liverpool Echo and the Mirror, this has been agreed and signed. Salary of £110,000/£140,000 per week.
This is a good deal for him and the club. No doubt the Exit Clause was the sticking point, but it will be enough to provide a very good replacement when the agent finally gets his way.
Next up, hopefully Barkley
Dermot Byrne
64
Posted 08/03/2017 at 17:09:34
Also great to see in the Echo, Joe Anderson pushing and fighting for earlier Commonwealth Games with South Africa pulling out. Rest assured this is Joe's and Moshiri's plan for our stadium funding and Peel project launch. It can be both our wish and theirs with new designs. Our city wins and by Christ so would we.
Simon Bradley
65
Posted 08/03/2017 at 18:33:54
Brilliant news. Like I said yesterday – he knows stuff we do not. Stadium, Usmanov(?), summer signings... if Lukaku is happy, I am as it means the future is bright for Everton Football Club.
Plus, he's fantastic, and will end up with well over 100 goals for us by the time he does leave.
Marcus Leigh
67
Posted 08/03/2017 at 20:51:27
That'll do for me. Rom seems to be getting better and better and better this season. The longer he's wearing a royal blue shirt, the happier I'll be.
Geoff Lambert
68
Posted 08/03/2017 at 21:07:00
But this can't be true!!! He is a fat lazy lump that can't trap a bag of sand and only scores flukey goals that bounce in of his shins!!! He doesn't run for the team and just stands there waving his arms around.
We will be lucky to get £6 millionn for him, That could be a down payment for Shane Long maybe!!
James Flynn
69
Posted 08/03/2017 at 21:44:40
So, the guy who West Ham tried to get back after his successful loan spell there, he rejected to go out on loan to Everton.
Same guy just signed his THIRD Everton contract wants to leave, eh?
Interesting.

James Flynn
70
Posted 08/03/2017 at 21:47:47
Maybe PSG would have him!!
Haha. Has a club in their position ever tucked its tail deeper than what I just watched.
Haha. Shame on you PSG.
Fun watching, though.
I'll be damned.

Brian Williams
71
Posted 08/03/2017 at 22:04:43
James (#69)
Eh?
Laura Round
72
Posted 08/03/2017 at 22:15:09
West Brom James?
James Flynn
73
Posted 08/03/2017 at 22:25:11
Brian (71) - "Eh?" What?
My mistake on West Brom.
The rest of my post? Have an opinion?
James Flynn
74
Posted 08/03/2017 at 22:31:13
Laura (#72) – My hand's up. West Brom it is.
Still sticking with my view that Luka hasn't once stated, or intimated, he wants to leave Everton.
Brian Williams
75
Posted 08/03/2017 at 22:31:44
James (#73).
Ah now I understand. I wondered what West Ham had to with it!
James Flynn
76
Posted 08/03/2017 at 22:43:41
Brian (75) - Spoken fairly.
My thing is that Lukaku hasn't once in 4 years said he wants to leave.
He's getting a new contract, at a huge chunk of change, at the Club where he's the main man and no doubt about it.
Why would he want to leave?
Ed Fitzgerald
77
Posted 08/03/2017 at 22:50:31
See Koeman tweeted his pleasure at Barca's incredible win tonight, Las Ramblas, here he comes? More emotion than he ever shows us.
Brian Williams
78
Posted 08/03/2017 at 22:51:00
James. I'd agree that he's never explicitly stated "I want to leave Everton." I think he's far too smart to come out with a statement like that.
However, there have been numerous occasions where he has been quoted as having said things that could only be construed as a "come and get me" if you're a Champions League club.
I believe that "part" of the reason that he's still with us is due to the fact that Everton have never received a concrete offer for him from a Champions League club, despite the efforts of the press and just about every ex RS gobshite pundit to make it happen.

Chris Williams
79
Posted 08/03/2017 at 22:59:44
Brian,
Just substitute Koeman's name for Lukaku, Barkley, Coleman, Baines and everyone all the way back to Rooney.
Just yapping dogs, hungry for scraps... gobshites with no talent or morals, telling lies and floating crap for reasons perhaps not unrelated to money.
Stan Schofield
80
Posted 08/03/2017 at 23:43:26
News media reports are generally so unreliable that they're not worth considering seriously. Childish soap opera for the gullible. Drivel churned out by pseudo-professionals.
It'll be great if and when Lukaku signs a new contract. We'll find out when there's an official statement from the club.
James Flynn
81
Posted 09/03/2017 at 00:24:46
Brian (78) - You're not alone in this odd perspective of Rom's comments.
How about this?
Every word out of his mouth regarding the Champions League was aimed at the owners of His Club getting in better players for him to play with.
Loan and permanent contracts, this kid is on his fourth deal with Everton. Where has he even hinted, just one time EVER in 4 years, he wants to leave?

Dan Egerton
82
Posted 09/03/2017 at 03:39:56
Sturridge gets injured too often to be relied upon.
Dan Egerton
83
Posted 09/03/2017 at 06:23:45
I can see why Gabbiadini was so highly praised and valued by Koeman and Walsh. He can score against big teams, while Lukaku cannot. Except for the brace he got against Chelsea to knock them out of the cup, I cant remember a time Lukaku scored 2 or more against top sides.
He can however carve up teams like Sunderland and Bournemouth. Sell him for –80 million and get Gabbiadini or someone like him, an all-round opportunistic poacher, a lead-the-line forward.
Brian Porter
84
Posted 09/03/2017 at 07:03:20
Big gob Redknapp has a bout of verbal diarrhoea again. Wish someone would stuff his underpants down his big mouth.
Nowhere In his interview with Ross did our man say anything about leaving Everton, yet big gob is convinced he's going to leave us in the summer. He's tried to tell the world that Rom is too good for us, now it's Barkley's turn.
Martin Nicholls
85
Posted 09/03/2017 at 08:04:17
Too many Red Shite on tv. Barca match last night overrun with them - McManaman, Slippy and St Michael all there. One wonders why tv can't look beyond the walls of Anfield for their "experts".
Wish there was an option for crowd noise and adverts only – most of us have been to hundreds if not thousands of games and don't need their opinions (usually uninformed) to form our own.
Liam Reilly
86
Posted 09/03/2017 at 08:49:56
Dan (#830,
Replace Lukaku (the best striker, in many an opinion, we've had since Lineker) with Gabbia-fucking-dini?!?
Seriously,you must be winding us up.

Eddie Dunn
87
Posted 09/03/2017 at 08:56:07
He seems very content, which is good for us, but I fear that this new deal is just the club's way of ensuring they are recompensed when he does go. I hope we get another season out of him.
Phil Walling
88
Posted 09/03/2017 at 09:19:50
Eddie, if you are not happy at what the Club has done with this guy, perhaps they should just have let his contract run out. No pleasing some folks!
Stan Schofield
89
Posted 09/03/2017 at 09:52:28
James @81: Good point. It's odd that on a thread to do with a new contract, we still see the 'Lukaku is shite' and 'Lukaku is desperate to leave' mantras appearing. These would be comical if they weren't irritating.
Brian Williams
90
Posted 09/03/2017 at 11:56:53
James (#81).
It's hardly an odd perspective. There are numerous occasions where he's "hinted" EVEN once as you put it here's the first of many I found and know about.
However, he told Sky Sports News HQ that the Champions League is "the next step" for him and said he is keen to test himself against Europe's elite in next season's campaign.
Lukaku said: "That is the next step for me. I'm 23 next summer and I think it would be nice to play in the Champions League from next season."

Bearing in mind these comments were reported on the 27th of March 2016 and Everton had absolutely no chance of qualifying for the Champions League, it's fair to say he was looking to be playing for someone else.
I've no intention of getting caught up in a posting war with you, James, and I don't disagree with you because I'm against Lukaku (quite the opposite, as I realize how important he is to the club) but that particular comment is pretty straight forward and hard to misinterpret.
My last word on it anyway. Believe what you want, mate.
Dermot Byrne
91
Posted 09/03/2017 at 12:14:12
Ed (#77): that is just searching for potential bad news. There could be many reasons not least that we have never in our whole history done what Barca did last night.
Daniel Joseph
92
Posted 09/03/2017 at 12:40:05
He'll be made up with that seeing as he gets a nice percentage as a pay off when he goes. OK, the club will get more Wonga but so what?
Sorry for the cynicism but this is not worth a jot.
Ed Fitzgerald
93
Posted 09/03/2017 at 13:34:35
Dermot @91
I didn't search for it, he had posted it straight after their incredible win and I don't begrudge him that that tweet. Call me a cynic (and I am) but I can't see Ronnie ever getting effusive or emotional about Everton on social media or in post match interview apart from to slag off his players, the board etc etc
I would be a happier bunny and a little less cynical if Koeman came out after poor performances (Chelsea,Spurs, Bournemouth, Leicester at home) and took some responsibility for the dire tactics employed. Come on, how many of us looked at the team sheet on Sunday with its legion of defensive midfielders and thought we were going to get anything?
Mike Barrett
94
Posted 09/03/2017 at 13:49:30
Dan Egerton (#83),
Let's see how many goals your mate Gabbiadini has after 100 or so games, eh??!
Dermot Byrne
95
Posted 09/03/2017 at 14:17:01
Ed: find me a manager who says "I got it wrong" regularly and I will concede every argument I ever get involved with. This isn't cynicism you display mate... Just a search for something to bleat about, IMHO.
But, as with all things TW, you may be right, wrong, partially right, right now and wrong in 2 mins, always partially wrong or right, psychotic, ill-advised, very smart, posting from Broadmoor, or even the Trump-man himself. Who knows?
Eddie Dunn
97
Posted 09/03/2017 at 14:19:18
Phil (#88) I beg your pardon, but where am I complaining about the club? I am merely looking at the strategy involved, and I definitely want Lukaku to stay.
John Wilson
98
Posted 09/03/2017 at 14:24:23
Lukaku is good but not Kane good. But as it is, he is what we've got. Lukaku has not proven himself against the big Premier League sides. But for Everton, he's good enough. He is not one of the best strikers in the Premier League, never mind the world!
The best strikers in the Premier League can score against any team, whereas Lukaku is apparently more suited to lower level Premier League teams.
Dermot Byrne
99
Posted 09/03/2017 at 14:48:35
Ever notice we drop in our hope between games but watch us Friday We will be up again. Blue psychosis.
John Raftery
100
Posted 09/03/2017 at 15:09:18
So Lukaku has not proven himself against the big Premier League teams? The facts suggest otherwise.
Within the past fifteen months he has scored three against Man City, two against Chelsea and one against Spurs. Further back in 2013 he scored a hat trick for West Brom against Man Utd, two for us against Liverpool and one against Man City. In 2014 he scored two against Arsenal and one against Man City. In 2015 he scored one versus Liverpool.
That is 16 goals in total which seems to me pretty good in a team which has often been outclassed in fixtures against the big clubs.
Paul Tran
101
Posted 09/03/2017 at 15:13:40
That's right John, apart from scoring in two derbies and against Spurs, Chelsea, Man City, Arsenal. If you mean he had a shocker in the semi-final, I'd agree with you.
He's not as good as Kane, but he's still good.
David Barks
103
Posted 09/03/2017 at 15:46:37
John Raftery,
Stop trying to throw those facts around. Our friend John Wilson would much prefer to go with that totally debunked bullshit line that Alan Shearer put out a couple of months ago that Lukaku only scores goals against weak opposition.
Come now, the "FACT" that Lukaku is at the top of the goal charts in the Premier League obviously means that he is NOT one of the best strikers in the Premier League. The fact that he had 119 career club goals by the age of 22, and had more than 60 goals in the Premier League by the age of 23, ranking him 4th All-Time highest scorer in the Premier League by the age of 23, clearly means he is just nowhere near a top talent.
And guys, it makes total sense that in the Premier League, with every club playing each other twice, that ALL those better strikers would have scored MORE against those inferior opponents, since it's so easy to score goals, apparently... Wait, I mean that doesn't make sense. Well clearly it's down to those better strikers saving themselves to only score against Man Utd, Chelsea, Man City, Spurs, Arsenal and Liverpool.
Yeah, that's clearly what happened. Yeah, Aguero's 12 Premier League goals must have only come against the very best teams. So let's see... he's scored 2 against Stoke, 2 against Burnley, 2 against Swansea (uh oh, not looking good so far), 2 against West Brom, 1 against Sunderland, 1 against Burnley, 1 against Boro, and 1 more against Sunderland. Okay, look at all those goals against Chelsea, Man Utd, Spurs, Arsenal and Liverpool... Shit, that didn't work.
Let's do Costa. Yeah, he only scores against the big boys: 2 against Swansea, 1 against Everton, 1 against West Ham, 1 against Watford, 1 against Boro, 1 more against West Ham, 1 against Man City, 1 against West Brom, 1 each against Liverpool, Palace, 2 in 2 games against Hull, 1 against Leicester, 1 against Stoke, 1 against Southampton, 1 more against Swansea and that's it. 17 Premier league goals and only 2 against the "Top" clubs.
Well shit... It looks like Lukaku's 18 league goals, with 2 against Man City and 1 against Spurs is actually MORE than Costa and Aguero COMBINED. This can't be... It just can't be true, can it? Can he really have scored more goals in total, and more against the "Top" clubs?
Andy Codling
104
Posted 09/03/2017 at 15:50:36
John Wilson (#98), I despair!
Yeah, I wish we had Mick Madar back!!
David Barks
105
Posted 09/03/2017 at 16:03:08
Oh and just for the record, Harry Kane has 19 league goals, with 3 against West Brom, 3 against Stoke, 2 against Everton, 2 against Watford, 2 against Swansea, 2 against West Ham, 1 against Southampton, 1 against Stoke, 1 against Boro, 1 against Sunderland, and finally 1 against Arsenal.
Tony Abrahams
106
Posted 09/03/2017 at 17:06:50
Paul (#101), he's not as good as Kane but he has all the tools to be so much better than him?
If hard work covers a multitude of sins, then I'm convinced this is why people would rate Kane better than Lukaku.
James Hughes
107
Posted 09/03/2017 at 17:24:33
Andy – how about Michael Branch? He is younger than Madar.
Ian Jones
108
Posted 09/03/2017 at 17:34:56
David @ 103 and 105. Interesting reading. Can you explain the point you are trying to make!
:)
John G Davies
109
Posted 09/03/2017 at 17:41:25
Paul, David.
Not forgetting every one of Kanes goals are perfect strikes.
75% of Roms are scuffed shots
Ian Bennett
110
Posted 09/03/2017 at 17:52:19
David - nicely covered, putting pundit bullshit to bed. Just lazy garbage to knock him with.
He's a very good goal scorer in an average team. Give him more supply and perhaps he can score a bit more, oh the pundits won't like that...

Paul Tran
111
Posted 09/03/2017 at 18:23:43
You're dead right, Tony 106. If Lukaku worked as hard as Kane does and/or got better supply, he'd be better still.
As I keep saying on here, he scores goals. That's his job and he does it well. When we get more players that do their job as well as he does, we'll be getting somewhere.
Darren Hind
112
Posted 09/03/2017 at 18:25:24
Why can't people just accept Lukaku for what he is?
The guy is having a good season and scoring some fantastic goals... but these silly stats which people insist on putting up to compare him favourably with Costa, Aguero and Kane? Any Evertonian who understands the game would trade Lukaku in for any of them in a heartbeat.
There are good strikers, very good strikers and then there are strikers who score when it really really matters, those who ensure their teams win something.
John Daley
113
Posted 09/03/2017 at 18:33:44
"
Okay, look at all those [Aguero] goals against Chelsea, Man Utd, Spurs, Arsenal and Liverpool Shit, that didn't work
"
Going off how they have fared (so far) this season alone may show that Lukaku has scored a whopping three goals more than Aguero against the so-called 'big clubs', but their overall Premier League records paint a different picture as to who is more prolific in such games:
Sergio Aguero
Tottenham: 11 games/10 goals
Man Utd: 8 games/7 goals
Chelsea: 10 games/ 6 goals
Liverpool: 9 games/ 4 goals
Arsenal: 8 games/ 3 goals
46 games / 30 goals
Lukaku:
Tottenham: 8 games/ 1 goal
Man Utd: 10 games/ 3 goals
Chelsea: 5 games/ 0 goals
Man City: 10 games/4 goals
Liverpool: 10 games/ 5 goals
Arsenal: 10 games / 1 goal
53 games / 14 goals

And seeing as though he was also mentioned above:
Harry Kane
Man Utd: 6 games/ 0 goals
Chelsea: 6 games/ 3 goals
Man City: 5 games/ 2 goals
Liverpool: 5 games/ 2 goals
Arsenal: 4 games/5 goals

26 games/12 goals
Tony Abrahams
114
Posted 09/03/2017 at 18:37:24
I take your point, Paul, but I would always take the player, who worked harder for his team. I would love to see us play with a second striker, though, because Lukaku does seem to respond a lot better when he's getting more help, which is something he can't always rely on in our present formation.
Or maybe he doesn't get enough help sometimes when he doesn't work as hard... or he can't quite get hold of the ball?
Raymond Fox
115
Posted 09/03/2017 at 18:45:19
Like a few others in the thread, considering the ridiculous amounts of wages paid to some others in football I'm quite surprised he's signing for 𧴰k a week! Or whatever.
Still silly money, I know... but there can't be too many sides that wouldn't want him in their team.
Colin Malone
116
Posted 10/03/2017 at 13:07:14
Means nothing. It's just a big pay rise for Rom. Its a win, win, win for Rom with the get-out clauses.
Add Your Comments
In order to post a comment, you need to be logged in as a registered user of the site.
Or Sign up as a ToffeeWeb Member — it's free, takes just a few minutes and will allow you to post your comments on articles and Talking Points submissions across the site.