McCarthy's hamstring setback vexes Koeman

51 Comments [Jump to last]
Saturday 11 March 2017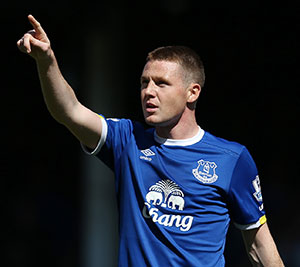 James McCarthy was ruled out today with another slight hamstring problem
Ronald Koeman has revealed that Leighton Baines had to be withdrawn from today's 3-0 win over West Bromwich Albion because of a back problem.
The manager also confirmed that James McCarthy has succumbed to another hamstring injury, the frequency of such setbacks has become a source of concern.
Baines played the first half as usual this afternoon but did not reappear for the second half, his place taken by Ramiro Funes Mori who had dropped back to the substitutes' bench to accommodate a return to the side for Phil Jagielka.
"Leighton had a problem with his back, he couldn't move anymore, that was the reason we had to change Leighton," Koeman said after the match.
McCarthy, meanwhile, was absent from the squad altogether and the club's medical staff will now be tasked with trying to get to the bottom of his recurrent hamstring issues.
"James, again, he has some problems on his hamstring," Koeman is quoted as saying by the Liverpool Echo.
"It happened at the beginning of last week, that is really painful for himself but also for me because I like him and we like to progress with, continue with James.
"It is not a big hamstring [strain], maybe he will be out for one or two weeks, but I am really disappointed about that.
"This is another step back for the boy, that is really disappointing."
---
Reader Comments (51)
Note: the following content is not moderated or vetted by the site owners at the time of submission. Comments are the responsibility of the poster. Disclaimer
Oscar Huglin
1
Posted 11/03/2017 at 22:37:31
I feel like McCarthy has become a bit of a project for Koeman. We've all seen how good he can be. Koeman is trying to bring that out of him again. This setback is a real shame.
Liam Reilly
2
Posted 11/03/2017 at 23:07:36
Unlikely we'll do better than 7th this season. Time to wrap McCarthy in cotton wool and let him recover properly.
I really believe in this lad's talent and this is the time for the club to give him time to recover as we have plenty of options in the middle at present.
James Flynn
3
Posted 11/03/2017 at 23:10:41
Another hammy problem.
I remember that Europa League game, when after being out with a hamstring problem, he pulled up lame around the 15-minute mark; hand on his hammy. And OFM replaced a chunk of the medical staff. Not HIS training methods, by God.
McCarthy's played a lot of games for a player his age. I'm accepting he is not going to be the player he wanted and we hoped he might.
Get him healthy and sell to a lower league club.
Jim Bennings
4
Posted 11/03/2017 at 23:13:58
I think we can still push United for sixth but obviously we'd need to beat them at Old Trafford and keep winning other games too.
We need to beat someone above us!
Raymond Fox
5
Posted 11/03/2017 at 23:36:02
It's become worrying about McCarthy. It appears that the best thing to do would be to put him away for the rest of the season because playing him after a few weeks of recovery is not working.
He needs to see a new specialist and have extended rest time.
Andrew James
6
Posted 11/03/2017 at 23:43:20
Jim - I would suggest we need to do the RS away, get something off Chelsea at home and perhaps win at the Emirates to get into the group above us.
We've got a mix of very winnable matches and tough tests coming.
William George
7
Posted 11/03/2017 at 23:48:25
He was walking through Manchester Airport on Thursday morning at around 8:30 so it can't have been anything serious enough to have stopped him from flying.
Patrick Murphy
8
Posted 11/03/2017 at 23:50:29
We don't need to do anything to qualify for Europe unless we screw up big time and Spurs lose to Milwall. Obviously, a victory over the park would be most welcome as would another win at Old Trafford but, whatever transpires, we ain't getting Champions League... so enjoy the next 10 fixtures regardless.

Oliver Molloy
9
Posted 11/03/2017 at 00:01:29
James Flynn @ 3,
"get him healthy and sell to a lower league club" .
And why would Everton do that, James – to get less money?
Kevin Dyer
10
Posted 12/03/2017 at 01:06:52
Delaying the inevitable with McCarthy. Should have sold him last summer. Hopefully he can still play a part in the remaining games to put him in the shop window. If he doesn't appear a total crock plenty of EPL teams would be interested and possibly for around what we paid for him.
As has been noted he's played a lot and from a young age. With his all-action style his body appears to be breaking down. A shame as he's a good player. With continual injuries he'll fall down the pecking order. Koeman may rate him but must be thinking he can't rely on him. I doubt McCarthy will accept battling for our 4th CM slot with Besic next season.
Clive Mitchell
11
Posted 12/03/2017 at 01:12:57
Definitely worth persevering with, James, as Koeman appears to think.
James Flynn
12
Posted 12/03/2017 at 01:15:00
Oliver - Thought my comment there was obvious given James' health the last 3 years.
You think different? More money to be gotten with his sale? Hey, I'm open and guided by you.
Man Utd
Man City
Chelsea
Arsenal
Tottenham
RS
Clubs that can, and do routinely, pay "more money". Whichever you pick. Count me in.
John Pierce
13
Posted 12/03/2017 at 01:53:07
Koeman seemed genuinely upset at this news. But it sadly confirms that JMac will need to move on.
If his fitness cannot be improved, perhaps a visit to a hamstring specialist, then I don't see him being picked regularly.
A little sad as he's not a player I rate but he looked to have improved under Koeman. Shame.
Darryl Ritchie
14
Posted 12/03/2017 at 07:43:40
McCarthy, when healthy, is a quality player. With all the positive comments from Koeman, I'm beginning to think that he sees him as Barry's replacement, in the long term. The problem is that trick hammy. Got to get a handle on that PDQ, or I can see him becoming another Gibson.
Christopher Timmins
15
Posted 12/03/2017 at 08:42:02
Get the boy sorted, no need to rush him back with our available options in the midfield sector, and let him start with a clean slate next August.
Mike Berry
16
Posted 12/03/2017 at 08:56:13
Ronald on record saying he likes him. Obviously he must put in the hard work in training as well as on the pitch – which has been limited.
I am sorry for the boy, but he appears to have an Everton future, from Ronald's comments.
Oliver Molloy
17
Posted 12/03/2017 at 10:01:42
James,
You said "lower league" club, that would be from the Championship down? So, from what you said, you reckon that's where he should be playing – that's his level?
You accept he's not going to be the player he wanted – what does that mean exactly?
Paul Conway
18
Posted 12/03/2017 at 10:38:55
Koeman obviously sees a lot more to McCarty's game that the vast majority of us (including myself) did not. He has gone from being considered deadwood, to almost being a player that we can't do without.
This transformation, along with that of Robles and the rejuvenated Ross Barkley, tells me that we won't find a better coach at the minute to bring us forward.
Shane Corcoran
19
Posted 12/03/2017 at 10:56:20
I'd say he's saving himself for Garth Bale.
Damian Wilde
20
Posted 12/03/2017 at 11:02:21
Baines won't be a loss; he's been poor of late.
Oliver Molloy
21
Posted 12/03/2017 at 12:55:44
Yes, Shane,
If Everton deem him not fit, it will be interesting to hear what O'Neill and Keane have to say!
Frank Wade
22
Posted 12/03/2017 at 13:12:07
Oh no, we can look forward to another barrage of media crapola with O'Neill and Keane and Koeman when the squads for the World Cup are announced.... AARGH!!!
I hope we can get some specialists who can get to the root of this – it often lies somewhere in the back – and he can continue to play for Everton. He may not be our first choice at the moment with a few ahead of him in midfield, but he adds options when fit, even if off the bench and as cover for injuries. I wouldn't sell yet.
James, like Oliver, I thought you were suggesting selling him to Championship club or Scottish Premier even... lines crossed.
Chris Williams
23
Posted 12/03/2017 at 13:57:51
I'm hoping McCarthy has now learned his lesson and knows which side his bread is buttered, after crying off from the Irish squad last time. I guess Ronald had a word in his shell like after O'Neill played him into the ground coming back from a lay off.
O'Neil and Keane are Visigoths.
Oliver Molloy
24
Posted 12/03/2017 at 14:06:48
Yep, Keane doing his best to "belittle" Everton FC didn't go down well with me...
Shane Corcoran
25
Posted 12/03/2017 at 14:25:40
Keane said Everton are a great club. I know that doesn't fit the controversial script but yet he definitely said it.
Steavey Buckley
26
Posted 12/03/2017 at 15:33:36
If McCarthy has hamstring problems now wait till he returns from international duty with the ROI. He won't play again this season.
McCarthy has to learn from Darren Gibson, whose career was wrecked at Everton by playing for the Republic.
McCarthy should pack in the international football and concentrate on playing for Everton, because that's where his footballing career lies, which is short compared to most other careers.
Mike Gaynes
27
Posted 12/03/2017 at 15:48:57
"Baines won't be a loss"???
Ridiculous.
Funes Mori's wanderings at left back yesterday say otherwise.
Mick Davies
28
Posted 12/03/2017 at 16:23:34
Baines was playing well up to bring subbed. Now Oviedo's gone, an out-of-position Funes Mori is not a favourable option. I hope he recovers soon.
McCarthy seems to be the best exponent of Koeman's pressing game at the club, and he will be a big miss at Anfield. As others have alluded to, for a 26-year-old, he's played a lot of high tempo football, and I hope this is not the beginning of another Gibson saga as I really like him as a player, and for his attitude.
Colin Glassar
29
Posted 12/03/2017 at 17:05:28
I like Macca, always have, but his continuing injuries make me worry that his Everton career might be over this summer.
James Flynn
30
Posted 12/03/2017 at 18:51:14
Oliver - That's the misunderstanding then.
I meant "lower" league club, the Burnleys, WHUs, etc.
Oliver Molloy
31
Posted 12/03/2017 at 19:25:53
Shane ,
I think he said Everton were a brilliant football club , well what else could he say !
Our medical team would know what is best for our players when they are working with and seeing them day in and day out and they would obviously be advising Koeman and the player.
Any club manager will try to protect their playing staff and that is what Koeman was doing.
Yes he had a dig at Keane and O'Neill by publicly saying McCarthy should not have played in the two games , and he was right to do so in my opinion.
Keane and O'Neill set McCarthy back in playing him in the two games in three days or whatever it was.

I don't agree with those who reckon McCarthy will end up like D.Gibson.

Steavey @ 26.
Gibson was very injury prone whilst at Utd which is why we got him .
It's no surprise to see he only lasted three and a bit games with his new club .
Tony Hill
32
Posted 12/03/2017 at 19:47:25
Young Foulds is left-footed I think. Is he any sort of option for us at left-back?
Dave Brierley
33
Posted 12/03/2017 at 19:49:51
"Baines won't be a loss; he's been poor of late."???
Totally ridiculous. Let's hope it's not serious.
Frank Wade
34
Posted 12/03/2017 at 20:38:56
Steavey, I don't think it fair to say that Gibson's career was wrecked by playing for Ireland. His cruciate ligament injury could have happened any time, even while popping down to his local filling station in his flip flops.
On the left back situation, I like the look of Antonee Robinson in the U23 side, Callum Connolly is two footed and we have Brendan Galloway as well. None of these will have the expert delivery that Baines has provided for Everton, as such talent only visits us infrequently. Ben Chilwell from Leicester looked decent as well, but an unlikely option unless they were relegated.
Steavey Buckley
35
Posted 12/03/2017 at 21:10:10
Frank. When Gibson was not match-fit and just returned to full training after a long layoff, he did his cruciate ligament in, against Georgia 3½ years ago while playing for the ROI, yet this was his second full match in 4 days after the match against Germany.
This smacks of sheer irresponsibility on the ROI behalf, because most players need time to recover full match fitness not pushed straight away the way Gibson was.
That was the season when Everton could have qualified for champions league football, because Everton lacked another quality midfield player.
It's the same situation with McCarthy and the ROI, who are pushing him straight away to play full matches, even when coming back from another hamstring injury. Koeman has already expressed his annoyance with ROI over McCarthy's treatment last time.
Frank Wade
36
Posted 12/03/2017 at 22:37:38
Okay Steavey, I didn't realise he was just coming back from injury at that stage, but I suppose he has always been 'just coming back from injury'. I remember the incident well and it was an innocuous tackle/lunge for the ball.
It's hard to blame Ireland for playing him in those games as they wouldn't have had the strength of squad to be able to rotate. They are better off this time as they have Jeff Hendrick, Harry Arter and Glenn Whelan for the central midfield positions. Gibson is also injured, Meyler of Hull also available, so it would be likely that James would be on the bench v Wales if he was fit.
Injuries are just an unfortunate part of football. I think you are being a bit harsh on the International scene. Players want to play for their country and strive to get the opportunity to play in the World Cup. Maybe this desperation clouds their judgement and they play when they shouldn't play.
This raises another question of players playing for Everton when injured. Two in particular – Tim Cahill and Leon Osman, according to their autobiographies, often played with injuries and with injections. This also smacks of irresponsibility on the player's and the club's part, risking the player's future.
It was easy enough to see in the case of Leon Osman, when he was struggling with injury and unable to compete and often with a competent alternative on the bench. I would rather a fully fit reserve played rather that an injured player with an injection to see him through the pain. Pain is visited upon us for a reason.

Shane Corcoran
37
Posted 13/03/2017 at 11:29:19
Frank, you were right the first time.
Steavey, what has match fitness got to do with a cruciate injury?
Steavey Buckley
38
Posted 13/03/2017 at 12:20:45
Shane, Bolasie has stated that his cruciate liagament injury is down to a change of training routines, from the one he was used to at Palace, to the one he was unfamiliar at Everton.
Clearly, when Darren Gibson was stupidly brought in against Georgia and Germany for the RoI to play full matches when Gibson was not match-fit did make a contribution to his cruciate liagament damage. Something, Premier League managers will not do with players coming back from long-term injuries.
Chris Williams
39
Posted 13/03/2017 at 12:39:32
I see he's been named in the Irish squad despite the injury.
Maybe Ronald needs another quiet word in James's ear, like he did once before.
And tell those two gobshites what the score is.
Shane Corcoran
40
Posted 13/03/2017 at 14:21:33
Steavey, I'm not sure how Bolasie (a player, not a doctor) giving his opinion on his own injury backs up anything you've said about Gibson's injury.
Pretty sure it wasn't Georgia but that's not really relevant.
Frank Wade
41
Posted 13/03/2017 at 15:14:31
Steavey, How long do you want a player to be rested before he is fit for International games?
In the case of Gibson, he started and played for 69 minutes against Fulham on 24th September 2013, was rested and not listed as injured for Newcastle on 30th September, appeared as sub for Osman v Man City on 5th October. He then played a full 90 minutes v Germany on 11th October and started v Kazakhstan (well done Shane) on 15th October, both World Cup qualifiers.
I would suggest that if he got through 90 minutes away to Germany in the World cup and was fit to start four days later, he could be considered match fit. We are not privy to the stresses and strains of players, but as I said before, the player is as responsible as the management, for club as well as country.
Re Bolasie, I expect he was referring to a different fitness, strength and conditioning strategy at Palace, which he feels helped keep him free of knee injuries. Who can say if he's right or wrong? Our fitness record has been okay in recent times. I see from the PhysioRoom site that we have only 4 on injury list at the moment, Baines, McCarthy, Bolasie and Besic. Palace have 7, but maybe strategy has changed there this season with a new manager.
Perhaps the most telling point is that Gibson is listed with a knee injury at Sunderland. He was ok when he played against us a few weeks back. Sometimes a player's body just can't cope with the demands.
Steavey Buckley
42
Posted 13/03/2017 at 15:18:23
Shane, every person – not just footballers – decides what is and what is not wrong for their bodies.
Steavey Buckley
43
Posted 13/03/2017 at 15:26:26
Frank, a club doctor on medical advice should decide if a player is fit enough to play the next game for an international team. I notice England do the right thing about players picked for international duty but who withdraw on club's medical advice when they pick up an injury but the Republic of Ireland want to decide and request injured players or players not match fit to report to the ROI training ground, which of course is against clubs' concerns for a player's physical condition deteriorating even further.
Shane Corcoran
44
Posted 13/03/2017 at 15:42:36
Steavey, on that basis, Bolasie probably should have pointed out to the Everton medical team that what they were making him do wasn't good for his body.
Is that a genuine point? The player decides?
Ironically, then shouldn't McCarthy be let do what he wants?
Dave Abrahams
45
Posted 13/03/2017 at 15:56:03
'Vexes' and 'vexed' – nice old-fashioned words, them, Lyndon... what made you use them?
Steavey Buckley
46
Posted 13/03/2017 at 15:59:29
McCarthy is under contract to Everton Football Club, who pay his salary. James McCarthy is under no obligation to play for ROI, because he has no contract with them to play for the ROI – it's an emotional need for players to play for their country – or they have to, to fulfill visa requirements.
Frank Wade
47
Posted 13/03/2017 at 16:05:12
Steavey, There is a long club vs country history here.
You may remember Tony Dunne, a predecessor of Seamus Coleman as an Irish full back and a key player for Man Utd in the '60s. He had just finished a game at Highbury and was heading out the door with teammates Pat Dunne and Shay Brennan to travel to Ireland for an International game, when he was stopped by Matt Busby who told him he was injured, when he wasn't. He played 414 games for Man Utd and only 33 for Ireland over 13 years.
This attitude was commonplace amongst Club managers and that is why the new regulations, where the player must travel to be assessed by the International team's doctors, were put in place by FIFA. This is a FIFA regulation, not an Irish 'thing'. They also put in place a scheme whereby a player's wages are paid by an Insurance fund if injured playing for his country.
International games are part of Football, just. If McCarthy is unfit for the Hull game, he won't travel. As far as I am aware, that's the FIFA rule.

Steavey Buckley
48
Posted 13/03/2017 at 16:06:13
Shane, a player when under contract is obliged to play and train in a certain way as required by the manager of a club. Bolasie just made the point he trained in a certain way at Palace to fit his physical needs. But for some unknown reason to Koeman, Bolasie apparently did not point this out. Or if he did, Koeman just ignored this.
Steavey Buckley
49
Posted 13/03/2017 at 16:13:27
Frank, both Gibson and McCarthy in the past have reported to the ROI training ground when not fit enough to play for Everton the previous weekend. You will find that countries do have the last say if a player travels or not, and the clubs can't stop them.
To me, this is an outrage, because no international player is under contractual obligation to play for an international team, except when a player has to fulfill certain visa demands, that a player has to play so many games for a country in order to play for a club in a certain country.
Frank Wade
50
Posted 13/03/2017 at 18:47:34
Okay Steavey, I take your word on the countries having the last say. I thought the rule was they wouldn't have to travel if deemed unfit the previous weekend.
On your other point about contractual obligations and the Club determining if the player is fit or not. The Clubs did have this privilege and abused it to such an extent that FIFA had to bring in the ruling plus the FIFA Club Protection Programme. Existing injuries are not covered. This could be renamed the Giggs ruling, Bale has more caps than Giggs.
Do clubs want to stop players playing for their countries? I don't think so. Imagine if the likes of Tim Cahill or Seamus Coleman or Ashley Williams or Lukaku were told they couldn't play for their country. Exit stage left and skidmarks.
The point about Seamus Coleman reporting unfit for Ireland. If I remember correctly, he hadn't played for a few weeks for Everton, but played two matches for Ireland, gained match fitness and confidence and was able to slot back in at Everton on his return. Win-win situation.
Ian McDowell
51
Posted 13/03/2017 at 19:23:38
Come on, Macca, do the sensible thing and withdraw from the squad. Concentrate on getting to the root cause of the problem and hopefully being fully fit for Liverpool away.
Add Your Comments
In order to post a comment, you need to be logged in as a registered user of the site.
Or Sign up as a ToffeeWeb Member — it's free, takes just a few minutes and will allow you to post your comments on articles and Talking Points submissions across the site.