Lukaku 'not ready' to commit to new Blues deal

146 Comments [Jump to last]
Monday 13 March 2017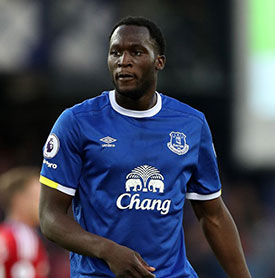 While his agent has claimed he was 99.9999% confident his client would put pen to paper on a new contract at Everton, Romelu Lukaku appears to be keeping his options open again based on recent comments.
It was a fortnight ago that Mino Raiola made the near-certain assertion that the striker would commit to new terms at Goodison Park and only a few days ago, Jim White — he of the supposed hotline to Farhad Moshiri — was telling his talkSPORT radio audience that things would be wrapped up last week.
Lukaku's new five-year deal, which could be worth up to £140,000 a week remains unsigned, however, and it appears from an interview with Belgian outlet Play Sports that the Blues' top scorer isn't ready.
Kristof Terreur, Het Laatste Nieuws' London correspondent, tweeted this morning that Lukaku was asked three times if he was ready to sign the proposed new five-year contract and he said, "no" each time, although it was done with a broad smile leaving the possibility he was playing with the questioner.
If not, Lukaku looks to be following the same strategy as a year ago where he hedged during the summer to see what interest there was in his services from Champions League clubs before electing to stay at Goodison following discussions with new Toffees manager Ronald Koeman.
Everton, concerned that the 23-year-old will be entering the final two years of his contract, are keen to persuade the Belgian international to sign the new contract to protect his transfer value even if he still wants to leave the door open to a move away this summer.
Koeman, meanwhile, is hopeful that the progress made on the pitch this season, combined with Everton's good-looking prospects of qualifying for the Europa League via the top seven this season will prompt him to commit for at least one more season.
---
Reader Comments (146)
Note: the following content is not moderated or vetted by the site owners at the time of submission. Comments are the responsibility of the poster. Disclaimer
Colin Glassar
1
Posted 13/03/2017 at 08:00:04
I think this is a load of rubbish as no-one will pay what we are asking for him, and I'm sure he will stay. As much as I like Rom, if he is not prepared to sign then sell him if someone offers the right amount. We can't let him hold us to ransom.
Liam Reilly
2
Posted 13/03/2017 at 08:11:45
I'd like him to sign, but understandably he wants Champions League now and Everton is no more than a project on paper at present until the Bradley-Moore Dock project is given the green light and the $$$ are shown to be real.
I fear the club will need to go forwards without Rom in the summer...
Dermot Byrne
3
Posted 13/03/2017 at 08:14:39
How any of us can judge if there is any truth to this is beyond simple me. My gut feeling is the certainty of saying "3 times" makes this nonsense.
Of course we will slag off the player, the club, the manager and probably each other for the rest of the day to help our fears and anxieties but all that effort will probably be based on a naff story as there can be hundreds of reasons the contract isn't signed yet.
Peter Anthony
4
Posted 13/03/2017 at 08:39:30
To be a Champions League team is simple; two things are needed:
1) Win most of your home games.
2) Win plenty of away games.
We are doing part 1 already now.
Part 2: A key part of this is the role of our talismanic striker. How many times have we been undone at Goodison Park over the years by the brilliance of the opposition's talismanic striker, especially late in games?
I don't need to recall the names and revisit the pains, but Lukaku when firing on all cylinders can certainly be our talismanic away game hero more in the future, as he is realising his potential. Chances abound in the coming weeks of the season.
Prove you are worth the money Rom by doing it when we play away at the current top 4. We will then be in the elite ourselves. It is a team game of course, but when Rom steps up to the plate, it lifts the whole team.

James Watts
5
Posted 13/03/2017 at 08:40:30
Take this with a pinch of salt.
The agent's comments are far more telling and I really can't see Rom sitting out the last two years with us on his current 'paltry' wage as no one is going to give us £80 million for him. Bar a Chinese side, that is.
Lyndon Lloyd
6
Posted 13/03/2017 at 08:42:45
Dermot, Kristof has been very reliable over the last few years and is not apt to put out false information.
I would guess that he has seen the Play Sports video and is reporting on that.
We don't know for certain of course whether he said what is claimed but would you be surprised? Lukaku has previous with this and he holds all the cards. I don't blame him; I just hope he does commit to one more year now that we are moving in the right direction again.
James (5), the problem with the 㿼m reference is that once he gets inside the last 2 years of his deal, that figure will start to plummet. We'd still get a big fee for him but it would no longer be prohibitive.
James Morgan
7
Posted 13/03/2017 at 08:53:18
It seems he has a smile on his face during the interview, maybe he's just being mischievous with the press?
Gordon Crawford
8
Posted 13/03/2017 at 08:54:25
I would blame him if this story is true. After all, he has said in a recent interview that he just wants to concentrate on playing football and that his agent does all the negotiating on his behalf.
Hope this is just some silly rumour. I do think though he will move on during the summer window. I just hope Ross doesn't join him. But I'll not jump the gun and fear the worst. :)

Peter Murray
9
Posted 13/03/2017 at 08:54:29
It's all getting messy. The constant refrain of "Should I go or should I stay?" plus now the spectacle of player and agent publicly contradicting each other is more than tiresome.
The club should seize the initiative and start planning immediately for a replacement.
Simon Jones
10
Posted 13/03/2017 at 09:11:07
I think he'll end up at Man Utd as I think they will have a first team berth available next season. Rooney & Martial look like surplus to requirements, Rashford suffering from second season syndrome, andZlatan the Elbower may be tempted to the USA on his retirement world tour.
John Daley
11
Posted 13/03/2017 at 09:16:39
"Jim White — he of the supposed hotline to Farhad Moshiri — was telling his talkSPORT radio audience that things would be wrapped up last week."
For a man said to have a direct line to the top, Jim White must have made more duff declarations than the Millerites by this point.
Dermot Byrne
12
Posted 13/03/2017 at 09:20:18
Lyndon : you know far far more on reliability of sources than me. The interview? God knows. True? Mischief? Game playing? Who knows?
Maybe they will announce this with the Dock plans at same time.
Or maybe he is off to Liverpool, Koeman is off to Catalonia,, we are moving to Greasby and to reassure us all we are bringing back golden boy Niasse?
Liam Reilly
13
Posted 13/03/2017 at 09:27:05
"...no one is going to give us £80 million for him"
As Lyndon says, he'll have 2 years left on his contract in the summer so I reckon it would take around £60M to get him.
Chelsea for me, being the most likely destination as a replacement for China-bound Costa, because I just can't see him going to Man Utd to play second fiddle to Zlatan.

Neil Pickering
14
Posted 13/03/2017 at 09:31:32
If this is true then it's hardly surprising. He's made the same noises around this time the past couple of seasons and immediately after he says it he usually plays shite.
Let's face it, it's only a matter if time before he goes to a Champions League club and I predict it will probably be in the summer. Irony is I didn't think his performances in the past warranted the talk, but under Koeman he has improved a lot.
Adam Luszniak
15
Posted 13/03/2017 at 09:42:04
This would have terrified me a while ago, but I'm not so worried now. Of course I would like him to stay as I can't see exactly how we would replace his goals, but that's why I'm not Steve Walsh.
Given Koeman's time at Southampton (in his first season, they sold Shaw, Lallana, Chambers and Clyne among others), I'm happy that we have a manager and recruiting staff who could deal with the loss of Lukaku if it happens.
Tom Dodds
16
Posted 13/03/2017 at 09:42:13
Thought this article would attract the wasps on 'News Now' (Everton)
'Lukaku to Chelsea' days straight ahead.
Ernie Baywood
17
Posted 13/03/2017 at 09:47:15
His stock is rising every week... so expect more of this to come. It's part and parcel of having a player at the club who is in the elite group of players. If we're honest, given some of the wages around the league, £140k seems on the low side doesn't it?
I'm just going to enjoy him while we have him.
Jim Potter
18
Posted 13/03/2017 at 09:47:55
Denounced three times. Now where have I heard of that before?
Is he a Judas?
Could it bode well for our resurrection?
I have my doubts.
Patrick Murphy
19
Posted 13/03/2017 at 09:48:32
If the media get their way, Tottenham will have two of Everton's prized assets in their ranks before we can say "Stadium move". Stan Collymore another usually pro-Everton, Moshiri lover thinks that Spurs should break the bank for Romelu.
"He [Collymore] added: "Seventh is the summit of Everton's ambitions for the next two seasons. "That means that as happy as Rom is now, his agent may be getting antsy 12/18 months from now.
"At that stage Spurs can sell a new stadium, 60 thousand punters, increased revenue, possible regular Champions League football while Everton stay at Goodison and maybe struggle to break an increasingly high glass ceiling.
"Don't get me wrong Evertonians, I'm not trying to sell your player, but look down the line two years, unless the Toffees win trophies which, with the competition above them looks unlikely, Everton could command big money for Lukaku.
"The old-fashioned strike partnership is out of fashion currently, but I'm licking my lips at the thought of these two fine young strikers playing together."
I keep getting asked why is Goodison not as noisy as it can be, it's down to this type of story cropping up at every turn, I can't remember so much speculation about an individual Everton player and therefore it's very difficult for Evertonians to get behind a player who has never appeared to settle regardless of his prowess shown in front of goal. Most Evertonians want to love Rom but it is difficult when he always seems to be looking to move on to 'bigger and better' things. But Spurs, Stan... are you sure, mate?
Mike Green
20
Posted 13/03/2017 at 09:52:02
100% his prerogative, as it is ours to sell him for the right price.
I imagine he'll test the water, there'll be more interest than last year but not enough to warrant putting in a bid that suits us. We'll sign some more players, he'll sign on the dotted line and around we go again.
Joe Foster
21
Posted 13/03/2017 at 09:53:45
Jeez that's a great way to start the week. Hopefully it's bullshit.
Ernie Baywood
22
Posted 13/03/2017 at 10:06:14
Mike, those bids will get more attractive to us as his contract dwindles...
If I were Rom, playing for a club I didn't support, there's absolutely no way I'd be signing a new deal. Champions League and serious coin are only a year away for him.
Daniel Lim
23
Posted 13/03/2017 at 10:17:26
Ernie @17,
Just saw somewhere on the web that Schneiderlin is on £120k! If true, £140k really doesn't sound attractive at all. I would ask for £180k with Sneiderlin's £120k as benchmark.
Stan Schofield
24
Posted 13/03/2017 at 10:19:23
This is a press report, right? Apparently, Elvis is alive and well and living on the moon.
Gordon Crawford
25
Posted 13/03/2017 at 10:26:29
Patrick good post. If he goes, he goes. But as long as we keep Ross. He is way more important.
David Hallwood
26
Posted 13/03/2017 at 10:37:05
I can't see him going to Spurs cos if anything Kane is better than Lukaku and they don't play 2 up front.
But I agree with Liam (#13) if Costa goes to China then Lukaku's Chelsea bound. He's made no secret how much he loves the club, and of course unless there's a dramatic collapse it's nailed on they'll be in the Champions League almost certainly as Champions.
As long as we spend the money wisely, it'll be a good piece of business, even though I'd hate to lose him.
Mike Allen
27
Posted 13/03/2017 at 10:56:14
The media love this kind of nonsense and most people fall for it. Let's support the guy while he's here but, when it comes to the summer, let's hope we spend his transfer fee wisely.
Better and more loyal players have left us in the past for better or worse. I don't think he will go down as one Everton's footballing heroes – nor should he.
Joe O'Brien
28
Posted 13/03/2017 at 10:56:48
I'm sick of journalists and pundits trying to sell our best players. The sooner this new stadium gets announced, the better. Might show a few people that we mean business.
Gordon Crawford
29
Posted 13/03/2017 at 10:58:34
Kane is not better than Lukaku. You're entitled to your opinion. But that's unproven.
Kane is in a top team that constantly challenging for top four positions. Lukaku has been playing in a inconsistent team. Kane can't head a ball, Lukaku can, Kane can't run past players, Lukaku can.
Kane doesn't have the goals-to-chances ratio that Lukaku has. And Rom is a lot more talented. My opinion. :)
Gordon Crawford
30
Posted 13/03/2017 at 11:08:21
Oh and to back that up. Spurs this season have created 352 to Everton's 276. Optima stats.
Last season, it was 500 chances created by spurs to 360 for Everton.
Chris James
31
Posted 13/03/2017 at 11:08:54
This whole process is 100% the work of an agent sounding out interest from 'bigger' clubs. Why on earth would you make such a fuss about 'almost' signing a deal for such a protracted period otherwise?
I obviously think Lukaku's a great player and would love to keep him with Everton for many years to come, but loyalty is a thing of the past in football (on both sides), so if he goes, he goes.
I don't agree with Collymore's (or anyone else's) remarks about 7th being our pinnacle either. Historically that makes no sense – despite two successive 11th place finishes under Martinez, in the 10 years before that we'd finished 4th once, 5th three times, 6th twice and 7th twice (plus one other 11th). Obviously some sides have got stronger and weaker over that time, but isn't that always the case?
More to the point, our current form is up with pretty much anyone in the league (bar Chelsea) and there are obvious opportunities for improvement in the summer with a bit of transfer cash in the pot.
Tony Draper
32
Posted 13/03/2017 at 11:09:39
Lyndon is entirely correct to aim the gentle finger of suspicion at our capricious striker.
I love TW and the opinions here. Being encouraged, regularly and wisely to reconsider our views and opinions is entirely healthy.
Romelu, for me, is a conundrum but a modern day football star (and a star is what he is).
Tommy Lawton?
Roy Vernon?
Bob Latchford?
No viable comparison these days. Not possible. Romelu is a man from an entirely different age, culture and working in an environment which encourages "Self Above Other", an environment which he has not created but within which he exists.
Oddly, we have bought our heroes and we have also sold them. We will buy more and we shall sell them.
Loyalty is a matter for fans alone. Make more noise at the match... It might just help.
Alex Carew
34
Posted 13/03/2017 at 11:36:30
Further evidence that Jim White hasn't got a clue and everything he says is just made-up creative media bull!
Geoff Trenner
36
Posted 13/03/2017 at 12:00:36
I think that we need to take this at face value. Now, which face?
Scott Hall
37
Posted 13/03/2017 at 12:27:53
I'd love him to sign, I really would. And it would be satisfying to put two fingers up to the media who think he's too good for Everton. But regardless, he has wanted to go for ages and we've had a lot of goals out of him so it doesn't really matter if he signs or not... he'll still go.
We need to learn from Tottenham's reluctant sale of Gareth Bale and put a non-negotiable cash price on his head. He's got two years left on his contract so we can be brave this summer and demand a big fee. It's next season we might get a bit twitchy if he still hasn't signed.
If we get our hands on 㿲m then I'm confident between Koeman and Walsh that we could replace the goals. Even if we had to replace them across 3 players.
Paul Birmingham
38
Posted 13/03/2017 at 12:28:07
Usual media bull... and as for the Echo and Colleymore, who's always been LTU. This is the level of hype and bull that we are used to. If Lukaku signs and when he signs, the club should tell us, and if he isn't then the club should tell us.
He's still under contract so the mass hysteria is a distraction. EFC is bigger than any one player. Too much at stake to be distracted by the media circus. Saturday's game now.
Colin Malone
39
Posted 13/03/2017 at 12:31:56
Barkley and Rooney. Sounds good to me.
I pity Rom if he leaves, as with Ross, Ronald Koeman is proving to be a great coach for them both and others. Rom is adding more to his game now under Koeman, running from outside the box, thanks to Koeman's coaching, instead of the idle player who wants the ball on a plate.
Mark my words, Rom, you're improving under Koeman; other billionaire clubs expect a finished article, which you are not. Your choice, Rom.
Peter Laing
40
Posted 13/03/2017 at 12:41:08
I hope that the recent comments from Joe Anderson about an announcement regarding the stadium are weeks away as the Club needs to be putting a marker in the sand regarding its ambitions.
Tottenham have a new stadium construction under way and Chelsea have just received planning permission for a 60,000 seat stadium to replace Stamford Bridge. Time is of the essence and Moshiri has been on record previously stating that he is only too aware that the clock is ticking.
I'm hoping that the plans for Bramley-Moore Dock will be the catalyst for renewed impetus around the Club and will persuade Koeman, Lukaku and Barkley that their future lies with Everton.
Jim Burns
41
Posted 13/03/2017 at 12:58:35
Jim @18 – not being picky, but it was Peter who denounced Christ three times – Judas just took the money and then topped himself. Let's not get carried away here.
Steve Brown
42
Posted 13/03/2017 at 13:03:36
I am not too worried about this – as a player I love him but if he wants to go take the 㿲-80 million and reinvest it in the team. Personally, I don't think his technical skills are good enough for the Champions League but let's see.
We should set a deadline on the new deal and if he refuses to sign then plan on the assumption we will sell him. He will have given us 4 years and you cant ask for more than that these days. My definite preference though would be go sell him abroad; for example, PSG.
John Daley
43
Posted 13/03/2017 at 13:16:15
Not normally one for fantasy football bollocks, but two players I've long thought would be perfect for Everton (and believed we might actually have had a half-chance of tempting if we moved for them before the usual suspects took the bait or their valuations soared) are Youri Tielemans and Alexandre Lacazette.
Whilst pleasantly surprised to see us actually linked to the former recently, I was left with a revolting '20 minutes after wolfing a rotten kebab' feeling in my stomach to read that the red shite are amongst those looking to bag the latter.
It was bad enough when it looked like he was on the brink of signing for West Ham last year but, if he joins them, I'll be fucking gutted. I think he's a fantastic player, perfect for the Premier League and the fact they're talking about him going for just over £30m (although £50m has also been quoted in some places and Arsenal reportedly had a £35m bid turned down for him not so long ago) makes a mockery of the £80m+ price tag supposedly attached to Lukaku.
There are numerous players out there, beyond the confines of the Premier League, who represent better value and, for that reason alone, I can't see that anything will have changed since last summer when a few 'big clubs' were rumoured to be having a sniff, but none were actually prepared to put their hand in their bulging arse pocket and pay what it would take to bag him.
Tony Draper
44
Posted 13/03/2017 at 13:16:18
For the record. Would I swap Big Rom for "Bruce Forsythe's lad"?
Never. Never in a million years. I'd rather have a "Blankety Blank Chequebook and Pen"!
Mike Berry
45
Posted 13/03/2017 at 13:30:07
If he signs... he signs; if he doesn't... he doesn't. What's the fuss? Players uproot if they want to anyway – regardless of contract.
If he decides to go, then so be it; we are not a one-man team and will have quite a stash to try and find a replacement. Relax... we can't lose.
Tom Bowers
46
Posted 13/03/2017 at 14:07:58
Rom. knows what he is worth that's for sure and his agent will make sure he get's it as we all know many a big Champions League regular will come a running for him if not. Rom is not irreplaceable and Everton will make sure all avenues are covered before saying enough is enough.
Personally I don't blame the lad for wanting every penny he can get. We all know how an injury to any young player can shorten the career.
Yes, greed is a factor especially from the agent's point of view as well as the player but loyalty is a thing of the past were employers are concerned. Everton should get this resolved real quickly so that they have time to replace him adequately if he goes.
Terry Underwood
47
Posted 13/03/2017 at 14:25:54
Am I the only one getting pissed off by this whole fuckin' circus?
Have just read my last Rom contract related article. He is not bigger than the club.
Jay Harris
48
Posted 13/03/2017 at 14:30:42
No-one is bigger than the club.
If Rom intends to stay according to his agent it's a simple matter of him signing or sorting out whatever the 0.000001% disagreement is.
I would give him 2 weeks to sign or withdraw the offer. This is the sort of situation which unsettles the squad so start lining up his replacement now.
He has no loyalty to us. He has no affinity with the fans. He belongs at Chelsea because that's where his heart is, so let him go at a price which enables us to get an adequate replacement who wants to be here.
Kevin Gillen
49
Posted 13/03/2017 at 14:47:28
Much ado about nothing. I would love Rom to sign but he is going to be hot property if he keeps on scoring and, unless we qualify for Champions League, he will always be looking elsewhere.
I don't have a problem with players if they keep up their standards on the pitch and go on megabucks transfers to Champions League clubs where they eventually get injured, fall out of favour and end up warming the bench. What we don't need is a long drawn out sulk.
Just keep banging them in for fun this year Rom and see where it gets us.
David Barks
50
Posted 13/03/2017 at 14:53:07
Were all of you talking about loyalty saying the same thing when we shipped out Oviedo, McGeady, Gibson, Niasse, Deulofeu? Or even when we sacked Martinez? He did have a contract afterall.
If anyone is surprised that he would be taking his time in deciding what his best move is, just look at the most recent match against Spurs where we set out in a similar fashion as West Brom did to us, while he had to watch a Spurs team launch attack after attack.
If I was him, I'd want to play in a team that always goes out to win, with attacking support that would help me thrive.
James Marshall
51
Posted 13/03/2017 at 14:59:20
None of this makes a blind bit of difference to you or I. If he signs it, he can still be sold; if he doesn't, he can still be sold. He has 2 years left, and why any of us should give a shit whether he's sold for 㿼m or 㿔m is meaningless. It's not our money. Lukaku will leave one day, and that's that.
Nothing to see here.
Alan J Thompson
52
Posted 13/03/2017 at 15:02:22
Sounds very much like he's been tapped up. How many strikers will Mourinho have next season?
Alexander Murphy
53
Posted 13/03/2017 at 15:19:55
We have a dilemma.
If we are crap, nobody wants our manager, coaches, backroom staff, or players.
When we even start to begin to look tasty? The lazy poisonous media will try to do us down!
Because our name is... EVERTON.
WE do not choose...
Gordon Crawford
54
Posted 13/03/2017 at 15:27:15
If he goes, then it will show others we have no ambition. He won't be replaced – that's for sure. The shower never replaced their vampire assassin.
Patrick Murphy
55
Posted 13/03/2017 at 15:28:10
Everton of course haven't played many 'good' teams since the turn of the year. However, in the form table for that period they have taken 20 points from a possible 27 and arguably should have done better.
Spurs have the same number of points from the same number of games in second place and Everton have outscored the rampant North Londoners despite losing at the Lane. Chelsea and Man City could match the 20 points tally if they were to win their games in hand.
Pity that Rom can't see that Everton are doing the business on the park, ably assisted by Rom himself – but I suppose by the end of April the club will have revertrd to its usual way of failing to beat the big boys on their turf and Rom will have every right to feel he should move on.

Paul Conway
56
Posted 13/03/2017 at 15:35:21
This comment may not go down well, but it's my opinion: I cannot blame Lukaku for chasing glory and a good payday. Wayne Rooney went off to pastures green for the same reason.
Fast forward 12 or 13 years later and he can walk back into EFC and be welcomed with open arms. I didn't blame Rooney either; Lukaku has done more for us than Rooney ever has. Good Luck to him!
Tony Cunningham
57
Posted 13/03/2017 at 16:10:51
James Marshall (#51) – that's extremely negative. You could take that approach a step further… none of us play for Everton so why should we give a shit if he is sold or not.
Yes, he could still leave even if he signs a new contract... but signing it makes it slightly less likely… at least this summer.
The reason why it makes a difference if he stays or goes is because he's a proven goalscorer and if he leaves he will take some replacing. Name the last Everton striker to score so consistently?
㿔 million or 㿼 million would make a big difference in any budget available to replace him. Sure it's not our money but it's our club getting the money (or not).

Jim Potter
58
Posted 13/03/2017 at 16:15:09
Jim (#41), I knew it wasn't Judas but to be honest I thought it was Thomas, hence my 'doubt' line.
Having been excommunicated from this site for six months once, I really need to brush up on my other religion or could find myself in real trouble soon.
Eddie Dunn
59
Posted 13/03/2017 at 16:23:27
At the end of the day, it is Rom's business, not the reporter's and so he is entitled to smile and keep his answers curt.
James Hughes
60
Posted 13/03/2017 at 16:31:43
David (#50) the people you mention brought very little to the table so speak. None of whom has asked to leave so will have their contact paid up in full.
Martinez was given 㾶 million to go away just to stop the damage he created. He fooled most of us in his first season (me included). So, when talking about a player, you mention a manager who would struggle to organise a piss-up in a brewery, let alone a football team.
Mike Dolan
61
Posted 13/03/2017 at 16:32:04
I hope he stays I really do but, if he goes, it would be tough but he would be replaced and I don't think it would hold up our progress at all.
Rom is an excellent finisher when he puts the work in but he is far from a complete player. His goal tally might be a bit inflated because he's a goal hog and wherever he has played, he had the entire team playing solely for him because who else can score?
He might not find it quite so easy if he were to ever play in a great team where more fluidity would be expected from every player. Good luck to him either way, though.
John Malone
62
Posted 13/03/2017 at 16:32:42
I really hope I'm wrong but I think he's going to PSG or Chelsea this summer I think the only thing the new contract is doing is making sure we get top price fir him.
It's no secret Conte wanted him last summer and Rom was up for going only Koeman talked him into staying. If and when Chelsea win the league, I think they will come again for a 23-year-old proven Premier League goal machine!! Why wouldn't they?
The only way I can see him staying is if by somehow we finish in the top four or he agrees another year before to have a good crack with Koeman at qualifying but, even if he signs his new deal, I don't think it would keep him with us for longer than one season!!
Rob Halligan
63
Posted 13/03/2017 at 16:36:12
Losing Lukaku, should he go, will be a disaster for us. Okay, we might get 㿨M+ for him, but we won't replace his goals.
Proven goalscorers are a rare commodity. Lukaku is supposedly reported as saying he wants to play in the Champions League, so if, in say 2 or 3 years time, we are not in the champions league, then we are not going to get a proven goalscorer to replace him, as they all want to play in the Champions League.
Another thing is price for a new striker. As soon as any club see its Everton after their striker, an extra 㾶M will be added to the selling clubs valuation.
Look what happened when the RS sold Torres. They went and bought Andy Carroll for 㿏M. No way was he worth that kind of money, but Newcastle knew the RS had the money, so added a few million to the price. He didn't do much when he was there either, apart from score a winning semi-final goal against us.
So to all those saying we will replace Rom, we won't, so forget it. We might as well put the money received for him to building one side of the new stadium.
Of course, if it's more money, and lots of it, Rom is after, then there shouldn't be a problem.
Jim Lloyd
64
Posted 13/03/2017 at 16:44:18
I can't say I'm not bothered by the reports because it unsettles a lot of fans and possibly some of our players.
I wish Lukaku's agent would shut the feck up but that's not likely to happen and IF Lukaku has said what he's reported to, then he's not being professional. But whatever Raiola or Lukaku say, I feel sure our Club will be (have probably already been) drawing up plans for a replacement.
My view is that there is a massive difference in how our club behaves now compared to the last major shareholder's form when in charge. We now have someone in charge who has money and is prepared to spend it (within the daft and unfair limits that Uefa have set). We also have a management team who will not allow one player to upset their plans, whoever that player is.
Hopefully, Lukaku will stay and be part of the rebuilding of Everton Football Club; but if he's not going to, we part company with him, at a time of our choosing, wish him good luck then carry on with becoming one of the premier teams in the country.
I don't think Mr Moshiri and Mr Koeman will allow any player to disrupt the plans for our club.
John Keating
65
Posted 13/03/2017 at 16:46:41
Half of the home page is taken up with articles about Alex Young. When he left, I thought the Club was finished. t wasn't and it won't be –ever.
If, at the end of the day, someone – anyone – doesn't want to play for us, well, as far as I'm concerned, thank you and goodbye. We move on.
Andrew Ellams
66
Posted 13/03/2017 at 16:54:38
We are least two years away from signing somebody of Lukaku's quality... who is going to score 20+ goals a season in that time?
Brian Harrison
67
Posted 13/03/2017 at 16:57:49
Obviously we all want Lukaku to stay, but if you were in his position wouldn't we all want to maximize our earnings?
With Kane likely to be out for a few weeks it gives Lukaku the chance to win the golden boot. Now I cant think of too many who have won this and still play for a team outside the Champions League spots.
Then, no doubt when he reads that Sanchez and Ozil want 𧷚,000 per week, why shouldn't he be looking for the same if not more. As we all know strikers usually earn more than midfield players.
Now he knows that Everton couldn't afford anything like that sort of money, so in his position wouldnt we all be tempted to look elsewhere? Also, let's not forget, unlike us, he isn't an Evertonian – this is just his place of work, till someone offers a better deal.
Ken Buckley
68
Posted 13/03/2017 at 17:04:16
Rom telling that Belgian outlet that he is not ready to sign his reportedly big-money contract... yet not a mention to his almost 8.000 twitter followers. Just makes me wonder about the whole damned thing.
Rom the fans will be there to cheer you on until you're gone; then, you wont matter. That's always the way. That's football.
Ed Fitzgerald
69
Posted 13/03/2017 at 17:05:38
As far as I am concerned, Lukaku is perhaps the most valuable asset In world football at the moment. Given his age, the goals he has already scored etc we can't stop him wanting to leave but we can set the fee.
Given that Oscar went to China for £60 million in January and Bale went for 㿼 million to Madrid, I think we should stick a price of 𧴜 Million on him.
Steve Jones
70
Posted 13/03/2017 at 17:17:37
Clearly I'd like Lukaku to stay but if we look at his influence this season he's gained us 7 points, the point being a lot of his goals come in games we would have won anyway.
Interestingly in the table produced last week (before the weekends games) of all teams positions without their top scorers goals, we were placed in 4th, 6 points better off at that point!
https://twitter.com/empireofthekop/status/839494773912240128
If he goes as others have said then we'll move on because that's football.
Mike Gaynes
71
Posted 13/03/2017 at 17:23:48
Dead on, Rob #63.
John Wilson
72
Posted 13/03/2017 at 17:32:20
Gordon Crawford, you're right insofar as Kane is not better than Lukaku... Kane is much better, much superior, in every way than Lukaku could hope to be.
Kane is class on the grass whereas Lukaku is class where playing the lower-end Premier League crass.
Eugene Ruane
73
Posted 13/03/2017 at 17:34:47
Brian (#67) –
Obviously we all want Lukaku to stay, but if you were in his position wouldn't we all want to maximize our earnings
In short, yes.
Well... if I was him I would.
I mean if I was him, I'd have no allegiance to Everton (or WBA or Chelsea or...) and just be looking at what clubs could give me the most success and pay me the most.
If I was in his position, that would be different - me in his position, I'd happily sign a 7 year deal at £140,000 a week because I love Everton and would play for the honour (and the 㿞,960,000 wages).
Difficult/annoying/frustrating as it might be, we all need to look at any player dealings from their position rather than ours (if Rooney moving didn't teach you anything, you'll never learn).
And we need to keep in mind that 999 times out of a thousand, there's an agent behind the player keeping up a constant "You can do better, you can do better, you can do better."
I'd certainly be sorry to see Lukaku (or rather Lukaku's goals) go but (philosophical gem alert!) players come and players go and when they go, you replace them and hope for the best.
Up the Toffees! (Particularly those prepared to sign new improved contracts.)
John Wilson
74
Posted 13/03/2017 at 17:38:23
I won't miss Ross Barkley if he chose to leave with Lukaku as he is still frustratingly inconsistent, still shows several errors currently despite his obvious improvement. Ross would be a great scorer though if scoring into the side netting counted!
Everton are like the half-way house as, once Barkley improves sufficiently, he'll leave Everton.
Brian Williams
75
Posted 13/03/2017 at 17:45:37
I must say I DID wonder what was holding up the 0.00001% remaining to be worked out on his new contract.
He'll sign the contract after the summer transfer window has been and gone and he's still at Everton due to no Champions League clubs coming in for him, just like last summer.

Andrew Clare
77
Posted 13/03/2017 at 18:05:20
The manager is the most important person at the club – not the players. Just let him go. He will probably go anyway whether he signs an agreement or not. I would like him to stay but, to quite honest, I'm fed up with reading about it.
Dermot Byrne
78
Posted 13/03/2017 at 18:15:28
This is like getting stroppy with the girl you love because someone joked she was having an affair. Two weeks later, she did.
Ian Jones
79
Posted 13/03/2017 at 18:20:13
So, if Romelu goes, how do we know there isn't a 19 or 20 year old out there waiting for a chance to play.
Teams adjust to losses of players on a regular basis.
Our team would adjust and who knows we might play better....or not.
John Wilson
80
Posted 13/03/2017 at 18:27:09
Dermot at #26, but Lukaku dressed as a female would be a sorry sight, especially those big thighs of his.
Sorry, I was being literal with your analogy. You were alluding to Lukaku as the analogous girlfriend, to be fair.
Christopher Dover
81
Posted 13/03/2017 at 18:34:16
How about (if the figures are correct) 𧵄k if he signs now; if left till the end of the season, it's 𧴜k. If not signed then, tout him around for best price, just like an agent does. :)
Colin Glassar
82
Posted 13/03/2017 at 18:35:18
I agree Christopher. Time to call his bluff.
Dermot Byrne
83
Posted 13/03/2017 at 18:36:08
Lol John
Will Mabon
84
Posted 13/03/2017 at 19:07:20
"Am I the only one getting pissed off by this whole fuckin' circus?"
No.
Colin Glassar
85
Posted 13/03/2017 at 19:18:54
Even after the new deal, Rom will, apparently, still be on less money than Schneiderlin. If he's our "main man" I suppose he expects at least parity with Morgan.
Sick I know but, show him the money Farhad/BPB!!
Ian Riley
86
Posted 13/03/2017 at 19:25:09
I feel an international break coming.
Darren Hind
87
Posted 13/03/2017 at 19:32:06
We scored with virtually every shot against Southampton and Man City, we scored with every shot on target on Saturday, we scored with both of our shots at Tottenham. Fantastic goals per strike stats, but unsustainable.
Lukaku is going through the purpleest of purple patches, he's been involved in nearly every goal.
Where's the backup if he gets injured, loses form, or fucks off? What's Plan B?
Dennis Heaton
88
Posted 13/03/2017 at 19:38:24
We must keep Rom. Then sign Rooney, who will play his heart out for 2 years. Get Barkley to sign a new contract. Add two more signings in the summer and let's start going places with lots of class.
John G Davies
89
Posted 13/03/2017 at 19:40:44
http://www.liverpoolecho.co.uk/sport/football/football-news/everton-champions-league-places-without-12707467
No problem. Nearly every Premier League club is in the same boat if they lose their top scorers goals.
Look positively; negative thoughts in the cupboard.
Kristian Boyce
90
Posted 13/03/2017 at 19:47:30
I think this is more fun and games by his agent to either bump up his weekly wage, or to test the water on who might be interested this summer.
In reality, there's only maybe 7-8 teams who realistically can afford him in Europe, and if they do not need a striker, he's better off staying with us. The only other factor that comes into play is the Chinese money, but he knows that route is career-ending for a 23-year-old.
Unfortunately, I do see a transfer merry-go-round this summer with Griezmann being linked with Man Utd. This would probably mean a return of Costa to Athletico and Chelsea needing a replacement.
Stan Schofield
91
Posted 13/03/2017 at 19:51:21
Can't believe a lot of these posts, which basically say I'd fed up reading about him, just let him go, use the cash to buy someone else.
This is just fantasy nonsense. These are all media reports, nothing more, nothing less. The media who exist on lies, all kinds of invented shite, phone hacking, etc.
But, no matter how much their shit is revealed as shit, they always manage to manipulate the gullible. Get a grip folks!
Ian Horan
93
Posted 13/03/2017 at 20:07:33
We should relax, enjoy him whilst he's here; if he is Chelski-bound, a nice part-exchange with Bashyi and Nathan Ake plus 㿊 mill. If to Man Utd, Rooney, Rashford and 㿊 mill. If PSG, €85 mill. All-in-all, it's win-win, if he gets the Golden Boot... kerching!!!
How about a cheeky pay-as-you-play deal for Sturridge and a punt on Andy Carroll as we are more direct at the moment?
Julian Wait
94
Posted 13/03/2017 at 20:09:07
If what was previously reported is true, the contract would have given him a way out for £80m if we didn't qualify for Europe. Now it looks like we probably will, has that changed his mind?
In the end, he will do what he feels is right for him. I'd love to keep him, of course. Que sera, sera.
Mick Davies
95
Posted 13/03/2017 at 20:19:40
Bored with this every year: I'm not even bothering to comment.
Kevin Jones
96
Posted 13/03/2017 at 20:29:04
No, neither will I, Mick.
Ben Howard
97
Posted 13/03/2017 at 21:24:28
Me neither, Mick and Kevin.
Brian Harrison
98
Posted 13/03/2017 at 21:24:39
Stan,
Well, if it's all media shit, then why hasn't he signed a contract that will increase his money by 㿔,000 per week? And he could just keep his mouth shut and sign the contract, then he kills the stories.
Dan Davies
99
Posted 13/03/2017 at 21:28:52
Darren @87, good questions. Now I'd like to think there are people at the club asking those same questions, including Koeman.
Hopefully Lukaku will sign a new contract with us because of obviously more money for himself but also because he has been sold a vision of where the club wants to go over the next few years.
However, regardless of whether he signs up or not, those in power at Everton should already have plans in place to either bring in a striker to compete with or replace him. I'd love to see Lukaku sign up but he's not bigger than the club, we need to be signing a quality striker whether he signs or not. Let's do this on our terms not his.
Buy in a quality striker and show Lukaku our intent for the future with or without him. C'mon, Big Rom – get it signed! We love you really!
Stan Schofield
100
Posted 13/03/2017 at 21:41:13
Brian, I don't know. There could be many reasons why a new contract hasn't been signed, particularly ongoing negotiations. I see no reason why media people would know either. It's media 'shit' because what's reported is unlikely to be true.
Why do I say that? Because in my experience most of what is reported by the media is inaccurate, and in those cases where I've known a lot about a situation, the media reporting has been wildly inaccurate.
In other words, when I see reports like the ones about Lukaku, I'm sceptical as to their accuracy. I don't need to 'prove' that the reports are wrong in order to be sceptical; experience is sufficient for that.
Rob Halligan
101
Posted 13/03/2017 at 21:45:22
I agree Stan. The only way the media would know this was true, is if someone from within the club leaked the story. That won't be the case, so yeah, it's all bullshit.
Ernie Baywood
102
Posted 13/03/2017 at 22:13:02
Our club wrongs just as much as it is wronged. We don't want to show loyalty to players who perform at a lower level than the club, yet expect it from our better players.
It doesn't work that way. I don't expect any loyalty from Rom, even if I hope he stays. I do expect him to perform while he's wearing our shirt. Which to be fair, he is.
Ian Riley
103
Posted 13/03/2017 at 22:17:03
I personally think the deal will be done. Contracts mean nothing if the fee is right or the player want's out. Why would you not sign with an extra £30k, £40k or £50k a week? Must be a terrible decision to make.
Perhaps the club is waiting till the summer. Our one signing of the transfer window. Only Everton could drag it out like a soap opera. Just get it done or sell him in the summer. Bored with it now!
Patrick Murphy
104
Posted 13/03/2017 at 22:31:39
As if it's not enough for the media to peddle stories which may or may not have substance, and their constant insistence that Everton are going nowhere fast, and have no right to hold on to players such as Barkley and Lukaku, they have now started to report that Arsenal are aiming to take Idrissa Gueye off our hands – when will it stop?
Is there a financial problem at Goodison that we are all ignorant of? I could understand it during the lean years when we had to sell talent to survive... but now, with Moshiri's financial muscle to act as guarantor, we shouldn't have an issue with keeping our best players – unless they don't want to stay of course.
I, like many, have already renewed for next season and I won't be a happy bunny if we start the campaign without one or all of those three players.

Trevor Peers
105
Posted 13/03/2017 at 22:36:24
The only reason a new contract hasn't been signed is the player and his agent think they have a better deal. We will benefit to the tune of 㿨 mill to 㿼 mill plus if it's true.
No way we can offer him Champions League football next season if that is what he craves for.
Mike T Jones
107
Posted 13/03/2017 at 22:36:25
If we finish 4th, he'll stay; if we don't, he will leave. I don't have a problem with that. We'll buy someone else.
Oliver Molloy
108
Posted 13/03/2017 at 22:38:09
Perhaps Lukaku is sending a message to Moshri to get his finger out.
Rumours he would welcome a move to join his buddy Pogba.
Tom Bowers
109
Posted 13/03/2017 at 22:39:20
Very few big names re-sign on the dotted line without dragging it out for all it's worth and these agents have a big say in that too. For the fans, I suppose it would be best if we didn't read so much media including the internet but we can't resist.
Many of us want Rom to stay and many couldn't care less if he went but one thing for sure is that proven goalscorers like him and at his age don't grow on trees and he knows it.
Just look at the many other supposed goalscorers who signed for big fees with big clubs over the last five years who fell flat on their faces such as Remy, Bony, and Ings (remember him?)
Patrick Murphy
110
Posted 13/03/2017 at 22:47:00
According to Matt Law of the Telegraph -
Everton's bid to finalise a new contract for Romelu Lukaku has been thrown into doubt by the club's refusal to include any buy-out clause worth under 䀆million with Chelsea and Manchester United watching the situation.
Colin Glassar
111
Posted 13/03/2017 at 23:09:37
I don't believe anything that Brummie idiot says, Patrick. He's still upset his beloved Villa are Championship fodder. There's something about Brummies like him and dog-collar Collymore that makes me want to retch.
Oliver Molloy
112
Posted 13/03/2017 at 23:10:16
Patrick, £75 million with potential add ons sounds about right.
Dave Williams
113
Posted 13/03/2017 at 23:44:33
Patrick, it's nothing but paper talk. Gana is left out on Saturday, Arsenal are losing games so they put a story together linking one with the other.
We all know Rom will depart for what he sees as a better team. He has no attachment to the club and will go once an offer comes in which he fancies.
Ross hasn't yet been offered a contract so they try to stir up a story by linking him with Spurs.
We have shown interest in Sigurdson in the recent past so some papers run that old chestnut again to fill gaps on the football page.
Barry is no longer a regular starter so they link him with Villa where it just so happens he started his career.
Likewise Wayne being linked back to us. All just speculation generated by writers who are under pressure to find a story or if they can't then create one which might have some logic.
The financial muscle is there but I suspect Moshiri is sorting the finance for the stadium whilst there is no opportunity to buy players.
Jamie Sweet
114
Posted 13/03/2017 at 00:18:47
His scum-bag agent wouldn't have opened his gob unless it was to see if Abramovich would get on the blower to him shortly afterwards.
My guess is that it worked and Rom will be off to the Premier League Champions in the summer. At least that is what my cynical mind is telling me right now.
He knows signing a new contract with us will price him out of a move anywhere in the world for another 3 or 4 years.
John Pierce
115
Posted 14/03/2017 at 00:40:42
He'll sign regardless. Why not? If he is set on a move to a better club, then signing is the smart thing. By not signing, he risks being branded a 'Cockwomble' and the club being difficult, why risk it?
He gets a pay rise for a couple of months we get a player who's signed up and probably gets to go for a set price or if a particular club comes in for him.
That's him controlling his destiny, the club gets a nice wedge in return for giving the platform for him to perform when no one decent would touch him with a bargepole.
Personally, I think he will be here in August, whatever his record for us he isn't and won't be the top, top player at a massive club.
He is much better as a big fish in a small pond. Not sure he could handle being one of a firmament at Chelsea or PSG for instance.
Bottom line: I don't care, we get money for him, we replace him. You would hope, since it's ALWAYS a thing, then the club have replacements in mind already.
Mick Davies
116
Posted 14/03/2017 at 01:43:23
99.9999% of agents are bent.
David Ellis
117
Posted 14/03/2017 at 02:31:40
Why don't we just wait until he signs... or leaves? Everything else is just speculation. I want him to stay because he's finally putting in a proper shift. But we'll survive without him.
To hear some people (and the press), they seem to think we would be starting with 10 men if Lukaku left! Teams score goals – it's not all down to the strikers.
Mark Andersson
118
Posted 14/03/2017 at 05:03:31
This is all very tedious, the guy is a greedy egotist who is not the least bit interested in Everton FC. Personally, I hope he does move and fails. Let us hope that Walsh & Koeman earn their inflated salaries and get a replacement.
From memory, the great '80s sides won titles with team work and no superstars.
Bye Bye, Rom.
Bob Parrington
120
Posted 14/03/2017 at 07:14:15
Wouldn't it be wonderful if we had an entire squad made up of true-blue Evertonians! Err, are there enough true-blue Evertonians in the right age range that would have good enough skills to ensure survival in EPL????
Methinks not! So why are there so many T Webbers critical of some of the excellent squad we have now and will add as long as they do their jobs!
Paul Conway
121
Posted 14/03/2017 at 07:19:26
The first big scare for me this season, reading the BBC gossip. According to the Sun, Arsenal want to sign Idrissa Gueye in the summer.
Rumour or not, it doesn't fail to give me nausea at the thought of losing him.
Phil Sammon
122
Posted 14/03/2017 at 07:22:51
How do you be a club's top scorer three years on the trot and still have half the fan base loathe you?
He's a good player and I really hope we keep him, but what a total dickhead.
He sent in a cross at the weekend, it flew across their goalkeeper, over head-height, absolutely nowhere near the onrushing midfielders entering the 18-yard box, and then throws his arms up in disgust at his team mates.
That goal against Sunderland was a joke too. I don't care if he bungled it into the back of the net. The right decision was to pass to Enner Valencia who was as wide open as it's possible to be on a football pitch.
I suppose you put up with it while he's scoring goals. It's very hard to like him though.
Ian Jones
123
Posted 14/03/2017 at 07:28:37
How do we know we don't have a Plan B if Rom goes? We haven't had an opportunity to try one recently.
Colin Glassar
124
Posted 14/03/2017 at 07:48:57
Just read the Matt Law piece in The Telegraph. Well he certainly covers all his bases but he does write like some 15-year-old, 18st kid making shit up in his bedroom. No credibility whatsoever.
Dave Ganley
125
Posted 14/03/2017 at 08:30:36
Whilst it's better if he did stay it's not the disaster that some people think if he does go. Good players have come and gone at our club for years. We have got over it and replaced them. No one is irreplaceable.
If Rom goes then maybe we will start spreading the goals around the team. Maybe we will find a gem and this gem will be as deadly if not better than Rom.
We said this about Lineker and we said this about Rooney. We ended up being a better team without either. I would like Rom to stay but if he doesn't it won't be a disaster either.
Martin Nicholls
126
Posted 14/03/2017 at 09:25:10
Seems ironic that our very own egotist is allegedly telling our Club that he's not worth as much as they value him at! That said, whilst he's not irreplaceable, he's close to it in my view.
Dave Williams
127
Posted 14/03/2017 at 10:47:52
He reminds me of Lineker – no feeling for the club and only in it for himself.
Huge loss when he goes but give me Ross over him any day.
Chris Williams
128
Posted 14/03/2017 at 10:48:06
My dad used to call Lukaku's attitude as 'wanting the penny and the bun'.
Basically he wants a new contract at a much higher salary but wants to pitch an exit clause low enough to be affordable to his choice of clubs.
Tell him to fuck himself.
Joe O'Brien
129
Posted 14/03/2017 at 10:57:29
If the release clause is the hold-up, we should hold firm and withdraw the offer if he doesn't look like signing. He probably feels like he's got a stronger hand because he knows we haven't got a striker to replace him at the moment.
I hope we're looking for other options just in case. I'm sure we are... Concentrate on sorting out a contract for Ross; leave Rom to stew.
Gordon Crawford
130
Posted 14/03/2017 at 11:05:34
Jamie, I agree with you. Saying that it was 99.999999999% finished is just a cry to other clubs. Come make us an offer quickly!
I never cared if he stayed or left, but now I do a little. We will not replace his goals. The rest of the our squad just don't score enough.
Gordon Crawford
131
Posted 14/03/2017 at 11:08:16
And the papers are filled with Gueye going to Arsenal during the summer. I hate newspapers, especially those capital rags. He's ours so take a hike.
Dermot Byrne
132
Posted 14/03/2017 at 11:26:15
Gordon (#130): with you and Jamie.
The agents and media play us like puppets and we claim to be smart.
Sadly we are masters of our own gullibility, Gordon.
Kev Johnson
133
Posted 14/03/2017 at 11:50:03
In the words of Chuck Noland, I gotta keep breathing, because tomorrow the sun will rise, who knows what the tide will bring.
So yes the sun will rise and Everton will carry on with or without big Rom. All the best, big fella.
Jason Broome
134
Posted 14/03/2017 at 11:51:55
Clever guy. I would say the same.
He hasn't said he won't sign – he just wants to wait until the summer to see if the club has ambition. If they sign quality players, he will re-sign. If they don't, he won't and will use his two remaining years to put pressure on the club to sell...
Over to you, Moshiri and Walsh.
Nicholas Ryan
135
Posted 14/03/2017 at 12:27:40
I've heard, that Everton want a buy-out clause in the new contract, set at 90 million pounds; whereas Lukaku wants it at 90 million EUROS!
Daft as it sounds, This would fit in with the agent's remarks about 99.9999% etc and the fact that Lukaku was apparently laughing as he made the comments!
I don't think Mino Raiola would have said what he said if there was any serious doubt about it proceeding, as he'd end up looking a real (and unreliable) prat!
Mike Price
137
Posted 14/03/2017 at 12:52:44
He's still got 2 years after this season so we're still in the power position. If he doesn't sign, he's taking a massive risk with his future and one Bolasie-style injury could cost him, and his agent, tens of millions.
He'd be an idiot not to sign, secure his future earnings, and have the release clause inserted to give himself some power over his destiny. The number attached to the clause is the obvious problem but a compromise is bound to be reached as it suits both parties.
Kristian Boyce
138
Posted 14/03/2017 at 12:57:25
Collymore was again banging on about Lukaku to Spurs last night on his radio show he has here in the States. He was pricing him around £30-40M, but a number of callers put him in his place saying Spurs couldn't afford him as he would cost a lot more – and why would he go to play second fiddle to Kane?
Eugene Ruane
139
Posted 14/03/2017 at 12:58:24
Feller at the bus stop yesterday, off his swede, nuts (I mean fucking
nuts!
)
He was banging his feet on the deck and stating loudly 'Dolphins drive these fuckin' buses yer know, fuckin' dolphins..honest!'
Why did I give you the preamble?
Because I thought I'd help you with a bit of context rather than just say 'I've heard Dolphins drive buses.'
Nicholas # 135 - 'I've heard, that Everton want a buy-out clause in the new contract, set at 90 million pounds; whereas Lukaku wants it at 90 million EUROS!'
Any chance of a hint?
A reliable source, an insider, a feller in the pub or maybe a man who thinks dolphins drive buses?
Personally I'd ban any 'I've heard' post that provides no context.
(Obviously if Moshiri told you and said 'don't tell no one' I'd understand but give us a bleedin' clue!)
Nick Armitage
140
Posted 14/03/2017 at 12:58:33
€90M or £90M?
They'll be equivalent soon if the pound continues to nosedive.
Daniel Lim
141
Posted 14/03/2017 at 13:00:16
Euro instead of pound may not be a bad idea a few years later, who knows.
Will Mabon
142
Posted 14/03/2017 at 13:03:35
€90 million being just below 㿻 million currently. Transfers are still mostly expressed in Sterling. Since 㿼 million is recently an oft-quoted top player ballpark figure, that would if true indicate what Lukaku and his agent are thinking. Or already know. As if
we
didn't already know.
Nicholas, I doubt Raiola gives a toss what anyone thinks about him.
James Morgan
143
Posted 14/03/2017 at 13:08:46
Paul (#121), I wouldn't worry about Gueye to Arsenal. For a start, we can't be sure if Wenger will be in charge there, and if he is then we simply do what we did to Chelsea with John Stones and outprice them as we don't need to sell.
Arsenal/Arsene won't pay more than what they value the player at so we just tell them 㿞m and they'll run away.
Will Mabon
144
Posted 14/03/2017 at 13:16:02
Mike, post 137:
Everything you say is correct. However it's becoming a bit much that top players now have an automatic expectation to be worth multiple tens of millions at the end of their careers. Where does it end?
John Raftery
146
Posted 14/03/2017 at 13:44:57
Nicholas @135:
The way the pound is going on the money markets, it won't be too long before €90 million is worth exactly £90 million.
Obviously a buy-out clause is being driven by Lukaku's agent. Once a long-term contract is signed, the balance of power switches back to the club and a buy-out clause is the only legitimate bargaining chip a player and his agent can use to force a move. Given the money paid for an average midfielder like Pogba, it seems to me 䀆m is reasonable for a proven top quality striker aged 23. Anything less would be theft.
If it is true we have offered 𧵄k per week and if his current deal is worth 㿲k, each month's delay is costing Romelu over 𧷐k. Another way of looking at it of course is the delay is saving the club the same sum.
As others have said, a serious injury could happen in the next game he plays so the delay is not risk-free from the player's point of view.
Daniel Lim
147
Posted 14/03/2017 at 14:06:35
Eugene, is that necessary? Take it easy.
Stan Schofield
148
Posted 14/03/2017 at 14:11:09
Assuming all this shit is true (big assumption), this is no surprise surely? If this is a new Everton, big business minded, becoming élite, then difficult negotiations with high calibre players will be par for the course.
We don't need to sell these days, so we've got a strong position, and Lukaku is a top striker, so he's also got a strong position. Hence the prolonged nature and fine tuning of any negotiations. That's if all the shit is true.
Eugene Ruane
149
Posted 14/03/2017 at 14:14:42
Daniel # 147 -
'Eugene, is that necessary? Take it easy.'
1) Yes.
2) No.
Ciaran O'Brien
150
Posted 14/03/2017 at 14:55:18
It would be criminal to sell him. He's our best player and it took us years to get a quality striker. Yeah, sure the money would be huge but any player we go after will have 㾶-30 million more put on their value. Look what happened to the Red Shite with the rabid dog, and Bale at Spurs. Henry at Arsenal too.
Strikers like Lukaku are few and far between. We must keep him and make him our highest earner with a 㿲-80 million release clause. We need to build around him, Barkley and Davies, not sell then.
If we do sell, we sell abroad – not to Man Utd, Chelsea or any of our direct rivals. We sold Lescott and Arteta and were worse off for it.
Peter Morris
151
Posted 14/03/2017 at 15:52:22
Maybe this gives the game away with the agents 99.9999% sure of a contract being signed, the only issue being the size of the buyout clause. We don't even know if the slimy toad is out pre-selling Rom for 㿲m, or whatever the figure is he appears to be holding out for, in the sure knowledge that there is a club who will pay it.
It's win-win for agent and player. The agent earns two huge wedges in quick succession, and his 'client' retains the moral high ground because he signed the new contract in good faith and has no way of controlling who exercise the buy out.
One thing is for sure. If a player gets so exercised about the size of a buy out clause, before he has even signed a new contract, with his existing employer, he is definitely looking at the next contract, and not the one currently on the table.
What a nauseous world it can be sometimes!
Laurie Hartley
152
Posted 14/03/2017 at 21:13:10
How things have changed in the time since I started following the blues.
Remember John Hurst? One of the unsung heroes of the 60's.
https://m.youtube.com/watch?v=BVtXdK2afdI
Call me old-fashioned if you like but there is something terribly wrong somewhere.
Raymond Fox
153
Posted 14/03/2017 at 23:41:10
If it's true?
It was only a matter of time before he left, was it not. Our manager said he would need to go to a 'bigger' club.
That takes the biscuit for the clanger of the year in my book, you couldn't make it up! Koeman will be off like a shot also if Arsenal or Barcelona come calling, that's pro football nowadays.
Some way we need to get into the top 4 in the near future, or we won't retain the likes of Lukaku or sign players of the same standard. The 'spoilt boys' want their Champions League football!
Its a vicious circle though: if the players are not good enough, no top 4.
Jim Hardin
154
Posted 15/03/2017 at 01:41:26
Losing Rom would be a huge setback to a plan for moving up to challenge for top four in the next couple of years. Yes, the club might find a player or players to offset the loss of goals but maybe not next season, but that is not the real point.
The club, in order to move forward and up to challenge for the title (screw a top four target as good enough), must add to Rom's goals, not replace them. Rom might just be looking for the team to finally walk the walk.
I wonder about those complaining about the press talking about our players. Every game on TW, someone grouses about whether Everton will get ignored by "insert radio or television show or host here."
We complain about Everton getting ignored. We now complain about the same shows and pundits discussing Everton players as targets for other teams wanting to take them from us. We cannot have it both ways.
I say, bring on the rumours and press with the understanding that it will only drive the value of the players up and the name of Everton forward. It is time, Everton started to embrace the attention and to use it to an advantage to attract other top players.
Add Your Comments
In order to post a comment, you need to be logged in as a registered user of the site.
Or Sign up as a ToffeeWeb Member — it's free, takes just a few minutes and will allow you to post your comments on articles and Talking Points submissions across the site.