Ambitious Lukaku lays down the gauntlet to Everton hierarchy

273 Comments [Jump to last]
Wednesday 15 March 2017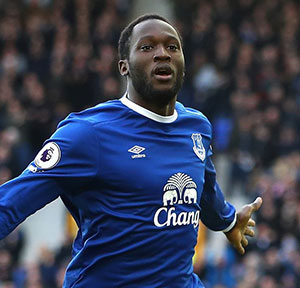 Romelu Lukaku has blamed what he perceives to be a lack of ambition in the transfer market at Everton for his decision not to sign a new contract.
In a frank interview in which he spells out many of the frustrations felt by supporters — missed transfer targets and a lack of clarity over the Board's plans appear to be the chief gripe — the Belgian international reiterates his own ambition to play in the Champions League and leaves no one in any doubt over his confidence in his own ability.
Contrary to what was expected, however, Lukaku doesn't express his desire or intention to leave Everton this summer outright, although the inference that he won't extend his current deal is there because the Blues require a minor miracle if they are to finish in the top four this season.
Based on the 23-year-old's comments, it's not money that is the prime motivator, rather Everton assembling a team capable of delivering on his desire to play on club football's biggest stage.
If he is to be persuaded to stay, it will take some ambitious transfer planning from the management and Board to convince him that the necessary injection of quality can be made in the upcoming transfer window.
"Everton as a club have a great history, right?' Lukaku said. "But the future has to be written. You get me? We always talk about the teams of the 1980s and, if you look, it was great.
Sometimes I speak to Vincent Kompany, who was at Manchester City when it all happened. He said, 'Rom, one summer I just came in and boom, boom, boom… Robinho from there, this guy came in, this guy came in'.
Everyone was criticising them but, at the end, there are two league titles, FA Cup here, League Cups there. That is what we want as players.
Romelu Lukaku
"But we, as players, want the fans talking about us instead of us talking about them. No disrespect but you know what I mean?  
"You cannot only be remembered by scoring goals. You want to be remembered by winning trophies. That is what the fans want. So instead of living in the past, you have to think ahead.
"How this club has to grow, how this club has to improve. Which player does it want to bring in so you can challenge for the big trophies?
Echoing manager Ronald Koeman's frustrations in January following the FA Cup exit to Leicester and prior to the arrival of Morgan Schneiderlin, Lukaku questioned why Everton failed to land key transfer targets in the last two windows.
"I don't know, I don't know what the board's plan is. I don't really know.
"Obviously stuff is changing and stuff is happening," he continued when asked whether he could see the transformation taking place off the pitch at Everton, "but like I said there were some players that we could have got. That I knew the club could have got and they didn't get. And they are playing in this league.
"I am not saying names, but they are doing well.
"It is a little bit frustrating but, at the end of the day, we have fantastic players. We cannot look at the others, we can only look at ourselves. We are the only ones to blame. We cannot blame the fans. We cannot blame the manager."
"If I didn't think I would have learnt something from [Koeman] I probably would have left. I probably would have said: 'You know what, I don't have the energy or whatever.'
"But from our first conversations when I was at the Euros in France they were really honest, we spoke a few times and he explained how he wanted to play, how he expected things and stuff and I was just listening to what he had to say.
"I told the manager it will take a few weeks, but once I get it, don't worry, it will be fine.
"We have a team that has a lot of quality and a lot of ability but we let ourselves down before Christmas. One win in 10 games? That's where we let ourselves down.
"Okay, now we are doing well. Everyone is happy. But we cannot stay at this moment.
"We have to become stronger, we have to become technically and tactically better. We have to start winning big games. That is what it is all about.
"Us as players we need to give a bit more and that is a nice challenge. I really relish that challenge to be fair, I relish that challenge. The last 10 games of the season I think: 'Bring it on. Let's go.'
Lukaku then demonstrated his notorious self belief and his aim to fulfil his potential by playing in the Champions League.
"I am focused on Everton and what I am doing. That is my focus.
"I'm close. I'm one of the best strikers in the Premier League, 100 per cent. "If I don't say I am one of the best, I'm shooting myself in the head.
"Can I be one of the best in the world? Definitely. But to do that, you need the platform to show yourself. Then you are talking about Champions League and whatever types of games."
---
Reader Comments (273)
Note: the following content is not moderated or vetted by the site owners at the time of submission. Comments are the responsibility of the poster. Disclaimer
Oscar Huglin
1
Posted 15/03/2017 at 23:02:32
It was all doom and gloom earlier today, but this is honestly a fantastic interview. Shows he has an attachment to the club, that he wants us to rediscover the glory days, that his motivations are not financially based at all.
This could be the interview that kicks Moshiri into action in the summer. Just imagine – we get Lukaku to sign on the promise that we will spend 㿔-50m in the summer bolstering the squad and go all guns blazing for the top 4 next season.
Definitely potential for this to be a blessing in disguise. Good on you, Rom.
Chris Leyland
2
Posted 15/03/2017 at 23:07:51
The thing I don't get is that last week he was 99.9999% certain to sign the new deal and now he is suddenly worried about the lack of signings and progress. What has changed in the last week to suddenly make him think about these things?
It couldn't possibly be that he has an offer from somewhere and he is looking for the 'moral' justification to back-track on his plans to sign?
Jim Jennings
3
Posted 15/03/2017 at 23:09:41
Fantastic interview. Very honest and echoes a lot of what we as fans think. You simply cannot blame the guy for asking the board to match his ambitions.
Hopefully this puts to bed the spurious theories spouted ad nauseam on these pages that his motivation is money, he has no attachment to the club, he's using us as a stepping stone etc.
Stan Schofield
4
Posted 15/03/2017 at 23:10:01
What he's saying here is absolutely consistent with the desire of Evertonians to have our club back at the top. He's not saying he wants to leave Everton, only that he wants to leave if we don't show the ambition and demonstrate the improvement we've been talking about.
He's saying that the Everton Board must not only talk the talk, but also walk the walk. It's about time a prominent player said this, because it needed to be said. Like Koeman, he's saying that Everton needs to get its act together pronto; otherwise, we're going nowhere.
Mike T Jones
5
Posted 15/03/2017 at 23:10:12
If Lukaku's comments are as quoted, then I'm impressed.
Colin Glassar
6
Posted 15/03/2017 at 23:10:48
Good on yer, Rom, lad. At last, a player has called out the board on their mishandling of transfers. For years we've criticised players for keeping quiet and toeing the party line that all is sweetness and light at Goodison.
For too long we've seen viable targets go to other clubs while our two "negotiators" dither and haggle. Moyes and Martinez both pleaded for reinforcements only to be let down continuously. Koeman, despite having more luck, found himself in the same boat in the summer and January and had to do the same as Rom before fat arse got off his arse and signed Schneiderlin and Lookman.
This lad has a burning ambition to succeed and win things and unless we, at least, show a willingness to match that ambition he'll be off and rightly so.
John Francis
7
Posted 15/03/2017 at 23:11:37
The club won't change while Billy Bullshit is still in charge of transfers.
Paul Smith
8
Posted 15/03/2017 at 23:12:03
We simply don't have the money to sign anyone. More worrying, is Koeman getting the same vibe about our ambitions and ability to see it through?
Cue some spin from Farhad. Best get that stadium announced.
Oscar Huglin
9
Posted 15/03/2017 at 23:13:14
Chris (#2) ― I've been of the belief that, since we lost to Spurs, he saw that as an indicator of the gulf between us and the top 6. Fits with this interview, too. Could have caused a change of mind.
David Barks
10
Posted 15/03/2017 at 23:13:59
Not a damn thing he said is incorrect, not one thing. It is sad that he is the one having to express this when so many of the supporters on here talk about finishing in 7th for the next couple of years as some major achievement.
So I really want to know, what did he say that is incorrect or disrespectful? If the club showed the ambition and spent the money that we should all be loudly demanding, he'd be happy to play here.
Peter Laing
11
Posted 15/03/2017 at 23:14:09
Over to you Mr Moshiri – please start the cull with the dismissal of our very own transfer committee in the shape of Elstone and BK. Bring in a winner like David Devin, buy out Kenwright and Woods and deliver us to the promised land.
Lev Vellene
12
Posted 15/03/2017 at 23:18:23
A very good read, and it also highlights the frustrations of Lukaku. And also it points clearly to the frustrations of us fans, we need an infusion of better high-performance players now!
But equally, it highlights how it is difficult for Everton to get the players we want since we are not already perceived to be a natural participant of the fight for the top-4 spots!
Colin Glassar
13
Posted 15/03/2017 at 23:20:25
Agreed, Oscar, the Spurs game could've been the straw that broke the camel's back, even though Rom was just as bad as everyone else and Koeman messed up big time.
At the end of that game, he was talking to his mate Sissoko, who probably told him he needed to join a bigger club, London is great, he's on a bigger wad sitting on the bench etc.
Players talk amongst themselves and he's probably getting pulled all over the place by them, his agent, his dad... even his cat.
Tony Hill
14
Posted 15/03/2017 at 23:23:43
This echoes what has been on the grapevine for some time not only about Kenwright but also about the new regime and the interrelationship of past and present -- with neither being clearly in charge. The Sissoko shambles and Moshiri's "explanation" about McCarthy was the first sign.
Whatever Lukaku's motivation, this is the first unmistakable criticism of the board by a player that I can remember and we should be grateful for it because it goes to the heart of our continuing underachievement.
John Malone
15
Posted 15/03/2017 at 23:25:02
Oscar 1, are you deluded???
The lad want's out!!
I don't agree with the above comment's that he is right to call out the board about signings! He has never had any intention of staying with us! He has banged on about playing in the champions league, his personal ambition's since day one!
Who does he think he is, trying to dictate who the club sign in transfer windows and banging on about not winning trophies!! If he would've buried his chances against Man Utd in the semi-final last season, then we more than likely would have had a trophy in the bag!!
Everyone can see the progress we are making with Moshiri and Koeman and know that it takes time to build a team and get the right signings in. If he was genuine about the club, he would sticking with us for at least another year to see if we can crack the top four!!
Mentioning Kompany and what happened at Man City is ridiculous because there was no Financial Fair Play back then!
The guy is an arrogant jumped-up arsehole; I want him out this summer! Take his ego and his jarg Rolls-Royce with him!
No player is bigger than our club and I really can't wait until we get our new stadium can legitimately create the revenue to consistently fund a squad to compete and win the top trophies!!
Get top whack for him and get the best striker available as well as a top winger and centre half and get in the top four next season and wipe this guy's eye!
Nil satis Nisi optimum!!
Mick Davies
16
Posted 15/03/2017 at 23:25:49
What's he moaning about? We've got Barry and Jagielka playing regularly again, so who needs new players? In Kenwright we bust!?
James Stewart
17
Posted 15/03/2017 at 23:26:10
"There were some players that we could have got. That I knew the club could have got and they didn't get. And they are playing in this league. I am not saying names, but they are doing well."
Wow, that is a pretty damning statement and puts the ball firmly in Moshiri's court.
Good on you, Rom lad, for not hiding and calling out the hierarchy of the club who have been unambitious fuckwits my entire adult life.
This summer is going to be interesting. Gabbiadini has to be one of the players Lukaku is referencing.
Bill Gienapp
18
Posted 15/03/2017 at 23:26:25
I honestly don't see how anyone could take exception to Lukaku's comments. It's literally the exact same sentiments that are posted here on a daily basis.
Lukaku's thrown down the gauntlet. Now the onus is on the board to respond.
Anto Byrne
19
Posted 15/03/2017 at 23:26:26
Agree 100% hopefully with Koeman and Walsh -- they have the same ambition to make it happen. Had we taken the game to Spurs and had a real go, I reckon things might be a bit different.
Stan Schofield
20
Posted 15/03/2017 at 23:27:17
The irony here is that Lukaku is echoing our own frustrations as supporters, yet he's had so much stick on TW for supposedly being arrogant and disrespectful. He's just ambitious, as ambitious as we should be, and as the board should be.
Dave Hall
21
Posted 15/03/2017 at 23:28:03
Fair play, Rom, and spot on with most supporters' own sentiments. He's no fool and sees the disconnect between stated intentions in the press and actual results (failed transfer dealings) and calls it for what it is.

I hope he does not get an ounce of stick for this at Goodison, and that the fans back our best player both for his fantastic form and his dead-on comments.
Oscar Huglin
22
Posted 15/03/2017 at 23:28:25
John #15 - Okay mate!! If you think so!!!!!
...
Richard Lord
23
Posted 15/03/2017 at 23:30:14
Interesting to hear, I think though the problem we have as a club is that the Financial Fair Play rules have stopped clubs investing. When Man City and Chelsea got their money, they didn't have to worry about the limits in place now, which meant yes they could go 'boom' and buy anyone they wanted. Nowadays, as Moshiri has said, you can only invest your profits plus a small amount on top.
The Financial Fair Play rules have actually done the opposite of their apparent intention. The rules have only served to protect the top clubs from being threatened by other clubs who have since come in to money.
That said, I do think we are pretty crap in the transfer market and the club have got to buy big (within the bounds of the limits) this summer; otherwise, not only will the club lose Lukaku and Barkley, but also the belief of the fans.
Oscar Huglin
24
Posted 15/03/2017 at 23:30:17
Nice edit there, John. Take out the bit about calling me deluded.
Kunal Desai
25
Posted 15/03/2017 at 23:32:41
Said it on another thread yesterday. Its imperative that we get a shake up in the hierarchy of the club. Moshiri needs to fully take over the club and bring his own people in. Kenwright, Woods and Elstone are deadwood and should be detached from this club. They offer nothing.

Get timelines pencilled in on the ground front, something tangible is now needed on this move. These are the foundations of taking the club forward, players will come and go.
Douglas McClenaghan
27
Posted 15/03/2017 at 23:34:06
I haven't been so scared since the Cuban Missile Crisis.
David Barks
28
Posted 15/03/2017 at 23:34:21
I think it's fair to read into the fact that Barkley isn't rushing to sign a contract, that Lukaku isn't the only one wanting to know what the people running this club REALLY are willing to do to win.
Stadium stadium stadium, screw that. Why did we spend the summer buying Stekelenburg, Williams, Bolasie and Gana, and only a loan for Valencia?
I have no doubt in my mind that the Spurs match has made Lukaku think about what's really going on at this club. It was a joke, a surrender before we kicked off. We had no intention of going into that match to win. And honestly, even if the manager wanted to we have hardly any real quality attacking options to call on.
I cannot wait to see what the response from the club is to these comments. If this pushes them to want to get rid for having the audacity to demand ambition in public, I really hope the supporters react in kind. If on the other hand they are now forced to actually spend what is required to bring in the type of quality players we need, and not spend another Summer signing the likes of Stek, Williams, Bolasie and loaning Valencia, then Lukaku will be owed a massive thanks from the supporters. He's being our voice for Christ's sake.
Clive Mitchell
29
Posted 15/03/2017 at 23:35:37
Some grasping at straws on here. The lad's had a gob on him all season because he wanted to be somewhere else. His self-belief and professional focus on improving himself as a player are admirable, and he is undoubtedly destined for the very top; but has there ever been a more unloveable Everton star?
Colin Glassar
30
Posted 15/03/2017 at 23:36:25
Koeman has also hinted a few times that the club needs to get its act together and pronto. I wouldn't be surprised if he not only authorised Lukaku to come out publicly but also scripted his answers.
Once Bill and Ben, are out of the picture this club might just start to make giant leaps in the right direction. Amateur hour is over lads.
David Barks
31
Posted 15/03/2017 at 23:37:50
There is so much irony in John Malone complaining about Lukaku wanting Champions League football and ending his rant with Nil Satis Nisi Optimum.

Hey mate, should we as supporters not be demanding Champions League football? Is that so outrageous for a club like Everton? Because that's essentially what you said... small club mentality.
Lev Vellene
32
Posted 15/03/2017 at 23:38:06
Having re-read the original article, I'm now very much more positive. Lukaku is not 'crying' for rescue, or demanding to be let go for more appreciative employers! He is quite correctly bemoaning how transfers wanted did not happen, but as we all know by now, promises and wishes will not convince anyone to sign anything!
So I hope some more incisive transfer moves will convince Lukaku that we are moving in the right direction!
I just wish he was old enough to understand that Chelsea was always a thug club that now have Russian money... ;)
Oscar Huglin
33
Posted 15/03/2017 at 23:39:17
I'm completely sure that this is good for the club. Either way, it'll kick the hierarchy into action. Rom's done a good thing here.
Oscar Huglin
34
Posted 15/03/2017 at 23:39:55
Also, David #31 - Spot on.
Colin Glassar
35
Posted 15/03/2017 at 23:41:21
Why do all the good threads start so late? I've got to get up early tomorrow.
John Malone
36
Posted 15/03/2017 at 23:43:05
Oscar 24, that better mate!!
You must be tripping if you think his comments are to give the board a kick up the arse and that he's going to stay!!
He's giving his excuses for the fact he hasn't got the patience or the respect for our great club to stick with us while we build up to were he and all us want to be!!
Get real he's in it for himself and he's going this summer!!
Everyone patting him on the back for calling out the club for not signing who he want's us to sign!! Who does he think he is? Kenwright has already came out and said Farhad want's to sign everyone but we are restricted by financial fair play!!
Koeman's already spoke out and said it will take two year's to get the squad where he want's it to be so why isn't he saying we are moving in the right direction and he want's to help us get to the next level??
It's all about him he doesn't give a toss about us!! Get him out asap his arrogance is stomach turning!!
David Barks, I've got no problem in players having ambition and wanting us to match but be realistic with the expectation's and how quickly we can achieve it!! Its not fantasy football anymore like his ridiculous Kompany reference and my Nil Satis Nisi optimum last line was to point out that we follow Everton and want US to be the best not Romelu Lukaku and his ego!!
Funny to see a fan back a mercenary player who's saying he's too good for your club and that he's leaving!! Now that's ironic!!
Chris Leyland
37
Posted 15/03/2017 at 23:44:27
So,he didn't voice any of these concerns publically when we failed to sign all these players at the time. According to his own agent, he was 99.9% certain to sign a new deal last week but the day after it is leaked that he isn't signing, he has now suddenly voiced these concerns?
Absolute shit-house for me. Why not call out the club and say all along 'I'm not signing as you can't match my ambitions won't sign all these players etc' instead of getting 99.9% up the garden path? He's clearly had an offer from somewhere that he fancies and he is simply trying to manage his exit. All he is doing is de-stabilising the club in the process but people on here are saying 'well-done' to him. Ask yourselves this, have his words and actions of the last 24 hrs made it more or less likely that the sort of players he is talking about will want to sign for us now?
Clive Mitchell
38
Posted 15/03/2017 at 23:46:26
Chris, 37 - bullseye.
John Mckay
39
Posted 15/03/2017 at 23:54:56
Good interview that, got to agree with him. It's difficult for smaller teams like us to now compete even with a sugar daddy, this FFP just makes the big teams even stronger ffs!
John Malone
40
Posted 15/03/2017 at 23:55:02
Well said chris 37, it's a load of shite and it stink's!!
He is a shithouse!!
Mick Davies
42
Posted 15/03/2017 at 00:01:34
Is he doubting Koeman's ability? He obviously isn't overwhelmed by the reintroduction of Barry over Gana, since this all seems to have erupted over the WHL surrender. I don't really know his motives, and if he never had previous I could believe he genuinely fears for the club's future.
Koeman has made some very strange decisions and signings, packing the club with DM's and packing players off without giving them a chance; also, not strengthening key positions like midfield creativity (Osman and McGeady may not have been the greatest players, but could be called on to augment the attacking options from the bench).
Stek couldn't get into the Fulham side, and Williams was too similar to what we already had, when we needed a Shawcross type of player, given all the goals we concede from corners and crosses. Gana and Schneiderlin were a mirror image of McCarthy and Barry, and considering how he likes to play the dinosaur so much, makes no sense whatsoever. It was the fans constantly calling for Davies and Holgate to play that seemed to change his mentality, but that seems to be have been almost reversed now, with Schneiderlin seemingly pushing Davies out and the Barry/Jagielka axis sneaking back in vogue. I hope I'm terribly wrong, but it seems we're back to the future with Moyes Mk 2. This could be Rom either worried about the lack of ambition from the manager, board and of course, Chairman Mouth-speak-dung, or just turning the tables to get his own way . . . It's more like Emmerdale Farm than Finch Farm
Joe O'Brien
43
Posted 15/03/2017 at 00:01:54
Wow wasn't expecting that..true words from Rom..Paul#8 for sure Bill needs to go but I think some of the criticism of Moshiri isn't justified..we did spend alot in January, fair enough we didn't in the summer window but in fairness who would have wanted to join us after the last two seasons under that muppet. We have money to spend, building a new stadium..and investment in players. Moshiri hasn't been tight since he's come on board.
The missed opportunity of Gabbiadini was a mistake but I think that was Koeman's judgement than lack of funds. I mean he wasn't playing and his record wasn't the best..hindsight and all that.
Bill needs to go. Brilliant interview by lukaku and he's for sure called out the board. I totally expect Farad to show him we mean business.
Brian Wilkinson
44
Posted 15/03/2017 at 00:02:51
Chris@37, thank the lord I am not the only one.
Funny how this has come out the Day after he refused to sign, yet everything was rosey up until Yesterday.
He is saying what the fans want to hear, blame the board, blame it on none signings and leave Everton for another club, smelling of roses.
From Day one on arriving, he's wanted away and use Everton as a stepping stone, I do not care if I am the only one on here who would take a big offer and let him sow his seeds elsewhere.
If he goes in the Summer, I will not lose any sleep.
Oscar Huglin
45
Posted 16/03/2017 at 00:04:22
John #36 - You're on your own in this one.
Tony Hill
46
Posted 15/03/2017 at 00:06:32
I have little doubt that Lukaku has his own agenda but the question is whether what he says has the ring of truth. I think a great number of Everton fans would say it does. There are others more trusting of the Board, which is fair enough. It reminds me of what Rooney said at United about their failure to get in the right players - he was lambasted because he was looking after his own interests but he was also absolutely correct.
It is within the club's power to react sharply and to make Lukaku look foolish by pressing ahead with the stadium and by pursuing and landing high quality players. Nothing he has said will dissuade new recruits, if they are sold a strategy backed up by decisive action and pound notes.
Lev Vellene
47
Posted 16/03/2017 at 00:06:56
Chris #37 That's why they have agents! And his agent is the one that got the Manure to pay 100k for pogba. Or another of the ilk got the fee...
Ernie Baywood
48
Posted 16/03/2017 at 00:08:09
It's a shame to read his quotes, not because it isn't necessarily true, but because it has a sense of getting your excuses in early.
David Johnson
49
Posted 16/03/2017 at 00:15:22
I think it's worrying that first Koeman, now Rom have said stuff that indicates that they feel they've been lied to about "the project".
John Pierce
50
Posted 15/03/2017 at 00:17:49
Ambition is the key word. Lukaku's comments could have been taken from many, myself included want to see more from our new majority shareholder.
I might feel inclined to say, the interview strengthens Roms hand to leave, basically calling out the board knowing full well it's unlikely they will deliver?
He looks great, and no one can complain at the sentiment.
But he is right, and I absolutely think the board have ben slow to act, both windows left me non-plussed.
But we knew that right? He's not telling us anything the last 20years haven't. Old news in that respect.
We have posters applauding him yet many also of the opinion, "its a project it will take time". Can you be in those camps in the same time?
Others crowing "stop being negative" about the urgency others wanted from the club regarding transfers and especially during a 10 game streak in which we won once.
It's now clear in Roms mind, he didn't see it as a three year sojourn, but a lets get there now or I'm off. No problems with that Rom.
On saying what he's said. He's called the club out and a good many of the fans too who preach patience.
Or.....he could be lying his Billy big balls off?
Interesting times at Goodison. Who thought midtable mediocrity was so intriguing?
Drew O'Neall
51
Posted 16/03/2017 at 00:18:54
I think Rom and Ron have had their heads together on this one.
Contracts are relatively short in football and this 'project' will probably see them both off.
Paul Smith
52
Posted 16/03/2017 at 00:20:48
I think it's a reality check for us all. Yes things have improved but not to the point where we can see success soon. Weird transfer goings on, some good, granted, as well as weird tactical decisions by Koeman. An over reliance on Rom and then there's Farhads weird love in with Jim White.
Reading between the lines I think he would love to make it with Everton but from what he's seen, doubts we have the ppl in place to do it from the players' to the board.
Only time will tell.
Teddy Bertin
53
Posted 16/03/2017 at 00:26:28
Spot on Rom. What footballer doesn't want to be part of a team that is remembered by fans forever? If you have the ability you're going to want to play for a team that has a chance of making history.
I mentioned Robinho in an article the other day and was shot down but his arrival at City made people believe that things were happening even though that team seemed to be miles off challenging for anything and hadn't won anything for decades.
Whatever you do we'll be alright with out you and I hope you go on to achieve all the things that you want to do
Everton will be back at the top but it's going to take a lot longer than the yarn you were spun.
Patrick Murphy
54
Posted 15/03/2017 at 00:34:02
Obviously there are two ways to take Rom's stance in this question and answer session; a) He is a selfish, self-centred person who cares not about the club, the fans or his team-mates and believes that the world revolves around him. b) He is an ambitious, confident, proven goalscorer who still has his best year's ahead of him but he is impatient and wants to prove his worth right now on the biggest stage availabe to him.
If you lean towards option A, you are probably forgetting that Romelu is a smart, intelligent guy who knows what he wants from life and is determined to get it and if that means upsetting people then so be it - a trait that is usually associated with winners.
If you lean towards option B, you are probably right up to a point but have forgotten that football is a team game and every team relies on all of its players to perform and not just one or two stars.
Whichever option you care to take and I'm more inclined to believe it is a bit of both a and b, there is no doubt that what he has said would probably not be tolerated at the established clubs but that's not really true, because didn't Wayne Rooney say similar a few years ago at Old Trafford, mind you it could be argued that his motives were more financially orientated than for the good of the club.
Could it be on this occasion that the player really is bigger than the club? By club I mean those who negotiate for players and their cohorts who sat idly by for year on year allowing Goodison Park to look dillapidated and uncared for.
Twelve months ago I was quite happy to see the Chairman relinquish control, but he didn't did he? He still has the most important position at the club, as it is he who chases the managers targets, it is he who deals with the agents and undoubtedly he loves doing a deal and if he can shave a few bob off a transfer or add a few bob to a sale he is a happy guy.
Everton FC are playing catch-up, but the other clubs are not sitting at the next station idly waiting for us, they are travelling as fast as they can to keep their advantage in place, and if they can dismantle our team in the process they will gain even more ground and it will take us even more time to catch them.
It happened to Southampton, possibly twice and it's not beyond the realms of possiblity that it could happen to Everton FC, in fact a new stadium may in the short-term help to accelerate that process.
That's why I'm hoping that Mr Moshiri has a proper plan for his and our club and that he doesn't rely too much on those who through no fault of their own don't have the credentials or indeed record, to propel Everton FC into the higher echelons of the league.
Of couse FFP plays a part and of course there are limits on what we can spend and how we spend it, but cashing in our chips and starting afresh might seem like a bright idea right now, but in twelve months time we may find ourselves in a worse situation than we are in today.
The Club has to speculate as much as is possible to help the team progress and if at times that means spending a little more on a transfer or wages than it would like, then it has to sometimes bite the bullet and get the player that the management want.
There has been an uneasy feeling that not everybody at the club is pulling in the same direction for a considerable period of time, whether Rom stays, is sold or chooses to leave is not important in the long-run, what is important is that there is one vision that everybody, the owners, the Chairman the board, the management, the team and the fans can buy into and support whole-heartedly.
The supporters will respond to that, they always have, what they won't buy into, is being taken for mugs on an annual basis and it matters not whether it is the players or the hierarchy that is responsible.
Joe O'Brien
55
Posted 16/03/2017 at 00:34:52
So Chris @37 John 40 & brian44 if he does sign a new contract, would this blow your theories out of the water? Or will he be a shithouse either way?
Mick Davies
56
Posted 16/03/2017 at 00:35:40
Teddy, Latchford is revered by us Blues, but he never won a medal in his 7 years' service. What he did gain was the total respect of the fans for going out and scoring goals that many teams would have killed for at the time. Also, players then were paupers compared to the obscenely rich mercenaries of the PL, whose wealth is created from advertising, therefore, all of us, and not just football fans pay their disgusting salaries.
Rom is just another modern day player with no ties to anyone, but maybe some of his words will shake the Goodison boardroom and FF training ground up a bit
Kristian Boyce
57
Posted 16/03/2017 at 00:49:49
Another episode in the Lukaku contract soap opera. These quotes are either used to push the club to give him more money, or he's using them as a excuse to make the club look like the bad guys in the whole scenario. It looks like his agent has spent the day scouring TW on all the complaints we've had over the years and our together a piece for him.
The City comparasion is ridiculous. When the Arab money first arrived, they were an absolute shambles, with money being spunked on overpriced flops (Jo???).
Gordon Crawford
58
Posted 16/03/2017 at 00:55:01
Firstly, what he says is true. The club lack ambition. None of us can disagree with this. The club has been in decline for decades now. Though I do think Farhad is serious about making us great again. And he might just be the man to do it. But we need to make some serious purchases this summer. Forget about spending 40 to 50 million, that's peanuts. What we need is to spend a 100 million. Still too many average players in the squad.
Secondly, have the club made promises to Rom and broken them? Maybe,
but that still does not explain the 99.99% contract talks. I personally think he is trying to win the fans over and soften the blow of him leaving this summer.
Over to you Farhad.
Ernie Baywood
59
Posted 16/03/2017 at 01:11:41
Gordon, I think you can put the 99.9999% talk down as posturing. There was no known need for his agent to ever make that statement... which usually means there's a reason you don't know about.
As much as I like the sentiment in this latest installment... Rom, his agent and the club conducting their negotiations in public is a bit crass.
Steve Brown
60
Posted 16/03/2017 at 01:12:50
I agree with most of what Lukaku said - step forward Weepy Bill the master of mediocrity. But he should not be saying it as it is unprofessional. If any of us are in any doubt about that then head into work tomorrow and give it a try.
His attitude has been that he is bigger and better than the club for over two seasons now,. Sell him in the summer to maximise his value and reinvest in the squad.
Then he can work on his technique on the bench somewhere else. Man U will go for Griezeman, Chelsea for Morata, so that probably leaves PSG. He'll get goals there but his game won't improve.
Chris Jones [Burton]
61
Posted 16/03/2017 at 01:24:30
Well Lukaku himself could have made a big difference to our prospects of winning things had he 'turned up' at Wembley last season. Instead he spurned a couple of gilt-edged chances. The 'man' that day was Fellaini - scoring one and putting in an incredible saving tackle to stop us scoring.
Rom's been great this season but I think he's still out of order - unless... he's said all of what is now quoted to the club previously, i.e. before going public with it.
Steavey Buckley
62
Posted 16/03/2017 at 01:42:27
Rom is in his 4th season with Everton yet he originally joined Chelsea as a 19 year old to win things. Personally, unless there is a major shake up in the summer, I don't see Everton qualifying for the champions league next season. Already, Everton have shipped in 9 goals against the top 3 teams away from home, and that is not taking into account Man City missing 2 penalties.
David Ellis
63
Posted 16/03/2017 at 01:55:28
I'm surprised we've kept him so long - he was reluctant to sign in the first place, we got 4 years out of him and tripled his value. And we can keep him for another year if we want to.
Either way I am totally over this. He goes...he stays .life goes on. The stadium is more important.
But we do need to hang on to Barkley (and am sure we will).
Danny Broderick
64
Posted 16/03/2017 at 01:57:28
I've not got any issues with what Rom actually said. I am hoping that we will get some strong management from Koeman now though, rather than the Martinez style of blowing smoke up his arse. Koeman will definitely be asked about all this before the weekend. I would like to think he will state that Rom is under contract for over 2 years yet, he needs to show he is good enough for the Champions League between now and the end of the season, he still has things to work on in his game etc.
I would like to keep Rom, but if we get £70 million for him then I don't mind him going, purely because it is all about him and I'm sick of reading about it! What will be will be.
John Pierce
65
Posted 16/03/2017 at 02:02:14
Steavey, correct there. If we had any chance of keeping Rom, then it was to forefill the vision set out in pre-season.
This is regardless of his latest comments, honest they maybe, still crass and calculated. He wins either way. To stay we have to sign well and in numbers, very unlikely.
Or it all goes tits up against the club and he gets the early exit he craves.
I happen to think as we don't need the money, we really don't, despite a large part of the discourse being about how much we'd get for him.
And that gives us a third option
The goals he would score next season in an improved side would to my mind counter any loss in value.
We now face the farcically comic situation of Koeman stonewalling in the presser tomorrow. This fuelling an already wound up Goodison Saturday. Cue home loss.
Matt Traynor
66
Posted 16/03/2017 at 02:20:21
Whilst most are lauding his comments as being in-tune with the voice of supporters, I think it's a bit of a shit-house "don't blame me" move.
Also, it sticks the knife into our reputation on the bigger stage. Players that may have considered an Everton with Lukaku will be happy to sit on a bench at a "bigger" club, rather than be in the 1st team picture with us.
But, more than anything, this shines a light on the "Welcome to the New Everton, same as the old one" feeling that many have had since the takeover. KJB's continued involvement and shareholding, amateurish cosying up with media. The only saving grace is they must surely now deliver on Bramley Moore as even their most ardent supporters would be mildly annoyed if they fuck this up.
Sadly I think Rom's transfer fee will be a major down-payment on it. Maybe he's right after all.
James Watts
67
Posted 16/03/2017 at 02:41:56
It's like a soap opera at the minute not sure if that is good or bad! I can not wait for Koeman's next interview. Will be back Rom? My gut feeling is yes after what he said in January. The gauntlet has well and truly be laid down.
Personally I'll be sad to see him go, even though he's got a gob on him. At least we know where we stand now in no uncertain terms.
Will Mabon
69
Posted 16/03/2017 at 02:56:44
I think he's upset that we let Niasse go to Hull.
Nicholas Ryan
70
Posted 16/03/2017 at 03:06:53
Koeman is using Everton as a stepping-stone to 'greater' things, probably with Barcelona. But, he is quiet and discreet about it, and doesn't shout it from the rooftops.
Lukaku is using Everton as a stepping-stone to greater things; he never really wanted to be here, but we were a better 'shop-window' than West Brom. He is loud and indiscreet about it, and doesn't care if we get upset. His selfishness and egotism are deep-seated and irritating. There are only so many times you can publicly discredit your employer, before they show you the door.
He is a very good player [not yet, a great one] and I will be sorry to see him go . but go he must. Too much has now been said, for the situation to be repaired. We must get every last penny from the buying club.
It was good while it lasted, but it was destined never to last very long. As I have said earlier, Rom has been leaving since the day he arrived; I just wish he could have made it, a little less obvious.

Mike Green
71
Posted 16/03/2017 at 03:07:29
Wanker.
Jay Harris
72
Posted 16/03/2017 at 03:19:20
Noone seems to have touched on the effect on team spirit or the effect on prospective signings.
No matter what our opinion of Rom the footballer is there is no doubt he is a shithouse of a man.
To go public with "this club belongs in the past and has no ambition" is absolutely disgraceful and no Everton supporter should feel otherwise.
If he put as much consistency into his game as he does touting himself then we would be in a CL position and in the cup final last year.
Take a look in the mirror Rom because less than 2 weeks ago you allowed your agent to say you were 99.999999% going to sign a new contract and then you speak to your mate Pogba and whoever else and all of a sudden the club that really put you on the map has no ambition.
In the week that the "Golden Vision" passed you will be remembered for the knife in the back not that it will bother you because you are so far up your own ass you cant see class and dignity.
David Barks
73
Posted 16/03/2017 at 03:24:21
Jay Harris,
Have a word with yourself mate. He in no way said what you accused him of saying. He spoke truthfully about it not being good enough to just focus on the past, that the club must be looking to regain that success and show that ambition. And not you or anyone else can claim that the people running his club have done that. They live off of the sentimentally loyal supporters who sing about "if you know your history", without trying to make new memories.
Nothing he said was untrue. We have not signed the level of players that we should, the quality required to move into the top group. That's a fucking fact and you know it. It's about damn time that someone inside the club came out and said it, and it's about time that people like you stop supporting mediocrity and demanding the success and ambition that Lukaku is demanding if he's going to stay here.
David Barks
74
Posted 16/03/2017 at 03:32:59
And in case you're too lazy to read what he said, here is a portion, not the bullshit you twisted it into Jay.
"You cannot only be remembered by scoring goals. You want to be remembered by winning trophies. That is what the fans want. So instead of living in the past, you have to think ahead.
"How this club has to grow, how this club has to improve. Which player does it want to bring in so you can challenge for the big trophies?"
He's asking those questions and demanding not just a verbal platitude, but for the owners to prove it with their actions. Sign the players required, not a loan for Valencia and signing Stek, Williams and Bolasie.
Jay Harris
75
Posted 16/03/2017 at 03:41:49
So, David Barks, so far in 2017 we have lost one away league game to a team that was 2nd in the table and besides Chelsea were the only team showing better form than us and we show no ambition and have shit players and signings?
My God some people don't know progress when they see it.
Most of the games we didnt get a result from this season were games where Rom didnt show up and now all of a sudden he is the only player with ambition?
Give me a break, the man is full of shit.
David Barks
76
Posted 16/03/2017 at 03:43:13
Jay,
Actually I'll just quote Lukaku himself.
"Okay, now we are doing well. Everyone is happy. But we cannot stay at this moment.
"We have to become stronger, we have to become technically and tactically better. We have to start winning big games. That is what it is all about.
"Us as players we need to give a bit more and that is a nice challenge. I really relish that challenge to be fair, I relish that challenge. The last 10 games of the season I think: 'Bring it on. Let's go.'
Paul Ward
77
Posted 16/03/2017 at 03:48:12
I subscribe to everything Rom has said in his interview. As usual the detractors on this site condemn him as an outsider daring to criticize the hierarchy and policy of the club.
Rom may have his own agenda and listers have the right to be suspicious of his motives.
I think people should just forget for one moment who made this statement and celebrate the fact that for the first time in Kenwrights reign a prominent name in the club has publicly uttered what so many fans think.
Over the years of this regime we have had lies, distortion, and deception yet Bill is still running our transfer program.
Surely none of us can expect anything to improve until BK and his cronies have left the club.
Andrew Keatley
78
Posted 16/03/2017 at 03:59:56
Oscar (1) - We're going to have to spend a lot more than £40-50 million in the summer to bring in the kind of players than are going to show Lukaku that the future involves challenging regularly for trophies. Double it. At least.
I have no problem with Lukaku's comments. It's time for us to shit or get off the pot. If he stays then it will hopefully be because we manage to attract some top-quality reinforcements, and if not then I just hope we get £75 million plus for Lukaku; I imagine Walsh is at least halfway to identifying some promising up and coming players that would see that money well-spent.
Kieran Kinsella
79
Posted 16/03/2017 at 04:03:44
I don't understand some Everton fans but I do understand how Billy BS gets away with crap when I read some comments on here.
Fact. Last summer we were told to expect big signings. We didn't get any. We paid over the odds for Bolasie and were humiliated with the whole "don't upset McCarthy" Sissoko fiasco.
Fact. We were told we'd get a new stadium. In reality we have Goodison a budget oil change and no site has been found much less bankrolled.
Fact. We were expecting significant January signings and only got Schneiderlin after RK publicly called out the boards inaction.
Fact. Lukaku has been here four years and already surpassed the supposed "legend" Big Dunc in goals scored. He's not a Scouser, he's not even English and is a self professed Chelsea fan. To call him out for lacking loyalty is absurd when many on here are salivating at the possible return of an actual traitor: Wayne "past it" Rooney.
It seems as if the Jay Harris' of this world are too proud to admit are short comings and would rather lambast someone with ambition than point the finger are the Chairman who has presided over two decades of mediocrity and broken promises.
Lukaku could have said "this is a failing club with a small town mentality and I want to leave." He didn't. He said "we" the players need to do better but so do the board. Anyone sane with any love for the club would surely agree.
I seem to recall the prodigal Rooney making similar statements about Man Utd before signing his latest contract. And yet many would welcome him back with open arms while pushing Lukaku out the door. Shame on you small minded proud people.
Brent Stephens
80
Posted 16/03/2017 at 04:05:04
A player says what most of us think and say daily.
If any other player had said it, there might have still been a few arguing he shouldn't have come out and said it.
As it's Rom, and given his history with interviews, there are a few more who don't like that he's come out and said it.
I can't get too arsed about this one way or the other. Keep scoring goals, lad. Then whether he stays or goes, so be it. As long as we can be trusted to buy sensibly in replacing him, if he does go. Actually, that's where we came in on this one, isn't it?
Jay Harris
81
Posted 16/03/2017 at 04:10:18
David,
You can look at Roms words anyway you like but to my mind he has now caused disruption and division within the club and that does not bode well for our remaining games.
Everyone acknowledges that Rom is a very intelligent man who speaks numerous languages so he knows exactly what he is saying and achieving by his comments.
Lets see how the matchgoing fans react to him if the team falls apart over the next few games.
David Barks
82
Posted 16/03/2017 at 04:10:47
Anyone who thinks selling Rom will bring in 4-5 quality players that will all move the club forward, I ask you to revisit who Spurs were able to buy with the Bale money, and how that turned out.
Seven players they brought in, Paulinho, Eriksen, Soldaro, Chadli, Capoue, Chiriches and Lamela. Only Eriksen has been decent, and nowhere near the level of Bale. United have never been able to replace Ronaldo.
Most signings turn out to be busts. Just look at our squad. Stek, Lennon, Cleverly, McGeady, Niasse, Valencia, Kone, Besic, Deulofeu, Gibson, Valencia. It's impossible to say that selling Lukaku will lead to 3-4 quality players that will all contribute to improving the team. We'd be lucky to get one.
David Barks
83
Posted 16/03/2017 at 04:15:33
Oh fuck of Jay, you can't look at his words any way you like. You clearly tried to say he said something that he demonstrably did not. Enough with the Trump like BS. This isn't an alternative fact, you deliberately quoted him saying something he did not say. He's saying let's go after these last 10 games and go for the win, win more big matches. If that upsets the team, then they should all be sold and Lukaku should be the only one to remain. How the fuck does demanding a winning mentality upset the team unless it's a team with no ambition and no determination to win?
Paul Ward
84
Posted 16/03/2017 at 04:28:45
Jay Harris, talk about shoot the messenger, you want him killed because you don't like him. Have you actually read what he said ?
Alan J Thompson
85
Posted 16/03/2017 at 04:39:23
The only thing we know is true is that he wants away and only because it's the one constant in all his outbursts.
The talk of Champions League football is the first excuse as he thinks he is at a club that looks unlikely to qualify for it. Now, he wants a say in what his transfer fee should be when he only has to see out most of his current contract.
His Agent's 99.999% was just as much to promote any interest from other clubs and now to hurry the process along he's looked at who else he can upset and has turned on the players saying at least some of them should have been replaced, and the Board for not replacing them.
There may well be a lot of truth in what he says about the ineptness of Everton's transfer business but it is not the whole truth or the purpose of his comments.
How do I know all of this is true? I don't but I don't always take things at face value or wait to find out the truth some years later and unlike Lukaku I won't be taking my allegiance somewhere else, whatever the outcome.
David Barks
86
Posted 16/03/2017 at 04:55:08
Alan,
And that is exactly what Kenwright counts on, you staying loyal and giving your money no matter how inept they have been for thirty years. Quiet subservience, they just eat that up all the way, loving all the billions and billions that comes into the premier league, keeping supporters anger pointed at the players who make a few million while the owners have an asset valued at hundred of millions. Stay quiet and loyal, you'll get another thirty years hovering around 7th-10th in the table and the occasional trip to Wembley. Meanwhile Rooney has more medals on his shelf than Everton has in the last 30 + years.
Jim Harrison
87
Posted 16/03/2017 at 05:09:44
Thanks Rom, now shut the fuck up!
I understand that players have different agendas to fans, but why cant he just say "I will look at the contract in the summer, right now I am focused on doing my best on the pitch" and walk away?
His comments are damaging to the image of the club.
I also think they are derogatory to his team mates. The players here are not good enough for me.
I don't blame him for wanting to leave. He is young and ambitious. But using City as an example? Asking for City style investment in a time when it is no longer possible due to FFP is irrational. Just say "I want to play in a better team", I would respect that more
Articles on this site have proclaimed how far the club has come in a short time period. Some on here have suggested the stadium issue to be unimportant!! Are you mental!! One of the major factors in making the club competitive financially would be a new stadium!!
Alan J Thompson
88
Posted 16/03/2017 at 05:29:17
David(#86); I'm sorry but I've not been quietly subservient for my 66 years.
When Kenwright was interviewed prior to taking over at Everton I said then, he was not the man for the job on the basis he was trying to put together a consortium to raise 50M (eventually 25M) and said that he could have bought it for 5M just a few years earlier, he didn't have the vision.
I also submitted a piece on another site reprimanding a supporter for accepting mediocrity by saying Everton should aim to finish 10th and some time later listed my many complaints here when Moyes slated some supporters for being "uneducated". Even criticizing Carter for not insisting and legally fighting Everton's European ban after Heysel.
I could go on but there was not the websites at other Everton disappointments and, mostly, comments were made to mates in the pub after the game (even the Nettley has gone) and I was on Gladwys St terraces not in the stands to throw a cushion on to the ground.
So please, David. I'm not loyal to Kenwright and I don't stay quiet when EVERTON get it wrong and heaven permitting, I'll still be loyal long after the current Chairman, and that's non-negotiable.
Peter Anthony
89
Posted 16/03/2017 at 05:31:04
Tom has spoken honestly, frankly and said many positive things and the criticism he gave was constructive criticism. He should not be faulted for this, it shows his intelligence and strong character and leadership that we need.
Re Financial Fair Play restrictions, there are ways around it to negate FFP restrictions, such as the sponsorship USM Finch Farm.
If the money is there to buy the likes of Gabbiadini we should be able to do it.
Well said Rom, hat's off to you. Now, do the Board want to match Rom's ambition and get us back winning trophies? Actions speak louder than words.
So far, have they really spent much more than the Stones and other numerous departures money?
Dean Lim
90
Posted 16/03/2017 at 05:47:50
Hey guys, get off ROM's back. we all agree with him that the Club's transfer dealings sucks and with all the supposed big money that MOSH will bring, Everton should be breaking the bank to get to the champions league and premier league title. So, ROM would agree the best way to do that is to bring in 3 TOP CLASS strikers in the Messi/Suares class together with other superstars so that you, ROM will be lucky even to make it to the bench. And if the club does that, make sure you sign the bloody contract (since its NOT about money) and make sure you don't moan about the team not being good enough when you go up to collect the Everton's Champions League winners medal next year.. as an unused substitute!
Joe McMahon
91
Posted 16/03/2017 at 05:58:56
Kieran Kinsella (79) - well said - I couldn't agree more!

Col Walker
92
Posted 16/03/2017 at 06:00:14
Kieran (#79) well put and well said. We need more players with this attitude of "go faster or you'll lose me!" Sadly, we are paying the price of the Kenwright legacy, ie, whenever any top CEO takes over a failing business some his predecessor's dealings will continue to haunt him (or her) for some time, before they can fully right the ship; that's only to be expected.
As Kieran rightly points out, look at what the club have done in Rom's time there (Martinez, McGeady, Niasse, Kone, etc) and it's just not enough... not enough for Rom anyway, and probably, in truth, not enough for most fans on here who are slagging Rom off.
Is Rom not doing what any other EPL top scorer, playing for a club who win nothing and have no chance of a top 4, would do? (I assume Rom refers to Gabbiadini?) Moshiri probably came 12 months too late to save Rom (Kenwright dithering). This is exactly the kick up the arse Everton need... te club need to be more ambitious than their players!!
Jermaine Jennings
93
Posted 16/03/2017 at 06:33:21
Thanks Rom, constructive criticism is fine, as he says we just need more players to challenge the top six to make him stay and to push us on. There is no point in getting frustrated and if he goes he goes and if he's stays then thats good.
The whole world knows now we have financial stability and can compete for top players, so we now need to show it this summer.
Peter Howard
94
Posted 16/03/2017 at 06:36:15
He's certainly an enigma.
It seems he knows how to conclude a transfer,how to deal with FFP Regulations,how to organise a team and what tactics to adopt.
.and yet he can't trap a ball or score a penalty when it really matters .
Will Mabon
95
Posted 16/03/2017 at 06:53:53
When did it become normal for employees to broadcast such statements about the direction and management of the business? Particularly in this vein. Would any of you that are an employee speak in a similar way about your employer? Any employers here would tolerate this from an employee?
Moshiri and co. have been here a short time. Things might not be perfect in that we haven't yet signed a whole team of world beaters, nor broken ground at Bramley-Moore Dock.
These are big things that take time. It's year one. It's very obvious that things are going in the right direction - but Lukaku wants no part of it, so his words now mean nothing after the fact. Where was his mouth in support of Koeman, when the manager was trying to pressure the rate of signings? Ah - he might still have had something to lose then.
Lukaku was not on the board last time I looked, and is not a consultant to the club.
"Technically and tactically better". Oh, he's the manager now, too.
A few soundbites after a match is one thing - this is overstepping the mark.
Christopher Dover
96
Posted 16/03/2017 at 06:54:04
Maybe what he said is true but if we had got Gabbiadini how would he feel when he has a crap match and then dropped in favour of the new signing? Or would he then use the reason to leave as not being played enough?
The rights and wrongs of who we should have or could have bought will rumble on but he will not be sold until at least the next window so the unrest and likely disruption he has has brought to the club for the remaining games in my opinion is way out of order.
Darryl Ritchie
97
Posted 16/03/2017 at 06:54:09
This whole scenario is being carefully choreographed and scripted by his agent. Everton is being played like a grand piano.
Lukaku is going to leave in the summer, and it's in Raiola's best interest to have him leave for the highest possible price. That fact that it is beneficial to us, is a happy accident. We're just along for the ride.
Lewis Barclay
98
Posted 16/03/2017 at 06:59:06
Hmm. This is perplexing.
If Moshiri is the businessman he seems to be and has access to the money that has been suggested, he'll simply do whatever Lukaku wants or swat him like a fly.
I quite like what Rom has said. It wouldn't hurt to hear a similar ambition from some other players.
It could be a long summer!
Will Mabon
99
Posted 16/03/2017 at 07:01:26
"This whole scenario is being carefully choreographed and scripted by his agent. Everton is being played like a grand piano."
I tend to agree.
Darryl Ritchie
100
Posted 16/03/2017 at 07:03:33
And don't you believe Moshiri's " don't worry, he's our player " line, because we all know that football contracts are written to determine a players' salary while at the club, not his length of stay.
For the right amount of money, Barca would sell Messi in a heartbeat, no matter how long his contract was for.
Andy Walker
101
Posted 16/03/2017 at 07:11:43
'notorious self belief' Wow, he's one of the best strikers in the league and we label his self belief as a bad attribute. Without this self belief he wouldn't be the player he is, isn't that obvious?
Has the Board's past lack of ambition now conditioned some of us to not look for the very best players who challenge others, including the fans, to accept nothing but the very best? Lukaku thinks he's the best, he wants to play with other like minded players, in a club that thinks it's the best and with supporters who think the same. Can you think of a club that fits? Maybe our good old club history and past values just aren't a good fit for today's game. If we can't keep him when money is not the stumbling block and I really don't think it is, there's little hope we'll ever become the best again.
Chris Leyland
102
Posted 16/03/2017 at 07:24:44
All the people thanking Rom for his words f wisdom in calling out the club are gullible beyond belief if they think he has done it because he gives a shit about Everton. He has done it for one reason and one reason only, to hasten his transfer away because because he's had an offer he likes from somewhere else. He spouts forth these things because he knows will make his position untenable with the Board and manager but will also garner some sympathy with fans to make his final few matches more bearable as the gullible will now still support him and say he has Everton's best interests at heart. if he has had all these concerns about transfers then he should have put in a written transfer request of his own at the time but no, don't do that Rom as you might lose some 'loyalty' bonuses.
Andy McNabb
103
Posted 16/03/2017 at 07:29:29
Hmm - bit torn on this one. Interesting reference to the team of the 80's because if this arrogant individual had been around then, I'm sure that Rats, Reidy and Psycho would have smacked him around the changing rooms and then given him a swirlie.
On the other hand, he is an outstanding goal scorer (when he turns up) and we are in big trouble if he gets injured.
My verdict - cash in on him and replace with good, hungry players who don't have heads swollen by agents and proud fathers. Goal scorers are priceless but this story will never go away.
I note he also mentions the fact that we have to become technically better. Well that's good - something must have sunk in, because when it comes to his first touch, we've been telling him that for years.
Chris Leyland
104
Posted 16/03/2017 at 07:32:03
Joe (#55) Yes- in thinking of getting him a 'once a shit house always a shit house' t shirt so that he can reveal it when he next scores.
If he signs a new contract it won't be because he wants to stay but because his agent hasn't got him the deal he wants elsewhere. Any contract he may sign will be on terms to his advantage and will have the square root of zero about him caring a jot about Everton..
Tony Abrahams
105
Posted 16/03/2017 at 07:37:47
Patrick amongst others talks about rumours of unrest behind the scenes, possibly between the chairman, and the major shareholder?
Lukaku, says he won't sign on Tuesday, Moshiri, says there is nothing to worry about on Wednesday, and then Romelu, questions the ambition of the club on Thursday?
Interesting times, maybe Moshiri, has upset Lukaku, and his agent? Or maybe they could all be in it together, and the owner has finally realised the dreamer is the one who is actually holding his beloved club back?
Who knows, we might get a stadium announcement tomorrow, and news that Lukaku, is now very happy, with the direction in which the club is now going?
Or is the kid, who said he wouldn't want to leave with a fight, is now getting fed-up, because him and his agent, know that another club, want him but are not quite prepared to pay the money that Everton, want for him?
He's already talking like a superstar to me though, when he's saying he doesn't really watch Harry Kane, because he doesn't feel like he has anything to learn off him?
James Hughes
106
Posted 16/03/2017 at 07:39:45
"If you know your history" Well I make him half right he wants to write some not read about it . He is a better player than last year and could have done that with us.
We all moan that we don't know what goes on behind the scenes, he gives us a glimpse and some still moan. He is frustrated about lack of signings like we all do on here every deadline day.
He is no shit-house for that interview and some should open their eyes as well as their minds
Jonathan Tasker
107
Posted 16/03/2017 at 07:44:19
Everton will never win anything whilst Kenwright is at the club. It is that simple.
I agree with every word attributed to Lukaku
Moshiri is no different to Kenwright
As I wrote earlier this season, the club is broken beyond repair.
Adam Luszniak
108
Posted 16/03/2017 at 07:47:22
I'm not having this. How the hell is Lukaku clued in to the ins and outs of our transfers? Him saying we "could have got players but didn't" is no proof of anything.
I mean Christ who is he even talking about? Presumably Sissoko? We offered the same money and he went to Spurs to live in London. What possible rational club have form intentionally not signing players that could get us in the Champions League? Even if you buy in to the "Kenwright is a thief" argument, us getting Champions League through buying better players only increases his share price by spending Moshiri's money.
Now obviously Lukaku has ambitions and the club has not been able to realise them yet. That much is true. This is obvious without him opening his mouth to criticise the ambitions of the players around him and the people that pay his wages.
This is very damaging for the image of Everton and as a result directly damages the chances of us signing the kind of players required to get us into Champions League.
Darren Hind
109
Posted 16/03/2017 at 07:48:27
John Malone /Chris Leyland
I too doubt the sincerity of Lukaku's comments, but can anybody really deny the accuracy ? I hate what my club, my team and a large part of my life has become.
Something happened to this club after the success of the eighties. Yeah I know, those bastards got us thrown out of Europe, but it was more, far more than that.
Our board seemed to content themselves with being part of the established big five. Other clubs were redeveloping stadiums, recognising the value of good marketing and branding. While clubs like Man United and Arsenal were exploiting the massive opportunities Sky sports were going to bring, watching the Everton board was like watching an episode of Are you being served.
Those who came out of the blocks when our game went global, stole the march on those who didn't (us). Man United Arsenal were picking up trophy after trophy and we were still in the blocks waiting to hear the starting gun. . .we have never recovered.
I feel Sorry for Moshiri. he seems to be taking flack for the sins of the last 30 years. He has inherited a basket case of a club and he has spent a considerable amount of his own personal fortune for the privilege. He must be given his chance.
It's not just the board who are to blame. We the fans must shoulder a huge amount of it. I don't know if its a generational thing but a huge percentage of our fan base are guilty of the charges Lukaku is now levelling at the board.
We didn't demand success. We didn't care that "He's got red hair" he'd "steadied the ship" . It was as exciting as painting a ceiling over and over again for a decade, even though you were constantly being told it was glass
The next guy "had a dream, to build a football team" . . fuck me
Now we are celebrating being seventh and we have fans who are absolutely creaming at the prospect of having an outside chance of easing out Arsenal or the Mancs for sixth. While their fans are up in arms, we think its an achievement.
Regardless of Lukaku's motives. This truth needed to be spoken by somebody with a high profile, I hope its just the start and those who claim we are experiencing success, now realise they are not only accepting second best, they are applauding it.
Back in the eighties, we used to sing "please don't take my Everton away". Well somebody did. I fucking want it back.

Paul Tran
110
Posted 16/03/2017 at 07:52:49
A smart piece of PR.
Like any ambitious young professional, Lukaku wants to work somewhere that matches his talent and ambition. If his stance results (indirectly or otherwise) in better players coming in, great. If it doesn't, he can look back and say 'I told you' on the way out.
Having lots of money is one thing. Attracting and keeping ambitious quality players is another.
Whatever happens regarding Lukaku, this is a big test for our club management.
Ian Jones
111
Posted 16/03/2017 at 07:52:53
I have expressed my views about Romelu on several occasions - never been convinced by his overall ability, but admit he has been getting better.
He does seem an intelligent man, very passionate and knowledgeable about the game I have seen a few of his interviews and he generally makes sense...and answers quite awkward questions fairly openly, perhaps too honestly at times. I can't find fault in much of what he says in this interview...although, as usual, some of his comments are open to comment or be criticised later such as those made about players that Everton didn't sign.
Does he know all of the inner workings of the club...and therefore the reasons that some players don't come in...I appreciate that players, both within the club and at other clubs, no doubt talk amongst themselves.
I have also listened to the comments (on the LIverpool Echo link) made by Greg O'Keefe who feels that with Lukaku, it's not necessarily about the club's lack of ambition, it's more about the pace of change, the rate of change at Everton. The changes are not happening as quickly as Lukaku wants to match his own personal ambition.
It could take 10 years for Everton to get where we would like to be...
Things take time... it took a few years for Man City to get their act together, especially in terms of Champions League football and after last night, it shows they still haven't got it right
Last season, when he was making his Champions League ambitions known again and indicating that he would like to be at a club playing at that level, it wouldn't necessarily have been an intelligent move to re-sign for Chelsea or Man Utd for the 2016-2017 season as those teams wouldn't have given him that opportunity.
With Romelu, it's all about the timing. For an intelligent man, his timing is out on many things, but in fairness he probably has no say in the timing of some requests for interviews. This interview seems to have followed on from his role promoting Everton in the Community's girls pan-disability programme. Might have been interesting to read what he had to say about that proramme in some detail.
As many have alluded to on this and other threads, he probably knows what he is up to, and is planning for a return to Chelsea next year, a club that he has unfinished business with.
After all, whilst you may want to play in th CL, and play against other top players, at the end of the day, you really want to win the trophy.
As ever, interesting times...
Gordon Roberts
112
Posted 16/03/2017 at 07:57:53
This situation will require careful handling by Moshiri and Koeman, both internally within the club and externally with supporters and the media Our club is at a crossroads I feel, and like some on here, I do question Lukakus sincerity. Time will tell, the next transfer window will be interesting.
Colin Glassar
113
Posted 16/03/2017 at 08:01:09
Kieran Kinsella 79, take a bow sir. I wouldn't change a comma of it. Three cheers for Rom.
Will Mabon
114
Posted 16/03/2017 at 08:04:53
"Whatever happens regarding Lukaku, this is a big test for our club management."
It certainly is. Other clubs including the "The Sky Big Six" will be watching very carefully too and not just for the availability of the player. The wrong outcome could signal an even further ratcheting up of player and agent power.
Denver Daniels
115
Posted 16/03/2017 at 08:08:51
Even if we'd signed 3 top players in the last window or before the season started, if we weren't challenging for top 4, he'd still want out. He wants a top 4 team who plays Champions League every season guarenteed.
Sell him to Real Madrid or PSG. Money's no object to them.
Peter Gorman
116
Posted 16/03/2017 at 08:10:54
Most of his statement makes sense but, like his entire attitude, takes massive shits on his teammates who just don't live up to his standards (in fairness they don't, when he can be bothered that is).
If Everton can sell Prince Rooney, sign Marcus Bent and move from 17th to 4th, if Leicester City can win the Premier League, you should know all you need to know about the value of the team over the individual.
I would be sad to see a striker of his quality leave but would get over it fairly quickly if his replacement fit the team and didn't bring with him the attitude.
For such a genuinely nice guy, Romelu sure does make it difficult to love him.
Neil Pickering
117
Posted 16/03/2017 at 08:15:26
I actually think the lad should keep his mouth shut. He's got too much to say and always has done. He's wanted to leave for 18 months or so, and it's usually this time of year he spouts off leading to a dip in his form and the teams.
All this stuff should be done behind closed doors but it isn't, and just like a cheap brass hes letting everyone know hes available.
I am absolutely sick to death of the prick. Too much to say and I think we are all kidding ourself if you think he has the club at heart. He's only out for himself and no-one else. If I was a teammate id be telling him to keep it shut and get on with his football.
With the FFP rules the board need more time to turn the playing staff over unlike City did when they were bought. And so what if he knew players who were available, last time I checked transfers are nothing to do with him the blert.
Brian Porter
118
Posted 16/03/2017 at 08:21:04
Whether he was right or wrong to say these things, and I think he was wrong to publicly belittle the club, let's not forget he still has two years left on his current contract. Just because he wants away, we are under no obligation to sell him this summer. If, as looks likely, we qualify for the Europa League we should tell him he's going nowhere.

Let him help us to perform well in Europe and make the most of his goals while we have him. Surely, the value of his goals would make up for the reduced fee we might receive if we wait till he only has one year left on his contract. Let us show we will not be forced into selling a player who still has a sizeable wedge of his current contract in place.
Paul Mackie
119
Posted 16/03/2017 at 08:22:04
An interview straight out of the Rooney playbook, but I can't disagree with a word of it. Time for the Walsh, Koeman, Moshiri to spell out to Lukaku (and the other players) what the future plans are.
Also, he really is one of the best strikers in the Premier League. If he goes then not only do we lose our best source of goals, it also sends a message to every other player out there that we're not really that arsed about winning things.
Peter Morris
120
Posted 16/03/2017 at 08:29:22
Maybe Rom today and Moshiri at the AGM have given us some uncomfortable home truths, hinting at our preoccupation with living on past memories and museum references. They're not bedded in Everton's culture, so can talk about these things in ways many of us can't, and their cold honesty can only help us.

We hate being upstaged by Micky Mouse, newly enriched football clubs like Chelsea and Man City. Who the fuck are they? We are Everton! Is this why the RS call us 'the bitters'?

But past history is not enough and Rom and Moshiri see that. Having an owner like Bill Kenwright is a double-edged sword. I don't think anyone doubts his deep-rooted love for the club, and also his deep sense of family and social responsibility. He is the driving force behind EitC, the unassuming donation to little Bradley's fund, and I absolutely admire and respect him for these things. He, like us, though, hangs on to past memories and successes because he knows in the modern game, due mainly to lack of money, but perhaps some mismanagement too, these are all we are (or were) likely to have.

The irony is that both Moshiri and the likes of Lukaku are characters who are equipped to pull Everton out of this mind set and trap of dwelling on the past. We survived, some say prospered, in the Kenwright - Moyes era on being the brave under dogs because it was the best we could hope for.

I don't doubt that Moshiri is in it for the long term. He is determined to put the club's earning capacity in a place where it can become self-sustaining and compete again at the top of the English game. We don't have to be the richest club in the world. We just want to compete. That might not be quite good enough for Rom, indeed other players. Their careers are short. They can't be a part of a 10 year 'project' unlike owners.

But players do tend to look elsewhere when looking for causes of under performance, when it is only they who kick the ball around, and I think there is a bit of that in Rom's interview too. Yes , we stank in the first 1/3 of the season, but you were on the pitch Rom. And remember the semi-final last season? You were there too, and that wasn't your finest hour.

A combination of Moshiri's financial clout, a world class manager, and a player roster better than we have had for 30 years, surely give us the best chance since the '80s glory years of breaking through that glass ceiling, even if we built the ceiling ourselves?
If that's not good enough for Rom, and he'd sooner go for the greater certainly that currently exists at the likes of Chelsea (and nothing is forever Rom, as we know too well), then that's his choice.
Phil Head
121
Posted 16/03/2017 at 08:31:26
I'm so pleased to come on here to see that all of us share the same opinion. I couldn't agree with you more, Rom. Yes, this club does hide it's obvious lack of ambition, through it's past, Yes, the previous summer was an absolute disaster in the transfer market; and Yes, the players have always seemed to revel in this best of the rest tag, instead of having the ambition to want to actually win or achieve something.
Like Lukaku stated, the first window with a new manager and rich owner is crucial in regards to making a statement (reference to Kompany discussion) and we failed remarkably. I couldn't believe that no-one involved in the recruitment/discussion side of transfers lost they're job as a consequence of it. We actually failed in every single attempt to encourage big name players to the club, to the point where it was embarrassing.
Not only did we fail to sign any of the top performers from Koeman's previous club (common practice when poaching a smaller clubs manager), ie, Forster, Van Dijk, Mane. We also failed with actual big name targets like Mata, Witsel, Koulibaly to name a few and lesser named targets such as Mertens, Ghezzal, Gabbiadini, Perez, Brahimi and Yarmalenko and even the hapless Kone and Sissoko transfers failed to materialise, thank god.
By the end of the window, we'd signed a career No 2 in Steklenburg, a proven but aging, no nonsense replacement for John Stones (or should I say Phil Jagielka) in Ashley Williams, a remarkable find in Gana admittedly, a bog standard show pony in Bolasie and a bargain basement loan in Enner Valencia.
Anyhow, what this interview has provided for us, is an insight into the mind of a Premier League footballer and highlights just how similar the thought processes are between a fan and a player.
He's basically said, "I've had numerous opportunities to go, i've not pushed for it by handing in a transfer request, I've given the club the opportunity to demonstrate it's ambition (or lack of it) to me, whilst I continued to do the business on the pitch. Unfortunately, you failed to do yours off it."
He could easily sign a new contract with an agreed release clause in it, pick up his extra £50k a week for as long as he stays put, but has chosen to forfeit that opportunity and as people have eluded to already, with every convincing loss or bad performance to a team in those Champions League positions, his opinion of the clubs failures, gets reinforced tenfold.
So, with all this in mind, can anyone really blame him for not signing a contract renewal???
Paul Thompson
122
Posted 16/03/2017 at 08:32:03
You can question the timing, but Rom is an intelligent bloke who always speaks his mind. He has said what gets put on this site most days and how many times have we had posters criticising players for just spouting the club line?
Read the interview in full and not through 'what I've always thought of Rom' glasses. It's respectful and positive about the club, but challenges under-ambition.
He was obviously promised things that have not happened and time is moving on for him. Short term his interview will cause us problems; longer term, it can surely only do good.
Peter Murray
123
Posted 16/03/2017 at 08:33:09
This is just a carefully constructed excuse hiding his real reasons while seeking to maintain popular support.
Geoff Lambert
124
Posted 16/03/2017 at 08:40:25
Jay (#72) and the other perfect ones!
It's a good job the players don't read some of the drivel posted on here then...
Because team morale would be none existent.
Dermot Byrne
125
Posted 16/03/2017 at 08:44:41
Split view on this. Firstly, I have seen winners in all aspects of life who can avoid the arrogance and petulance of this young guy. Try watching The All Blacks over the decades and countless football greats. So I do not accept winners have to be a pain in the arse.

However, it has to be said that however much he irritates me, he makes some good points. I have often expressed despair at our "if you know yer history" ethos. Drives me nuts and I am in my mid-50s.

What will happen next will be fun to watch but if the club does act, it must not leave us open to being Lukaku puppets. Then we would be rightly laughed at, as much as we and RS are laughed at for going on and on about our now ancient history
Mike Berry
126
Posted 16/03/2017 at 08:51:08
Rom is covering his back as he wants out. It is possibly true that some players who we wanted slipped the net, but do you really think that Rom sits in on Everton's transfer conversations? Nonsense. He has no idea who we want.
As Ronald has said, we will be in a much better position after this summer's window. Everyone seems to want everything yesterday instead of having a little patience. Fascinated to see how this pans out...
Bobby Mallon
127
Posted 16/03/2017 at 08:51:19
Am I missing something here. Not showing ambition, not spending money on players, people say it's needed to be said, people say really. He is fucking disrespectful and needs to be put in his place.
Financial Fair Play says we can only spend what we bring in so the boss gets a great deal for sponsoring Finch Farm. He pays off our debt, we are getting a new ground. For the first time ever, we spent big in January and we are not ambitious.
He says he wants to play Champions League... will he join Celtic? They are in it every fucking year. Of course not, because he wants to go to Chelsea. What a prick, fucking stick him on the bench. I'm fuming...
Charlie Lloyd
129
Posted 16/03/2017 at 08:54:35
I understand Lukaku's sentiments and we all want a team of top players to compete for titles and trophies.
The mention of Kompany and Man City is unrealistic though.
With the current rules, it's not possible to just shell out big fees and contracts without penalties. Plus I'd rather the financial model of the club be sustainable in the eventuality of an unforeseen major issue arising.
It'll take a few years yet to gradually grow and attain the players to get us there but we are moving in the right direction. It looks like the progress isn't quick enough for our 23-year-old striker who wants it sooner. I'm not going to knock his ambition but I feel, with or without him, we are upwardly mobile right now and have as good a chance to bridge the gap since the last 25 years.
John Malone
130
Posted 16/03/2017 at 09:05:42
Darren (#109), I agree with nearly everything you say but I can't swallow this!
No-one is debating that what he is saying isn't true, it goes without saying we have been a sleeping giant for far too long and there have a been a lot of missed opportunities and mistakes made by the board over the last 30 years -- us as fans know that more than anyone else!
But what has all the above got to do with right here, right now???
We have only just got a new billionaire major investor into the club last year, we have sacked the other clown, broke the bank to get a top manager, we are on the verge of the new stadium we all crave on the banks of the Mersey, we have made some decent signings which are not a simple thing to do these days due to FFP and take time to negotiate and attract, and we are one of the most in-form teams in the Premier League!!
I can't believe how blinkered everyone on here is to see that it is one big smokescreen to get his angle to leave the club. There is no debate about what he is saying is true but were does he get off stating it in the public domain!! Who is he to pull us to shreds and make out we are still the 'small' club we had become under Kenwright! The whole picture has changed under Moshiri and turning things around is not a quick process, doesn't happen over night!
I am so angry that this player thinks he is bigger than the club and does not have the respect to keep his thoughts and comments in-house!
Ambition is one thing we all have and success is what we all want but there has to be a pathway to it to expect the new investor to come in and change it all around in one season is ridiculous and laughable!!
What planet are you on, Rom, and who do you think you are kidding?? Well it's worked on most of this lot on here!! But every ex-pro who's been on talkSport national radio this morning has slammed him!
Ian Jones
131
Posted 16/03/2017 at 09:06:00
Tongue firmly in cheek -- if he wants to win something at Everton, if our U23s team have already won their league by the time their last match is due to be played, put him on for the last 5 minutes of that match. At least he can say he won something at Everton!
Stu Hudson
132
Posted 16/03/2017 at 09:08:50
I for one agree with Rom, he is only stating what a lot of us are and have been thinking for a while now in regards to spending BIG without appearing to have to sell first.
Whilst I am feeling more positive towards Moshiri and what his intentions are, I have this wave of doubt/fear about anything Kenwright or El Bob are involved in. These two clowns need to be out of Everton for us to move on to the next level on a business and financial front and I think that Mr Moshiri might just be beginning to see it from some of their dealings in the last few transfer windows.
Phil Walling
133
Posted 16/03/2017 at 09:09:18
Why Lukaku and all his disciples on here cannot be satisfied with 'Seventh Heaven' I have no idea. You can't expect a new team as well as a new ground, can you? Moshiri isn't a 'real' billionaire like them at Chelsea, Manchester and Arsenal, is he?
Will Mabon
134
Posted 16/03/2017 at 09:10:03
If another billionaire, much richer than Moshiri, say Warren Buffet or Bill Gates (God forbid), came along now and bought the club -- then had the new stadium up inside two years... and if it was possible, then replaced our entire team with Chelsea's team, put them in EFC shirts... and we won the title in 2017-18, and the Champions League in 2018-19, just in time to move into our glittering new home...
Would some of you be happy? Would that be "Everton"?
Because that in essence, if not yet extent, is what Lukaku is advocating, and what some of you are wishing for.
Is there no ride to be had along the way? No ups and downs, no development, no doing it our way, no feel of what it is to be Everton, no learning what our youngsters can and can't do?
No discovering over time, the players that do feel the club, that grow to love it or at least respect it and its fans. Players with heart. There is still perhaps a range between local players and outright mercenaries.
If all it's about is throwing whatever money at whoever and whatever it takes, in the very shortest possible time... well just what is that, ultimately?
It's a squad of players with the mindset of Lukaku on a million plus per week, playing in a stadium that changes name every home game and beams advertising holograms onto the end of your nose from the bottom of your "Smart" half-time pint (of health drink).
We might do well to realize that Lukaku, whatever supposed "Truth" has been crafted into his statements, whatever he has done or could do for us on the pitch... Lukaku is a glimpse of football as a Total Business.
I hope every rumour we've heard recently about Barkley is media garbage because, if not, being a gifted locally born man-and-boy true Blue at a club that now has more potential for realistic growth than at any time in the Premier League era; maybe even that means nothing now.
Then again, maybe I'm old-fashioned or small-minded.
Martin Mason
135
Posted 16/03/2017 at 09:18:00
Another rumour is Chelsea putting in a reported £100 million bid for Lukaku and Barkley in the summer window. I don't believe we can keep Rom under any circumstances but to lose Ross would be a tragedy for the club. Losing both would be the worse thing that could possibly happen to the club at this time and would reverse all of the progress made this season.

Shame on those who have belittled Ross in print and at the ground and put him in the frame of mind where he actually wants to leave the club. Jamie Redknap hinted that this would happen.
Mike Allen
136
Posted 16/03/2017 at 09:19:42
What fucking nonsense. We took the lad on loan after him being on loan from another bottom-half club. If he goes to a so-called top club again daft enough to pay the inflated transfer fee, I would bet he wouldn't hold a regular place down.
Benteke, Darren Bent, Julian Goater scored goals – the lad is in that bracket. Who's the signings we missed out on? Sissoko?? He will be away on international duty digging more fucking holes to adhere him to the fans.
Chris Corn
137
Posted 16/03/2017 at 09:21:37
Again, so fucking what?! Good player. Nowhere near the world's best but has potential. He's given an interview and says he wants to test himself in the Champions League. He's been saying that since he got here at every opportunity. His comments about concentrating on the present can't really be argued with.
Not so sure about the players we could have got. Gabbiadini is a mid-level Euro striker who has had a decent start, à la Jelavic. Witsel took the Chinese money. Sissoko has been a massive flop. Can't really be bothered to think of any more.
The comments about Man City, well I think someone said it earlier. A lot of their early big signings didn't set the world on fire.
Also, it can't be denied that, had it not been for Lukaku choking on the big stage in the semi then we could have ended our trophy drought.
He will also seriously have to consider his next move because, if he's truly ambitious and actually wants to win the Champions League, then he will have to move from this country because Premier League teams look nowhere near winning it. Unless he goes to Leicester, of course !
It's just endemic of the modern game. Agents and players talking themselves into the next move and then the support slaughtering the club for lacking ambition. However, on this forum, most don't need an excuse to rip into the club.
Mike Oates
139
Posted 16/03/2017 at 09:33:06
I believe it was the Spurs game that Lukaku realised that we are at least 2 years behind them, and there is no way we'll be playing in the Champions League until 2019-20 and at a push 2018-19... so a possible further 2 years before he can get to his ambition. He just won't wait.
And to be fair, we are all in cuckoo land; it took Man City 2 years after signing Robinho before they came 3rd in the Premier League and qualified for the Champions League and went out in the group stage.
Even if we were to go out and splash 㿨-70m or so this summer, I suspect it will only start to gel later next season – possibly too late for a Top 4 spot.

Jim Burns
140
Posted 16/03/2017 at 09:36:58
Oscar @45 – no he's not. I'm also sceptical to say the least. He's never bought into us, and from day one has always laid out his his own ambitions, with little reference to the club's.
I'm with those on here who are uncomfortable with the way he's suddenly spouting, in some detail, his reasons for not extending, when he could have been as explicit on numerous occasions previously. It definitely smacks of someone clearing his conscience, justifying to himself his decision and putting himself out there to the highest bidder, all in one go.
I too, think back to the semi-final last season and – had he done what 'the best striker in the Premier League' should have done – we would probably have the trophy that he's moaning about.
Comparing our position to that of Man City is child like in its naivety, and cruelly out of order.
Those who see this interview as a good thing or some sort of turning point, I fear, will be disappointed yet again. Grasping at straws? Probably. I think he'll leave.

Andy Meighan
141
Posted 16/03/2017 at 09:38:44
Oscars 45. No John isn't on his own. I'm in total agreement with him. And Clive Mitchell as well. Both made valid points.
As for Lukaku he's done nothing but talk about going elsewhere since he walked through the door. The lad is so full of his own self-worth, it's unreal.
Be honest – does anyone think he'd be this massive miss if he does go? Not exactly like when Cilla Black left the Red Shite to go to Barca, was it? I'll be glad to see the back of the fucking nuisance.
Tony Hill
142
Posted 16/03/2017 at 09:41:08
If the only evidence of the Board's mediocrity and sloth was the last few transfer windows then the calls for patience and organic, though ambitious, growth would be persuasive. Lukaku, however, has pointed to a culture of waffle and non-delivery which has blighted us for thirty years.
That the player is an ambitious young man with a particularly charmless agent is not the main point here. What is to the fore is whether Everton and specifically the new regime – much trumpeted last year and at the shareholders meeting and through Sky – has what it takes to lift the club in a serious way – or whether it will all prove to be, once again, mere gossip.
Simon Jones
143
Posted 16/03/2017 at 09:42:10
I loved the eighties Everton (well most of it) and at times I loved Everton under Moyes. The rest of the last 30+ years have been like a marriage, I love them, but I can't always get on with them.
Rom is right about needing the fans to talk about this team. We need players to take the game to the top six teams. Apart from Chelsea we could beat any one of them if we could match up. What's let us down this season is an aging defence. Next season we could sign a couple of decent defenders but lose Rom or Ross and the goals dry up. Let's face it, for all the stick John Stones received, it's not as if we replaced a young defender (and International player) with another one.
For all the moaning about Rom not looking interested or not being very "Everton", when the top scorer calls out the board for not signing better or more players then perhaps his is one of the voices you should listen to.
Alexander Murphy
144
Posted 16/03/2017 at 09:42:52
Seems to me that Big Rom has voiced what the majority of Evertonians have been thinking, saying and typing for a very long time. We keep getting patted on the head and told about our proud history. Then we get fed scant crumbs of comfort to keep us going.
Proud future is what I want and there is only one word will deliver that. Silverware.
According to some (both here and at the club) the only way we could get our hands on silverware would be if we signed bloody Dick Turpin! (And I do mean the Highwayman, not Betty Hotpot's other son.)
Jim Burns
145
Posted 16/03/2017 at 09:43:43
Will @134 – you are neither of those things. You encapsulate nicely the picture before us. Perhaps Lukaku is the first 'modern' superstar this club has had to handle in this world of mega money, overnight success and hype. Maybe for the first time properly we feel the discomfort of this brave new world, and whether we will be, or want to be, part of it.
Chris Corn
146
Posted 16/03/2017 at 09:51:05
Mike (#139), your post makes my earlier point seem more valid. You're not the only one who mentions Spurs.
If Lukaku is as ambitious as all the naysayers on here claim, why should he give a hoot what Spurs do? Spurs will not win the Champions League and after having the best chance ever of winning the Premier League they conspired to finish below Arsenal last season.
Is it true ambition just to play a few games in the Champions League because he could go to a few lower tier clubs across Europe to simply achieve that?

Jim Lloyd
147
Posted 16/03/2017 at 09:51:53
Seems to me that this episode with Lukaku is a replay of earlier public utterances. It also reminds me of what Raiola said when he became Lukaku's agent. Something on the lines "Rom needs to be playing at a bigger club."
With that in mind Raiola now comes out with the 99.999% statement, followed by an ominous silence until Lukaku makes a public confirmation that the 0.0000001% is actually the case and does a Maggie Thatcher with "No, No, No" in response to a series of questions by a journalist in a foreign newspaper.
That gets splashed all over the Sports world and then we get the further interview giving his reasons for not signing the contract as the club not being ambitious enough.
Well. First of all, there's the issue of the Financial Fair Play in operation and as far as I can gather, we are limited as to how much we can spend on transfers to something like the money we make plus about ٥ million, in any 3 year period.
Please correct me if that's the wrong figure; but it seems to me we cannot just go out and do a Sir John Moores or what Abramovitch, an Arab Royal family or Joe Lewis did, before the advent of the FFP.
So when Mr Moshiri explains this, I might be a gullible fool but I tend to believe him. We will soon see whether his public statement that we will get a new stadium is true or not. Again, this gullible man believes him.
I also believe Ronald Koeman when he said it would take two years for Everton to bring in the players that will enable the club to challenge the top four.
I'm sure that the club is going through a learning curve (well, the new major shareholder is) and in my view, the quicker Kenwright and is sidekick are absolved from any responsibilities in the negotiating procedure, the learning curve will become much easier.
Koeman himself, during the January window, said that he wanted the club to pull it's finger out (probably over the length of time it took to get Schneiderlin) but he, as far as I know, has not made any reference to the contract he has signed.
As for Lukaku, if he believes what he has said, then I don't see the problem in signing a new contract, as it would not stop him leaving if the club didn't match his ambition in the Summer.
So the two things I feel with all this is. He should have shut his gob publicly and said what he said to the club alone.
The second is I truely hope Mr Moshiri takes Kenwright as far away as possible from anything whatsoever to do with negotiations.

Simon Jones
148
Posted 16/03/2017 at 09:51:54
"If you know your history"
"If you want to write your legacy"
Dan Nulty
149
Posted 16/03/2017 at 10:01:12
No issue at all with what he has said, it is what TW'ers and fans all over have been saying for years. Good on him for calling out the board.
You have to be able to focus on all things, not just the stadium or the team, it's both.
The reality is we need to probably spend north of £100 million. Top goalie, top centre half, another 10 and another striker.
Genuinely don't think we can afford to lose Rom, I don't want to bring in someone who has been happy to just sit on the bench at a champions league club and take the money like Bony.
I can see Hart coming to us, not sure about the rest.
Steve Smith
150
Posted 16/03/2017 at 10:02:07
Lukaku: "Everton as a football club has a great history right. But the future has to be written. You get me?"
Moshiri: "We are a great club and we don't want to be a museum,"
Both singing from the same hymn sheet as far as I can tell, and they're both spot on.
Derek Thomas
151
Posted 16/03/2017 at 10:06:51
Statements about the lack of progress from mediocrity to big time, while probably true, are not the whole of the truth, which is IMO, yes it could/will happen, but will take longer than Lukaku (and maybe even Koeman) are prepared to wait for.
Moshiri's main thrust (aka earner) is the new ground.
For no other reason than it's just a feeling, but somebody has had a word in his ear stating that yes they're in the Champions League, yes they want him (maybe even want him back...hint, hint) but there's no way their paying a penny over £70M – hence the contract stall/excuse... wangle that Rom mate and you can start looking for gaffs in London... or whereever.
Daniel Lim
152
Posted 16/03/2017 at 10:25:01
Haha Andy 103
I like what you said, about Reid, Rats and Psycho.
Charles Barrow
153
Posted 16/03/2017 at 10:28:27
I agree with Kieran (#79) – worth reading his post. EFC senior management need a kick up the backside and Koeman needs to play a more expansive game against the 'top 4' that suits Lukaku.
I was at the Chelsea and Spurs game and it was uncanny how similar they were. Lukaku was totally isolated on his own. People who criticise him 'for not working hard enough' are off the mark. He was sweating his arse off chasing shadows.
He needs a partner to work with and balls played in front of him. He's not a traditional centre forward who plays with his back to goal – he doesn't have the control. But he's much better at running with the ball and finding space to receive the ball.
Stan Schofield
154
Posted 16/03/2017 at 10:29:01
Derek, your feeling could well be correct. Everton can deal with it simply by ensuring that Lukaku stays here for the full duration of his current contract, until July 2019. That carries the risk of us losing his transfer value if he leaves at the end of the contract. But having said that, the board could decide that the value to Everton (in terms of goals, continued progress, club profile) of keeping him for the next two years is greater than the potential loss of transfer fee.
If the board did go down this route, then during the two years, Lukaku can then decide whether he wants to sign any new contracts that might be on the table, the chances of that being influenced by the progress we make.
in this respect, Everton hold all the cards at the moment, have 100% control of whether Lukaku stays for another two years. After that, Lukaku can make his own decision.
Keith Monaghan
155
Posted 16/03/2017 at 10:29:17
Very good interview by Rom & very difficult to disagree with much of what he said. Whatever a lot on here think, he will be extremely difficult to replace – whereas Ross could easily be replaced by a more effective player.
Clive Smith @ 29 "The lad's had a gob on him all season because he wanted to be somewhere else." I wish a few more had a gob on if it got them to do their job as well as he's done his!
Steve Smith @ 150 – you make an excellent point – good to see some cool common sense.
John Gall
156
Posted 16/03/2017 at 10:37:27
Who really believes that any modern day players care about the clubs they play for? Some are better at looking earnest, kissing the badge, visiting Alder Hey and all that, but when the salaries are at the immoral level they are now they are so out-of-sync with reality they are incapable of genuine sentiment. I also think this has pretty much always been the case. Someone mentioned Latchford earlier – well, he wanted away the season before he scored his 30 goals, but Lee wouldn't sell him.
Lukaku's attitude is breathtaking. Last season he couldn't even control the bloody ball, everything broke down around him, now he talks like he's Cruyff. They exist in a bubble of delusion and privilege, and do not deserve our affection. It was always thus, but today the situation is criminally exaggerated.
Champions League and the whole super stadium bollocks is a fool's paradise. Bread and Circuses: while a city like Liverpool is on its arse with shocking levels of ingrained, multi-generational poverty, a crumbing infrastructure, poor facilities and schooling the absurd spectacle of 'Premier League' football offers us the hyped-up, absurd spectacle of pampered, pompous, overblown, overpaid, international playboys playing a speeded-up, rather distorted version of the game of football.
Lukaku, with his attitude and bullshit, embodies all that is rotten in the game.

Chris Williams
157
Posted 16/03/2017 at 10:42:26
Steve@150,
Moshiri's comment was, I think, a riposte to a comment by Kenwright about Everton's glorious past or some such related topic, and therein lies the issue.
Koeman expressed his frustration in January about transfers and I suspect he was less than enthusiastic about the performance in the summer window, when about 4 targets went elsewhere . Moshiri tried to explain this away with mixed results.
While I tend to agree with many of Lukaku's comments, Like others on here I doubt the integrity and timing of them.
There is a sequence and Plan here I think, from Raiola's initial comments, to refusal to sign, to Moshiri's "don't worry" comment to these latest utterances. It is odd that Raiola the super agent has disappeared from sight when he is normally far from shy in such matters.
Somebody earlier wrote we are being played like a grand piano, and there is probably an element of truth in that. These comments are to a degree, self-justifying, whether or not there is a lot of truth in them.
Practically it will be difficult and expensive to bring in the quality and number of players in in the next window to get us into the top 4, and probably impossible if negotiations are handled by the usual suspects.
Koeman's reaction will be interesting later today.
Tony Draper
158
Posted 16/03/2017 at 10:53:48
This is giving me a sick feeling in the pit of my stomach.
Not used to this "turbulence"... Why? 'Cos we have been the steady Eddies of the top flight for so long. My "coping skills" have been eroded.
I'm hearing that we mustn't expect to pop out in one transfer window and buy a Champions League winning squad in one fell swoop. No we mustn't. We should be addingto a top notch squad.
Have a look at Tottenham's silverware versus ours. Yet they really have taken tremendous strides since we last won a trophy. Will it win them anything? Not guaranteed.
But while we tread water while others are in speedboats? At what point did "Being okay", become our ambition? Because it has.
We were banned from Europe at a time when we had one of the acknowledged best squads in Europe. We were not banned for ever. So why did we not clean up domestically for a decade or more ?
Time for the crap to stop. Otherwise...
Aston Villa.
Leeds United.
Nottingham Forest.
Derby County.
We'll be playing them. Is Lukaku right to say what he has? Time will tell.
Colin Glassar
159
Posted 16/03/2017 at 10:54:08
This sounds to me like a bit of a palace coup against the old guard. Coordinated between Ronald and Rom and sanctioned by Moshiri. Start packing your bags, BPB, Bobby and Woods.
Robert Elliott
160
Posted 16/03/2017 at 11:00:32
Rom may well have an ulterior motive for saying what he said, but to be honest I can't disagree with what he did actually say.
From his point of view, he's been at Everton for four years, scored 20 goals a season on average and is no nearer playing in the Champions League than the day he first signed.
Being honest, if you were a 23-year-old ambitious footballer, with no emotional ties to the club, would you sign on for five more years at a club where Bill Kenwright and Robert Elstone are chairman and chief exec and seemingly the chief negotiators for bringing in new players?
Alexander Murphy
161
Posted 16/03/2017 at 11:01:38
Is Glastrodamus back on scoring form?
Effing hope so!
Eric Myles
162
Posted 16/03/2017 at 11:03:41
David (#82), would that be the Spurs that are 2nd at the moment you're referring to?
The Bale sale has maybe acted as a catalyst for them to kick on, even though no immediate affect may have been evident.
Jim Wilson
163
Posted 16/03/2017 at 11:05:45
The one signing that would push the team forward is a striker who can score, work hard for the team, who's first touch doesn't go to pot when the going gets tough and who doesn't just shine against the average teams.
And someone who keeps his mouth shut off the field and tells us all we want to know on the field. Which is not much to ask considering the money we pay them.
Will Mabon
164
Posted 16/03/2017 at 11:08:12
Thanks Jim, post 145.
You're probably right there, Jim. I want us to have success as a team like every other fan. I'm not sure if it's at the cost at which it may come. I'm very current with modern tech, modern ways, I love some of it, in its place.
Not when it comes to seeing the way football is being steered though. Fans of the wealthier and often more successful clubs are indirectly cheering a money pile, there's no getting away from it.
Several years back, Everton fans I know or would encounter, began to say such as "What we need now is a rich Arab to buy us" etc. I always felt some pride in our being the best team without the money. Best of Moyes and early Martinez, we were pretty damned good with what we had to work with monetarily, trophies or not.
I'm torn between the opportunity that Moshiri gives us and what it confirms. At least he was a merely a reasonably mega-wealthy billionaire! I'll never lose the love for what happens on the pitch - the rest of it, no.
Wouldn't it be nice if a club & team somehow found a way to do what Leicester did and sustain it.
Kevin Tully
165
Posted 16/03/2017 at 11:10:20
You would expect comments such as these to go down like a lead balloon, but it's good to see the majority agree with someone who knows more than we ever will about the internal workings of the club.
I can also see why people would be upset about anyone being critical of the club and its ambitions, but I don't think anyone can seriously say he isn't right. Let's face it, our own captain, one P Neville, said this: "Only twice in the last 11 years we've finished outside the top 10, that's a massive achievement for a club like Everton."
Why would the club captain say such a thing? Could it be that this was the actual ambition and vision of the club's owners? Of course it was... and the manager. You can't just throw Moshiri into the mix and expect this type of thinking to disappear overnight. Kenwright is still the Chairman, and he is still negotiating our transfers, remember the aborted Belfodil deal? "The agent then added: "The transfer was put off track, Ronald Koeman suddenly changed his mind, he had something wrongly negative briefed on the player, because Belfodil is an exceptional professional. Kenwright was a bit bored with the situation because the price now was so high."
We also have a CEO who was promoted because his boss left, not because he was headhunted for his commercial prowess, contacts, or experience of delivering new stadiums. We are in limbo at the moment, with the old guard being given a chance to prove themselves, and whatever you think of Moshiri, he won't be removing Kenwright any time soon, even if he sells his remaining 12%. Has Bill Kenwright got the energy & vision to be part of the new revolution? He's 70 years of age and has thankfully recovered from a serious illness.
Personally, I am not that concerned if Lukaku leaves, I support the club, not individuals. Saying that, I want us to win trophies and see us moving forward, which means we have to convince players like Lukaku we have that ambition.

Alex Fox
166
Posted 16/03/2017 at 11:11:17
For all those accusing Rom of spouting off again to the press, don't forget that these comments were made at an Everton In The Community event to club accredited press.
Given the huge media attention devoted to the contract U-turn, the club's publicity team would have been well aware that he would be asked these kinds of questions. And yet they were perfectly willing to put him in the spotlight and let him have his say, knowing full well that he wouldn't hold back.
Laying the groundwork for his inevitable departure? Or Moshiri using Rom as a mouthpiece to criticise the lack of ambition from certain quarters of the club hierarchy (read Kenwright and Elstone)?
Either way – it's an interesting move from those in charge.
Michael Penley
167
Posted 16/03/2017 at 11:12:35
Lukaku:
"Everton as a football club has a great history right. But the future has to be written. You get me?"
I don't get him. He want to move to a club where the future has already been written? He's lazy and doesn't want to write the future, but wants it written for him so he can swoop in and claim the glory? Yeah, that would be the Lukaku we all know by now.
Alexander Murphy
168
Posted 16/03/2017 at 11:13:44
"
Wouldn't it be nice if a club & team somehow found a way to do what Leicester did and sustain it.
"
Only, Will, if that club & team was Everton.
Will Mabon
169
Posted 16/03/2017 at 11:21:42
"Being honest, if you were a 23-year-old ambitious footballer, with no emotional ties to the club, would you sign on for five more years at a club where Bill Kenwright and Robert Elstone are chairman and chief exec and seemingly the chief negotiators for bringing in new players?"
Okay, there's a definite point there!
Is Colin's "Palace coup" theory a goer? What a mystery!
A 1,000 post thread is definitely coming before this saga's over.
Peter Morris
170
Posted 16/03/2017 at 11:21:46
Michael (#167),
Possibly so, but couldn't we say the same thing about Wayne Rooney, and he is supposed to be 'one of us', yet so many are pining for him to come home?
Jason Bowen
171
Posted 16/03/2017 at 11:23:42
Just get rid of him. The man is nothing but a nuisance.
Will Mabon
172
Posted 16/03/2017 at 11:28:20
Alex, post 168:
Of course!
Tony Hill
173
Posted 16/03/2017 at 11:39:16
The Moshiri - Kenwright joint piloting of the club was always going to be a problem from the outset. I think we should be wary of assuming that Kenwright & Elstone are the only source of difficulty though.
This has the look of a major internal, structural crisis – or it could become such. It would be very surprising if this was just an outburst from a disaffected player and not indicative of deeper problems at the club.
This is going to need very strong management throughout and we must hope that, if there is a "coup", it is going to be swift and bloodless. The rest of the league won't be hanging around for us to sort ourselves out.
Laura Round
174
Posted 16/03/2017 at 11:47:21
Michael (#167),
I've had similar thoughts... you want Champions League – you earn it. To walk into another teams success, surely a little hollow.
I'd like a mansion. Two routes: earn it or prostitute myself to the highest bidder. My life my choice but not many people are going to be interested in listening to me justify myself.
Trevor Lynes
175
Posted 16/03/2017 at 11:57:12
Perhaps Lukaku can unlock the tight purse strings of our board. I have no doubt whatsoever that Rooney and Stones left because of the lack of ambition being shown by our former boardrooms. Moyes's frustration led him to leave the safest job in the Premier League as all our board room wanted from a manager was survival.
As a long time fan I have been totally frustrated along with other Evertonians as our club failed to act at transfer windows until the last days and dregs were left. I have watched in dismay as clubs with far less buying power than we have bought decent players whilst we dithered. Poor Moyes was called dithering Dave when all the time it was the boardroom dropping away time after time. Even Martinez said in print that we needed six or seven new squad players before we entered Europe. What we actually ended up with was two sold and two brought in.
Fans have never been able to cajole this boardroom into genuine moves to improve the squad until Moshiri came along. If Lukaku can get some meaningful transfer activity during the close season by pointing the board ahead then he will be doing the fans a fantastic favour. If it fails and he leaves then I believe we will be set back years.
He is the first player to speak truthfully and openly IMO and I applaud his honesty. If Moshiri and Koeman can get this kid to remain at Everton and continue his improvement to become the player he has the ability to become, then I for one will be over the moon. :) This is basically a plea for the board to put their money where their mouth is.
If this stops us looking back to past greatness and get us looking forward to future greatness then so be it !
Alexander Murphy
176
Posted 16/03/2017 at 12:12:24
Romelu Lukaku may yet be the man who is remembered for breaking down Everton's wall of complacency.
Whether it tumbles or crumbles, it needs to go.
John G Davies
177
Posted 16/03/2017 at 12:14:24
The key to it all is to get rid of Kenwright, Woods and Enlstone. They are and have been holding the club back.

The day Moshiri buys them out is the first day of Everton progressing into a big club once again. Everything Moshiri is doing is in spite of the three stooges named above.

Brian Harrison
178
Posted 16/03/2017 at 12:20:08
Whether his comments are right or wrong, Lukaku doesn't give a shit about Everton. He has always only ever been interested in himself, he and his agent have been banging on about playing in the Champions League.
But the truth is none of the big clubs have been remotely interested in him. 2/3 weeks ago, his agent said the deal was 99.9% done, and when asked Lukaku said he was focused on his football.
Now he is saying we should be buying better players; now I can remember when a comment like that some years back may have earned him a bollocking from one of his team mates. So now he wants to have an opinion on who we sign?
No son your job is to get out on the pitch and give 100% every game and leave the buying of players to the manager and the board. We get you want out of this club, but please don't try and kid fans who have been going to Goodison for decades that you care for this club.
What I can say is that when you leave we will all respect your goalscoring record but you will leave without the same affection that a lot of our ex players are held in.
Tony J Williams
179
Posted 16/03/2017 at 12:37:26
Lukaku, here's a tip for free.
"No comment" - Goes a long way.
Nicholas Ryan
180
Posted 16/03/2017 at 12:39:17
Mike Green [71] excellent post, but couldn't you have made it shorter!
Ste Traverse
181
Posted 16/03/2017 at 12:47:05
I do find it somewhat ironic that we've a few beauts slagging Lukaku for so-called showing 'disrespect' are the same ones begging an over-the-hill Rooney to comeback and he's someone who openly showed 'disrespect' to the club in the months leading up to, and for years after, his transfer to United.
Paul Doyle
182
Posted 16/03/2017 at 12:55:22
I cannot fault most of what Lukaku has said as a lot of it is how most of us feel anyway.
But, as long as we have some song-and-dance man as a chairman, we will go nowhere. It's time for Moshiri to put his big boots on and toe end the con-man out of Goodison Park.
By all means give Kenwright a job telling jokes on match day in the Bramley-Moore pub when we move down there... he can also hand out the crusty cheese sarnies as well, in-between telling his luvvee "anicdotes".
Did I tell you about the time me and Jerry Booth roasted Mini Cauldwell in the snug in the Rovers? – you get the picture – Leaving the running of our club to hard-nosed businessmen like Moshiri and friends...
If we are to give Lukaku and hopefully more players like him the Champions League platform they demand, then there is no place for Lazarus Kenwright and his pals anywhere near Everton. Supporting Everton while he has been here is like fucking Groundhog Day and if he is still around then as Lukaku goes out of one door and Rooney comes in another, it will be like when Rooney left years ago and we signed Bent for £100k. Koeman and Moshiri must laugh their balls off after they speak to him.
David Hallwood
183
Posted 16/03/2017 at 12:58:40
Michael (#167) you don't understand it??
Let's go back 50 years, and talk about a 21-year-ol Blackpool player, England international and World Cup winner; he had the world at his feet and could've gone to any of the 'big' clubs, but instead chose us-why? He wasn't a local lad, so he didn't grow up as an Evertonian.
It's time for a statement of the bleedin' obvious, he and many other players chose Everton, because he/they wanted to win things. Yes, it's about the money, but in Lukaku's case, who apparently turned down a stupid money bid from China, it's about achievement.
I've posted this before about Rooney that it was hardly his fault that the stewardship of EFC has been shambolic, let's not forget that one of the movers and shakers of the Premier league was Philip Carter, and the decade before the inception we'd been Champions twice won the Cup and cup winners cup. And yet we were unprepared for the EPL and didn't slide back, it was more of a collapse.
So nobody can blame a footballer for wanting to squeeze every drop of success out of, what is, a short career. None of us complained when Idrissa Gana left Villa to further his career, so there's lots of double standards around TW.
Yes, I want our best players to stay, but good players want to play at the highest level, and only when we stop being plucky little Everton, punching above its weight, and get back to the likely destination of the next 'big thing' a la Alan Ball we will continue to be just a stepping stone.
Ron Wing
184
Posted 16/03/2017 at 12:59:36
If Lukaku joins another club, he will have to prove better than others to get on the field and play for them. Is he better than Costa? Who has fewer goals in a winning/better team, than Romelu's more goals in a 7th place outclassed by Spurs team.
He will not be prostituting himself unless he only sits on the bench waiting for others to earn his medal. He has a self-belief which any forward needs. His goals do his talking and he has a good argument in that Everton need better players in a lot of positions. Goal keeper, centre half, left back now, creative midfield.

Yes, Everton have needed to show more ambition for years. The terrace "If you know your history" song should be dropped and go back to the winning songs of the sixties. "We shall not be moved."

But I do believe Moshiri has ambition, I just hope he has the funds and uses them wisely to see the ambition though. He seems to be getting around financial fair play rules with the training ground naming. Hopefully he will provide funds for Koeman this summer and a new stadium, keeping Lukaku at Everton.

A nice kick up the arse to the board, from Rom. Now he needs to have a go at his agent and Dad over thinking for him. I'm 99.999% certain that his agent only thought he would sign the offered contract.

Scott Hall
185
Posted 16/03/2017 at 12:59:56
He's spot on. He is basically saying what all of us think so why slag him off for it?
If the board are still not showing greater ambition and think it's acceptable to just keep plodding along then they (and therefore we) deserve to lose big Rom.
Moshiri would do well to call Bill and Robbie Elstone into his office this afternoon and ask them to hand over their security fobs. Those two morons are the epitome of plodding along.
Colin Malone
186
Posted 16/03/2017 at 13:03:08
Rom. Stop talking shite, foe excuses and get your head out your arse. We've seen strikers who can put the ball in the net for there club.
Chris Sutton.
Kevin Philips.
Dion Dublin.
Darren Bent.
Yakubu.
Mark Viduka.
Rom. What makes you more special than the above? These are just a minority of Premier League top scorers for there clubs. Oh. I forgot Kenwyn Jones.

Chris Corn
187
Posted 16/03/2017 at 13:10:20
Love all this anti Kenwright and Elstone stuff. Not many seem to want to pin their colours to the 'Moshiri Out' mast just yet so they just revert to the default position. Ultimately, he has found his voice and is regularly being quoted so you have to assume that he has a controlling influence as you would expect a majority shareholder to have. Therefore he should be culpable for any perceived shortcomings.
Lukaku needs to be wary though, because with all his talk, however you interpret it, wherever he goes from here he will be expected to deliver from the word go. He is on easy street at Everton.
In addition if there is an issue over a sell on fee, what is the worry? If he's as good as all that, surely Chelsea, Madrid or Barcelona will pay it. Won't they?
Gavin Johnson
188
Posted 16/03/2017 at 13:15:26
Rom opens his gob a lot but these comments are fair and summarise the last two windows. Quite simply, there has been progress, but not enough.
I don't think anyone expected a Man City or Chelsea spending spree when the takeover happened but we should have signed some of the players we went in for. Fair enough we didn't bother with Depay in the end, and that could be something to do with Lookman hitting the ground running but why in the hell didn't we sign Gabbiadini?!
Maybe that deal was aborted for the failed loan bid for Rooney. Who knows?! But Lukaku has asked the questions that we've all been thinking. Clearly Bill and Bobby need to step aside when it comes to transfer dealings.
Craig Walker
189
Posted 16/03/2017 at 13:16:16
Lukaku is only at Everton this season because nobody came in for him. I've said it before but let's see you help us get 3 points at Anfield. I'm betting you have another anonymous game, Romelu, with the ball bouncing off you like a bollard.
Scott Hall
190
Posted 16/03/2017 at 13:20:28
Chris, people turn with questionable eyes to Kenwright and Elstone because, and how can I put this politely, they have a history of being shite.
Chang, Kitbag, Kirby, that bollocks behind the Park End that never happened...
If we want real change, like Rom does, then these two circus performing monkeys need to go. They are small-time, small-minded and that's the mentality we need to diminish.
Chris Corn
191
Posted 16/03/2017 at 13:23:21
Gavin 188, if not getting Gabbiadini is a reason for all this furore then the games gone mad. An average player with a mediocre goal record. He's started well but so do Jelavic and he was a busted flush after 8 months. Theres loads of his type that have trod the premier league boards and fell off the face of the earth.
Ian Hollingworth
192
Posted 16/03/2017 at 13:28:05
Stand by for the club pointing the blame back to Rom anytime soon.
Quite probably Rom has had real interest from another club and hence why the 99.999% signing has tuned into this.
That said and worryingly for us what he has said is what a lot of Evertonian's have been thinking for a while. I cannot fault anything he says in this article.
We do appear to be making progress but there is also a smoke and mirrors feeling about some of it. My personal fears are that Moshi is a credible front for BK and by sorting the stadium he will have a lasting legacy etc etc.
If its a choice of better players or a new stadium then its players every time for me. Ideally we want both but I am starting to suspect that maybe plan A for the board is the stadium and as usual hope for the best with the team.
So we await the next move from the club.
Dave Abrahams
193
Posted 16/03/2017 at 13:38:28
A lot of truth in what Lukaku says, I think it is obviously self serving, and yet he tells us where he thinks the club are at the moment and what needs to be done, although he will not be a part of Everton's future, nor has he pretended he ever wanted to be.
He is the only personality associated with the club who has told people how he believes the club is going, only Neville Southall has come close.
The club has been run as a very small club for years, with Moshiri coming in, we could be on the up, Lukaku hasn't got the patience or inclination to wait, fair enough, he isn't one of us and has always made it plain we are a stepping stone for him. Good luck to him when he goes.
I don't think he is anywhere near as good as he thinks he is, maybe he will continue to improve, he is an intelligent lad, can speak six languages, can't trap a ball in any of them, but give him his due, he knows how to score goals. We will more than survive without him.
Mark Andersson
194
Posted 16/03/2017 at 13:42:50
If ya know ya history, nothing has changed since last year with Rom. The sooner this soap opera gets killed off the better.
Yes he made some valid points, so what??? The bigger picture is still about him wanting away
Koeman will be next as he is cut with the same cloth – never really wanted to be here.
As Jim Royle would say, "New stadium, my arse!"
Thomas Lennon
195
Posted 16/03/2017 at 13:43:45
FFP rules as I understand them are that we can make a loss of 𧴡 million over 3 years if Moshiri injects cash (presumably covering the loss).
Adding in increased revenues of around 㿞 million TV deal and 㾻 million sponsorship we know about. This summer we have an extra 𧴜-170 million or so to spend compared with last year.
That figure includes wages, excludes any player sales.
Not limitless amounts though we have already spent 㿨 million this year plus wages (㿀 million?). This amount over 4 years equates to 㾻 million a year to the books.
However, player sales have been 㿨 million or thereabouts, also presumably in part payments over several years. Let us assume that this cancels out current spend.
My (somewhat naive) conclusion is we still have a fair bit of spending power for the summer. If we were foolish enough to spend 𧹈 million up front amortised over four years is 𧴜 million a year without breaking FFP rules?? More likely 𧵎-200 million this summer including wages and current squad wage increases?
If we can be creative over more USM income (and we will be with the stadium) it will be more though possibly not as soon as this summer.
Peter Cummings
196
Posted 16/03/2017 at 13:49:14
Some of what he (supposedly) had to say has been evident since the halcyon days of our 'School of Science' when Wembley became our second home, The major problem since then has been the complete lack of communication between the hierarchy and fans,
As far as BK and his cohorts were concerned we didn't have any say in the running of EFC, and we still don't, despite our numerous and at times vociferous complaints they just sat back and smirked, much like Scrooge and Marley did as they ousted Mr Fezziwig, in 'A Christmas Carol' and have since run the club in the same way with their penny pinching miserly attitude to signings. and treating us fans as mere peasants.
Things now MUST change if we are to compete with the so-called Premier League elite as well as the domestic competitions, but until Kenwrightand company get their heads out of their collective rectums sadly nothing will.

Gavin Johnson
197
Posted 16/03/2017 at 13:51:23
Chris (#191),
Yes, you're completely right and give a good example in Jelavic but I'd hazard a guess most Blues wish we'd have signed Gabbiadini now. The guy is still young, an Italy international and scoring goals for fun. Of course that could change but the lad has a decent pedigree. 㾺m is a snip compared to the 㿂m we offered in the summer.
I wouldn't pay too much attention to his scoring record in Italy. There's variables between national leagues and also what position he was playing in.
On what we've seen so far it looks as though his playing style is tailor made for the Premier League compared to someone like Zaza, who had a decent scoring record in Italy but can't hit a barn door adapting to the English game.
Ray Roche
198
Posted 16/03/2017 at 13:53:43
Dave (#193),
"Can speak six languages, can't trap a ball in any of them."
Brilliant.
Peter Gorman
199
Posted 16/03/2017 at 13:57:06
And; "We will more than survive without him."
Exactly, Dave
Chris Corn
200
Posted 16/03/2017 at 13:58:14
Scott (#190), yes we know all about that but Moshiri is the majority shareholder, he effectively owns the club so any perceived shortcomings land at his door.
If he wanted to remove Kenwright or Elstone he could if he really wanted to. And as for all this 'As Rom does...' , FFS he is a hired hand and touting himself out the club. Even if he signed a contract it would make not one jot of difference. Even with further investment there is no guarantee we would qualify for Champions League, like there is no guarantee the likes of Liverpool, Spurs, Man Utd or Arsenal will on an annual basis now.
If 'As Rom does', he is ambitious as he and you claim , he has left himself with not a great deal of options, so he best hop the really big fish will pay up.
As for the stadium stuff , surely we need increased revenue to comply with FFP rules so we can increase transfer expenditure, so surely one goes in hand with the other.
James Flynn
201
Posted 16/03/2017 at 13:58:20
Lyndon's headline says it all.
Our best player calling out ownership on the Club's ambition.
Good boy yourself Rom.
Jim Burns
202
Posted 16/03/2017 at 14:01:17
Perhaps there's a middle way, Will @164 – somewhere between rich billionaire, souless cash driven 'project' and a club with decent investment, shrewd management, keeping things simple and effective on the pitch.
If there is such a compromise, we are one of the few clubs that will find it – and I, for one, feel generally heartened with progress under Moshiri so far – notwithstanding the Lukaku debacle.
Its ironic, given the Champions League results this week, that moneybags Man City – a club that Rom saw fit to compare us with, bombed out yet again, and Leicester remain in the tournament.
Rom – if you speak the truth, how about a cheeky bid from Leicester for your services? Interested?
Geoff Lambert
203
Posted 16/03/2017 at 14:01:24
Ste (#181), Bang on, mate.
Bill Gall
204
Posted 16/03/2017 at 14:05:06
Lukaku is talking about a lot of points that have been made on this site and other sites so we are not learning nothing new. His comments about Man City fail to mention that they were bought by people who have a hell of a lot more money to finance a club, were given a new ground to play on, and were not under the present Financial Fair Play rules,. In mentioning players who were available, still playing in the league, he is not aware if the club made inquiries about them or other players, and what were the reasons they could not be transferred.
Even though I mentioned that I thought that the club may have been able to do better in the last 2 transfer windows, we are in the first year of rebuilding and Lukaku should realize that City with all their billions did not win trophies in their first season under the new ownership, i think it took about the third season under their new ownership before they won silverware, so with all their billions, instant success was not made.
The board under guidance from Moshiri do have ambitions and so does the manager, we are improving and as far as Lukaku should be concerned about, is doing his job. and leave the running of the club to the people whose responsibility it is. If you criticize you have to be able to do better than who you are being critical about. Quote I believe from Diego Simeone. (You cant have a favorite formation for the simple fact that as managers we have to adapt not to what we would like, but what we have to work with.)
The only way you get instant success is winning the Lotto, so to me Lukaku should give Everton at least another season and see that as now he has made his feelings known see if the people he is being critical about step up and make improvements.
Peter Gorman
205
Posted 16/03/2017 at 14:05:44
Amidst all this 'bully for you' from the TW regulars, I can't help but wonder what Rom's teammates are thinking.
Who knows? With Romelu's infamous lack of discretion, it wouldn't surprise me if he had told those he thinks should be replaced with better players exactly that.
Does wonders for team morale I am sure. There is no 'I' in team but there is a 'me' in Romelu Lukaku (and a 'kak' and 'lulu').
Eddie Dunn
206
Posted 16/03/2017 at 14:10:29
It is poor that this has all come about mid season, but now the topic has been aired, it is good that Lukaku has given his thoughts.
On the one hand, I agree with his frustration at our failure to land significant transfer targets. On the other hand, the opportunities for the young players have been good for us.
I really don't see what the Champions League offers in terms of testing yourself against the best. Surely playing for Belgium in a major tournament is at least at that level, or arguably higher. When you look at his teammates in that Belgium side, you would be hard-pressed to find more than Barca or Madrid to better it.
So many teams fail in the Champions League as not all of them can progress to the later stages. This season, with us, he has the chance to be top scorer in the Premier League, which would be a marvellous achievement in a team around 7th place. He is an international in a good team too. When he agreed to stay last year, I wonder if the club made certain promises concerning our recruitment?
I just watch Koeman's pre-Hull conference. I couldn't hear it all, due to the usual poor audio quality, but he looked fed-up. I think he has a lot on his mind.We need our board to hit some targets in the summer, quality players are needed, as well as progress on the ground. We have been crying out for another creative midfielder, and a big centre half, not to mention another good striker.

The weekend will be very interesting.
Stephen Ashton
207
Posted 16/03/2017 at 14:17:40
Any one who has read my previous posts will know that I cannot stand the man. However, I watched him over the last few games and especially against West Brom and really started to buy into the fact that he could be really special for us, and then this.
Will (#95) is spot on. Steavie (#62) – we are 8 points off top 4 and had we beaten Bournemouth, Burnley, Watford, Swansea and Palace we would be second.
Seems to me that our man has little ambition, if he had he would look at those results and think 'I was poor at Bournemouth awful at Burnley and although I scored 2 at Watford I could easily have won it for us'. As someone has already rightly pointed out if he hadn't missed a hatful in last year's semi he would probably already have started his collection.
The satisfaction achieved by getting Everton into the top 4 would be amazing much more so than going to a ready made medal factory built on Arab or Russian money.
Now that would be ambition.
Brian Wilkinson
208
Posted 16/03/2017 at 14:35:44
Joe@55, I never called the guy a shithouse, what he is doing is getting his excuses in early, even if he signs his contract, we will not hear the last of him wanting Champions League football and will still go in the Summer if an offer comes in that matches Everton's valuation.
Anyone on here who thinks Lukaku will turn down a move regardless of a signed contract or not, fair play, I admire the fact you think he will turn a move down and stay with Everton.
The only way Rom will still be here is not a change of heart by the player, but simply because clubs will not pay the asking price.
Ross on the other hand until recently has taken unfair flack, he's a confidence player, he's now got the fans on his side, I always felt to get the best out of Ross he would have to move to a club where the fans would give the lad more time and patience, he seems to be getting that now at Everton, Tom Davies has been a big factor in Ross playing better.
I would get the best price for Rom, tempt Chelsea for a part exchange Michy Batshuayi, bring in Dembele and Siggurdson, Keane, we could probably land all those three players with the Lukaku money.
That's just me though and every fan is entitled to their opinion, we cannot all agree the same.
Stan Schofield
209
Posted 16/03/2017 at 14:42:23
Bill @204: Lukaku speaking publicly will likely create a problem for the board. On the one hand, the substance of what he said has a lot of truth to it, but saying it so openly is problematic.
Not the first time in the recent past that a player or the manager have said things publicly that might have been handled in-house. Baines came out publicly last season about management issues, and was promptly shouted down. Koeman recently did his nut over transfer activity, but it at least seemed to speed-up getting Schneiderlin.
I suppose the board are hardly likely to come out and say Lukaku is right. No doubt they'll want to appear strong. One way of doing that might be to say, yes, we do wish to progress as rapidly as possible, and towards that we're keeping Lukaku for the remainder of his current contract, to July 2019. They could say, he's not for sale, or (equivalently) they could set a price tag that nobody is likely to pay.
In doing that, EFC could send out a strong message, that we don't need to sell, we're keeping the players we decide we want, because we can afford to. The board could decide that the potential loss of a transfer fee for Lukaku is less than the value to the club from keeping him over the next two years. And it would help maintain our current progress without the uncertainty of looking for a replacement striker.
Andrew Ellams
210
Posted 16/03/2017 at 14:46:06
Haven't read all the comments so this point may have been made already but anybody thought that Koeman and Lukaku may be joining sides here to make a point to Mr Moshiri?
Chris Corn
211
Posted 16/03/2017 at 14:50:04
Andrew (#210), judging by Koemans press conference, I'd say not.
Joe O'Brien
212
Posted 16/03/2017 at 14:55:49
I just wish they'd announce the new stadium. Seems like since we got Moshiri on board the media are obsessed with trying to keep us down. Even our former player Peter somersault Beagrie is mouthing off that Koeman could be out the gap soon.
It was always suspected but now it's plain obvious. The media don't want a strong Everton, definitely not stronger than the rs. Rom is going, Ross is going, Koeman is going, Gueye is going and Coleman wants out. Just announce the stadium so it'll make them pipe down for a while.
Brian Wilkinson
213
Posted 16/03/2017 at 15:19:58
Just wish John Moores was still at the helm, Lukaku would be dragged in his office and have a right good rollicking.
John Wilson
214
Posted 16/03/2017 at 15:32:51
These Financial Fair Play rules, isn't this bit like the UK etc putting kids up chimneys, had enough factories to cause C02 problems by itself, sold drugs around the world, then later practiced democracy so is telling the world to. It's always the beneficiaries of the unfair things which then lobby to change the unfair rules, ie, so no-one else can.
Jimmy Hogg
215
Posted 16/03/2017 at 15:49:38
Why has Rom's agent spent so long negotiating a new contract to the point of completion? Rom says we don't match his ambition, did he not know this before negotiations started?

The fat slob agent has been playing us all for fools. Sell him and move on.

Next game will be strange if he plays, won't know whether cheer him or keep quiet.
Eugene Ruane
216
Posted 16/03/2017 at 15:56:24
Brian # 213 -
'Just wish John Moores was still at the helm, Lukaku would be dragged in his office and have a right good rollicking.'
FYI, teachers can't give children 'six of the best' with Bash Street Kids-style canes anymore.
Smacking one's good lady about ("because she knows 'ow to press me buttons like") tends to be frowned on these days.
And gruff, early 1960s, This Sporting Life-type local businessmen chairman don't get to dictate to multi-millionaire players on watertight contracts, represented by agents, in 2017.
(no matter how many times those chairman say 'the bloody lunatics are runnin' t'asylum' or 'it's political correctness gone bloody mad')
Vincent Ruane
217
Posted 16/03/2017 at 16:08:23
All I will say is just do not give him the vaulted pleasure of playing another game at Goodison. What a bighead.
John Wilson
218
Posted 16/03/2017 at 17:05:07
Actually, in law there's 'reasonable chastisement' even though the liberals would rather not discipline their children who run amok then try to lecture others.
Stan Schofield
219
Posted 16/03/2017 at 17:06:04
Vincent, if he's not happy with the situation here, it might not be a pleasure. Surely, the main question is, what's in the best interests of Everton? If our best interests at the moment are served by him staying, then make him stay for another two seasons. Then we wouldn't give him the (possible) pleasure of being sold.
Damian Wilde
220
Posted 16/03/2017 at 17:10:01
Not sure why there is a lot of love in for Rom. Okay, he's done well for us, but because he has a pop at the board some of you are suddenly all over him, it's embarrassing.
The lad's pretty self-obsessed. Never really been a 'team' player. Wherever he goes, I don't think it'll be about the team for him, but always about self-development and how could 'he' can be.
I'm getting a bit bored with him and this saga now. Sign up or do one.
Brent Stephens
221
Posted 16/03/2017 at 17:11:56
Rom is certain to get the Player of the Mouth award for March.
God, another bloody thread on you know who. Lyndon and Michael, perhaps you should start a website specifically on this player. Roll on Saturday.
Bill Gall
222
Posted 16/03/2017 at 17:30:39
Stan (#209),
I agree with your point on Lukaku's comments will likely create a problem with the board. What I was trying to emphasize was his reference to Man City success under new ownership.
He mentioned talking to a City player when all of a sudden players started arriving. I think using City as an example is completely unfair as to compare Moshiri a billionaire to Cities new ownership who are listed as worth over £20 billions. You can not use an organization like City to compare the levels of ambitions at Everton. Yes Cities new ownership were ambitious and wanted success but it still took them 3 seasons to achieve this, Everton have yet to complete 1 full season under new ownership and manager and there are improvements and signs of ambition throughout the club.
I would like Lukaku to stay but he should realize that he was not an instant star, it took a number of years at different clubs with coaches and managers including our own to bring him up to the level he is at. He may be at a level that now, a number of the top clubs in Europe looking at signing him but being critical of your employer is being disrespectful.
Gordon Crawford
223
Posted 16/03/2017 at 17:54:05
He was out of line saying what he the way he did. If I did that with an employer, I would get the sack. There are ways to go about things, but that wasn't one of them. Looks like he has also pissed off the manager too.
On another note it seems that Ross is in contract talks, hopefully we will get him signed soon.
Damian Wilde
224
Posted 16/03/2017 at 18:00:53
Koeman is annoyed now. How many times has Rom or his agent or his Dad mouthed off? Class striker, but sick of it.
James Flynn
225
Posted 16/03/2017 at 18:22:27
Rom is correct in what he said. Spoken plainly at that.
If we're going to rip on our best player openly demanding HIS Club getting in better players, what's the point of Everton Football Club even existing.
Stan Schofield
226
Posted 16/03/2017 at 18:38:05
Bill @222: I agree totally. There's always more than one way to skin a cat, but some players and managers choose a public forum for some reason.
Jonathan Tasker
228
Posted 16/03/2017 at 19:11:43
There is no new stadium.
How many times do I have to say this?
Ian Riley
229
Posted 16/03/2017 at 19:27:25
When we bought Lukaku I thought three years max and he will be sold. Now with a new owner, things may be different. If Lukaku wants to go, say it. Don't go the media, it's lacks respect to the only club willing to pay 㿈 million three years ago. Sorry, I didn't read lack of ambition then. If an extra 𧴜,000 a week was offered, would that help the problem?
Dan Davies
230
Posted 16/03/2017 at 20:51:41
Not sure what to make of all this really. He better score a hat-trick against Hull!
C'mon on down, Mr Usmanov!
Andy Meighan
231
Posted 16/03/2017 at 21:30:36
Jonathon (#228),
And you are privy to that information, are you? Funny but I've never seen your name on our Board of Directors...
Please enlighten us all how you know there's to be no new ground because I'm dying to know?
Clive Mitchell
232
Posted 16/03/2017 at 22:13:54
Jonathan, 228 - I think you can stop when you're sitting in it.
James Marshall
233
Posted 16/03/2017 at 22:58:49
Most players don't say a damn thing – robotic, dull, unimaginative, always towing the party line. I like that Rom speaks his mind and has the balls to say what he feels, much the same with Koeman most of the time too. Good luck to them.
Lukaku has never upset with his ambition, and I've never understood why it upsets blues who trawl out the 'Nil Satis' thing all the time either – if you want the best, then why shouldn't our players want the best too?
We'e had him for 4 years, which was longer than he probably ever wanted to play for us – in fact, as I recall, he never wanted to play for us in the first place so he's done OK in my book!
Eric Myles
234
Posted 17/03/2017 at 04:55:19
Maybe the board should remind Lukaku that if it wasn't for them then he'd be playing for the mighty West Brom now.
Brent Stephens
235
Posted 17/03/2017 at 09:27:49
"Maybe the board should remind Lukaku that if it wasn't for them then he'd be playing for the mighty West Brom now."
Eric, the mighty Everton are just one place above WBA! Anyway, who knows where Rom would be now if we hadn't signed him?
Colin Glassar
236
Posted 17/03/2017 at 09:30:17
I still think Rom will stay but we should line up Dembele (Celtic) as a replacement just in case.
Ray Roche
237
Posted 17/03/2017 at 09:52:09
Gordon Crawford #223
Where did you hear that?
Brian Williams
238
Posted 17/03/2017 at 17:46:02
This is what Lukaku said over two years ago.
"It was brilliant to play at Chelsea and I had a good reception."
"They know I'm a good player but that I want to develop so I can eventually get back to playing for a club like Chelsea.
"I don't have a secret ambition to rejoin — there are other clubs in the world. I just want to grow as a player and eventually arrive at a top club again."
Pretty obvious he only ever saw us as a stepping stone, and still does.
He has undoubtedly improved as a player but it appears he hasn't "matured" on a personal level and still exhibits the selfishness and self importance of a spoiled teenager.
There's a very fine line between confidence and arrogance and for me he's crossed that line a good few times now, which is disappointing in the extreme because love him or loathe him his goals will be difficult to replace.
Next time he spouts to the press though I'd love a reporter to ask him two questions. "Romelu, are you too good for Everton?" and "You say you're ready for Champions League, so can you give us your take on why you score so infrequently against the top four teams in the premiership?"
Damian Wilde
239
Posted 17/03/2017 at 20:59:26
Well said, Brian.
Jonathan, you're talking nonsense.
Don Alexander
240
Posted 17/03/2017 at 00:18:43
Ozzie on Radio 5 today in effect said Lukaku's out of order for saying what he says. As he also said, he's played with him and he knows him and as far as he's concerned Lukaku's engineering a move, end of.
For a fellow pro to be as forthright and critical as Ozzie means something to me and I suggest the legend that is "Rom" will soon be confined to "legendary" only in the sense of "TWAT" to any grounded Evertonian.
Like others have said on previous posts, with the one season we had with the similarly lazy, self-absorbed supreme goal-scorer that was Lineker we won zilch, nada, and that was either side of Championship seasons.
So, if he continues to flick the V-signs at us all so be it. If a so-called "top team" are daft enough to buy him for the money we'd want right now I'd expect he'd very soon be going injured for them with piles from sitting on their bench. He needs to get real, improve, and earn his already colossal salary.
Gordon Crawford
241
Posted 18/03/2017 at 00:46:48
Ozzie is spot on in saying that Rom is out of order. Whether he is correct or not in his assessment of the club makes no difference; he should not have spoken out in the way he did. Shows a real lack of respect.

Charlie Lloyd
243
Posted 18/03/2017 at 10:16:48
A point that relates to this thread.
The poll regarding selling Lukaku to Chelsea for £60m. It's 55% for a yes currently.
I'm amazed by this. For me £60m is too cheap. I would certainly want around £75m.
Mike Green
244
Posted 18/03/2017 at 10:41:15
Well said Brian - there is a third question though
How many Champions League teams have actually put a bid in for you, and what do they think you're worth?
Dave Williams
246
Posted 18/03/2017 at 11:16:13
John Malone (#130) sums it best for me. Lukaku couldn't give a stuff about our club and has likely had an informal approach to move at the end of the season so he is now paving the way. He has only ever been in it for himself and I can't ever recall him saying anything to indicate a love of the club.
This is a Lineker, not an Alan Ball who quickly fell in love with the club. Shame when he goes but, as Dave Abrahams says, we will survive and hopefully prosper if we spend his transfer fee wisely.
Brian Williams
247
Posted 18/03/2017 at 11:49:57
It'll be interesting to see what sort of reception he gets today. Either way it's really, really bad timing on his part with two very big games coming up in the shape of Man Utd and the other shower across the park.
What'll also be interesting is whether anyone actually makes an approach for him in the summer because, despite the media trying to actually create a bid, I don't believe there were any actual concrete bids for him during last summer's window.I know some will see this view as extreme, completely stupid, or totally unrealistic (it is unrealistic) but I'd love him to score today and for there to be total silence.

It's an alternative to booing him, which I think some WILL do, but it would certainly be a HUGE indication of what us the supporters think of his insensitive and uncalled for comments.

When you think about it Osman's probably right in his assessment that Lukaku's definitely engineering a move away because the one thing Lukaku ISN'T is stupid so he must realize that the comments he made are going to upset and alienate a large proportion of the supporters.

Some would say he's made his position untenable and he must have realized that. So was it intentional? He's really pissed me off because I like to love every player that wears our shirt but he's made it impossible for me to do that when it comes to him. Childish? Maybe but I'm being honest. I shouldn't , and don't I'm sure, have to explain what Everton means to me so yeh I'm really pissed off with him.

I think I'll try my best, sitting up there in the top balcony, to be silent if he scores today and he'll notice there's an almost imperceptible reduction in the usual noise level.

He's bound to notice, isn't he?

*Removes tongue from cheek*

Gordon Crawford
248
Posted 18/03/2017 at 12:40:30
Brian Williams
249
Posted 18/03/2017 at 12:48:19
That link just brings you back to this article, Gordon?????
Gordon Crawford
250
Posted 18/03/2017 at 13:12:15
Sorry Brian I noticed that the other day, when someone else posted a link. I'll get it now. :)
Gordon Crawford
251
Posted 18/03/2017 at 13:14:50
'Lukaku's mum blamed' over Everton contract U-turn
Date published: Saturday 18th March 2017 12:08
Everton reportedly believe Romelu Lukaku's mother, Adolphine, is to blame for the striker's refusal to sign a new contract at Goodison Park.
The Toffees have been rocked by Lukaku's announcement this week that he wants to leave the club this summer to play Champions League football, with the Belgian explaining his reasons behind the snub in this interview.
News that Lukaku wants to quit comes as even more of a shock to the club, given just a fortnight earlier, the player's agent, Mino Raiola, said a new five-year, £130,000-a-week deal, was "99.9 per cent" certain.
But following Raiola's confidence that a new contract would be signed, the Belgium international was given time off to go home during Everton's trip to Dubai last month and subsequently had a change of heart.
Now The Times report that Everton believe Adolphine was instrumental in Lukaku's U-turn. They say she discussed her son's desire to play in the Champions League and advised him to make snub a new deal in a bid to force a move this summer.
The 23-year-old striker has made no secret of his mother's influence on his career, ironically crediting her with his original decision to join Everton three years ago.
Everton boss Ronald Koeman, meanwhile, who has urged supporters not to give Lukaku a hard time in Saturday's clash with Hull.
Contesting Lukaku's claims that Everton lack ambition, the Dutchman said: "Of course I am not happy about this. If Everton is not a club with a lot of ambition I would not be manager.
"But I am not so afraid about his situation because the player has more than two years on his contract.
"Everyone knows what can happen in football but you need to respect your contract."
Brian Williams
252
Posted 18/03/2017 at 13:37:47
Sorted, mate.
Roman Sidey
254
Posted 18/03/2017 at 14:10:18
Probably already been said but I'm not scouring 250 comments for it.
I'd love to see a poll on who agrees with Rom's statements.
Stan Schofield
255
Posted 18/03/2017 at 14:40:51
Roman, I haven't actually counted, but having read all the comments, I reckon it's about an even split. Now I've said that, it'll probably turn out to be 80/20 or 20/80.
I don't have an issue with the substance of what Rom said, but I don't agree with all this going public business. Moshiri and Koeman have not been good 'leaders by example' in this respect.
But if it's down to Rom's mum, then that's the end of the discussion. Mums are always right about what's best for their kids. Barkley and Davies certainly seem to think so.
Kev Johnson
256
Posted 18/03/2017 at 14:52:08
Kieran @79 well said , you've said what I have been saying to my blue mates for ages.
Ivan Varghese
257
Posted 18/03/2017 at 19:08:03
Honest perspective from a great striker. Everton shareholders, time to pony up! Build the new stadium, increase revenue and for the short term the board has to invest to get new players and keep good ones.
Fintan Spode
258
Posted 18/03/2017 at 21:28:29
Lukaku scores goals and that is hard to argue with or is it? Willie Pettigrew also scored goals lots of them and he ended up selling newspapers in Bellshill. Learn the lesson Lukaku is over-rated, cash in now, let the guy get a few quid out of it, he will need it to open his newsagents.
Clive Lewis
259
Posted 18/03/2017 at 22:53:52
Just want to throw this out as a possibility...
Wenger out. Koeman in
Signs Lukaku and Barkley
Could this be the reason no contract signatures and the day of Lukaku quotes made?

Brent Stephens
260
Posted 18/03/2017 at 23:21:29
Fintan, who would buy him if he's over-rated?
Eric Myles
261
Posted 19/03/2017 at 00:38:22
Brent #235, well WBA seem to be doing well without him.
Phil Bellis
262
Posted 19/03/2017 at 00:54:31
Stan (#255), it didn't work with Rooney if hearsay was true.

Brian Porter
263
Posted 19/03/2017 at 06:34:14
Watched the Hull game live on TNS and even the American pundits and match commentators were saying they couldn't see where he'd fit in any of the so-called big Champions League clubs, because despite his goal scoring abilities he still lacks a great first touch and his close control is suspect.
Everton set their team up to play to his strengths but the Champions League big boys won't do that, so he should be careful what he wishes for or he could end up as a high priced impact sub with a few Champions League cameos to look forward to.
With all due respect to Everton (their words, not mine), he's currently a big fish in a medium sized pond, but would he be looked at that way by, say, Bayern, Barcelona or Real? Unlikely was their conclusion.
Interesting to hear that point of view from across the pond.
Fintan Spode
264
Posted 19/03/2017 at 10:30:33
Brent (#260): Man City often buy over-rated players...Rodwell, Stones.
Man Utd spent £90m on Pogba...
Seamus McCrudden
265
Posted 19/03/2017 at 10:39:47
Interesting comments on Sunday Supplement with two journos surprisingly saying he will or should stay. Wyett, The Sun journo saying Everton are as big if not bigger club than Chelsea and Spurs.
Brent Stephens
266
Posted 19/03/2017 at 10:52:14
Seamus, I notice also the amount of column inches on Rom in the national papers.
Graham Mockford
268
Posted 19/03/2017 at 11:10:06
I still believe a contract will be signed. The sticking point is the buyout clause. The player and his agent want it lower at £60m. The club want a much higher figure. This effectively allows the player to engineer a move at any point in the contract assuming he is operating at the required level.
The club will have to match talk of ambition with actual ambition. Find an agreement on the buyout clause and show the ambition in the transfer market needed to make us genuine top 4 contenders. You then may persuade the player to stay regardless of the buyout clause.
The other option is sell him now and hope the money is spent effectively. In the end Spurs became a better club following Bale's exit but not solely on the back of transfers.
Frank Crewe
269
Posted 19/03/2017 at 11:21:38
Graham, if we set the buy out clause at 㿨 million the day after he signed it bids would be coming in and he would be gone. As it is with two years to run on his current contract we can get considerably more than 㿨 million.
I would think if Pogba can go for 䀅 million then we can get at least somewhere near that figure. Lukaku and his agent have to accept his worth because Moshiri didn't get to be a billionaire by undervaluing his assets and Lukaku is an asset.
Graham Mockford
270
Posted 19/03/2017 at 11:32:04
Frank
It depends on your objective.
If you want him to build a side around him that could challenge for silverware you need to find a way to make it work. It is interesting that the buyout clause is more of an issue than the salary offer.
If you don't, sell him to the highest bidder. Move on.
I think Lukaku's comments suggests the door is still open but only if he is convinced that the teams ambitions match is own. The buyout clause is the escape route should the promises are not kept.
I also understand why some fans will find that position arrogant and a player who is too big for his boots. I see it as a player who is holding a very good hand currently.
Brent Stephens
271
Posted 19/03/2017 at 11:47:57
Fintan (#264), I think my point is that I imagine there would be very, very few cases where a club would buy a player for more than they knew was the market rate, who they thought was "over-rated" in relation to what they would be paying. My guess is that in the vast majority of cases a club is paying what it thinks is the going rate AT THAT TIME. Things might not AFTER THAT turn out as they had predicted – and that's your Rodwell, your Pogba arguably.
So my question is really which specific club or clubs would today pay an amount for Rom that they know is above his current "rating"?
That, of course, leaves open the whole question of what that amount is. What is the amount you think we would get for him? And what is the amount you really think he is (only) worth? i.e. what's the difference between the two?
Gordon Crawford
272
Posted 19/03/2017 at 11:56:40
I don't think it's buy out clause related. It was reported in yesterday's tabloids, that his mum has told him to leave this summer. And today the Echo are reporting the same story.
If there is any truth in this, then he will most certainly be gone this summer. But maybe a 𧶀k wage might just temp him to stay. But if not let's start the bidding at 㿼m and see what happens.
Martin Nicholls
273
Posted 19/03/2017 at 12:30:12
Fintan (#258). Willie Pettigrew? Yeah, right – he scored his slightly better than 1 in 3 at the highest level didn't he? Surely you could come up with a better example than that to support your views?
Eric Myles
274
Posted 19/03/2017 at 12:59:10
Graham (#268 & 270).
To me a buyout clause says "this player is for sale". Although it benefits the club, if someone is prepared to match the price they are obliged to tell the player.
Without a clause the club can refuse to consider any offer it doesn't deem reasonable and the player doesn't have to know an inquiry was made.
Graham Mockford
275
Posted 19/03/2017 at 13:13:46
Eric
I know that, however a buyout clauses tends to benefit a player much more than a club though.
As it stands Everton could hold Lukaku to his contract and sell him at a time of their choosing. But the power is nearly always with the player in these instances. Unless the club was really prepared to make him play out his contract which will never happen.
If he is determined to go he will be gone in the summer. And if there are still people out there who think no big teams will come in, they are living in cloud cuckoo land.
If we genuinely want to keep him we will have to find a contract that would encourage him to stay longer and see if we can become a serious force. Any buyout clause could easily be structured that it only becomes active after 12 months.
It's all a moot point of course if the player is determined to leave. Then you accept it and get the right price. Only the club in discussions with the player know if this is the case.
My gut instinct is it is not a foregone conclusion yet but I'm guessing like the rest of us.
Chris Leyland
276
Posted 19/03/2017 at 13:23:46
Good article on the back of the Sunday Times sports section by their chief sports writer, David Walsh about Lukaku.

He says that 'Speaking of follisness , Romelu Lukaku's was the gold medal performance last week'
He agrees that Lukaku is perfectly entitled to turn down any contract offer he is made and that if he feels that is career is best served by moving then he is also entitled to believe this. But, he suggests that Lukaku also needs to learn to respect the club he plays for and that 'it wouldn't be a bad idea to think before speaking.'
Walsh, highlights that Lukaku has questioned Everton's ambition whilst conveniently forgetting that the blues were the highest spenders in the most recent transfer window and are attempting to move to a new stadium. The article also highlights the presumption that Lukaku is under that the Board need to consult with him at every step of their plans.
Finally, the article also points out many of Lukaku's strengths such as the fact that he is a very good finisher and scores lots of goals but it also highlights his deficiencies 'there are periods when he seems to switch off and his lack of off-the-ball movement makes it difficult for midfielders to find him.'
It says that Koeman had talked about need for Lukaku to press more and Walsh states 'good luck with that, Mr
Koeman.'
An enjoyable read. Also in the paper underneath the match report is a suggestion that Lukaku's comments about the club are 'seen as a misunderstanding rather than a signal that he is preparing to leave'
Not sure about this last comment.
Phil Bellis
277
Posted 19/03/2017 at 13:23:55
When Arsenal triggered Suarez's buyout clause, it was, apparently, despite the whinging about reneging and breach of contract, simply ignored.

Dan Davies
278
Posted 19/03/2017 at 13:24:27
With regards to Rom's comments in the week about not signing players he knew we could get but didn't, could it be he is waiting to the end of the season to see what players we bring in?
He mentioned Man C and the players they started getting in. Could it be he is waiting for something similar to happen with us?
He's challenging the board to sign better quality players to match his own ambition and if they don't he will be gone.
We need to bring in the type of player/s that's going to make Rom think maybe it's worth staying for a few more years.
The ball is in the court of Moshiri here. Do we keep Rom and surround him with better quality players or do we lose him and struggle to replace him?
I know which answer I prefer!
John Daley
279
Posted 19/03/2017 at 15:23:47
"Lukaku's mum blamed over Everton contract U-turn
"
How could anyone actually know whether Lukaku's old queen was the one to talk him out of signing a new contract or not? Not like he would come out with it himself, to manager, player, board member or supporter, surely?
-----------
"Still set to sign a new contract, Rom?"
"Nah. Not anymore."
"Why not?"
"My Mum said I'm not allowed."
-----------
Can't exactly see his agent letting slip a story that casts light on the fact his client would rather listen to another over him and he basically gets paid for spouting empty bollocks.

So, other than coming over all Columbo because Lukaku coincidentally went home a few weeks ago and pulling a half-baked theory that fits roughly in with the timeline out of their bum hole, how else would a journo have gotten the inside track on this?

"That Ada one was in the laundrette earlier and, by 'eck, she looked like she had the weight of the world on her bloody shoulders (although, the massive sack of slummy she was carrying to set the machines spinning might have contributed to the slump and unsteady steps, mind). Anyway, she was telling us about that lad of hers. That Mullerrice. Worried sick about him, she is. Daft bastard was only considering signing a new 𧵄,000 a week contract at that Everton. Honestly, can you believe it? Haven't got the brains they were born with half of these kids today.

I said to her...I said:

"Ada lovie, no matter what his age, a man never stops needing a mother's mitt to wipe his arse or a foot to plant in the mucky fucker when necessary. He needs to stop sleepwalking through life that lad. I know he's your son, but you can't go easy on him.

Look at our Ulysses when he was just going to carry on as he was at Aldi, instead of applying for that trainee assistant manager's position at Morrisons. 'I don't think I've got enough GCSE'S, Mam' he say's, 'and what if their staff discount doesn't apply to booze, tabs or toiletries?'.

I knew then, if left to his own devices, he was going nowhere in life, my son. So, I took control. Filled out his application for him, lied about him being a bit loopy in the head and marched down to Morrisons asking to see the manager in private, before promising him, if he didn't give my son the job, I'd run out the store screaming and shouting about how he just touched my arl tits.

Now look at the lad. Still Trainee Assistant Manager, but a mere six months away from finding out if they're going to take him on permanent and with enough Bulmers, Benson's and Brut purloined during 'stock checks' to ensure he won't smell out of place in the bookies anytime soon.

Well, this is EXACTLY the same, Ada. Get the boy told. Manipulate, motivate, move the pieces around yourself to get him in the place you want to see him. That's what a good Mother does."

Well, like everyone else who wanders into the laundrette, Ada Lu knows when 'Batty Betty' talks you better bloody listen. I've already ordered our Ulysses to whack a monkey on Mullerrice moving to Man United this summer.

Now, are you going to pay me what I asked for or am I going to have to take the story to the Daily Mail, along with a second one about a sports writer from The Tripe grabbing some granny arse and begging for a quick 'scoop'?

"
You never know I suppose, but I'm pretty sure they don't either.
David Johnson
280
Posted 20/03/2017 at 00:30:15
http://www.bbc.co.uk/sport/football/38543677
Alan J Thompson
281
Posted 21/03/2017 at 05:17:14
Why when we seem to find an above average player do we find problems with Grannies and Mums.
Brian Harrison
282
Posted 21/03/2017 at 16:28:43
I see the Times today saying Farhad Moshiri is the biggest stumbling block to Lukaku leaving Everton. They also go on to say that Everton rejected a £70 million offer in the summer for him.
Even more impressive they are saying its not the buyout clause that is the stumbling block to Lukaku signing its the fact that Moshiri doesnt want one at all in the new contract.
So seeing that Lukaku has had another good goal scoring season since Everton rejected the £70 million offer. I am sure if he is sold it will be nearer what Real Madrid paid for Bale. Thats if Moshiri lets him go at all this summer.
Scott Hamilton
283
Posted 24/03/2017 at 16:52:13
Sky Sports reporting that Lukaku has made his decision regarding his future:
---
Add Your Comments
In order to post a comment, you need to be logged in as a registered user of the site.
Or Sign up as a ToffeeWeb Member — it's free, takes just a few minutes and will allow you to post your comments on articles and Talking Points submissions across the site.