Koeman urges Barkley to commit to Everton

85 Comments [Jump to last]
Thursday 16 March 2017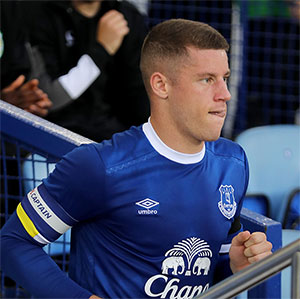 Ronald Koeman says that if Ross Barkley doesn't sign a new contract at Everton this summer then the club would have to sell him rather than risk losing him for almost nothing next year.
The manager was speaking at his press conference at USM Finch Farm today ahead of the weekend visit of Hull and was asked about Barkley's situation in the context of Romelu Lukaku's own unsigned contract.
He flatly rejected the insinuation that asking the player to commit to the club was tantamount to an ultimatum; rather, he views it as purely business.
"I think every situation is different," Koeman said. "Ross is a boy from Everton and what we need to show to him is the best reasons to stay.
"His situation is different because next season Ross is running out the last year of his contract and it's normal in the football business that you make decisions at the end of the season.
"He needs to signs a new contract. If not, you need to sell the player," Koeman concluded before stating that he did not know where the midfielder was in terms of discussions over a new deal.
Barkley would still be 24 if he left Everton as a free agent in the summer of 2018 so the club would be due a development fee set by arbitration but the compensation would pale in comparison to the transfer fee they could fetch for him this year.
"It's not an ultimatum," Koeman continued matter-of-factly. "It's normal, it's business. The player needs to understand this. I
"I spoke to Ross about a new contract and, okay, it's up to the board to get that contract over the line and if not then, as a player, you see a new future for yourself. I think that's normal; it's not strange talking.
"At Southampton we had [Nathaniel] Clyne who did not sign a new contract and we sold the player. That's business. Yes, or no, it's a decision by the player and the player needs to understand that if he doesn't sign a new contract (if he has one year left), you need to make a decision for the club so the club knows what will happen next year.
"And that's normal business. That's not like an ultimatum. 'Ultimatum' is strong. I don't like that word, it's not like that."
---
Reader Comments (85)
Note: the following content is not moderated or vetted by the site owners at the time of submission. Comments are the responsibility of the poster. Disclaimer
Colin Glassar
1
Posted 16/03/2017 at 16:55:26
I wouldn't worry too much about Ross, his mum will make him sign.
Damian Wilde
2
Posted 16/03/2017 at 17:12:31
Ron doesn't sound too desperate for him to sign.
Charlie Lloyd
3
Posted 16/03/2017 at 17:30:19
Damien @ 2.
I don't construe Koemans comments as not wanting him to sign.
It's usual football sense. If the parties can't agree on a deal usual business practice for the club to recoup.
Not much in this... at the moment!
Craig Fletcher
4
Posted 16/03/2017 at 17:30:47
Been a happy news week this week hasn't it.
Kenny Smith
5
Posted 16/03/2017 at 17:33:50
If there's any money to be recouped from a first team player in the summer then it should come from the sale of Ross Barkley.

His loss wouldn't impact the team especially with Lookman around. He ll probably end up overtaking Ross early next season anyway.
Brian Williams
6
Posted 16/03/2017 at 17:40:08
Koeman's actually just stating the obvious. No club in it's right mind would allow an England international to run down their contract and leave on a free, they'd sell him at the most opportune transfer window which in Ross's case is the coming summer one.
John Malone
7
Posted 16/03/2017 at 17:40:44
This one for me is more important than the Lukaku deal!
Ross is a born and bred blue from the city and if doesn't want to play for his home team for the seeable future then something is badly wrong!
Get it signed Ross and tell Rom you'll see him in the champions league in two or three year's time stepping out onto our super stadium on the bank's of the royal blue meresey!!
Bill Gienapp
8
Posted 16/03/2017 at 17:46:54
Koeman's stance at the beginning of the season was "We'll deal with Ross's contract situation next summer," which was basically a polite way of saying "Prove to me you're worth it." Well, I'd say Ross has more than proven himself (in spite of a few remaining skeptics on here), so let's get 'er done!
Joe O'Brien
9
Posted 16/03/2017 at 17:54:01
John, totally agree. If I had to choose between Rom and Ross it's Ross all day for me. By the sounds of it it looks like there's a deal on the table other than 'talks are planned'..God knows we need some positive news for a change..get that contract signed Ross lad.
Gavin Johnson
10
Posted 16/03/2017 at 17:57:09
Has he even been offered a contract?
Ross has been taken for granted by a contingent of our support. The abuse some TW contributors have given him along with Lukaku is startling. Who could blame him if he wanted to join a bigger club. Would be miffed if it was Spurs though. To my mind they're not a bigger club than Everton.
Damian Wilde
11
Posted 16/03/2017 at 17:57:17
I don't think I have ever heard him massively talk Ross up with regards to a new contract.
Steve Ferns
12
Posted 16/03/2017 at 18:24:11
Got to get this sorted. If we lose Ross and Rom, then there's no point moving to the new dock stadium, we're better off playing in the car park in Kirkby.
Andrew James
13
Posted 16/03/2017 at 18:45:03
Kenny
Really? So you are saying an auxiliary, lively, little striker/winger who has barely played at this level will soon be preferable to the player who pulls the strings of our attacks, is an Everton fan and just been recalled up to the England squad?
The impact of Ross leaving would be atrocious both on the field and how we are perceived as a club.
Tim Locke
14
Posted 16/03/2017 at 18:46:05
The most intresting thing about this and the Rom comments is it looks like Koman is willing to let players go to their last year of the contract before selling. To my mind that means Rom is with us for at least another year, contract signed or not.
Darren Hind
15
Posted 16/03/2017 at 19:07:59
This guy is really pissing me off. He needs a fucking bomb up his arse.
He has repeatedly been asked about Ross and his "all in good time" responses will have done nothing to make the lad feel wanted. . .now he's trying to pressurise him into signing a contract he has yet to be offered ?
Still, shouldn't be surprised. This is the manager who told his only striker that his potential would not be realised if he stayed at Everton.
No doubt his gormless attitude towards Barkley's contract will be brushed under the carpet, just as his comments about Lukaku were.
Jay Harris
16
Posted 16/03/2017 at 19:17:26
Darren your love in with Martinez and dislike for Koeman has got to end soon.
How about now.
Darren Hind
17
Posted 16/03/2017 at 19:18:40
Love-in with Martinez?
New here?
Karl Masters
18
Posted 16/03/2017 at 19:34:23
Sure it will all get sorted in the Summer.
For now we have 30 points to play for to see if we can get in the top 5, possibly 4. Lots to prove in the away games at Manure, the Shite and The Arse.
Can Ross and Rom produce performances in those games to prove they really can make it happen in the big matches?
Mike Berry
19
Posted 16/03/2017 at 19:40:20
Ron is cool no flapping about, speculation just common sense and facts, how refreshing.
Ross will resign or his Mum will send him upstairs with no tea!
Gavin Johnson
20
Posted 16/03/2017 at 19:59:32
Get it right, Jay, the love of Darren's eye was always Davie Moyes.
Mick Davies
21
Posted 16/03/2017 at 20:21:17
Koemans 'Dutch straight talking' has certainly ruffled a few feathers; we could end up losing half our team if he carries on.
John Pierce
22
Posted 16/03/2017 at 20:37:10
Stating the obvious, deflecting from Rom, or really not arsed about whether Ross signs on?
Take your pick from our dour, pragmatic Ronnie.
He often intimates he has nothing to do with contracts, then is telling his best two players to 'respect' the contract and issuing a thinly veiled ultimatum to sign or we will see ya lad.
Ross could be forgiven for being sent mixed messages. A better player for it, definitely, Koeman can take credit for that, but does he really want him? I'm not sure.
Rom was being encouraged to grow from the start. Again not how sure Ronnie laa wants to keep him.
If I put the two together and get more than four, I think it tells me Koeman wants players on board and is supremely confident in his own skills to progress regardless of losing both?
Or he doesn't care one jot and will be off as soon as something suitable comes along!
One thing is for sure, this week we have increased our media profile hugely. Admittedly not super positive but it has at least caused a stir in the national media.
A good thing, regardless. My head has nearly fallen off trying to garner a point of view, from the dozens of outlets I digest. Phew can we have a game now?

Colin Glassar
23
Posted 16/03/2017 at 20:46:32
Jay 16, the last Everton manager Darren liked, George V was still on the throne.
Keith Monaghan
24
Posted 16/03/2017 at 20:58:43
Great to have a manager who talks sense & tells it as it is.
Where the player is from is unfortunately irrelevant; we all know what one Wayne Rooney did at the first chance – cleared off as an 18-year-old without a moment's hesitation after giving us all of one season in the league! And now he's well and truly on the way down.
If he came here he'd be totally the wrong influence on our young players like Tom, who I predict will have a more successful career than Ross – already shows a tougher mentality and works much harder.
It's a clear fact that Rom is far more valuable to the club than Ross, has contributed loads more and will have a more successful career, hopefully with us. Although it's still very doubtful whether Ross will be a top player, I'd like them both to stay v but if Rom goes he'll be a much bigger loss & far harder to replace than Ross.
Brian Harrison
25
Posted 16/03/2017 at 21:01:35
I don't get the anger to Koeman over Barkley, he has said he wants the lad to sign a new contract. But quite rightly says but if he doesnt then they will sell him as they wont let him run down his contract.
He has said that Lukaku is slightly different as he still has over 2 years of his contract to go, so they are saying we hold all the aces. Koeman has always said he doesn't have anything to do with negotiating contracts, obviously he will tell the board if he wants to keep the player or not, but he doesn't get involved in the financial side. Quite right in my opinion.
Lets be perfectly honest he has transformed Barkley in the last 4 months, not by soft soaping Barkley but telling him straight what he expected of him. Which to be fair to the lad he has taken on board and is now delivering. These players had Martinez telling them they were brilliant when they were anything but brilliant. These aren't children they are professional footballers if they cant take constructive criticism then they shouldn't be doing it for a living.
John Daley
26
Posted 16/03/2017 at 21:30:58
Don't see much that can be disputed in Darren's post (@15),
Koeman has repeatedly stated throughout the season that Barkley's contract was a consideration for the summer.
Only two days ago he was saying talks hadn't even started yet, but were 'planned'.
Now, all of a sudden, he's trying to turn the screw?
For someone so often feted for being 'straight up' and always 'telling it like it is', Koeman twists a tale to face the way he sees shit more often than the fucking Ouroboros.
Credit where it's due though. When talking about the current Lukaku furore, he actually fired off the line "in football, you need to respect your contract", while somehow managing to keep a straighter face than a sweaty extra subjected to an extreme close up in a Sergio Leone movie. Unlike in a spaghetti western, he even made a masterful job of making sure the words came out the same time his lips moved and everything.
Eric Paul
27
Posted 16/03/2017 at 21:35:56
Has Barkley or Lukaku said they want to leave?
Clive Mitchell
28
Posted 16/03/2017 at 21:54:22
What really annoys me is not the Lukaku situation – you've only had to watch his body language most of this season to see how far below him he thinks it is to turn out for us – but the fact that, yet again, the club has woefully mishandled a key issue, ie, Ross's contract running down.
The only explanation that would exonerate the club would be that Ross and his agent had made it clear that he simply would not sign another. It's possible, but not very likely. And the fact that some on here are so football-blind that they think Ross isn't anything special beggars belief. Do you guys WATCH the match?
Christy Ring
29
Posted 16/03/2017 at 22:54:57
Ross is Everton.
Christopher Dover
30
Posted 16/03/2017 at 00:07:16
I don't see what the manager has done wrong? Ross has a contract that runs a year after the end of this season so it makes sense to get him to sign or if he will not then he's has to be sold to maximum value.
Can you imagine the flak on TW if Ross left for a nominal sum because he did not sign a new contract.
Rom bit different as he has two years so who knows what will happen.
As regards honouring the contract as long as players are under contract and being paid then until they are sold they should honour the contract and put in all the effort to make the team the best they can, we cannot stop people wanting to leave and if they do a sulk then that's a different problem but surely the least we expect at the money they earn is to put the effort in while under contract.
Kieran Kinsella
31
Posted 17/03/2017 at 01:28:08
Tables have turned. Earlier in the season Everton were wary of paying over the odds for Ross's new deal cause he wasn't performing. They left him to sweat it out and prove he was worth it.
He's done that. Now he holds the cards and they're eager to tie him down. It's called negotiating.
Mick Davies
32
Posted 17/03/2017 at 04:47:59
Sorry to upset some on here, but this all smacks of the Gosling saga, and who was responsible for that cock up, and the massively underpriced Rooney catastrophe, and Kings Dock, Kirkby etc etc etc...
Yes, the greatest Evertonian who ever lived: that great friend of the philanthropic Philip Green, the visionary who gave Goodison a few licks of paint, then earned 㿂m for doing sweet FA, plus kept his coveted position of authority – the one and only 'Billy Boys Penwright'.
David Chait
33
Posted 17/03/2017 at 04:51:19
Ronald has dealt with bigger personalities and better players than these boys.. if there is anyone who can handle this situation without losing his head it's him. I would be very nervous if we had any of our last 2 managers in charge.
John Keating
34
Posted 17/03/2017 at 08:04:48
I think whether Koeman likes Ross or not, whether he wants him in the team or not, is all the managers decision. Regardless, the fact is that Ross Barkley, is one of the Club's biggest assets, one that can command one of the biggest fee.
I think the question should be asked is why have they allowed this to linger on until the summer? Lukaku's deal was put in place with at least two years to run. Barkley's should have been similar. By now everything should have been done and dusted one way or the other.
I really hope young Ross signs on but taking him – and his mum – for granted just because he's local and a supporter, in my mind, shows a dereliction of duty by the board.
Clive Mitchell
35
Posted 17/03/2017 at 08:05:59
Kieran (#31) – surely it was 'negotiating badly'. We even had the ridiculous spectacle of the manager saying during the course of this season (a) that offering Ross a new contract wasn't a priority, and (b) that if he didn't sign one he'd be sold.
Christopher Timmins
36
Posted 17/03/2017 at 08:16:52
Koeman has turned Ross around during the course of the season and it will be Ross who will be the loser in the long term if he leaves this summer. I have no doubt that Stones lost out by leaving for City. Koeman, once he sees something in a player that he likes, improves them.
Darren Hind
37
Posted 17/03/2017 at 08:17:38
The argument that if you don't buy into the current managers utter bullshit and lack of courage.... you must have "loved" the guy before, is about as daft as football debate gets.
Having read hundreds of posts from people (Gavin regularly among them) who were outraged by my criticism of Martinez for years. I'm now told I was having a love in with the him... See the absurdity, Jay?
Just in case you didn't understand what John@26 was talking about
"No because I am the manager of Southampton and I have a contract for two years more. I have to respect my contract. I like to respect my contract. I am very happy"
The guy constantly contradicts himself, just as he is doing with Barkley and Lukaku. You want to believe it? that's your choice. Personally, I don't believe a word he says.
"Tells it like it is"? I guess he must do half the time, but then he fucks it all up by contradicting himself the other half.
Colin
You don't have to go back as far as George V... but he was definitely a Royle.
Trevor Peers
38
Posted 17/03/2017 at 08:24:05
No doubt Barkley and his agent will be looking for a £100k plus salary, that could be the stumbling block and who can blame Everton for hesitating, his form for the 1st half of the season and most of last season was appalling.
We will have a better idea by the summer if Ross can perform consistently over many months and if he is worth such a huge salary. A top performance in the derby game would be a good pointer.

Paul Mackie
39
Posted 17/03/2017 at 08:32:56
Out of interest, Darren, which manager did you want when Martinez was fired? I'm pretty sure whichever one you say, I'll be able to find an instance where they've said one thing and done another.
Daniel Lim
40
Posted 17/03/2017 at 08:33:44
If Schneiderlin is taking home £20k a week, so should Ross.
Trevor Peers
41
Posted 17/03/2017 at 08:34:03
£100k plus a week salary, I meant.
Kenny Smith
42
Posted 17/03/2017 at 08:35:21
Andrew (#13). I'd love Ross to become what we all hoped for but he won't. If we'd signed him and not brought him through the ranks he'd of been bombed out ages ago. On his day he's worth the admission fee alone but those days are too rare.
As for Lookman if given the opportunities and the time Ross has I think he'd make more of an impression but I agree we've only seen him in glimpses.
Our club is changing and there is no room for sentiment on the pitch, plenty off it but not on it. If we are serious about moving forward then we need to act like a progressive club not one desperately clinging onto one of our own who isn't up to it.
Chris Gould
43
Posted 17/03/2017 at 08:45:40
Darren, I think Koeman is suggesting that you have to respect your contract if your club isn't willing to let you go. Southampton let Koeman go for a large fee. He was also going into the last year of his contract.
With Rom it's different. He's not going into his last year and so we don't have to sell.
Barkley is going into his last year, so Koeman is saying it like it is. Sign, or we are forced to sell. The club, including Koeman will want Barkley to sign a new contract, and I expect there hasn't been any urgency because Koeman wanted the boy to prove himself, and also because the club know that he has no intention of leaving. I am quite sure that Ross will sign and that the club know this. It's just a matter of sorting out the finer details.
Koeman wanted it left until the end of season. It's clear that he gets frustrated that these matters keep coming up, and that he gets asked about contracts all of the time. He wants to deal with football and talk about matches, not discuss contracts.
Alan J Thompson
44
Posted 17/03/2017 at 08:51:08
This is the manager that said he didn't want to be involved in anything but coaching and we are led to believe that Blue Bill is still handling transfers and contracts.
Why the surprise when our two best players seem to want to leave or are led to the option by administrative incompetence?
Anton Walsh
45
Posted 17/03/2017 at 09:08:51
I think Ross has been brilliant the last few months. His main enemy is himself. He's a confidence player and not yet proven over a long period.

Can anyone on here say for sure that Koeman with all his contact and experience could not bring in a world class player to replace either Ross or Rom for less financial strain and without busting the wage structure or FFP rules. After all that hope Ross stays and Rom gets shipped. Great player but to disrupted.
David Graves
46
Posted 17/03/2017 at 09:58:11
I can't see how anybody could suggest that Koeman has handled this well. Either he is in charge of contract negotiations or he isn't. If he is then he's clearly not very good at it and if he isn't (as he has suggested is the case) I just don't understand why he is even talking about it.
One of the first things taught on media training used to be that you don't actually have to answer the question!
John G Davies
47
Posted 17/03/2017 at 10:20:36
Ronald Koeman says that, if Ross Barkley doesn't sign a new contract at Everton this summer, then the club would have to sell him rather than risk losing him for almost nothing next year.
The answer is in the words.
He will be offered a contract IN THE SUMMER.
Sign it or be sold.
It's not rocket science
Kp Li
48
Posted 17/03/2017 at 10:43:45
Let Ross leave; he is slow on the ball and losses it too much. Don't get me wrong, he is a good player but we need better if we want top 4 or he needs to improve a lot more. 😬😄
Stan Schofield
49
Posted 17/03/2017 at 10:47:22
Putting to one side Ross's great football skills, he strikes me as a quiet, unassuming bloke, shy even, what you might call a nice guy. Not a person who wants the limelight outside of his work on the pitch.
Despite all this, and his apparent dedication to our and his great club, even HIS contract is becoming a media circus. I can't help but think that the whole thing reflects the way Everton do things in this 'new era', maximising publicity and profile at every turn. So long as it ultimatel leads to great results on the pitch, fine.
Bob Parrington
50
Posted 17/03/2017 at 11:28:49
Trying to be realistic, this is the first season that we have seen Ross really show what he can do. IMO he would be daft to move as, at last, he has a manager who understands him and has good, solid background as a player himself.
Why are so many getting over excited about the contracts of both Rom and Ross? Beats me!
Ray Roche
51
Posted 17/03/2017 at 13:25:22
Darren (#37)
Ian't it the case that Koeman was in the final year of a three year contract but Southampton didn't offer a sufficiently good new contract so Koeman left? Southampton received compensation so it was, in effect, like a footballer leaving in the final year of a contract and his club getting a fee.
Koeman, quoted at the time,'The main reason was that we did not agree about my last year of contract. I mentioned to the club I would like to continue, and go into my last year then during the season we would have time to discuss about the future.

'There was no way for the club to do that, they came with the new offer and I was really disappointed about the offer to continue in Southampton.'
Dave Williams
52
Posted 17/03/2017 at 13:46:09
None of us has a clue what goes on in these matters so while it can be therapeutic to let off steam and vent frustration on club officials we will never know the true situation. A few weeks ago Ross was getting dreadful stick and it would have been crazy to give him a fat new contract the way he was playing.
Terry Farrell
53
Posted 17/03/2017 at 16:36:39
Why do people think life is always black or white?
Ross acknowledges himself that earlier in the season his form was poor so at that stage Koeman was assessing if he was part of his plans. Now he is playing consistently well, thanks to The Ronald, he will be rewarded and I hope he signs.
Chris (#43) has answered Koeman's own situation so he is not a hypocrite. Get behind the manager for God's sake! Moshiri has bought a legend to the club but some on here expect miracles in double-quick time.
Denis Richardson
54
Posted 17/03/2017 at 17:42:53
A lot of people here too tied to Barkley IMO. Yes, he's a local lad and he's playing at his boyhood club but, if he's not willing to sign a contract, then the club has no choice but to sell him.
I don't think Koeman will lose any sleep if Barkley or any other player he didn't bring in leaves the club, as long as the club gets a decent fee he can then reinvest.
Personally I'd like Barkley to stay but if he doesn't sign then sell him to Spurs or whoever and reinvest the cash and get a proper no.10.
I can see both Lukaku and Barkley leaving in the summer – if we can get 𧴜m+ for the two, that's a shed load of cash to buy new players.
Stan Schofield
55
Posted 17/03/2017 at 19:57:05
Denis, for a lot of people, Barkley being a local lad is irrelevant. I want him to stay because I think he's a cracking player. I'm not interested in whether he's local or loves Everton, I'm only interested in what I see on the pitch.
Steavey Buckley
56
Posted 17/03/2017 at 21:25:42
No matter how many goals Wayne Rooney scored, no matter how many medals he won and money earned, Rooney could never give his best football to Manchester United that belongs to Everton.
Steve Gerrard and Jamies Carragher are not best liked by Everton fans but you can't fault them for being one club footballers, so could give their best football to Liverpool FC, because they represented their home.
It's the same with Ross Barkley, who should recognise that Everton is his home that no other club can match, no matter the promises of more wealth, trophies and honours.
Ian Riley
57
Posted 17/03/2017 at 21:30:50
Ross should look at his options. Koeman wasn't talking about a new contract six months ago. Ross has fulfilled his dream playing for Everton. It's about ambition and money. Local lad means nothing and why should it.
Barkley can see out his contact if he wishes and there is nothing anyone can do. The club have let him wait why the rush?
I would be sad to see him go. Took some stick of his own fans and remained professional. In the past few months we have seen the potential we have been wanting. He has to do what's best for him.
Ernie Baywood
58
Posted 17/03/2017 at 23:55:13
Completely agree Ian. It's hard for us to be objective in this. We naturally want what's best for Everton. What's best for Ross the footballer probably isn't as high on our agenda.
I'm a big fan of Ross. I still think he's a talent to rival anything that has been produced in England.
I think back to the player Ross was when he finally broke through. He was exceptional. He dominated a derby... how old was he? Seems like forever ago.
Has he improved that much? Has his career advanced? Did the Martinez obsession with pace, power and constant possession hinder his development?
Love for the club and loyalty will only be a part of his decision on a new contract. He's responsible for his own career and should definitely weigh up his options.
Personally, he seems pretty level headed and it wouldn't surprise me at all to see him go. Begrudgingly, I think he might be better off somewhere else.
Steavey #56... I think money, trophies and honors absolutely do matter.
Steavey Buckley
59
Posted 18/03/2017 at 00:52:38
"Steavey #56... I think money, trophies and honors absolutely do matter." On that basis, Everton fans would have been supporting Manchester United by now, after 22 lean years of not winning anything.
Ernie Baywood
60
Posted 18/03/2017 at 03:11:16
No, we don't have that choice. We do not choose...
Mind you, those things still matter to us don't they?
For a player, they do have a choice. Rooney still feels that he's an Evertonian yet has won plenty, earned loads, and broken records.
Tony Draper
61
Posted 18/03/2017 at 04:38:17
Daniel @40.
Your reference to Schneiderlin's 𧴰k/wk is a very shrewd observation. I found it odd that things were, seemingly, underway for Barks & Rom, then suddenly both appear to have stalled.
Has learning Schneiderlin's take home wrankled the other two? Makes perfect sense to me.
On a subnote, I'm disappointed (but not entirely surprised) that Leon Osman has lobbed a bit of fuel onto this weeks bonfire of vanities. He's popping up as a pundit now and dancing to another pipers tune. (Is he sore at being culled, too).
Darren Hind
62
Posted 18/03/2017 at 07:18:44
"I don't think Koeman would lose any sleep if Barkley or any other player he didn't bring in leaves the club."
Are you sure about that Denis? Only all his best results have come with the players he inherited. Only Williams started against City and only Williams and Schneiderlin started in last weeks win against The Baggies.
It would appear that in some cases Koeman prefers the players he inherited to those he brought in. Steklenburg, Gana, Lookman and Valencia all sat it out last week as the players who are already here were selected ahead of them... and lets be fair, of the eleven that did start, Williams would represent most peoples idea of the weakest link.
I just don't get why you would be prepared to see Barkley nd Lukaku go, so this guy can get his hands on more cash. Do you think he would bring in flair players? There are always other players, but a pragmatic, unadventurous manager who thinks his players will enhance their careers by moving on to "bigger clubs" would be far easier to replace than our two most valuable assets.
You also talk about Barkley "refusing" to sign a new contract? You do realise he hasn't been offered one yet ?
Years of buffoonery will make Kenwright an easy scapegoat for the situation, but does anybody really believe that he wouldn't have had a contract drawn up if the manager had instructed him to do so ?
Koeman has very publically been playing mind games with Barkley and as somebody has already pointed out, he has painted himself into a corner... He'd better hope Barkley stays.
Bob Parrington
63
Posted 18/03/2017 at 07:46:32
Having been a critic of Ross since his return from the breakage, what I have witnessed this season is quite a transformation. He now is considerably more calm, more head-up and so is spotting a wider range of options. OK, we can't expect them all to come off but an increasing number of them are.
I think this is not necessarily limited to Ross. To me, it seems that, in the attacking third of the pitch the players are feeling more free to express themselves. Just a few on here seem to miss this and appear to say Everton is a boring team. We have had our moments but, as the team settles in, more confidently, to the new manager's model I feel certain we are in for some very exciting times. COYB
Geoff Lambert
64
Posted 18/03/2017 at 07:55:13
The next three games can and will change the feeling expressed on the pages of ToffeeWeb...
The haters could become more hatefull and the lovers could be so much more in love, the on the fencers could fall off or be standing on the top of the fence jumping up and down.
Three games that will make or break our season.
Just for once Everton please do not fear the RS and the Mancs and make the biased journo's eat some humble toffee pie.
Eddie Dunn
65
Posted 18/03/2017 at 08:18:19
Koeman is trying to play a bit of Texas Hold on to 'Em, and his poker face doesn't hide his irritation with the situation. I think his contradictions come from not really being in control of matters regarding contracts. Do we really know which member(s) of our Board/executives actually handle the contracts or transfers for that matter?
I wonder if Barkley will be tapped-up in the England camp?
Will Mabon
66
Posted 18/03/2017 at 09:05:30
...and the media bullshit will continue later, "Analyzing" the effects of the week's events on the result - whatever the result.
Win = team pulled together/rallied in the circumstances.

Loss = team unsettled.

Draw = flat, uncertain performance.
Ray Roche
67
Posted 18/03/2017 at 09:58:48
Darren (#62),
"Only all his best results have come with the players he inherited."
So, Koeman can get more out of the players he inherited than the manager who bought them? Sounds like a pretty decent manager to me.
Gana has been a top player for us for much of his time here and Lookman is certainly one for the future so, although some of his buys are not what we'd have chosen, there are still positives to be had.
Darren Hind
68
Posted 18/03/2017 at 11:28:42
Ray
I'm guessing you mean Martinez. I'm not suggesting you are easily pleased, but, there are Trappist monks who would have gotten more out of the players than he did.
Coleman, Baines, Jagielka, Mirallas, Davies and Barkley were not signed by Martinez btw
Ray Roche
69
Posted 18/03/2017 at 18:53:24
Darren, you're right, I'm not easily pleased, but I was pleased today!
Denis Richardson
70
Posted 19/03/2017 at 09:17:17
Darren – Koeman seems a pretty pragmatic guy, not surprising given he's Dutch. I highly doubt he's going to be sat up at night worrying whether Ross or Rom will be here next season. He's been around long enough to know both players will have the last say in the matter. All he'll presumably want is that whatever the decision, it's made early so we don't have protracted sagas playing out all summer.
Personally I'd love both players to stay but at the end of the day, no player is bigger than the club. If one or both leave, all I'd hope is that the club get a massive stack of cash for the manager to put back into the squad, and that the sales happen early summer not on 31st August.
If either player is not willing to sign a contract by the end of the season, the club should put them up for sale.
Trevor Lynes
71
Posted 19/03/2017 at 10:50:39
How can anyone rate Ross over Rom ?
When did Ross last hit double figures in a season ?He is yet another midfielder who does not score goals.Top attacking midfielders score into double figures.
Lukaku is worth double Barkley's fee.He scores goals and also assists.He plays every game.He is never subbed and never benched.Barkley has been mercurial throughout his career and only lately has he been consistent.Let's just see how he plays against Liverpool and Man Utd.I want to see him in opposing final thirds and in their box's for the odd tap ins.This lad has ability but he needs to score otherwise he is just another midfielder.Let's all hope that both he and Lukaku score against Liverpool and Man Utd.Let's all see some support up front for Lukaku in these big matches.The game of football is all about scoring goals.Lukaku does and Barkley (unfortunately) does not !!
Allan Board
72
Posted 19/03/2017 at 14:11:13
All this talk about who is leaving – I don't wish to be rude or state the obvious, but the game of football is about being a team, not a bunch of individuals – if a player leaves, then so be it. Just gives someone else a chance to shine.
As for slating Koeman – the man has forgotten more about football than any on here know. If you can't see the dramatic improvement at Everton in such a short time, then I suspect you know nothing about the game and just don't like the man.
Uncompromising, good at identifying players' plus points, and very good at nullifying their weaknesses.
He expects hard work and concentration, knowing that leads to better performances over a sustained period. This is how teams are pulled together by decent coaches. Mr Conte has done exactly the same at Chelsea, he has got better players to start with though.
Give Koeman the money and he will make Everton a force. Stop moaning.
Mark Andersson
73
Posted 19/03/2017 at 23:13:41
It's a gamble to give Ross a big pay rise. The people who run Everton are business men, not very good ones, but they more than likely are being told by the manager that Ross is still only worthy of x amount. Just because he has improved a bit over the last few months means diddly to Koeman...
Mr Big Mouth on the other hand is wanted by.... mmmmm.... No-one... Well, if you believe the media then he is wanted by the top 6.
I would only offer Ross a better deal half-way through any new contract if he up's another level next season. For now, I think the manager is unsure if Ross has the right temperament to be a world class player consistently.
Tony Draper
74
Posted 20/03/2017 at 13:29:09
The RB that played against Hull is 100% improved over the absent minded jogger, ambling around the park earlier in the season and for the greater part of last season.
He looked like he could run all day without getting out of breath.
His footwork is sublime.
He runs at defenders at pace and forces them to make snap decisions.
His final product is improved, mainly because there is one.
I'm so much happier with him. Can only attribute this to three factors:
Koeman R.
Koeman E.
Barkley R.
Alexander Murphy
75
Posted 20/03/2017 at 17:10:50
Rom's remarks ?
He's really wrong, is he ?
Really?
Bit too.
Imposing.
Powerful.
Near to the bare bone!
Much like the player, on the pitch.
I suppose we could always revert to:
Bernie Wright.
Brett Angell.
Mickey Walsh.
Daniel Owefin Amokachi.
The Straq.
(bless him, 'cos if he'd had 50% as much talent as heart)
Then.
Dunc mark 2 (truth AND sacrilege).
Alan McGuffog
76
Posted 21/03/2017 at 06:40:57
So we have Rom "enjoying a kickabout" with Carragher and in Sportsmail we have Ross "having a kickabout" with Redknapp. Might it be a good idea if we stopped our players consorting with former Red Shite employees who detest Everton and are appalled at the thought that we may be making progress?

The tapping up that goes on, undoubtedly, at international gatherings is bad enough!
Dermot Byrne
77
Posted 21/03/2017 at 07:35:10
Alan 76: living in a strange world there. That is as paranoid as the other BBC thread. If a former red or anyone with significance in the game wanted to tap up any of our players, they'd just get their number and secretely give them a ring. This really is getting like Trump fake news land. And we still have nearly two weeks until next game. Should be fun.
- ISIS To Buy Liam Walsh !
- Berkley's Uncle Has Red Dog Fear!
- Lukaku Related To Anfield Nail and Spice Salon Owner's Fish !
- Everton Fans Taking Chance of Improvement In Their Stride
Andrew Clare
78
Posted 21/03/2017 at 08:17:35
Both Barkley and Lukaku are still very young. I believe that we are on the cusp of something great happening and with 2 or 3 top class signings this summer we will be a force to be reckoned with.
Why would they want to leave?
New stadium around the corner, billionaire owner,massive support from unmatched passionate fans it's great here.<>The alternative? Playing in front of an 'audience' at WHL, Stamford Bridge, The Emirates or Old Trafford.

Dermot Byrne
79
Posted 21/03/2017 at 08:22:15
Cusp .A fine word!
Brent Stephens
80
Posted 21/03/2017 at 08:54:12
As Dermot says, "cusp" - a fine word. And I love "Playing in front of an 'audience' at WHL, Stamford Bridge, The Emirates or Old Trafford".
Audience!
Dermot Byrne
81
Posted 21/03/2017 at 09:01:32
Totally with you Brent. I like "Today Everton
welcome
..."
Or Everton host or Today's visitors are...
Phil Jeffries
82
Posted 21/03/2017 at 10:44:51
Is it just me or is the media frenzy surrounding us even more intense at the moment? All of the rags have everyone fighting to be the final destination for Lukaku and in particular Barkley. We should be riding the waves of optimism with a possible stadium announcement this week, but instead it's anti-Everton dross as per usual!
Alan McGuffog
83
Posted 21/03/2017 at 11:33:36
Dermot. Paranoid? PARANOID? Moi? I would have been back at ye before now if I could have found my aluminium foil hat. You ought to wear one when you are on line.
Colin Glassar
84
Posted 21/03/2017 at 16:20:30
Despite the fact that the media vultures continue to link Ross with a ridiculous move to spurs (why? Don't they have sissoko?) I'm glad that "concern" isn't being reflected on here.
I fully expect both Ross and Rom to commit their immediate futures to Everton.
Daniel A Johnson
85
Posted 21/03/2017 at 16:53:52
The top 4 are threatened by us so how do they keep us down by plundering our assets.
Where will Ross fit in that Tottenham team?
Its just Daniel Levy trying to take Ross from us only to sell him on 2 seasons later.
If Wenger goes don't be surprised to see the Gunners then move for Koeman because they know, not only do they get a decent new manager it sets us back another 2 seasons if he leaves.
---
Add Your Comments
In order to post a comment, you need to be logged in as a registered user of the site.
Or Sign up as a ToffeeWeb Member — it's free, takes just a few minutes and will allow you to post your comments on articles and Talking Points submissions across the site.