Schneiderlin to miss the derby and United trip

42 Comments [Jump to last]
Friday 31 March 2017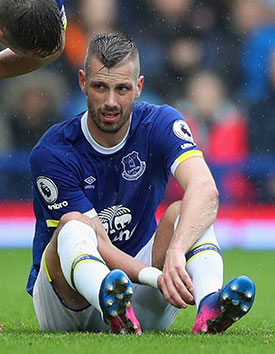 Mark Robinson/Getty Images
Everton will go into two of their most difficult assignments of the season without the key figure of Morgan Schneiderlin after Ronald Koeman revealed that he is still a week away from full fitness.
The French midfielder sustained a calf injury against Hull City a fortnight ago and has been ruled out of tomorrow's Merseyside derby and the Blues' trip to his former club Manchester United on Tuesday.
The news comes following injuries to Seamus Coleman, Ramiro Funes Mori and James McCarthy that were suffered by players on international duty and it left the manager ruing a costly couple of weeks for his team.
"Maybe one of my worst international breaks with what happened with some injuries," Koeman said.
"OK, the Morgan Schneiderlin injury happened against Hull at home. He will not be available for [this] weekend. He will not be available for Tuesday.
"I have good hope that he will be back for next weekend.
"Seamus Coleman, of course, was a shock last Saturday evening and what happened to Funes Mori is that he suspects [he will need] meniscus surgery after Monday."
---
Reader Comments (42)
Note: the following content is not moderated or vetted by the site owners at the time of submission. Comments are the responsibility of the poster. Disclaimer
Jim Bennings
1
Posted 31/03/2017 at 15:16:59
Typical!
Back for the Leicester game next weekend... which will be a nothing game if we take only one point from these two away games. We needed Schneiderlin and McCarthy available for these.
Ary Lima de Moraes
2
Posted 31/03/2017 at 15:39:07
Hope we can play the youngsters and hope they'll give their 200%. I fear if we start Barry against a pacy side like Liverpool, it won't do any good.
Gutted to lose key players but still think we can win. (We must... or, like Jim said, if we can't get at least 3 points from the next 2 games, we'll just finish 7th and that's it.)
Shane Corcoran
3
Posted 31/03/2017 at 15:57:21
Am I blind, or has he actually ruled out McCarthy?
Ian McDowell
4
Posted 31/03/2017 at 16:07:46
Shane, I can't recall him confirming either way about McCarthy being available for tomorrow.
James Hughes
5
Posted 31/03/2017 at 16:10:03
It's another blow and one we really didn't need right now. We are not that far behind the RS in terms of quality on the pitch, even with the absentees. We 'just' need to turn up and get a result, which I believe we can. [Crosses fingers]
Dean Johnson
6
Posted 31/03/2017 at 16:21:16
Bugger, looks like Gana will have his work cut out tomorrow
Dave Williams
7
Posted 31/03/2017 at 16:27:08
A big blow but, as James says, it is attitude that counts tomorrow. If we field a team of players who hate the thought of losing to that nauseating shower across the park then we have a decent chance notwithstanding the injuries. If, however, we field a lot of "hope we can have a pleasant beer after the game whoever wins" players then we will get stuffed again.
Need some fighters – Gana and Davies will be fine and we need Ross and Rom to really put some effort in. Kenny or Pennington will play with passion if selected.Ron has to be able to get them properly prepared.
Fight for heavens sake!!
Chris Williams
8
Posted 31/03/2017 at 16:38:37
Schneiderlin has very quickly become a major player for us. A proper thoroughbred with class, strength and time to spare – always a good sign.
He will be missed, but we need to adapt and to believe in ourselves. We can beat these with the proper set-up and tactics and with heart.
Could do with a decent performance from the ref too. Sky showed some stats today that showed we've had 14 reds against 7 for them since last we beat them there, which is a nonsense.
Tony Abrahams
9
Posted 31/03/2017 at 16:40:12
Tough one but what can we do. Sulk or Take it on the chin and go and have a real good go?
I know who I would or wouldn't play, but I'm just a fan, and I suspect the team-sheet will reveal a lot about the managers mindset for tomorrow's game.
James Stewart
10
Posted 31/03/2017 at 16:40:43
Big loss.
Danny Broderick
11
Posted 31/03/2017 at 16:54:19
Big loss indeed. He would have been the best midfielder on the pitch tomorrow if he'd been playing. I reckon our team will be:
Robles
Holgate Jagielka Williams Baines
Davies Gueye Barry
Barkley Valencia
Lukaku
It all hinges on our front 3 for me. If they are anonymous, I expect another white-flag performance. If they can get hold of the ball and play a bit, though, then that's quite a solid team we have got. Fingers crossed.
John Raftery
12
Posted 31/03/2017 at 17:06:14
I did not expect Schneiderlin to be fit for this one. When a calf strain forces a player off the field, it normally takes at least three weeks for a full recovery. If we had risked him tomorrow he almost certainly would have suffered a recurrence which would have ruled him out until the last week of April.
Jeff Armstrong
13
Posted 31/03/2017 at 17:14:54
Starting with Barry, FFS!!!
Darren Hind
14
Posted 31/03/2017 at 17:17:30
Exactly, Tony A.
One of the oldest sayings in Football – We go with what we've got.
I wouldn't stray too far from Danny's team. I also agree that the three non-defensive players will have to be right at the top of their game; we cannot afford the big fella to get isolated. He must be supported
Keep 11 on the pitch and we can do these.
Spencer Glaze
15
Posted 31/03/2017 at 17:25:19
I can't wait to wake up bright and early tomorrow for this derby. I'll be cheering all the way from Chicago! Let's get 3 points, boys!
Michael Connelly
16
Posted 31/03/2017 at 17:38:34
Much as I would like to think otherwise, I can only see us getting overrun. First half v Spurs the other week comes to mind.
Dave Rinehart
17
Posted 31/03/2017 at 17:53:53
It's the derby, form goes out the window.
Still nervous as heck, but I wouldn't imagine a repeat of the first half vs Spurs. That was frightening.
Stan Schofield
18
Posted 31/03/2017 at 17:54:07
Michael, bit pessimistic isn't it? When you look at the form table for 2017, I think we're top, averaging 2.3 points per game, compared with Liverpool's 1.3 points per game. So our 2017 form is league title winning (87 points over 38 games), whilst theirs is mid-table (49 points over 38 games).
So long as Koeman's tactics are to win rather than contain, we can dominate the midfield. They are fragile, weak in defence, and are now struggling with Klopp's pressing game. Player for player, we are superior.
The facts relating to the 'here and now' speak for themselves. We are the in-form side, and can win this comfortably. It's been a while since I've been able to say that! We should forget the history of derbies, that's the past, we should focus on the 'now'.
Chris Williams
19
Posted 31/03/2017 at 18:12:52
Agreed Stan, and it may come late on so patience needed.
Strong fair ref needed. We should be so lucky.
Peter Roberts
20
Posted 31/03/2017 at 18:32:29
Ref tomorrow is Anthony Taylor. Not as bad as others but no doubt there'll be a lot of pressure on him from the other side with him being from Greater Manchester.
Tom Bowers
21
Posted 31/03/2017 at 18:33:56
Seems always that we make excuses even before a ball is kicked but fair to say this last couple of weeks has been a nightmare with key players out and two of them, Morgan and Seamus, playing brilliantly.
A big ask to beat the RS but given an intense team effort, the run of the ball and a fair referee they have a chance if only because they have been average in a few home games this year and their defence can be got at.
Everton cannot afford to start badly and concede a goal early to have any chance.
Damian Wilde
22
Posted 31/03/2017 at 18:43:08
Gutted. But let's do the RS.
Jeff Armstrong
24
Posted 31/03/2017 at 19:05:47
Anthony Taylor is a shit referee, he's like a rabbit in the headlights. The occasion will get to him; expect a first-half sending off... Barry is the obvious and most likely.

Bobby Mallon
25
Posted 31/03/2017 at 19:29:50
if we go with the team and mind set of the spurs game, just give them the points and don't turn up. But if we go at them from the off then a different story.
But, then again, teams that play counter-attack football do well. Who would be a manager, eh?
Paul Conway
26
Posted 31/03/2017 at 19:38:15
We have to stop whinging about injuries now and get on with it.
Up 'n at 'em!
COYB!
David Hallwood
27
Posted 31/03/2017 at 19:40:27
The Liverpool Echo just come up with a mind-blowing statistic, that we have been awarded 1 penalty at Mordor in 80 YEARS!!!!!
So we must be due a win and a penno.
Morgan a big loss, as is Seamus, but let's lose the inferiority complex and have a bit of a go.
Agree with the team except Mirallas for Valencia.
Kevin Rowlands
28
Posted 31/03/2017 at 19:42:48
Huge loss for us. He will be missed more than Seamus.
Oh well... Gaz Baz it is; hopefully he won't pick up a stupid yellow card in the 1st 10 minutes.
Rob Halligan
29
Posted 31/03/2017 at 19:44:59
Schneiderlin has not yet been ruled out tomorrow. Was speaking to a member of the backroom staff tonight, who informs me Schneiderlin is to have a fitness test tomorrow.
Graham Hammond
30
Posted 31/03/2017 at 19:51:50
As John Raftery (#12) correctly pointed out, Morgan was never going to play tomorrow if he pulled his calf a fortnight ago. Three weeks with a calf is a big risk so I do not expect him to feature against Leicester but expect him to be okay for Burnley the following weekend.
We needed him tomorrow but these things always happen prior to a Merseyside derby. I am not a fan of McCarthy, all considered, but with Schneiderlin out, we could have done with James fit and in the mix. We will see where Macca is at soon enough.
I hope Mirallas starts as he generally performs well in the big games. Let's hope the lads tomorrow all WANT IT BADLY and BELIEVE!
Peter Howard
31
Posted 31/03/2017 at 19:52:22
I put Sky Sports News on this morning and the headline was that Klopp was annoyed with England playing a friendly in the run up to the derby.
They went on to report that Klopp's plans for the game had been thrown into chaos because of Adam (I can run all day) Lallana's injury!
Perhaps he's getting his excuse in early.
Chris Gould
32
Posted 31/03/2017 at 20:08:19
Rob, don't get our hopes up. I was just starting to accept it.
Ron was pretty adamant in the press conference that he wouldn't be available for the next two. I don't think he's the type to rush players back and risk further breakdowns.
Rob Halligan
33
Posted 31/03/2017 at 20:20:44
Only saying what I've been told, Chris. My source is a part of the medical team who has been treating Schneiderlin today. He looked confused when I said he'd been ruled out.
He is due a fitness test in the morning, and may or may not make it. Just hasn't definitely been ruled out.
John Pickles
34
Posted 31/03/2017 at 21:21:06
Already missing for the Man Utd game... Gentleman's agreement?
John Fieldstead
35
Posted 31/03/2017 at 22:35:16
John (#34) (is that also a Bible Reading..??!!) Is that the same gentleman's agreement we had for a fit and not on loan Tim Howard??!! I am a first time poster so go easy!
The stats and TV coverage of the build up are all siding on the usual RS victory, but if we go with what we've got available, you never know! We've got local lads in the team in Baines, Barkley and Davies, the RS have got none. Even Radio Merseyside were clutching at straws saying they had a Welsh lad from Nottingham who has been with their academy since he was a kid so technically, he could be local... really!!
For the first time in a long time, I would say it's evenly poised. We've got a couple of good players missing, they have got the Llama missing and that kid who runs funny and wears their captains armband.
We should have a couple of players in Rom and Ross looking to show everyone how good they are. Ross, for his latest snub by England and Rom, to impress his potential CL suitors.
If we can do what we did to Arsenal and bully them all over the pitch, force them to make mistakes and keep Mane quiet, again, you never know!

Me and my son are season ticket holders in the Park End and as he is only 12, he has never seen us win over there. I've seen the Sharp derby, the Ratcliffe derby, the Kanchelskis derby (couldn't get a ticket for the Campbell derby), so I have had to try to explain what the feeling is like coming out of their place with a win (Goodison looks fantastic when you walk across Stanley Park after a win in the derby)!! I

never have a good feeling leading up to the derby and as I don't have a ticket, I am hoping I wake up at 3 o'clock tomorrow and we have won 1-0 and scored a 99th minute fluke winner off a big blue beachball! COYB
Eddie Dunn
36
Posted 31/03/2017 at 22:38:22
John- that's interesting despite Koeman's statement that he is out 'till Leicester. Could it be some subterfuge where Morgan pays part of the game at Anfield but then definitely misses the Man Utd game?
Gerry Quinn
37
Posted 31/03/2017 at 22:54:12
John Raftery (#12) – are you going tomorrow?
If so, cross your fingers for me at kick-off and we will win 3-1.
Mike Berry
38
Posted 31/03/2017 at 23:59:35
Why all this doom and gloom before the game! Our team is better than theirs on paper, their defence is awful.
If we exploit and give Rom the ammo, we can give them the hammer!
Graham Hammond
40
Posted 31/03/2017 at 00:10:40
Interesting stuff regarding Schneiderlin, if he really is having a fitness test in the morning then I would imagine he will be given the go-ahead to play and it would all point to the fact he only felt a minor twinge in his calf.
If he pulled the calf a fortnight ago (as appeared to be the case) then I would be truly amazed if he is considered and was even on the bench.
I am worried about our defensive capabilities going into the game. Make a bit of history, lads – it might even keep Lukaku happy!
Laurie Hartley
41
Posted 01/04/2017 at 00:18:35
Forget about form. This game is, and always has been about attitude.
Disappointed about Schneiderlin but Barry is a true professional with a good passing range and great positional sense. Gana and Davies can do the pace work.
Barkley and Mirallas have to set him up to run at the RS defence. If they do he will rip them apart.
Up the Blues.
Laurie Hartley
42
Posted 01/04/2017 at 00:20:37
That is Barkley and Mirallas have to set Romalu Lukaku up.
John Raftery
44
Posted 01/04/2017 at 20:58:58
Gerry – (#37) Sorry mate, I am afraid I only picked up your message after the match.
Rob Halligan mentioned it. I was in the front row behind the goal. Another derby, another defeat.
Gerry Quinn
45
Posted 02/04/2017 at 10:49:47
John (#44) – yeah, thought so... I got the scoreline correct, just the wrong team for that scoreline.
Watched it from behind the couch here. Really felt for the fans – yet another gubbing at Mordor... frustrated, sad, angry – bet you went through the whole plethora of emotions and I feel for you having to suffer the walk out of that stadium and then home. I forgot to ask when we were in the Crow's Nest a couple of years ago, do you speak Norwegian, John? Can you understand their hurdy-gurdy-wurdy taunts? :)
---
Add Your Comments
In order to post a comment, you need to be logged in as a registered user of the site.
Or Sign up as a ToffeeWeb Member — it's free, takes just a few minutes and will allow you to post your comments on articles and Talking Points submissions across the site.