Galloway recalled from West Brom loan

59 Comments [Jump to last]
Monday 10 April 2017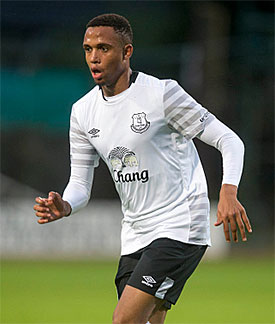 Updated
Brendan Galloway is back at Finch Farm after his season-long loan at West Bromwich Albion was ended prematurely.
The 21-year-old, who first emerged as a first-team prospect as a fullback under Roberto Martinez, was sent out on loan to the Hawthorns by Ronald Koeman who felt that he would get more first-team opportunities under Tony Pulis.
The reality was quite different for Galloway who made just three Premier League appearances for the entire time he was with the Baggies.
In an interview in February, Pulis cited an injury to the former MK Dons player which sidelined him for six weeks, combined with the form of Allan Nyom, Craig Dawson and Chris Brunt at fullback in his team, for Galloway's lack of game time.
It was clearly felt by Everton, however, that there was little point in having their player kicking his heels at West Brom when he could be brought back into the Blues fold and arranged to have him come back from his long-term loan early.
Galloway was named in the Under-23s' starting line-up for tonight's match against Tottenham and he created the first goal for Ademola Lookman in a 4-1 win.
His loan is believed to technically be still active as far as the Premier Leaue are concerned — he can figure at U23 level but cannot play for the first team again until next season.
"Brendan's needed games so we thank Tony [for allowing him] to come back in with us and have a few games, which is great," said U23s boss David Unsworth.
---
Reader Comments (59)
Note: the following content is not moderated or vetted by the site owners at the time of submission. Comments are the responsibility of the poster. Disclaimer
Timothy Sebastian
1
Posted 11/04/2017 at 06:33:00
Good. We will need him to bolster our numbers in defence for the run in to season end.
Brian Porter
2
Posted 11/04/2017 at 06:43:19
Glad he's back. Typical of Pulis to take one of our up-and-coming prospects and virtually waste a year of his career kicking his heels when he could possibly have been getting game time with us or perhaps at a Championship club where his services might have been appreciated.
Nigel Munford
3
Posted 11/04/2017 at 06:56:47
You'll be disappointed then, Timothy, as apparently he can't play for the first team.
Daniel Lim
4
Posted 11/04/2017 at 07:01:07
For future loan, we need to charge them differently depending on how frequently or how many minutes the player play. Same to us I guess. That's only fair to all parties.
Mike Gaynes
5
Posted 11/04/2017 at 07:11:54
It's long past time. The loan was a total waste and should have been called off in January when Oviedo was sold. The talent is there, he showed it last season.
Laurie Hartley
6
Posted 11/04/2017 at 08:09:01
I like Galloway – he has a bit of mongrel in him and is left-footed.
Adam Scott
7
Posted 11/04/2017 at 08:17:07
Anyone know if he is eligible for the first team? I assume that his age means he doesn't have to be registered?
Alasdair Mackay
8
Posted 11/04/2017 at 08:19:30
Big fan of Galloway. Would love to see him kick-on in the first team next season.
A 3 centre back situation of Holgate, Keane and Galloway would be a really good balance – plus we have Pennington coming through, who has a chance to make it anywhere across that backline.
Raymond Fox
9
Posted 11/04/2017 at 09:39:59
I too like the lad, he has that rare commodity about him 'class'.
Problem is we have a lot of competition for a few places, he needs games.
Peter Gorman
10
Posted 11/04/2017 at 09:59:53
Ray, he also has an even rarer commodity about him, 'fight'.
As a young defender still learning his trade in a very difficult league, I've seen Galloway make plenty of mistakes, but I've never seen him kow-tow to anyone.
Rob Dolby
11
Posted 11/04/2017 at 10:15:58
I don't want to appear to jump on the PC bandwagon here far from it, just want to know what 'he has a bit of mongrel in him' means.
To me, he is behind Baines but ahead of Garbutt who seems to have been on his holidays since he signed that 3-year contract. Unless we have a real prospect coming through at left-back, we probably need cover for Baines and a left midfielder.
John Raftery
12
Posted 11/04/2017 at 10:39:59
Garbutt signed a five-year contract.
Peter Gorman
13
Posted 11/04/2017 at 10:49:58
Rob, I think it means he is a scrapper.
Adam Fenlon
14
Posted 11/04/2017 at 10:54:35
Am I the only one who forgot he was there?
Sam Hoare
15
Posted 11/04/2017 at 11:13:29
Centre-back or left-back? Reckon he and Koeman need to choose. He's got a chance of making it in either but needs to concentrate on learning perfecting one if he wants to make it in a top 6 team like Everton!
Ajay Gopal
16
Posted 11/04/2017 at 11:34:11
Could be a Lescott type player who started his career as a left-back at Everton, then became the left side of an excellent centre-back pairing with Jags.
But this season has been a massive setback for him; I agree with those saying Everton should have pulled the plug on his loan with WBA in January rather than waiting till April.
Alisdair (8), like your back 3 – Holgate, Keane and Galloway with Williams, Pennington, possibly Browning as back-ups, assuming Jags hangs up his boots. Baines, Coleman flying up and down the touch lines as wing backs.
Tony Kost
17
Posted 11/04/2017 at 12:18:35
Galloway, Garbutt, Browning – all showed great promise beginning of the 2014-15 and/or 2015-16. It would be nice to see these guys really "kick on" career wise at EFC – all of them showed huge potential.
Minik Hansen
18
Posted 11/04/2017 at 14:09:29
Surely Galloway mist have gained something in training at WBA, thinking of the way they set up defense.
Colin Glassar
19
Posted 11/04/2017 at 14:21:41
Ajay, wasn't it the other way round? Didn't Lescott move to left-back after Bainsey was injured?
Colin Glassar
20
Posted 11/04/2017 at 14:53:18
Anyway, he's ineligible to play for the first team this season.
John Pierce
21
Posted 11/04/2017 at 16:53:44
I'm undure about the lad. He's had a year of his life wasted. Its a big catch up for him.
However shown some good qualities, Everton should cultivate him as a centre back. Not manybfull backs are that kind of build! Ivanovic is the only name that readily comes to mind.
As a left sided player, a rarer more valuable commodity. Hence Mori's continued involvement until his injury. A left side CB brings balance and options. I hope he can be 'cultured' into a decent player.
Left sided CBs do not come along very often, worth persisting with.
Eddie Dunn
22
Posted 11/04/2017 at 17:30:46
Timothy, - why comment if you haven't even read the above article?
Mark Morrissey
23
Posted 11/04/2017 at 17:36:09
For Rob @ 11.
I think Laurie @ 6 was simply trying to say that Brendan has a fighting spirit in him, someone with grit & determination, a dogged in built strength. He sees him as someone who is not a pushover. In sports terms it can mean that someone has tenacity, a stubborn determination, a colloquial variant of the term "doggedness". It used more often in the southern hemisphere in the context of sports.
"That team have less talent across the field, but won the game by showing more MONGREL". Peter Reid was the last real mongrel we had.
Brian Wilkinson
24
Posted 11/04/2017 at 17:50:21
The ruling is he can play for the Under-23 team but is not allowed to play for the first team.
Crazy ruling if the other club has returned the player, without the parent club recalling the player.
Will we now be paying his wages, or are West Brom?
Timothy Sebastian
25
Posted 11/04/2017 at 18:08:04
Eddie, you're right. I read the entire article but stopped short just before the most important paragraph – the last one!
Eddie Dunn
26
Posted 11/04/2017 at 19:01:21
Timothy, sorry to be a grouch! It's the little things that drive you mad once you pass 50.
Steve Ferns
27
Posted 11/04/2017 at 19:10:27
The ruling is that he has to be registered as a player in either August or January. Youth players do not need to be registered and can be called upon, but they need to already be registered with the club, for example if we signed the Edwards kid off Spurs and put him in our youth side and then called him up to the first team, he would be ineligible.
None of this applied to Galloway anyway, as Galloway is registered in August / September and then again in January / February as a West Brom player. Therefore, if we register him it counts as a "transfer". so we cannot play him.
Quite why we didn't cancel the loan in January, I do not know. Complex financial agreement, no doubt, but surely there was a loan recall fee and surely it was worth paying?
As for next season, we have a real headache. Coleman and the fella from Southampton (right back who is both out of contract and out of favour - edit: Cuco Martina - this is a done deal, I am told) will compete for right back, along with Holgate.
Then centre back we will have Jags, Williams, Funes, Pennington, Holgate, Galloway, Browning. sheer numbers here tell us we have too many. I think we all agree we need more quality. I would purchase one really top class centre half, such as Keane. Then we would need to assess the rest.
I think Pennington looks good but maybe he needs a season long loan at a championship club who would play him. Holgate I would find a place for as I think the lad will be special, even if it's on the bench most games and as first reserve as he has been. Galloway would Baines' understudy for me, and whilst Baines ain't old at 31/32, he is showing signs of decline as his legs have clearly started to go, and there may be games where we need Galloway's raw speed. For me, he gets a game at left back and not centre back on numbers alone.
Jags should not be written off just yet, he's been almost back to his best the last couple of games. He has invaluable experience. Williams has not done been as good as I expected, but I do not believe he is finished. Up until his sending off against united, he was excellent. so I would keep both of them to help someone like a young Keane.
Which means it is Funes who I would sell. Surely a European club would pay good money for the Argentinian international, whilst a premier league side might see him for the liability he is.
As for Lescott, do you not remember Baines was signed and Moyes would not play him that first season, he just did not trust him. So we had a back four of Hibbo, Yobo, Jags and Lescott. Not much got past them.
I always liked Yobo who had a good season that year before Lescott took his place mostly because Baines got a run and showed his class. Moyes did the same with Coleman and never trusted him and got him learning the right back role from Right mid! I think it took Seamus even longer to convince Moyes to drop old dependable Hibbo, although injuries had caught up with him.
one thing I always wanted to ask on Hibbo, is this. Why did England never give him a game? Overall he was never international class as he was terrible on the ball. but for me, as terrible as he was in the opponent's half, he was sensational in his own half, especially when he still had his pace. Others will still recall Hibbo v Ronaldo, his finest moment. Back to the question, England always inevitably come up against a superior team, Germany, Brazil or whoever, who will have all of the ball and have us defending for our lives. So why have an attacking fullback like Glenn Johnson doing that job, when Hibbo was far better at it? Surely he could be in the side just to come in and defend in these games when needed, or to be brought on to shut up shop when needed. For me, England do not look at taking these specialist defenders, and do not look tactically enough, as say do an Italy side. it's much harder to slot a side together with players like Kyle Walker than a player like Hibbo, where the centre half will know Hibbo is always going to be to his right, and not bombing on losing possession and leaving gaps. Any thoughts?
Peter Lee
28
Posted 11/04/2017 at 21:37:03
Managers' views of what makes a good full-back have changed. Anyone noticed that they are all looking for quick, tall players who can cross a ball and drive at defenders? They are not all there yet, Milner, for example, being only 2/3 of the deal, but it is the new orthodoxy. Mo has been happy with Valencia all season for instance.
In that context, Holgate and Galloway make sense. It could be that either (or both, eventually) could end up central. In that case we could squeeze the game in a way that we've not been able to do since Radcliffe and Stevens.
The manager will buy quality if given the chance but height and pace will weigh heavily in his selections.
Eddie Dunn
29
Posted 11/04/2017 at 21:45:33
Steve, many pundits are currently bemoaning the standard of defending. There is so much emphasis on the wing backs getting upfield, that the old skills of a defender, say 25 years ago, are obsolete.
These days, if you are a full back, you need pace, and an engine that can last a full game, and a good cross and a shot in your locker. I wonder whether these guys will play on into their mid thirties, as once their pace goes, they can't do the job.
Glen Johnson was always positionally poor and Kyle Walker suffers from the same problem. Having top quality centre halves always helps, and Walker looks better because of the two classy lads he has alongside.
It will be good for Galloway to get used to the training methods before the new season. We have so many promising young players, let's hope that they continue to progress.
Baines may well miss Pienaar, but he rarely goes for the byline any more. He has changed his game, and cuts in to good effect, but teams know he isn't going to burn someone for pace down the wing anymore.

Steve Ferns
30
Posted 11/04/2017 at 21:51:46
I do not disagree with you Eddie, but should England not take a specialist defender in the Hibbo mould to the World Cup ready for the knockout part of the Competition, when we suddenly play quality opposition in a competitive game for the first time since Italy in 2014 (which wasn't even a good Italy side) .
That is, when we suddenly defend more than we attack and Kyle Walker's defensive skills are clearly not good enough. Should we not have a Hibbo type player ready to play this game, and if we win the games beyond it?
Steve Carter
31
Posted 11/04/2017 at 22:18:26
Er, Steve (#27), the reason Hibbo didn't get selected for England was there for all to see in his skinning by Florent Malouda and Ashley Cole in the 2009 FA Cup final.
Peter Gorman
32
Posted 11/04/2017 at 22:27:01
Er, Steve, our Hibbo was the statistically best right back in the Premier League in 2004-05, just couldn't pass a ball.
But we'll go with your anecdote.
Steve Ferns
33
Posted 11/04/2017 at 22:38:40
I'm not saying Hibbo should have had caps, I'm saying, why do England never take an out and out defensive fullback to play in those games when we are under the kosh. Kyle Walker and Danny Rose do not have those qualities. Surely, they should consider players like Hibbo, who would be better suited to those games.
In a big tournament, England are a mid-table or bottom half standard. So they should select the players who can play that way. I was looking forward to Allardyce in a championship to see if he would do just that. Select a load of battlers who are far from the most talented players we have, but would fight like the likes of Iceland did, and produce a result.
Laurie Hartley
34
Posted 11/04/2017 at 23:03:59
Rob (#11) – "a bit of mongrel in him" is an expression I picked up here in the antipodes many years ago. It means capable of aggression if and when required. So in other words it was a compliment. It certainly is not meant as a disparaging comment.
Dele Alli has it in him also – interestingly they were both recruited from Milton Keyes. Perhaps Steve Walsh should be having a look at their current crop of players.
Laurie Hartley
35
Posted 11/04/2017 at 23:24:11
Mark (#23) – yes a far better explanation than mine.
Mo Besic has it in him. I see he had half a game with the Under-23s – I hope he continues to progress in his recovery. We haven't seen the best of that lad.
David Ellis
36
Posted 11/04/2017 at 23:35:26
Steve (#27),
I started to giggle when you posed the question why Hibbo never played for England. However when I composed myself and read the rest of your post I admit you do have a point. He was an excellent defender (Cup final in 2009 was his worst game and if I re-call he was recently returned from injury and having been booked early doors just kind of froze).
But he just couldn't pass the ball. But agree if you want to stop Germany in their tracks then clearly a better option than Johnson. No England manager could survive making such a ballsy call though!
David Ellis
37
Posted 11/04/2017 at 23:37:05
Steve (#27) - having said that... didn't Earl the Pearl Barrett play at least once for England (prior to joining Everton).. .a similar type of defender as Hibbert, but not as gifted in the passing and crossing department (yes it is possible).
Steve Ferns
38
Posted 11/04/2017 at 23:49:39
Earl Barrett, there's a name from the past. I only ever saw him, or rather noticed him, when he was playing for us, at the end of his career and at right back.
However, I still recall Big Ron (Atkinson) describing him as the "best man-to-man marker in the league". I recall it word for word as it shocked me to hear a player I thought as crap described in such a way. Big Ron managed him at Sheff Weds and clearly rated him. He did win a couple of caps. But my overall view of him, and I was only a child at the time, was that he wasn't as good as Matt Jackson.
Steve Ferns
39
Posted 11/04/2017 at 23:53:06
Three caps, David, but all for Graham Taylor... now there's a manager who would have selected Hibbo!
Dave Williams
40
Posted 11/04/2017 at 00:03:43
Earl Barrett looked to be one of the best centre-backs in the country whilst at Oldham. We bought him and as we did many years before with Colin Todd we played him out of position at right back and neither were the same player.
We had history of doing this:- Keith Newton was an England right back who we played at left back; Henry Newton an England defensive midfielder we played at left back; Mike Bernard an England U23 defensive midfielder we played at right back.
Some worked and some didn't but Todd was a ridiculous waste to the point of scandalous.
Steve Ferns
41
Posted 12/04/2017 at 00:19:46
Dave, are you telling me that Earl the Pearl got 3 caps at centre back, ahead of our very own Dave Watson, who would have been 30-32 (and very much in his prime) from 1991-93! Wow, just wow. I recall that overrated blonde tosser from over the park getting games ahead of Old Waggy, but not Earl the Pearl.
How the hell Watson only got 12 caps for England is a mystery to me, especially as most of them came from before he joined us and became League Champion, I mean how did that compute? Mid-table struggler, yeah you're good enough, playing up north for the Champions as the most expensive centre back in the UK? No, you're dropped.
I remember Waggy playing for Hong Kong against England for a pre Euro 96 warm up, when Gazza did the infamous dentist chair, and boy was he amazing despite his old age (then 35) and lack of cohesion with his teammates.
For this biased blue, the finest centre half (especially organisationally) I have personally seen, though I would like to have had a closer look at a younger Richard Gough.
Timothy Sebastian
42
Posted 12/04/2017 at 00:29:41
Eddie, no worries. l'm a fellow 50s grump too.
Chris Jones [Burton]
43
Posted 12/04/2017 at 00:31:48
Dave (#40),
I saw Colin Todd play for us at Maine Road in the league. Granted it was a long time ago, but I recall that day I saw one of the classiest defensive performances in a Royal Blue jersey of my 50 years as an Evertonian.
Dave Williams
44
Posted 12/04/2017 at 00:47:02
He was absolute class, Chris, and because we had a few centre-backs at the time – none of whom were anywhere close to Todd in ability – we tried to play him at right-back to fit them all in and ignored the fact that he was streets ahead of them all at centre-back.
Terrible waste of talent- at his peak a better player than the great Kevin Ratcliffe but we seldom witnessed this because of playing him in the wrong position.
Terry White
45
Posted 12/04/2017 at 04:39:40
Dave (#40 and 44) and Chris (#43), Colin Todd was indeed pure class. He and Roy McFarland were the best centre back pairing in the league at Derby. And we accommodated Billy Wright to play Todd at right back! A beautiful footballer.
Eric Myles
46
Posted 12/04/2017 at 04:54:38
Steve (#27), "Do you not remember Baines was signed and Moyes would not play him that first season, he just did not trust him."
Do you not remember, when we signed Baines, he was injured??
Rick Tarleton
47
Posted 12/04/2017 at 09:58:28
It's a funny thing with these left backs, think Garbutt, now Galloway. They go off on loan as great prospects, future England players, and come back half the players we thought they were.

Kevin Gillen
48
Posted 12/04/2017 at 10:17:58
It sounds as if Tony Pulis was pleased to work with Galloway. Everyone who saw him last year knows he was a long way from the finished article and given his youth would most likely end up in the centre back position.
Brunt and Dawson are good seasoned pros and WBA have done so incredibly well this year it's hardly surprising he didn't get much of a look in once he was injured.
I think this lad will kick on and become a really good defender. Remember he played in that Chelsea game last year at Goodison and provided an assist for the first goal, that's a big thing to have on your CV!!
Tony J Williams
49
Posted 12/04/2017 at 12:48:26
Fucks sake, the lad played over 300 games for Everton and the 1 game he had a stinker after coming back too soon after injury and unfairly carded is rolled out every time as a suggestion he was a poor player.
Damn statistics!
Terry White
50
Posted 12/04/2017 at 16:12:55
A further thought, Dave (#40) regarding Keith Newton. When he was signed Tommy Wright was in his prime at right back so I think it reasonable to assume that Catterick signed Newton with the intention of playing him at left back rather than playing him out of position. After Ray Wilson was injured in the 1968-69 season, good old Sandy Brown was our left back cover at that time. Of course both Wright and Newton went to Mexico for the 1970 World Cup.
In the championship season, 69-70, Tommy Wright played all 42 games, Sandy 31 and Newton 12. The following season, Wright played 40 games and Newton 21, so Tommy was very much still our #2 at that time.
Dave Williams
51
Posted 12/04/2017 at 17:15:09
Spot on Terry. Tommy was a better right back than Keith and Catterick bought Keith to replace Wilson but he never seemed comfortable on the left. Baines for example would not be asked to play right back and we have played so many out of position over the years after paying good money for them.
Ernie Hunt was another- 㿼k we paid which was a big fee in the late sixties and because he was a midfielder who scored a few goals (including a couple against us) Catterick put him up front with Joe as he couldn't disturb the holy trinity. Ernie wasn't a striker and was moved on after 12 games and three goals (I think – Patrick will doubtless know for sure).When he bought Henry Newton he moved Kendall to centre back against Radford and Kennedy who of course ripped him apart as they were twice his size and hence why Henry was played at left back (he did well there).
To get back to Earl Barrett he was an excellent centre-back with great pace and was wasted at full-back.
Martin Mason
52
Posted 12/04/2017 at 19:18:27
Glad to hear a mention of Colin Todd who was one of the best players I've seen in the last 50 years or more. Everton tried to buy him for years and when they did he was past his best Still class but past his best and not a right back.
I think Galloway will make a great central defender in the mould of John Hurst who was a class player at his best.
Andy Crooks
53
Posted 12/04/2017 at 19:38:14
Martin Mason, I agree. Colin Todd was a special player. He was Stones with ten times the ability to defend. I think he under achieved but he was top class.
I think he was in an era where class was not appreciated eg Tony Currie and Alan Hudson.
Terry White
54
Posted 12/04/2017 at 22:42:05
Dave (#51), must agree with you that Wright was a better right back than Keith Newton. Although I would rate Alex Parker ahead of Tommy. Perhaps it is something to do with my mother being born in Aberdeen but I have a particular fondness for our Scottish players from the early 60s. And I still recall Alex's sliding tackles, getting the ball but depositing the opposing player into the Goodison Road terrace.
I cannot remember having seen much of Earl Barrett as a centre back but have no reason to doubt your opinion of him. And I doubt if Ernie Hunt was ever good enough for our team!
Dave Williams
55
Posted 13/04/2017 at 00:12:59
Alex Parker – there was a right back who knew how to tackle!!
You are right, Terry – Gorge Thomson, Alex Young, Jimmy Gabriel and my particular fave Alex Scott were great players back in the days when Scotland had better players than England.
Was it a testimonial for Dixie around 1964 when a team of Everton and RS Scots played a team of Everton & Liverpool English players and the Scots team looked way stronger? I went to the game but was only around 8 and don't remember the score.

Terry White
56
Posted 13/04/2017 at 03:49:35
Dave (#55), don't forget Bobby Collins and Tommy Ring! I'm glad you mentioned poor George Thomson, usually forgotten as the second person in the Young transfer but a very competent full back who played a great portion of the 62-63 Championship season at left back.
Derek Knox
57
Posted 13/04/2017 at 08:58:49
Dave@55,
Alex Parker, now there's a player from the archives, I met Alex a few times in the early 70s.
I came out of the Navy and found it difficult to get a house in Liverpool, and moved to Runcorn, who were welcoming people with open arms.
The Shopping Precinct near Castlefields had a pub there, called the 'Swinging Sporran' and Alex was the manager.
Being a fellow Scot, and both having Everton connections, I had a few conversations with great man.
I recall him scoring from the halfway line once in a match, but can't remember which one it was. Maybe someone can enlighten us there.
Thanks for the memory.
Chris Williams
58
Posted 13/04/2017 at 09:16:44
Derek, was it Fulham?
Derek Knox
59
Posted 13/04/2017 at 17:22:28
I think you're right there Chris, thanks.
---
Add Your Comments
In order to post a comment, you need to be logged in as a registered user of the site.
Or Sign up as a ToffeeWeb Member — it's free, takes just a few minutes and will allow you to post your comments on articles and Talking Points submissions across the site.